Creamy Chicken Noodle Soup is the ultimate comfort food! Your favorite soup recipe, but creamy and delicious. This soup recipe is a perfect side, but hearty enough to be dinner!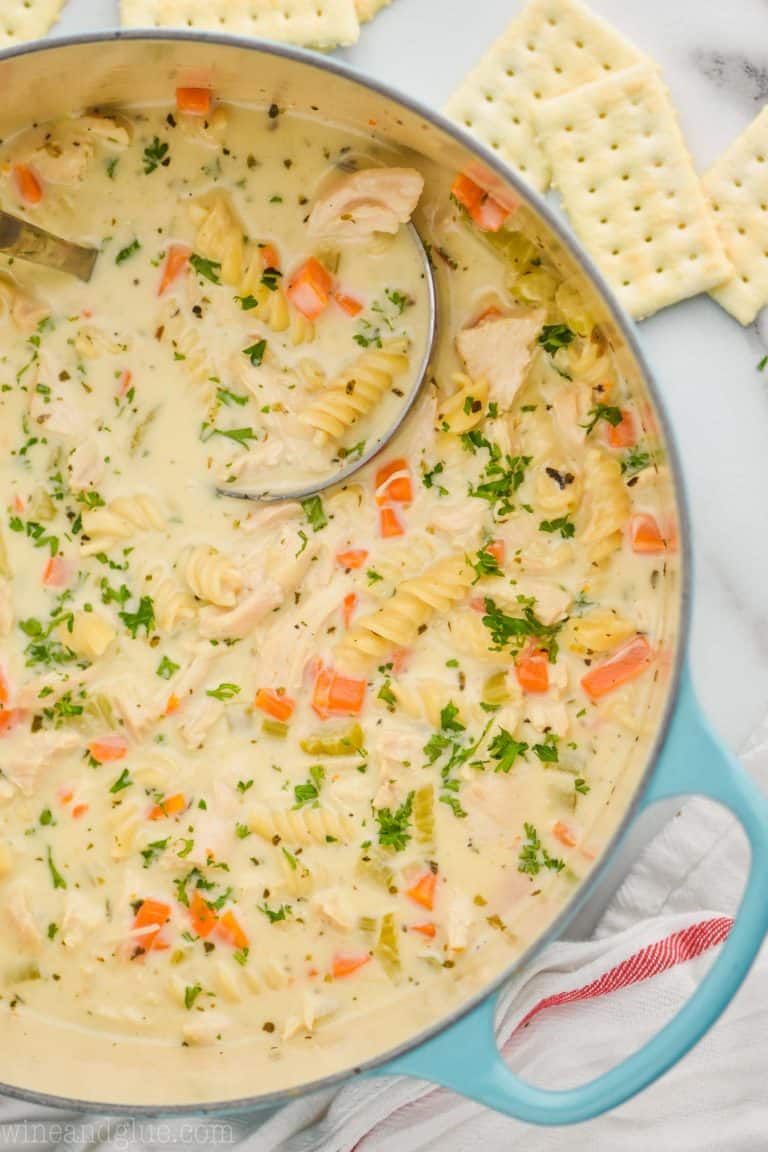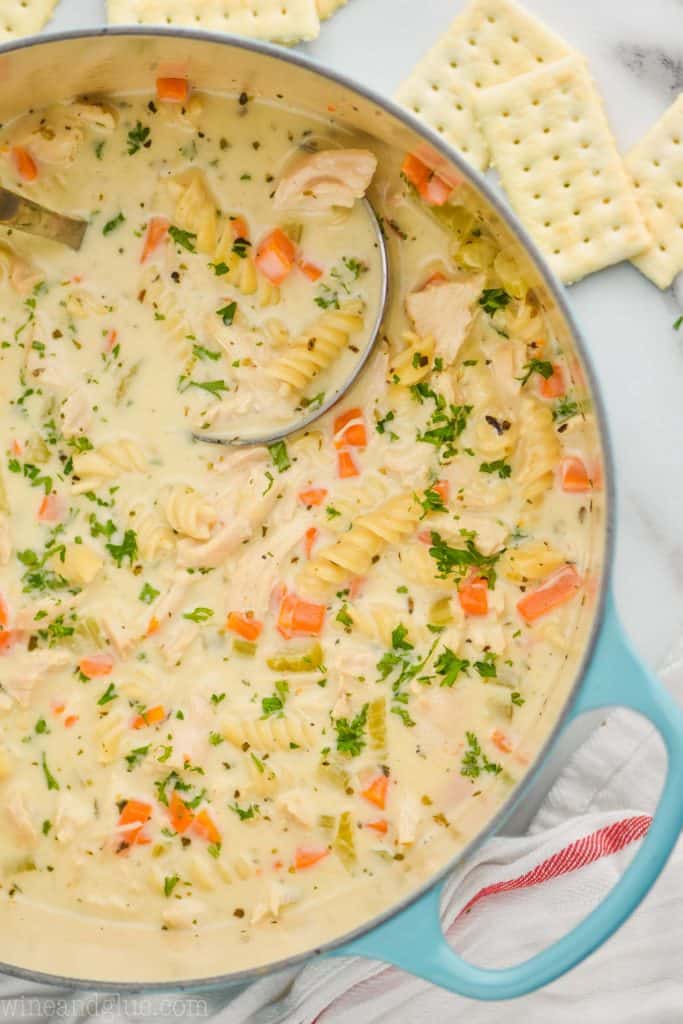 Soup is one of my favorite dinner recipes because it comes together so easily and I can make a big steaming pot of it full of everything a good dinner should have – protein, a vegetable, and sometimes even a carbohydrate. Soup recipes are like the original one pot meal and this Creamy Chicken Noodle Soup recipe is no exception.
My kids have grown up on soup, coming to expect it and love it. We love making warm dinner rolls with soup recipes, pulling them hot out of the oven and putting them in the middle of the table. Everyone dips their rolls and slurps their soup as we talk about our day.
This creamy cousin to my Homemade Chicken Noodle Soup is an adaptation of my Crock Pot Creamy Chicken Noodle Soup. The creamy broth and simple flavors make it a delicious dinner that everyone in the family will love.
Reader Review
This is the BEST chicken noodle soup I have ever had. This is an easy delicious recipe that my entire family loves and that includes a 3 year old and a 1 year old. I've made this 4 times now and every time it's just perfect.
How to Make Creamy Chicken Noodle Soup
The most important part of this soup is the roux – the mixture of a fat and flour to create a thickening agent. It is what makes this soup so creamy.
Sauté the vegetables. Melt butter in a large stock pot. Use the melted butter to sauté the garlic, onion, celery, and carrot.
Make a roux. This involves adding in flour and then very slowly add in chicken stock a little at a time. If this feels confusing, please watch the video attached to this recipe.
Cook the chicken. Add boneless skinless chicken breasts and allow them to completely cook through in the simmering chicken stock. Remove and shred.
Cook the noodles. Add in dry pasta, and bring it to a boil.
Put it all together. Return the chicken to the pot, and then stir in heavy cream.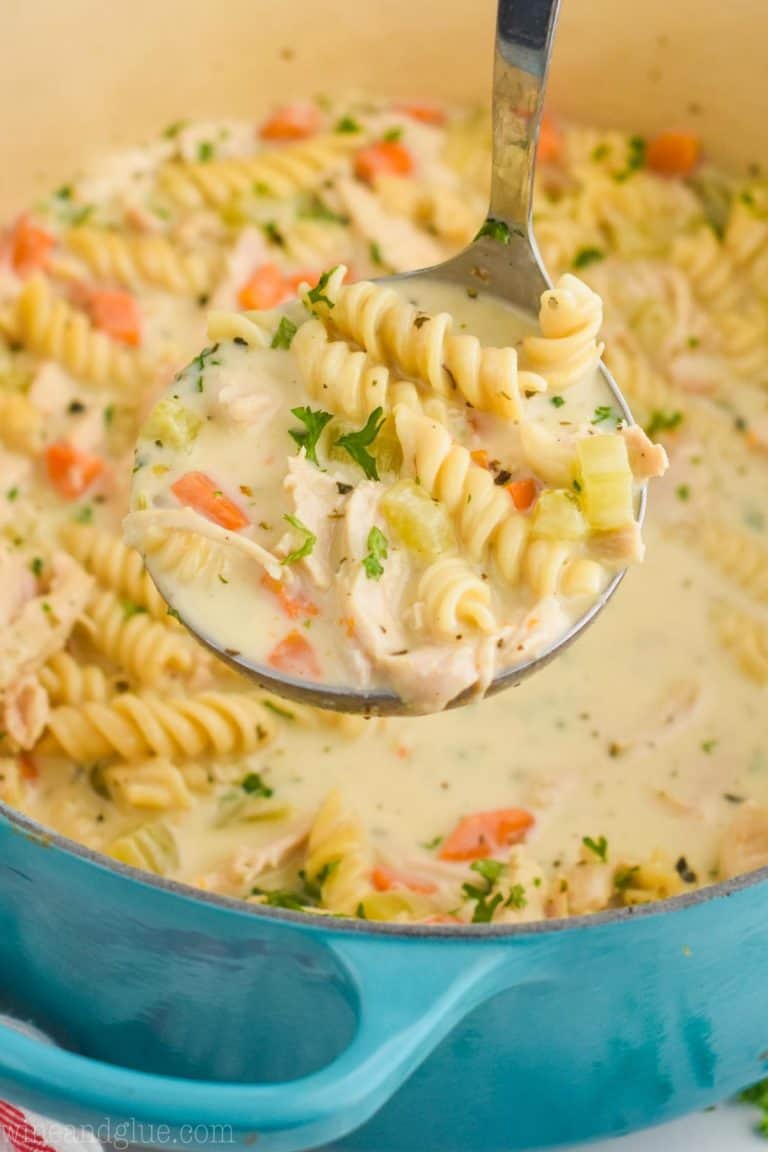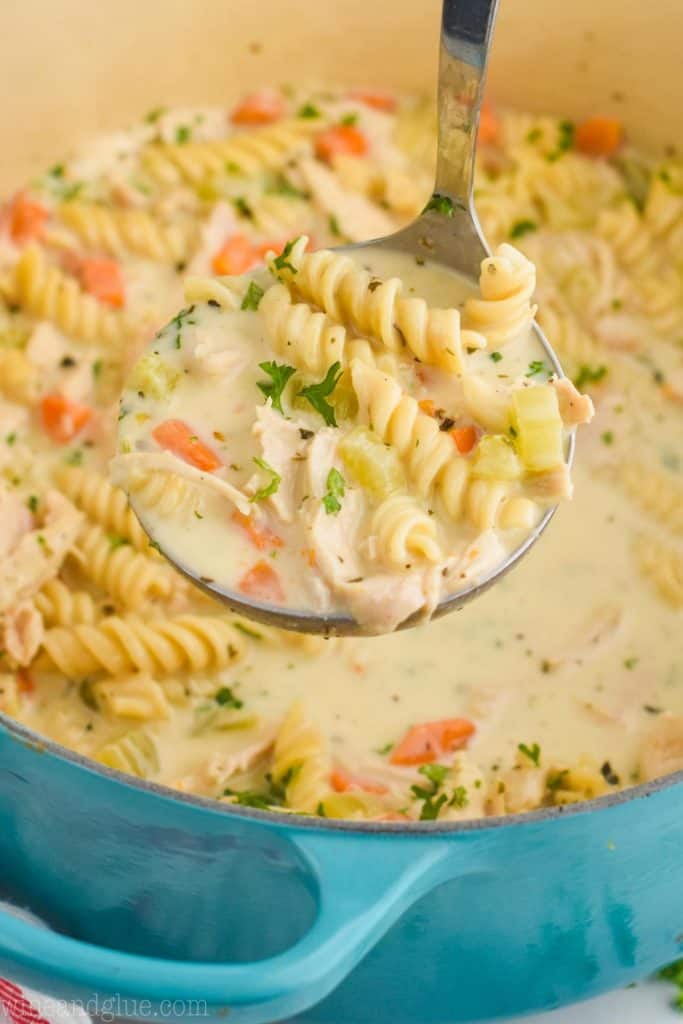 A Note on Salt and Pepper
The salt content in chicken stock varies greatly between brands. Therefore, this recipe is purposefully under-salted.
At the end of the recipe, gradually add more salt (you may need up to a full teaspoon more), until you reach the taste that you like.
Make life easier for yourself. If you use the same brand of stock all the time, make a note of how much salt you had to add for the next time you make this.
Make This Recipe Faster
This from scratch recipe is absolutely delicious, but it does take an hour to make.
To make it easier, reduce the chicken stock to 6 cups and use shredded rotisserie chicken.
Follow the instructions as written, but when it tells you to add the raw chicken breasts, skip to cooking the noodles.
When the noodles are done, stir in the 3 cups of cooked shredded chicken. Then add in the heavy cream.
This will cut about 20 minutes from the cooking time.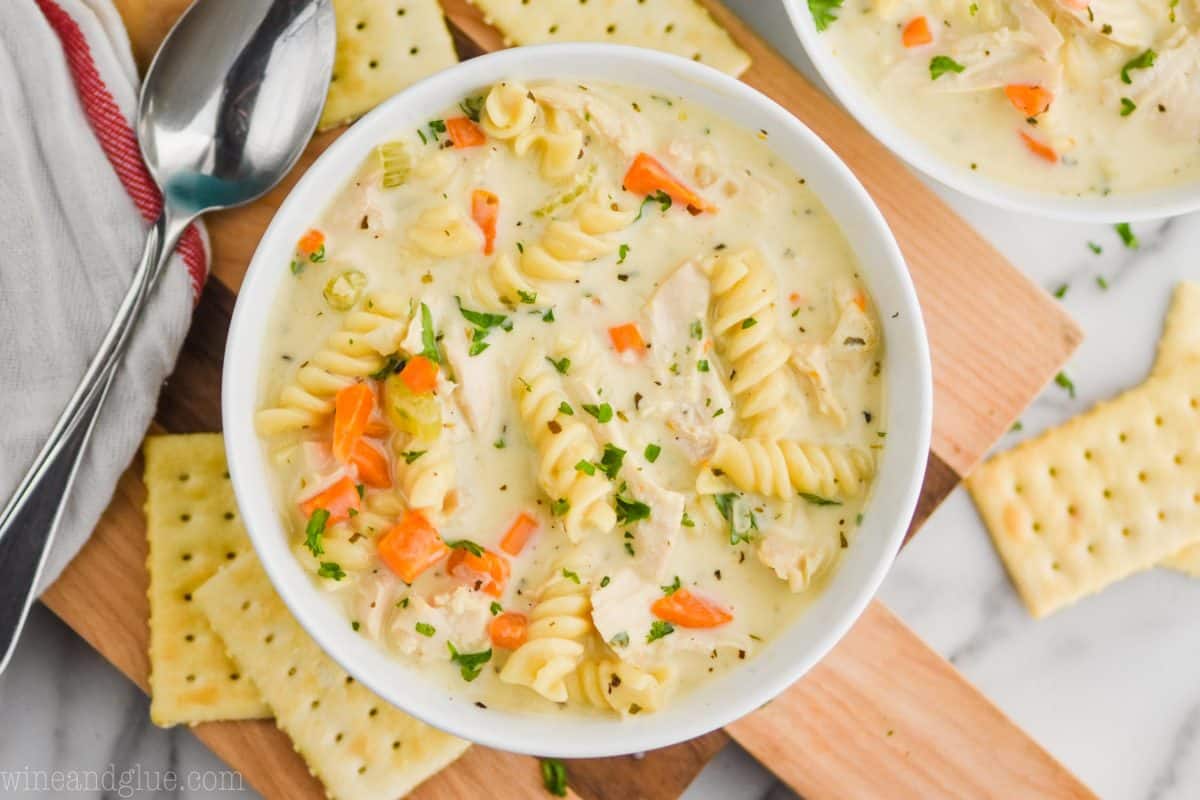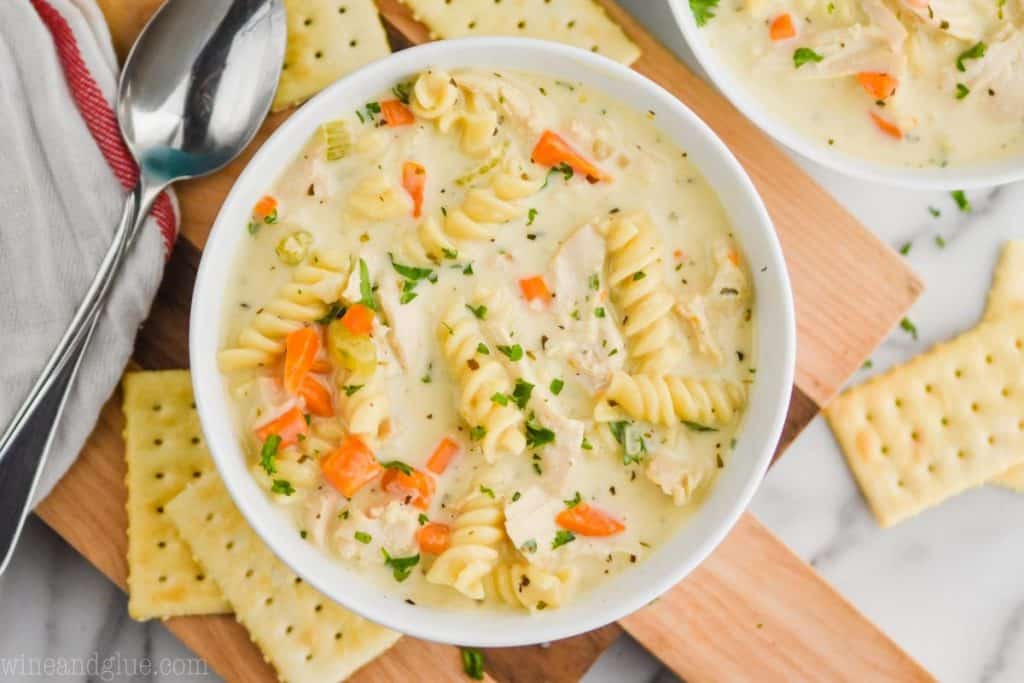 Storing Creamy Chicken Noodle Soup
This soup recipe will keep in your refrigerator for three days.
When reheating, reheat only the portion you want to eat. Put it in a small sauce pan over low heat, stirring until warm.
Alternatively, place in a microwave safe bowl, and cover cooking for 3 minutes on half power. Stir and cook for an additional minute on half power if not warm enough.
Only reheat the left overs one time. This is the reason for only pulling out the portion you want to eat.
Freezing
You can freeze this recipe by allowing it to first cool and then putting it in an airtight container.
Store in the freezer for up to three months.
Either allow it to thaw in the refrigerator and then reheat as listed above or reheat slowly over low heat on the stove top, stirring regularly.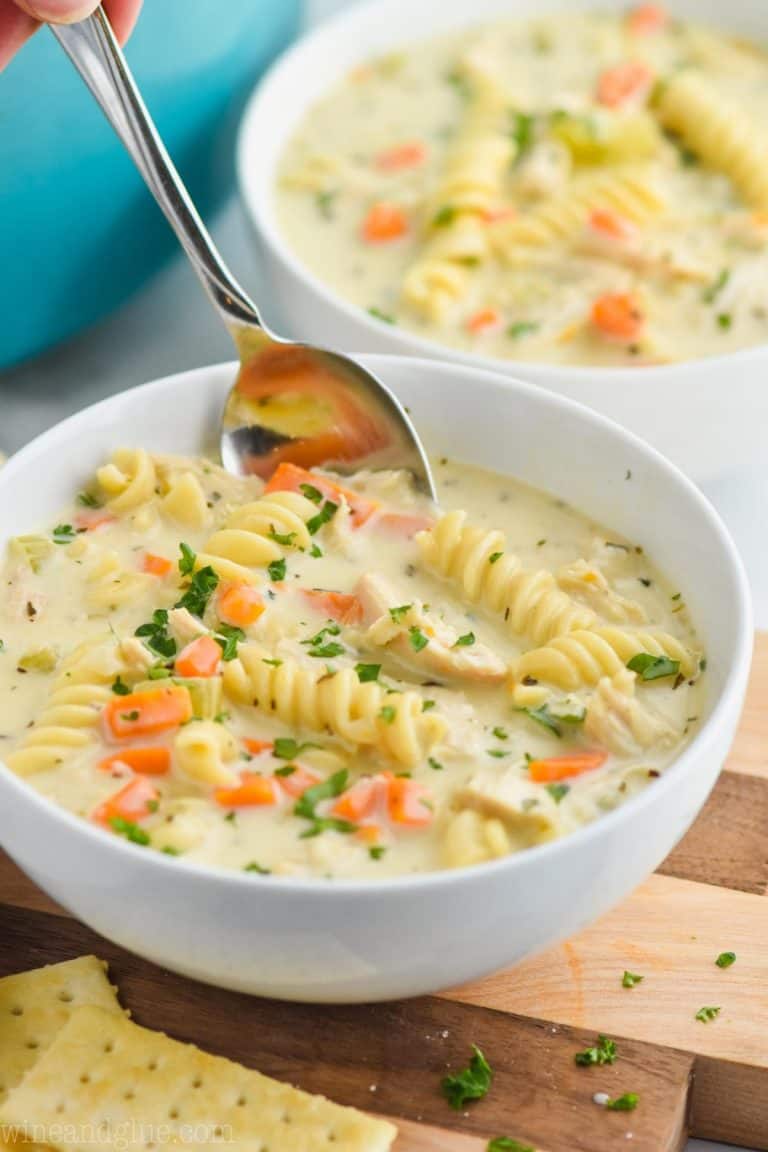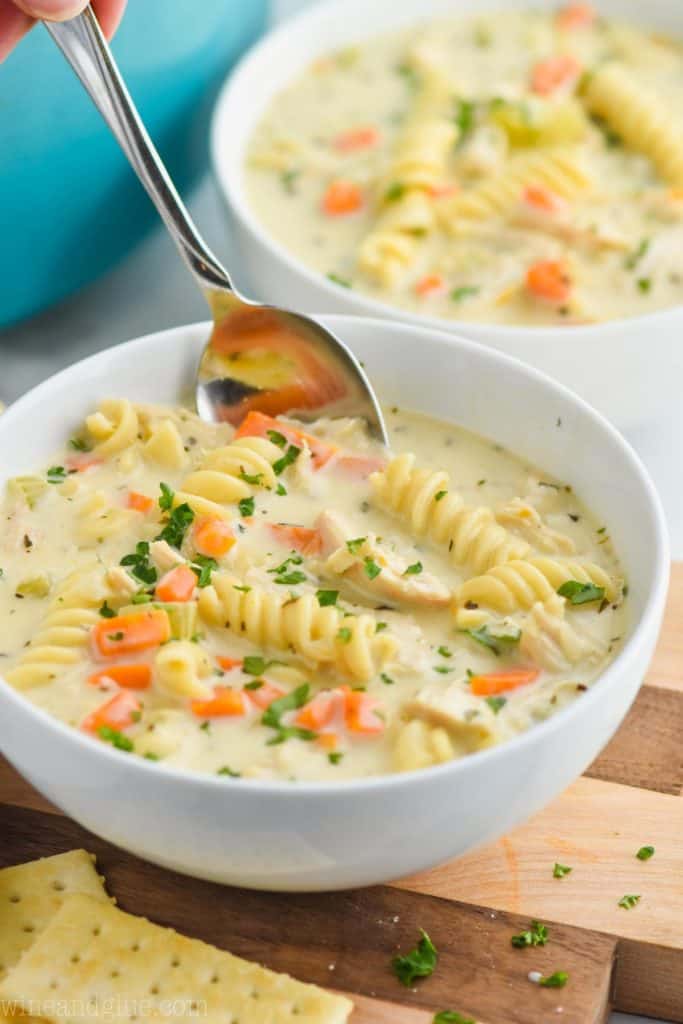 Nutritional Information
This soup is hearty enough to have for dinner on its own. It will keep you full all evening.
A bowl (which is one and a half cups) has 430 calories.
If you want to lower the calorie count in this recipe, replace the heavy cream with half and half. It will make the soup just slightly less creamy, but will cut the calories by 100 calories per bowl.
Get the full nutritional information at the very bottom of the recipe card.
Make this Recipe Gluten Free
If you are cooking for someone with a gluten allergy, make this soup with gluten free noodles and gluten free flour. We've made this with almond flour, and it was just slightly less creamy but still absolutely delicious.
There are so many great varieties of gluten free noodles on the market, and they will work perfect in this soup.
What to Serve with Creamy Chicken Noodle Soup
As mentioned above, we normally just make some dinner rolls to go with soup, but if you are looking to bulk out dinner a little bit, here are some great sides:
This Arugula Salad is a really simple recipe that would compliment this soup perfectly.
My Brussel Sprouts with Bacon would come together quickly while the soup is cooking.
Finally, my Brown Sugar Roasted Sweet Potatoes are a very popular recipe that come together fast.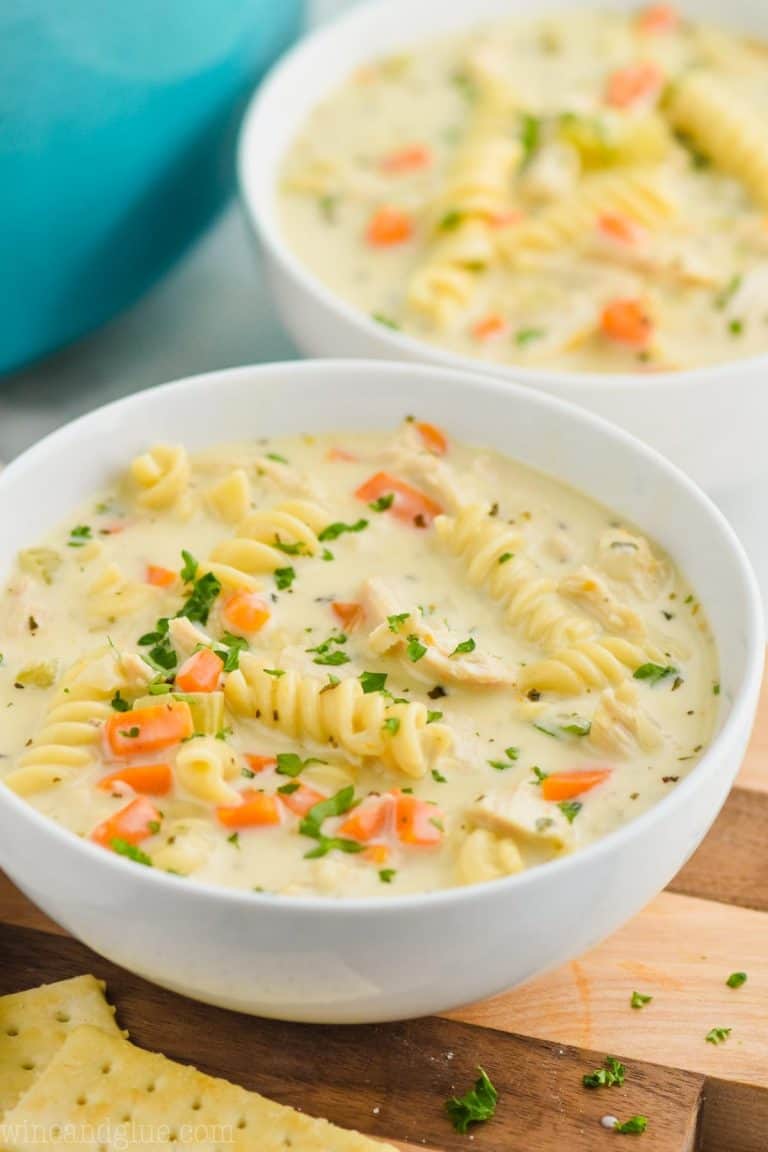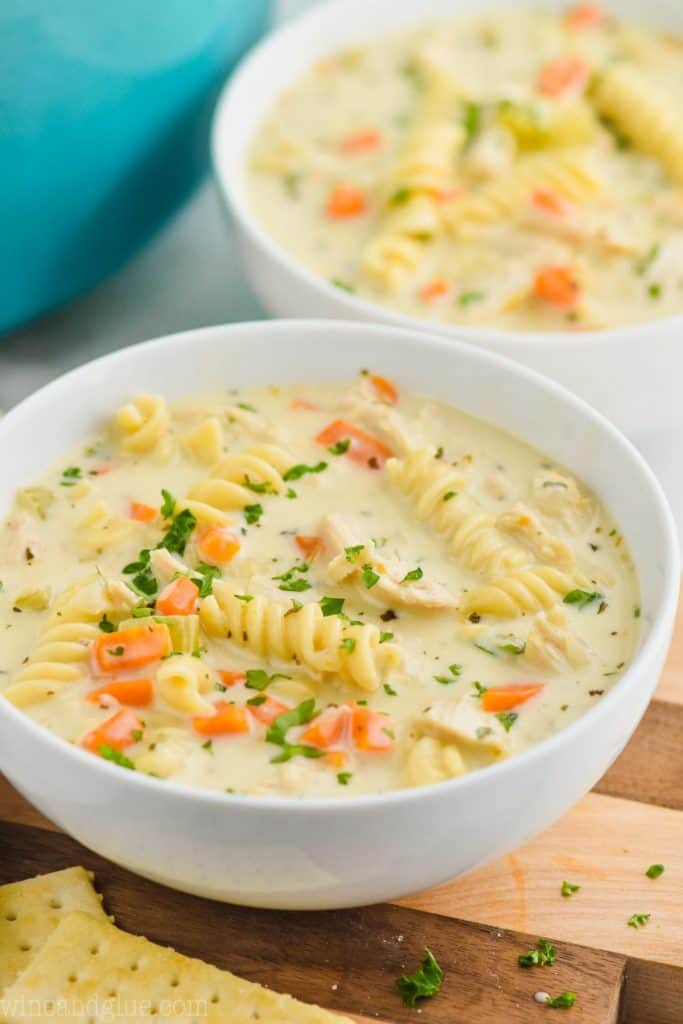 Other Great Soup Recipes
If you are like me and just can't get enough soup, here are some other recipes we make regularly in our house:
If you make this soup or any of my other recipes, leave me a comment and let me know what you think! I love hearing about your family dinners.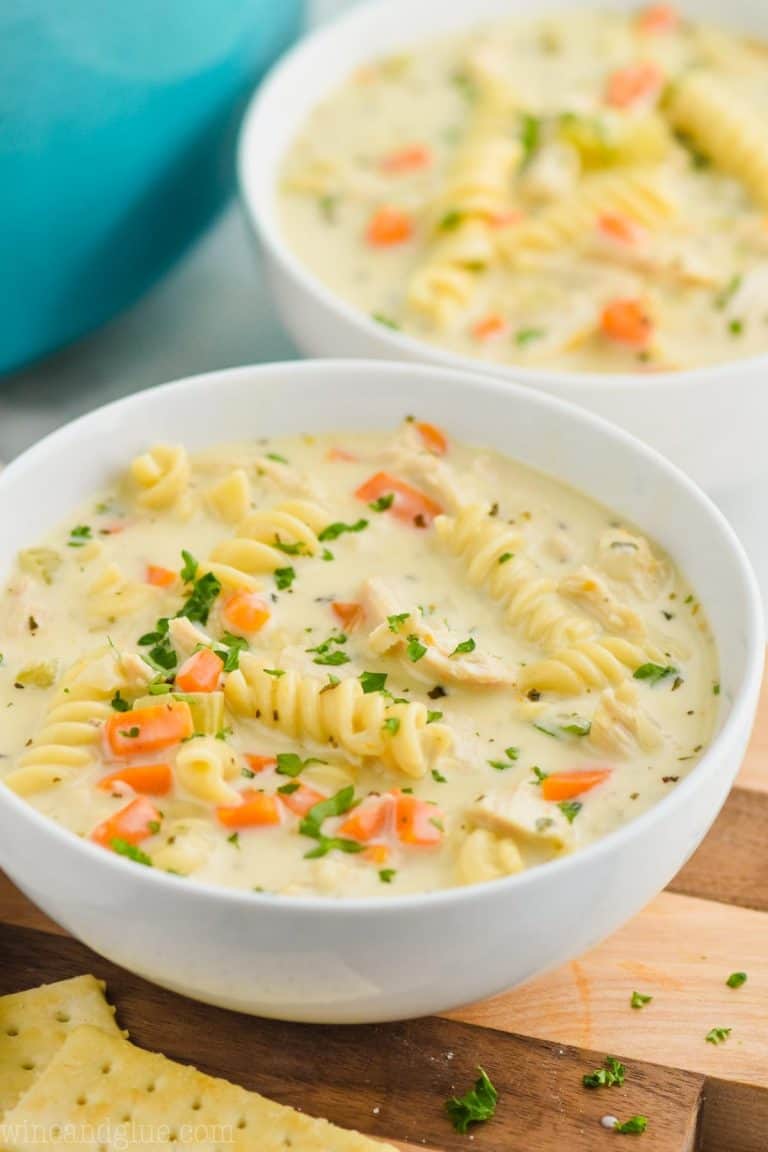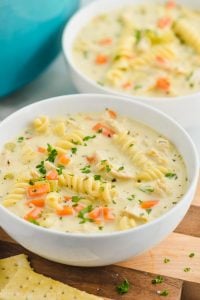 Creamy Chicken Noodle Soup
Creamy Chicken Noodle Soup is the ultimate comfort food! Your favorite soup recipe, but creamy and delicious. This soup recipe is a perfect side, but hearty enough to be dinner!
Ingredients
3

tablespoons

unsalted butter

1

small yellow onion

diced

2

cloves garlic

minced

2

medium carrots

peeled and diced

3

celery stalks

trimed and diced

1/2

tablespoon

dried oregano

1/2

tablespoon

dried basil

1

teaspoon

salt

plus more to taste (see note)

1/2

teaspoon

black pepper

plus more to taste

1/3

cup

all purpose flour

8

cups

chicken stock

1

pound

boneless skinless chicken breasts

2

cups

dry rotini

1 1/4

cup

heavy cream
Instructions
In a large stock pot over medium heat, melt 3 tablespoons butter.

Add in the diced celery, carrots, onions, and garlic. Then season with salt, pepper, oregano, and basil. Stir regularly, sautéing until the vegetables are tender, about 5 to 7 minutes.

Stir in 1/3 cup of all purpose flour, allowing it to fully coat the vegetables.

Very slowly stir in the chicken stock. Start with just a little at a time, about two tablespoons, only adding more once the last bit is absorbed. It should take at least a minute to stir in all of the stock.

Once all of the stock is added, bring it to a boil. Then add in the chicken (cutting very big breasts in half to reduce their thickeness). Reduce it to a simmer and cook for 25 to 30 minutes. Pull a chicken breast out after about 20 minutes and cut it in half to check it's doneness, being careful not to cook the chicken too long.

Remove the fully cooked chicken and turn up the heat, bringing the liquid to a boil. Once boiling, add the noodles and cook for the length of time indictated on the noodle box.

While the noodles are cooking, shred the chicken.

Once the noodles are done cooking, remove the soup from the heat. Stir in the chicken and the heavy cream. Taste and add more salt and/or pepper to taste.
Notes
Because chicken stock varies so greatly in salt content from brand to brand, this recipe is purposefully under salted.  Add more salt at the end of the recipe (you may need up to 1 teaspoon more) until you reach the taste that you desire.
Make a note of how much more you add (if you use the same brand of chicken stock regularly) so next time you can add the amount you like up front.
Serving:
1.5
cups
Calories:
429
kcal
(21%)
Carbohydrates:
28
g
(9%)
Protein:
23
g
(46%)
Fat:
26
g
(40%)
Saturated Fat:
13
g
(81%)
Monounsaturated Fat:
1
g
Cholesterol:
134
mg
(45%)
Sodium:
1523
mg
(66%)
Potassium:
145
mg
(4%)
Fiber:
2
g
(8%)
Sugar:
4
g
(4%)
Vitamin A:
192
IU
(4%)
Vitamin C:
3
mg
(4%)
Calcium:
21
mg
(2%)
Iron:
4
mg
(22%)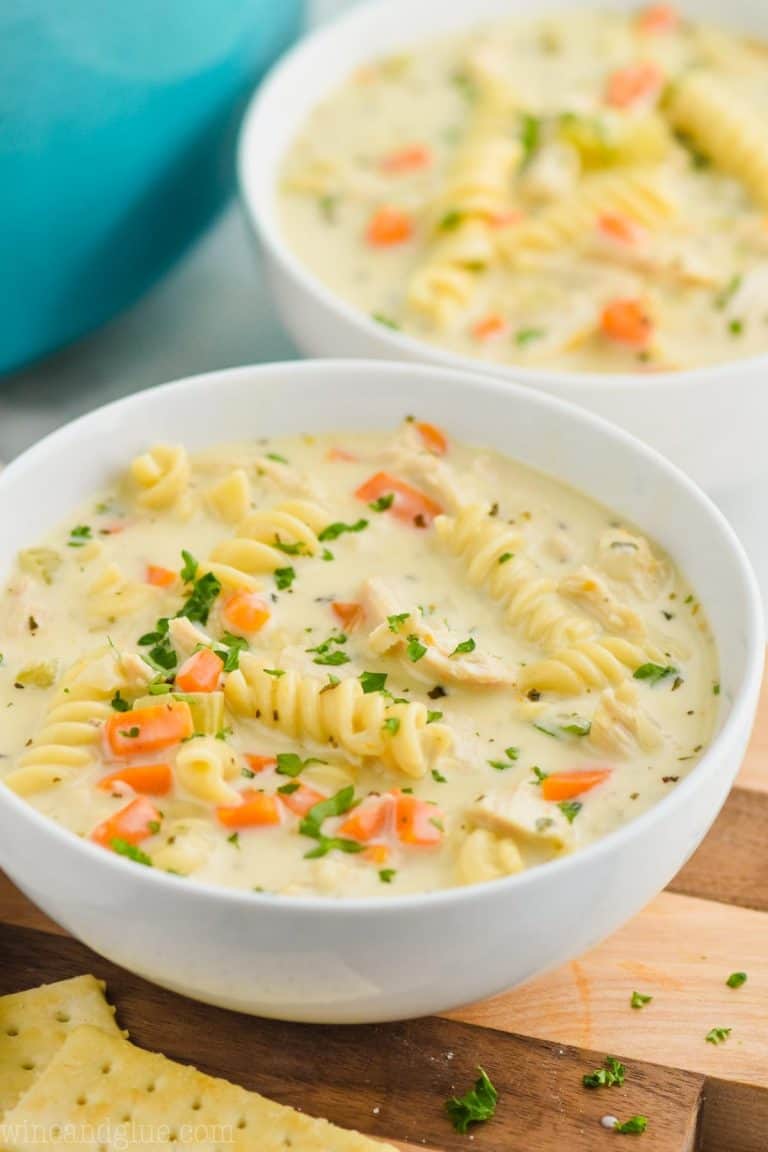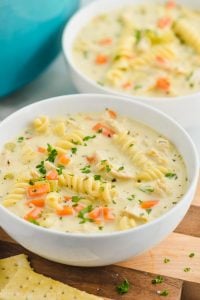 did you make this
Creamy Chicken Noodle Soup
you might also like . . .