Chicken and Dumplings is such a perfect comforting meal. This will become a treasured recipe that you come back to over and over.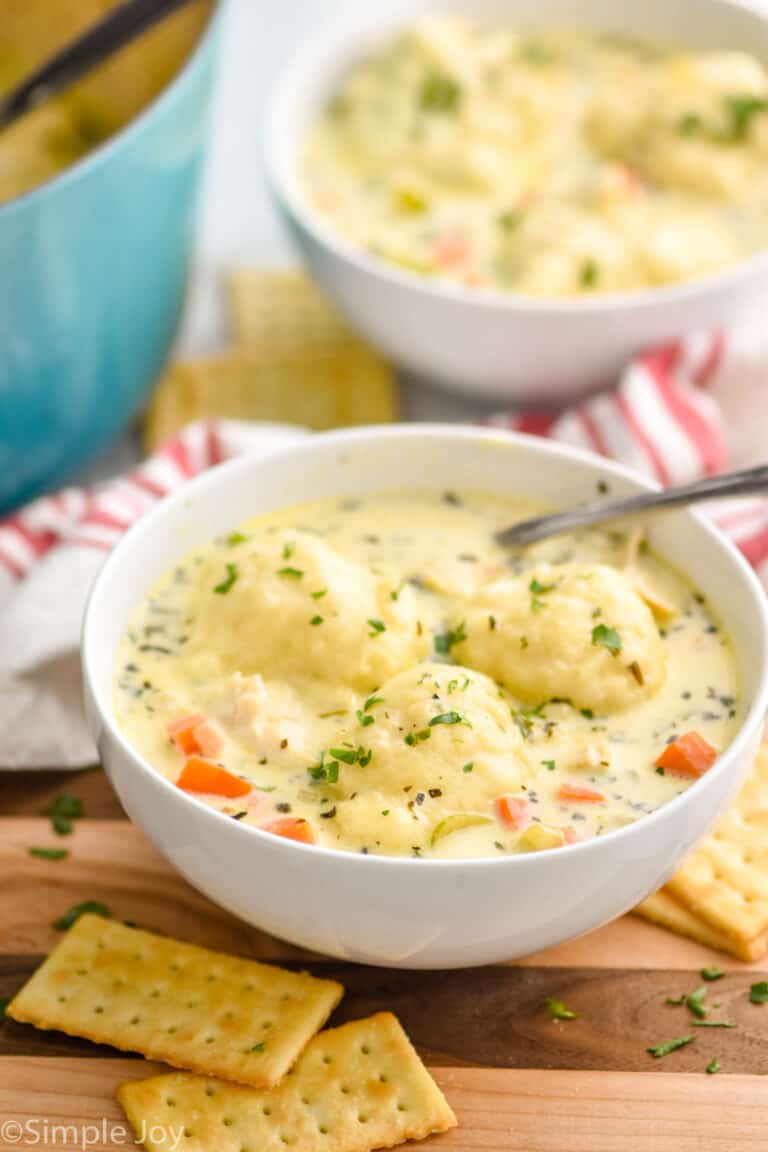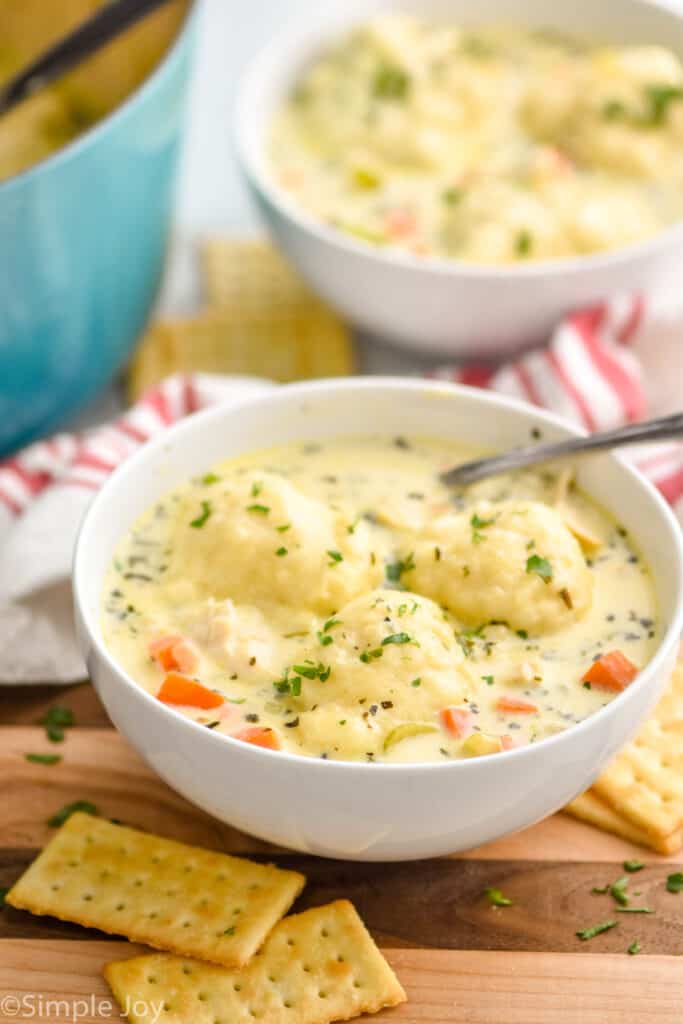 Today is the first official recipe under the name Simple Joy! I am so excited – kid on Christmas morning excited. And Chicken and Dumplings is the perfect inaugural recipe.
This amazing homemade Chicken and Dumplings is not only easy to make, but it is the perfectly amount creamy with the best flavor. This soup screams comfort food and is the perfect recipe for fall and winter.
Reader Review
This was my first time making chicken and dumplings. A huge hit in my family!! So delicious!!
How To Make Chicken and Dumplings
This recipe has easy to follow steps. Once you make this recipe once, you'll be able to make it from memory. This is a brief overview.
Saute carrots, celery, and garlic. in butter.
Create a roux and then add chicken stock.
Add in seasonings, and simmer.
While it is simmering, make the batter for dumplings. Drop the dumpling batter by the spoonful into the simmering broth.
After the dumplings have cooked through, stir in chicken and heavy cream.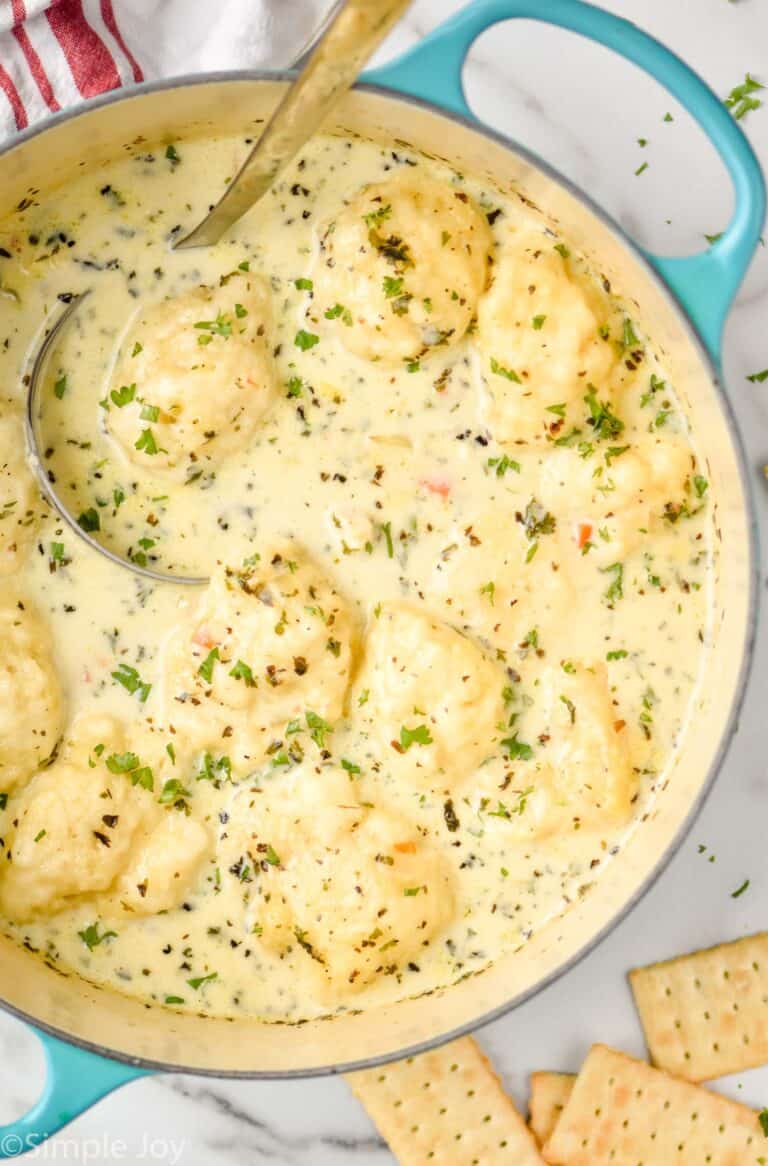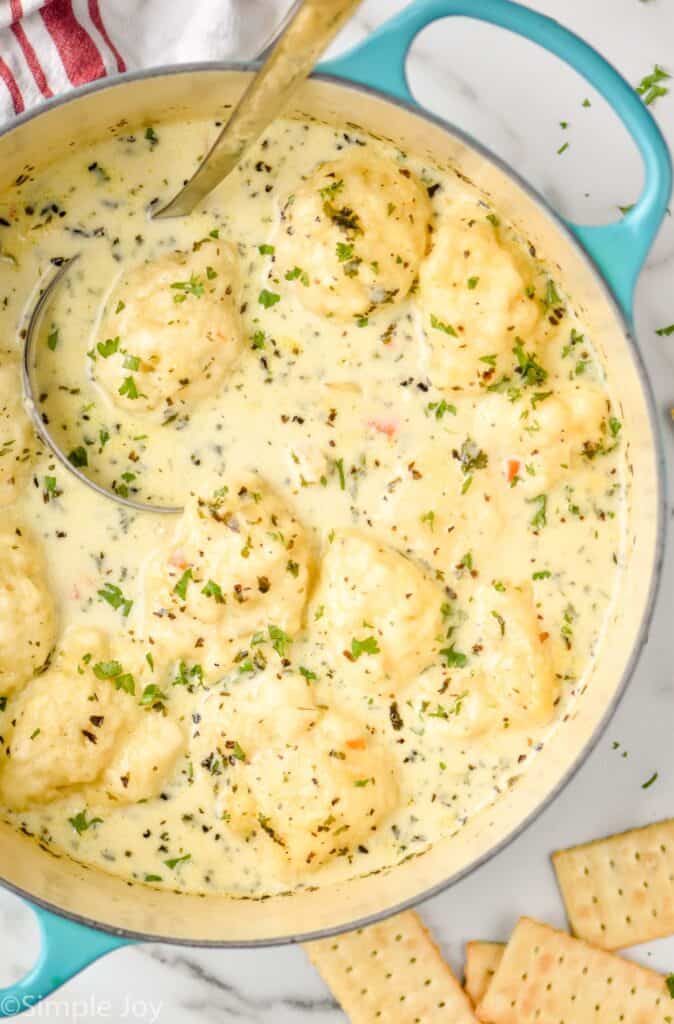 Making Dumpling Batter
The dumpling batter for this soup is really simple. It is similar to the batter for my Quick Easy Biscuits. There are a couple things you want to consider:
If you don't have a pastry cutter you can cut the cold butter into the batter with a fork.
I used skim milk to make my dumplings, but you can use whatever milk you have on hand.
The batter will be really sticky. Which is fine! You aren't forming biscuits, you are dropping it into simmering soup.
How to Make a Roux
This soup gets it's thickness from a roux. A roux is a combination of a melted fat and flour with the addition of a liquid.
Here we are using the butter we sautéed the vegetables, then adding in flour, and finally slowly adding in chicken stock.
I find that the most successful rouxs are the ones made with patience. Slowly add your chicken stock. Whisk in about two tablespoons at a time in the beginning before adding the rest. This will result in a thick and creamy soup.
Using Cooked Chicken
This recipe calls for cooked chicken, which makes it a quicker recipe. Here are a few suggestions:
Frozen Shredded Chicken: I love buying rotisserie chicken and freezing it. For details on how to do that, check out my Crockpot Chicken Enchiladas.
Rotisserie Chicken: Grab a cooked chicken at the grocery store to make this recipe super simple.
Instant Pot Chicken: Cook chicken in your instant pot for easy prep.
Boil Chicken Breasts: Place the chicken in enough water to cover it and simmer it for 4 to 10 minutes. Make sure it registers 165 degrees with an instant read thermometer.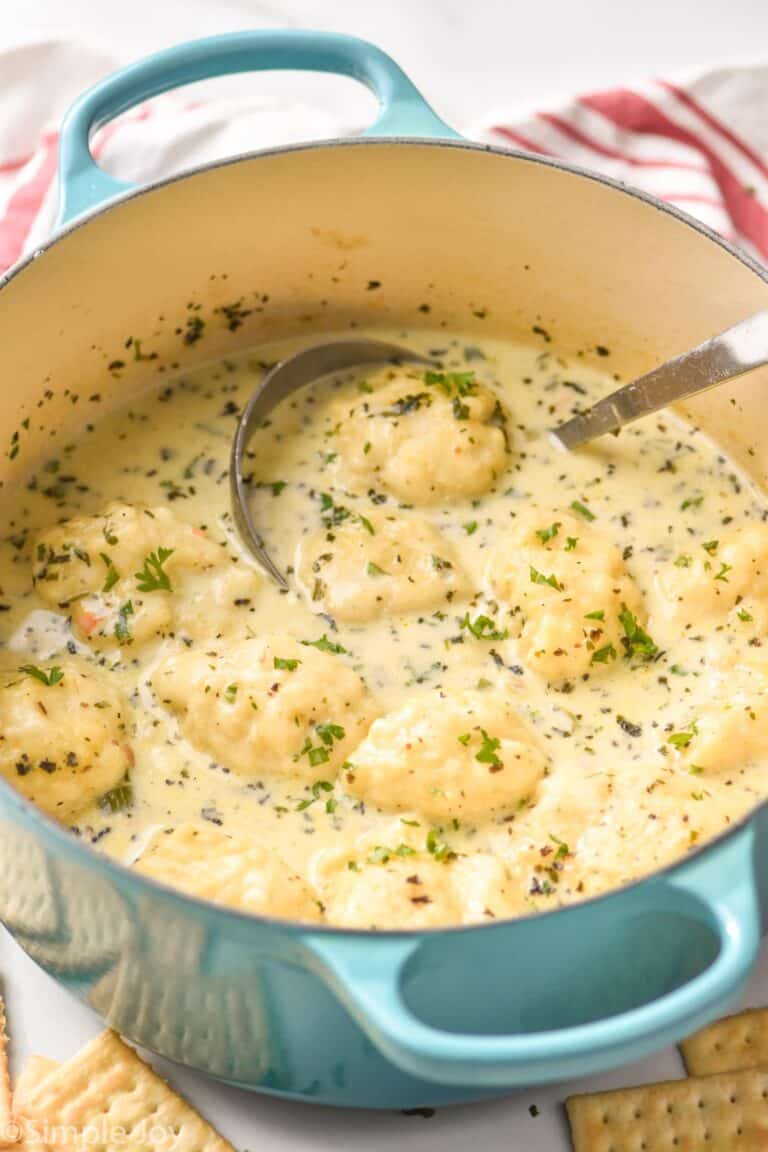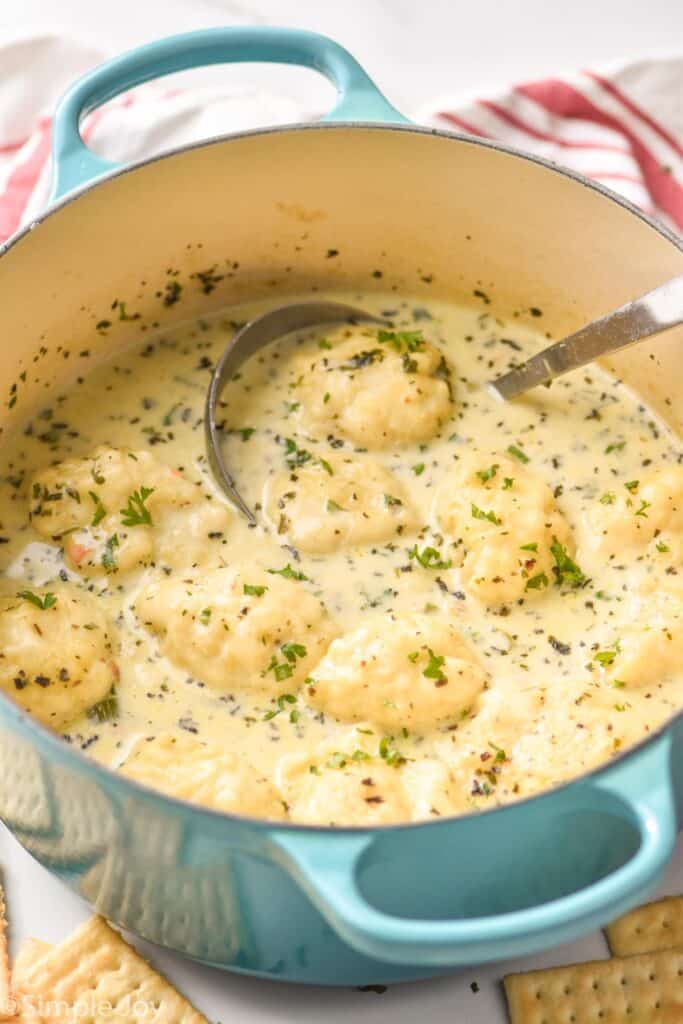 FAQ
Can You Freeze Chicken and Dumplings?
This would not be my first choice of soups to freeze. That being said, it can be done. Freeze in an airtight container for up to three months. Make sure you allow for the soup to expand. Thaw the soup in the refrigerator overnight. Heat on the stove over low heat.
Can You Make this With Turkey Leftovers?
I think that this is a great way to use your Thanksgiving Turkey leftovers! I have a delicious Turkey Dumpling Soup recipe that has all the flavors of fall.
Can You Double this Recipe?
You can double the soup ingredients, but not the dumplings. Because we are using the whole surface area of the top of the soup to make the dumplings, if you double the dumpling batter, there won't be enough room to cook them.
Other Great Soup Recipes
I sometimes think I should start another blog for just soups. And then I remember how much time running a food blog takes. But! I adore soup season, and I have lots of other great soup recipes for you.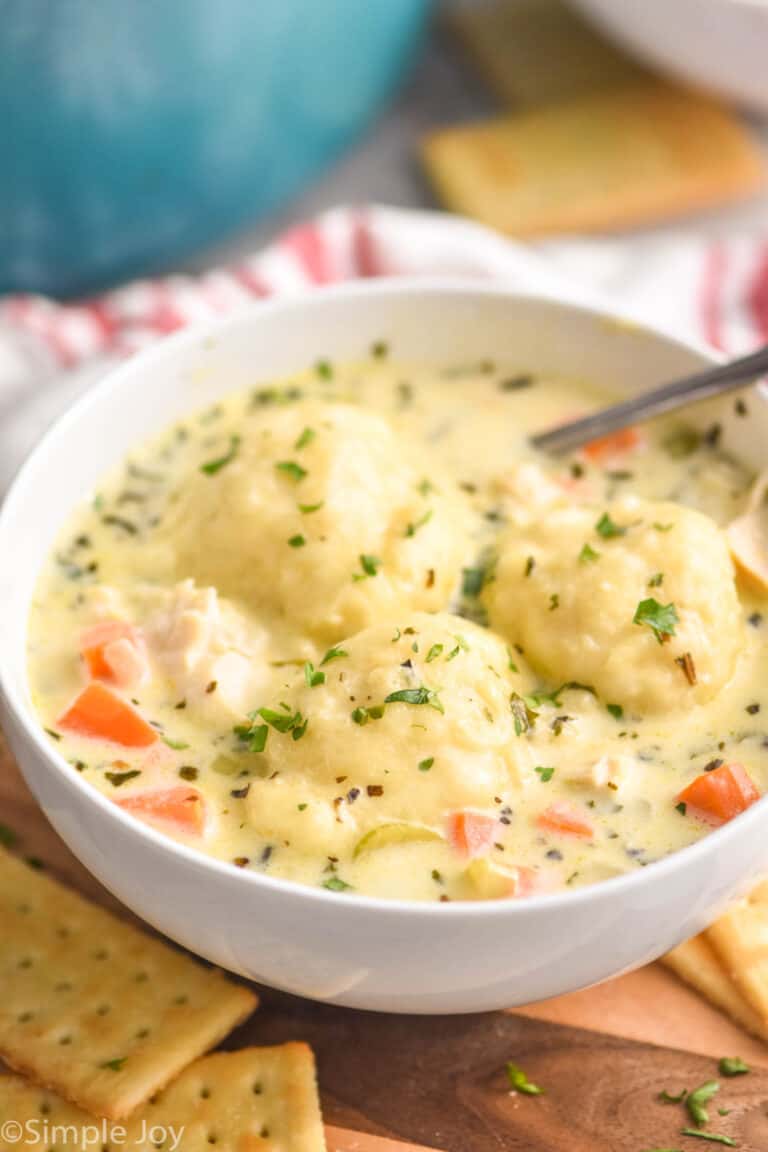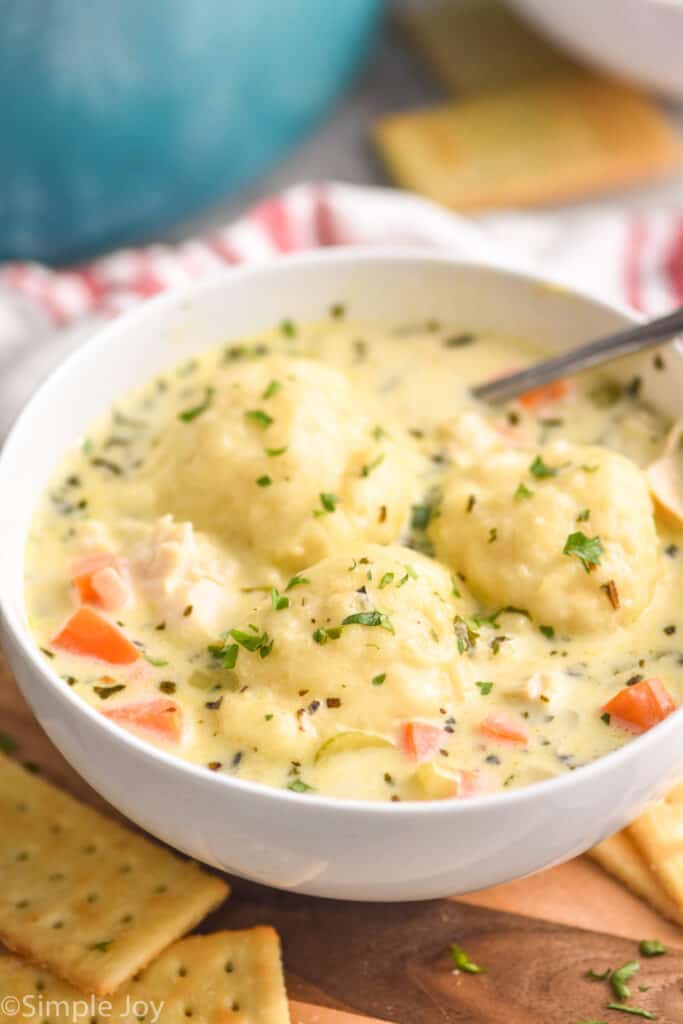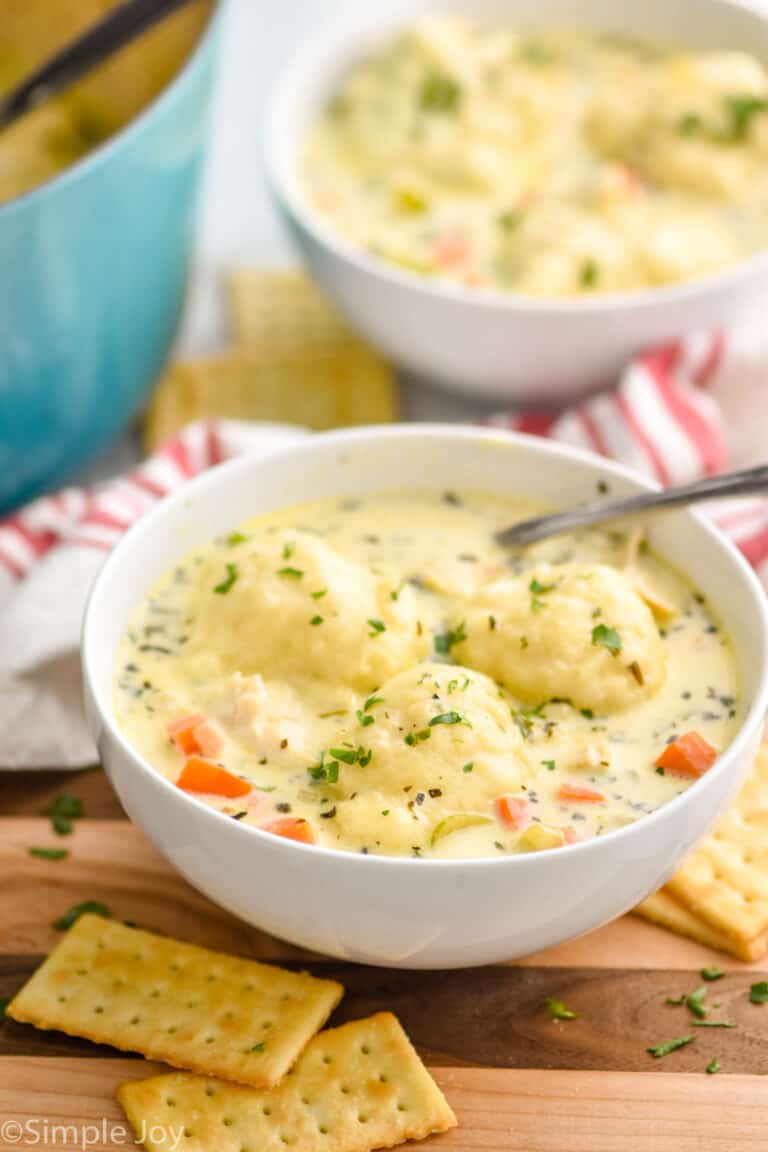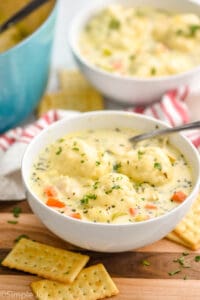 Chicken and Dumpling Soup
Chicken and Dumplings is such a perfect comforting meal. This will become a treasured recipe that you come back to over and over.
Ingredients
For Soup
3

tablespoons

unsalted butter

1

small yellow onion

diced

2

large carrots

diced

2

celery stalks

diced

2

garlic cloves

2

teaspoons

dried parsley

2

teaspoons

dried basil

1

teaspoon

salt

see note

1/4

teaspoon

pepper

2

tablespoons

all purpose flour

4

cups

chicken stock

2

bay leaves

2

cups

cooked chicken cubed (see note in post about cooked chicken)

8

oz

heavy cream
For Dumplings
1

cup

all purpose flour

2

teaspoons

baking powder

1

teaspoon

sugar

1/2

teaspoon

salt

1

tablespoon

unsalted butter

1/2

cup

skim milk
Instructions
Melt the butter over medium heat in a large stock pot.

Add the onions, carrots, celery, and garlic. Season with parsley, basil, salt, and pepper and cook until soft, about five to seven minutes.

Whisk in the flour until fully combined. Slowly add the chicken stock. I like to whisk in about 2 tablespoons at a time to start, whisking it into the butter and flour mixture until fully combined before adding more. You can add it more quickly at the end.

Add the bay leaves and bring to a simmer. Allow to simmer for five minutes. You should see bubbles that are about the size of peas.

While the soup is cooking, make the dumpling batter. Whisk together flour, baking powder, sugar, and salt.

Using a fork or pastry cutter, cut in cold butter.

Gently mix in milk until just combined and there are no more streaks of flour.

Make sure you still see your soup bubbling before gently dropping about a tablespoon of the dough at a time into the soup. Boil until just cooked through over medium heat. About four minutes uncovered.

Finally, gently stir in the cooked chicken and heavy cream, stirring to combine and cooking about one minute more until combined. Remove bay leaves and serve.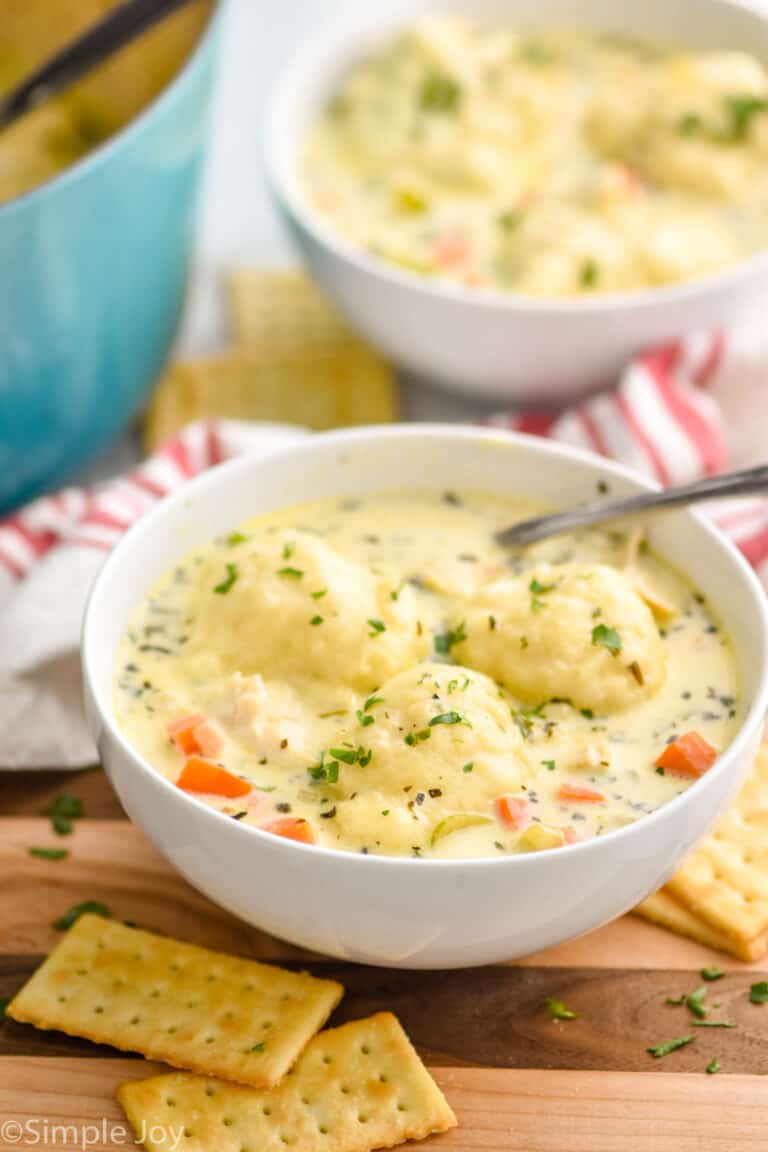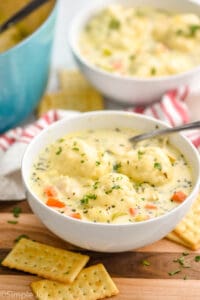 did you make this
Chicken and Dumpling Soup