This Tomato Bisque is so easy to make and home, and is the perfect light lunch or side for dinner. Serve it with some crusty bread and a salad for the most comforting of meals.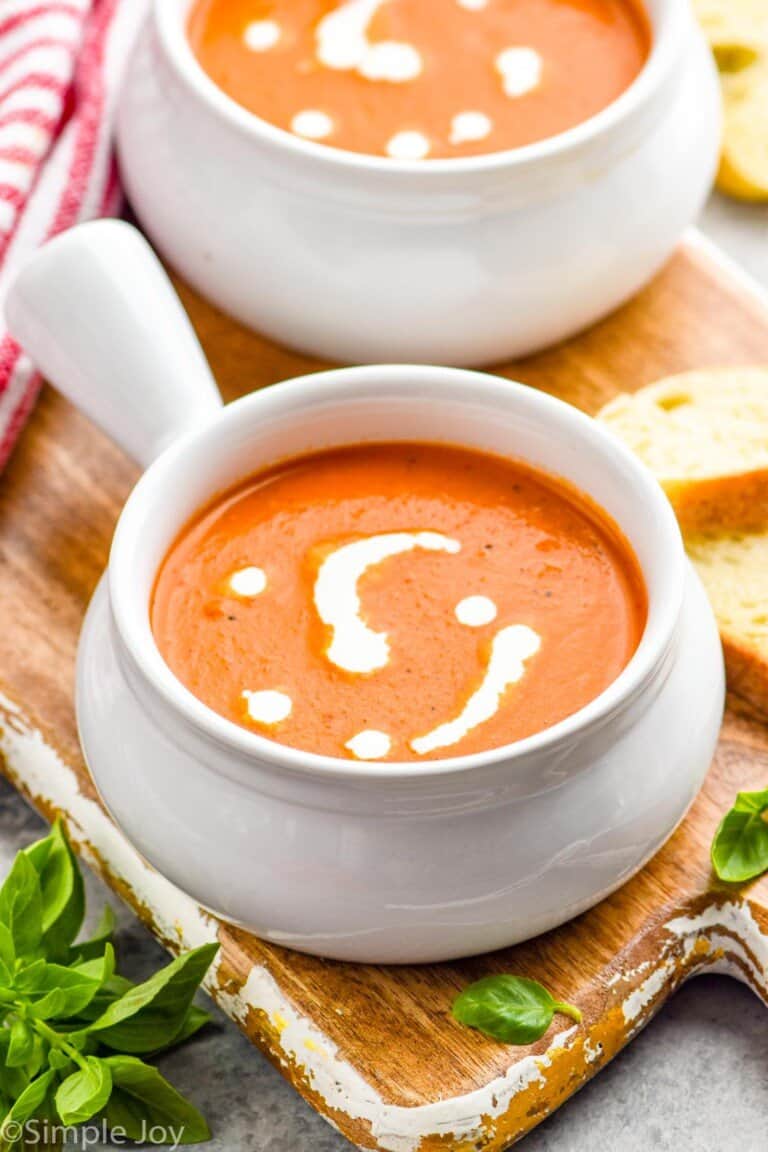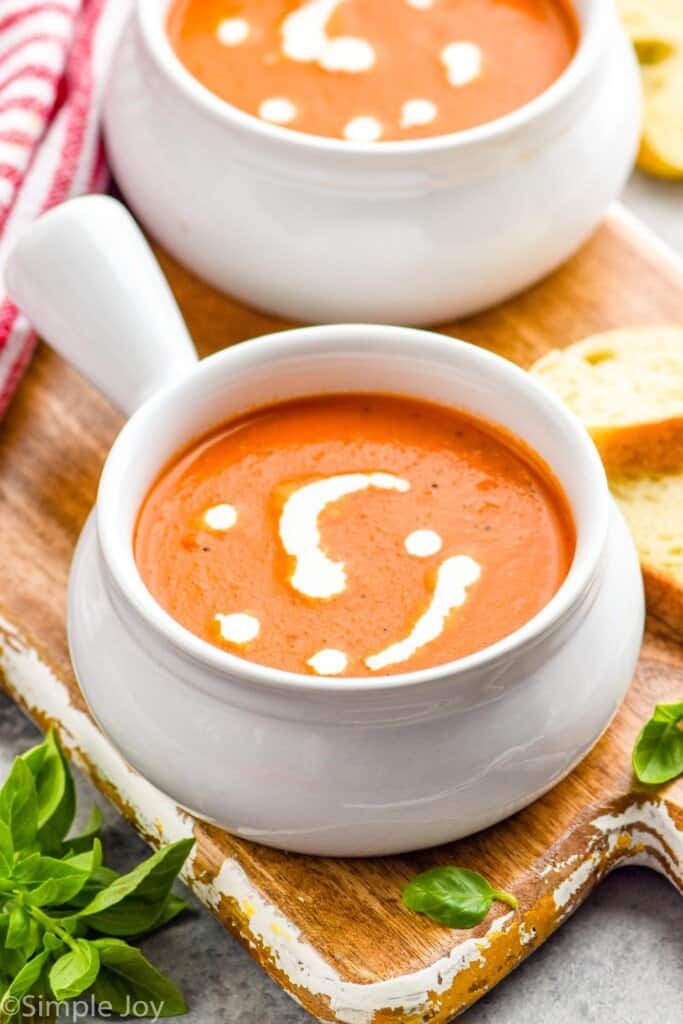 As we come back to soup season again for another year, I wanted to share with you an old classic on Simple Joy that we have updated with new photos. This amazing creamy Tomato Bisque recipe comes together in 30 minutes and is absolutely delicious.
The flavors of tomato, basil, and cream meld together perfectly to make a soup that tastes like you are at a fancy cafe in the comfort of your own home. We love soup recipes in our home, and I think this would make a great light dinner. Pair with our Caesar Salad for a full and complete meal you will come back to over and over.
Reader Review
I made this at work for soup of the day. Sooooo many compliments! One older gentleman said it was the best he had ever had. It is amazing. I loved it and will be making again!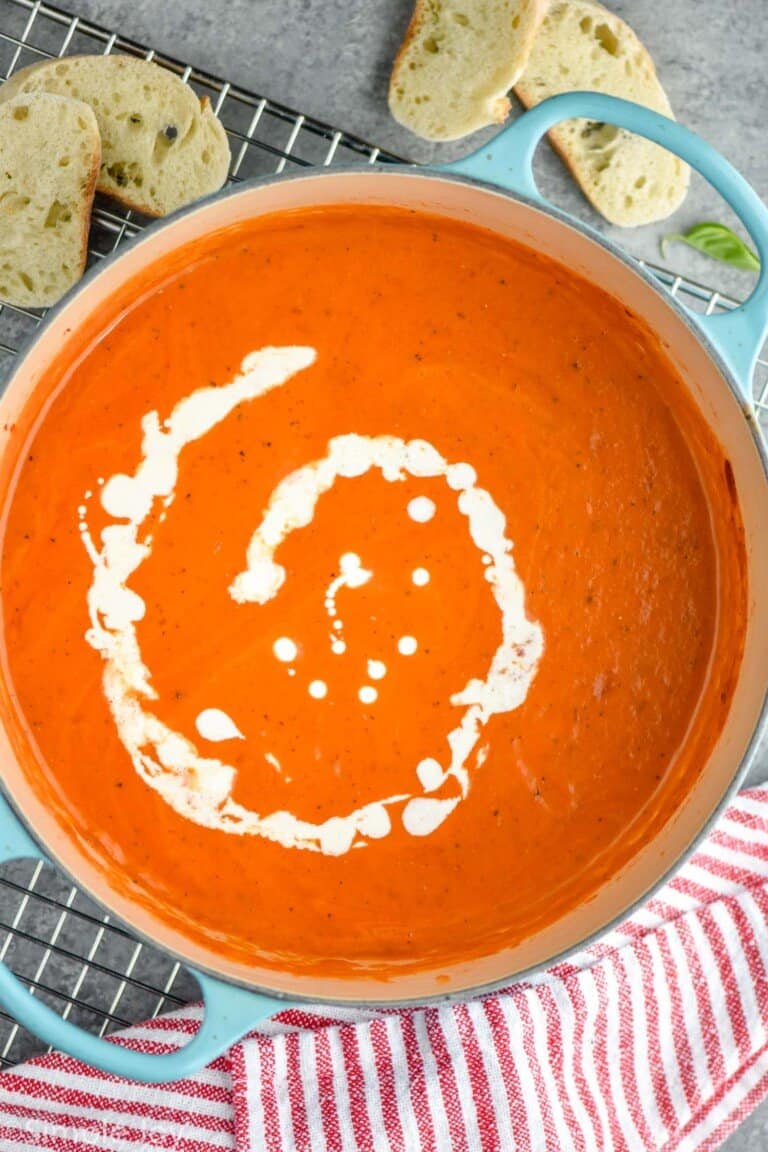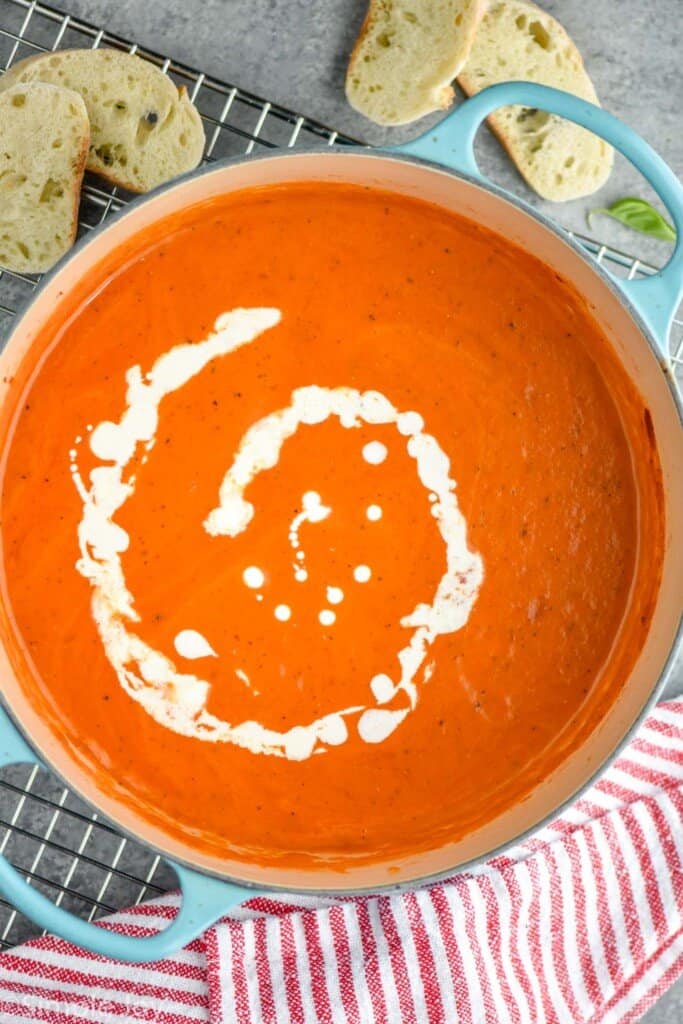 How to Make Tomato Bisque
Sauté garlic and red onion. In a heavy bottomed stock pot, melt butter and sauté the garlic and red onion with salt and pepper. Continue cooking until the onion is translucent.
Make a roux. This is a creamy sauce, so we are going to make a roux by whisking all purpose flour into the residual butter left over from sautéing. You can read more about making a roux below.
Add in tomato juice. Slowly whisk in some tomato juice. I like to go just a little at a time when making a roux. But the whole process of adding it should take less than a minute. Season it with red pepper flakes and dried basil.
Add in tomatoes. Stir in some canned whole tomatoes. Bring it to a boil and then reduce it to a simmer, simmering for 15 minutes.
Blend it. We love using an immersion blender to blend up the whole tomatoes. You could also transfer it to a blender in batches.
Add the cream. Remove the soup from the heat and gently stir in some heavy cream.
Making a Roux
We use rouxs a lot in our recipes. This is a thickening agent made from flour and fat. Sometimes, like in our New England Clam Chowder, the fat can be bacon grease. In this recipe we are using the left over butter that we used to sauté the onion and garlic in.
There are two important parts to a roux.
Make sure the flour and the fat are fully whisked together. You want it to look like a paste before you move on to addicting liquid. If you can still see streaks of flour you are likely going to taste that in your final recipe.
When you start adding liquid to the roux (in this case tomato juice), go slowly at first, just a few tablespoons at a time. Whisk in that liquid so that it is fully absorbed by the roux before moving on. While I do encourage you to take care with this, you can go more quickly after the first little bit is added. The whole process should take no more than a minute or so.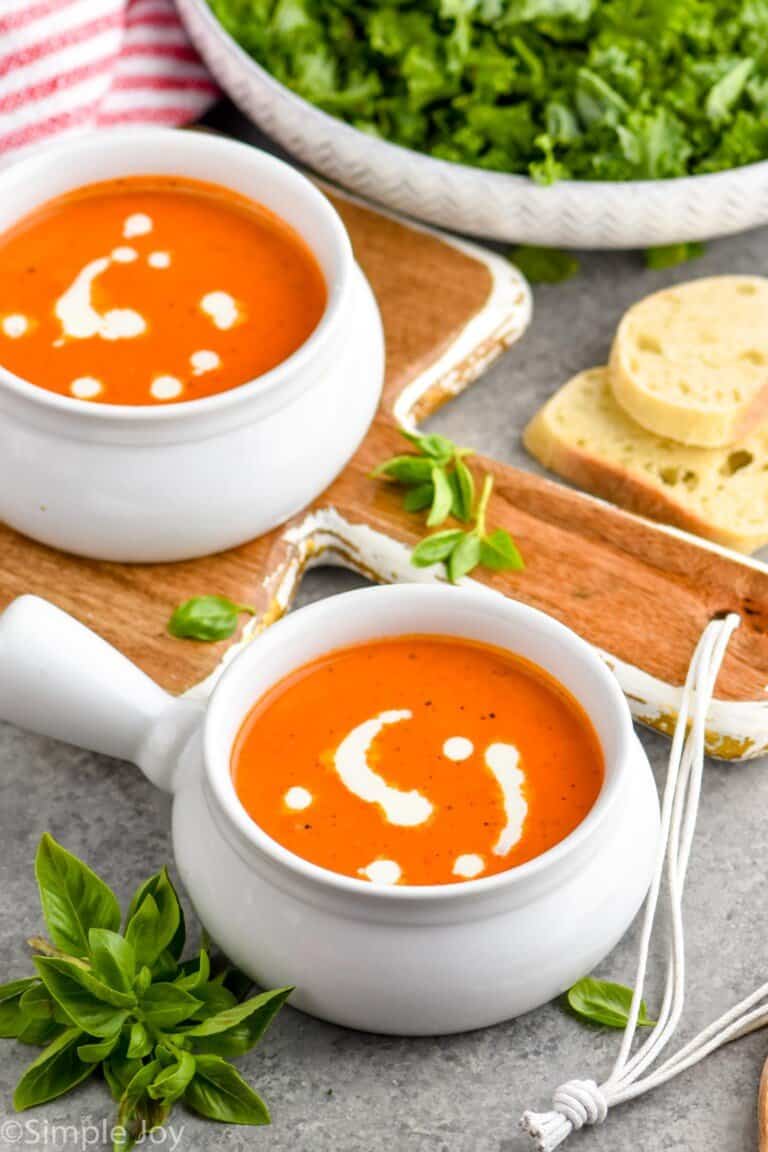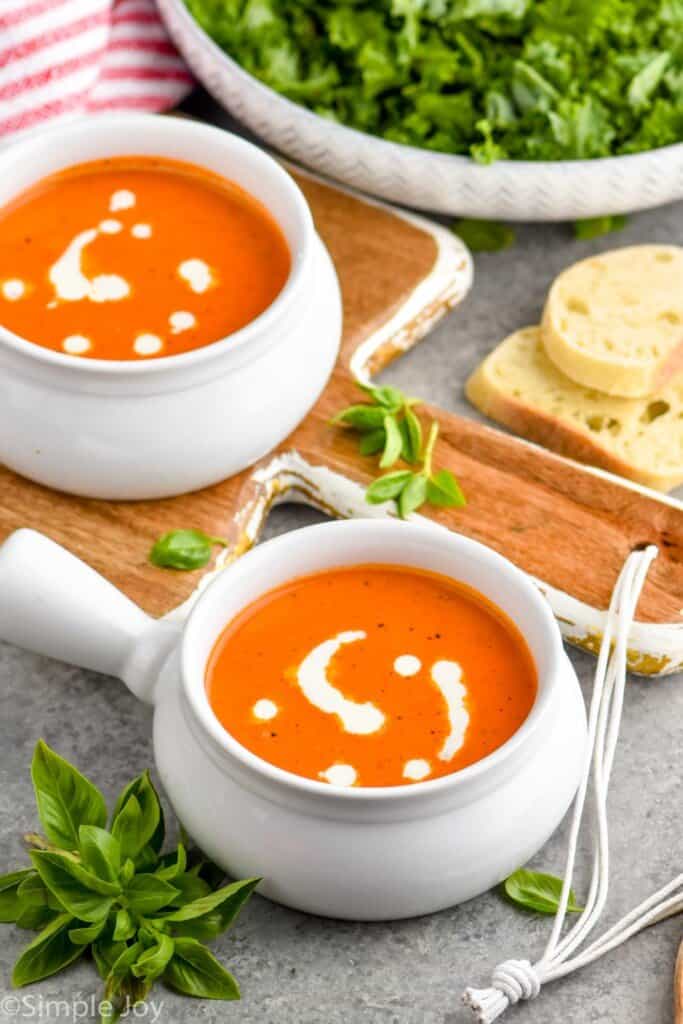 A Note on Spice
This soup has a little bit of a kick to it. Between the pepper and crushed red pepper flakes it does have a little bite. I think it is perfect the way it is. But that being said, if you are sensitive to spice, I would leave out the red pepper flakes the first time you make this.
Storing Tomato Basil Bisque
This Tomato Bisque Soup recipe can be stored in the refrigerator, once cooled, in an air tight container for up to 4 days. As with all recipes, use your best discretion when eating left overs.
To reheat left overs, remove just the portion you plan on eating. Place in a small saucepan over low heat, stirring until warmed through.
Freezing
This soup will freeze well. Place it in an air tight container with room for expansion. Freeze for up to 3 months. When ready to eat, thaw in the refrigerator overnight and reheat in a stock pot over low heat, stirring often.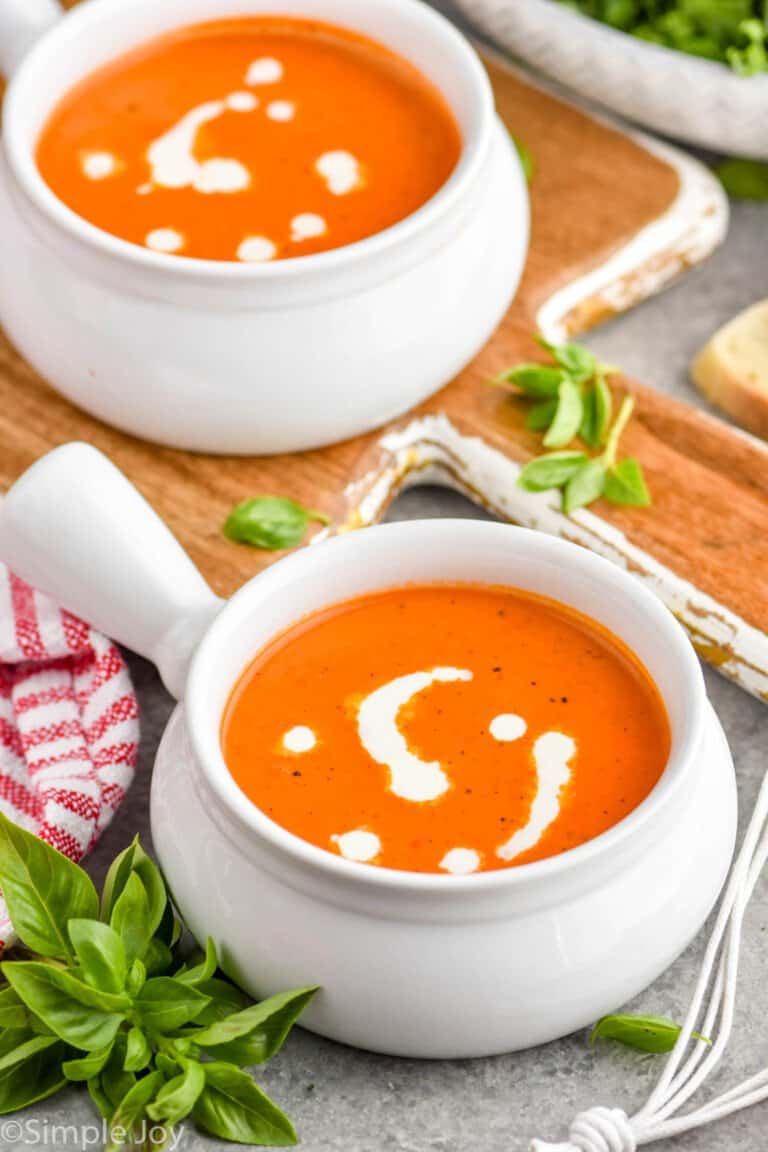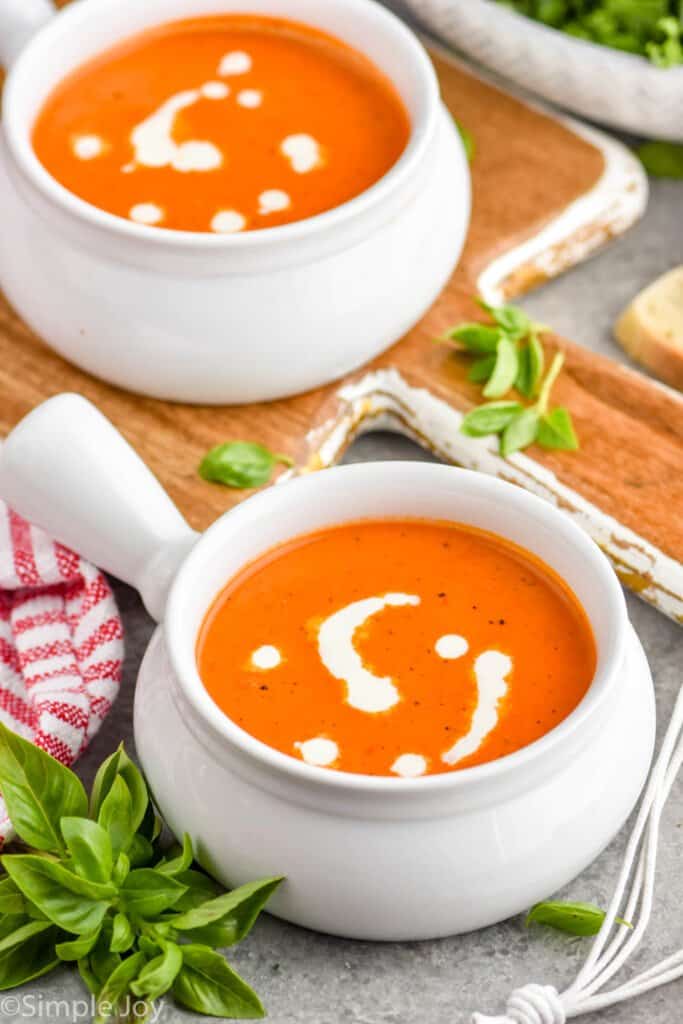 What to Pair with Tomato Bisque
This recipe combined with another light recipe would make a full and delicious meal!
If you make this Tomato Bisque Soup recipe or any of other recipes, please leave us a comment and let us know what you think.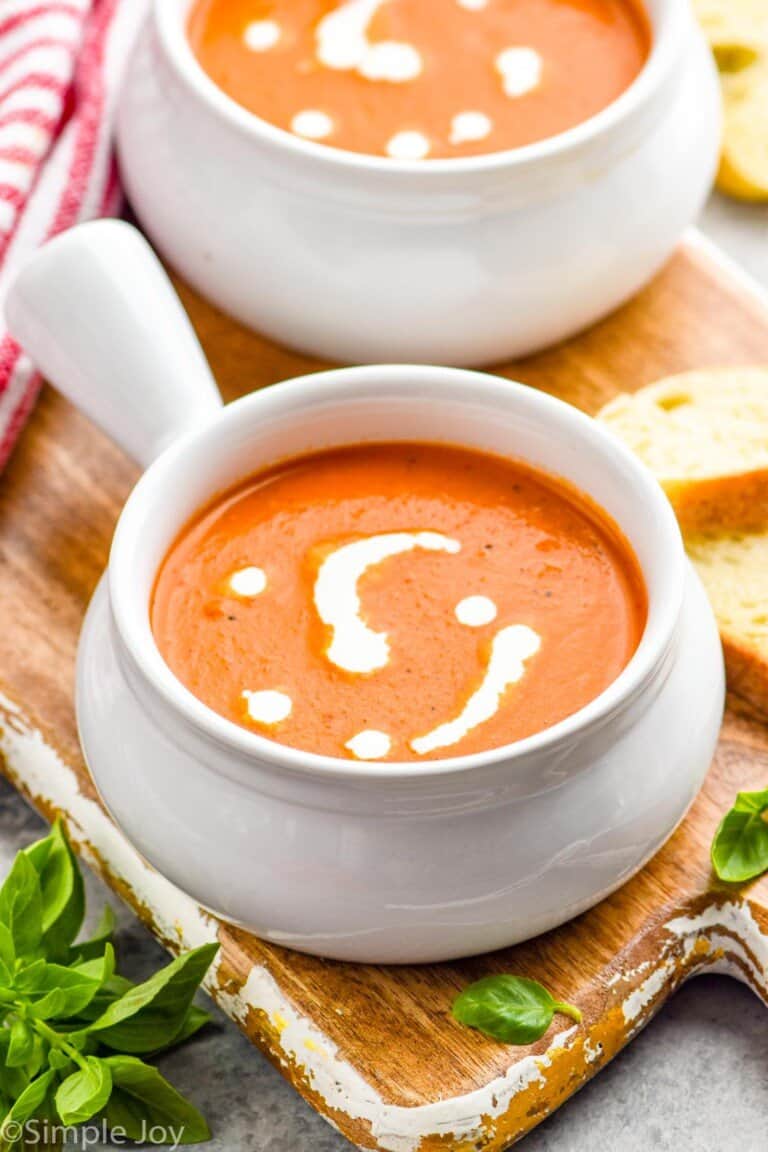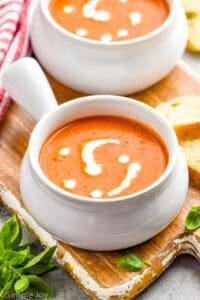 Creamy Tomato Bisque
This Tomato Bisque is so easy to make and home, and is the perfect light lunch or side for dinner. Serve it with some crusty bread and a salad for the most comforting of meals.
Ingredients
3

tablespoons

unsalted butter

1/2

of a small red onion

diced

2

garlic cloves

diced

1/2

tablespoon

dried basil

1

teaspoon

kosher salt

1/4

teaspoon

pepper

1/2

teaspoon

crushed red pepper flakes

2

tablespoons

all purpose flour

2

cups

tomato juice

see note

28

ounces

whole tomatoes and their juice

1

cup

heavy cream
Instructions
In a large stock pot over medium low heat, melt butter. Add garlic, red onion, salt, and pepper. Cook until the onion is translucent, about 5 to 7 minutes. The pieces of onion should break apart very easily with the end of a wooden spoon.

Whisk in the flour and continue cooking until the flour is fragrant and a light brown color.

Whisk in the tomato juice a little at a time, about a few tablespoons at a time, only adding more toamto juice once the previous amount is fully whisked in.

Stir in the crushed red pepper flakes and basil.

Add the tomatoes and bring to a boil. Then reduce to a simmer and continue cooking, covered, for 15 minutes. At a simmer the bubbles should be the size of small grapes.

Either using an immersion blender or working in batches with a stand blender, puree the soup.

Remove from the heat and gently stir in the heavy cream.

Serve with crusty bread.
Notes
This recipe originally called for V8, a brand of tomato and vegetable juice sold in the United States. It was changed to make it more accessible. If you want to make the original, use 2 cups of V8 and 1/2 a teaspoon of salt instead of 1 teaspoon.
Serving:
1
cup
Calories:
295
kcal
(15%)
Carbohydrates:
13
g
(4%)
Protein:
4
g
(8%)
Fat:
26
g
(40%)
Saturated Fat:
15
g
(94%)
Monounsaturated Fat:
2
g
Trans Fat:
26
g
Cholesterol:
82
mg
(27%)
Sodium:
513
mg
(22%)
Potassium:
233
mg
(7%)
Fiber:
1
g
(4%)
Sugar:
3
g
(3%)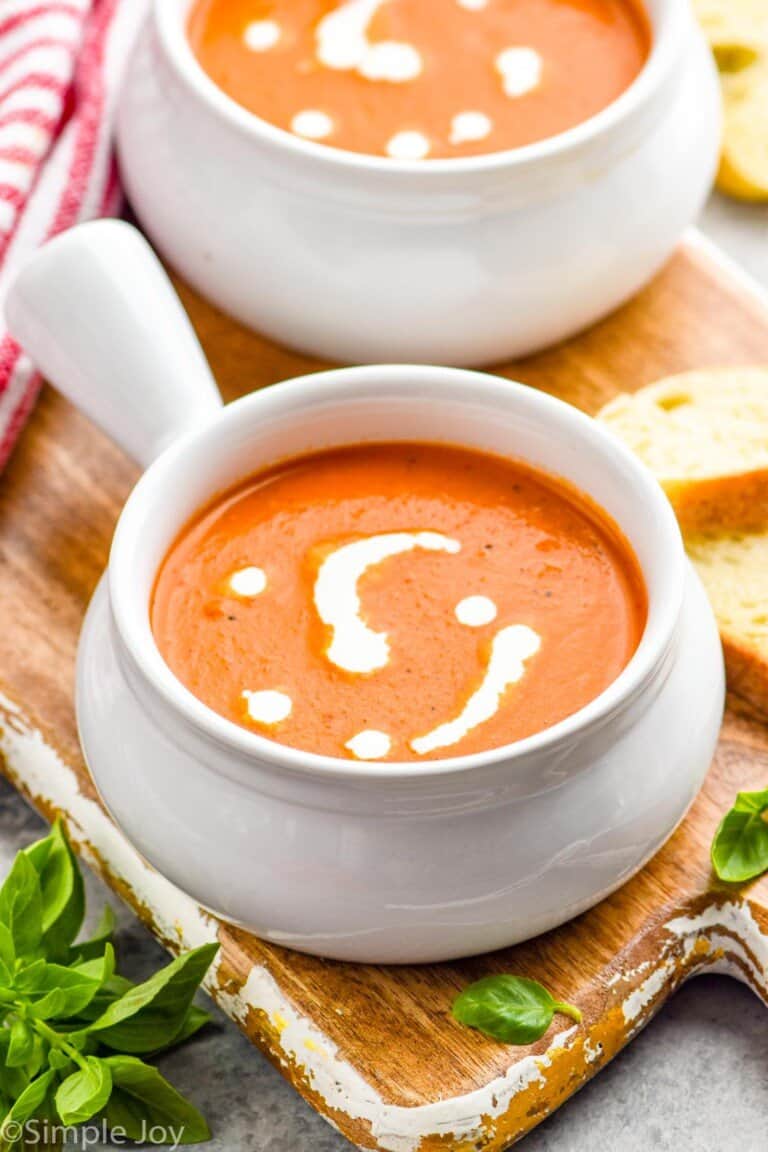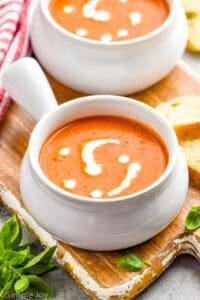 did you make this
Creamy Tomato Bisque
you might also like . . .