Crockpot Applesauce is the perfect recipe to make with freshly picked apples. Easy to make and delicious, this homemade applesauce will become a family favorite.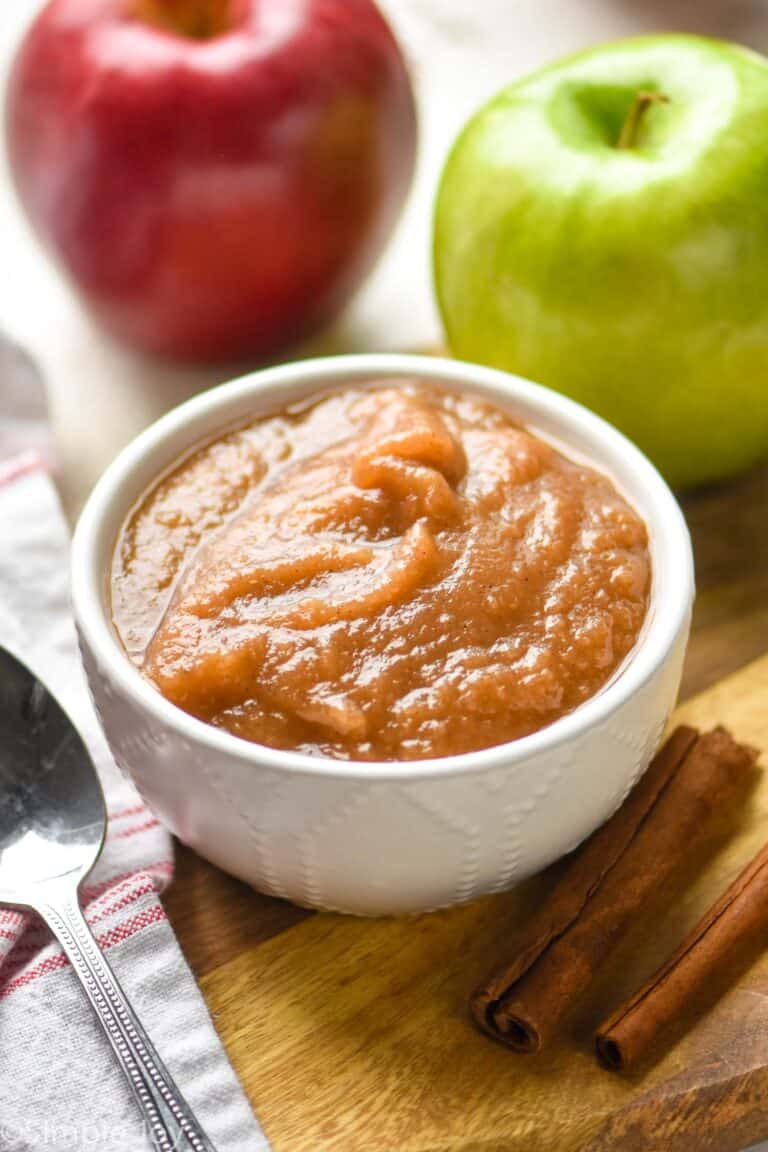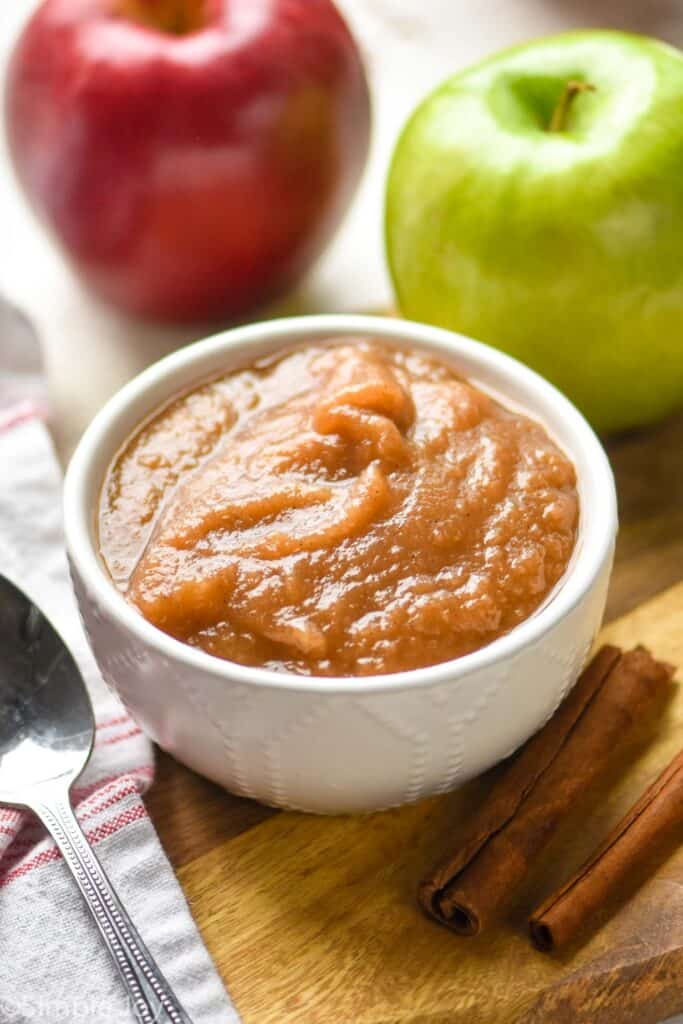 The other day I was thinking about when it was just my oldest and me all day together. I sort of wish I could go back in time and savor that for just another moment or two.
When he was a toddler (and still now but keep that a secret) he loved applesauce. He even loved helping me make it. There is something magical to me about cooking with my kids.
This Crockpot Applesauce is even more perfect to make with the kids than the stovetop version. A recipe that allows for dumping everything in a slow cooker and then reading books and playing while your house smells magical is perfect for toddlers.
Applesauce Ingredients
Crockpot Applesauce is an easy way to make deliciously smooth applesauce. Even better, this recipe can be made with ingredients you already have in your kitchen!
Here's all you need:
Apples (Read on for the best apples to use for applesauce)
Lemon juice
Cinnamon
Sugar
Vanilla
and some water!
Find the full measurements at the bottom of the post.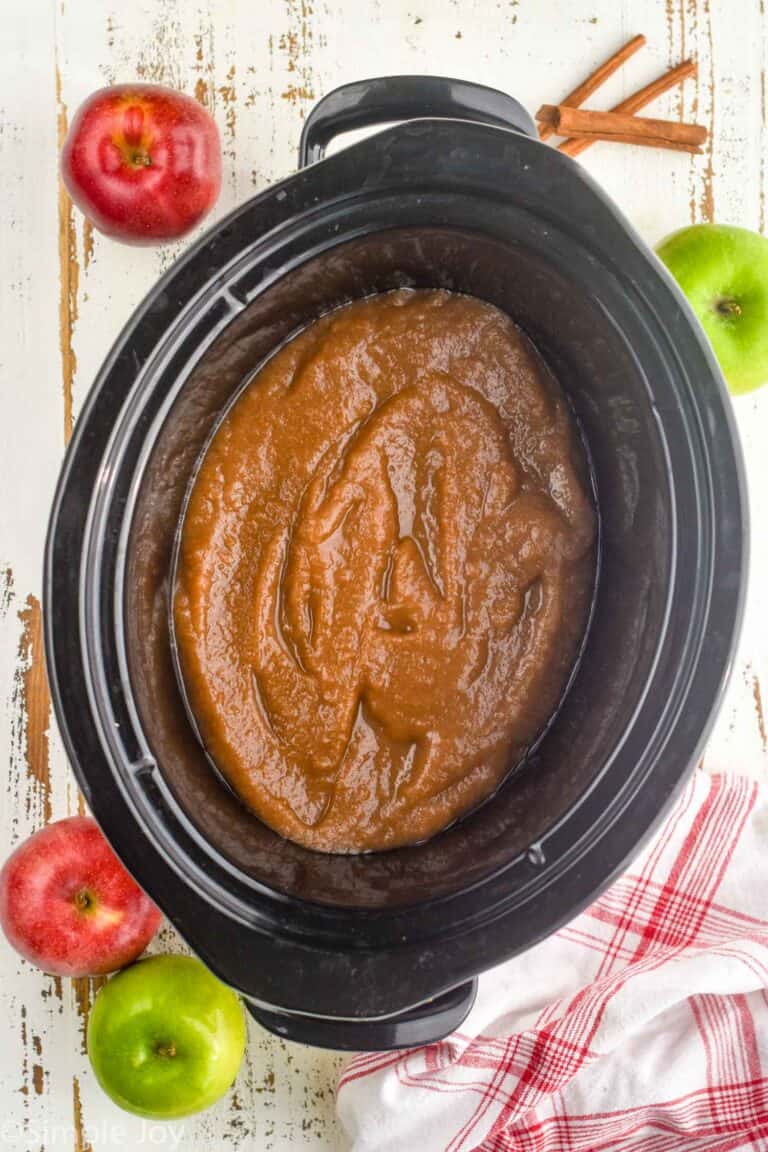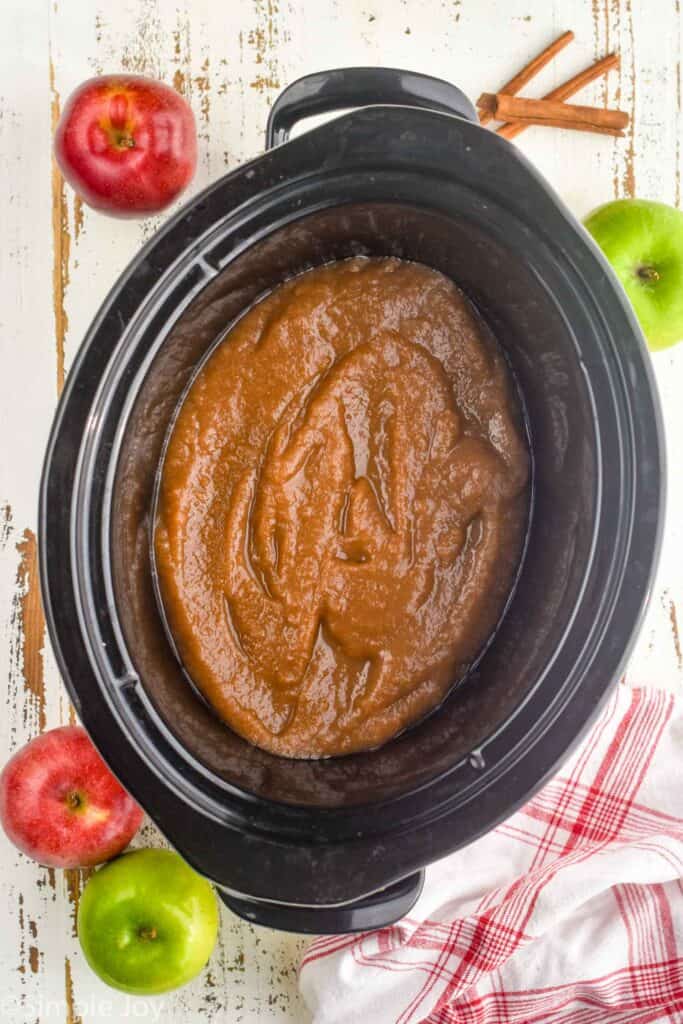 How To Make Applesauce
Homemade applesauce can be made in just four simple steps. You can also cook your apples on the stovetop, but using the crockpot to make applesauce is so simple:
First, peel, core and slice your apples.
Next, toss the apples in the slow cooker with a little cinnamon, sugar, vanilla, lemon juice and water.
Then, let it cook for 4-6 hours. The aroma of sweet apples and cinnamon will make your house smell delicious!
Finally, use a blender or an immersion blender to get the sauce the exact texture you like.
Adding Sugar
If you prefer unsweetened applesauce, simply omit the sugar in this recipe. You can use this unsweetened applesauce for recipes or just to eat as a snack or a side. The apples and cinnamon will still give your sauce terrific flavor.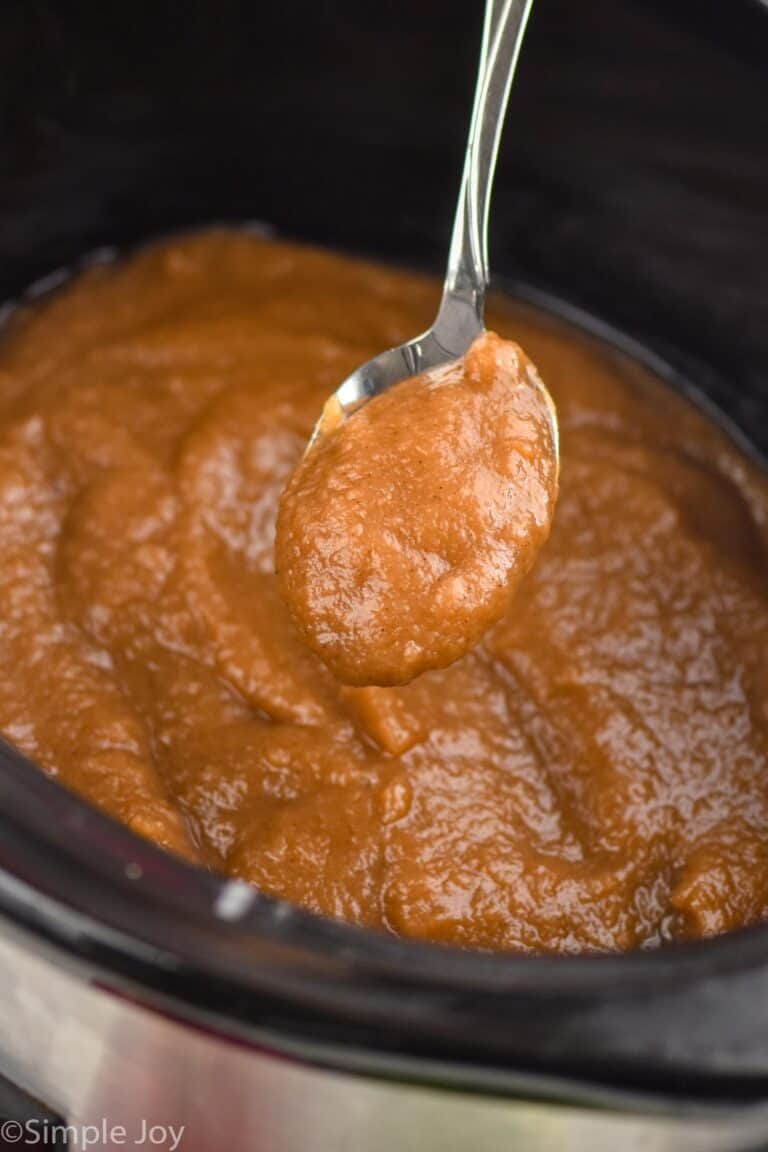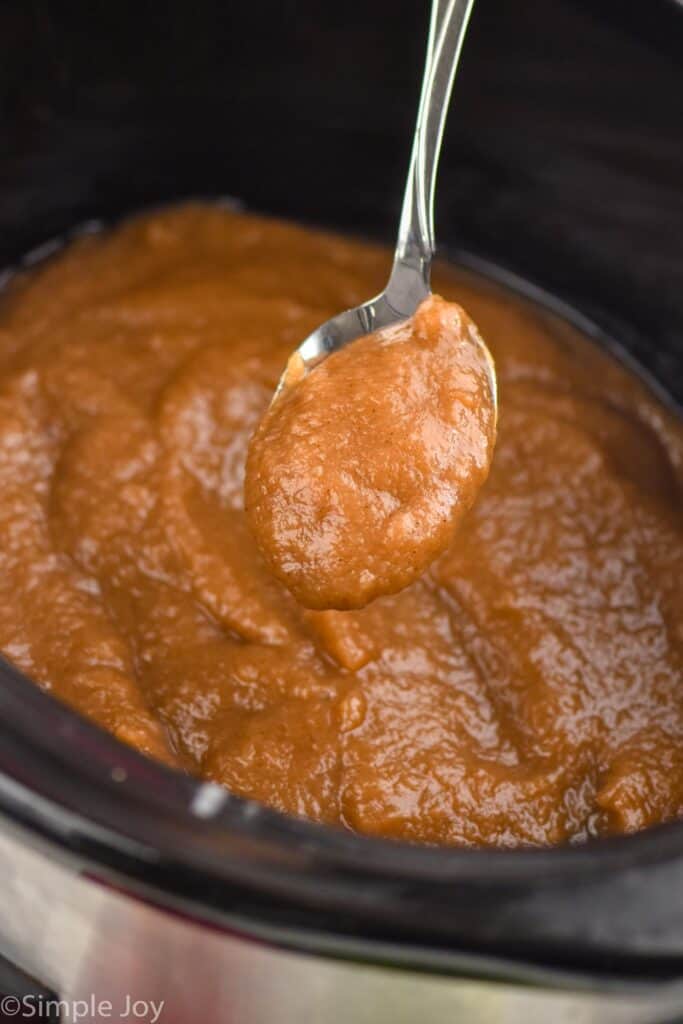 Best Apples for Crockpot Applesauce
The types of apples you use for applesauce is really a personal preference. You can turn any kind into delicious sauce, with varying flavors. Any of these types of apples work great for delicious applesauce:
I like the combination of tart Granny Smith and sweet Gala apples, like in my apple cobbler recipe.
McIntosh apples are fresh and crisp, but cook down nicely.
Golden Delicious apples are softer and sweeter and are best combined with a tart apple.
Jonathans, Rome Beauty, Honey Crisp and Fuji apples, when you can find them, are also great options.
Storing Crockpot Applesauce
This crockpot applesauce should be stored tightly covered in the refrigerator. It'll stay nice and fresh for up to four days. Perfect for lunches, after school snacks, or a tasty dessert.
Freezing
If you want to make a lot of applesauce at once, go for it! This applesauce recipe freezes beautifully. Just store in airtight containers (with room for expansion) in the freezer for up to three months. When you're ready to use it, let the applesauce thaw in the refrigerator and enjoy!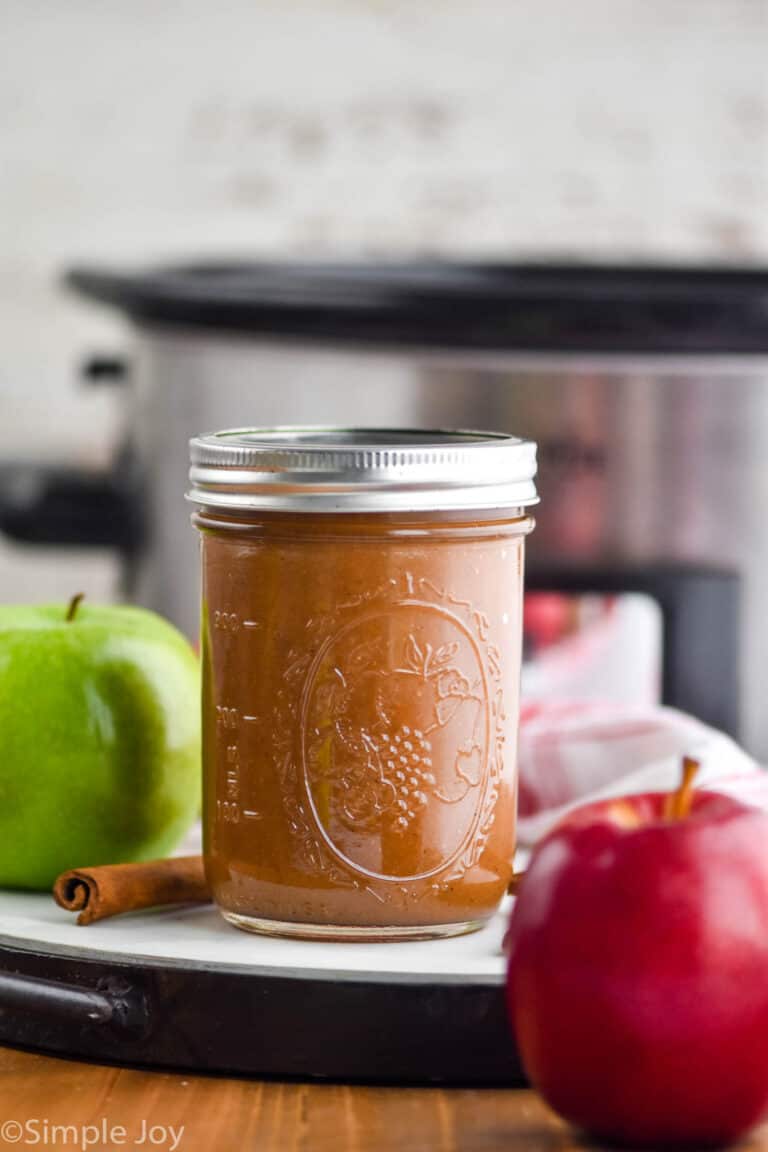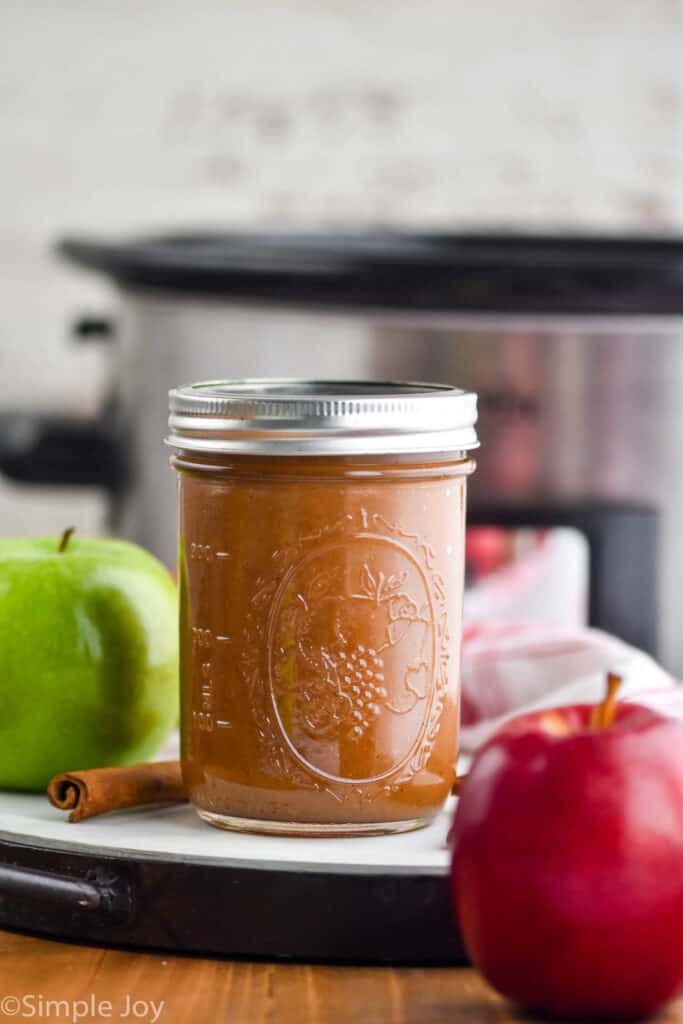 FAQ
How much does this make?
This recipe makes 3 cups of applesauce.
Can this recipe be doubled?
Yes! You can double this recipe. Just add an hour on to the cooking time.
Can I can this recipe?
Yes! This recipe can be canned. Follow best canning practices here.
What Else to Make with Apples
Fall lends itself to lots of baking, cooking and eating apples! Try some of these other tasty apple recipes and enjoy the season to the fullest!
I hope this homemade applesauce becomes a favorite in your house like it is in ours! Try it for breakfast over oatmeal, or for lunch as a side to macaroni and cheese, or for dinner alongside pork sausages.
Leave me a comment below with your thoughts on this recipe. I love hearing from you.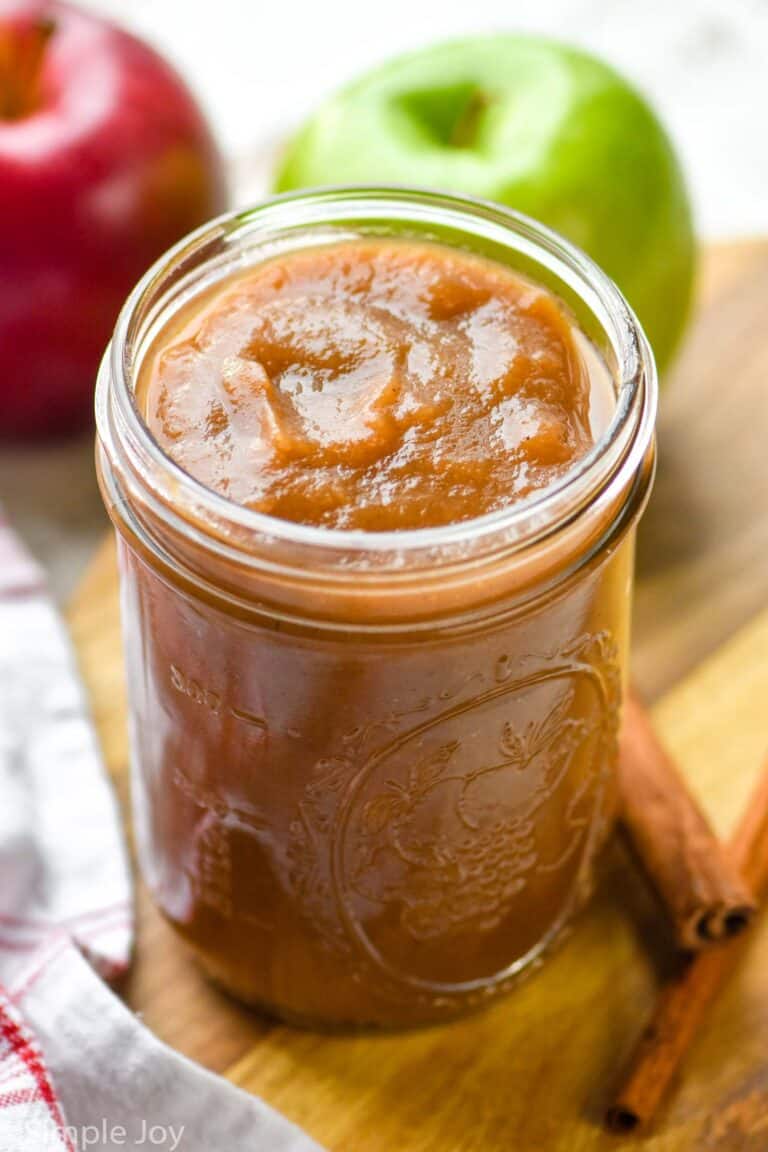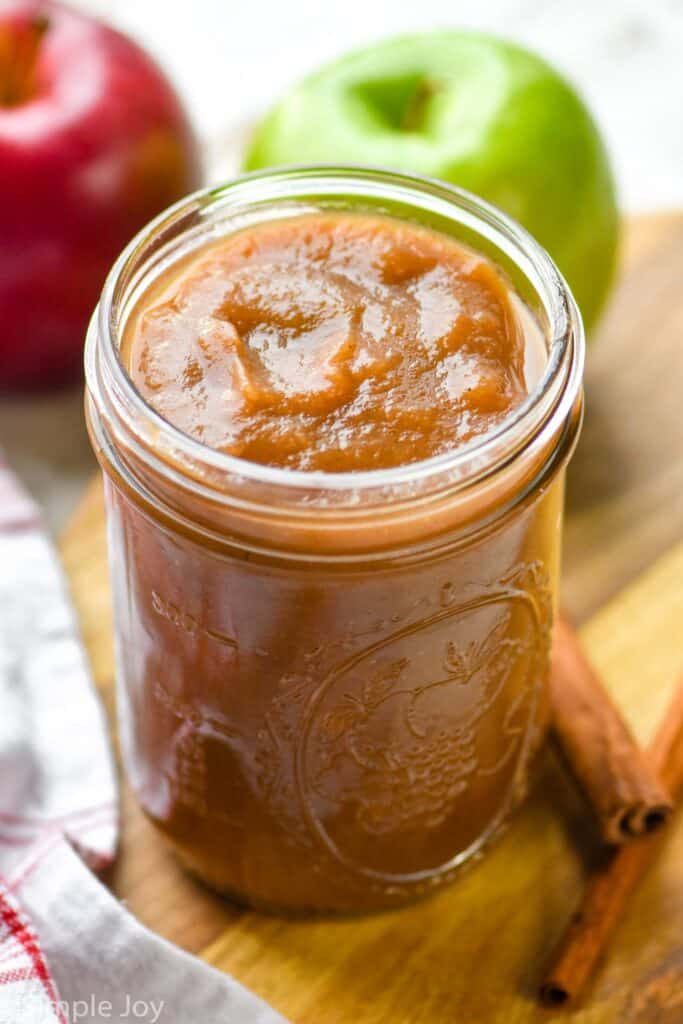 Recommended Tools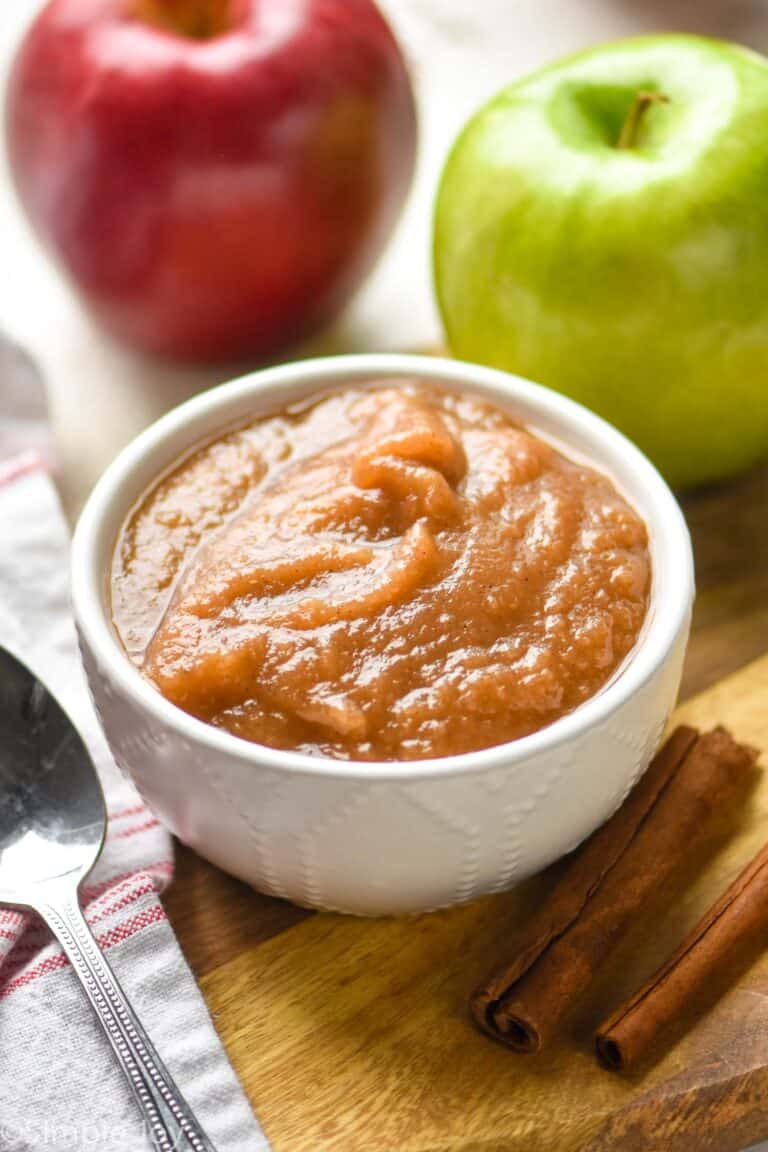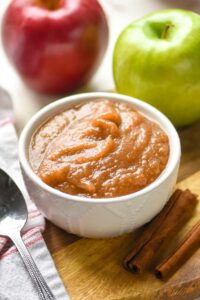 Crockpot Applesauce
Total:
4
hours
20
minutes
Crockpot Applesauce is the perfect recipe to make with freshly picked apples. Easy to make and delicious, this homemade applesauce will become a family favorite.
Ingredients
10

medium apples

peeled, cored, and sliced

1/2

cup

water

1/2

tablespoon

lemon juice

1/4

teaspoon

cinnamon

1/4

cup

sugar

1

teaspoon

vanilla
Instructions
Combine all of the ingredients in the crockpot. Stir to combine.

Cook on high for 4 hours or low for 6 hours.

At the end of the cooking time puree. Use an immersion blender for a very easy blend or transfer to a blender.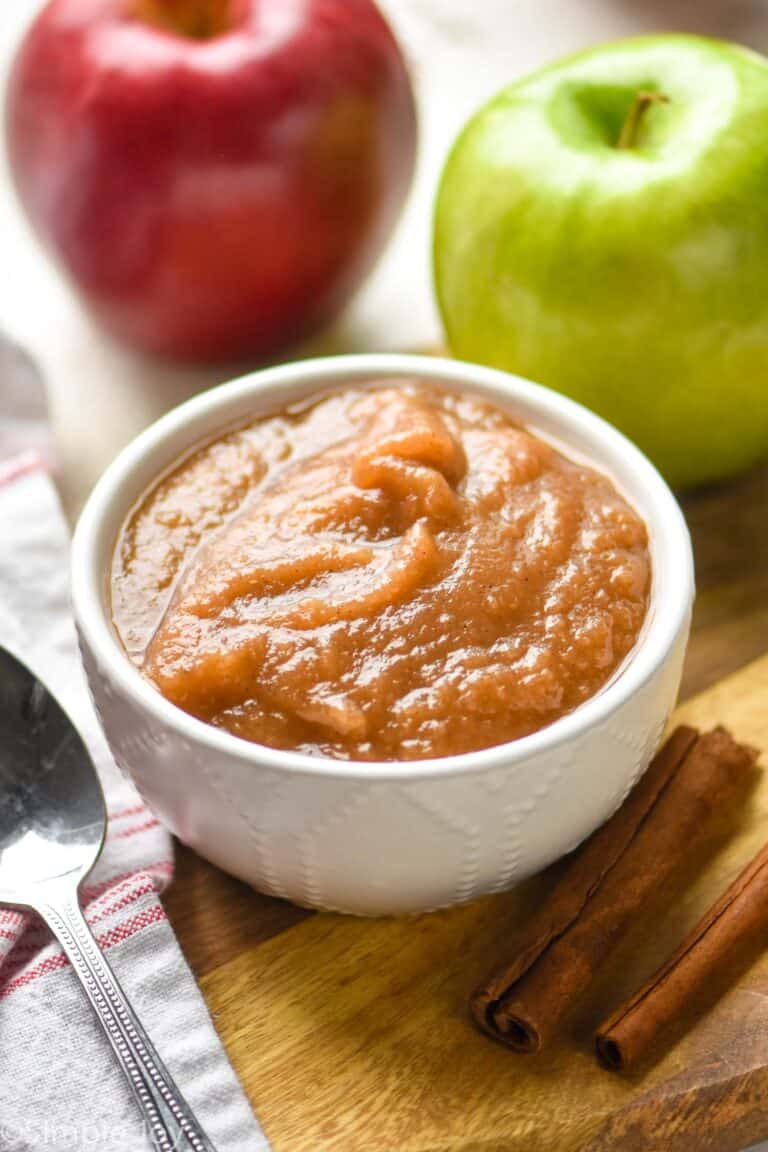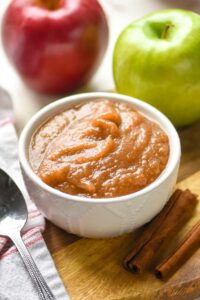 did you make this
Crockpot Applesauce