Apple Cookies get their delicious taste from easy to make homemade crockpot apple butter. They are soft, delicious, and the perfect cookie for fall.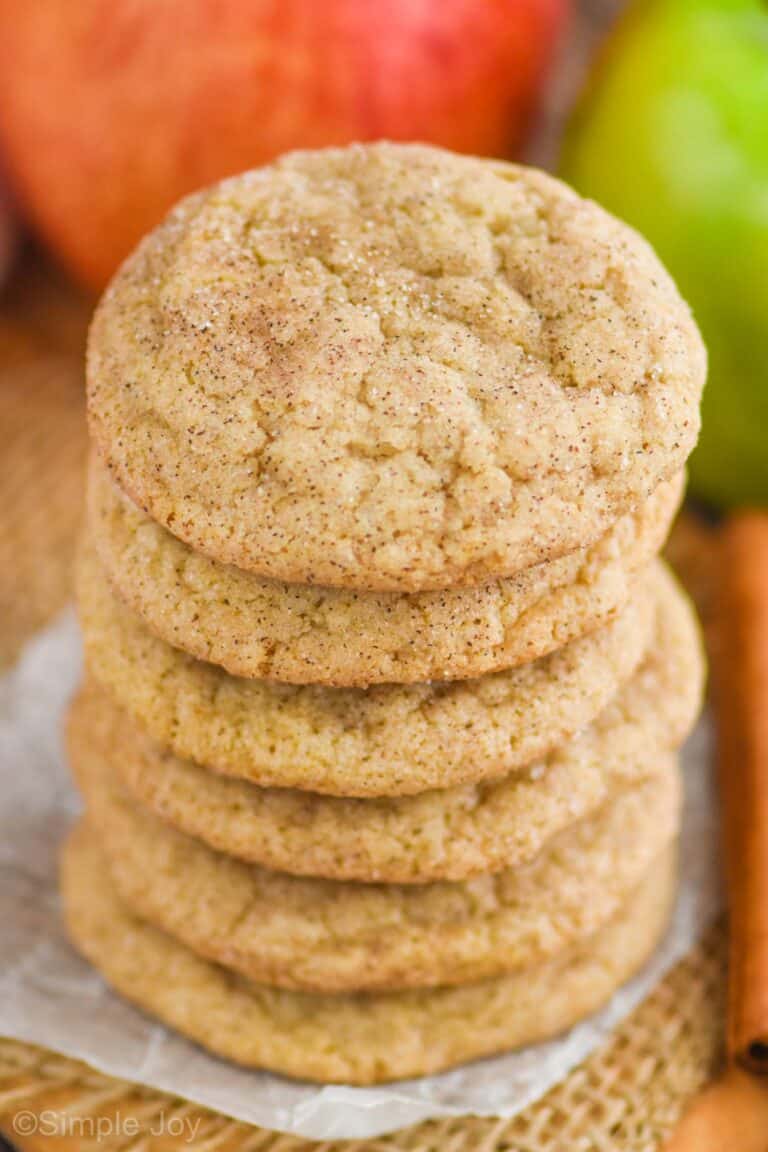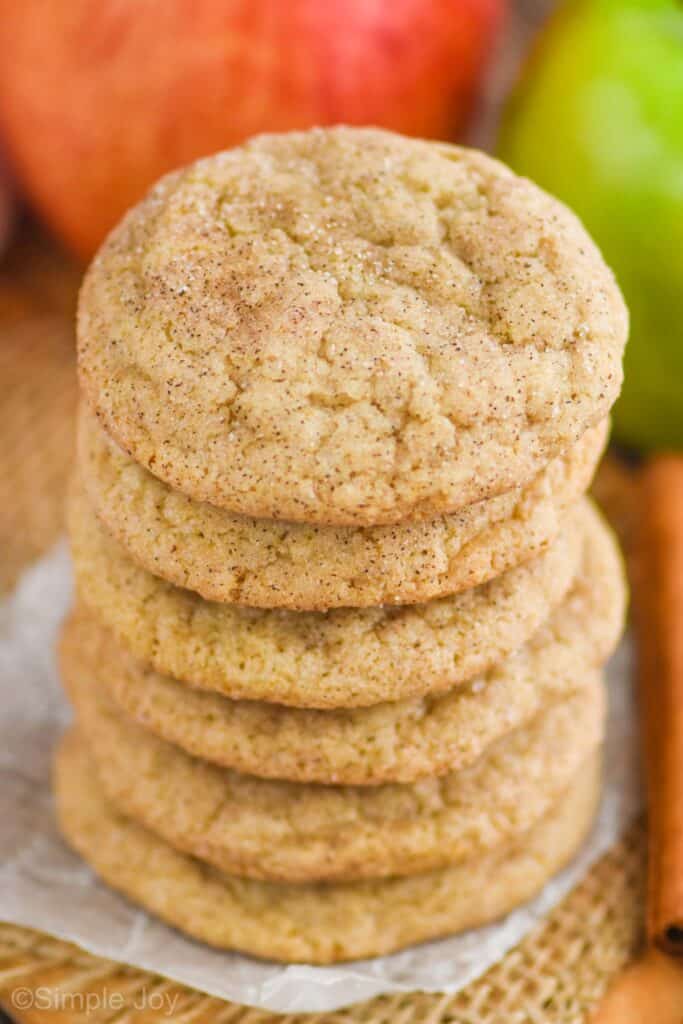 It has gotten cool enough here recently for me to have my office windows open with a sweatshirt on and I am in heaven. I am fully embracing the turning weather and crisp autumn air. It makes me think about all of the fall flavors, and these Apple Cookies are one of the recipes making my heart sing.
They get their great apple flavor from Apple Butter, and the foundation of the rest of the recipe is my Perfect Sugar Cookies. These are sure to be a hit with any apple lover, they are like apple pie cookies. This is a great recipe to make with your kids.
Reader Review
These cookies are absolutely delicious! Every bite tastes like you're eating homemade apple pie. Love them.
How to Make Apple Cookies
The steps of any cookie recipe are pretty similar. Once you get the flow, you will find baking up cookie recipes to be a breeze. For the full recipe with all the measurements, look at the recipe card at the bottom of this post.
Whisk together the dry ingredients. In a large bowl combine flour, baking powder, salt, and cinnamon. Cinnamon is a great clue if you have whisked the dry ingredients enough because you should be able to see any streaks of ground cinnamon.
Cream the butter and sugar. I like using a stand mixer, but a hand mixer works just as well. Combine the room temperature butter, apple butter, and sugar until it is light and fluffy, about three to six minutes. It will take less time with the larger stand mixers.
Add in the eggs and vanilla. These ingredients should be added one at a time, only moving on once they are incorporated.
Add the dry ingredients to the wet ingredients. Read below about why I choose to do this all at once.
Scoop the cookies and roll in cinnamon sugar. Now bake them on a parchment lined baking sheet and enjoy!
Adding Dry Ingredients to Wet Ingredients
For years, I took the advice to add the flour mixture one scoop at a time to my creamed butter. Little did I know that this is a good way to over mix your cookies. I've since learned that a better method is to add the flour mixture all at once. Then turn your mixer on low, and let the flour mixture incorporate just enough. Then turn the mixer up all the way and let it finish incorporating for just a few seconds.
This will prevent your cookies from over-mixing. The reason this is important is that when gluten is over mixed once added to wet ingredients, it will lead to baked goods that are tough and overly chewy.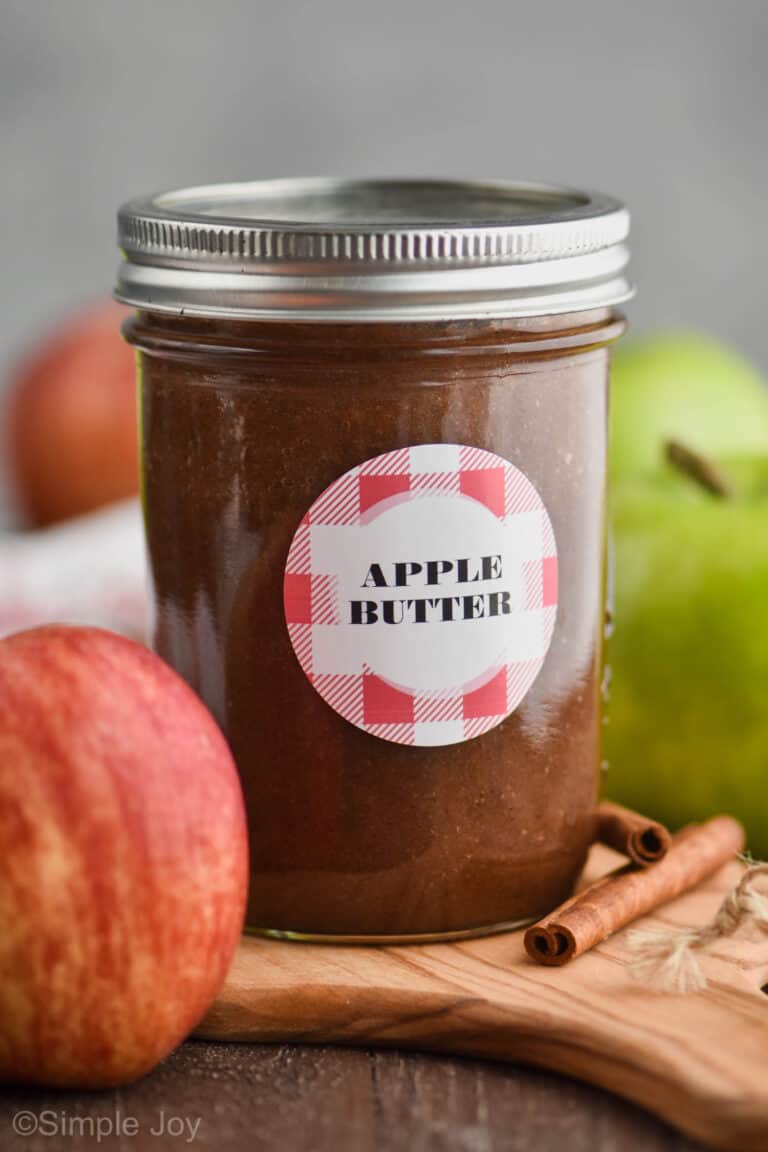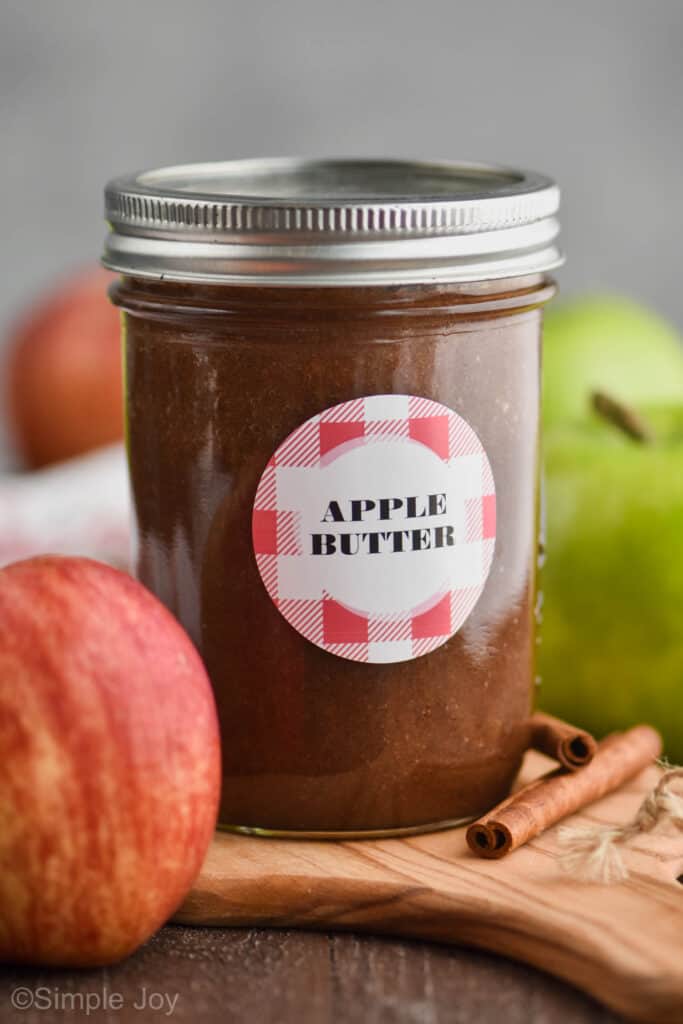 What is Apple Butter
Apple Butter is like a thicker version of apple sauce. It is made by cooking apples at a low heat for a long time. Adding in sugar and spices rounds out the flavor and creates a great sauce.
Though it is closer in consistency to apple sauce than butter, it is perfect in lots of different recipes. One of my favorite ways to use it is in my Caramel Apple Bars.
Apple Butter can be found near the jellies and jams in the grocery store. That being said, I think my apple butter recipe for it puts this apple cookie recipe over the top.
Crockpot Apple Butter
Crockpot Apple Butter will make your house smell like heaven. It is the perfect fall recipe and can be used in so many other recipes.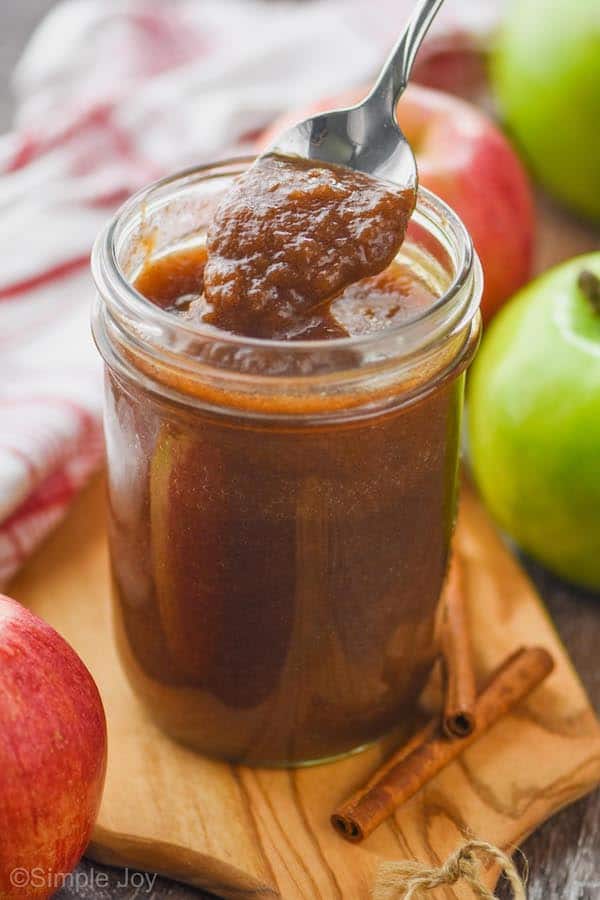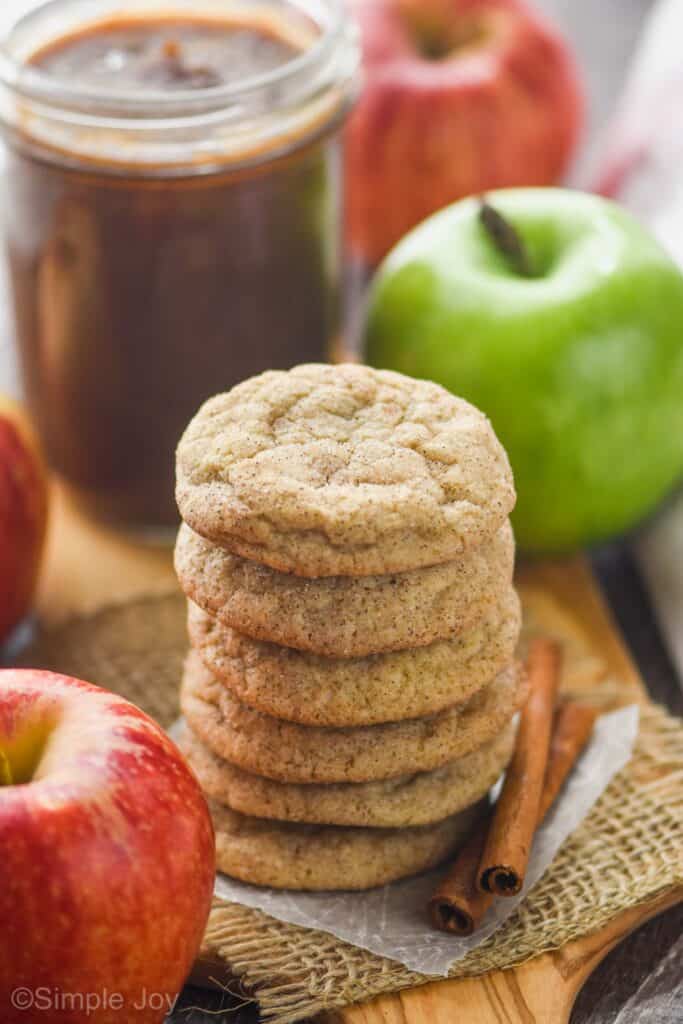 How to Measure Flour
Measuring flour is the number one way that readers go wrong when making a baking recipe. The reason is that when flour packs, which is easy to do if you measure it incorrectly, you can get up to 25% more flour. This can make for some dry cookies.
Follow these steps, and you will have the exact amount of flour you need for this recipe.
Start by grabbing the correct measuring cup. Use a dry measuring cup when measuring flour. It can make a significant difference if you use a measuring cup meant for liquids.
Whisk the flour. In the container you store the flour in, give it a good whisk. This will help loosen up the flour.
Using a spoon, scoop the flour from the container you are storing it in into the measuring cup. Do not use the dry measuring cup to scoop the flour
Level it off with the straight edge of a spatula handle.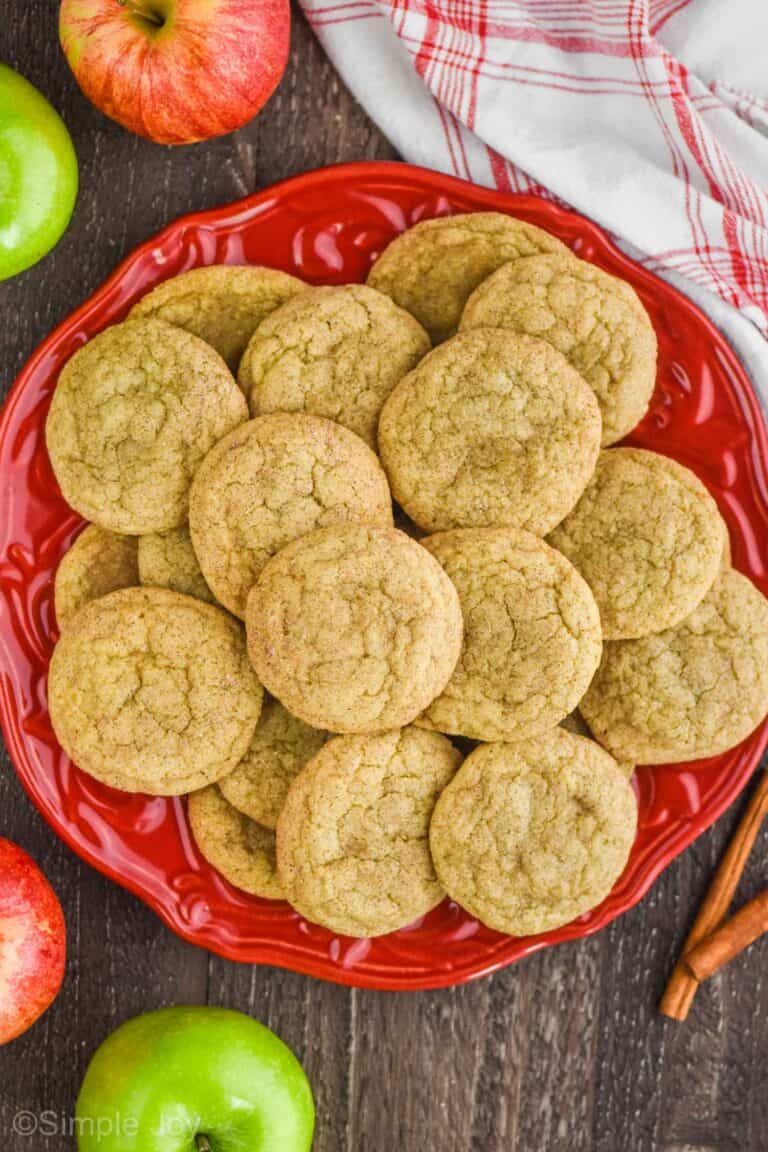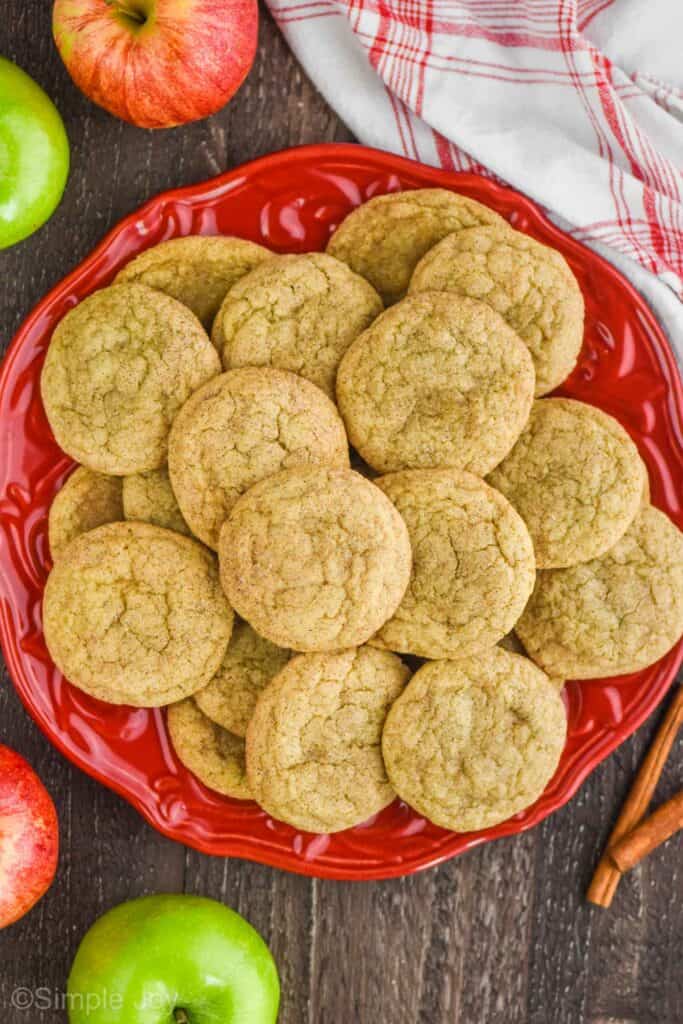 Other Cookie Making Tips
There are a few other tips and tricks that will help your cookies turn out perfectly.
Room Temperature Butter: Make sure your butter is room temperature. It will still feel cold to the touch, but you should be able to easily dent it with your finger.
Use Fresh Ingredients: Baking soda and baking powder only last about 6 months. Test if they are still effective by dropping baking soda in vinegar and baking powder in water. They should bubble immediately.
Use Room Temperature Eggs: You don't want cold eggs to bring down the temperature of the rest of the dough. Bring your eggs to room temperature quickly by putting them in a bowl of warm water (not hot) for 5 minutes.
Use a Cookie Scoop: Cookie scoops are something that help your dough balls stay uniform in size. That means that your cookies will cook evenly.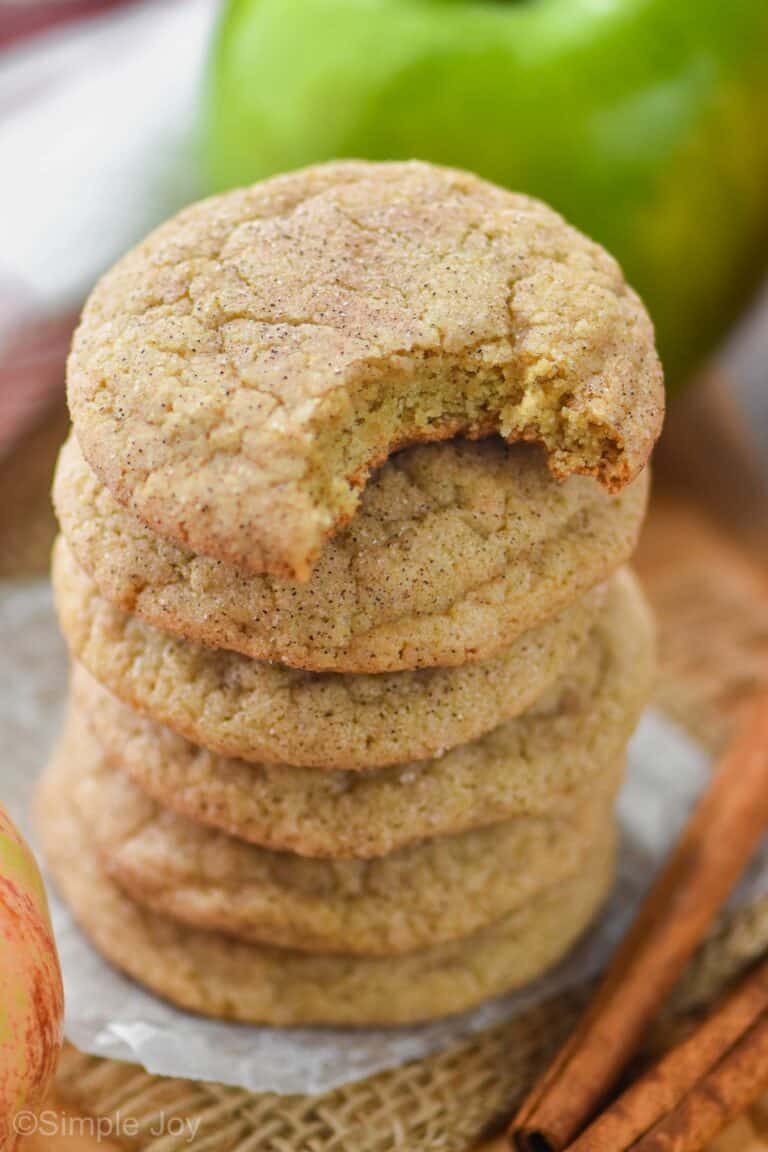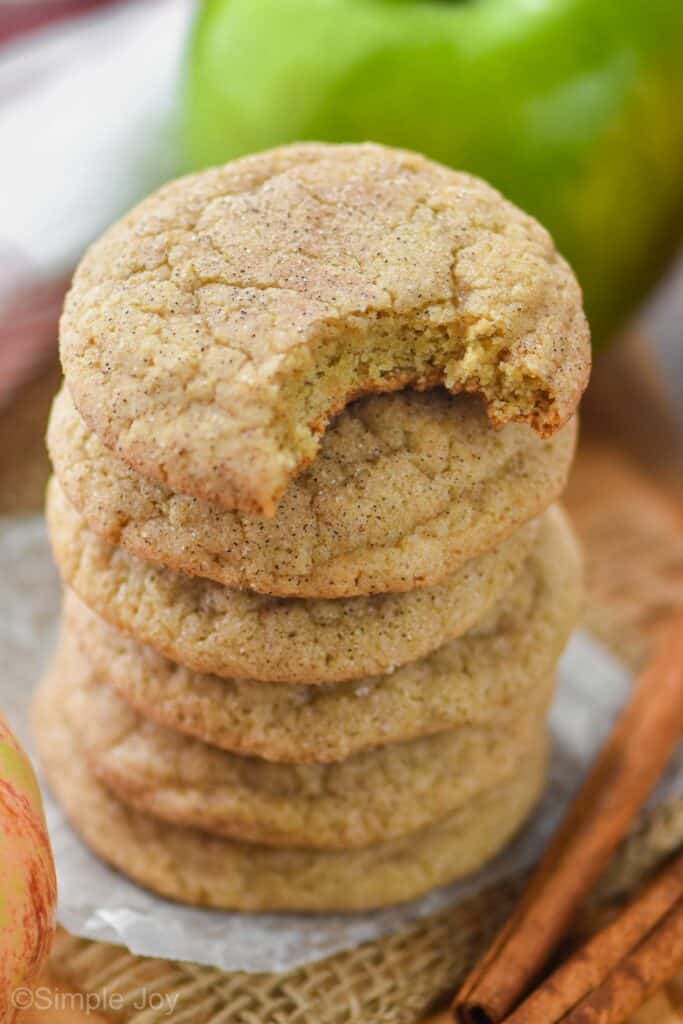 Freezing Dough and Baked Apple Cookies
The dough for these cookies can be frozen and baked later.
Follow the recipe up until baking.
Place the rolled dough balls onto a piece of wax paper and put that in the freezer for an hour.
Transfer the balls to an airtight container and return to the freezer.
Frozen dough can be put right in the oven from the freezer. Bake them at the same temperature for an extra minute or so – 11 to 13 minutes.
These cookies freeze beautifully after baking too. Put them in an airtight container and freeze them for up to 3 months. They will take less than an hour to thaw at room temperature.
Storing
These delicious apple cookies can be stored in an air tight container for up to two weeks. As mentioned above, they do freeze very well if you need them to last longer. With any recipe, always use your best discretion when it comes to storing.
FAQ
Can these be made gluten free?
I have not made these gluten free, but a reader did. You can see her comment below, but she refrigerated the dough first and they came out delicious.
Can this dough be baked from frozen?
Yes! Please see the full instructions for doing so above.
Where can I find apple butter?
Apple butter is found by the jellies and jams in US grocery stores. You can always make your own with my homemade apple butter recipe. It comes together with really easy to find ingredients and is a great way to use apples from picking.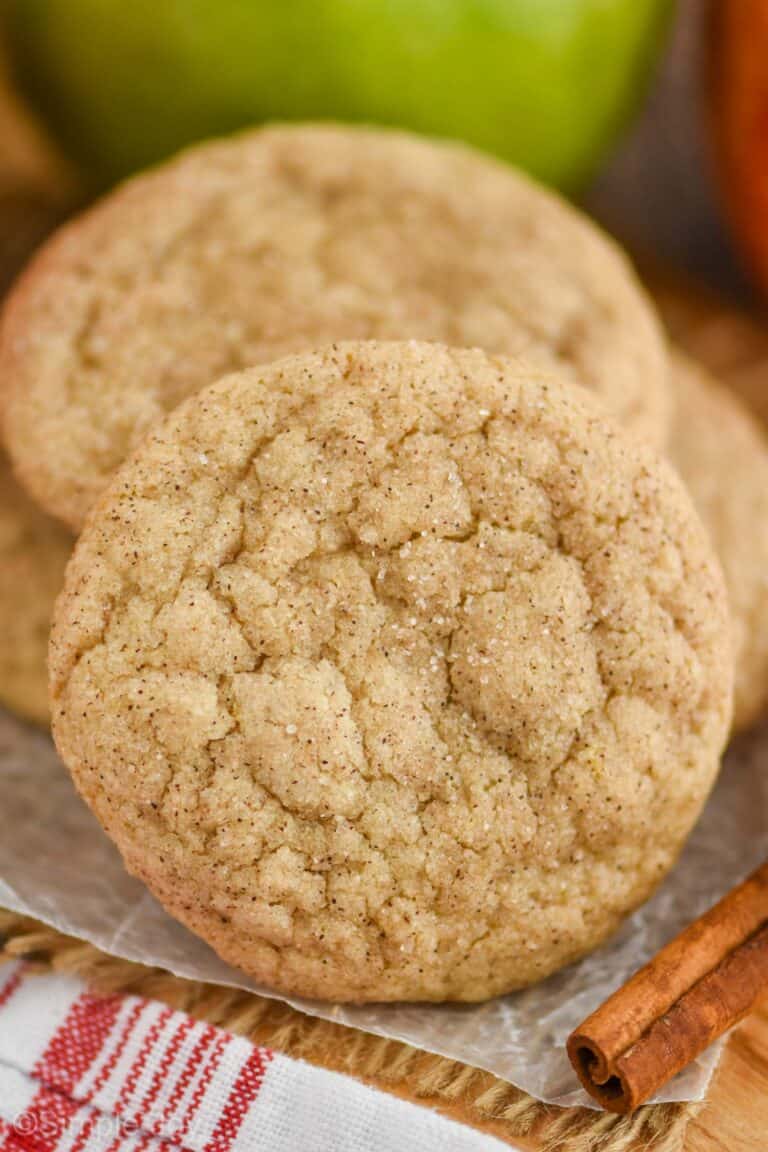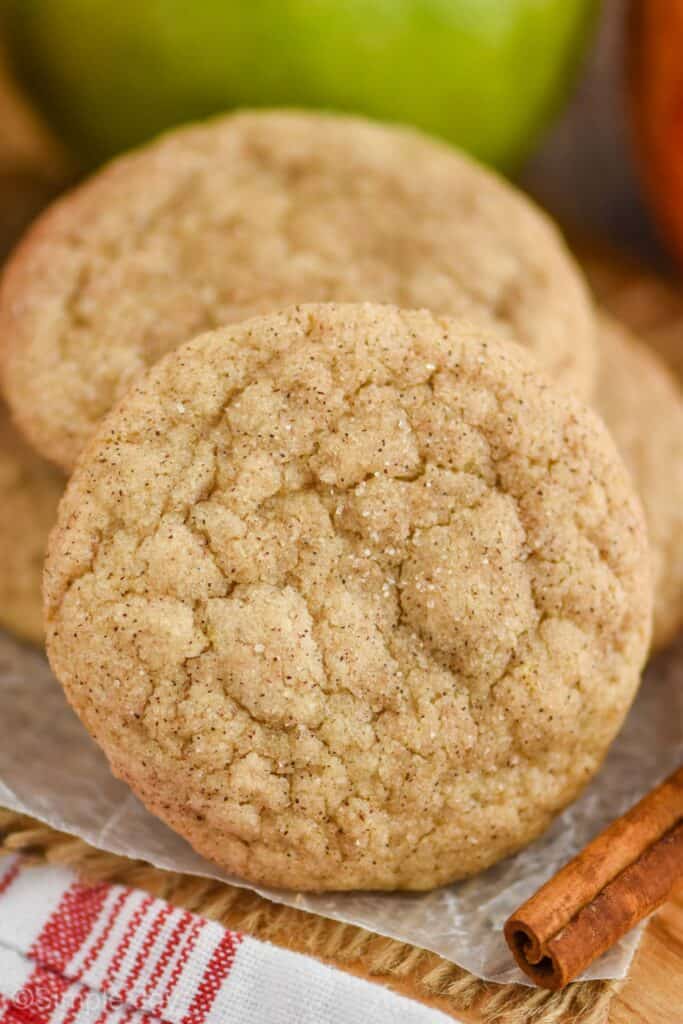 Other Great Apple Recipes
If you can't get enough of fall apple recipes, make sure to check out these:
If you make these Apple Cookies or any of my other recipes, please leave me a comment and let me know what you think!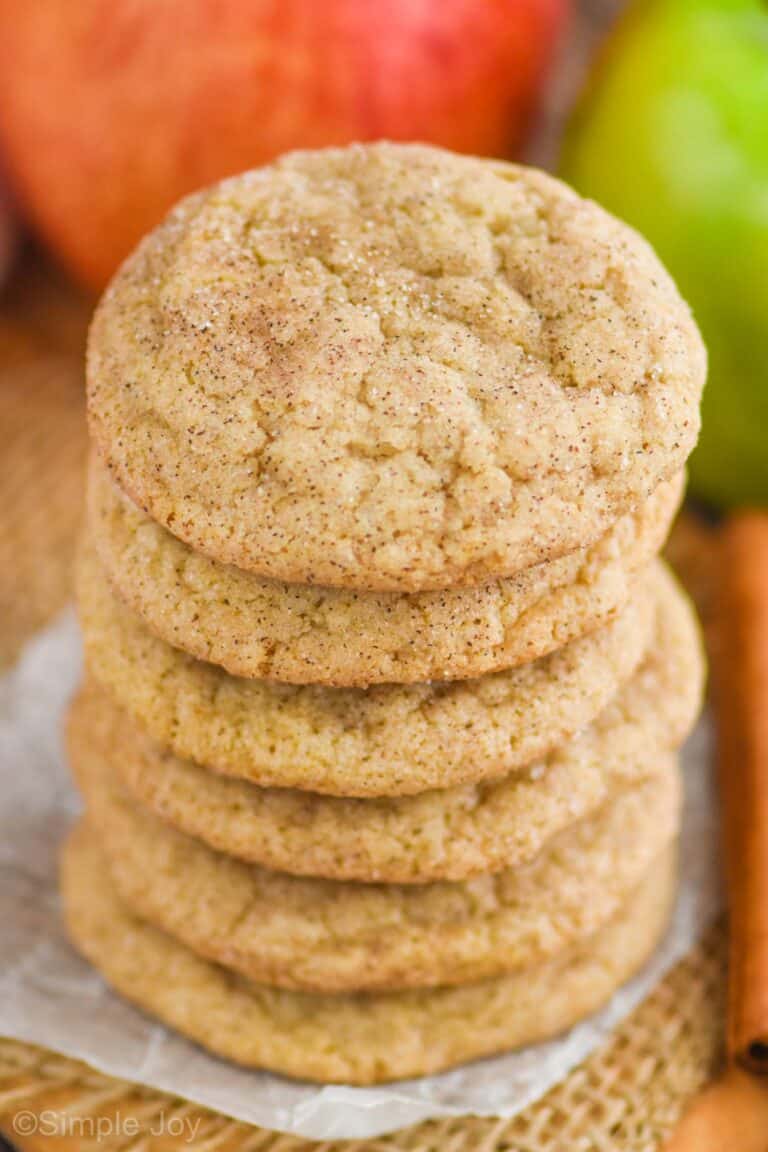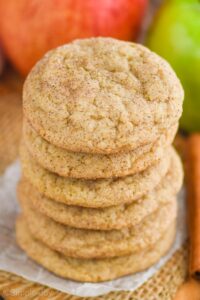 Apple Cookies
Apple Cookies get their delicious taste from Apple Butter. They are soft, delicious, and the perfect cookie for fall.
Ingredients
2 1/2

cups

all purpose flour

(learn more about how to measure flour)

1/2

teaspoon

baking powder

1/2

teaspoon

salt

1/2

teaspoon

cinnamon

8

tablespoons

unsalted butter

room temperature

1 1/2

cups

granulated sugar

1/3

cup

apple butter (learn more about apple butter)

2

teaspoons

vanilla extract

2

eggs
For Rolling the Cookies
1/4

cup

granulated sugar

1/2

teaspoon

cinnamon
Instructions
Preheat the oven to 350 degrees. Line baking sheets with parchment paper and set aside.

In a large bowl, combine the flour, baking powder, salt, and cinnamon. Whisk until well combined.

1/2 teaspoon baking powder,

1/2 teaspoon salt,

1/2 teaspoon cinnamon,

2 1/2 cups all purpose flour

In a stand mixer or in a large bowl with a hand mixer, beat the butter and apple butter together. Add in granulated sugar and beat until fluffy, about three minutes. Scrape down the sides of the bowl and the bottom. Add in the vanilla and then eggs, one at a time. Beat until incorporated, scraping down the sides once in between.

8 tablespoons unsalted butter,

1 1/2 cups granulated sugar,

1/3 cup apple butter,

2 teaspoons vanilla extract,

2 eggs

With the mixer stopped, add the flour mixture. Turn the mixer on low until the flour is just incorporated enough to not fly around. Turn the mixer up high for just a few seconds until the flour is fully combined. Be careful not to overbeat.

In a small bowl mix together sugar and cinnamon. Using a 1 1/2 tablespoon cookie scoop, scoop the dough and drop it into the cinnamon sugar mixture. Flip it over once and then roll it between your palms to form a ball. The dough will be sticky. If the dough is too stick to work with, put it in the refrigerator for 30 minutes.

1/4 cup granulated sugar,

1/2 teaspoon cinnamon

Bake two inches apart for 10 to 14 minutes or until the edges of the cookies just begin to turn golden brown and the center no longer looks doughy. Allow the cookies to cool on the baking sheet for two minutes and then carefully remove them to a cooling rack until completely cooled. Store in an airtight container.
Notes
You should be able to push a finger into the butter easily but not all the way through.
Apple Butter is found in the grocery store near the jelly.
Serving:
1
cookie
Calories:
141
kcal
(7%)
Carbohydrates:
24
g
(8%)
Protein:
2
g
(4%)
Fat:
4
g
(6%)
Saturated Fat:
2
g
(13%)
Monounsaturated Fat:
1
g
Cholesterol:
25
mg
(8%)
Sodium:
64
mg
(3%)
Potassium:
8
mg
Sugar:
14
g
(16%)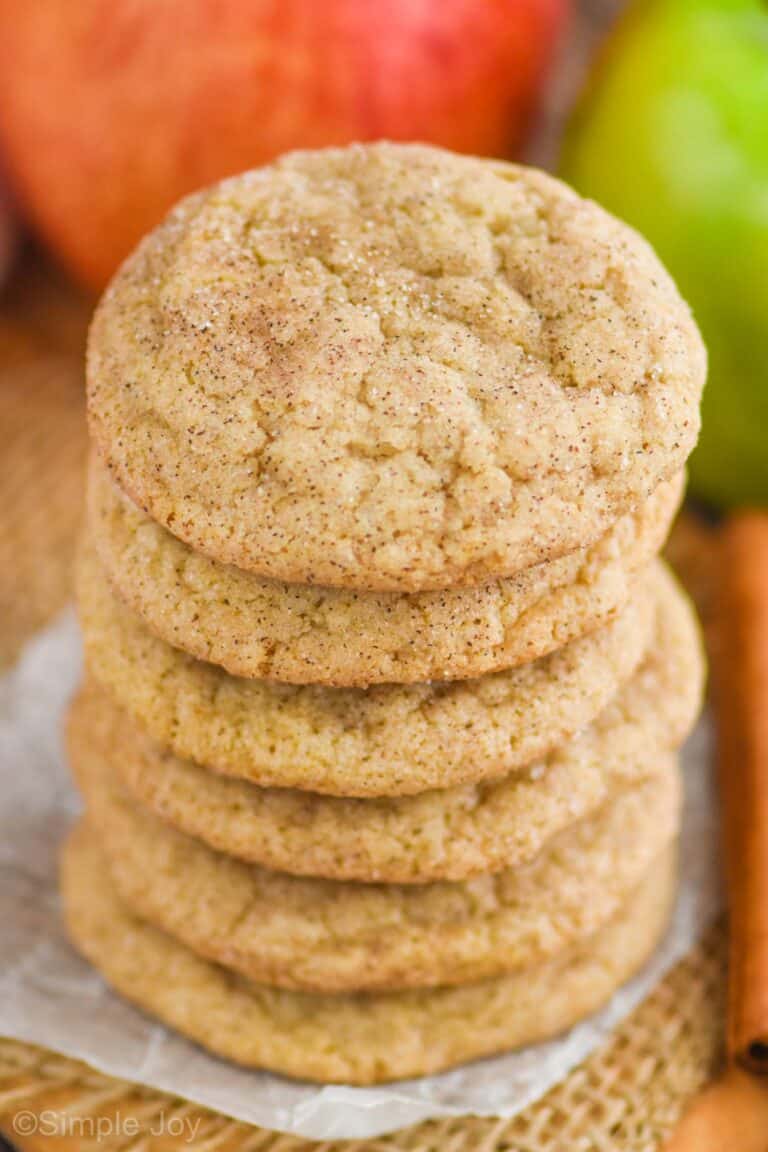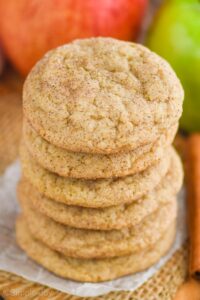 did you make this
Apple Cookies