This Homemade Mac and Cheese is creamy, perfect, and made in 20 minutes on the stovetop. A crowd pleasing macaroni and cheese recipe you'll come back to over and over.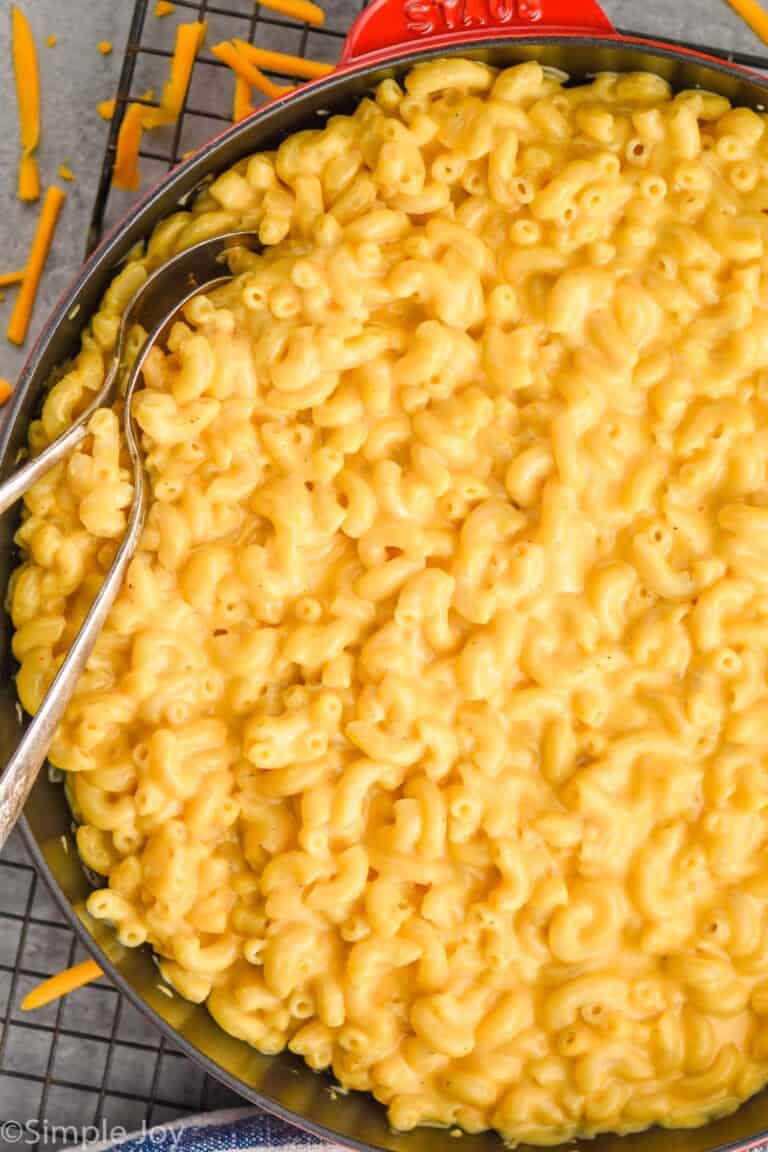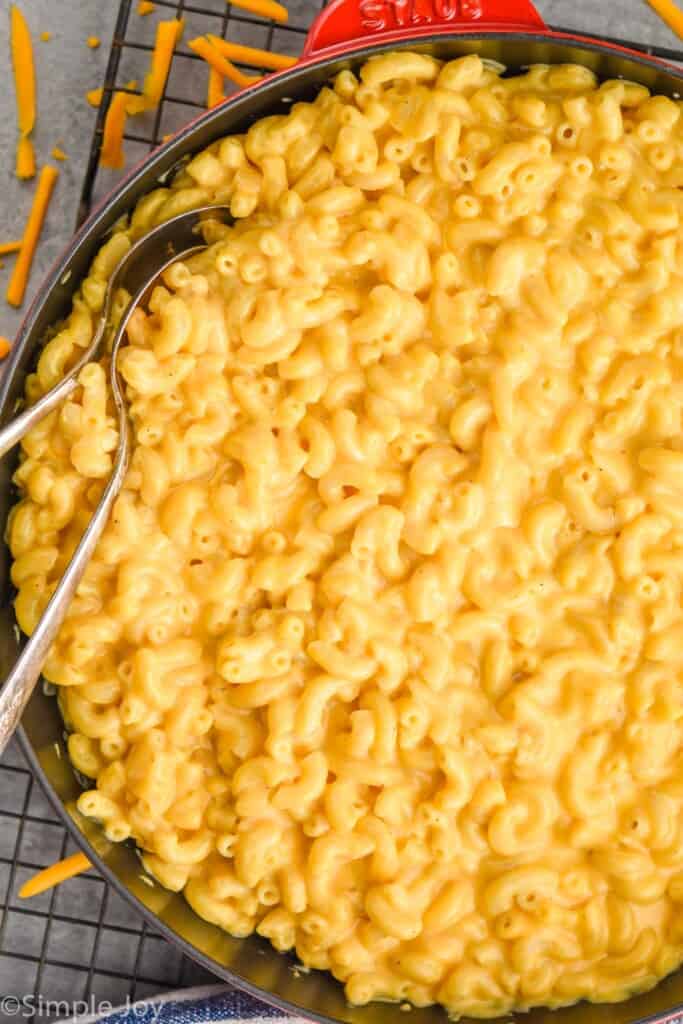 My kids could eat macaroni and cheese for every meal and be very happy people. While it is tempting to reach for the box, homemade mac and cheese is very easy to make. It can be done in about the same amount of time and you can't even compare the taste difference. Macaroni and cheese made from scratch has a creaminess that is out of this world, and with just a little bit of seasoning, the best flavor.
You can find all the measurements and directions at the bottom of the post and lots of my tips and tricks in the body of the post.
Reader Review
I just had to come here & tell you that my family and I have tried MANY different recipes for mac-n-cheese and this is by far our favorite. I have made it about 5 times now and the last 3 times I've had to double it
How to Make Mac and Cheese
It is easy to make mac and cheese from scratch. Here is the brief overview so you can see how quickly these steps bring it all together.
Make the noodles: Bring a large pot of water to a roaring boil. Salt the water and add the noodles. Cook according to package instructions.
Make a Roux: Melt butter in a large skillet. Whisk in flour and cook for about 30 seconds.
Make the Cheese Sauce: Slowly add half and half to the roux. Start by whisking in a few tablespoons of half and half at a time (no need to measure, just eye ball it) and add more once it is fully absorbed. Then add in the whole milk.
Season: Add salt, paprika, and pepper to the sauce. Taste and add more as needed.
Add the Cheese: Stir in the cheese allowing it to melt fully.
Add the noodles: Stir in the drained and cooked noodles and enjoy!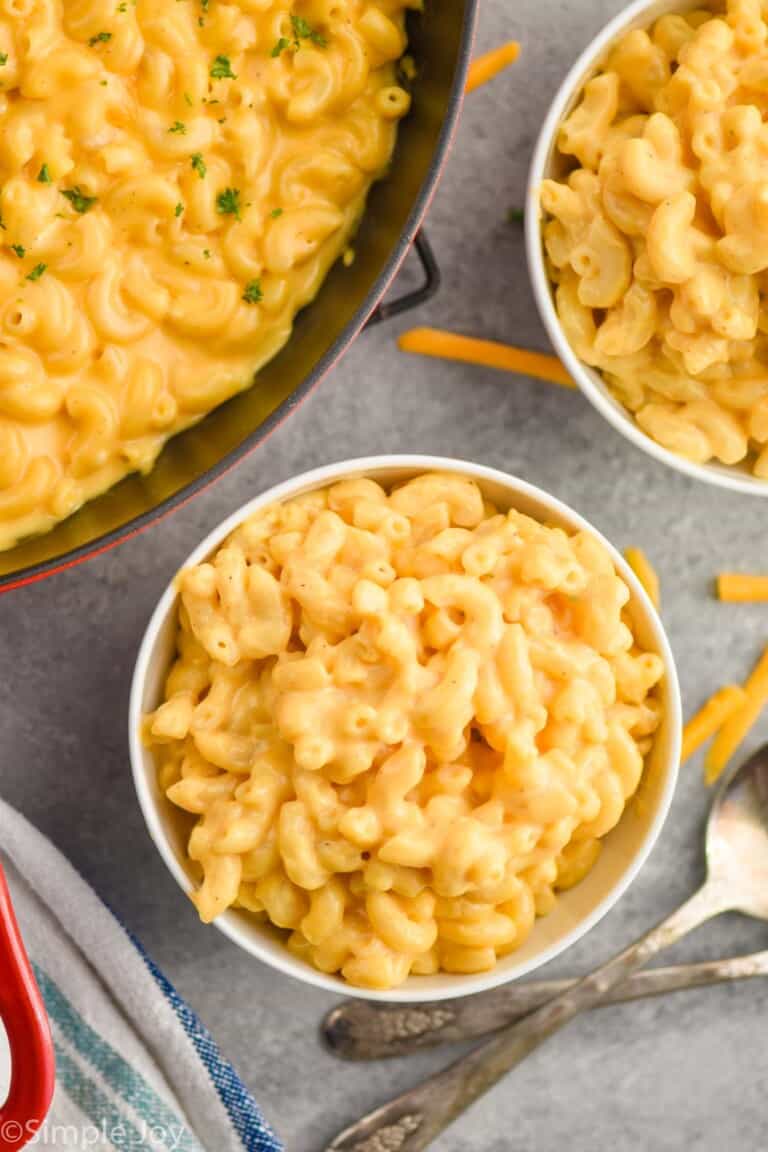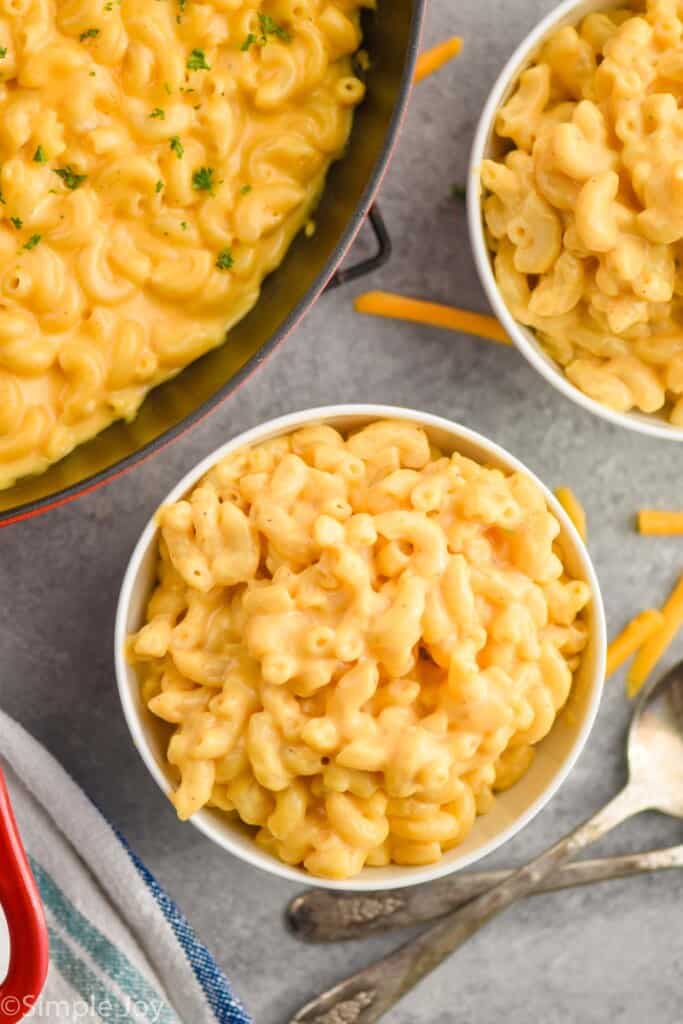 Adding Flour to Mac and Cheese
In this version of macaroni and cheese we start with a roux. A roux is a thickening agent made with flour and fat – in this case that fat is butter. In other recipes, you can use other fats, like bacon in my New England Clam Chowder.
The roux is the start of the cream sauce.
In order for your recipe to turn out just as perfectly as you want it to, make sure to follow the steps in the recipe and really cook the flour and butter together before slowly adding the liquid. If you skip over this step, you can end up with a recipe that is grainy or tastes like flour.
What is Half and Half?
Half and half is something that my international readers often wonder about. It is made from combining heavy cream and whole milk. It is literally half of one and half of the other.
If you can't find half and half, you could also make this recipe with 2 cups whole milk and 1/2 a cup heavy cream.
Cooking Pasta
Boiling noodles sounds as straight forward as it comes. That said, there are a few tips that can make a huge difference in a pasta based meal.
Use enough water. A whole pound of pasta needs at least 4 quarts of water.
Bring the pot to a roaring boil before adding noodles. You want to see big giant bubbles consistently before adding the pasta.
Salt the water. Add 2 teaspoons of kosher salt to the water to season the noodles. It brings out the flavors of the whole dish.
Set a timer. Pasta boxes always give you the length of time it will take to cook that particular noodle. Set a timer for the bottom end of that time range and check the noodles at that point. Nothing is worse than an over cooked noodle.
Drain immediately. As soon as the pasta is done (when you can bite it and it still has a little give to it), drain the pasta.
Using Block Cheese
I know you always hear me saying to shred your cheese from a block rather than buying pre shredded. That could not be more true here. When cheese is in the title of a recipe, you know it is important.
Cheese shredded from a block melts much better. Since we are making a melty cheese sauce, you will definitely want what melts best. This is a quick recipe, even when you take the time to shred your own cheese.
What Cheese to Use in Macaroni and Cheese
Since we are making a classic mac and cheese recipe, I went with mild cheddar. It is a great melting cheese and works perfectly in the cheese sauce here.
Some other cheeses that melt really well in sauces and will elevate this recipe a little are: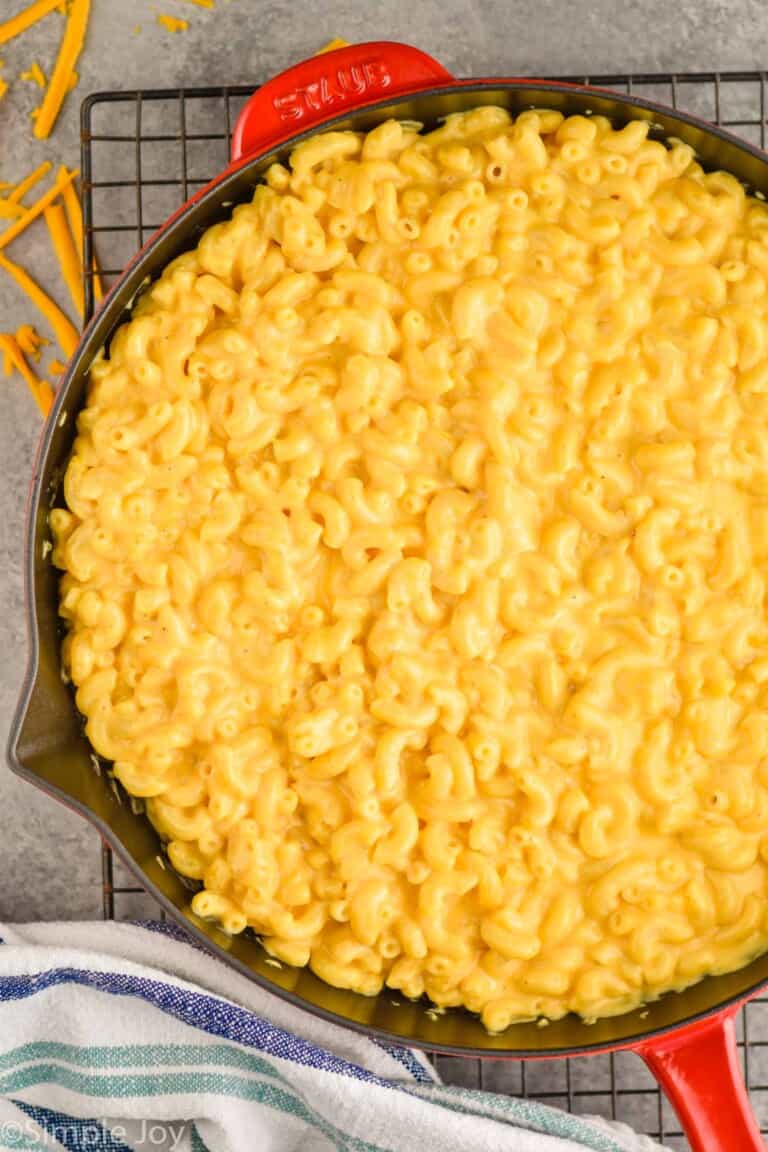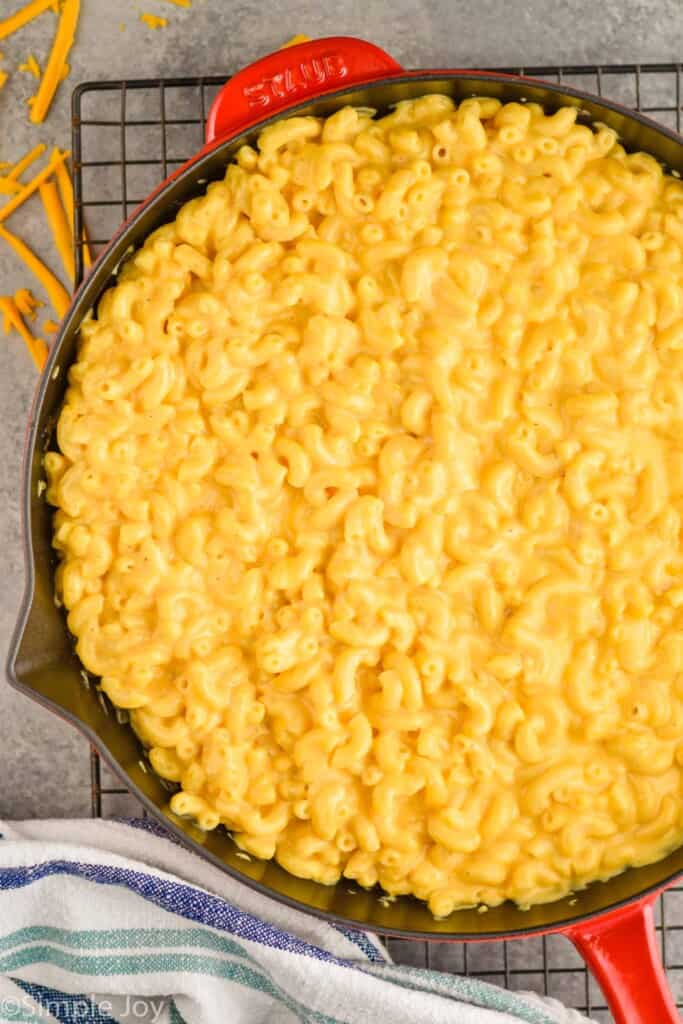 Leftovers
Left over mac and cheese should be stored in an airtight container in the refrigerator for 3 to 4 days. Always use your best judgement when eating leftovers; if it smells off, error on the side of tossing it.
How to Reheat Leftover Mac and Cheese
These reheating methods work very well to keep the macaroni and cheese from separating.
Reheating on the Stovetop
Place just the amount of leftovers that you are going to eat into a skillet.
Add a little milk, and set over low heat.
Cover and stir occasionally.
Add a little more milk if necessary, stirring it in to get the sauce back to it's creamy state. Add more salt to taste.
Reheating in the Oven
Preheat your oven to 350 degrees.
Place just the amount of leftovers that you are going to eat into a baking dish.
Stir in a small amount of milk.
Cover and bake for 15 minutes. Remove from the oven, stir, add more milk if necessary, and return to the oven for 15 more minutes or until it is heated through. Add more salt to taste.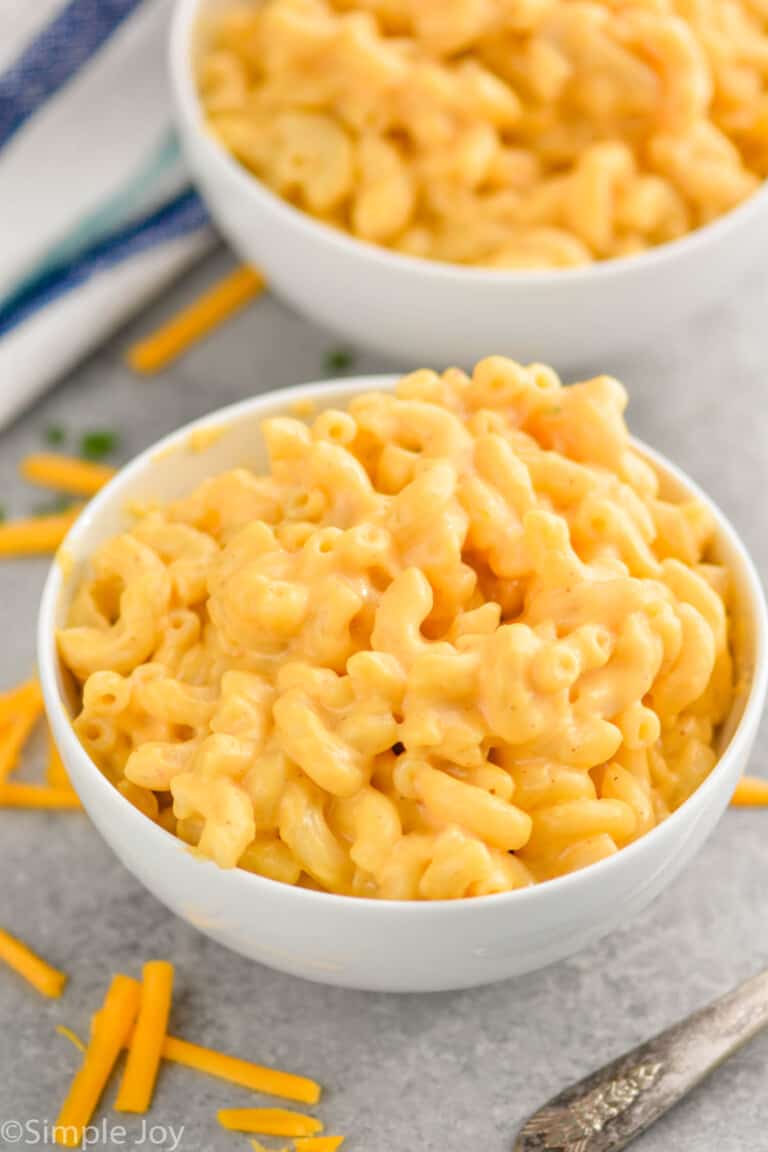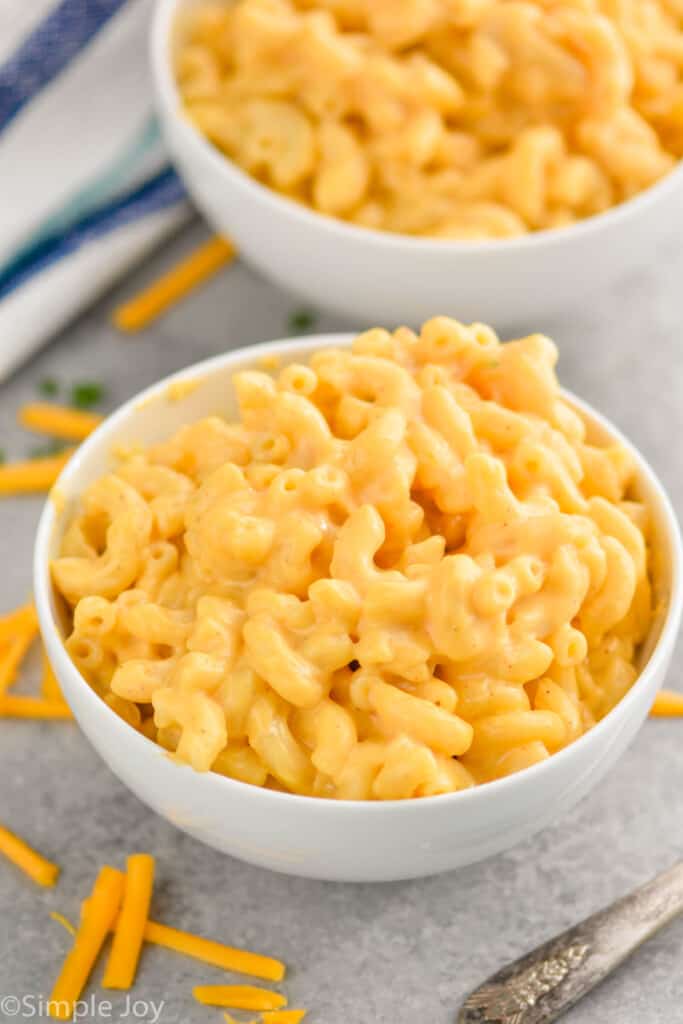 What to Serve with Easy Mac and Cheese
With a recipe as quick as this, we want side dishes that are going to be ready at the same time. A simple salad would be great with this, but some additional items could be:
If you make this best mac and cheese recipe, leave me a comment and let me know what you think!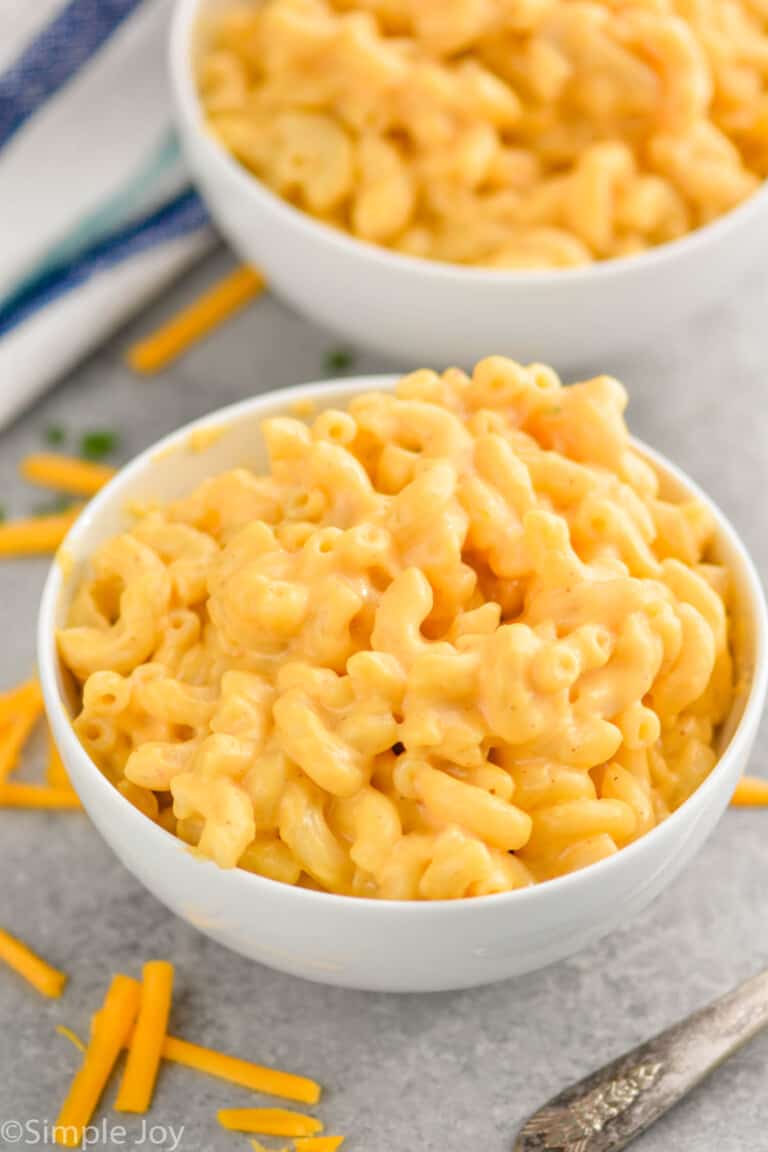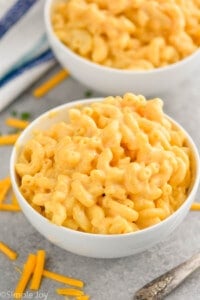 Homemade Mac and Cheese
This Homemade Mac and Cheese is the creamiest moat perfect macaroni and cheese recipe you could hope for. It is made on the stovetop in about 25 minutes and is a crowd pleaser!
Ingredients
1

pound

elbow macaroni

(uncooked)

4

tablespoons

unsalted butter

1 1/2

teaspoons

kosher salt

1/2

teaspoon

paprika

1/2

teaspoon

garlic powder

1/4

teaspoon

black pepper

1/4

cup

all purpose flour

read why we add flour here.

1

cup

cold half and half

read what half and half is here

1 1/2

cups

cold whole milk

12

ounces

mild cheddar cheese

shredded (about 4 cups) read why it needs to be a block of cheese here.
Instructions
Cook the macaroni according to package instructions, making sure to salt the water with 2 teaspoons of kosher salt. When it is finished cooking, drain and set aside.

While the pasta is cooking, melt the butter in a large skillet. Whisk in the flour. Make sure it fully combines with the butter and cooks for about 30 more seconds. Then slowly whisk in the half and half and the whole milk. You want to start with just a few tablespoons at a time, adding more once it is absorbed by the roux. Then you can gradually add it more quickly. The whole process should take less than 2 minutes.

Add in the salt, paprika, garlic powder, and black pepper. Stir in the cheddar cheese and stir until compltely melted. Try the sauce and add more seasoning to taste.

Finally, add the cooked noodles to the cheese sauce. Serve and enjoy!

Leftovers can be stored in an air tight container in the refrigerator for 3 to 4 days. See reheating instructions here.
Serving:
1.6
cups
Calories:
671
kcal
(34%)
Carbohydrates:
65
g
(22%)
Protein:
25
g
(50%)
Fat:
33
g
(51%)
Saturated Fat:
21
g
(131%)
Monounsaturated Fat:
7
g
Cholesterol:
109
mg
(36%)
Sodium:
704
mg
(31%)
Potassium:
127
mg
(4%)
Fiber:
3
g
(13%)
Sugar:
7
g
(8%)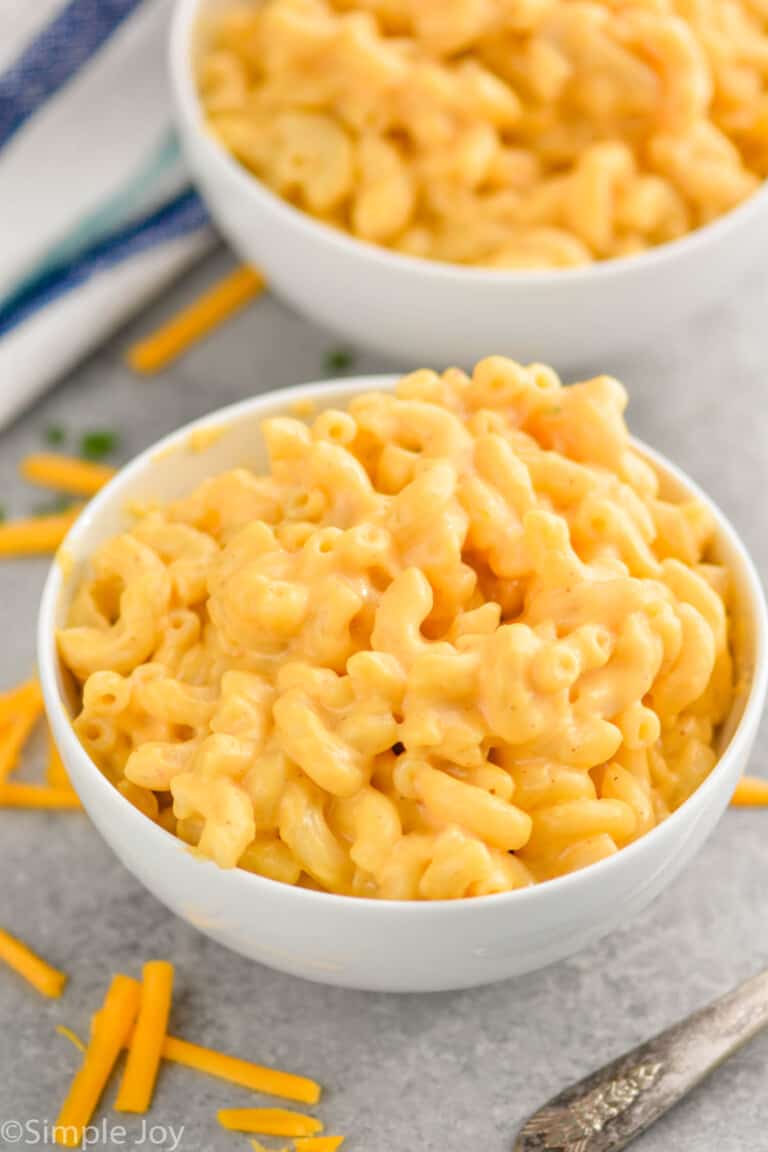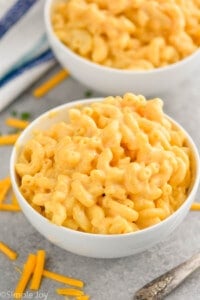 did you make this
Homemade Mac and Cheese
you might also like . . .