This Caramel Apple Cobbler Recipe is the perfect combination of delicious tart apples coated in cinnamon and smooth homemade caramel, all in an amazing warm apple cobbler, made from scratch! It's the old fashioned apple cobbler recipe you are looking for.
Looking for an apple cobbler recipe without the caramel sauce? We have that too! This Apple Cobbler is quick, simple, and delicious.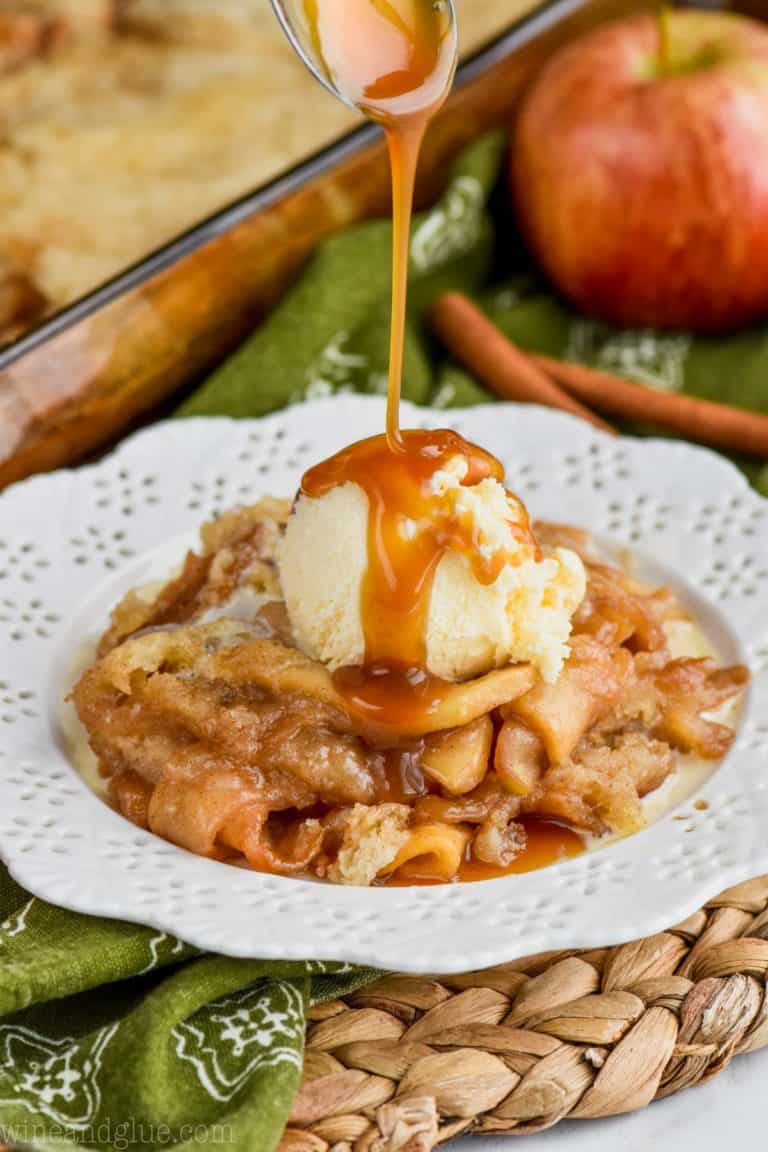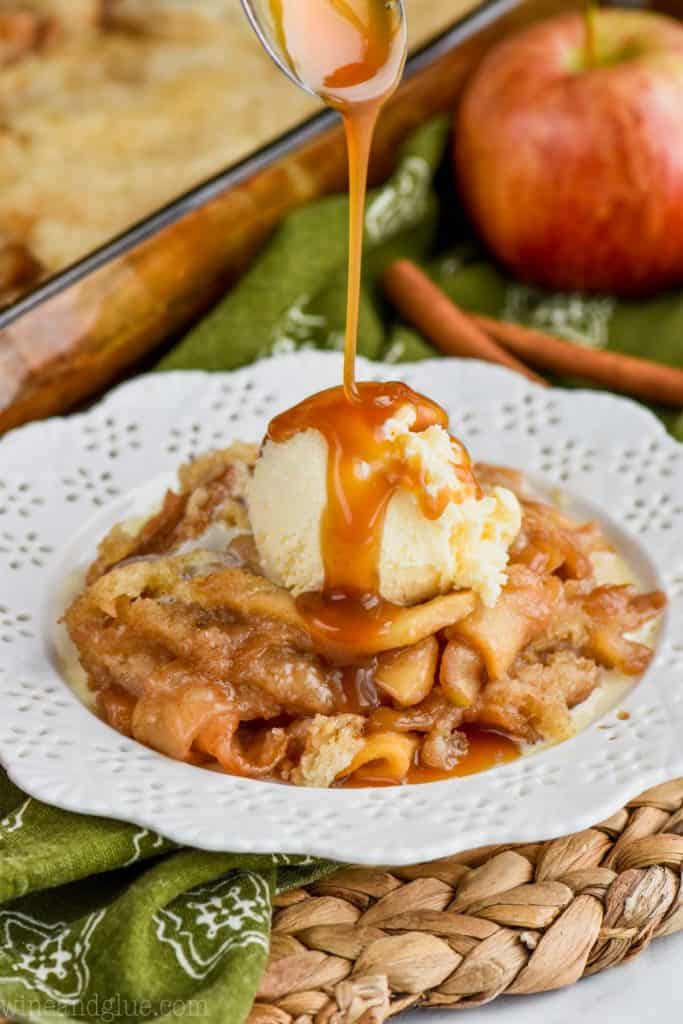 I've recently updated this post from September 2015 with new pictures and a video. I really debated just deleting the content and posting as new, but I love this post so much. Plus look at that cute picture of my kids smaller! This time of year continues to be difficult and hard for our family, but I promise to be back with new stories of back to school and my chaotic life. Happy fall guys!
Over the weekend we did a walk to raise money for the hospital where Elliot spent the one week of his life. This is the sixth year in a row that we have done the walk in honor of Elliot.
The morning of the walk Gavin looked at me and said,
"Mom. I like doing Al's Run but . . . . there are two things I don't like about it. First, it's about Elliot, and that makes me sad. Second . . . . well . . . . . I have to walk."
Besides the walking piece, that's pretty much exactly how I feel about it too. I kind of love it when my kids can so easily put into words what everyone else is feeling.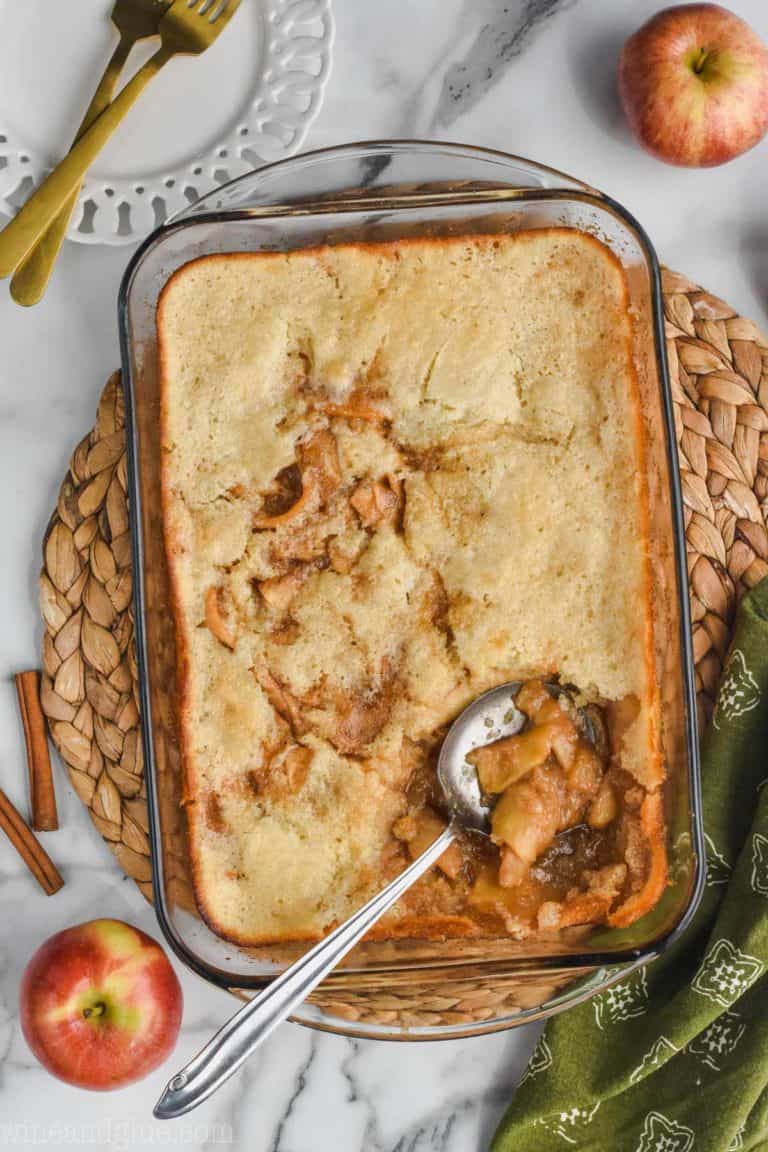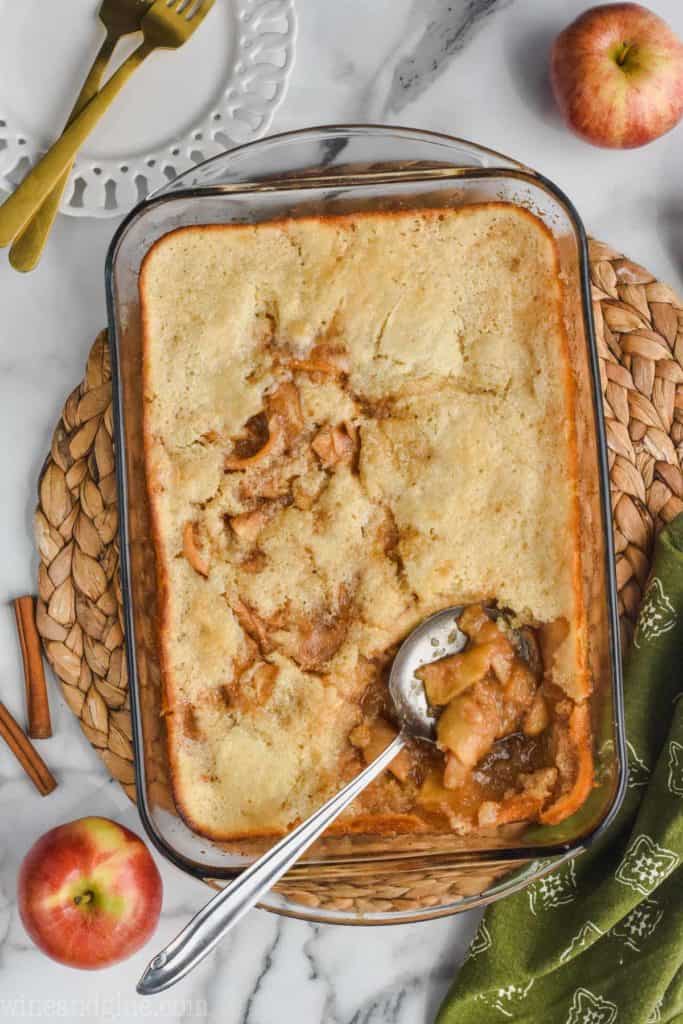 There are thousands upon thousands of people who do Al's Run every year in support of Children's Hospital of Wisconsin. It's a pretty amazing place that has helped so many kids in the midwest.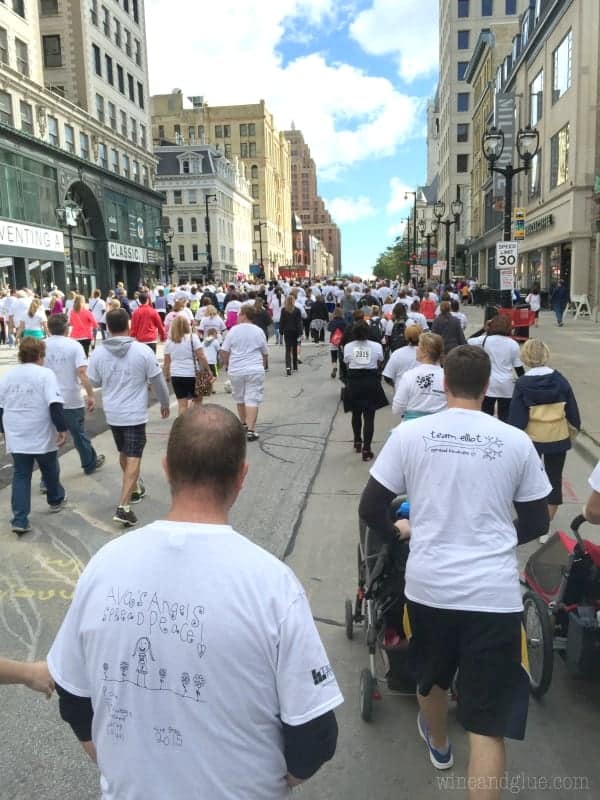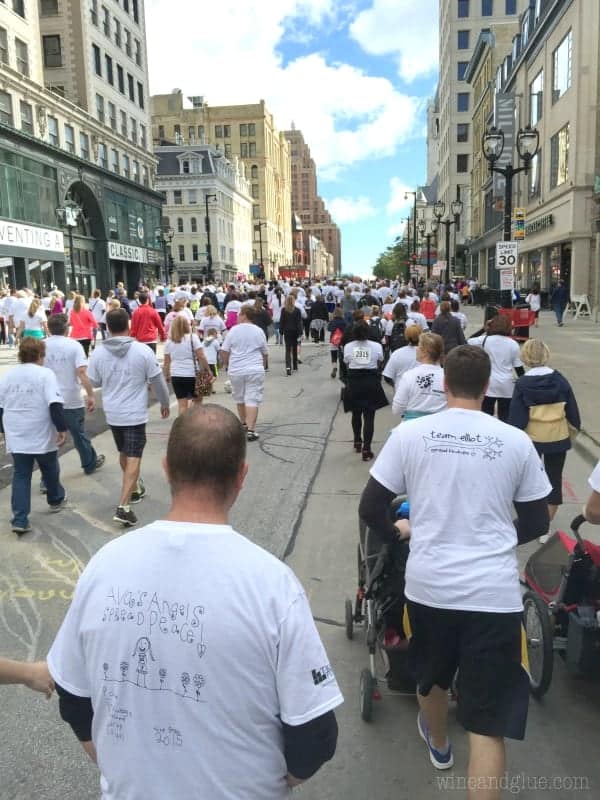 As you walk, and this is the part that always makes me so emotional, you see the backs of all these shirts. Most, maybe all, are graphics that represent these teams made up mainly of adults who have all come together in honor of one child. Lots and lots and lots of those children are still alive. Some of them are even wearing a special bright shirt with their own name on the back and walking with their families and loved ones.
And some are not.
This year I saw a shirt with the name Olive on the back. A little girl who's birth and death dates, just a few days apart, were on the back of all these shirts. I almost stopped them and said, "Someone find me Olive's mom!" I just wanted to give her a hug. She's only one year out from losing her daughter. And I just wanted to tell her that it doesn't stop hurting, but five years out, I can say that it starts to not be such a paralyzing pain.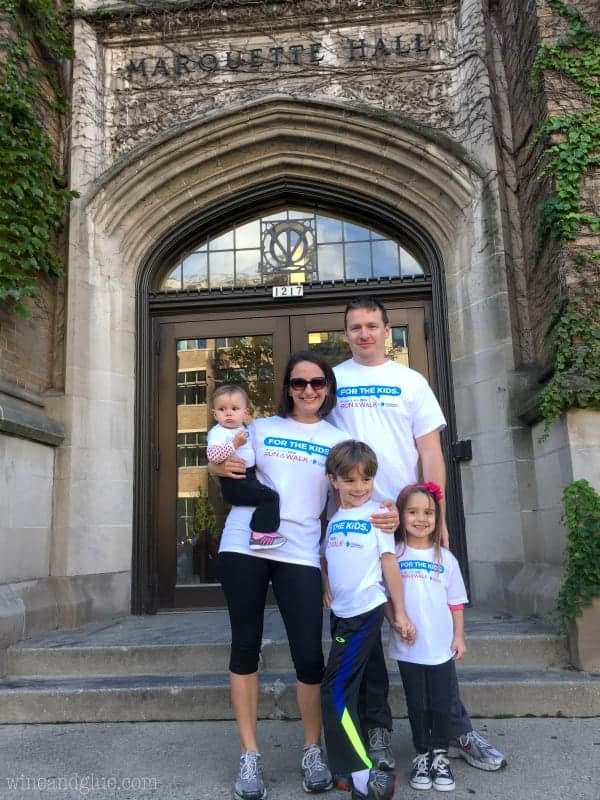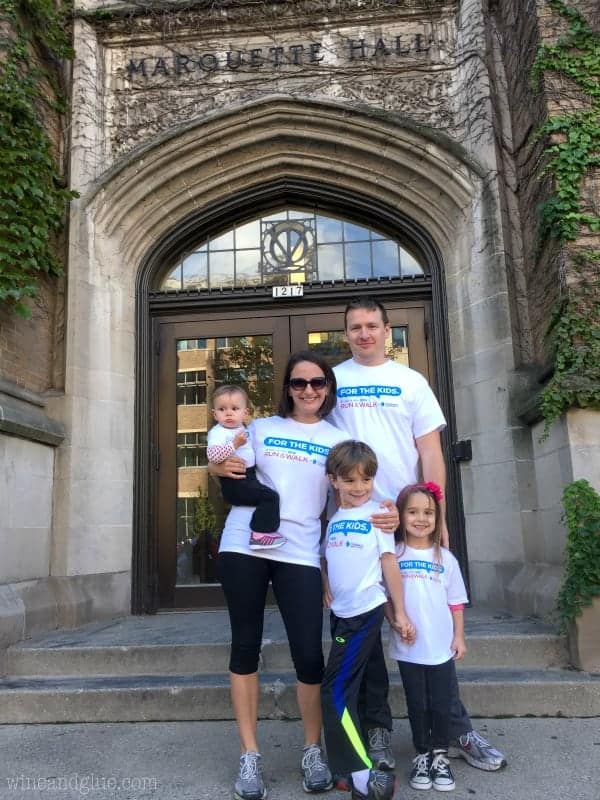 In the midst of it all we found a short second to take our picture in front of the building on Marquette's campus where Nathan and I first met sixteen years ago. (Awesome photo credit/chaos control credit to Cathy.) We have a similar photo from our wedding day eleven years ago . . . you know minus the kids. It's pretty incredible to think of how far we've come.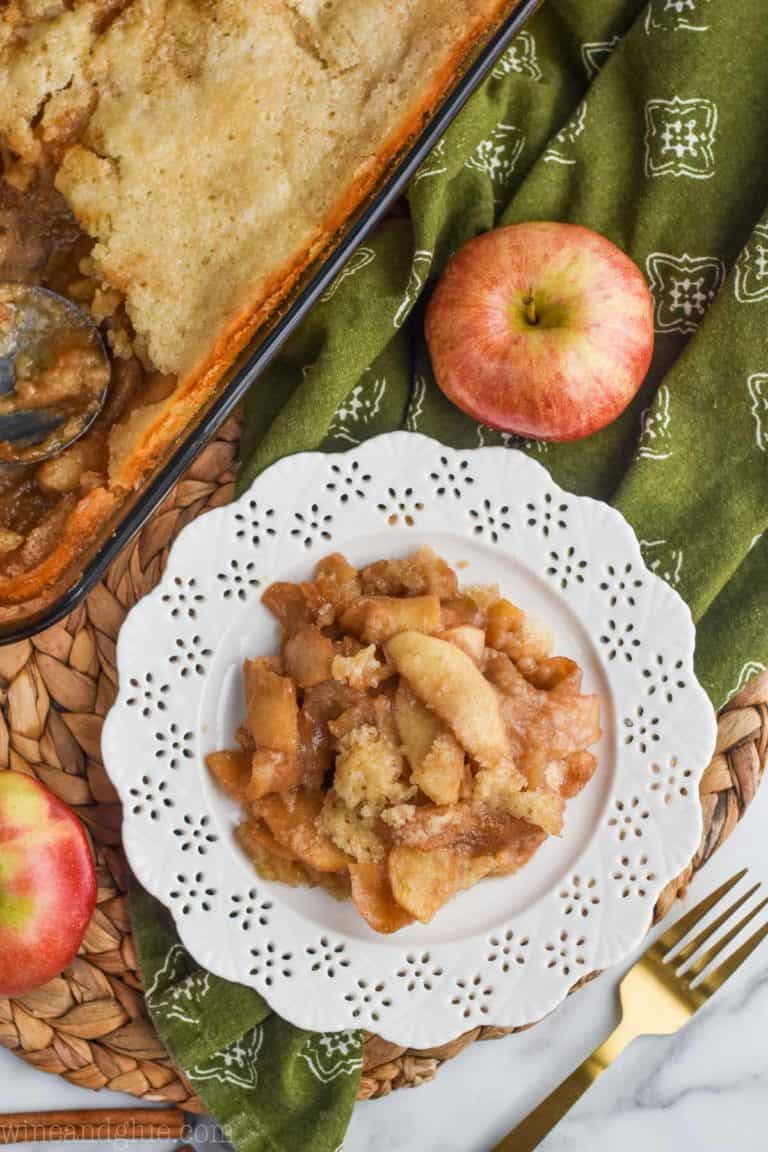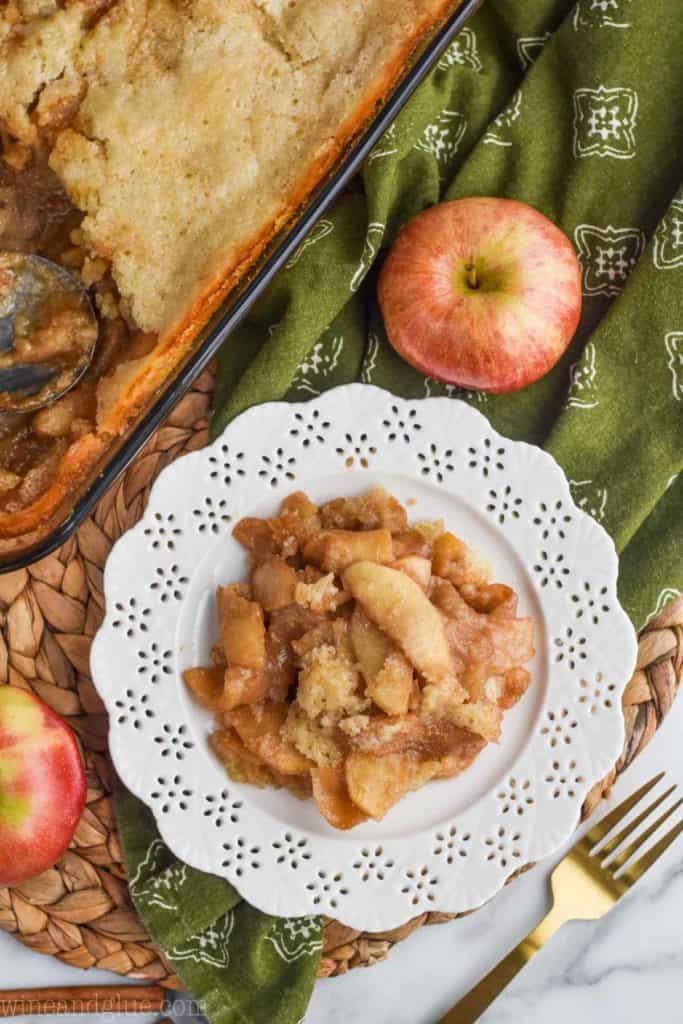 And with that, I will get to this incredible caramel apple cobbler recipe . . . thank you all for letting me ramble at you several times a week. There is not a day that goes by that I don't think of those who visit my blog with absolute gratitude. It's because of you that I get to do this amazing job.
(I'm feeling seriously mushy this morning.)
Making Caramel Apple Cobbler from Scratch
This homemade apple cobbler recipe is not made with apple pie filling, but with fresh apples. It has the most delicious caramel sauce that we are also making from scratch. If this sounds intimidating, take a moment to watch the video. This is an easy recipe!
Tips for this Caramel Apple Cobbler Recipe
This Caramel Apple Cobbler is made completely from scratch. The hardest part about this recipe is just peeling and slicing the apples. The peeling of the apples into the big bowl at the start makes me think of Sundays as a kid, when my dad would peel apples for an apple pie while watching the Packer game.
I think peeling and cutting apples goes a lot faster if you peel them, core them, and then cut them. Or you could buy this handy tool.
While your apples are cooking down, get started on your caramel sauce. It makes it go a lot faster if you cook both at the same time.
Once you have peeled and cooked your apples and made your caramel sauce, the rest of the recipe comes together fast!
Other Great Caramel Apple Recipes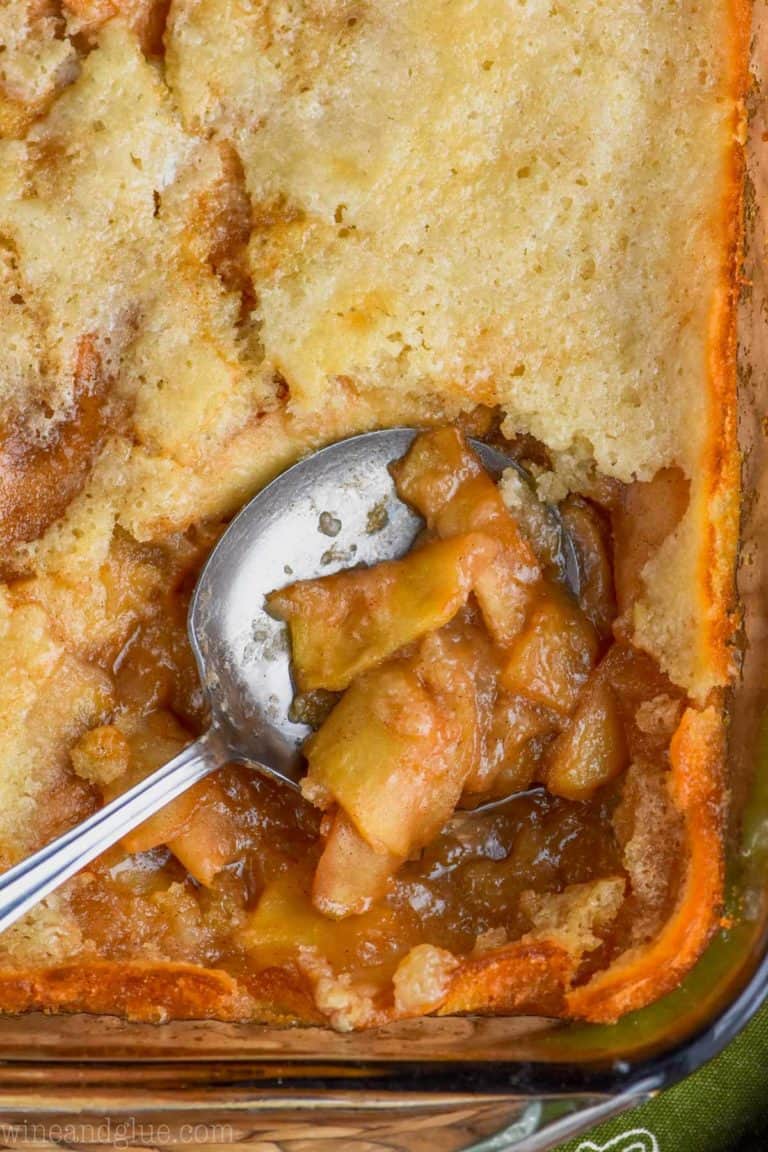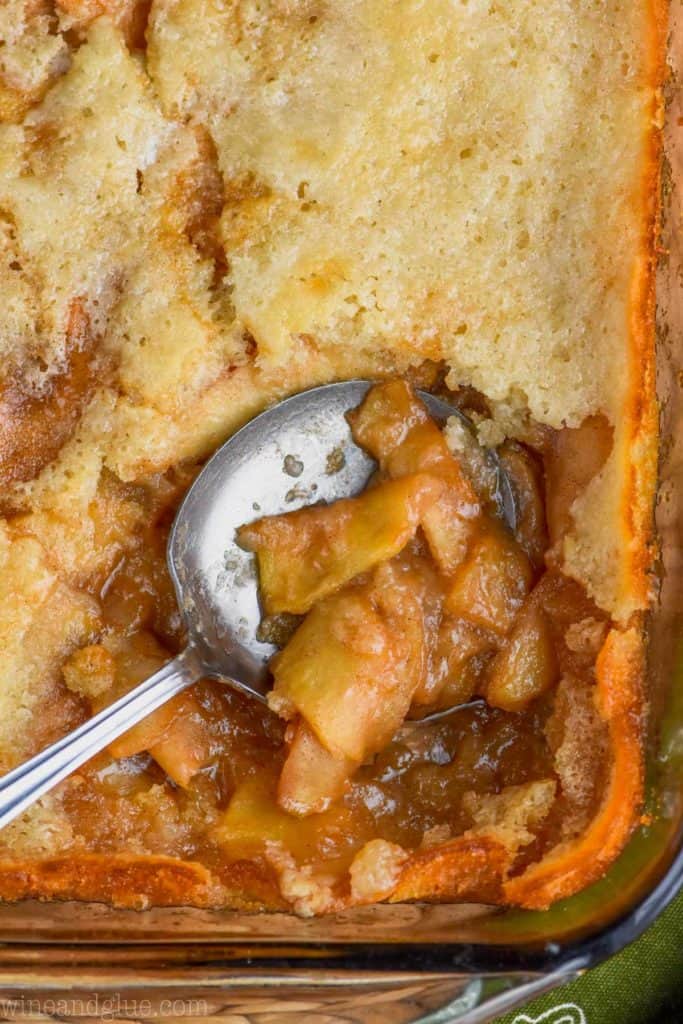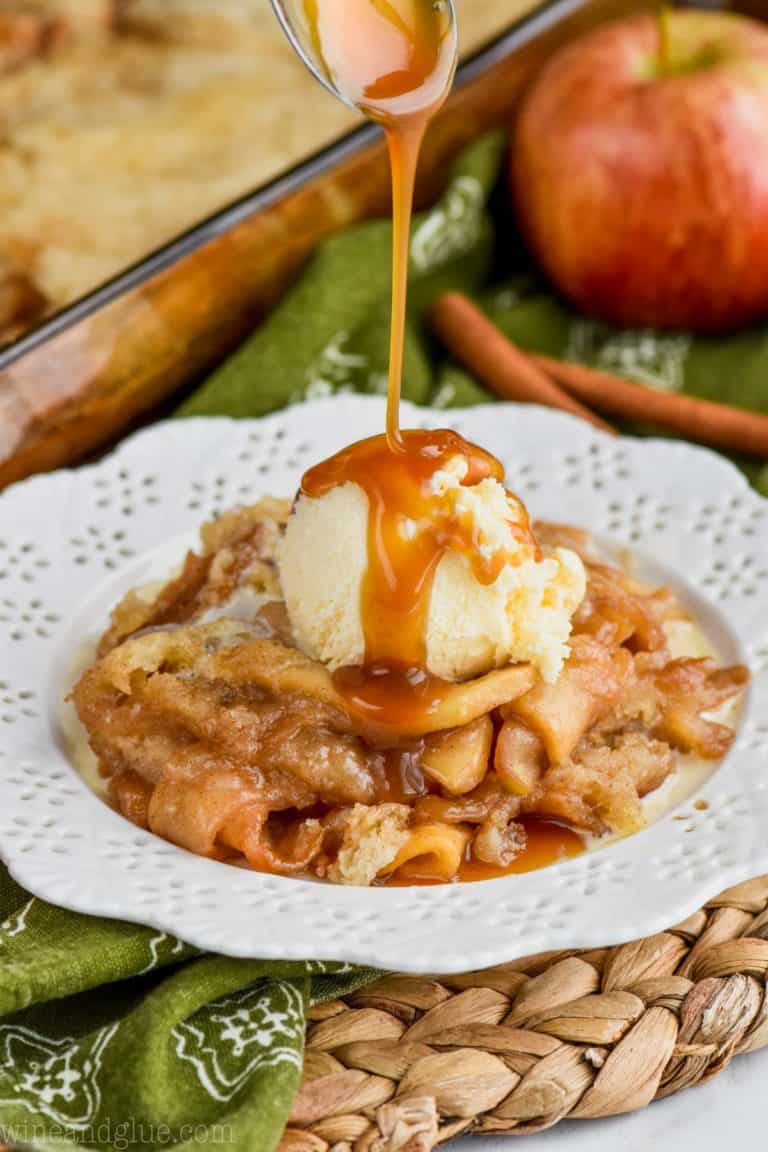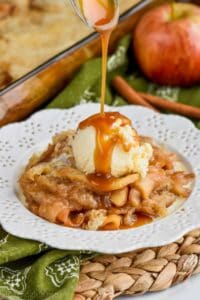 Caramel Apple Cobbler
This Caramel Apple Cobbler is the perfect combination of delicious tart apples coated in cinnamon and smooth homemade caramel, all in an amazing warm from scratch cobbler!
Ingredients
For Apples
6

apples

peeled and sliced thin (I used a mixture of Gala and Granny Smith)

1

tsp

cinnamon

2

TBSPs

granulated sugar
For Caramel Sauce
1

cup

packed brown sugar

1/2

cup

unsalted butter

1/4

cup

heavy cream

For Cobbler Batter
For Cobbler Batter
1/2

cup

butter

melted

1

cup

granulated sugar

1

cup

all purpose flour

2

tsps

baking powder

1/4

tsp

salt

1

cup

milk

2

tsps

vanilla extract
Instructions
Combine your apple slices, 1 tsp cinnamon and 2 TBSPs granulated white sugar in a large sauce pan over medium low heat. Cook the apples, stirring regularly until they are soft, about 10 minutes.

While the apples are cooking down, combine 1 cup brown sugar, 1/2 cup (one stick) unsalted butter, 1/4 cup heavy cream in a small sauce pan over medium heat. Stir consistently until the mixture begins to boil. Continue stirring for another minute or so until it is smooth, remove from the heat.

Pour the 1/2 cup melted butter into the baking dish.

In a large bowl, whisk together 1 cup sugar, 1 cup flour, 2 tsps baking powder, and 1/4 tsp salt. Whisk in 1 cup milk and 2 tsps vanilla extract. Pour the mixture over the butter and whisk in gently.

Add 1 cup of the caramel sauce to the apples and stir to combine, reserve the rest for serving (I had about 1/3 cup left). Pour the caramel apple mixture over the batter. Bake for 20 to 25 minutes or until the edges are golden brown. Serve warm with ice cream and the reserved caramel sauce.
Calories:
580
kcal
(29%)
Carbohydrates:
87
g
(29%)
Protein:
3
g
(6%)
Fat:
26
g
(40%)
Saturated Fat:
16
g
(100%)
Polyunsaturated Fat:
1
g
Monounsaturated Fat:
7
g
Cholesterol:
72
mg
(24%)
Sodium:
129
mg
(6%)
Potassium:
244
mg
(7%)
Fiber:
6
g
(25%)
Sugar:
69
g
(77%)
Vitamin A:
950
IU
(19%)
Vitamin C:
5.8
mg
(7%)
Calcium:
170
mg
(17%)
Iron:
0.7
mg
(4%)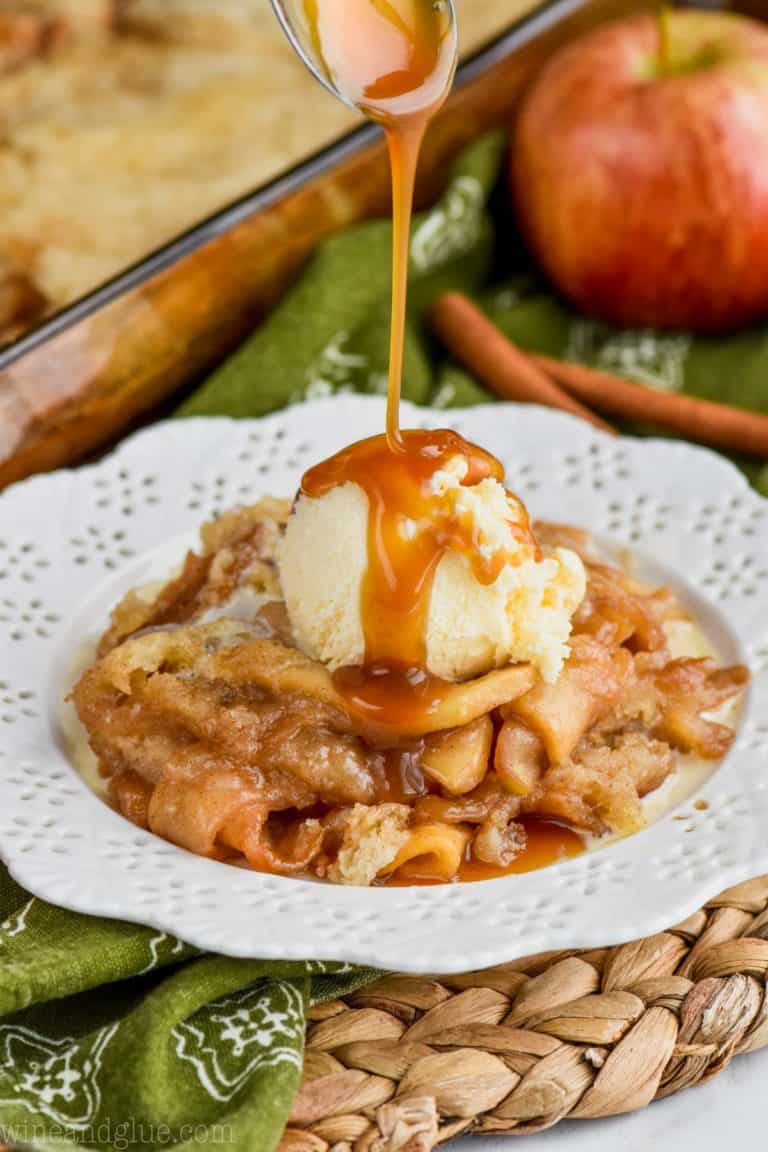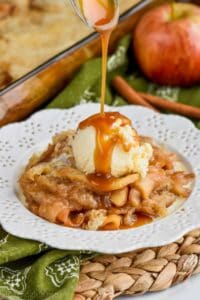 did you make this
Caramel Apple Cobbler
you might also like . . .