Easy Lemony Roasted Asparagus | A super easy side dish recipe. Roasted Asparagus with a delicious lemon taste. Doesn't get much simpler or tastier.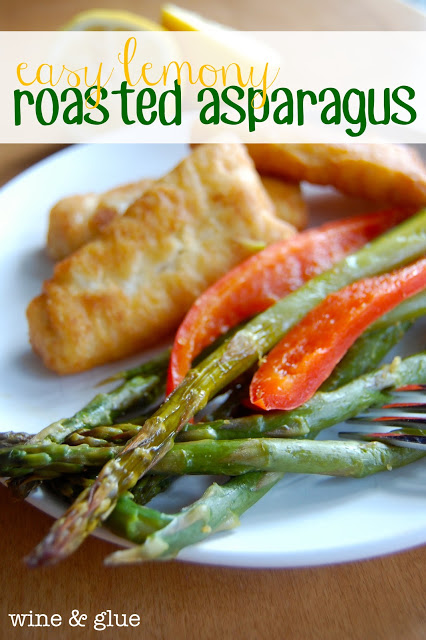 One of my absolute favorite things about spring (you know besides Mother Nature taunting us by acting like it's going to get nice out and then throwing a snow storm in our faces) is asparagus!
It is so delicious in pasta dishes, quiches, and maybe even more so, just as a side dish.
Recently I had a brand new bunch of asparagus from the grocery store and I thought it would go perfect with the fish we were having for dinner. I tossed in some lemon, some red pepper, and some garlic salt and just threw it in at the same temperature I had the oven at for the fish.
Yumm!
It was for sure a winner, and I plan on making it all summer long.
Easy Lemony Roasted Asparagus
One bunch of asparagus (best if used within a day, but either way, keep it in a glass of water like flowers in a vase), with the rough bottoms chopped off
One red pepper, sliced
The zest of one lemon
The juice of half a lemon
1/2 tsp of garlic salt
Preheat the oven to 375. Spray a 9×13 inch baking dish with olive oil.
Toss the asparagus, lemon zest, lemon juice, peppers, and garlic salt.
Spray all the ingredients with a little more cooking spray.
Cover with foil and bake for about half an hour, or to the desired tenderness.