A Gin Martini is a classic cocktail that every at home bartender should know how to make. Only two ingredients, but with my tips, it will be top notch.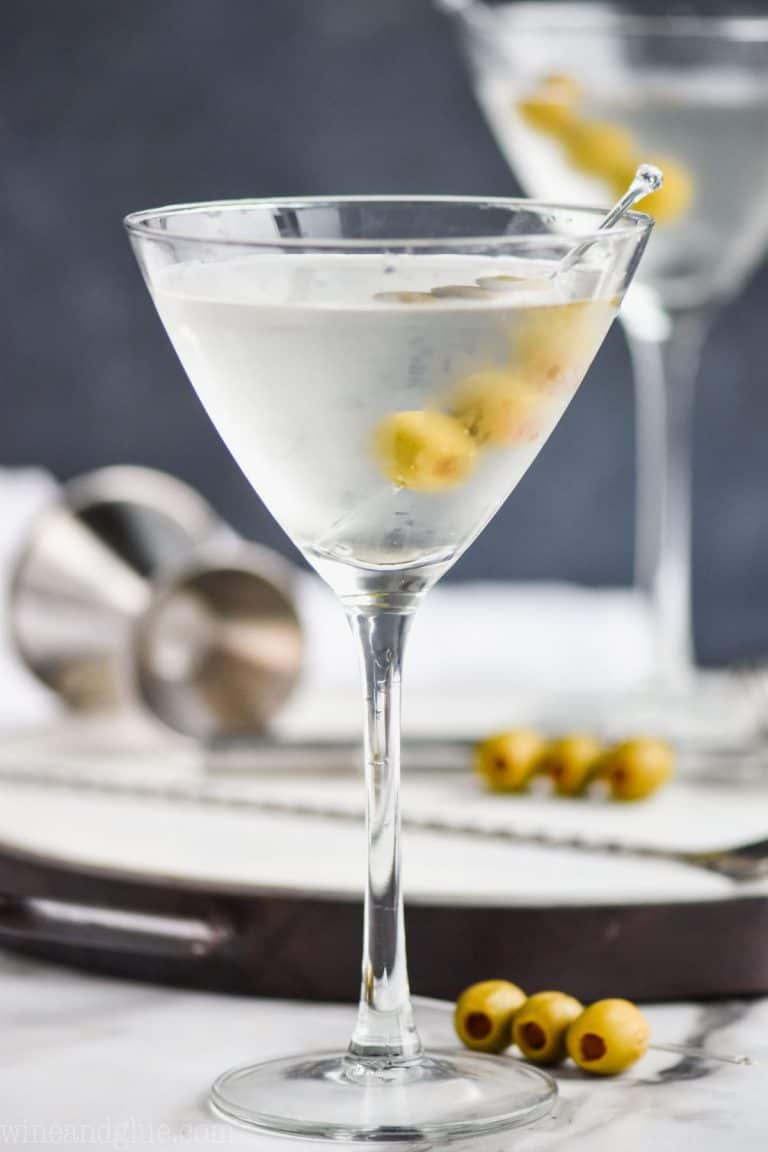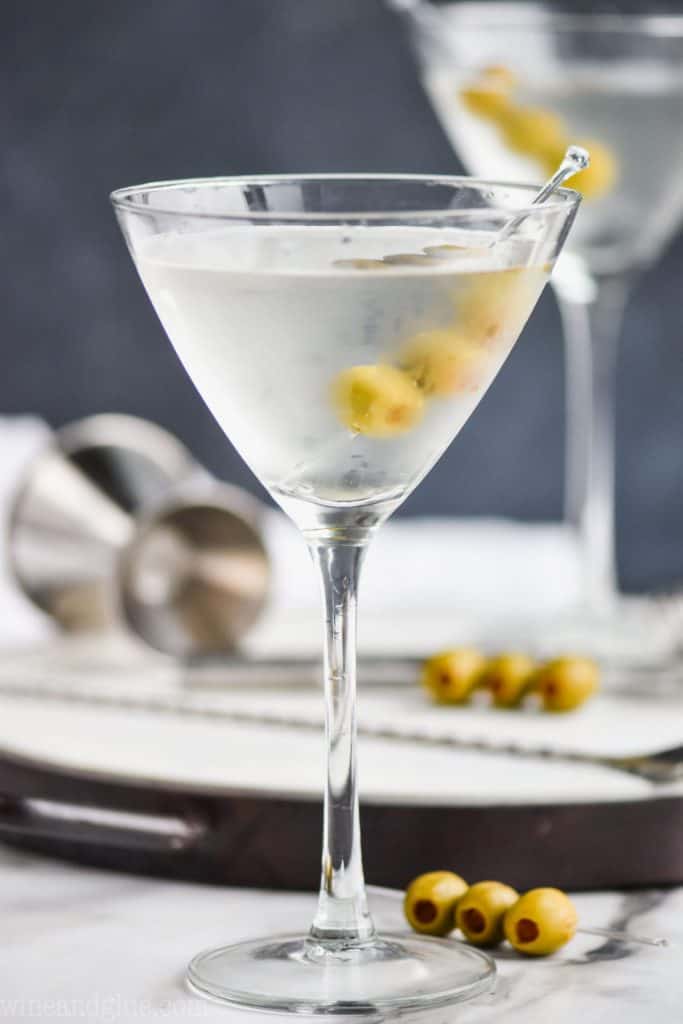 When it comes to date night, my favorite place for my husband and I to sit is at the bar in our favorite restaurants. There is something that makes us feel more like friends sitting right next to each other as we enjoy a cocktail and dinner.
Plus . . . it is the perfect spot for me to watch bar tenders make everyone's cocktails. It's like free entertainment.
Being an at home bar tender doesn't have to be intimidating. You don't even need a lot of fancy equipment – my essentials are a cocktail shaker, a strainer, and a jigger. To stock your bar with fun glasses, hit up thrift stores.
And of course, for the best tips on making perfect cocktails, come here. ????
Today we are making a classic Gin Martini and I have a few simple pointers that will make it absolutely perfect.
Fan of a vodka martini? Check out my Dirty Martini.
HOW TO MAKE A GIN MARTINI
This is a really simple two ingredient cocktail, but there are a few steps that will help it turn out perfectly.
Fill a glass mixing glass or the mixing cup of a metal martini shaker (the bottom cup part only) with ice cubes (not crushed ice).
Add cold gin and cold vermouth.
Stir it until the mixing glass or metal cup frost.
Strain the martini into a chilled glass.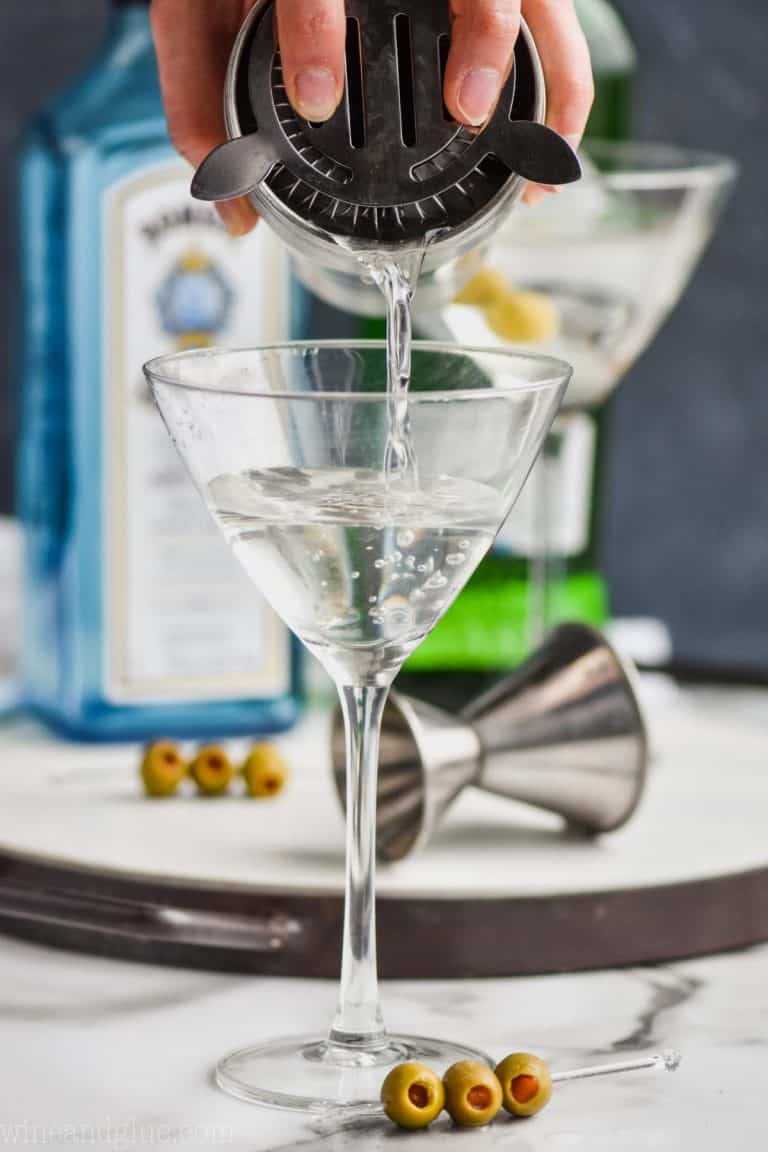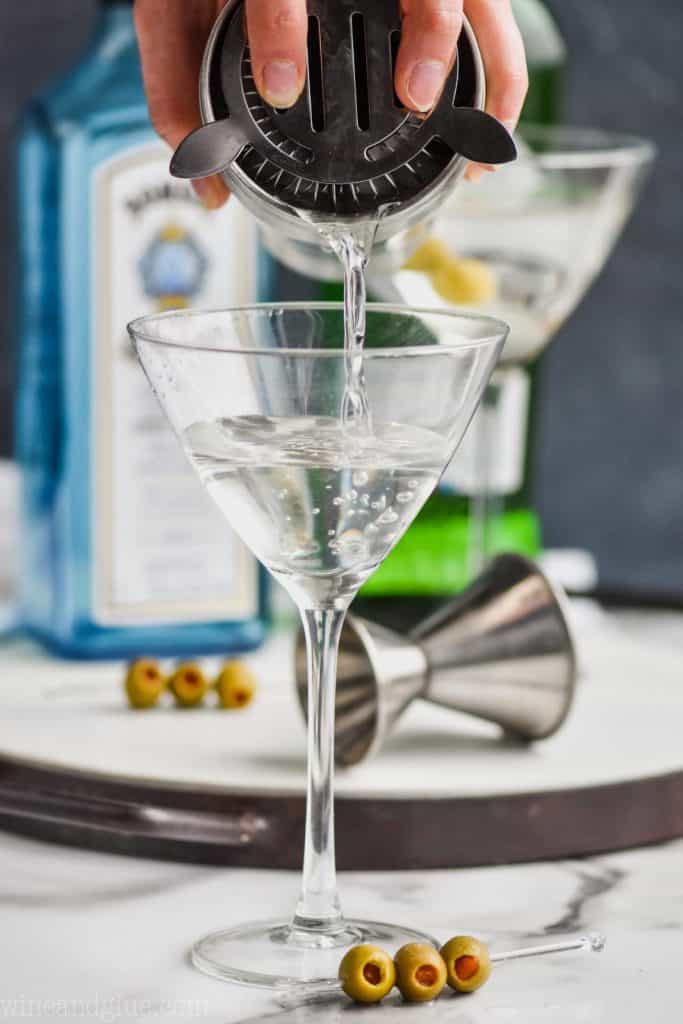 BEST SERVED COLD
The key to a good gin martini is to serve it really cold. There are a few things we are going to do to accomplish that, but it starts with storing the gin and dry vermouth in the freezer.
Because of alcohol content in them, they won't freeze, but they will be perfectly chilled for your martini.
Other ways we make it cold:
Mix the already cold ingredients with ice cubes.
Serve it in a chilled martini glass.
BEST GIN FOR A MARTINI
Top shelf brands of gin are Sipsmith London Dry and Nolet's Silver Dry. Either would be perfect for this recipe.
If you are looking to spend a little less, I love Bombay Sapphire as a great mid level gin.
CHILLING YOUR MARTINI GLASS QUICKLY
Recently my brother taught me a trick: To keep your coffee hot longer, fill the cup you will drink it out of with hot water while the coffee is brewing. Warming the mug will keep your coffee hotter longer.
The same principle holds true with a good martini.
Filling the martini glass with ice and then with cold water and letting it sit for a minute will chill your glass quickly.
Toss out the ice and water, and enjoy a cocktail that stays cooler longer.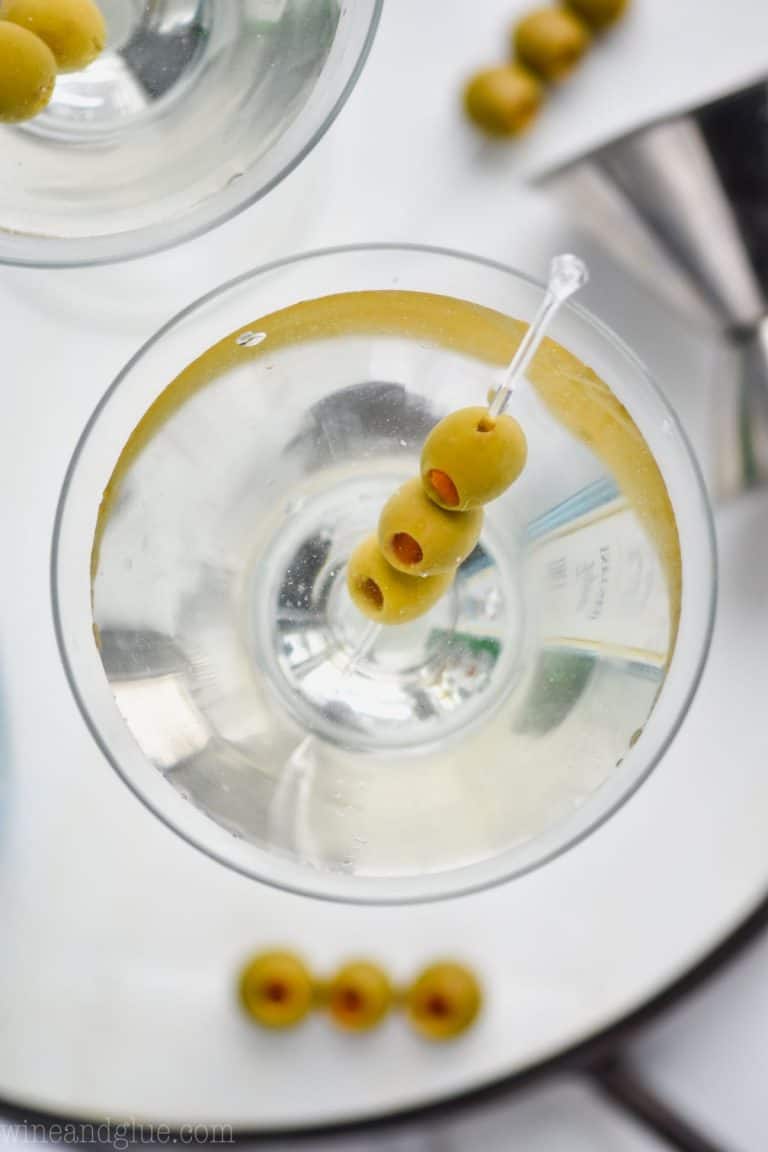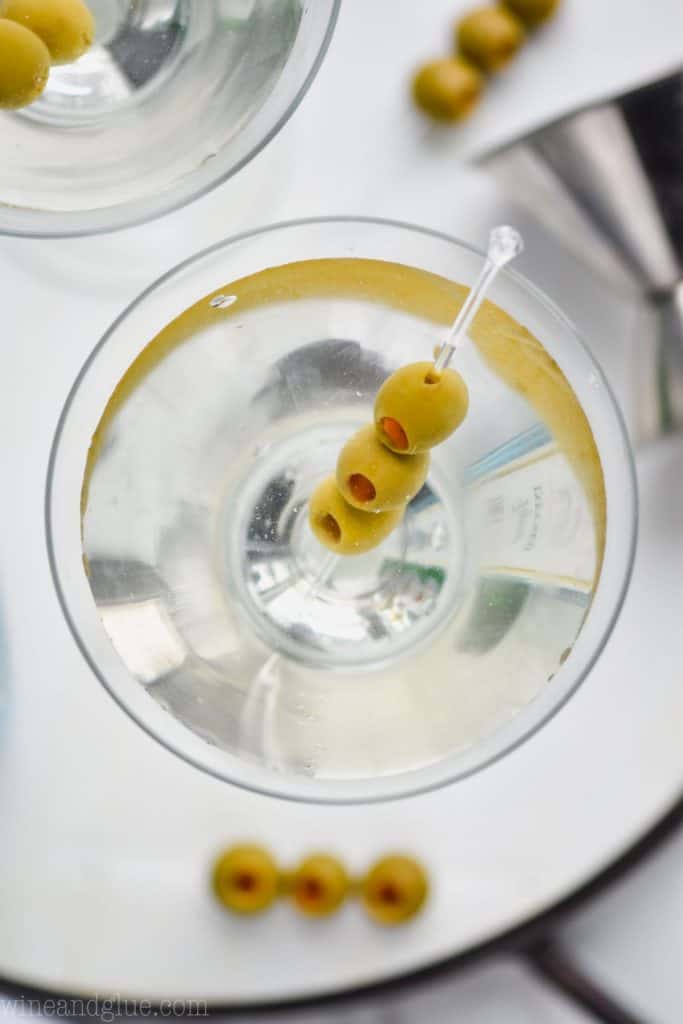 GARNISHES
You can go with either an olive or a lemon twist for a garnish.
Traditionally, a lemon twist (or curl of a lemon peel) is run around the rim of the martini glass. Then you squeeze it into the cocktail and drop it in. It adds just a pinch of acidity to your gin cocktail.
OTHER GREAT GIN COCKTAILS
I love a great classic gin cocktail. Here are a few of my favorites:
If you make any of my cocktails, leave me a comment and let me know! I love hearing from you!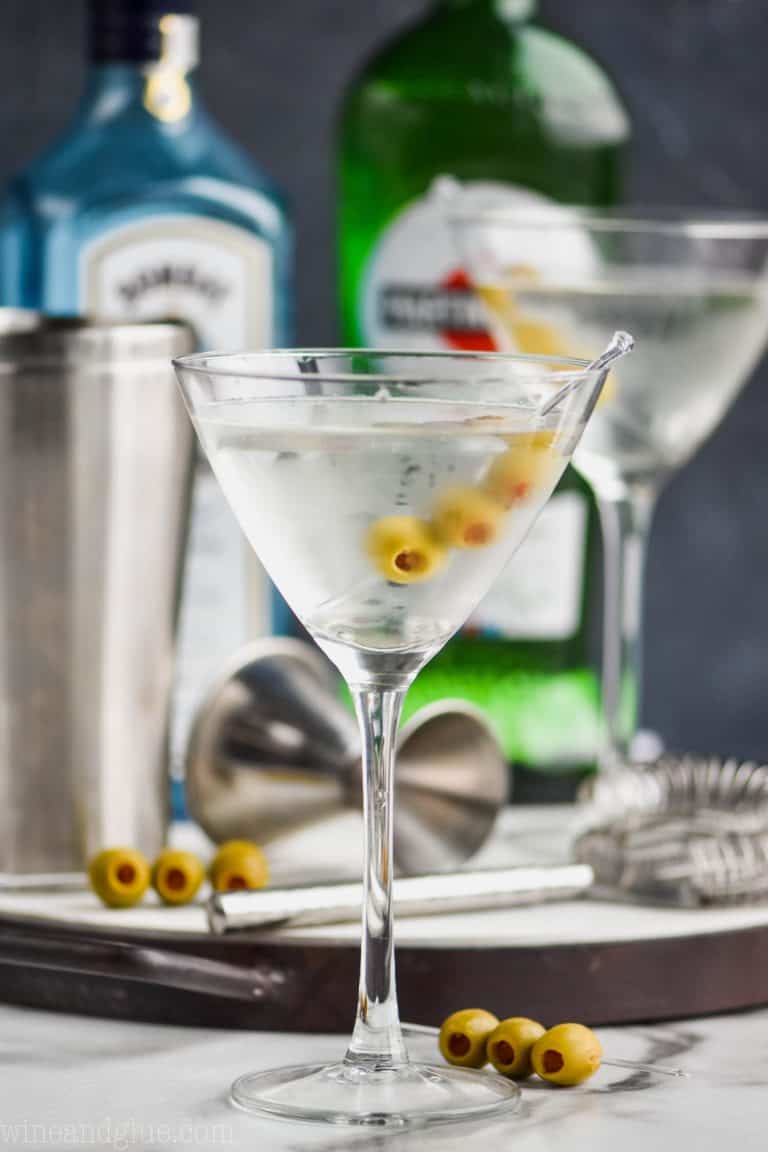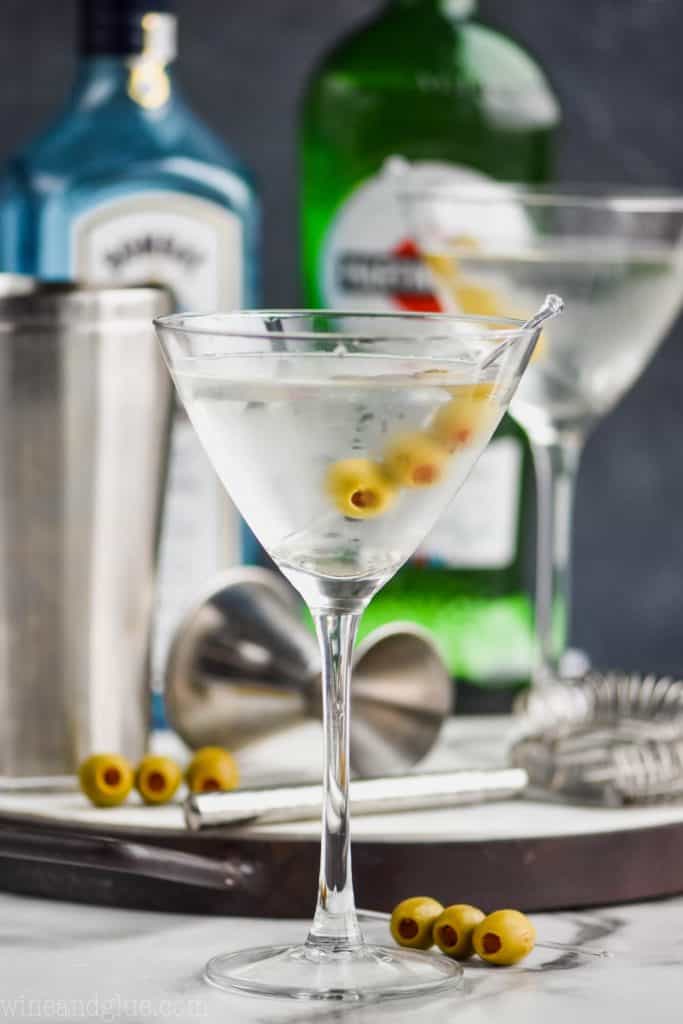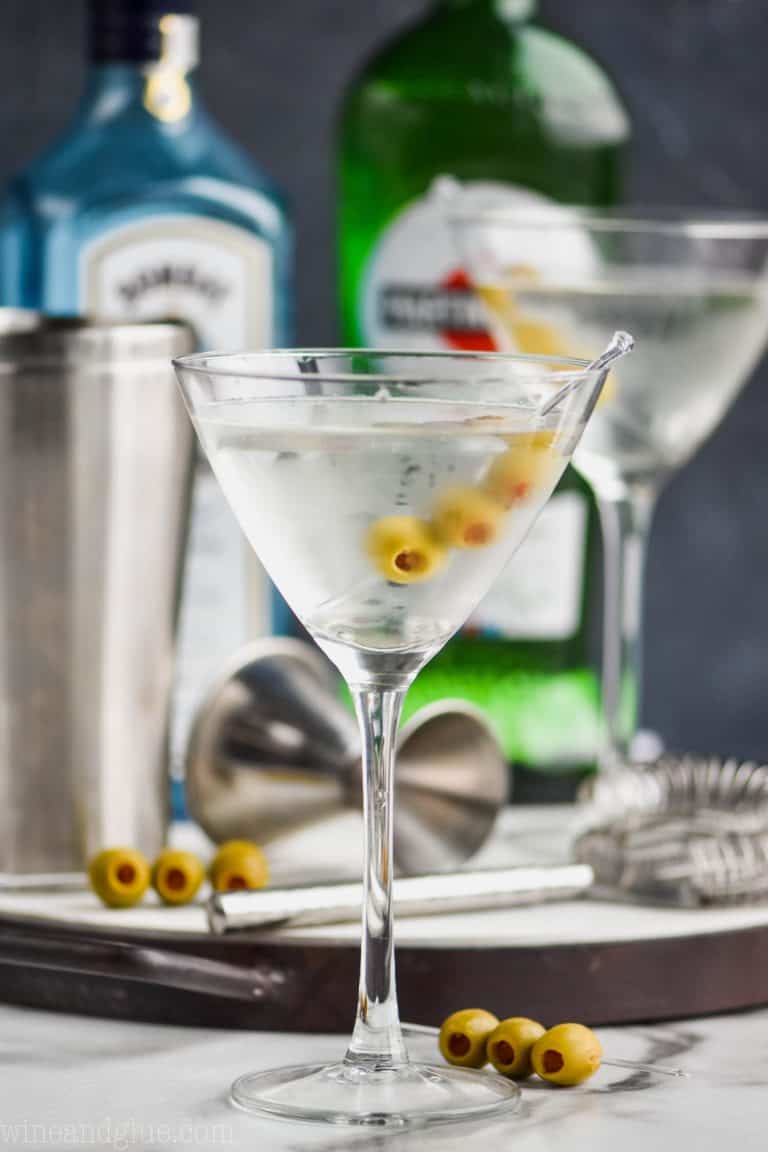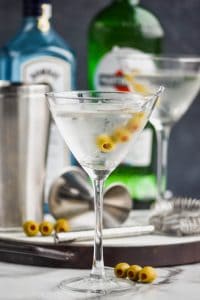 Gin Martini
A Gin Martini is a classic cocktail that every at-home bartender should know how to make. Made with only two ingredients, but with my tips, it will be top-notch.
Ingredients
2

ounces

gin

chilled

1/2

ounce

dry vermouth

(1 tablespoon) chilled
Instructions
Chill a cocktail glass by filling it with ice and cold water. Set aside.

In the metal cup of a cocktail shaker, add ice cubes (not crushed ice).

Add the gin and dry vermouth to the shaker and stir.

Empty the ice water from the cocktail glass, and strain the cocktail mixture into it.

Add a lemon twist or a cocktail olive for garnish.
Serving:
1
cocktail
Calories:
171
kcal
(9%)
Carbohydrates:
2
g
(1%)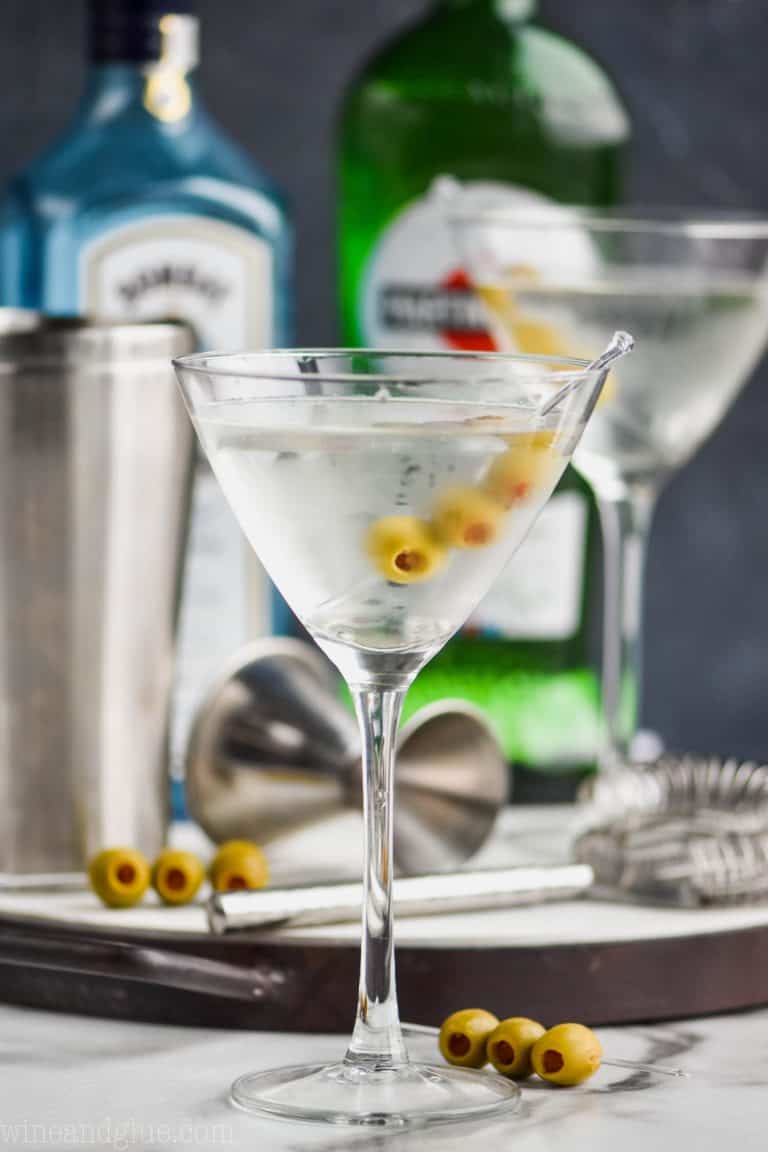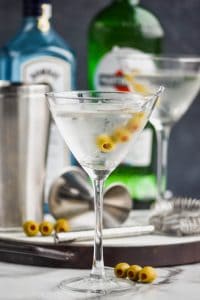 did you make this
Gin Martini