This Gingerbread House Recipe is the perfect fun recipe to make this holiday season. Double it or triple it to make multiple houses, print out the gingerbread house template printable, and grab the recipe for the gingerbread house icing to glue it all together. It makes for such a fun family project!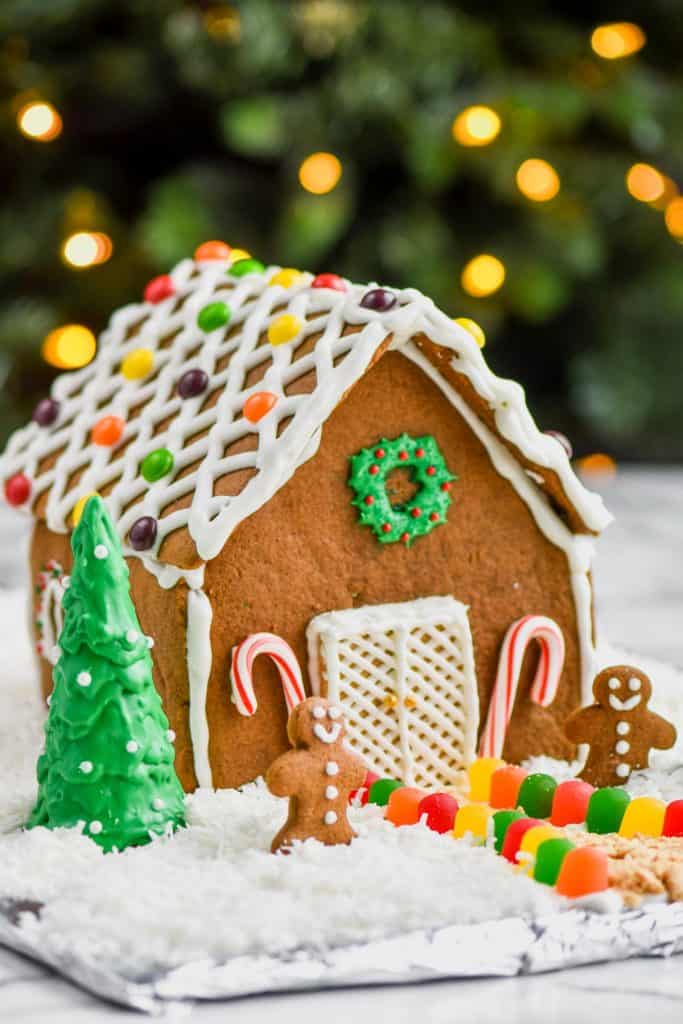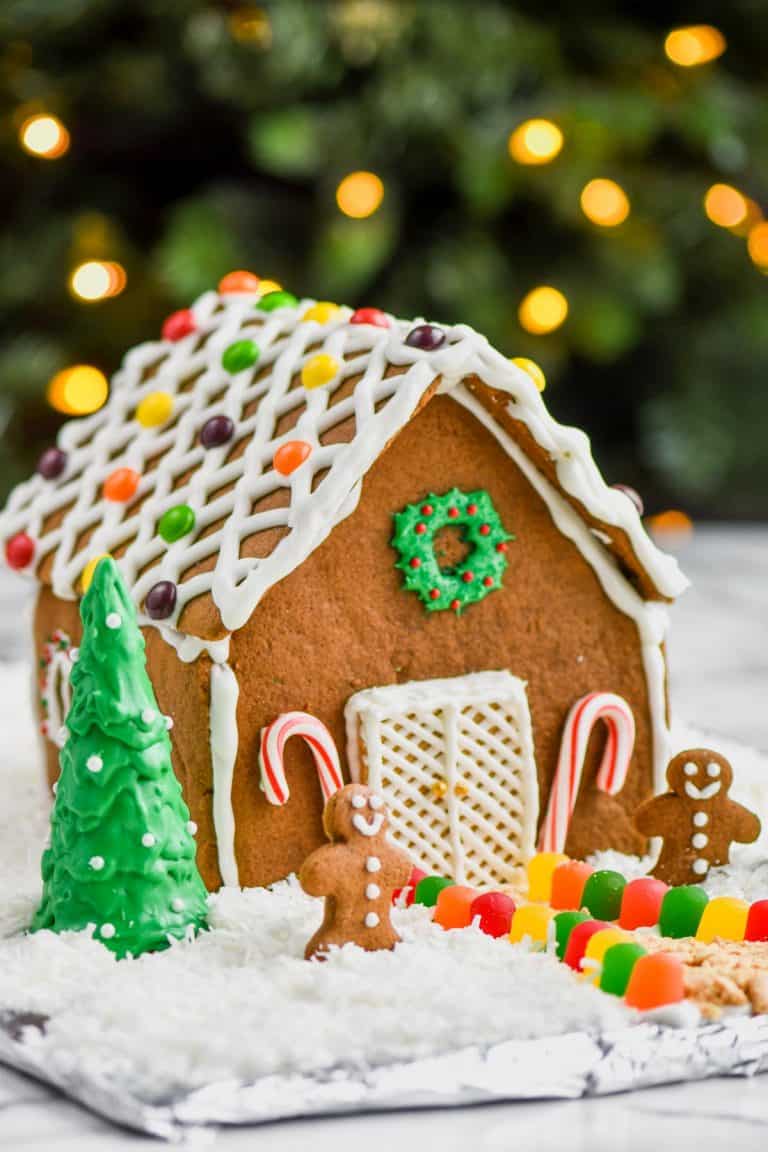 Thick in the holiday season, it is so easy to get caught up in my to do list. It happens every year! But what I also really try to make happen every year is weaving in Christmas traditions – big and small – that my kids will remember forever.
Making Gingerbread Houses is such a perfect family tradition that your kids will love and will always remember. And it doesn't have to be a stressful project. I have an easy to follow recipe, easy to use templates to cut it all out, and the best gingerbread house icing to glue it all together!
CLICK HERE FOR THE GINGERBREAD HOUSE TEMPLATE PRINTABLE
CLICK HERE FOR THE GINGERBREAD ICING RECIPE
THE BEST GINGERBREAD HOUSE RECIPE
This is a recipe that I dug out of a super old kids activity cookbook from the library a million years ago. The recipe for the gingerbread dough is delicious, and flavorful. It holds up perfect for cute gingerbread houses great for decorating. I actually used this gingerbread dough recipe a few years ago to make these great gingerbread cookies and it works perfect for that too.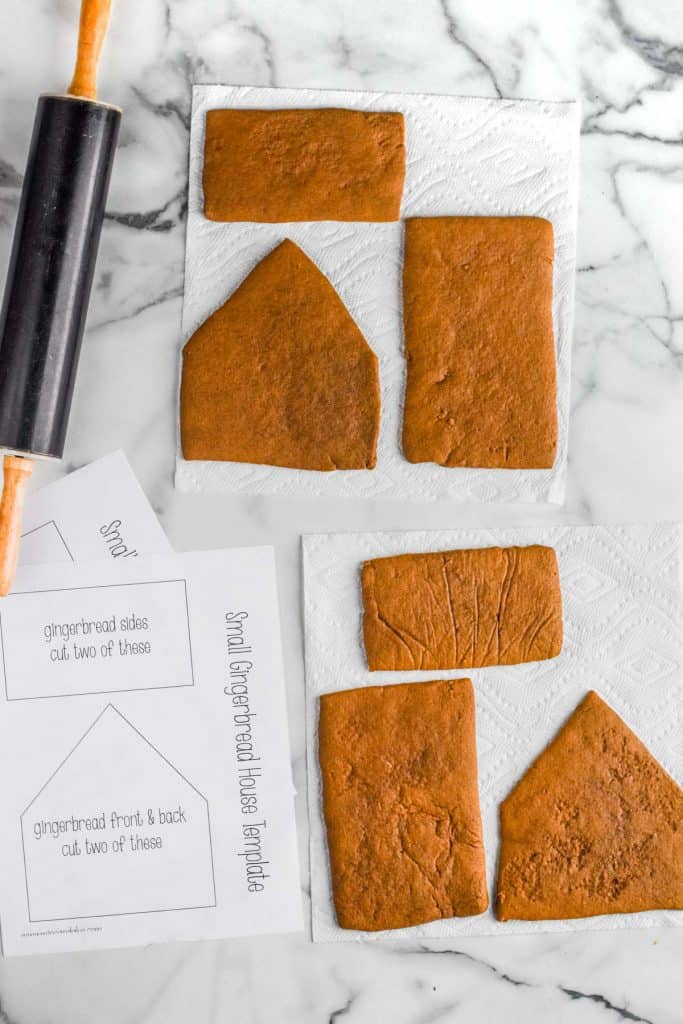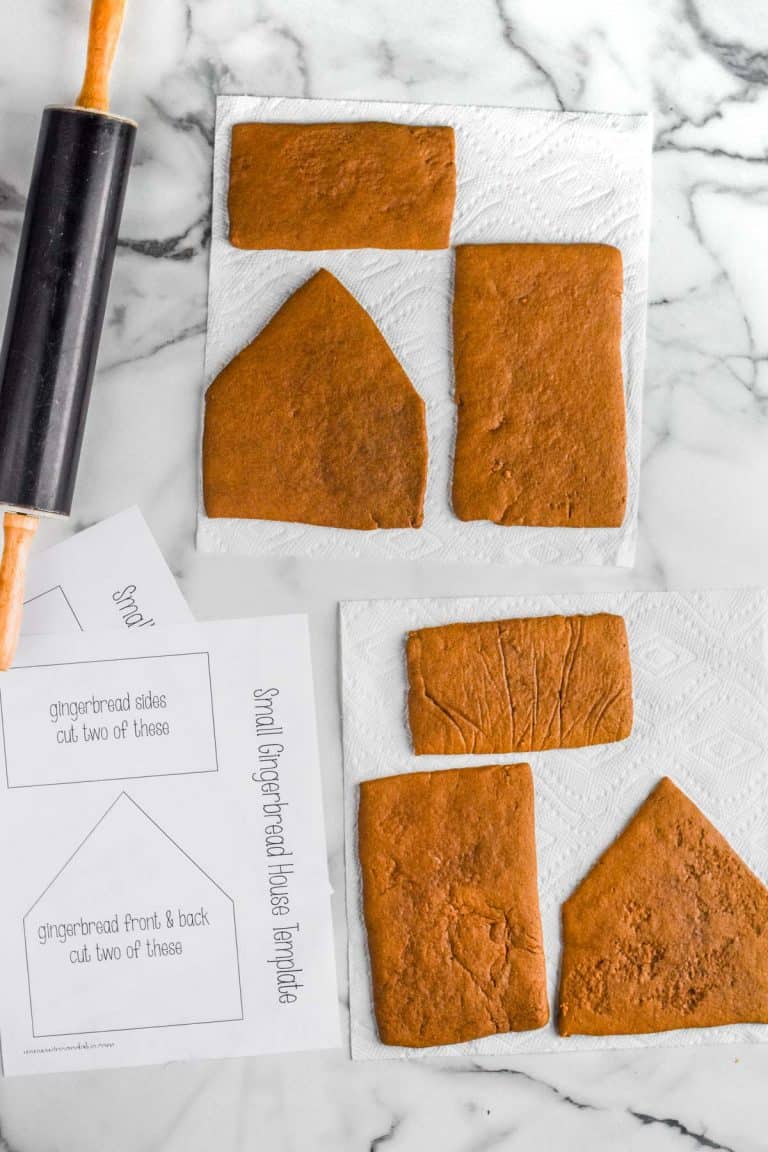 HOW TO MAKE A GINGERBREAD HOUSE RECIPE
Once you grab my gingerbread house patterns, the rest is super easy. Should we do it?
Make the gingerbread house dough. This dough recipe is easy to double or triple if you want to make several houses.
Let it chill for a half hour in the refrigerator.
Print out the gingerbread house template

and cut it out.

Roll out the chilled dough and use the gingerbread house pattern to cut out all of your pieces.
Bake them, allow them to cool, and then let them dry for at least 8 hours on paper towels (not in a sealed container, you want them to get dry and stale) as seen above.
Collapse a cardboard box. Put pieces of duct tape around the box to make it more stable. Cover it in aluminum foil.
Make some gingerbread house icing and use it to glue your house together.
Decorate!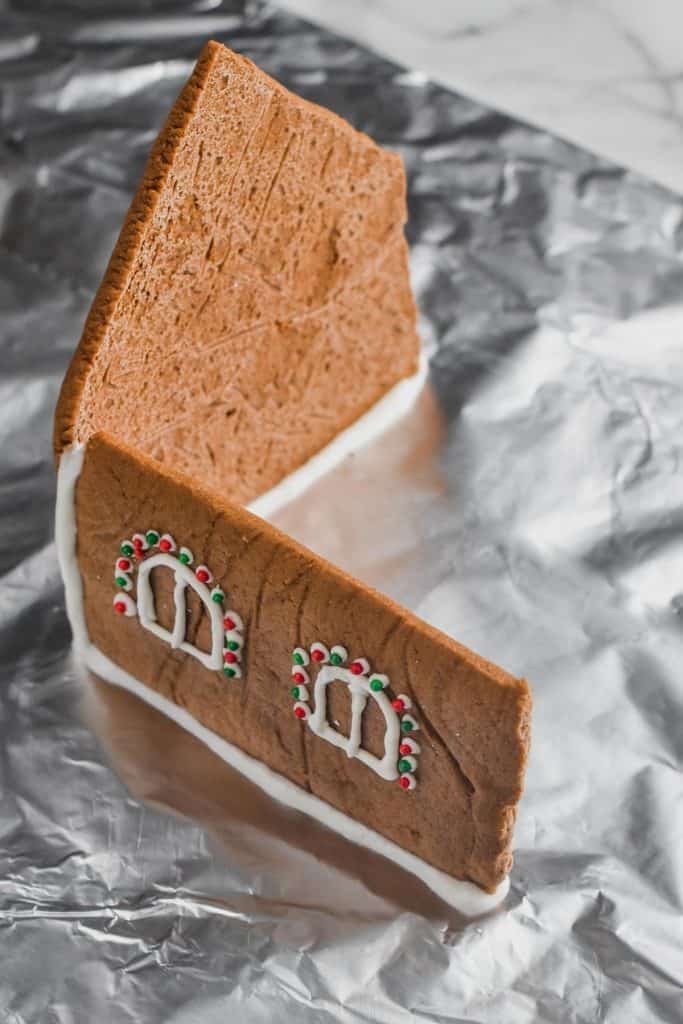 In the picture above you can see two pieces just hanging out. The royal icing recipe I use works so well that it does really just hold the pieces up, but you need to be a little patient. Put a lot of icing on your pieces and hold two pieces there until they are stable, or use a drinking glass to hold the pieces in place while you walk away and schedule posts on social media. No? Just me?
GINGERBREAD HOUSE RECIPE TIPS
There are several things that makes this whole process easier that I have learned over time.
When you roll out your pieces of dough, put a wet paper towel on the counter, then a piece of parchment paper, the dough and another piece of parchment paper. Rolling out the dough between the two pieces of parchment makes for easy rolling. The wet towel beneath keeps it all from sliding around.
When you use the pieces of paper to cut out the dough, don't press it down on the dough. It will stick to the dough and be hard to pull off. You can either sprinkle some powdered sugar on the dough to keep that from happening or use the template to cut out parchment paper and use that to cut out the dough.
You will have excess dough that you can use to cut out gingerbread men and women and you could even cut out a rectangle to make a sign.
This isn't a tip, just me making sure you really get something: Make sure your cooked gingerbread house recipe dries out in the open at least overnight.
I made a double batch of my gingerbread house icing recipe. It ended up being more than I needed, but I really liked knowing that I could decorate with the icing as much as I wanted and not run out. I had tons of icing to totally coat two ice cream cones as trees.
Decorate your pieces before you try to put it all together. That way you get nice lines that aren't drippy. Everything stays in place just as you want it and you aren't fighting gravity. This is a great way to keep kids from getting frustrated with candy falling off the side.
Use a piping set to decorate. I love this one because it comes with lots of tips and something couplers which allows you to switch out tips without messing with the frosting in the bag. This is perfect if you are keeping all white icing, but even if you want a few colors, this set comes with three bags, so you could have three colors ready to go and switch out the tips you pipe it on with.
I mentioned this above, but as you are putting on pieces, don't be shy about using a lot of gingerbread icing, and use kitchen glasses to hold pieces in place before you move on. I like using the kitchen cups on the inside of the house because if it dents the icing, no one will see it in the end.
Start by putting two pieces up (as seen above), then add the next wall, and then add the front. Once all of that is dry and stable, put on the roof.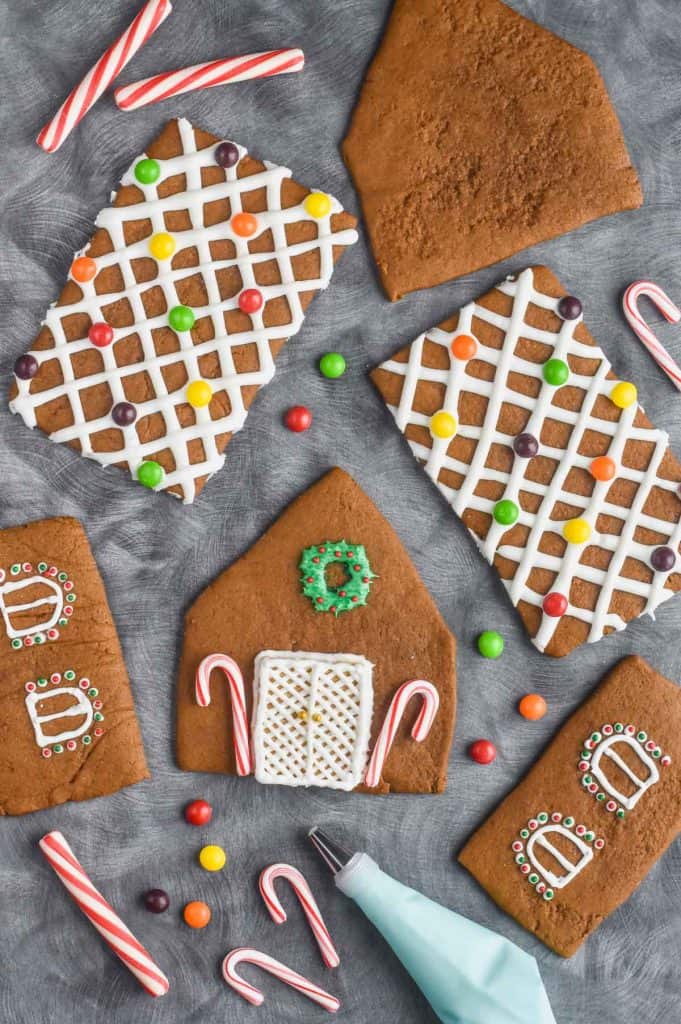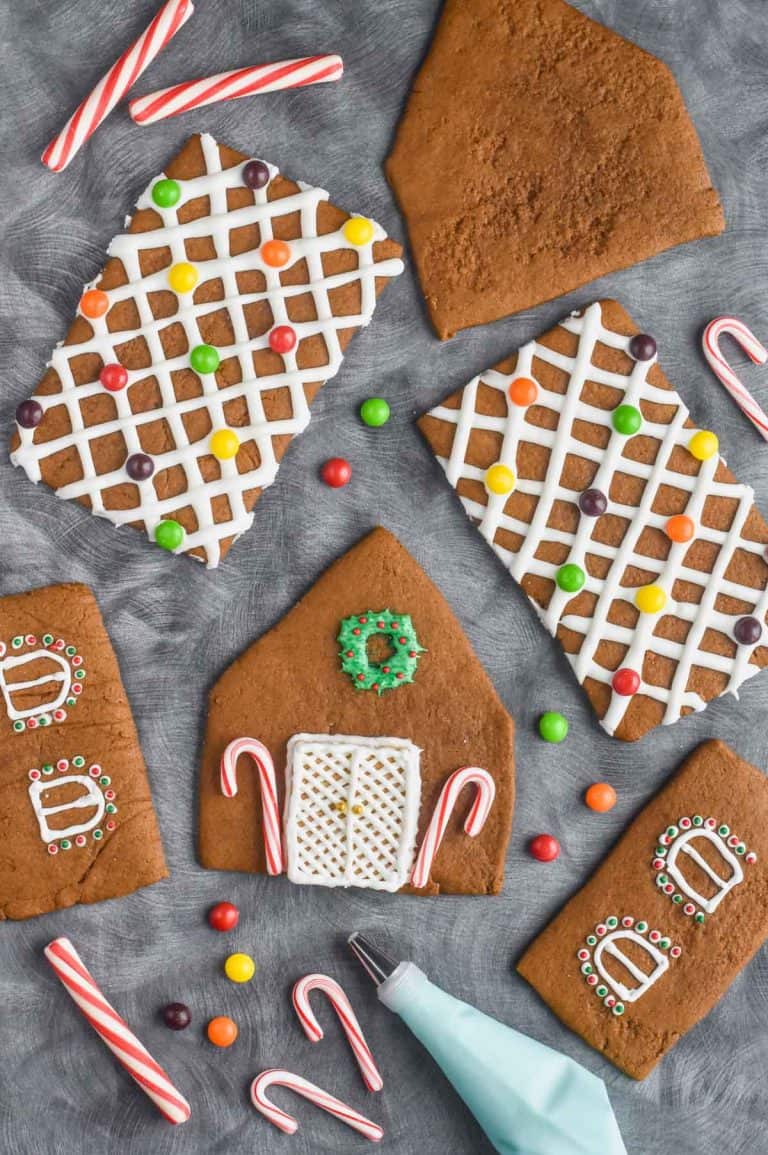 Some of these tips are for those of us who are Type A and want a perfect gingerbread house.
That said, I know that a lot of you are raising Type A kids and while I totally suggest teaching them it's great no matter what, these tips can help prevent a lot of frustration.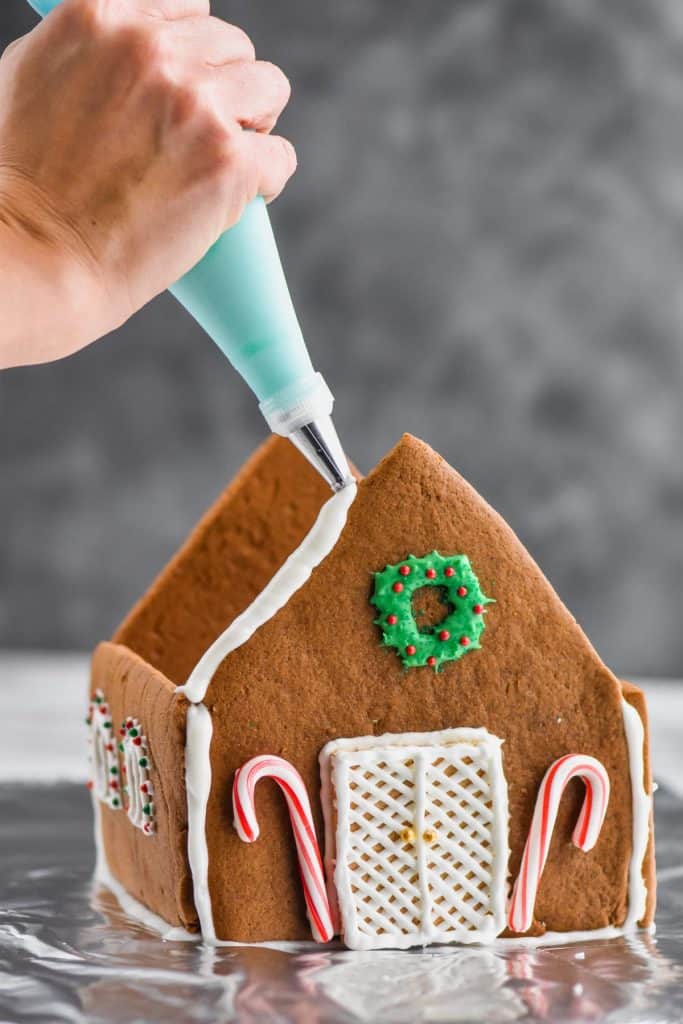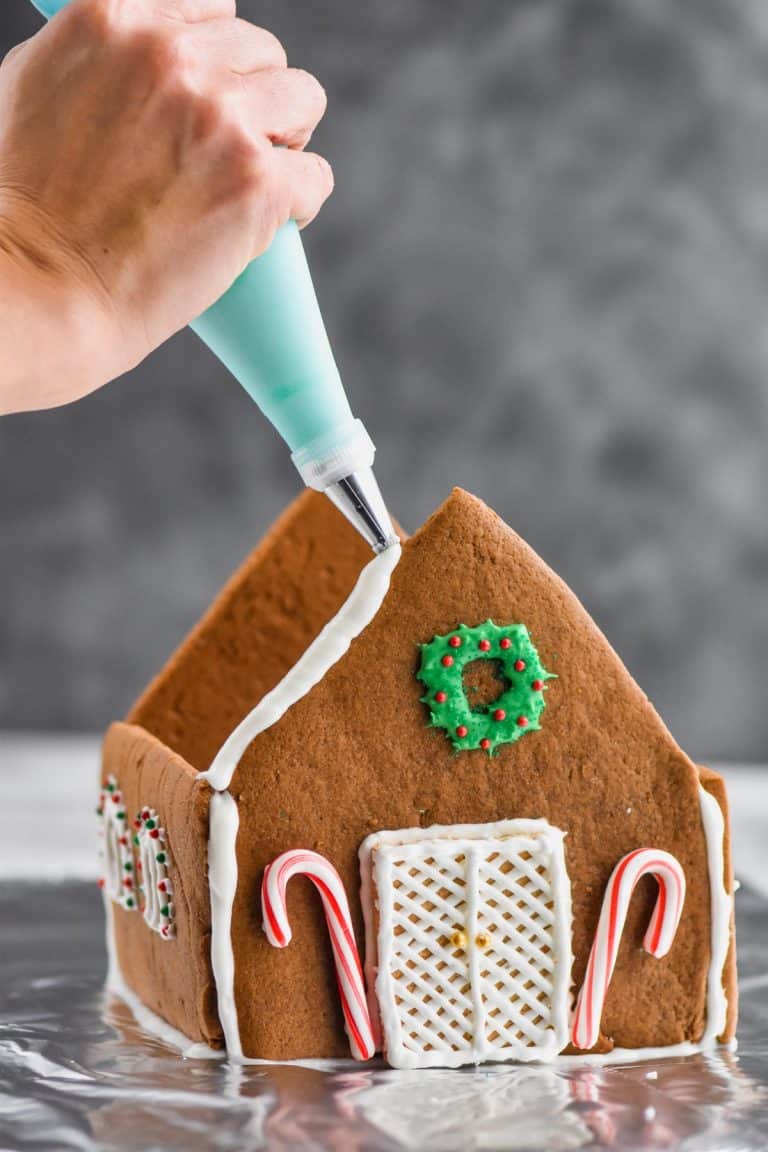 GINGERBREAD HOUSE IDEAS
Just a few more random decorating ideas and things you might want to buy when you are shopping for this:
Miniature candy canes and peppermint stirring sticks make for cute additions.
I have Skittles all over my roof.
I used Dots to line the path out of my house.
I used crushed up graham crackers held down by icing for the actual path.
My door is a graham cracker that I decorated before sticking it to my front piece.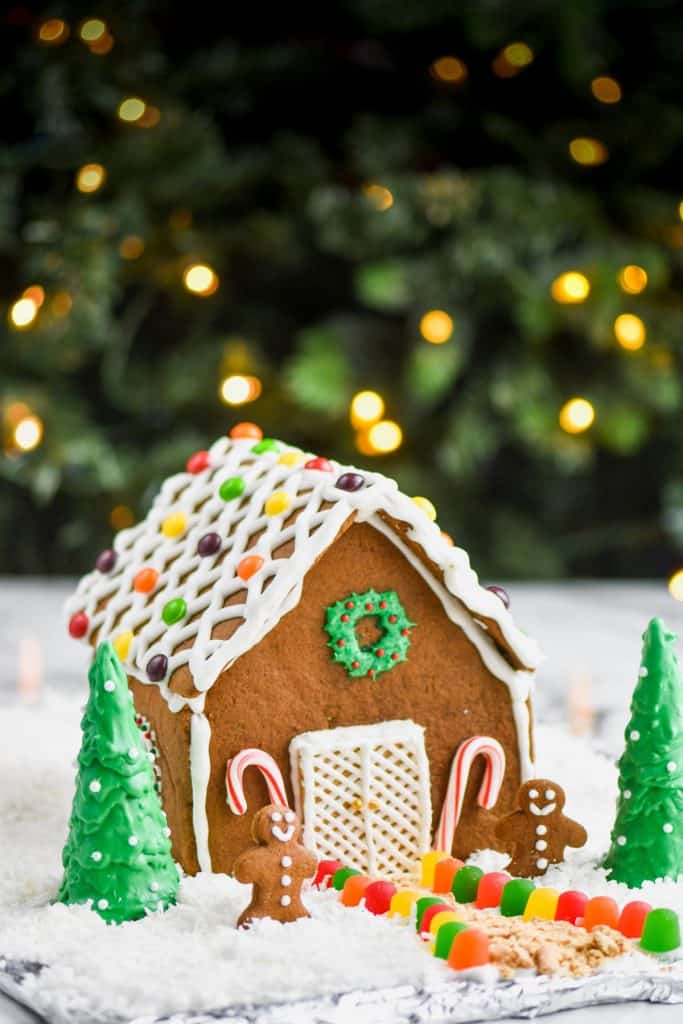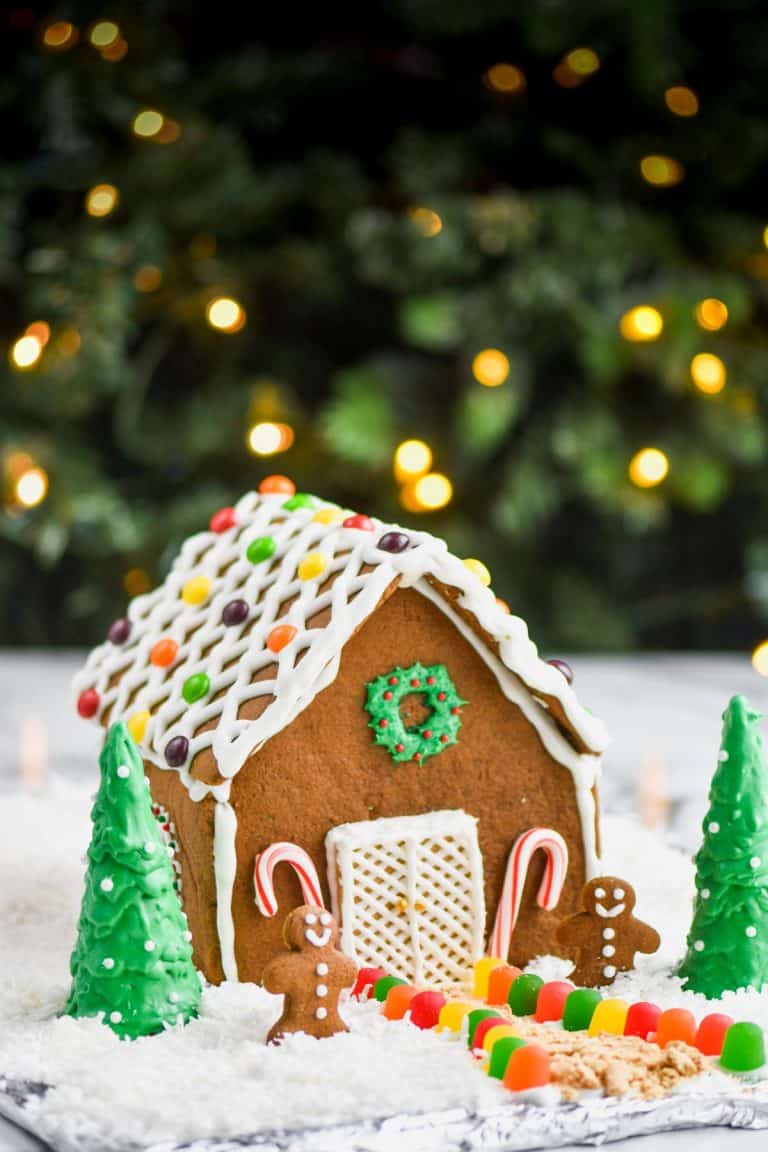 If you make this with your family come back and let me know how it goes by leaving a comment!
And if you make a gingerbread house using this icing, tag me on Instagram! @lisawineandglue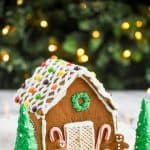 Print Recipe
Gingerbread House Recipe
This Gingerbread House Recipe is the perfect fun recipe to make this holiday season. Double it or triple it to make multiple houses, print out the gingerbread house template printable, and grab the recipe for the gingerbread icing to glue it all together. It makes for such a fun family project!
Ingredients
3

cups

all purpose flour

1/2

teaspoon

ground ginger

1/2

teaspoon

ground cloves

3/4

teaspoon

ground nutmeg

1/4

teaspoon

salt

1/2

teaspoon

baking soda

1/4

cup

unsalted butter

room temperature

1/4

cup

shortening

1/2

cup

granulated sugar

1/2

cup

plus 2 tablespoons molasses

1

egg
Instructions
In a large bowl whisk together the flour, ginger, cloves, nutmeg, salt, and baking soda. Set aside.

Beat together the butter, shortening, and sugar until light and fluffy. About three minutes. Beat in the molasses. Beat in the egg.

Slowly add in the flour mixture until it is just combined.

Chill the dough in the refrigerator for 30 minutes.

Preheat the oven to 300 degrees.

Place a wet paper towel on the counter. Put parchment paper on top of that. Add the dough. Put another piece of parchment paper on top of the dough. Roll out the dough until it is a 1/4 inch thick.

Use the template and a sharp knife to cut out the pieces. Carefully fold the piece of dough onto a piece of parchment paper. Then use that parchment paper to transfer the dough to a parchment paper lined baking sheet. Continue until the pieces are all on two baking sheets.

Allow the pieces to cool and then transfer the pieces to paper towels and allow them to dry overnight.

Use gingerbread icing recipe to construct it. Put a large amount of icing on the bottom of one wall piece. Use a drinking glass to hold it up. Take another, connecting, wall piece and put icing on the bottom and side and place it next to the first piece, using another glass to hold it in place. Let those pieces dry and get stable.

Add the next two wall pieces, allowing them to dry in between each one. Once all four walls are dry, add the roof pieces. Once it is all dry and stable decorate.
This post contains affiliate links, if you click on them and then make a purchase, I make a small amount of money at no additional cost to you. Thank you in advance for supporting Wine & Glue.