This Gingerbread House Recipe is the perfect fun recipe to make this holiday season. With my easy to follow step by step gingerbread house instructions, this will become your new favorite tradition.
Double it or triple it to make multiple houses, print out the gingerbread house template printable, and grab the recipe for the gingerbread house icing to glue it all together. It makes for such a fun family project!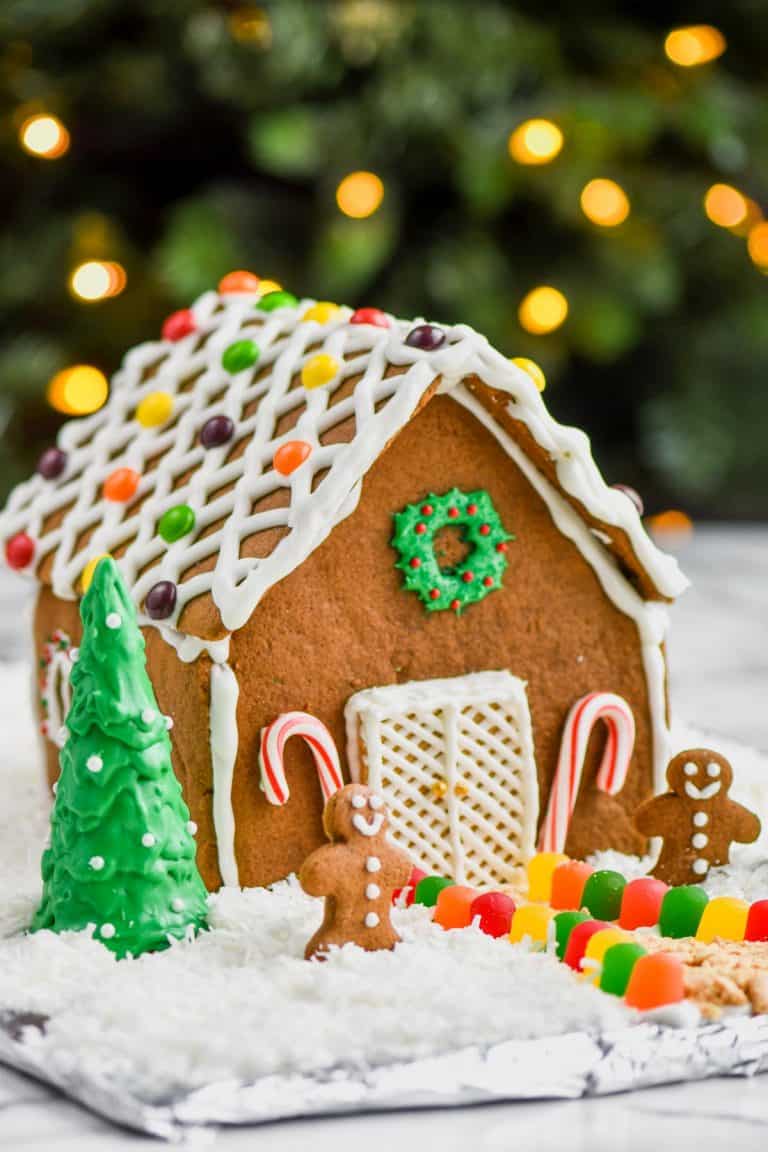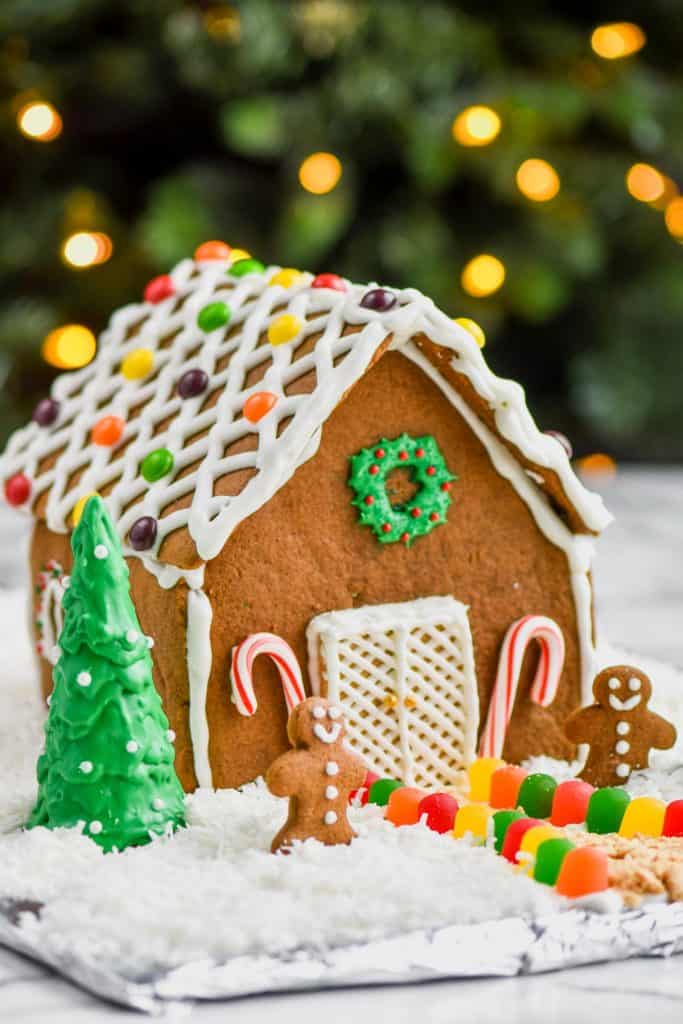 Thick in the holiday season, it is so easy to get caught up in my to do list. It happens every year! But every year I really try to weave in Christmas traditions – big and small – that my kids will remember forever.
Making Gingerbread Houses is such a perfect family tradition that your kids will love and will always remember. And it doesn't have to be a stressful project. I have an easy to follow recipe, easy to use templates to cut it all out, and the best gingerbread house icing to glue it all together!
This is a recipe that I dug out of a super old kids activity cookbook from the library a million years ago. The recipe for the gingerbread dough is delicious, and flavorful. It holds up perfect for cute gingerbread houses great for decorating. I actually used this gingerbread dough recipe a few years ago to make these great gingerbread cookies and it works perfect for that too.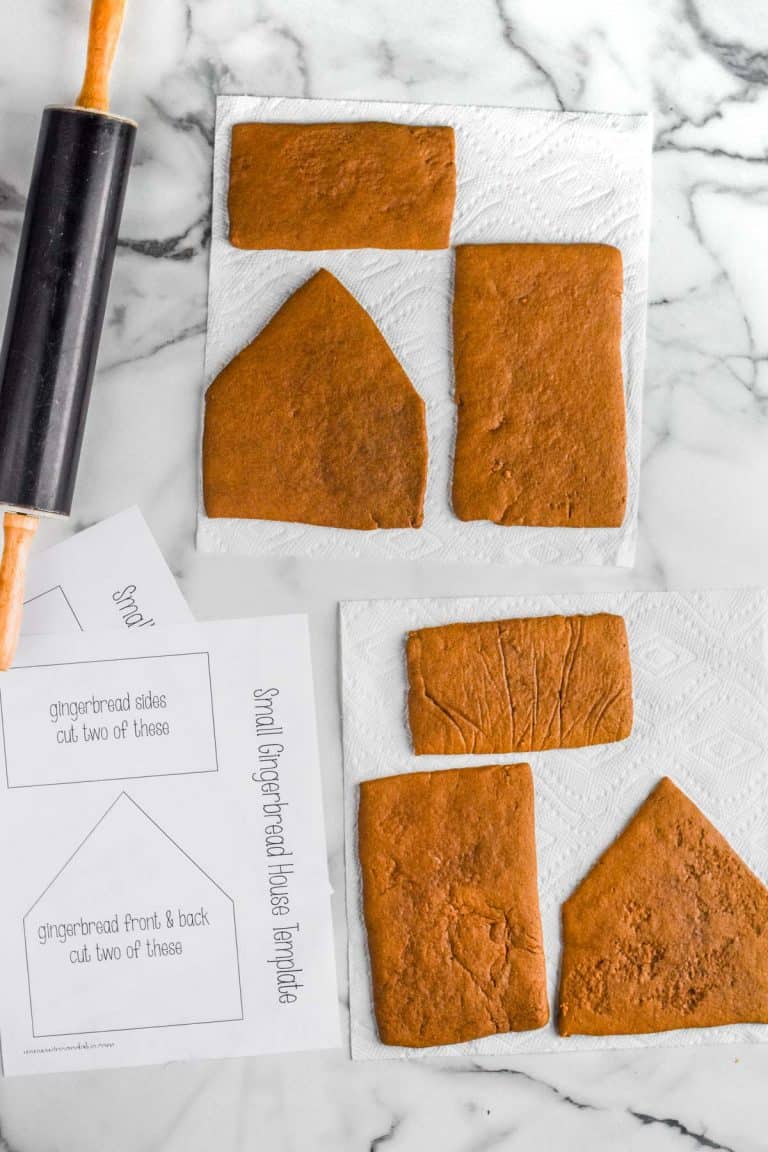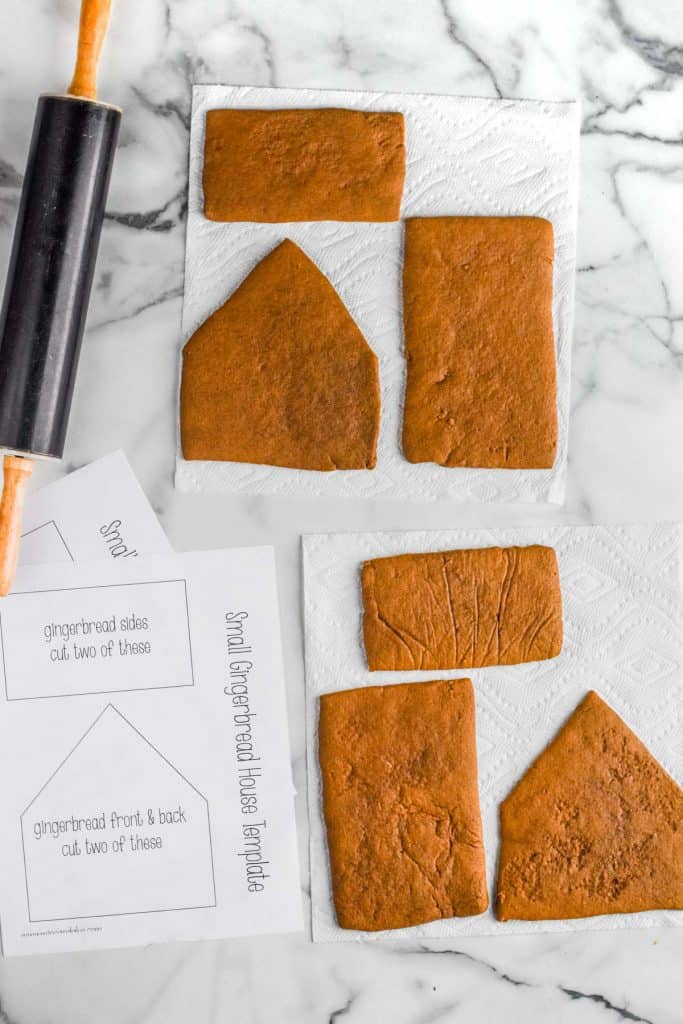 How to Make a Gingerbread House
This is a brief overview of how to make this amazing gingerbread house recipe. For the full recipe with all of the measurements, be sure to see the recipe card at the bottom of the post.
Make the gingerbread house dough. Read all my tips and tricks for the dough below.
Chill the dough. Let it chill for a half hour in the refrigerator.
Get your template ready. Print out the gingerbread house template

and cut it out.

Take note that some of the pieces need to be used twice, for example, you need to cut two of the same piece for the front and back of the house.
Cut out the pieces of dough and bake them. Roll out the chilled dough and use the gingerbread house pattern to cut out all of your pieces. Carefully transfer the cut dough to baking sheets and bake them for 15 minutes.
Leave the pieces out overnight. Once the pieces are baked, we want to let them air dry for 8 hours to get a little stale. This will make them easier to work with.
Build a platform to construct the house on. Collapse a cardboard box. Put pieces of duct tape around the box to make it more stable. Cover it in aluminum foil.
Decorate the house! Now for the fun part! Make some gingerbread house icing and use it to glue your house together. Then use additional icing and candy to decorate the house.
Gingerbread House Template Printable
This Gingerbread House Template Printable is exactly what you need to make a cute gingerbread house recipe. Print it off, and make gingerbread houses year after year.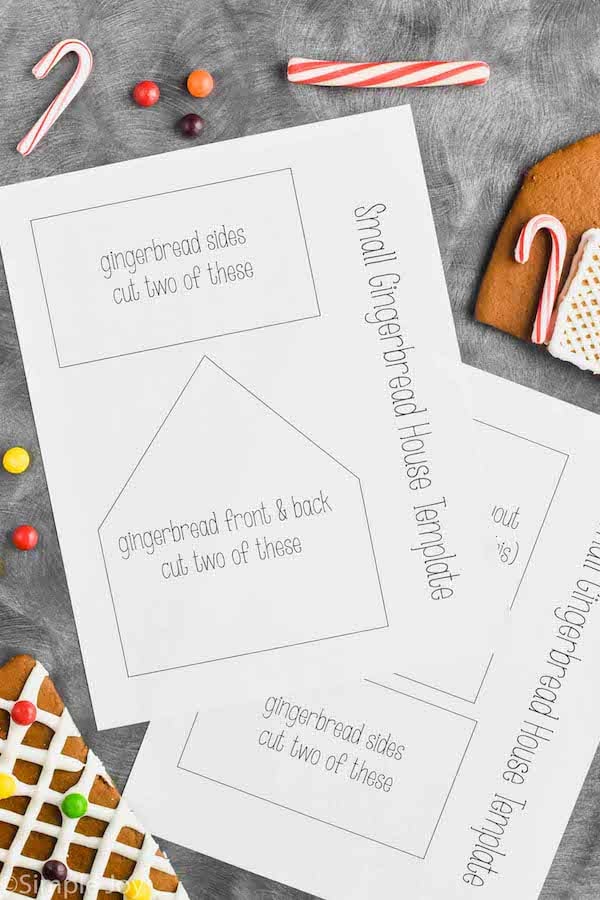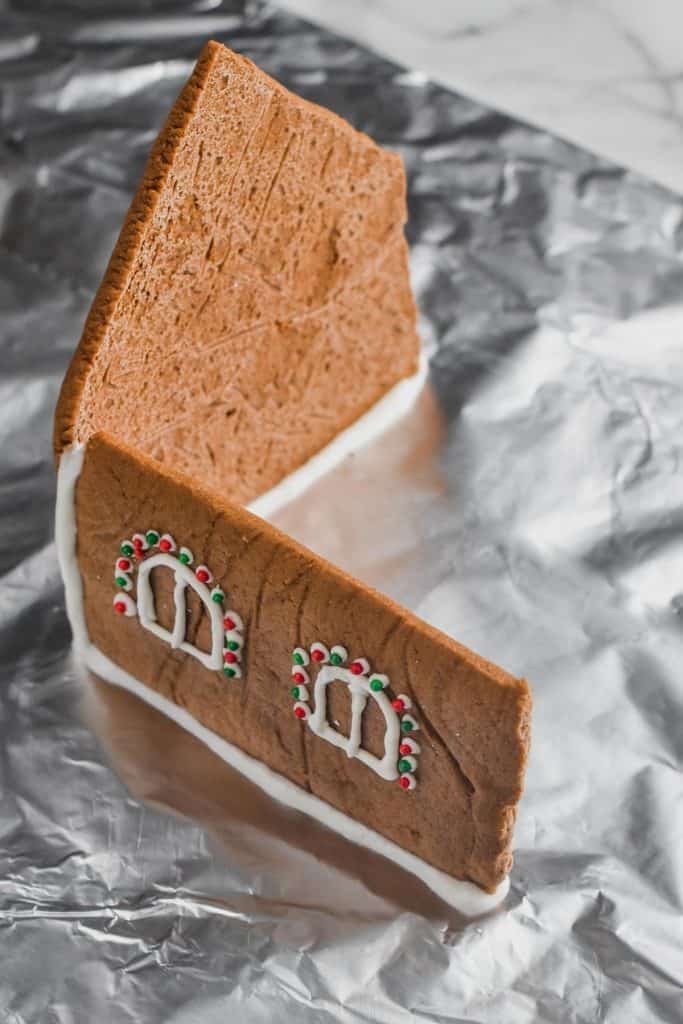 Tips and Tricks for Gingerbread House Dough
Measure the flour correctly. As with any baking recipe, it is important to spoon and level your flour so that you don't end up with too much. Whisk the flour int he container you store it in, then scoop it with a spoon into a dry measuring cup and level it off.
Ensure that your butter is room temperature. You should be able to easily dent it with a finger without pushing your finger all the way through. It will also feel cold to the touch.
Ensure that your baking soda is fresh. Baking is a science and you want to make sure your ingredients are still reactive. Toss a little baking soda in some vinegar, it should bubble right away!
Gingerbread House Icing
This three ingredient Gingerbread House icing will hold everything together perfectly! So easy to make!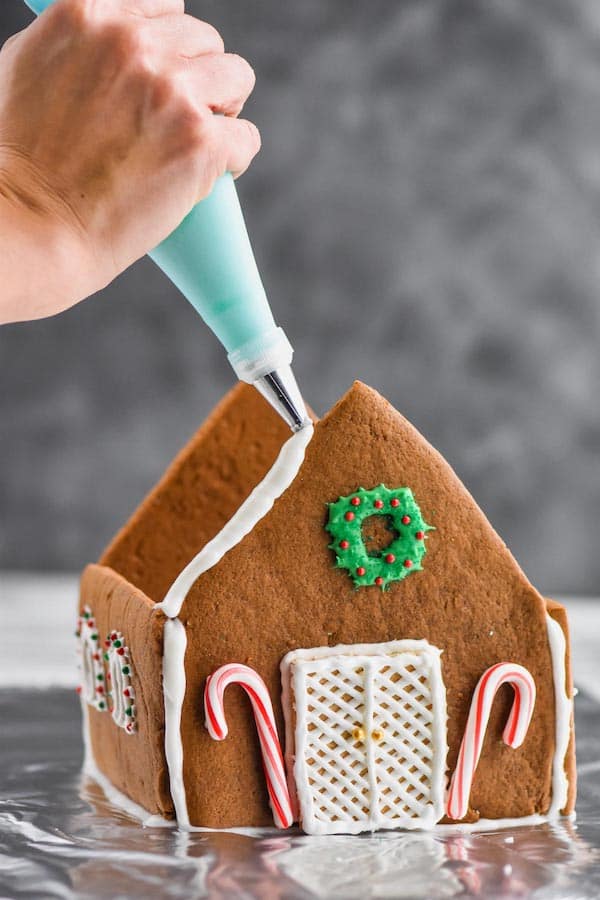 Constructing Gingerbread Houses
The key to a successful gingerbread house construction is good gingerbread house icing. My main frustration with store-bought kits is that their icing stinks! So whether you are making this gingerbread house recipe from scratch or using a store-bought one, I highly recommend this icing recipe.
You can see in the photo above that a little icing on the bottom and the side are holding those two pieces up. That being said, I highly recommend that you go slow when constructing. Add pieces one at a time with some drying time in between.
Pro Tip
Decorate the roof and sides of your house before you put it all together. This will allow the decorations to dry on nicely without fighting gravity.
TOP PICK
I use this set all the time! And it is super affordable, especially considering the quality.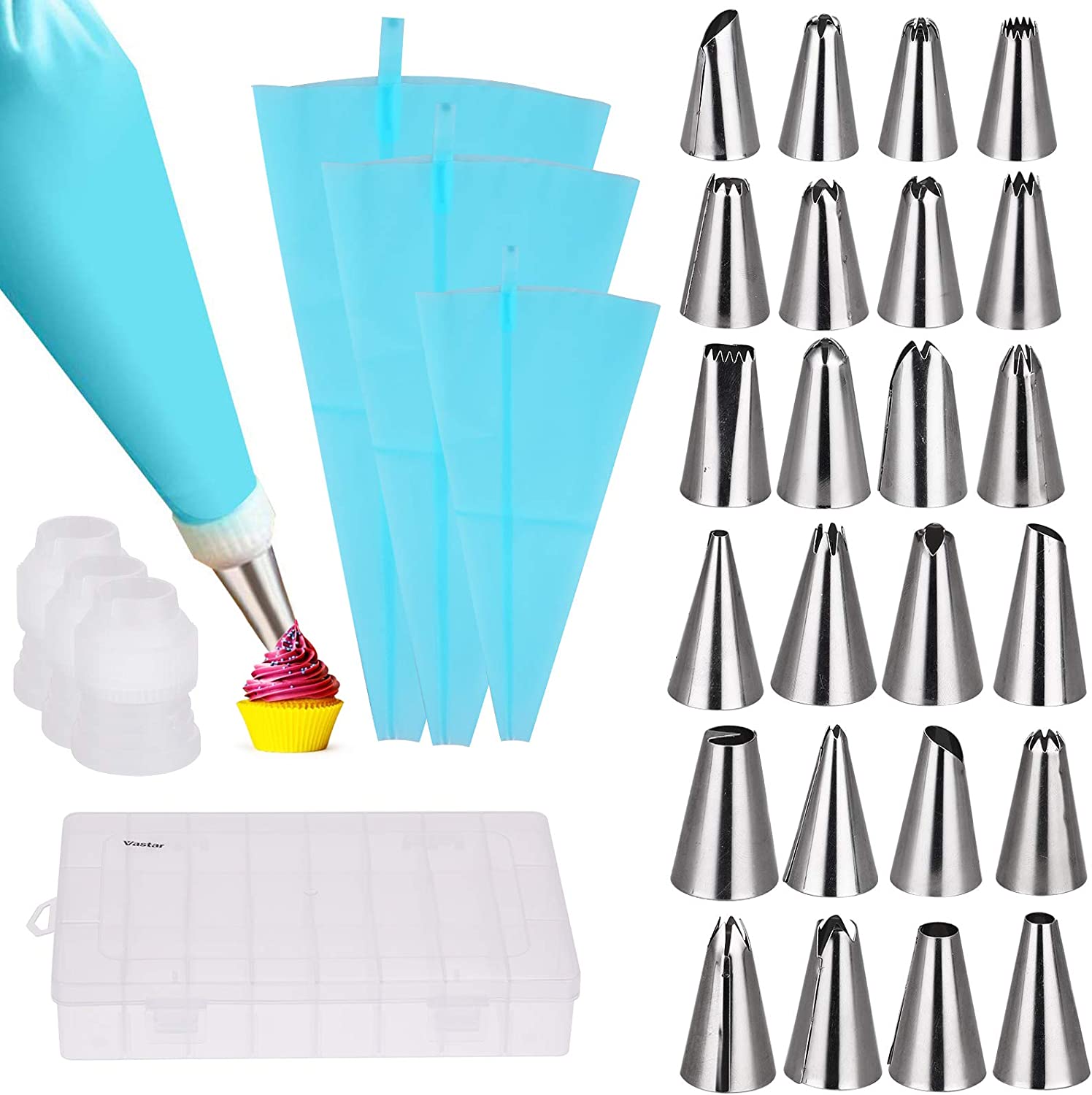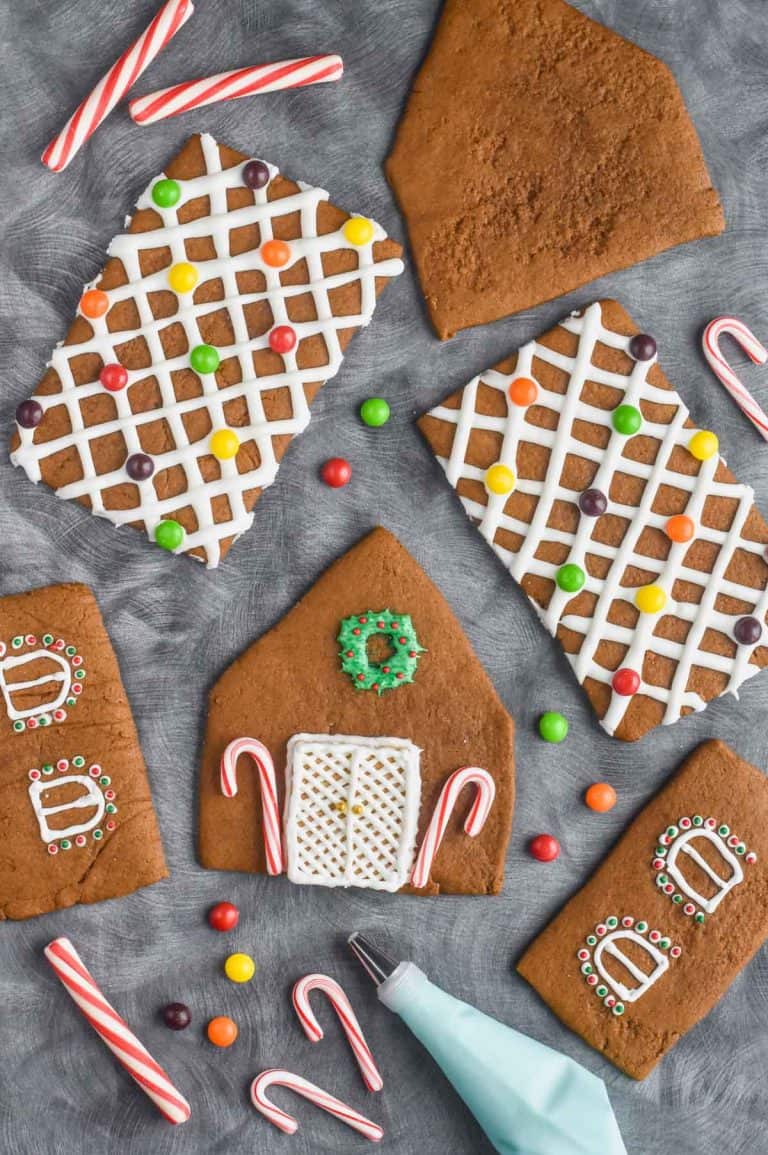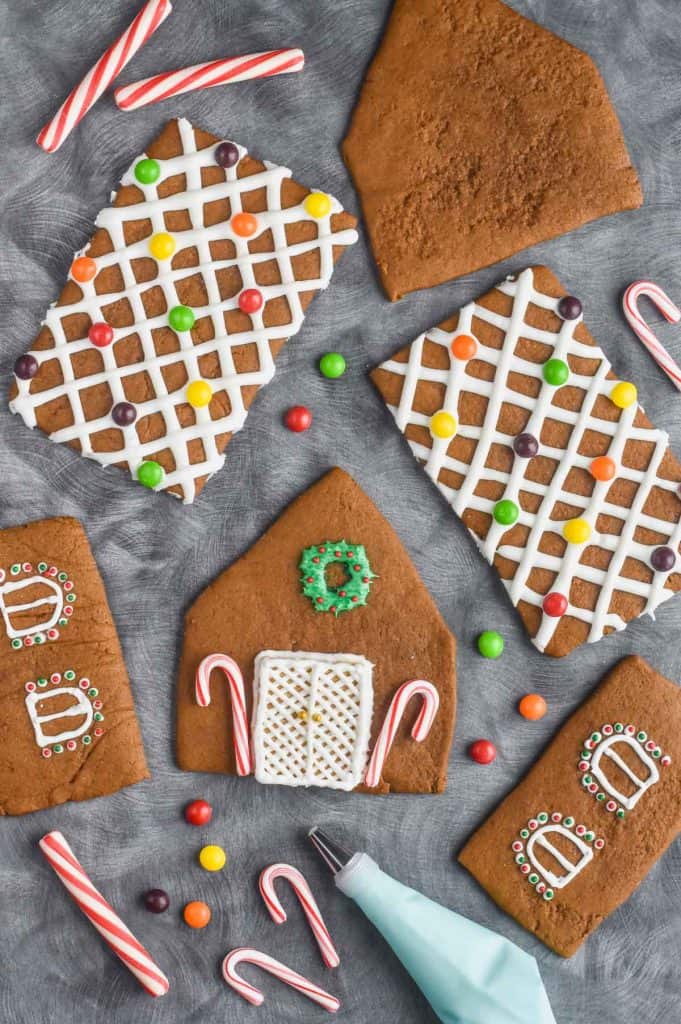 Gingerbread House Recipe Tips
There are several things that makes this whole process easier that I have learned over time. If you are a perfectionist like me, these will help a lot. If you are decorating with kids, some of these tips will help with the frustration. But I spend a lot of time reminding my kids that their creations are perfect no matter what.
Grab parchment paper and a wet paper towel for dough rolling. When you roll out your pieces of dough, put a wet paper towel on the counter, then a piece of parchment paper, the dough and another piece of parchment paper. Rolling out the dough between the two pieces of parchment makes for easy rolling. The wet towel beneath keeps it all from sliding around.
Beware of your template sticking to the dough. You can either sprinkle some powdered sugar on the dough to keep that from happening or make the templates out of parchment paper.
Use excess dough to make small gingerbread men.
Make sure your cooked gingerbread house recipe dries out in the open at least overnight.
Double my gingerbread house icing recipe. This will ensure that you have enough to do all the decorating you want to with a little left over.
Decorate your pieces before you put it all together. This will keep you from fighting gravity as you add icing and candy decorations.
Use a piping set to decorate. I love this one because it comes with lots of tips and something couplers which allows you to switch out tips. This is perfect if you are keeping all white icing, but even if you want a few colors, this set comes with three bags, so you could have three colors ready to go and switch out the tips you pipe it on with.
Go slowly while constructing. Start by putting two pieces up (as seen above), then add the next wall, and then add the front. Once all of that is dry and stable, put on the roof.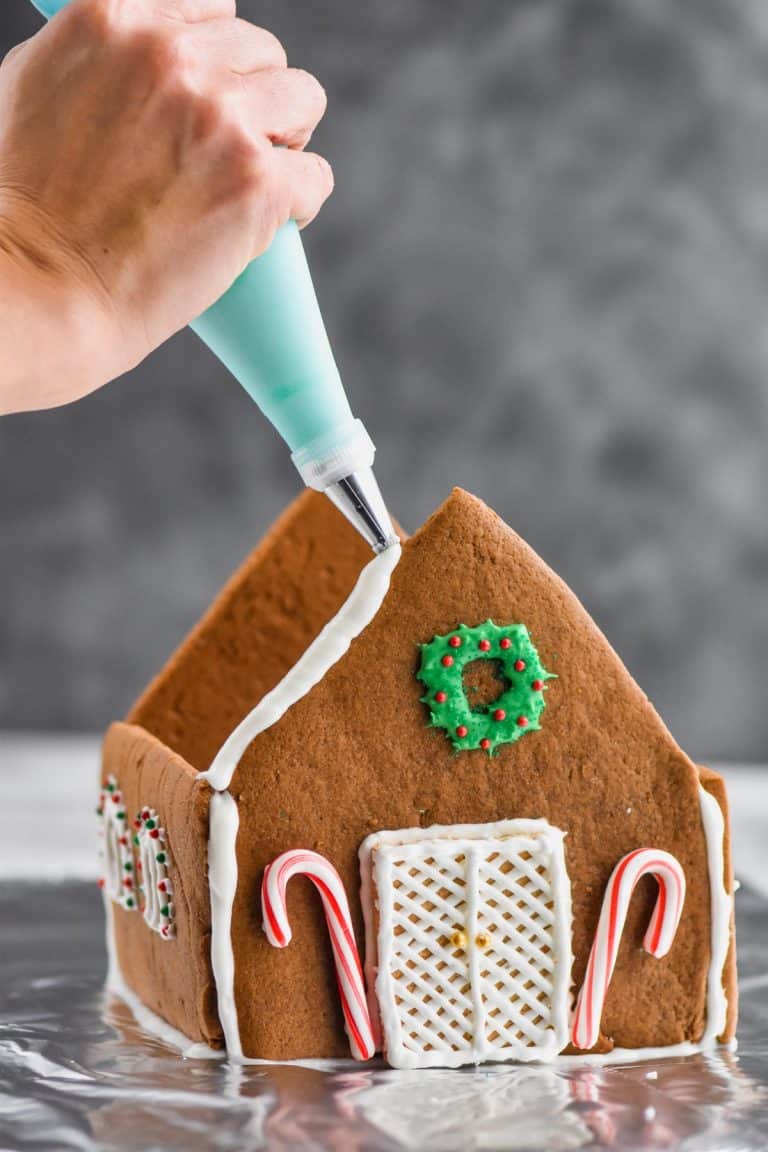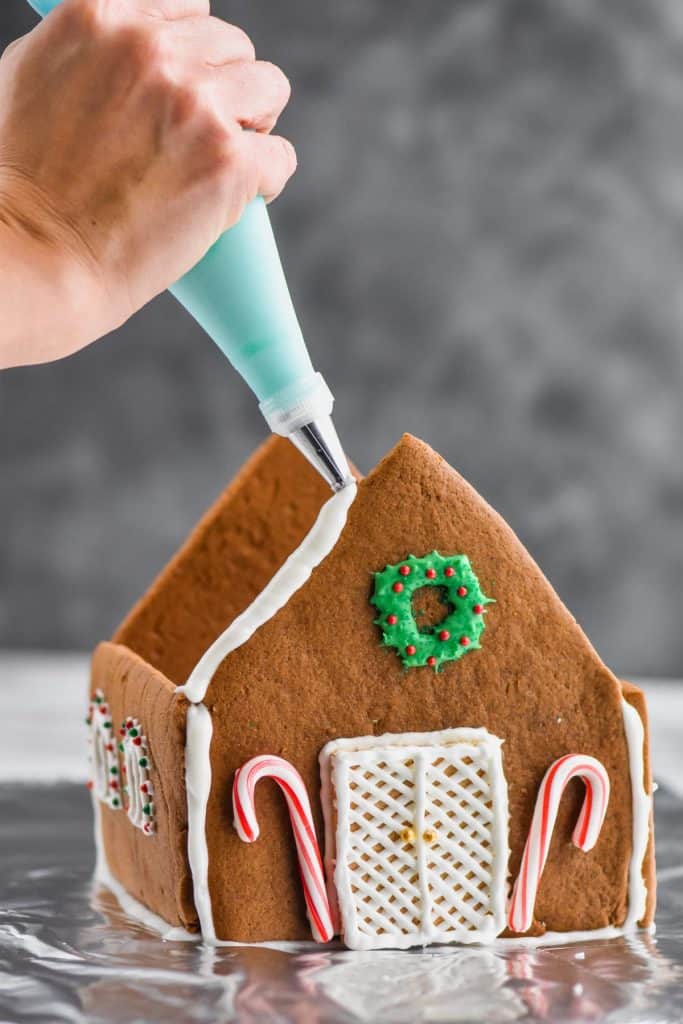 FAQ
Can this gingerbread house recipe be made gluten free?
I'm so sorry, unfortunately this recipe has only been tested with all purpose flour. That being said, we do not usually eat our houses. If you are making this for someone with a gluten allergy, be sure to talk to them before making this for them.
Is this recipe vegan?
It is not. It contains both eggs and butter.
Gingerbread House Decorating Ideas
My number one tip for decorating is have fun. Honestly, its so much more important that this is an activity that everyone enjoys than perfect looking houses. But here is a list of supplies I used get you started:
Miniature candy canes and peppermint stirring sticks: These make for cute additions.
Skittles: These are easy to find and add a lot of cute color to the houses. You can see them on my roof.
Candy Dots: These are so fun to make a path at the front of the house.
Ice Cream Cones: I coated these with gingerbread house icing that I colored green and then added white sugar pearls.
Graham Crackers: These were used both to make the door of the house and then I crushed some and used that as a dirt path (with icing to hold it down).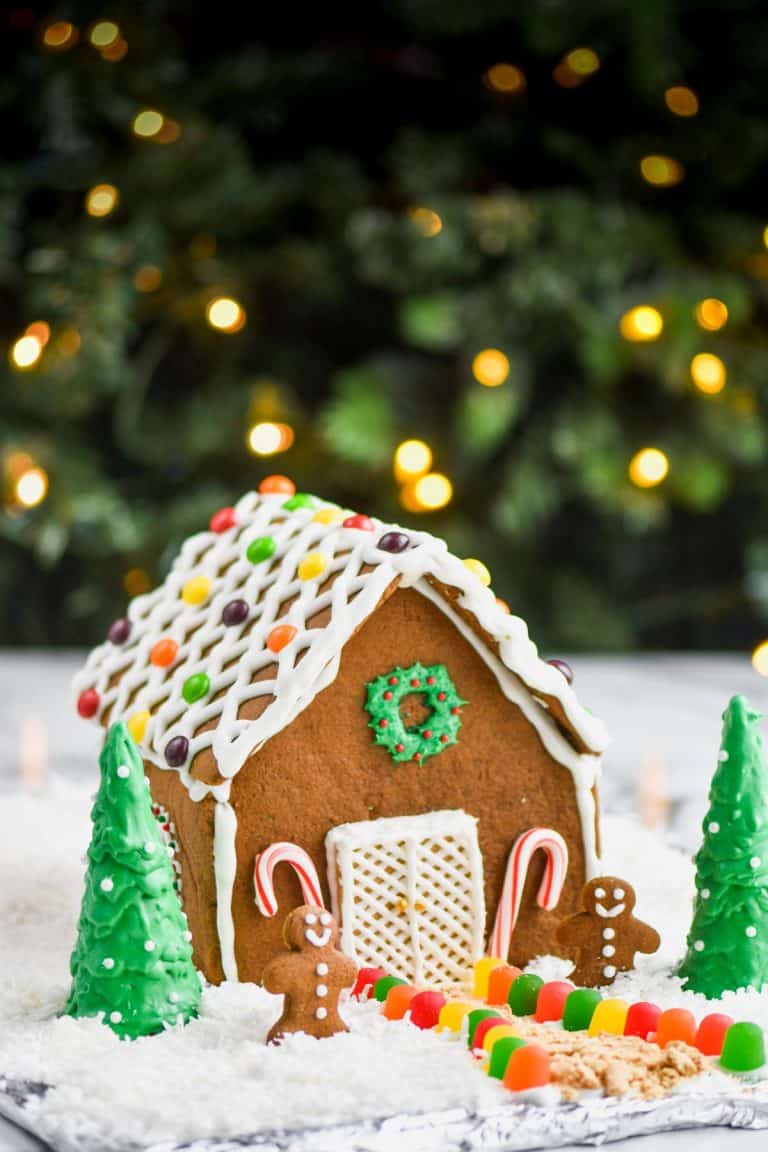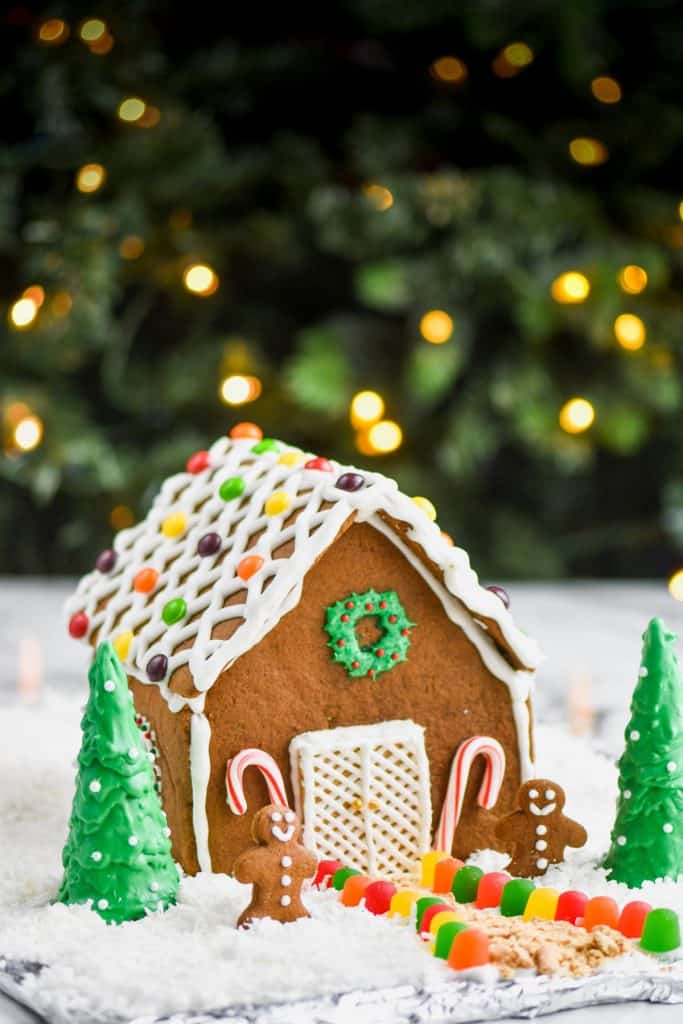 If you make this gingerbread house with your family come back and let me know how it goes by leaving a comment!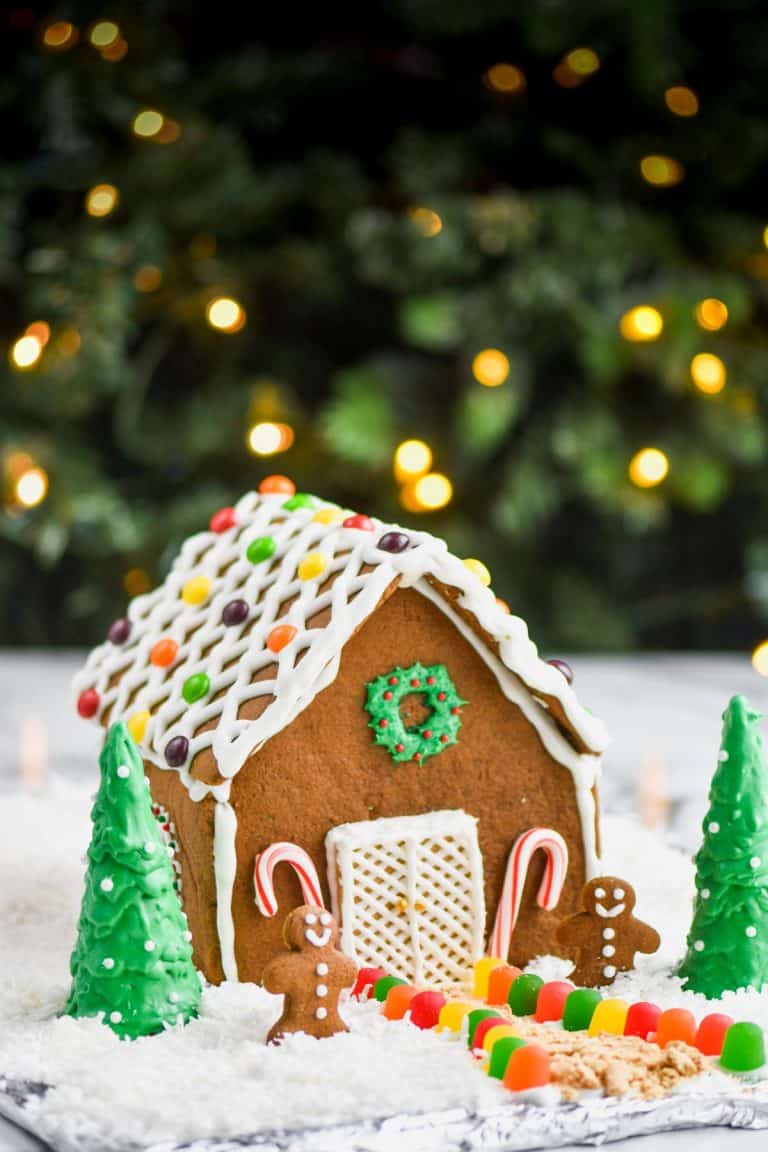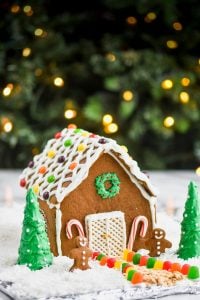 Gingerbread House Recipe
This Gingerbread House Recipe is the perfect fun recipe to make this holiday season. Double it or triple it to make multiple houses, print out the gingerbread house template printable, and grab the recipe for the gingerbread icing to glue it all together. It makes for such a fun family project!
Ingredients
3

cups

all purpose flour

(read about measuring flour here)

1/2

teaspoon

ground ginger

1/2

teaspoon

ground cloves

3/4

teaspoon

ground nutmeg

1/4

teaspoon

salt

1/2

teaspoon

baking soda

1/4

cup

unsalted butter

room temperature

1/4

cup

shortening

1/2

cup

granulated sugar

1/2

cup

plus 2 tablespoons molasses

1

egg

1

batch

gingerbread house icing
Instructions
In a large bowl whisk together the flour, ginger, cloves, nutmeg, salt, and baking soda. Set aside.

3 cups all purpose flour,

1/2 teaspoon ground ginger,

1/2 teaspoon ground cloves,

3/4 teaspoon ground nutmeg,

1/4 teaspoon salt,

1/2 teaspoon baking soda

In the bowl of a stand mixer or in a large bowl with a hand mixer, beat together the butter, shortening, and sugar until light and fluffy, about three minutes. Scrape down the sides of the bowl and then beat in the molasses. Scrape down the bowls again, and then beat in the egg.

1/4 cup unsalted butter,

1/4 cup shortening,

1/2 cup plus 2 tablespoons molasses,

1 egg,

1/2 cup granulated sugar

Add the flour mixture. Turn the mixer on low until it just begins to combine and then turn it all the way up, beating until it is just combined.

Chill the dough in the refrigerator for 30 minutes.

Preheat the oven to 300 degrees.

Place a wet paper towel on the counter. Put parchment paper on top of that. Add the dough. Put another piece of parchment paper on top of the dough. Roll out the dough until it is a 1/4 inch thick.

Use my printable gingerbread house template and a sharp knife to cut out the pieces. Carefully fold the piece of dough onto a piece of parchment paper. Then use that parchment paper to transfer the dough to a parchment paper lined baking sheet. Continue until the pieces are all on two baking sheets.

Bake the pieces of the house for 15 minutes.

Allow the pieces to cool and then transfer the pieces to paper towels and allow them to dry overnight. This is a key step. They need to be dried out to hold up to construction.

Use my gingerbread icing recipe to construct your house. Put a large amount of icing on the bottom of one wall piece. Use a drinking glass to hold it up. (My preference is putting the glass on the inside of the house in case it dents the icing at the bottom.) Take another, connecting, wall piece and put icing on the bottom and side and place it next to the first piece, using another glass to hold it in place. Let those pieces dry and get stable.

Add the next two wall pieces, allowing them to dry in between each one.  Once all four walls are dry, add the roof pieces.  Once it is all dry and stable decorate. (Alternatively, consider decorating and allowing it all to dry before constructing.)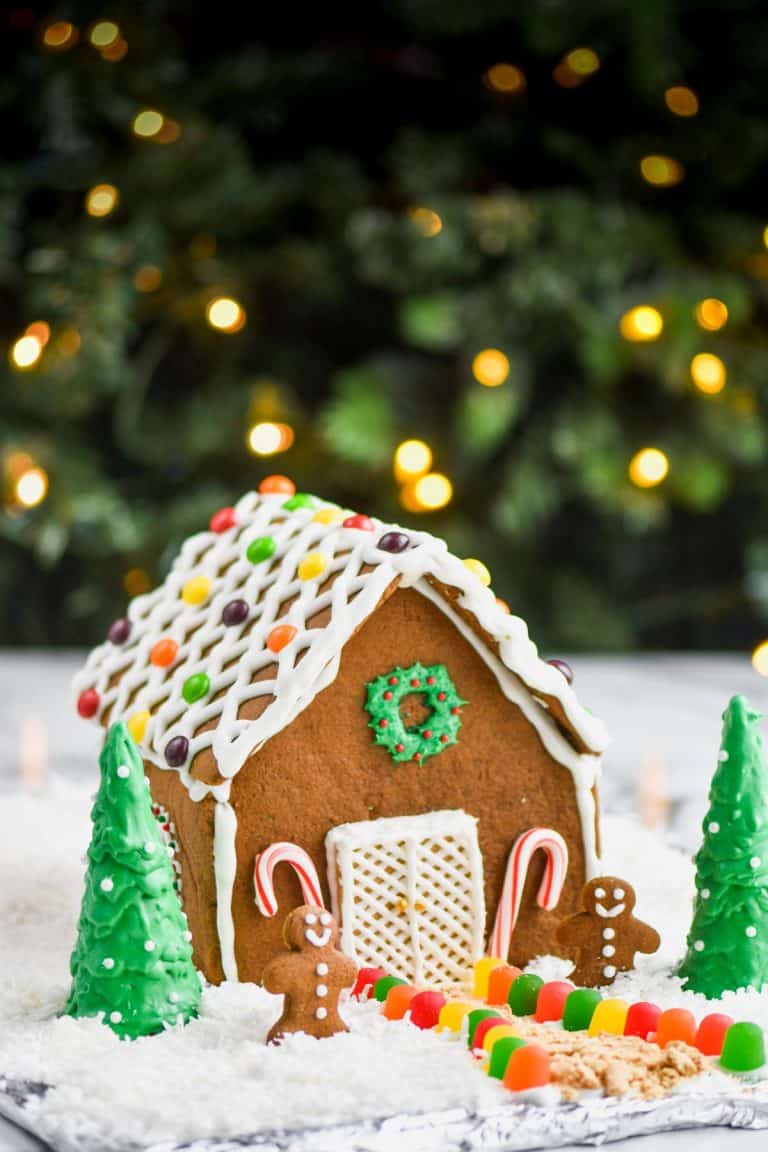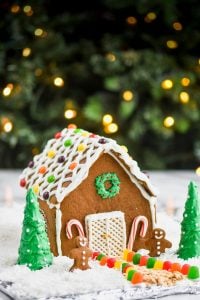 did you make this
Gingerbread House Recipe