This Gingerbread House Template Printable is exactly what you need to make a cute gingerbread house recipe. Print it off, and make gingerbread houses year after year.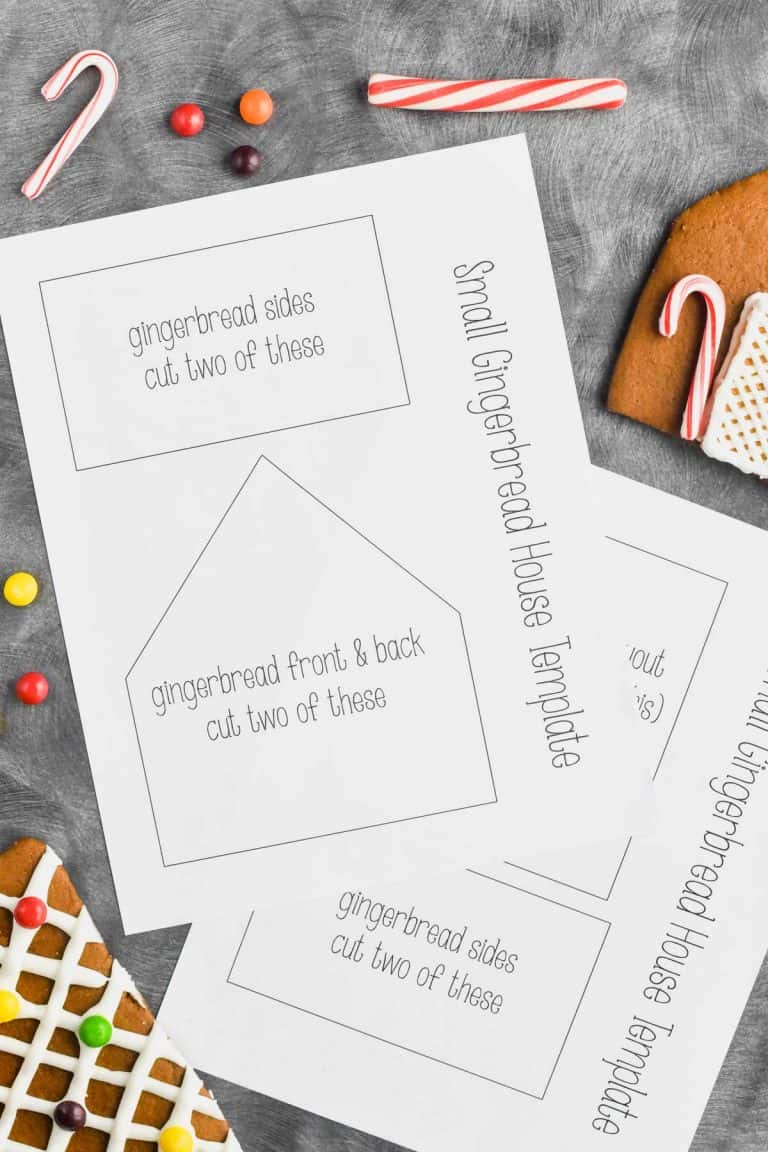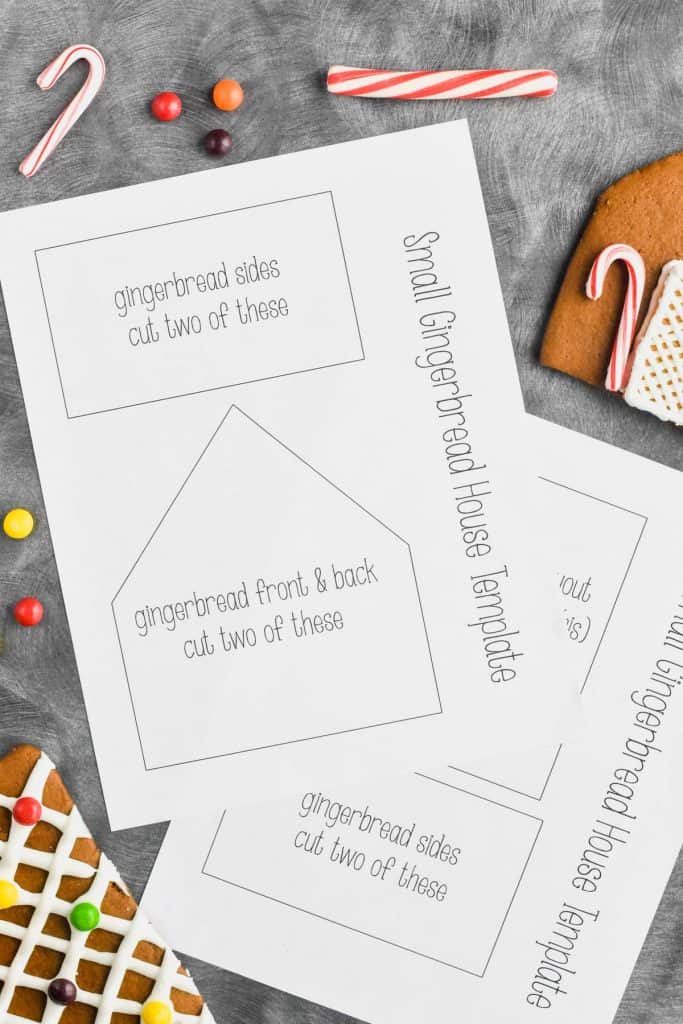 If you are making a gingerbread house recipe from scratch this year, and I'm so excited that you are here and starting this great holiday tradition, a key to success is a good gingerbread house template.
I've created two different PDFs that you can print off to make the perfect little house. These are easy to use and will work perfectly with my gingerbread house recipe.
Using this Gingerbread House Template
Please note that there are some pieces of template that you will need to use twice. For example, there is only one cut out of the roof pieces of but you need to use it twice to get two roof pieces.
Print the template of the four sides of the house. Click here to go to the pdf of the front/back and the sides and click print.
Print the template for the roof and floor here. Click here to go to the pdf of the floor and roof and click print. Note that the floor is just to guide where the sides of the house go, you will not use it to cut dough.
Cut out all of the template pieces.
Use the templates to cut the dough. Place the template on top of the dough and using a sharp knife, trace them. Be mindful that it is easy for the paper to stick to the dough. You can make templates out of parchment paper or sprinkle a little flour between the dough and the paper. (See my post gingerbread house recipe for more tips and tricks.)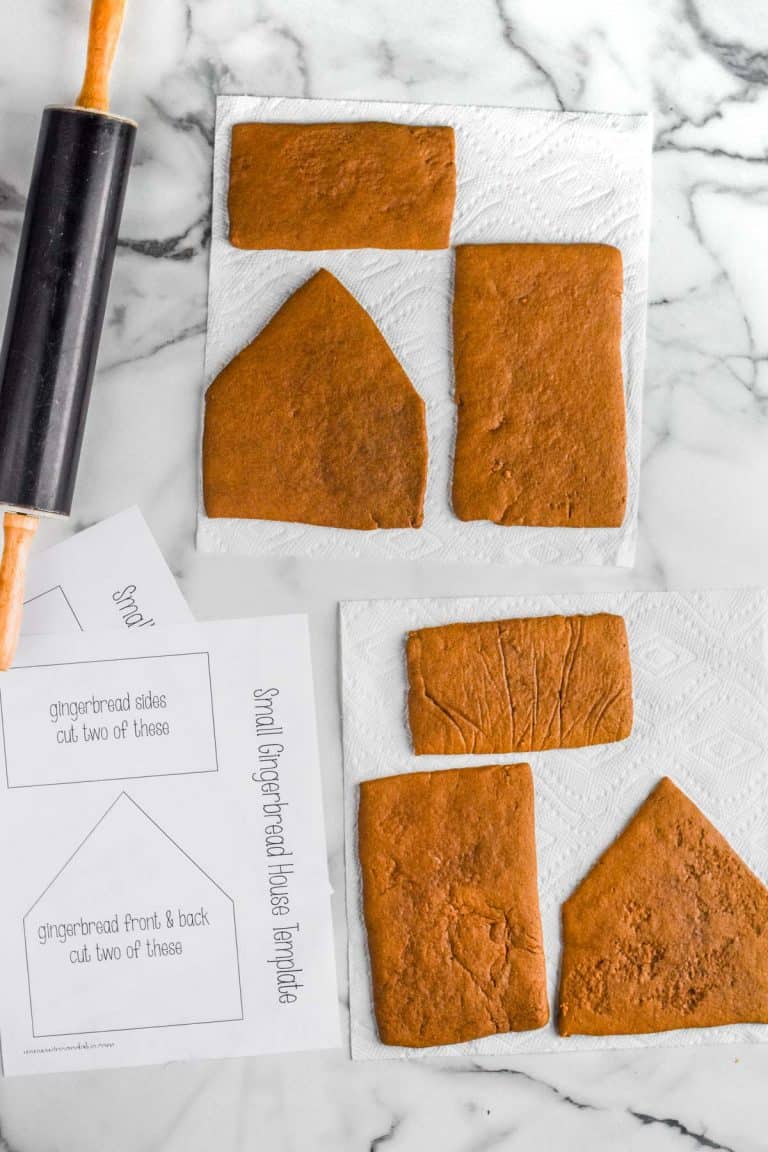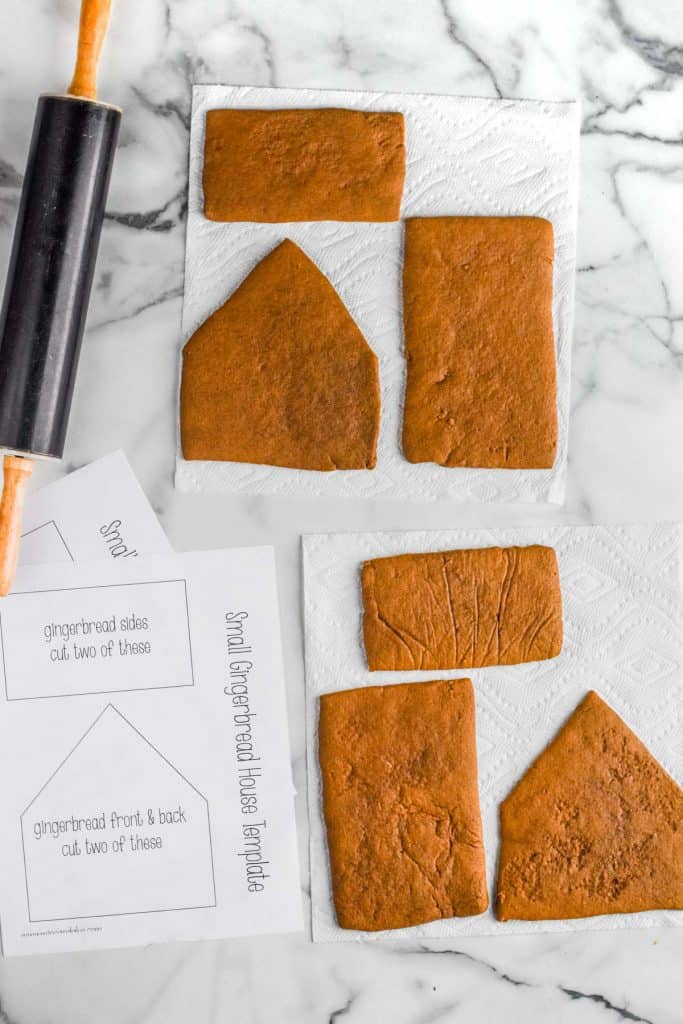 The Best Gingerbread House Recipe
This template was designed to be used with my gingerbread house recipe. The amount of dough it makes is perfect to use with this gingerbread house template.
With this gingerbread house template printable you can make such a cute little gingerbread house. I like decorating mine before I put it all together.
Gingerbread House Recipe
This Gingerbread House Recipe is the perfect fun recipe to make this holiday season. With my easy to follow step by step gingerbread house instructions, this will become your new favorite tradition.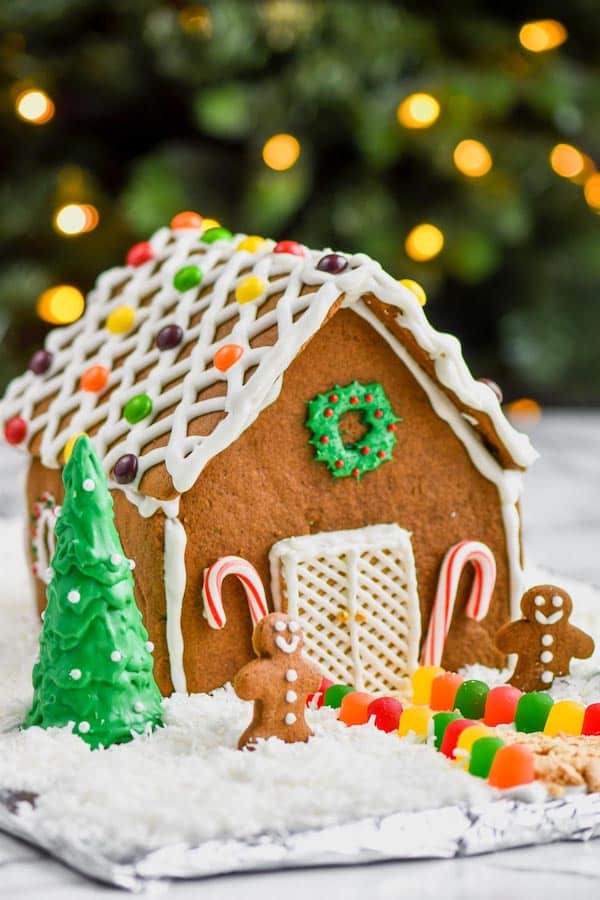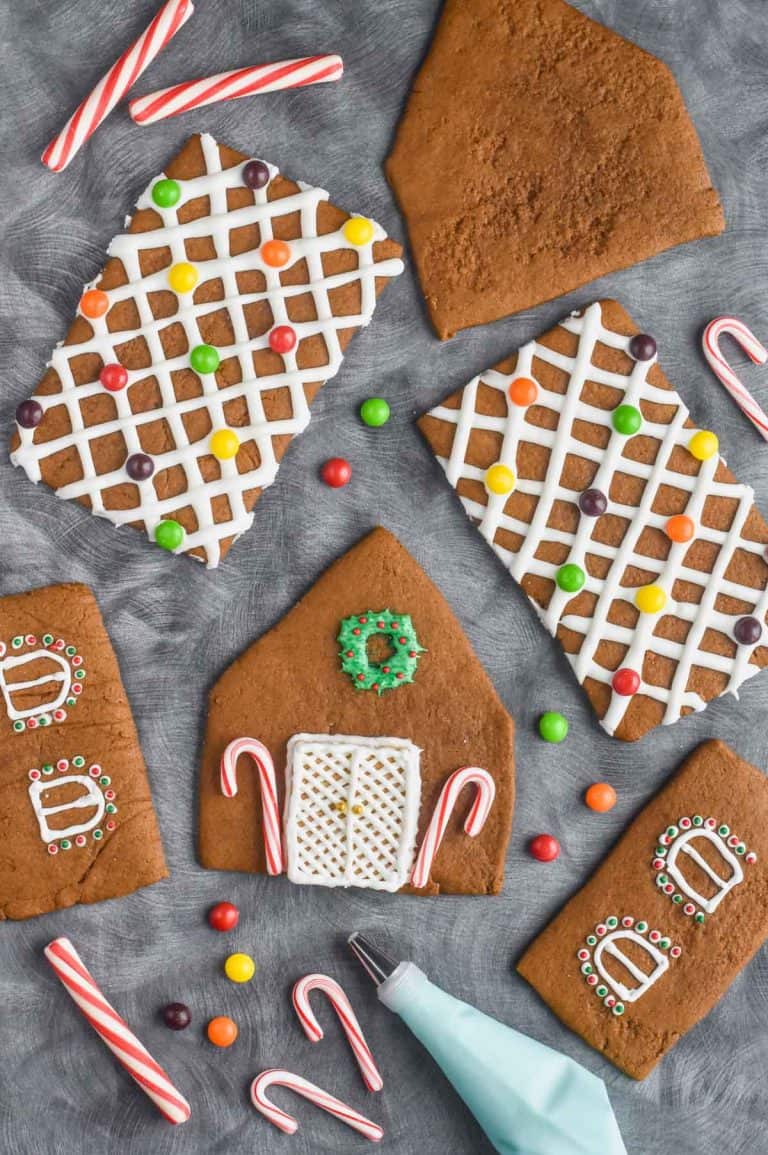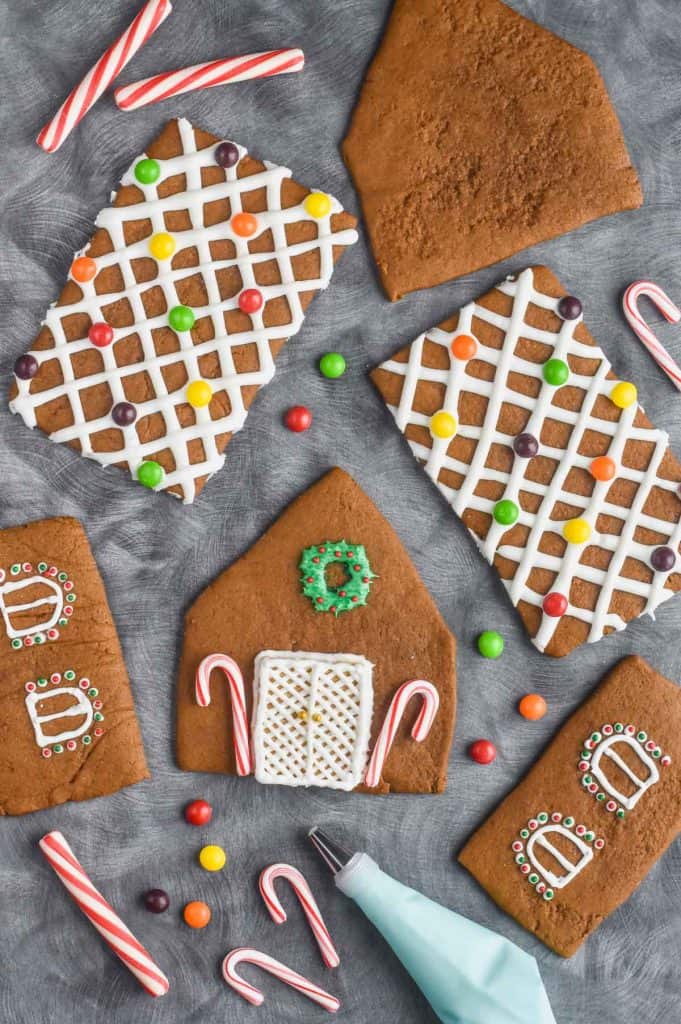 Decorating Tips
I love using my recipe for gingerbread house icing with my gingerbread house recipe and this template. It dries quickly and works well to hold everything together.
One great tip to working with the icing and constructing the house is to decorate before you put it all together. You will save yourself from fighting with gravity.
Gingerbread House Icing
This three ingredient Gingerbread House icing will hold everything together perfectly! So easy to make!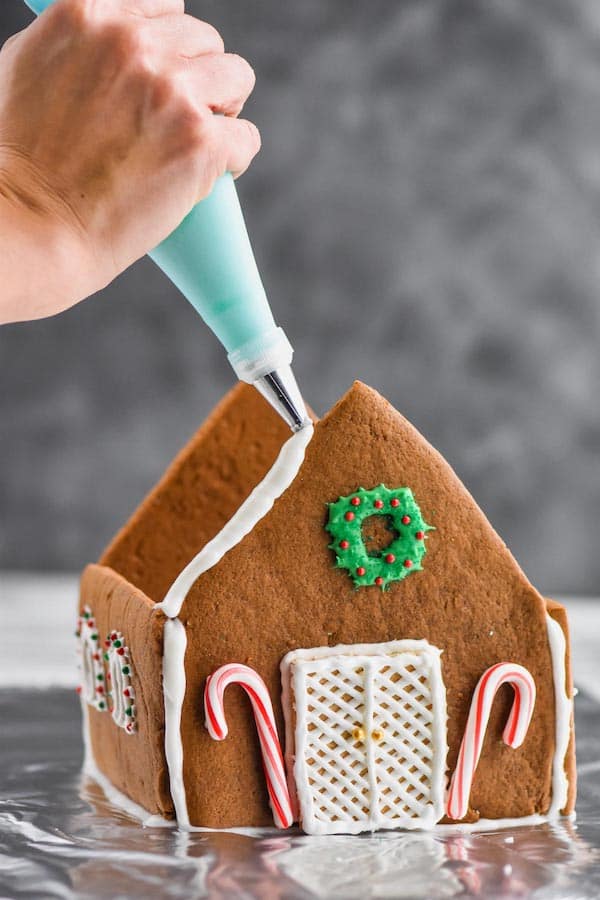 FAQ
How do you use a gingerbread house template?
Just print it out, cut the pieces out, then place them on the dough (a layer of powdered sugar helps prevent it from sticking), and use a sharp knife to trace around the template pieces. Then bake the pieces.
How do you make a sturdy gingerbread house?
The key to a sturdy gingerbread house is good gingerbread house icing and patience. It works best to put two pieces together, let them dry a little, and then add two more pieces. Allowing drying time between each step will make it very sturdy.