You can feel great about giving your family these Healthy Blueberry Muffins. Lower in fat and sugar, but still full of great taste, these are the perfect snack!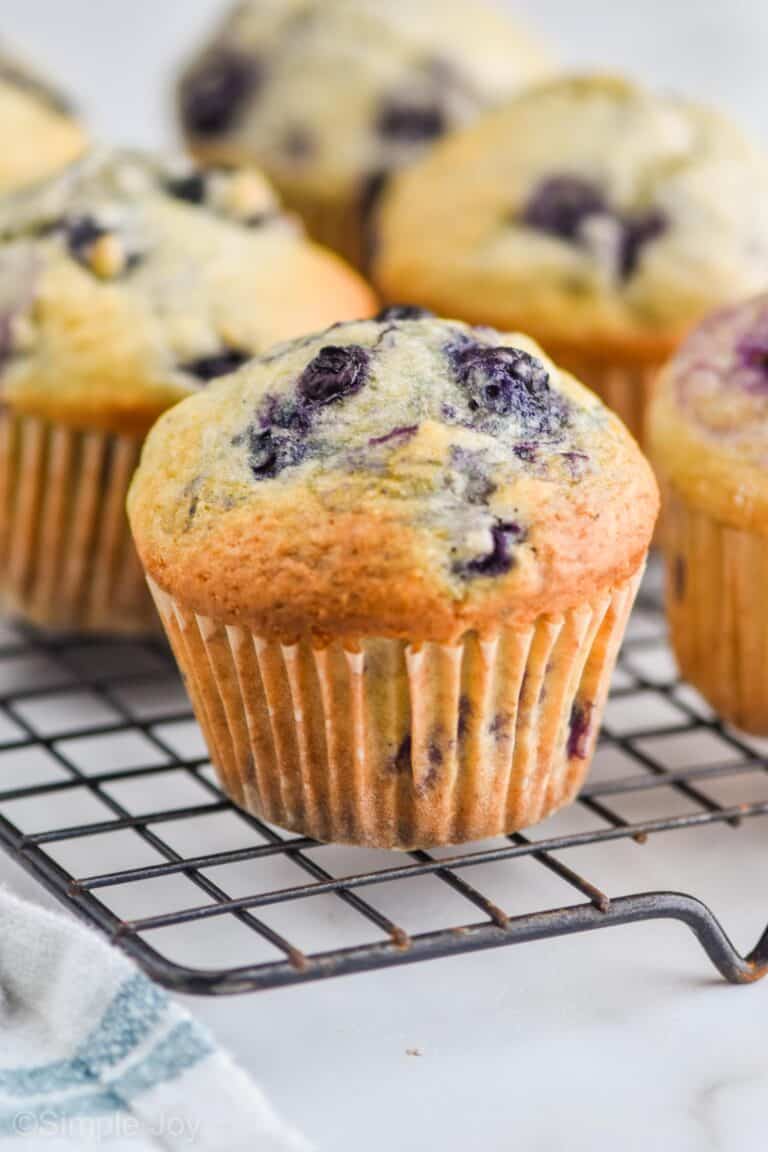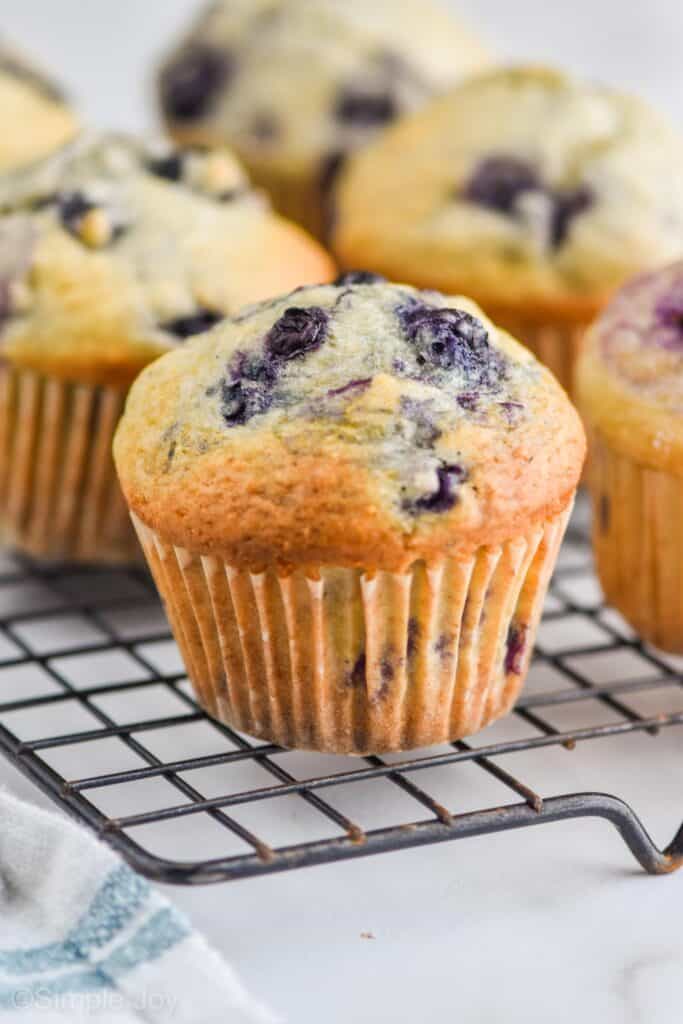 My wonderful kids are always on the hunt for snacks. They are so predictable in their snacking, that when a fight breaks out at 9:50 a.m., we know it is time to deal with their blood sugar issues. #hanger
We really do our best to give them healthy snacks. We know it's better for their bodies, but it also makes more sense too. If they only eat carbs or sugary snacks, they are just going to crash again.
They are carb lovers for sure though, so these Healthy Blueberry Muffins are the perfect compromise. They get to eat their carbs, and we get to feel great about the lower sugar and fat content.
What Makes These Muffins Healthy
There are a few things that help make these blueberry muffins healthier than what you would buy in a bakery.
We are reducing the amount of oil significantly. While these muffins still have a little bit of olive oil in them, we replace the rest of it with apple sauce.
This recipe replaces the granulated sugar with honey. You can get more bang for your buck by using honey. You can use less honey than sugar and still have a sweet muffin.
To be clear, I would not call these muffins a health food. No one can live on muffins alone. But! If you are going to give your kids blueberry muffins, these are ones you can feel good about.
How to Make Healthy Blueberry Muffins
These great muffins are done in one bowl! Which is great for a no fuss recipe.
Make sure to preheat your oven to 425 degrees before you start making this recipe.
Whisk together all the dry ingredients.
Add in all of the wet ingredients and stir just to combine.
Finally, stir in the frozen blueberries.
Line 6 muffin tin hole with liners and distribute the batter.
Fill the 6 empty holes of the muffin tin with water.
Bake the muffins at 425 degrees for 13 minutes and then at 325 degrees for 10 minutes or until a toothpick inserted into one of the muffins comes out clean.
If you follow all of these instructions, you'll get beautiful muffins with a great high top.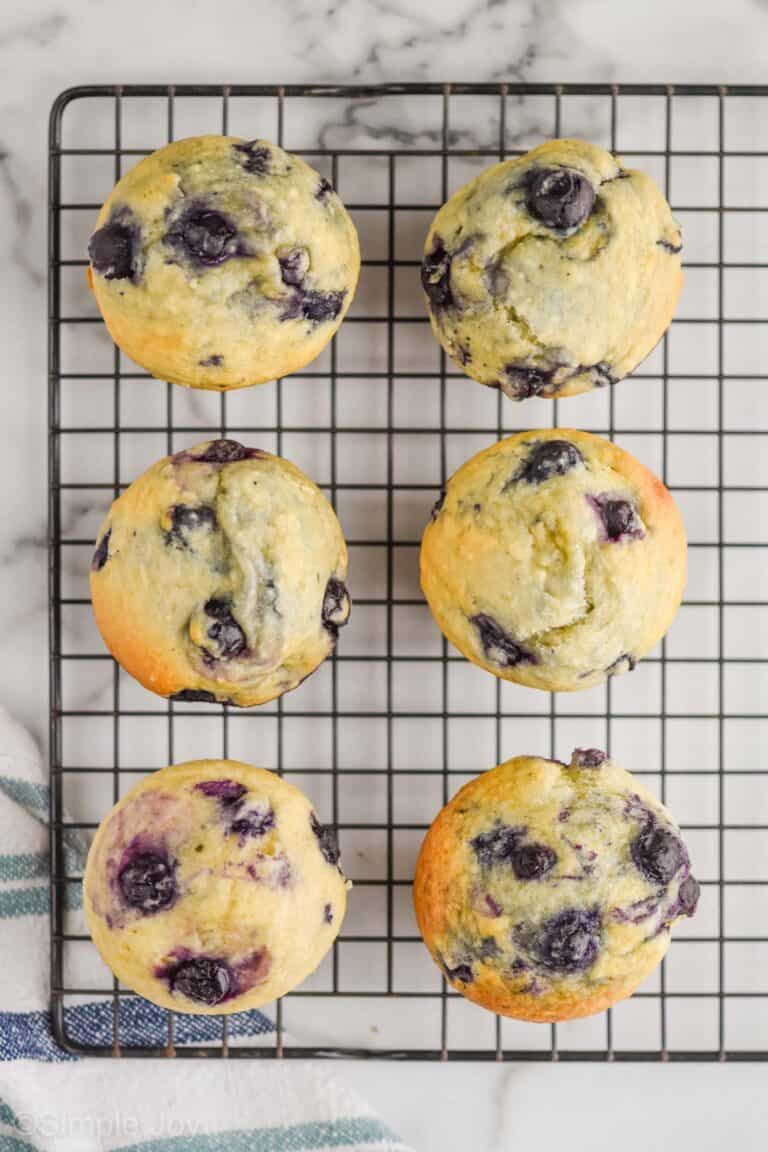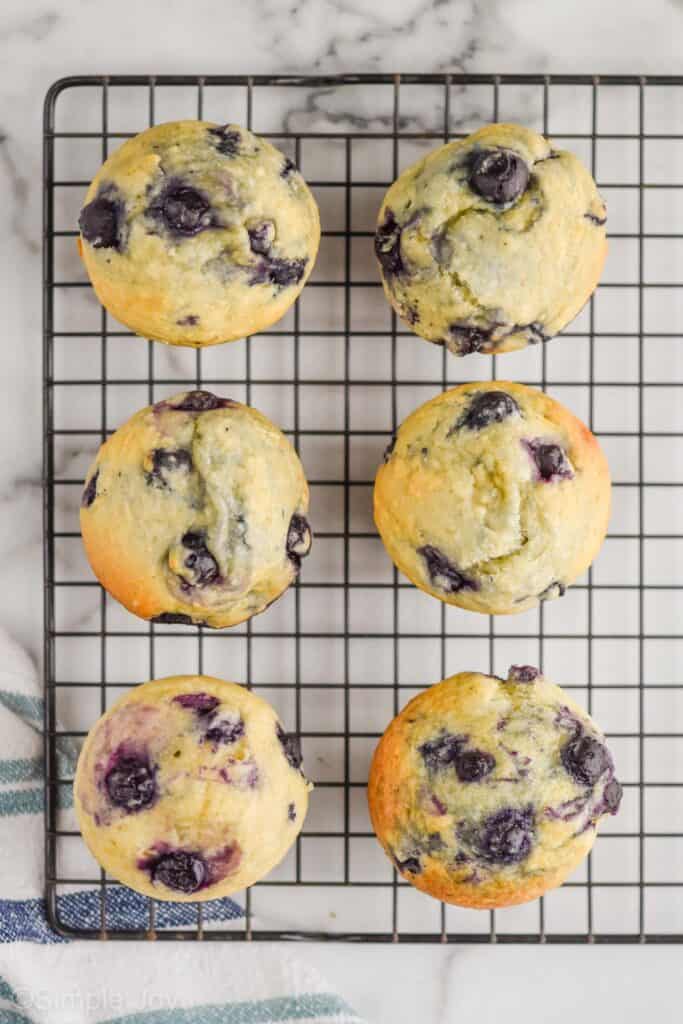 What Creates a High Muffin Top
The high muffin top that you see here comes from the baking method! By baking the muffins first at a high temperature, we get a nice big quick rise.
Then we lower the temperature of the oven and allow the inside of the muffin to continue cooking without burning or drying out the outside. It's very cool, and definitely worth the extra little attention.
Your Muffin Tin Matters
In my experience different muffin tins result in different muffins. You need to find a muffin tin that works well for you. I still use parchment paper muffin layers, but the muffin tin I use will greatly impact how the bottom of my muffins turn out.
These are the muffin liners that I like. And this is the muffin tin that I like using the most.
Fresh or Frozen Blueberries
You can use both fresh or frozen blueberries in this recipe. That being said, this recipe was developed using frozen blueberries because I think they are just easier to keep on hand.
So, if you make this with fresh blueberries, make sure to keep an eye on them as they bake. They will need a few minutes shorter during the 325 degree time, about 7 minutes instead of 10.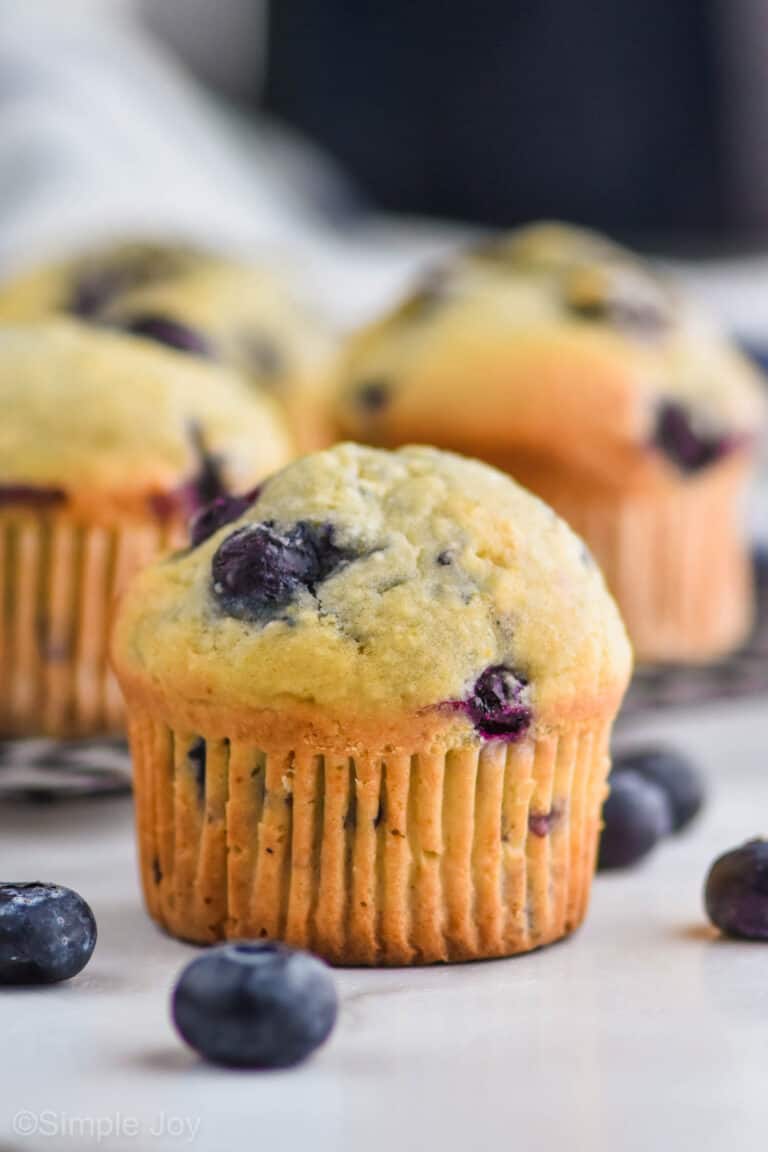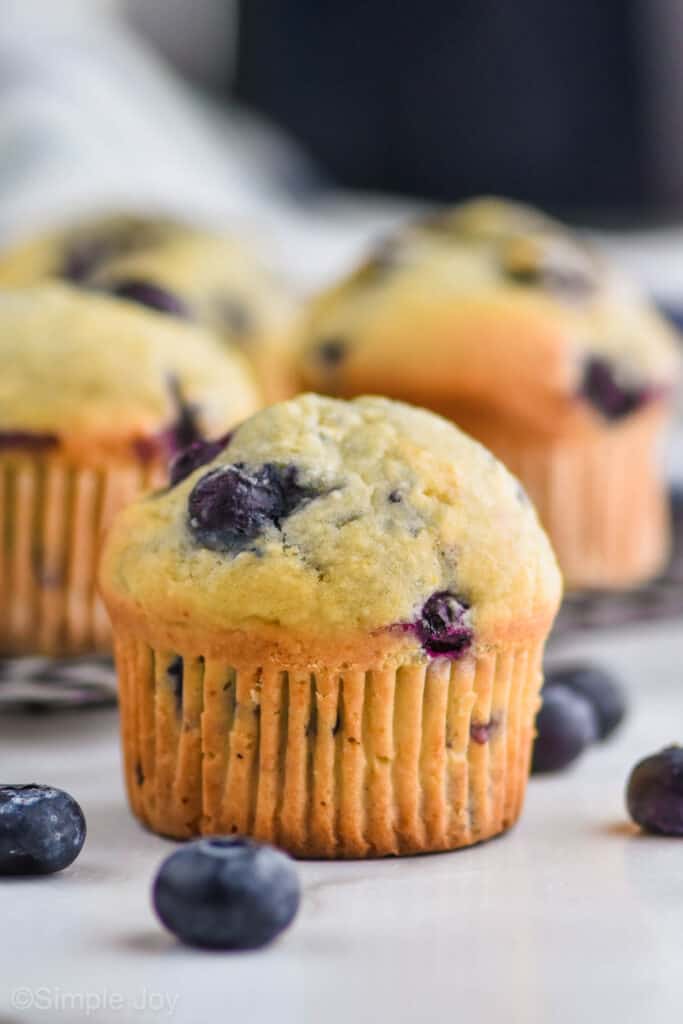 Other Great Muffins
If your kids are muffin lovers like mine, try some of these recipes:
If you make this blueberry muffin recipe or any of my other recipes leave me a comment and let me know what you think!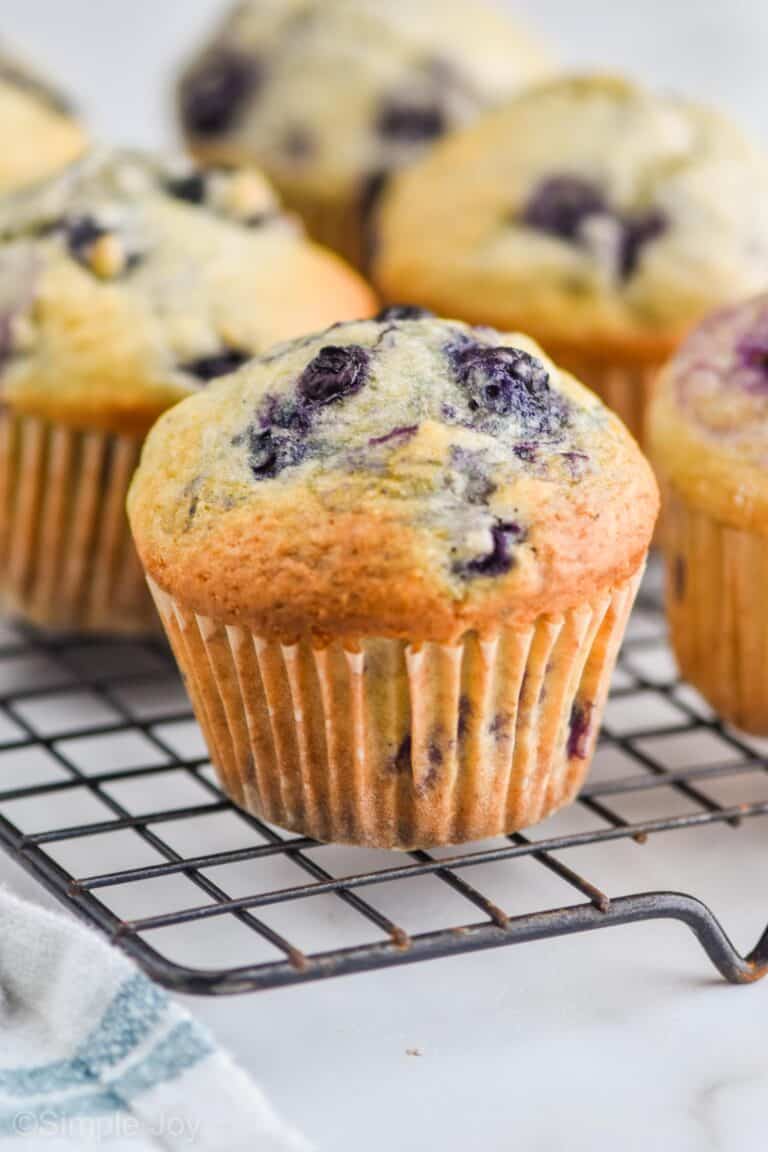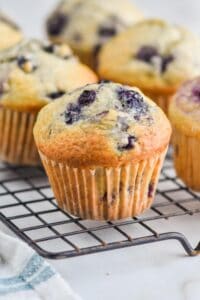 Healthy Blueberry Muffins
You can feel great about giving your family these Healthy Blueberry Muffins. Lower in fat and sugar, but still full of great taste, these are the perfect snack!
Ingredients
1 1/2

cups

all purpose flour

1/2

teaspoon

salt

2

teaspoons

baking powder

1/4

cup

honey

1/4

cup

apple sauce

1

tablespoon

olive oil

1

egg

1/3

cup

milk

1

teaspoon

vanilla extract

1

cup

frozen blueberries

(see note)
Instructions
Preheat your oven to 425 degrees. Line your muffin tin with cupcake liners in 6 spots. Fill the rest of the muffin holes with a small amount of water.

In a large bowl whisk together the flour, salt, and baking powder.

Add in the apple sauce, oil, honey, milk, egg, and vanilla extract. Only stir until there are no streaks of flour left. The batter will be very thick.

Gently fold in the frozen blueberries.

Fill 6 muffin cups all the way to the rim of the muffin liners.

Bake at 425 for 13 minutes, DO NOT OPEN YOUR OVEN. Reduce the heat to 325 degrees and bake for 12 to 14 more mintutes or until a tooth pick inserted in the center of a muffin comes out with just a few crumbs. (It is okay to check on your muffins about 6 minutes after you turn the temperature down to 325 degrees.)
Notes
Frozen blueberries should not be thawed first. If you use fresh blueberries, your muffins will cook faster. Be sure to start checking on them after about 7 minutes of turning down the oven to 325 degrees.
Serving:
1
muffin
Calories:
210
kcal
(11%)
Carbohydrates:
40
g
(13%)
Protein:
5
g
(10%)
Fat:
4
g
(6%)
Saturated Fat:
1
g
(6%)
Monounsaturated Fat:
2
g
Cholesterol:
31
mg
(10%)
Sodium:
374
mg
(16%)
Potassium:
58
mg
(2%)
Fiber:
2
g
(8%)
Sugar:
16
g
(18%)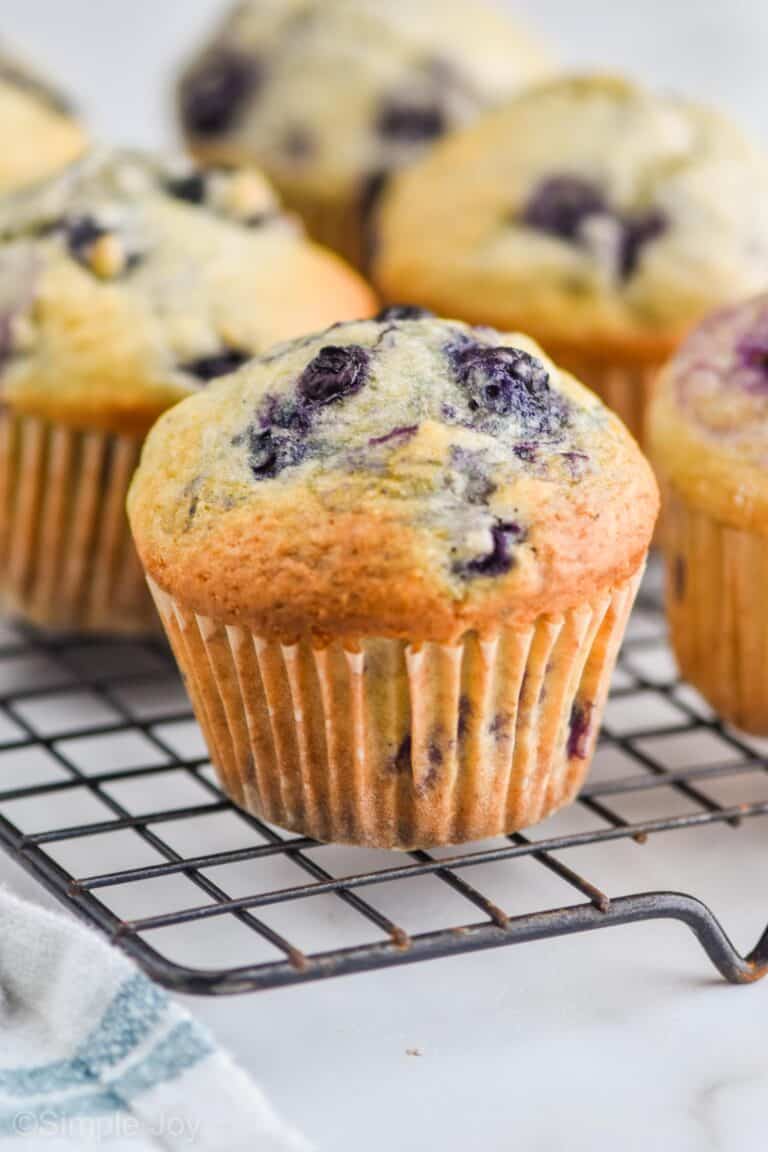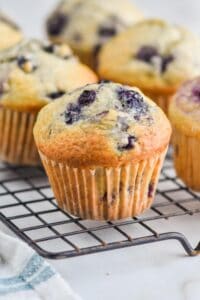 did you make this
Healthy Blueberry Muffins
you might also like . . .