These Five Ingredient No Bake Energy Bites are easy and such a perfect snack! These keep everyone feeling full between meal.
Love these peanut butter energy balls, but want a spin? Make my Chocolate Energy Bites. Both are easy to make and even easier to eat.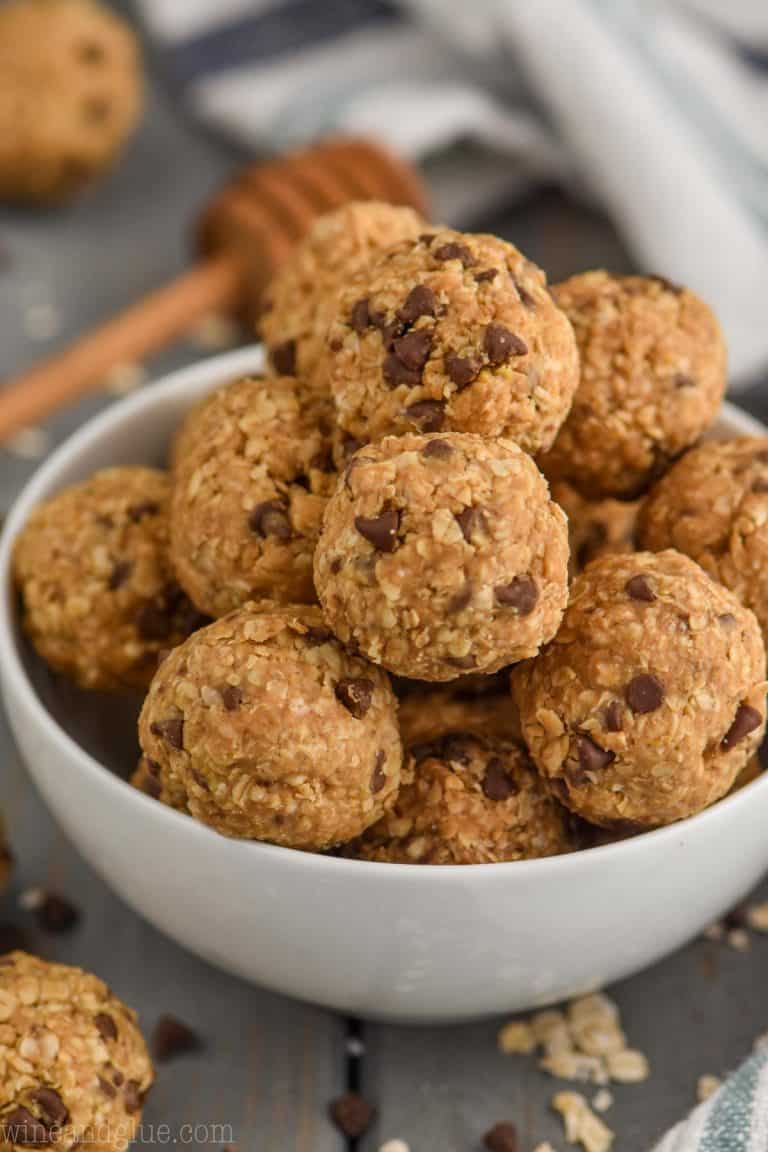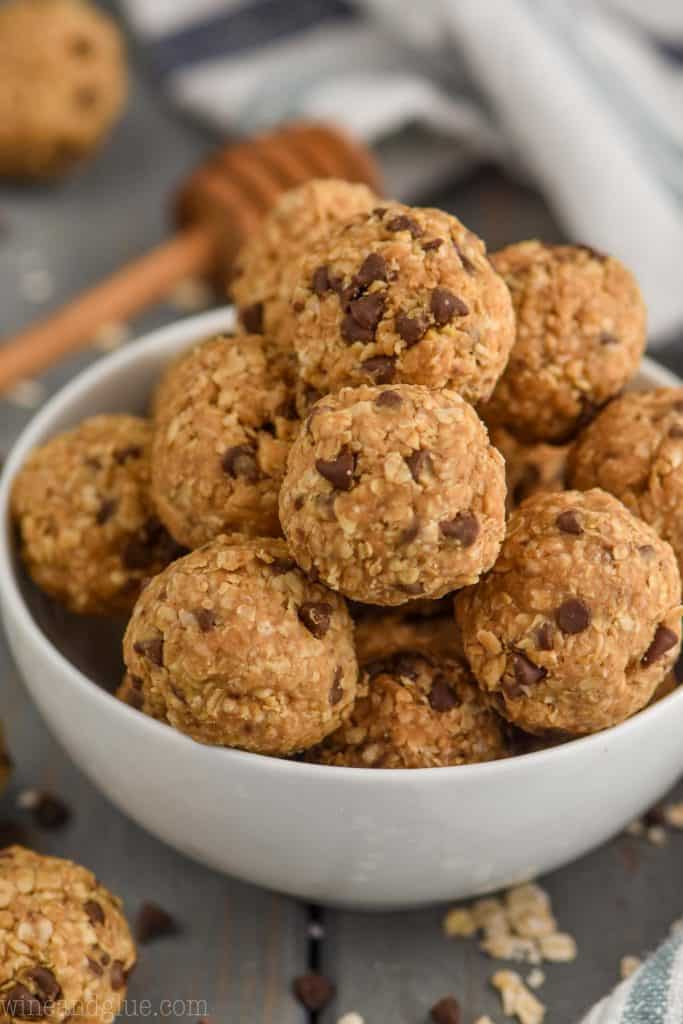 Please raise your hand if you have a kid who refuses new clothes? I do. WHO IS THIS CHILD?!? I have never passed up new clothes ONCE in my life. But this particular child loathes getting new clothes and will wear pants that look like he or she (identity hidden to protect the guilty) is about to be caught in a flood. I'm talking about a solid 3 inches of bright white ankle staring me in the face. And yet, I get a look of, "Who cares? I'm good," with a well timed shoulder shrug.
It is not the least bit surprising that we go through this battle all the time, because this kid will finally give in to new pants, and then a month goes by and there are those ankles again. These kids! They grow like weeds. Which is probably why I am always on the prowl for delicious and healthy snacks to give them.
Reader Review
My boys 4, 4, and 7 love them! I make them on Sunday and it starts their Monday off on a good note. It makes me feel like a rock star mom. Thank you for an easy recipe that my kids love!
Five Ingredient No Bake Energy Bites are the Perfect Snack
My kids are big big fans of fruit. We go through a bag of apples, two bags of grapes, and two containers of strawberries in the blink of an eye. They also love to munch on crackers and fresh veggies. Really, as far as kids go, I have some pretty healthy eaters. But I also know that to keep them fuller longer, we have to squeeze some protein in there, and that is why I love these Five Ingredient No Bake Energy Bites. They are simple to make, and I can attest to how the crush hunger. The other day I went for a run, so I was extra hungry, but it was still two hours until dinner. I had one of these no bake energy balls, and I was totally satisfied until dinner time.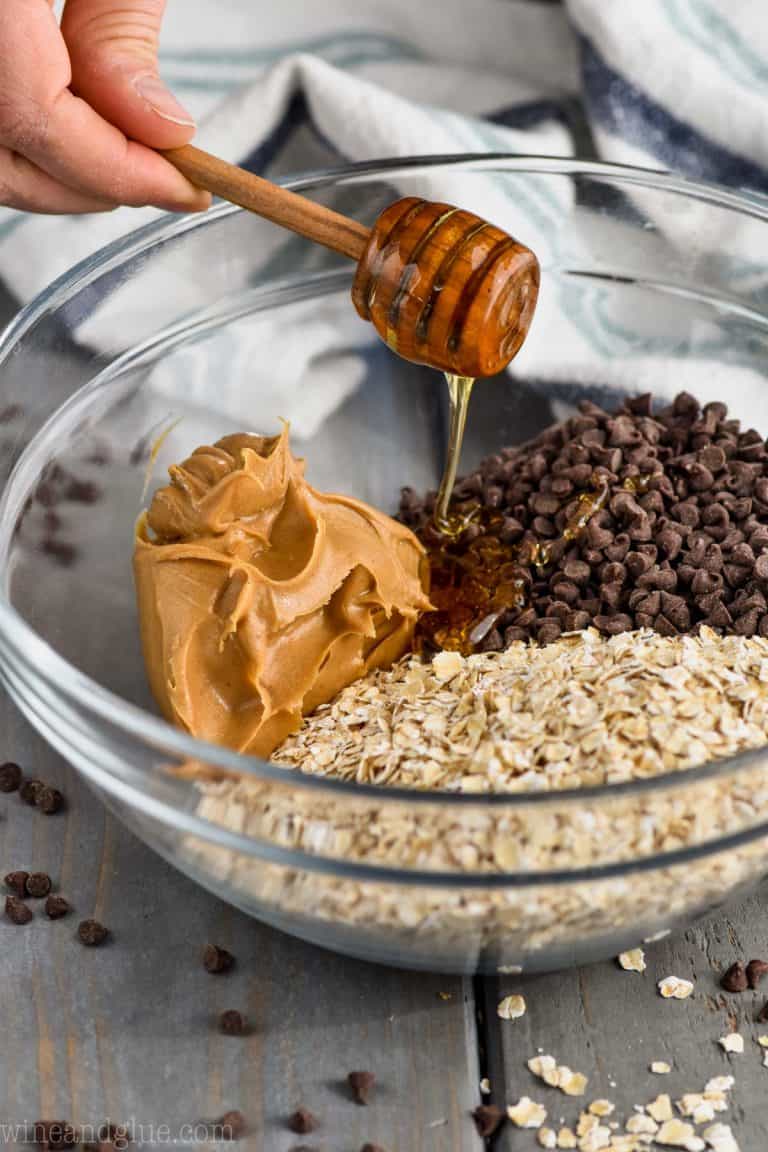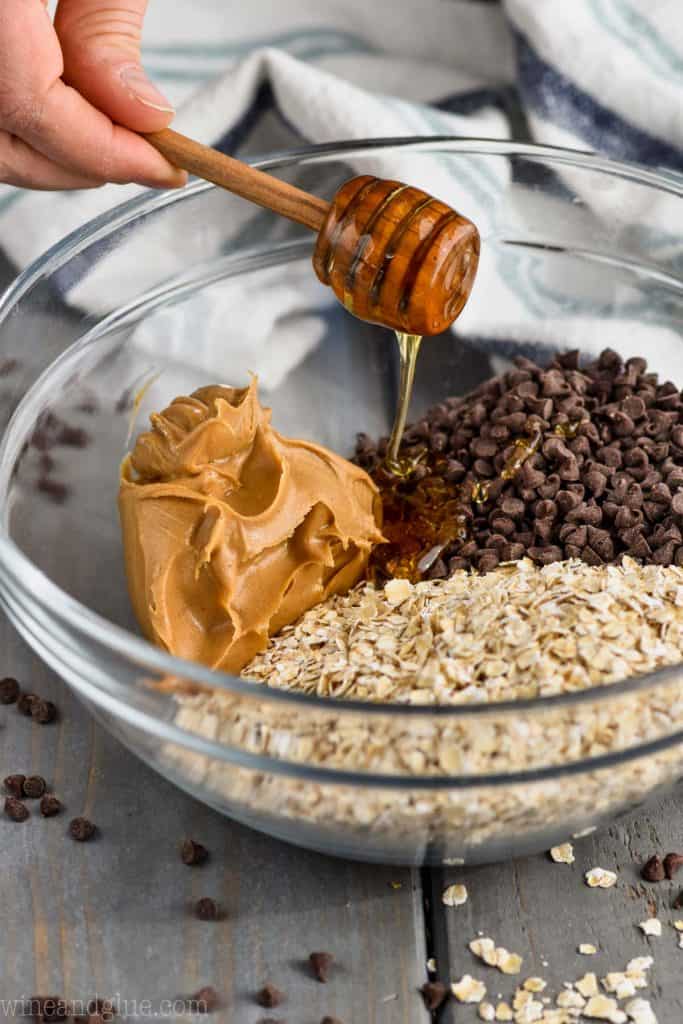 Ingredients in No Bake Energy Bites
As I mentioned, these are only five ingredients, so these oatmeal energy bites are perfect for busy parents.
quick cooking oats
creamy peanut butter (or you could use this almond butter)
honey
mini chocolate chips
vanilla extract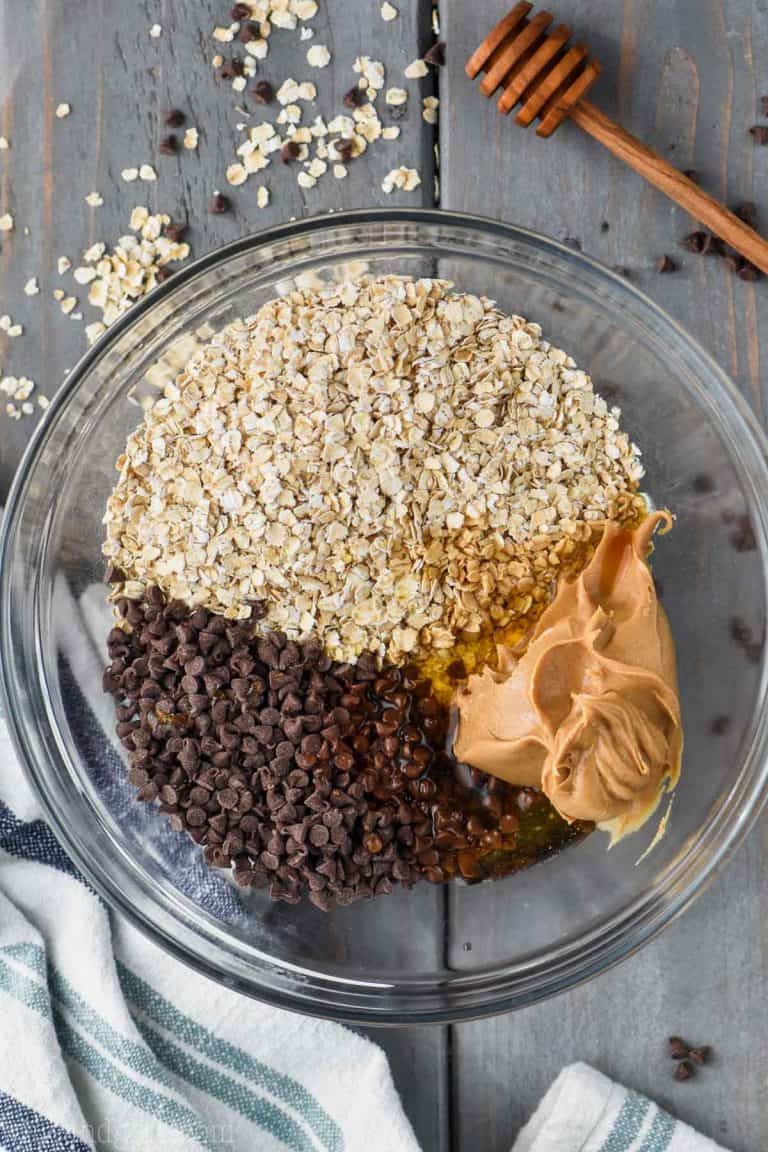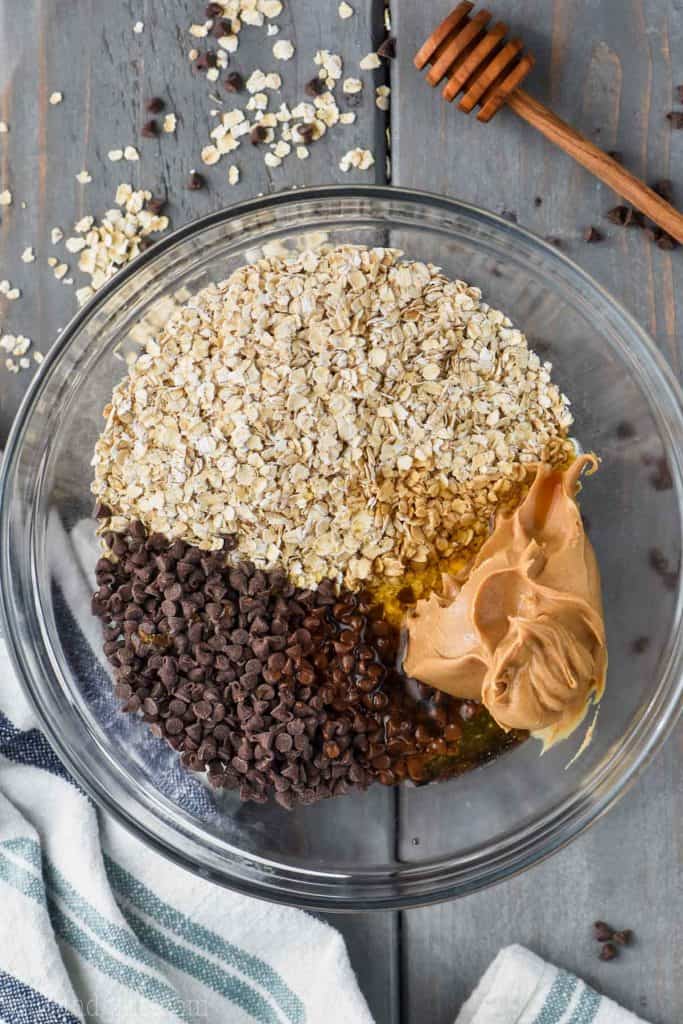 Variations on this Energy Ball Recipe
My Family has a Peanut Allergy, What Can I Use Instead?
I love working with sunflower butter as a substitution to peanut butter. It is perfect for this recipe because it has the same amount of protein as creamy peanut butter, which is what we are going for here. Almond butter would be another great option here.
I Only have Old Fashioned Oats on Hand, Can I Use Those?
You can! I like the quick cooking oats because they aren't as hearty as the old fashioned, which makes them a little easer to eat raw, but the old fashioned oats will still be fine. Don't let that be the reason you don't make theses.
What Can I Use Instead of Chocolate Chips?
If you want to make these a little healthier, I would swap the chocolate chips out for raisins or dried cranberries.
What Can I Use Instead of Honey?
I've used agave nectar in this recipe instead of honey and it works really well.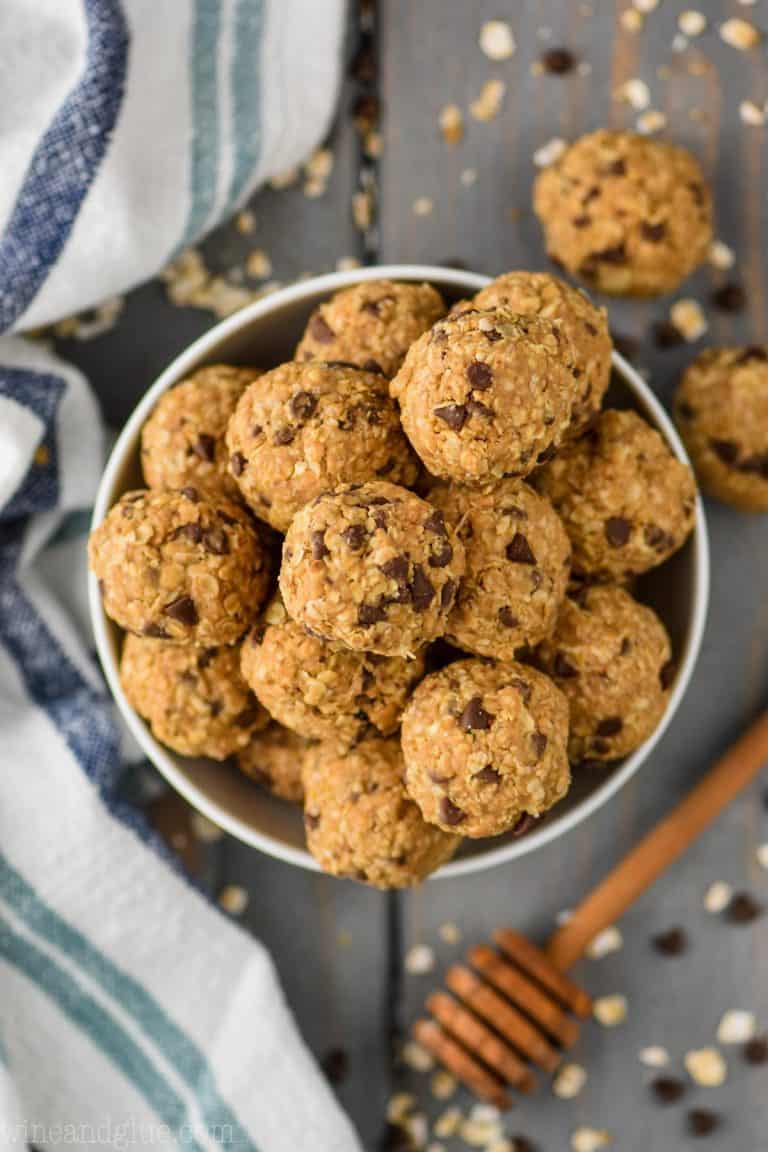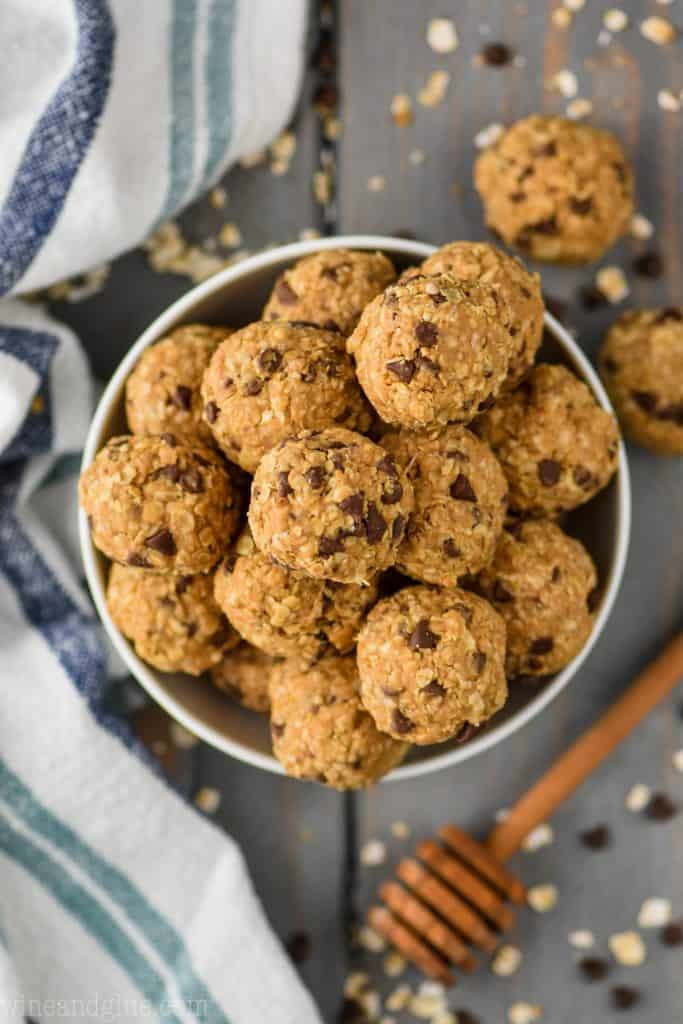 Do I Have to Keep Energy Bites in the Refrigerator?
Nope, these can be kept in a sealed container on the counter for about one week.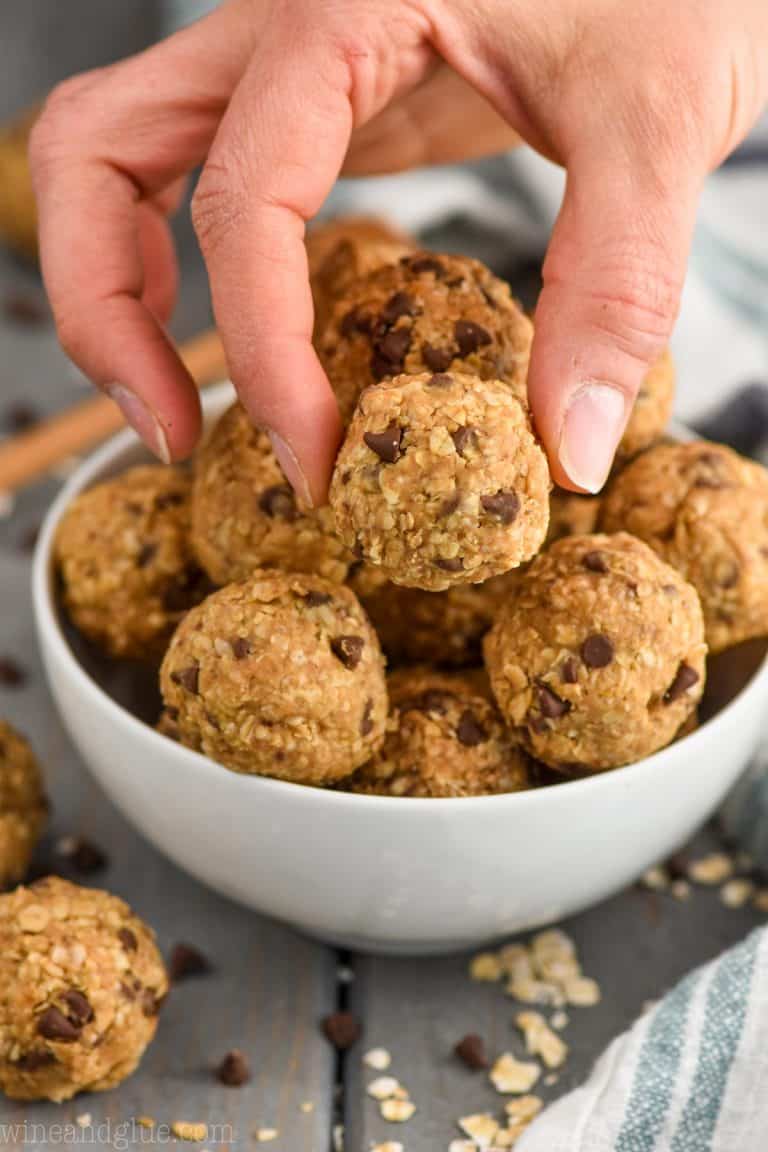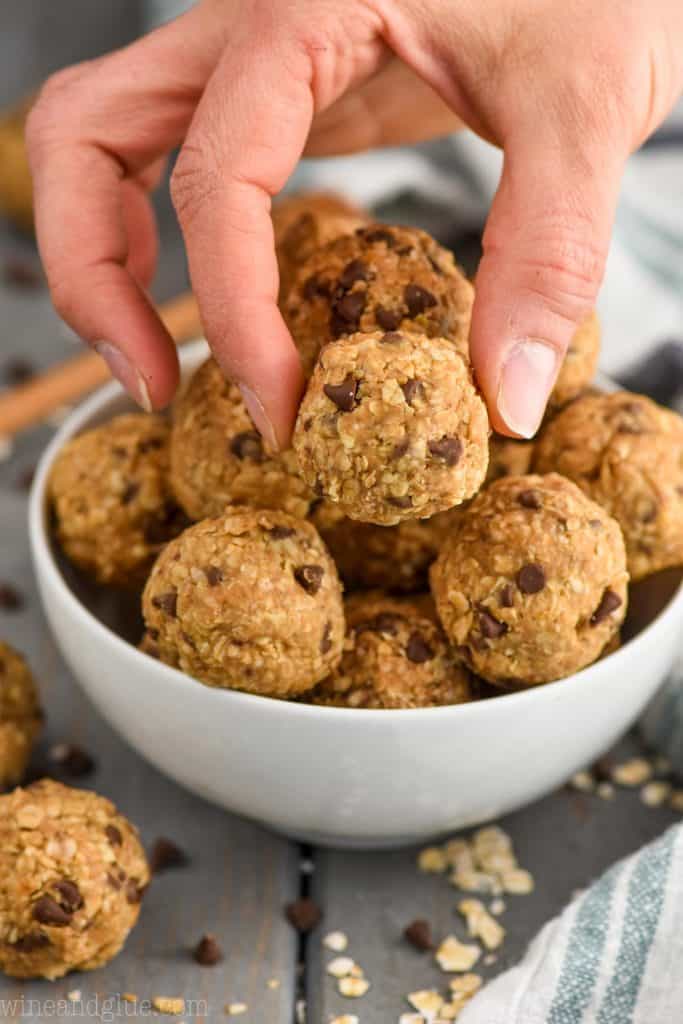 Other Great Snack Ideas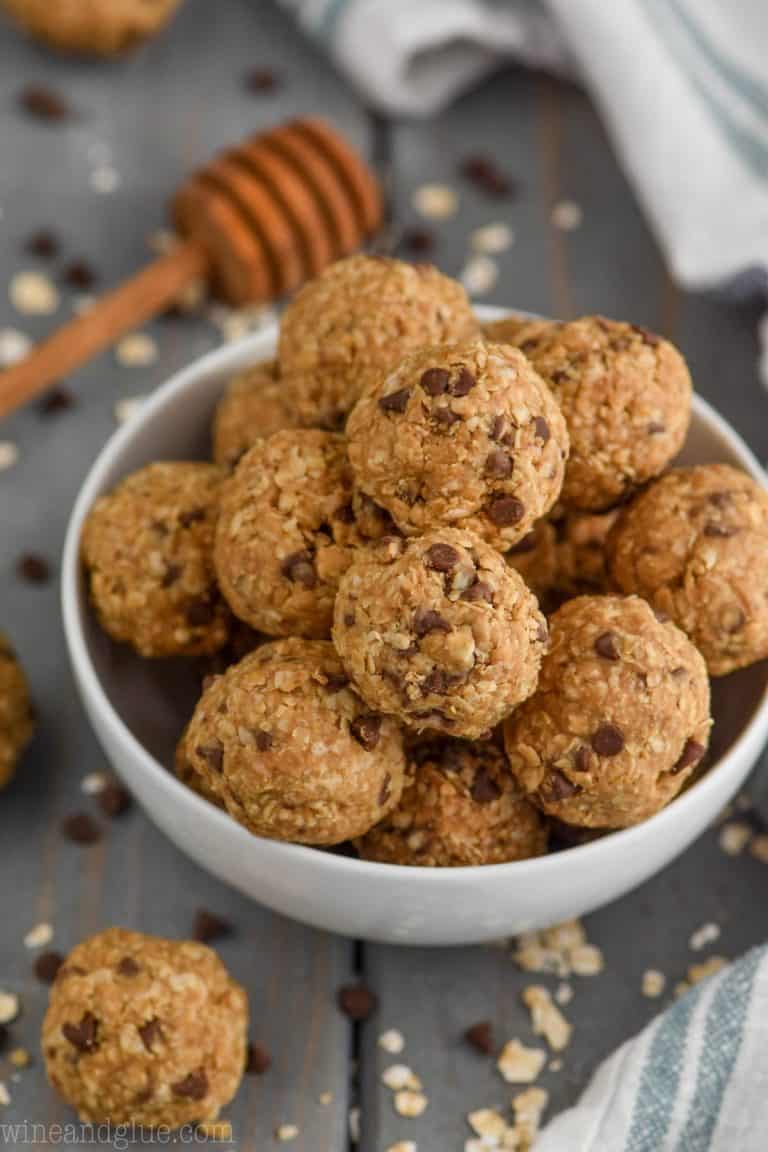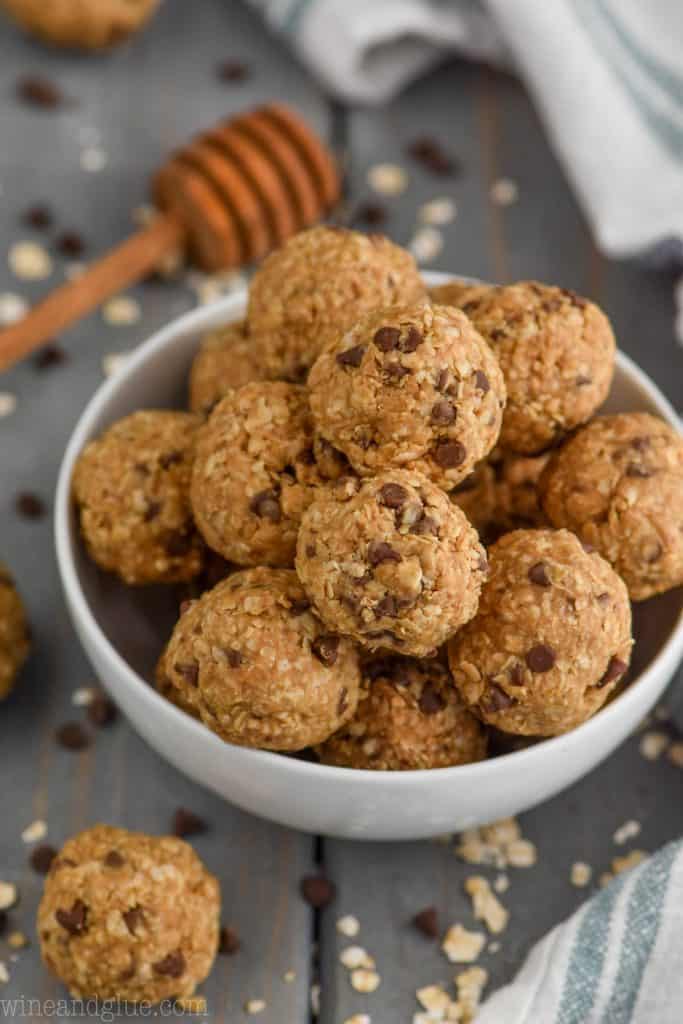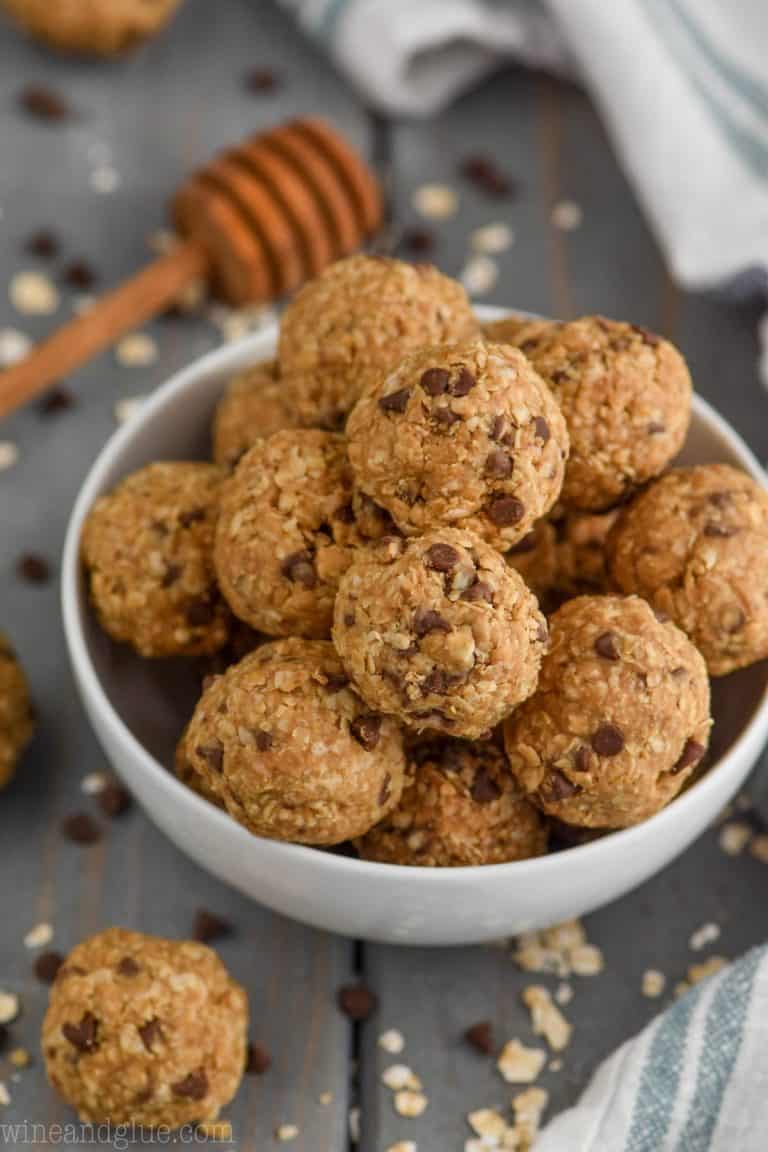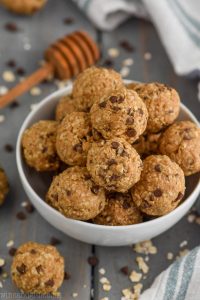 Five Ingredient No Bake Energy Bites
These Five Ingredient No Bake Energy Bites are easy to throw together and make such a perfect snack! If you are looking for a snack that will keep the kiddos and you feeling full between meals, these peanut butter energy balls are such a great option. Easy to make and even easier to eat.
Ingredients
2 1/2

cups

quick cooking oats

3/4

cup

creamy peanut butter

1/4

cup

honey

1/2

cup

mini chocolate chips

1

teaspoon

vanilla extract
Instructions
Mix all the ingredients together until well combined.

Form into one inch balls. Store in an airtight container.
Serving:
1
bite
Calories:
137
kcal
(7%)
Carbohydrates:
17
g
(6%)
Protein:
4
g
(8%)
Fat:
7
g
(11%)
Saturated Fat:
2
g
(13%)
Polyunsaturated Fat:
2
g
Monounsaturated Fat:
2
g
Trans Fat:
2
g
Sodium:
42
mg
(2%)
Potassium:
60
mg
(2%)
Fiber:
2
g
(8%)
Sugar:
8
g
(9%)
Calcium:
10
mg
(1%)
Iron:
1.1
mg
(6%)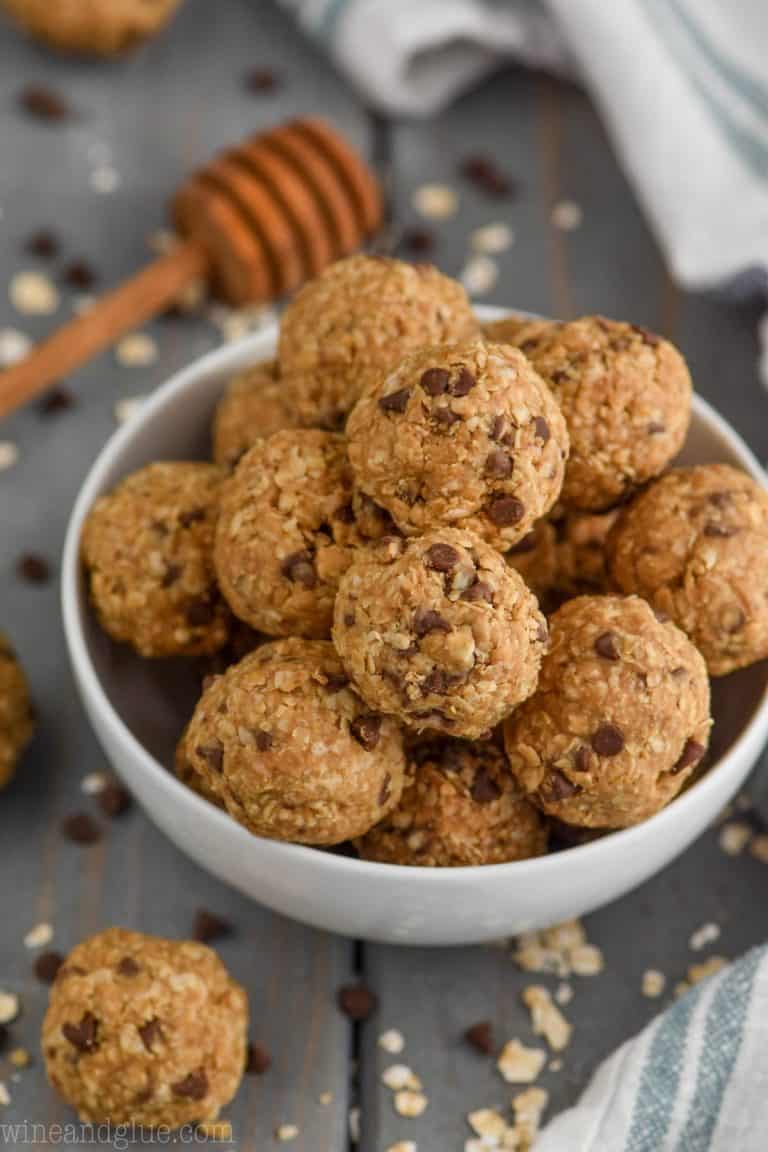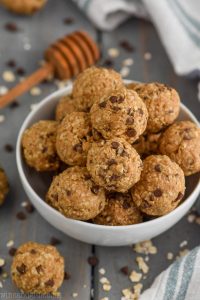 did you make this
Five Ingredient No Bake Energy Bites