Lemon Rice Krispie Treats are an easy lemony spin on your favorite Rice Krispie Treats. These come together with simple ingredients and will win over lemon lovers.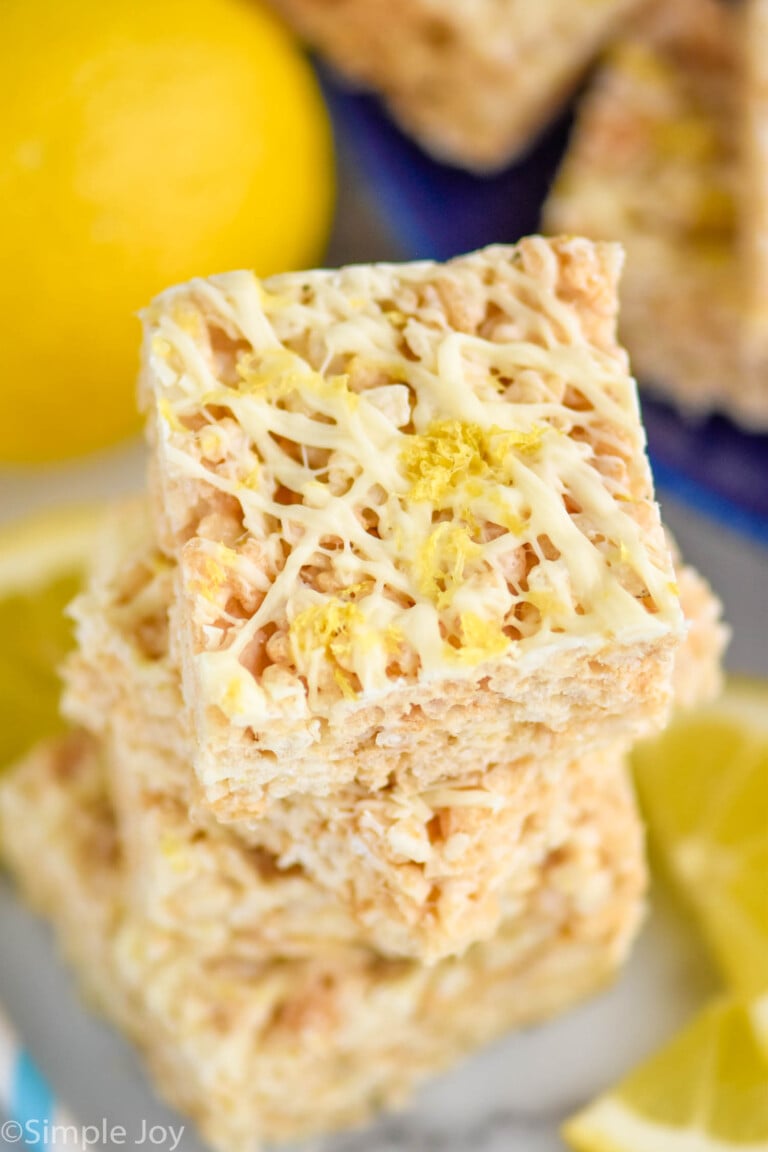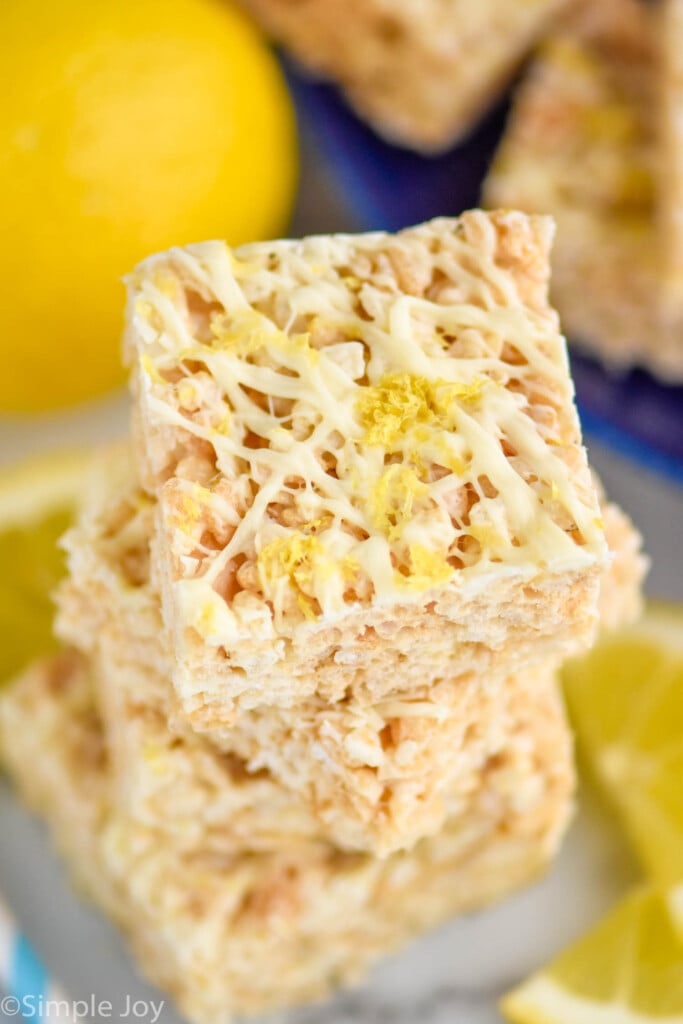 I love lemon desserts. They have the best burst of flavor, I often think of them as a dose of sunshine. It is easy to morph any traditional dessert into a lemony version of it, and these Lemon Rice Krispie Treats are no exception. This is an older recipe and the original version of these had some broken-up Lemon Oreos in them. I decided to give you a rendition that didn't require such a specific ingredient.
This latest version of these fantastic Lemon Rice Krispie Treats doesn't have the Oreos, but it has even more lemon flavor than the original. If you like Rice Krispie Treats, you will love this delicious spin.
Rice Krispie Treats
Rice Krispie treats are the best classic treat. This recipe has the best balance of cereal and marshmallows for the perfect dessert!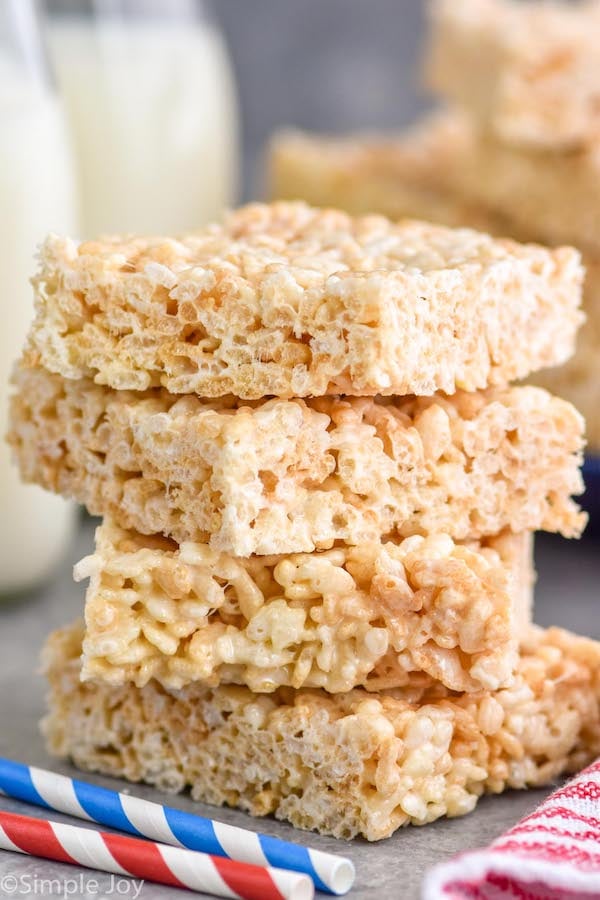 How to Make Lemon Rice Krispie Treats
This is a brief overview of how to make this no bake dessert recipe. For the full recipe with all of the measurements, please see the recipe card at the bottom of the post.
Prepare the pan. See more on this below.
Melt together the butter and marshmallows. I like to do this in a really large soup pot.
Add in the lemon. Once the marshmallows are smooth, remove the pot from the heat, and then add in the lemon zest and lemon extract.
Stir in the cereal. Once the cereal is completely coated, press it lightly into the prepared pan.
Top it with white chocolate and lemon zest. Melt some white chocolate chips with a little vegetable oil to make it easier to drizzle. Drizzle the chocolate over the bars. Then top with more lemon zest.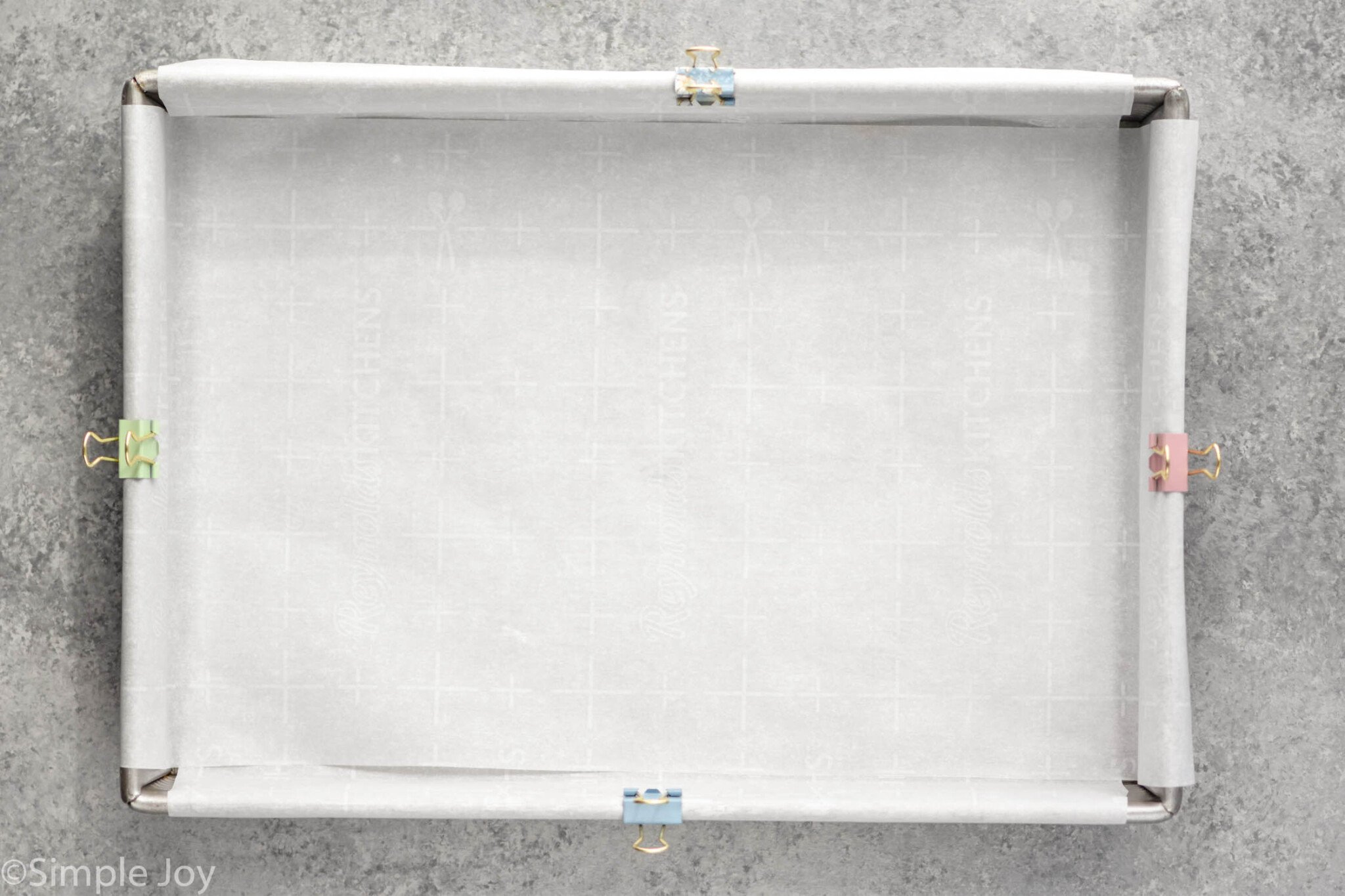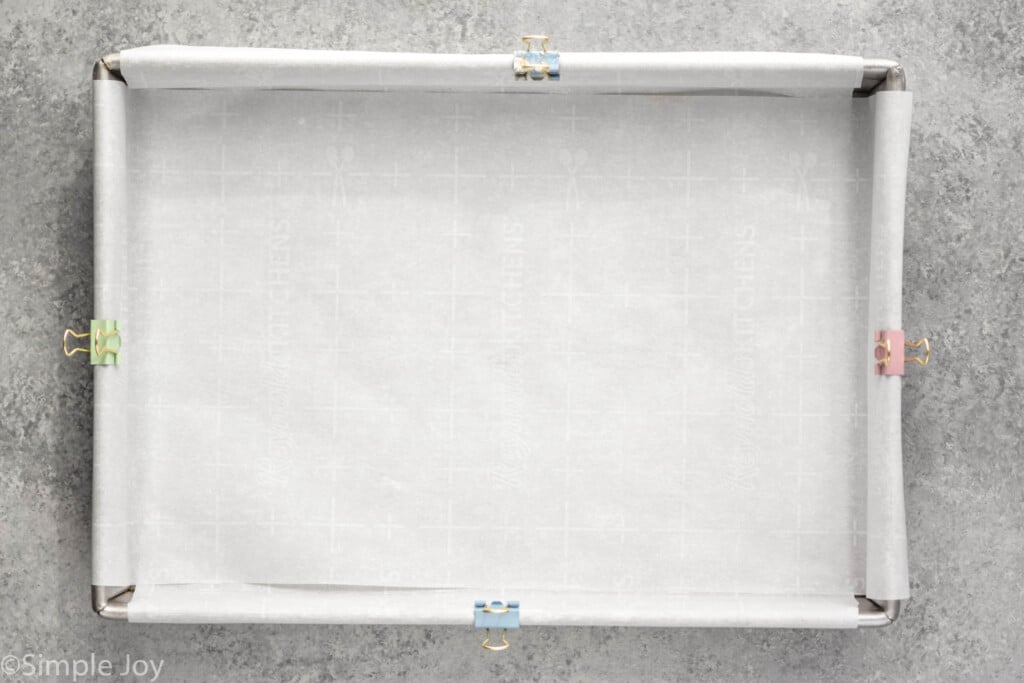 Preparing Pans for Rice Krispie Treats
Because Rice Krispie Treats are so sticky, you will want to prepare whatever baking dish you put it in with cooking spray or parchment paper. I prefer to use parchment paper. I cut one sheet for the length and another for the width. Overlapping them allows you to pull them out of the baking dish easily. I often use alligator clips to hold them in place as seen in the photo above.
I like using the 9 by 13 inch baking dish you see below for all of my bars because it conducts heat perfectly. Even though these bars are no bake, I like using it for these as well because you get those crisp straight edges.
TOP PICK
Best 9 x 13 Baking Dish
Not only does this metal baking dish conduct heat perfectly for all your brownies and bars, it gives you nice crisp edges so you can cut perfect squars.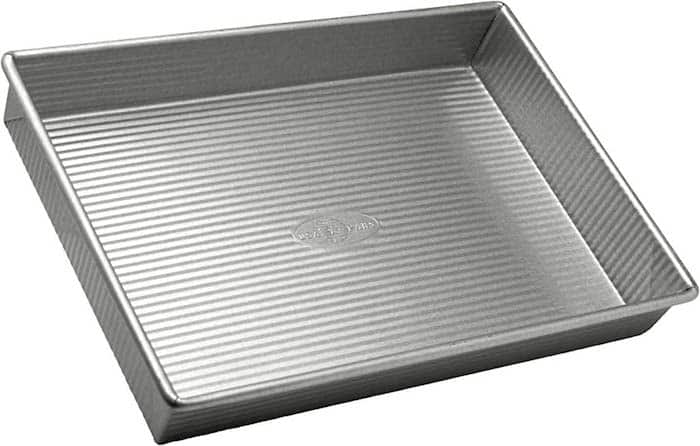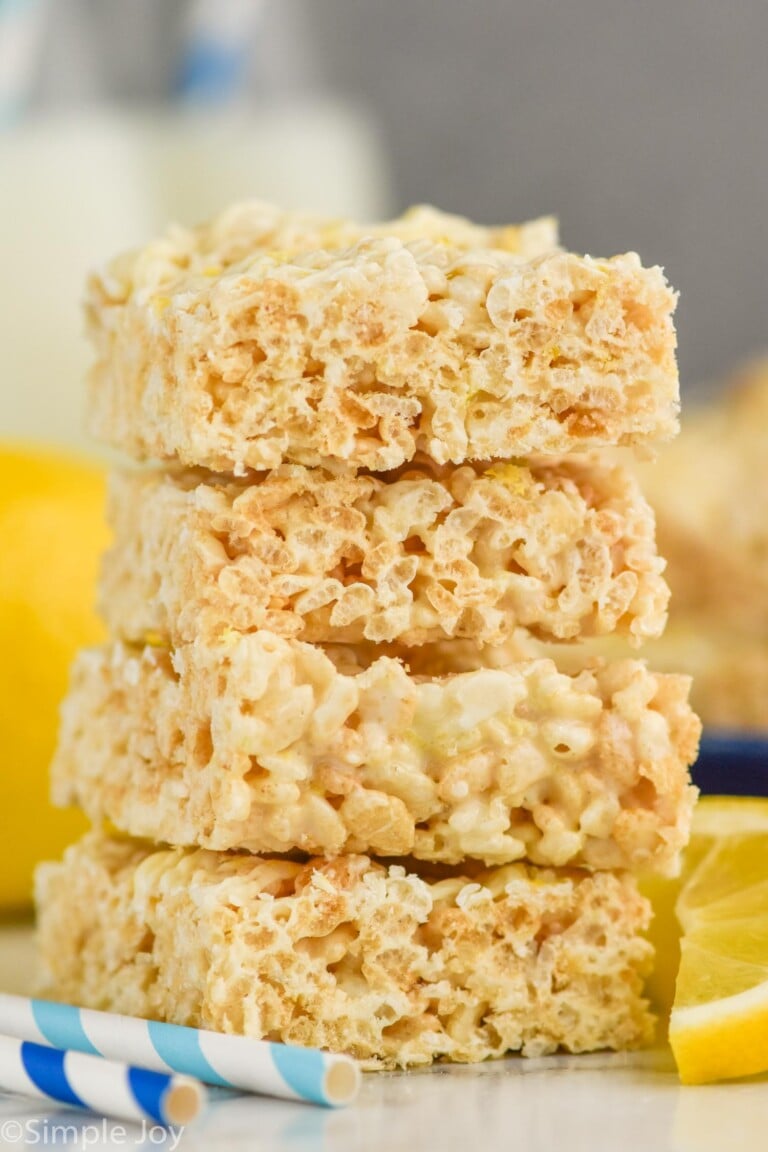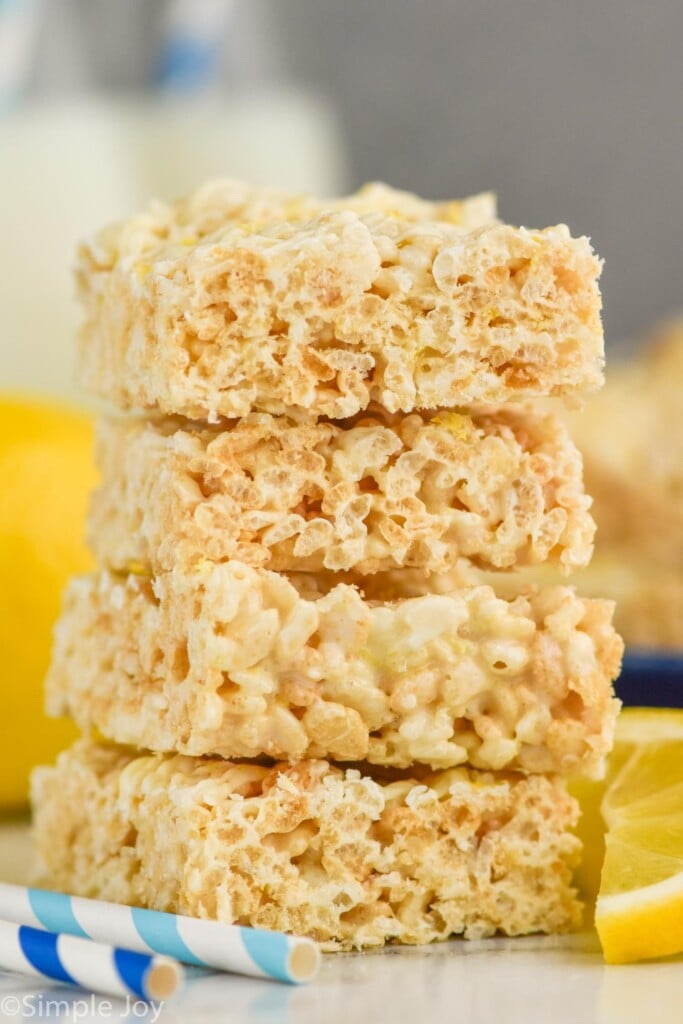 Lemon Juice vs. Lemon Extract
The reason we are using lemon extract instead of lemon juice in this recipe is because it brings a stronger and more intense lemon flavor. This is also the reason that we are using lemon zest. It brings a burst of lemon flavor that lemon juice alone just can't do. All of that being said, if you only have lemon juice you can use it in replacement of the lemon extract, you just might find you don't get as strong of a lemon flavor.
Zesting Lemons
As I mentioned above, lemon zest brings a great lemon flavor to recipes. It is such an easy way to enhance the lemon flavor in a recipe. When you are zesting lemons you want to be sure to wash the lemons first. Then use a good zester. Only zest the yellow outside of the lemon, moving on to a different part of the lemon when you see white.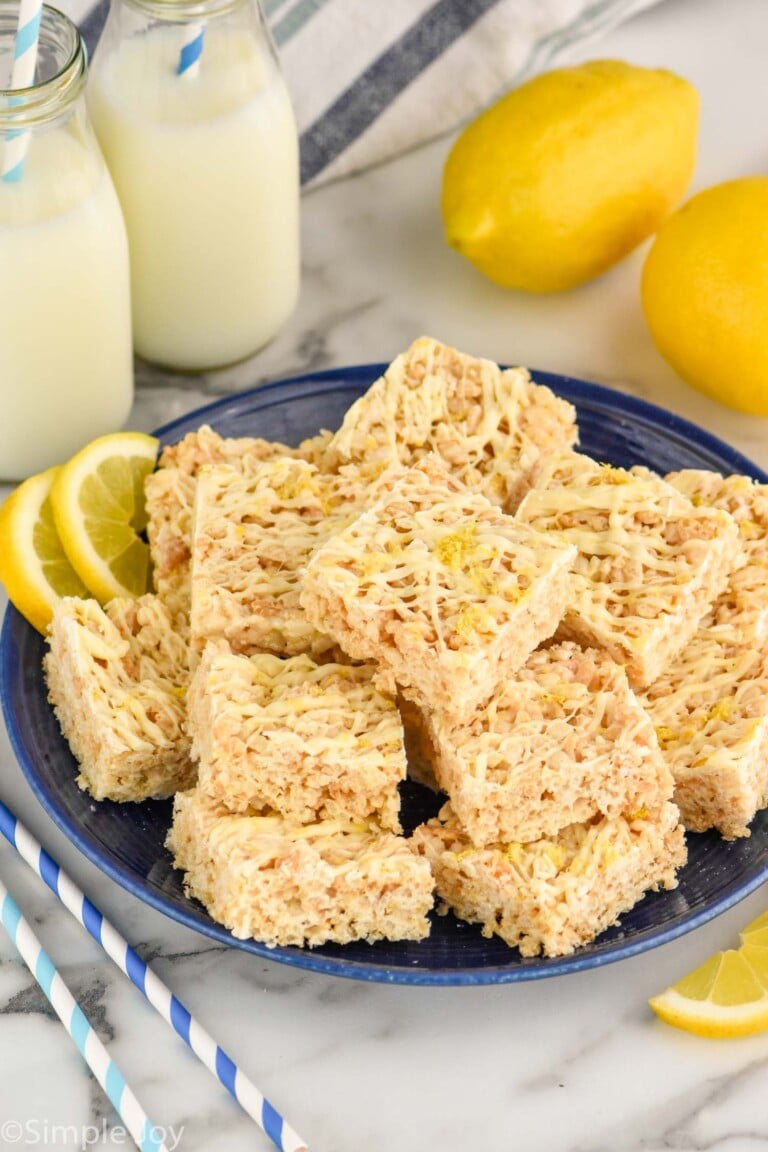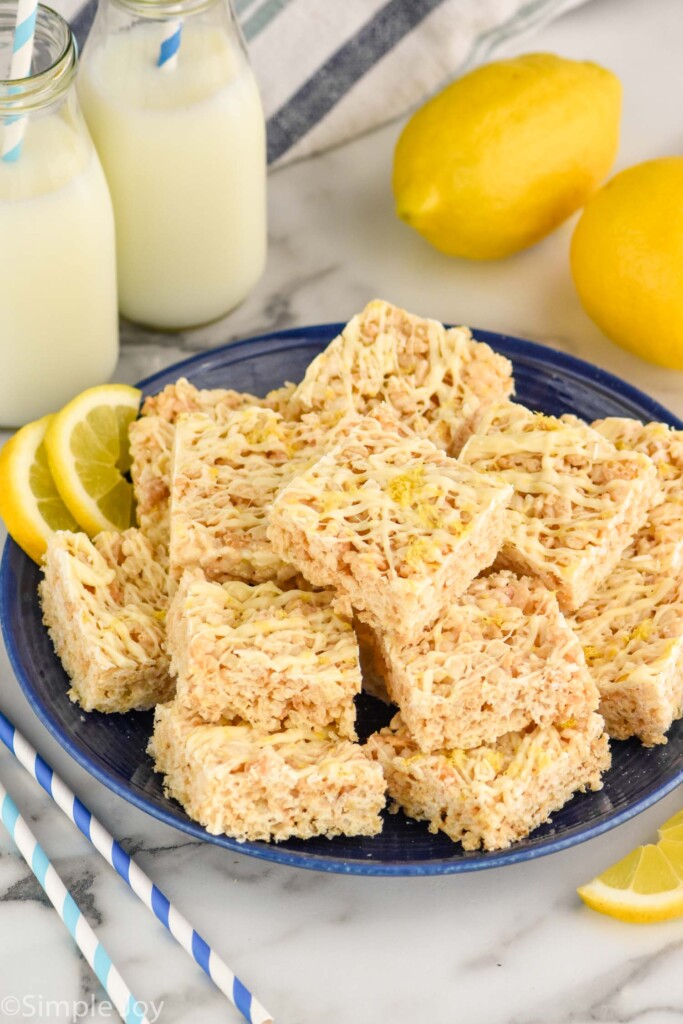 Tips and Tricks for Rice Krispie Treats
Use both fresh marshmallows and fresh cereal. Both of these ingredients can get stale very quickly (even if their packages aren't open). Your best bet is to buy both within a week of making these.
Line the baking dish with parchment paper. See my tips for this above.
Toss in those lemon cookies. The original recipe did have one cup crushed Lemon Oreos in it. They got added at the same time as the lemon zest. If you can find them you can still use them. They have a great crunch.
Use parchment paper to press down the Rice Krispie Treats. This will help to keep the mixture from sticking to your hands. It even helps a little to spray the parchment paper with cooking spray.
Don't press the bars down too hard. It will result in bars that are very dense and thin. Press them lightly.
Storing and Freezing
These Rice Krispie Treats should be cut once they are cooled and then stored in an airtight container. They are best when eaten within three days of making.
Rice Krispie Treats freeze beautifully. Put the cut treats on a parchment-lined baking sheet and freeze in a single layer for a few hours. Then transfer the bars to an airtight container and keep in the freezer for up to three months.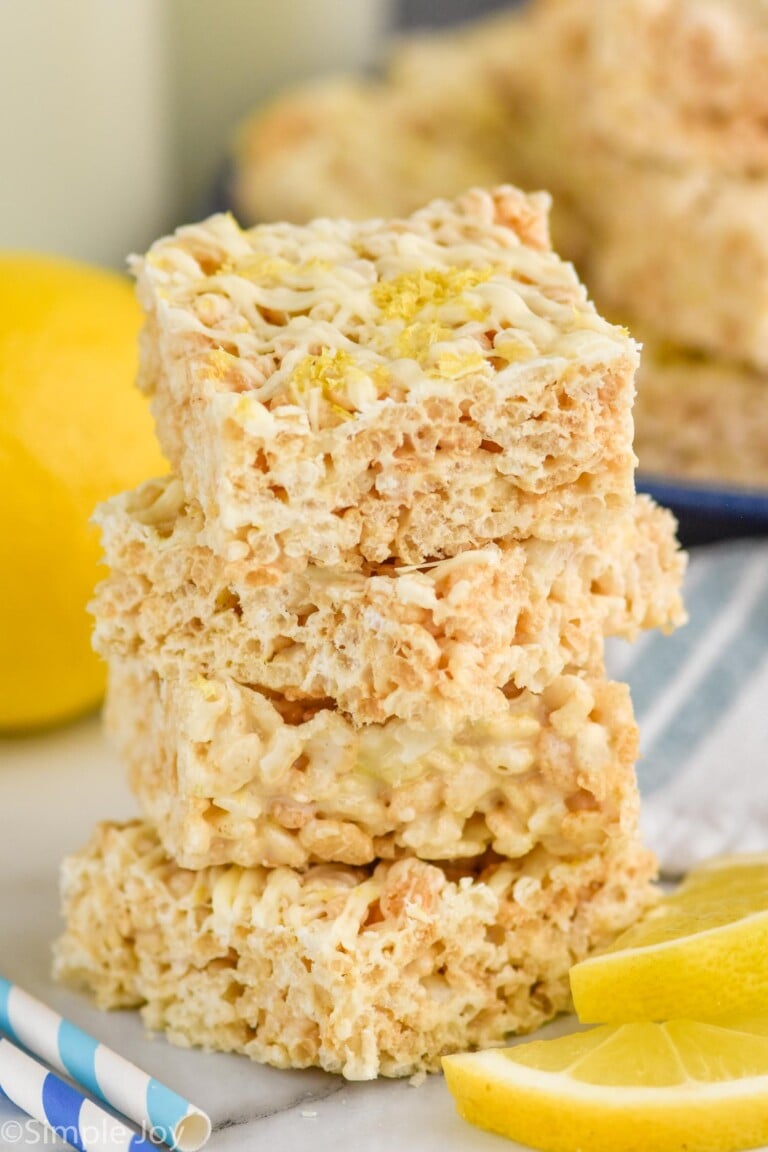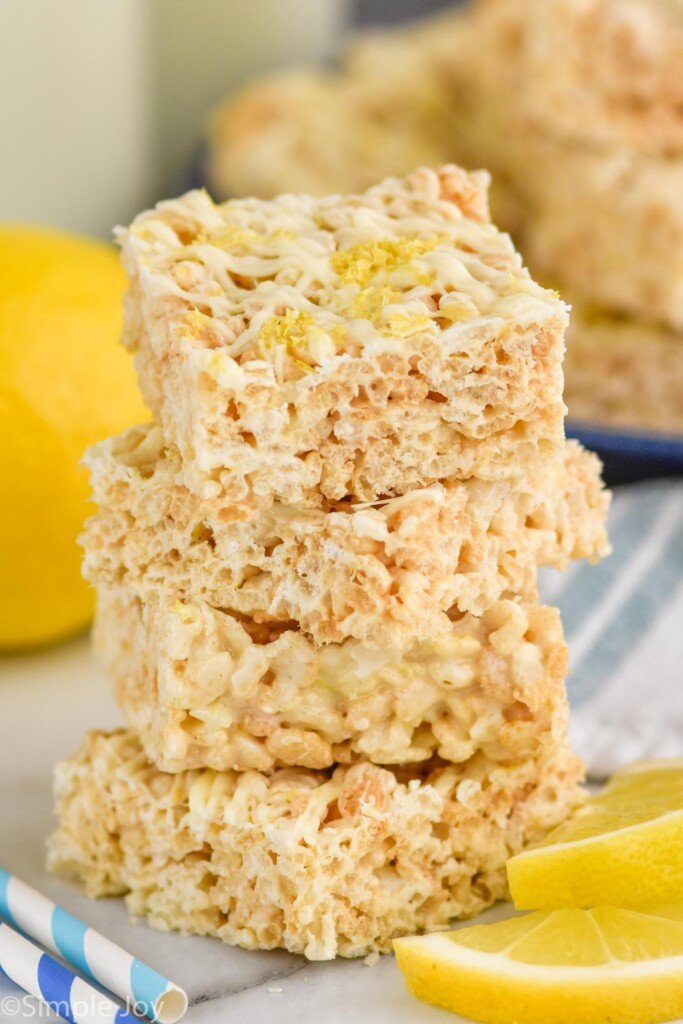 Other Lemony Treats
If you love lemon as much as me, you will absolutely want to try these great desserts next.
If you make these amazing Lemon Rice Krispie Treats or any of my other recipes, please leave me a comment and let me know what you think!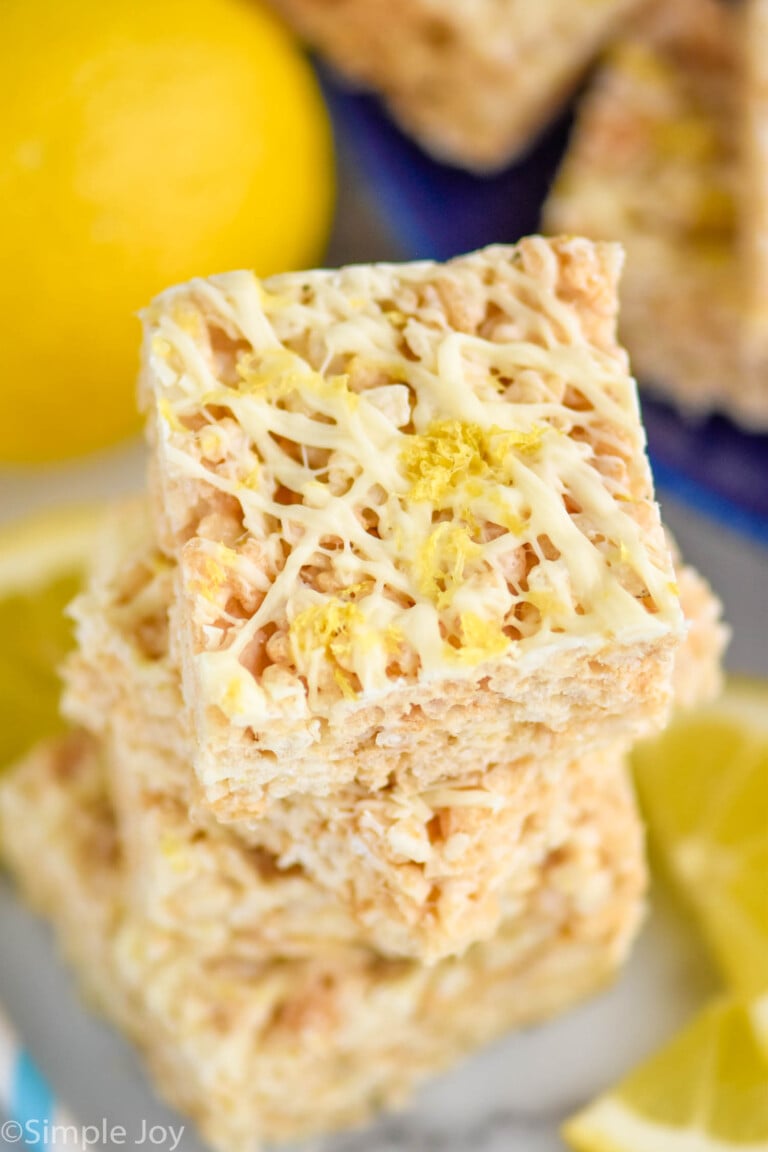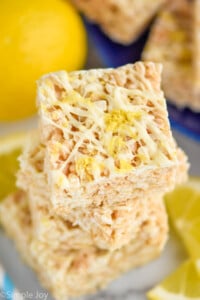 Lemon Bar Rice Krispie Bars
Lemon Rice Krispie Treats are an easy lemony spin on your favorite Rice Krispie Treats. These come together with simple ingredients and will win over lemon lovers.
Ingredients
6

cups

mini marshmallows

(283.5 grams)

3

tablespoons

unsalted butter

(42.6 grams)

1

teaspoon

lemon extract

(4.93 ml)

1

tablespoon

lemon zest

(6 grams)

5 1/2

cups

puffed rice cereal

such as Rice Krispies (146.7 grams)

1/2

cup

white chocolate chips

(85 grams)

3/4

teaspoon

vegetable oil

(3.7 ml)
Instructions
In a large pot, combine the butter and marshmallows over medium-low heat. Stir until the mixture is melted and smooth. Remove from the heat.

6 cups mini marshmallows,

3 tablespoons unsalted butter

Stir in the lemon extract and lemon zest. Then stir in the cereal.

1 teaspoon lemon extract,

1 tablespoon lemon zest,

5 1/2 cups puffed rice cereal

Spray a piece of parchment (or wax) paper with cooking spray and gently press the mixture into the pan, being careful not to push down too hard.

While they are cooling, melt the white chocolate chips according to the directions. Once melted, stir in the vegetable oil to thin the chocolate. Using a fork, drizzle the chocolate over the Rice Krispie Treats. Add a little more lemon zest to the top.

1/2 cup white chocolate chips,

3/4 teaspoon vegetable oil

Remove the bars from the pan once cooled. Cut into squares and enjoy immediately. Store in an airtight container for up to four days or freeze.
Serving:
1
bar
Calories:
90
kcal
(5%)
Carbohydrates:
16
g
(5%)
Protein:
1
g
(2%)
Fat:
3
g
(5%)
Saturated Fat:
2
g
(13%)
Polyunsaturated Fat:
0.2
g
Monounsaturated Fat:
1
g
Trans Fat:
0.1
g
Cholesterol:
5
mg
(2%)
Sodium:
14
mg
(1%)
Potassium:
17
mg
Fiber:
0.1
g
Sugar:
9
g
(10%)
Vitamin A:
45
IU
(1%)
Vitamin C:
0.3
mg
Calcium:
9
mg
(1%)
Iron:
0.2
mg
(1%)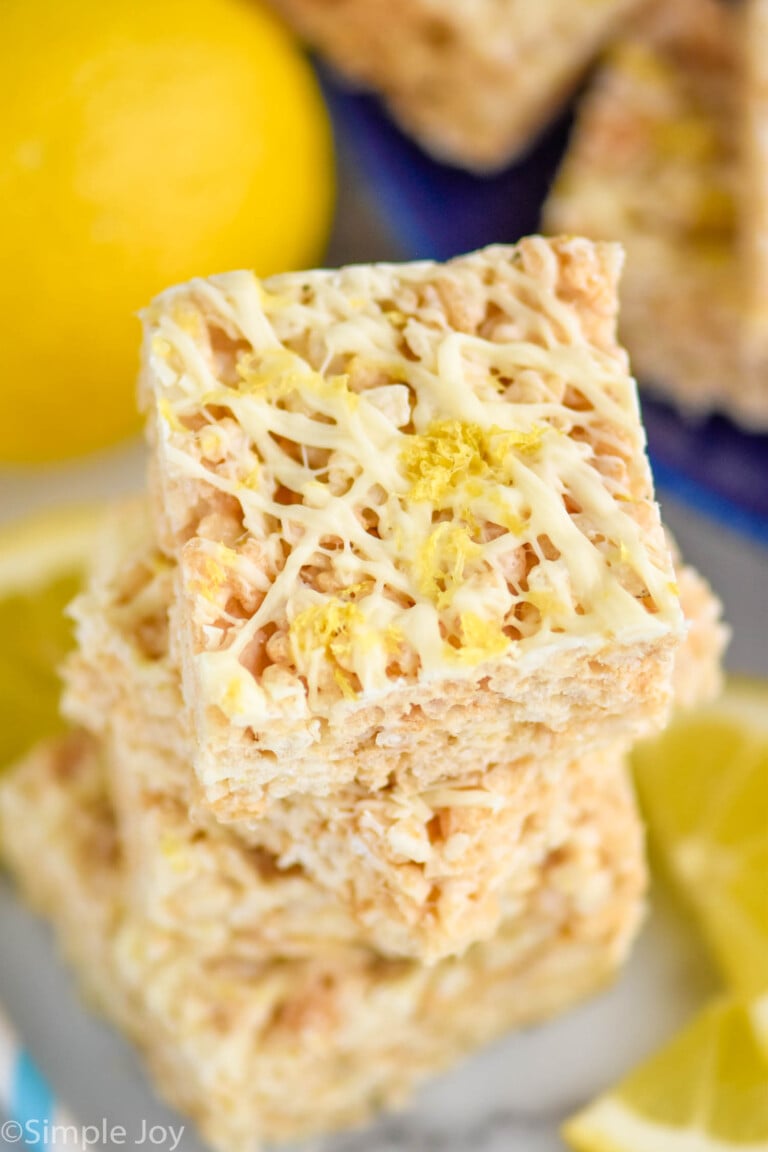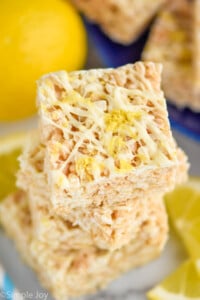 did you make this
Lemon Bar Rice Krispie Bars