These Lemon Bar Rice Krispies Treats® are your favorite treat in a deliciously lemon flavor! Thanks Kellogg Company for sponsoring this delicious and fun spring treat!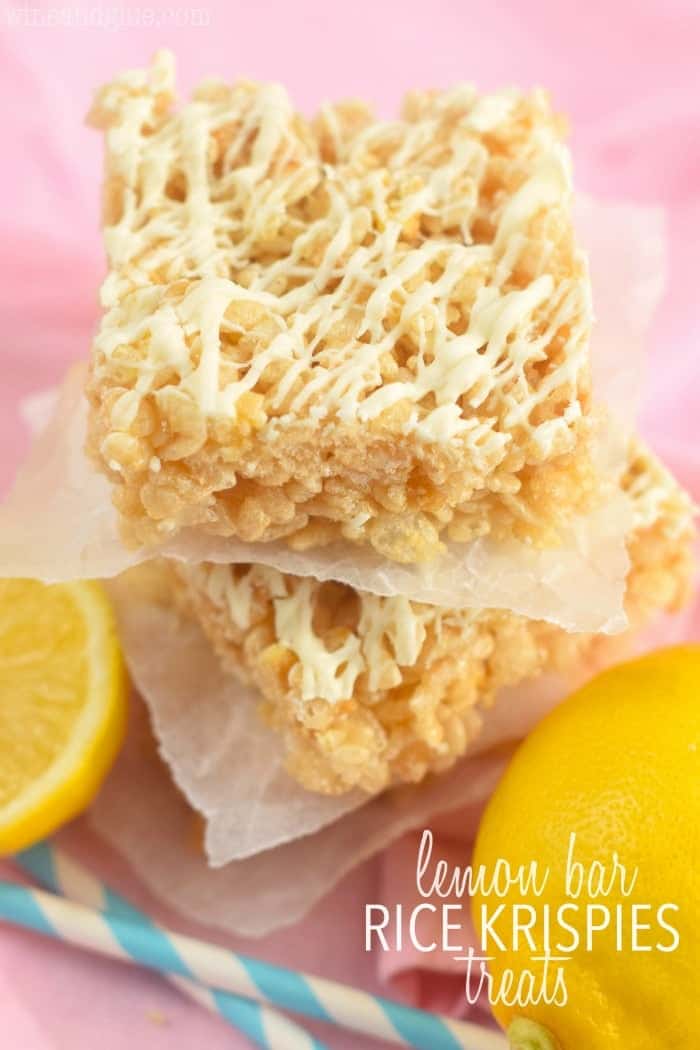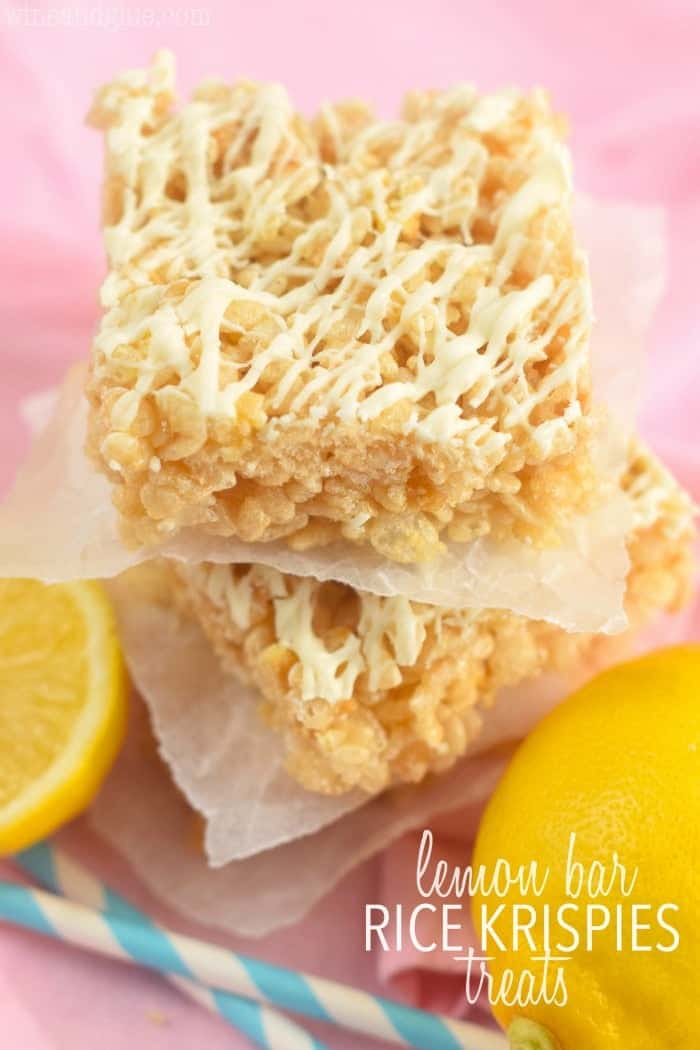 Can you believe that Easter is only a few days away? It came so late last year that it totally snuck up on me this year!
So each year on my husband's side of the family we hold two birthday parties each year. There are 10 grandkids, so a few years ago we decided to celebrate all the fall birthdays near Halloween with costumes and all and all the spring birthdays right around Easter. And with our spring birthday party right around the corner, and with me having a kid in it this year (though I'm not really prepared to talk about the fact that Piper is turning one . . . ), I was thinking SPRING! when I made these awesome Lemon Bar Rice Krispies Treats!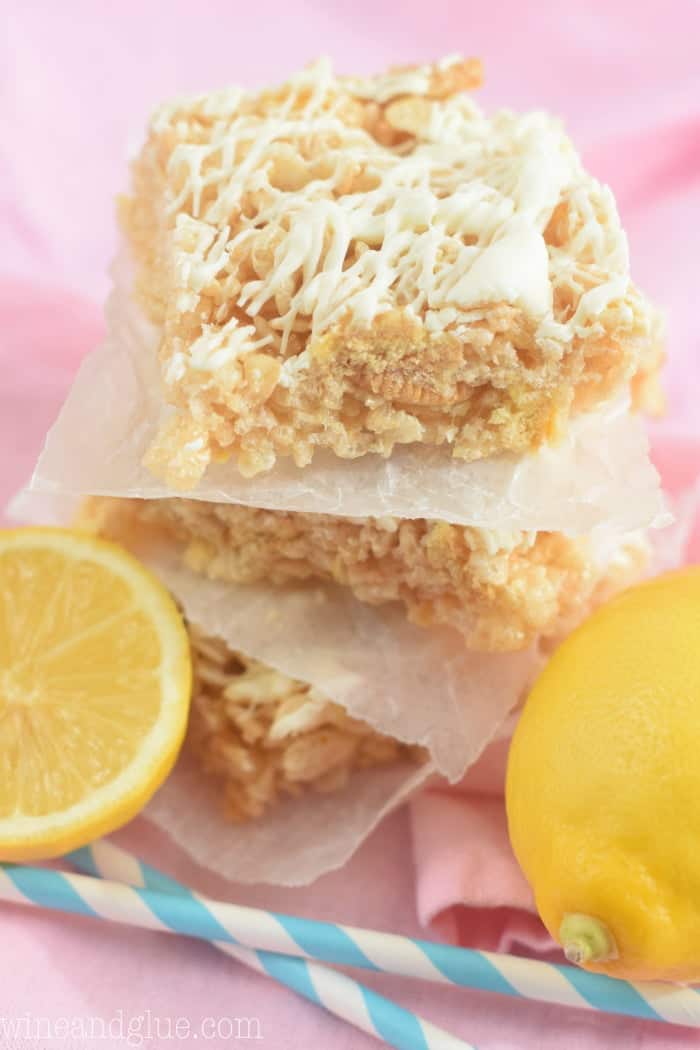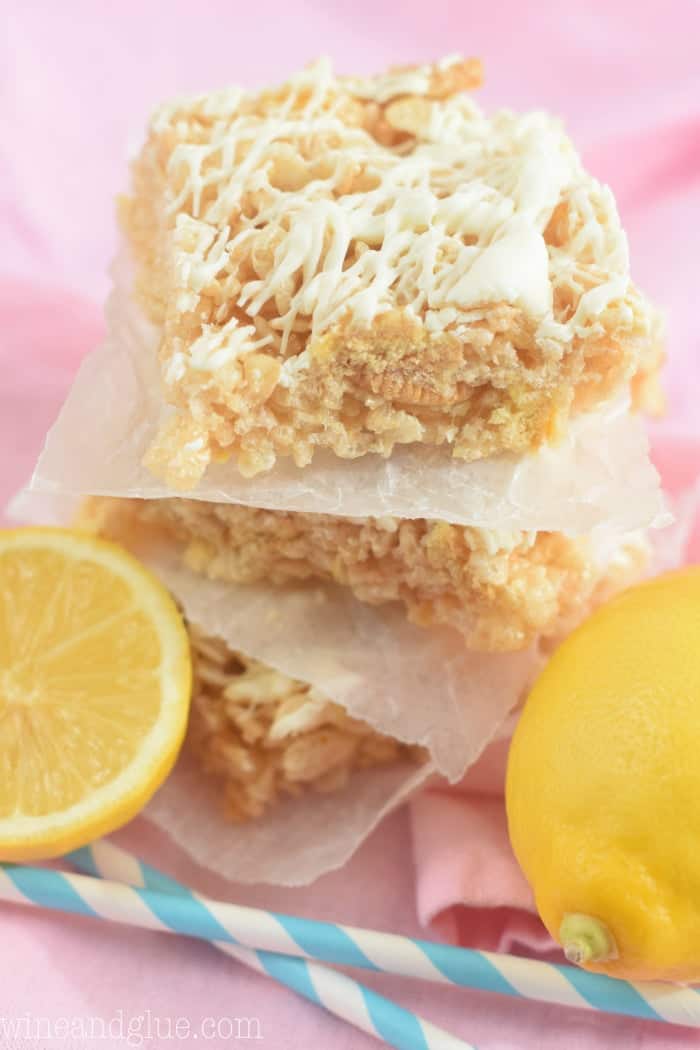 Rice Krispies Treats are one of Gavin's favorite treats, which is a total win for me, because they are so ridiculously simple to make and there are about 80.2 billion different things you can do with them. With only three recipes as the base, they are pretty much a perfect blank slate. Delicious as is, but customizable to so many different tastes.
Gavin loved these, and for sure had is chance at them since I triple checked the recipe! That's right, three batches, all of which came together in a snap. With one of the batches we decided to turn them into fun Flower Pop Rice Krispies Treats. Some chocolate, a metal flower cookie cutter, a paper straw, and some sprinkles and we had the perfect party favor for our spring party!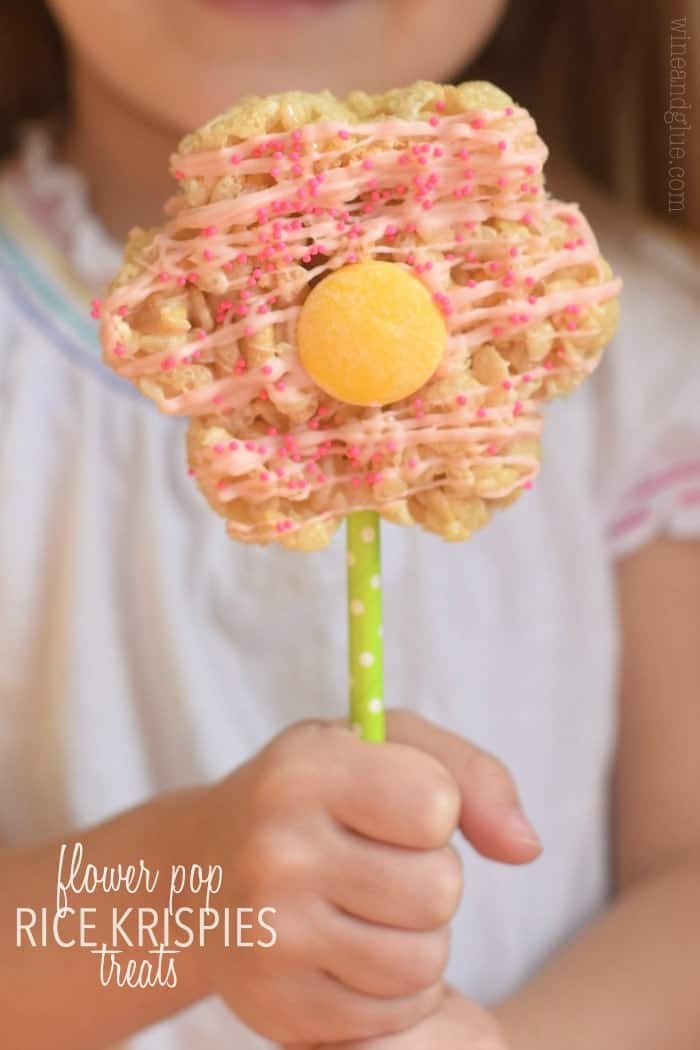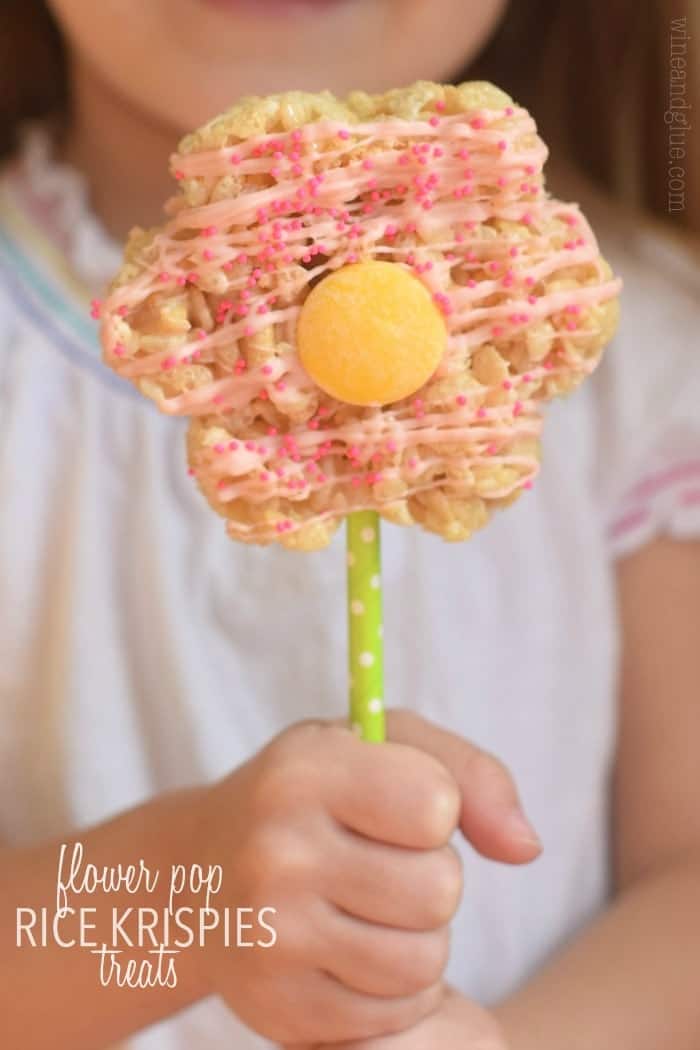 The flower pops don't have to be lemon of courses (though seriously, why wouldn't you want to??), these would work with any recipe of Rice Krispies Treats.
Start by making a batch of Rice Krispies, then once they have cooled, cut them out with a metal flower cookie cutter. Metal. Did I mention it needs to be metal? You want metal. I got about six flowers per pan, but, you know you might be better and squeezing more out than me. Dip a paper straw in some pink melted chocolate and then stick it into the flower. Drizzle more pink chocolate over the top, and then sprinkle with pink sprinkles and place a yellow candy melt in the middle. I think these would be super cute in a plastic treat bag with a green ribbon tied on for some leaves.
Or, you know, just eat 'em.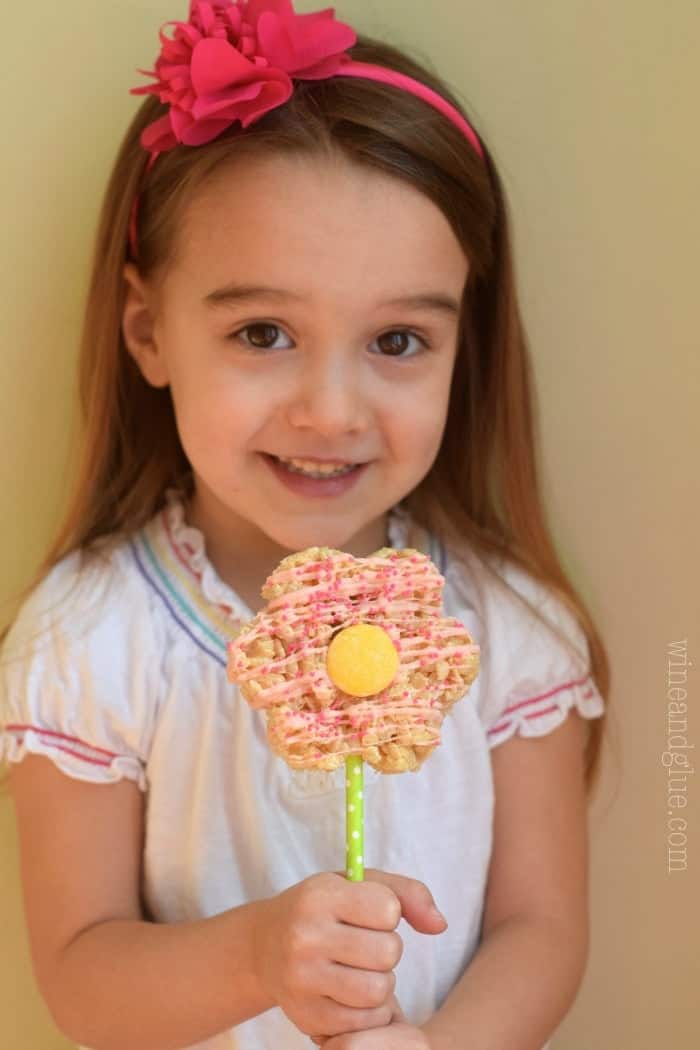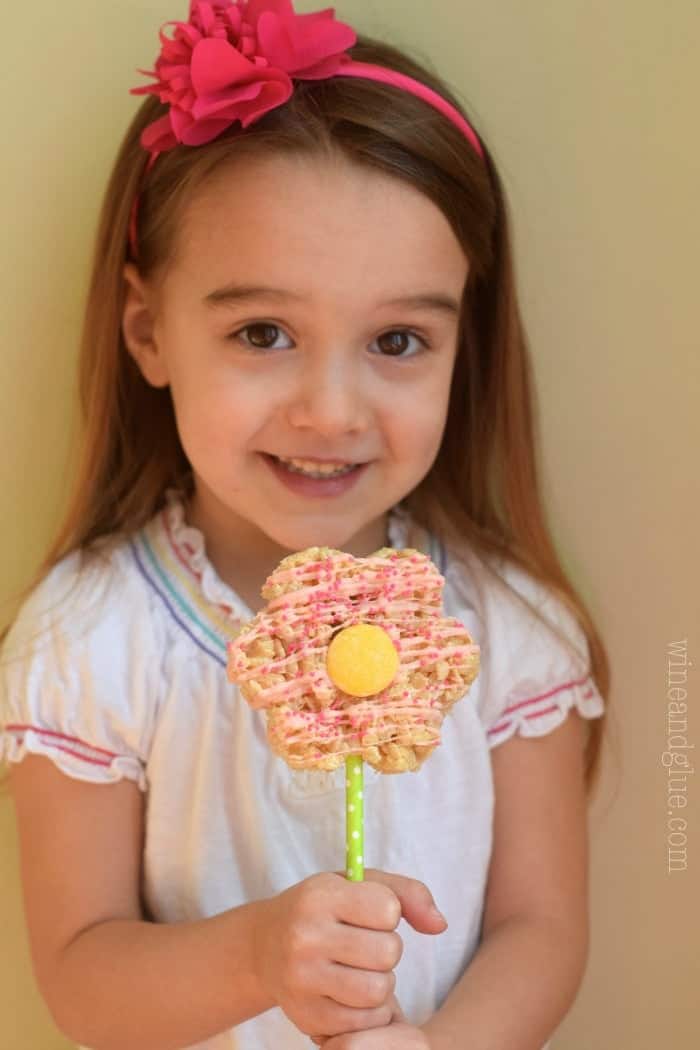 These Lemon Bar Rice Krispies Treats get there delicious lemony flavor from a little fresh lemon juice and some lemon zest. Throw in some lemon sandwich cookies to enhance the lemon flavor and make them even more reminiscent of lemon bars. Yum. Yum. Super yum!
If you are looking for more awesomely inspired Rice Krispies Treats®, be sure to check out Food Family Finds and her White Chocolate Dipped & Decorated Rice Krispies Treats Easter Eggs! And then be sure to follow along on Pinterest, Facebook, and Twitter!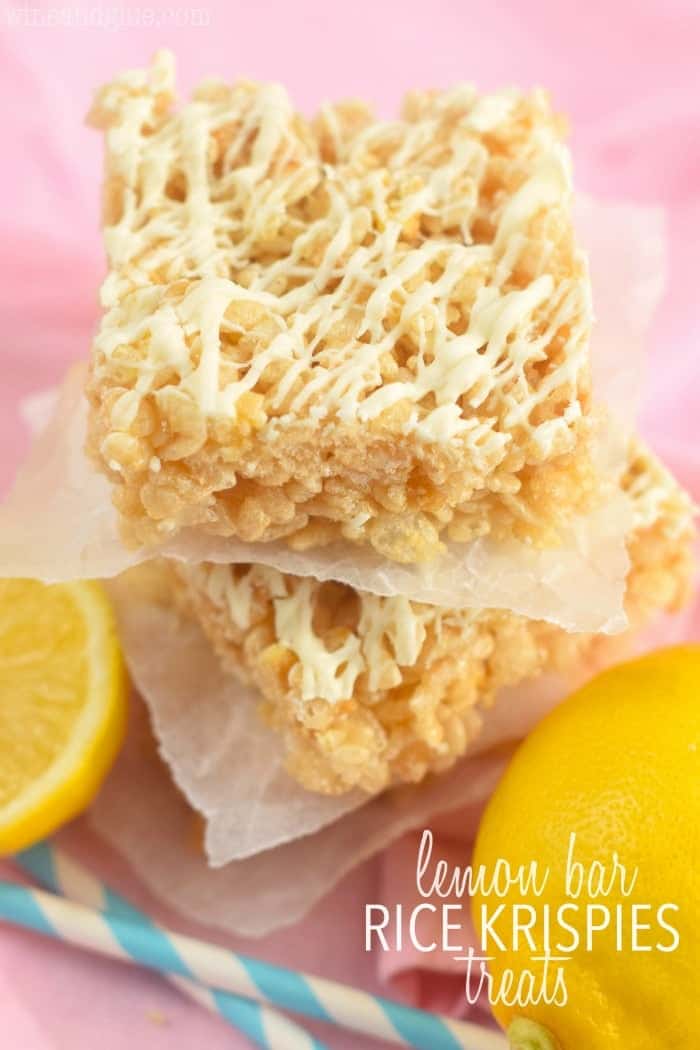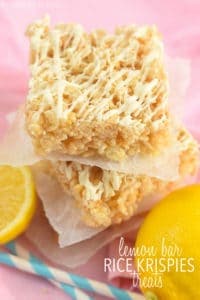 Lemon Bar Rice Krispie Bars
Ingredients
2

TBSPs

lemon juice

about half a small lemon

1/2

tsp

lemon zest

1

cup

crushed lemon sandwich cookies

about 6-8 cookies

3

TBSPs

unsalted butter

5

cups

mini marshmallows

6

cups

Rice Krispies Cereal

1/2

cup

white chocolate chips

3/4

tsp

vegetable oil
Instructions
Spray a 9 by 13 inch pan generously with cooking spray.

In a large soup pot, melt the butter over medium low heat. Once melted, add the marshmallows, stirring in the butter. Stir occasionally. Once melted, remove from the heat.

Add the lemon zest and lemon juice to the marshmallows and stir until combined. Add the lemon cookies and Rice Krispies Cereal and coat them with the marshmallows. Pour into the pan and press down with a cooking spray coated spatula.

While the Rice Krispie Treats are cooling, melt the white chocolate chips according to directions. Once melted stir in the vegetable oil to thin the chocolate. Using a fork, drizzle the chocolate over the Rice Krispies Treats. Allow the chocolate to harden and then cut into square pieces. Best if served the same day.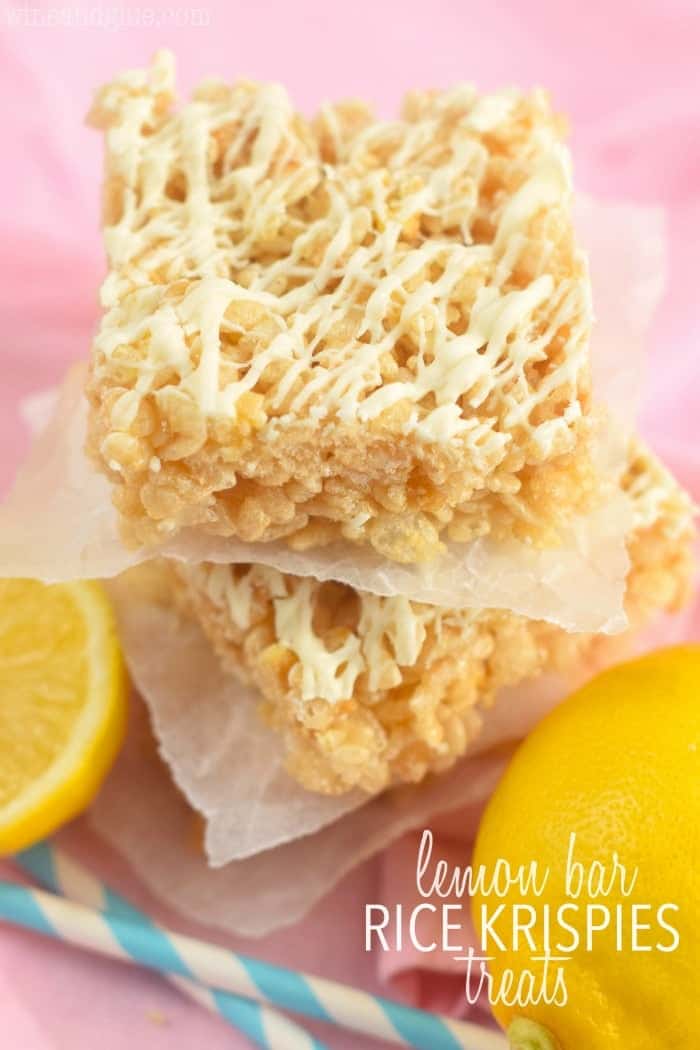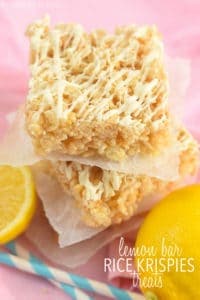 did you make this
Lemon Bar Rice Krispie Bars
Kellogg Company sponsored this blog post. The opinions and text are all mine.
'); // ]]>