S'mores Chocolate Bark is a yummy inside-out s'mores treat that you don't even need a campfire for!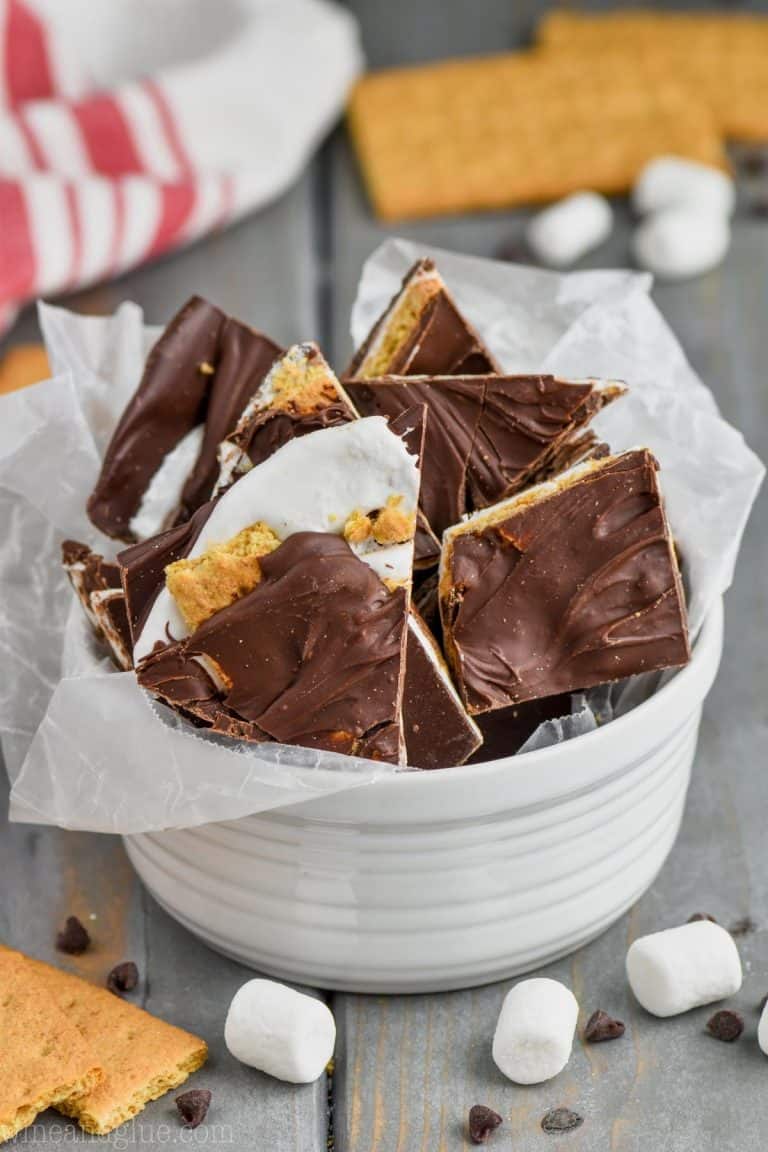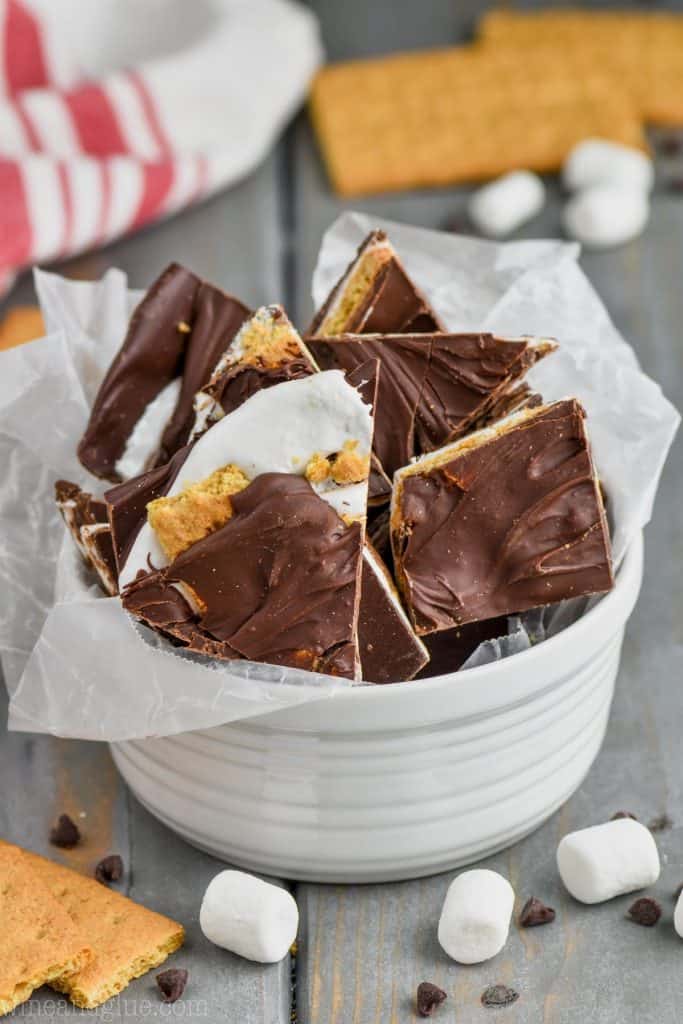 Happy Monday, friends! I got a full work out in yesterday and a full 9 (NINE!!!) hours of sleep and I am feeling like a new woman! I even went for a five mile run this morning. It's amazing what the little things in life can do for your spirit. Fresh air, blood moving, and good sleep – nothing like it.
I am thrilled, because this morning I am giving you an updated version of one of my favorite recipes on the blog! S'mores Chocolate Bark. If you have been following me for more than a year, you know that I love desserts that are so easy you can do them in your sleep. Don't get me wrong, I love from scratch desserts like my Caramel Apple Cobbler recipe. But there is something so amazing about a dessert you can give away that took you less than a half hour to make – you know, like my easy Fireball Fudge recipe.
Chocolate Bark recipes are exactly like that. They are so super easy to make, simple to make great variations on, and even easier to eat.
What is Chocolate Bark?
Chocolate Bark is really just melted chocolate spread over a pan with something added into it or on it and then broken up when it dries. Probably the most famous and popular chocolate bark recipe is Chocolate Peppermint Bark that you make at the holidays. I'm sure you've seen it.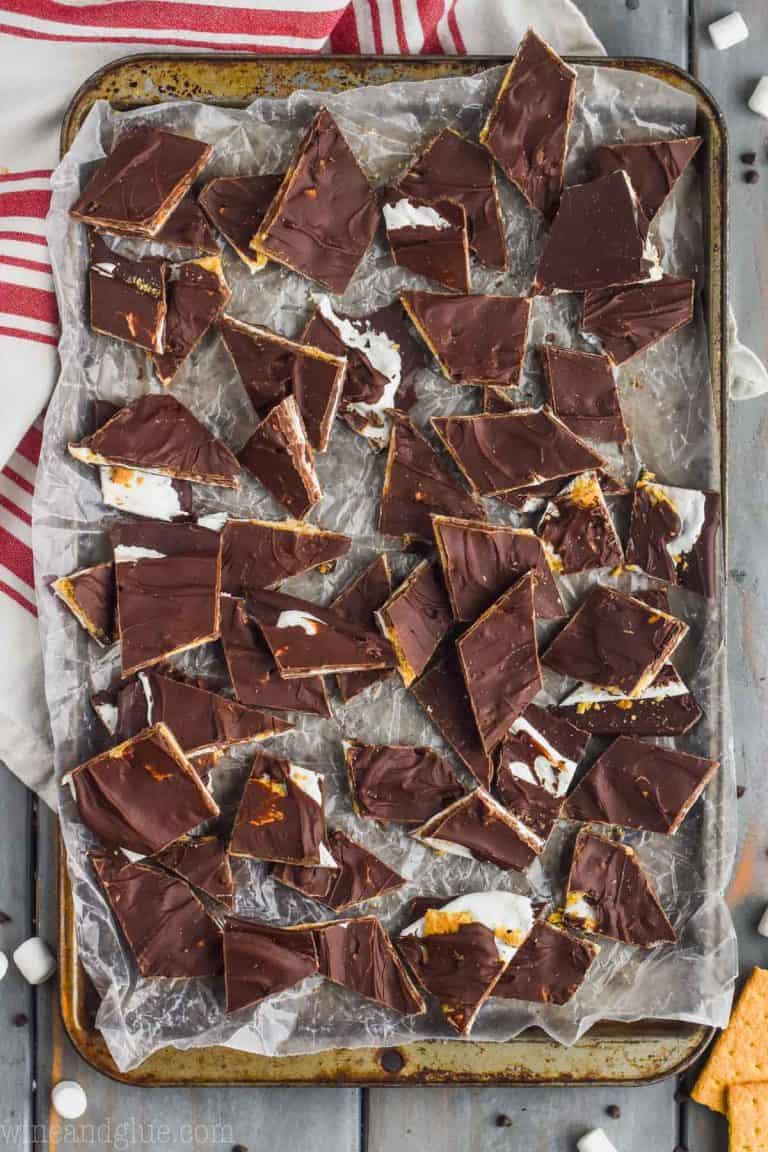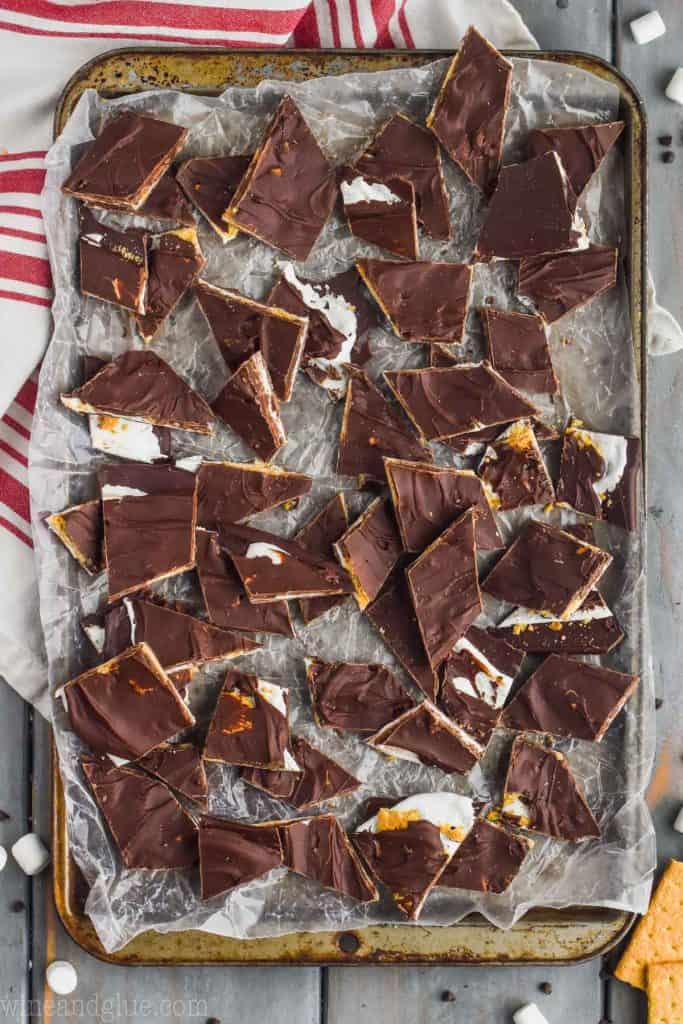 How do you Make Chocolate Bark S'mores Flavored?
The key to making this recipe taste like a nice gooey s'mores right out of the fire pit is combining those quintessential flavors of chocolate, marshmallow and graham crackers. Obviously the marshmallow had to stay in the middle.
I kept the chocolate flavor by making it the outside of the bark. Kind of like how the graham cracker behaves in a traditional s'mores. (S'more? Can you have a singular s'more? Or is that turning the universe on it's head?)
The graham cracker flavor was simple. I just broke up graham crackers and threw it in there.
The marshmallow flavor was the hardest to figure out. If I used just pure marshmallow fluff, it would have been really hard to break up the chocolate bark. I ended up combining the marshmallow fluff with white chocolate so the flavor would be there while keeping the ability to break it. Neat, huh?
And there you have it my friends. S'mores in a neat chocolate bark package. No flames necessary.
For a detailed look at how to make this recipe, don't miss the video below.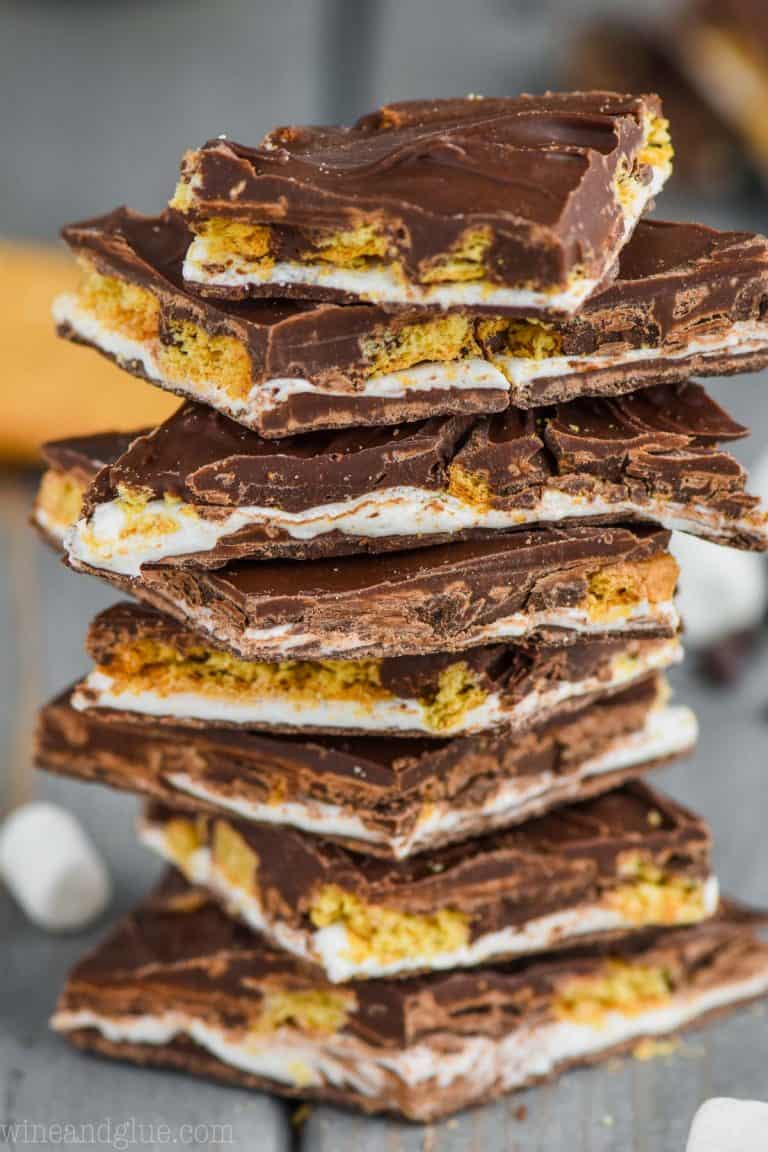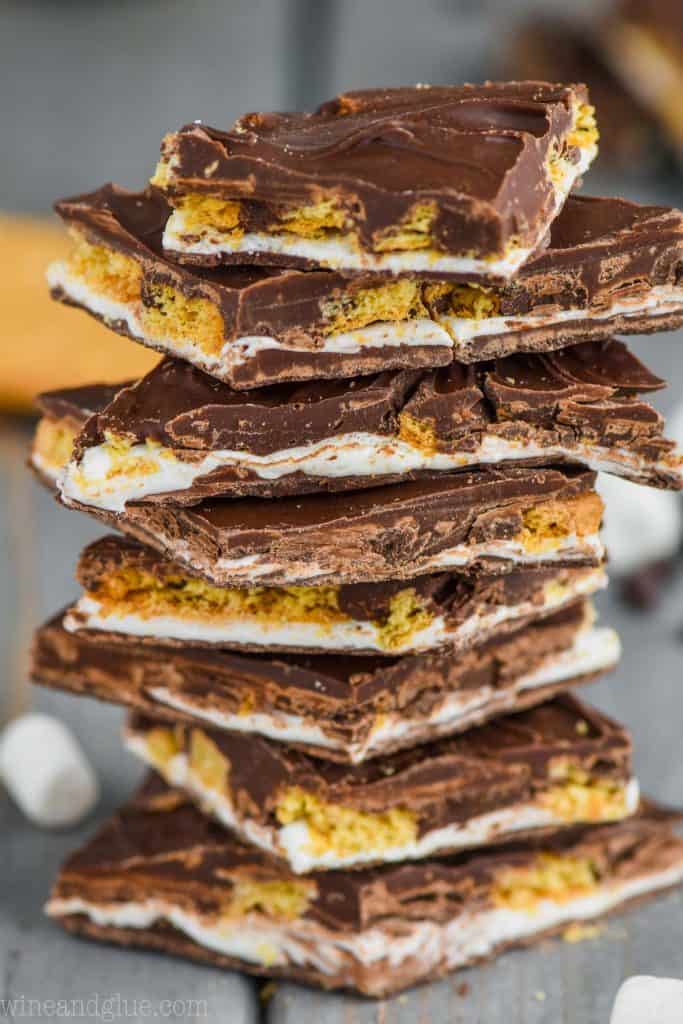 Can you Freeze this Chocolate Bark?
Yes! S'mores bark can be frozen, which is great news! Because then maybe you will space out when you eat it and not hoover it all up in one sitting. Not that I have any experience with that.
To freeze it, place it in a single layer (after breaking it apart) with no pieces touching. Put it in the freezer for one hour. Remove it, put it in a sealed container and leave it in the freezer for up to three months.
How Long Does Chocolate Bark Last?
Ummm, in my personal experience? A day. Just kidding! This s'mores bark will keep in an airtight container on your counter for two weeks. You do not need to refrigerate it.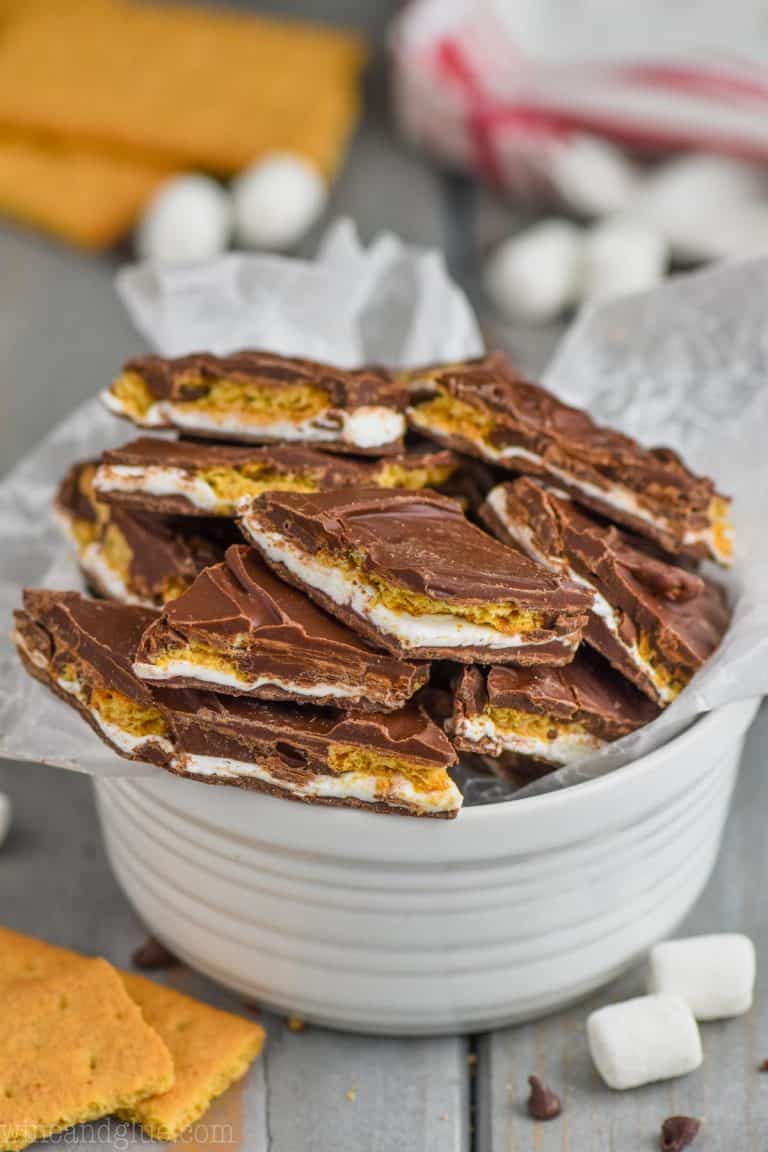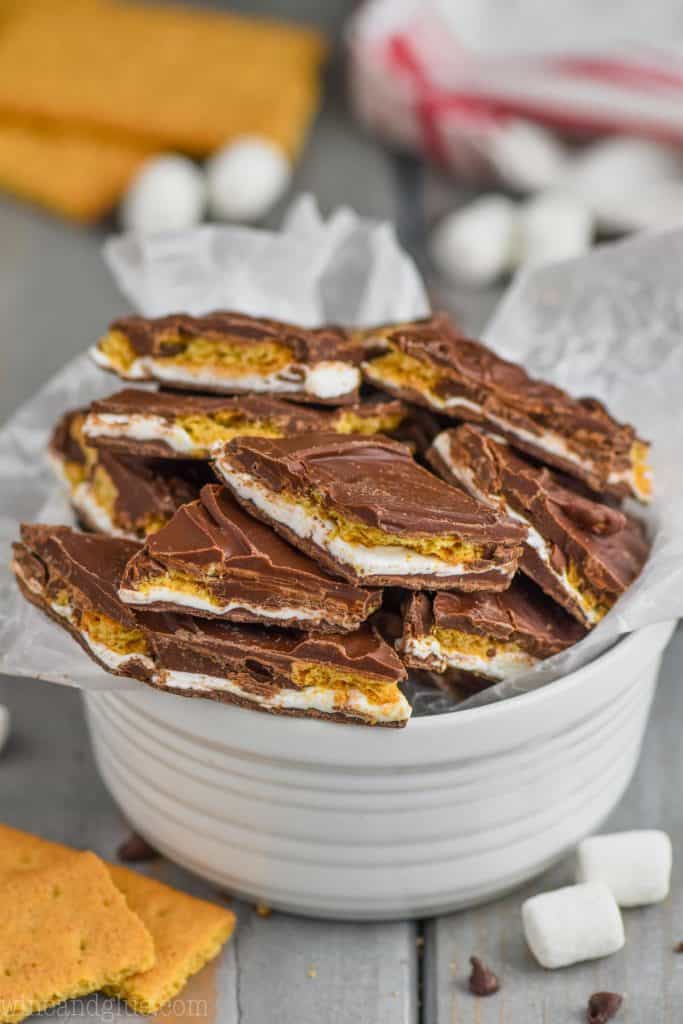 Other Great Chocolate Bark Recipes
MILK CHOCOLATE BARK
WHITE CHOCOLATE BARK
Other Spins on S'mores
If you just can't get enough of that s'mores goodness, check out these other twists.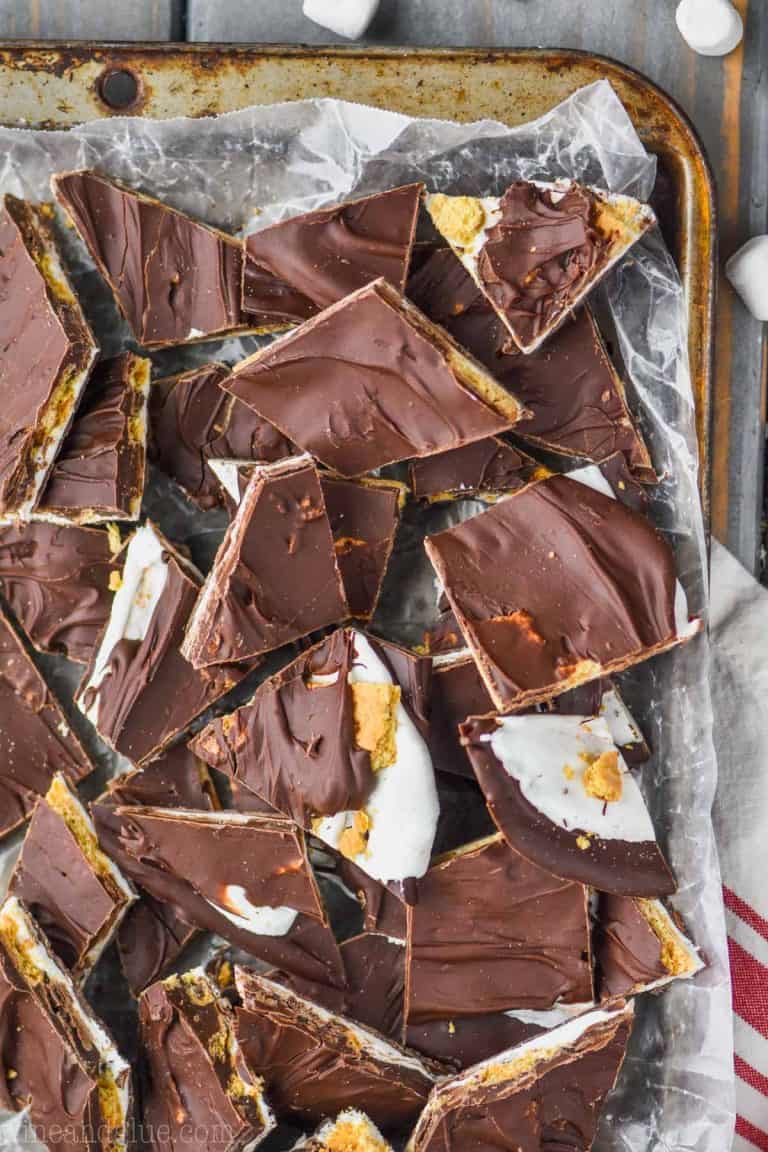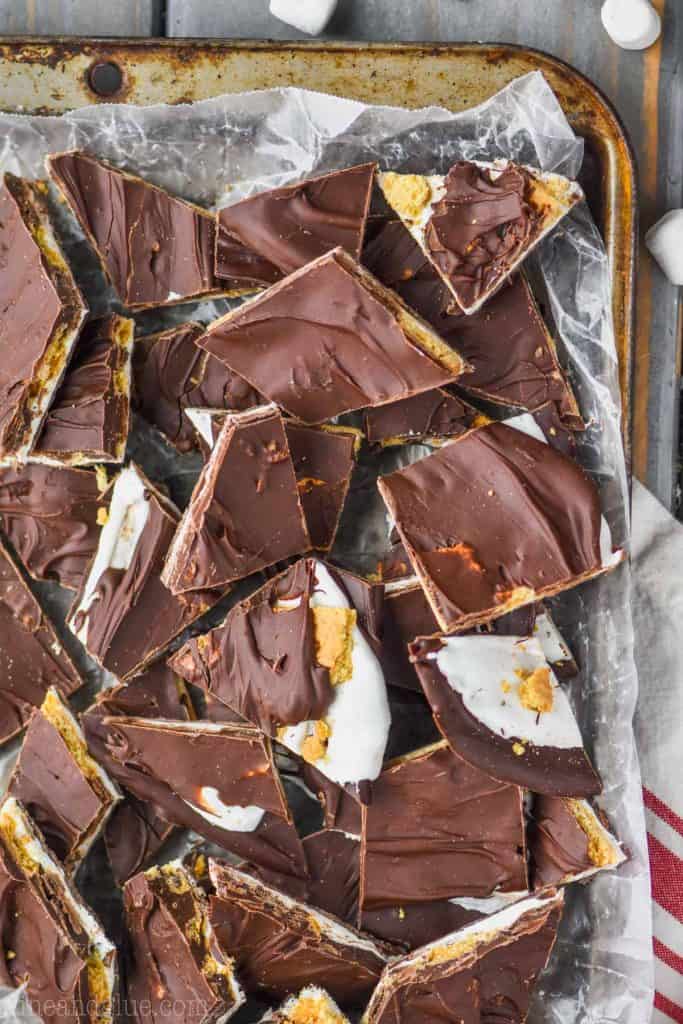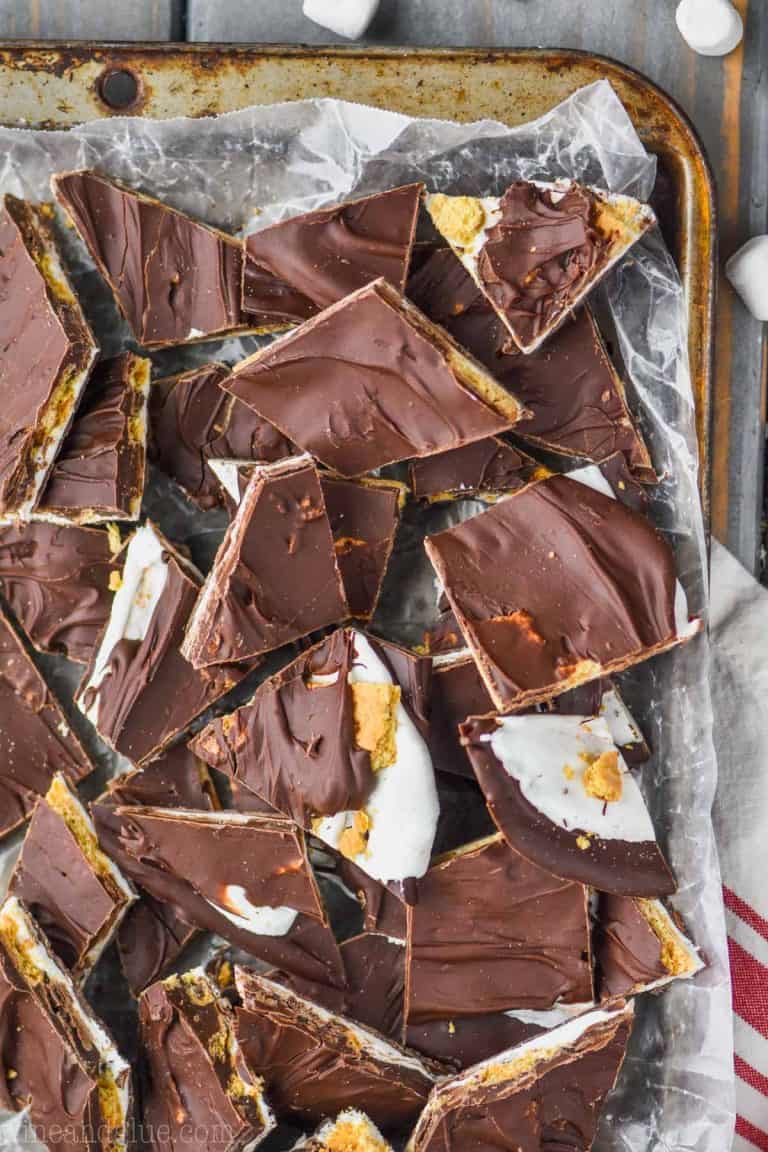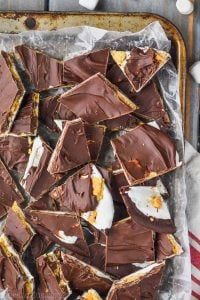 S'mores ChocolateBark
S'mores Chocolate Bark is a yummy, amazing inside out s'mores that you don't even need a camp fire for! Chocolate Bark is my favorite thing to make because it is so easy and the possibilities are endless!
Ingredients
3 1/2

cups

milk chocolate chips

22 ounces

1/2

cup

white chocolate chips

3 ounces

1

cup

marshmallow fluff

3

sheets of graham crackers
Instructions
Melt 1 1/2 cups chocolate chips and spread the chocolate over a wax lined pan. Be careful not to make it too thin. (I used a 10 by 15 pan and didn't go all the way to the edge.) Place the first layer in the refrigerator for about a half hour.

Melt the white chocolate chips in the microwave. Then pour in the marshmallow fluff and microwave for about 30 seconds. Quickly spread the marshmallow layer over the hardened first chocolate layer.

Crumble the graham crackers and press them into the marshmallow layer. Refrigerate for 30 minutes.

Melt 2 cups of chocolate chips and very gently spread it over the graham cracker layer. Put the bark in the freezer for about two hours. Take it out and break it apart.

Keep refrigerated for good and more solid bark.

Leave it out for slightly more delicious, but slightly more squishy bark.
Calories:
87
kcal
(4%)
Carbohydrates:
12
g
(4%)
Fat:
4
g
(6%)
Saturated Fat:
4
g
(25%)
Sodium:
22
mg
(1%)
Potassium:
5
mg
Sugar:
11
g
(12%)
Calcium:
20
mg
(2%)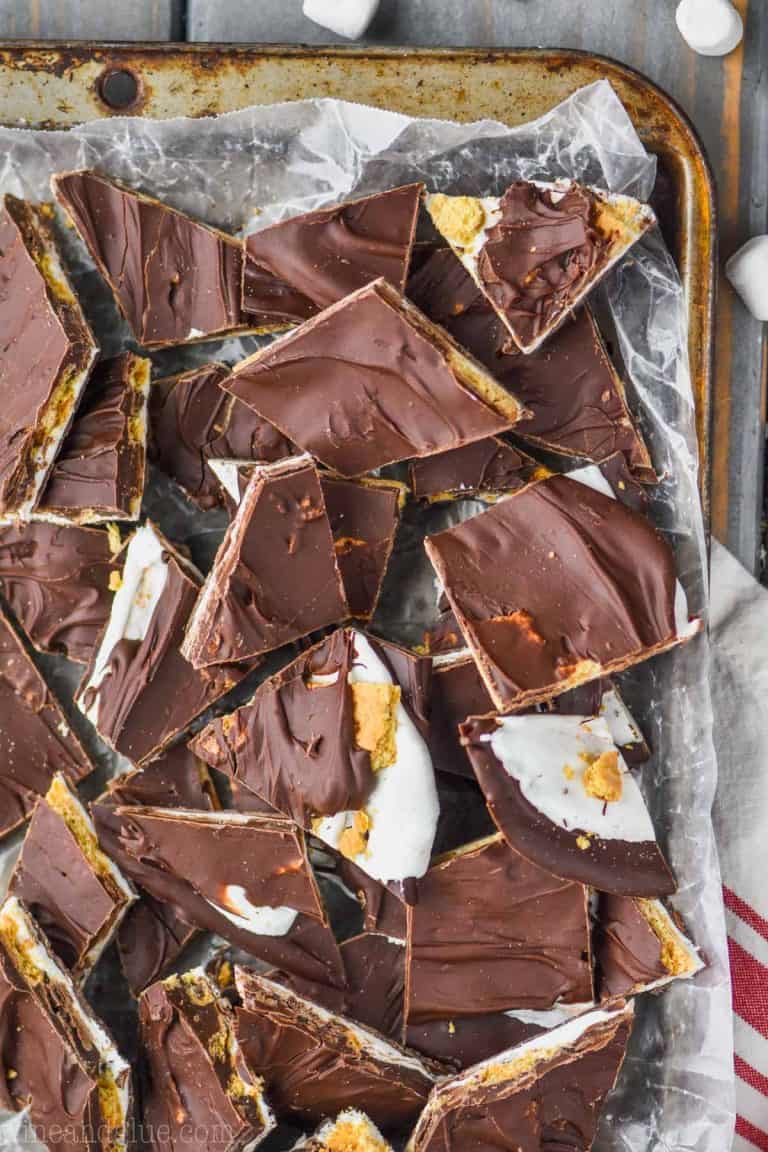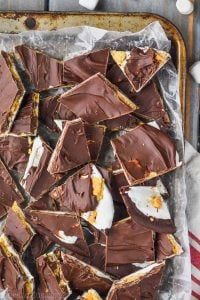 did you make this
S'mores ChocolateBark