This Lemon Drop Martini will make you feel like you are at a high end bar right in your own home. Made with just a few simple ingredients, this martini recipe is going to become your new favorite!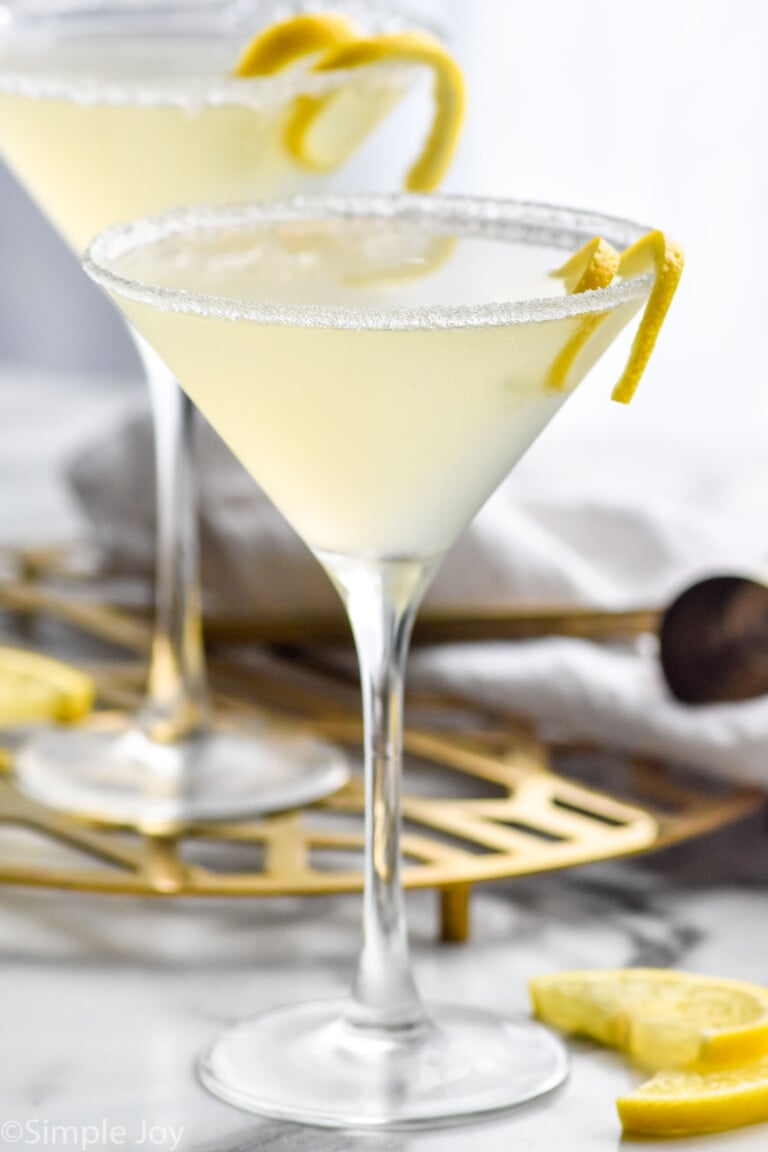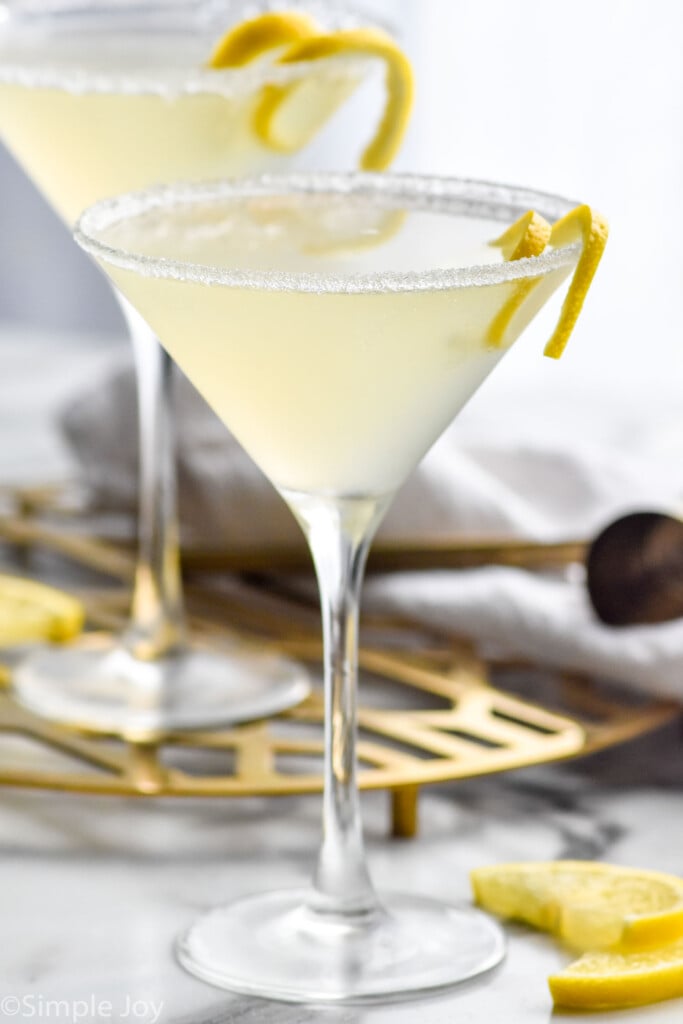 One of my favorite things to order when I go out for a fancy dinner is a martini. I love a good Dirty Martini, but if it is towards the end of dinner and I am in the mood for something sweeter, a Lemon Drop Martini is the thing that totally hits the spot. A lemon drop tastes lemony and sweet with the perfect balance of sweet and sour.
Reader Review
Thank you for this very simple and delicious recipe. I've been on a lemon drop kick lately when I go out. Paying $15 – $20 for a martini is crazy when I've got the ingredients at home. Love that it's simple and oh so good. Cheers!!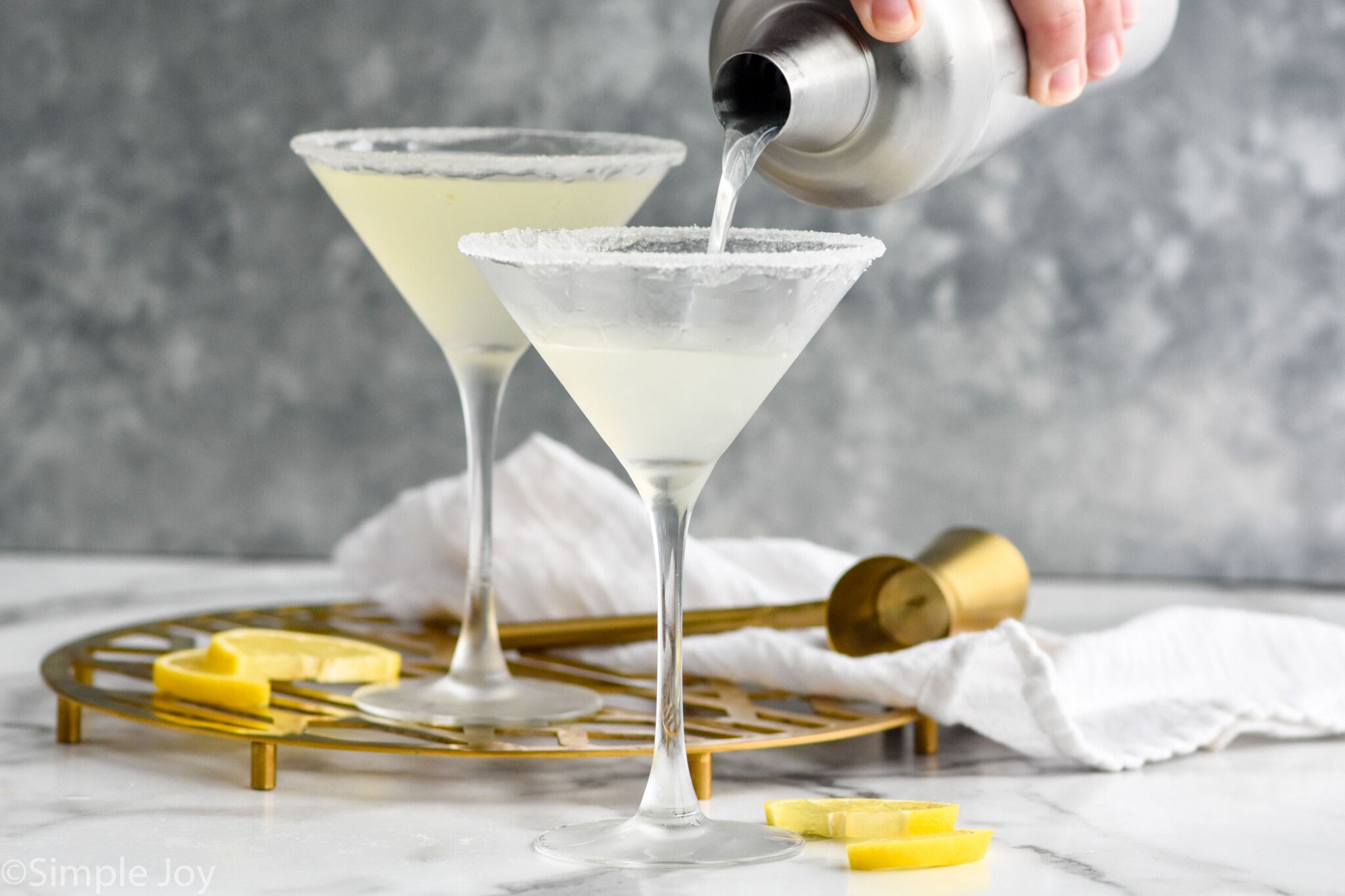 Lemon Drop Martini Ingredients
This easy to make at home luxury cocktail has just three simple ingredients. For the measurements, make sure to scroll to the recipe card at the bottom of the post or use the blue dot "jump to the recipe" button above.
Vodka: Read my recommendations on vodka below.
Simple syrup: I love making my own simple syrup and keeping a jar of it on hand in the refrigerator, but you can also buy it in the liquor section of your grocery store. The sweetness of the simple syrup is the perfect balance against the sourness of our next ingredient.
Fresh lemon juice: It is important with only three ingredients in this recipe that you use fresh lemon juice and not bottled. Buy lemons that are firm but with a slight give to them. See my tips below on getting the most juice from your lemons.
Simple Syrup
Simple syrup is easy to make at home and can be used in hundreds of cocktails!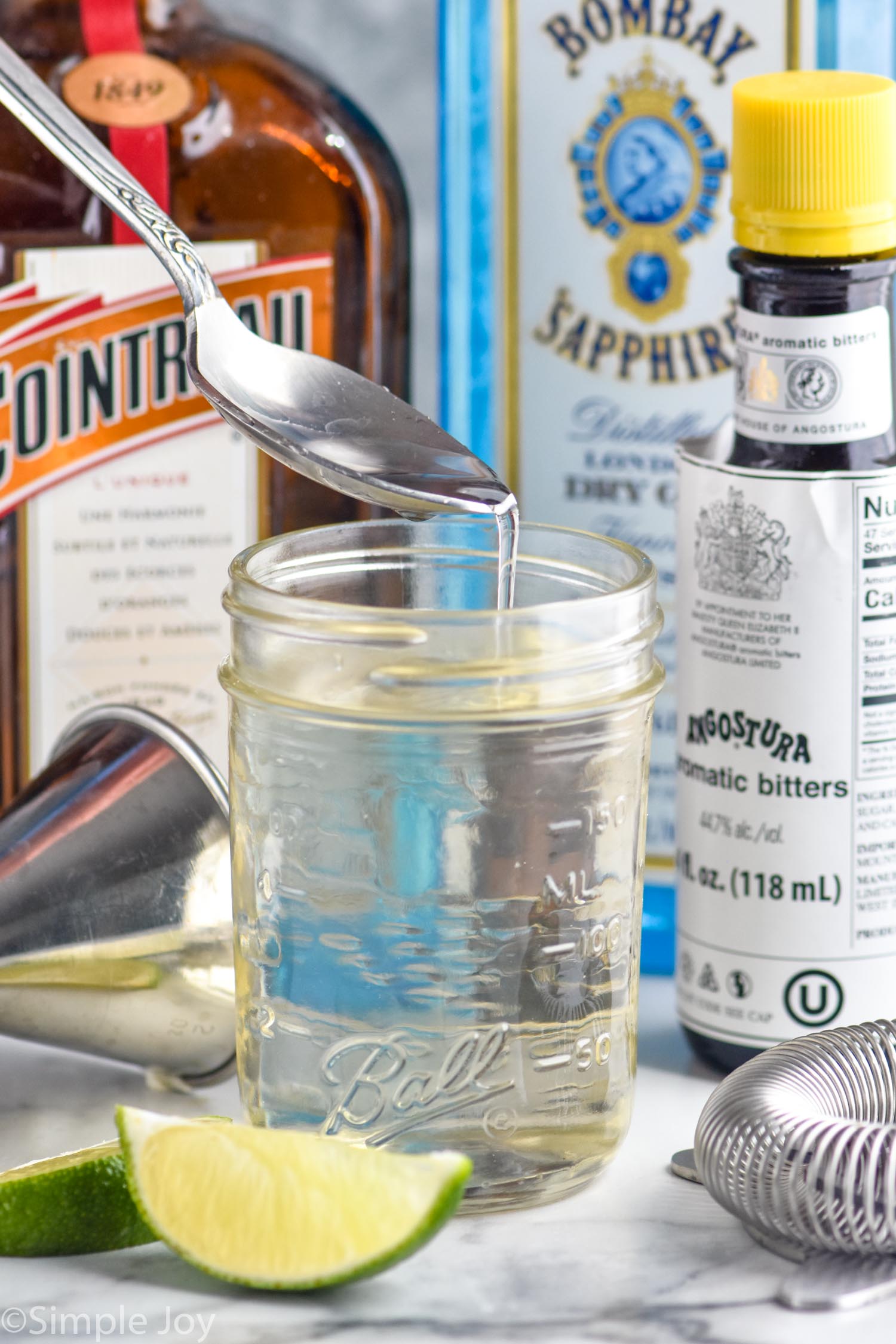 How to Make a Lemon Drop Martini
Here is a brief overview of how to make a lemon drop martini at home. For the full recipe including all measurements, scroll to the recipe card at the bottom of the post.
Prep your glass. Rim the glass with a lemon wedge and dip the rim of the glass in granulated sugar. If you want to get fancy you could add a little lemon zest to the sugar before rimming.
Fill a shaker with ice. I love using a metal shaker because it makes your drink ice cold. If you don't have a cocktail shaker, you could use a mason jar with a lid.
Add the remaining ingredients to the martini shaker. Shake well until all ingredients are well combined and ice cold. You'll know this has happened when your shaker starts to feel cold. Strain into your prepared martini glass.
Garnish. You can finish by adding a lemon curl! See more on this below.
Vodka Recommendations
There are so many great vodkas on the market that come in different price points. If you are looking for a higher end vodka, Grey Goose and Belvedere are great options. This recipe is largely made up of vodka, so using a higher end option is a great idea.
If you need a more budget friendly option, Titos is great. Another fantastic budget friendly vodka is Kirkland Vodka that you buy from Costco. In blind taste tests, people often can't taste the difference from Kirkland and Grey Goose.
Getting Juice From Lemons
Microwave your lemons for 10 seconds to help them release their juice. You can also try rolling your lemons between your hand and the counter. Strain the lemon juice to remove any pulp and seeds.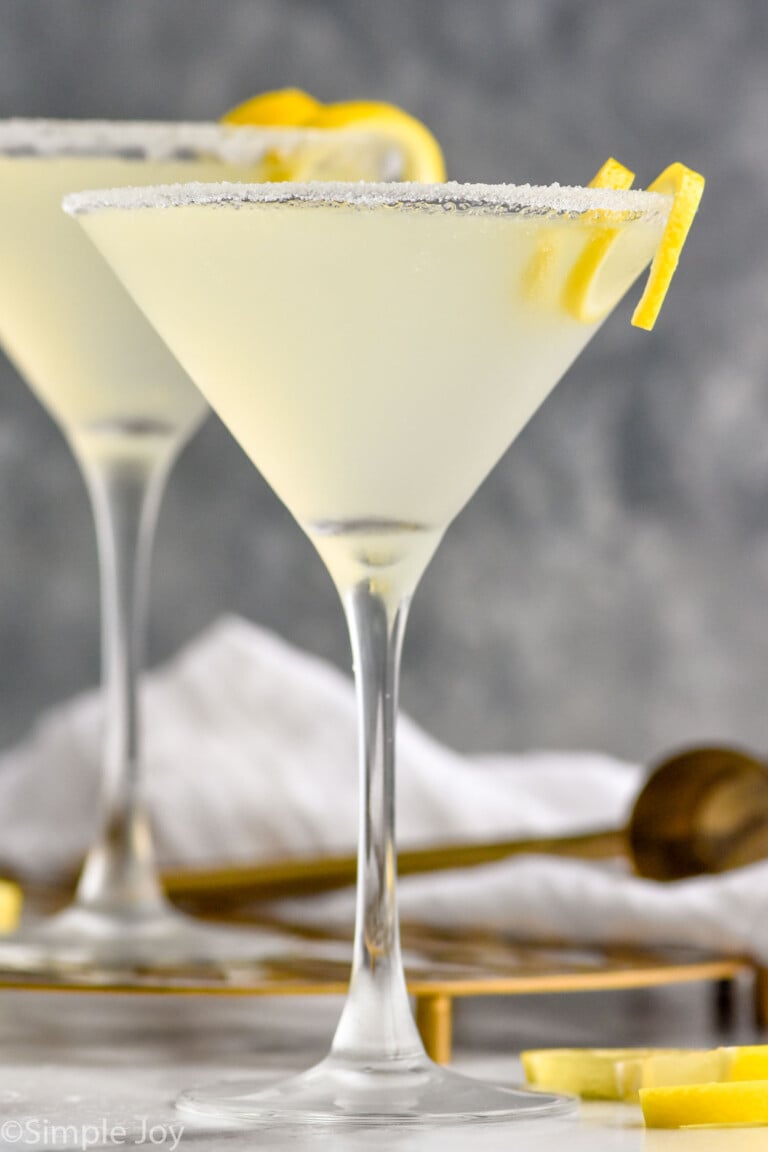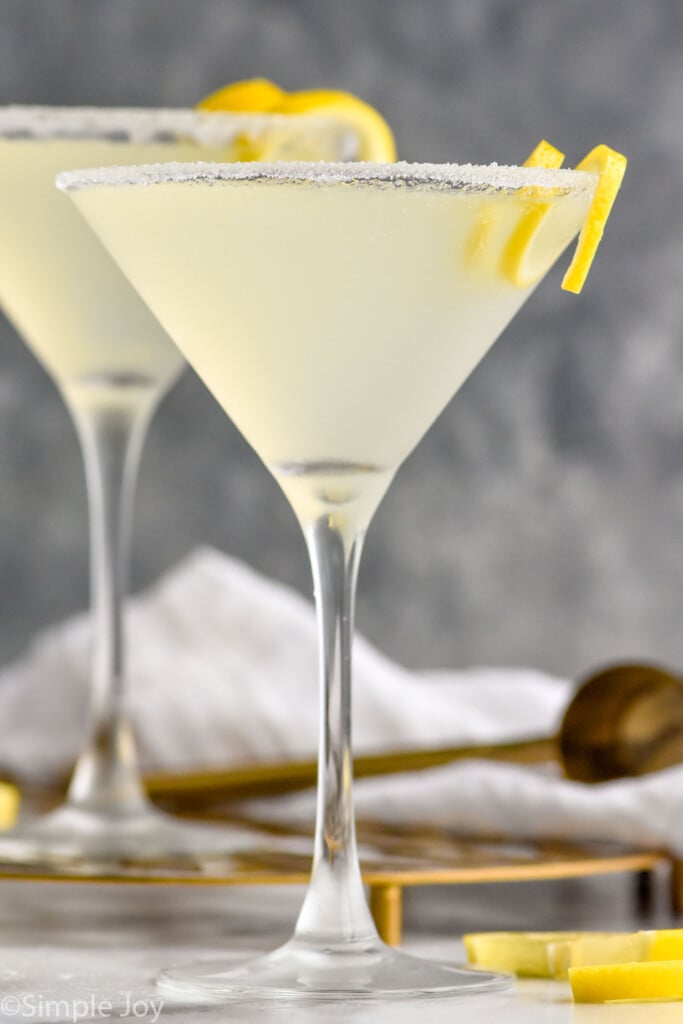 Using Limoncello
Some have asked me if you can make a lemon drop martini with limoncello. I love limoncello with all my heart, but I always stick to lemon juice for this recipe. It brings a freshness to this recipe that perfectly balances the simple syrup and vodka.
Prepping Your Martini Glasses
Rimming your martini glass with sugar is a way to add a little more sweetness with each sip. To do this, run a slice of lemon around the entire edge of your glass, this will give the sugar something to stick to. Next, roll the rim in a shallow plate of sugar to coat it. If you want to get fancy you could add a little lemon zest to the sugar before rimming. Prepare your glasses prior to making the cocktail.
TOP PICK
Martini Glasses
While these aren't the glasses you see pictured, I love JoyJolt! Their glasses are my favorite in my collection, and these are gorgeous!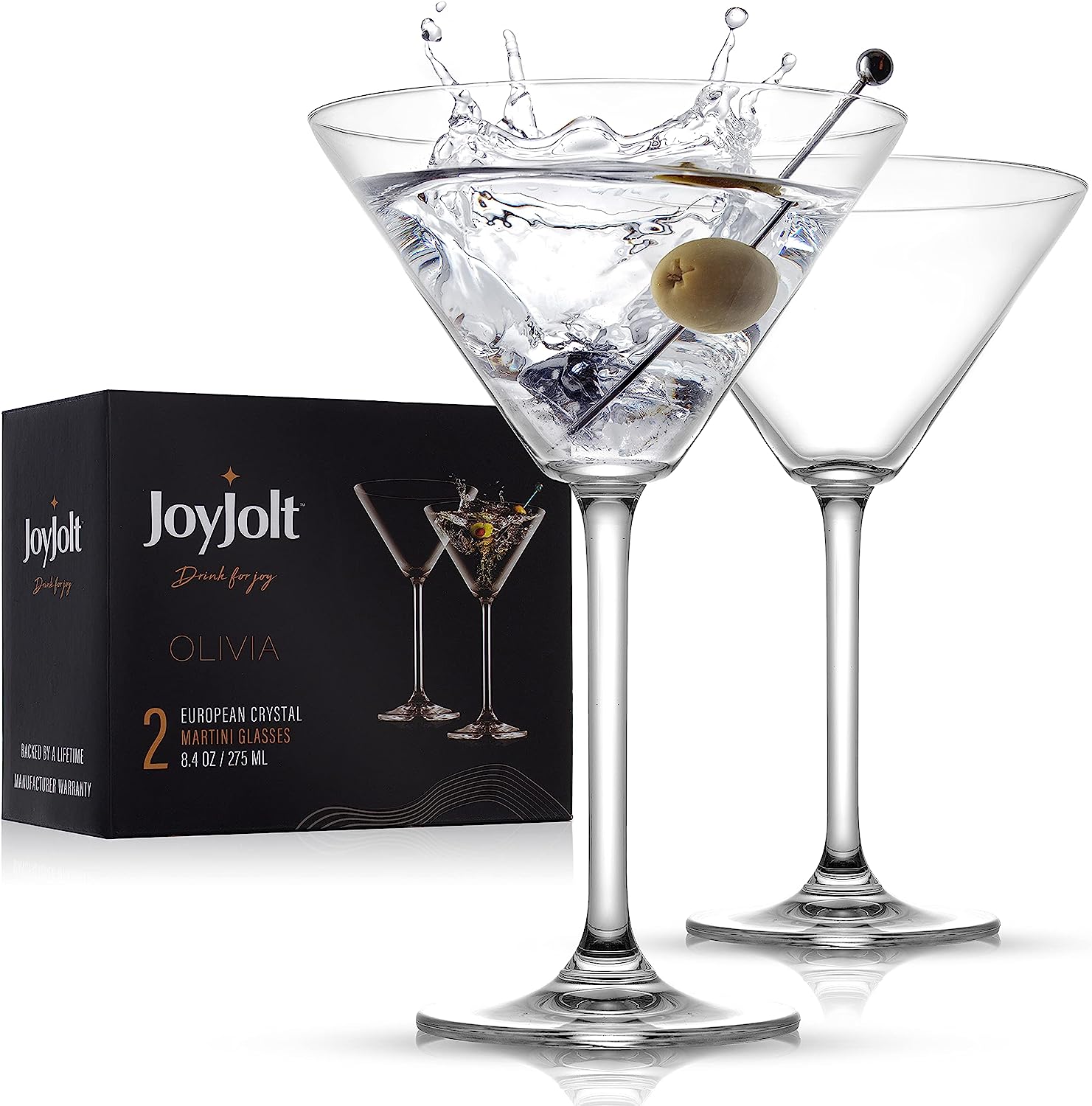 How To Make a Lemon Twist
A lemon twist is a simple garnish that can add some festive flair to your cocktail. Here is how to make one.
Cut a slice of lemon and cut a small slice in it, removing the inside of the lemon leaving just a strip of peel.
Curl the peel around a chopstick until it makes a nice curl. You can also twist it into a spiral if you don't have a chopstick handy.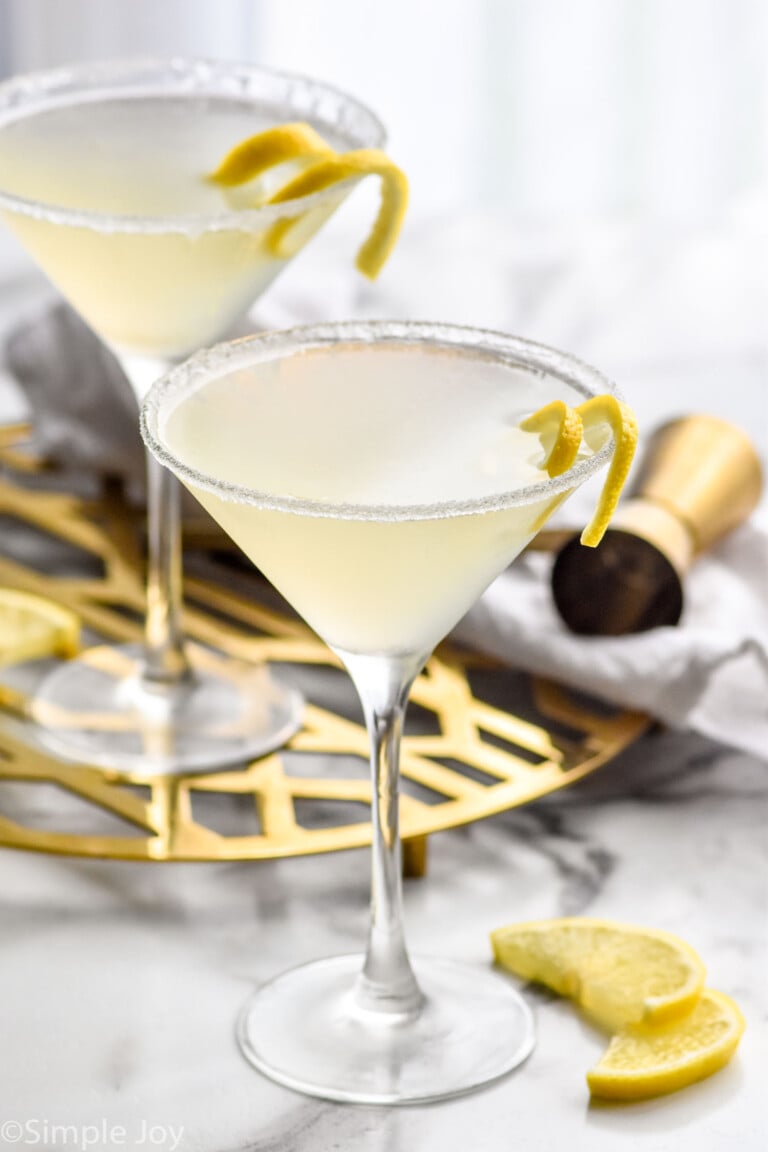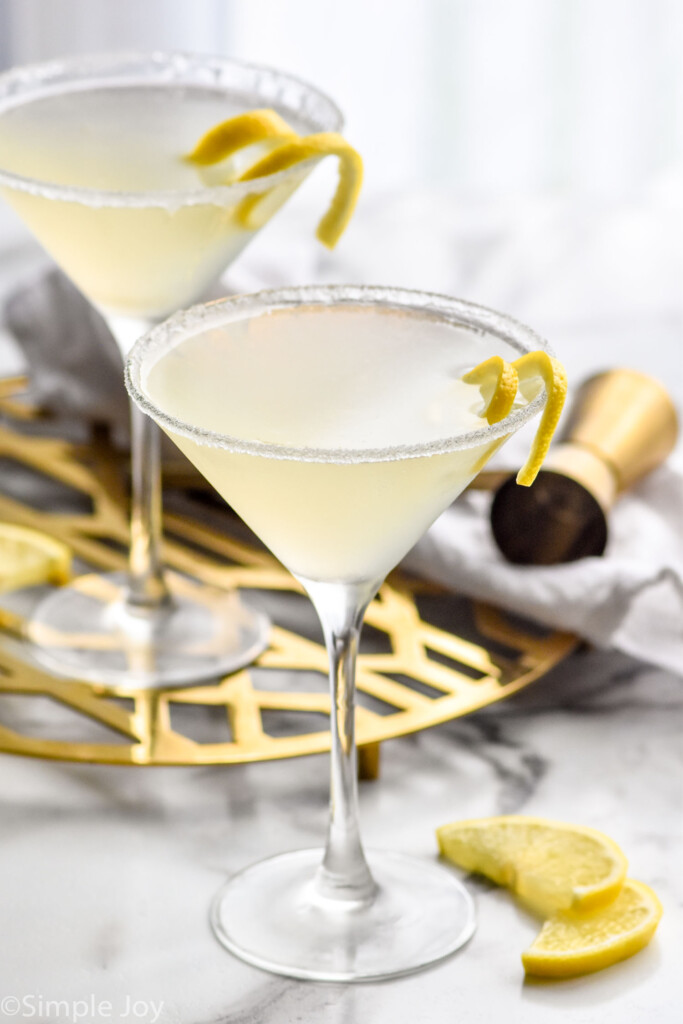 Other Great Dessert Martini Recipes
If you make this Lemon Drop Martini recipe or any of my other martini recipes, please leave me a comment and let me know what you think!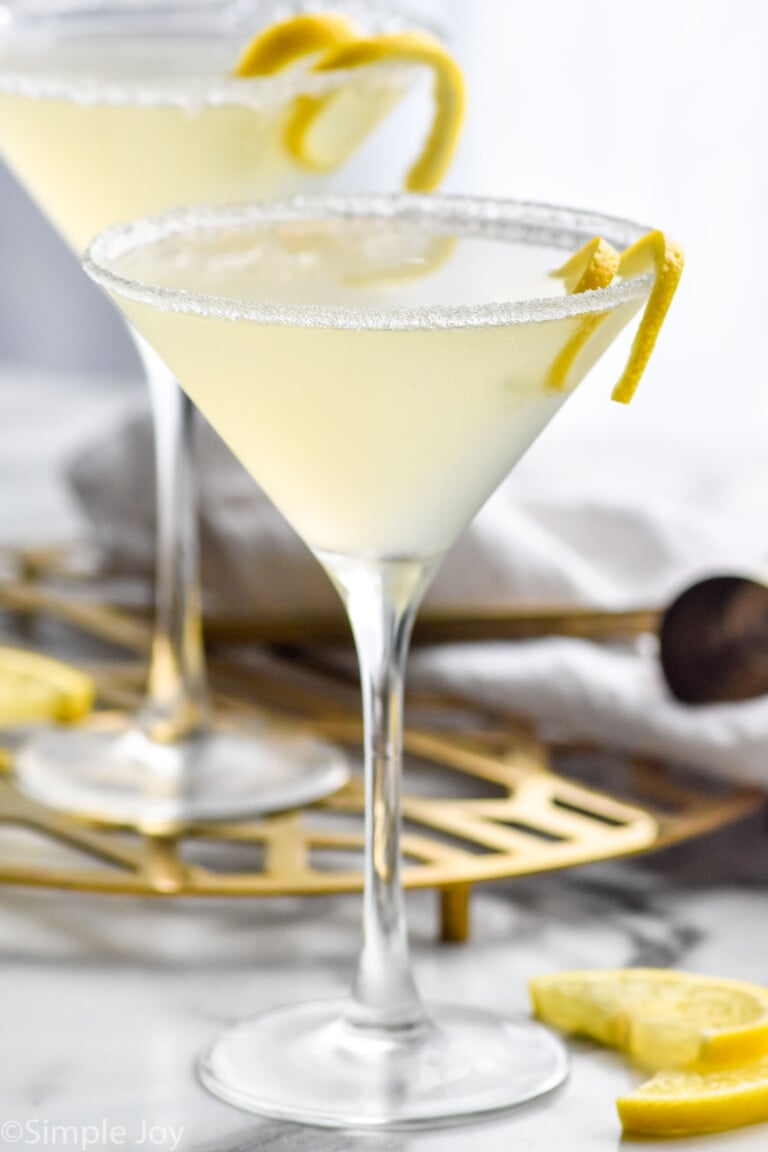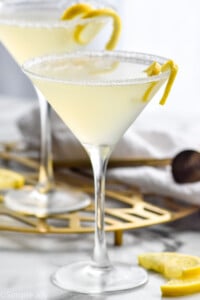 Lemon Drop Martini
This Lemon Drop Martini is a classic! So simple and easy to make, yet completely delicious and perfect!
Ingredients
2

ounces

vodka

1

ounce

simple syrup

1 1/2

tablespoons

fresh lemon juice

(plus more to rim the glass)

sugar for garnishing the glass
Instructions
Fill a metal martini shaker with ice.

Rub a lemon wedge around the edge of a martini glass. Dip the glass in sugar.

Add the vodka, lemon juice, and simple syrup to the martini shaker. Shake until combined and the shaker begins to feel cold in your hands.

Pour into the prepared glass.
Calories:
220
kcal
(11%)
Carbohydrates:
22
g
(7%)
Sodium:
1
mg
Potassium:
24
mg
(1%)
Sugar:
21
g
(23%)
Vitamin C:
12.4
mg
(15%)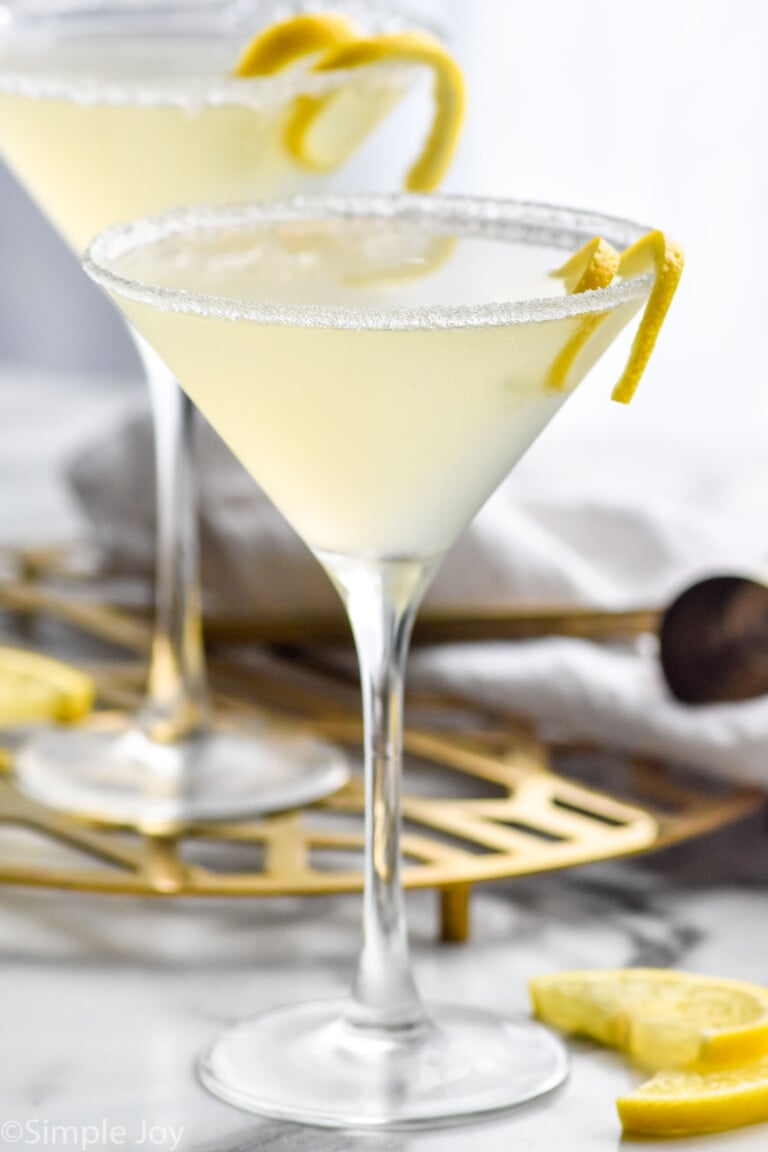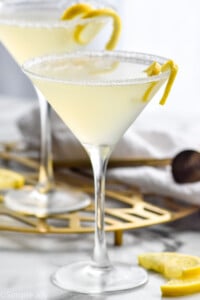 did you make this
Lemon Drop Martini