This Cosmopolitan Drink is the perfect martini recipe for a girl's night, book club, or just a quiet night at home. Made with just four simple ingredients, you will fall in love!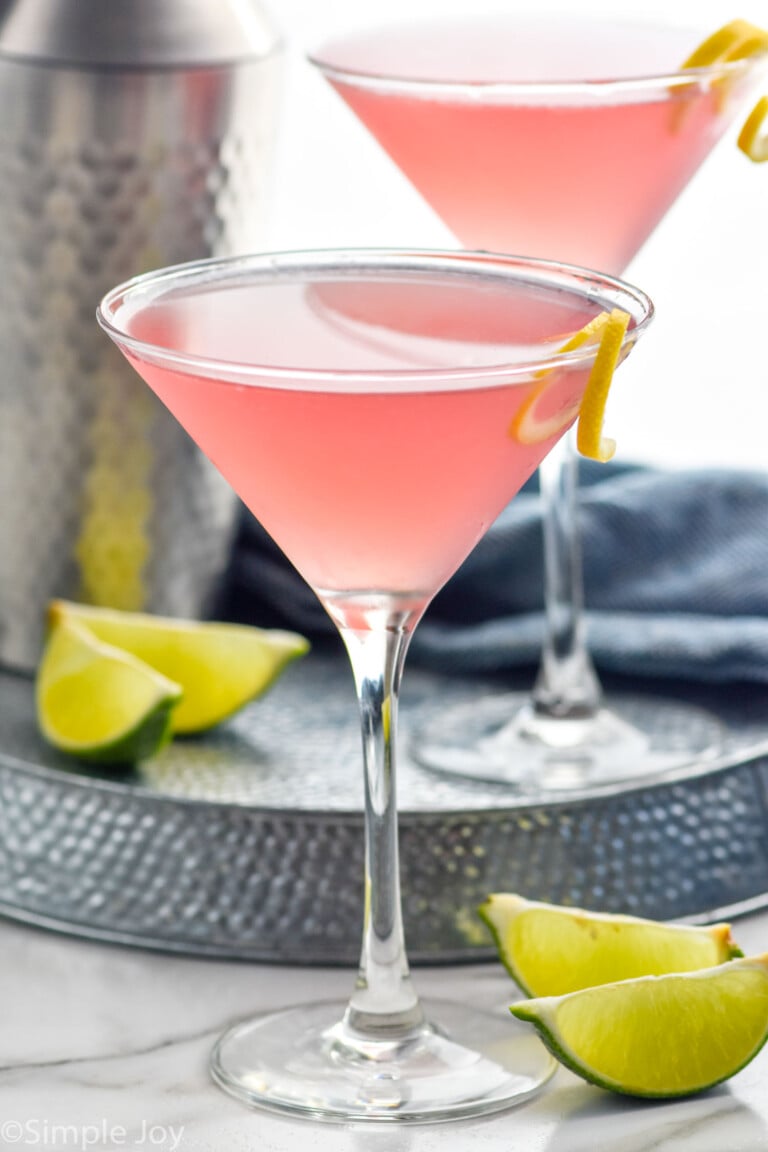 My dear friend, Dorothy, and I have spent many an evening in a cocktail lounge of hotels and a great Cosmo is always her drink of choice. You see, Dorothy and I travel together so often for work. Long ago she went from a colleague to a true friend that I can spill my guts to. And I love catching up with her in those down moments between different events on work trips.
If you have a wonderful Dorothy in your life, make her this great Cosmo Cocktail. It is made with simple to find ingredients, and while you might only order when you and she are in cocktail lounges, it couldn't be more simple to make right in your own home.
Reader Review
Love it. Can't comment any longer, I'm too busy sipping it. Cheers 🥂
Cosmopolitan Drink Ingredients
The best cosmopolitan recipe only has four ingredients, so you want them to be good! For all the measurements, see the recipe card at the bottom of the post.
Vodka: Using good-quality vodka is very important in this recipe, since it is the base of the recipe. Fortunately, there is a great vodka at every price point. Read my recommendations below.
Orange liqueur: Cointreau or Grand Marnier are good quality orange liqueurs. In a pinch or on a budget, triple sec will work. I share more on your choices below.
Fresh lime juice: Using juice from fresh limes is always best for cocktails. I will admit that when I'm out, I reach for the bottled lime juice, and if you can't make it to the store that will also work here.
Cranberry cocktail: Traditionally, 100% cranberry juice is very tart. So instead, I recommend using a cranberry cocktail for this recipe which is a blend of cranberry juice with other fruit juices, making a sweeter and less-tart juice.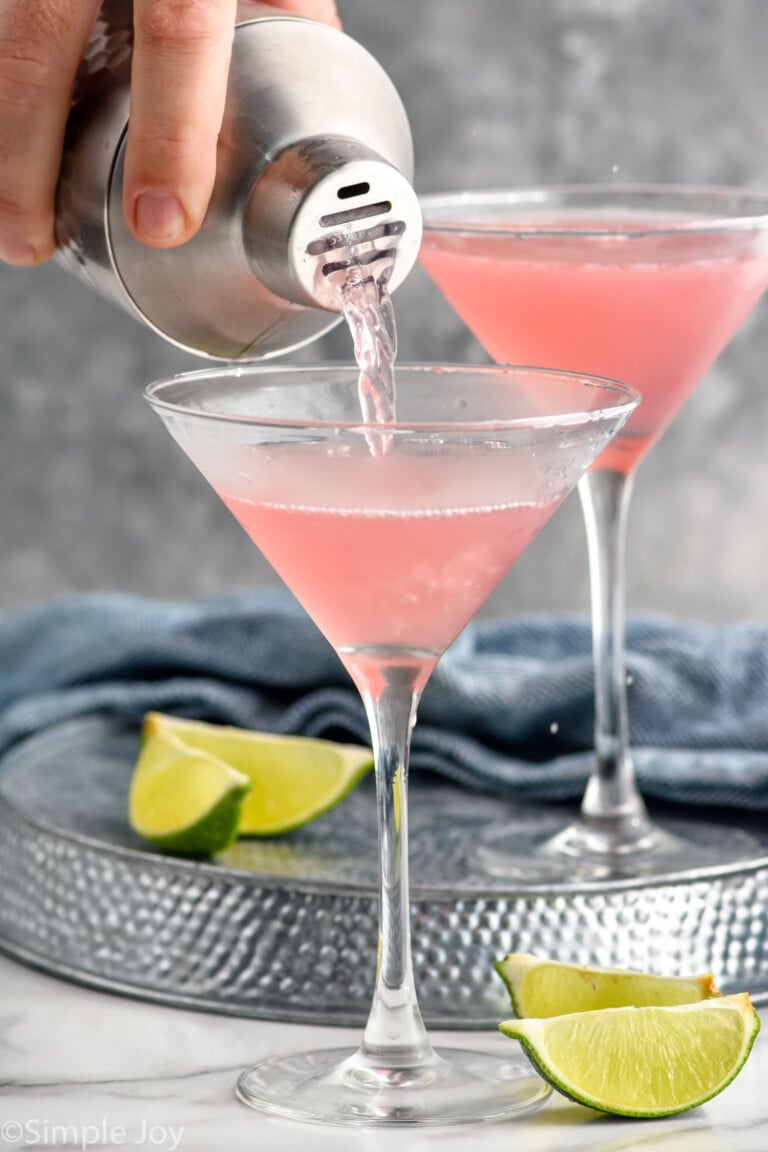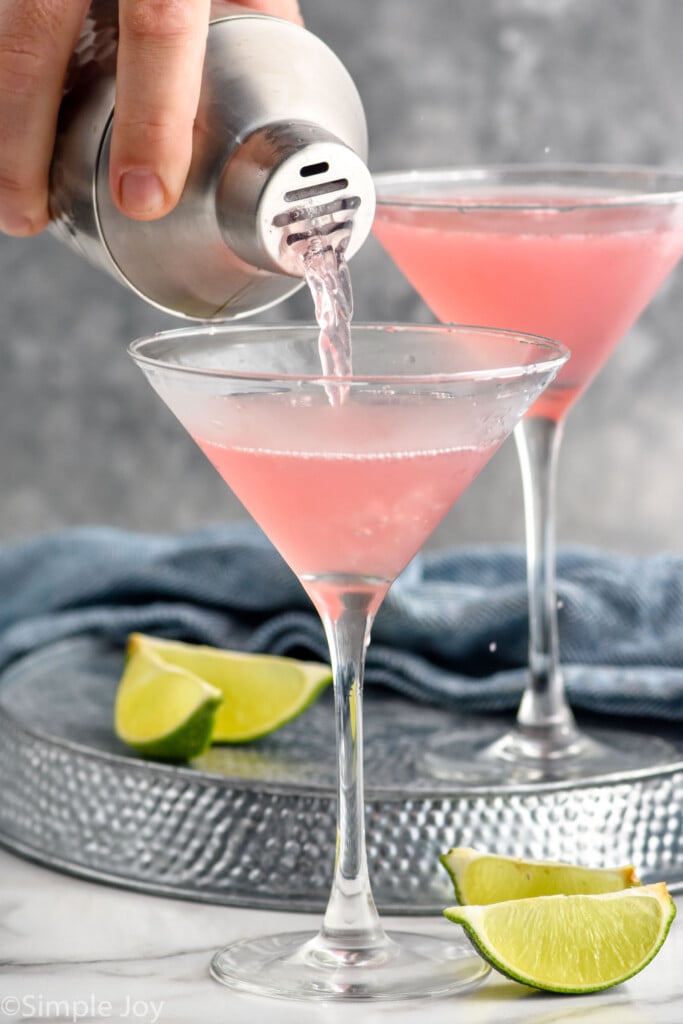 How to Make a Cosmopolitan
Here is a brief overview of how a cosmopolitan martini comes together. For the full recipe including all measurements, scroll to the recipe card at the bottom of the page.
Chill your martini glasses. Fill your martini glass with ice and water and put it in the refrigerator. If you can plan ahead it is best to leave it in there for four hours. This will help keep your martini colder longer.
Combine ingredients. Add ice to your metal cocktail shaker. Pour in the vodka, orange liqueur, lime juice, and cranberry juice. Give it a shake. You'll know it is well shaken when the shaker feels cold in your hands.
Get your glass. Dump the ice water out of your martini glass and wipe it down.
Serve your cosmo. Strain the cocktail into the chilled martini glass and garnish with a lemon twist or lime wedge.
Vodka Recommendations
As mentioned above, you want to pick a high quality vodka as it is the back bone of this drink.
Grey Goose and Belvedere are my recommendations for top-shelf vodka, and Tito's is my recommendation for a budget-friendly vodka.
If you are on a budget, but you want to get that high end taste, I highly recommend Costco's Kirkland brand vodka. It is extremely smooth, and in blind taste tests it has beaten out Grey Goose.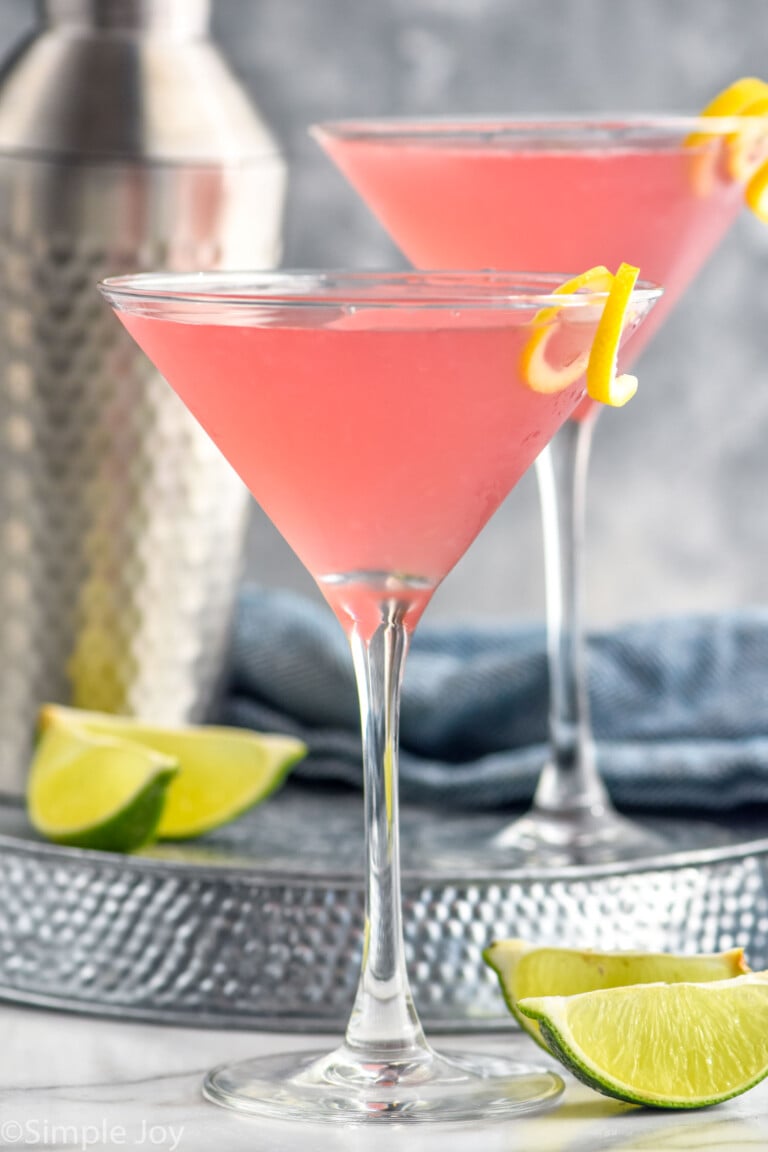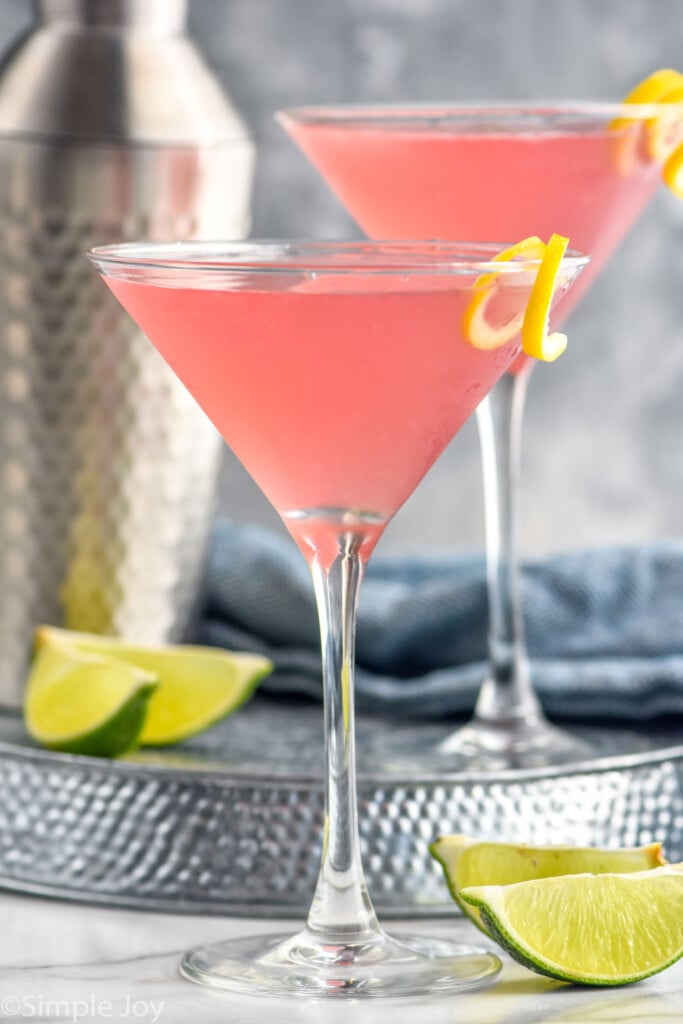 Orange Liqueur
This cosmopolitan drink recipe calls for orange liqueur. This comes in a few different forms, such as Cointreau, triple sec, and Grand Mariner. Cointreau is a top-shelf version of triple sec, a sweet orange liqueur. They vary in alcohol content with Cointreau coming in around 40% and triple sec hanging out around 25%. Grand Mariner blends cognac and orange liqueur and could be used here.
I highly recommend investing in a bottle of Cointreau. I use it in my famous Margarita Recipe, and it really does take cocktails to the next level.
TOP PICK
Martini Glasses
I love these martini glasses. JoyJolt does such a great job with their glasses, these are sure to impress.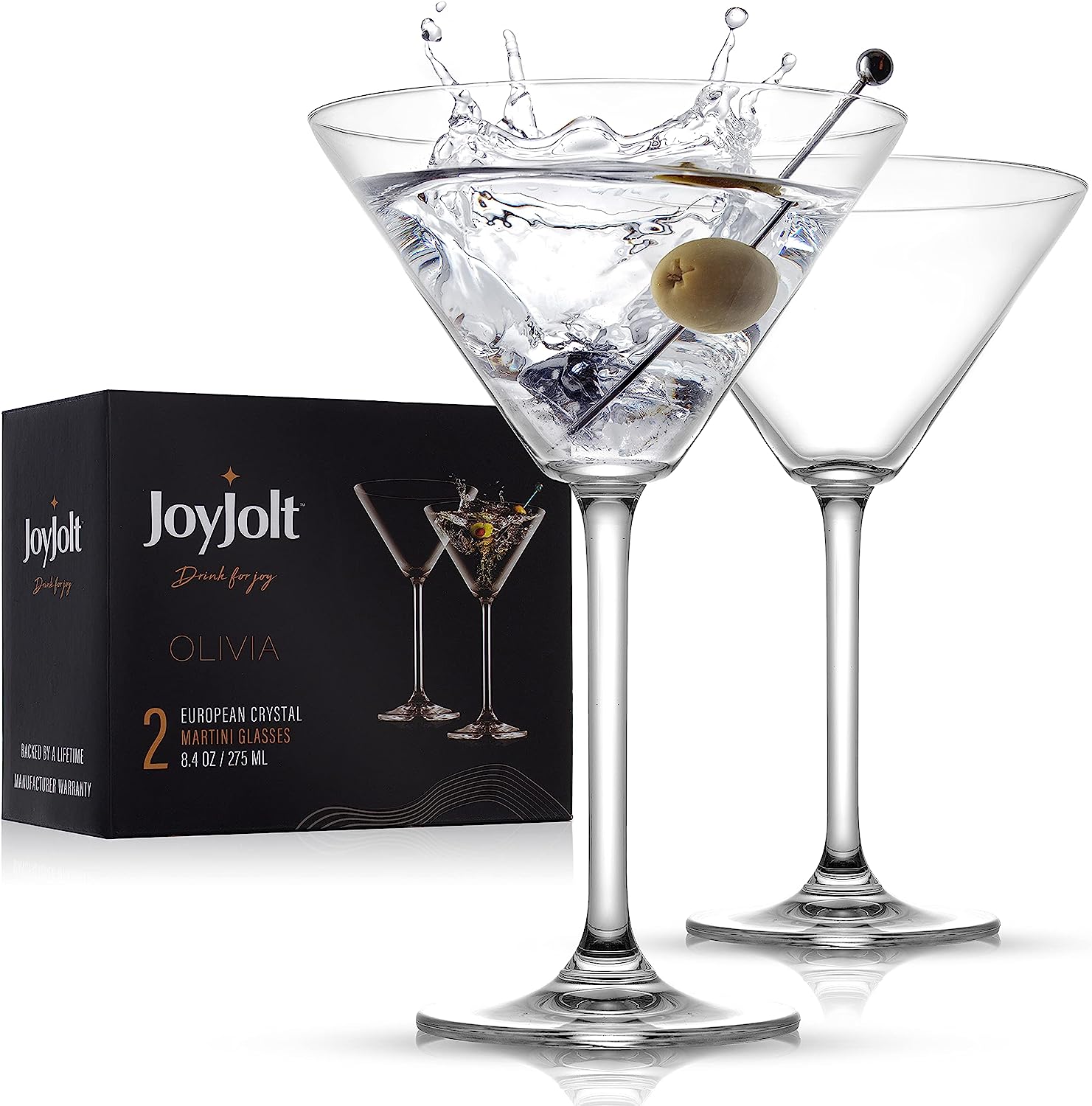 Chilling Martini Glasses
This cocktail, like all martinis, is best served cold. Because we don't serve them with ice due to the risk of diluting it, chilling the martini glasses is a great way to help keep the drink colder longer.
Fill the martini glasses with ice and then top with water. Put the glasses in the refrigerator for as short as 10 minutes or as long as a few hours. While any amount of time will help keep the drink stay cold, letting them sit longer will keep your drink colder longer.
Dump out the ice and water, and wipe down the glasses before straining your martini ingredients into the chilled glass and enjoy a cocktail that stays cooler longer.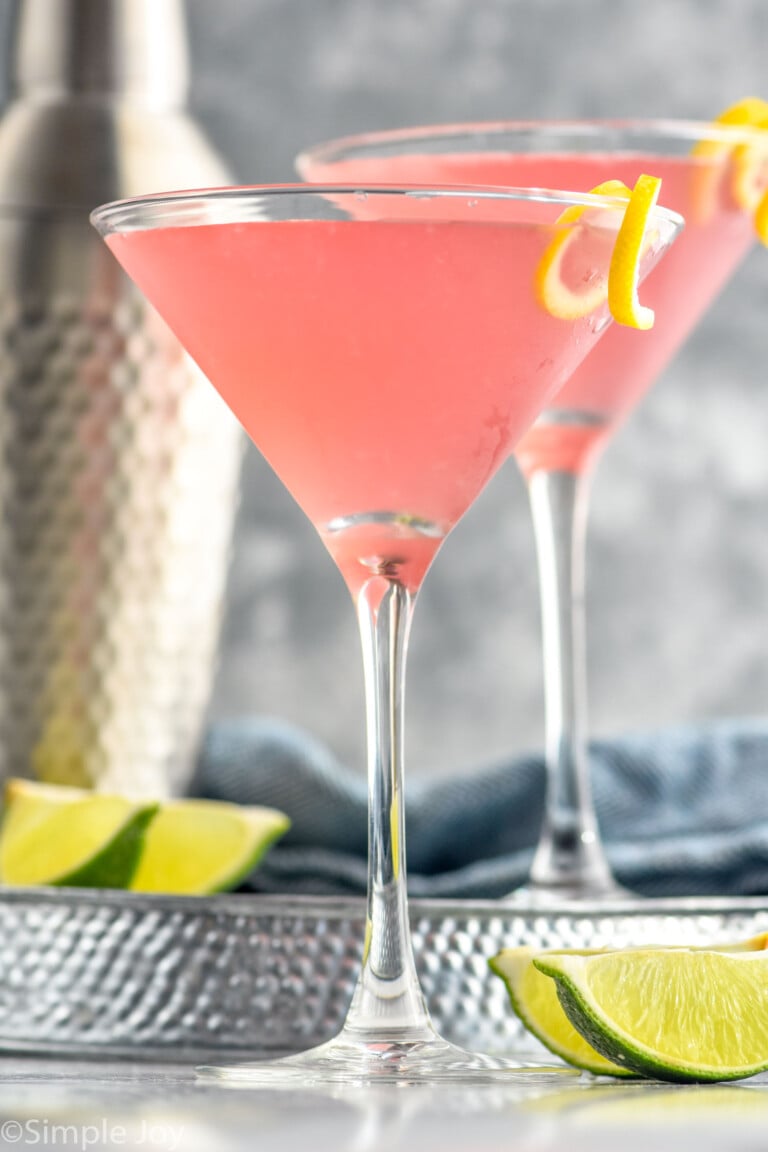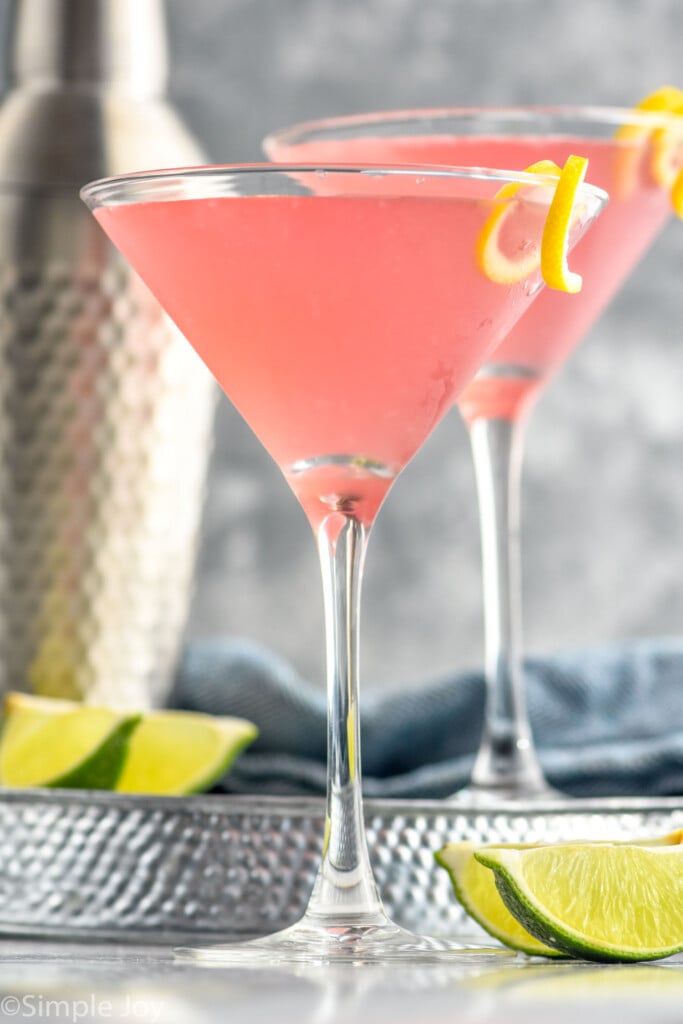 More Martini Recipes
If you are looking for more great martini recipes, check out these classics!
The classic Dirty Martini has the perfect ratio of ingredients. The dirtier the better!
Fruity and tart, the Lemon Drop Martini will make you feel like you are at a high end bar right in your own home.
Gin Martini is perfect for gin lovers! Follow my tips to make this cocktail absolutely perfect.
If you try this cosmopolitan cocktail recipe or any of my other recipes, please leave me a comment and let me know what you think! I love hearing from you!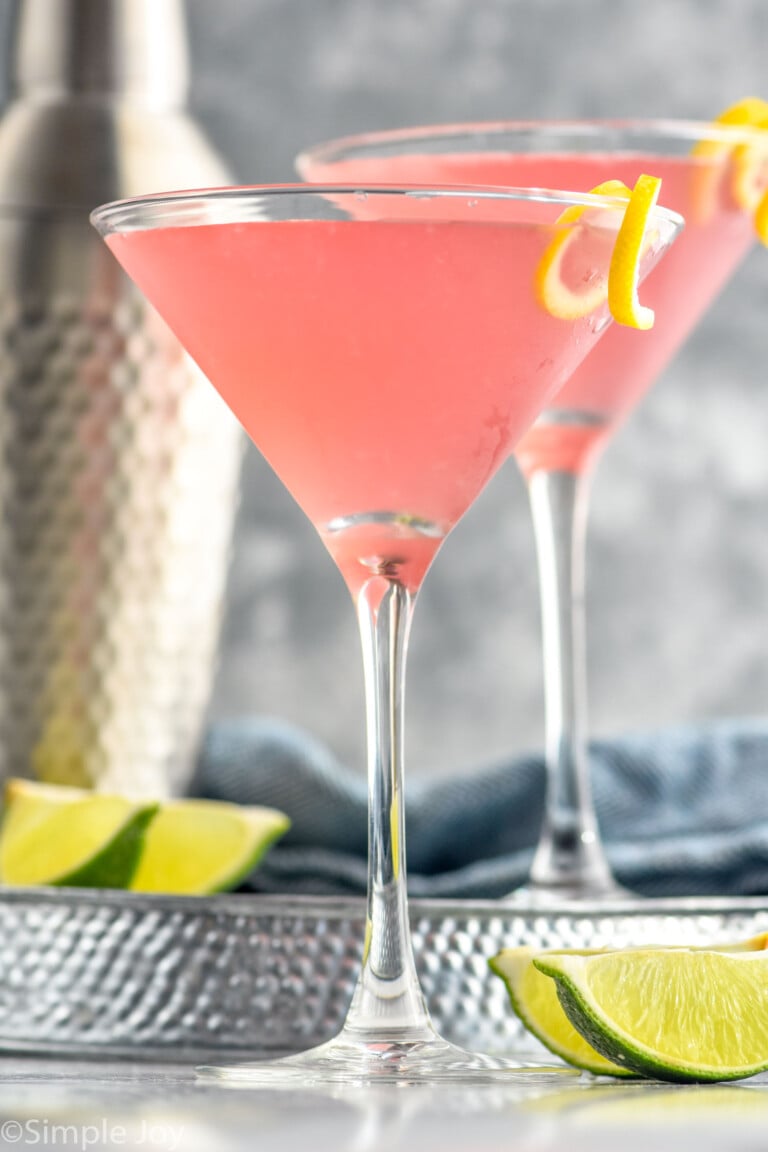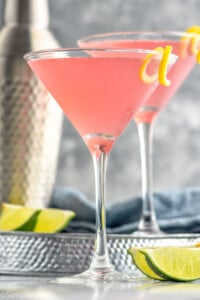 Cosmopolitan Cocktail
This Cosmopolitan Cocktail is the perfect martini recipe for a girl's night, book club, or just a quiet night at home. Made with just four simple ingredients, you will fall in love!
Ingredients
Instructions
For best results, up to four hours before serving, fill your martini glasses with ice and water and store in the refrigerator. When ready to make your drink, drain the water, and wipe down the glasses. You an read more about this here.

Combine all of the ingredients in a metal shaker filled with ice. Shake to combine, until the metal of the shaker begins to feel cold in your hands.

Strain into a martini glass. Garnish with a lemon twist or a lime wedge.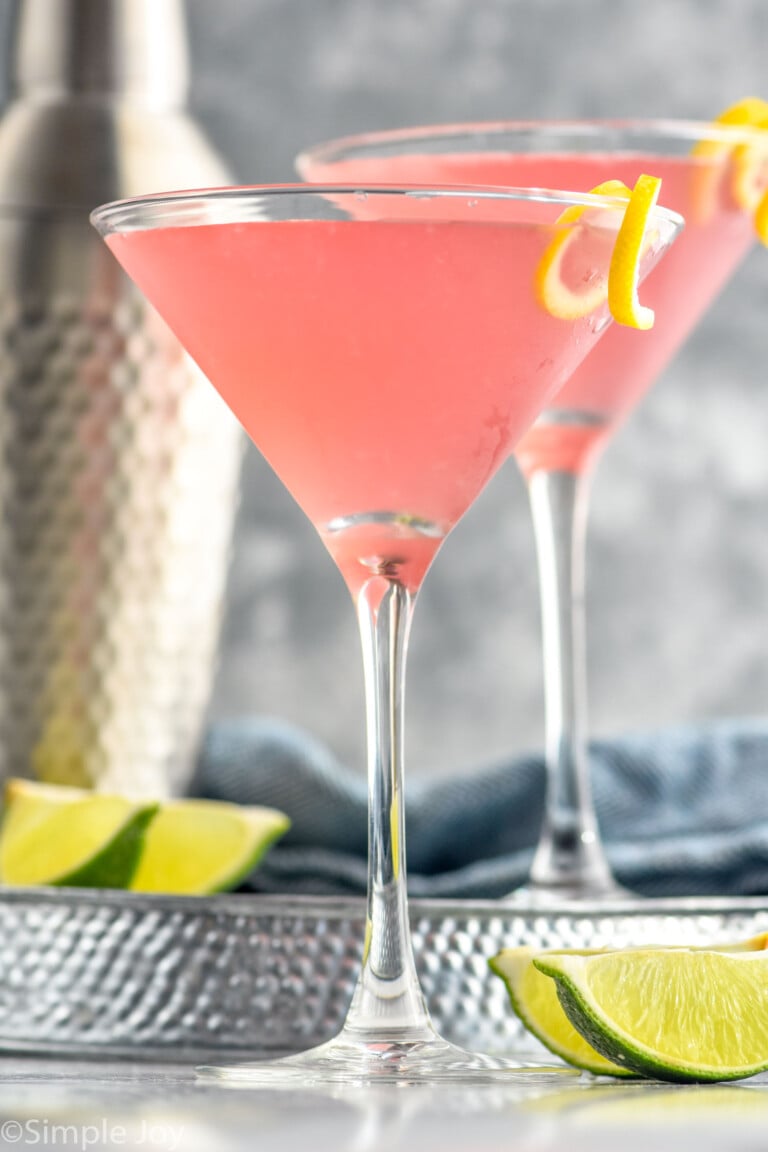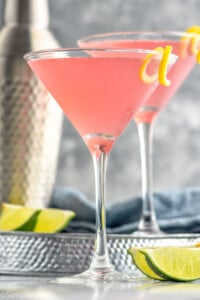 did you make this
Cosmopolitan Cocktail
you might also like . . .