This Light Ranch Dip makes for a great appetizer! Plus it's lower in calories than everything else on the table! And it's absolutely perfect with this Buffalo Beer Bread!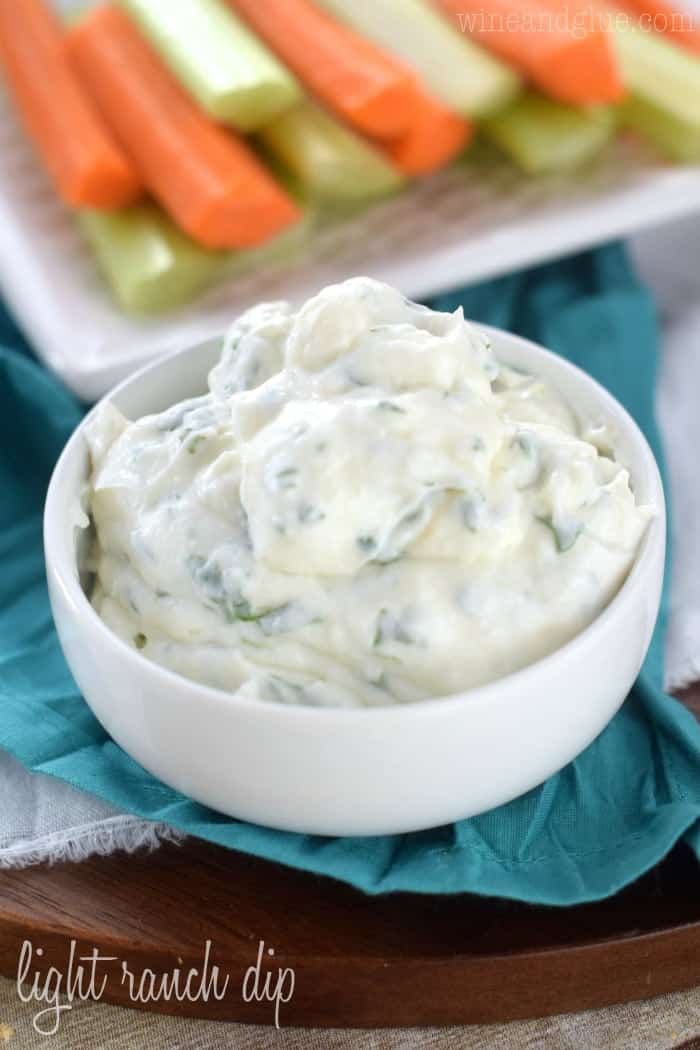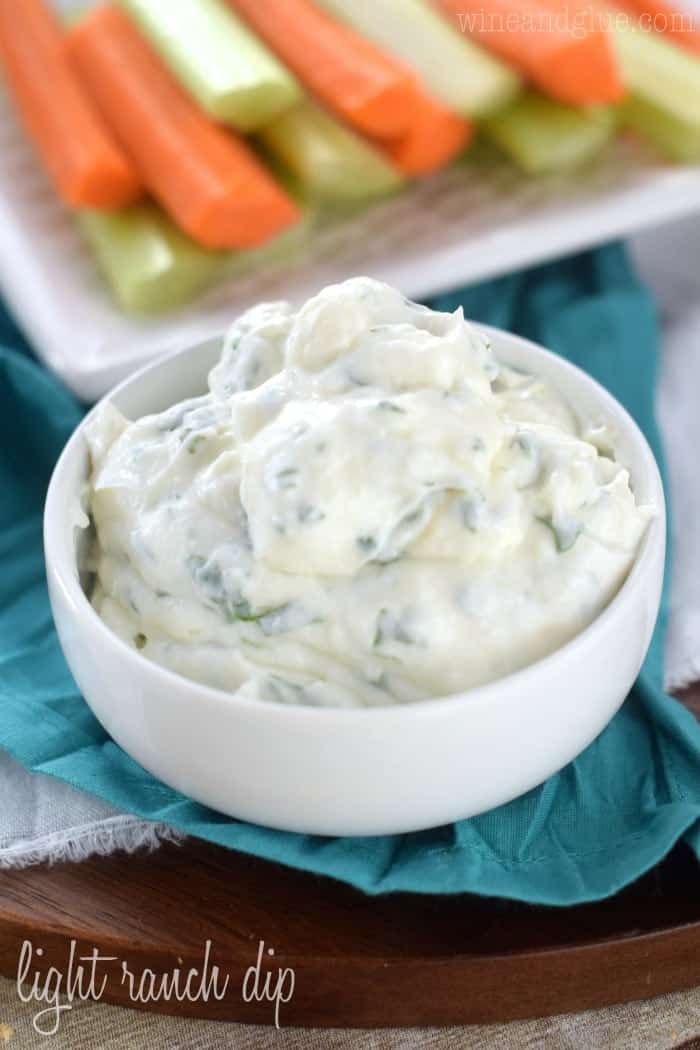 Sometimes I feel like raising kids is really similar to be stuck with the drunkest of all your friends at a college party and making sure they make it home okay.
They are looking for their pants, and even though they are literally RIGHT infront of them, they can't find them . . . to the point that you are sure that the toddler/drunk is actually just messing with you.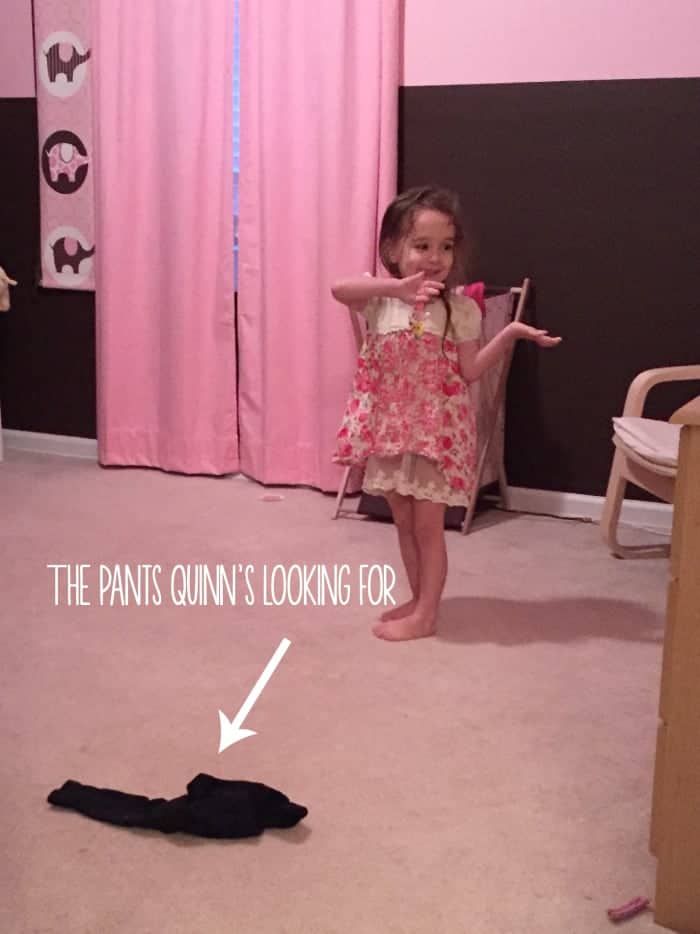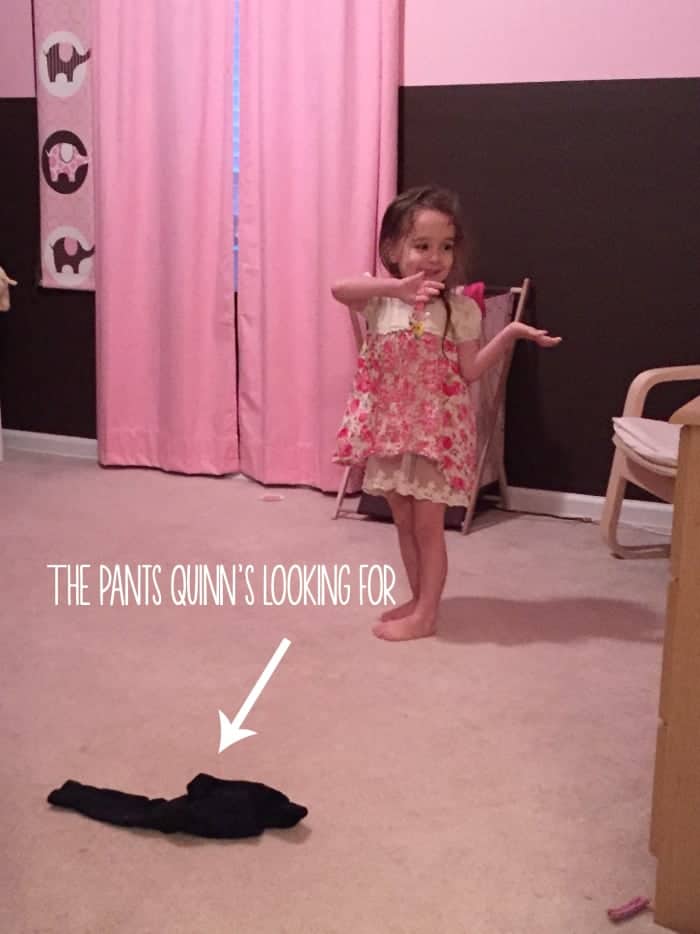 You're constantly cleaning up after them, amazed at what a mess they are able to make with so little at their disposal to make it with. #youknowwhatimean Both endeavors really show you just how gross the human body can be.
You're constantly trying to keep their behavior in check while around other people so people won't notice how crazy/drunk they are. Their "whisper" deafens, they start crying when things don't go their way, and you sort of try to stand in a way so that people don't think you're actually together.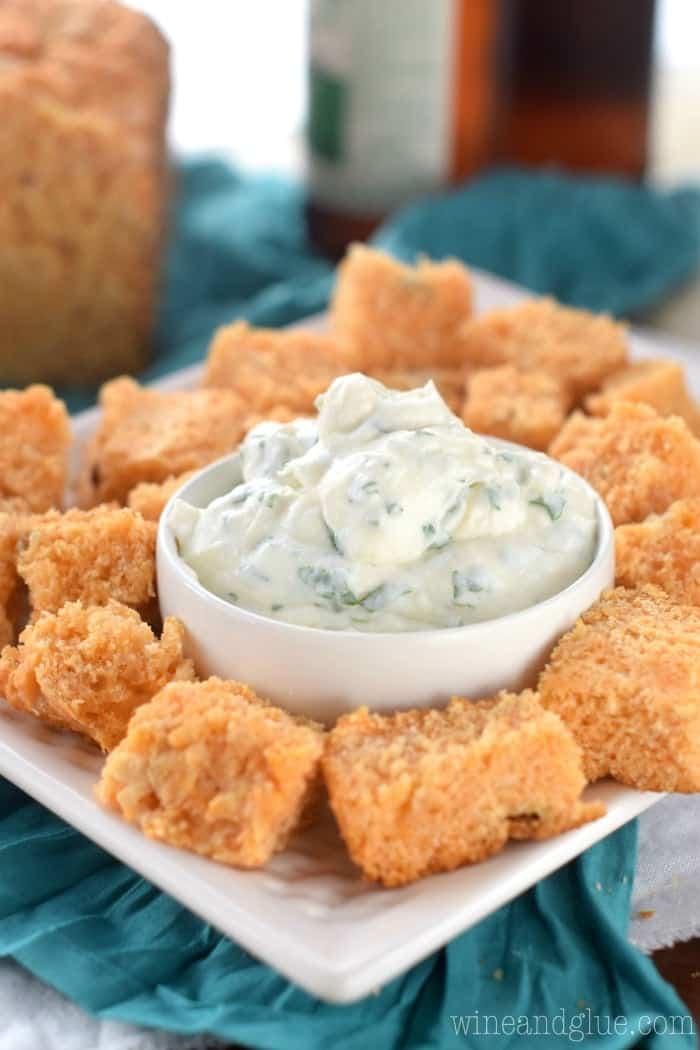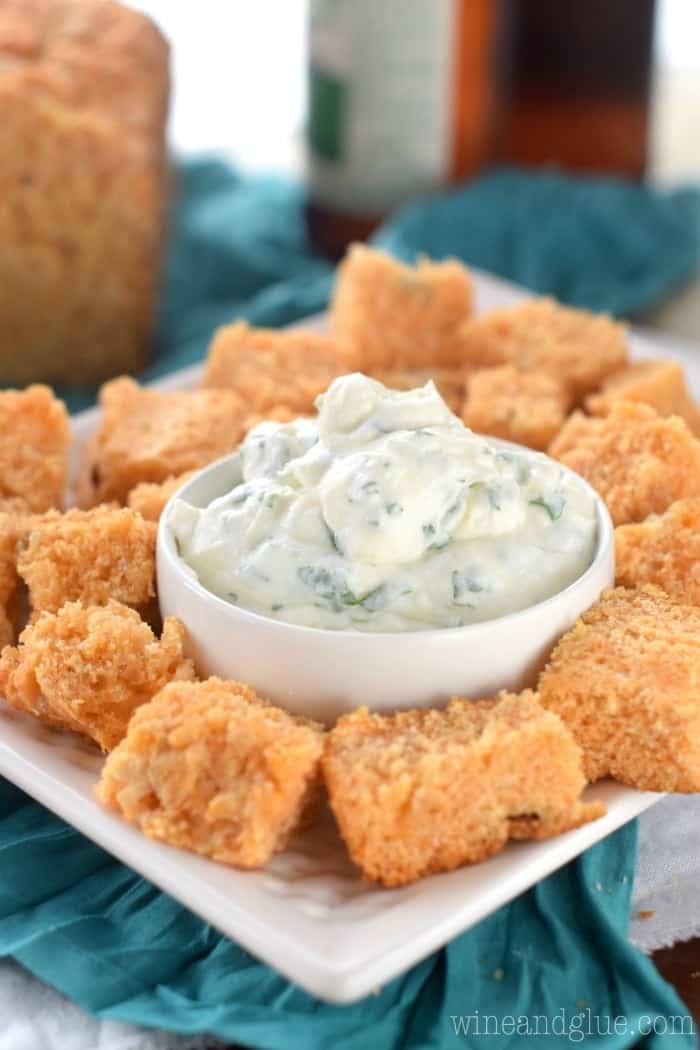 And just when you think that it can't get any worse, just when you can't wipe their face anymore, they pass out.
And angels sing.
Okay, none of this really has anything to do with this Light Ranch Dip. I mean, I was totally planning on writing a post about New Years resolutions and trying to be healthy and blah blah blah, but then Quinn spent like an hour looking for pants that were literally right infront of her, and I thought this would be a far more interesting topic. I mean seriously. Toddlers and drunk college kids are the exact same thing.
But, I digress.
Light Ranch Dip! To be 100% honest, this dip was created for the sole purpose of going with that bread that you see pictured above. The bread is amazing (and you'll get the recipe tomorrow) on it's own, but it's about a gagillion times better with the dip!
This dip is light because it uses a lower calorie mayonnaise and a lower calorie sour cream, and is still fantastic. But you know, if you didn't eat enough Christmas cookies, go for the full fat and it will be equally delicious. I hesitated to call this recipe "healthy" for fear that I would be hounded with people carrying torches yelling at me about the preservatives in light mayo. But! It is lower calorie than a lot of things you will find at a party, and so I call it a win! Plus, if you eat it with carrots, you are like a super hero.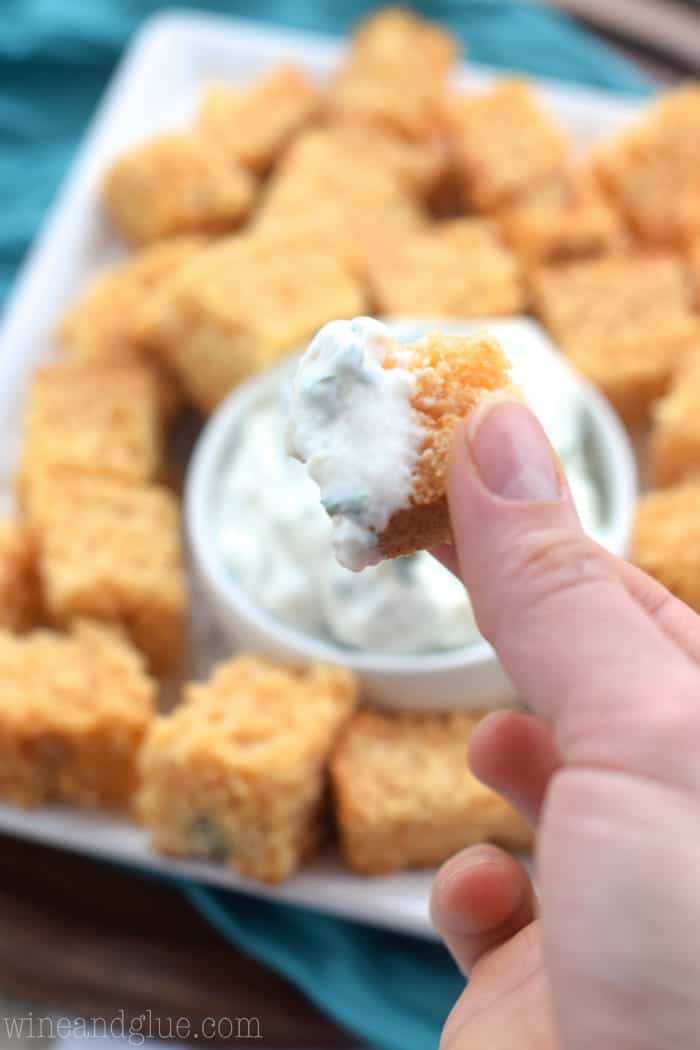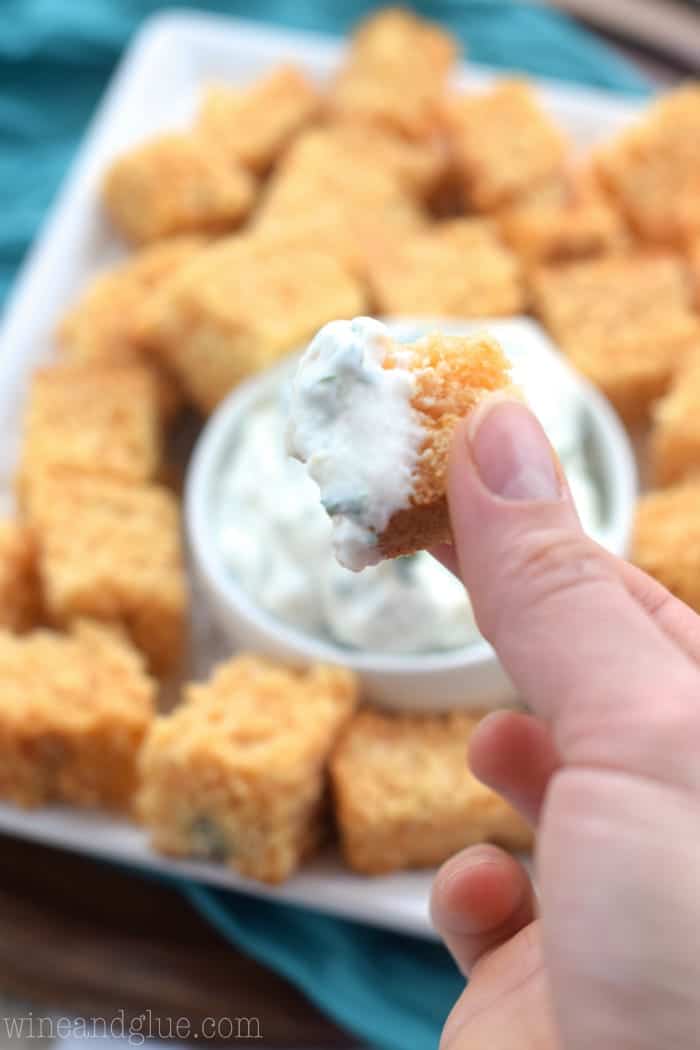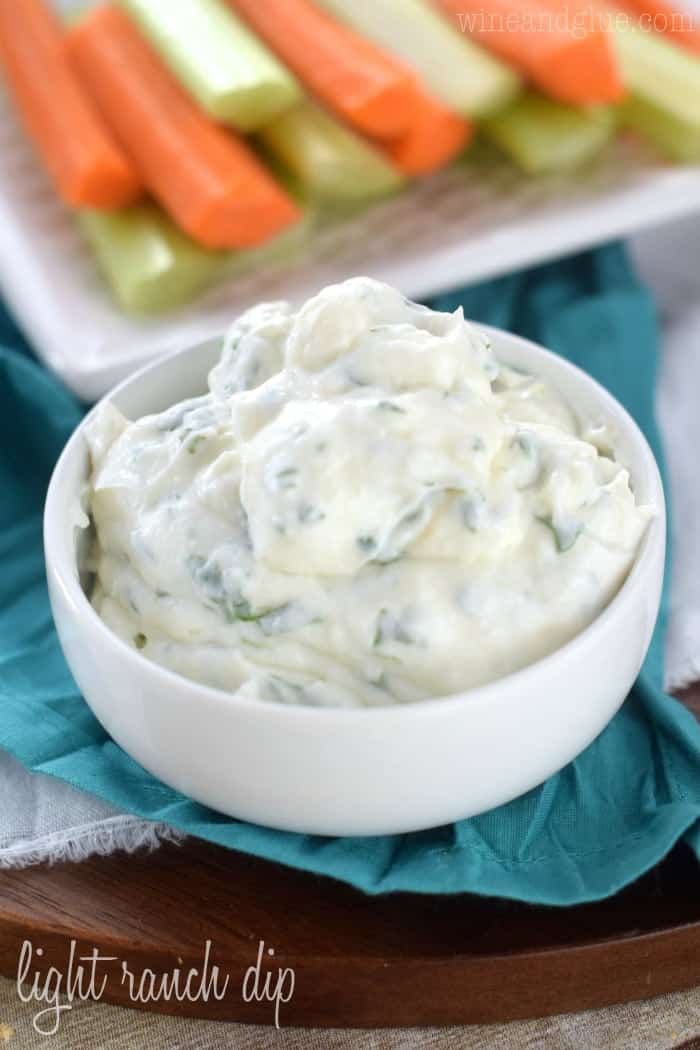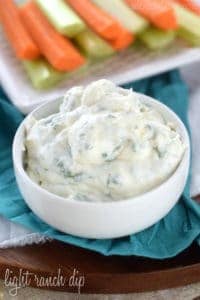 Light Ranch Dip
Ingredients
1/4

cup

light mayonnaise

2/3

cup

light sour cream

1/4

tsp

kosher salt

1

clove

of garlic

finely grated

1/2

tsp

of onion powder

1/4

tsp

ground mustard

1

TBSP

fresh parsley

finely chopped

1

tsp

vinegar
Instructions
Mix together the sour cream and mayonnaise.

Add in all the other ingredients and mix well.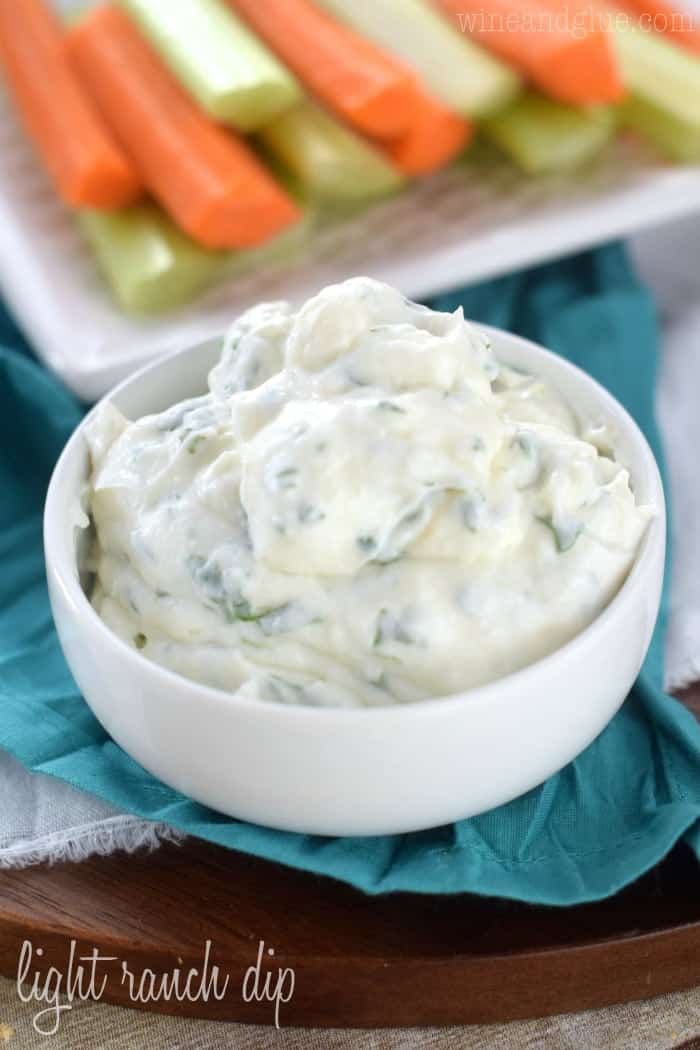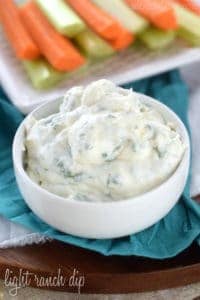 did you make this
Light Ranch Dip
You might also like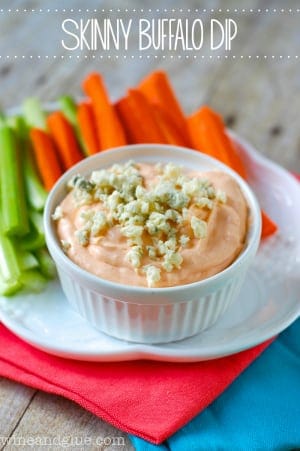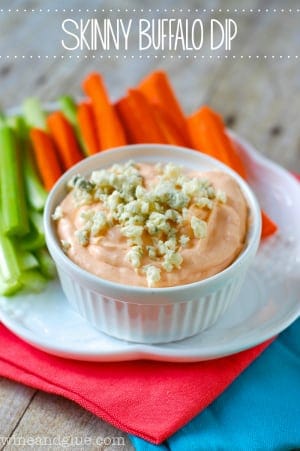 Two Ingredient Skinny Veggie Dip