M&M Cookie Bars are the easy dessert you are looking for! This bar recipe is fast to put together and melt in your mouth delicious.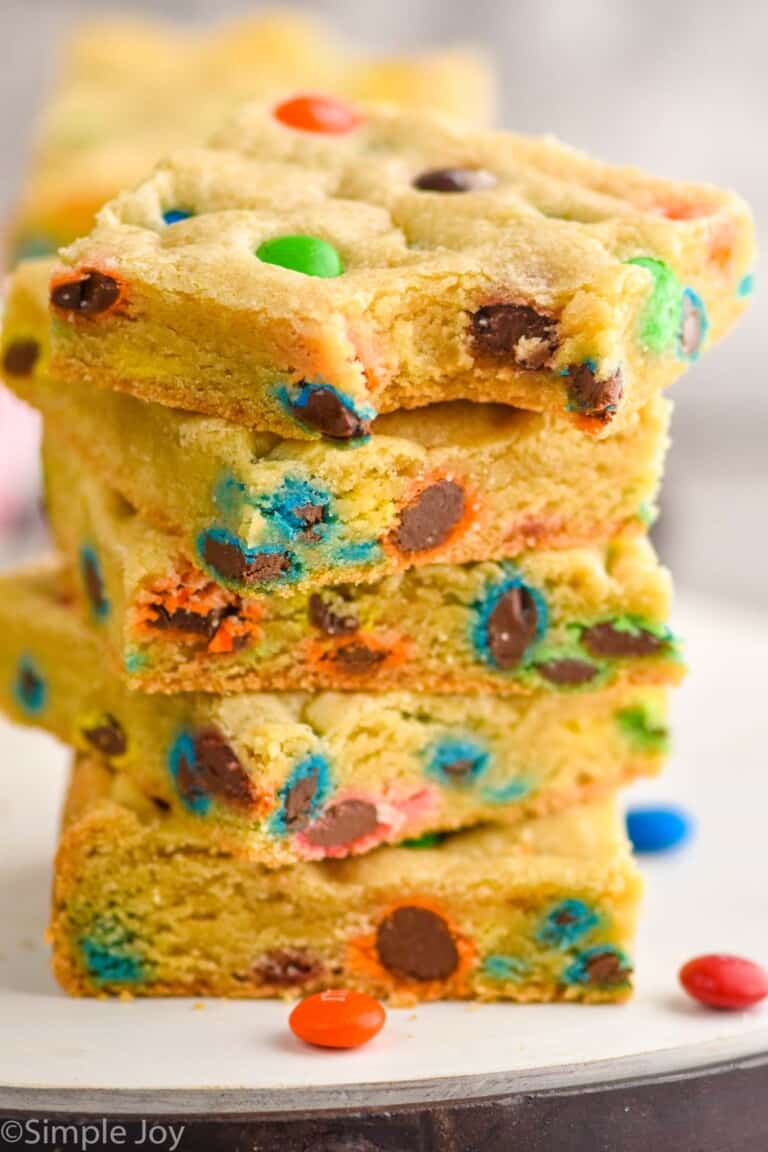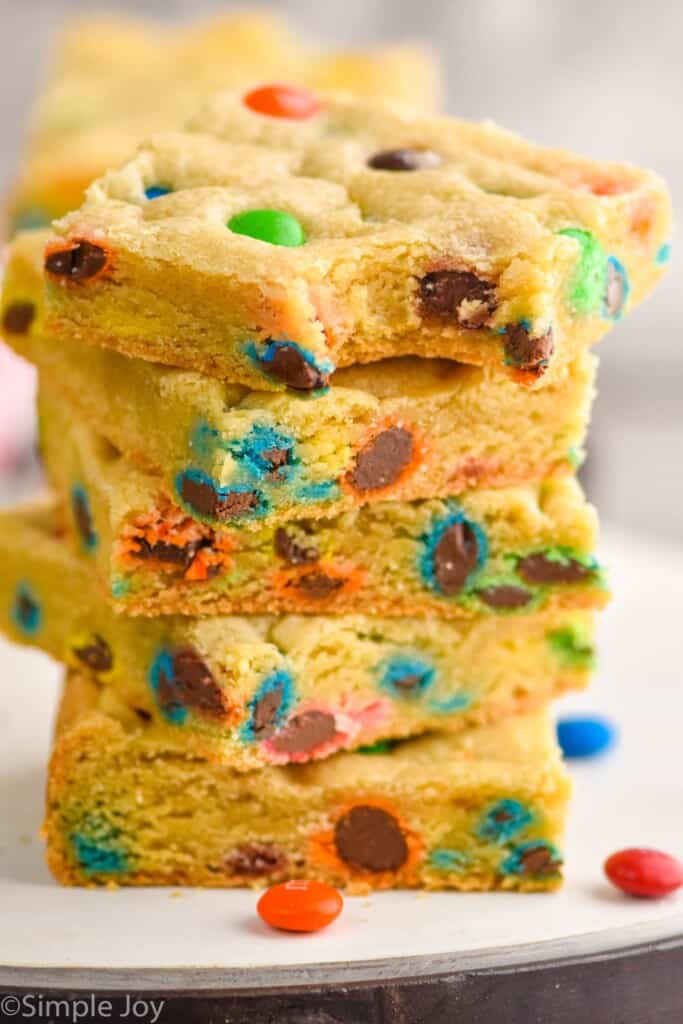 One of my very favorite desserts to make is cookie bars. They are so simple to make because there is no scooping. They are also more forgiving than cookies because there are no concerns about cookies not spreading enough or spreading too much.
These M&M Cookie Bars are a simple take on my M&M Cookies. They are easier to make but just as buttery and delicious. My family tripped over themselves trying to get their fair share of these before they disappeared.
How to Make M&M Cookie Bars
Combine Dry Ingredients: In a large bowl whisk together flour, baking soda, and salt. Set aside.
Beat Sugar and Butter: In a large bowl with a hand mixer or in the bowl of a stand mixer, beat together the butter and sugar until it is light and fluffy.
Add in Egg and Vanilla: Beat each one in one at a time.
Add the Dry Ingredients: All at once add in the flour mixture. Beat on low until it begins to combine, then turn the speed up high until it is just combined. Read more on this method below.
Stir in the M&Ms: It is important to stir in the M&Ms with a spatula and not beat them in as they will break.
Press & Bake: Press the dough into a 9 by 13 inch baking dish and then bake.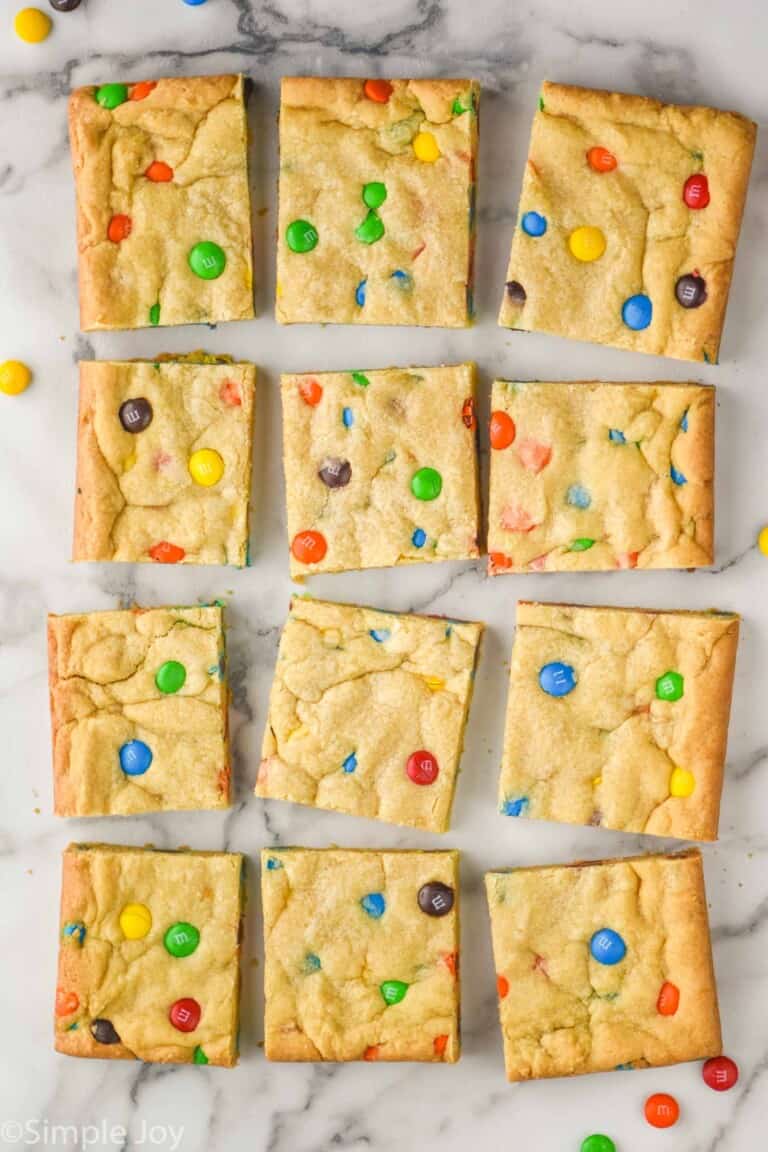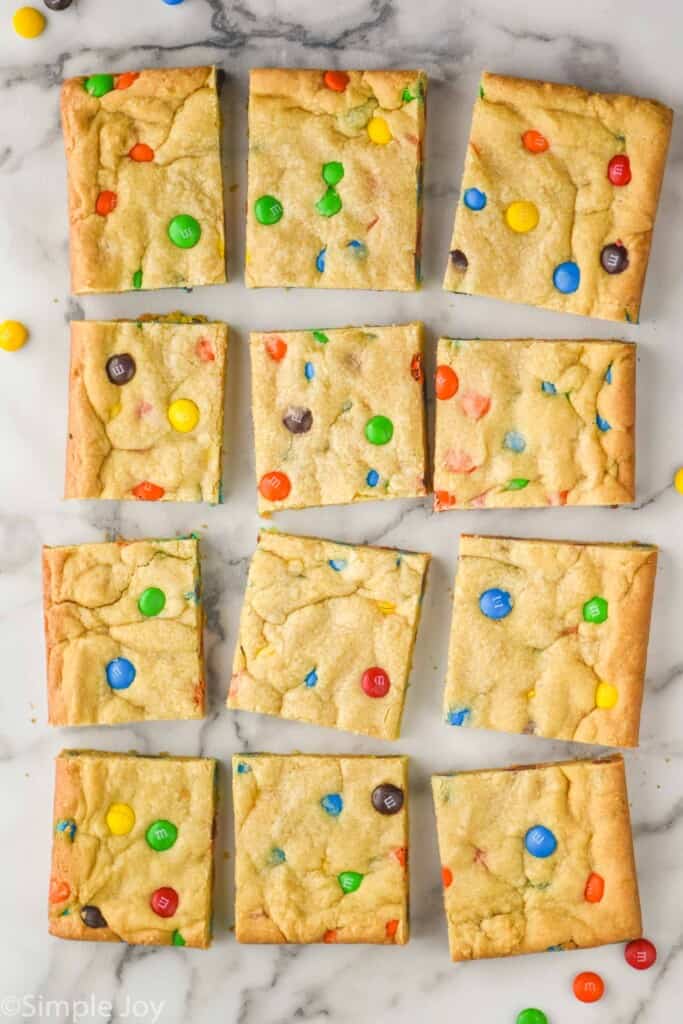 Beating Butter and Sugar
Beating butter and sugar together is a standard step in cookie recipes. It is an important step too because the sugar actually beats air into the butter and makes your cookies – or in this case cookie bars – light and fluffy.
To ensure success with this, make sure your butter is room temperature. It will likely still feel cold to the touch, but you should be able to easily dent it with your finger. If you can push your finger all the way through, it is too soft.
Adding Flour All at Once
In the past, I used to suggest adding the flour mixture to the beaten butter and sugar a little at a time. After doing some extensive reading, what I came to learn was that this method could lead to over beating of the flour. This isn't what you want as it can lead to cookies that are chewy in a bad way.
This new method of beating it in all at once means that your flour mixture gets incorporated much more quickly. Pour it all in, and turn on your mixer on low. Mix it in just to the point where you can turn the mixer all the way up without the flour flying out of the bowl. The whole process should take less than 30 seconds to a minute.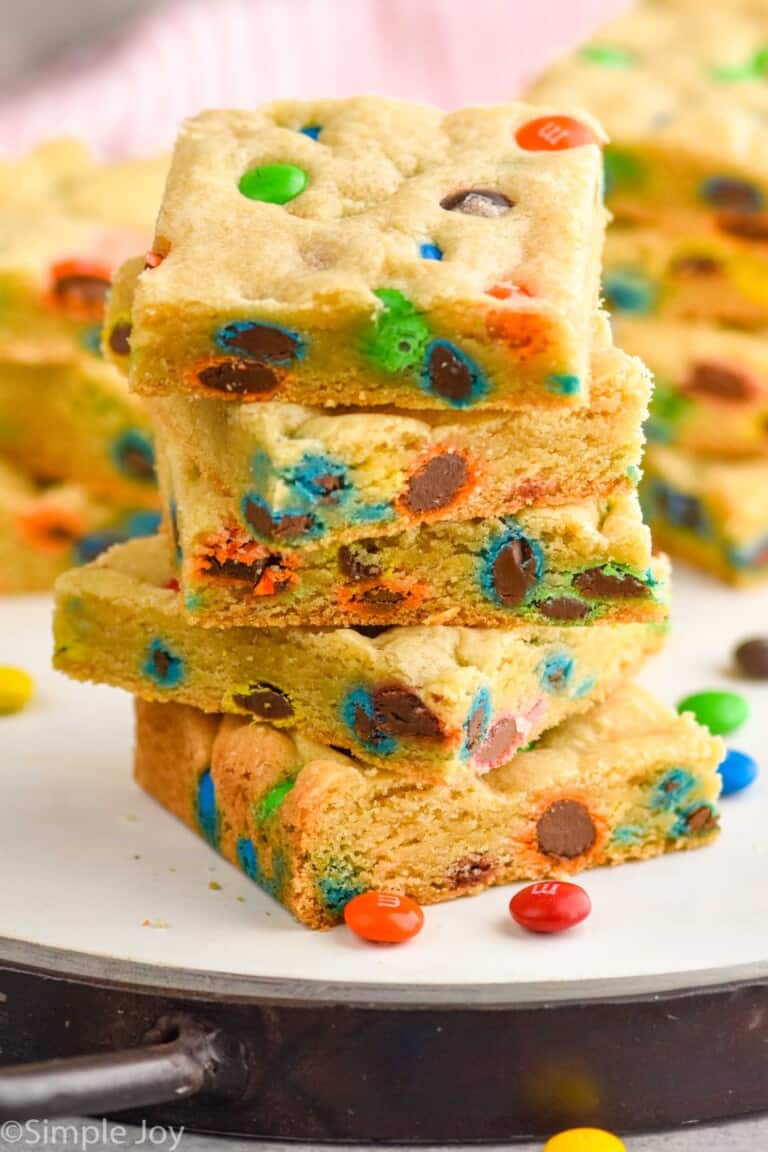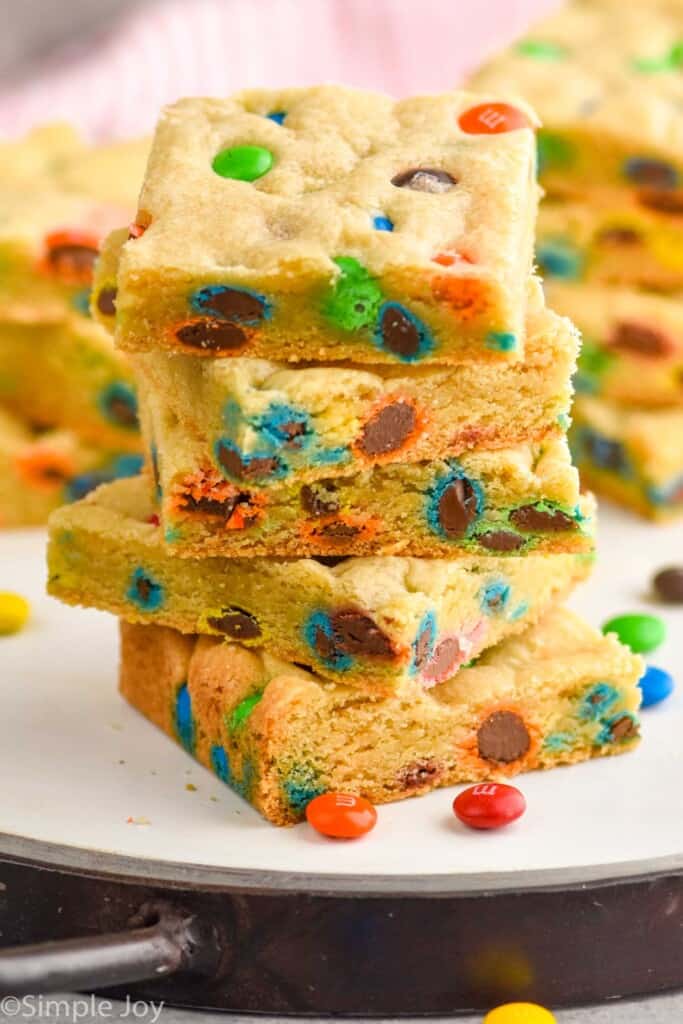 Tips for Success
There are a few things that help these M&M Cookie Bars turn out perfect, just like all good cookie recipes.
Measure Flour Correctly: Be sure to use a dry measuring cup, and scoop the flour from the container into the cup with a spoon and then level off. This will ensure that you don't get too much packed flour.
Use Room Temperature Butter: Besides packed flour nothing compromises a cookie recipe like too cold or too melty butter. Your butter should be easy to dent with a finger, but not so soft you can push all the way through. To bring to room temperature quickly, cut it up into 1 inch pieces and leave it on the counter for 30 minutes.
Ensure that your Baking Soda is Fresh: Baking soda lasts for about six months. To ensure it is still reactive, toss a little in some vinegar. It should bubble right away.
FAQ
Can I use Gluten Free Flour?
Gluten Free Flour doesn't typically work as a 1 to 1 substitute in baking recipes. You would need to test this recipe to determine the ratio that is needed here.
Can I make this cookie bar recipe into cookies?
Absolutely! It is based on my M&M Cookies. You can get the baking instructions for cookies in that post.
How long can this cookie bar recipe be stored?
After cooling and cutting, these should be stored in an airtight container for up to two weeks. If they last that long.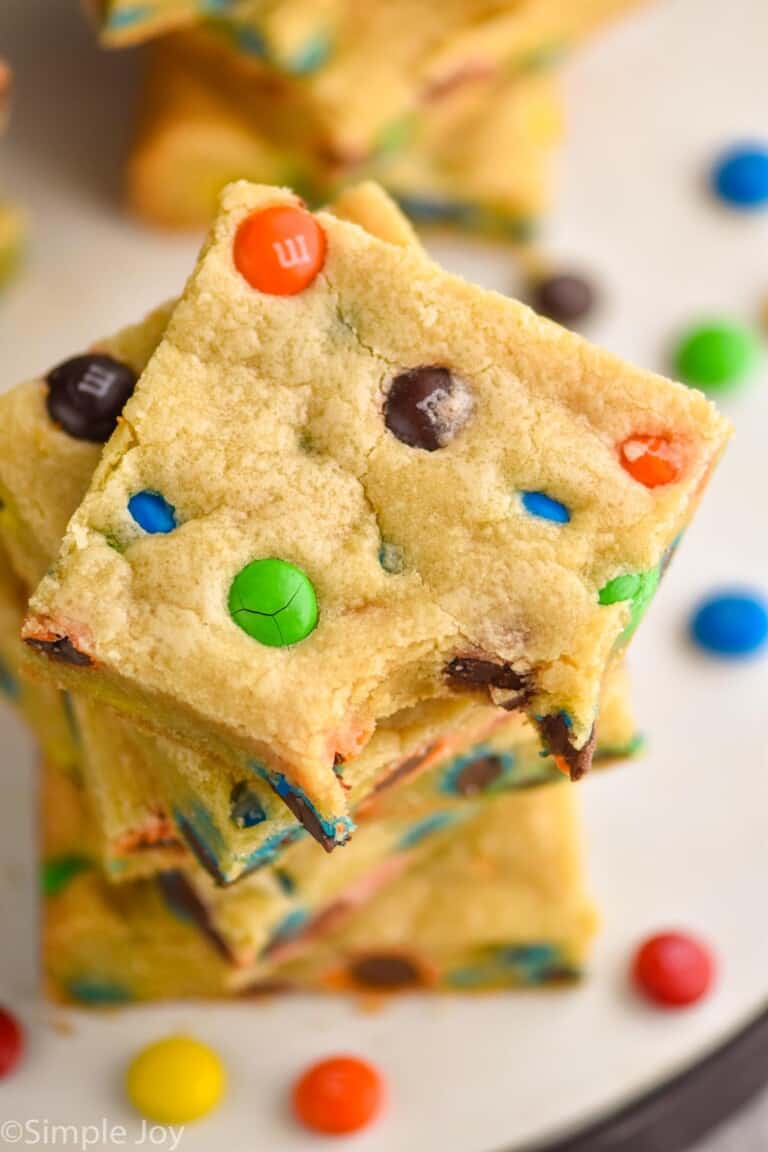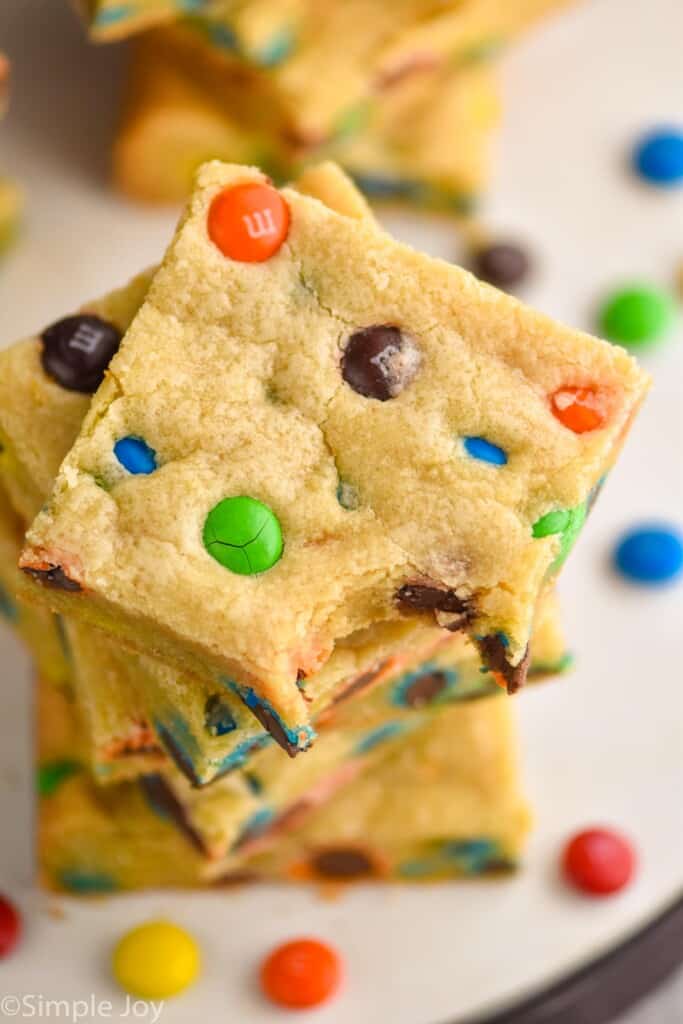 Other Cookie Recipes to Turn into Bars
Cookie Bars are so easy to make, we might as well make all our favorite cookie recipes into cookie bars!
If you make this M&M Cookie Bar recipe or any of my other recipes, please leave me a comment and let me know what you think!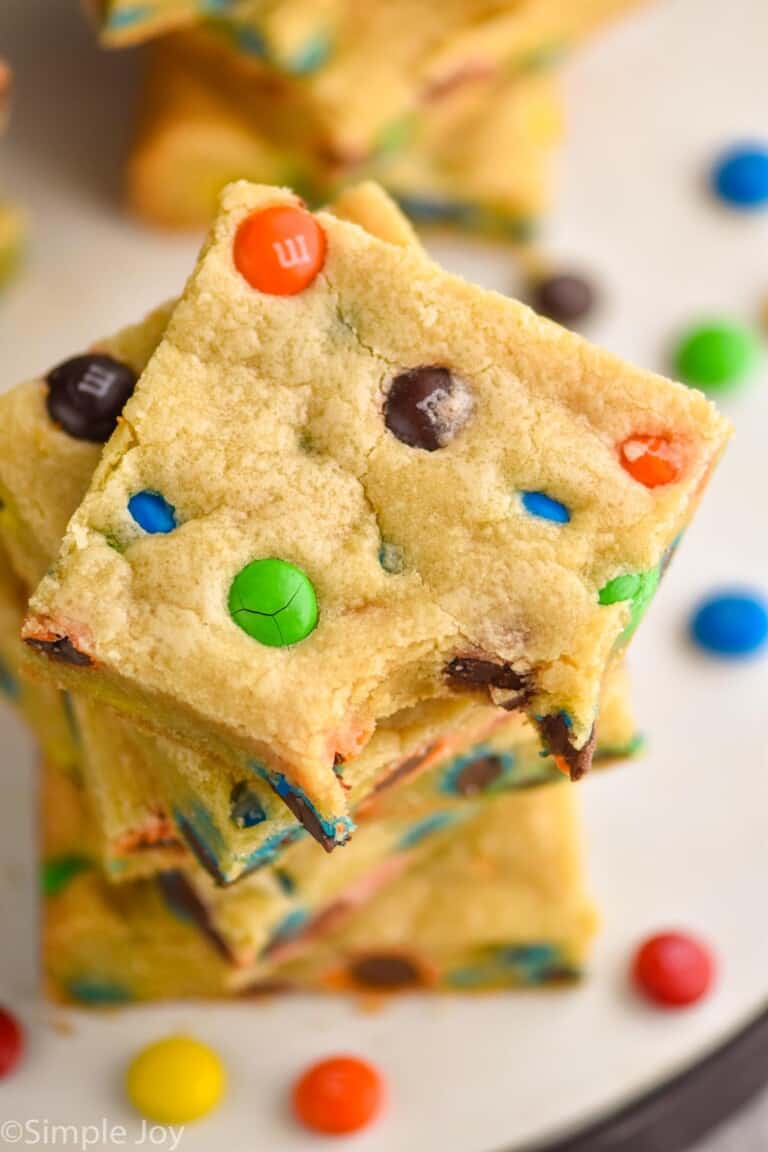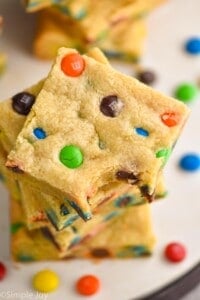 M&M Cookie Bars
M&M Cookie Bars are the easy dessert you are looking for! This bar recipe is fast to put together and melt in your mouth delicious.
Ingredients
3

cups

all purpose flour

scooped into the measuring cups and then leveled off (360 grams)

1

teaspoon

baking soda

6 grams

1/2

teaspoon

salt

3 grams

14

tablespoons

unsalted butter

(198 grams) room temperature

3/4

cup

granulated sugar

(150 grams)

3/4

cup

light brown sugar

(165 grams)

2

teaspoons

vanilla extract

(9.9 ml)

2

large eggs

room temperature

1 1/2

cups

M&Ms
Instructions
Preheat your oven to 350 degrees. Spray a 9 x13 inch baking dish with cooking spray. Set aside.

In a medium bowl whisk together the flour, baking soda, and salt. Set aside.

In a large bowl beat together the butter with the sugars until it is light and fluffy, about 3 to 6 minutes.

One at a time add the eggs and then the vanilla extract. Make sure to scrape down the sides of the bowl as necessary.

Add all of the flour mixture and either fold it in with a spatula at first or turn on the mixer very low until it begins to combine, then turn the mixer on high and beat until just fully combined. Fold in the M&Ms.

Press the dough into the prepared baking dish and bake for 20 to 25 minutes or until the edges are golden brown. Allow to cool before slicing. For best results, store in an airtight container for up to 1 week.
Serving:
1
bar
Calories:
232
kcal
(12%)
Carbohydrates:
31
g
(10%)
Protein:
4
g
(8%)
Fat:
11
g
(17%)
Saturated Fat:
6
g
(38%)
Monounsaturated Fat:
2
g
Cholesterol:
66
mg
(22%)
Sodium:
106
mg
(5%)
Potassium:
20
mg
(1%)
Fiber:
1
g
(4%)
Sugar:
12
g
(13%)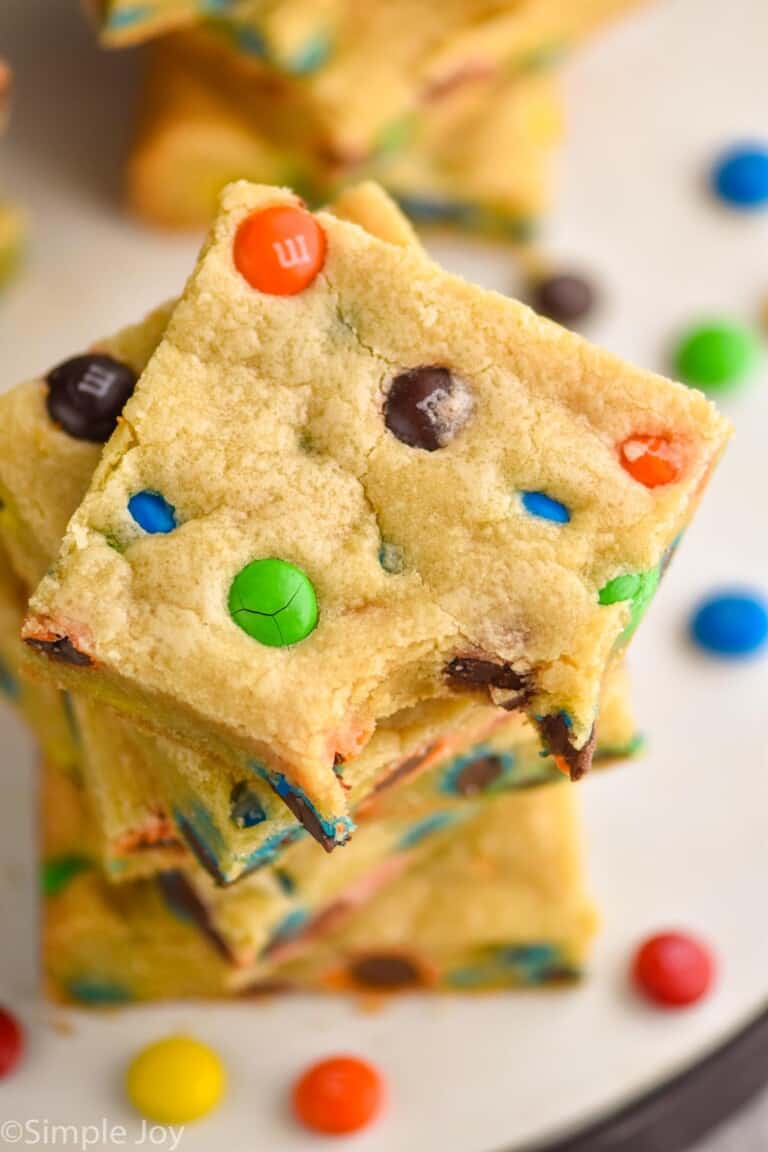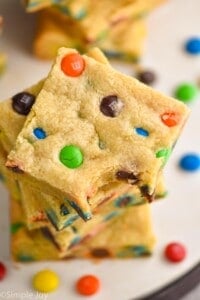 did you make this
M&M Cookie Bars
you might also like . . .