Poke Cake recipes are timeless and versatile, with limitless flavors, shapes and sizes. Try some of these simple mouthwatering recipes for your next cake occasion.

What is a Poke Cake?
Poke Cakes are moist, rich and absolutely scrumptious! All you do is bake a cake, then poke holes in it and fill it with all kinds of yummy syrups, creams, gelatins, candies or cookies. The extra flavors enhance an otherwise boring cake, making concoctions fit for any holiday, birthday or regular Wednesday!
How to Poke Holes in a Cake
The beauty of a poke cake is there's really no way to mess it up! Follow these easy tips:
I like to use the end of a wooden spoon to get nice round holes in the cake.
Space the holes about an inch or so apart.
Holes placed too close to each other could make the cake too soggy. Too far apart, and you may not have enough space to put your filling.
Poke Cake Recipes
From chocolate to vanilla, soda pop to Jell-O, you can quite literally create a poke cake masterpiece out of any ingredient! I've gathered up some of my absolute favorites to get you started. Happy baking!
Chocolate Poke Cakes
A simple chocolate box cake mix turns into rich, decadent desserts with just a few ingredients. From boozy to bold, try some of these rich poke cake recipes:
Baileys Poke Cake
Rich, chocolate cake filled with strong coffee and delicious Baileys, then topped with cream and mint chips. Indulgent in the best way!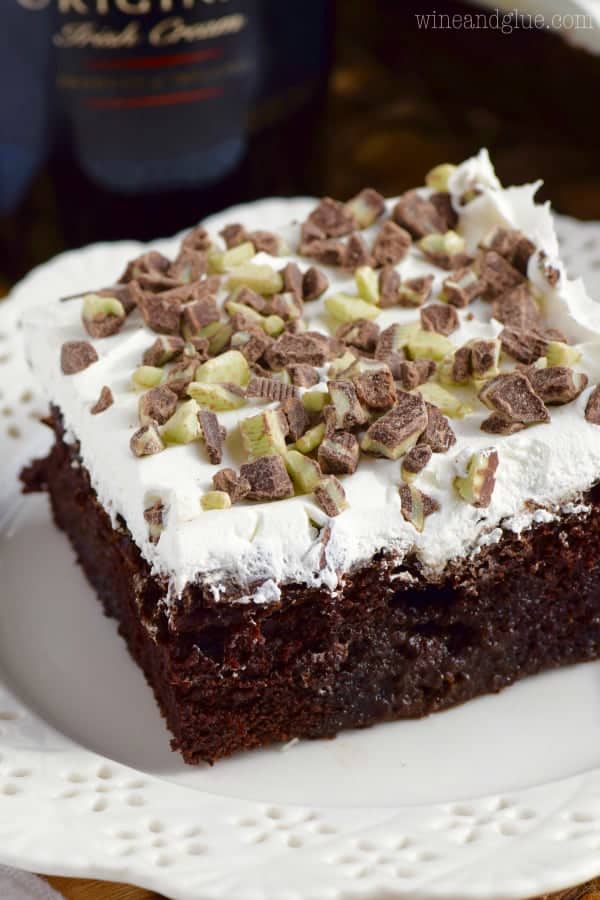 Chocolate Bacon Poke Cake
You read that right! Sweet chocolate cake filled with savory bacon creates the perfect balance of salty and sweet. Rich and oh so delicious!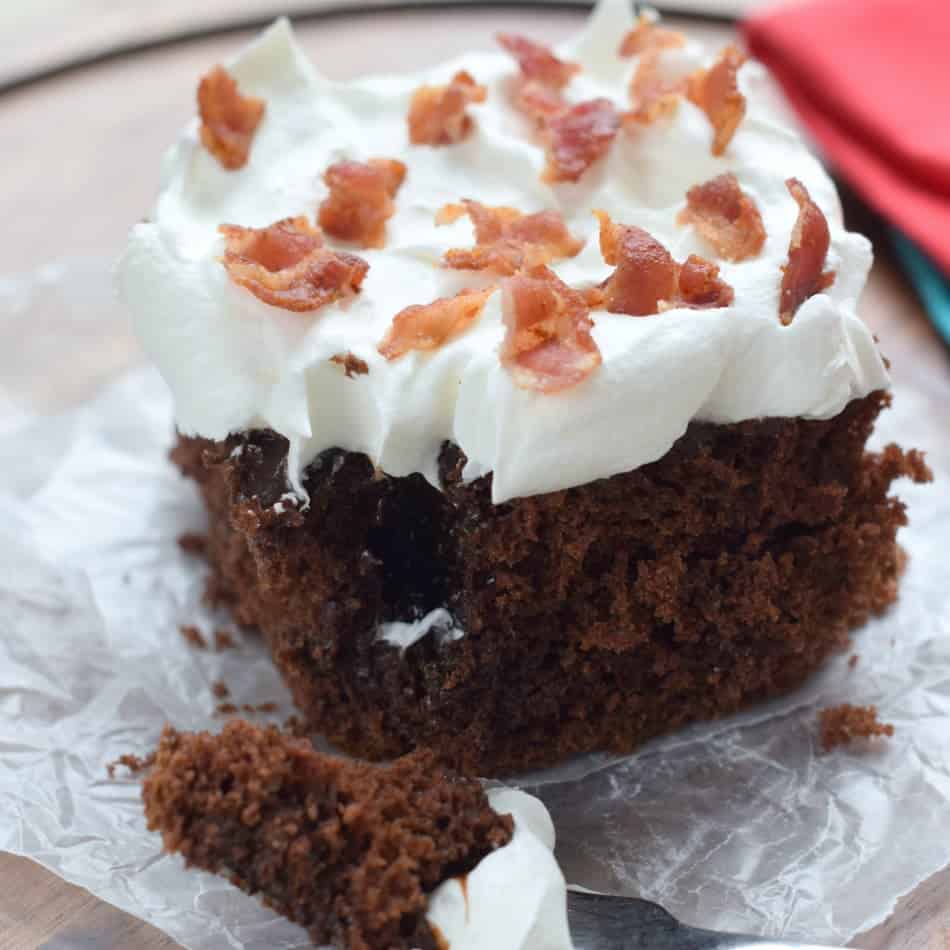 Samoas Poke Cake
The favorite girl scout cookie in poke cake form! Chocolate cake filled with coconut milk, caramel and coconut. Insanely good!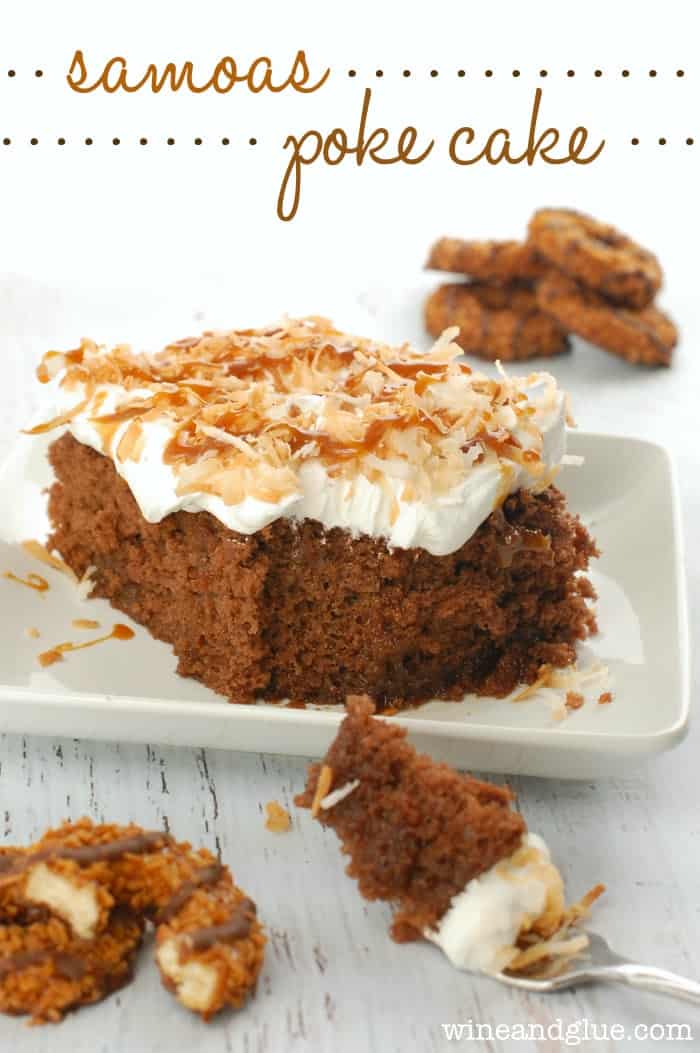 Chocolate Fudge Peppermint Poke Cake
This chocolatey fudgy poke cake soaked in peppermint flavor is perfect for the holidays! Easy dessert to bring to any Christmas gathering.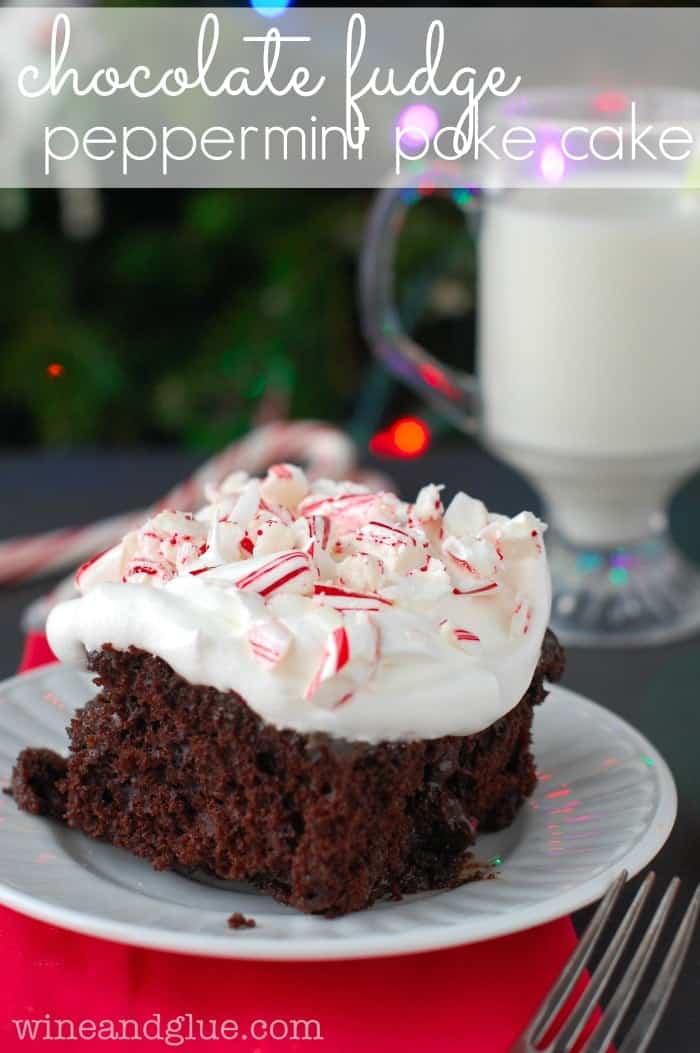 Deep chocolate cake seeped with fizzy, flavorful cherry coke and topped with rich, fluffy cream. You'll be wowed at the rich flavor combination!
This chocolate cake is dressed up with sweetened condensed milk and topped with cool whip. The whole thing tastes just like a fudgy cookie dough!
A fun one for birthdays, this chocolate cake is filled with hot fudge, caramel and topped with all kinds of yummy candies! Versatile and easy.
Chocolate Coconut Cream Poke Cake
Rich and creamy, this chocolate coconut cream poke cake tastes like an Almond Joy bar!
This boozy mudslide poke cake is filled with Baileys and Kahlua and topped with a decadent mudslide mousse. Delish!
Chocolate Mint Pudding Poke Cake
Minty, fudgy and rich this chocolate mint pudding poke cake is frosted with a creamy layer of chocolate pudding. Would be amazing with crushed candy canes for Christmas!
This hot fudge poke cake is like a hot fudge sundae in cake form! Banana and vanilla pudding, hot fudge sauce in a rich chocolate cake. Top it with cream and don't forget the cherry!
Chocolate mint poke cake, made with hot fudge and sweetened condensed milk, is topped with a luscious mint whipped topping and Oreos for crunch!
This s'mores poke cake is everything you love about the campfire treat in a cake! Rich cake, marshmallow filling and lots of crunchy graham crackers.
Peanut butter lovers will adore this rich dessert. Chocolate cake smothered in peanut butter whipped topping with lots of peanut butter tucked inside and topped with your favorite peanut butter candies!
Chocolate cake, a nougat filling and tons of creamy caramel creates a Milky Way poke cake that's better than the candy bar!
Four ingredients, that's all you need to make this luscious Oreo pudding poke cake. A quick dessert for any occasion!
Vanilla Poke Cakes
A plain vanilla or white cake mix can be dressed up with countless flavors! Check out these poke cake recipes and pick your favorites;
Caramel Apple Poke Cake
A fall favorite, this caramel apple poke cake combines white cake with tart apples and luscious creamy caramel. Yum!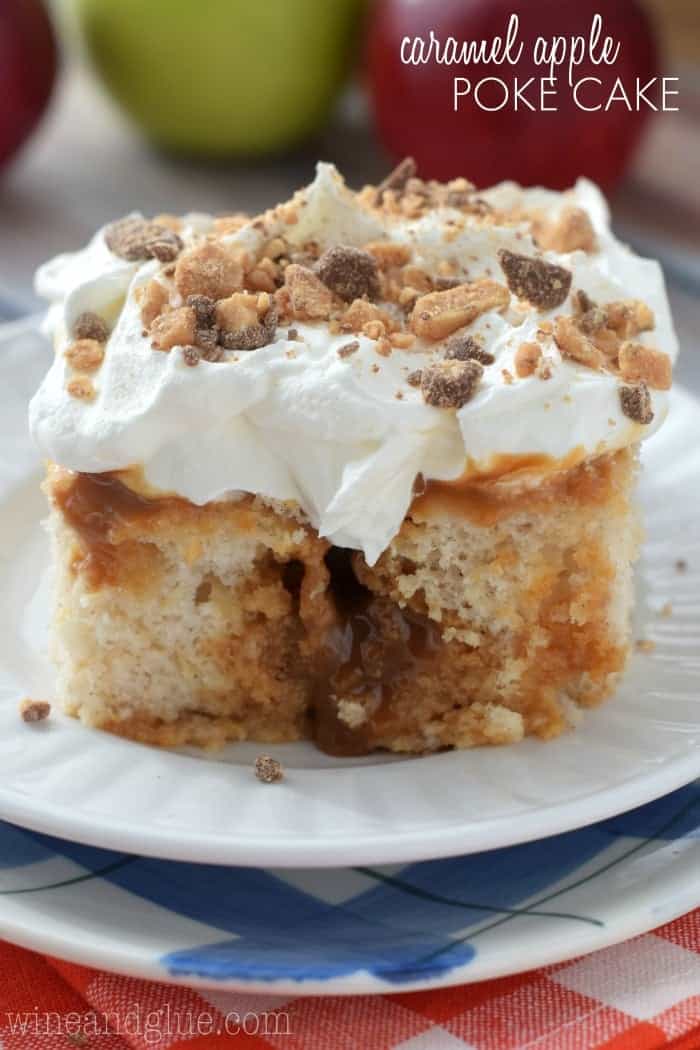 Root Beer Float Poke Cake
Root beer float poke cake tastes just like your favorite childhood treat in a cake! Top with real ice cream and indulge!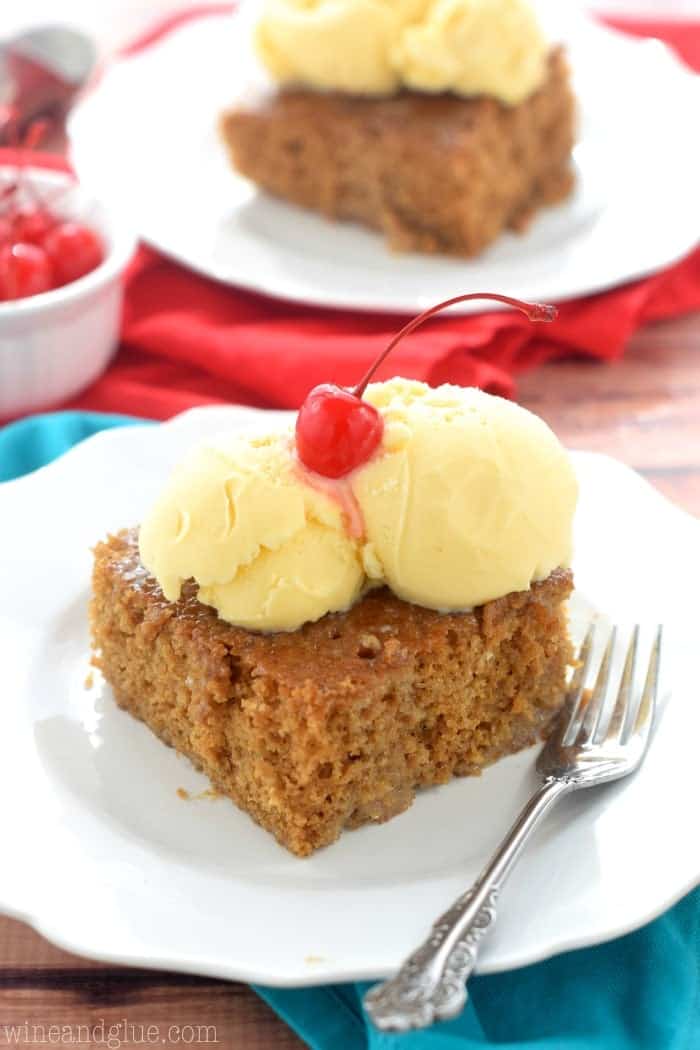 Candy Corn Poke Cake
This candy corn poke cake is easy and so cute! A box of white cake mix, a few drops of food coloring and some rich sweetened condensed milk and you've got an amazing Halloween dessert perfect for any party!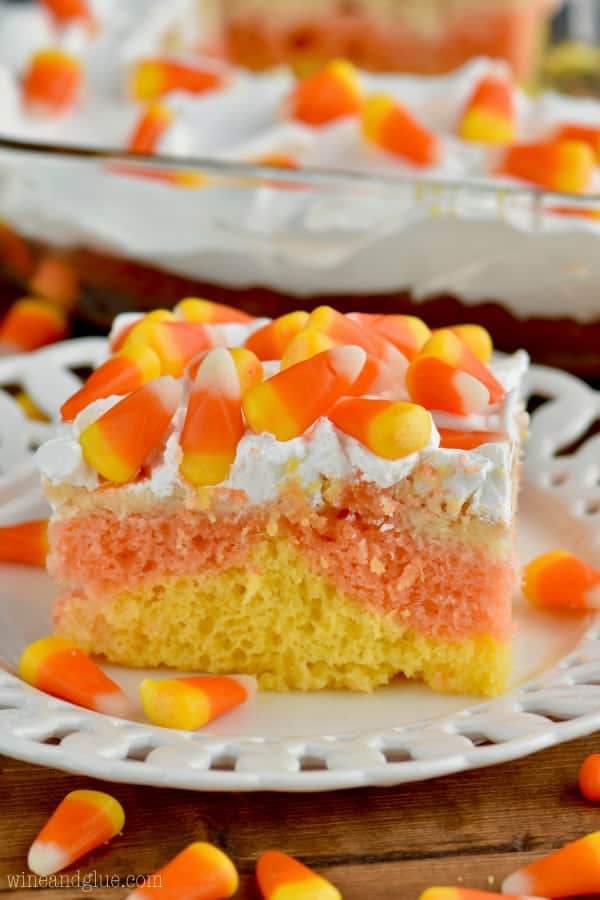 Mint Poke Cake
For a deliciously Irish St. Patrick's Day treat, try this ombre mind poke cake! Easy to make with a little food coloring, and incredibly rich and delicious.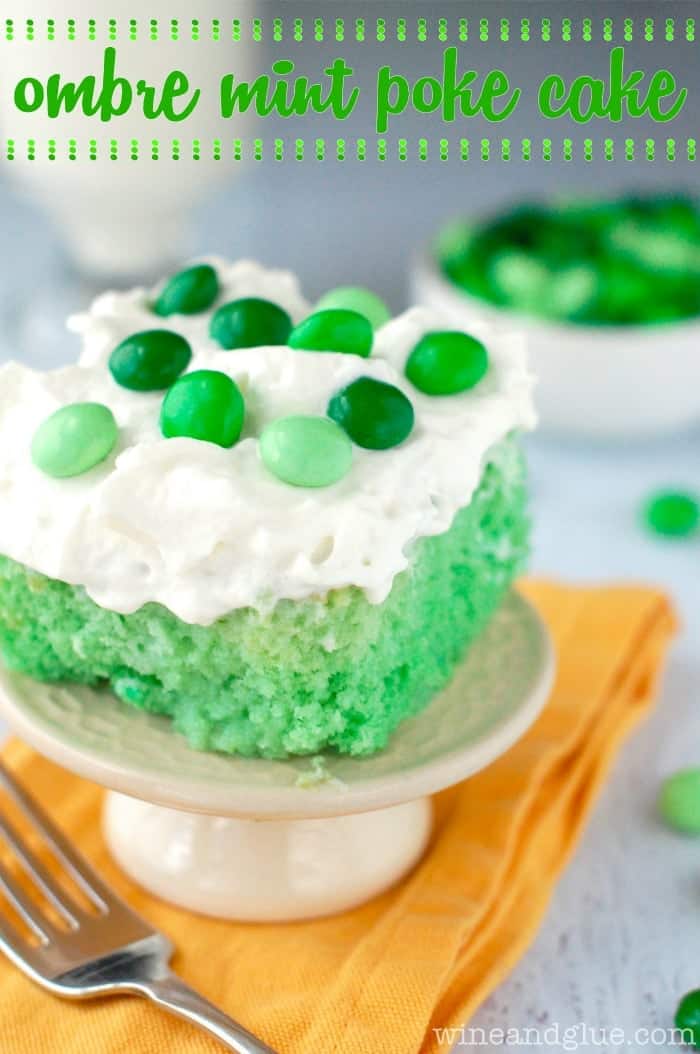 Eggnog Poke Cake
Eggnog poke cake is an indulgent dessert that's really easy to make! Vanilla cake flavored with eggnog, spices and a touch of rum. Perfect for the holidays!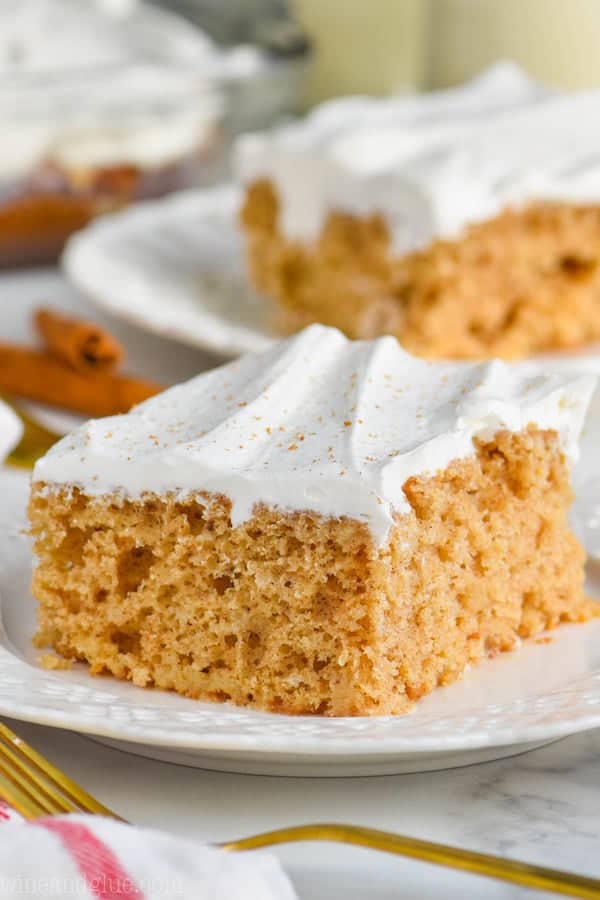 This coconut and lemon poke cake is a light white cake, soaked in coconut milk and topped with lemon curd and coconut. Tantalizing tropical flavors in every bite!
Another tropical treat is easy to make with this orange creamsicle poke cake. Light vanilla cake, coconut filling, orange drizzle and a creamy topping.
Butterfinger poke cake is your favorite Halloween treat in a poke cake! Luscius caramel, rich yellow cake and lots of crunchy candy on top.
An ordinary yellow cake mix transforms into a banana split with a few fun ingredients. Chocolate, real bananas and sprinkles make the perfect banana split poke cake!
Here's a dessert you can feel good about! White cake made with diet lemon lime soda! Trust me, you'll never miss out on the calories.
Vanilla Custard Soaked Pumpkin Poke Cake
This vanilla custard soaked pumpkin poke cake has all the flavors of fall! One bite and you'll be reaching for your scarves and pumpkin spice lattes.
A breakfast favorite turns into a decadent dessert with this French toast poke cake. Tons of cinnamon and nutmeg flavors.
Cool, creamy and full of flavor, this luscious orange creamsicle poke cake is perfect for lazy summer days.
Better Than Presents Rainbow Birthday Poke Cake
This colorful poke cake is a birthday party favorite! Color coordinate it for any occasion and don't skimp on the colorful toppings!
Banana caramel poke cake is super moist with a sweet banana flavored frosting, caramel inside and crunch wafers on top. Delicious!
Special Cake Flavors
Homemade or from a box, you can create a poke cake out of any flavor of cake! Here are some super sweet suggestions:
Pina Colada Poke Cake
This Pina Colada Poke Cake is your favorite Pina Colada cocktail in delicious and easy poke cake form! You start with a box cake mix that is easily doctored up and you end up with this perfect and so easy dessert.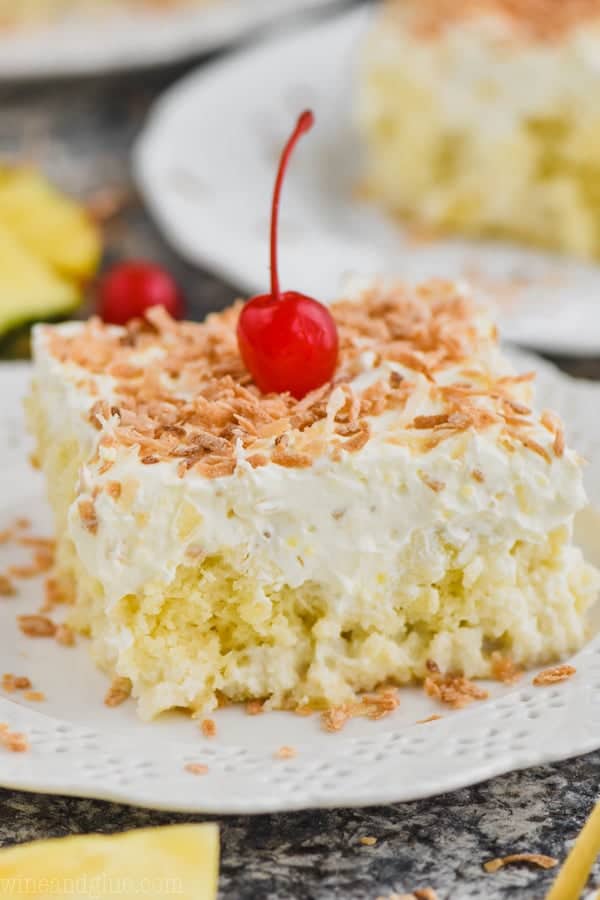 Caramel Zucchini Poke Cake
This homemade poke cake oozes rich caramel sauce and fragrant spices, made hearty by fresh zucchini. So yummy!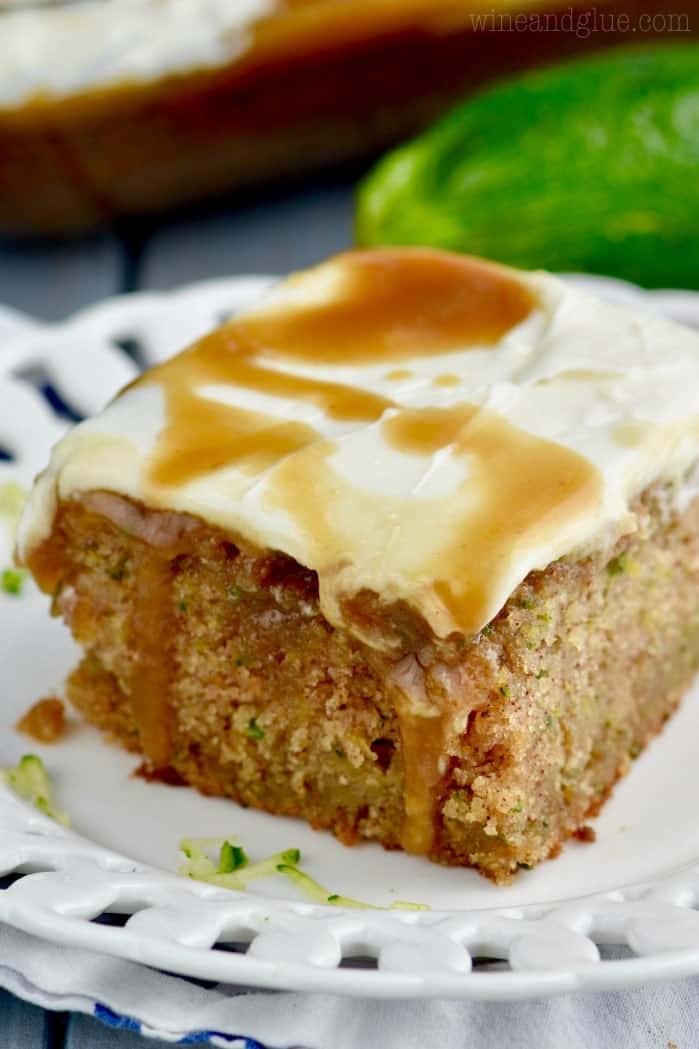 This gingerbread poke cake is filled with butterscotch and gingersnap cookies! Topped with whipped cream and toffee bits, it's the perfect holiday dessert.
Rich butter cake, coconut and pineapple flavors create a tropical treat in this Pina Colada poke cake. So easy to make and fun to serve at summer parties.
Fragrant lemon cake, strawberries and cream, this strawberry lemonade poke cake is refreshing and light. A perfect summertime treat!