These Nacho Chicken Tenders are the perfect fun dinner recipe. Your family will love this twist on classic baked chicken strips.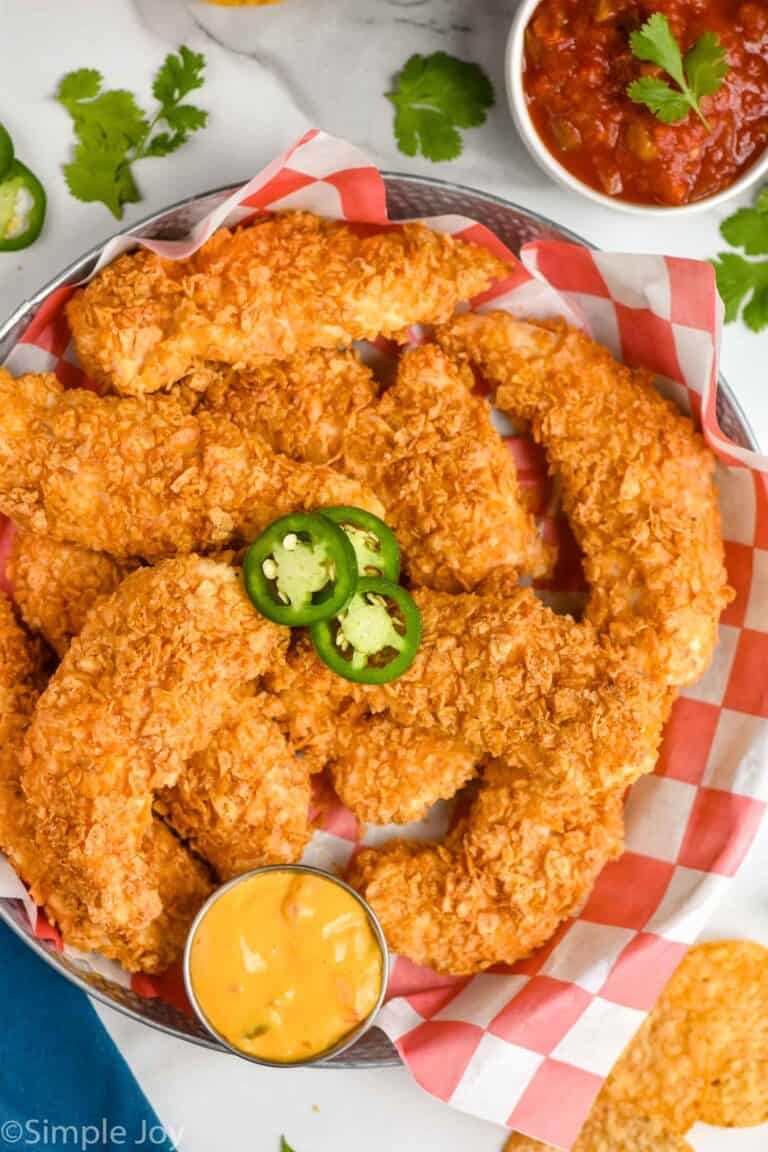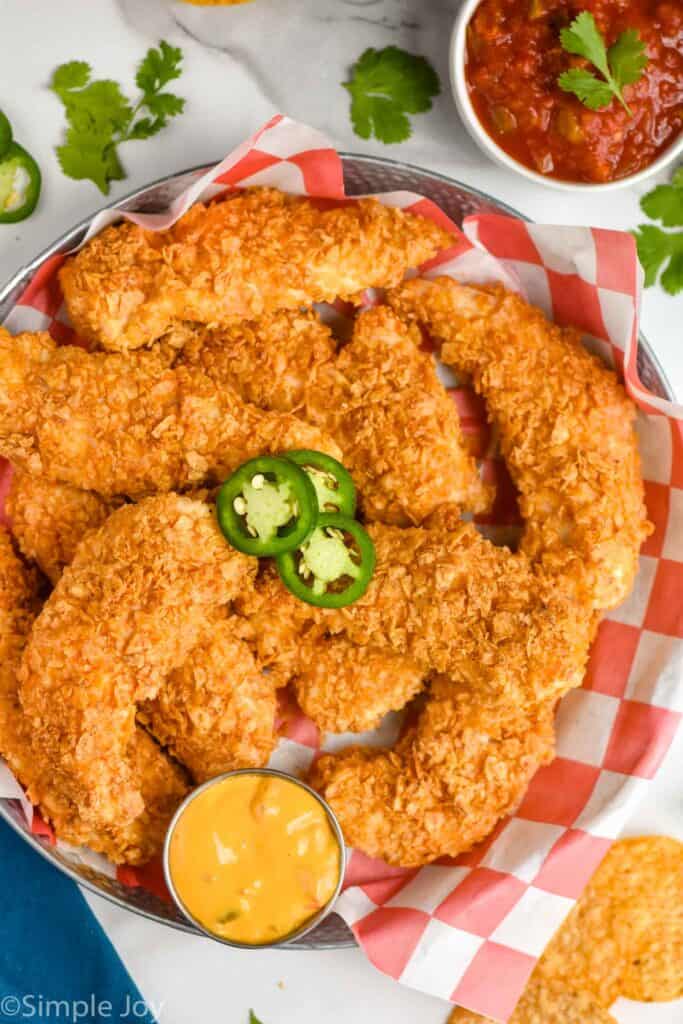 Sponsored by TOSTITOS®. All opinions are my own.
I'm pretty much always trying to create new dinner recipes that I think my kiddos will like. Score one for me with these awesome Nacho Chicken Tenders. They are a spin on traditional chicken strips that I think your kids will also love.
The flavor for this awesome kid approved recipe comes from TOSTITOS® Salsa Verde Chips. Our family loves TOSTITOS® They are our go to chip, and we always have a bag on hand for taco night. Well, we now have a new favorite. You can bet these will be part of our movie nights going forward.
I cannot stress enough how amazing these chips are. I truly want them every time I have chips now from here until eternity. Tostitos has outdone themselves with this amazing chip. They are amazing for a fun snack, and super fun in this chicken tender recipe.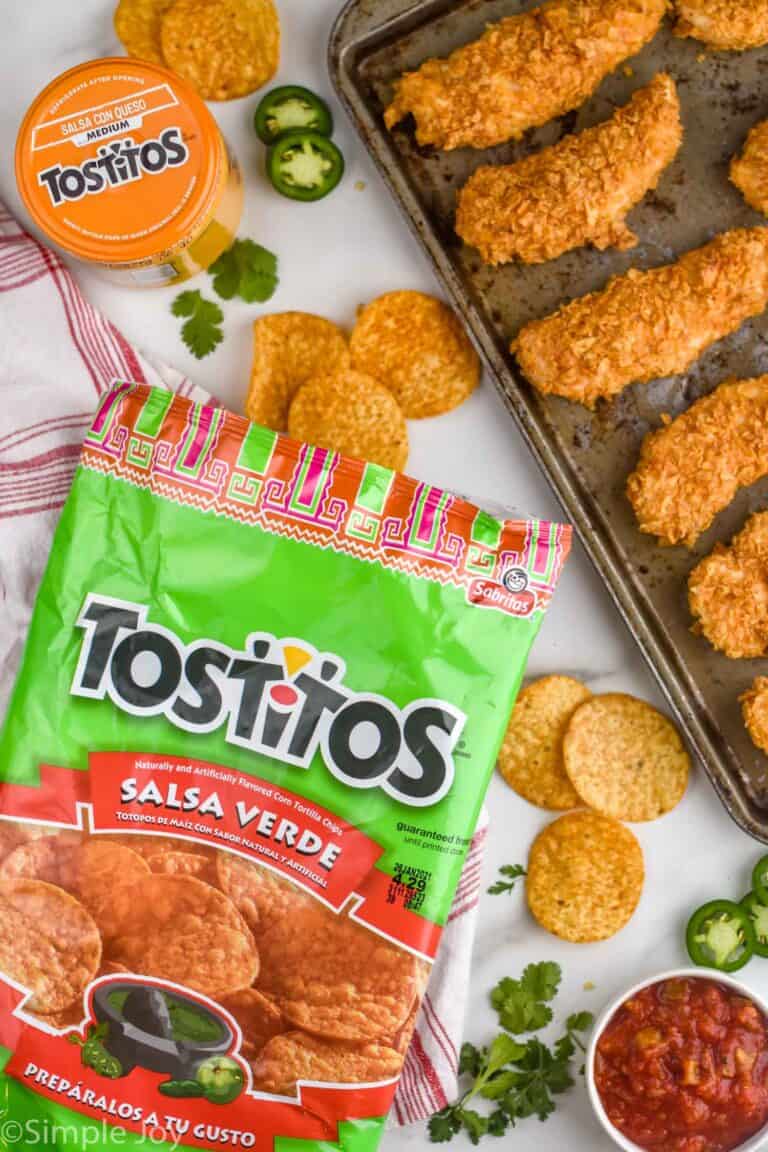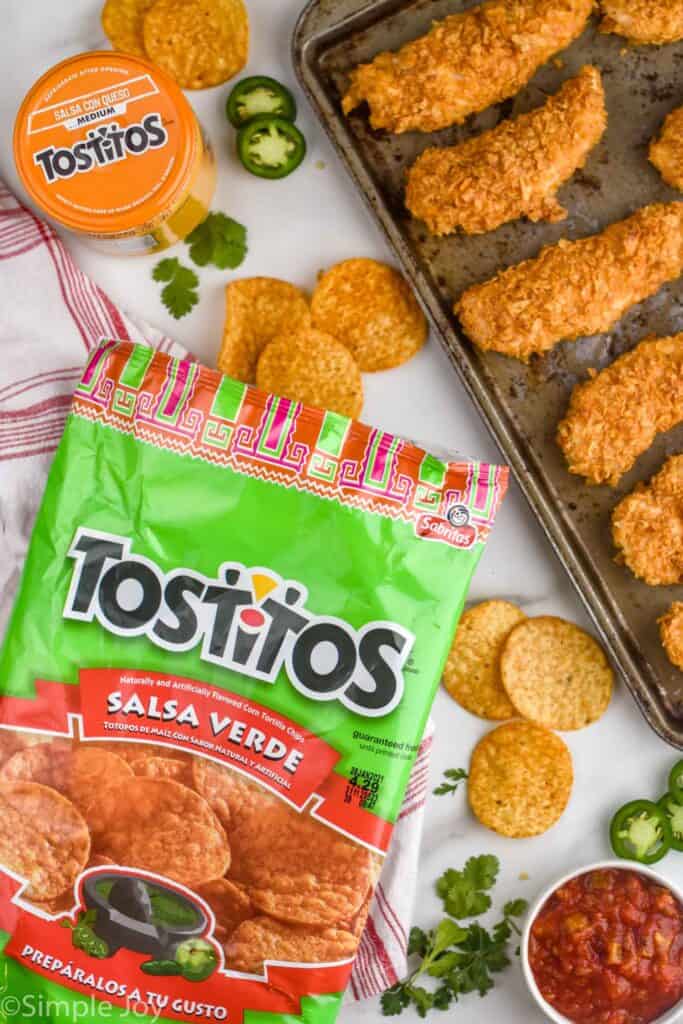 How to Make Chicken Tenders
Chicken Tenders at home are so simple to make. And even more fun when you can make a great spin on the breading.
Crush a few cups of TOSTITOS® Salsa Verde chips in a food processor or in a bag with a rolling pin.
Then working in batches dip the chicken tenders in flour, then an egg bath, and finally the crushed chips.
Bake the chicken tenders on a wire rack lined baking sheet.
Enjoy with TOSTITOS® Salsa Con Queso.
Baked Chicken Tenders
In our house we always bake our chicken strips. It is a very simple method of cooking, and we can the avoid smell of deep frying. Adding just a little bit of vegetable oil to the chips allows them to crisp up in the oven.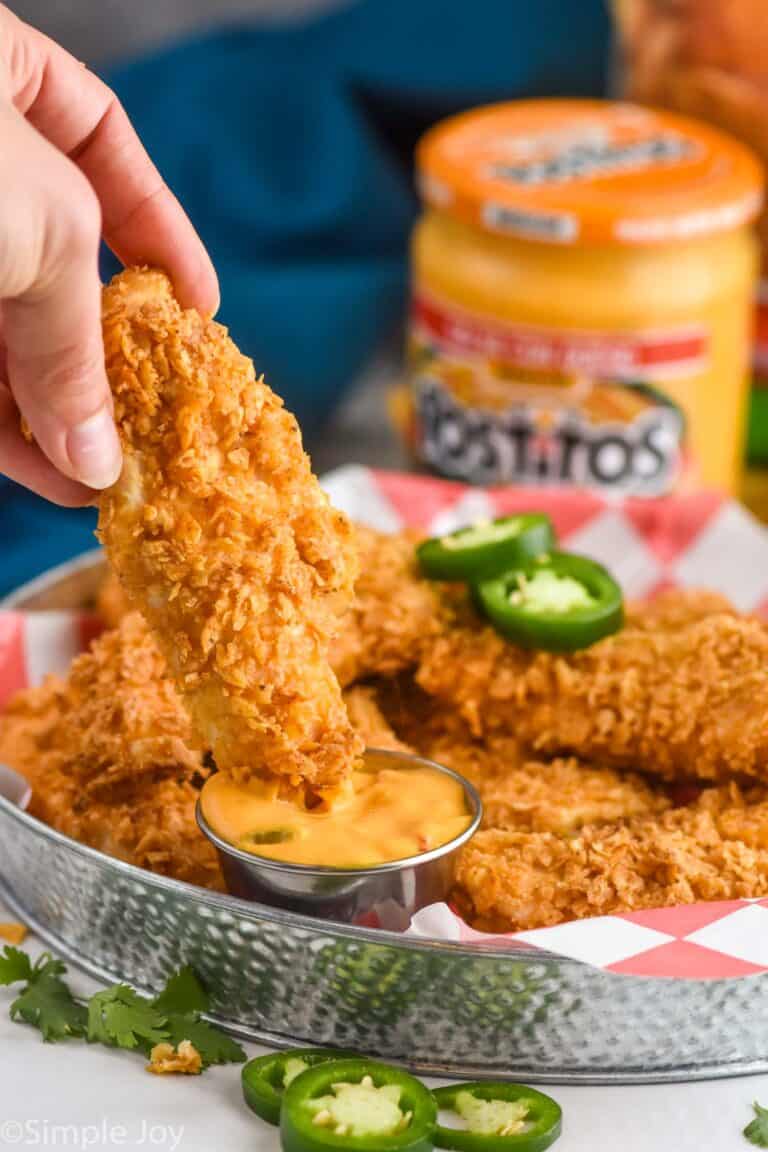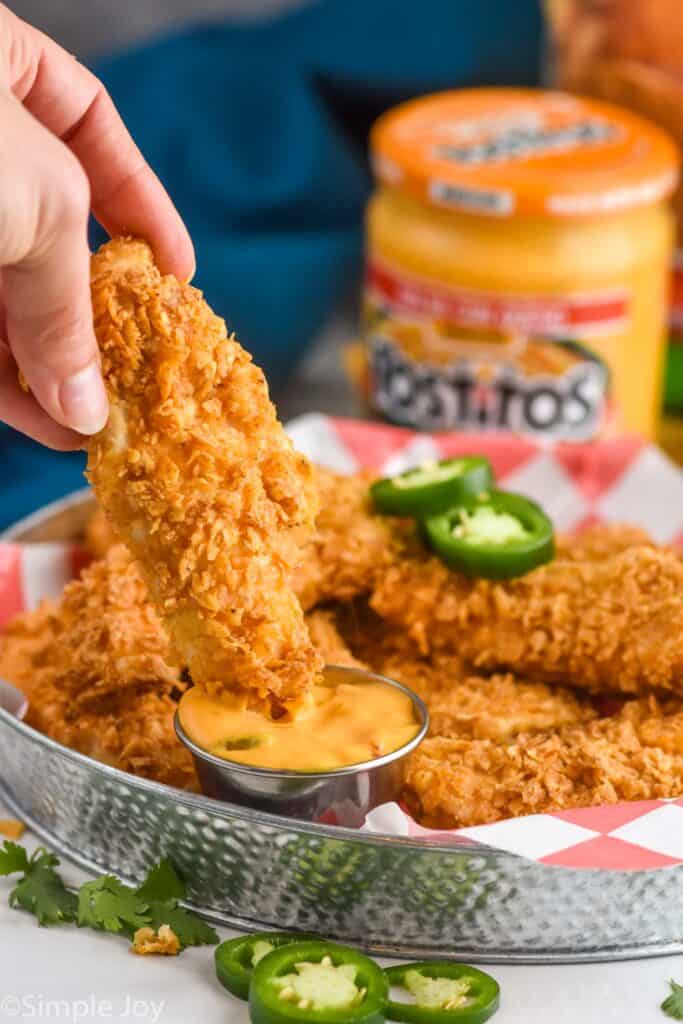 Air Fryer Chicken Tenders
You could definitely make these in an air fryer. You will need to cook them in batches, but they will crips up nicely.
Cook for 8 to 10 minutes at 360 degrees in an air fryer, making sure that you check the temperature of the chicken with an instant read thermometer when they come out. The chicken should register 165 degrees.
Topping Nacho Chicken Strips
I'm telling you that you need to dip these chicken tenders in TOSTITOS® Salsa Con Queso. The flavor combination is absolutely perfect. Here are a few other great topping ideas:
sour cream
jalapeños
olives
diced tomatoes
cilantro
shredded lettuce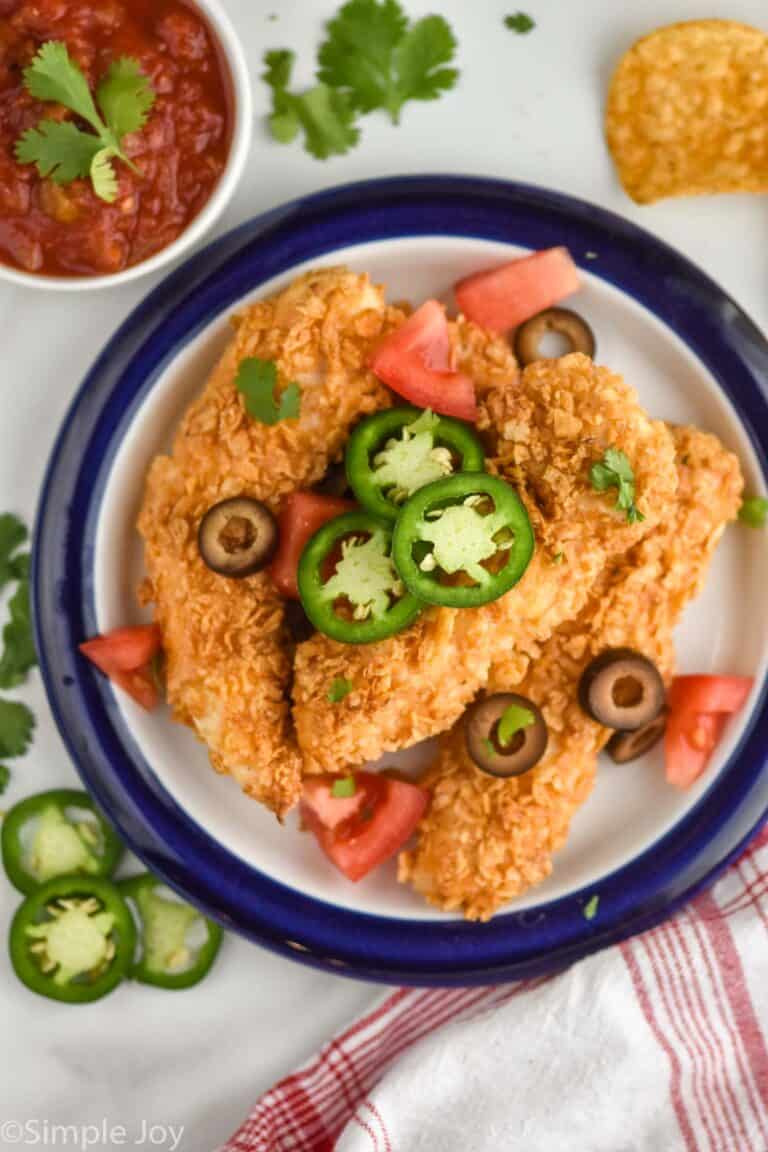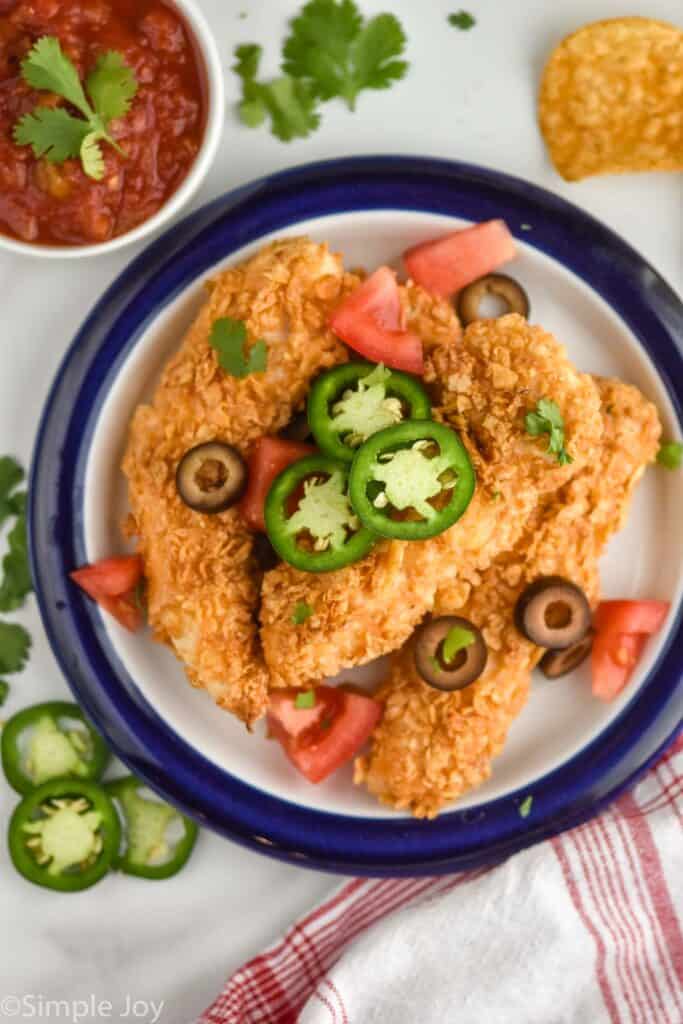 Other Great Kid Friendly Dinners
If you need more great dinner inspiration for little fingers, check out some of these kid friendly recipes:
As mentioned, we use TOSTITOS® for taco night all time. It is a regular occasion with this great Chicken Taco recipe my kids adore.
Another great meal for chips that my kids love is this Chicken Taco Soup. The best part is that it takes 5 minutes to prepare!
Finally, these Baked Chicken Fajitas are a 30 minute fan favorite around here!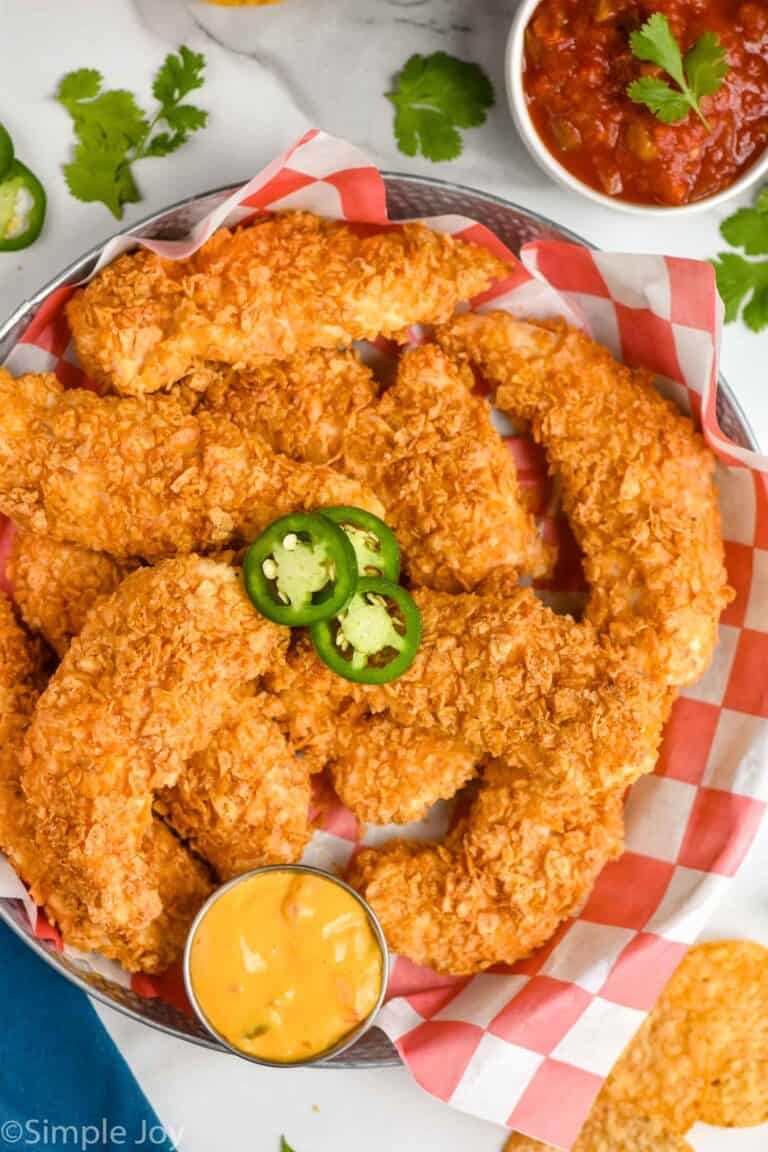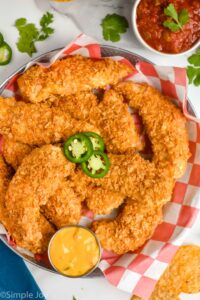 Nacho Chicken Tenders
These Nacho Chicken Tenders are the perfect fun dinner recipe. Your family will love this twist on classic baked chicken strips.
Ingredients
For Chicken Tenders
2

pounds

chicken tenderloins

1

teaspoon

salt

1/4

teaspoon

black pepper

1/2

cup

all purpose flour

2

eggs

1/2

tablespoon

milk

2

cups

crushed Salsa Verde TOSTITOS®

1/4

cup

vegetable oil
For Dipping
8

ounces

TOSTITOS® Salsa Con Queso
Instructions
Preheat your oven to 400 degrees. Line a rimmed baking sheet with foil and set aside.

Add the flour to a large plate, whisk in the salt and pepper.

Whisk the eggs with the milk in a medium sized bowl and put it next to the flour.

Finally, pour the crushed chips into a large bowl, mix in the vegetable oil. Add to a large plate next to the eggs.

Working in batches dip the chicken in the flour, then the eggs, then the TOSTITOS® mixture and place them on the baking dish. Bake for 20 to 25 minutes or until chicken registers 165 degrees with an instant read thermometer.

Serve with TOSTITOS® Salsa Con Queso and your favorite taco toppings like tomatoes, jalapeños, olives, and sour cream.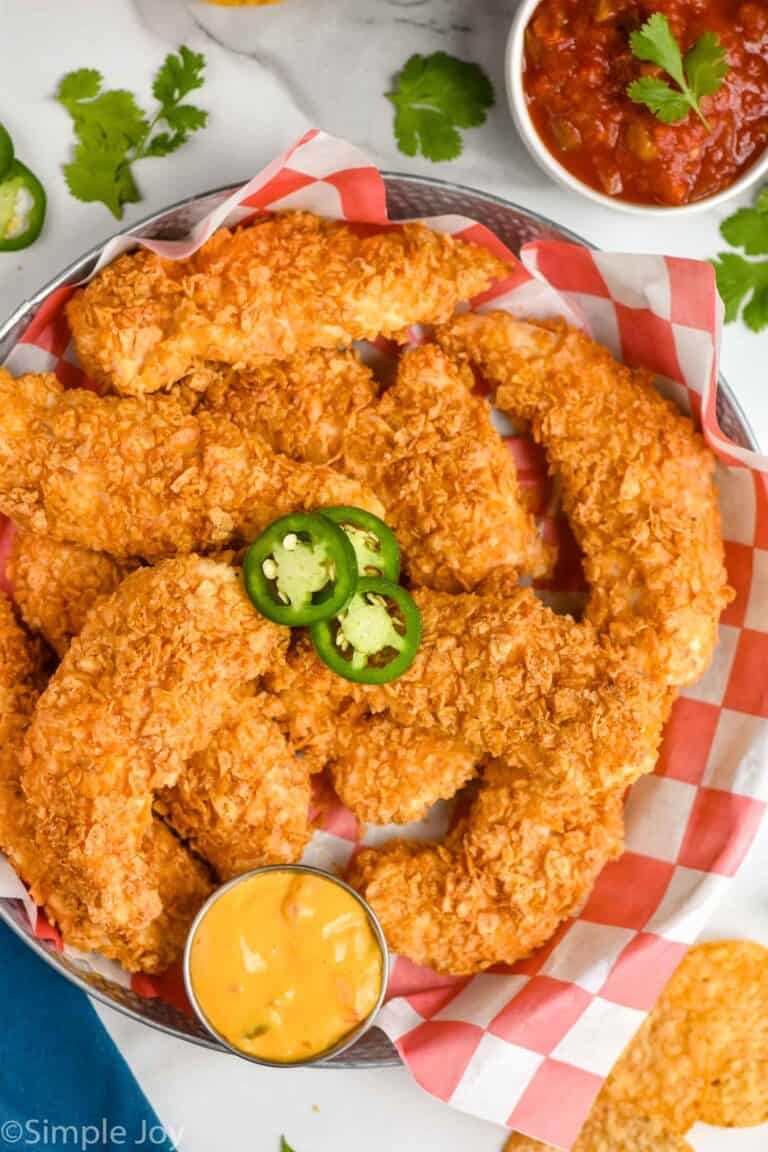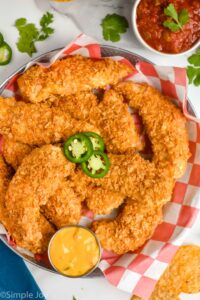 did you make this
Nacho Chicken Tenders