These Baked Chicken Fajitas are going to be a new family favorite! Made with just a few simple ingredients in 30 minutes, your family will fall in love with these easy chicken fajitas. Grab my homemade fajita seasoning recipe, make a big batch, and then add these to the regular rotation!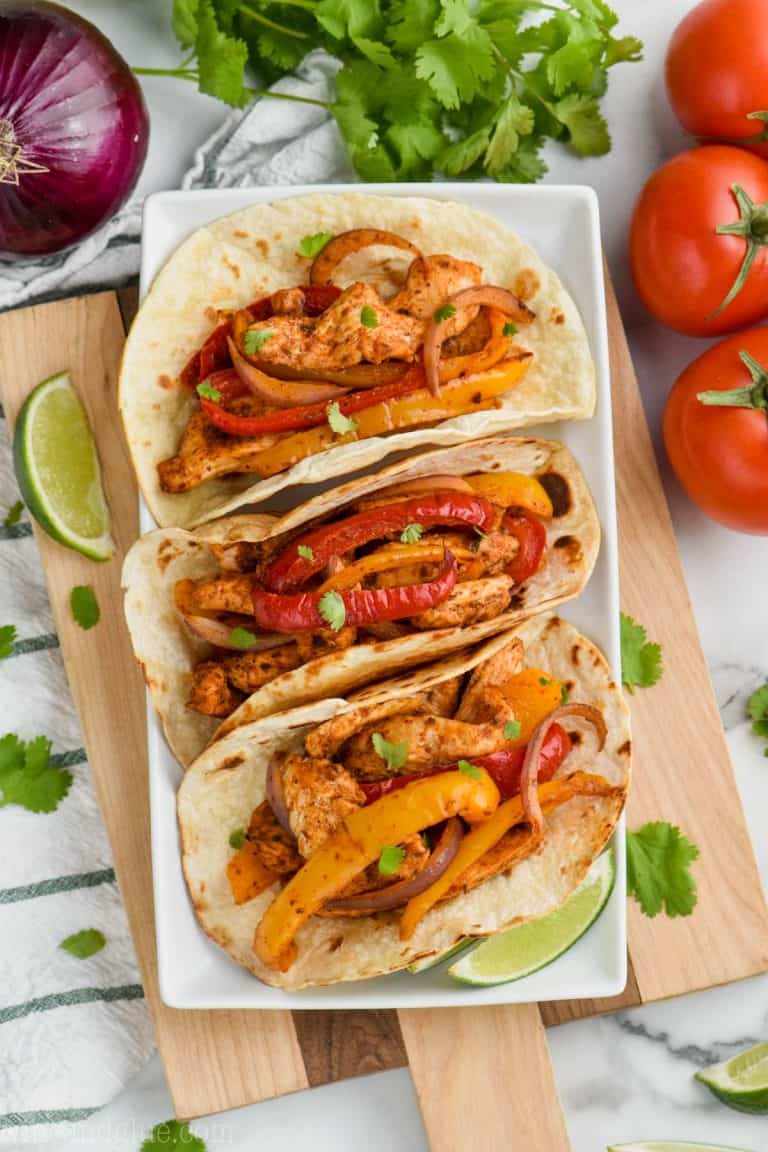 Have I ever told you guys about my friend, Ashley? She is the talent behind Center Cut Cook, and while she and I met because of blogging, our friendship reaches far beyond that. Ashley talks very little on her blog about what her life has looked like over the last five years, but if you follow her on Instagram she opens up in her stories a lot. I will give you the short version. Ashley lost her amazing husband, Ryan, last year to cancer. She and Ryan have an amazing little boy, Miles. He is about the same age as Piper and he lights up any room he walks in. He also happens to have been born with an extremely rare kidney disease that resulted in him needing daily dialysis and eventually a liver and kidney transplant.
I love Ashley for a lot of reasons, but one of the big ones is that though she and I have been through really different things, I can talk to her about grief and living with grief in a way that not really anyone else in my life understands. She lives without being a victim. She lives with purpose, and she is so funny that she has made me cry laughing so many times.
So. If you don't follow Ashley, do. Her words and Ryan's too have really taught me so much about treasuring time. And if you aren't an organ donor, go ahead and check that little box. What if some day those organs you are done with now save a Miles?
BAKED CHICKEN FAJITAS
On to the recipe! (I can just picture Ashley rolling her eyes at me for going on and on about her.) These Baked Chicken Fajitas have been on the blog for a while, but I wanted to give them a face lift, and remake them using my Homemade Fajita Seasoning Recipe. I love these easy chicken fajitas because they are made with just a few simple ingredients. They are so simple, and my family always devours these.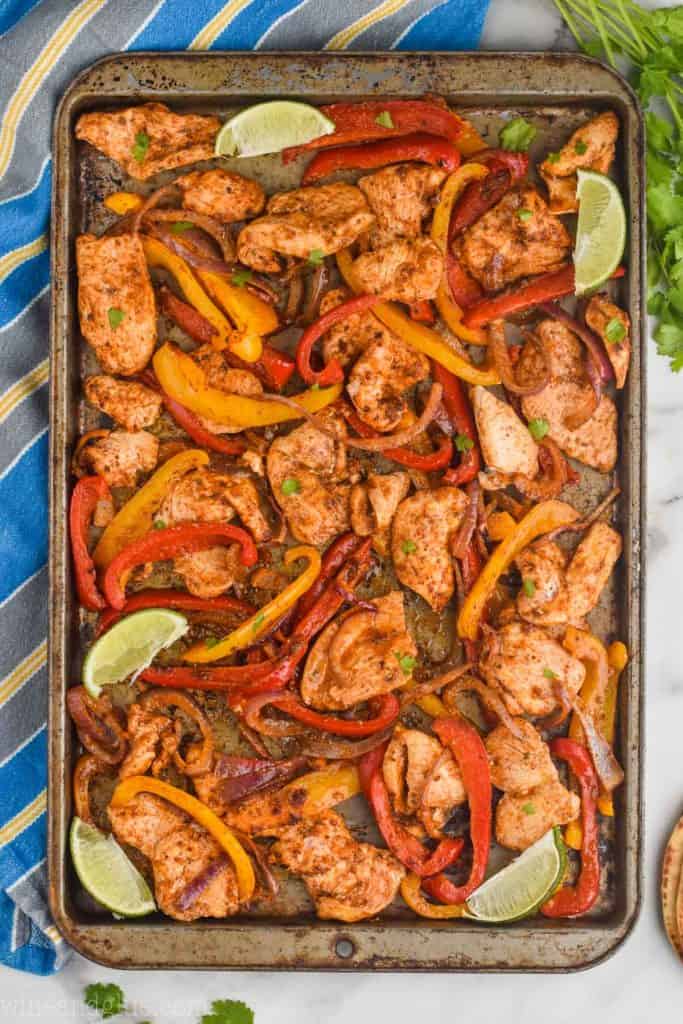 HOW TO MAKE CHICKEN FAJITAS IN THE OVEN
This chicken fajita recipe is so super simple. You can even mix it all together right on the baking sheet if you want.
Line a baking sheet with parchment paper or aluminum foil.
Add cut up chicken, peppers, and onions to the tray.
Sprinkle with fajita seasoning (either grab my recipe or grab a packet from the grocery store).
Drizzle with oil.
Add a bit of lime juice.
Mix it all together and pop it in the oven!
Isn't that so easy?? The prep time on these oven chicken fajitas is only 10 minutes, and then the whole thing bakes up in the oven for 20 minutes. That makes this a fast and easy 30 minute meal with 20 minutes of hands off time. Those are my favorite kinds of meals because that hour before dinner when everyone is doing homework or trying to murder their sibling is so nuts!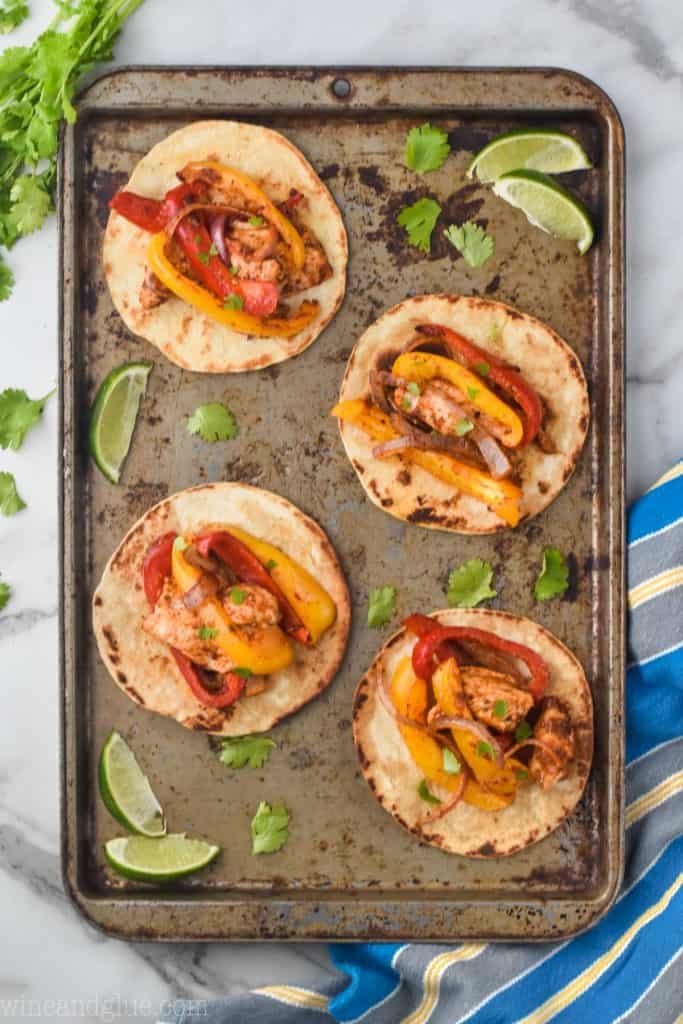 HOMEMADE CHICKEN FAJITA SEASONING
Of course these oven baked chicken fajitas wouldn't be what it is with my fajita seasoning. I love that recipe so much because the instructions give you measurements to make just enough for this one recipe OR enough to make a big batch so you can have it on hand all the time. Here is what you need:
corn starch
chili powder
salt
paprika
oregano
onion powder
garlic powder
It makes for the perfect flavor mix!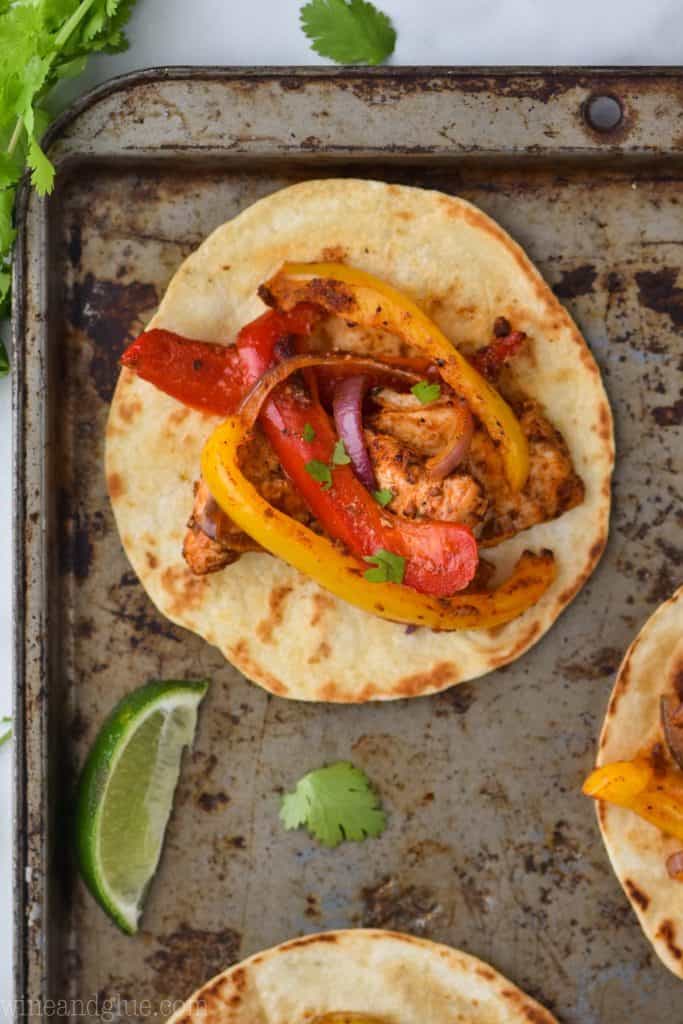 OTHER GREAT 30 – 40 MINUTE DINNERS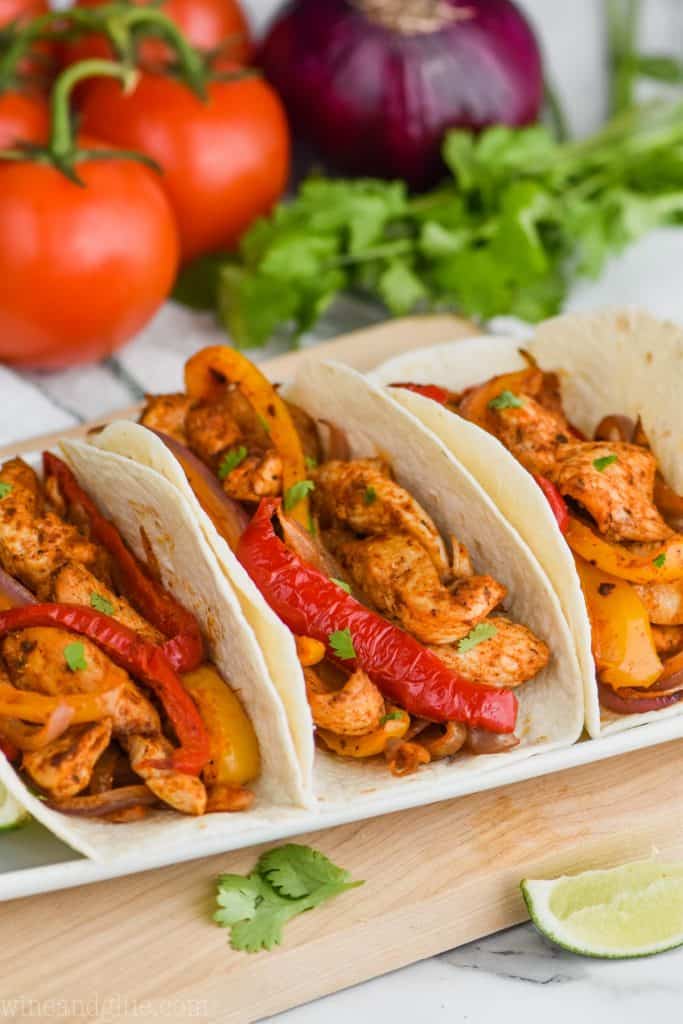 Follow me on social for more recipe ideas & inspiration!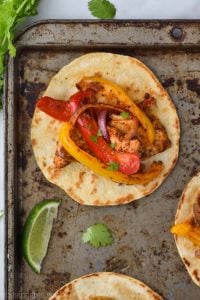 Baked Chicken Fajitas
These Baked Chicken Fajitas are going to be a new family favorite! Made with just a few simple ingredients in 30 minutes, your family will fall in love with these easy chicken fajitas.
Ingredients
1

yellow bell pepper

sliced

1

red bell pepper

sliced

1

small red onion

sliced

1

pound

of chicken

sliced thin

3

tablespoons

fajita seasoning

(see note)

3

tablespoons

olive oil

12

small tortilla shells

1

teaspoon

lime juice

or the juice of a lime wedge (1/8 of a lime)
Instructions
Preheat your oven to 425 degrees.

Line a baking sheet with aluminum foil or parchment paper. Add diced chicken, sliced peppers, and sliced onion.

Sprinkle the fajita seasoning over the vegetables and chicken.

Evenly spread the olive oil and lime juice over the vegetables and chicken and toss to combine.

Cook for 19 minutes or until chicken is cooked through and vegetables are tender.

Enjoy immediately with tortilla shells. We love adding sour cream on our fajitas!
Notes
This recipe calls for 3 tablespoons of my fajita seasoning. If you make the small batch version use all of that for this recipe. OR you can use a 1 ounce fajita seasoning packet from the grocery store.
The calorie count for these are for 3 fajitas on 3 six inch flour tortillas with no sour cream.
Calories:
576
kcal
(29%)
Carbohydrates:
79
g
(26%)
Protein:
51
g
(102%)
Fat:
8
g
(12%)
Saturated Fat:
4
g
(25%)
Polyunsaturated Fat:
1
g
Cholesterol:
66
mg
(22%)
Sodium:
1541
mg
(67%)
Potassium:
1112
mg
(32%)
Fiber:
24
g
(100%)
Sugar:
7
g
(8%)
Vitamin A:
1550
IU
(31%)
Vitamin C:
174.9
mg
(212%)
Calcium:
70
mg
(7%)
Iron:
7.4
mg
(41%)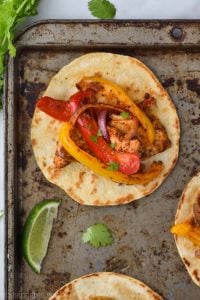 did you make this
Baked Chicken Fajitas
Other great dinner recipes!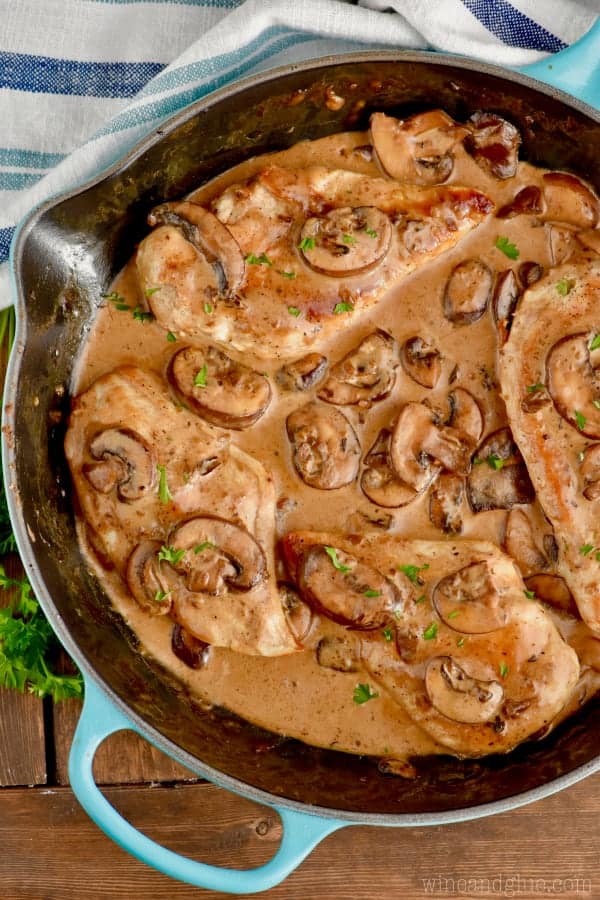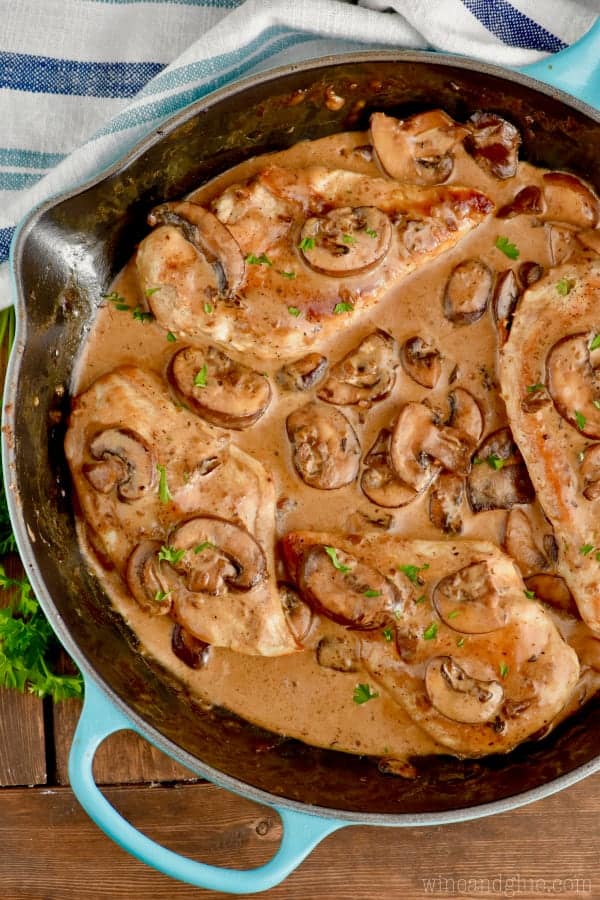 Southwestern Cheesy Chicken and Rice Casserole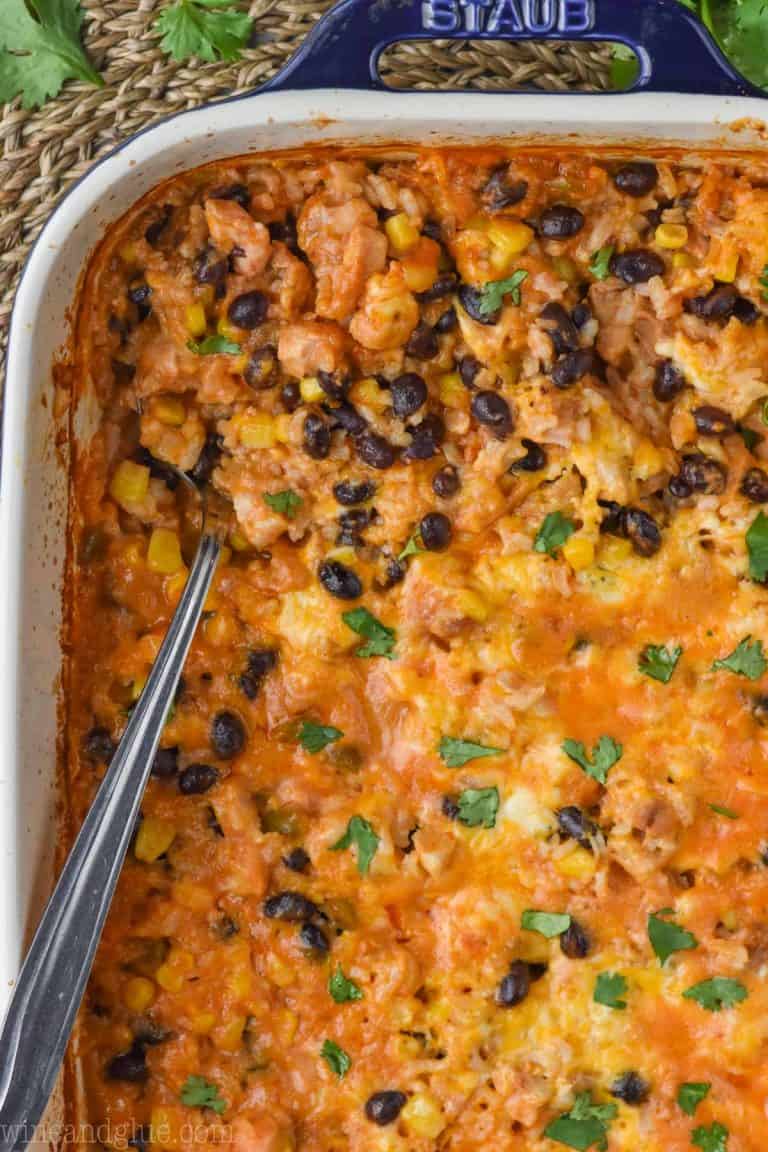 Creamy Cajun Shrimp Pasta Recipe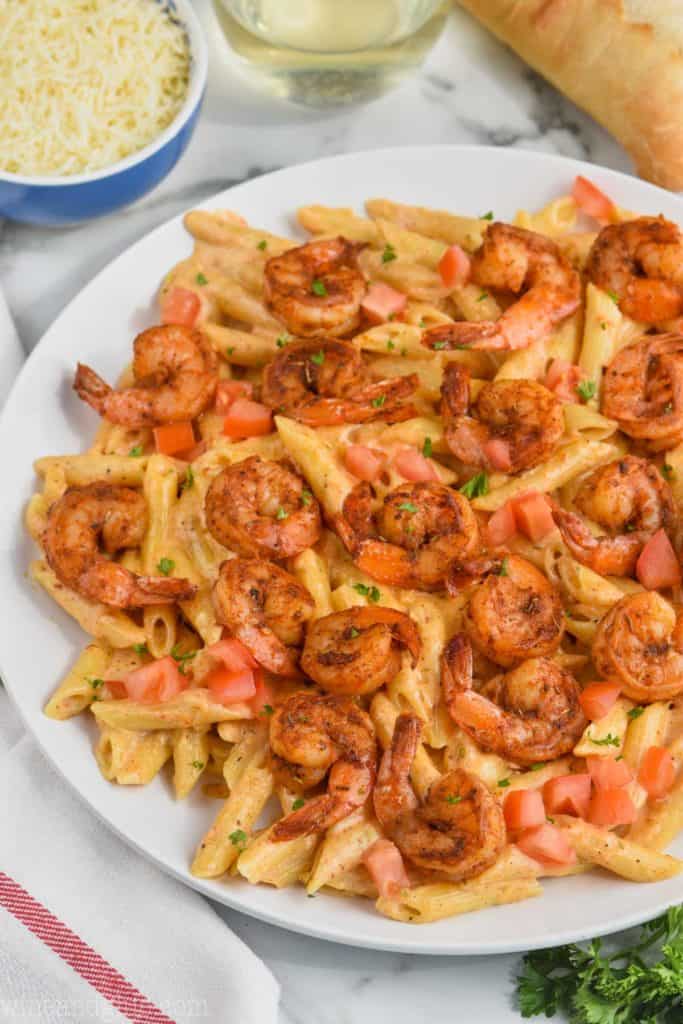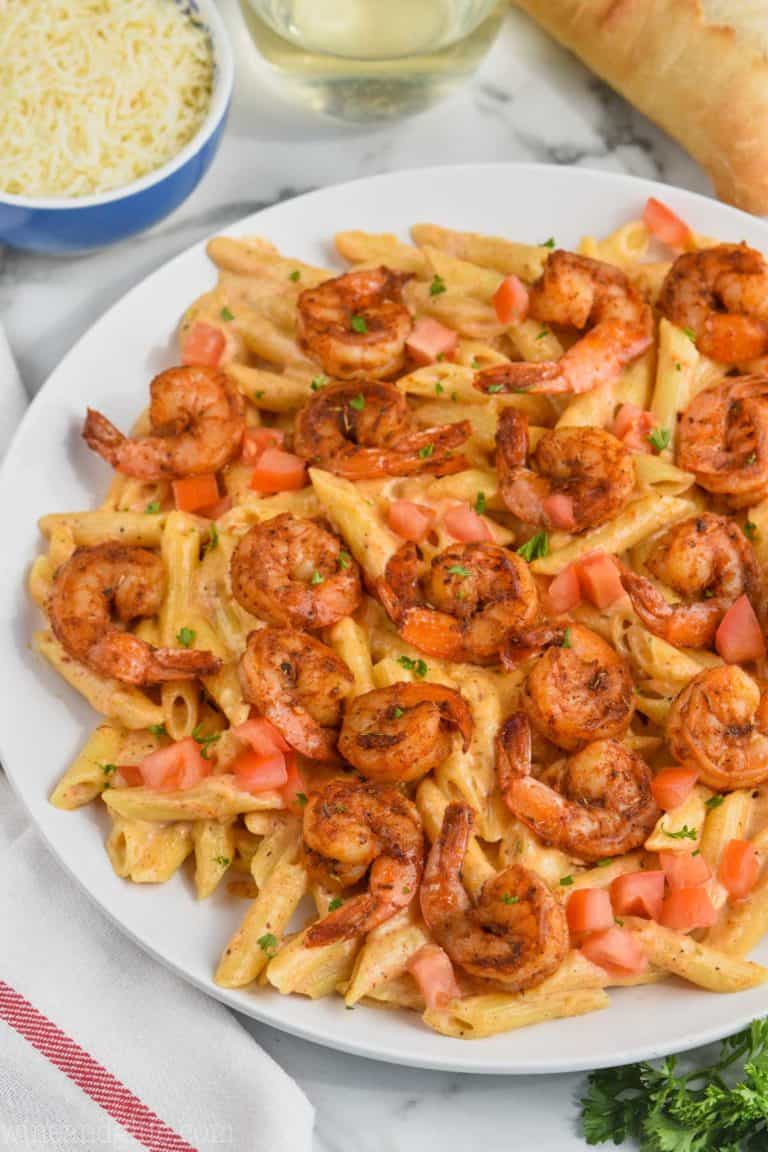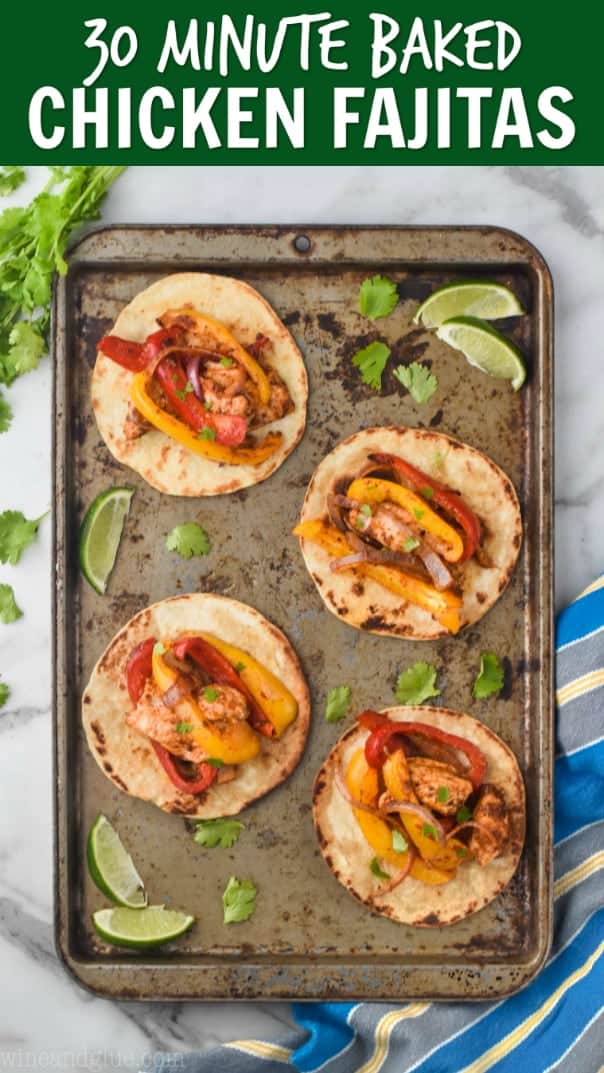 SaveSave