This Pumpkin Fudge recipe uses real pumpkin and a few other simple ingredients to make a melt in your mouth fudge! This is a recipe you will love year after year.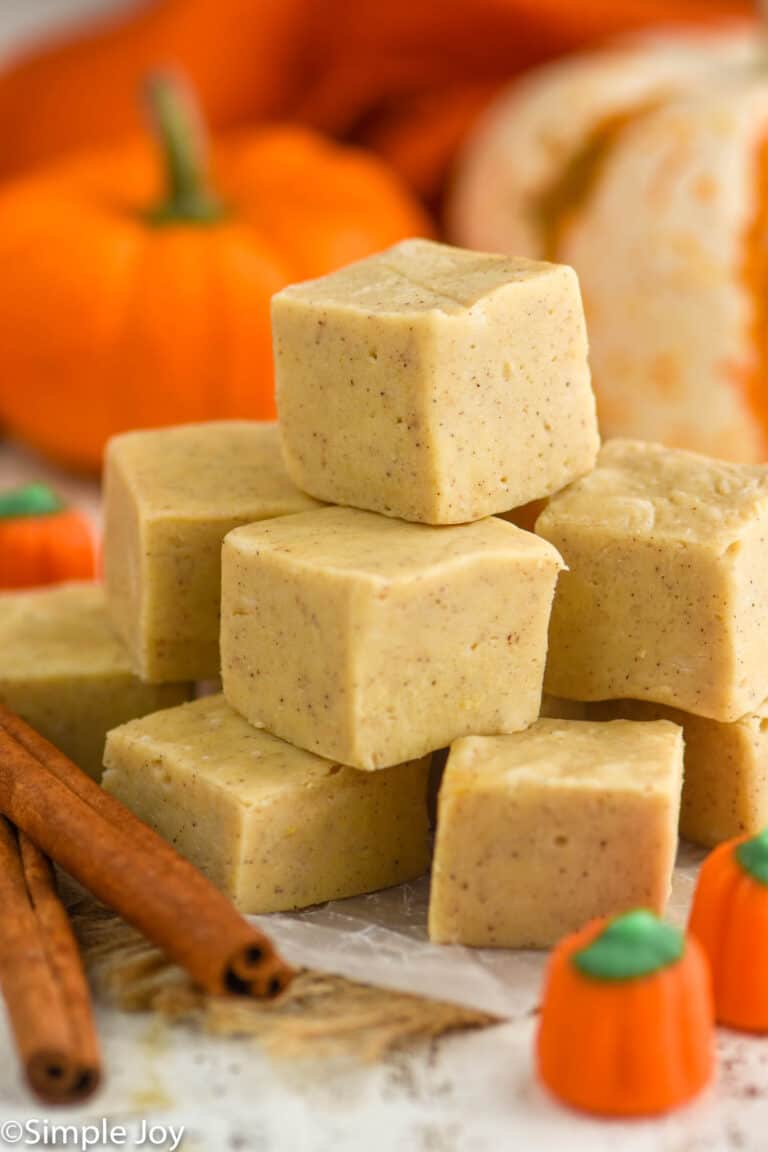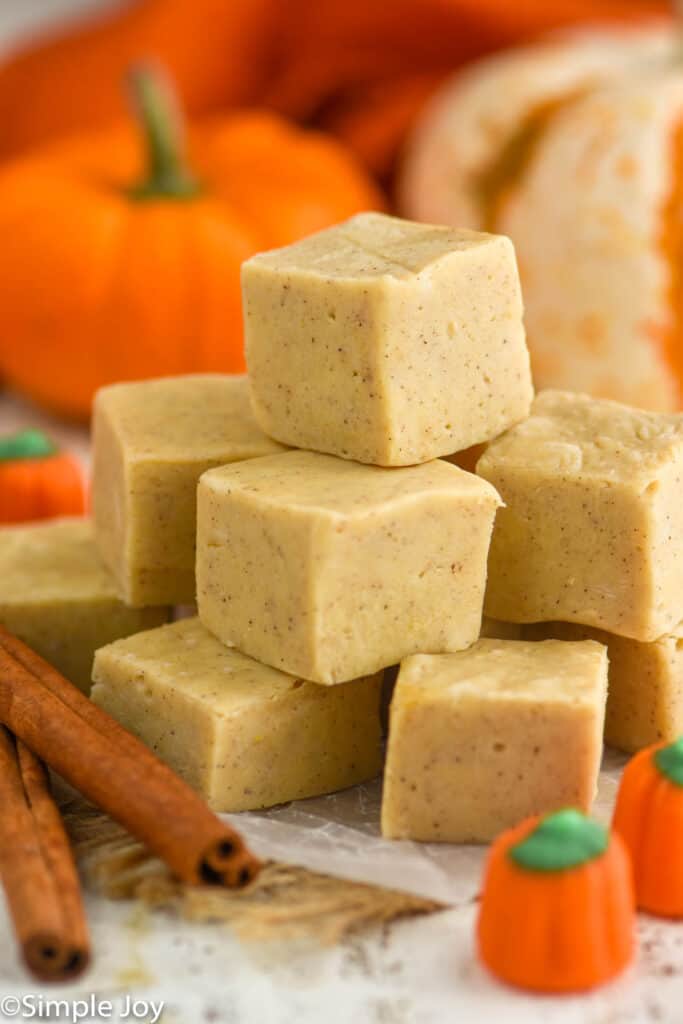 If you are someone who can't get enough of pumpkin flavors, I am about to knock your socks off. This easy Pumpkin Fudge recipe is addictive, and even better, it is the perfect recipe to make with kids.
I love creating easy fudge recipes because there are so many different things you can do with flavors. They also are truly easy to make. You do not need a candy thermometer, and this recipe will come together in a snap making you feel like a chocolatier.
How to Make Easy Fudge
The key to an easy fudge recipe are three simple ingredients. You can find the main recipe that all my easy fudge recipes are spun from with this Easy Fudge Recipe post.
Chocolate Chips
Sweetened Condensed Milk
Vanilla Extract
Just melting together the right amounts of these three ingredients will yield a delicious fudge every single time.
What Makes This Pumpkin Fudge
If you add anything to the above three ingredients, you will need to make adjustments to account for liquid and to make sure the fudge sets.
In this pumpkin fudge, we are adding actual pumpkin puree, which is liquidy. Because of that, we need to add more chocolate than we normally do. In addition to the pumpkin, there are spices that bring home that pumpkin pie flavor.
Vanilla Extract
Cinnamon
Nutmeg
Cloves
If your family does not like the taste of cloves, you can exchange it for All Spice or you can leave it out all together.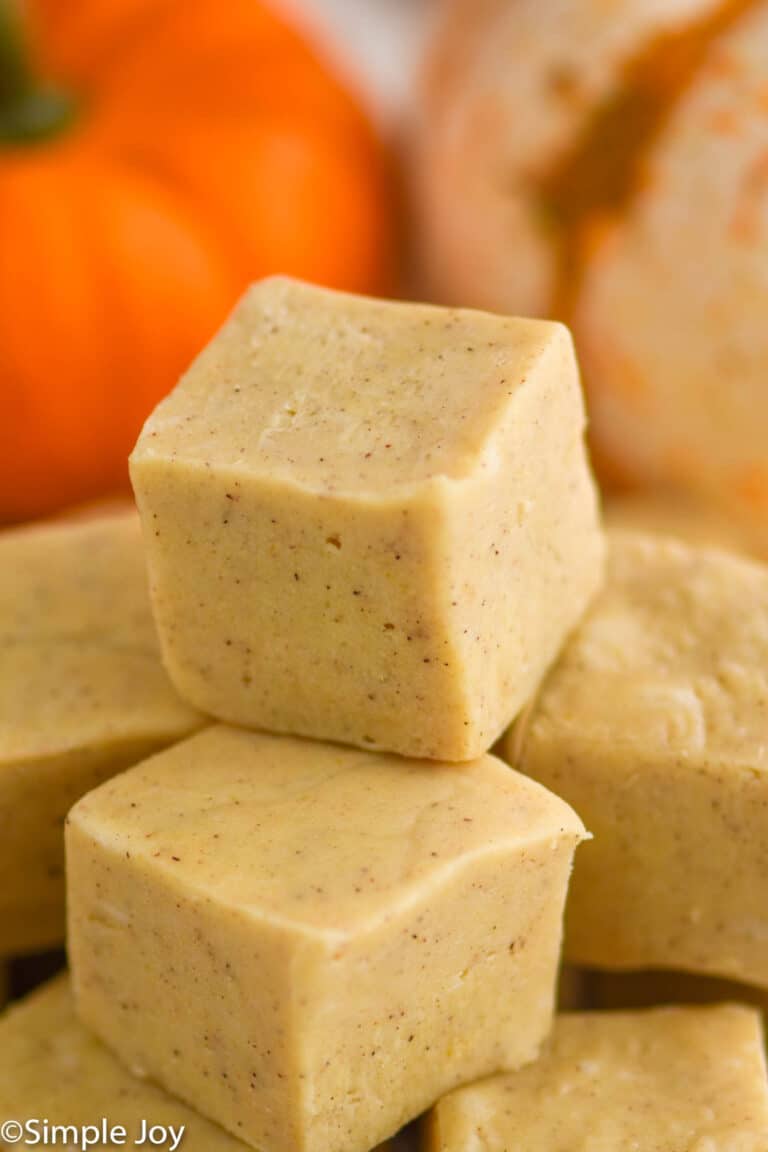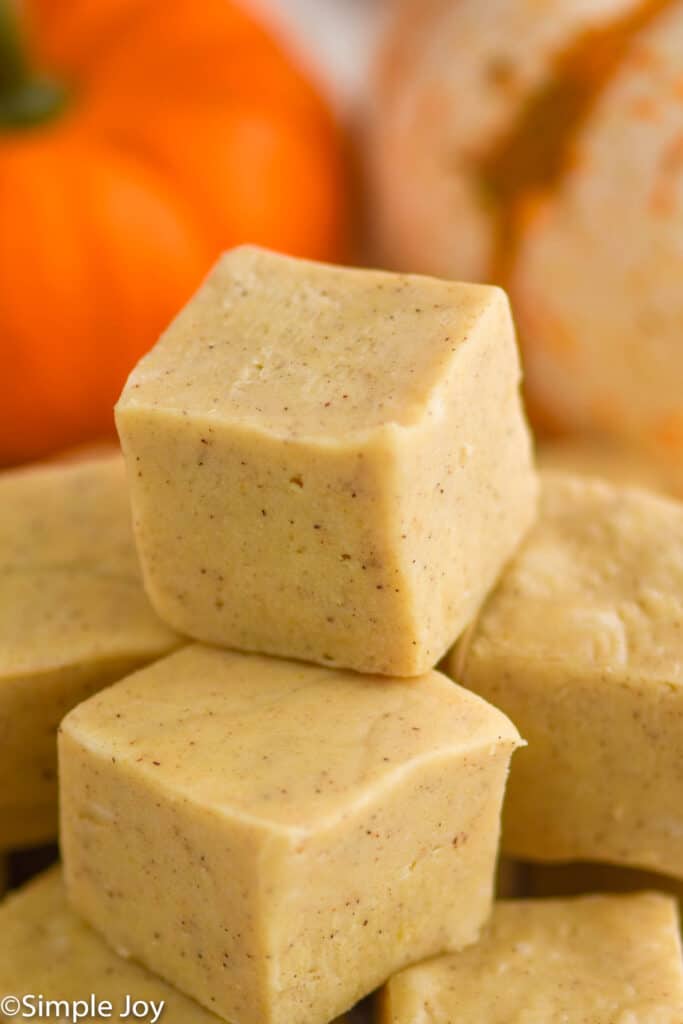 Sweetened Condensed Milk vs. Evaporated Milk
The number one mistake that people make in easy fudge recipes is buying the wrong ingredient. This recipe calls for Sweetened Condensed Milk. Unfortunately, it is the same sized container and exact same packaging as Evaporated Milk.
Evaporated Milk is not the same thing as Sweetened Condensed Milk. It is far thinner and as a result will yield fudge that does not set. Please double check what you are buying.
Pro Tip
When you buy your sweetened condensed milk, stick to well known brands, such as Eagle. There is too much variation in the off brands. Additionally, give the sweetened condensed milk a really good stir in the can before you measure out the amount you need.
Seizing White Chocolate
As you may know, white chocolate isn't actually chocolate at all. While very delicious, it can be a little temperamental.
It is important to keep in mind, when working with white chocolate, that you can't get any water in it. It will seize up and become difficult to work with.
I do not use a double boiler system when melting white chocolate because it is too easy for the seal to break on the bowl and steam to get out of the boiling water and into the bowl. Following the directions below will yield you delicious and smooth fudge.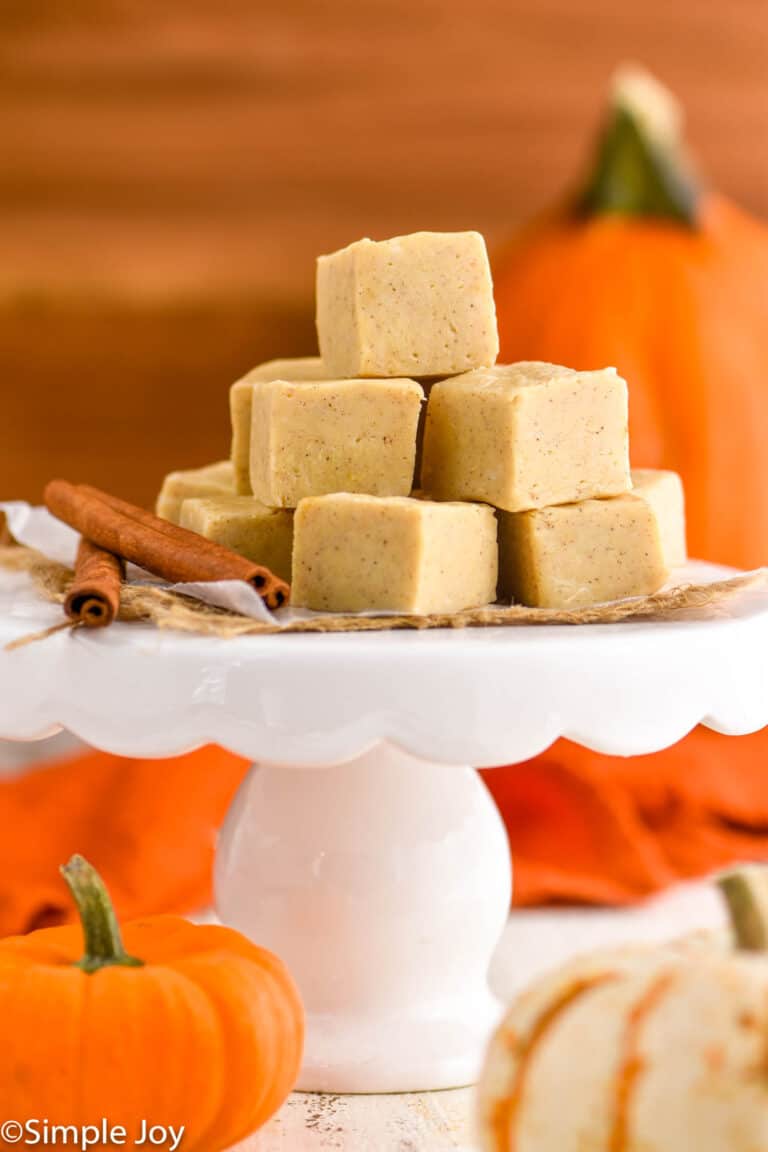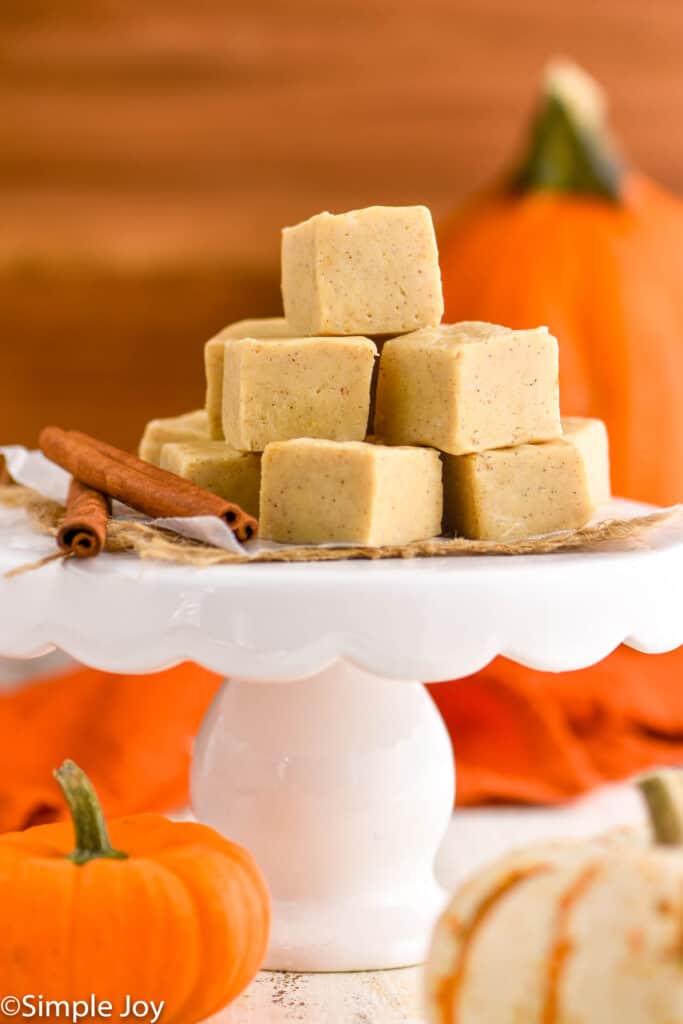 Final Tips and Tricks
Because I want this recipe to turn out perfect for you, please keep in mind these final points.
Not all white chocolate is created equal. I encourage you to buy name brand. I find that off brand white chocolate doesn't always melt the best.
Make sure to buy Sweetened Condensed Milk. It is worth repeating.
Mix the Sweetened Condense Milk in it's can. Some brands separate and this will help ensure success in your recipe.
Do not use the entire can of Sweetened Condensed Milk. It is a 14 ounce can, and you are only using 8 liquid ounces. Please use a liquid measuring cup.
Use enough white chocolate chips. The recipe calls for four level cups. If you want to go by weight and pull out your kitchen scale it is 24 ounces (by weight, not liquid).
Line your baking dish with aluminum foil. It will make cutting much easier.
Do not use extra pumpkin. You might be tempted to add more pumpkin. If you do this, the fudge will not set.
Doing all of this, your fudge will still be softer than typical fudge. Put it in the refrigerator overnight to make cutting easier.
How to Store Pumpkin Fudge
I recommend storing this fudge in the refrigerator overnight before cutting. That being said, I kept mine at room temperature after cutting, and it was soft and delicious. Store in an airtight container for up to two weeks.
Ways to Use Pumpkin Puree
This recipe calls for just 2 1/2 tablespoons of pumpkin. If you are looking for other great recipes that will use up the rest of that can, here are some suggestions:
If you make this Pumpkin Fudge or any of my other recipes, please leave me a comment and let me know what you think!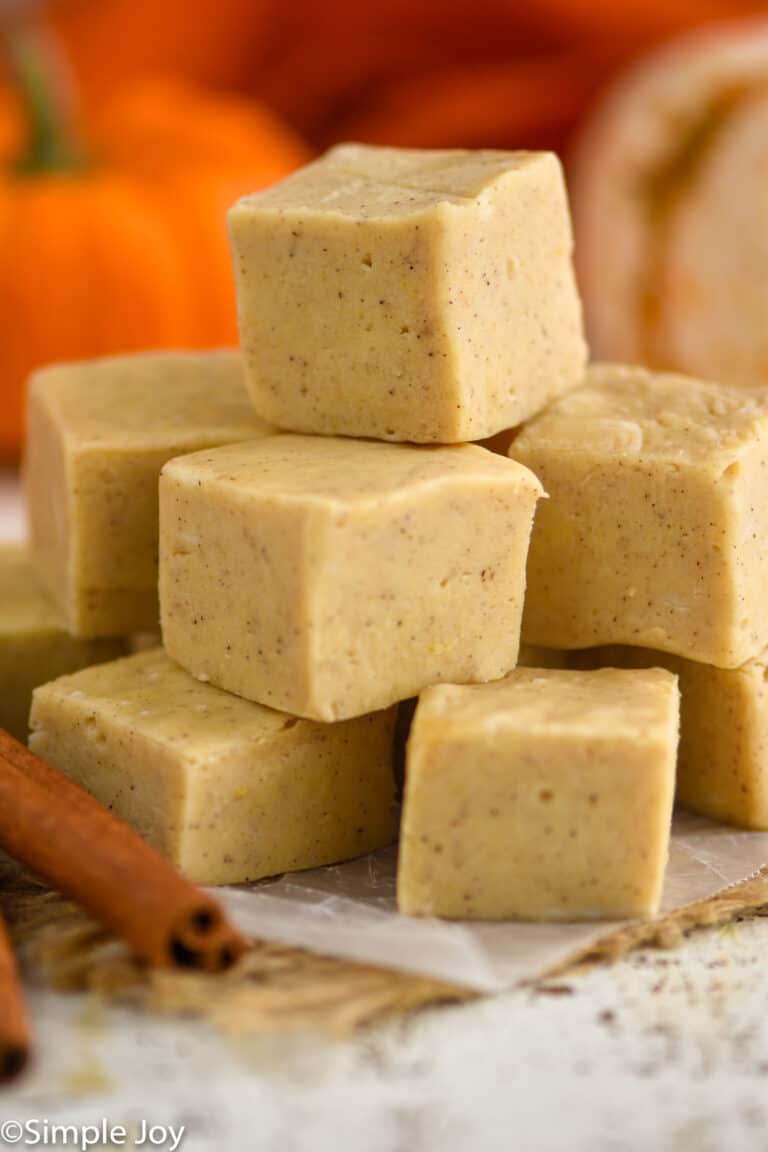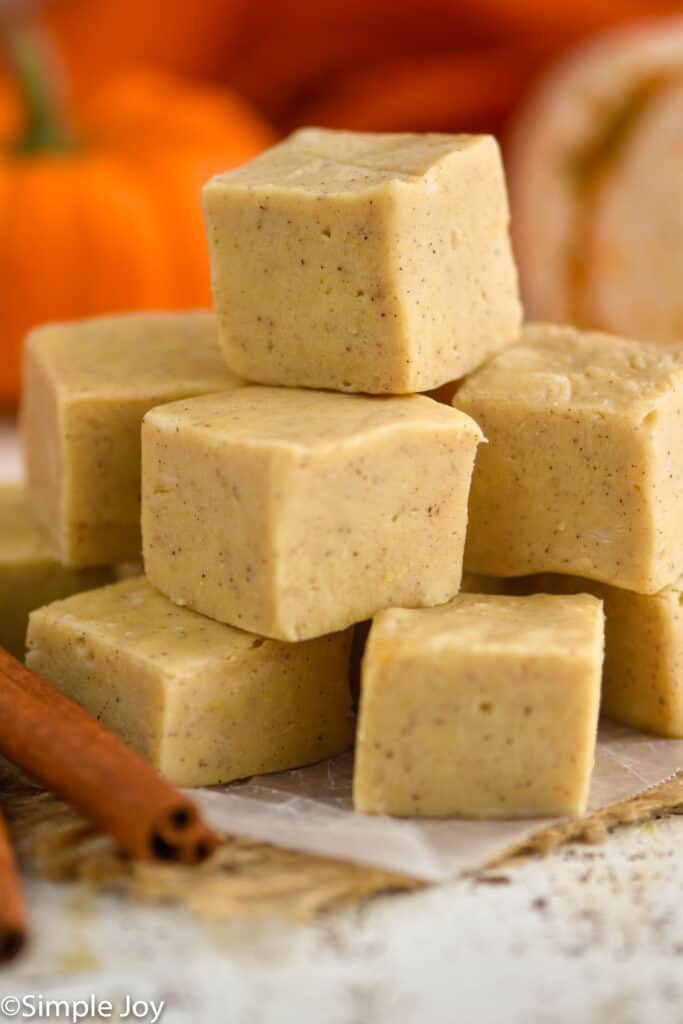 Recommended Tools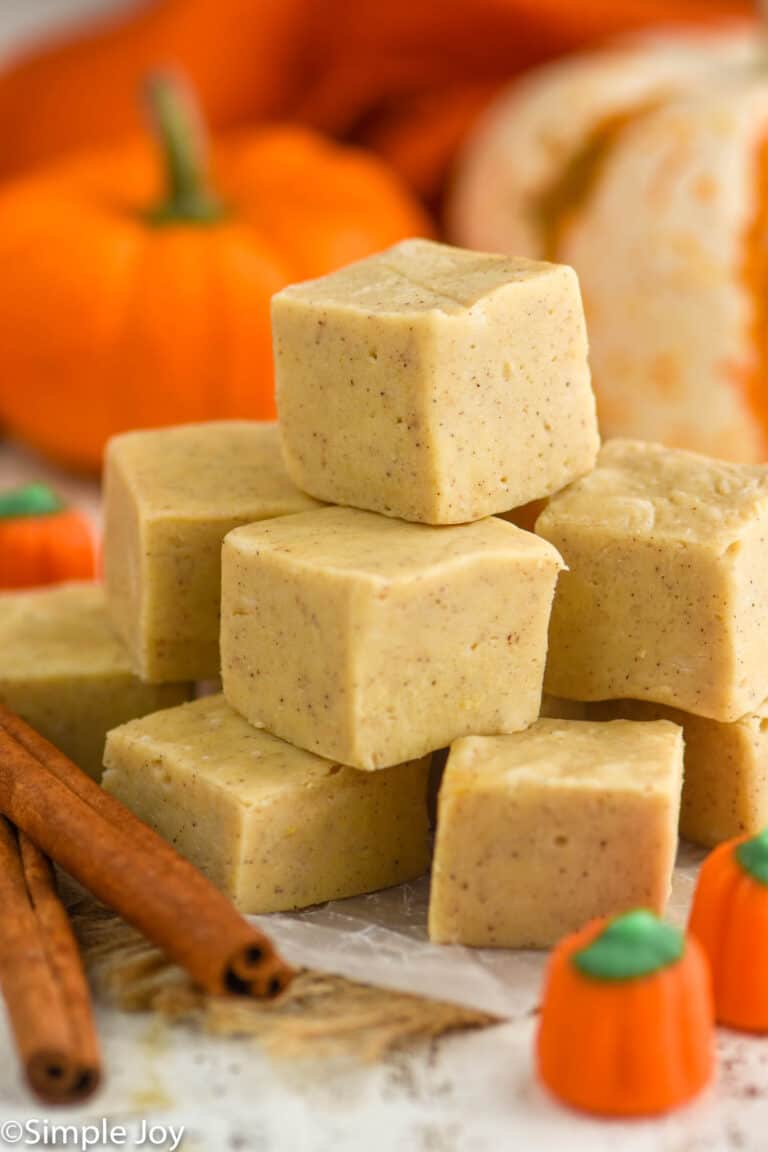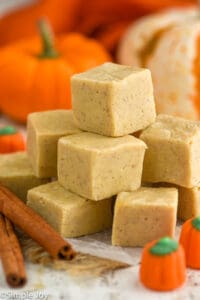 Pumpkin Fudge
This Pumpkin Fudge recipe uses real pumpkin and a few other simple ingredients to make a melt in your mouth fudge! This is a recipe you will love year after year.
Ingredients
Instructions
Line an 8×8 pan with aluminum foil and set aside.

Mix up the sweetened condensed milk. After you open the can, give it a really good stir. Some brands separate in the can and this will help ensure this recipe works out for you.

Melt the white chocolate chips and sweetened condensed milk (make sure it is not the whole 14 ounce can) together over low heat until smooth and combined, stirring often. Alternatively, melt in the microwave. Microwave for 1 minute at half power, stir well, and then continue to microwave at 30 second intervals stirring very well until just combined. The mixture will be very thick.

Stir in the pumpkin, vanilla, cinnamon, nutmeg, and cloves.

Pour into the aluminum foil lined pan.

Refrigerate at least four hours to set. Cut and serve.
Serving:
1
piece
Calories:
146
kcal
(7%)
Carbohydrates:
21
g
(7%)
Protein:
1
g
(2%)
Fat:
7
g
(11%)
Saturated Fat:
6
g
(38%)
Cholesterol:
5
mg
(2%)
Sodium:
32
mg
(1%)
Potassium:
1
mg
Sugar:
20
g
(22%)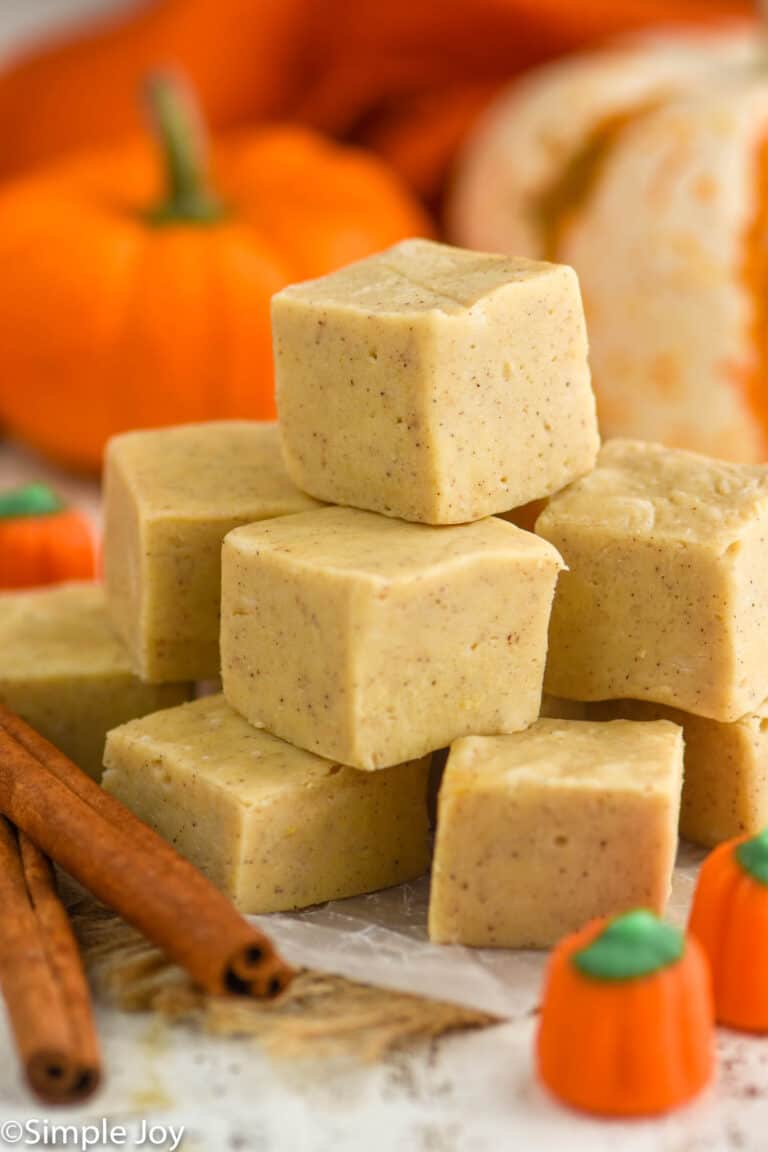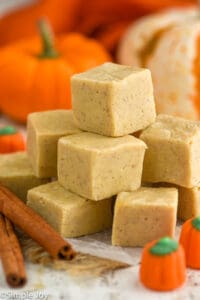 did you make this
Pumpkin Fudge