This Pumpkin Spice White Chocolate Popcorn is very simple to make but delicious and addictive! A great popcorn recipe perfect for celebrations and parties!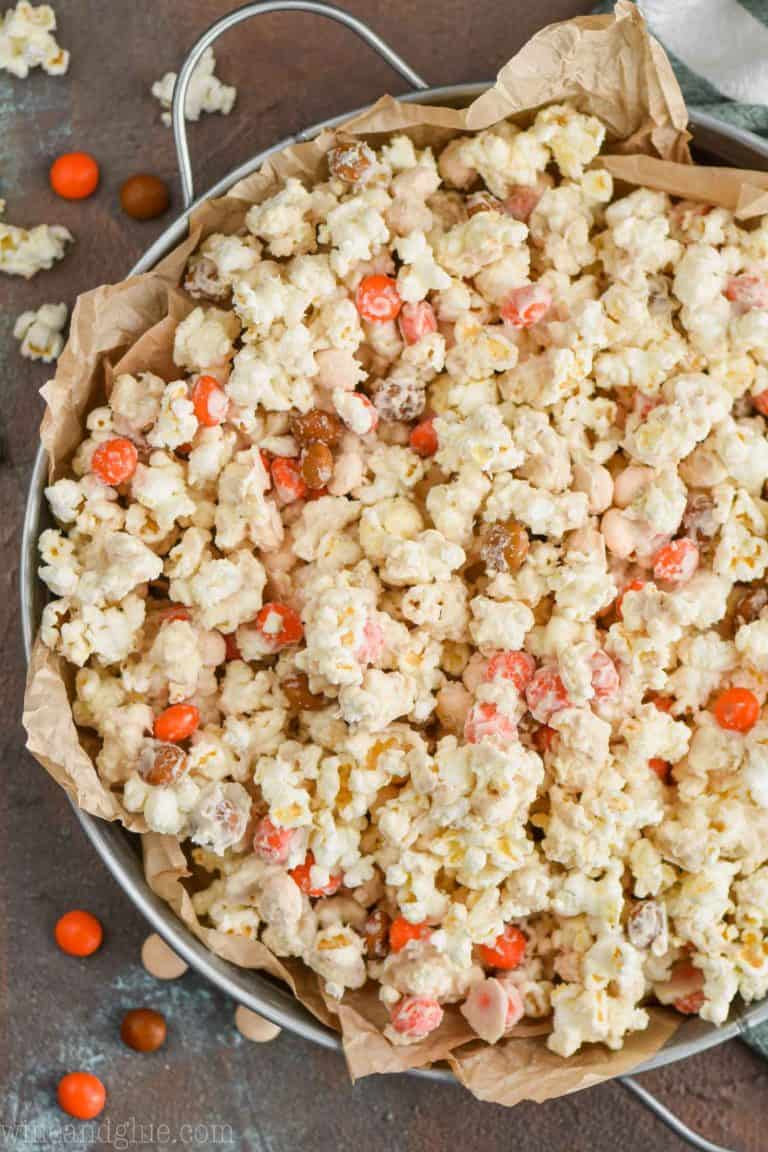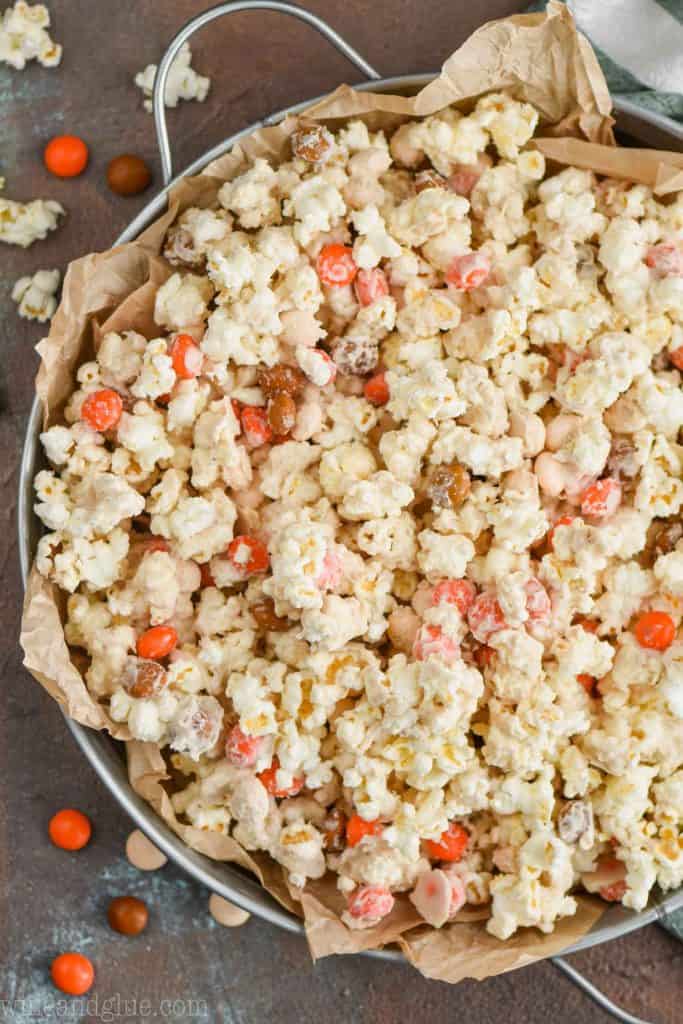 I'm so happy to be partnering with Sabra Hummus to bring you this delicious and easy Friendsgiving snack.
We are headed into the holiday season, and one of my favorite thing about it is holiday traditions. They literally make me giddy.
I don't know what it is about holiday traditions that are so wonderful. Maybe it is because the whole point of them is coming together with people you love to celebrate. So they immediately start off with joy.
THIS POPCORN RECIPE IS PERFECT FOR CELEBRATING
One of my favorite ways to celebrate around the holidays is with Friendsgiving! It's like Thanksgiving's cooler and more chill little brother.
While Thanksgiving is wonderful, what I love about Friendsgiving is that it is more relaxed. If the turkey isn't done at the same time as the potatoes, everyone just pours another cocktail and waits.
And! The recipes are more fun. You can make Persimmon Cranberry Sauce and Ranch Mashed Potatoes. You can mix everything up!
This Pumpkin Spice White chocolate Popcorn is absolutely perfect for a Friendsgiving celebration.
Sabra, my very favorite hummus that I eat daily for breakfast, also loves Friendsgiving. In fact they love it so much they have put together a whole Pinterest board full of amazing Friendsgiving ideas. Just like hummus, Friendsgiving is a chance to start with something amazing and then get creative.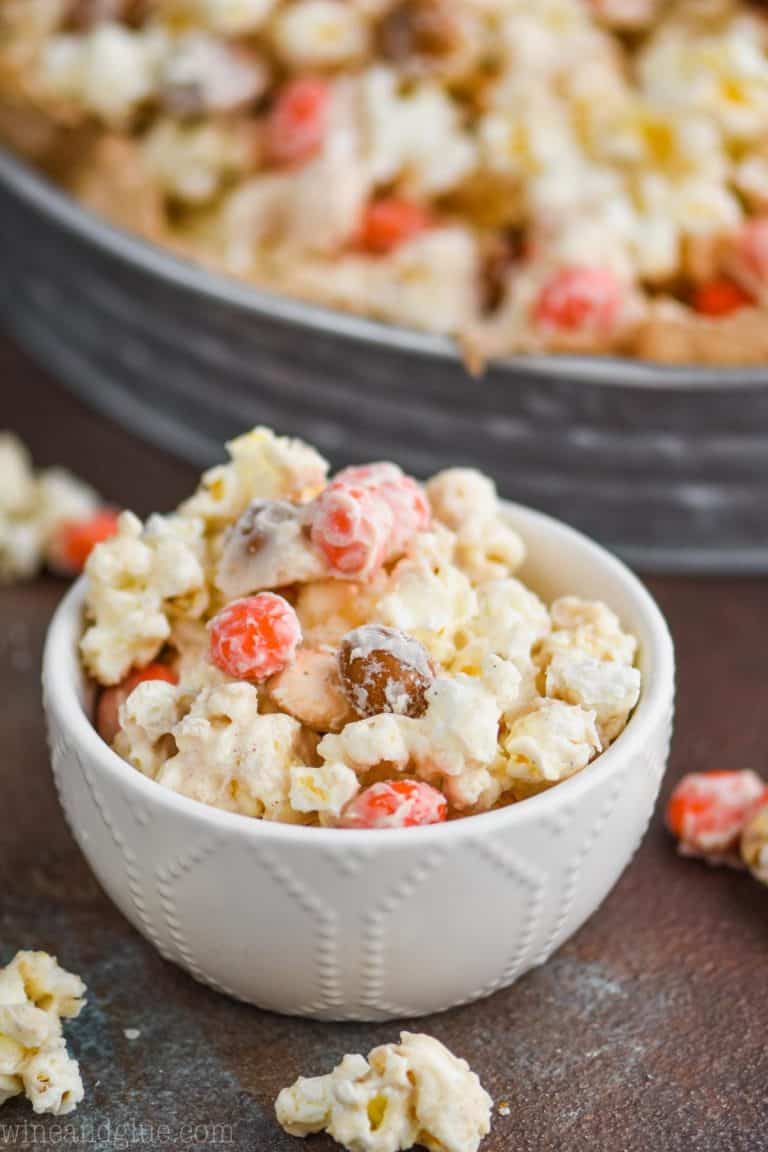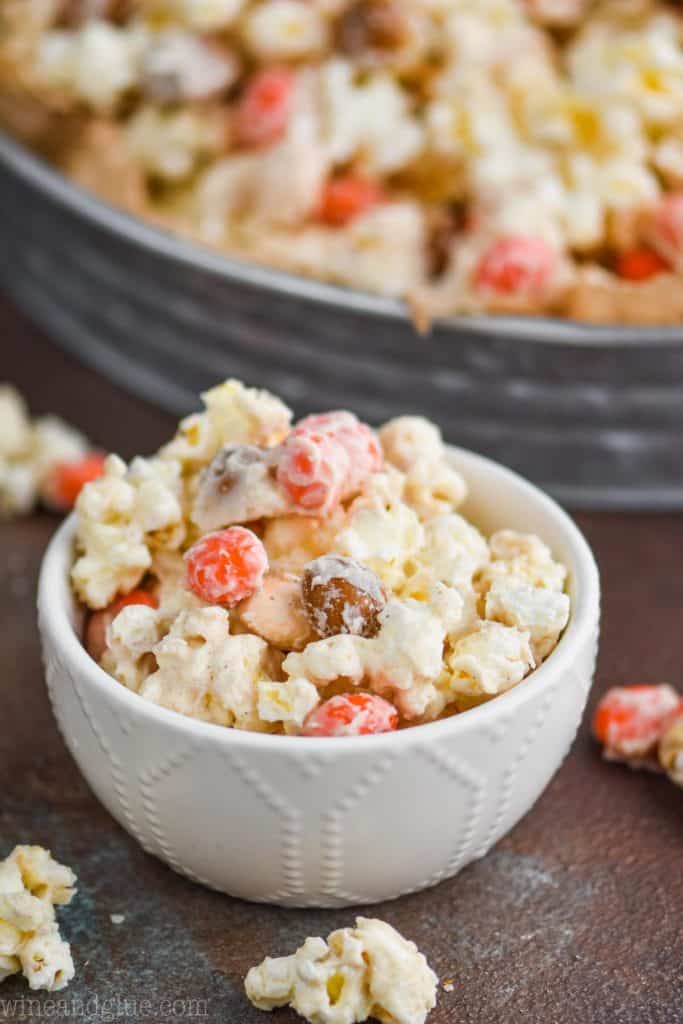 HOW TO MAKE PUMPKIN SPICE WHITE CHOCOLATE POPCORN
This recipe is very simple to make, which is perfect if you are hosting Friendsgiving.
Start by popping some popcorn.
Line a rimmed baking sheet with parchment paper. Spread the popcorn on the parchment paper.
Melt white chocolate and stir in some pumpkin spice.
Pour the white chocolate over the popcorn and stir in some Pumpkin Pie M&Ms. Using clean hands mix it all together. It will get messy but it will be worth it.
Let it air dry in one single layer and then break it apart and serve it.
MAKING THE PERFECT POPCORN RECIPE
While this easy recipe is perfect to throw together for a Friendsgiving celebration, there are a few things that help it along.
The first is making the popcorn. This recipe calls for 8 popped cups. That is about the amount in a typical bag of microwaved popcorn.
Make sure when the popcorn is done popping you remove any unpopped kernels so they don't get mixed into this delicious recipe.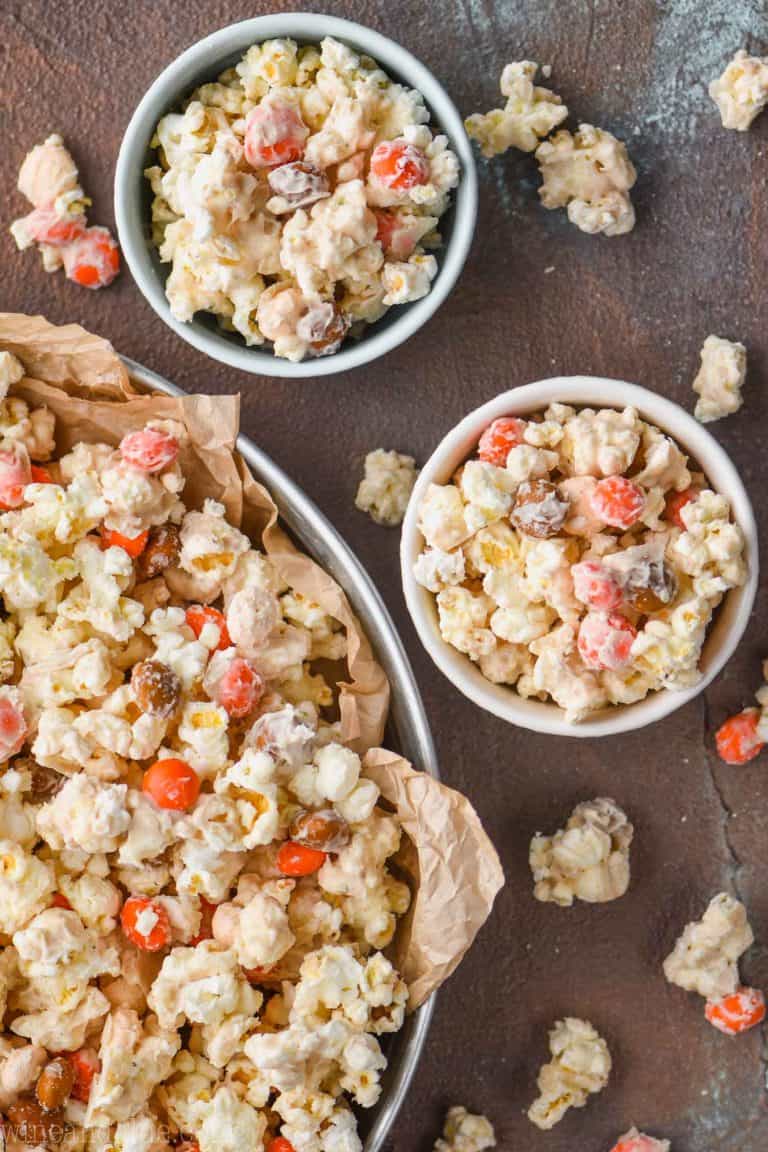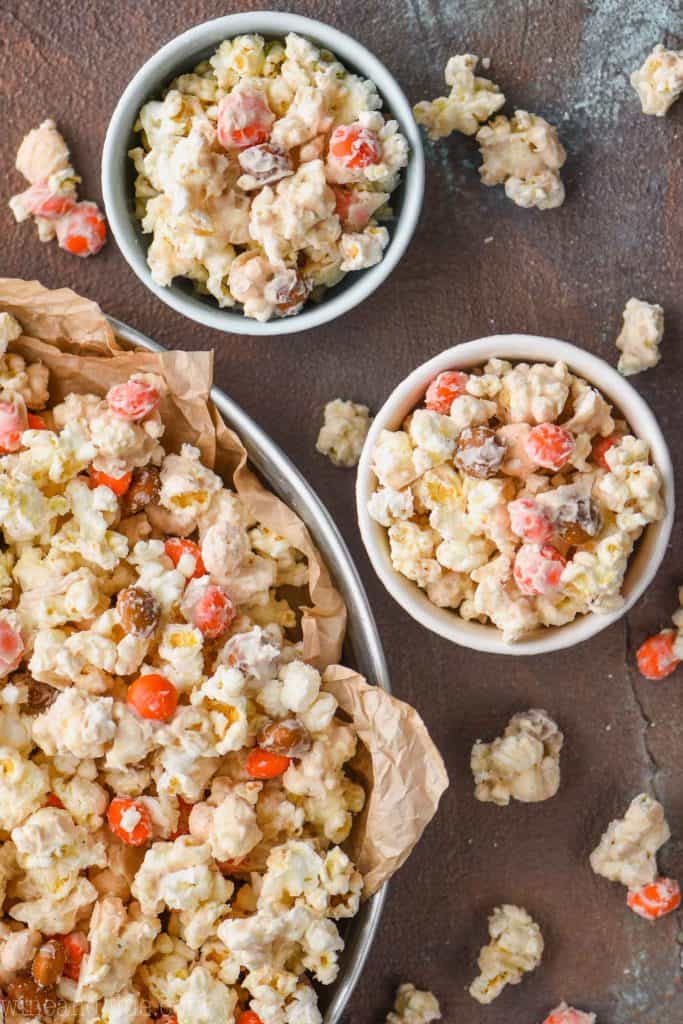 MELTING WHITE CHOCOLATE
The other key to this white chocolate popcorn recipe is melting the white chocolate.
White chocolate can be tricky. If any water gets in it, it won't melt properly. It will seize up and become gummy looking. The same thing will happen if it gets overheated.
Your best bet is to follow the instructions on the package closely and stir after each time in the microwave much more than you think you need to. It will distribute the heat and help the morsels melt faster.
OTHER GREAT FRIENDSGIVING RECIPES
Here are some other great recipes to spice up your Friendsgiving celebration!
If you make this Pumpkin Spice White Chocolate Popcorn Recipe please leave me a comment and let me know! Or tell me what your favorite Friendsgiving recipe is!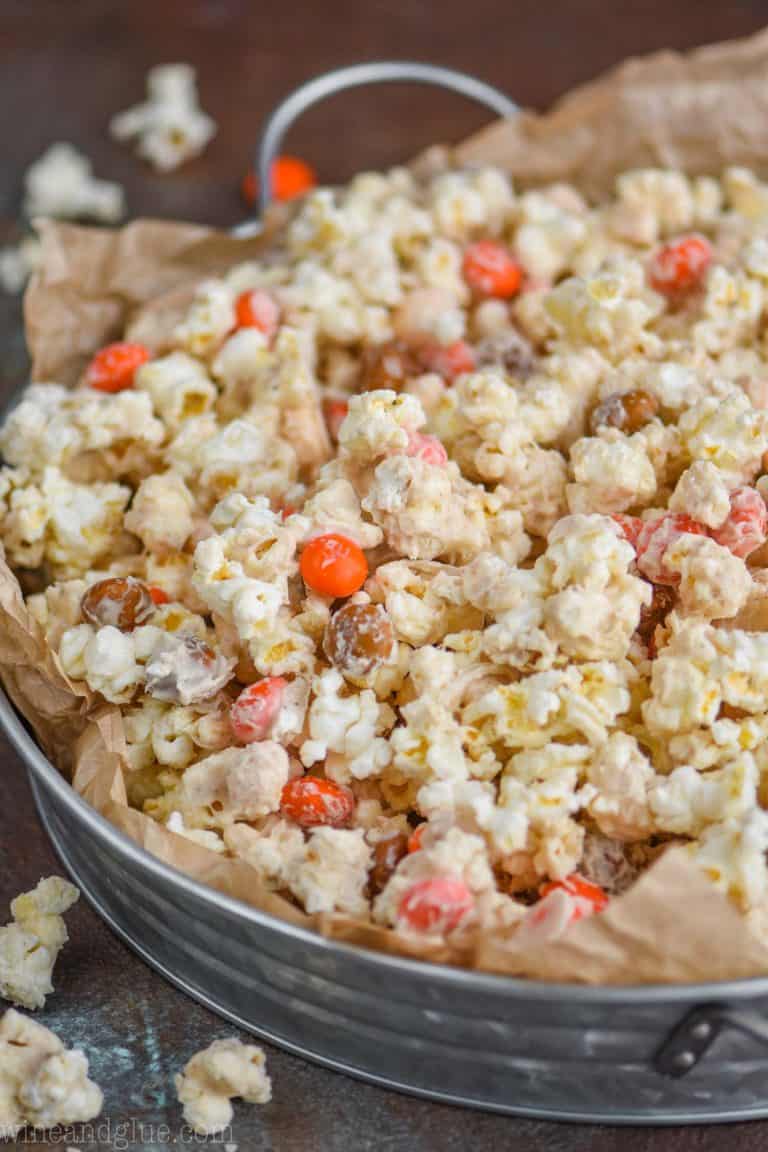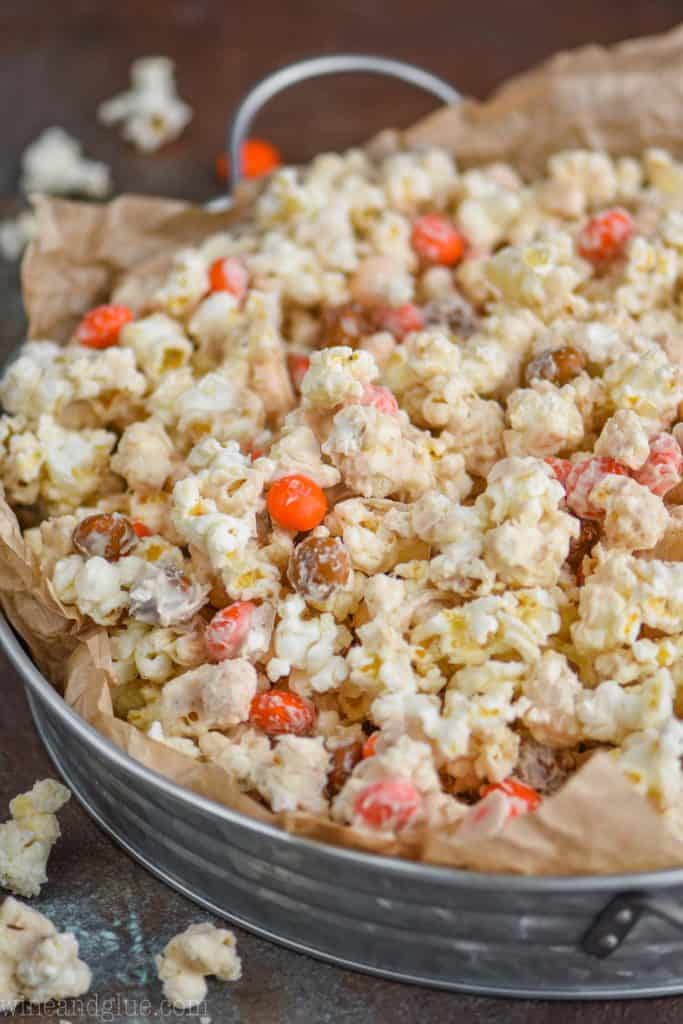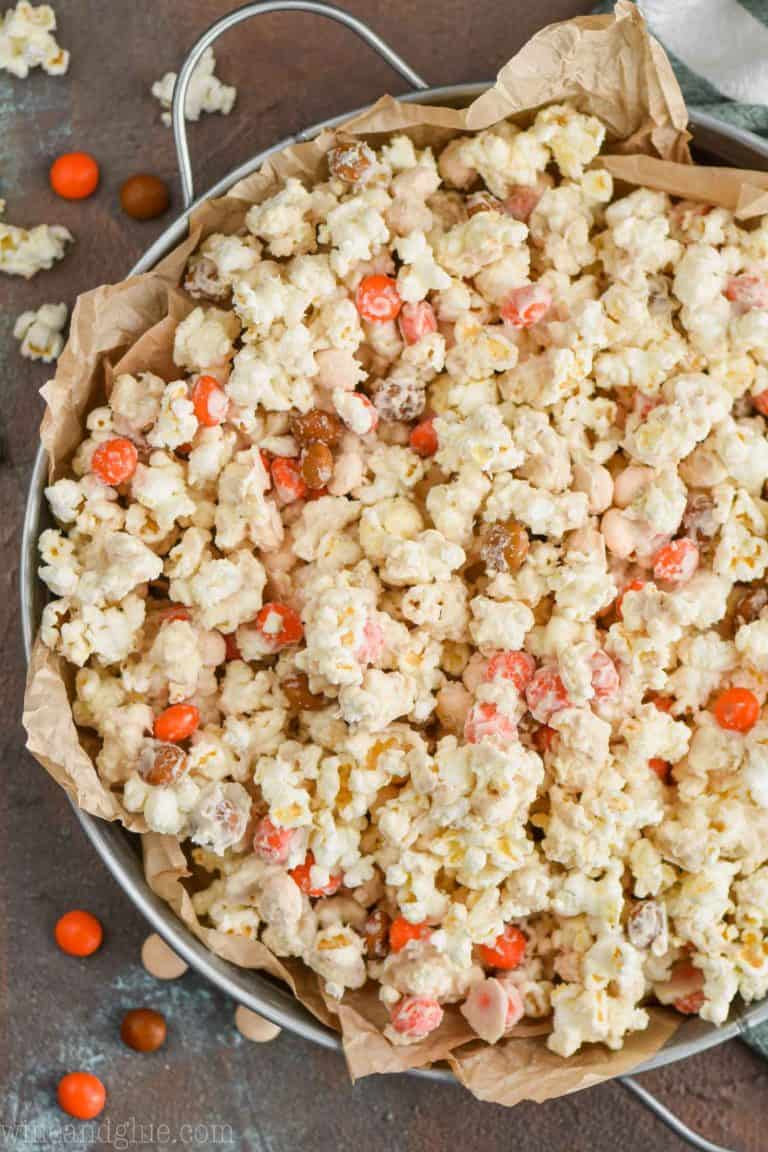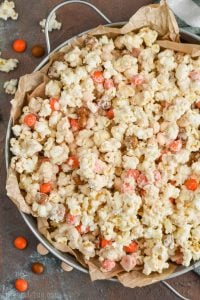 Pumpkin Spice Popcorn
Pumpkin Spice Popcorn is a delicious and easy snack! Perfect for fall get togethers and hoilday parties!
Ingredients
8

cups

popped popcorn

(This is the size of most microwave popcorn bags)

12

ounces

white chocolate morsels

1

teaspoon

pumpkin spice seasoning

8

ounces

White Pumpkin Pie M&Ms
Instructions
Spread the popped popcorn on a rimmed baking sheet lined with parchment paper. Take care to remove any unpopped kernals.

Carefully melt the white chocolate according to package instructions. See notes in the post about melting white chocolate.

Mix the pumpkin spice into the white chocolate. Pour half the white chocolate over the popcorn. Add the M&Ms. Pour ont he rest of the white chocolate and use clean hands to mix it all together.

Spread it into one even layer and allow for it to dry. Once dry, break it apart. Eat immediately or store in an air tight container for up to three days.
Calories:
149
kcal
(7%)
Carbohydrates:
19
g
(6%)
Protein:
1
g
(2%)
Fat:
8
g
(12%)
Saturated Fat:
6
g
(38%)
Trans Fat:
6
g
Sodium:
30
mg
(1%)
Potassium:
3
mg
Fiber:
19
g
(79%)
Sugar:
7
g
(8%)
Vitamin A:
1
IU
Calcium:
2
mg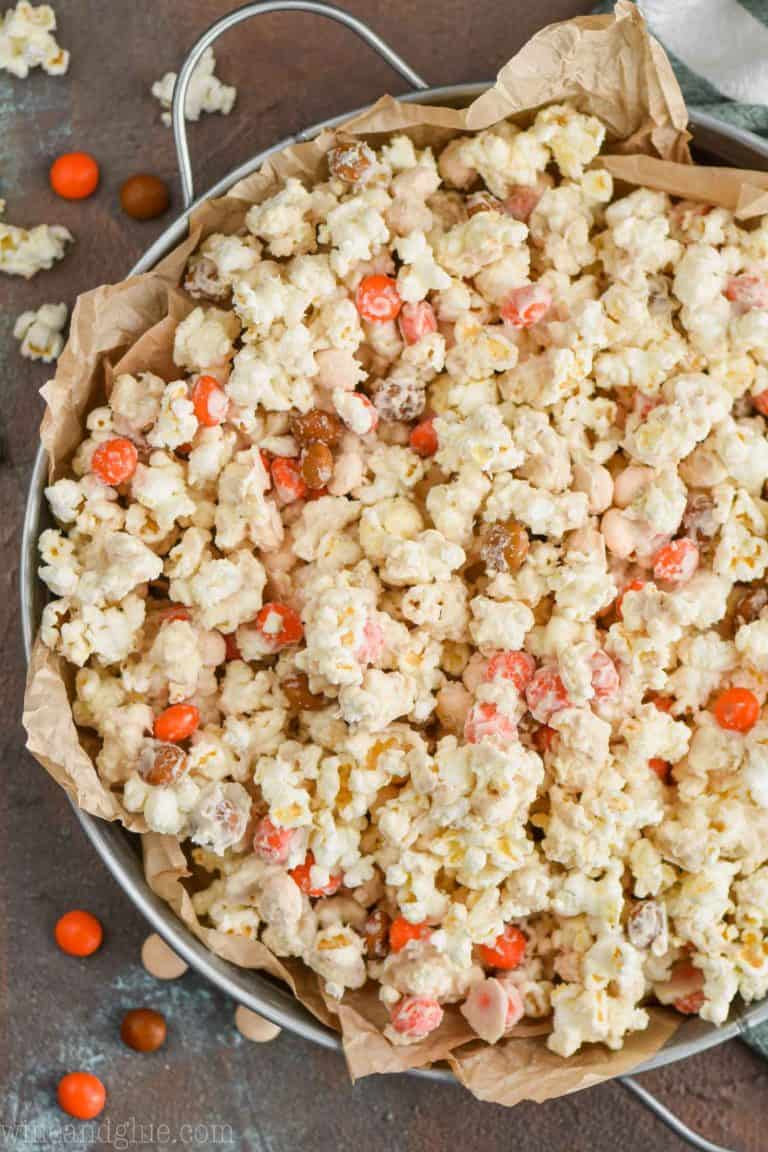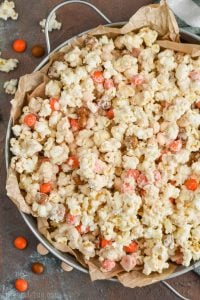 did you make this
Pumpkin Spice Popcorn