Caramel Corn is an easy treat that your whole family will love! Made with simple ingredients, this recipe is a winner!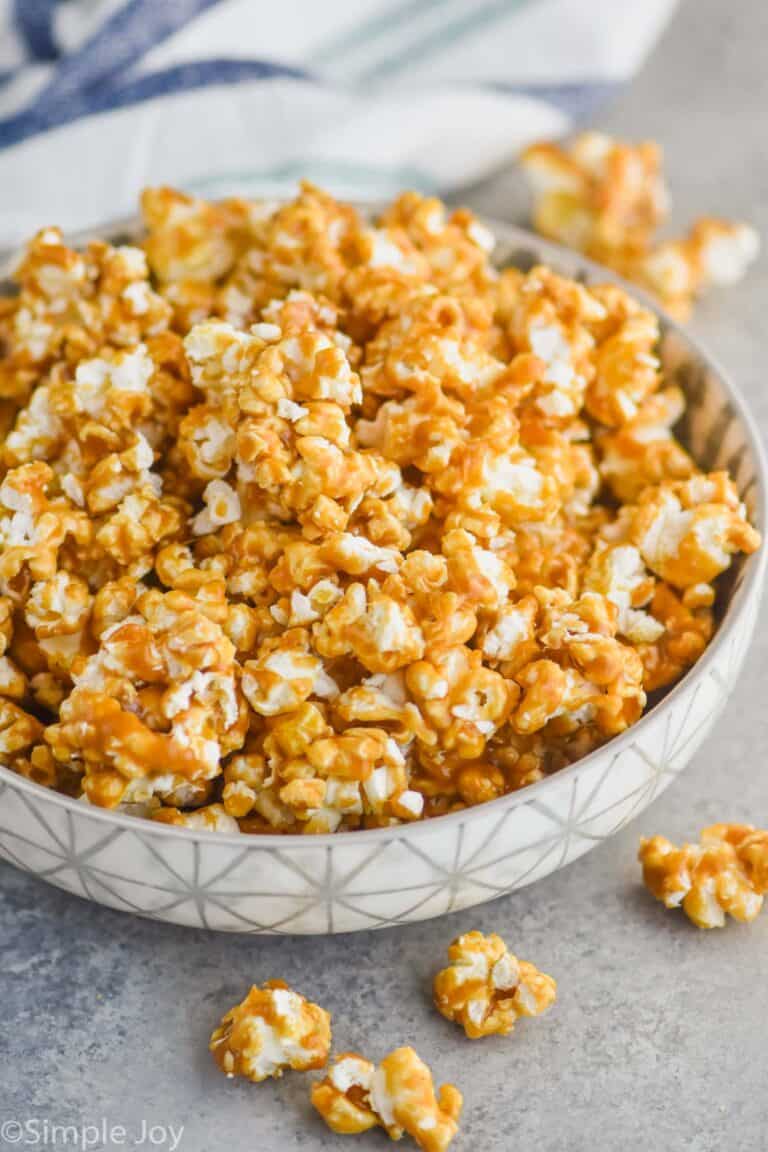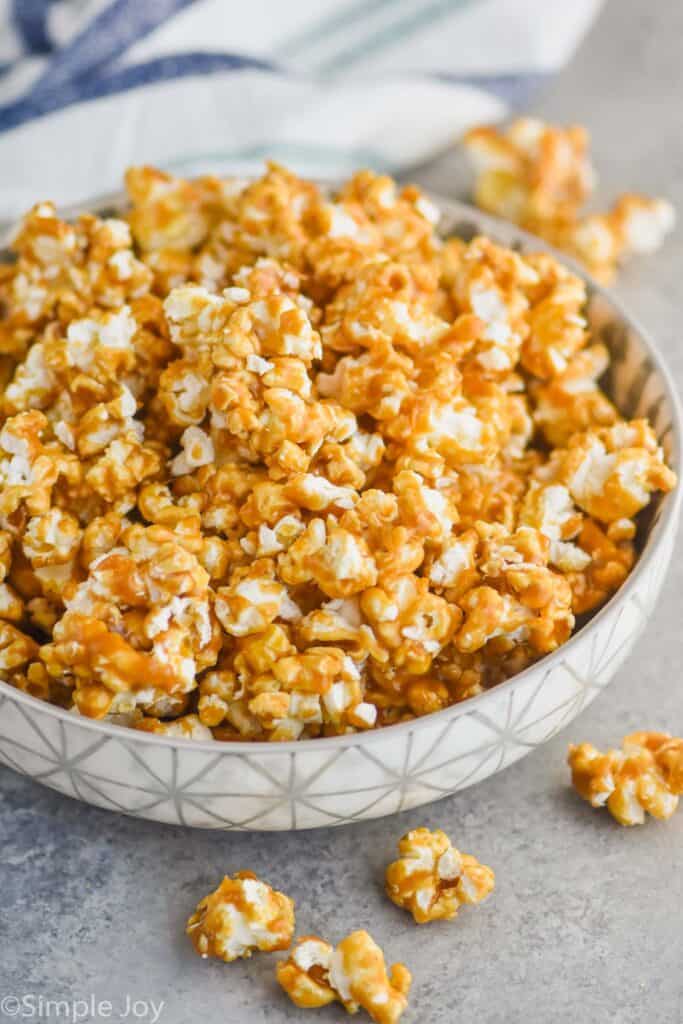 This summer, my family discovered that if we hung a white sheet off our deck and pulled out our forgotten projector, we could have movie nights outside! I'm not exaggerating when I tell you that it was one of the best discoveries of the last few years.
Family movie night is a special occasion for us. I love laughing with my kids and spending time cuddled up together. Family movie night outside is somehow even more precious as we do it all under the stars.
I think it goes without saying that any great movie night needs to have snacks. One of the greatest movie time snacks is caramel corn! It is far easier to make than you would think, and it was a HUGE hit with my family.
Caramel Corn Ingredients
This homemade caramel corn comes together with simple pantry staples, and there's no need to hunt for obscure candy thermometers! For sweet, simple caramel corn, here's all you need:
Brown sugar – you can use dark or light brown sugar
Corn syrup – use the light colored corn syrup.
Butter – I like to use unsalted to control the amount of salt flavor, but if you only have salted, by all means use it!
Salt – kosher salt works great!
Baking soda
Vanilla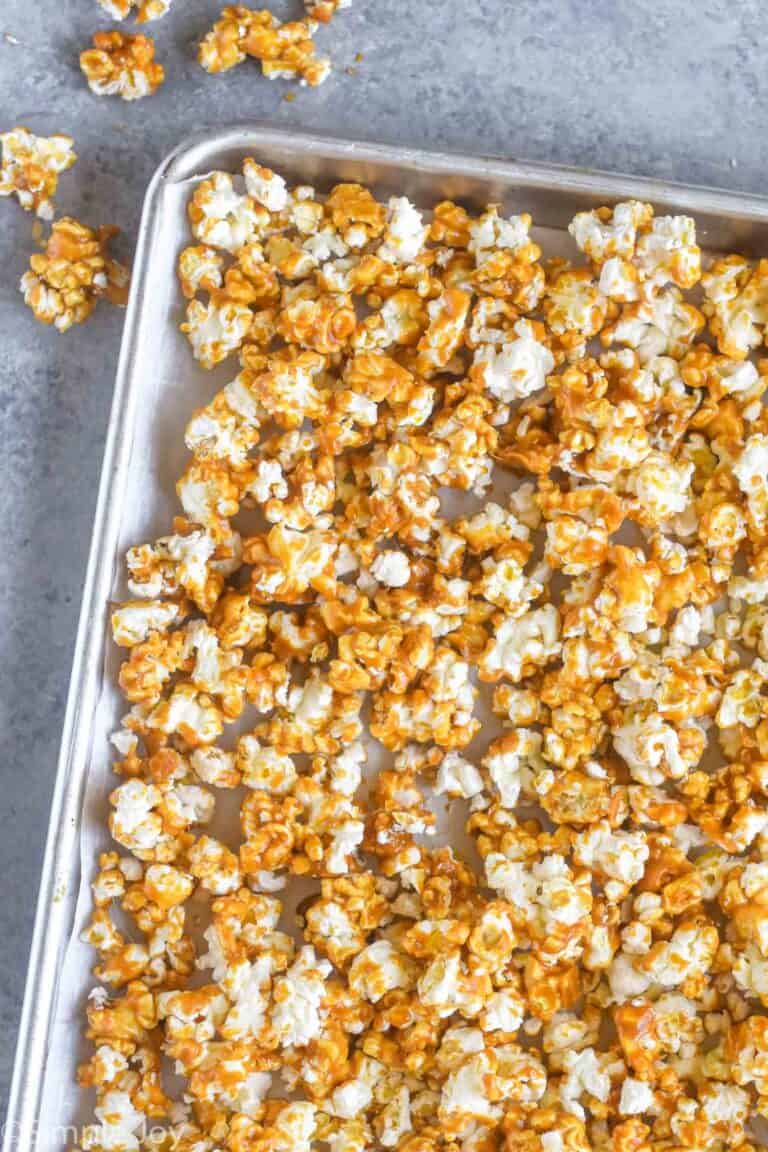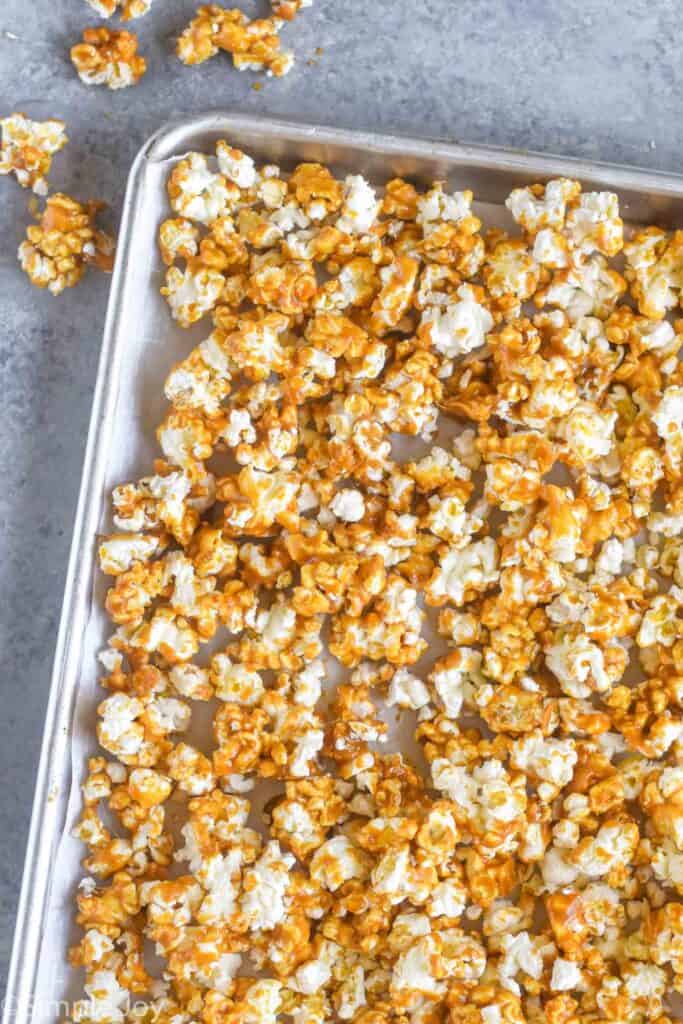 How to Make Caramel Corn
Homemade caramel corn can seem intimidating, but trust me, if you can boil water, you can make this easy recipe. Follow these simple steps:
First, spread your popcorn out on a lined cookie sheet. Make sure to pick out all the unpopped kernels.
Then, mix the brown sugar, corn syrup, butter and salt in a heavy bottomed sauce pan and let it boil for five minutes.
Next, take the mixture off the heat and stir in your vanilla and baking soda.
Pour the caramel mixture over the popcorn.
Pop it into a 250 degree oven and bake for an hour – give it a stir a few times during the baking process so it coats and bakes evenly.
Once it cools, break it up and enjoy!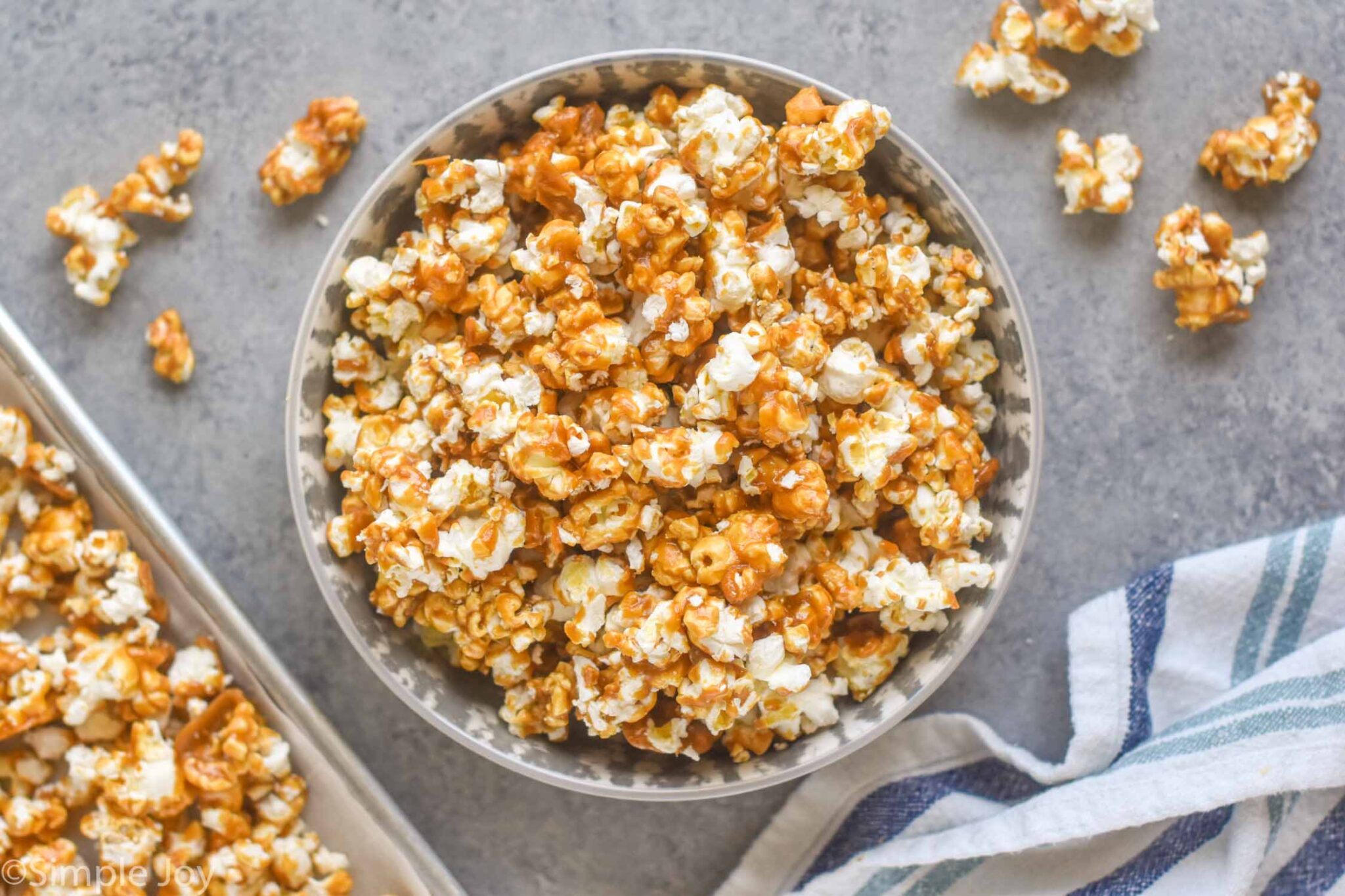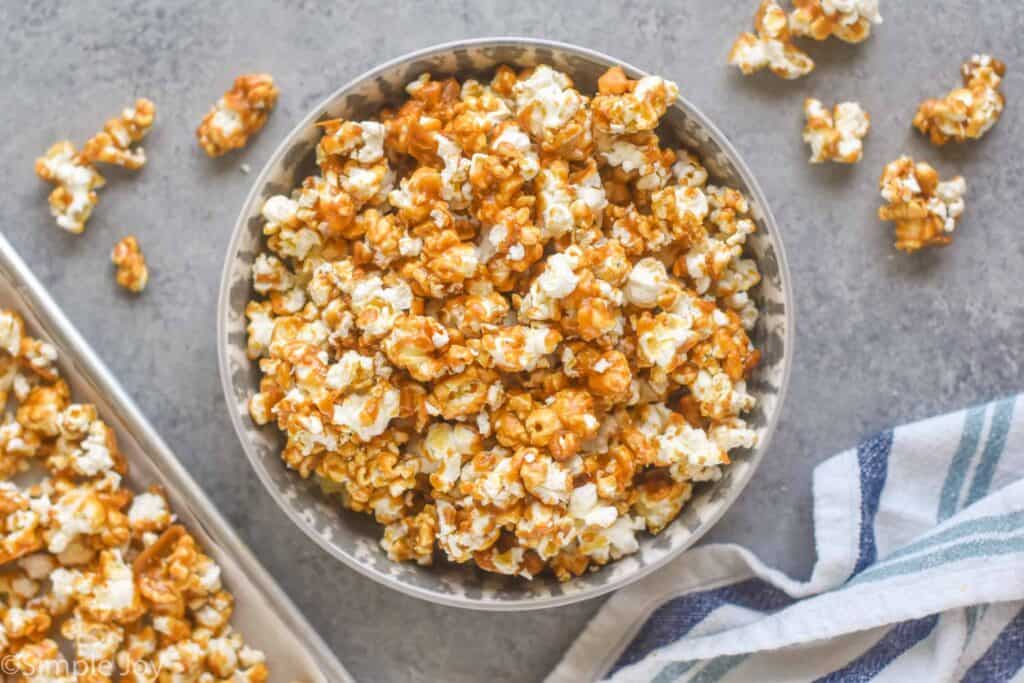 How Much Dry Popcorn Mix
This recipe uses 14 cups of popcorn. One quarter cup of dry popcorn equals eight cups of popped corn, so you'll need a couple of batches.
You can usually get about 8-10 cups in one bag of microwave popcorn, depending on the brand and your microwave. Feel free to pop two bags and munch on the extra.
How to Pop Popcorn
I always make mine with this awesome microwave popper. If you use something like this, you'll need to make it in two batches.
Plain, non-buttered microwave popcorn works great too.
Air poppers work well and don't use any oil.
You can always make popcorn on the stovetop. Just use a heavy bottomed pan with a lid and some vegetable oil.
Storing
Store extra caramel corn in an airtight container at room temperature for up to four days. Make this recipe Friday afternoon and you will have a delicious family movie night treat all weekend!
Other Great Snacks
Once you try this, I'm sure you'll agree this is seriously the best caramel corn recipe out there, not to mention the easiest! There's nothing better than a big bowl of snacks to get the family together. Try some of these easy treats too:
I hope you love this easy homemade caramel corn as much as my family does. If you have questions or comments, please leave me a note below. I love hearing from you. Enjoy!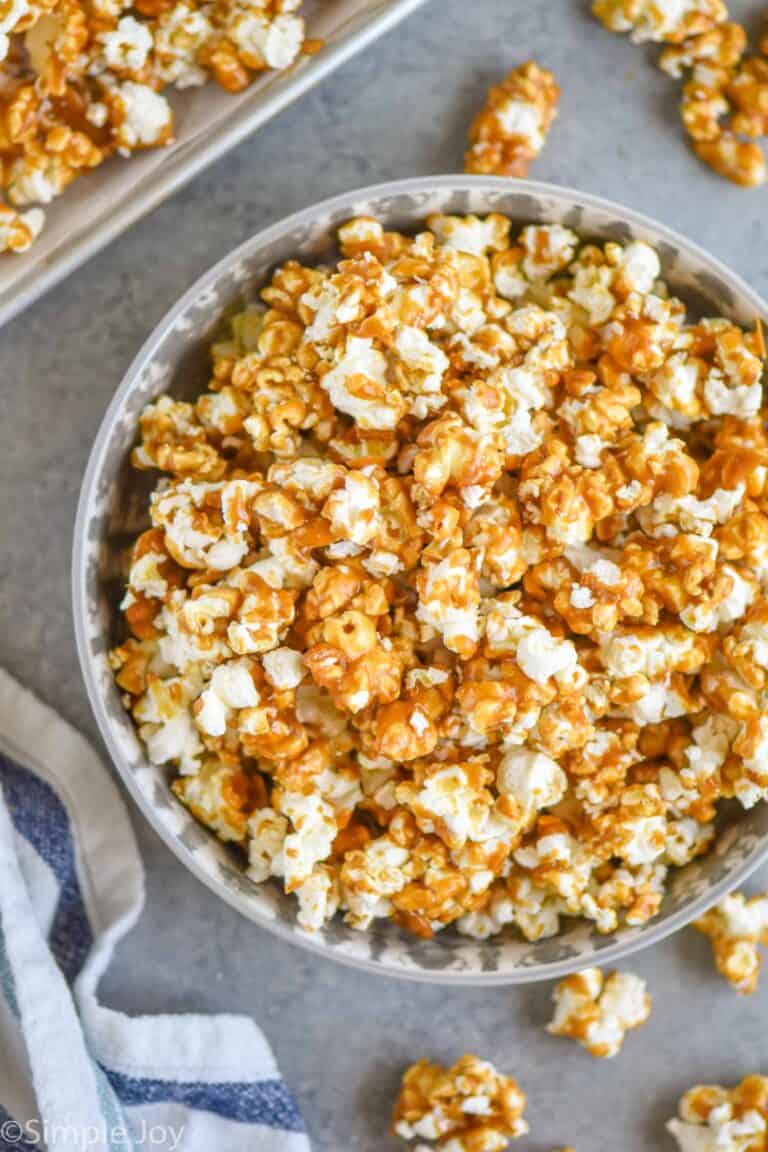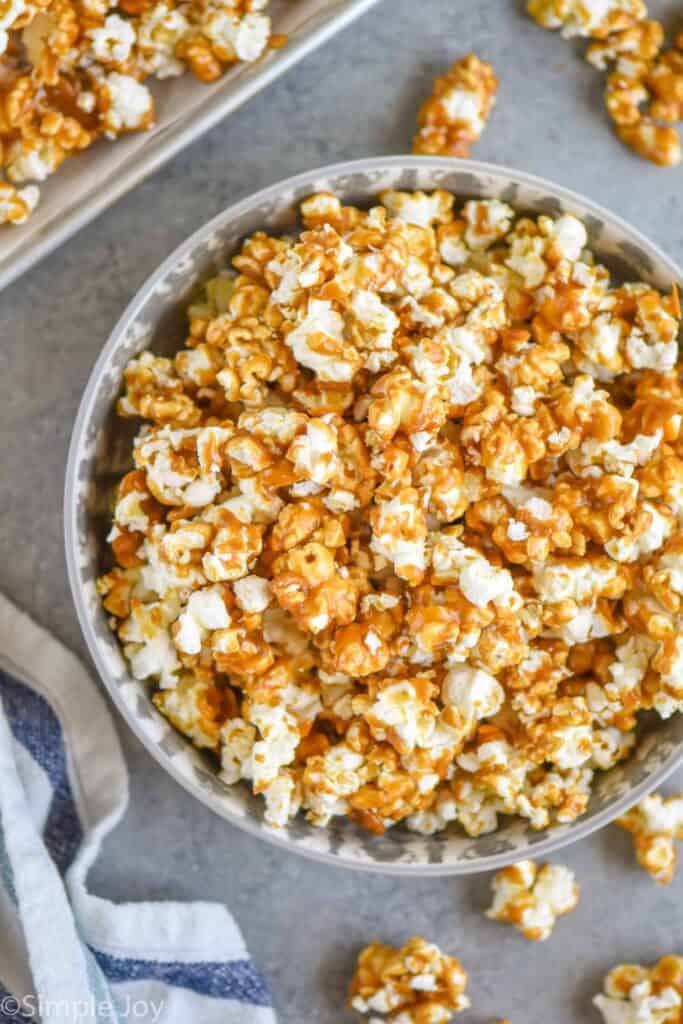 Recommended Tools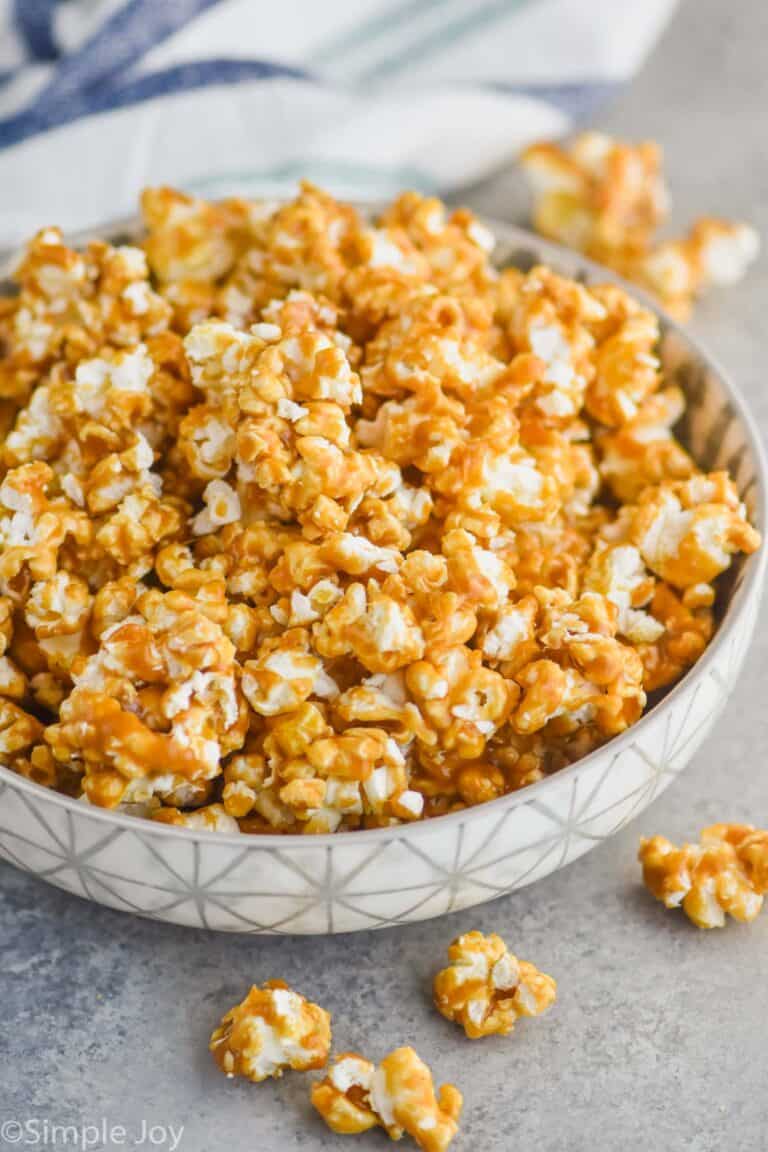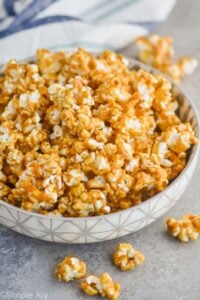 Caramel Corn
Total:
2
hours
10
minutes
Caramel Corn is an easy treat that your whole family will love! Made with simple ingredients, this recipe is a winner!
Ingredients
14

cups

popped popcorn

1

cup

brown sugar

1/2

cup

corn syrup

1/2

cup

butter

1/2

teaspoon

salt

1/2

teaspoon

baking soda

1 1/2

teaspoon

vanilla extract
Instructions
Preheat your oven to 250 degrees. Line a rimmed baking sheet with parchment paper. Pour the popped popcorn onto the baking sheet, picking out any unpopped kernals. Set aside.

Combine the brown sugar, corn syrup, butter and salt in a heavy bottomed pan. Bring to a boil and then boil for 5 minutes without stirring. Remove from the heat and mix in the baking soda and vanilla, stirring well.

Pour over the popcorn. Bake for 1 hour, mixing three times during baking.

Remove from the oven, mixing one more time. Allow to cool completely.

Break up and store in an airtight container.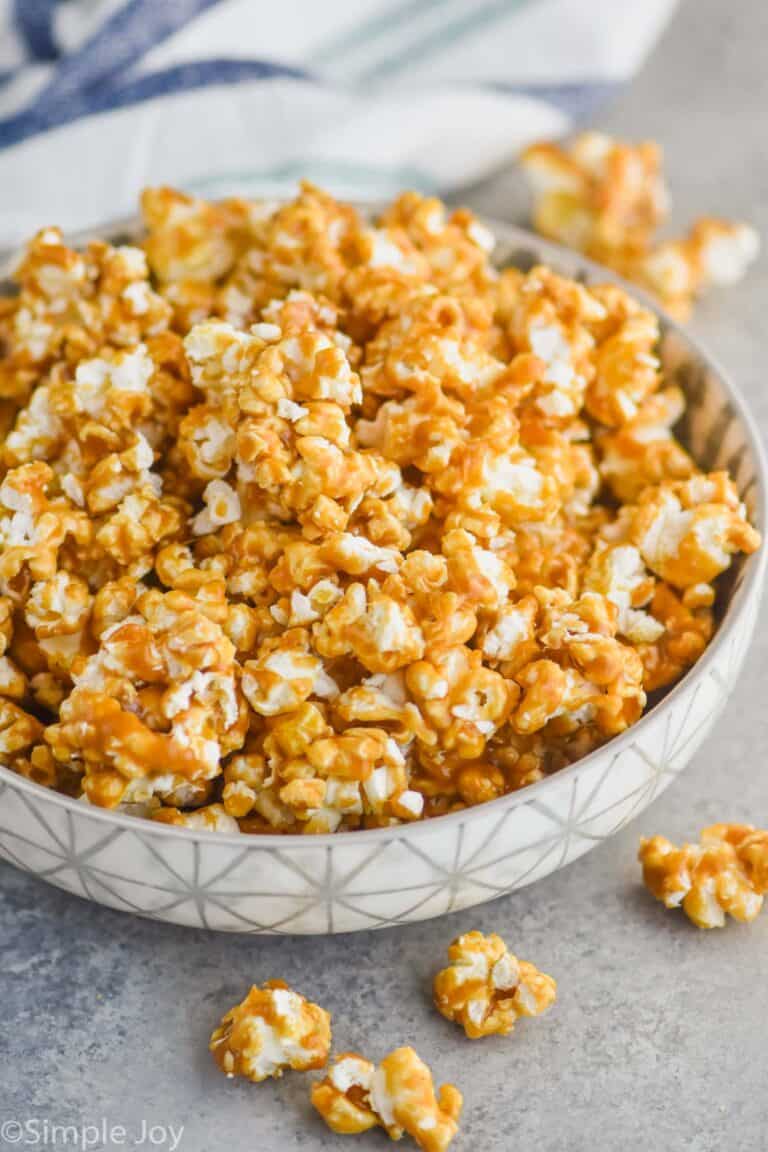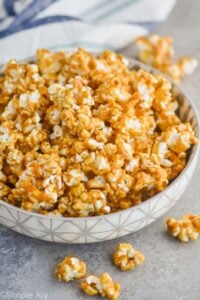 did you make this
Caramel Corn