This Raspberry Mimosa is an easy spin on the classic Mimosa. It is easy to make and a perfect treat for a holiday brunch.
You know that I absolutely love a good brunch with friends and family. And nothing makes it quite as special as adding in a fun cocktail. This Raspberry Mimosa is a great spin on the class, and is sure to be a hit with your crew.
What is a Mimosa
A Mimosa is a classic brunch cocktail made with orange juice and champagne. Commonly served at brunch or enjoyed in the morning or early afternoon, the refreshing cocktail has different spins with the addition of different fruits and fruit juices like this Raspberry Mimosa recipe.
Raspberry Mimosa Ingredients
This refreshing Mimosa recipe comes together with just three simple ingredients.
Raspberries: Using real fruit gives just enough sweetness without the extra sugar and additives of using raspberry syrup or juice.
Orange juice: It is worth it to squeeze your own for the freshest flavor and only takes a few extra minutes. Most of the pulp will be removed when it's strained with the raspberries. If you buy orange juice, make sure it doesn't contain pulp. Since we don't use any ice in this recipe, the best way to keep the cocktails cold is to use orange juice that has been refrigerated.
Champagne: I talk more about using champagne and other options below, including making Mimosas nonalcoholic. See my recipe below for the best Mimosa Mocktail!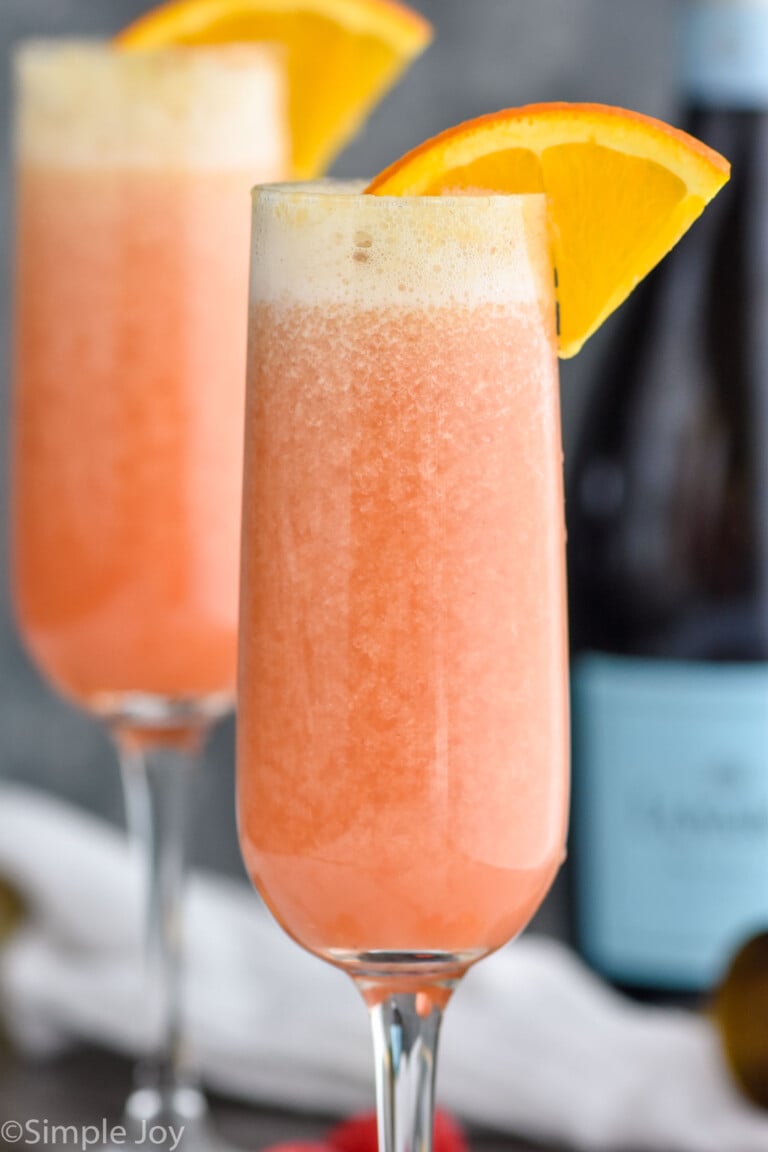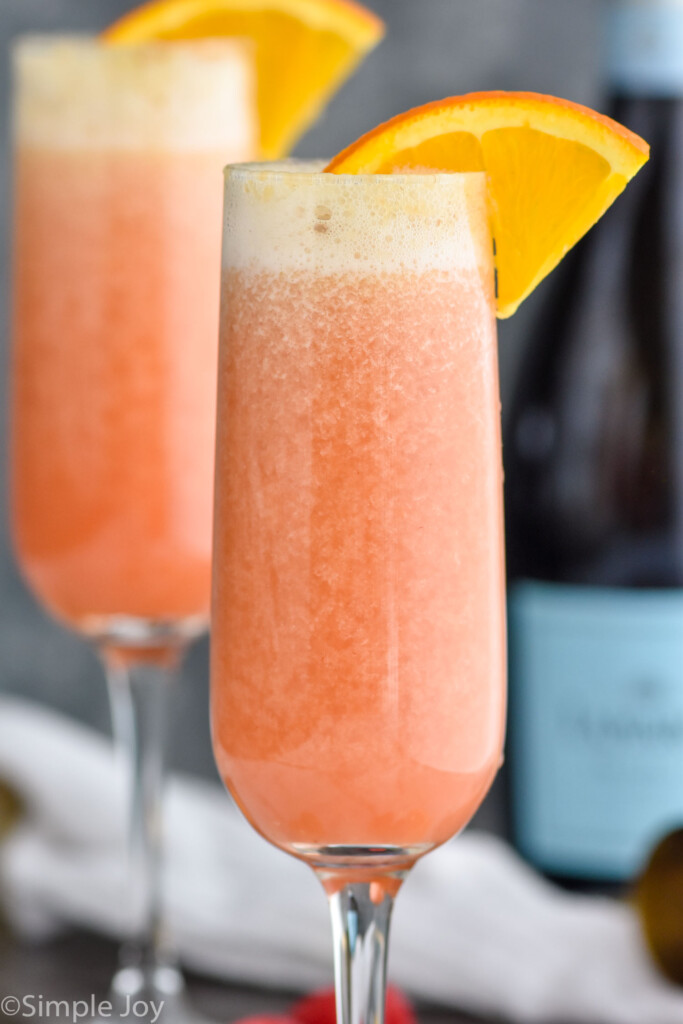 Non Alcoholic Mimosa
This Non Alcoholic Mimosa recipe is the perfect brunch drink when you are trying to cut back on calories and lighten things up.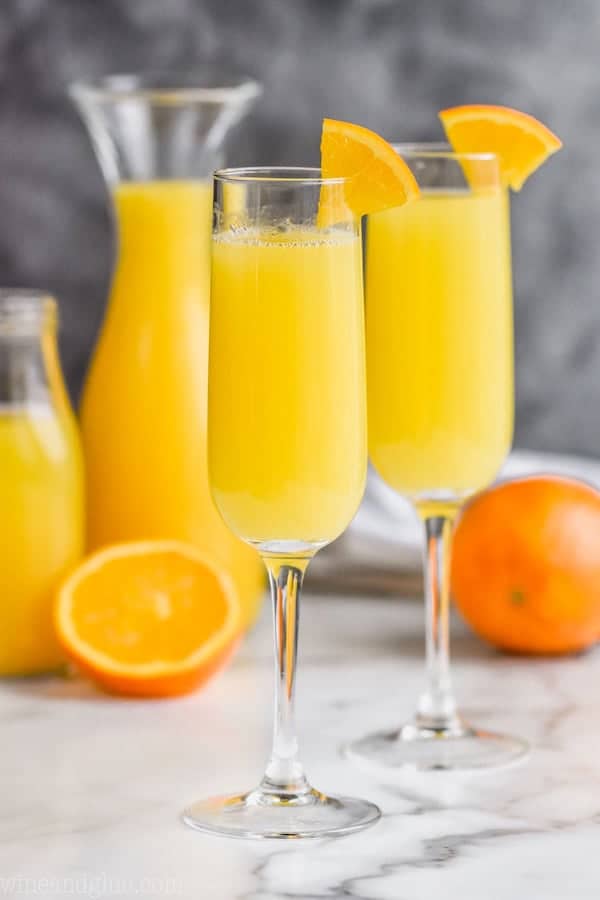 How to Make a Mimosa with Raspberries
Below is an overview of how simply this refreshing brunch cocktail comes together. For the full recipe including all of the measurements, scroll to the recipe card at the bottom of the page.
Blend raspberries and orange juice. Strain the mixture through a fine mesh strainer to remove the seeds and pulp.
Pour into glasses. Use chilled champagne glasses to help keep the cocktail cold. To chill champagne glasses, add a bit of ice to each glass and fill them with water. Then pop them in the refrigerator for 10 minutes. Drain them well before making your mimosas.
Top with champagne. Open your bottle of champagne just prior to making your Raspberry Mimosas so it is fresh and bubbly. See my recommendations for champagne below. Garnish with extra raspberries.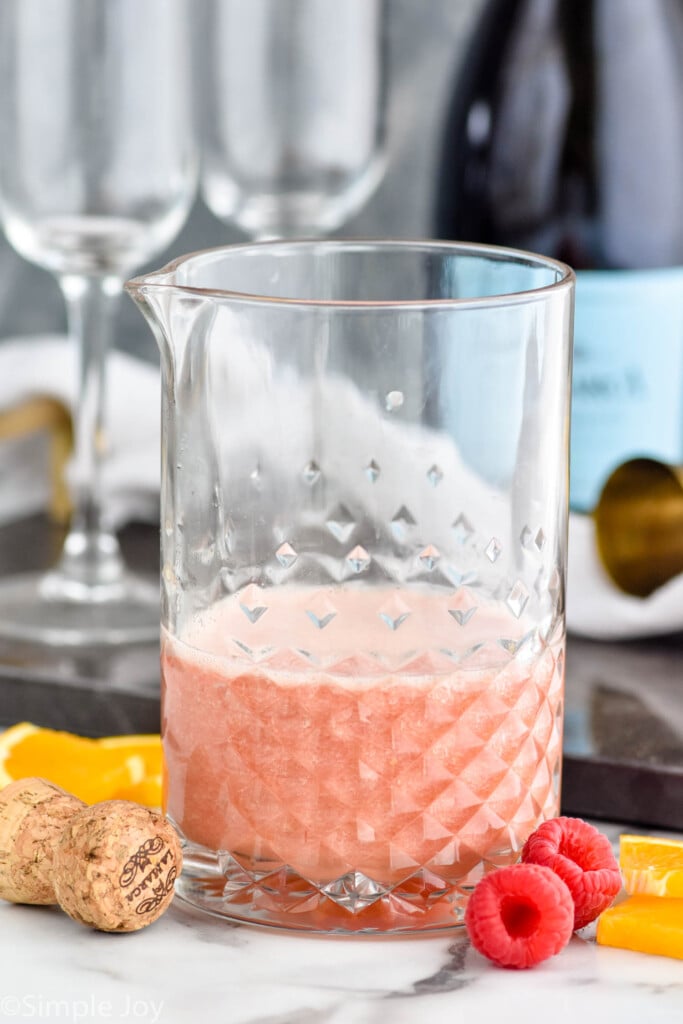 Juicing Oranges
Freshly squeezed orange juice start not only has health benefits, but has a sweeter taste and of course tastes more fresh. When you juice an orange, you can count on getting 1/3 cup or about 2.5 ounces of juice. Here are a few things you can do to get more juice out of your oranges.
Ensure that you buy fresh oranges. The fresher they are, the more juice you will get.
Roll the orange between the counter and your palm. This will make it easier to get more juice out.
Heat the orange in the microwave for about 30 seconds.
Champagne vs Sparkling Wine
The easiest thing to remember when it comes to champagne is that all champagne is sparkling wine, but not all sparkling wine is champagne. Champagne comes from a specific region of France, and only the wine made in that region can be called champagne.
Any sparkling wine will work in this Mimosa recipe, as using a bottle of excellent champagne isn't necessary here. I prefer to use Prosecco, as you see pictured here. I suggest using something that is more dry than sweet since you will be getting sweetness from the orange juice and raspberries. This recipe would also be fun to try with a sparkling Rose.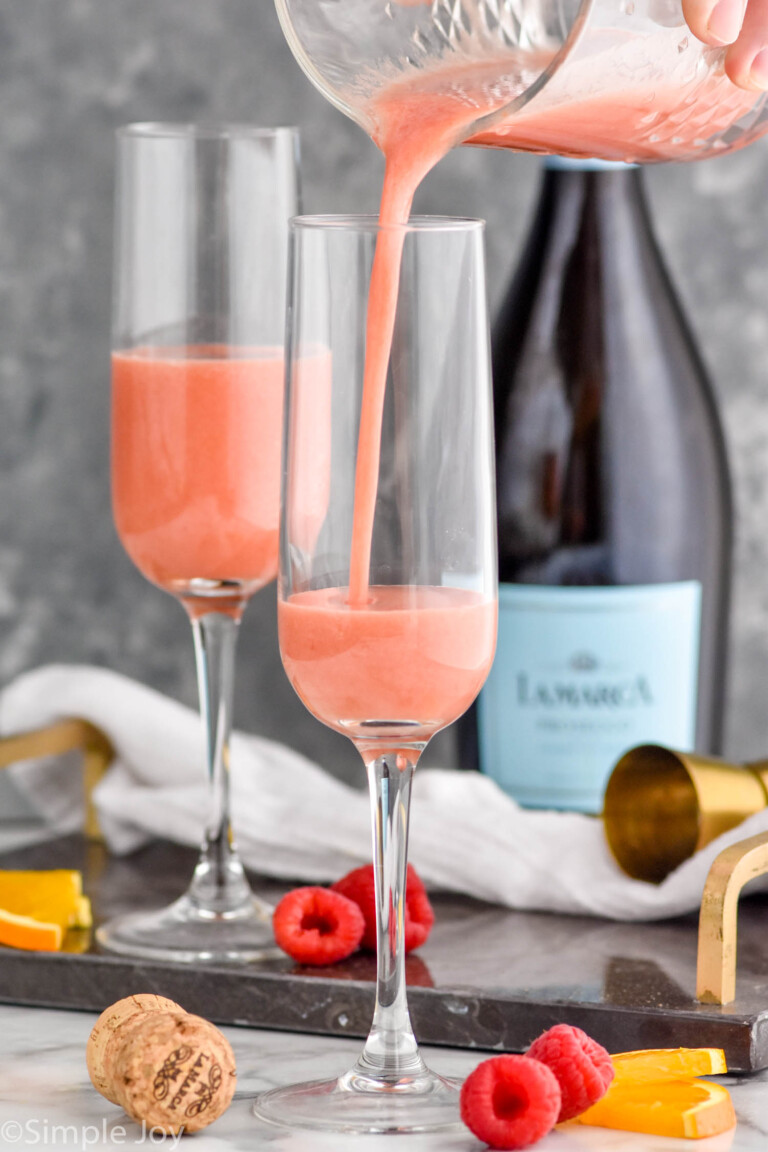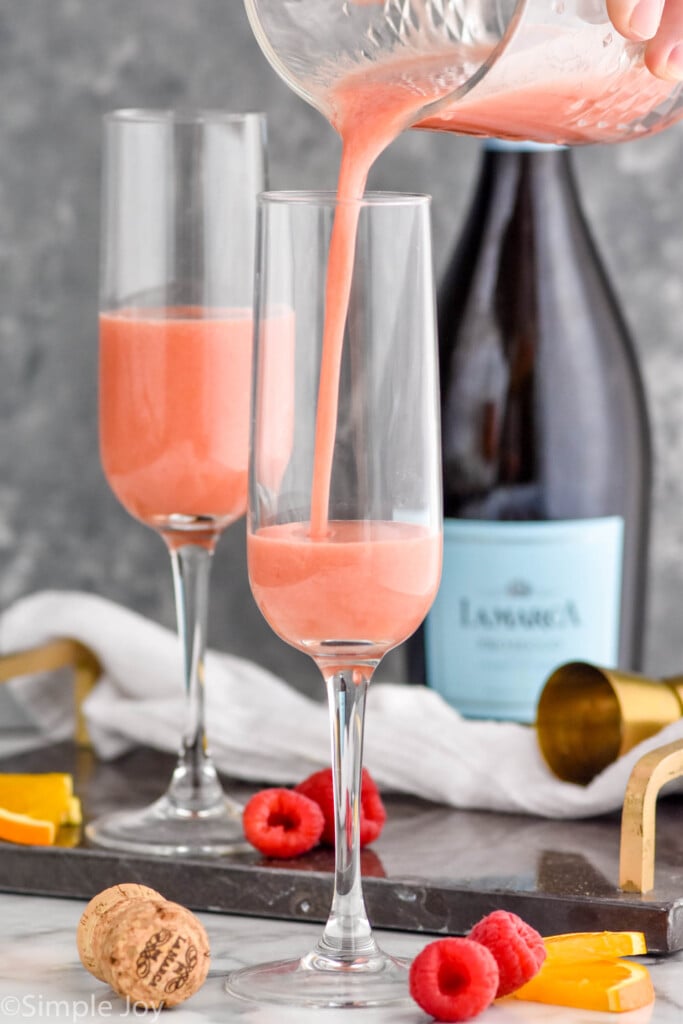 Make Raspberry Mimosas For a Crowd
Make a pitcher of Mimosas by increasing the quantities of each ingredient. Prepare the raspberry orange juice in a pitcher for easy serving and add the chilled champagne to the pitcher just before serving or top each glass with champagne when serving. The amounts listed below will result in 12 cocktails.
4 1/2 cups of orange juice
2 cups of raspberries
750 ml bottle of champagne
TOP PICK
Champagne Flutes
These champagne flutes are the perfect Mimosa glasses.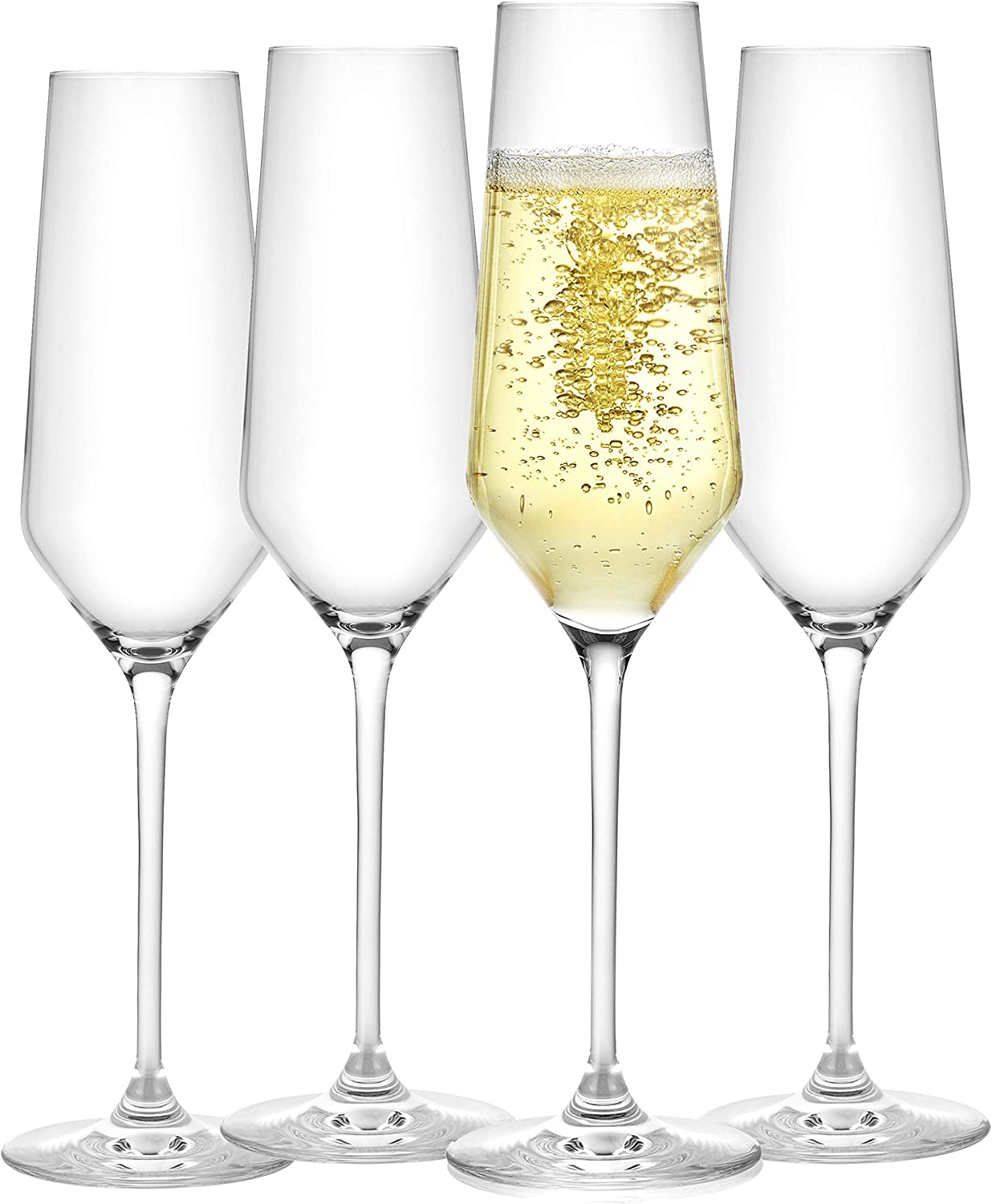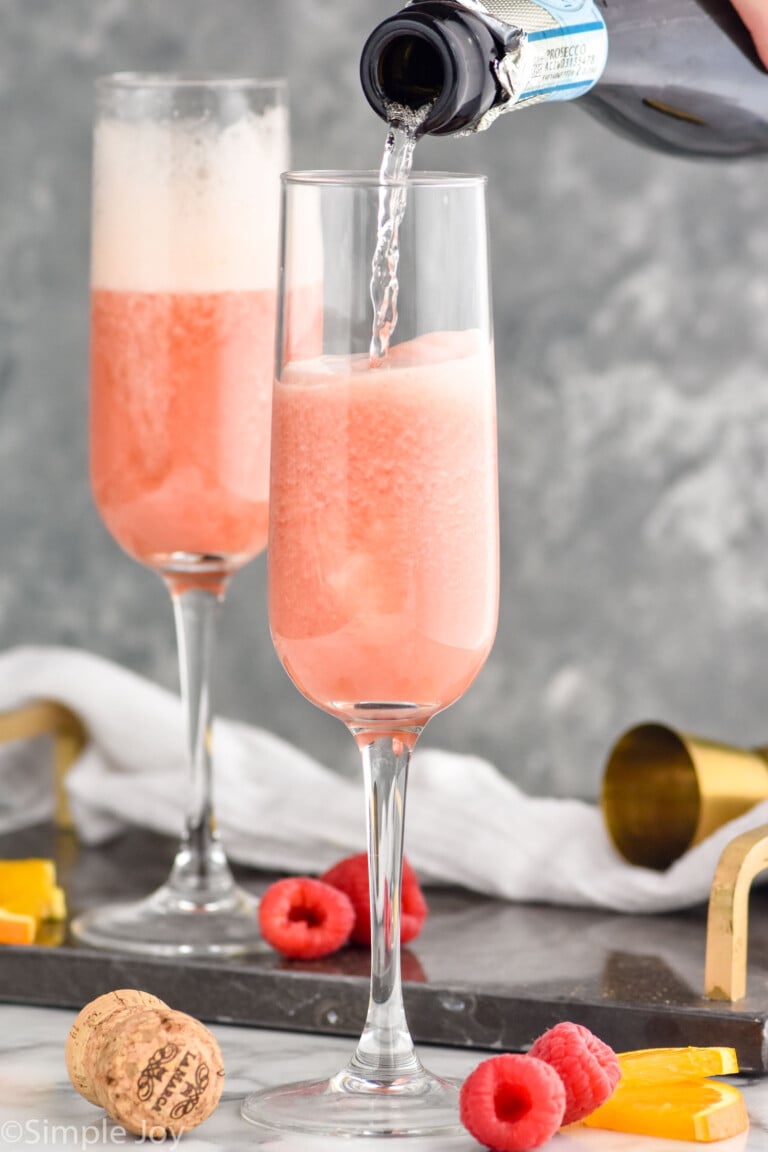 Mimosa Bar Ideas
Mimosas are the perfect drink to serve for brunch, bridal showers, Mother's Day, or a ladies' day. The best way to let each guest customize their own drink with a colorful spread is to create a Mimosa bar! Beautiful in presentation as well as delicious, check out these ideas for a Mimosa bar.
Have a variety of fruits. Raspberries, strawberries, blueberries, orange slices, and pineapple wedges add color and flavor to the cocktails.
Use a variety of juices. Cranberry juice, grapefruit juice, pineapple juice, and pomegranate juice are all great options.
Add fresh herbs like mint, basil, and rosemary sprigs.
Switch up the bubbly. Have options for both champagne and nonalcoholic options such as sparkling grape juice or different flavors of sparkling water.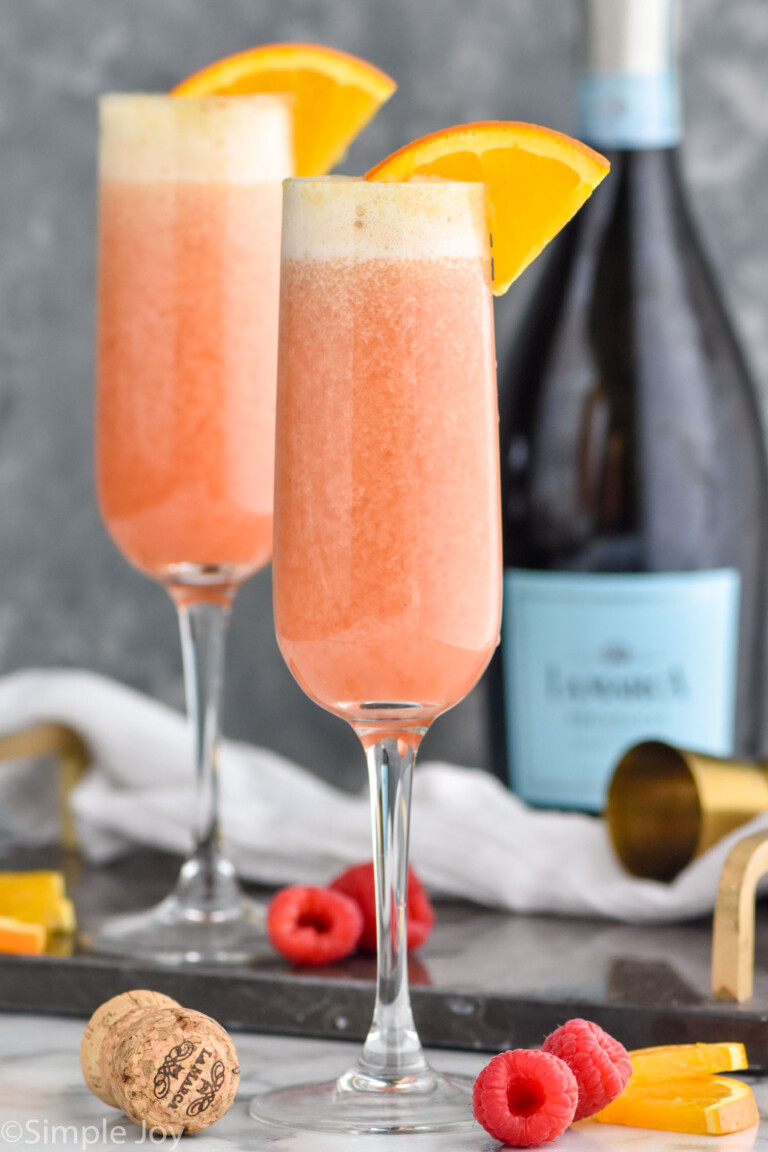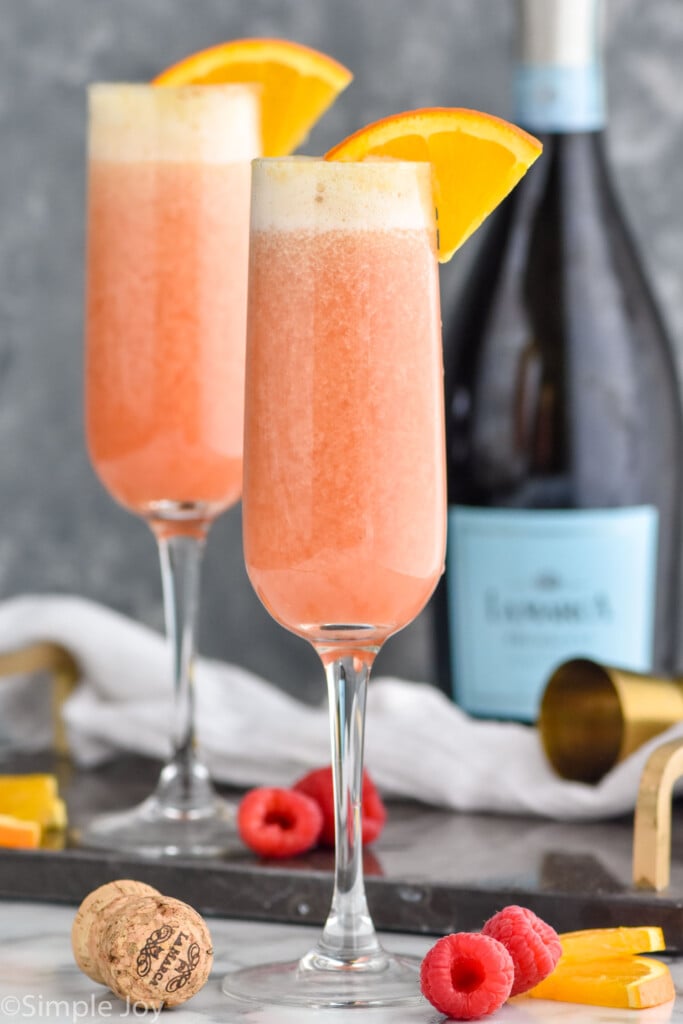 Other Great Brunch Recipes
If you make this Raspberry Mimosa recipe or any of my others, please leave a comment and let me know what you think. I love hearing from you!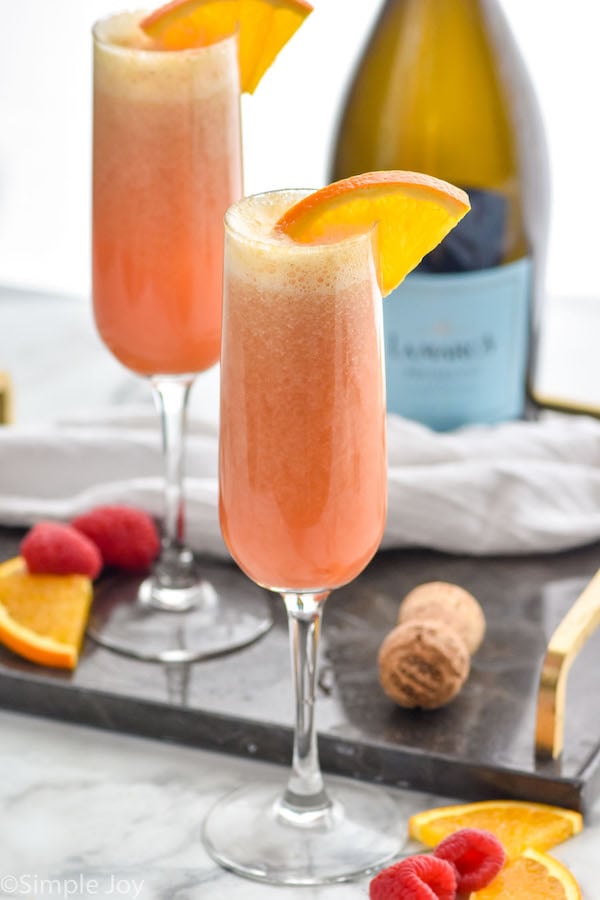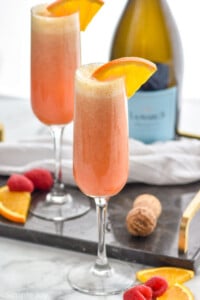 Raspberry Mimosa
Ingredients
6

ounces

orange juice

freshly squeezed

1/2

cup

raspberries

(plus more for garnishing)

4

ounces

champagne

chilled
Instructions
In a blender, blend the raspberries with the orange juice. Strain through a fine mesh strainer.

Add raspberry orange juice to a chilled champagne glass.

Top with chilled champagne.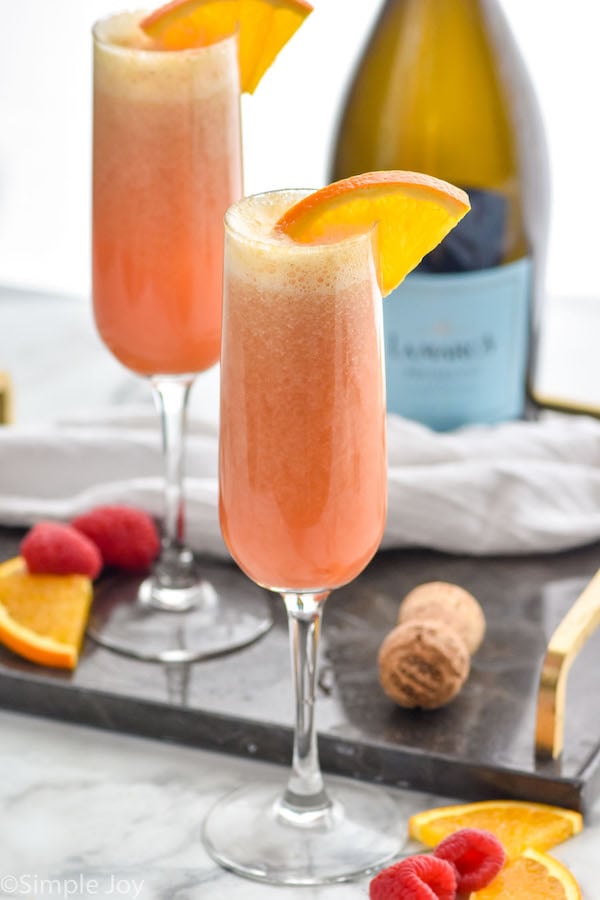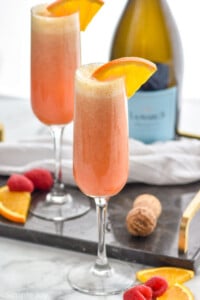 did you make this
Raspberry Mimosa