Blueberry Coffee Cake is a simple pastry that is ideal for serving at brunch. The flavors of lemon and blueberry come together perfectly, to make a light and delicious cake.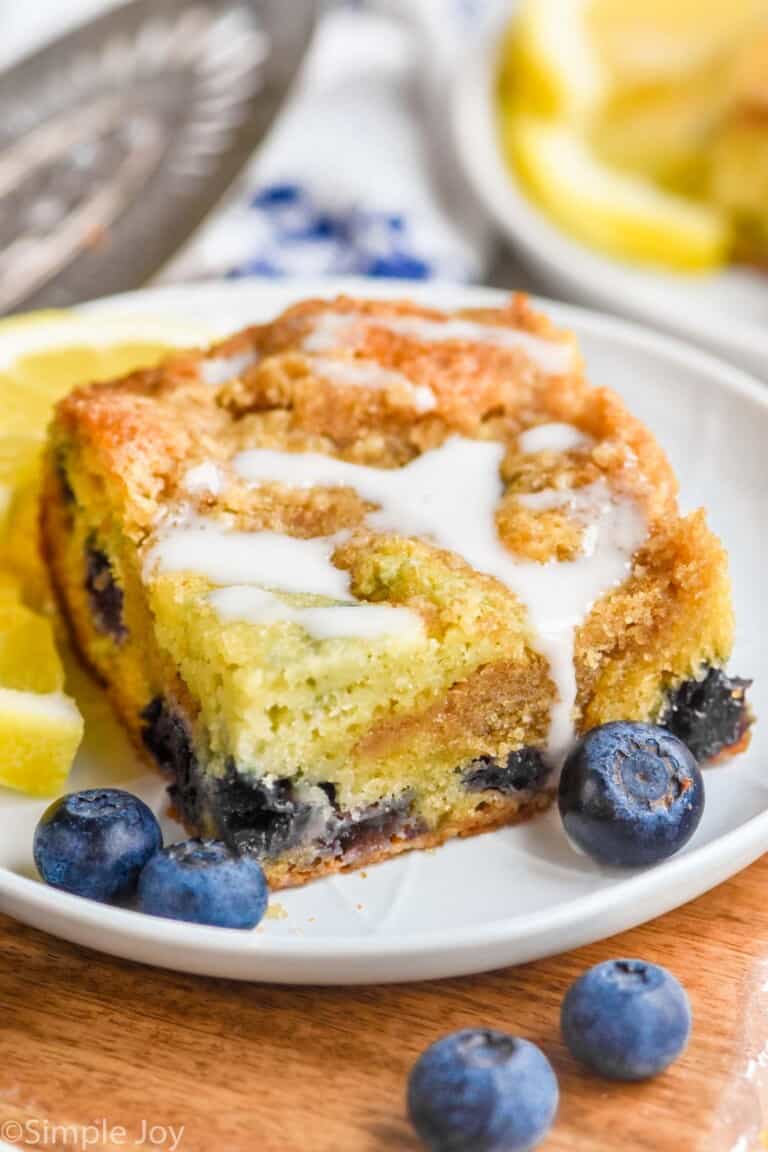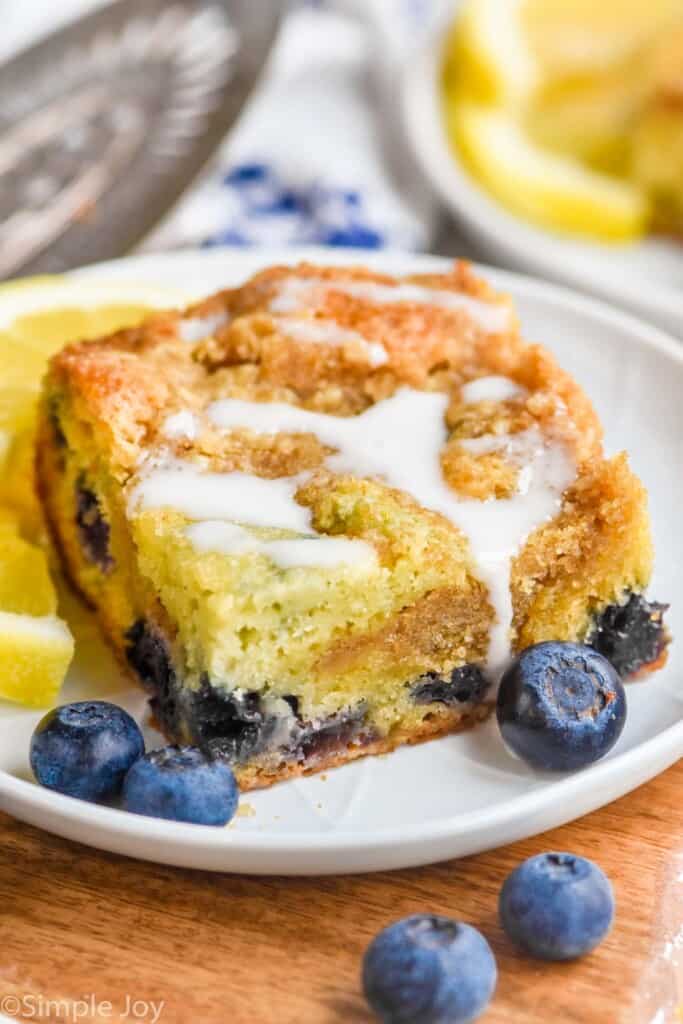 Picture yourself sitting on a quiet patio. There are flowers all around, the sun is shining, and the birds are chirping. There is a light warm breeze. On your table in front of you is a big steaming cup of your favorite coffee, and a plate with a big piece of this delicious Lemon Blueberry Coffee Cake.
Doesn't it just seem like everything is right in the world? That scene is pure fantasy for me, and maybe for you too, but this coffee cake can be a reality.
This easy coffee cake recipe is great for throwing together the night before you host brunch. It is a delicious pastry, that all of your guests will love.
How to Make Coffee Cake
This is a brief overview of how to make this delicious coffee cake. For the full recipe with all of the ingredients and measurements, see the recipe card at the bottom of the post.
Make the topping. Combine cold butter, flour, and brown sugar with a pastry cutter or two forks until it is crumbly. Set it aside.
Whisk together dry ingredients. In a large bowl, whisk together flour, baking powder, baking soda, and salt.
Beat the butter and sugar. In a large bowl with a hand mixer or in the bowl of a stand mixer with the paddle attachment, beat the sugar and butter together. Beat it until it is light and fluffy.
Add the wet ingredients. Add the eggs one at a time. Then add in the lemon juice and the vanilla extract. Make sure to fully scrape down the sides and then add the sour cream.
Add in the dry ingredients. Pour in the flour mixture and beat until just combined.
Stir in the blueberries. I used frozen blueberries, but you could also use fresh.
Top with streusel and then bake. After the coffee cake comes out of the oven, allow it to cool. Before serving, drizzle with icing.
TOP PICK
Pastry Cutter
This works so well to cut butter in pastries. I love having this tool on hand.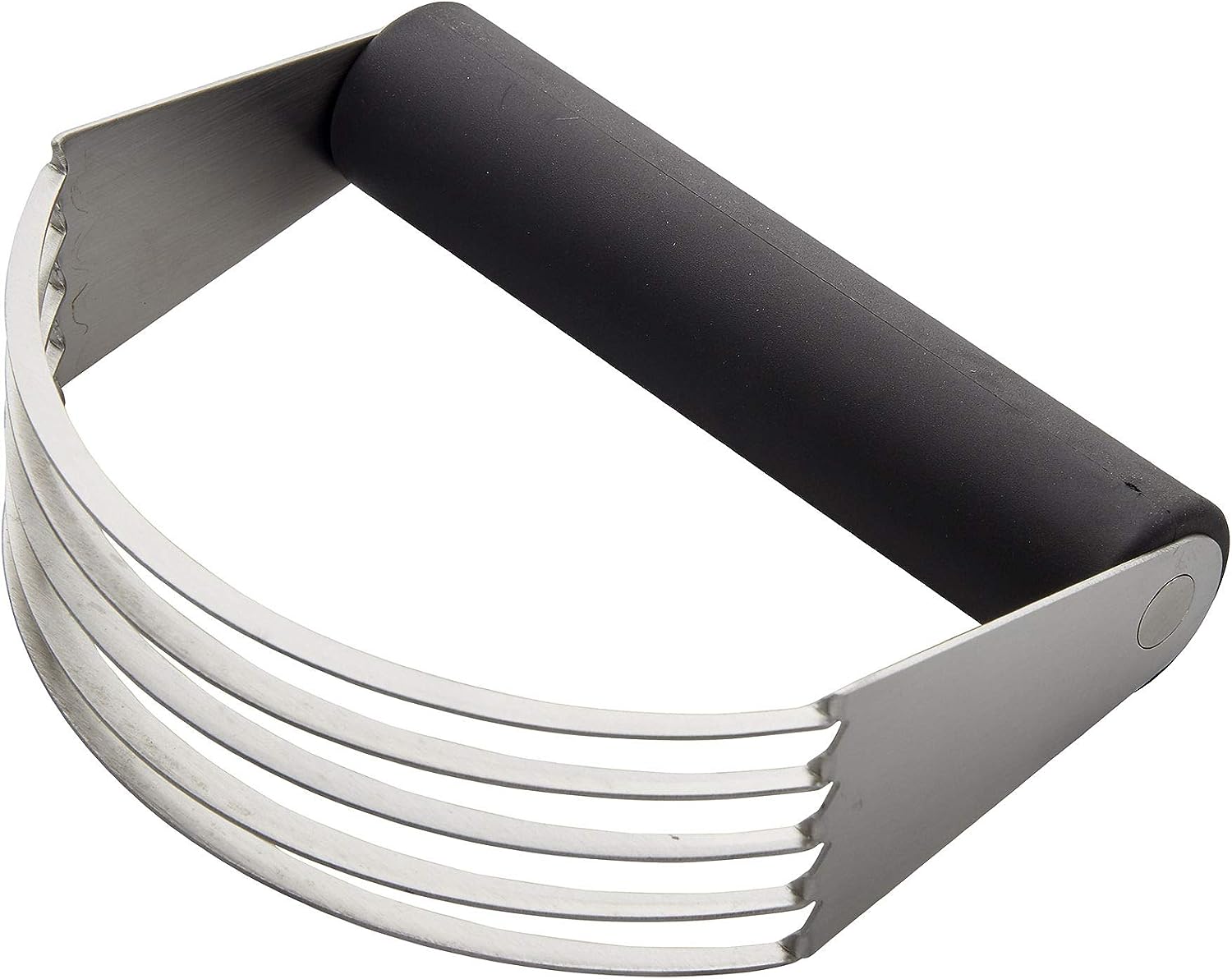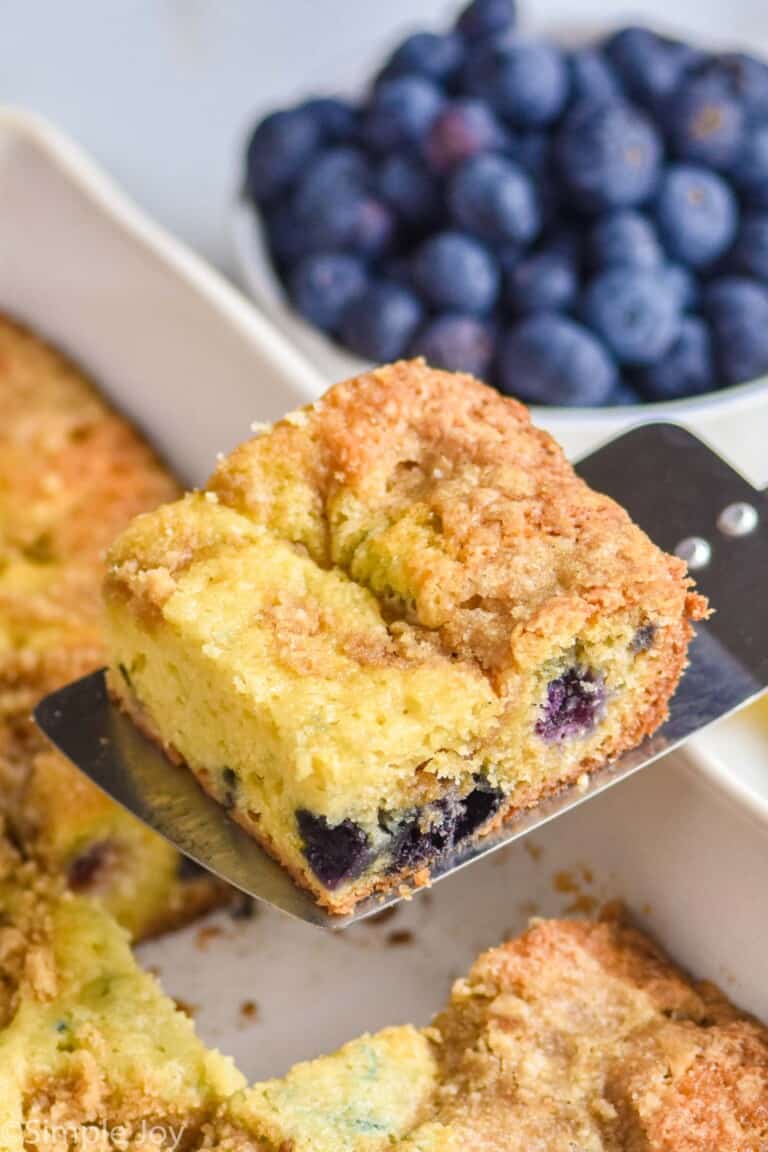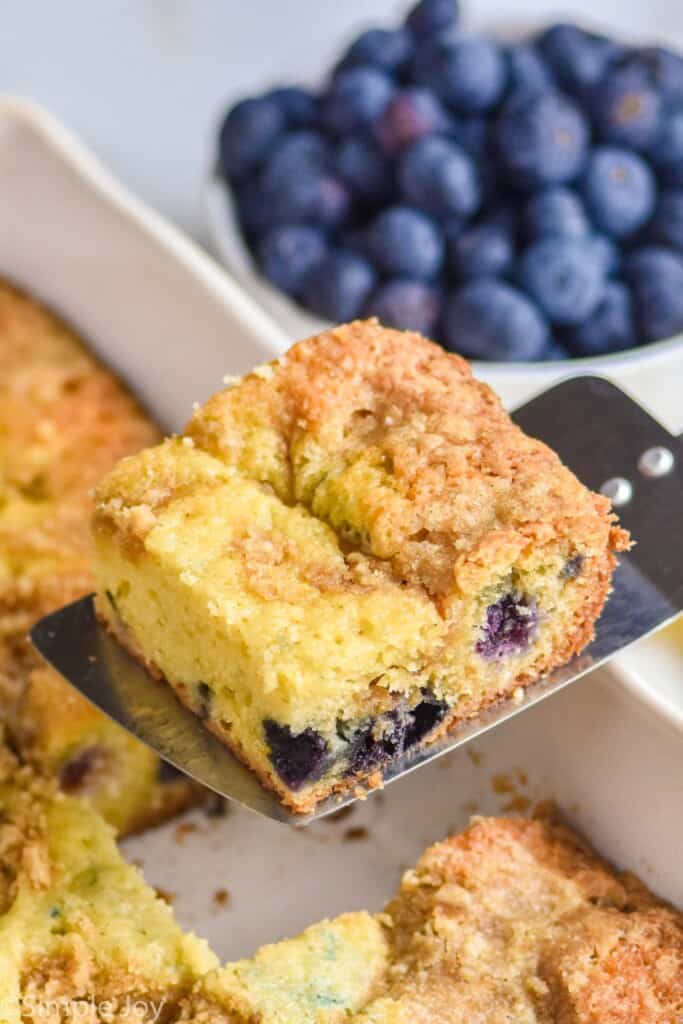 Frozen or Fresh Blueberries
This coffee cake can be made with both frozen and fresh blueberries. I like using frozen because they are less expensive and easy to keep on hand. If you use frozen, do not thaw them before putting them in the cake. It will add more moisture than the cake can handle.
Sour Cream Coffee Cake Recipe
This Sour Cream Coffee Cake recipe is such a delicious centerpiece to any brunch table. With this cake, you will have everyone coming back for seconds!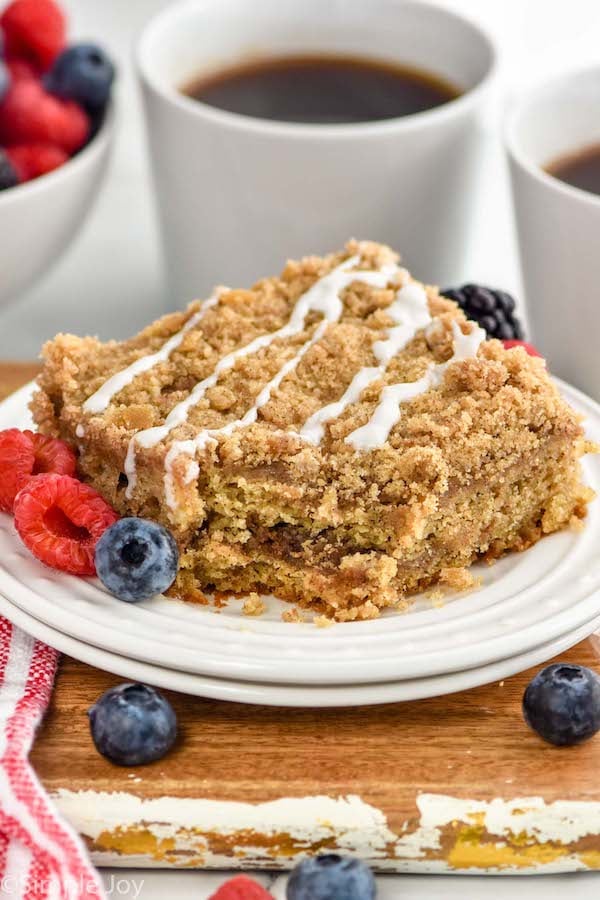 Tips and Tricks for Blueberry Coffee Cake
Measure the flour correctly. If you scoop flour from the container it can pack and you can end up with 25% more than you need. Use a spoon to scoop the flour into a dry measuring cup and then level it off with the flat end of a spatula. You can see this in action in the video for my Oatmeal Raisin Cookies.
Use fresh baking soda and baking powder. These ingredients need to be replaced in your pantry every six months for them to continue to be reactive. Baking is a science, and fresh ingredients help!
Use room temperature butter. The butter will feel cold to the touch, but you should be able to easily dent it with your finger.
Use room temperature sour cream and eggs. Take both ingredients out of the refrigerator before you preheat the oven.
Make good use of your spatula. Scrape down the sides and bottom of the mixing bowl in between adding ingredients.
Use fresh or frozen blueberries. Do not use frozen blueberries that have been thawed.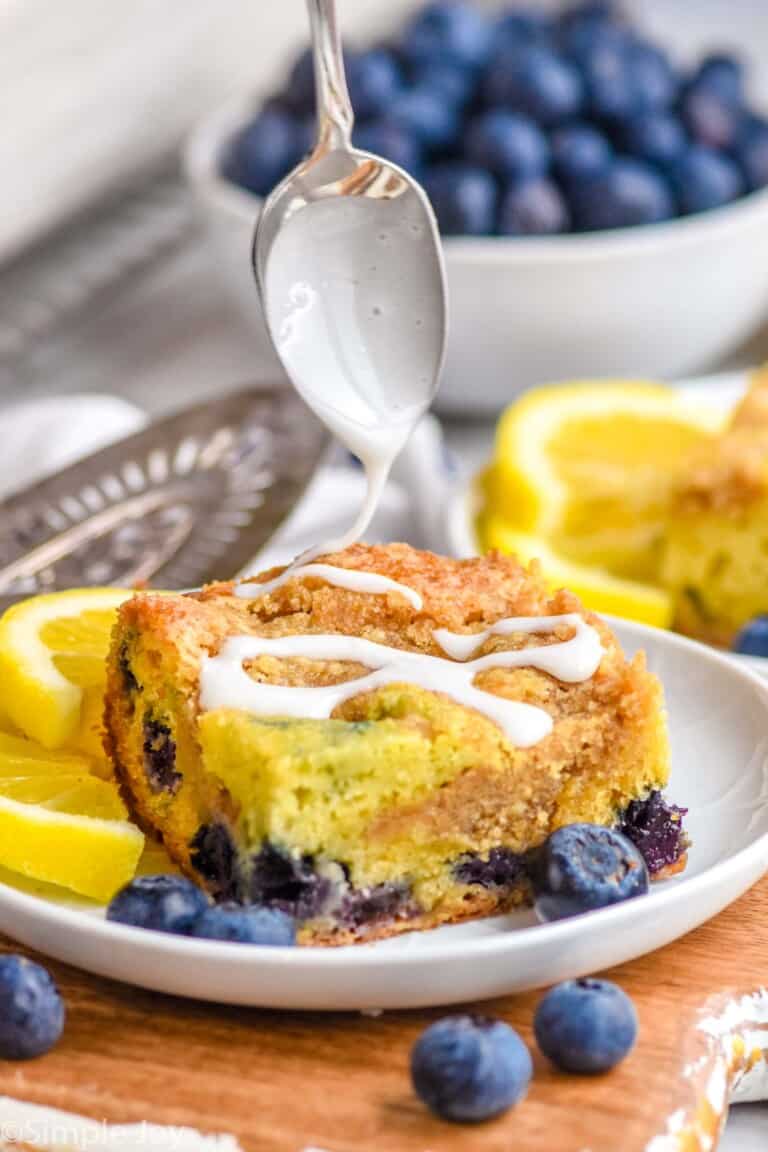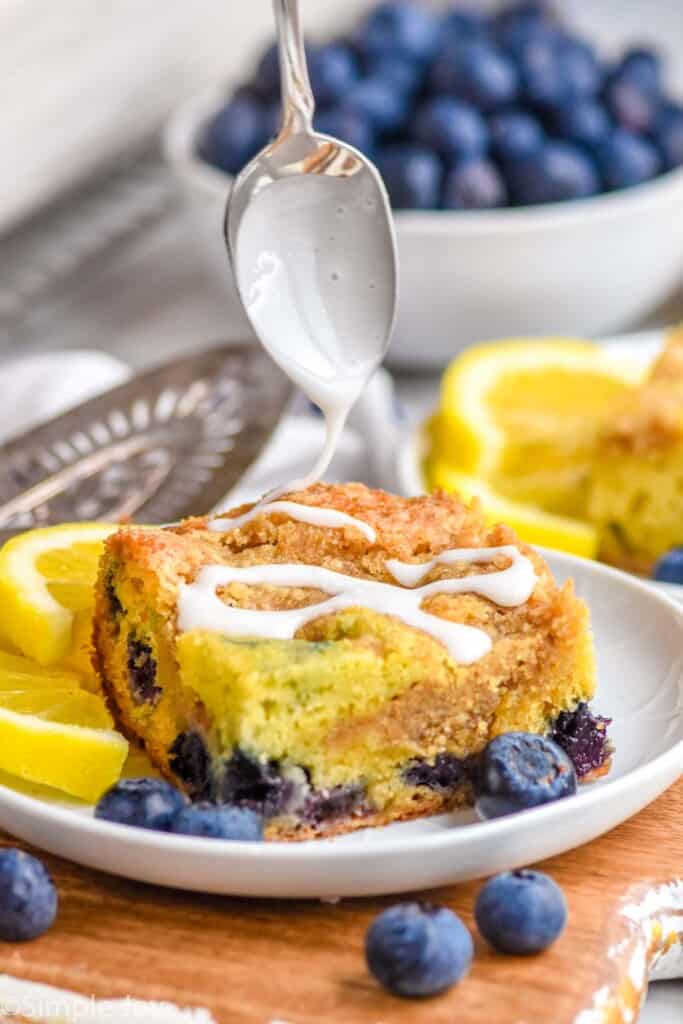 FAQ
Does coffee cake have coffee in it?
No, there isn't coffee in coffee cake. The word coffee in the title just refers to what it is served with, not an ingredient.
Can coffee cake be frozen?
If you have leftovers that you want to save, cut this into individual pieces. Place it on a parchment paper lined baking sheet. Freeze for 2 hours. Then transfer to an airtight container and return to the freezer for up to three months.
Can I use something other than blueberries?
Absolutely! A different fruit can be used in the place of blueberries, as long as you use the same amount. Keep in mind that you want to use either fresh fruit or frozen fruit. Do not use frozen fruit that has been thawed.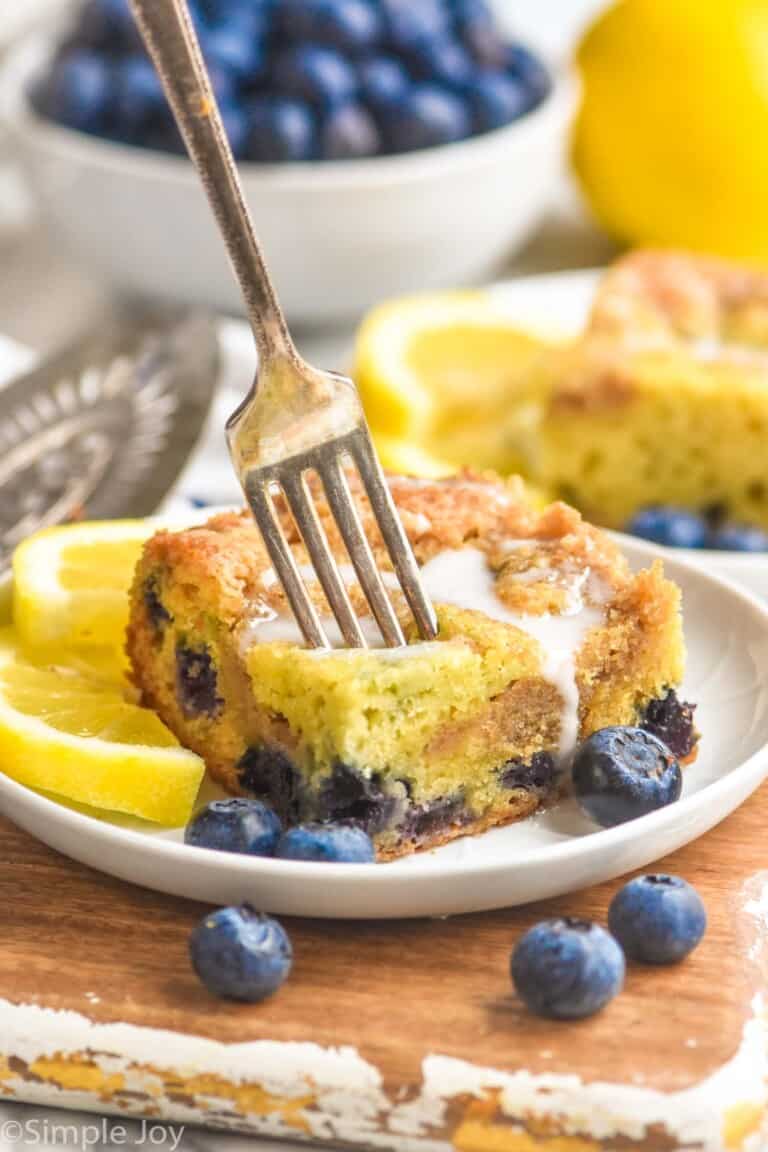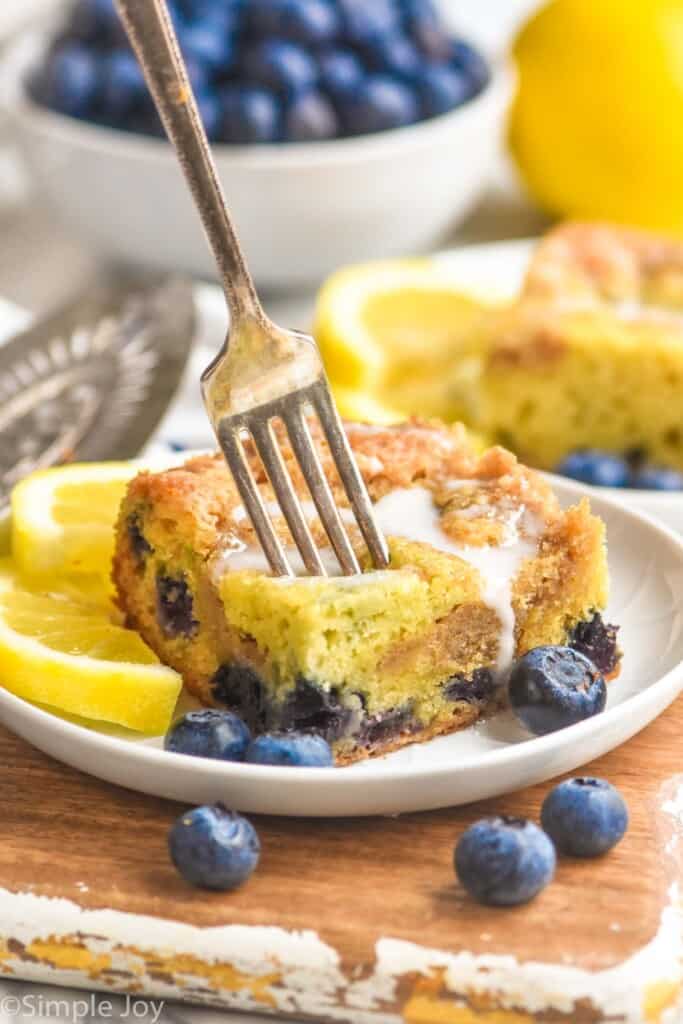 What to serve with Blueberry Coffee Cake
If you are making this sour cream coffee cake for guests at brunch, here are a few ideas of what you can pair it with.
If you make this blueberry coffee cake recipe or any of my other recipes, please leave me a comment and let me know what you think!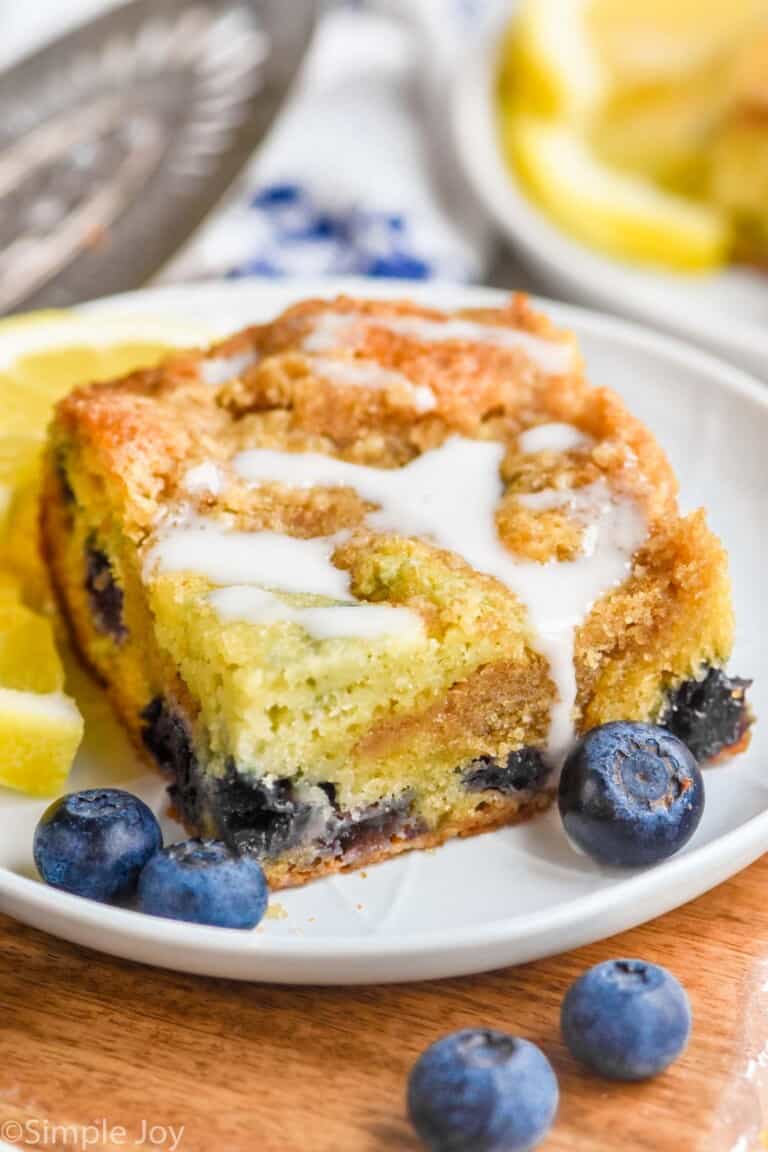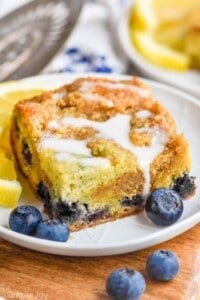 Blueberry Coffee Cake
Blueberry Coffee Cake is a simple pastry that is ideal for serving at brunch. The flavors of lemon and blueberry come together perfectly, to make a light and delicious cake.
Ingredients
Streusel Topping
1

cup

brown sugar

packed

2/3

cup

all purpose flour

8

tablespoons

unsalted butter
Cake
2

cups

all purpose flour

scooped and leveled

2

teaspoons

baking powder

1

teaspoon

baking soda

1/2

teaspoon

salt

1/2

cup

unsalted butter

room temperature

1

cup

granulated sugar

2

eggs

room temperature

1

teaspoon

vanilla extract

2

tablespoons

lemon juice

3/4

cup

sour cream

1

teaspoon

lemon zest

1

cup

blueberries

fresh or frozen (if using frozen, do not thaw first)
Icing
1/2

cup

powdered sugar

2

tablespoons

milk

(more as needed)
Instructions
Preheat the oven to 350 degrees. Spray a 9 by 13 inch baking dish generously with cooking spray. Set aside.
To Make Streusel Topping
In a small bowl, whisk together the dry ingredients for the streusel topping – 1 cup packed brown sugar, and all purpose flour.

Using a pastry cutter or a fork, cut the butter into the dry ingredients until the mixture is crumbly. Set aside.
For the Cake Batter
In a large bowl whisk together the flour, baking powder, baking soda, and salt. Set aside.

In a stand mixer fit with the paddle attachment or in a large bowl using a hand mixer, beat the butter and granulated sugar together until light and fluffy, about 3 to 6 minutes.

Add in the eggs, one at a time. Now beat in the lemon juice and vanilla extract. Scrape down the sides, and beat in the sour cream and lemon zest until the mixture is smooth and combined. Scrape down the sides again.

Add in the flour mixture, beat on a low for a few moments until you are able to beat on high until the mixture is just combined. The batter will be thick and sticky. Stir in the blueberries.

Pour the batter into the prepared pan. Add the topping and bake for 40 to 45 minutes or until a toothpick inserted int the middle comes out with just a few crumbs.
For Icing
Before serving, whisk together the powdered sugar and milk. If necessary, add a little more milk until the mixture is runny. Drizzle over the coffee cake.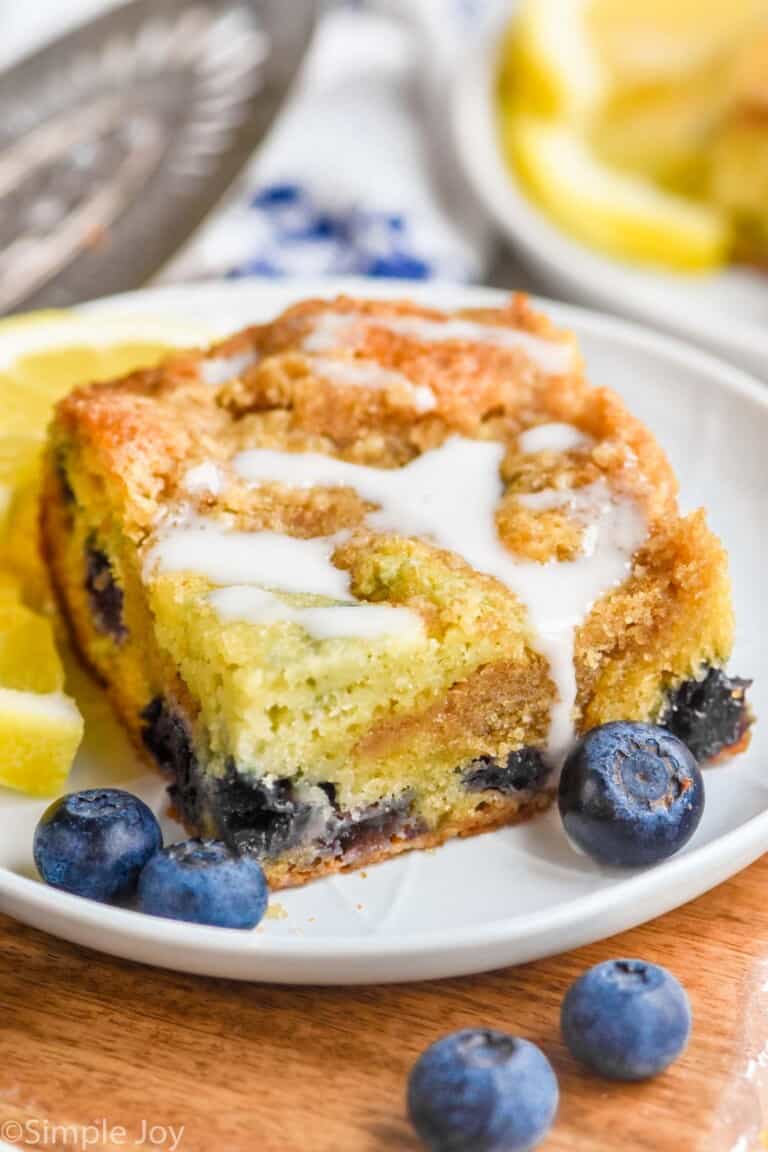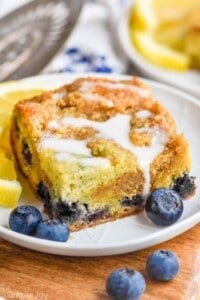 did you make this
Blueberry Coffee Cake