Our three ingredient Mimosa recipe is going to be your new favorite. Made with fresh orange juice, this cocktail will be your go-to brunch drink!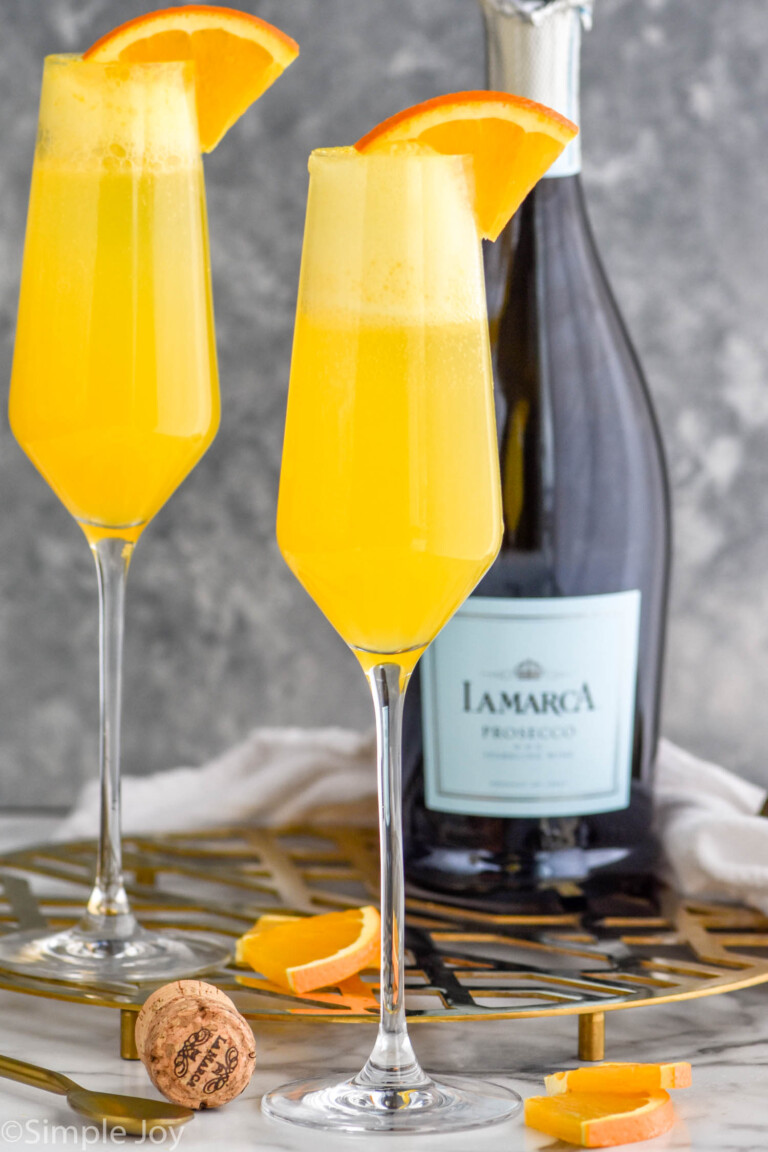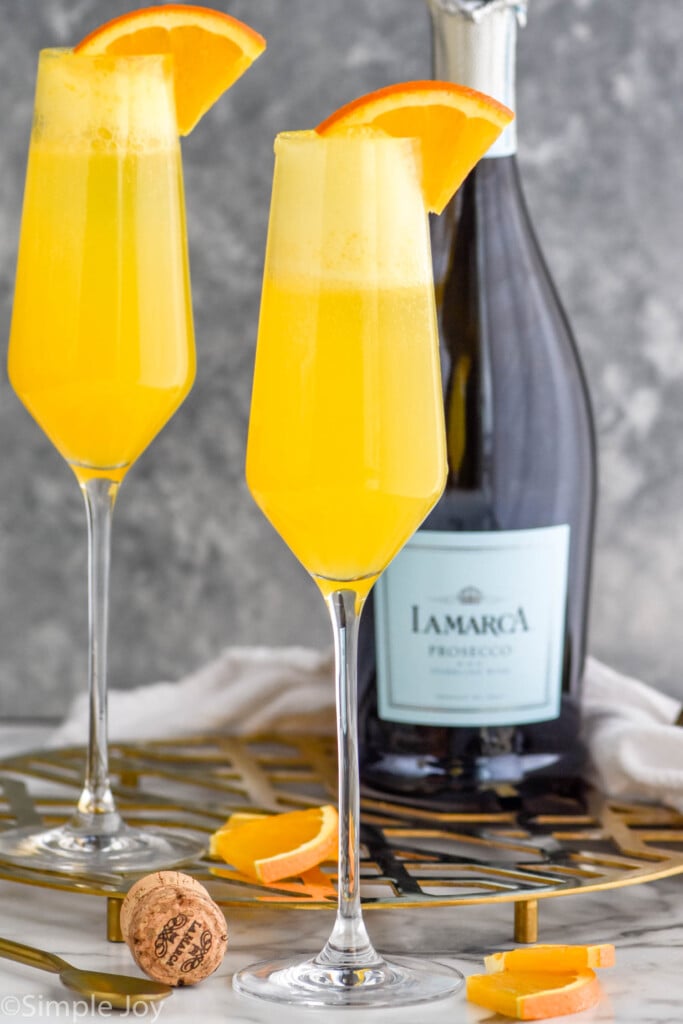 This is not your average Mimosa recipe. This classic brunch drink is getting an upgrade with two key ingredients. The first is freshly squeezed orange juice, and the second is Cointreau. These two simple additions will put your cocktail over the top.
Reader Review
I made these to have with our Easter meal and they were delicious! Even my 92 year old mom-in-law loved them!!
What is a Mimosa
A Mimosa is a classic cocktail that typically combines champagne and orange juice. The origins are somewhat unknown, but thoughts are that it was developed in Europe in the early 1920s or 1930s, either in London or Paris.
How to Make a Mimosa
This is a brief overview of this delicious recipe. For the full recipe, please see the recipe card at the bottom of the post.
Juice an orange. Fresh orange juice is what sets this recipe apart. It is absolutely worth it to take an extra few minutes for some fresh juice.
Add the orange juice and Cointreau to a champagne glass.
Top with champagne. While the classic Mimosa is made with champagne, any sparkling wine, such as Prosecco, will work.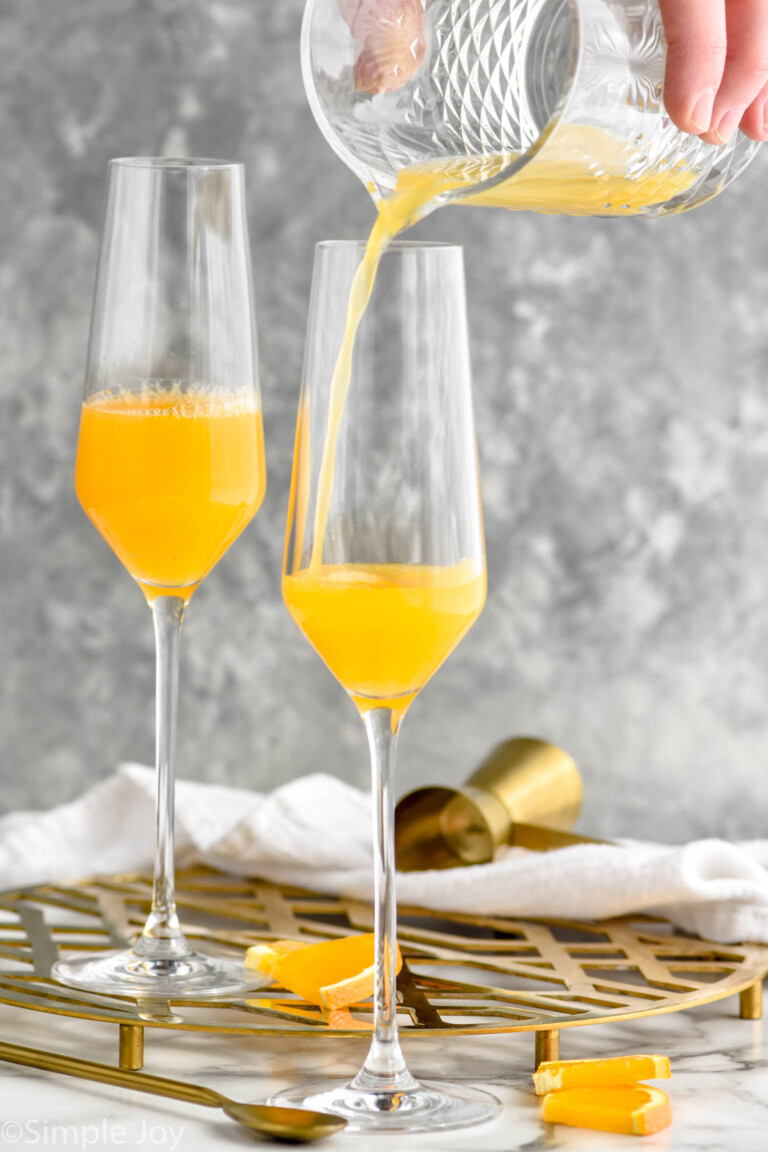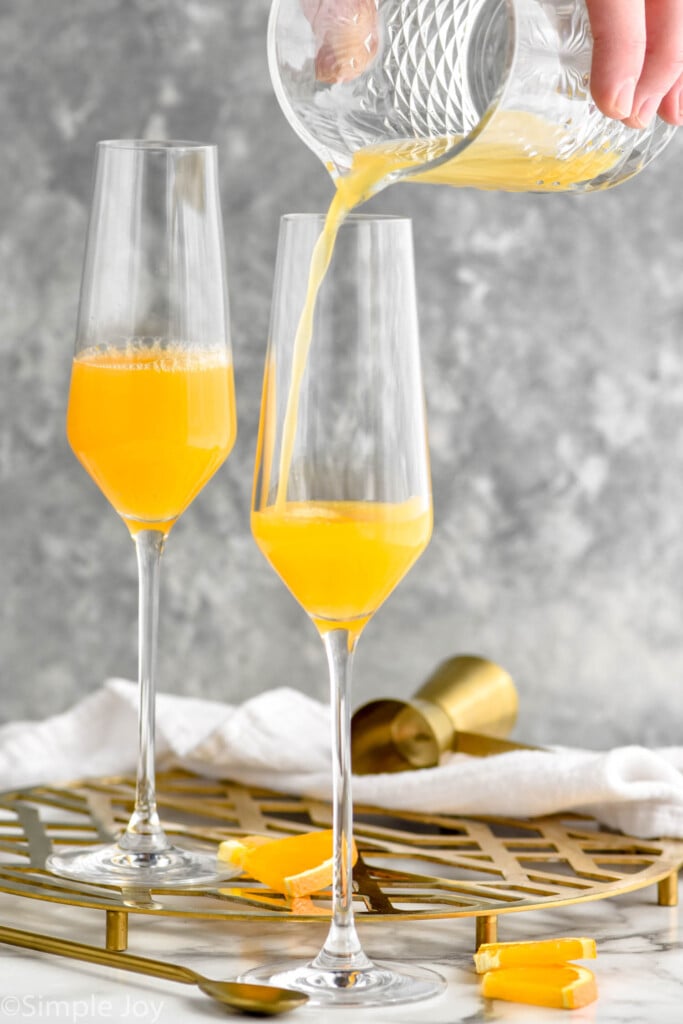 Champagne vs. Sparkling Wine
The easiest thing to remember when it comes to champagne is that all champagne is sparkling wine, but not all sparkling wine is champagne. Champagne comes from a specific region of France, and only the wine made in that region can be called champagne.
Any sparkling wine will work in this recipe. I prefer to use Prosecco, as you see pictured here. But you should use what most appeals to you. I suggest using something that is more dry than sweet since you will be getting sweetness from the orange juice and Cointreau.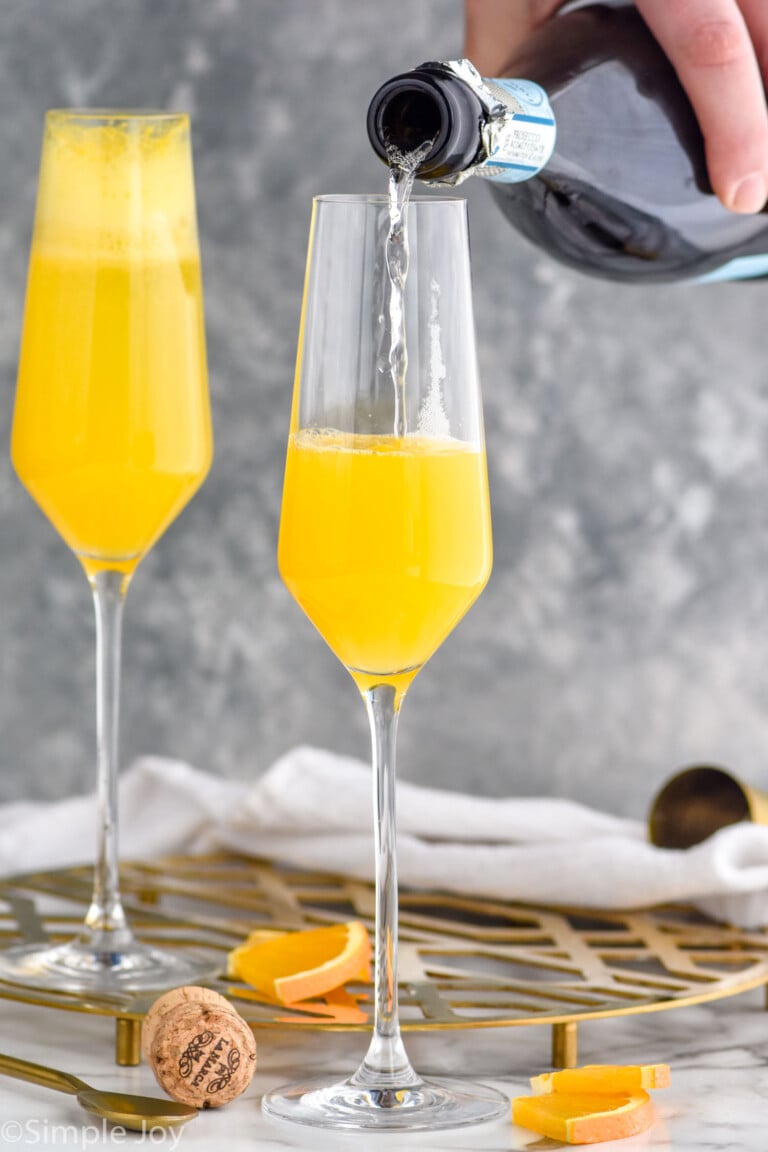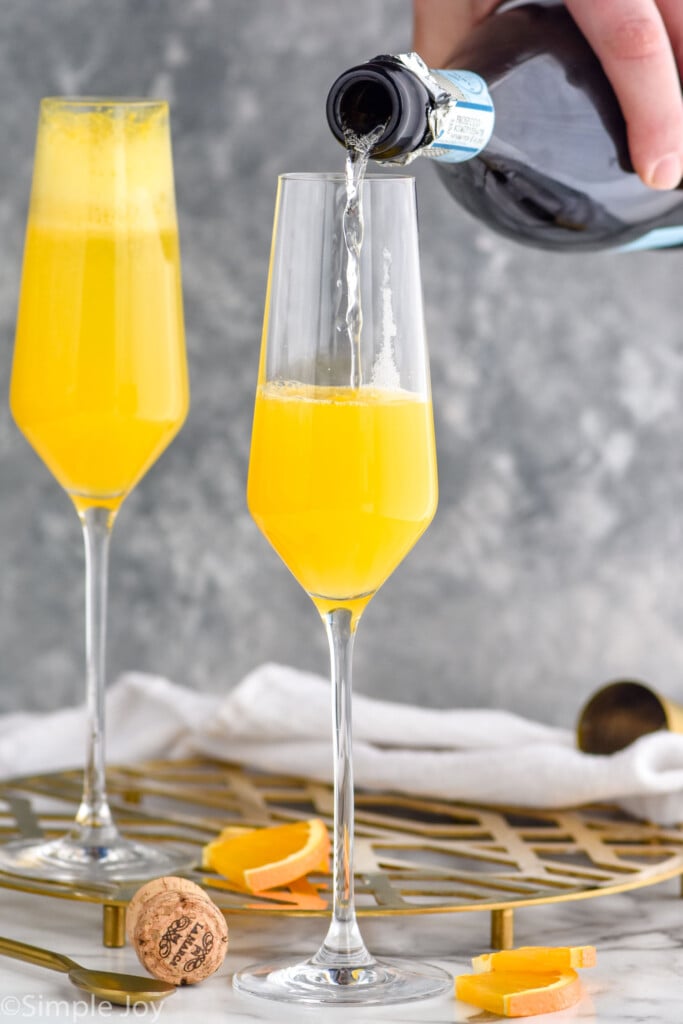 Using Cointreau in Mimosas
You may not be used to seeing Cointreau in Mimosas, but I promise you that once you try it, you will not go back. Cointreau is a sweet orange liqueur. We always have some on hand for our Margaritas. It is absolute perfection in this cocktail too.
Freshly Squeezed Orange Juice
The benefits of freshly squeezed orange juice start with the health benefits, but they don't end there. Store-bought orange juice usually contains added sugar. But freshly squeezed orange juice is inherently sweet. It has a sweeter taste, and of course tastes more fresh. The combination of those two things is what helps elevate this amazing cocktail.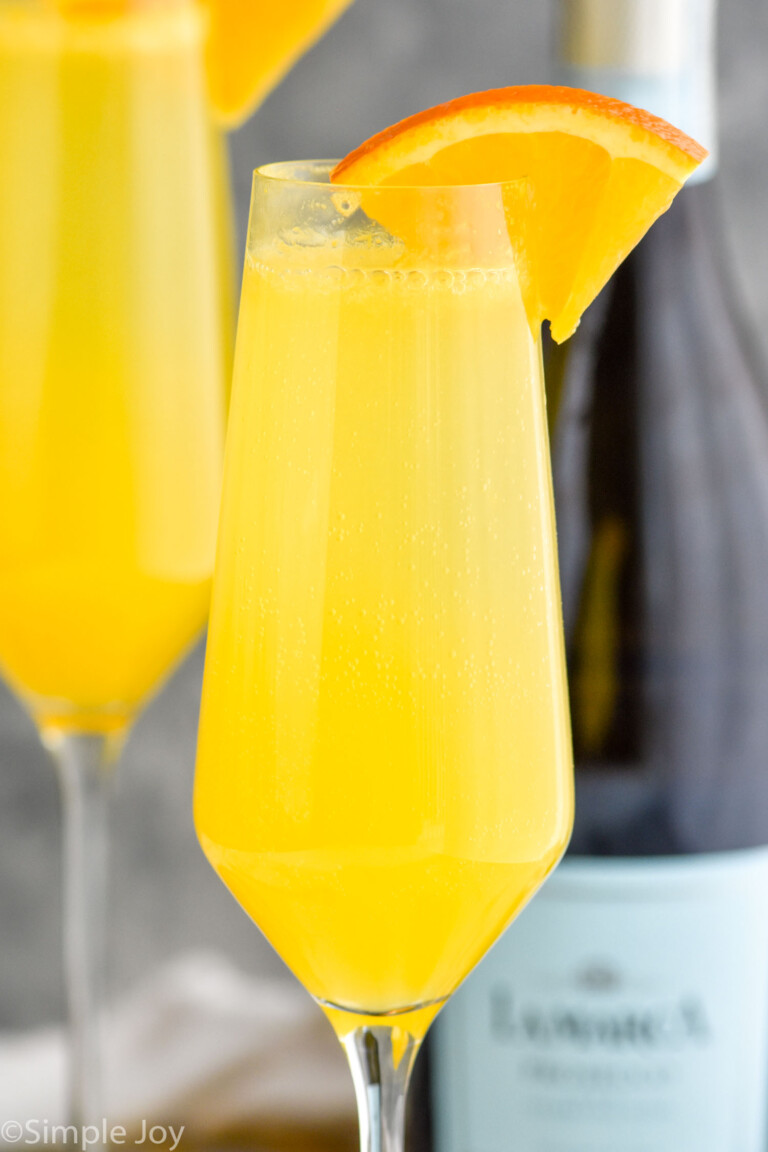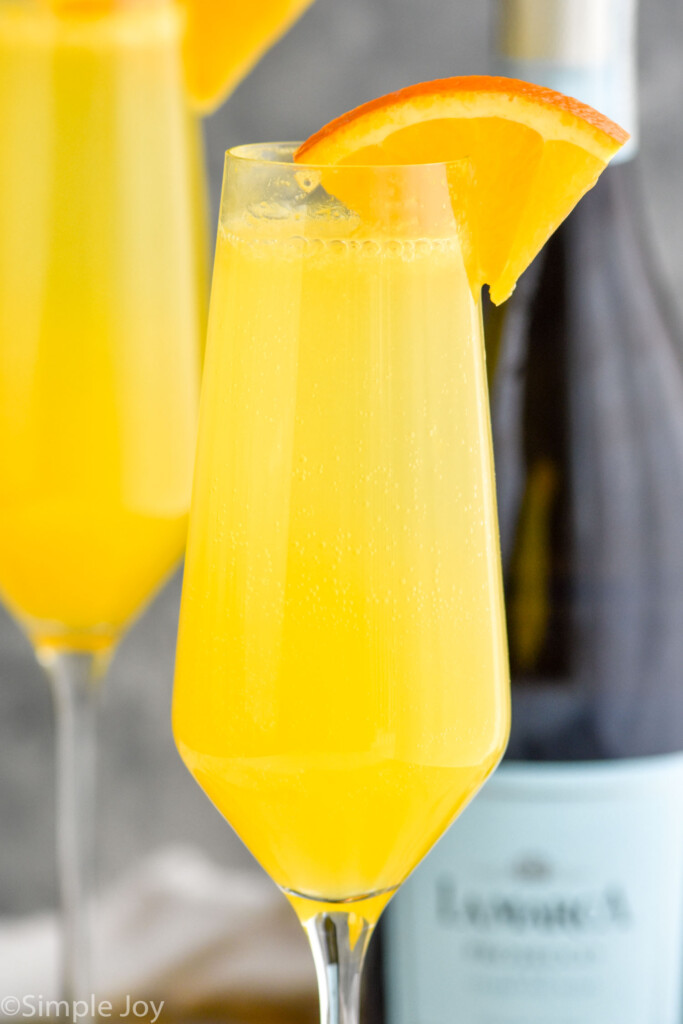 Juicing Oranges
On average, when you juice an orange, you can count on getting 1/3 cup or about 2.5 ounces. Here are a few things you can do to get more juice out of your oranges.
Ensure that you buy fresh oranges. The more fresh they are, the more juice you will get.
Roll the orange between the counter and your palm. This will make it easier to get more juice out.
Heat the orange in the microwave for about 30 seconds.
Non-Alcoholic Mimosa
If you are hosting a baby shower, you might want to make Mimosas that don't contain any alcohol. We have a great Non-Alcoholic Mimosa recipe. It is perfect, and if you are pregnant, it is the ideal substitute.
Non Alcoholic Mimosa
This Non Alcoholic Mimosa recipe or Mimosa Mocktail is the perfect brunch drink when you are trying to cut back on calories and lighten things up.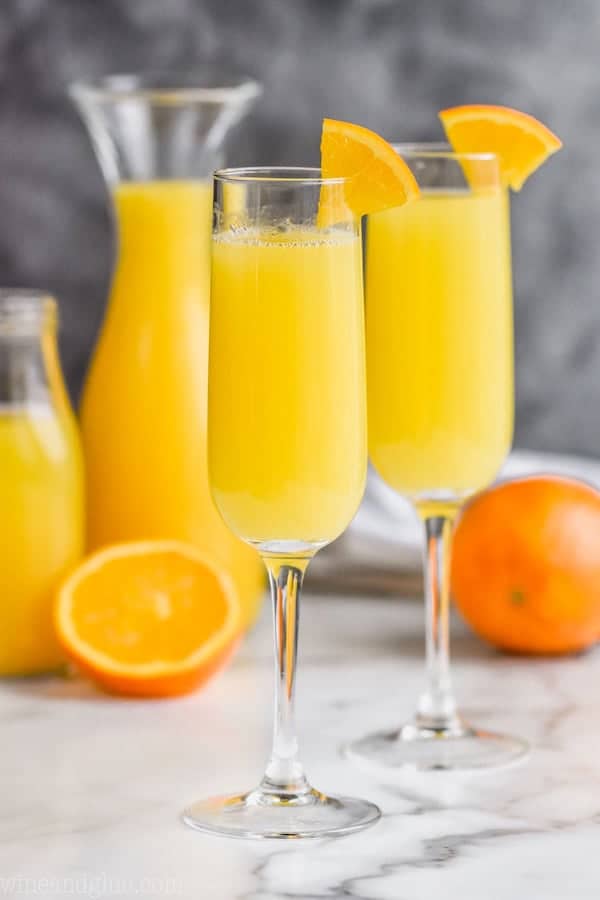 Make it a Pitcher
If you are hosting a brunch, increase the quantities of each ingredient and make a whole pitcher. You will want to add the chilled champagne to the pitcher just before serving. The amounts listed below will result in 12 cocktails.
4 1/2 cups orange juice
1 1/2 cups Cointreau
750 ml bottle of champagne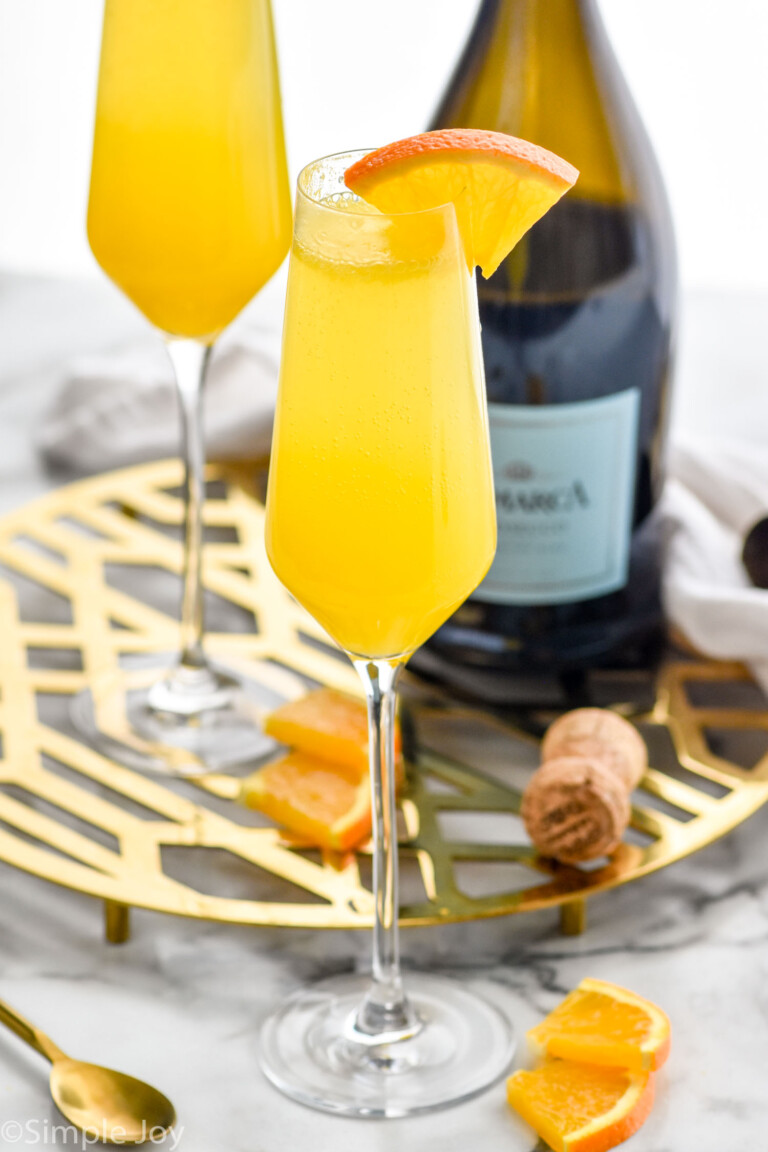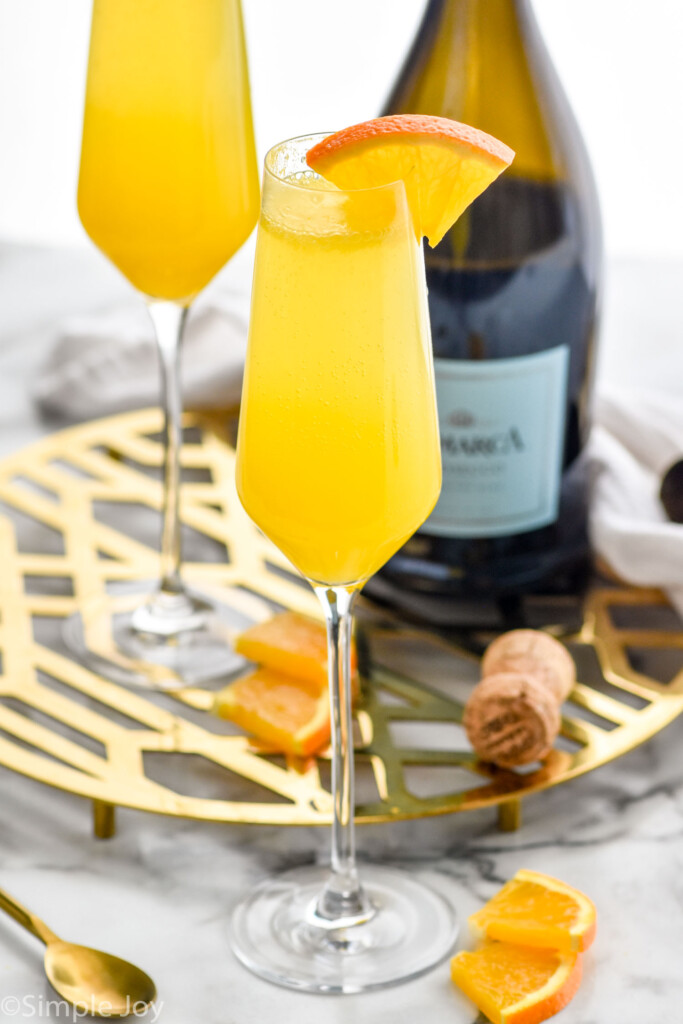 Other Great Brunch Recipes
While it might be tempting to have just a Mimosa brunch, you might have a better day if you round it out with some other recipes.
If you try this Mimosa recipe or any of my other recipes, please leave me a comment and let me know what you think!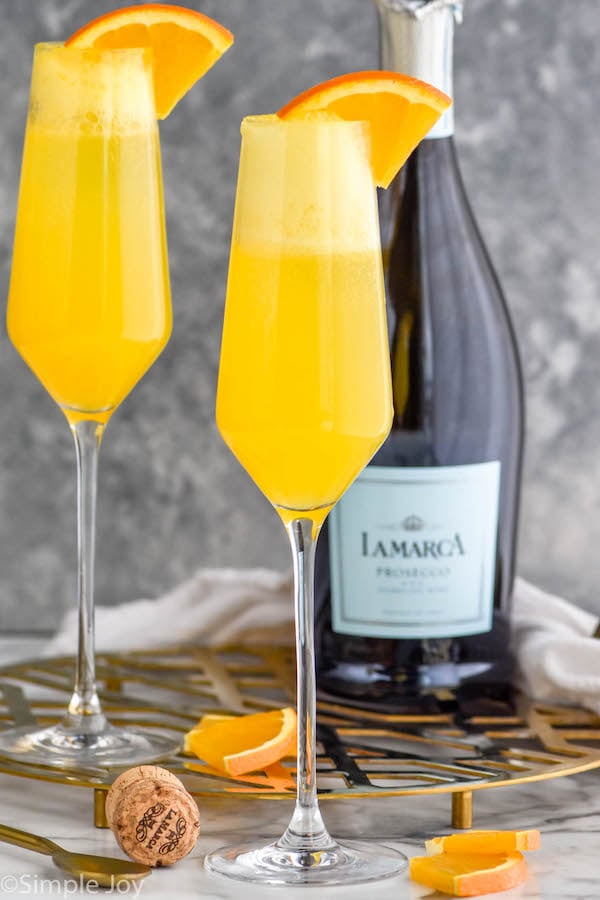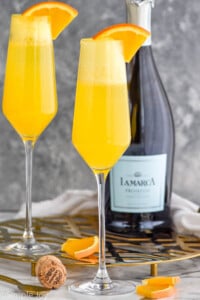 Mimosa
Our three ingredient Mimosa recipe is going to be your new favorite. Made with fresh orange juice, this cocktail will be your go-to brunch drink!
Ingredients
3

ounces

orange juice

freshly squeezed, and strained (about 2 oranges)

1

ounce

Cointreau

(optional, see note)

2

ounces

champagne

chilled
Instructions
Add the Cointreau and orange juice to the champagne glass.

Top with chilled champagne. (Click here for the measurements to make a pitcher of Mimosas.)
Notes
Cointreau enhances the great taste of this Mimosa. If you prefer to skip it, replace it with more champagne.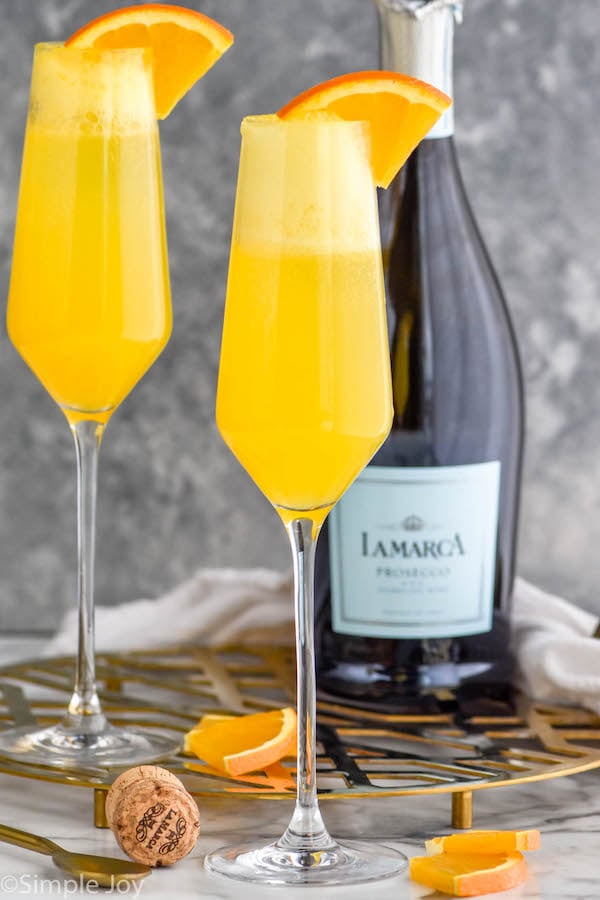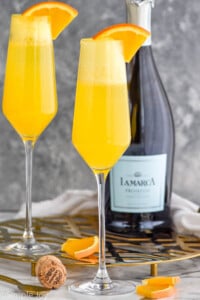 did you make this
Mimosa