Irish Coffee is perfect for St. Patrick's Day or any day you need a little pick me up! Just four simple ingredients for a delicious cocktail recipe that warms you from the inside out.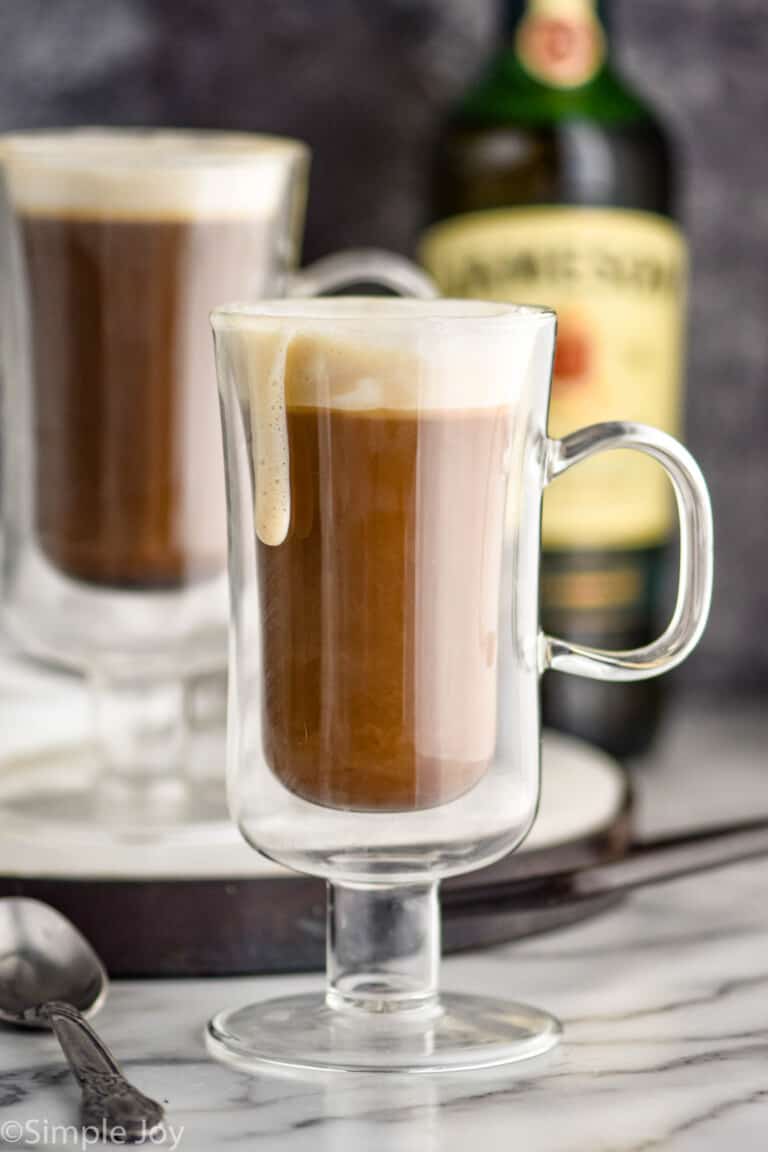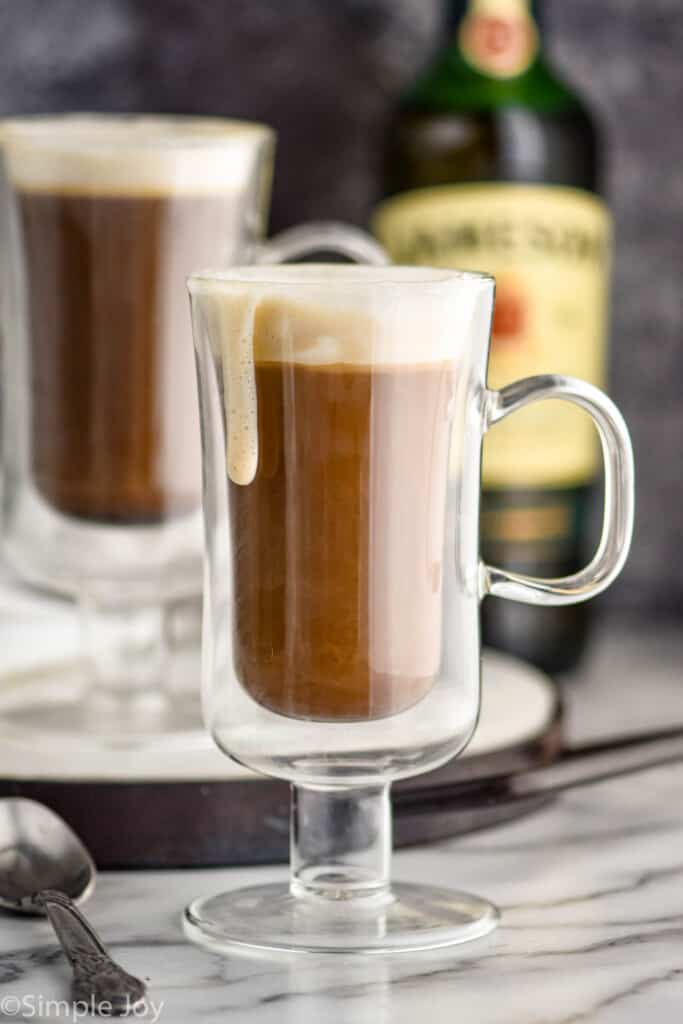 An Irish Coffee is the most delightful little treat. Adding sugar, coffee, cream, and Irish whiskey can just never be wrong. I'm going to give you my tips and tricks to make sure this recipe turns out perfect.
What is Irish Coffee?
Irish coffee is a cocktail that combines coffee, sugar, and whiskey and is topped with whipped cream, through which you drink the coffee mixture. It's roots come from coffee houses in Vienna in the mid-19th century.
While the roots of this recipe don't really seem to be Irish at all, rather from other parts of Europe, this delightful drink is easy to make at home and the perfect St. Patrick's Day cocktail.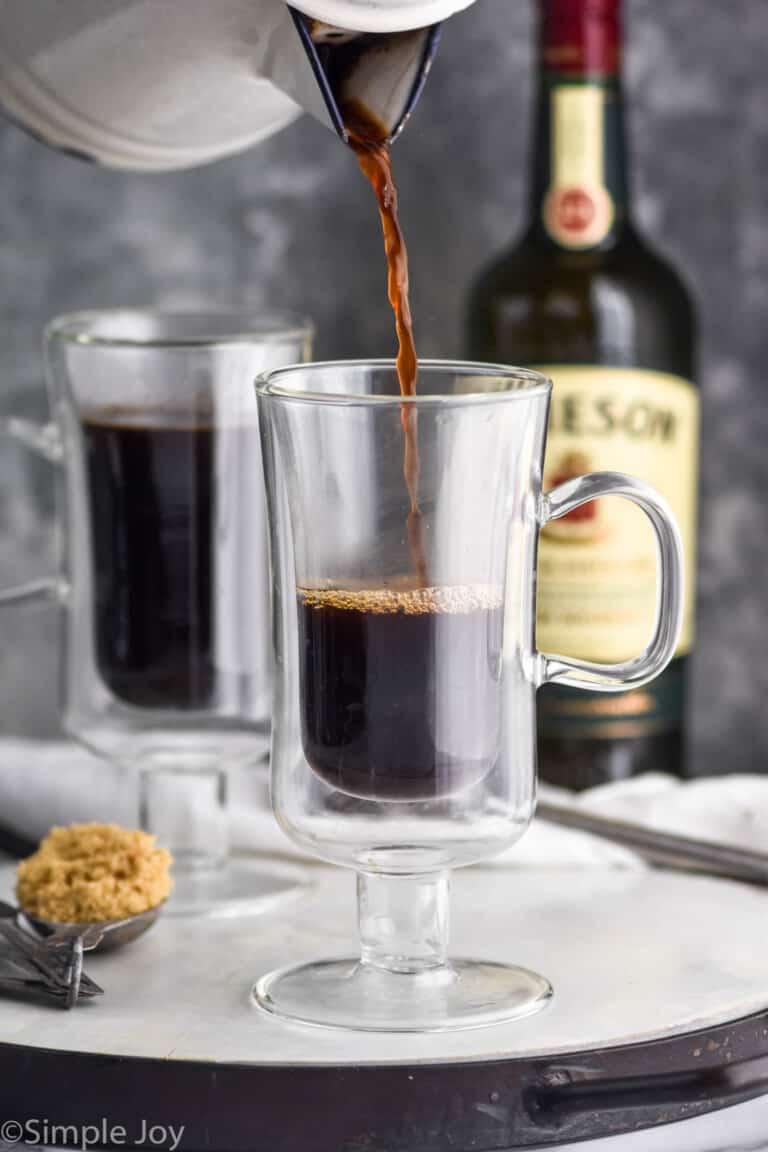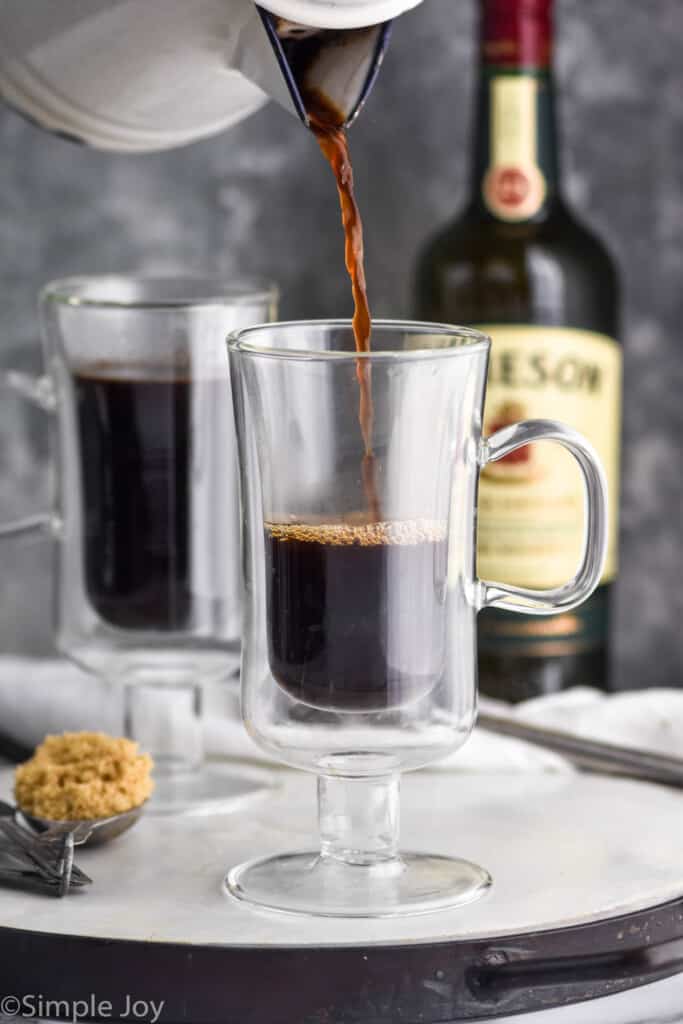 Irish Coffee Ingredients
Coffee: The base of this drink is coffee, though the type varies from recipe to recipe. Some recipes call for espresso diluted in water. I find this recipe delightful made with my typical home brew.
Brown Sugar: Most recipes simply call for sugar. I find that brown sugar adds another layer of flavor that is perfect here.
Irish Whiskey: The quintessential ingredient here, is whiskey. While I think using Irish Whiskey makes it more of an Irish cocktail, you should use what you like.
Cream: In this recipe we are making some homemade whipped cream. Certainly if you are in a pinch, you can use the spray cream from the can.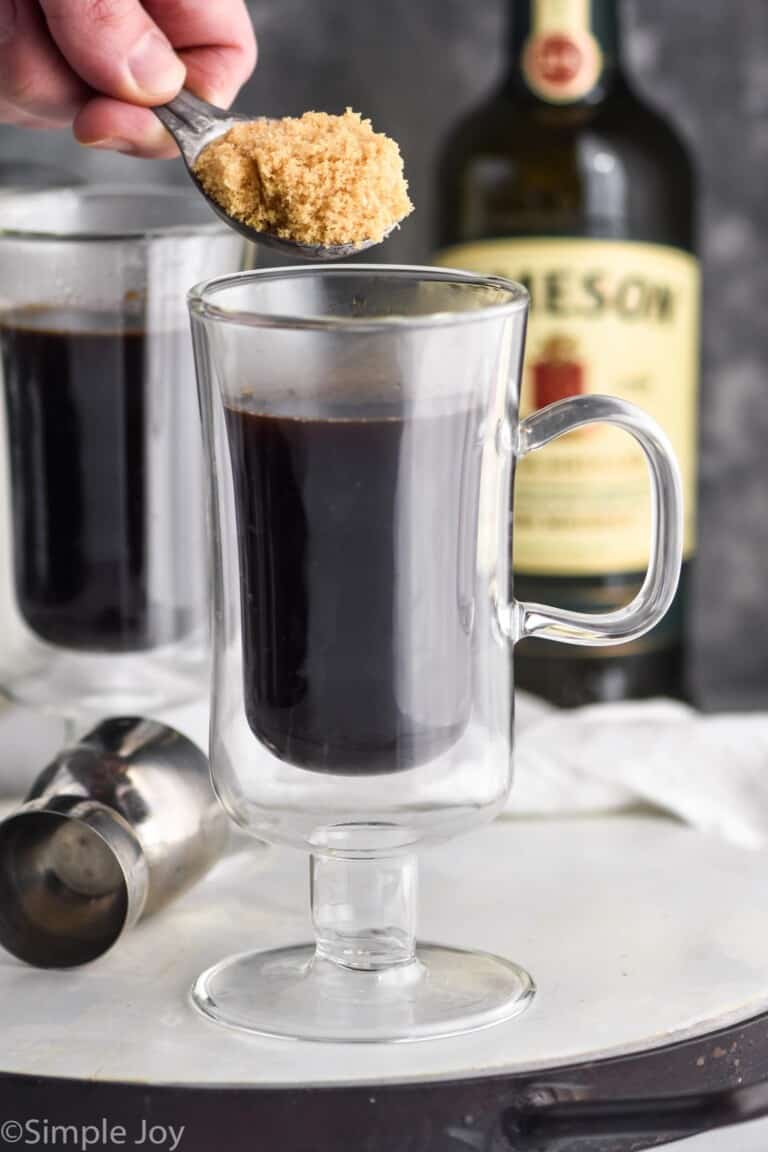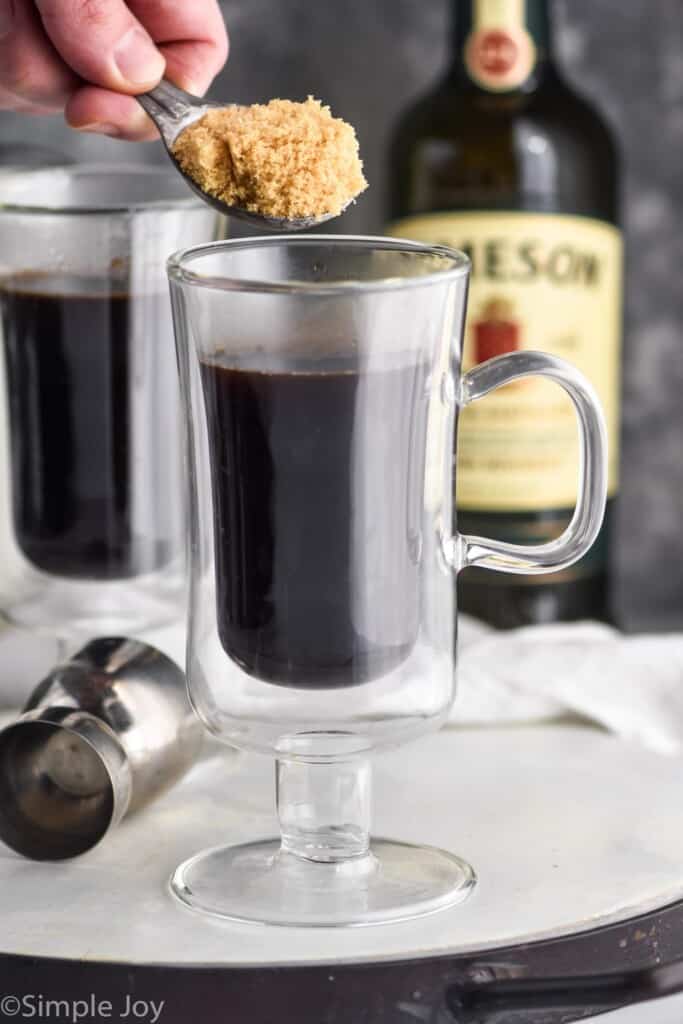 How to Make Irish Coffee
This is a brief overview of how to make this fantastic St. Patrick's Day cocktail. For the full recipe with all of the measurements, please see the recipe card at the bottom of the post.
Brew the coffee. Nothing special here, just make your coffee as you always do.
Make whipped cream. While the coffee is brewing whip up some whipped cream.
Stir in sugar and whiskey. Add 1 tablespoon of brown sugar and 1 ounces of whiskey to each 8 ounce glass of coffee.
Top with whipped cream. One of the best parts of drinking this cocktail is drinking it through the cream on top. While you can stir it in, I love it just floating on top.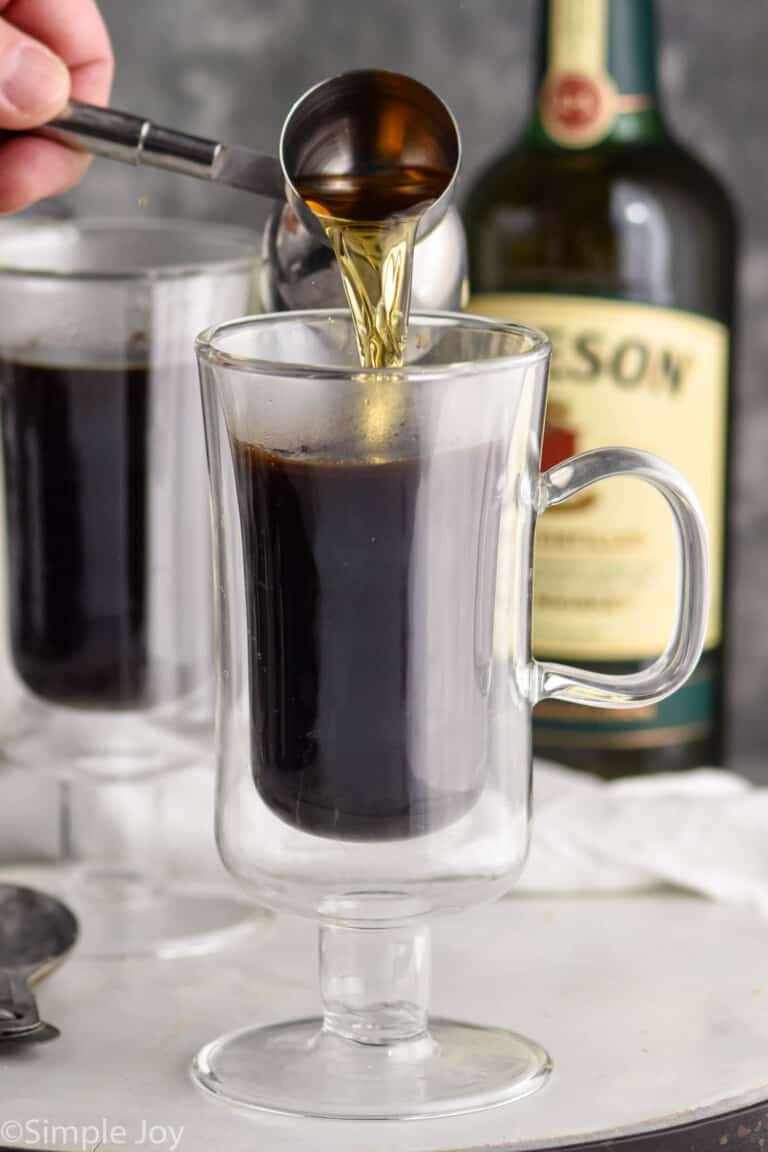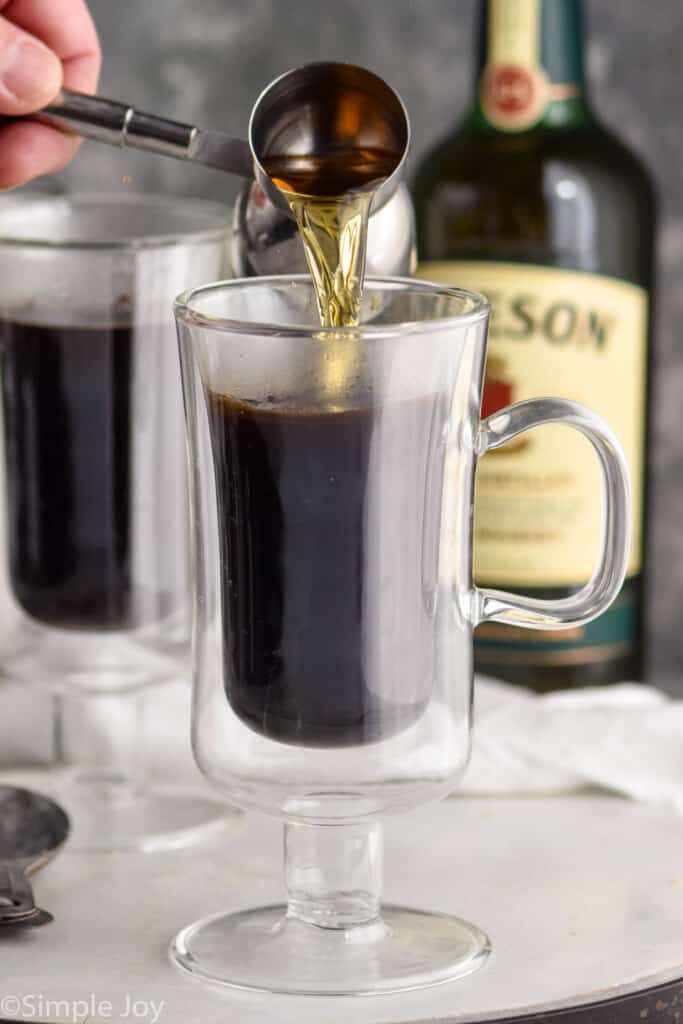 How to Make Whipped Cream
Whipped cream is so easy to make! It is just a few simple steps. You could even kick this recipe up a notch and, as mentioned below, make Chocolate Whipped Cream to go on top.
Freeze a metal bowl and whisk (the whisk attachment for a stand mixer or the beaters for a handheld mixer) for 15 minutes. This is an essential step, and they both must be metal.
In the cold metal bowl, combine 1 tablespoon sugar and 1 cup heavy whipping cream.
Beat the two together with the cold metal whisk until stiff peaks form.
Chocolate Whipped Cream
Chocolate Whipped Cream is only three ingredients! Easy to make and is the perfect addition to any dessert! You can even use it as frosting.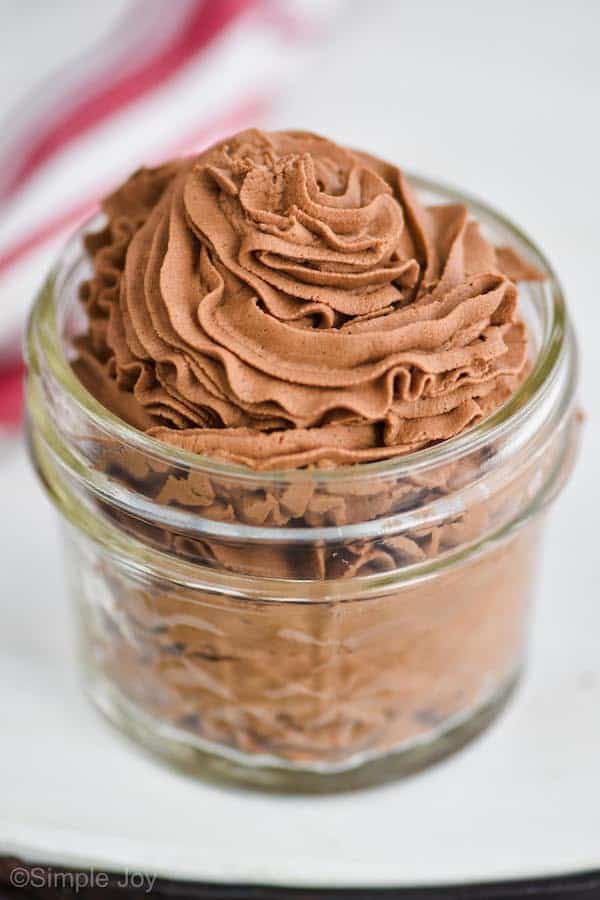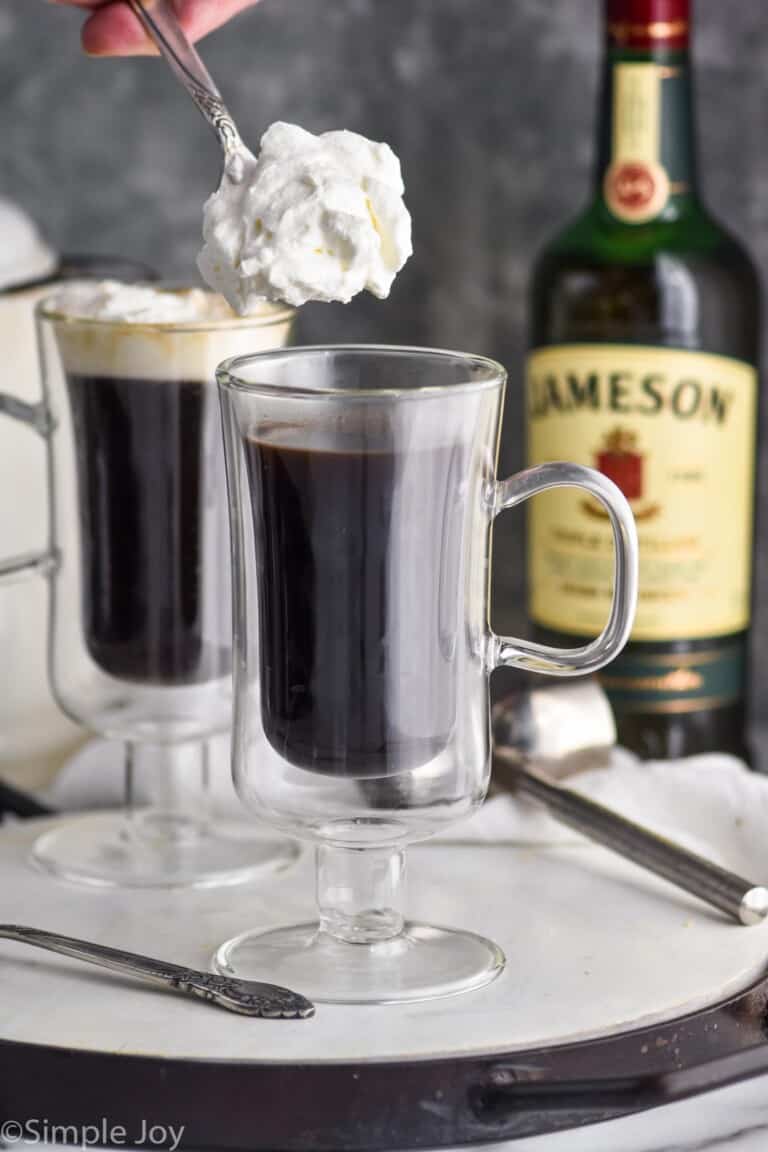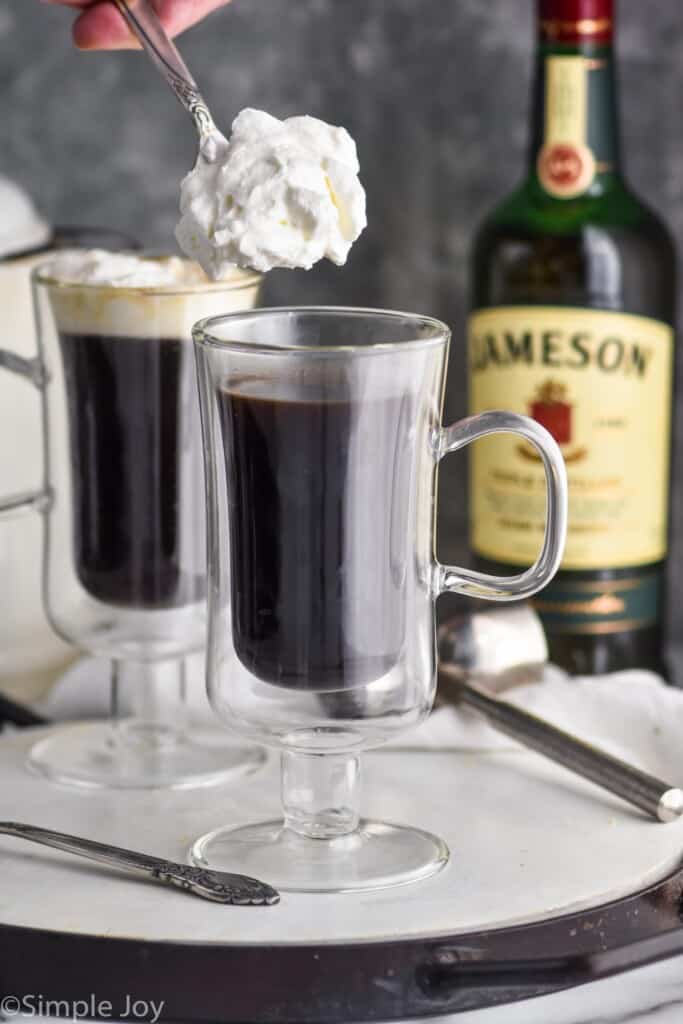 Irish Coffee Mugs
You can drink this great cocktail in any mug, it might be a little more fun in these Irish coffee mugs. You can purchase the ones you see here. They are affordable, but very breakable. There are lots of other great options out there.
TOP PICK
Irish Coffee Mugs
These are such a beautiful and perfect Irish Coffee Mug. I also love them for our mulled wine!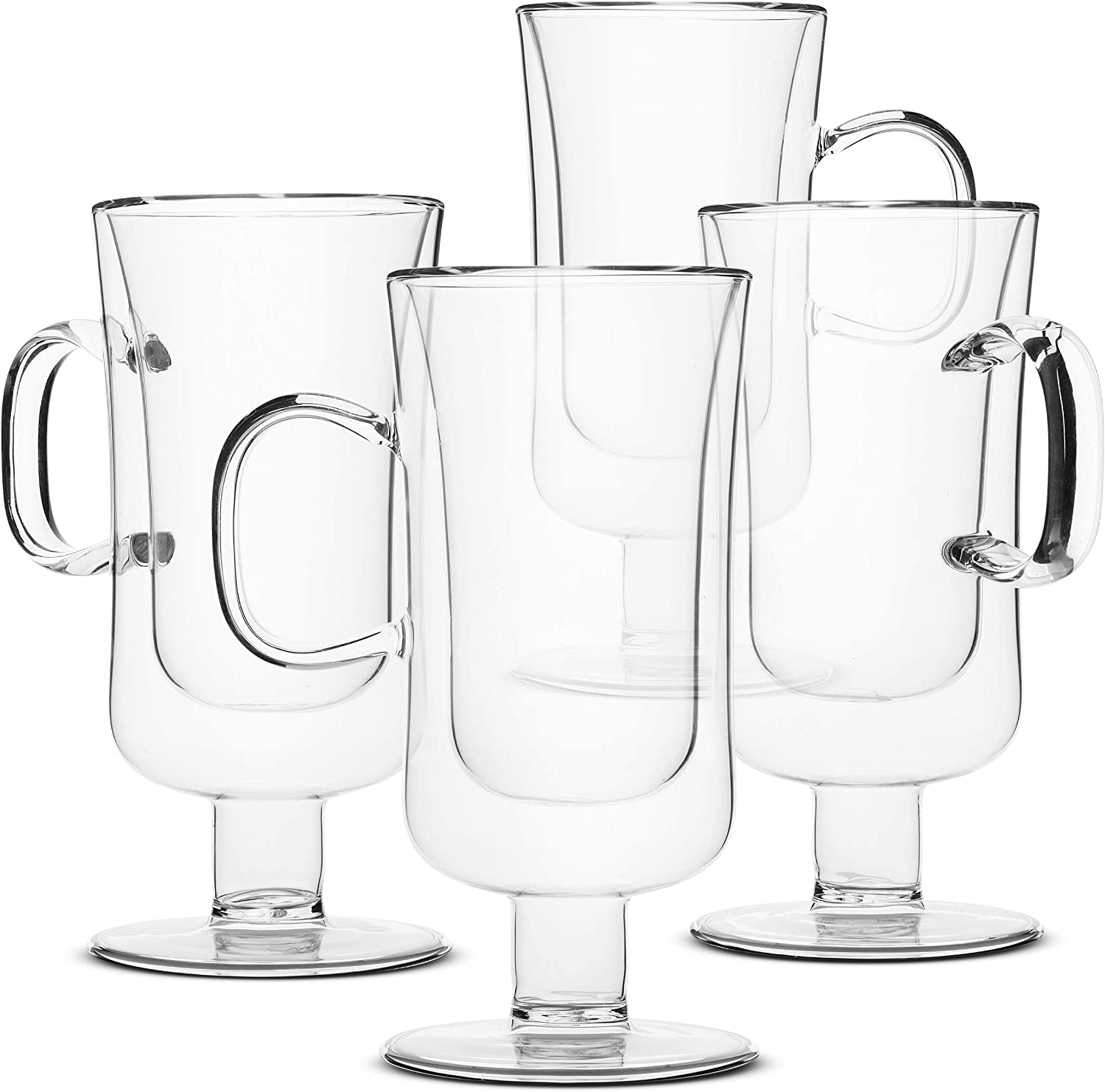 Variations
This recipe is great as is, but you know me. I love to mix things up a little. Here are some great variations on this fun drink!
Baileys Irish Cream Coffee: Swap out your Irish Whiskey for some Baileys and cut both your brown sugar and your whipped cream in half. You can add more of both as you like, but start off with half.
Chocolate Irish Coffee: Instead of regular whipped cream, use my chocolate whipped cream to top this!
Salted Caramel Irish Coffee: Leave out the sugar and the cream, and instead use ice cream, caramel sauce, and a little kosher salt.
Irish Coffee Shots: Instead of an entire cup of coffee for sipping, these are shots of espresso with whiskey and cream!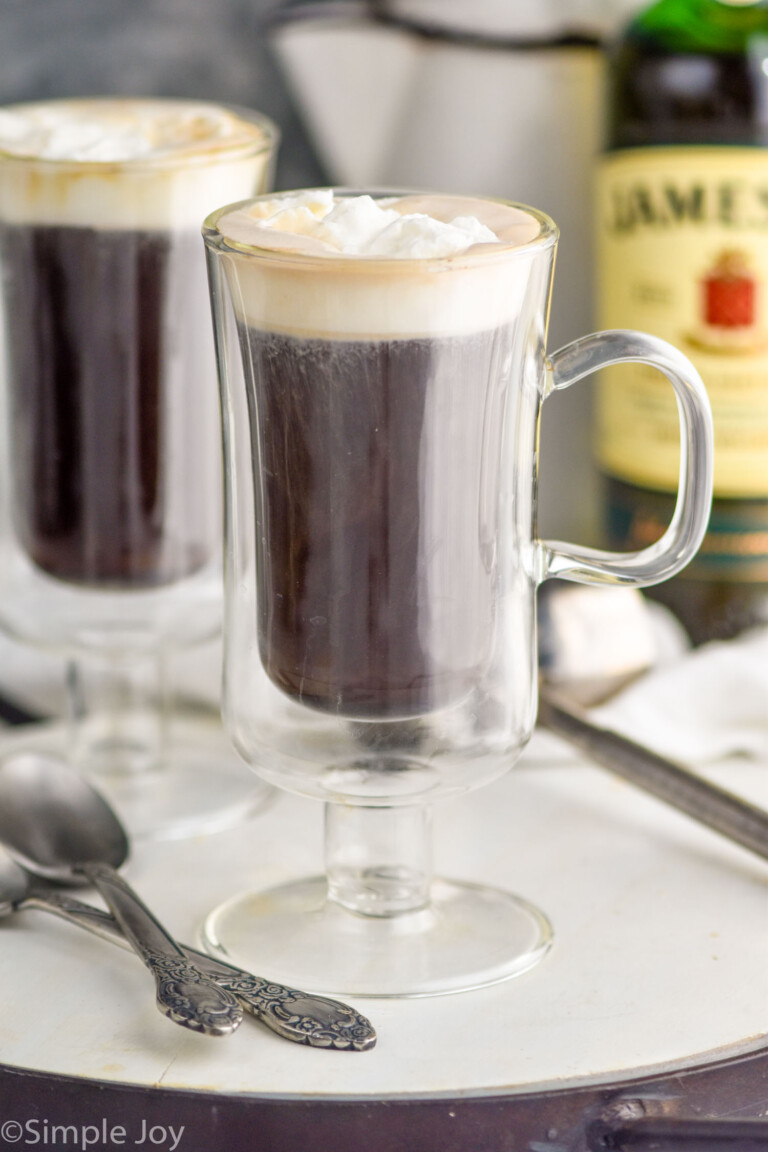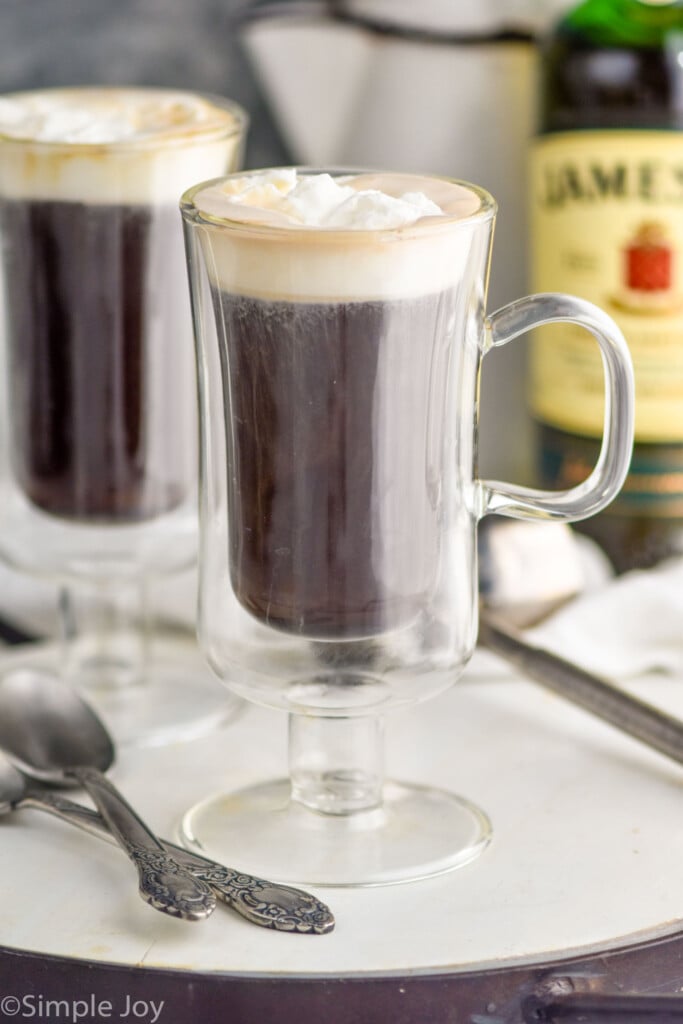 Other Great St. Patrick's Day Recipes
If you make this coffee cocktail or any of my other recipes, please leave me a comment to let me know what you think!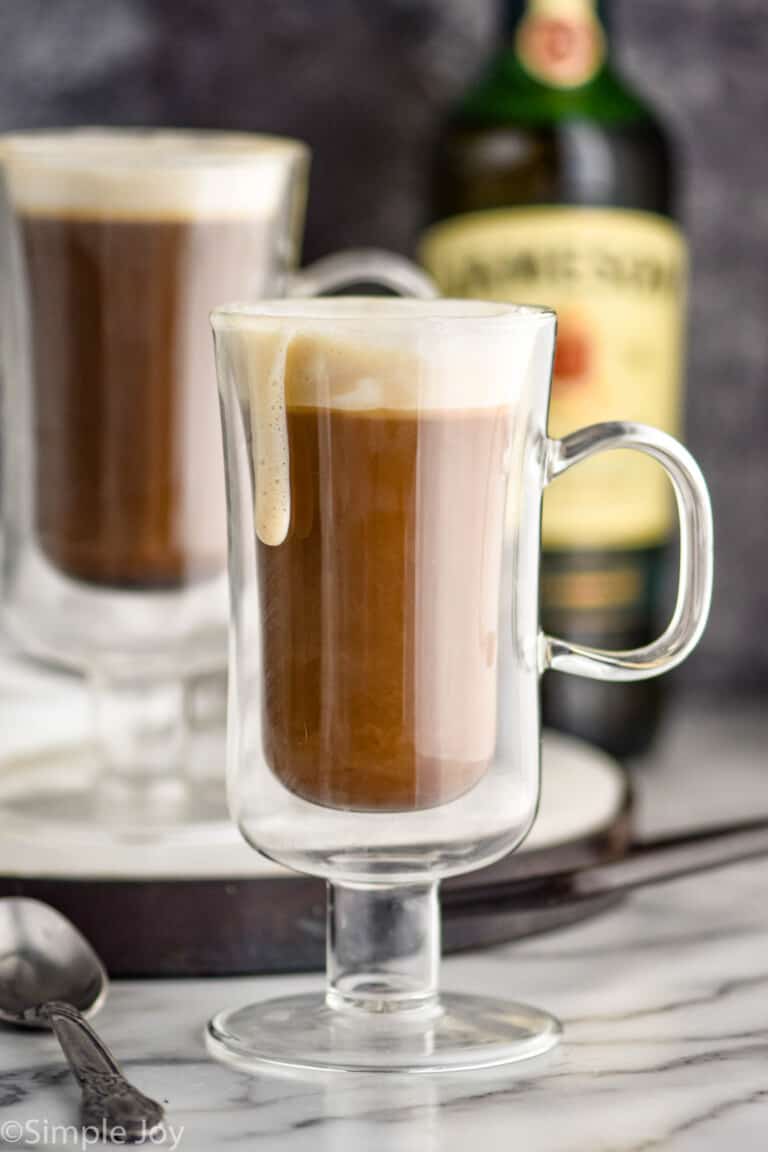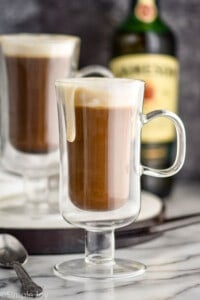 Irish Coffee Recipe
This Irish Coffee Recipe is perfect for St. Patrick's Day or any day you need a little pick me up!  Just four simple ingredients for a delicious cocktail recipe that warms you from the inside out.  
Ingredients
16

ounces

fresh brewed coffee

2

ounces

Irish whiskey

2

tablespoons

brown sugar

2

large spoonfuls

whipped cream

see notes for how to make homemade whipped cream
Instructions
Fill two mugs with coffee

Add a tablespoon of brown sugar to each mug.

Stir one ounce of whiskey into each mug.

Top with a large spoonful of homemade whipped cream. Enjoy!
Notes
To make homemade whipped cream, put a metal bowl in your freezer for 15 minutes. When the 15 minutes is up, add one tablespoon of sugar to the bowl. Then add one cup of heavy whipping cream. Whip with a handheld mixer on high until the cream thickens and forms peaks.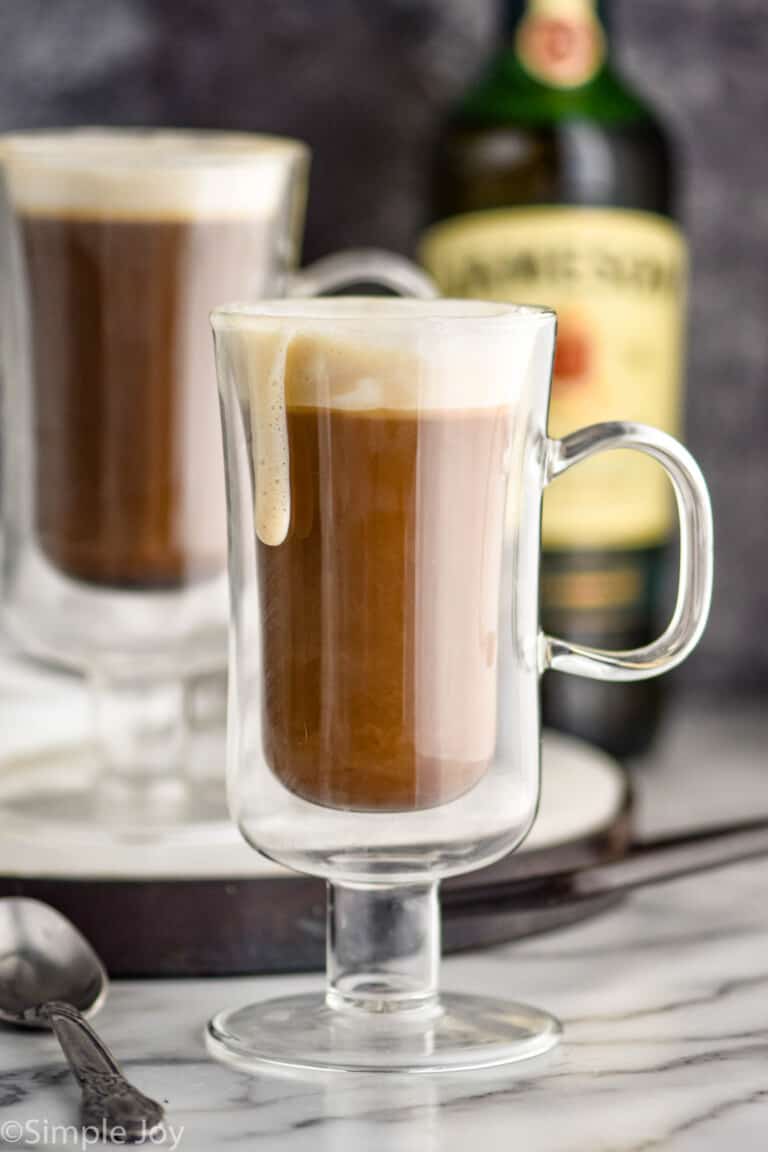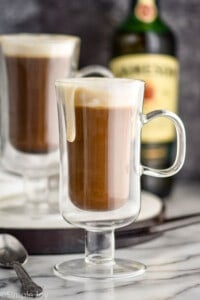 did you make this
Irish Coffee Recipe
you might also like . . .
SaveSave