This Red Velvet Bundt Cake with cream cheese frosting is moist, rich, and packed with them most amazing flavor. This is a red velvet lover's dream cake.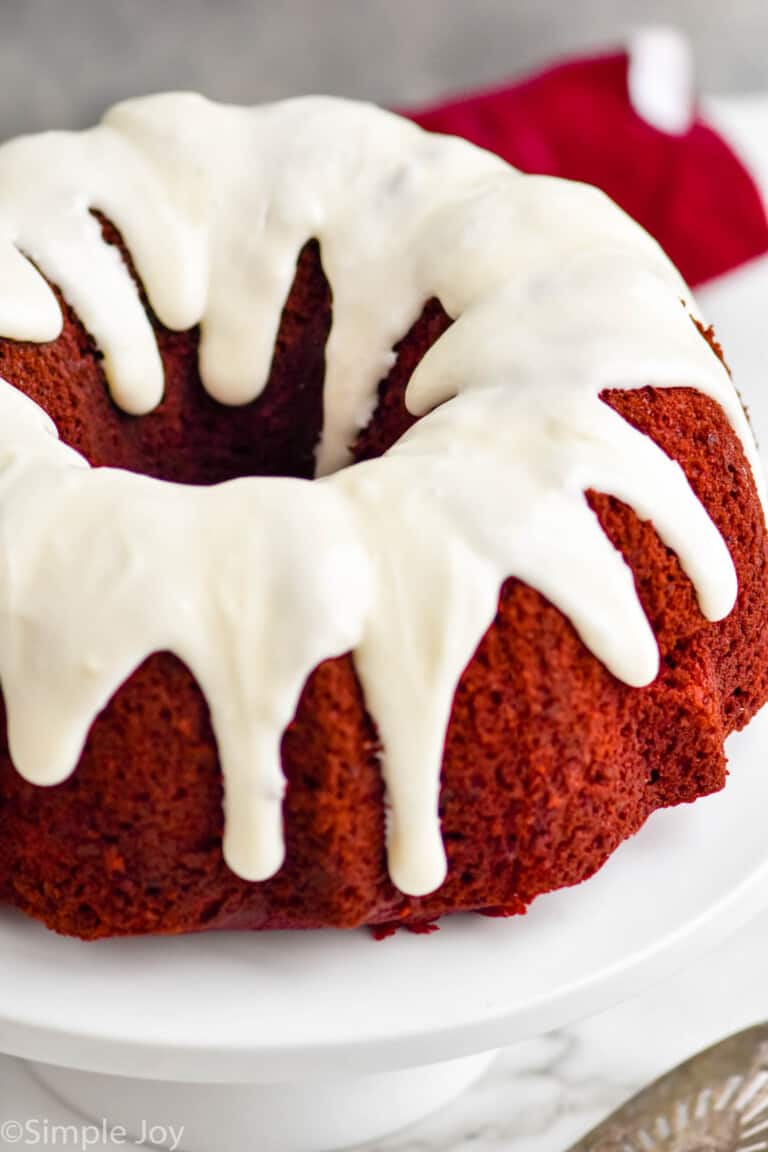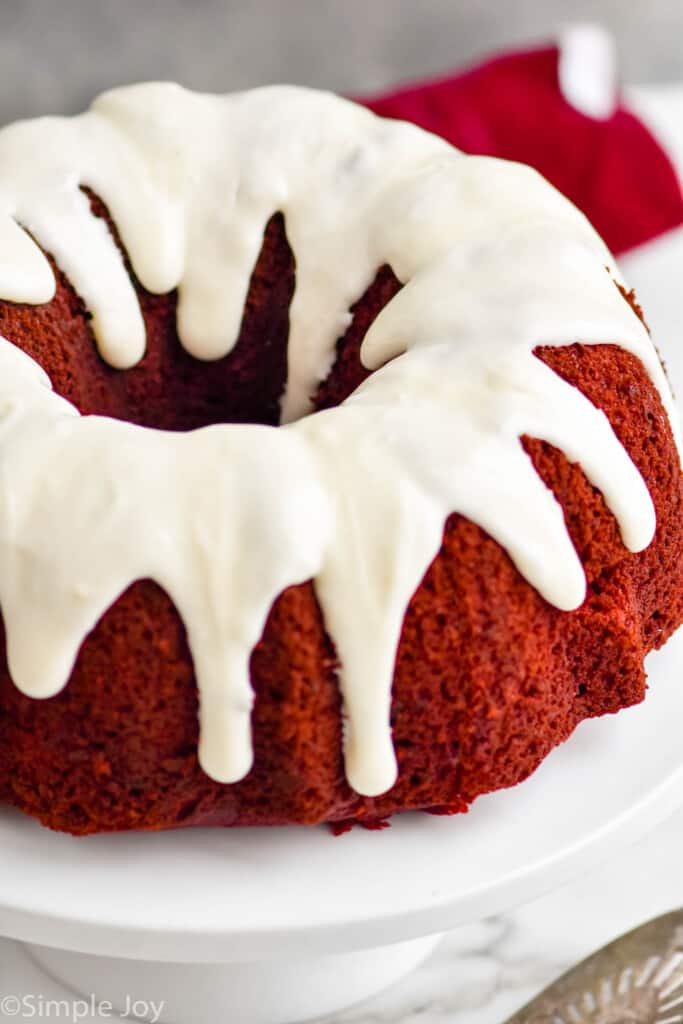 If you have never had a red velvet cake, then this is a very special day. Let me introduce you to the magnificence that is red velvet. It is a cake that is deep chocolate in nature, but with the delicious tang of vinegar and buttermilk. The contrast of sweet and sour meld together perfectly to bring you a delightful and rich dessert.
In this Red Velvet Bundt Cake we are using sour cream as our magic ingredient to make the cake delightfully moist. Then we top it with a cream cheese frosting made with buttermilk. The addition of this tangy frosting goes perfectly with the rich cake.
How to Make Red Velvet Bundt Cake
Select the correct bundt pan. Bundt pans are not interchangeable, and the volume of the pan you use will greatly impact the outcome of the recipe. Make sure for this recipe that you use one that is 12 cups in capacity. (Read more about this below.) Grease the bundt pan extremely well.
Whisk together your dry ingredients. In a large bowl, whisk together the cake flour, baking soda, salt, and cocoa powder. Set this aside.
Cream the sugar and butter. In a large bowl with a handheld mixer or in the bowl of a stand mixer, cream the sugar into the butter until the mixture is light and fluffy.
Add the remaining wet ingredients. To the butter-sugar mixture, add the eggs and egg yolks one at a time. Then add in the sour cream and buttermilk, scraping down the sides and bottom of the bowl well before you add each next ingredient. Finally, add in the vinegar, vanilla, and red food coloring.
Add the dry ingredients to the wet ingredients. I like to do this all at once. Then I turn my mixer on low just long enough for the dry ingredients to be somewhat incorporated, and then I turn it on very high to finish it off. This results in minimal mixing which is best to not over work the gluten in the recipe.
Bake the cake. Pour the batter into the prepared bundt pan and bake.
Make the frosting. After the cake cools, whisk together the frosting and pour it over the top of the cake.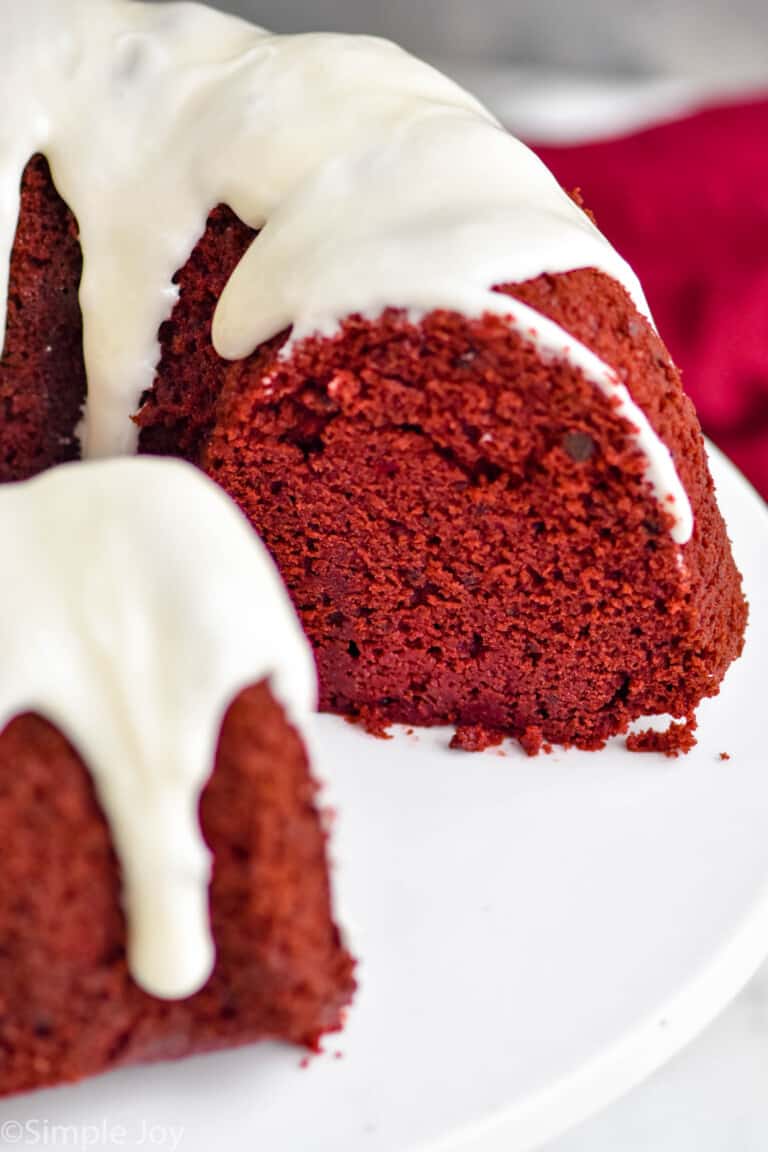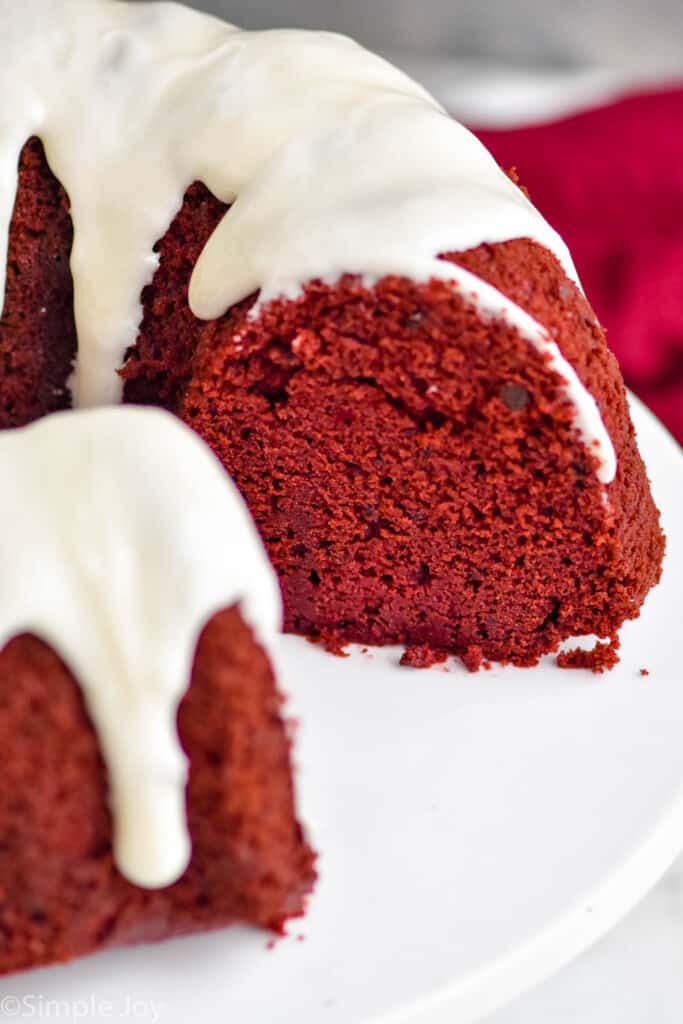 Making Red Velvet Red
Historically speaking, some say that the original red velvet cakes did not use any sort of food dye. They say that the redness from the cake came from a chemical reaction in the pure cocoa powder and the buttermilk.
While this might be true, that won't work for this particular cake. This cake needs red food coloring to get it's signature color. You can have a perfectly delicious cake without the food coloring, but it won't be red.
Picking the Right Bundt Pan
As mentioned above, size matters when it comes to bundt pans. This recipe was developed for a 12 cup bundt pan. To ensure that your pan is the correct size, use a liquid measuring cup and measure how many cups of water you can fit in the pan with the water going to the very top of the pan. This is not how full your pan should be of cake, but it is how you measure the pan.
My preference for bundt pans is Nordic Ware. It is the brand I use and I have had great results in general with their pans. This bundt pan is 12 cups and only $18.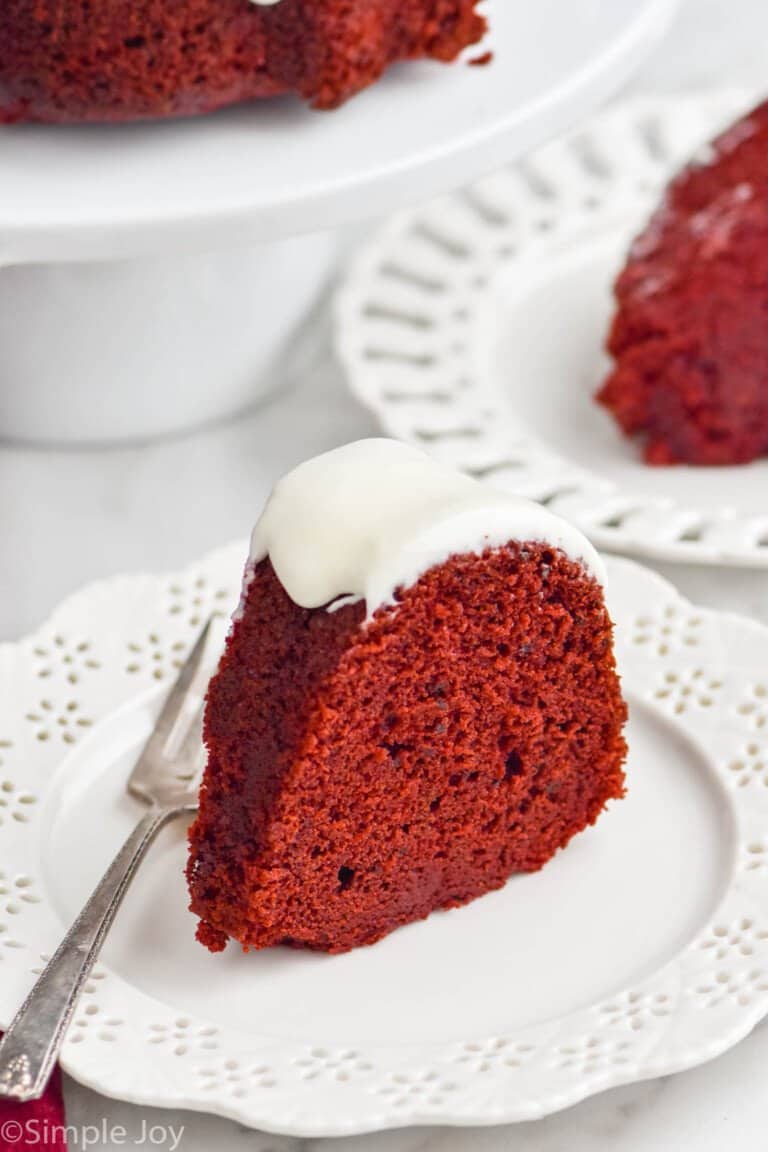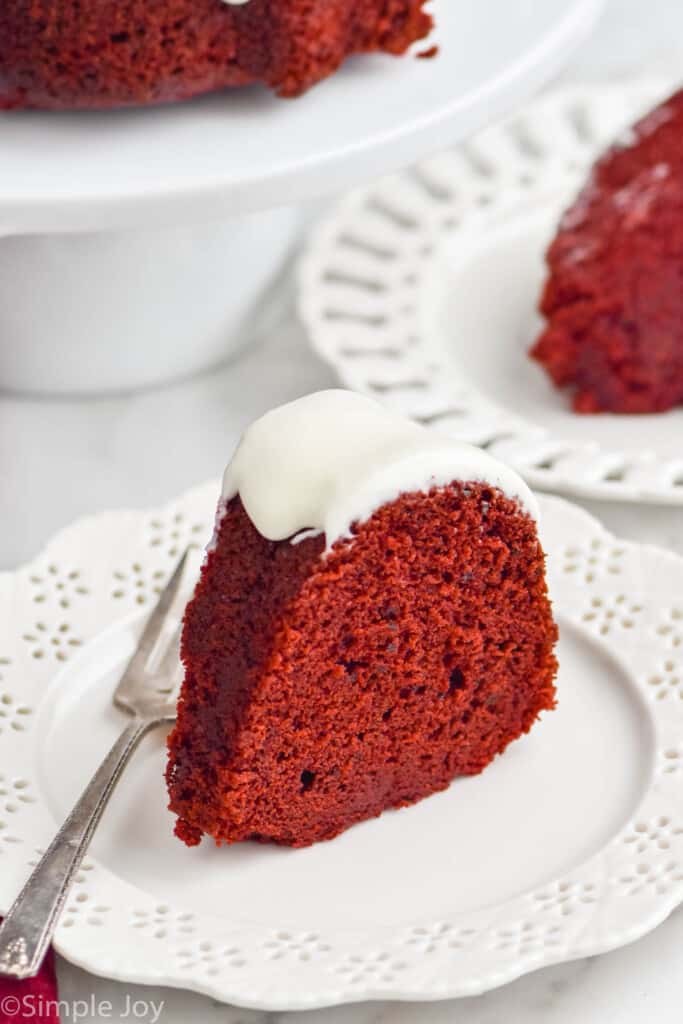 Making a Moist Red Velvet Bundt Cake
Besides the sour cream, there are two things that really help keep this cake moist and delightful. The first is the use of cake flour and the second is adding in some extra egg yolks.
Using Cake Flour
You will notice that this recipe calls for cake flour. It is incredibly important that you use cake flour and do not substitute with all purpose flour. The lower protein content in cake flour will help ensure that your bundt cake isn't overly dense.
Adding Egg Yolks to Cake
In addition to using three large eggs in this cake, we are also throwing in two egg yolks. Egg yolks help hold water and fat together in a cake. The result of this is that more moisture gets trapped in the cake and you have moist and tender cake.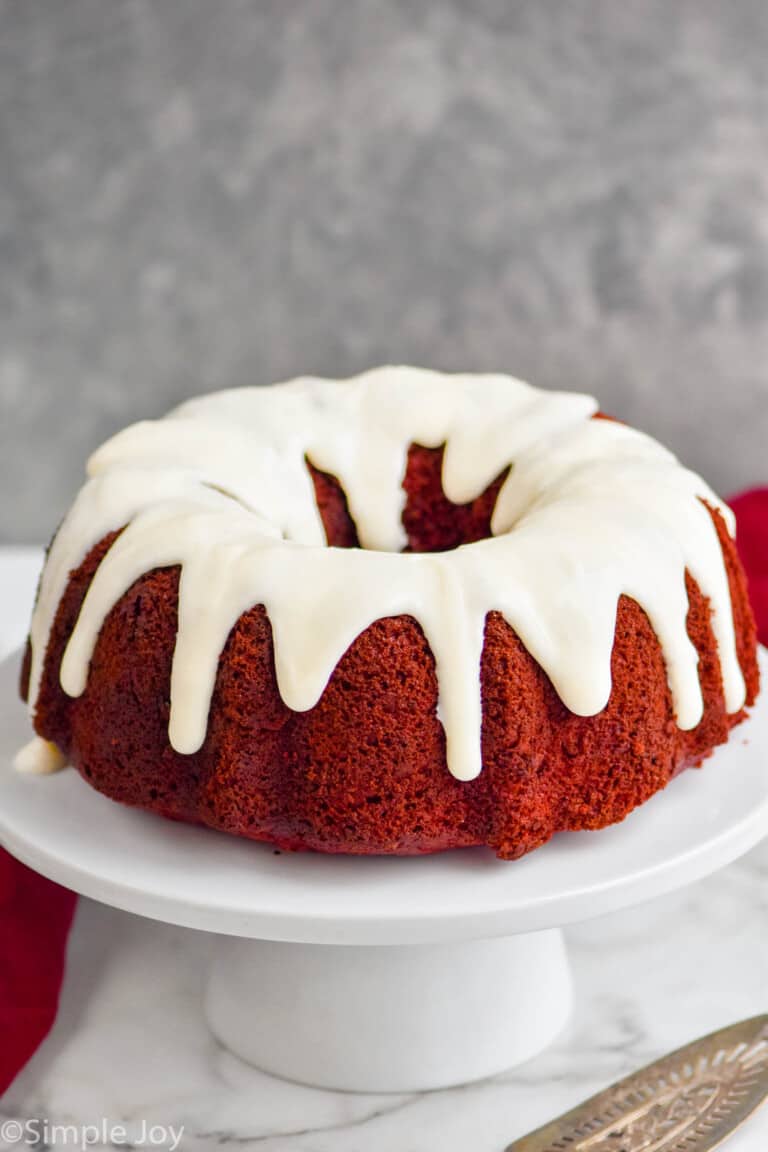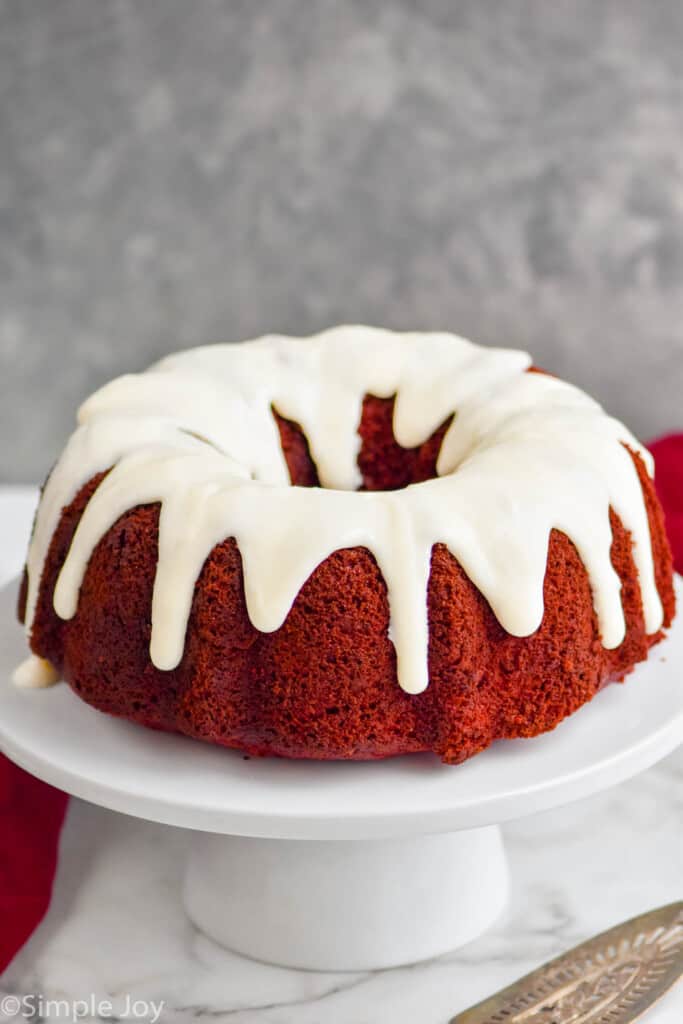 More Tips and Tricks
Read the whole recipe and all of the instructions before you start.
Use cake flour. There are several resources online to make your own. The ratio of the other ingredients are based on the use of cake flour.
Measure the flour and cocoa powder correctly. Scoop from the containers they are kept in with a spoon and into a dry measuring cup. Then level the measuring cup off with the flat end a spatula. This will ensure that you do not over measure either ingredient by packing it into the measuring cup.
Use room temperature butter. You should be able to press your finger into the butter and make a dent but not have it go all the way through. You can make this happen faster by cutting it up, putting it on a plate, and leaving it on the counter for 30 minutes.
Use room temperature sour cream, buttermilk, and eggs. If they aren't room temperature, when you add them to the butter and sugar they will cool downtime sugar too much.
Fully cream the butter and sugar. This step is crucial to beating air into the butter.
Grease the pan more than you think you need to. Bundt pans, especially those that are more decorative, are notorious for sticking. Using a baking cooking spray that has flour in it is a great trick.
Let the cake cool in it's pan for just 15 minutes. When you take the cake out, you need to let it cool long enough so it sets (15 minutes) but not completely or it won't come out of the pan.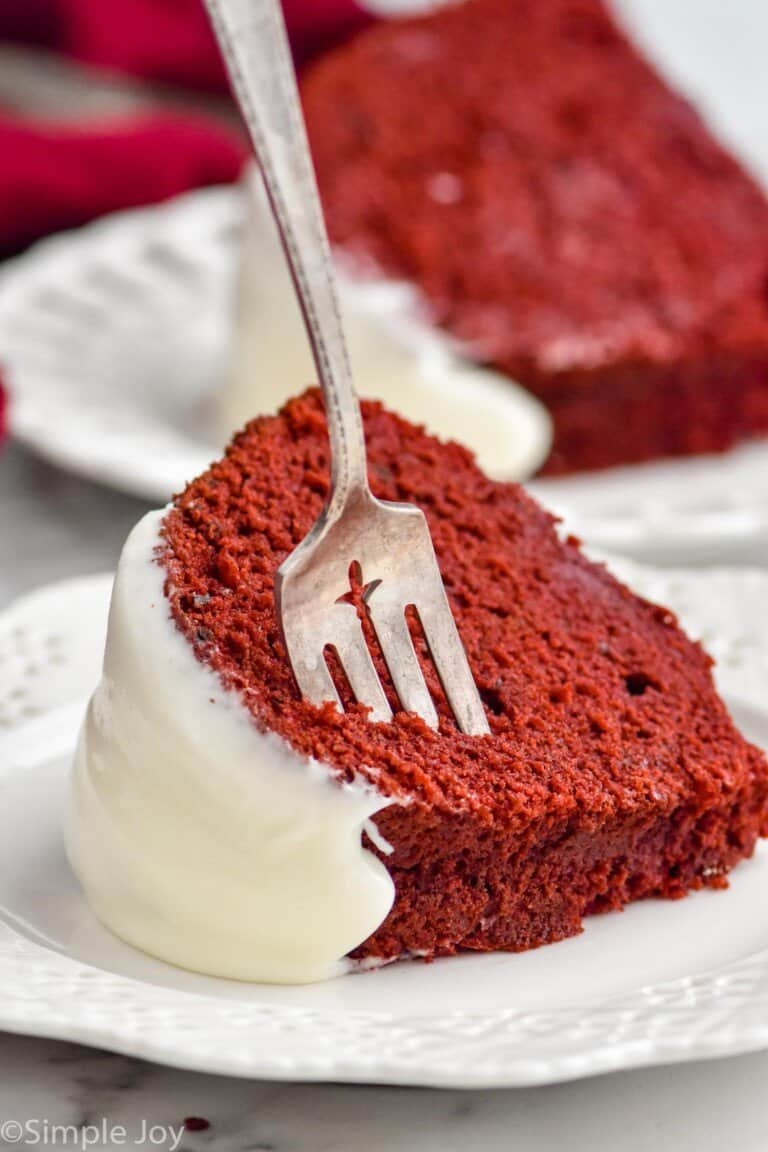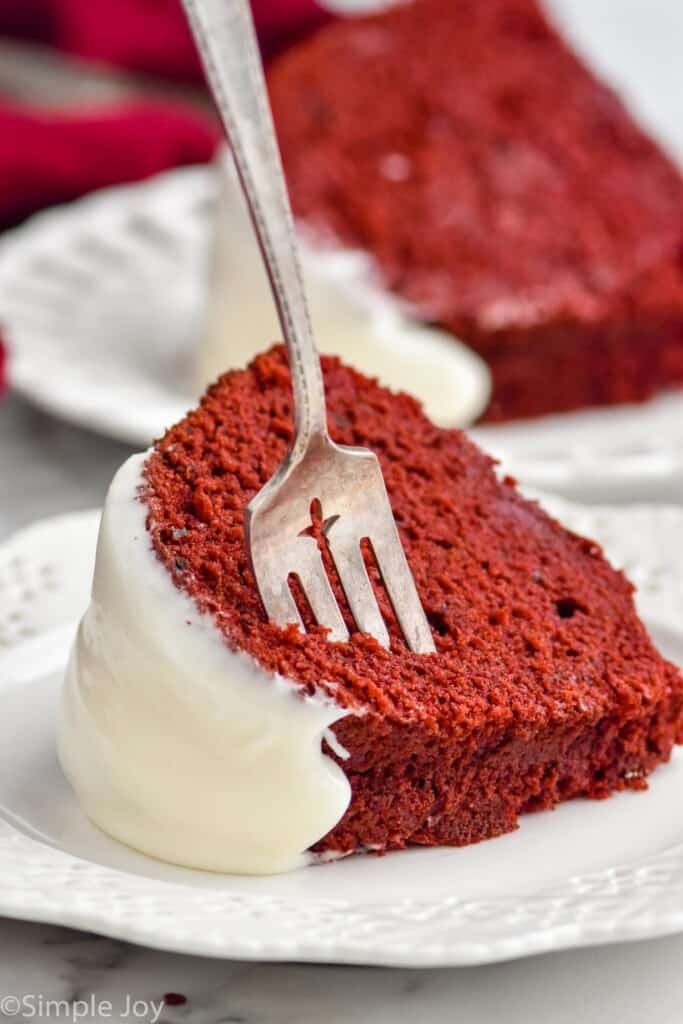 Other Red Velvet Recipes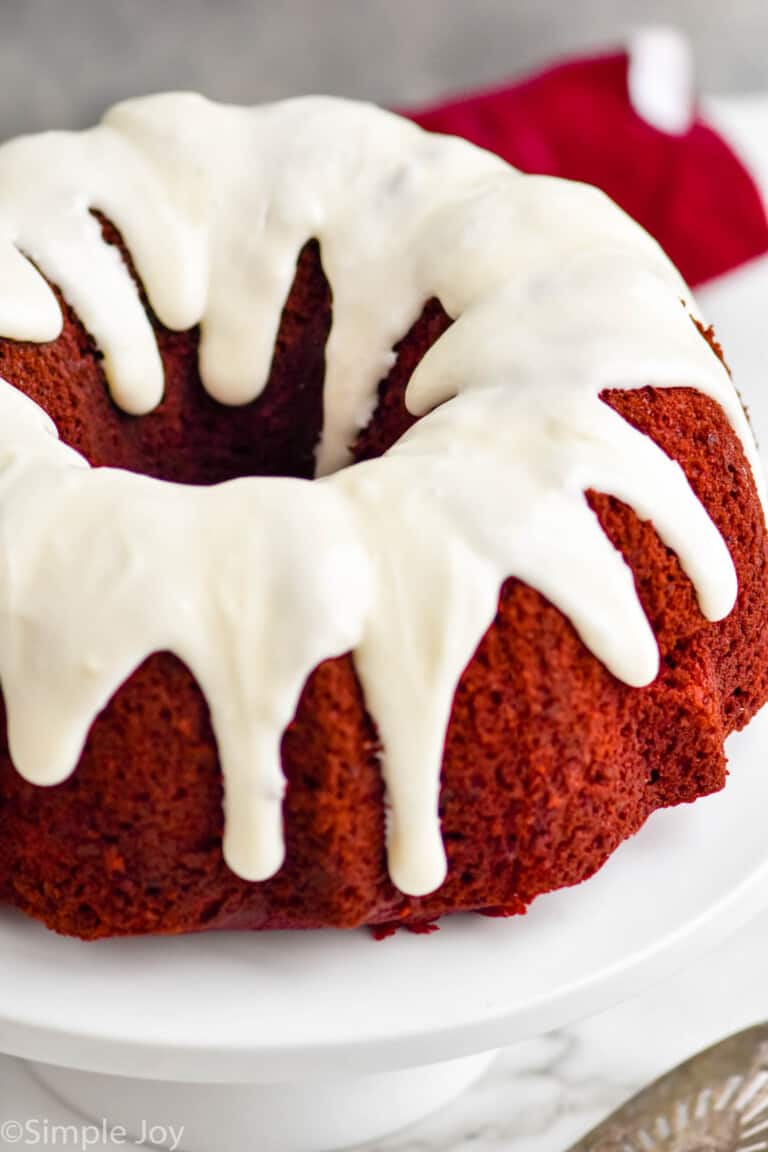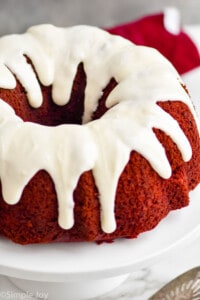 Red Velvet Sour Cream Bundt Cake
This Red Velvet Bundt Cake with cream cheese frosting is moist, rich, and packed with them most amazing flavor. This is a red velvet lover's dream cake.
Ingredients
For Red Velvet Bundt Cake
3

cups

cake flour

1/2

teaspoon

baking soda

1

teaspoon

salt

1

cup

unsweetened cocoa powder

1

cup

unsalted butter

room temperature

2 1/2

cups

granulated sugar

3

large eggs

room temperature

2

yolks room temperature

1

cup

sour cream

room temperature

1

cup

buttermilk

room temperature

2

teaspoons

vanilla extract

1

tablespoon

white vinegar

1

tablespoon

red food coloring
Cream Cheese Frosting
4

ounces

cream cheese

room temperature

2

cups

powdered sugar

2 – 3

tablespoons

buttermilk

room temperature
Instructions
Preheat your oven to 350 degrees and coat a bundt pan very generously with butter or a non stick baking spray that contains flour.

In a large bowl, whisk together the cake flour, baking soda, salt, and cocoa powder. Set aside.

Beat together the sugar and butter until light and fluffy, about three minutes. Make sure that you scrape the bowl down so all of the butter gets well combined with the sugar.

Beat in the eggs one at a time. Then add the yolks one at a time. Beat in the sour cream, scrape down the sides, then beat in the buttermilk. Then beat in the vinegar, vanilla, and food coloring one at a time.

Add in the flour mixture and turn the mixer on very low to just begin to combine. Then turn the mixer on high to finish. Beat until just combined, being careful to not overmix.

Pour the batter into the prepared bundt pan. Bake for 55 minutes or until a toothpick comes out with just a few crumbs. Be careful not to overbake.

Let it cool in it's pan for 15 minutes. Use a toothpick to loosen it gently from the sides. Gently flip it onto a cooling rack and let it cool there completely.

While the cake is cooling, beat together the cream cheese, powdered sugar, and buttermilk. Once the cake has cooled, spoon the frosting over it. You may not use all of the frosting.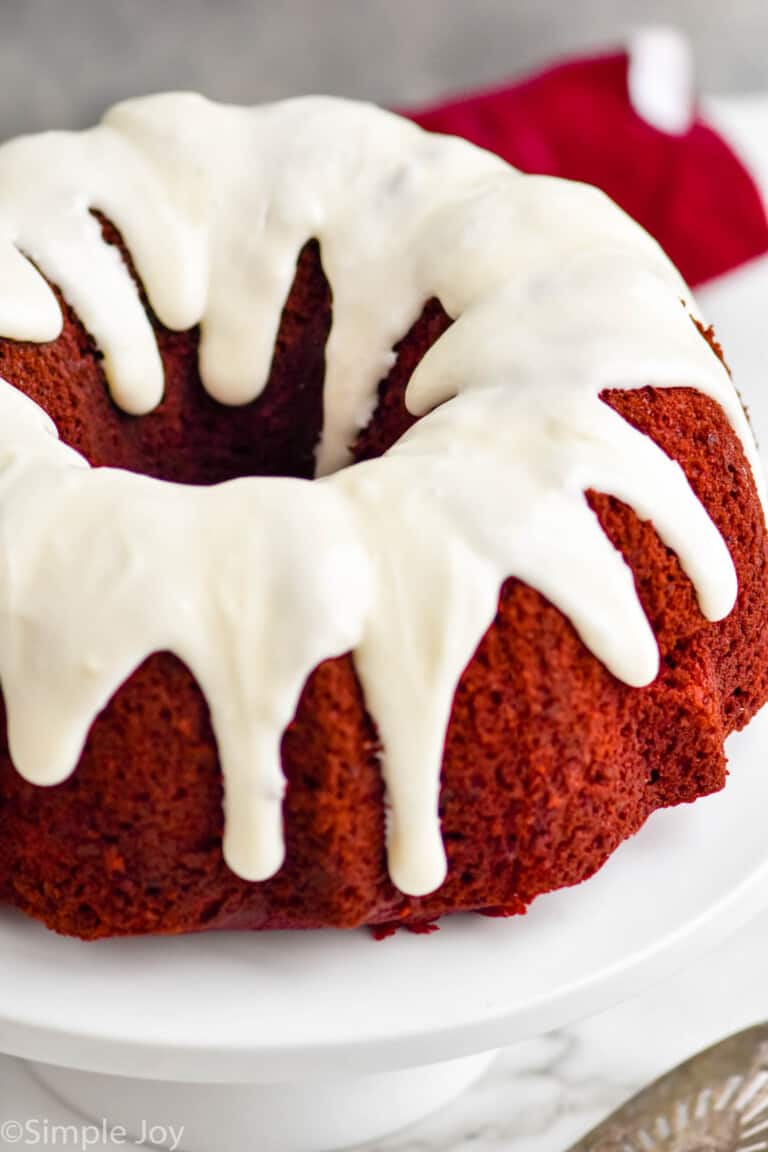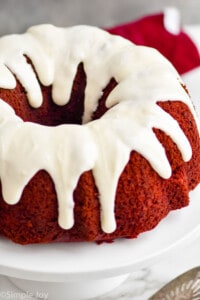 did you make this
Red Velvet Sour Cream Bundt Cake
SaveSave
SaveSave