This Red Velvet Sour Cream Bundt Cake with Cream Cheese Buttermilk Frosting is moist, rich, and packed with them most amazing flavor. Thank you Horizon for partnering with me to make this most PERFECT red velvet dessert!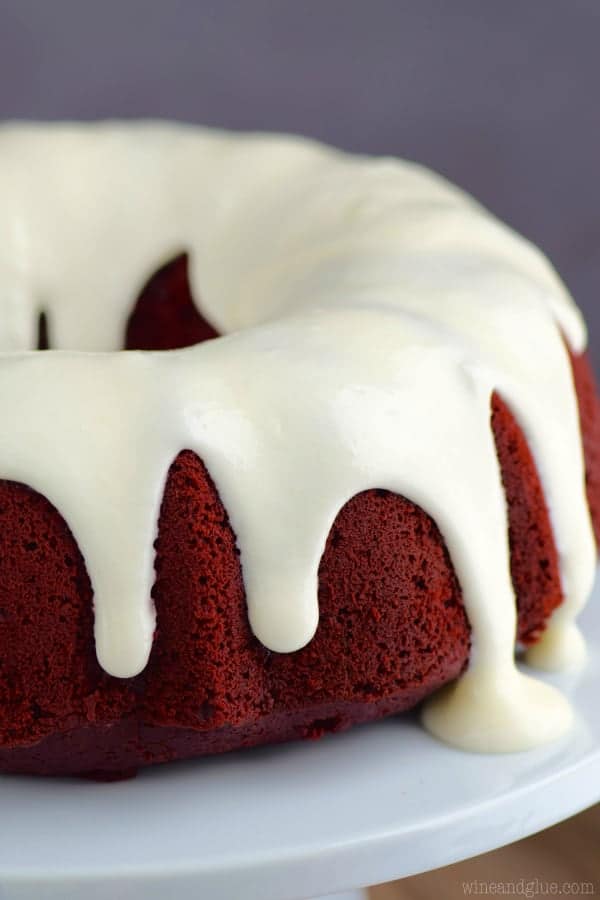 Don't judge me.
We just took down our Christmas decorations this week. It was so sad! My kids literally followed me around the house and said,
"Wait. We have to put those away too??"
"But when will our stockings come back?"
"I already miss our Christmas tree!"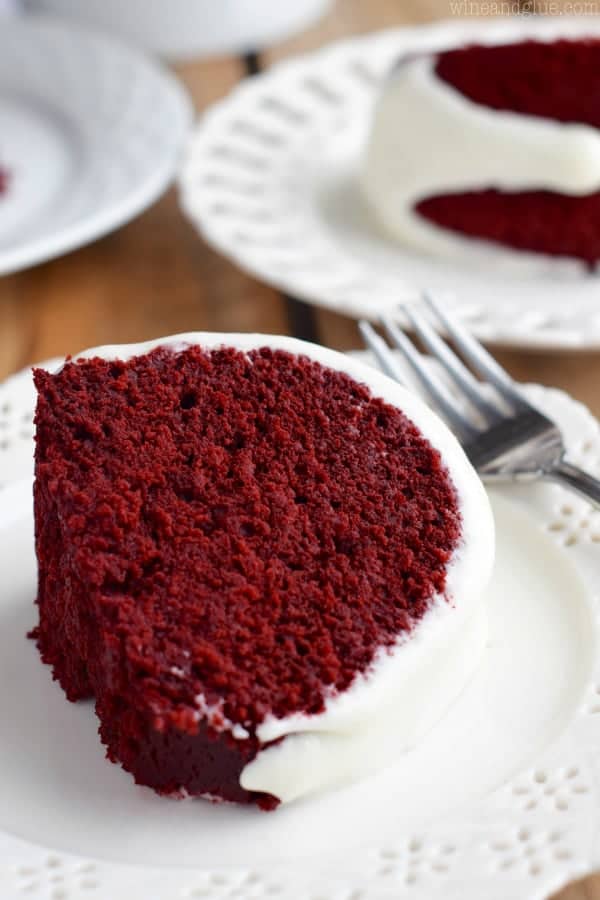 And seriously, I couldn't blame them. You know why taking down Christmas decorations is so depressing? Because it just reminds you that all that stands between you and the next enjoyable time of year (summer!) is the long stretching endless winter. Life in the midwest is hard, peeps.
So the best thing to do? Embrace the next holiday!
When I was little, my mom didn't really decorate for any holiday but Christmas, so this decorating for Valentine's Day thing feels weird to me, but when I said to my kids, "It's okay that we are putting the stockings away! I have a heart banner!" all suddenly seemed right in the world.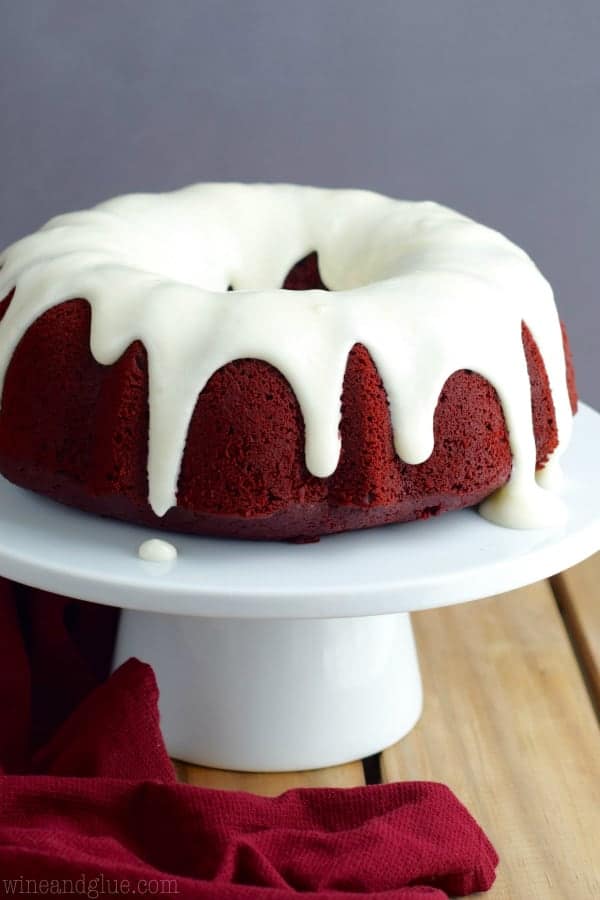 The other thing we're doing? Valentine's Day baking! And to do some amazing Valentine's Day baking I grabbed some Horizon Sour Cream. You guys already know how much I love Horizon. We are slightly addicted to their Mac N Cheese, and we love their milk too! And their sour cream is totally perfect in this cake! It makes it so amazingly moist!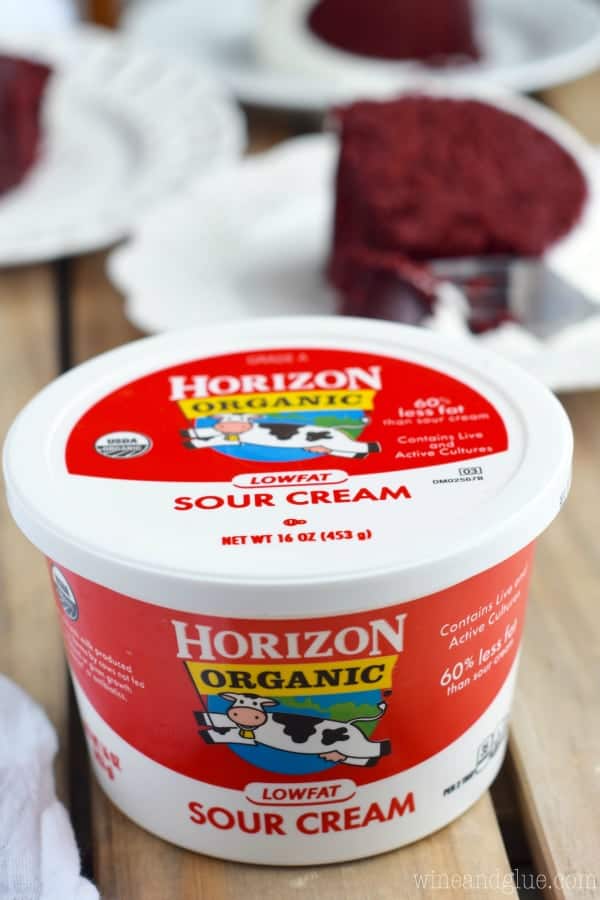 Fact: It's absolutely impossible to have the winter blues while eating this cake.
You guys. The cake totally works. First of all, it totally made me pumped about Valentine's Day and made me want to come up with tons of cute Valentine printable ideas (those are coming) and second, Gavin declared that it is the "BEST CAKE EVER."
He's not wrong.
This is the first cake recipe that I've ever developed on my own without adapting from somewhere (HOORAY!). I've tested it twice, so I feel really good about it. (Four cakes in four days people.) You guys, it's SO yummy! One of the reasons it came out so well is because after the first go of it I paged through Jocelyn's book and after looking at several of her recipes, made some key changes. I decided to use cake flour, use less baking soda, and add two egg yolks. You guys, Jocelyn is a wizard. It totally worked!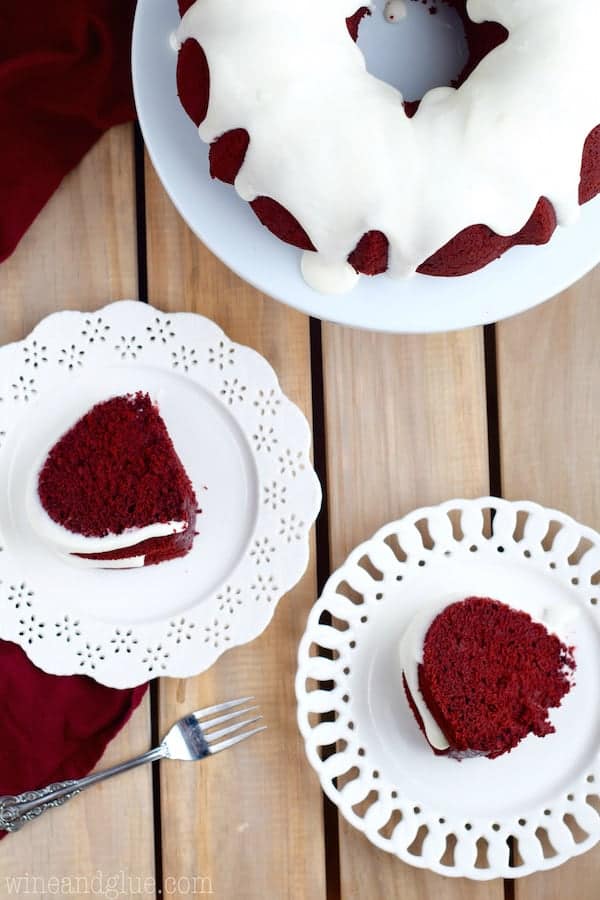 TIPS FOR THIS RED VELVET SOUR CREAM BUNDT CAKE:
Read the whole recipe and all of the instructions before you start. You need to know what's on tap people.
You really do need to use cake flour. There are tons of places online where you can learn how to make your own, but really that's what you need. The ratio of the other ingredients are based on the use of cake flour.
Make sure to measure your cocoa powder and your flour by scooping them into the measuring cup and then leveling off. Do not cook directly from the containers with the measuring cups, the twill result in too much of both.
When I say that the butter needs to be room temperature, you want to press your finger in and make a dent but not have it go all the way through. You can make this happen faster by cutting it up, putting it on a plate, and leaving it on the counter for a half hour.
The sour cream, buttermilk, and eggs really do need to be room temperature. If they aren't, they will make the butter get all chunked up when you add them. You can put the eggs in luke warm water to make it go faster. You can also put the sour cream and butter milk once in their measuring cups in bowls of warm water.
Make sure the butter and sugar are well combined. You really need to beat them well so the sugar adds air to the butter.
Grease the pan more than you think you need to. You don't want it to stick.
When you take the cake out, you need to let it cool long enough so it sets (15 minutes) but not completely or it won't come out of the pan.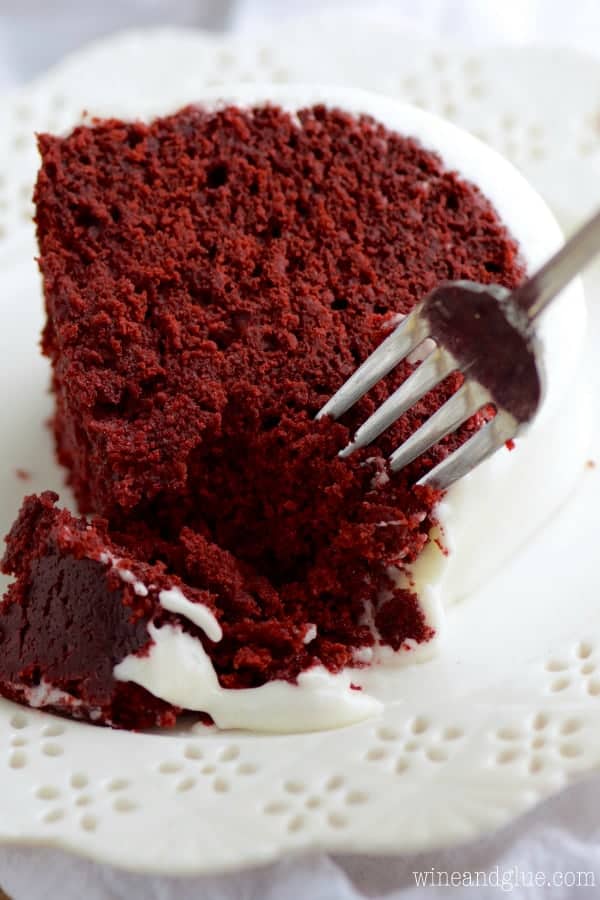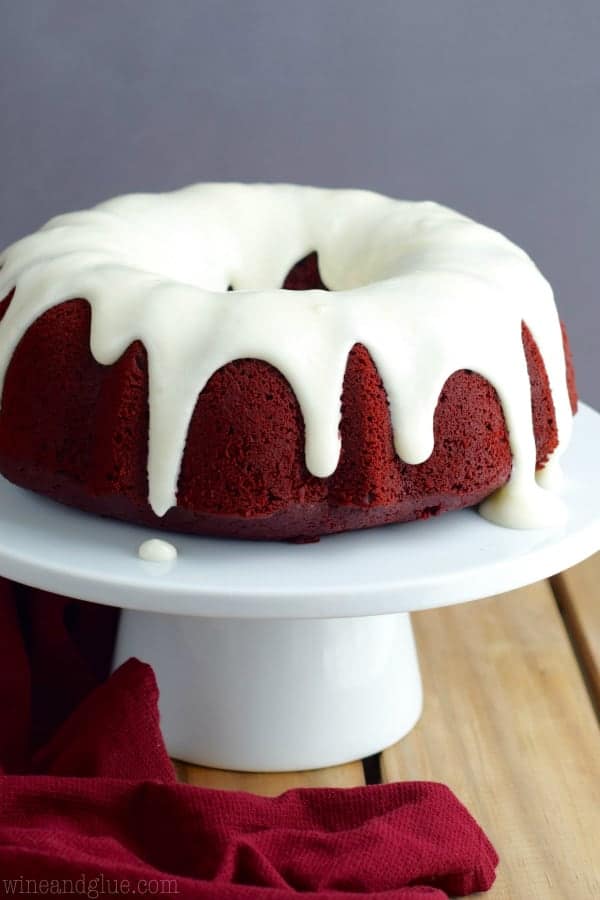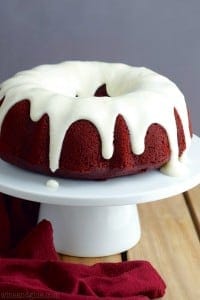 Red Velvet Sour Cream Bundt Cake
his Red Velvet Sour Cream Bundt Cake with Cream Cheese Buttermilk Frosting is moist, rich, and packed with them most amazing flavor.
Ingredients
For Cake

3

cups

cake flour

1/2

tsp

baking soda

1

tsp

salt

1

cup

unsweetened cocoa powder

1

cup

unsalted butter

room temperature

2 1/2

cups

granulated sugar

3

large eggs

room temperature

2

yolks room temperature

1

cup

Horizon sour cream

room temperature

1

cup

buttermilk

room temperature

2

tsps

vanilla extract

1

TBSP

white vinegar

1

ounce

red food coloring

For Frosting

4

oz

cream cheese

room temperature

2

cups

powdered sugar

1/4

cup

buttermilk

room temperature
Instructions
Preheat your oven to 350 degrees and coat a bundt pan very generously with butter.

In a large bowl, whisk together the cake flour, baking soda, salt, and cocoa powder. Set aside.

Beat together the sugar and butter until light and fluffy, about three minutes. Make sure that you scrape the bowl down so all of the butter gets well combined with the sugar.

Beat in the eggs one at a time. Then add the yolks one at a time.

Beat in the sour cream, scrape down the sides, then beat in the buttermilk.

Then beat in the vinegar, vanilla, and food coloring one at a time.

With the mixer on low, slowly add the flour/cocoa mixture. Beat until just combined. Do not overmix.

Pour the batter into the prepared

bundt pan

. Bake for 55 minutes or until a toothpick comes out with clean. Be careful not to overbake.

Let it cool in it's pan for 15 minutes. Use a toothpick to loosen it gently from the sides. Gently flip it onto a cooling rack and let it cool there completely.

While the cake is cooling, beat together the cream cheese, powdered sugar, and buttermilk. Once the cake has cooled, spoon the frosting over it. You may not use all of the frosting.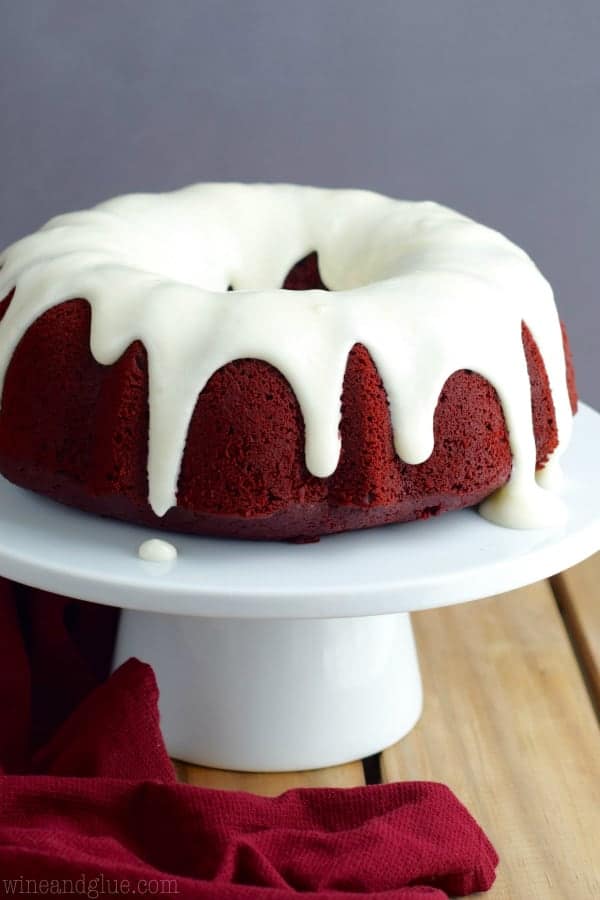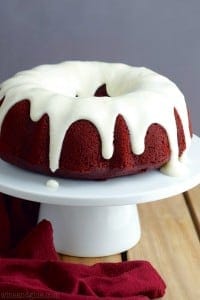 did you make this
Red Velvet Sour Cream Bundt Cake
This post contains affiliate links, if you click on them and then make a purchase, I make a small amount of money at no additional cost to you. Thank you in advance for supporting Wine & Glue.
This is a sponsored conversation written by me on behalf of Horizon Organic. The opinions and text are all mine.

SaveSave
SaveSave