Salmon Alfredo is a restaurant quality dinner at home in under 30 minutes. An amazing homemade Alfredo sauce smothers fettuccine and easy to make baked salmon.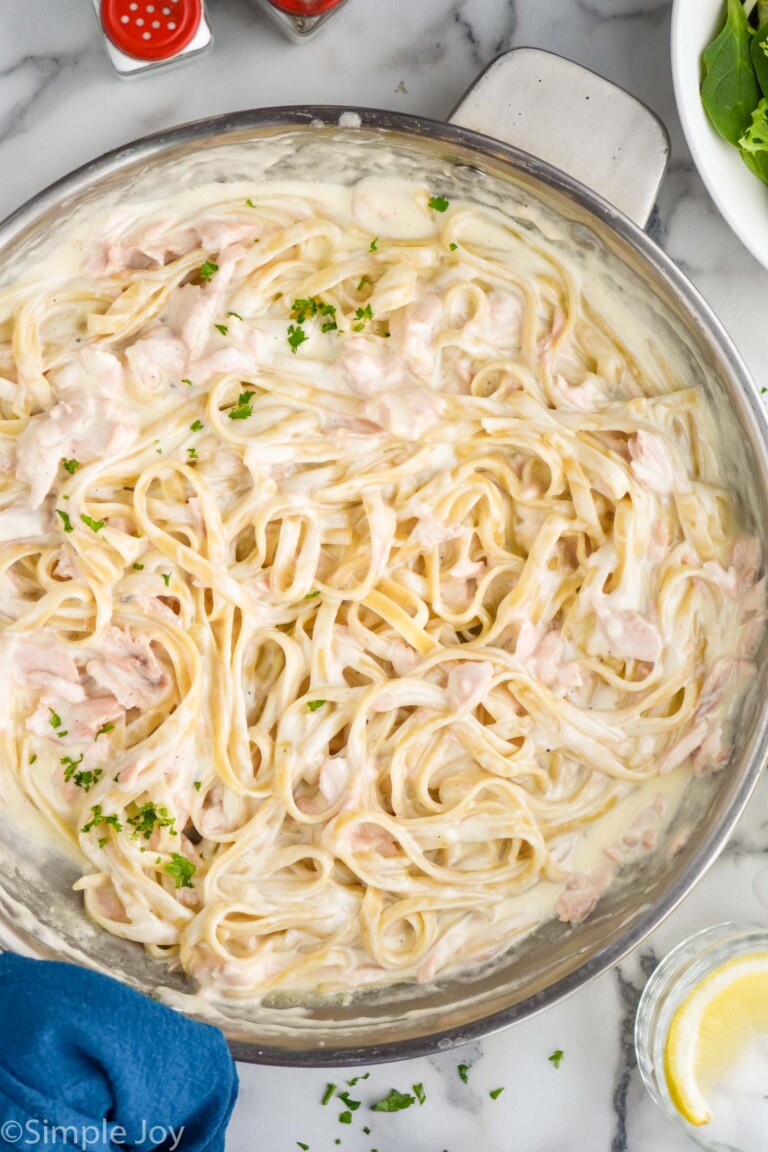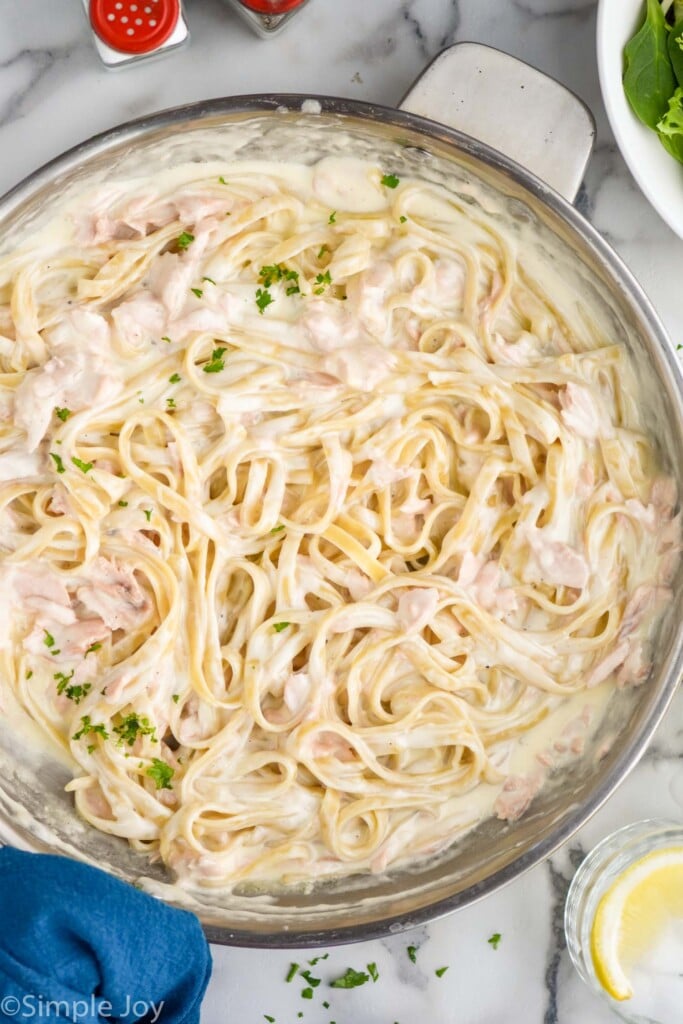 Making Fettuccine Alfredo at home is so simple. It takes about 25 minutes, and the results are a rich, delicious sauce you can't believe you just made. This is a restaurant quality dinner made in your own home for much less.
Adding salmon to my Fettuccine Alfredo recipe was an easy decision. The flavors and textures go together perfectly. Additionally, salmon cooks very quickly in the oven, making it an ideal protein to add to this pasta dish.
How to Make Salmon Alfredo
This is a brief overview of how to make this amazing pasta recipe. For the full recipe with all of measurements, see the recipe card at the bottom of the post.
Make the fettuccine. See all my tips below for the best fettuccine.
Make the salmon. In a foil packet sprayed lightly with oil, bake the salmon. It will take about 15 minutes for the salmon to bake. When it is done, flake the salmon.
Make the Alfredo sauce. Melt butter in heavy cream and then let it simmer for 15 minutes to thicken. Stir in Parmesan Cheese and then season with salt and pepper.
Mix everything together. Add the cooked fettuccine and the salmon to the sauce. Toss to combine, and enjoy immediately.
Multi-Tasking
You will notice that the total cook time for this recipe is 25 minutes. The way to make that happen is to do multiple things at once. Start the pasta water, start the salmon and start the sauce one right after each other. They each take about 15 minutes, so they will all be done about the same time.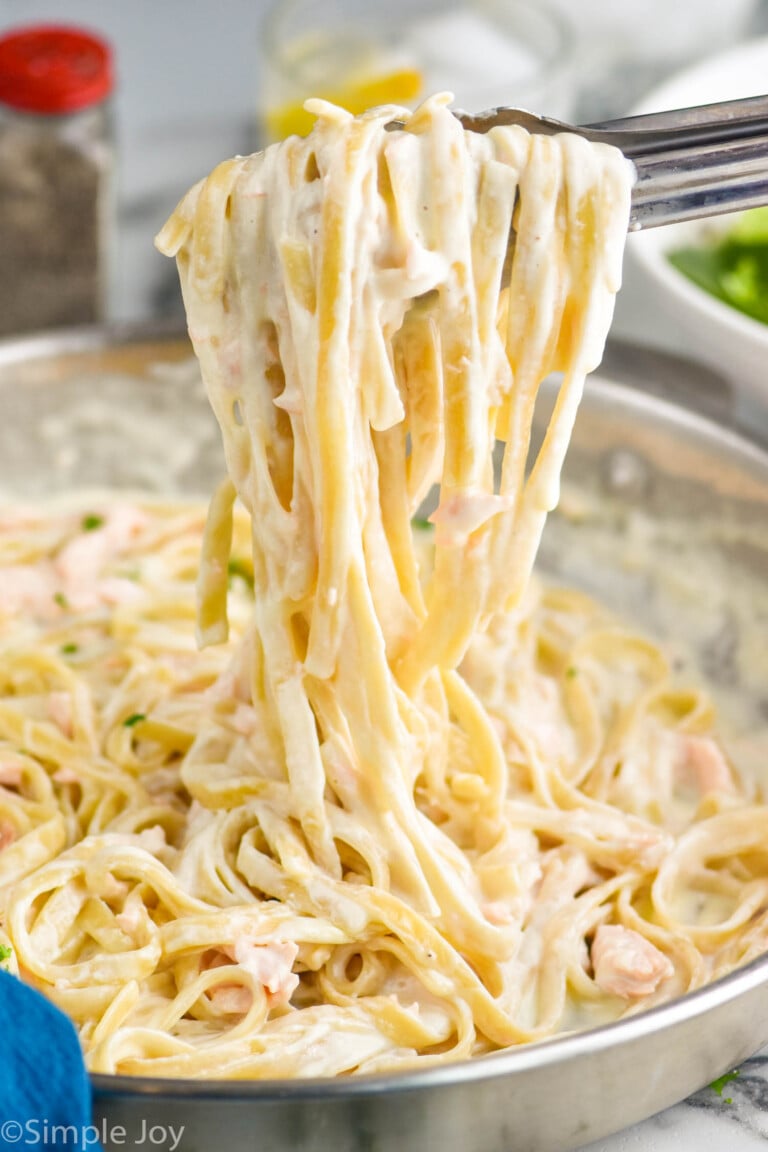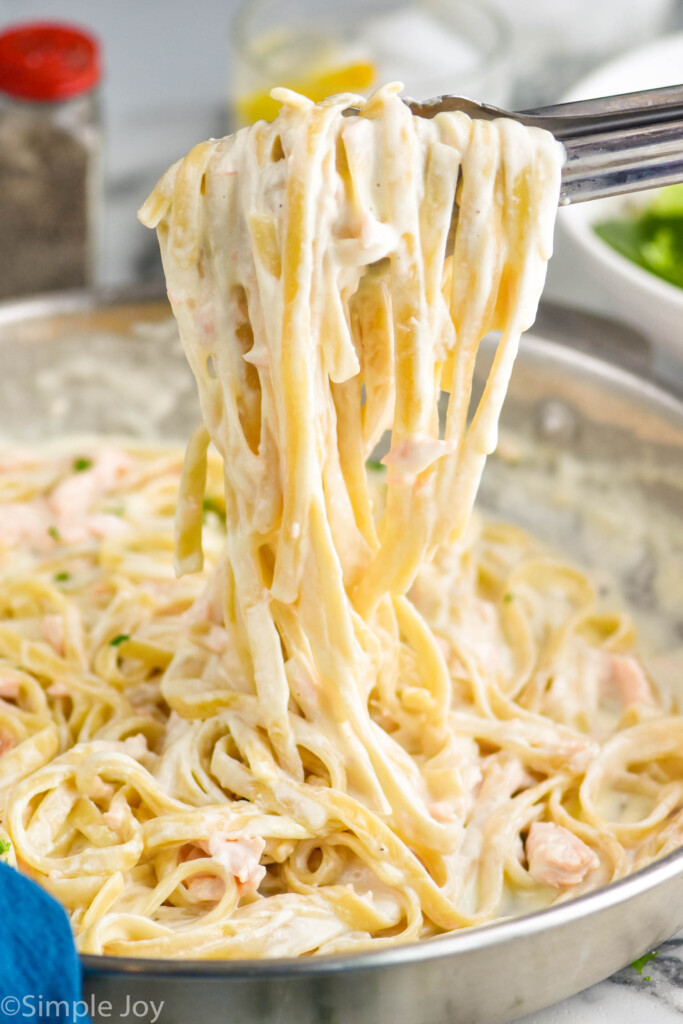 TOP PICK
Instant Read Thermometer
This thermometer is amazing! Leave it in your meat while it is in the oven for perfect results.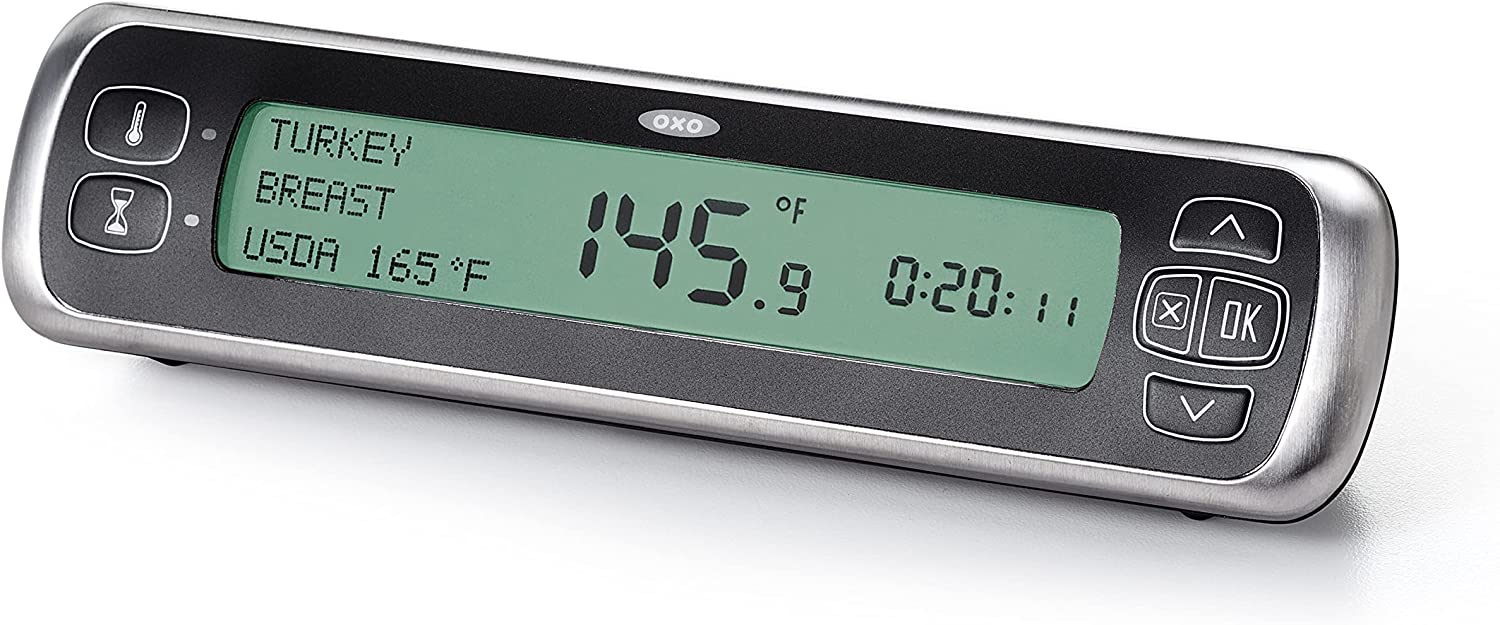 Baking Salmon
Salmon is easy to bake, but often so intimidating because it is easy to over cook. In this recipe we are baking it in foil in the oven which makes it cook very quickly. The salmon will take about 15 minutes to bake, but you will want to start checking on it around the 12 minute mark. I like using an instant read thermometer that I can leave right in the salmon while it is in the oven, like the one linked above.
Salmon is done when it reaches 125 degrees. If you don't have an instant read thermometer, you can tell salmon is done by it's texture. When you push down very gently with a fork, it should flake apart easily. It will still be translucent when you pull it apart with the tip of the fork in the middle.
If you want to read a more in depth post about cooking and purchasing salmon, my Baked Salmon in Foil is a great resource. That recipe would also be perfect for making leftovers to use in this dish.
Baked Salmon in Foil
Baked Salmon in Foil is an easy light dinner that is full of delicious flavor. You will love making salmon this fool proof way.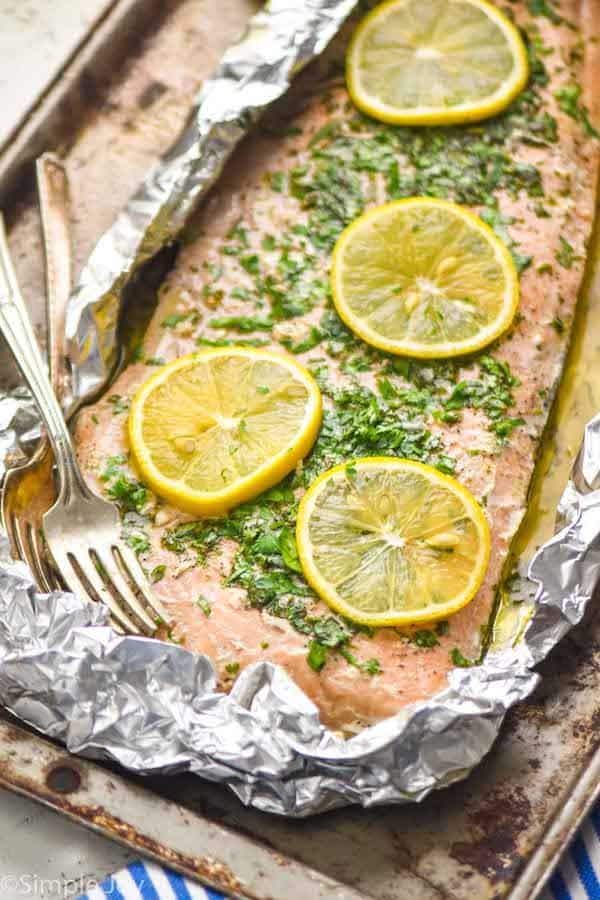 Cooking Fettuccine
I have a few tips that I always like to give when a recipe includes pasta.
Use enough water. For only half a pound of fettuccine you will need about 3 to 4 quarts of water.
Bring the water to a roaring boil. Resist the urge to add your pasta when you see just a few bubbles. Wait until the water is really going to add it. This will ensure the water is at the right temperature.
Salt the water. I always add 1 teaspoon of kosher salt to a pound of boiling pasta. You may want to add just 1/2 a teaspoon here, but I always just eye ball it.
Set a timer. Note the time the box of pasta mentions to cook the pasta for and set a timer. When the timer goes off, taste the pasta and if it is al dente, drain it.
Parmesan for Salmon Alfredo
By now you are familiar with my shred your own cheese soap box. Well, I'm going to climb back on it. Shredding your own cheese is the best way to ensure that it will melt well in your recipe. Pre-shredded cheese is coated in preservatives that impede its ability to melt. Since Parmesan is a primary flavor here, invest in a block of Parmesan cheese and shred it for this recipe.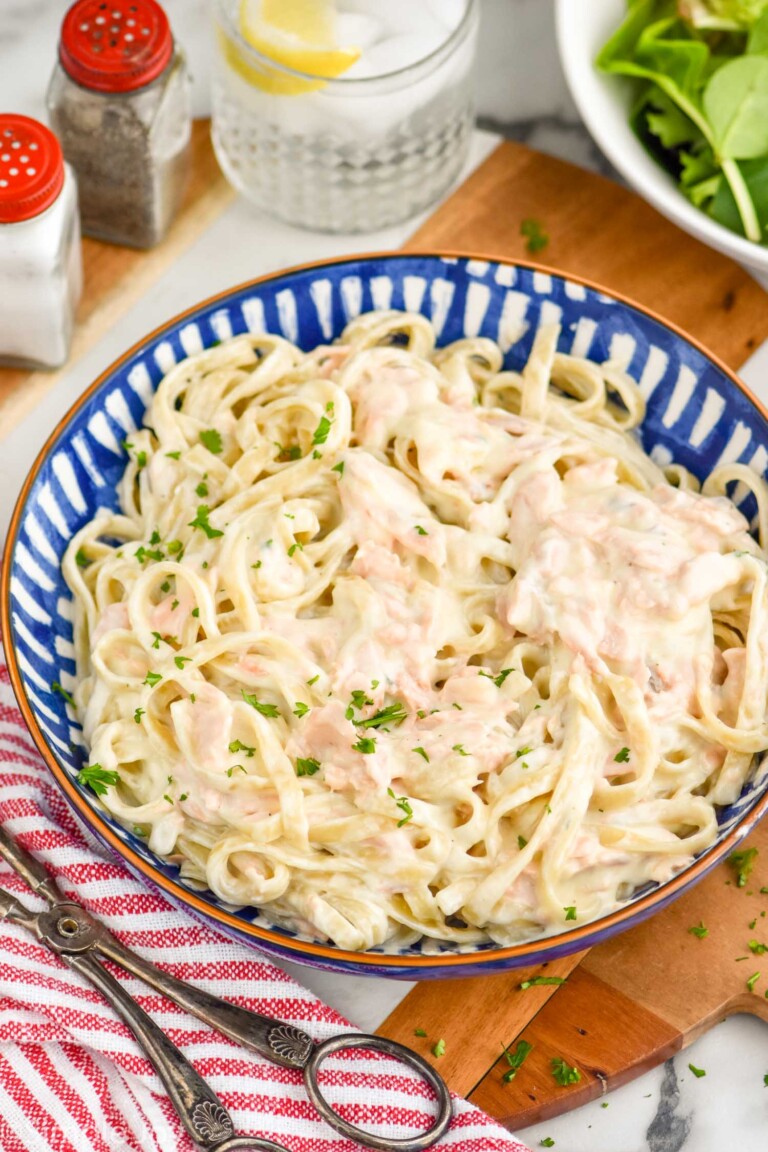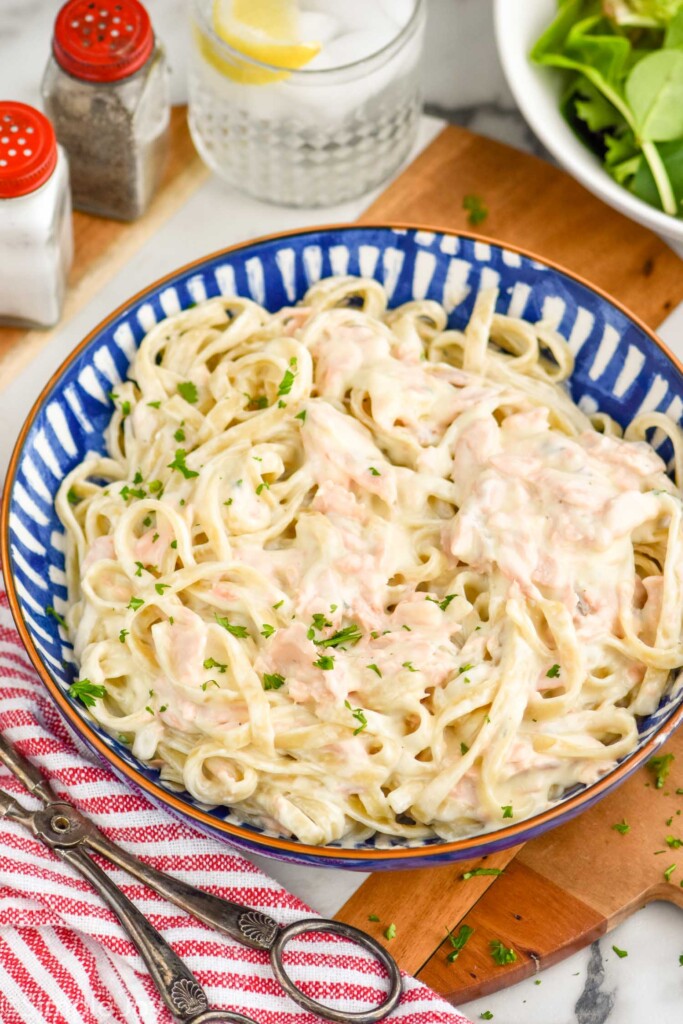 What to Serve with Salmon Alfredo
I have a few side dish recipes that would go great with this main dish.
My Caesar Salad would compliment the flavors here really well. It's also very easy to make.
This Mediterranean Salad is a light and delicious way to get some vegetables with this meal.
And I truly love this Kale Salad. Its easy to make but big on flavor!
If you make this Salmon Alfredo recipe or any of my other recipes leave me a comment and let me know what you think!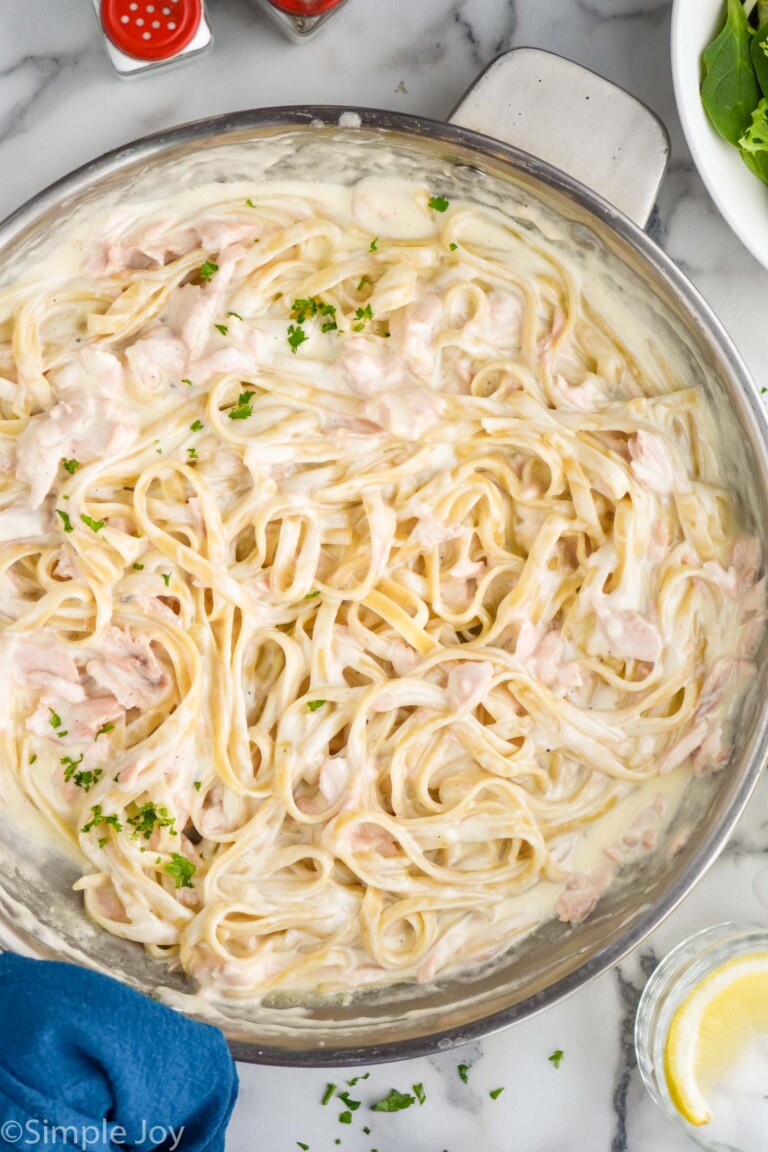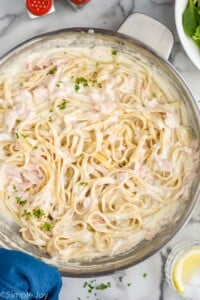 Salmon Fettuccine Alfredo
Salmon Alfredo is a restaurant quality dinner at home in under 30 minutes. An amazing homemade Alfredo sauce smothers fettuccine and easy to make baked salmon.
Ingredients
1/2

pound

fettuccine

cooked according to package instructions

8

ounces

salmon

(2 pieces thawed, 4 ounces each)

1/2

tablespoon

olive oil

salt and pepper

2

cups

heavy cream

2

tablespoons

unsalted butter

1

cup

Parmesan cheese

shredded (2.5 ounces)

1/4

teaspoon

kosher salt

(add more to taste)

fresh black pepper

(add more to taste)
Instructions
Bring a large pot of water to a roaring boil. Season with 1 teaspoon kosher salt. Add the fettuccine and cook according to the length of time suggested on the package. Stir immediately after adding it to the water and frequently while it is boiling.

Preheat your oven to 350 degrees. Spray two large squares of aluminum foil with cooking spray.

Place a piece of salmon on each piece of foil. Add a little olive oil to each filet and season lightly with salt and pepper.

Fold up the foil in half towards itself and fold down several times. Now fold the ends in towards the top of the packet. Place the packets on a rimmed baking sheet and bake for 14 to 16 minutes or until the salmon registers 140 degrees. When you push down on the salmon with a fork, it should flake easily.

Remove the salmon from the foil and flake into small pieces. Set aside.

While the salmon is baking, in a skillet over medium heat, whisk together the heavy cream and the butter until the butter is melted. Bring it to a simmer, and turn the heat down low. Cook for 15 minutes, stirring occassionally. You should see small bubbles.

Stir in the Parmesan cheese until it melts. Season with salt and pepper, tasting and adding more as needed. We typically add about 3/4 teaspoon salt and almost 1/4 teaspoon black pepper. The seasoning at the end really pulls together the dish, so be sure to play with this.

Toss with fettuccine and salmon and enjoy immediately.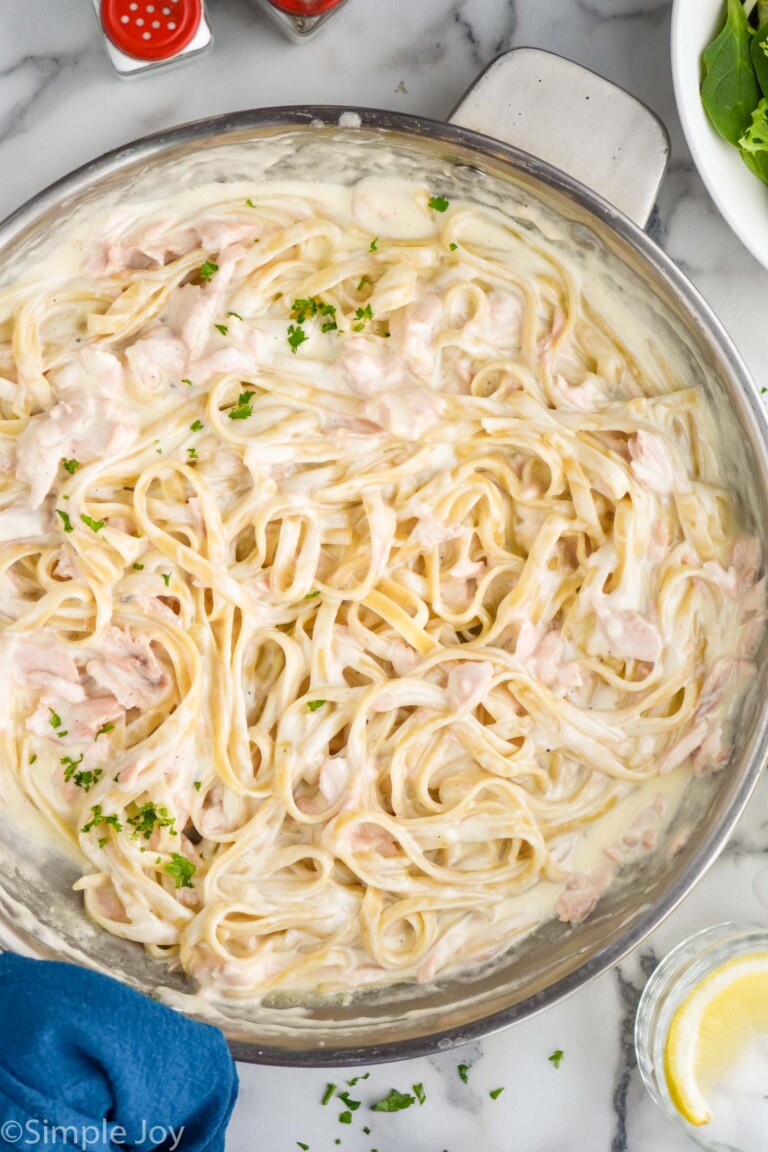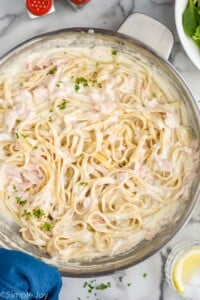 did you make this
Salmon Fettuccine Alfredo