Baked Salmon in Foil is an easy light dinner that is full of delicious flavor. You will love making salmon this fool proof way.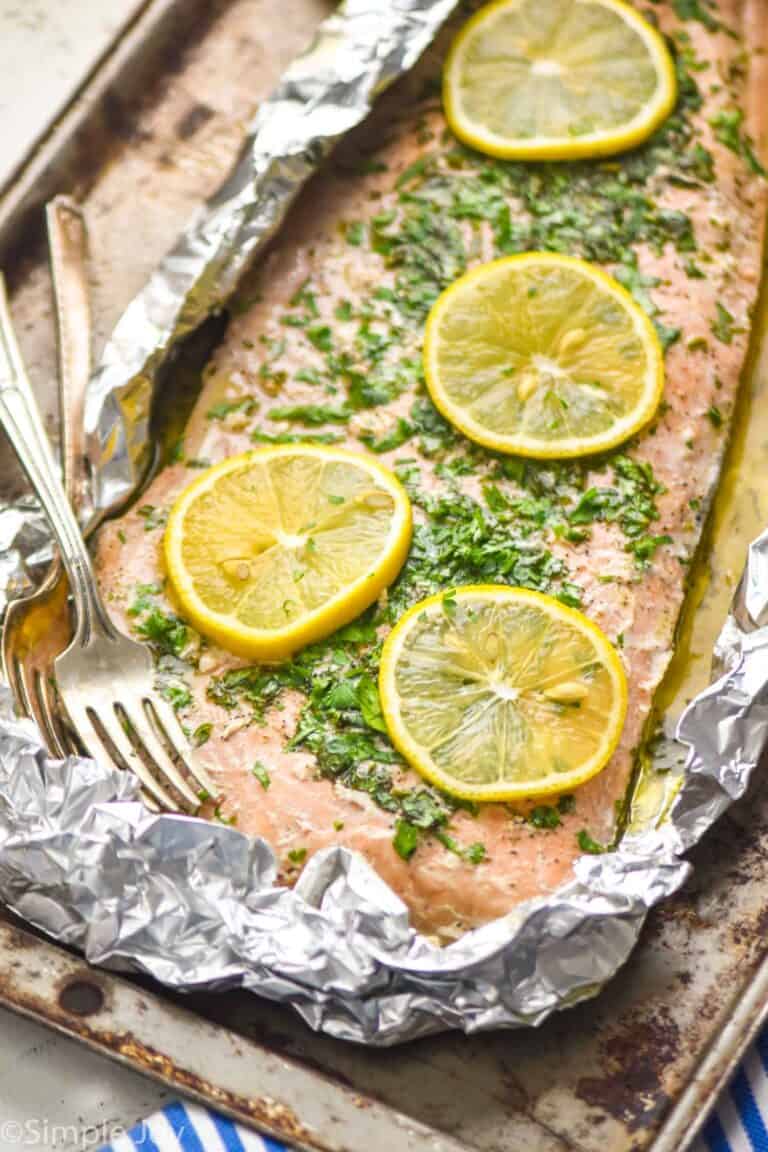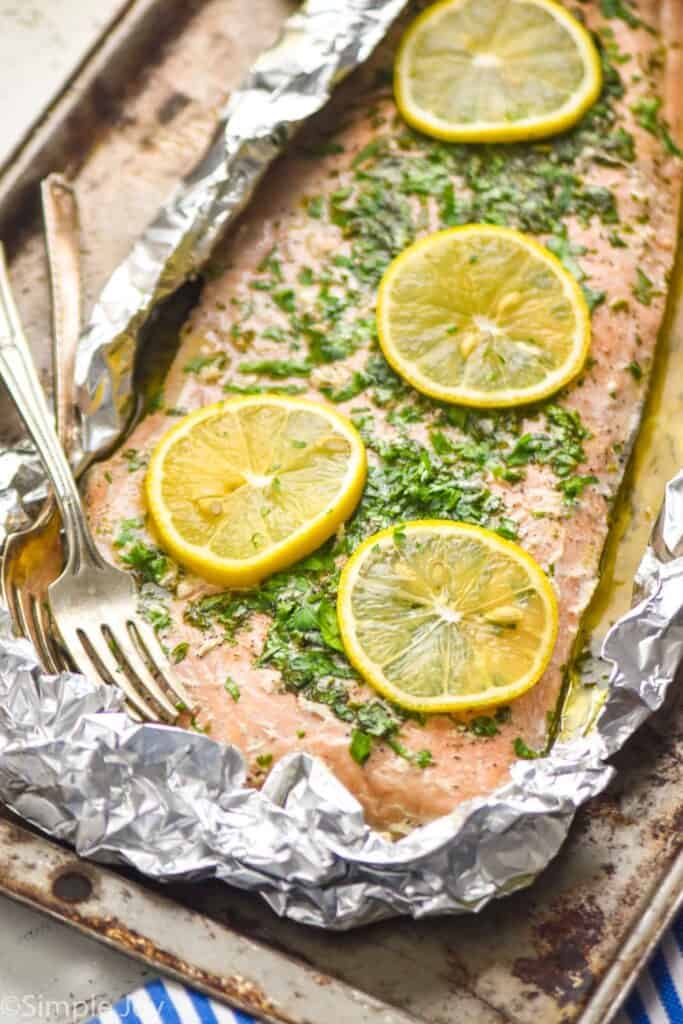 Salmon is one of my very favorite proteins. I am always ordering it when I find it on menus. It is light and healthy, and I love the flavor.
If you love salmon as much as me, but shy away from making it at home, I hope today changes that. This recipe is so very simple. Even better, it can be adjusted to a smaller piece of salmon if this is going to be dinner for two.
Did you know that in all of my recipes you can tap the serving amount, slide it to how many people you are cooking for, and it will adjust all of the ingredients?
Reader Review
Our first time cooking salmon. It was easy, delicious, flavorful.
How to Bake Salmon
My preferred method of baking salmon is by baking it in foil. It locks in the moisture, makes it very simple, and it doesn't hurt that it makes clean up a snap.
For the full recipe instructions make sure to check out the recipe card at the bottom of the post.
Prepare the foil: Cut a large piece of foil that will fit the whole salmon. Place it shiny side up on a baking tray.
Make the sauce: The seasoning for this recipe is simple – butter, parsley, lemon juice, salt, and pepper.
Place the salmon: The salmon should be completely thawed and go skin side down on the foil.
Top and seal: Top the salmon with the butter mixture, and close up the foil. If the foil doesn't reach around the salmon completely, you can add another piece on top to seal it in.
Bake: Bake the salmon for 14 to 16 minutes or until it reaches 125 degrees. The salmon should flake apart easily with a fork and still be slightly translucent when you pull it back a little.
Top: Add more parsley and lemon juice to taste.
My favorite part about this recipe – besides the delicious taste- is how quick it is! This whole process will take you less than 30 minutes.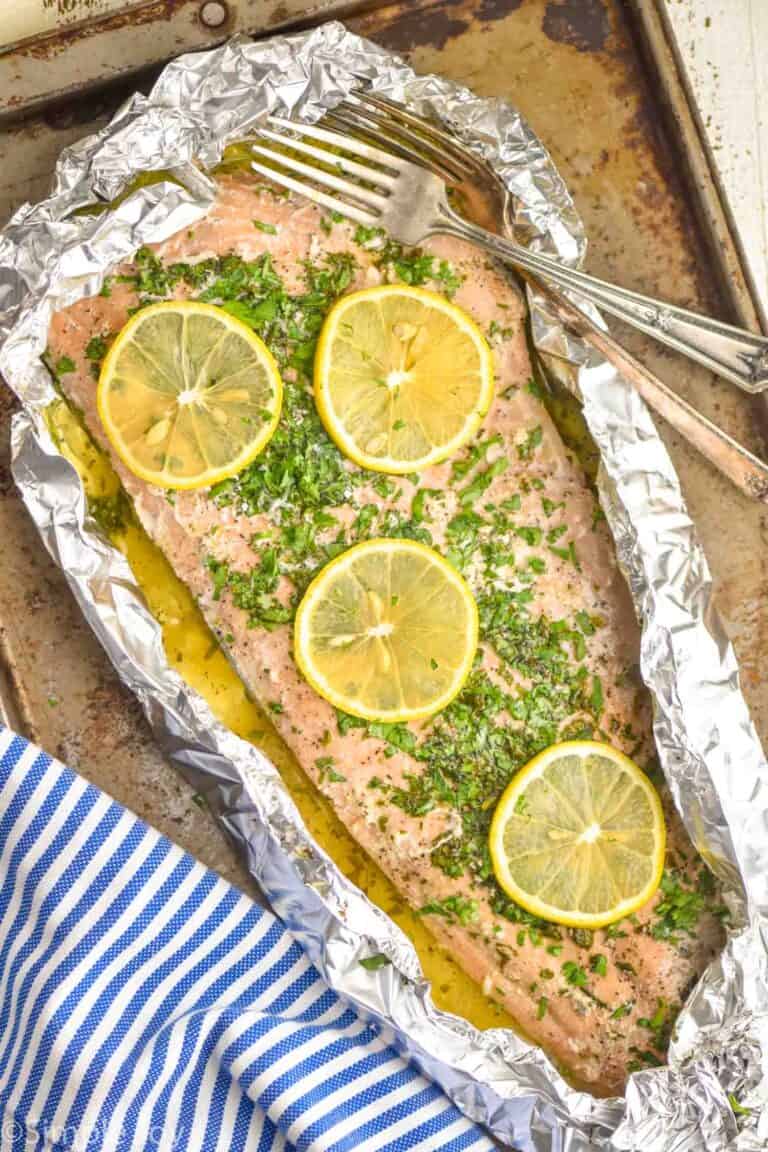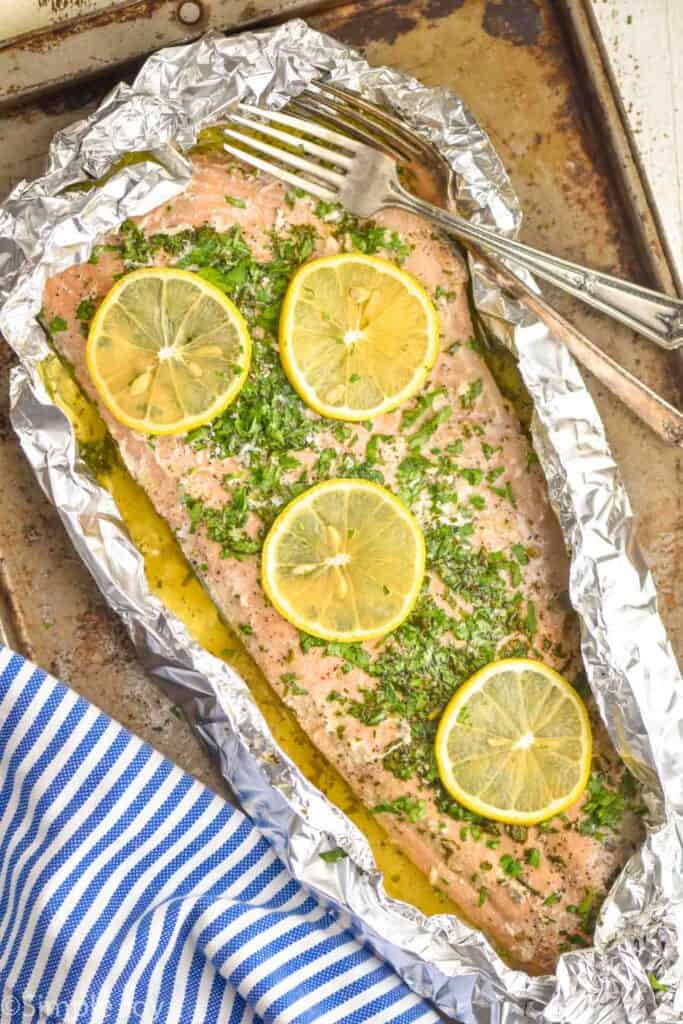 How to Know When Salmon is Done
The best method for knowing if your salmon is fully cooked is investing in an instant read thermometer and removing it from the oven when it reaches 125 degrees (for medium rare).
I can't stress enough how handy they are in the kitchen. When cooking meat, there is a fine line between done and dry, and an instant read thermometer helps you hit the mark every time.
This is the instant read thermometer I use and it is under $25. I've tried several different brands, and this is by far my favorite.
Salmon Should Still be Translucent
If you don't have a thermometer, you can tell salmon is done by it's texture. When you push down very gently with a fork, it should flake apart easily. It will still be translucent when you pull it apart with the tip of the fork in the middle.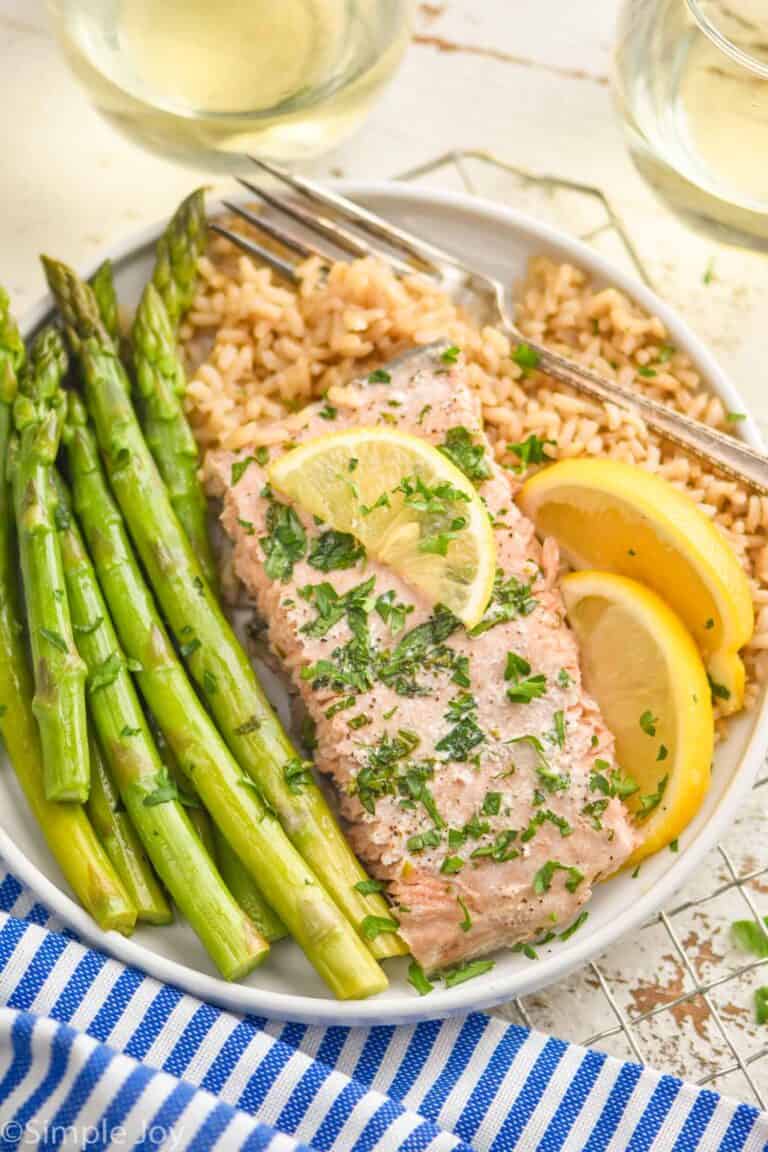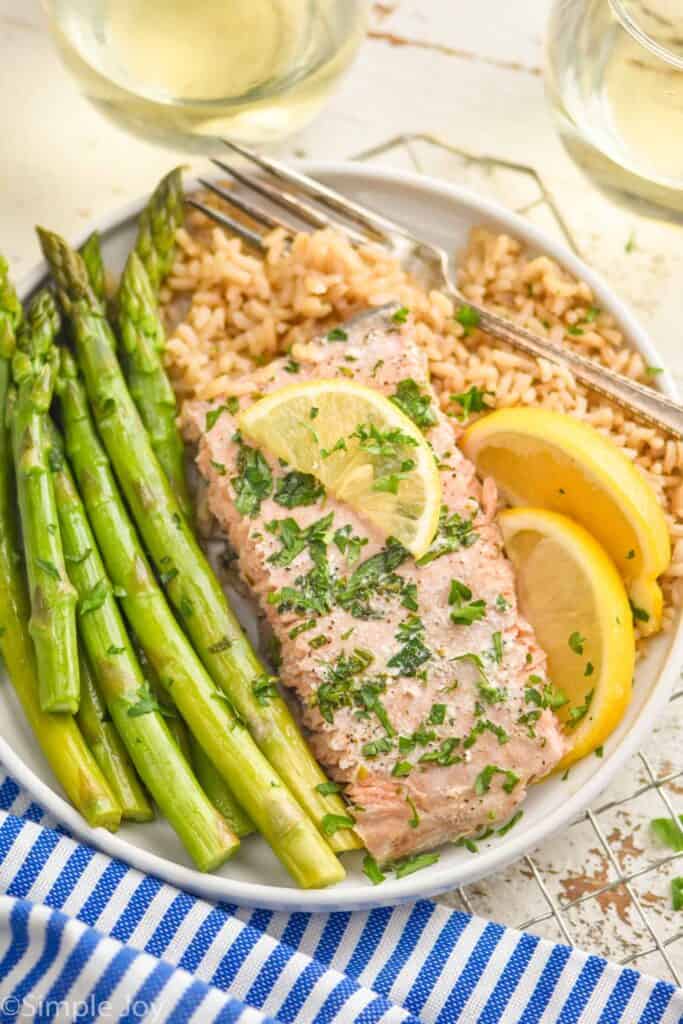 Buying Salmon
If you are buying your salmon fresh, make sure to purchase from a store or market that does a lot of sales. This will ensure that you have the freshest fish. It should not smell fishy in the market either. The salmon should look shiny and moist when buying fresh.
When you get your salmon home, make sure to store it in the back of the refrigerator. It is coldest there, and fish stays fresh longer when it's kept closer to 32 degrees.
Frozen Salmon
If you buy frozen salmon, thaw it in the refrigerator overnight before cooking it. I recommend cooking salmon that has been for a bit longer, closer to 140 degrees. Salmon that has been frozen has it's best taste and texture when cooked beyond medium rare.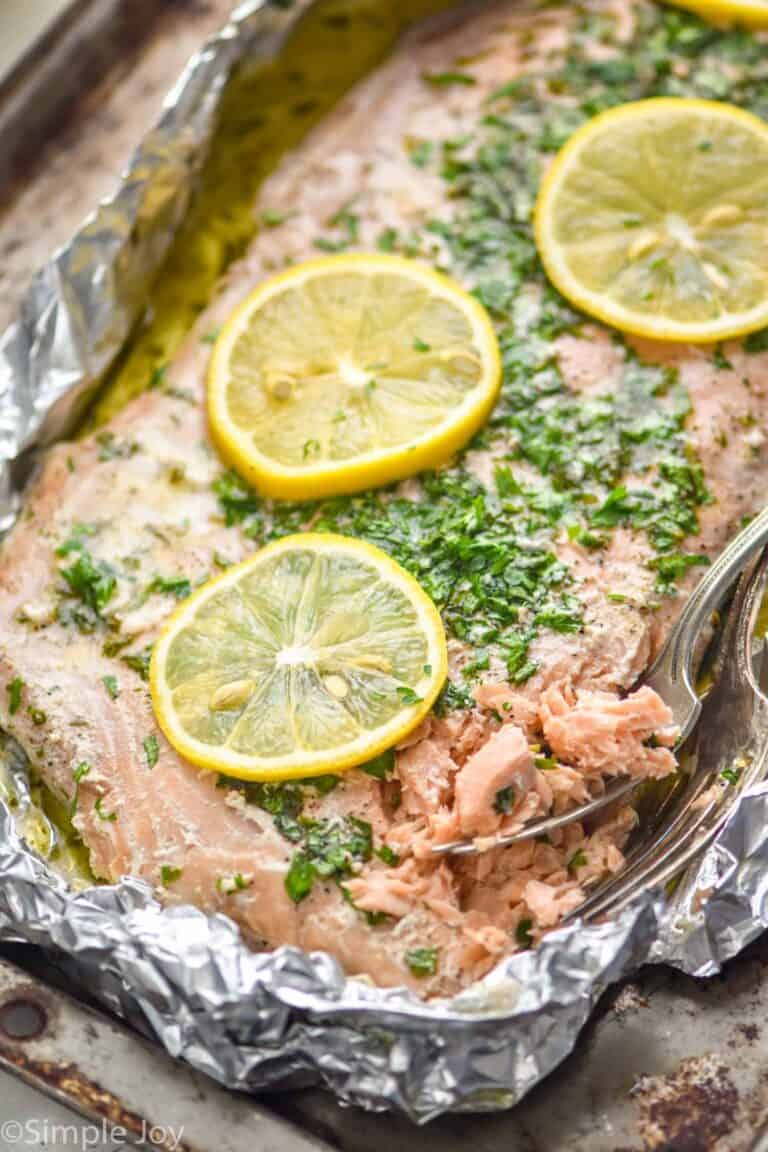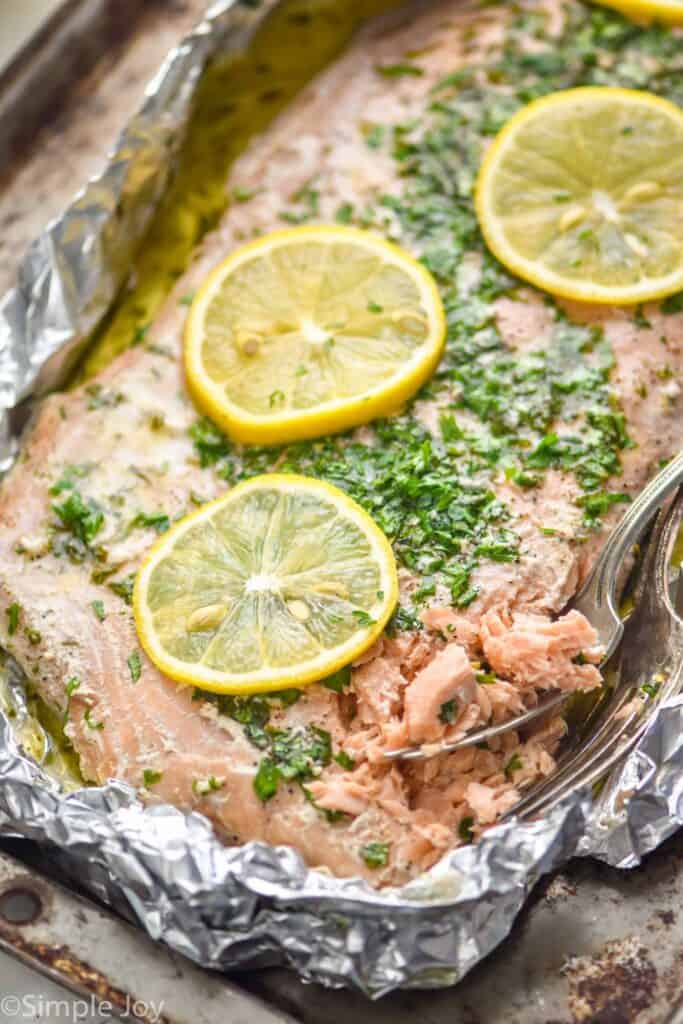 If you make this easy baked salmon, leave me a comment and let me know what you think. I always love hearing from you.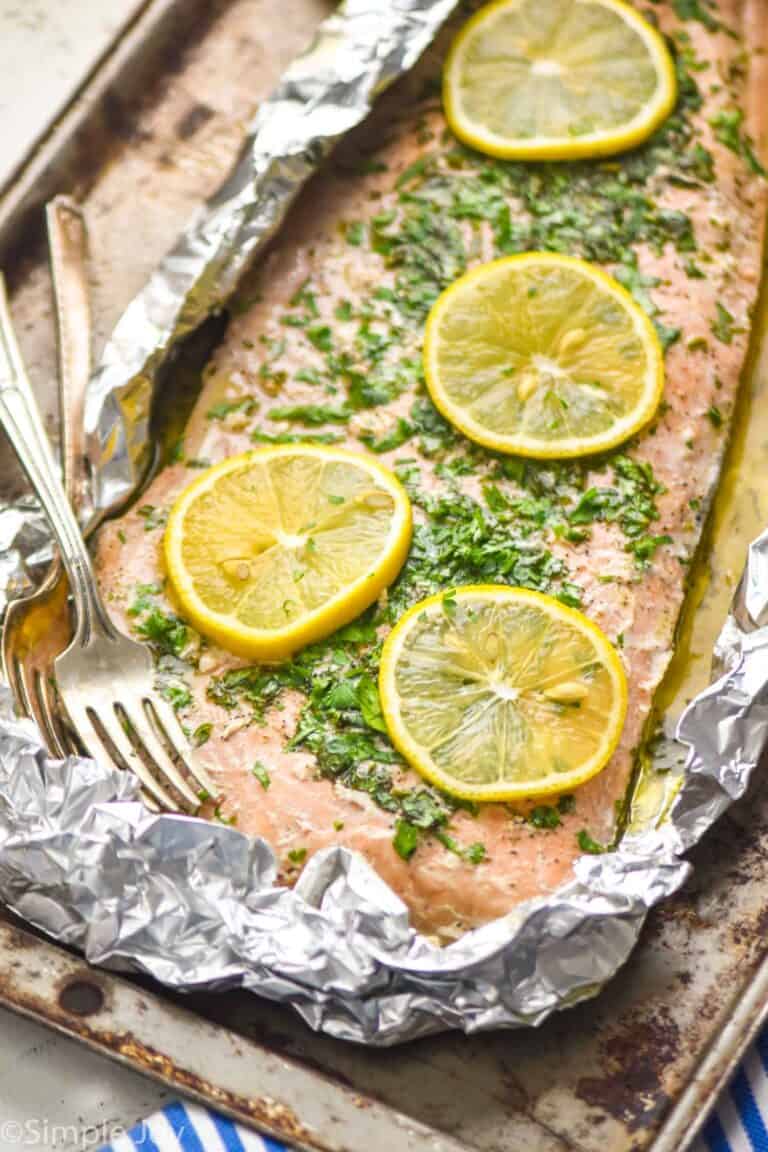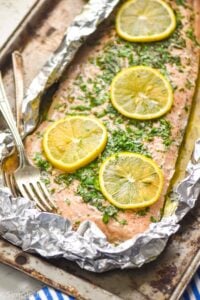 Baked Salmon in Foil
Baked Salmon in Foil is an easy light dinner that is full of delicious flavor. You will love making salmon this fool proof way.
Ingredients
1 pound 8 ounces

salmon

(if buying frozen, thaw for 8 hours in the refrigerator)

1/4

cup

unsalted butter

melted

1/4

cup

fresh flat leaf parsley

minced

2

tablespoons

lemon juice

1/2

tablespoon

kosher salt

1/2

teaspoon

black pepper
Instructions
Preheat your oven to 350 degrees.

Place heavy duty aluminum foil on a baking sheet.

Place the thawed salmon on the foil.

In a bowl mix together the melted butter, 2 tablespoons parsley, lemon juice, salt, and pepper. Pour over the salmon.

Fold the foil in on itself to create a pouch around the salmon, rolling up the ends so that it is completely sealed.

Bake for 14 to 16 minutes or until the salmon registers 125 degrees with an instant read thermometer (for medium rare).

Open up the foil, garnish with the remaining parsley, cut and serve.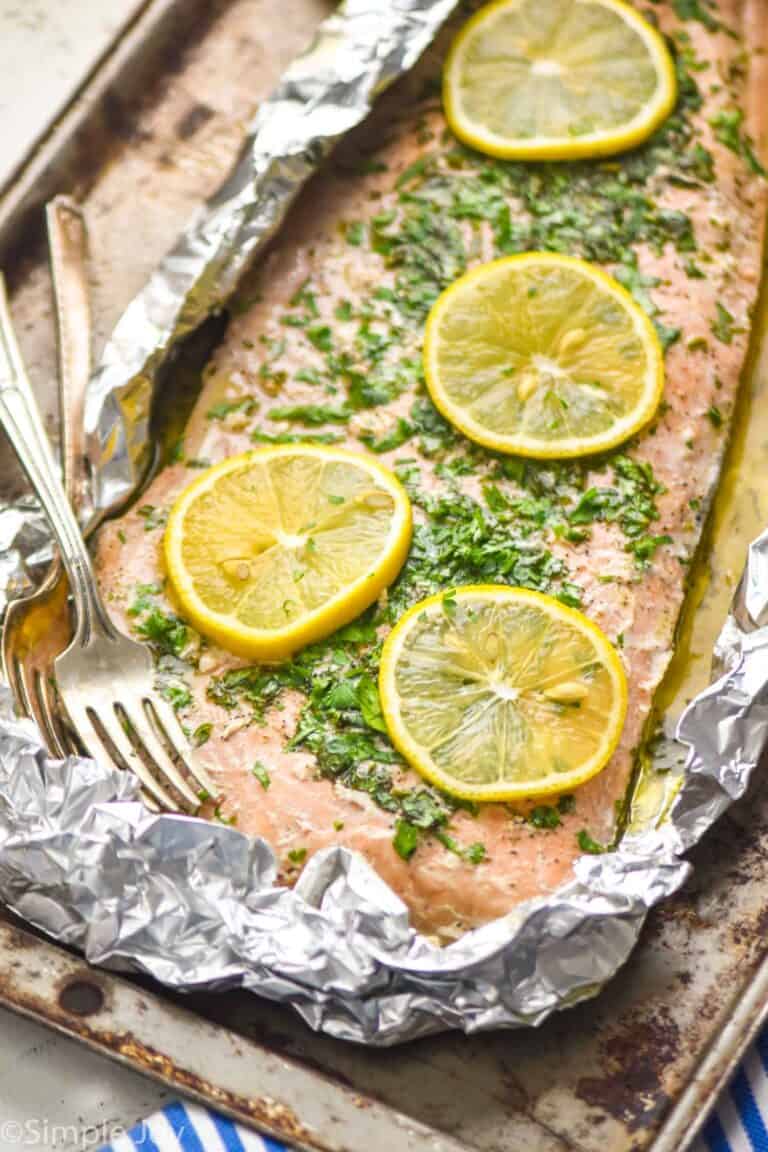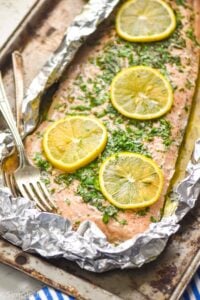 did you make this
Baked Salmon in Foil