Shrimp Fajitas are an easy delicious weeknight dinner idea your whole family will love! The simplicity of this meal will make you come back to it over and again.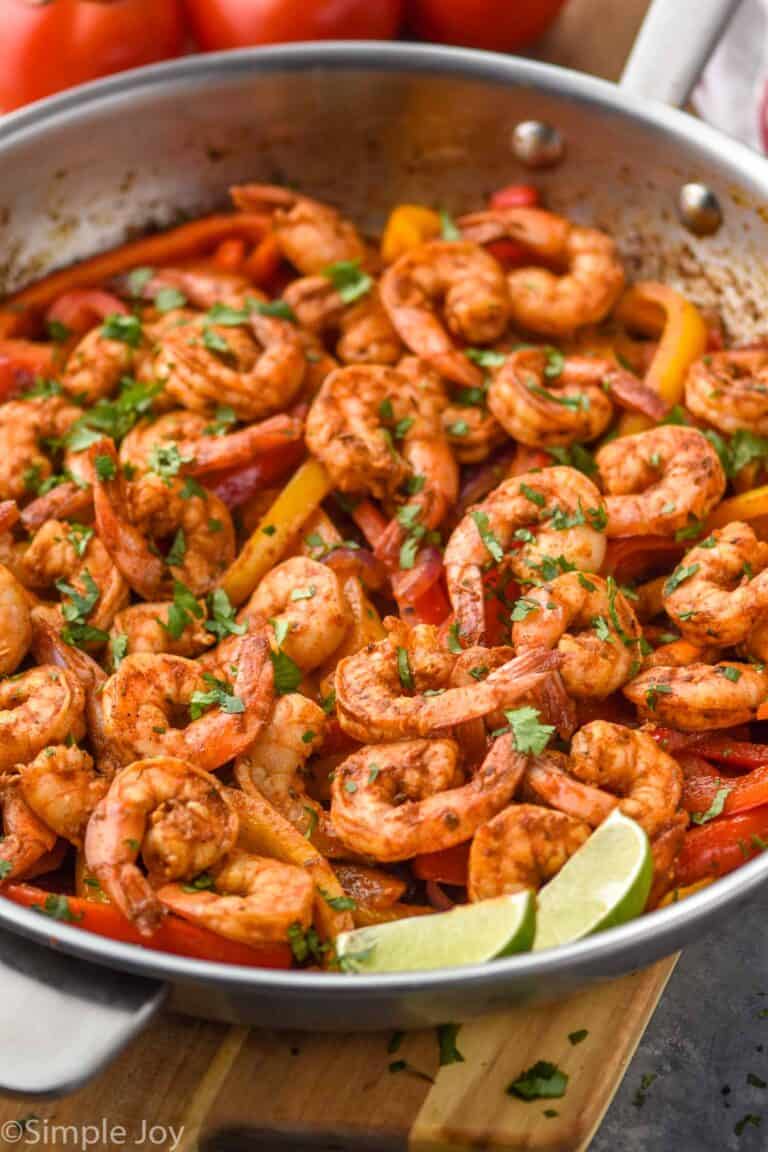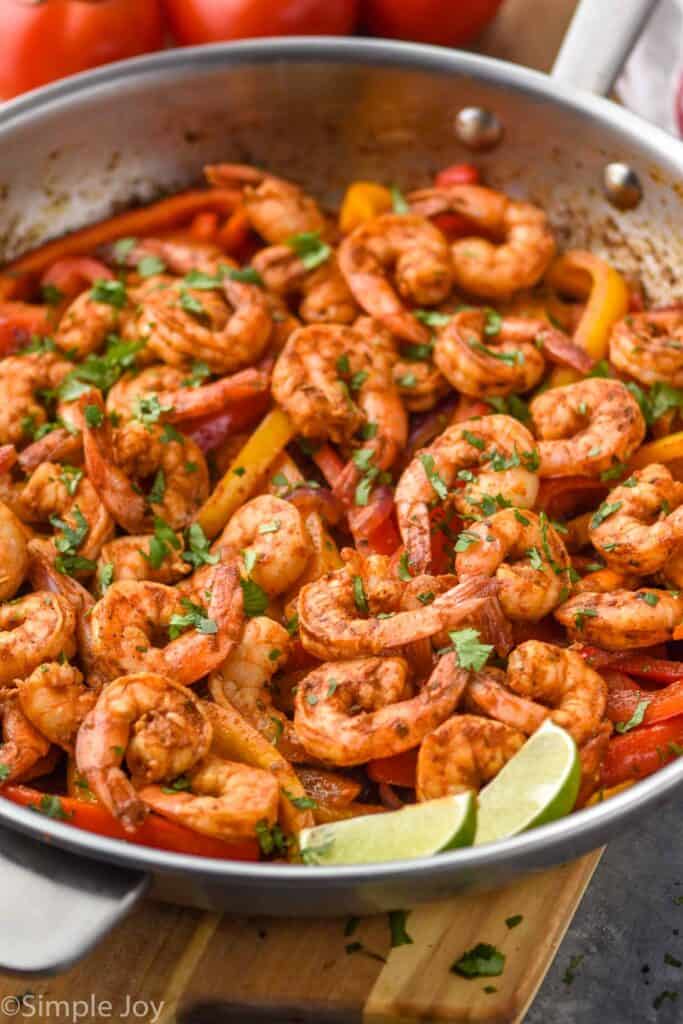 Every weekend we ask our kids what they want for dinner the upcoming week. Inevitably, someone immediately suggests chicken tacos. It is, without a doubt, one of our very favorite recipes.
Truth be told, our family could live on tacos. Which is one of the reasons that I work so hard to come up with so many different twists on taco night.
Enter this amazing Shrimp Fajita recipe. It has everything I love in an easy family friendly dinner recipe: It is full of flavor, easy to make, and something my kids devour.
How to Make Shrimp Fajitas
These Shrimp Fajitas make a super simple and quick supper. All you need are some spices, veggies and plump shrimp and you're good to go! Check out the recipe card below for exact measurements but here's all you need to do:
Make the Shrimp Marinade: First, mix some oil, lime juice and all the yummy spices in a measuring cup to create a shrimp fajita marinade.
Marinate the Shrimp: Then, add the raw shrimp to a bowl or reusable container and pour the spice mixture over the top. Refrigerate the marinade and shrimp.
Cook the Shrimp: Then, cook the shrimp in a cast iron skillet until they're pink (or about 2 minutes on each side)
Cook the Vegetables: Remove the shrimp and add the veggies to the pan. Cook for about six minutes.
Serve as Fajitas: Finally, add the shrimp and veggies to some warm tortillas and serve!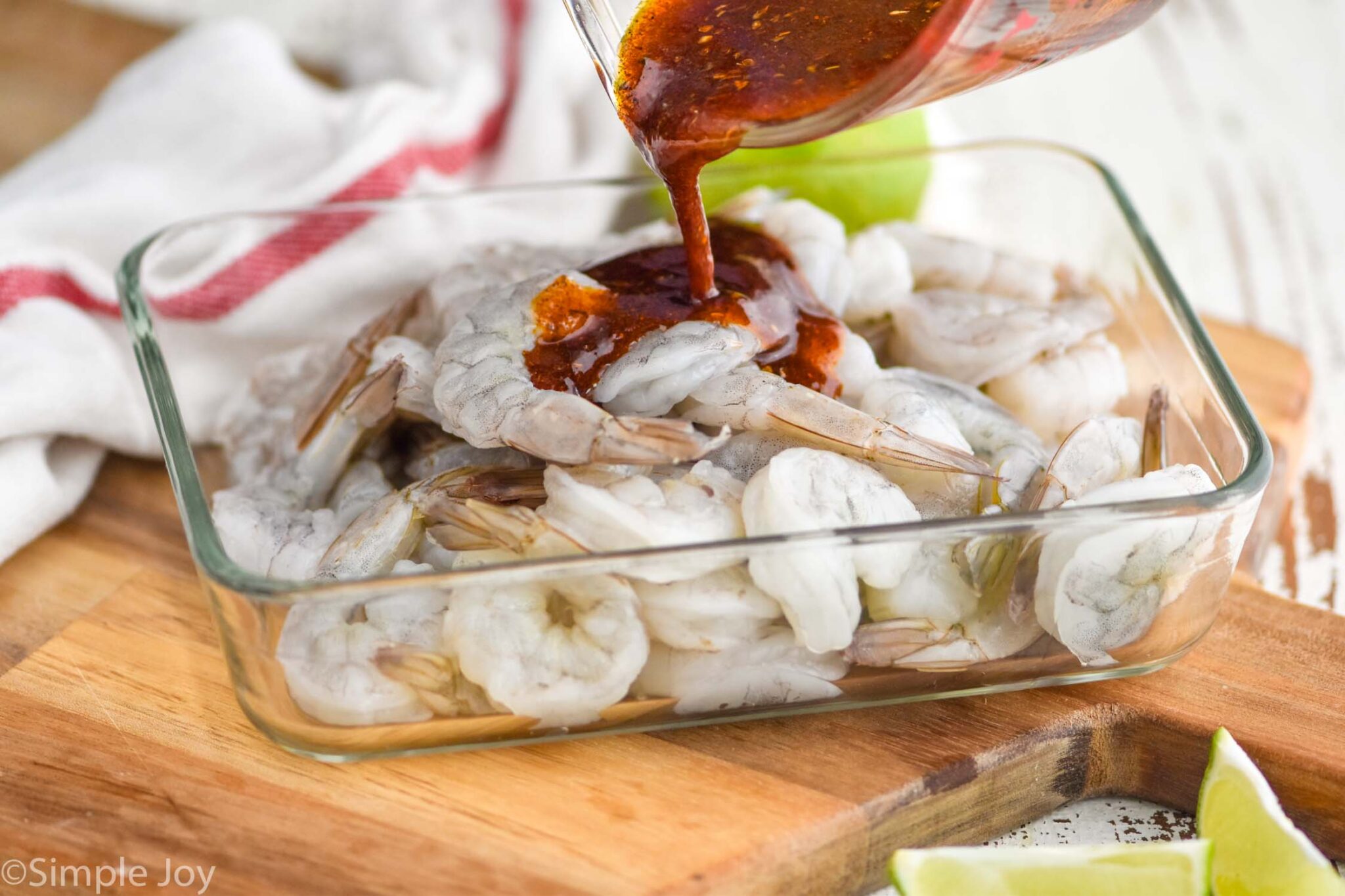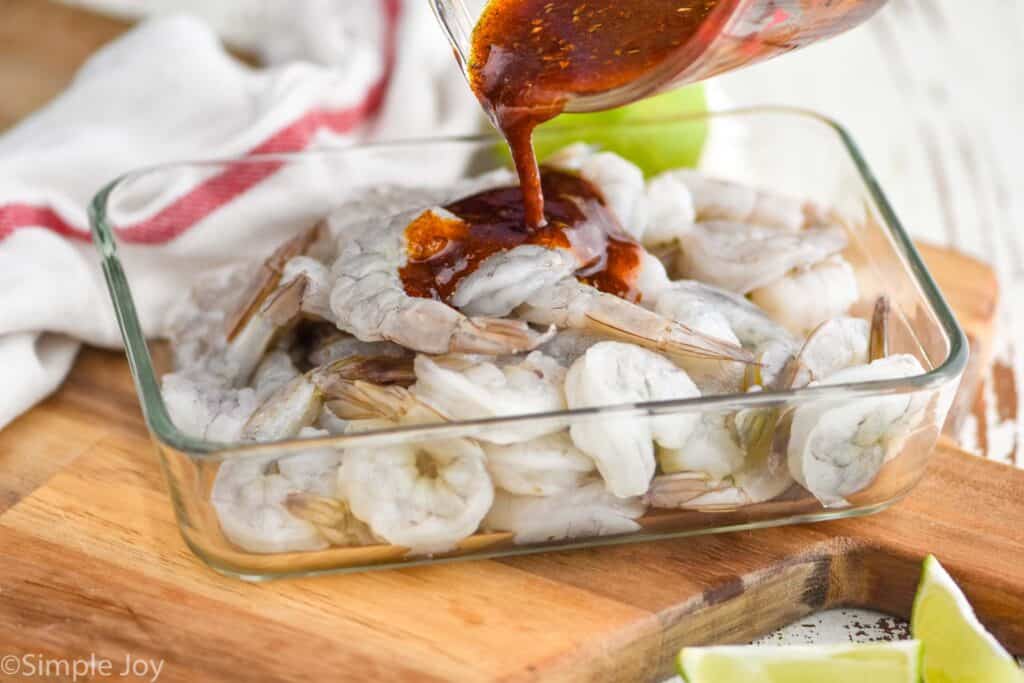 Marinating Shrimp
The key to marinating any meat is to let it sit in the refrigerator long enough that the acid in the marinade (lime juice in this case) begins to break down the top layers of the meat and infuse flavor.
If you marinate for too long it will break down the meat too much and give it an undesirable consistency. When it comes to shrimp, error on the side of shorter marinating time.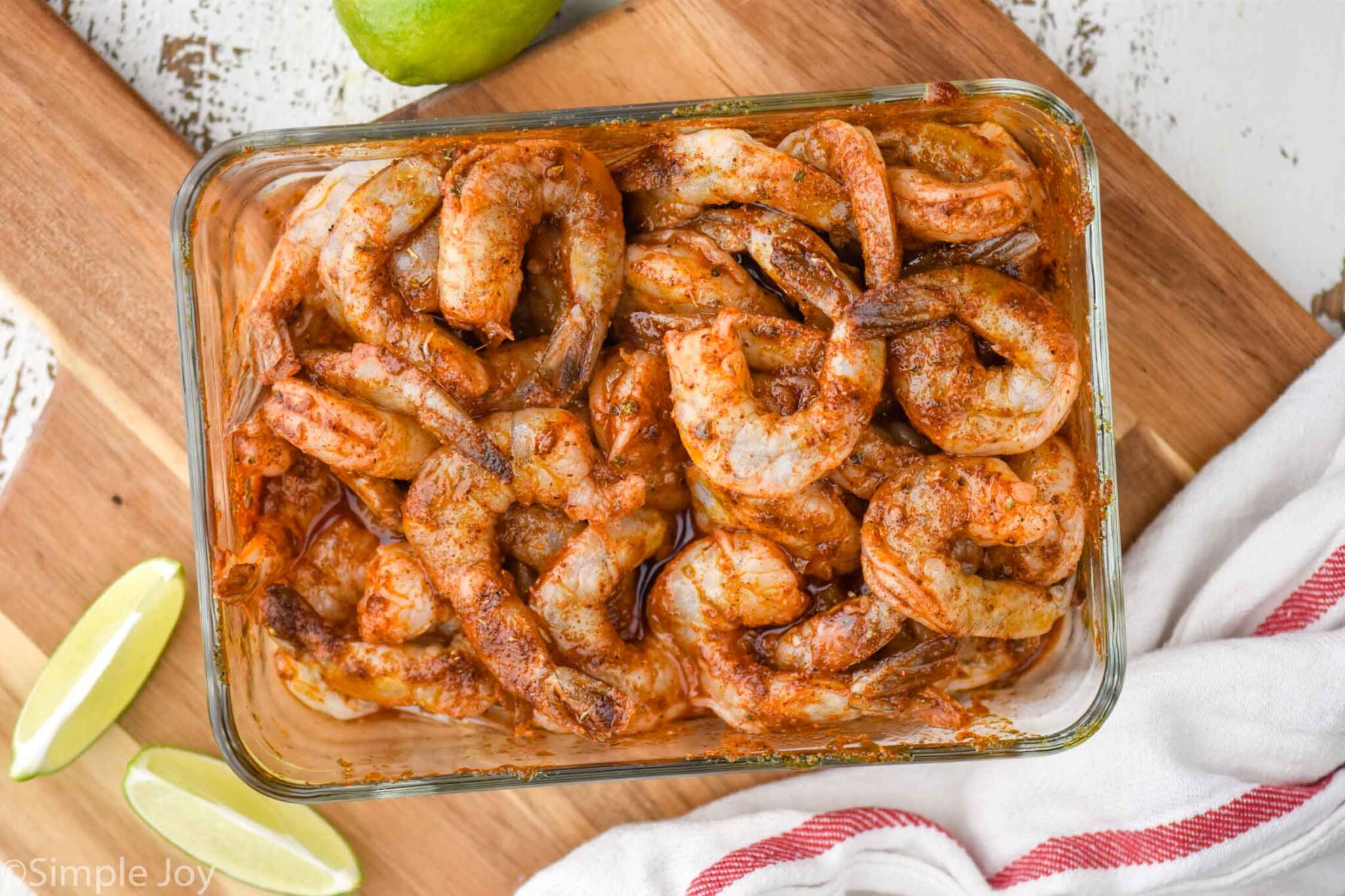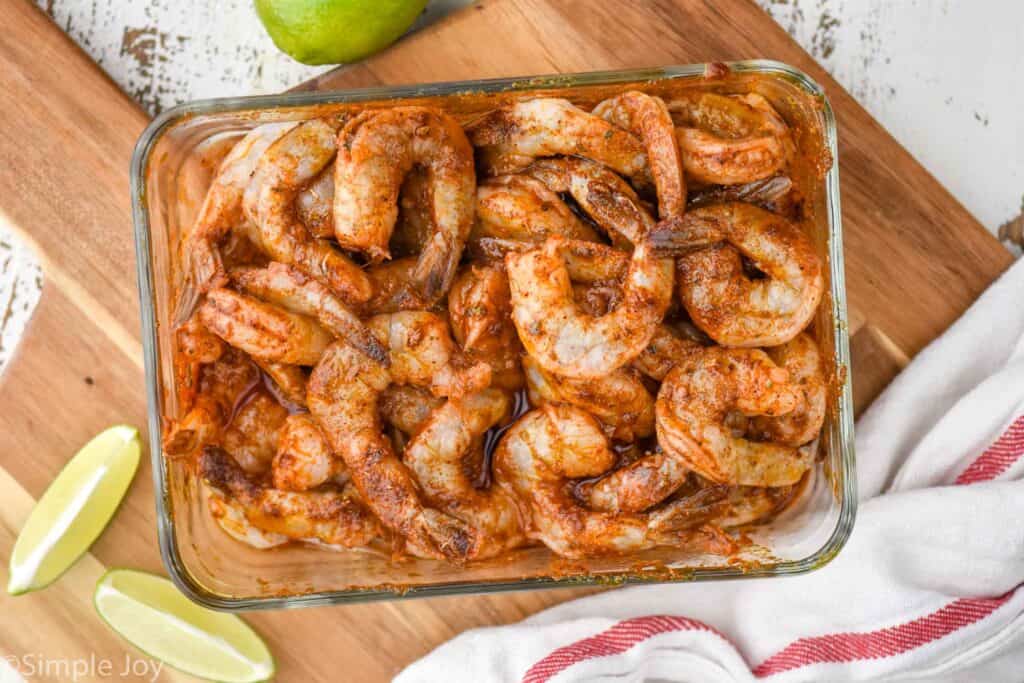 Shrimp Fajita Marinade
This simple shrimp fajita seasoning can be used on chicken, beef or shrimp. Marinate your meat in this easy mixture for 20 to 30 minutes. It's so yummy and only takes a few pantry ingredients. Here's all you need:
Olive oil
Lime juice (you can use fresh squeezed lime juice or from a bottle)
Chili powder
Salt
Paprika
Oregano
Garlic powder
Onion Powder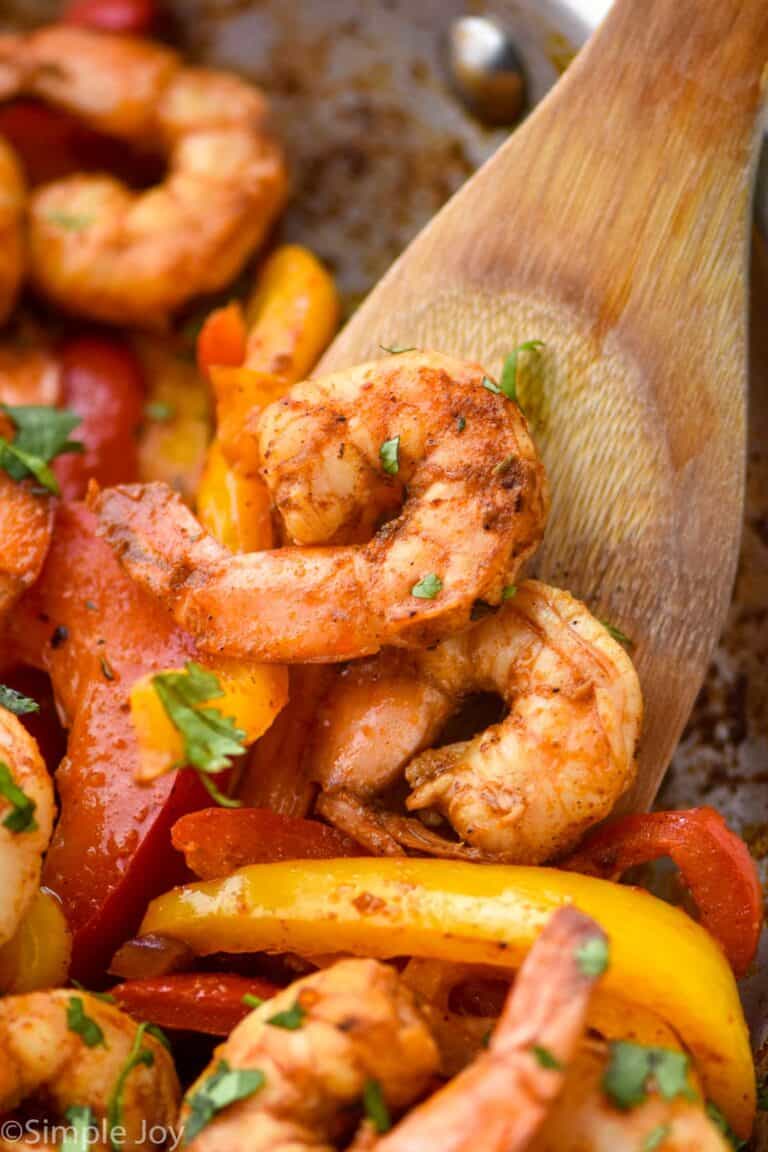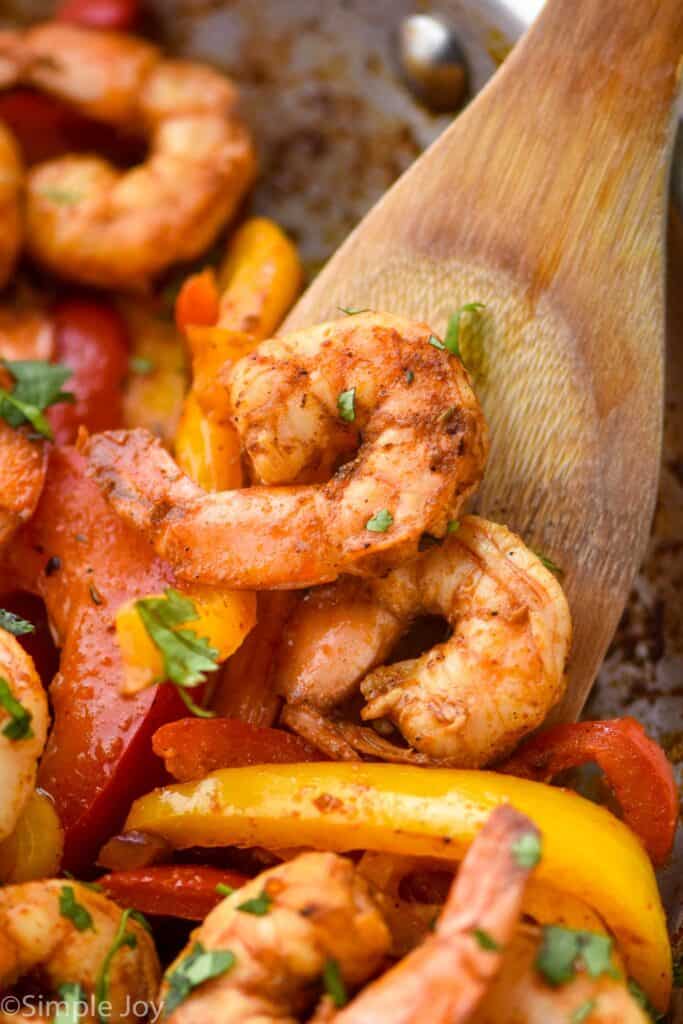 Thawing Shrimp
It's important to follow the instructions on the bag of frozen shrimp. But as a general rule, I thaw mine in the sink under running cold water for about 20 minutes. You can also thaw them by refrigerating overnight.
Cooking Shrimp for Fajitas
A key to this recipe is making sure that you don't overcook the shrimp. Shrimp cooks very quickly. Smaller shrimp cook even faster.
You will notice in the recipe instructions that I suggest you cook the shrimp for 2 minutes on each side. Please take this as guidance more than an instruction. If you have small shrimp they may need less time.
This recipe will become a fan favorite with shrimp that are cooked just right and not over done.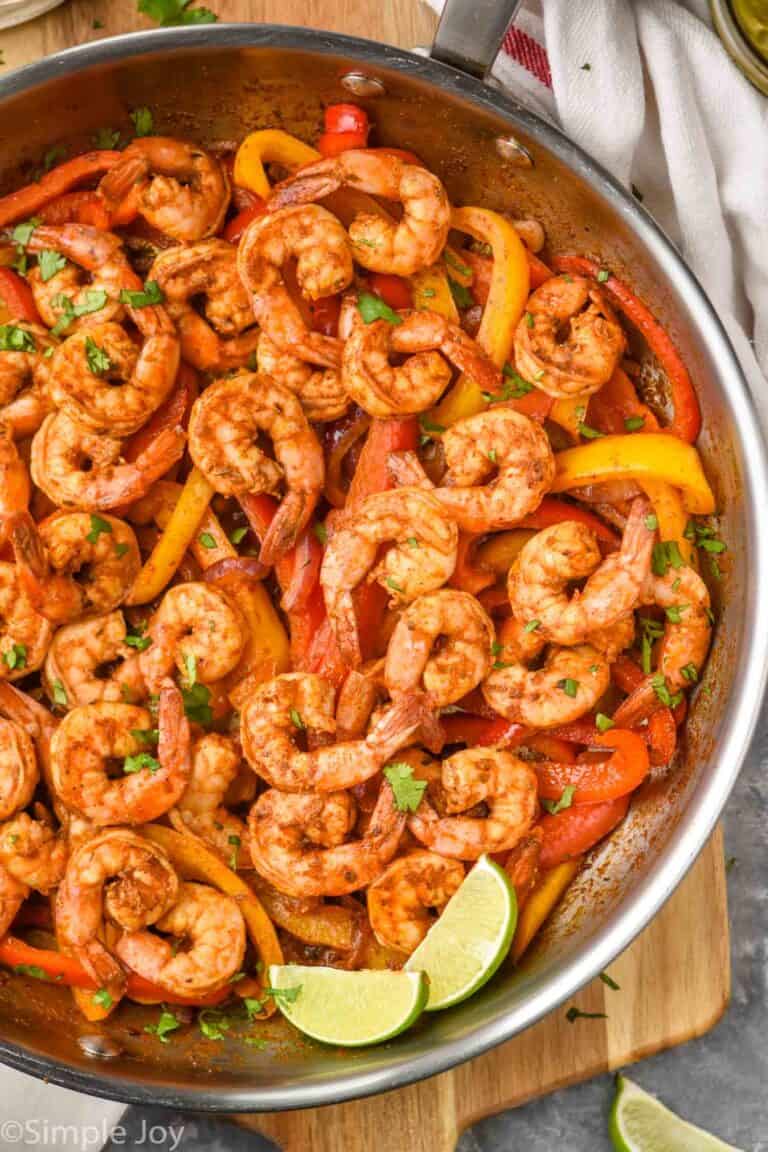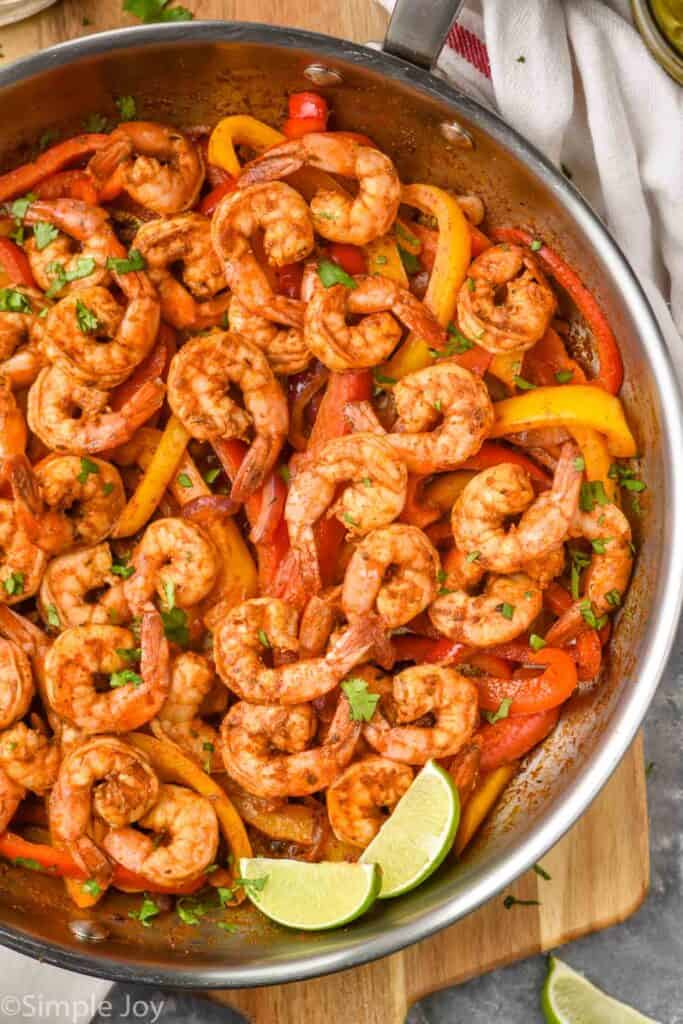 Shrimp Tails
I made this recipe with shrimp that have their tails still on. I love how the dish looks with the tails on – so pretty for pictures! While shrimp tails are actually edible, you might enjoy this recipe more if you make it with shrimp that has the tails removed. Especially if you are serving children or the elderly.
Favorite Fajita Toppings
Fajitas are so flavorful, that they don't necessarily need anything on top. If you do want to add toppings, these are some of our favorites:
lettuce
sour cream
cilantro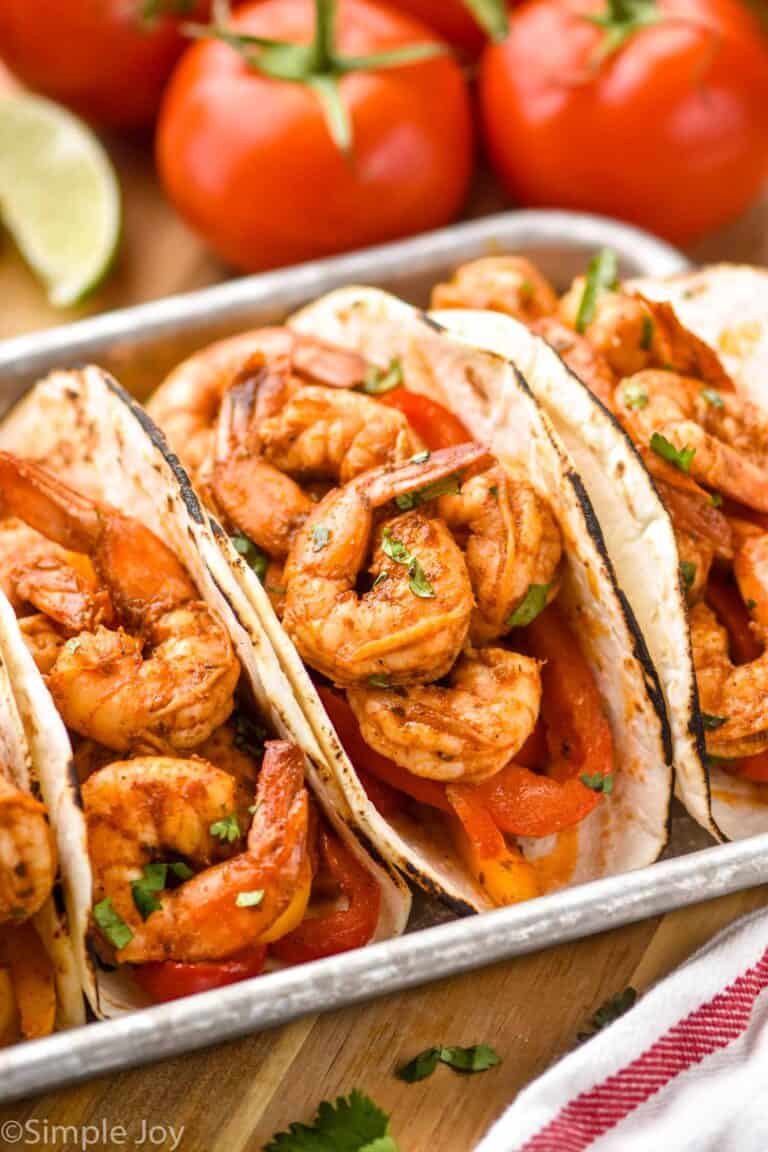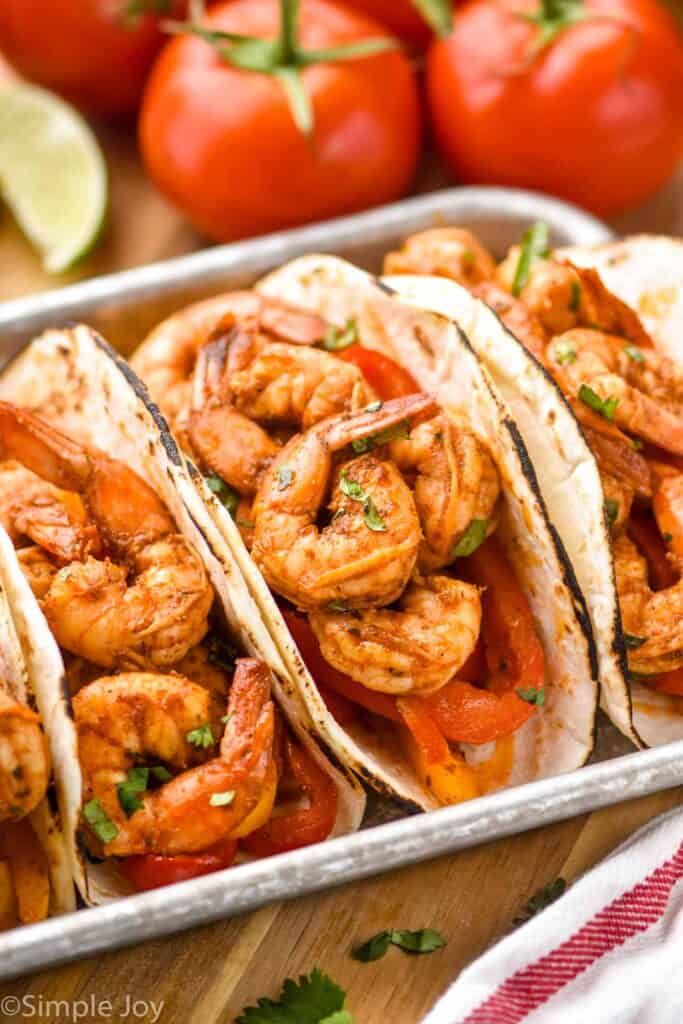 try these fajita recipes too!
If you make the Shrimp Fajitas please leave me a comment and let me know what you think! I love hearing from you and knowing what you and your family are enjoying for dinner.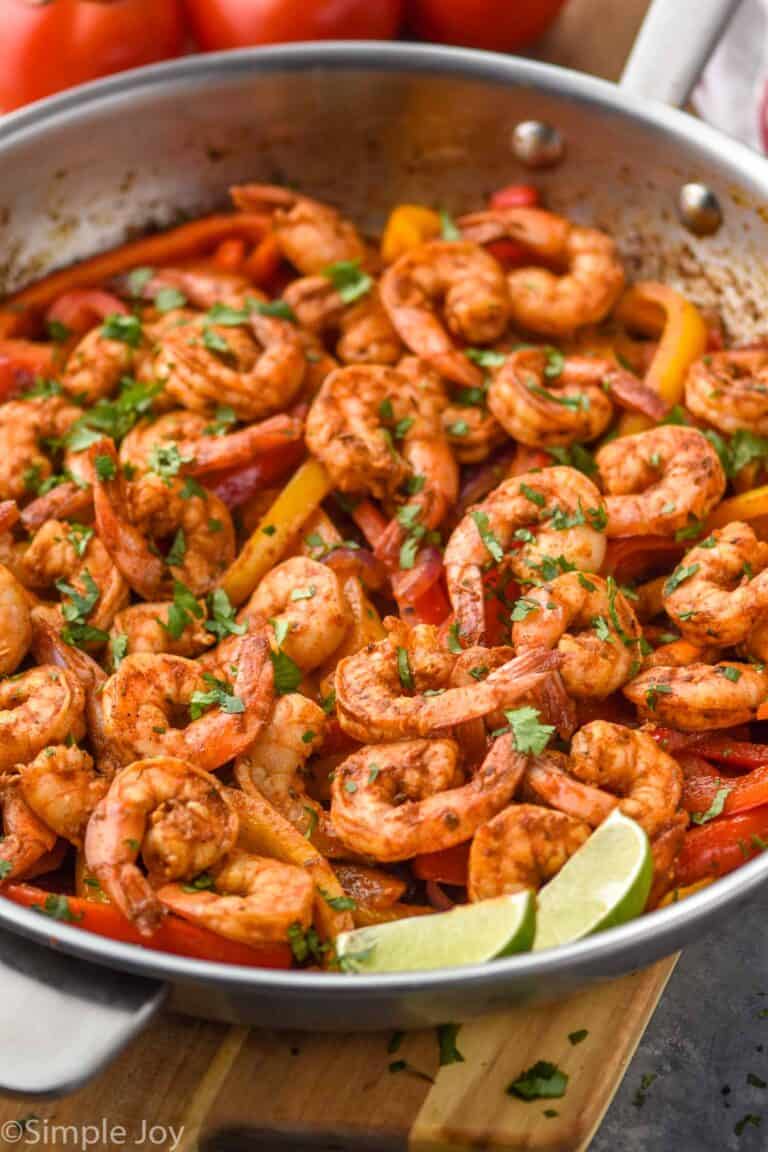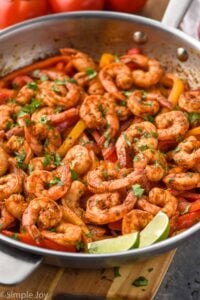 Shrimp Fajitas
Shrimp Fajitas are an easy delicious weeknight dinner idea your whole family will love! The simplicity of this meal will make you come back to it over and again.
Ingredients
1/4

cup

extra virgin olive oil

1

tablespoon

lime juice

2

teaspoons

chilli powder

1

teaspoon

salt

1

teaspoon

paprika

1

teaspoon

oregano

1/2

teaspoon

garlic powder

1/2

teaspoon

onion powder

1

pound

shrimp

(read about shrimp with tails here)

1

red bell pepper

cut into strips

1

yellow bell pepper

cut into strips

1

small red onion

cut into strips

tortillas for serving
Instructions
In a measuring cup mix together the oil, lime juice, chili powder, salt, paprika, oregano, garlic powder, and onion powder.

Add the raw shrimp to a reusable container. Pour the above mixture over the shrimp and mix together to coat the srhimp. Put in the refrigerator for 20 to 30 minutes.

Heat a cast iron skillet over medium heat. Add 1/2 a tablespoon of olive oil. Remove the shrimp from the container and cook for 2 minutes on each side or until the shrimp begins to turn pink. Be careful not to overcook the srhimp.

Remove the shrimp from the skillet and cover with foil, letting it rest while you cook the vegetables.

Add the vegetables to the skillet and cook for 6 minutes or until the vegetables are tender, stirring occasoinally. Repeat with the other half of the vegetables.

Combine shrimp and slices of cooked vegtables in tortilla shells and enjoy!
Notes
Please note that the calorie count includes having 3 small 6 inch flour tortillas.
Serving:
3
fajitas
Calories:
501
kcal
(25%)
Carbohydrates:
56
g
(19%)
Protein:
25
g
(50%)
Fat:
21
g
(32%)
Saturated Fat:
4
g
(25%)
Polyunsaturated Fat:
5
g
Monounsaturated Fat:
10
g
Cholesterol:
165
mg
(55%)
Sodium:
2115
mg
(92%)
Potassium:
212
mg
(6%)
Fiber:
2
g
(8%)
Sugar:
5
g
(6%)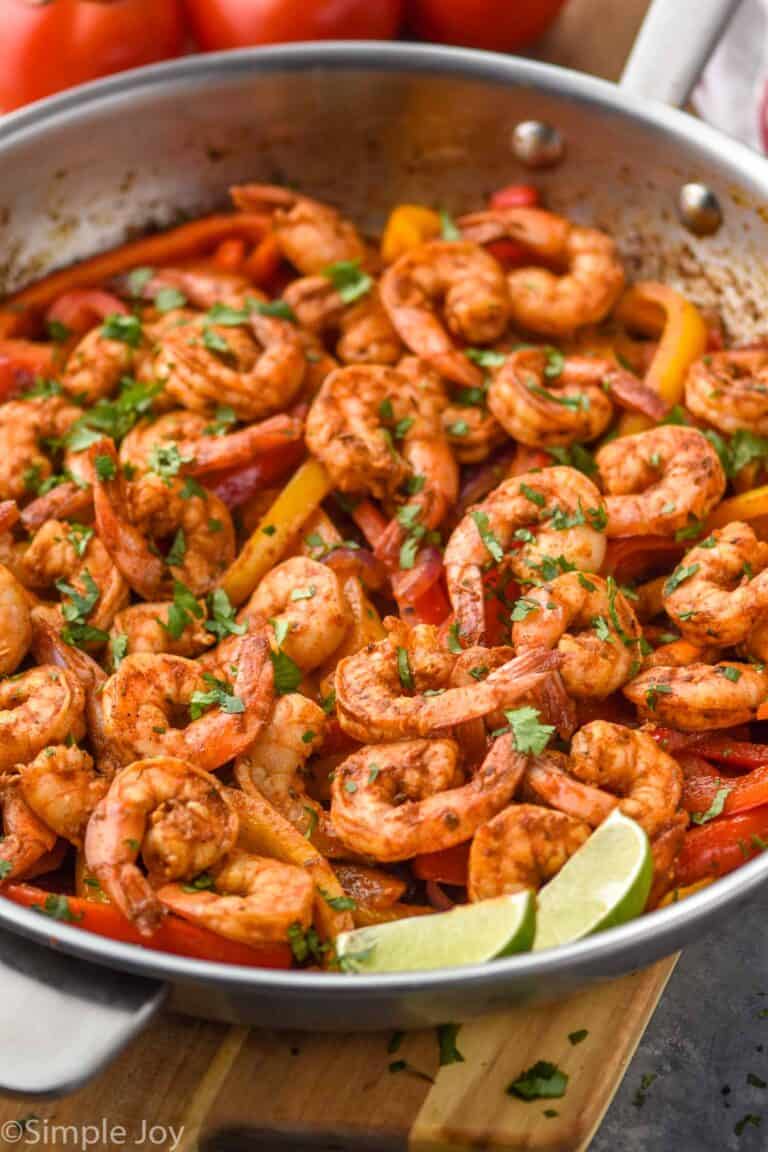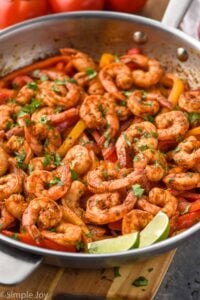 did you make this
Shrimp Fajitas