This Shrimp and Broccoli Stir Fry is a fast dinner that is done in about 20 minutes. Not only that, but it has the most amazing stir fry sauce that you are going to fall in love with.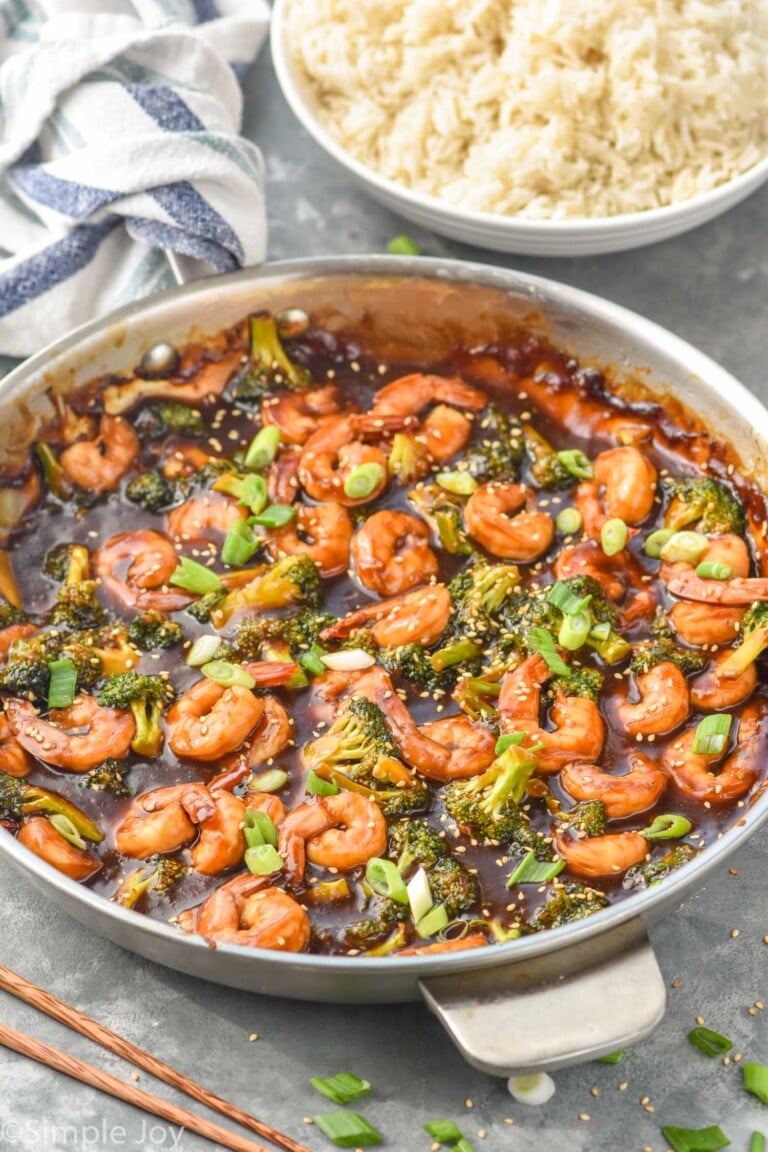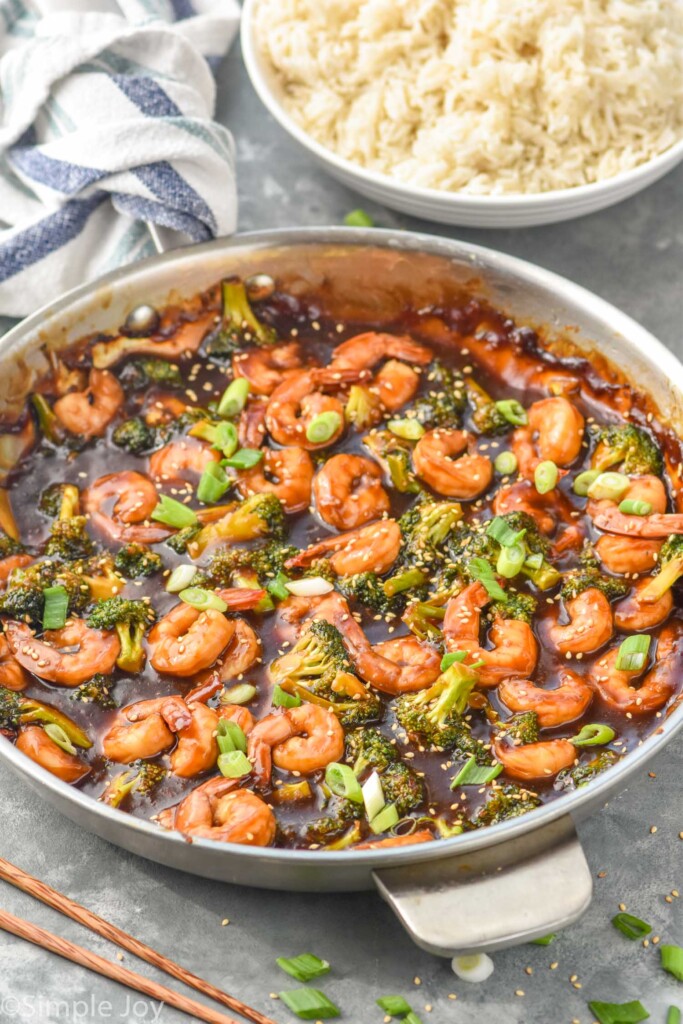 My family loves quick Asian inspired stir fries, and so do I! They come together so quickly, have deep and rich flavors, and we can usually squeeze in a vegetable with a nice lean protein.
This is exactly the case with this fast Shrimp and Broccoli Stir Fry recipe. We are making a very simple stir fry sauce that is layered with wonderful, flavorful ingredients. We lightly pan fry some shrimp, cook some broccoli, and combine it with the sauce. From start to finish, this great kid friendly meal only takes 15 minutes!
How to Make Shrimp and Broccoli
This is a brief overview of how you make this delicious and easy stir fry. For the full recipe with all of the measurements, see the recipe card at the bottom of the post.
Make the stir fry sauce. Since this recipe moves quickly, you will want to make the sauce before you start cooking, unlike in my chicken stir fry, where you can multi task.
Heat oil in a skillet and cook shrimp. Once the oil in the skillet has warmed a little, add the shrimp and cook them for 1 to 2 minutes on each side. They don't have to cook completely through as they will continue cooking as the recipe goes.
Add in the broccoli. You will want to cover the skillet while the broccoli cooks, but stir occasionally. Covering the skillet will help the broccoli cook a little faster.
Add the stir fry sauce. The sauce will begin to thicken and darken in color after about a minute or two in the skillet. This is how you will know that it is done.
Serve over rice and enjoy!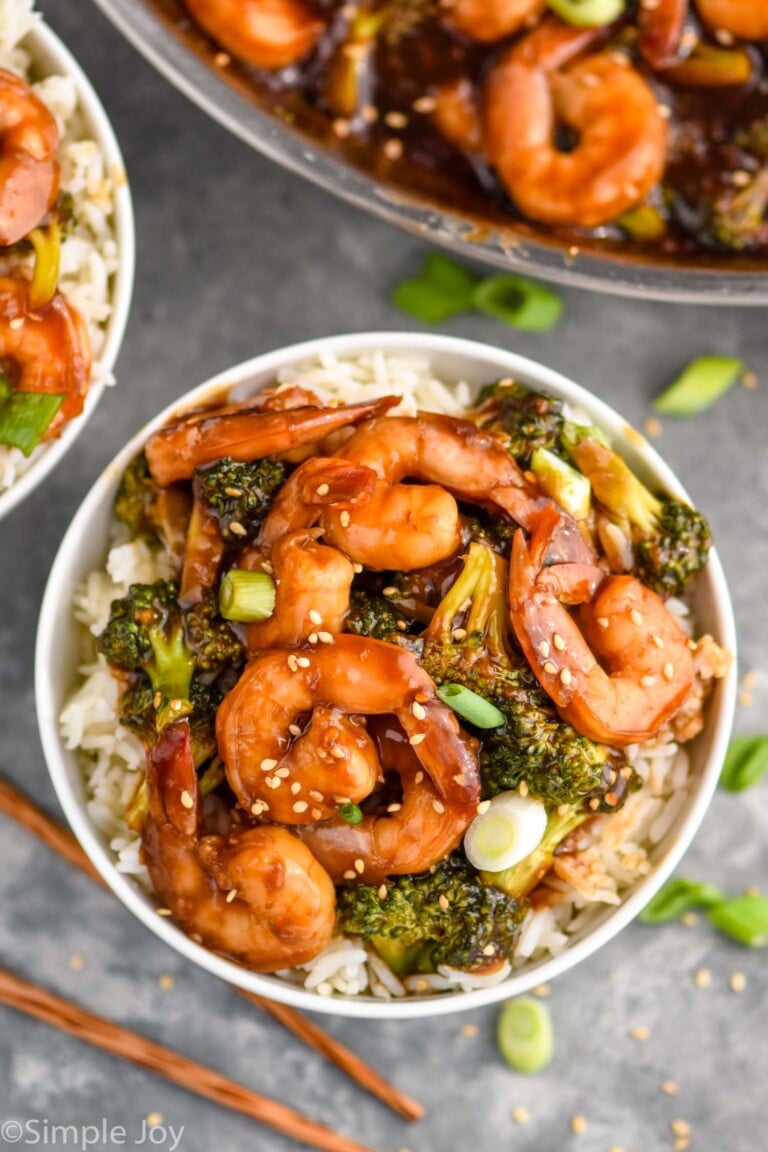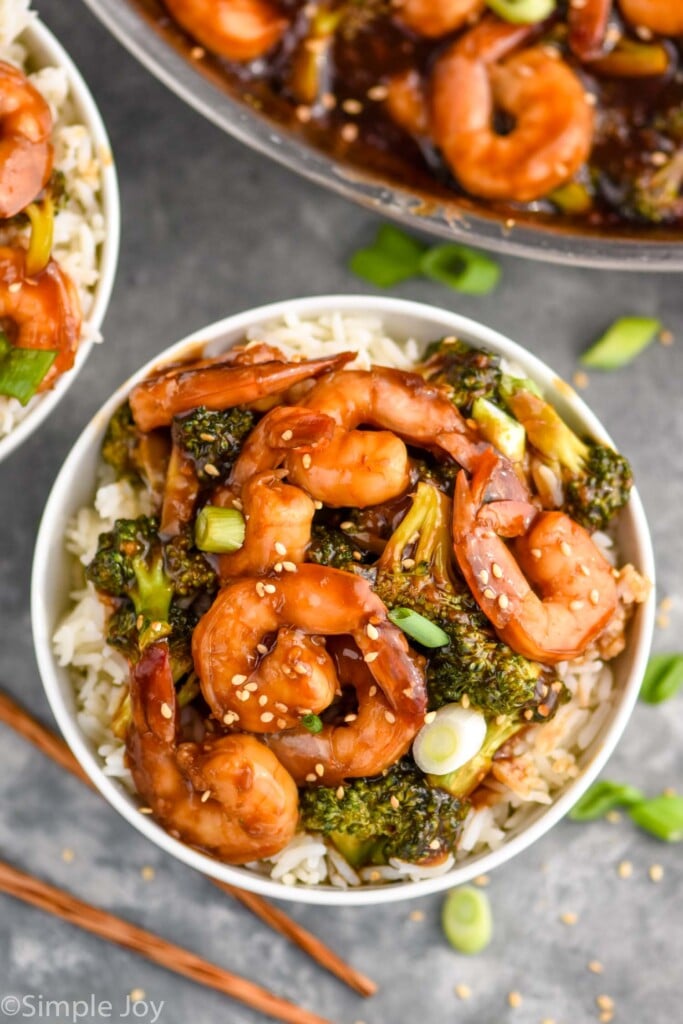 Stir Fry Sauce
The thing that I might love the most about this recipe is the sauce. It went through a few rounds of testing before I heard Nathan say, "Oh! Wow. That is really good." And then I knew it was ready for you.
Water: I like starting this sauce with water because every other ingredients is packed with flavor. This adds liquid without flavor.
Teriyaki Sauce: This slightly sweet sauce is the perfect addition. I recommend finding a brand that you really like and sticking with it.
Low Sodium Soy Sauce: You will definitely want to use low sodium soy sauce or the overall sauce will be too salty. If you don't have low sodium, cut the amount down to 2 tablespoons, and add an extra tablespoon of water.
Hoisin Sauce: This sauce is thick and often used as a glaze for meat or a dipping sauce. It is both sweet and salty. Here, we are adding it because it's another layer of flavor to the sauce.
Garlic: The flavor that the garlic cloves bring to this recipe is just perfect.
Ginger: I love using fresh ginger in stir fry recipes. Please see my tips and tricks below.
Brown Sugar: We are adding a dash of brown sugar to this recipe to help balance the saltiness of the sauces we are using.
Chili Paste: We are obsessed with this chili paste and use it in a lot of recipes. If you like your dishes spicy, you will want to add another teaspoon or two than we call for.
Corn Starch: This simple ingredient is what helps thicken the sauce once it hits the heat, making it coat the broccoli and shrimp perfectly.
Teriyaki Sauce
Teriyaki Sauce is a great ingredient used in many delicious stir fry recipes. It is easy to make at home with a few simple ingredients.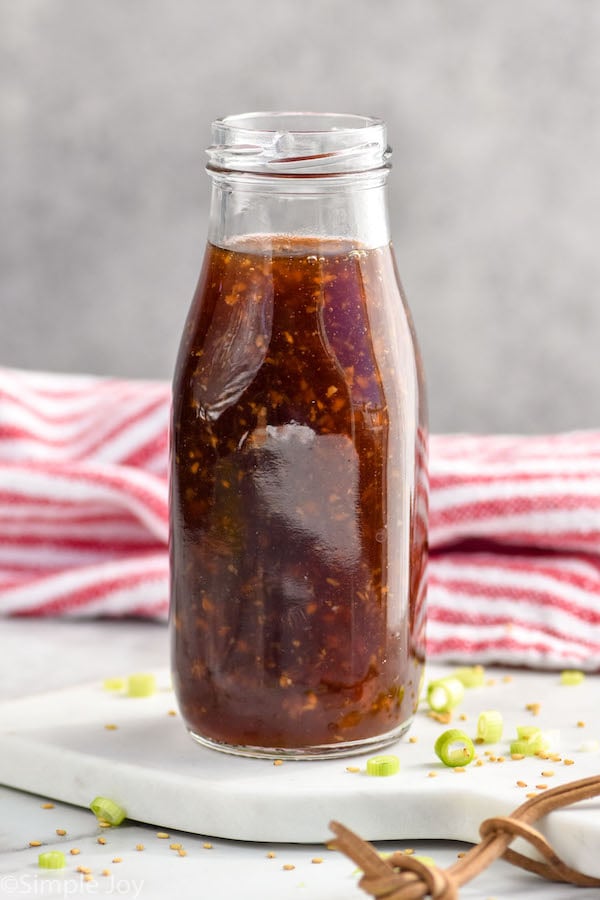 Using Ginger in Recipes
As I mentioned above, I love using ginger in recipes. It makes the flavor of whatever sauce you are making more complex. There are two great options for ginger:
Fresh Ginger Root: You will need to peel it and then grate it. Leftovers can be stored in the freezer in an airtight container for up to three months. You can grate it from frozen.
Pre-grated Ginger: We love buying our ginger pre-grated. While it is not as cost-effective, it is a great time saver and we use exactly the amount we need. You can find tubes of it near the fresh herbs in most US grocery stores.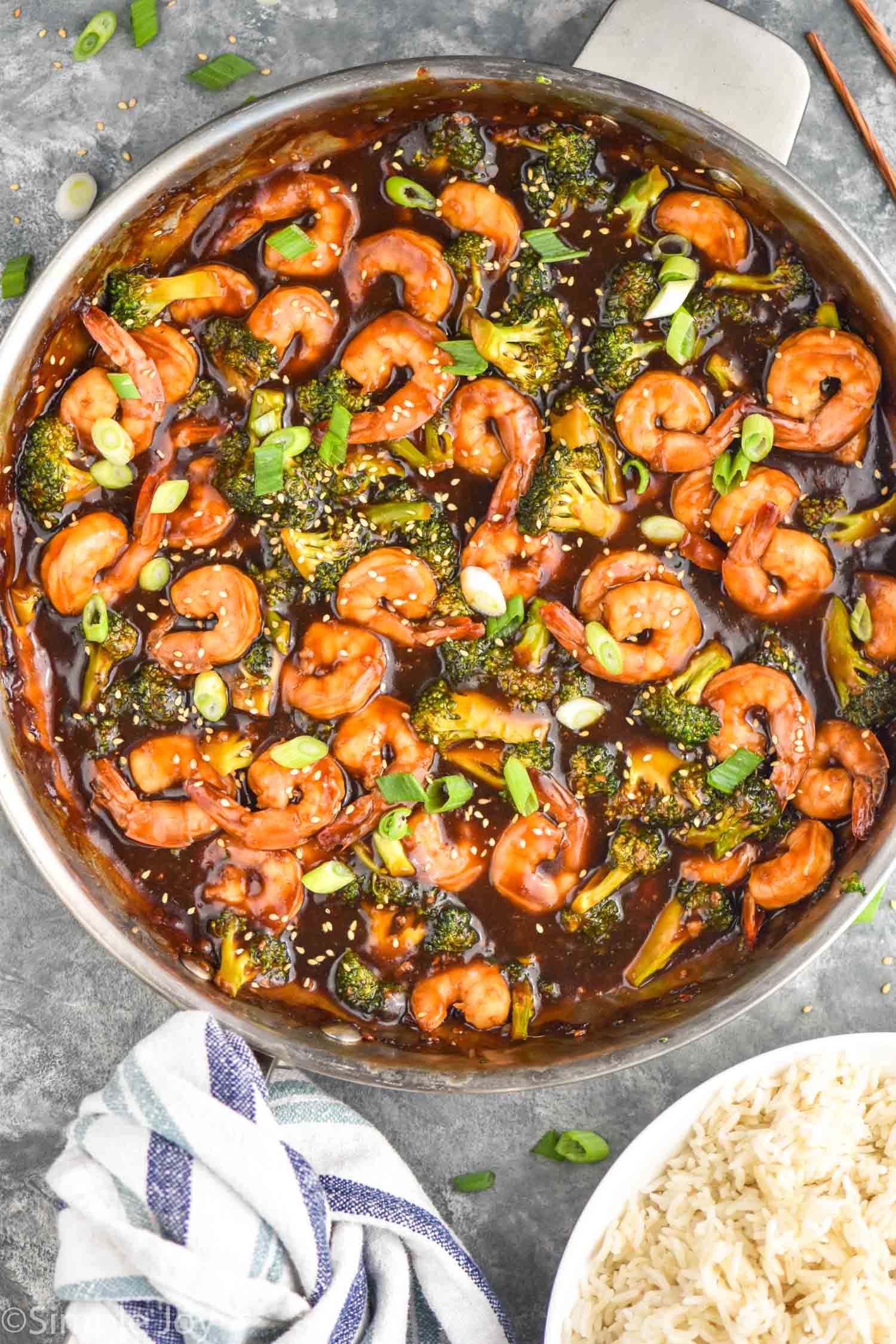 Thawing Shrimp
We are land dwellers here in this house, meaning that we don't have access to great fresh seafood. Because of that, we often resort to frozen shrimp. There are a few things to keep in mind in regards to frozen shrimp.
Be sure to buy frozen shrimp that is raw. (Of course you can buy raw shrimp that has had the tails removed. Cooking shrimp with tails on preserves some of it's flavor, but if you are eating with little kids, buy the ones without tails.)
Account for the thawing time when you are planning for this recipe. I often thaw my shrimp under cold running water and that only takes about 15 minutes. Be sure to follow the package instructions for thawing.
Your safest bet is to place the bag of frozen shrimp in the refrigerator overnight the day before you plan on making this.
Leftover Shrimp and Broccoli
If you have leftovers, they can be stored in an airtight container in the refrigerator for up to four days. When you want to reheat your leftovers, remove just the portion you want to eat from the container. Heat over medium-low heat for just a few minutes, until the dish has warmed through. If it is too thick, add a teaspoon or two of water to the sauce pan.
FAQ
Is shrimp and broccoli gluten free?
This is not a gluten free meal. The soy sauce has gluten in it. Additionally, most teriyaki sauces start with soy sauce, which as we just learned, has gluten. If you want to make this a gluten free meal, you will need to search out sauces that are labeled gluten free.
Is shrimp and broccoli healthy?
Yes, this is a relatively healthy dish. It comes in at about 340 calories per serving (not counting rice), and is high in protein while low in fat.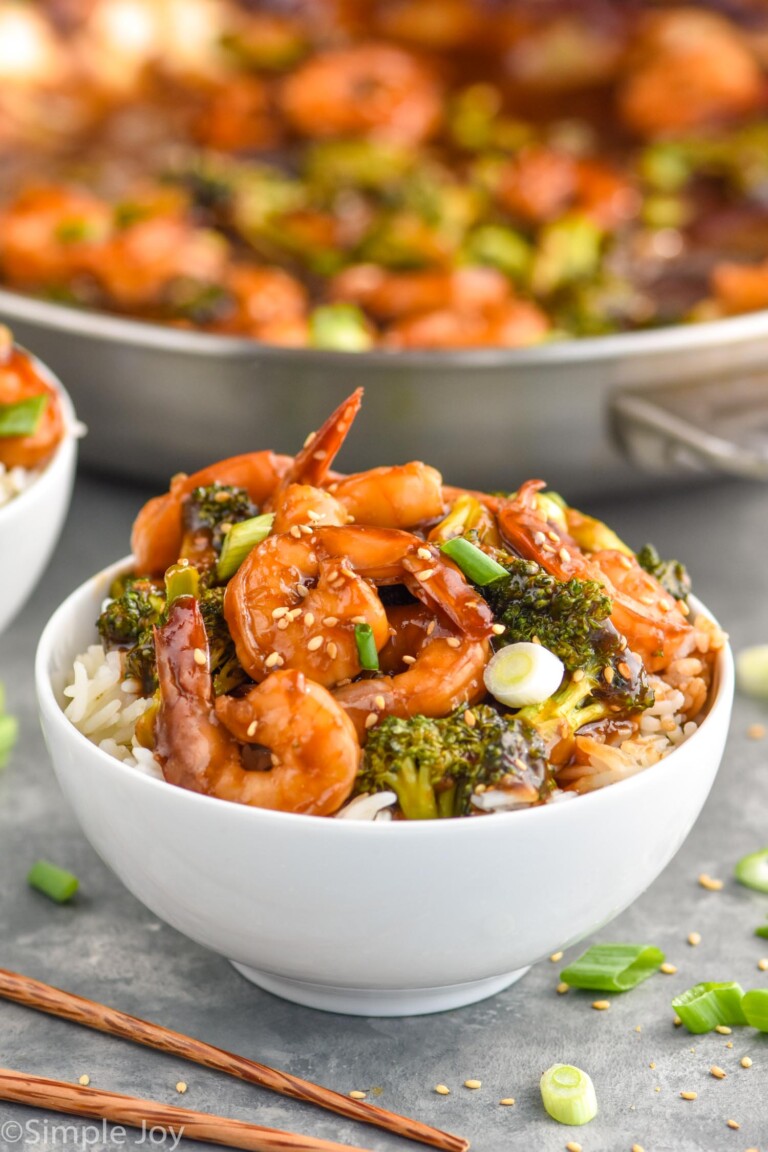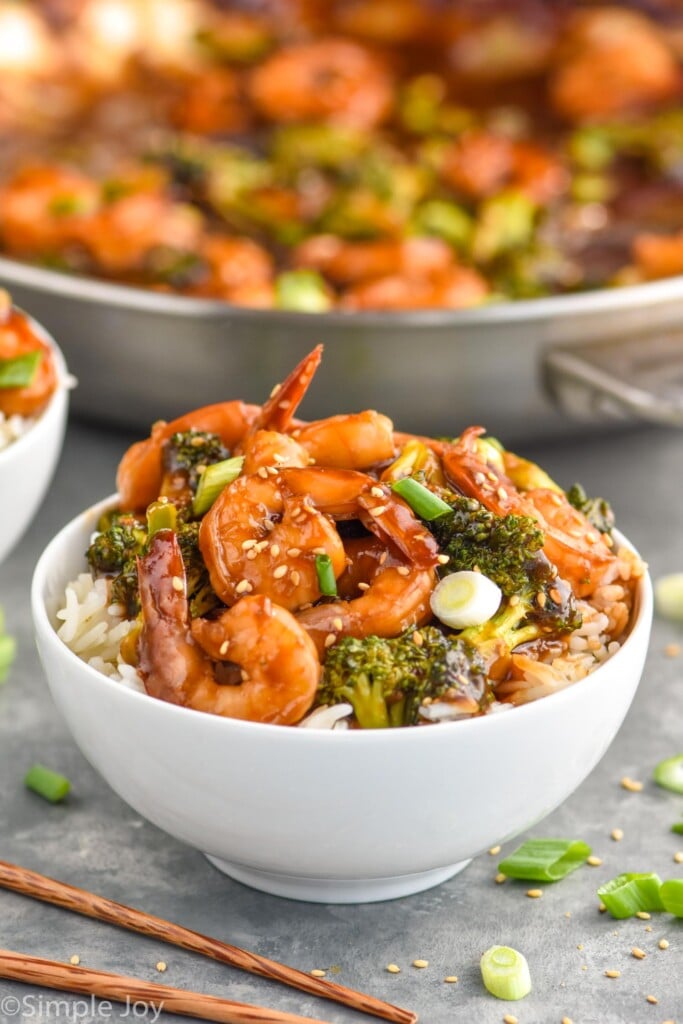 Other Shrimp Dishes
Shrimp is such a great lean protein. If you are looking for more great shrimp dishes, here are some of our favorites:
If you make this shrimp and broccoli stir fry, or any of my other recipes, leave me a comment and let me know what you think!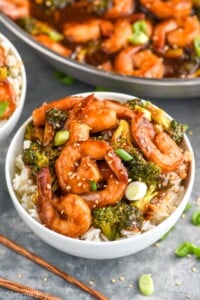 Shrimp and Broccoli Stir Fry
This Shrimp and Broccoli Stir Fry is a fast dinner that is done in about 20 minutes. Not only that, but it has the most amazing stir fry sauce that you are going to fall in love with.
Ingredients
1

tablespoon

olive oil

2

pounds

shrimp

peeled, deveined, and patted dry

4

cups

broccoli florets
Sauce
1/4

cup

water

1/4

cup

teriyaki sauce

3

tablespoons

low sodium soy sauce

(if using regular, cut in half and then taste sauce before adding to stir fry)

2

tablespoons

hoisin sauce

4

cloves

garlic

2

tablespoons

ginger

(or 1 to 2 inches freshly grated) read more about using ginger here.

1/2

tablespoon

brown sugar

packed

2

teaspoons

chili paste

read more about chili paste here.

3

tablespoons

corn starch
Instructions
In a medium sized bowl, whisk together the water, teriyaki sauce, soy sauce, hoisin sauce, garlic, ginger, chili paste, brown sugar, and corn starch.

Heat the olive oil in a large 12 inch skillet, over medium heat. Add the shrimp and cook for 1 to 2 minutes on each side being careful not to overcook. If the shrimp aren't fully pink at this point, it is okay, they will finish cooking in the following steps.

Add the broccoli and cook for 2 to 3 minutes, covered, stirring often.

Pour in the sauce and allow it to thicken for about two minutes while stiring. The sauce will not only thicken, it will turn a darker brown color.

Serve over rice and enjoy!
Calories:
334
kcal
(17%)
Carbohydrates:
22
g
(7%)
Protein:
51
g
(102%)
Fat:
5
g
(8%)
Saturated Fat:
1
g
(6%)
Polyunsaturated Fat:
1
g
Monounsaturated Fat:
3
g
Trans Fat:
1
g
Cholesterol:
365
mg
(122%)
Sodium:
1554
mg
(68%)
Potassium:
1017
mg
(29%)
Fiber:
3
g
(13%)
Sugar:
8
g
(9%)
Vitamin A:
573
IU
(11%)
Vitamin C:
83
mg
(101%)
Calcium:
207
mg
(21%)
Iron:
3
mg
(17%)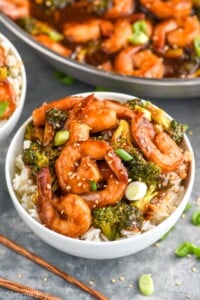 did you make this
Shrimp and Broccoli Stir Fry