Chicken Lo Mein is a dinner that your whole family will fall in love with. Made with the best sauce, chicken, lots of vegetables, and noodles, this is a recipe you can come back to over and over.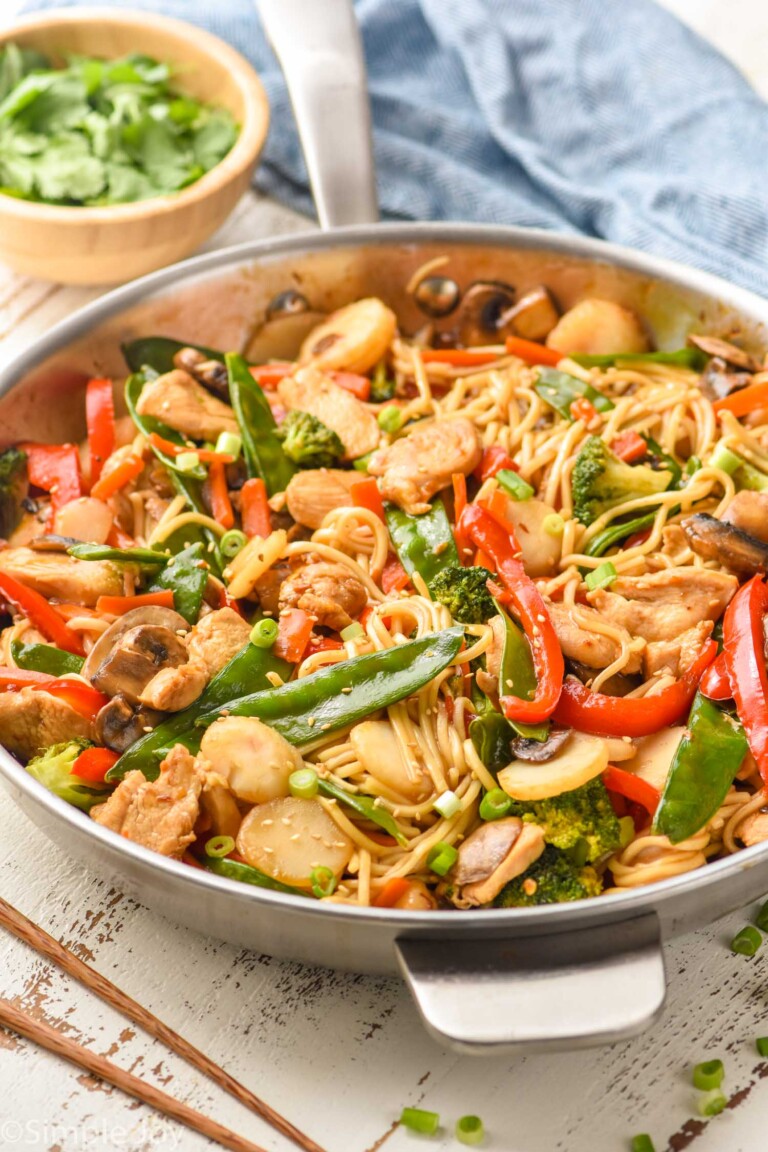 Meals that seem like take out are my very favorite. This Chicken Lo Mein will rival any of your local take out restaurants. In fact, I'm willing to bet that you will love it more. The sauce that goes with this recipe makes it over the top delicious.
This is a quick spin on our Beef Lo Mein that cuts out the marinating time. Both recipes are delicious and will become regulars in your dinner rotation.
Reader Review
Huge hit! Thank you so much! My 16-year old is picky, but she was in Heaven!
What is Lo Mein
Lo Mein is a noodle dish that originates from China, but has been very Americanized. The Americanized version is a combination of stir fried noodles, meat, and vegetables. That is the take on lo mein we are doing here.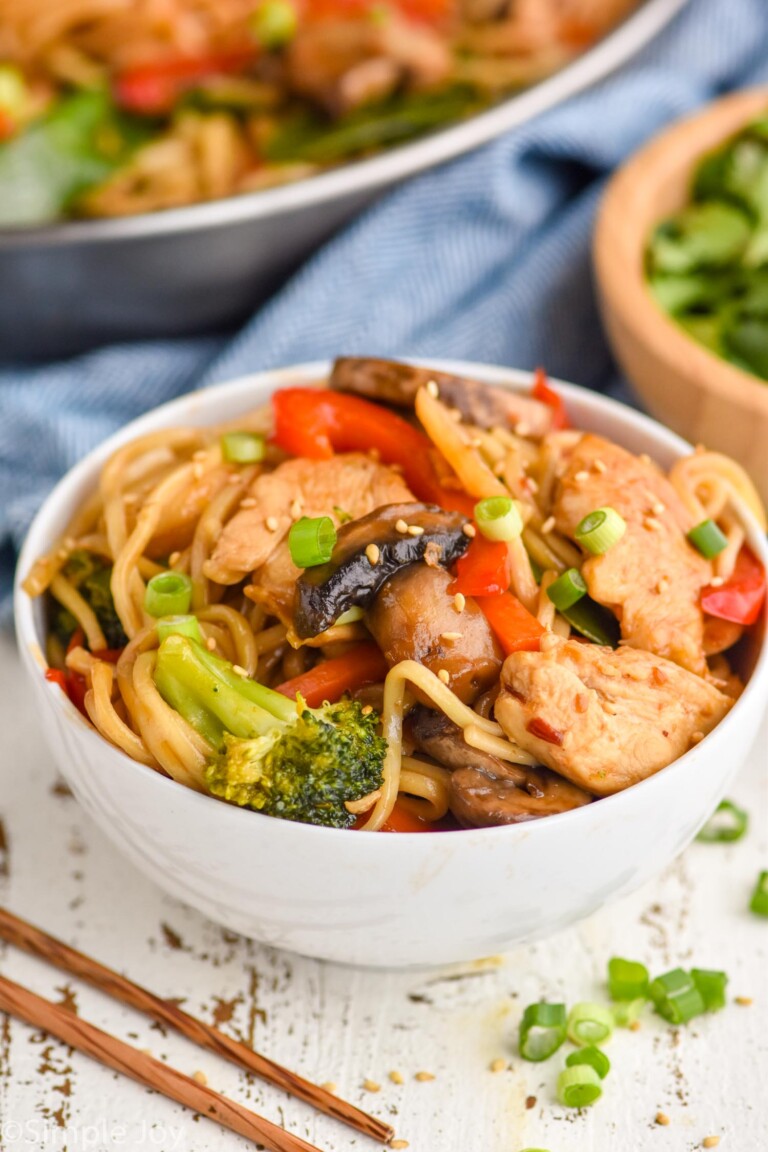 How to Make Chicken Lo Mein
This is a brief overview of how to make this easy and delicious take out spin off. For the full recipe with all of the measurements, please see the recipe card at the bottom of the post.
Cook the lo mein noodles. We are going to stir the cooked noodles into the dish at the very end, but it is a good idea to boil them while you are making the rest of the dish.
Make the sauce. In a small bowl whisk together soy sauce, brown sugar, oyster sauce, chili paste, and cornstarch. Set it aside.
Cook the chicken and vegetables. Start by sautéing the chicken in some sesame oil. You can cook it for just a few minutes, no need to cook it all the way through, it will finish cooking with the vegetables.
Combine everything. Add the sauce and noodles to the skillet with the cooked chicken and vegetables. Allow the sauce to thicken a little and then serve and enjoy.
30 Minute Chicken Dinners
Looking for more fast chicken recipes? Look no further! Some of my most popular recipes!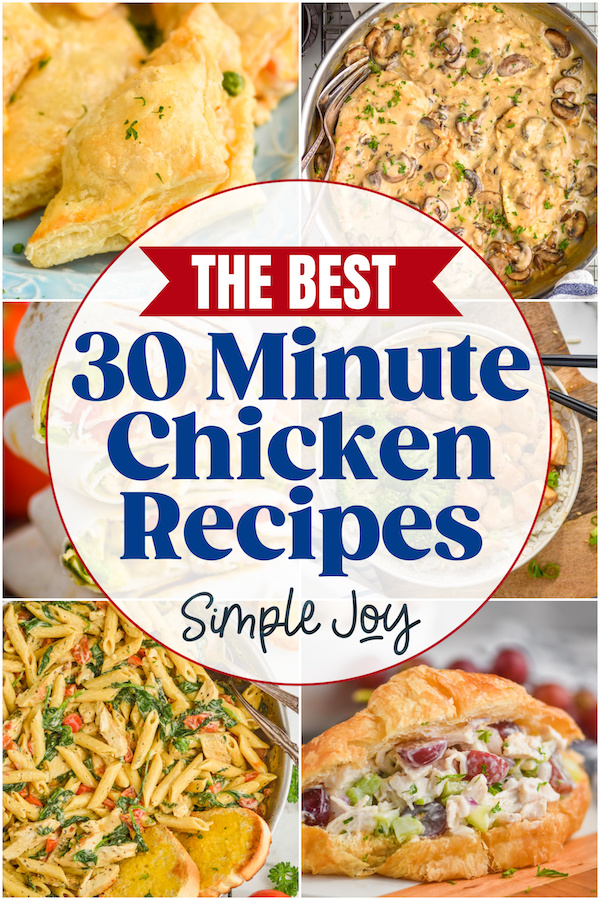 Lo Mein Noodles
Traditionally, Lo Mein is made with egg noodles. In the United States you can find a variety of noodles that are labeled "Lo Mein" and are made with wheat. These noodles are easy to find in the international aisle of the grocery store.
In our Beef Lo Mein, we use a wider noodle. Either that or the type of lo mein noodles you see pictured here will work. You can also replace lo mein noodles with any kind of noodle your family loves, even just typical spaghetti. It will work in this recipe and you will love it.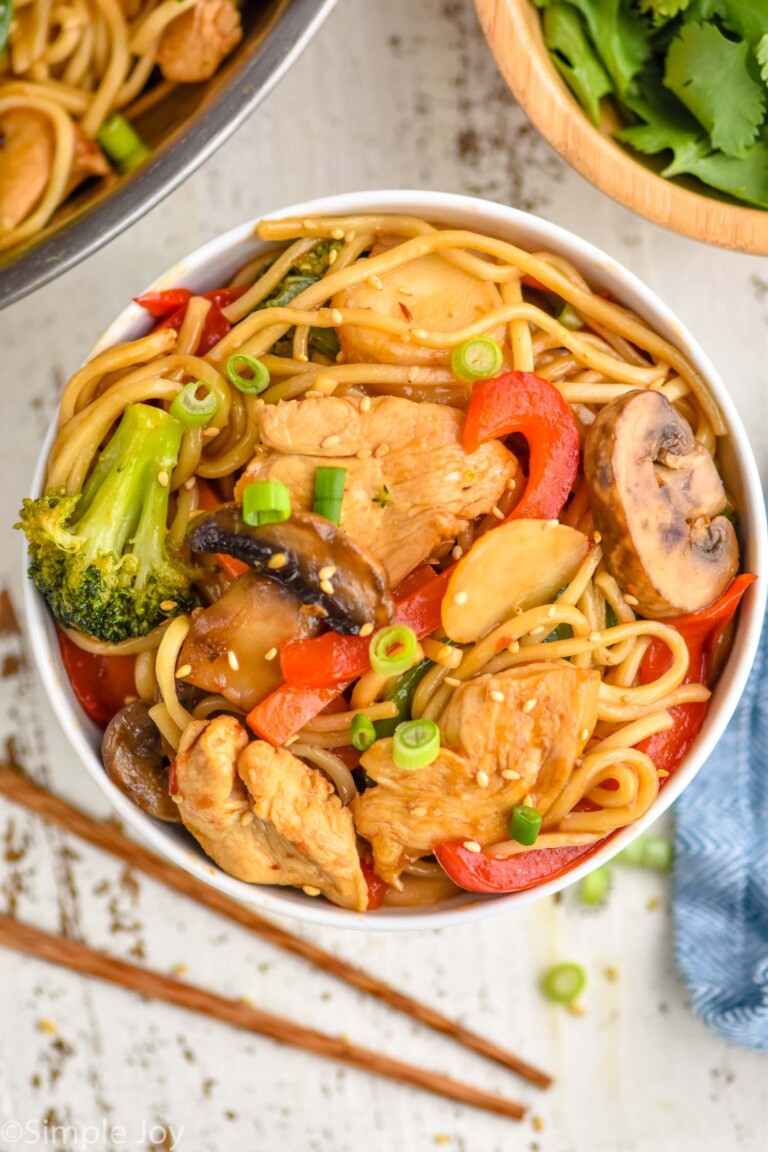 Lo Mein Sauce
The sauce for this recipe comes together with just a few ingredients, but it is is the thing that will put this recipe over the top for you.
Reduced Sodium Soy Sauce: It is very important that you use reduced sodium soy sauce. The regular will make the dish too salty. If you can't find it, you can replace some of the regular soy sauce with water.
Brown Sugar: We used light brown sugar, but dark would work too. It adds just the most subtle sweetness to the sauce while balancing the other flavors.
Chili Sauce: This is the brand of chili sauce we use. In the recipe we call for 1 to 2 tablespoons. This sauce does add heat, so if you are sensitive to that, use only 1 tablespoon.
Oyster Sauce: This sauce is made from literally cooking oysters. So if you have a shellfish allergy, you will want to swap it with Hoisin sauce. It will change the flavor, but you will still enjoy it. Otherwise there are vegetarian oyster sauces on the market.
Corn Starch: This will help the sauce thicken after just a minute or two over the heat.
Substitutions and Variations
Use a different noodle. As mentioned above, if you can't find lo mein noodles, any long noodle will work in this recipe. Soba noodles, though Japanese, would be really delicious here.
Swap Oyster Sauce with Hoisin Sauce. As mentioned above if you are allergic to shellfish or have an aversion to oyster sauce you can use hoisin sauce as a replacement. Use the same amount as is called for of the oyster sauce.
Use different vegetables. If you aren't in love with the veggies we call for here, you can use others. In the end you want to use about 6 cups of vegetables. So, for example, if you take out the mushrooms, replace it with more of something else. You can also really speed things up by using a bag of frozen stir fry vegetables.
Reheating Leftovers
Left over Lo Mein Chicken can be stored in the refrigerator for three to four days. You can reheat it in the microwave, covered, for about 2 to 3 minutes, stirring once in the middle.
If you are reheating a large amount, consider making more of the sauce and adding it to a skillet with the leftovers. It's a great way to reheat a lot without losing any moisture or flavor.
FAQ
Are lo mein noodles gluten free?
No, most lo mein noodles sold in the United States have gluten in them. That being said, there are so many great gluten free noodles on the market these days that could be used here.
Where can I find lo mein noodles?
These days, lo mein noodles are very easy to find in the international aisle of United States grocery stores. If you can't find it there, try going to a specialty Asian grocery store – they have so many great finds. Otherwise, try Amazon.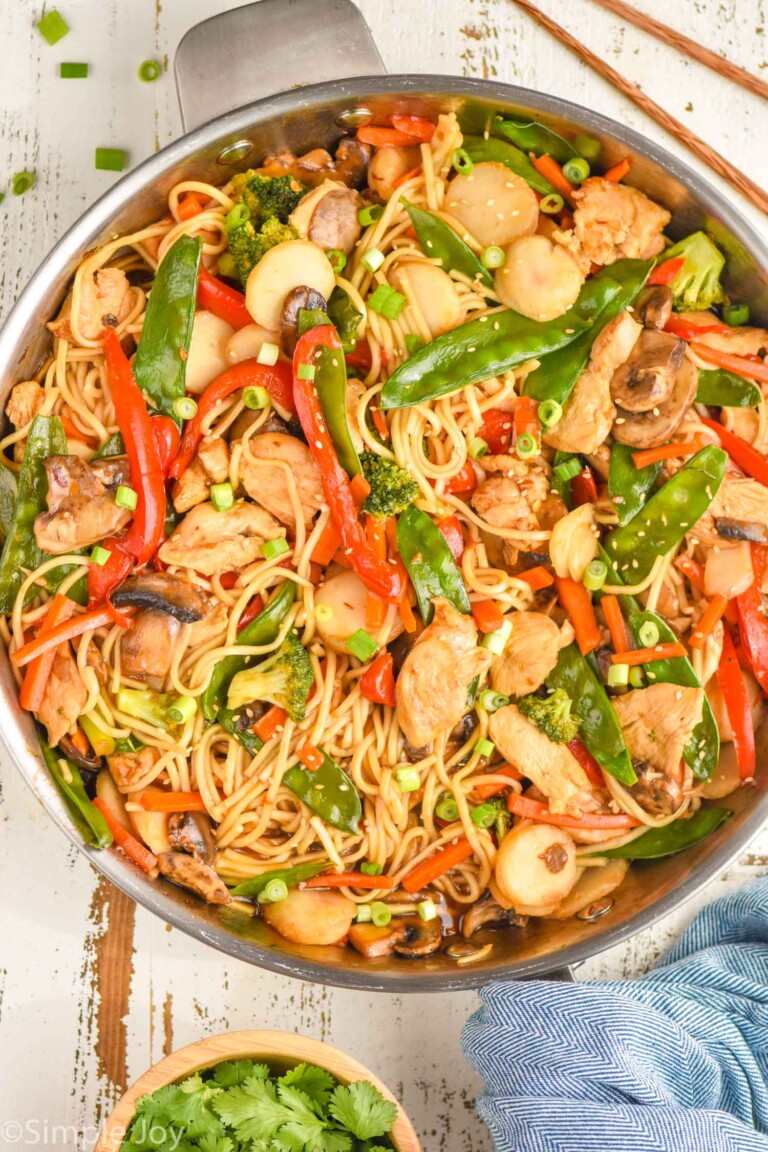 Other Great Take Out Recipes
If you make this Chicken Lo Mein recipe or any of my other recipes, leave me a comment and let me know what you think!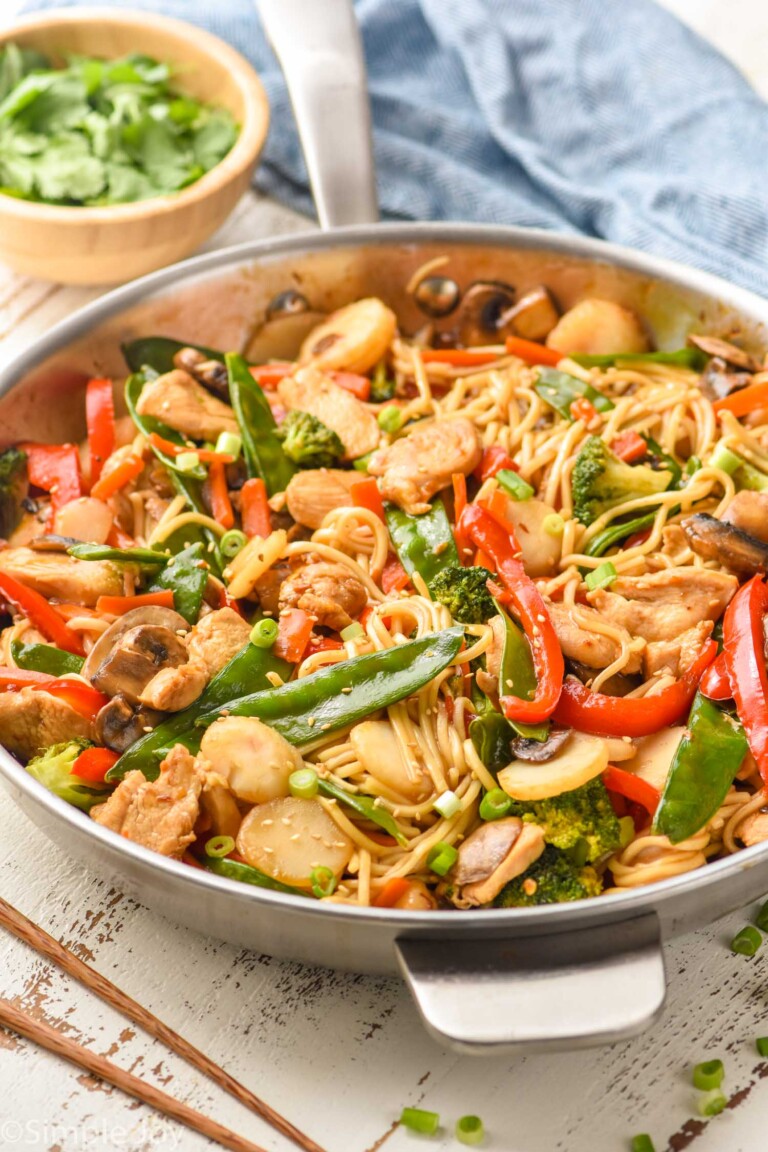 Chicken Lo Mein
Chicken Lo Mein is a dinner that your whole family will fall in love with. Made with the best sauce, chicken, lots of vegetables, and noodles, this is a recipe you can come back to over and over.
Ingredients
1

pound

boneless skinless chicken breasts

cut thin

3

tablespoons

sesame oil

1/3

cup

reduced sodium soy sauce

1/4

cup

brown sugar

2

tablespoons

oyster sauce

1 – 2

tablespoons

chili sauce

(depending on how spicy you want it)

2

teaspoons

corn starch

8

ounces

lo mein noodles

1

red bell pepper

sliced into thin strips

8

ounces

white mushrooms

sliced

2

carrots

cut into matchstick pieces

2

cups

broccoli florets

1

cup

snow peas

8

ounces

water chestnuts

drained

scallions

diced for garnish

sesame seeds

for garnish
Instructions
Heat a large pot of water until it comes to a roaring boil. Season with salt. Cook the noodles according to package instructions. Drain the noodles, drizzle with 1 teaspoon sesame oil, and cover to keep warm.

In a small bowl, whisk together 1/3 cup reduced sodium soy sauce, 1/4 cup brown sugar, 2 tablespoons oyster sauce, 1-2 tablespoons chili sauce, and 2 teaspoons cornstarch. Set aside.

Heat 3 tablespoons of sesame oil in a large skilet. Add the chicken and cook for 3 to 4 minutes – no need for it to cook all the way through.

Add the vegetables and cook, stirring occasionally, until tender, about 5 to 7 minutes, covered. Add the sauce, water chestnuts, and noodles to the skillet and stir to combine. Cook for an additional minute or two to allow the flavors to combine.
Serving:
2
cups
Calories:
484
kcal
(24%)
Carbohydrates:
66
g
(22%)
Protein:
29
g
(58%)
Fat:
12
g
(18%)
Saturated Fat:
2
g
(13%)
Polyunsaturated Fat:
4
g
Monounsaturated Fat:
4
g
Trans Fat:
1
g
Cholesterol:
58
mg
(19%)
Sodium:
1594
mg
(69%)
Potassium:
924
mg
(26%)
Fiber:
6
g
(25%)
Sugar:
19
g
(21%)
Vitamin A:
5288
IU
(106%)
Vitamin C:
79
mg
(96%)
Calcium:
60
mg
(6%)
Iron:
2
mg
(11%)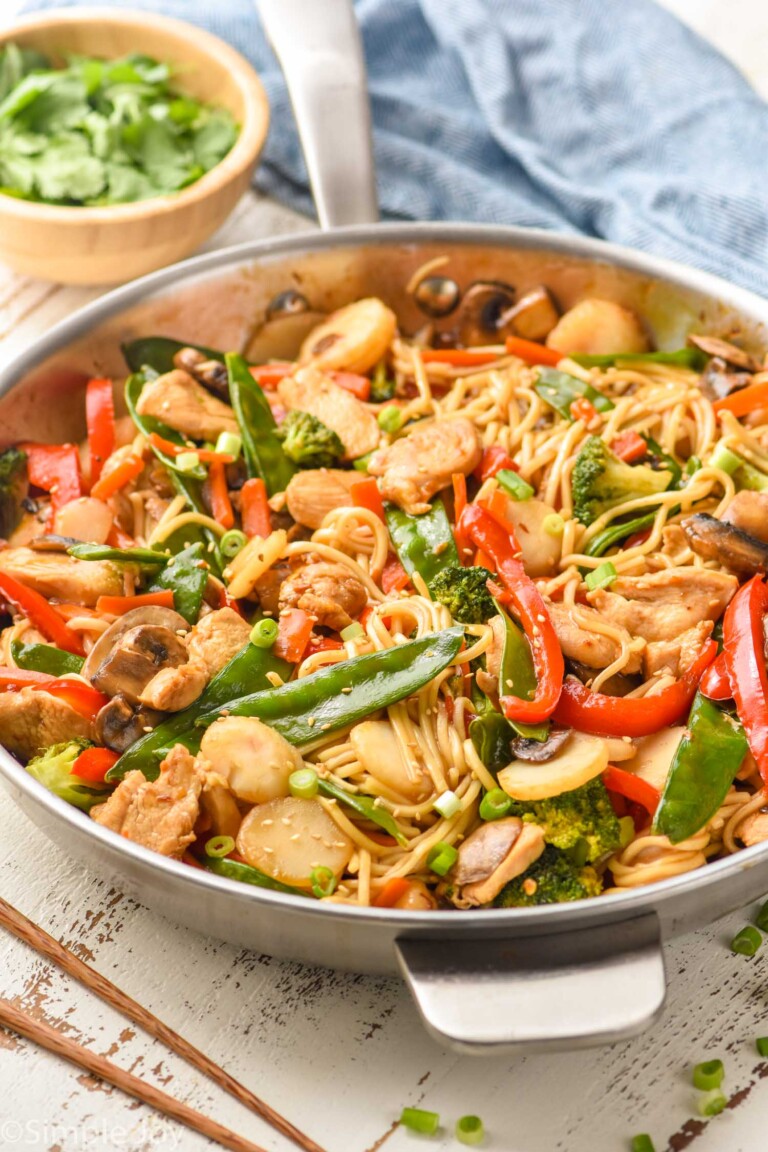 did you make this
Chicken Lo Mein