Cauliflower Rice is the perfect way to take your favorite dinners and make them into a lower-carb option. Easy to make and very filling, you will come back to this healthy option over and over again.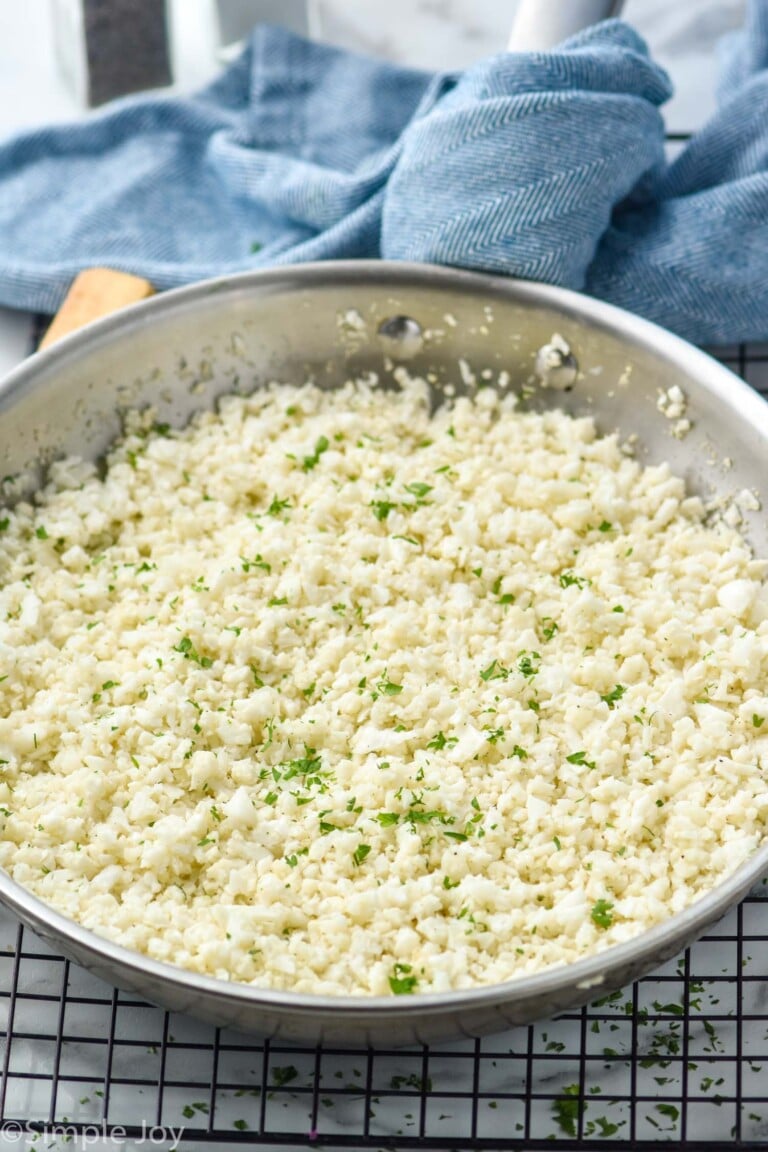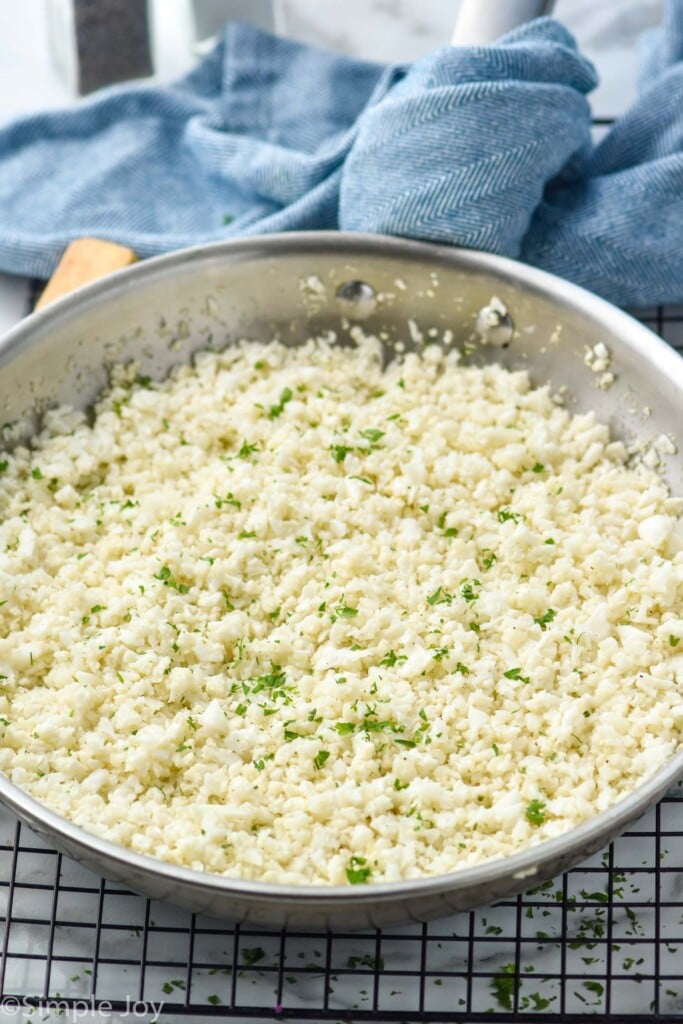 Over the last year or so, I have gotten so many requests for more low-carb options on Simple Joy. I am slowly working on this and building up a great library of low-carb recipes that you can depend on. These recipes are not only delicious but are great if you are following a low-carb diet.
One problem that I have run into is with my great love of stir fries. They, themselves, have very few carbs. However, they are often served over rice, which kills them as a low-carb dish. This Cauliflower Rice recipe is sliding in as the perfect solution!
There is one important thing to keep in mind: If you go into cauliflower rice thinking you won't notice the difference you will be disappointed. If, however, you go into cauliflower rice realizing that it will taste like cauliflower, but will bulk out your dinner and keep you eating low carb, you will be happy as a clam.
What is Cauliflower Rice
Cauliflower Rice is cauliflower that has been cut very small (to resemble the size of rice) and has been sauteed. While it is delicious and is a great low-carb alternative to regular rice, it does not have the taste of rice.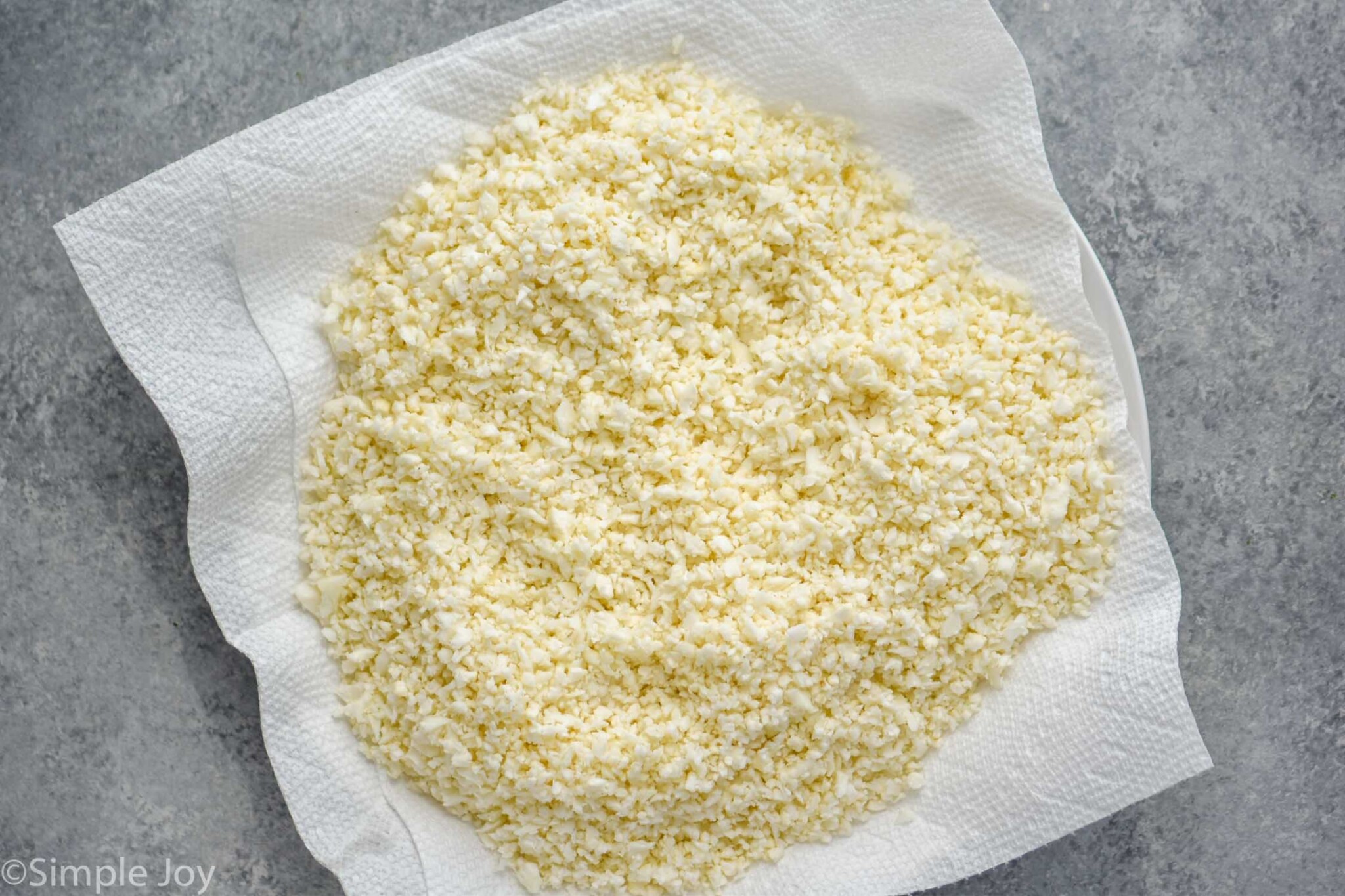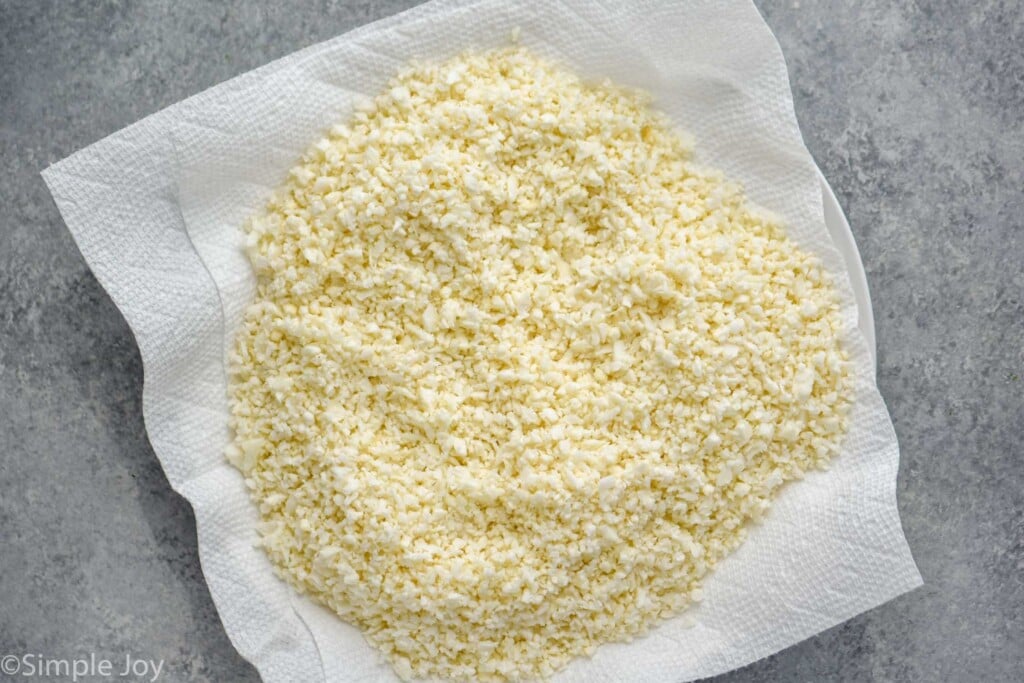 How to Make Cauliflower Rice
This is a quick overview of how to make cauliflower rice so you can see how easy it is. You can get the full measurements in the recipe card at the bottom of the post. Keep in mind that it is also totally fine to skip sautéing the cauliflower.
Cut up the cauliflower. To cut the cauliflower into florets, it works best to quarter it first. (Please see detailed pictures on this below.)
Rice the cauliflower. Add the florets to a food processor to rice it. Alternatively, you can grate cauliflower quarters with the large size of a cheese grater.
Pat the cauliflower dry. Transfer the cauliflower to a paper towel-lined plate and pat dry.
Sauté the cauliflower. Using a small amount of oil, sauté the cauliflower until it appears translucent. Season with salt and pepper. Serve in your favorite dishes in place of rice.
Cutting Cauliflower
Cutting up cauliflower is easy and just a few simple steps. Start by removing any large pieces of greens that wrap around the cauliflower. Next, give the whole head a good rinse.
Now, cut the cauliflower in half. Cut each half into quarters. Then with one flat side of a quarter piece against the cutting board, cut at an angle to remove the thick stem.
(If you don't have a food processor, leave the stem in place, and use it to hold the cauliflower while you grate it using a cheese grater.)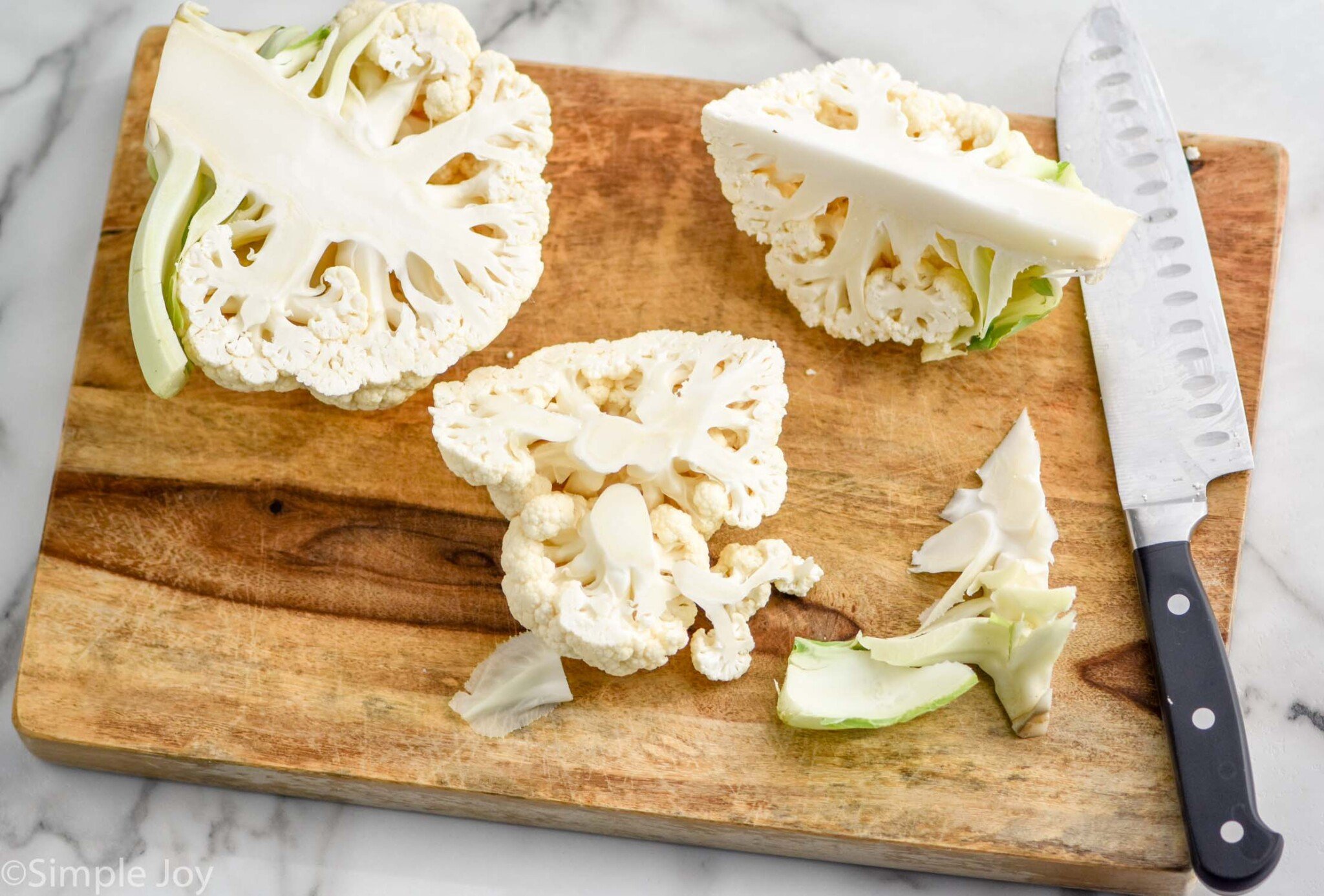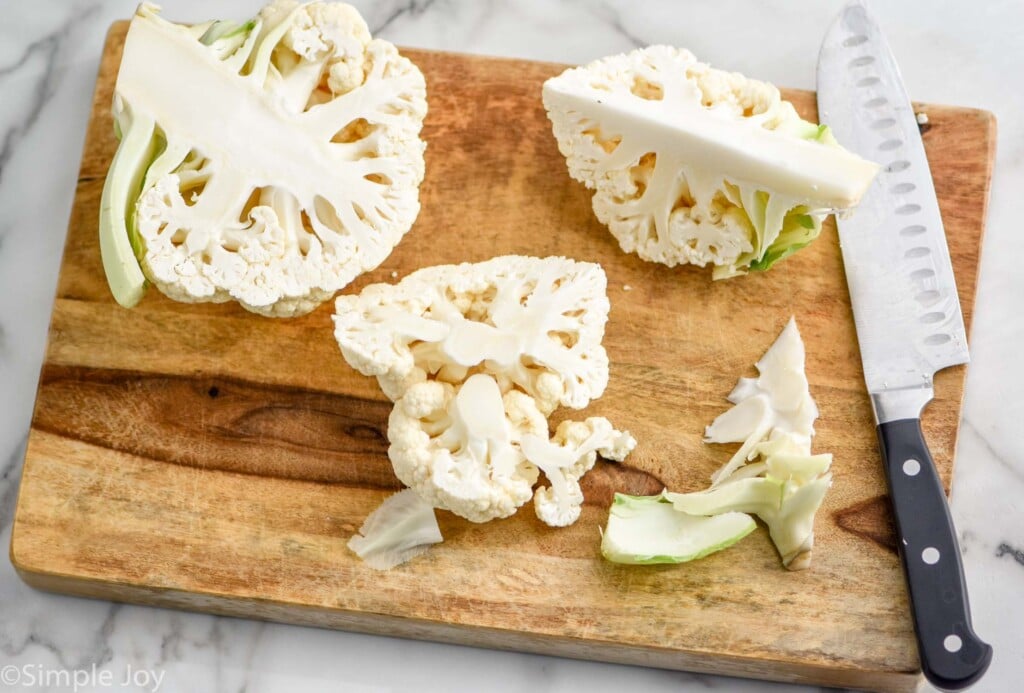 Now cut the quarters with the stems removed down into florets. Transfer the florets to a food processor.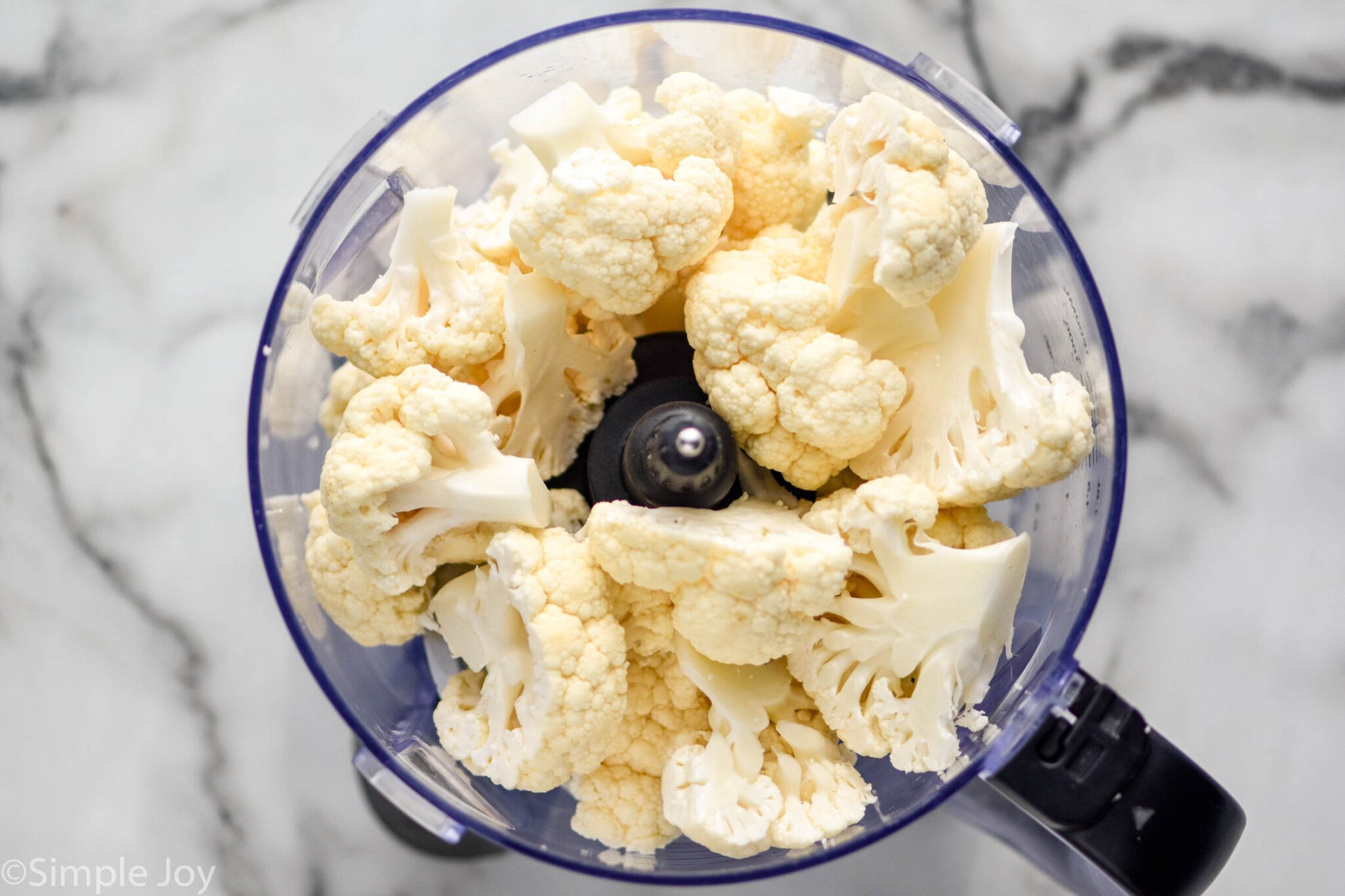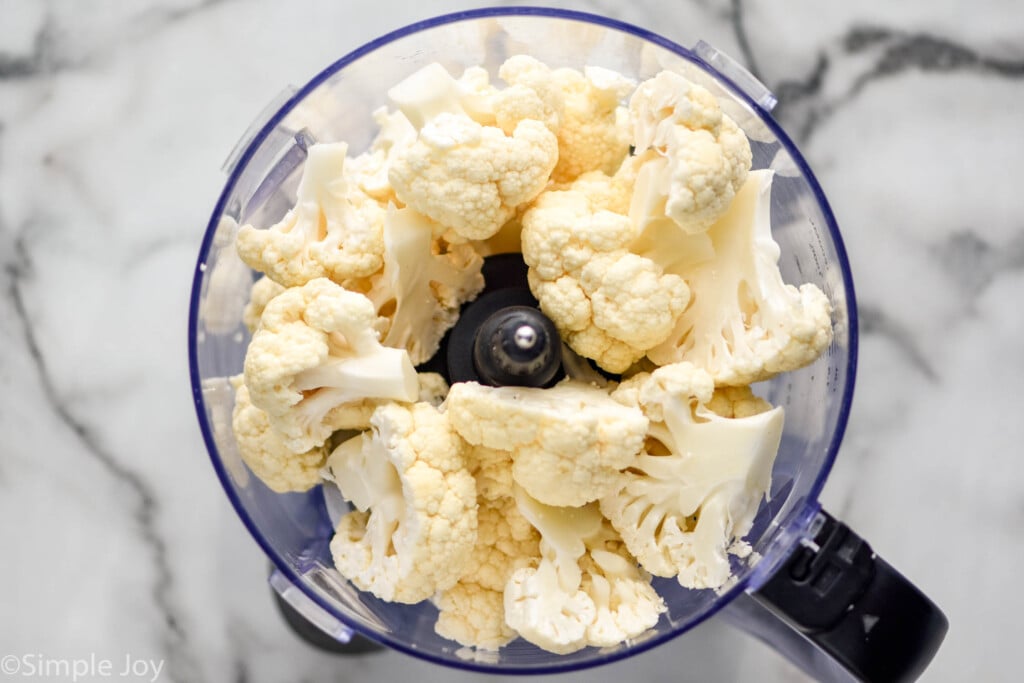 Pulse the food processor for about 30 seconds. Check to make sure there are no large pieces left. Be sure not to over-process the cauliflower.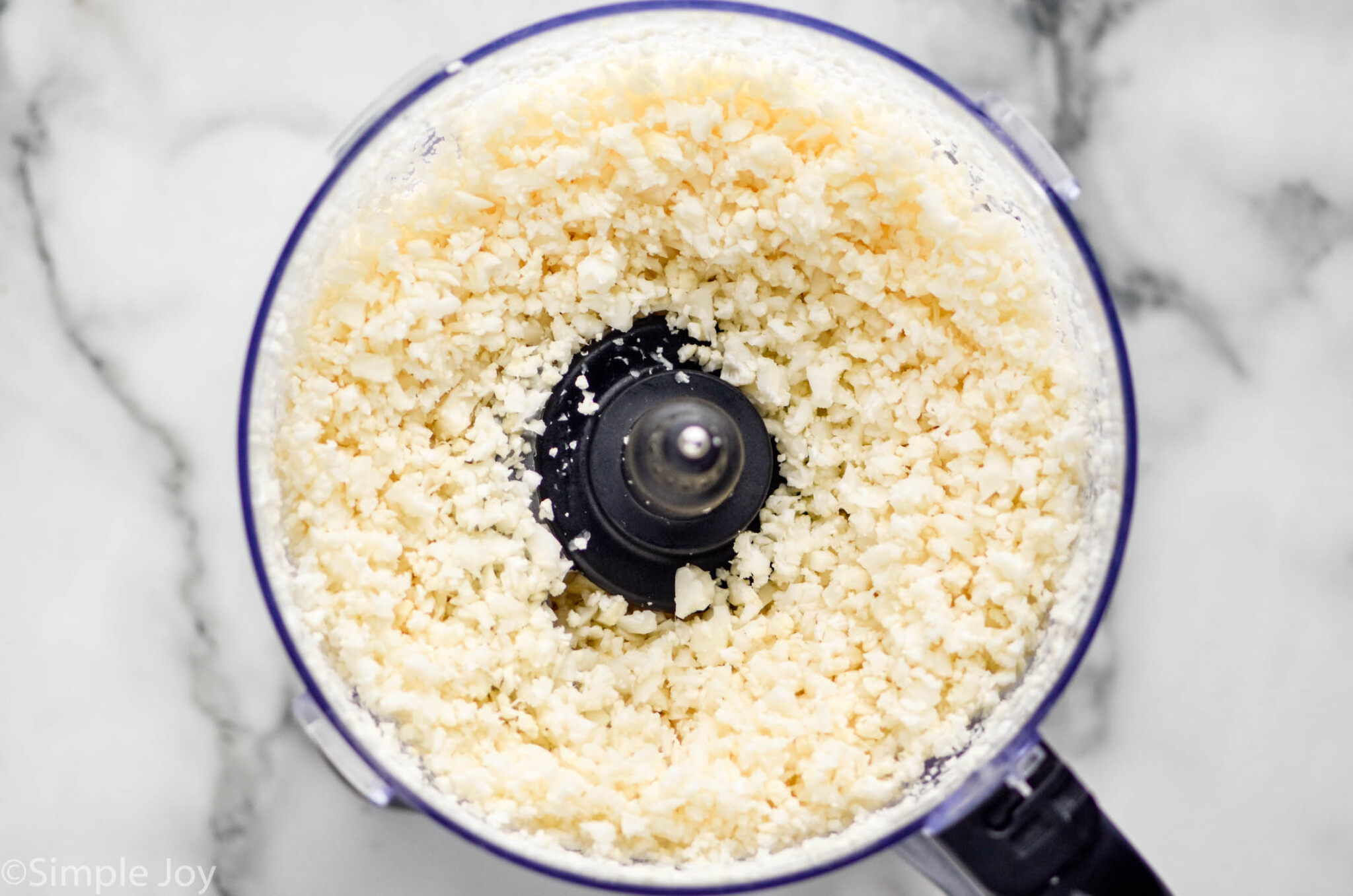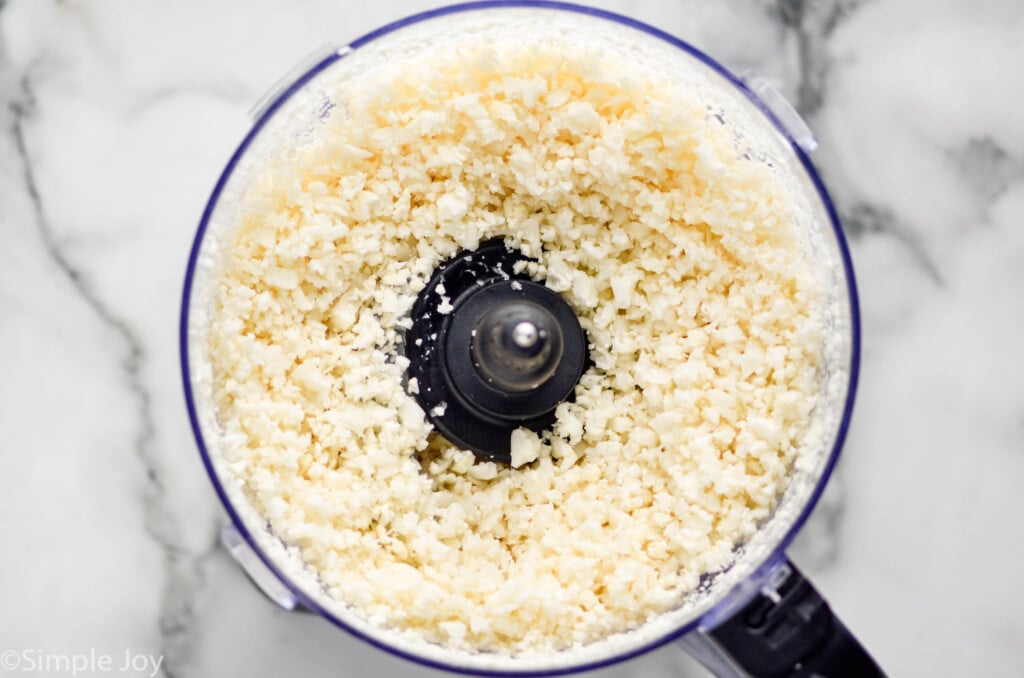 Ricing Cauliflower Without a Food Processor
If you don't have a food processor, you will want to pause when you get to the point of removing the large stem from the cauliflower. Use that thick stem to hold the quarter of the cauliflower head as you grate it on the large side of a box cheese grater.
Storing Cauliflower Rice
Cauliflower Rice can be stored in the refrigerator uncooked for five days. After sautéing the cauliflower rice, you should eat it within two days. As with any recipe, use your best discretion when it comes to leftovers.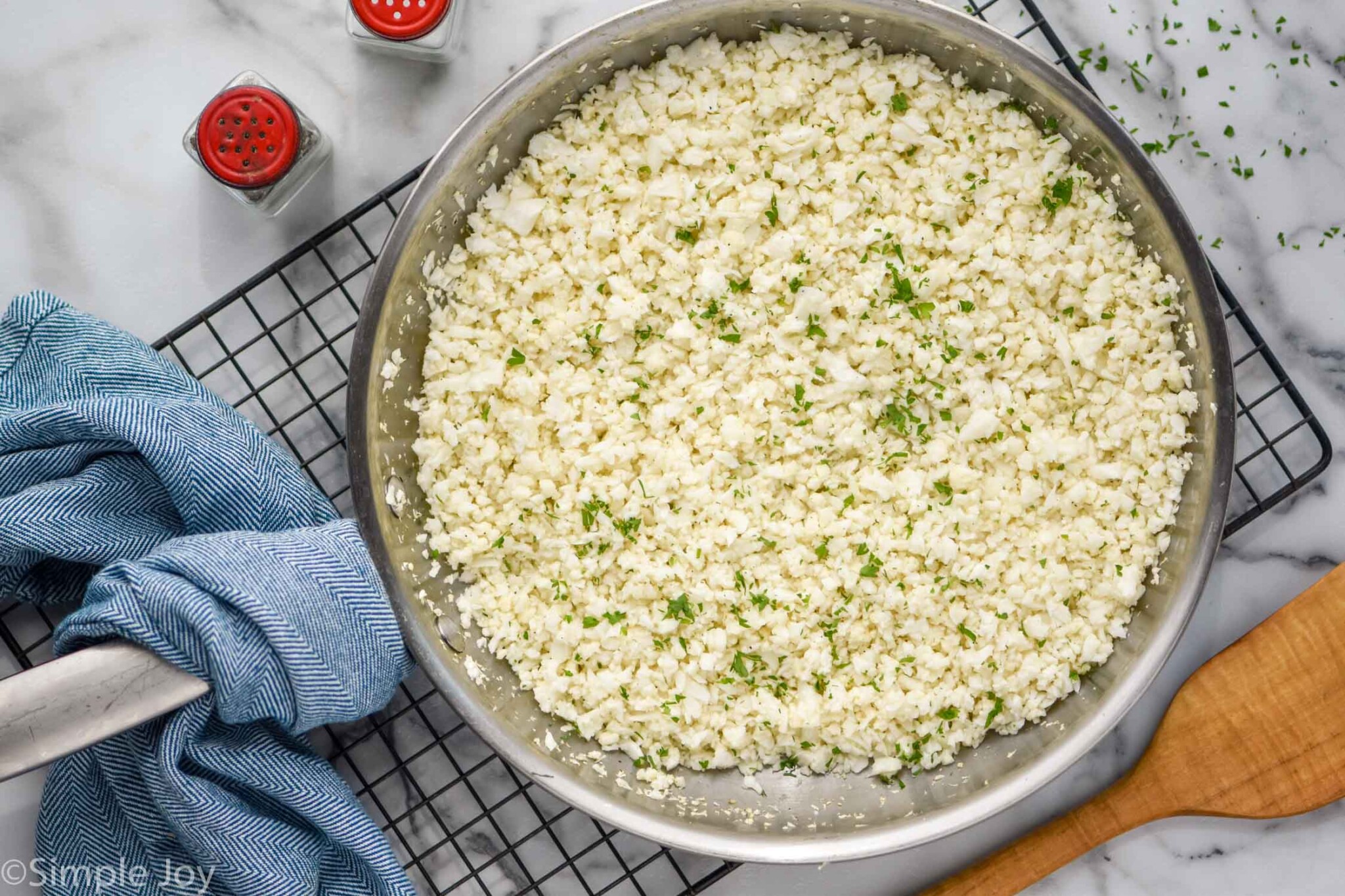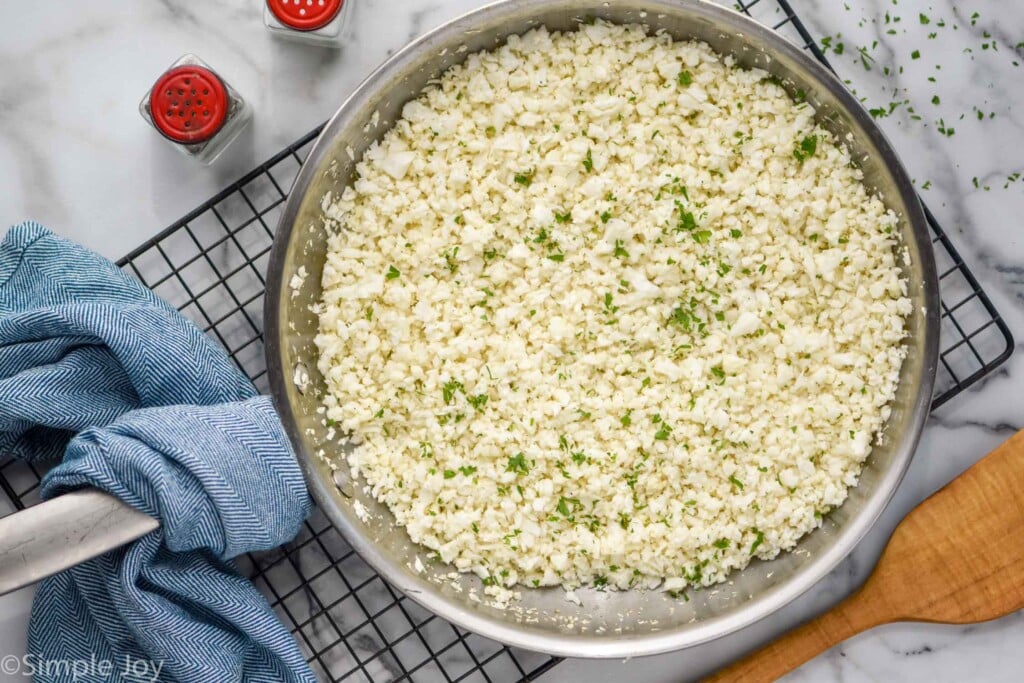 Freezing Cauliflower Rice
Cauliflower Rice is perfect for freezing! It can be frozen raw or after sautéing. Follow the subsequent steps for freezing.
Spread the cauliflower out into as thin of a layer as possible on a parchment paper or wax paper-lined rimmed baking sheet. If you have cooked the cauliflower, allow it to cool completely before freezing.
After freezing for about two hours, transfer the cauliflower to an air-tight container. It should break up into its small rice pieces and store easily in a plastic freezer bag.
Store in the freezer for up to three months.
When you are ready to use your frozen cauliflower rice, pull out the amount you want to use, and sauté it for a few minutes over low heat. This will both heat it up and help remove any leftover liquid from freezing.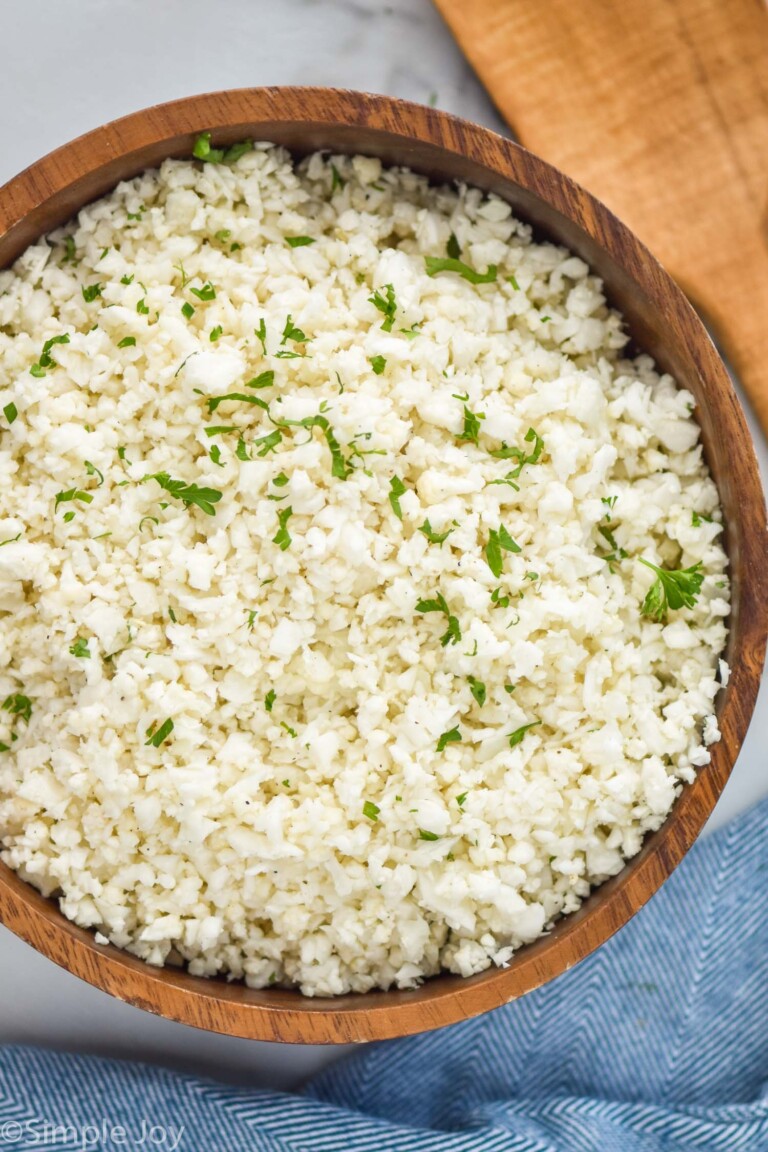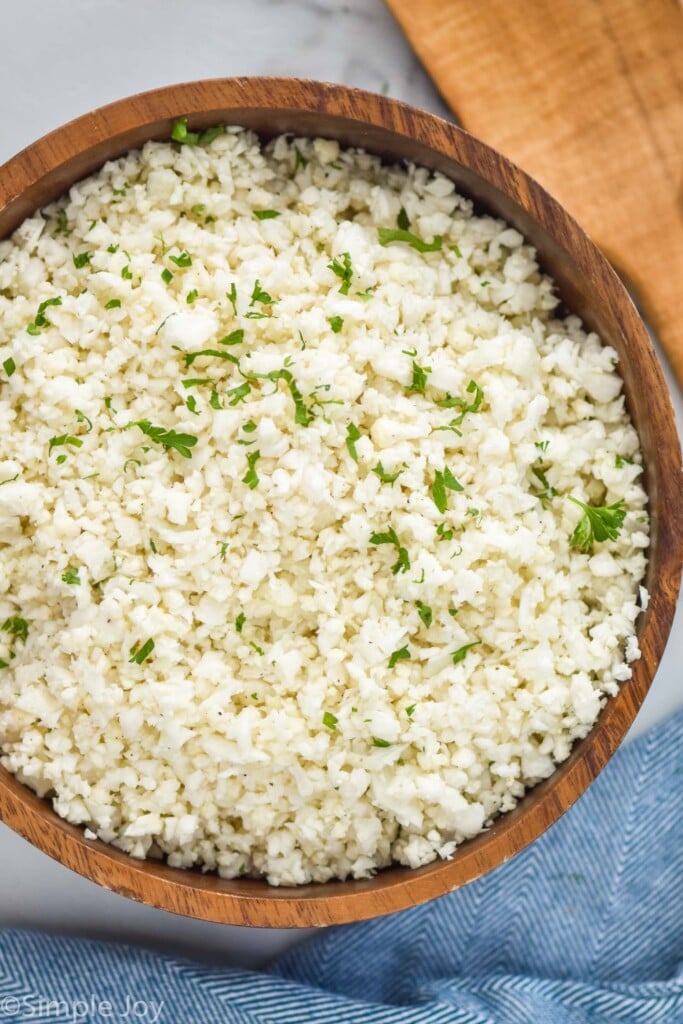 FAQ
How much rice does one head of cauliflower make?
If you are eating your cauliflower rice raw, it will make 6 cups. If you are sautéing it first, it will make 4 cups.
Is cauliflower rice good for you?
Yes. It is a great low-carb option, but it also uses a healthy fat (olive oil), and you get a great number of nutrients from the cauliflower.
Is cauliflower rice better than white rice?
The two are different. They have different tastes and textures. If you are looking for a great low-carb alternative to white rice, cauliflower rice is perfect. It provides a healthy and filling alternative that is also full of great nutrients.
How can I make cauliflower rice without a food processor?
Use a cheese grater! As mentioned above, don't remove the stem from the cauliflower after cutting it into quarters. Instead, use that to hold on to as you grate the cauliflower.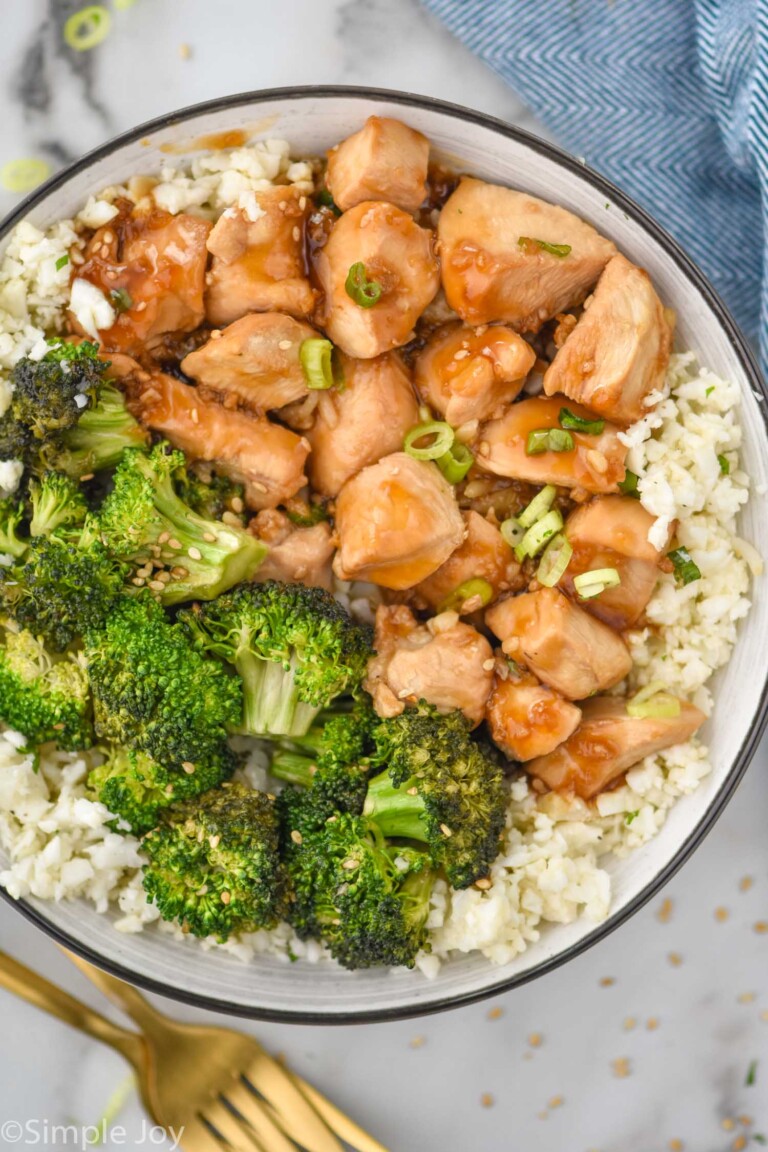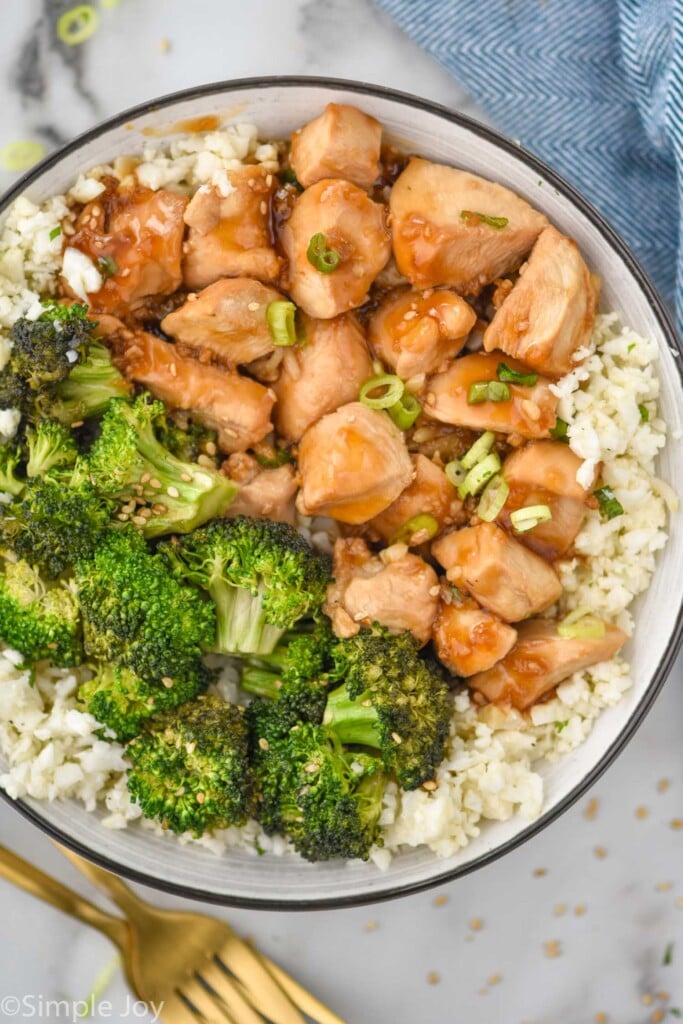 Dishes to Enjoy Cauliflower Rice
If you make this cauliflower rice recipe or any of my other recipes, please leave me a comment and let me know what you think!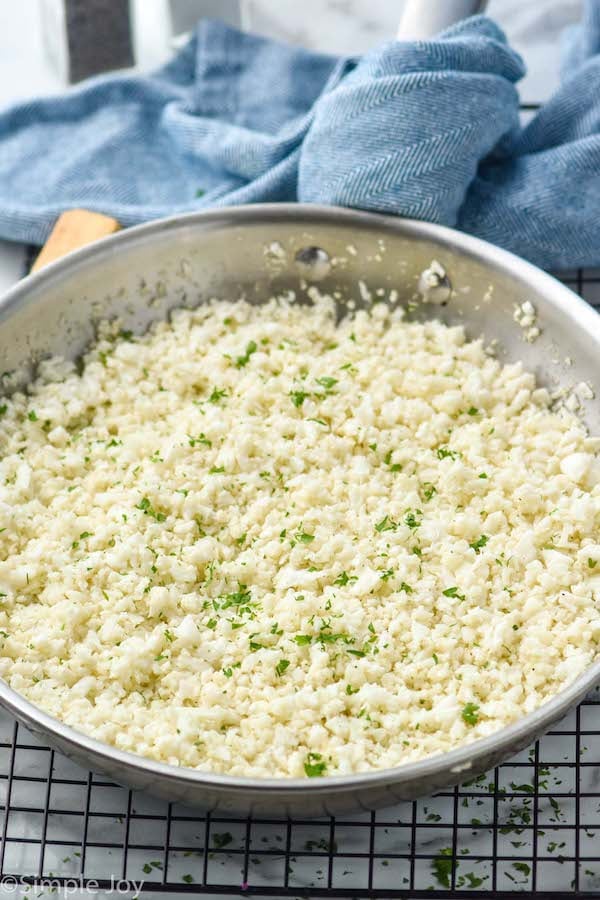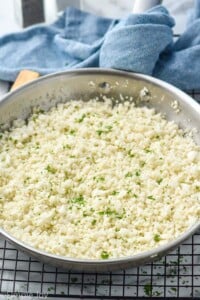 Cauliflower Rice
Ingredients
1

head cauliflower

cut into quarters (see photos in post)

1

tablespoon

olive oil

1

teaspoon

kosher salt

1/8

teaspoon

black pepper
Instructions
Wash the cauliflower and remove the outer greens. Cut the head into quarters. Then cut at an angle to remove the thick inner stem. (See photos in the post.) Cut the cauliflower quarters into several large pieces.

Add the cauliflower to a food processor and pulse until small. Be careful not to over-pulse — this will turn the cauliflower into more of a paste. Alternatively, the cauliflower quarters can be grated with a cheese grater.

Transfer the cauliflower to a paper towel-lined plate. Put more paper towels on top of it, and press out any excess liquid.

Heat the olive oil in a skillet over medium heat. Add the cauliflower to the oil, season with salt and pepper, and cook for 3 to 4 minutes until the cauliflower is translucent.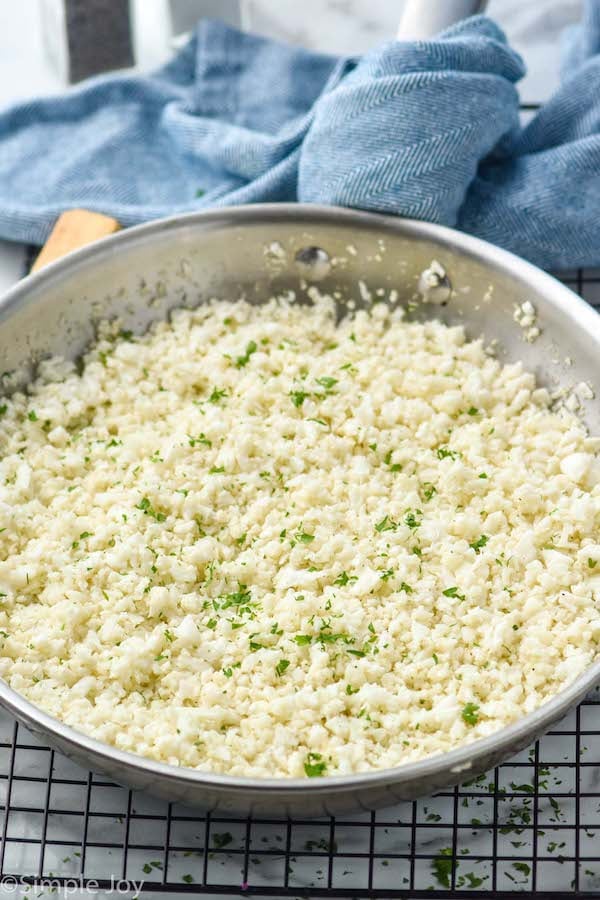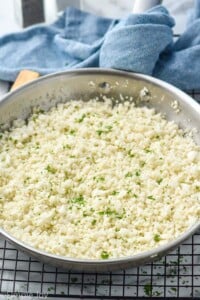 did you make this
Cauliflower Rice