Chicken Stir Fry is the perfect easy dinner that your family will fall in love with. If you are looking for more 30 minute dinners, meet your new favorite recipe.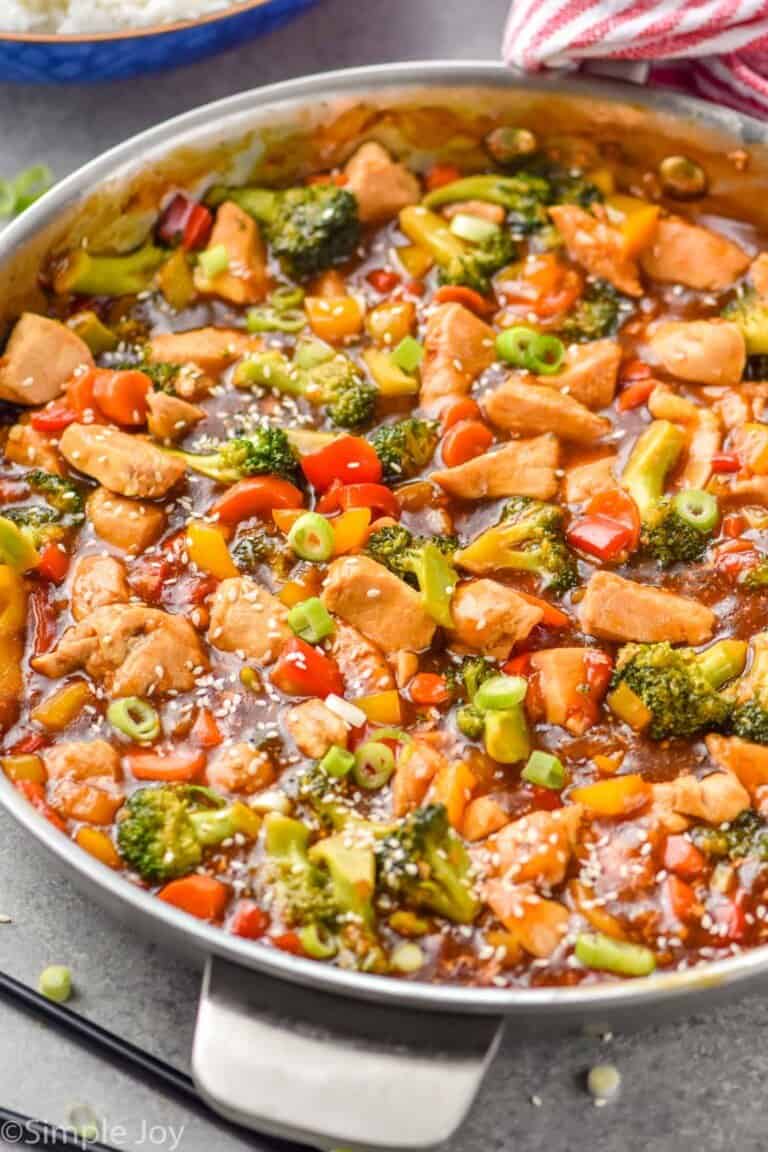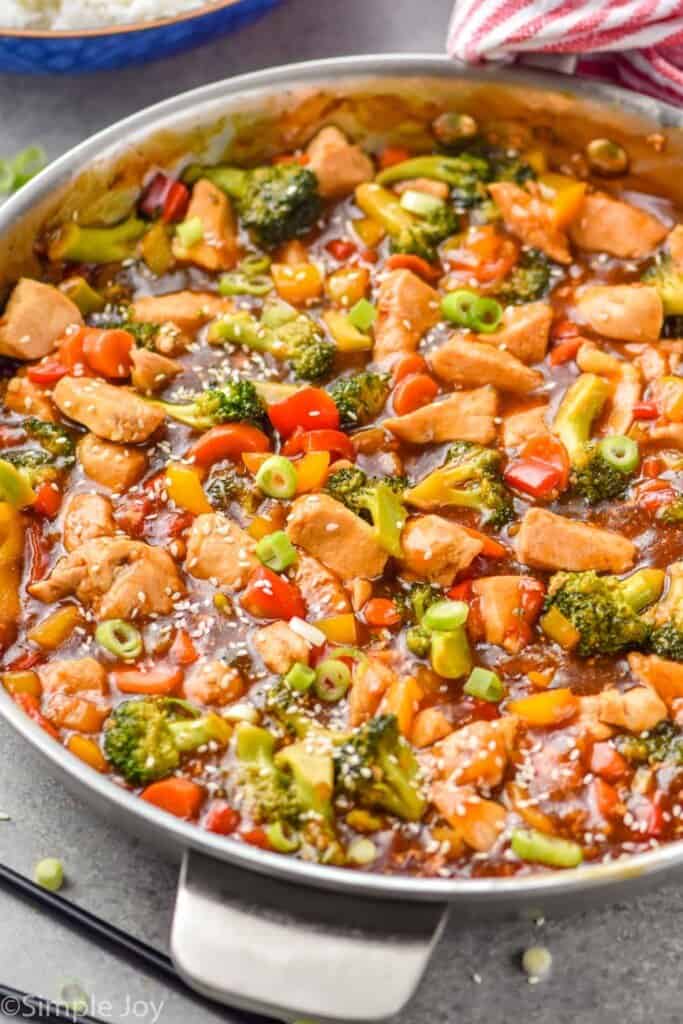 Stir fry recipes never get old in my house. My husband's very favorite is my Szechuan Chicken. He could eat it once a week and not get tired of it. Pretty much anything with a delicious sauce served over rice is going to win him over and be a hit with our kids.
This easy Chicken Stir Fry is just like that. It is made with really simple vegetables, a delicious sauce, and it comes together in under 30 minutes. The sauce has a salty soy base with just the hint of sweetness from Teriyaki Sauce. It's rounded out really well with garlic, ginger, and some chili paste.
How to Make Chicken Stir Fry
This is a brief overview of how easy this delicious stir fry is. For the full recipe with all of the measurements, see the recipe card at the bottom of the post.
Cut up the vegetables. While this is normally something just considered in the prep time, note that there are a few vegetables here, so it will take about 15 minutes to prep them. Cut them into bite sized pieces, but don't agonize over the size.
Cook the chicken. The chicken will cook very quickly in the skillet when it is cut into bite sized pieces. Once you no longer see pink you can move on to the next step without worrying that it is cooked through. It will continue to cook as you go.
Add the vegetables. All of them can go in at once, getting a quick toss. Cover the skillet and let the vegetables get tender. Cook for 5 to 7 minutes, stirring once or twice.
Make the sauce. While the vegetables are cooking make the sauce. You will likely need to give it another whisk right before you pour it into the skillet.
Add the sauce. Pour it over everything, give it a good stir, and then let it simmer and thicken for about two minutes.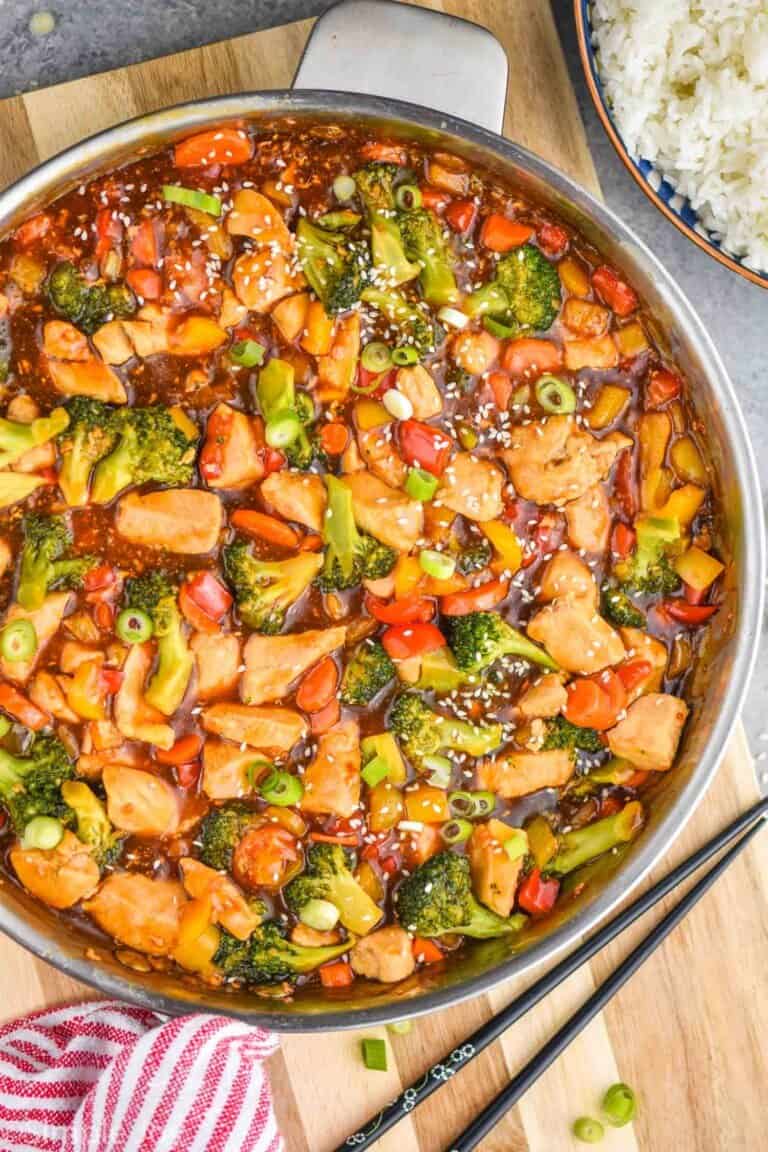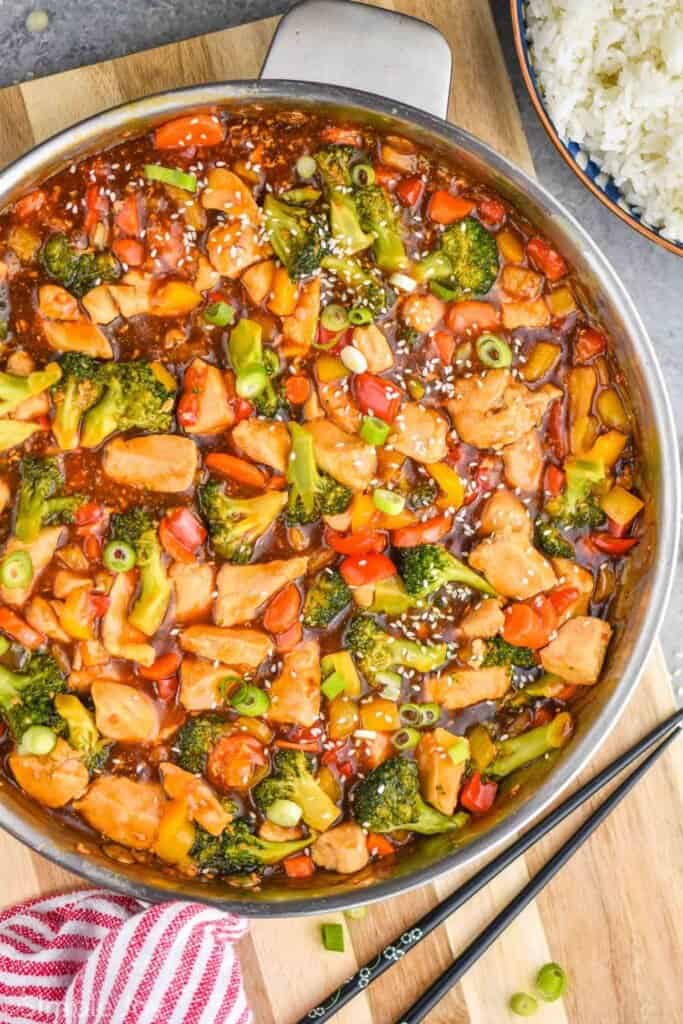 Chicken Stir Fry Sauce
The sauce is really what makes this stir fry chicken and vegetables amazing. It has a few ingredients, but once you get them they are easy to keep on hand for the next time your craving strikes.
Water: While this may sound weird for a sauce, the added liquid without added taste works perfectly here.
Teriyaki Sauce: This great condiment has a blend of a few different flavors that work very well in this recipe. We have a great homemade version which can be easily tweaked for lower sugar, less sodium, and gluten free.
Soy Sauce: I would honestly put soy sauce in everything if I could. I'm calling for the low sodium kind. If you don't have that use 1/4 cup soy sauce, and then fill up to the 1/3 cup mark with water. (Or use 59.14 ml of regular soy sauce and 19.72 ml water.)
Hoisin Sauce: The main ingredient in this very unique condiment is fermented soy bean paste. It brings a nice tang to this sauce.
Garlic: I just think garlic belongs in almost everything.
Ginger: We are adding the perfect amount of ginger to this so it isn't too strong, but adds a nice background flavor.
Chili Paste: Read more on this amazing ingredient below.
Corn Starch: This is what will thicken the sauce and take in from really liquidy to a nice rich sauce that coats everything perfectly.
Teriyaki Sauce
Teriyaki Sauce is a great ingredient used in many delicious stir fry recipes. It is easy to make at home with a few simple ingredients.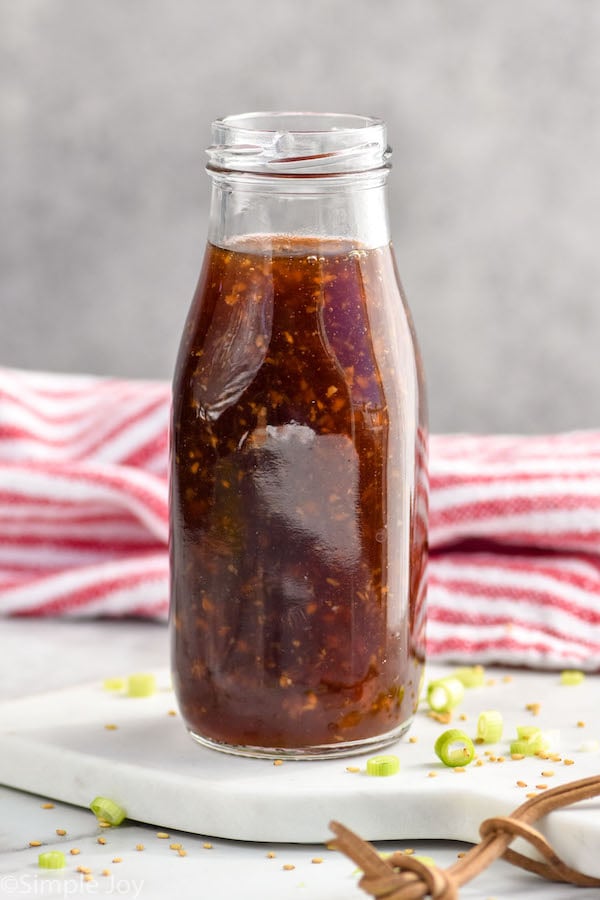 What Vegetables to Use in Stir Fry
When it comes to chicken vegetable stir fry, vegetable swaps are very easy to make. Our family loves bell peppers, carrots, and broccoli. But there are so many others you could add.
Some alternatives and additions would be:
Mushrooms
Onions
Snap Peas
Baby Corn
Zucchini or Yellow Squash
Please keep in mind that if you add squash to this recipe, you will be bringing quite a bit of water to the party. You may need to drain the skillet once the vegetables are tender before you add in the sauce.
What is Chili Paste?
Chili paste is a condiment made from hot chilis. The brand that I'm linking here can be found in the international food aisle of most grocery stores or on Amazon. It is not particularly hot, especially when added to a recipe like this. If you can't find this brand, look for one that's first three ingredients contain both chiles and garlic.
If you are concerned about heat, I would suggest starting with only 1 teaspoon, tasting it, and adding a little more if isn't too spicy for you. My kids are pretty sensitive to spice and they love this recipe as is.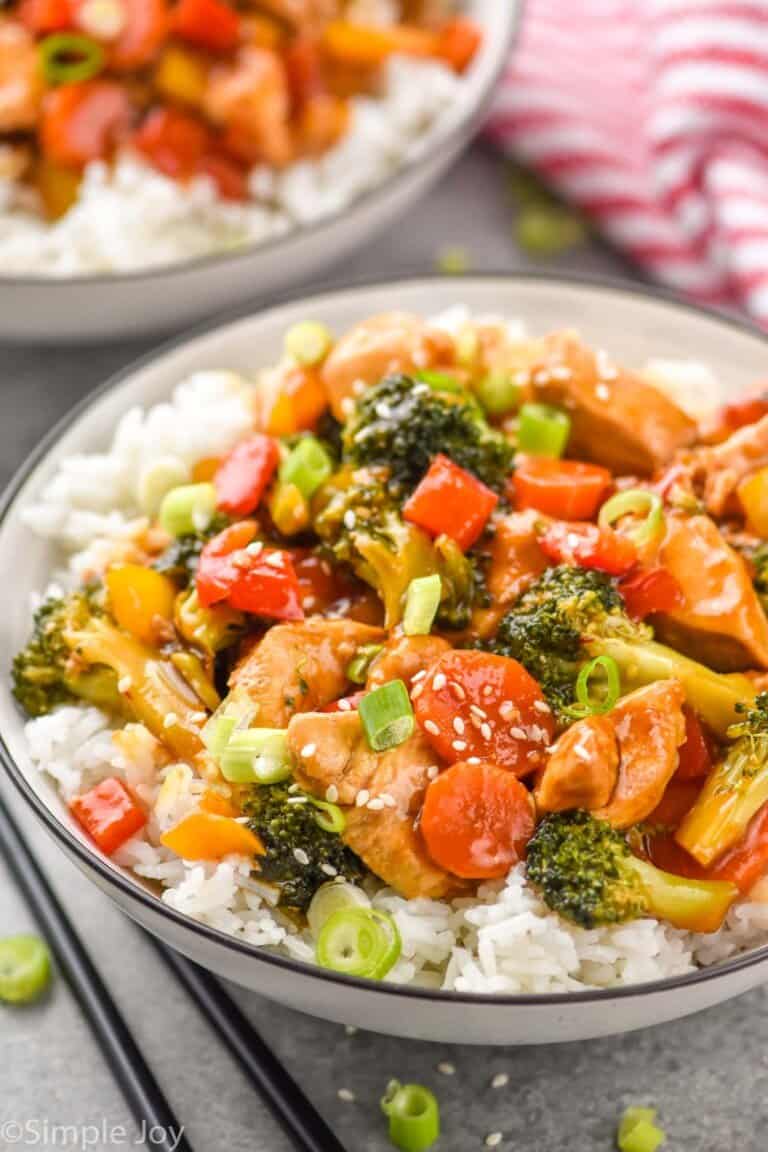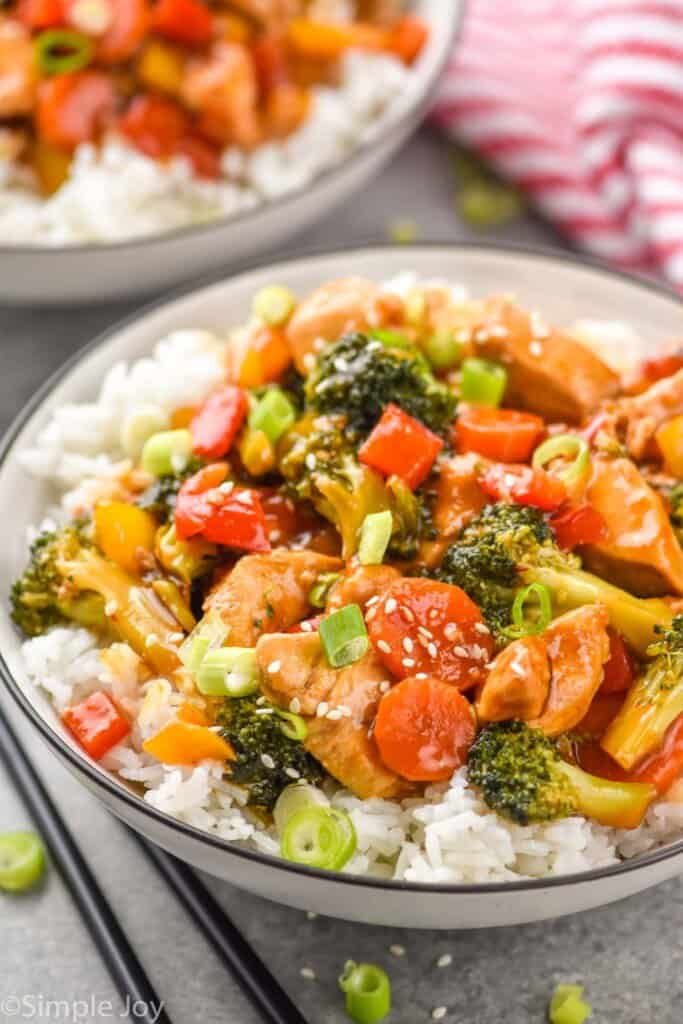 Using Ginger in Recipes
I love adding ginger to stir frys. Fresh ginger can be used in this recipe. It needs to be peeled and grated before use. My problem with fresh ginger is I use so little at a time, and it goes bad pretty quickly.
There are two great solutions to my ginger problem. The first is to freeze your fresh ginger. You can still peel it and grate it while it is frozen and it will last up to three months in your freezer in an airtight container. The second solution is what we go with. We buy a tube of freshly grated ginger and measure it in tablespoons. It works fantastic in recipes like this.
Storing Leftovers
Chicken and broccoli stir fry can be stored in the refrigerator for four to five days in an air tight container. I recommend storing it separate from left over rice.
When reheating it, you can add it to the rice and reheat both together at half power for three minutes in the microwave, stirring half way through. Or you can put the stir fry (separate from the rice) in a skillet and reheat it over low heat until it is warmed through.
Remember to always only reheat the amount of leftovers you want to eat in that sitting. Leftovers should not be put back in the refrigerator after reheating. They should only be reheated once.
FAQ
Can I use chicken thighs in stir fry chicken?
Absolutely. They will be moist and delicious in this recipe. We love them in our Bourbon Chicken.
Is chicken stir fry gluten free?
No, this recipe is not gluten free because of the soy sauce and the teriyaki sauce. To make it gluten free, replace the soy sauce with Braggs Liquid Aminos and make your own teriyaki sauce or find a gluten free brand.
What is chili paste?
Please see our note above with information and a link.
Is this recipe spicy?
This is such a subjective opinion, but in my opinion, no, it is not. My kids are extremely sensitive to spice and they love this recipe.
I'm allergic to soy, what can I use instead of soy sauce?
You can use coconut liquid aminos, though I would start with less and taste it as it can be saltier than soy sauce. That being said, you will also want to make your own teriyaki sauce because this also contains soy.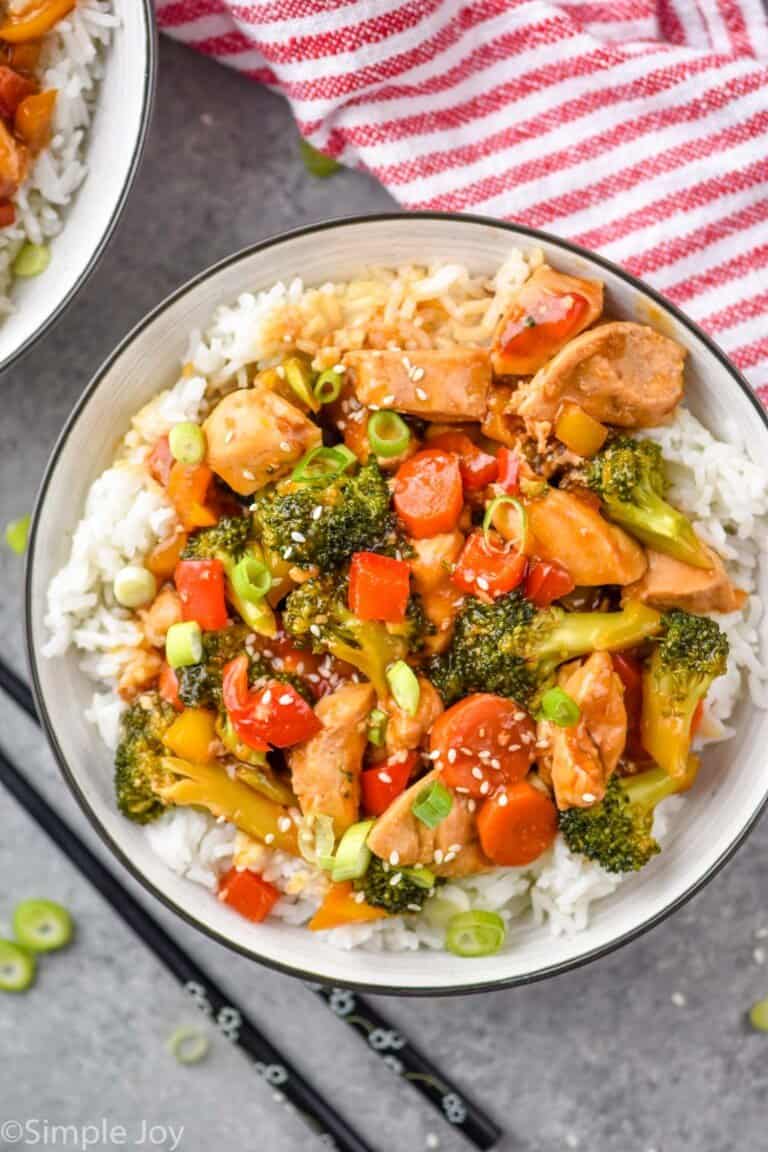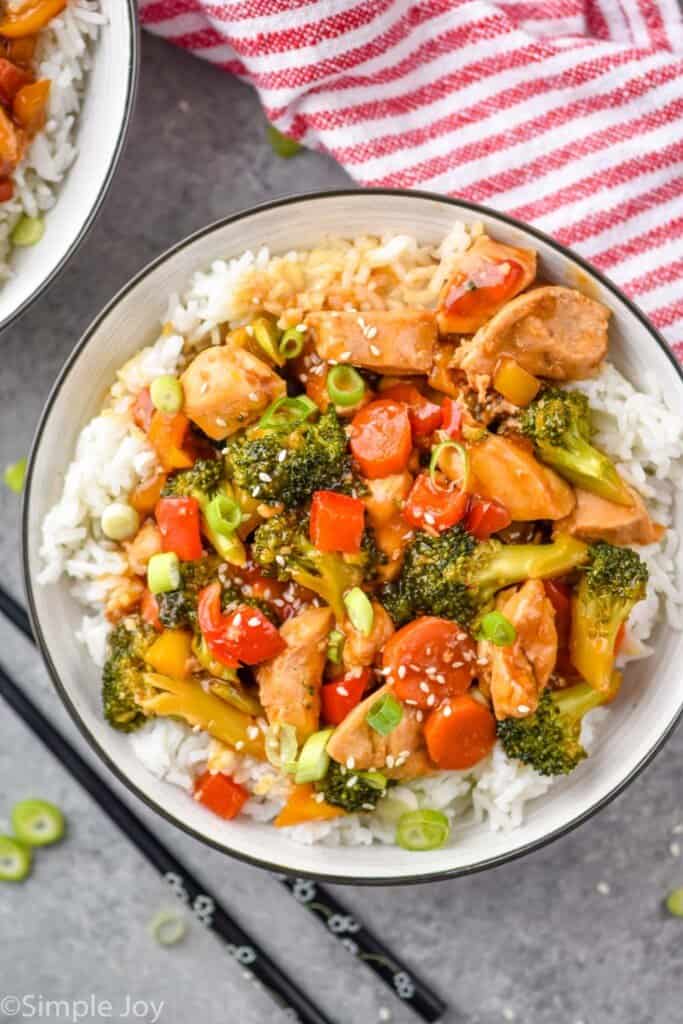 Other 30 Minute Chicken Recipes
If you make this chicken stir fry recipe or any of my other recipes, leave me a comment letting me know what you think.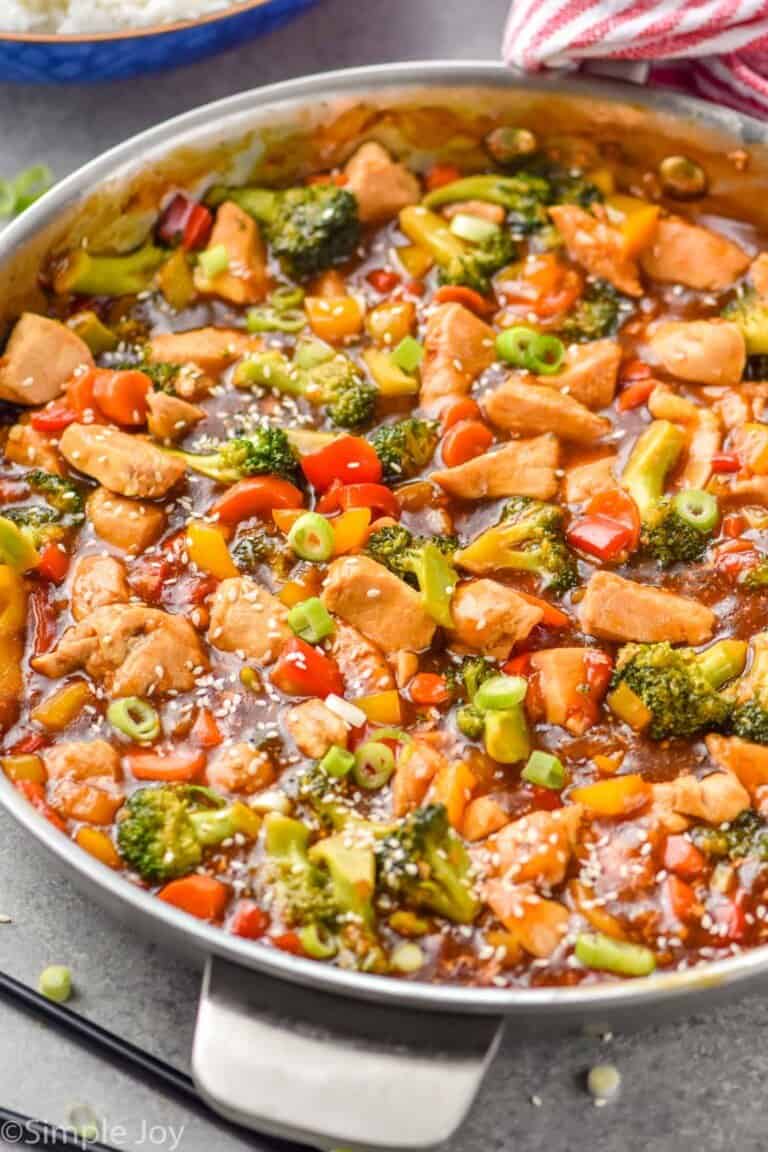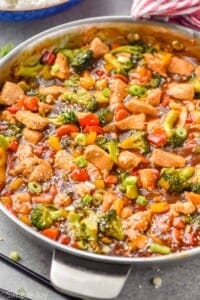 Chicken Stir Fry
Chicken Stir Fry is the perfect easy dinner that your family will fall in love with. If you are looking for more 30 minute dinners, meet your new favorite recipe.
Ingredients
2

tablespoons

olive oil

1

pound

chicken

cut into thin bite sized pieces

1

medium red bell pepper

diced

1

medium yellow bell pepper

diced

2

medium carrots

peeled and cut into 1/4 inch slices

1

head of broccoli

cut into florets
Sauce
1/2

cup

water

1/2

cup

teriyaki sauce

1/3

cup

low sodium soy sauce

2

tablespoons

hoison sauce

4

cloves

garlic

2

tablespoons

ginger

(or 1 to 2 inches freshly grated) read more about using ginger here.

2

teaspoons

chili paste

read more about chili paste here.

3

tablespoons

corn starch
Instructions
Heat the olive oil in a large 12 inch skillet. Add the sliced chicken and cook until it is no longer visibly pink, about 3 to 4 minutes. You don't need to make sure it is cooked through.

Add the vegetables to the skillet. Stir to combine. Cover and cook until they are tender, another 5 to 7 minutes, stirring once or twice.

While the chicken and vegetables are cooking, mix together the ingredients for the sauce. When the vegetables are tender, pour the sauce over them and allow to thicken, about 1 to 2 minutes.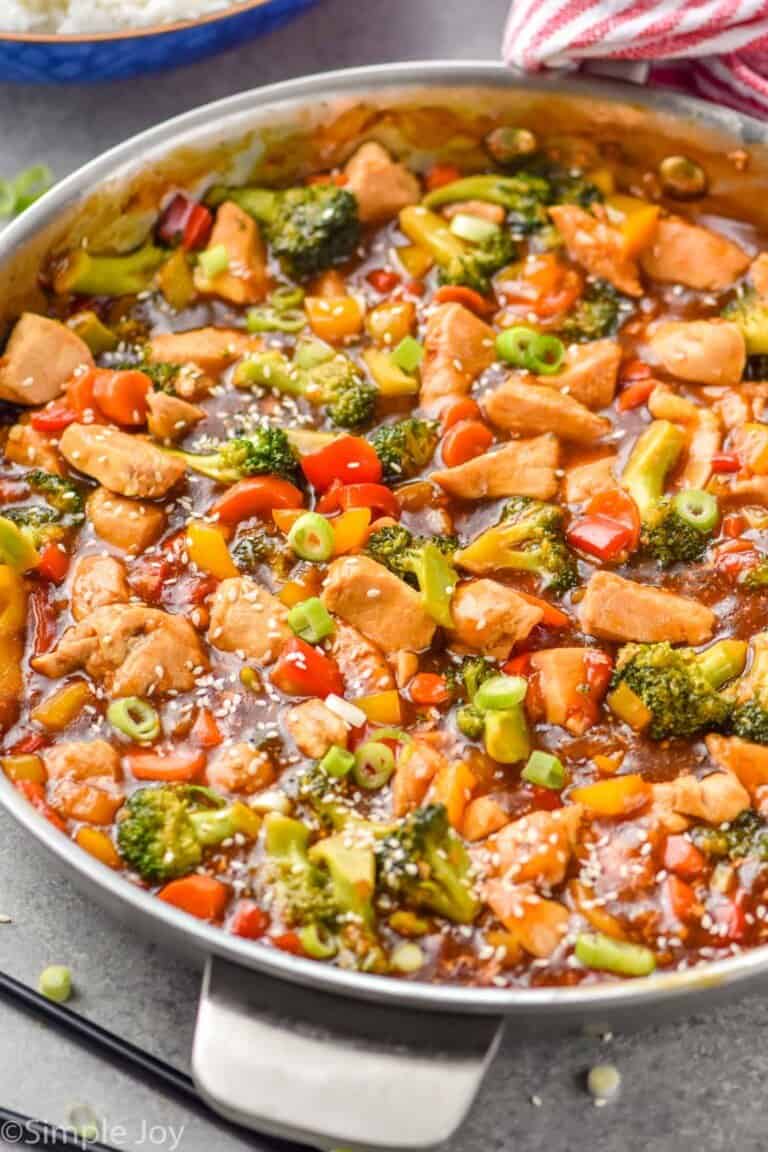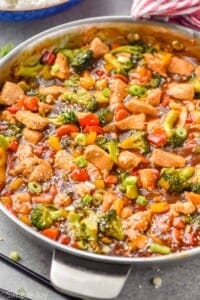 did you make this
Chicken Stir Fry