Shrimp Ceviche is easy to make and absolutely delicious. Eat it with chips as a dip or on top of shells as tostadas, either way, you will fall in love!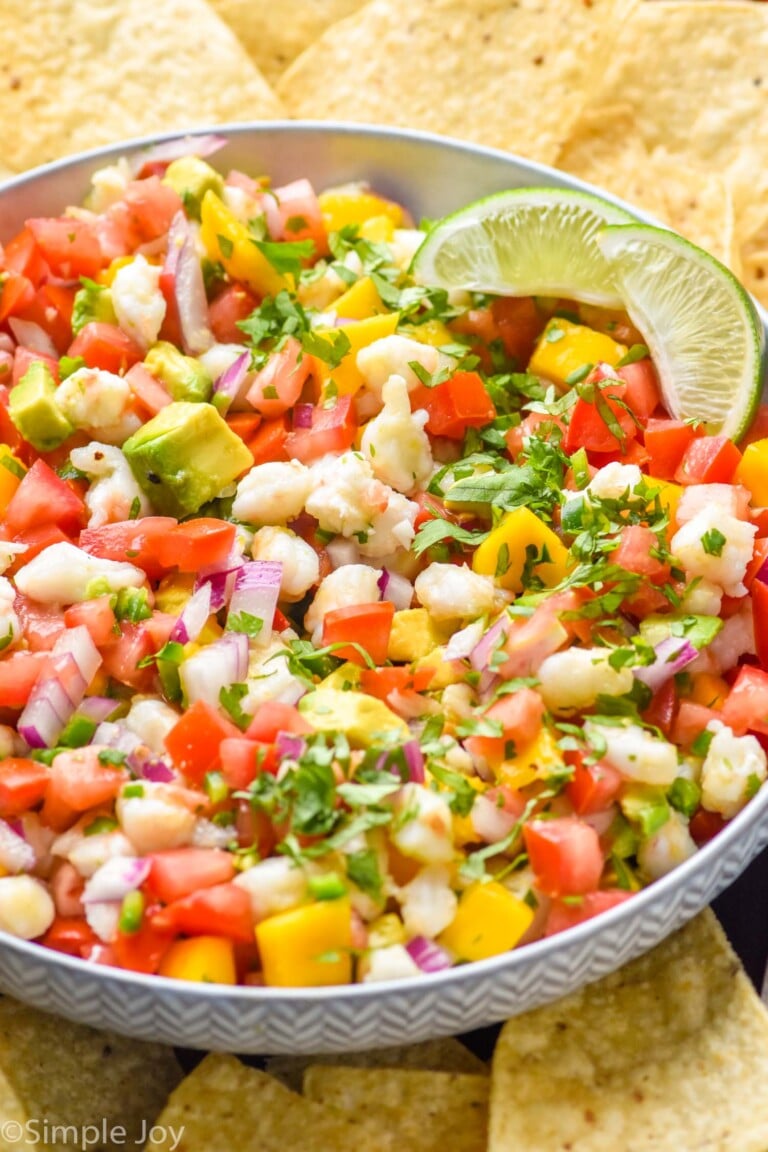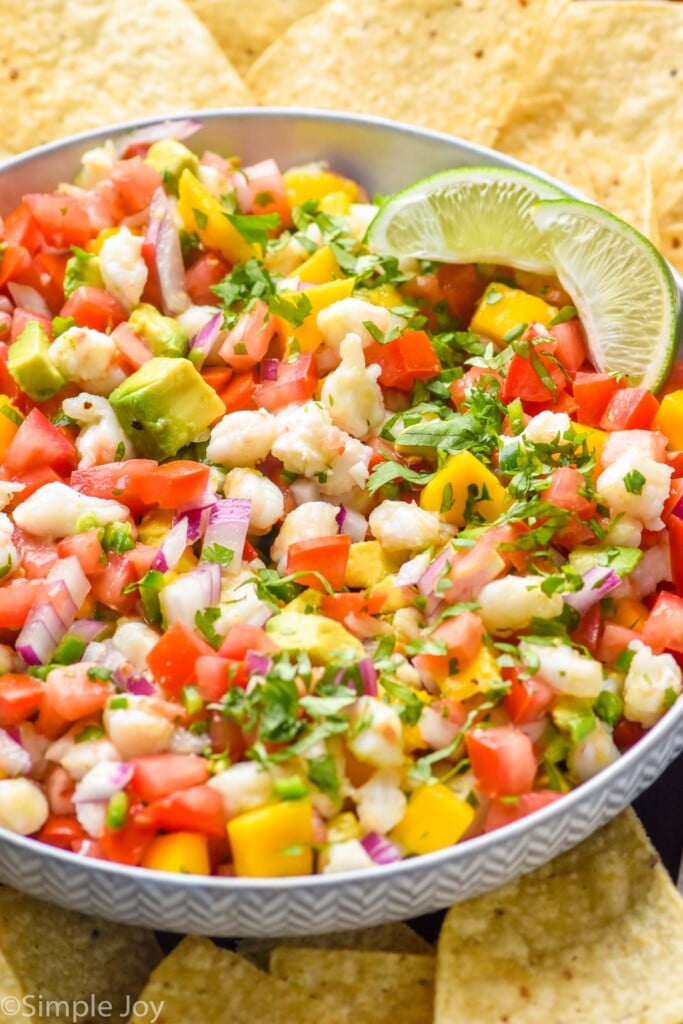 One of my favorite parts about my job is the great friends that I've made along the way. In the almost 12 years I've been doing this, they have gone from faces on a screen to casual acquaintances, to treasured co workers, to true friends. Some know me so well that they would truly drop anything in their lives and fly to me if I asked. And, of course, I would do the same. I am so honored to call these women close friends.
In addition to being great friends, we lean on each other for business advice all the time. And one of those conversations was about this very Shrimp Ceviche. I remember eating ceviche with my friend Trish on a boat in Miami and telling her I just couldn't get my recipe right. She said, "Oh! I know the exact problem. You can't test the recipe with bottled lemon and lime juice. You always have to use fresh." She was right. She usually is.
Reader Review
This is an amazing recipe. I made it for a party. There was nothing left. Several people came to me with praise and said they really enjoyed it. I will be making it again and again.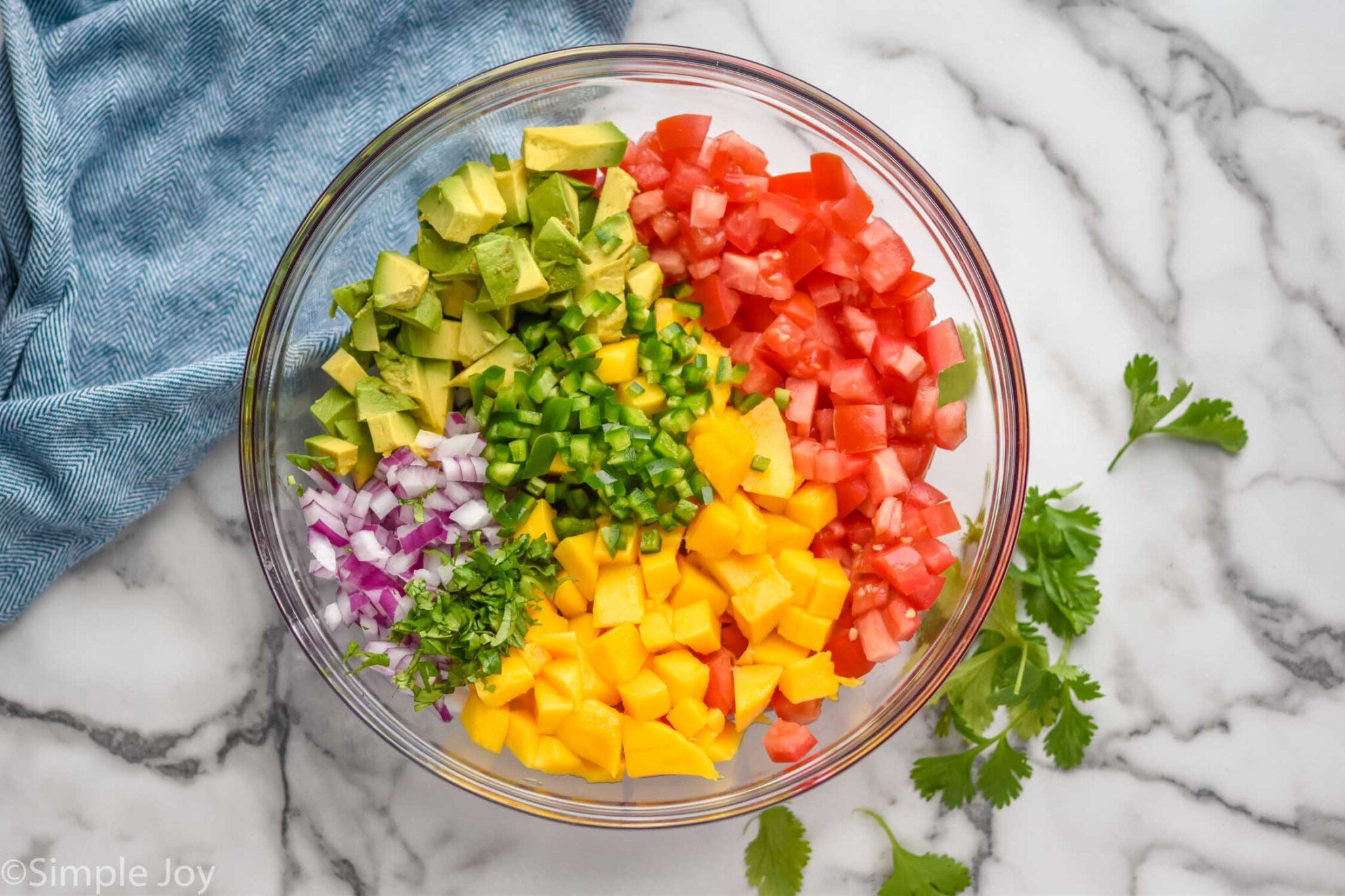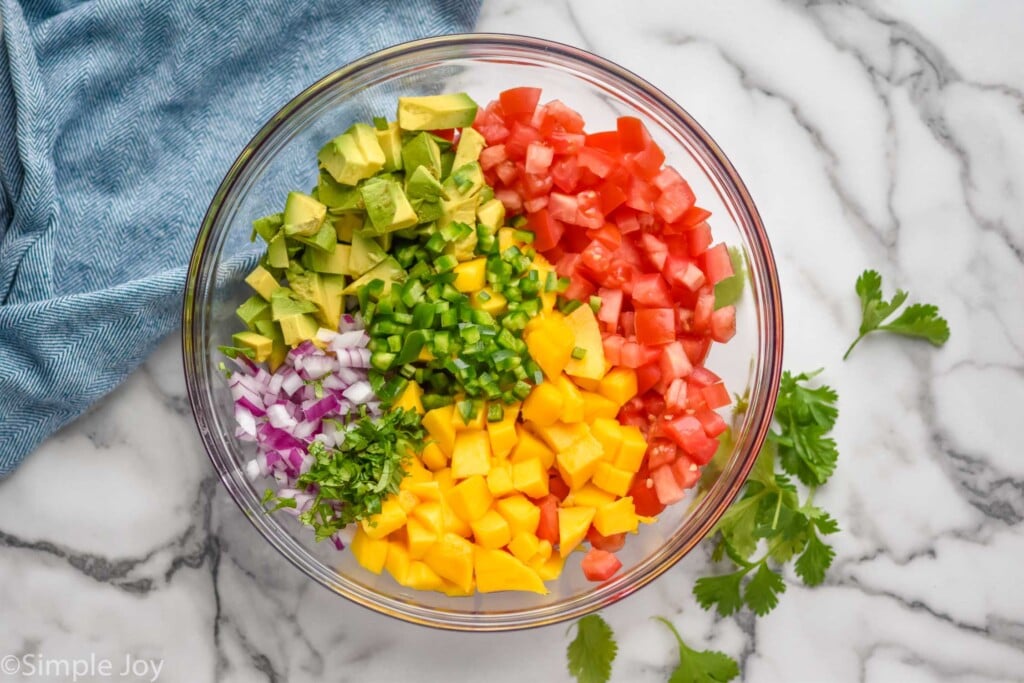 What is Ceviche
Ceviche is a dish involving marinating raw shrimp or fish in citrus juices. The acids of the juices "cook" the shrimp, and then it combines with seasonings and vegetables. It is enjoyed as a dip with chips or crackers, or alone as a light appetizer or salad. Its refreshing ingredients and richness of healthy fats and flavor are what make this the best shrimp ceviche recipe.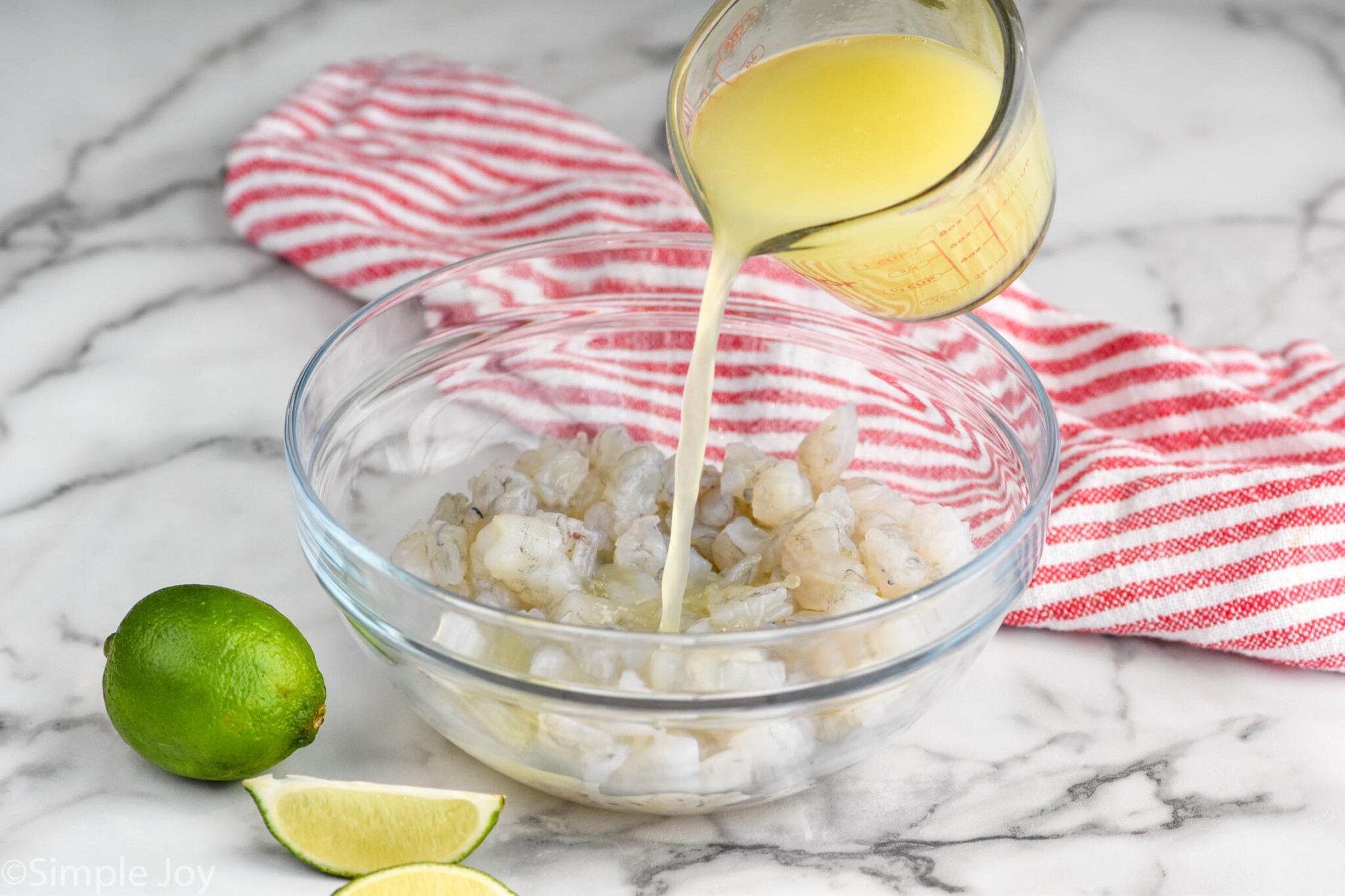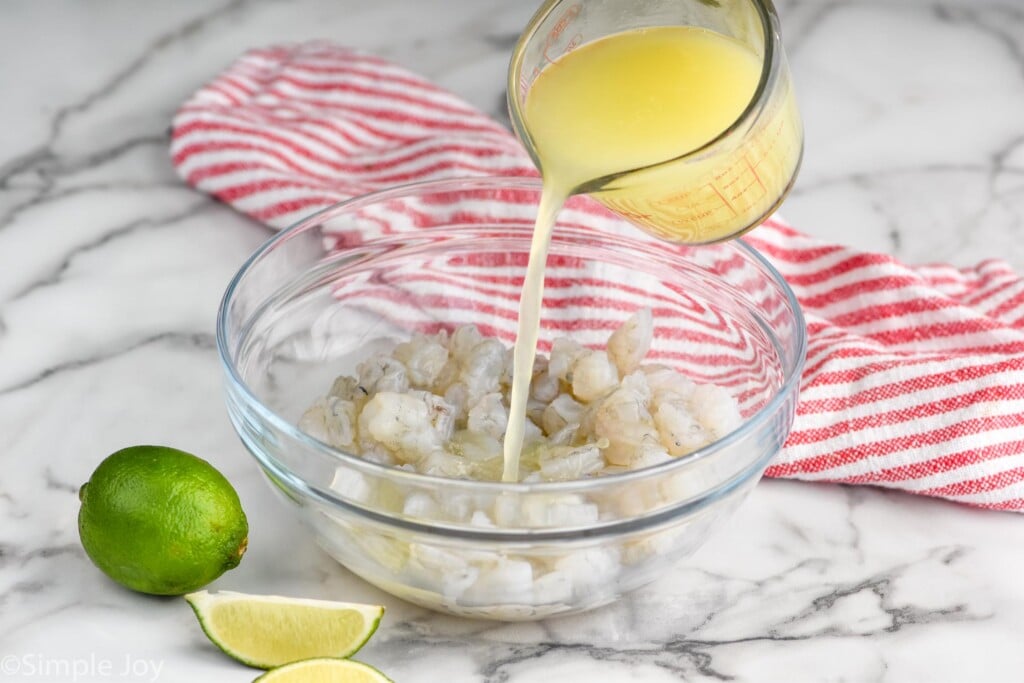 Shrimp Ceviche Ingredients
Here is what makes up this easy shrimp ceviche recipe:
Raw shrimp: The shrimp starts raw, but cooks and absorbs flavor from the lemon and lime juices. See more about preparing shrimp below.
Lemon juice and lime juice: The acids in the fresh juices are responsible for cooking the shrimp.
Plum tomatoes: Adds a bright color and flavor to the ceviche recipe.
Red onion: Expands the flavor palate.
Jalapeño pepper: The seeds and membranes are removed which is where the majority of the heat comes from. This adds flavor to the dish without much heat.
Avocados: Adding healthy fats and a filling creaminess, the citrus juices help to prevent the avocado from turning brown.
Mango: Although optional, its sweetness balances the acidity and savory flavor of the other ingredients.
Cilantro: Fresh cilantro adds great flavor to this dish and more bright color.
Kosher salt and black pepper: Taste your ceviche and add more as needed.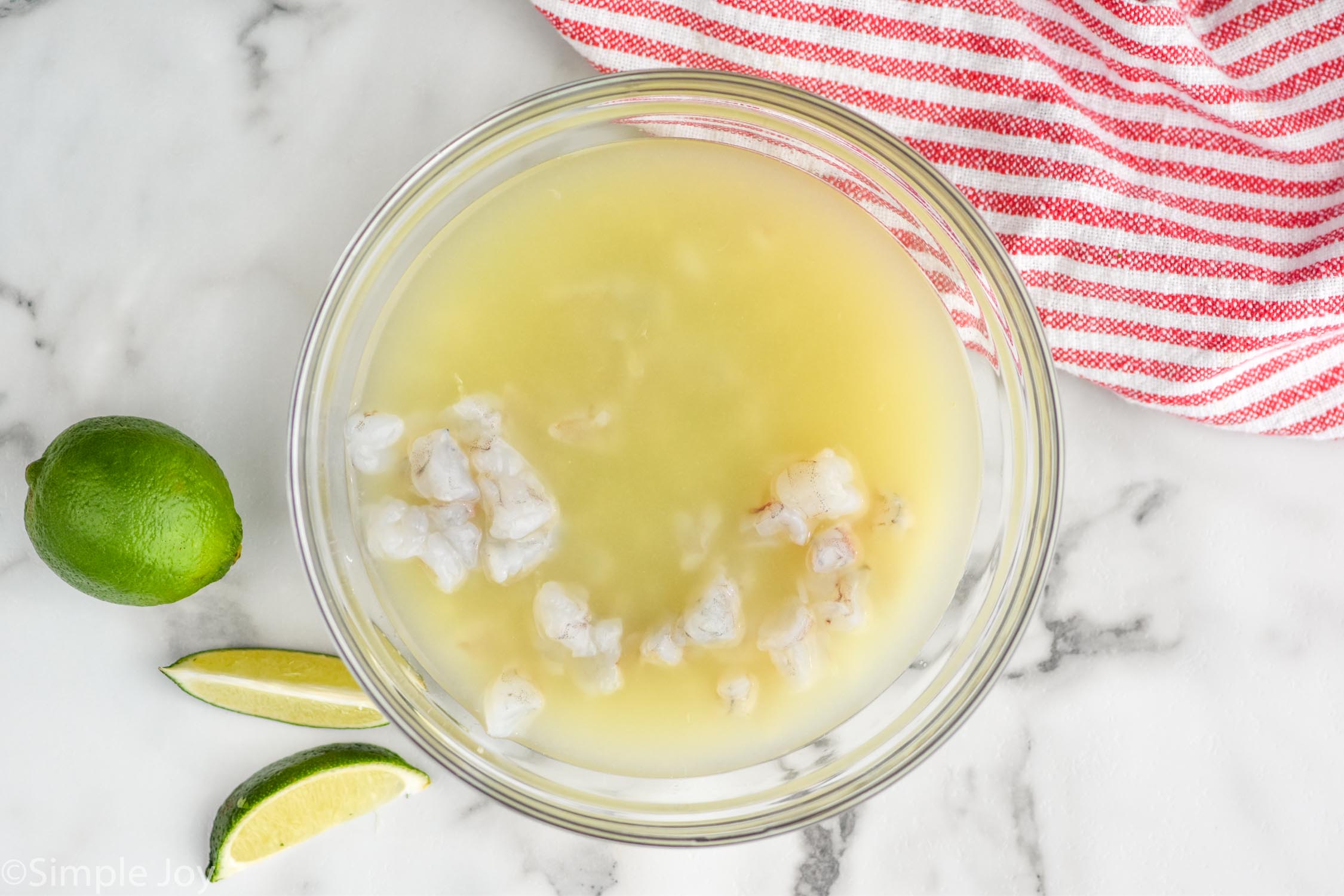 Preparing Shrimp for Ceviche
In shrimp ceviche, the shrimp is "cooked" in the acid of the lemon and lime juice. The citrus juices break down the proteins of the shrimp, just like heat would. Because this process doesn't necessarily kill bacteria, it is important to use the freshest shrimp you can find. You can see in the pictures how the shrimp goes from gray and raw to pink and opaque. That being said, you need two things for this to work.
Fresh lemons and limes: You really need to juice fresh lemons and limes (as opposed to bottled juice) for this to work. Bottled lemon and lime juice isn't acidic enough.
Time: For the shrimp to "cook" I recommend leaving this sit in the refrigerator overnight. After a few hours, you will notice that the shrimp is no longer gray, but it will take more time for it to be opaque all the way through.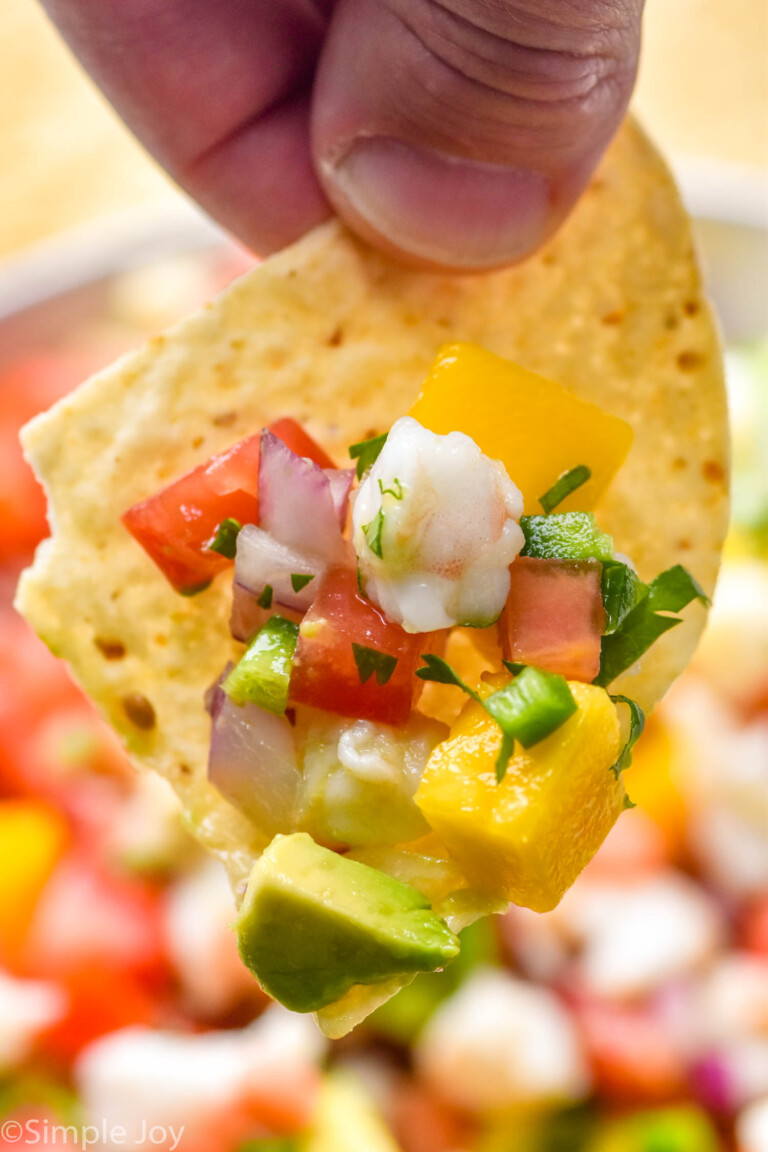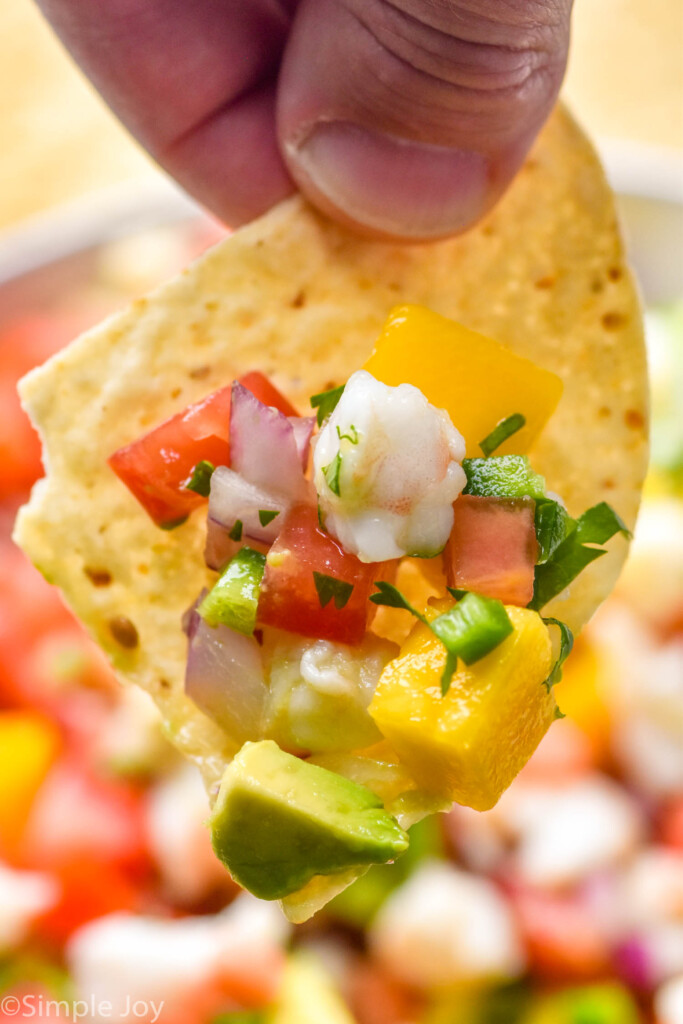 How to Make Shrimp Ceviche
Here is a brief overview of how to make ceviche with shrimp. For the full recipe including all measurements, please scroll to the recipe card at the bottom of the post.
Prepare your shrimp. Combine the shrimp with lime juice and lemon juice. Cover and refrigerate for at least four hours. Read more on this below.
Combine ingredients. Toss together the remaining ingredients. Add more salt and pepper to taste.
TOP PICK
Citrus Juicer
This juicer is easy to use and to clean and great for getting the most juice out of your lemons and limes!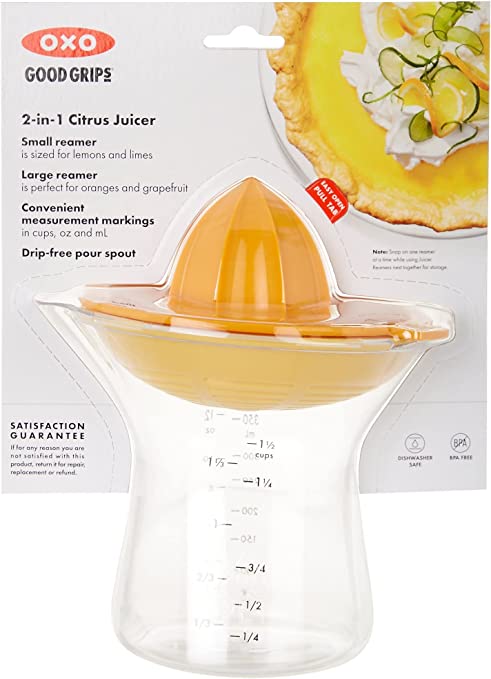 Cutting Jalapeños for Ceviche
As mentioned above, most of the heat in fresh jalapeños lives in the seeds and membranes of the jalapeños, so I always recommend leaving those behind. An easy way to do that is by cutting them like this:
Think of the pepper as a small rectangle. Placing it on one "side" while laying it down, cut off one side of the "rectangle." In doing this, you will cut just off a piece of jalapeno that is just the outside pepper and not the inside membranes and seeds.
Flip the pepper and cut off another "side." Continue until you have cut off all four sides.
One piece of pepper at a time, cut thin strips. Then turn and dice those strips into small pieces.
In the end, you will have diced jalapeño with no seeds or membranes, and the seedy middle will be left whole, still connected to the top and can be tossed. If you want to see this in action, check out the video in my Pico de Gallo.
How to Eat Ceviche
Ceviche is best served cold or at room temperature. It can be enjoyed with chips as a dip, in a wrap or lettuce boat, or on top of tostadas. It is also delicious alone as a light salad.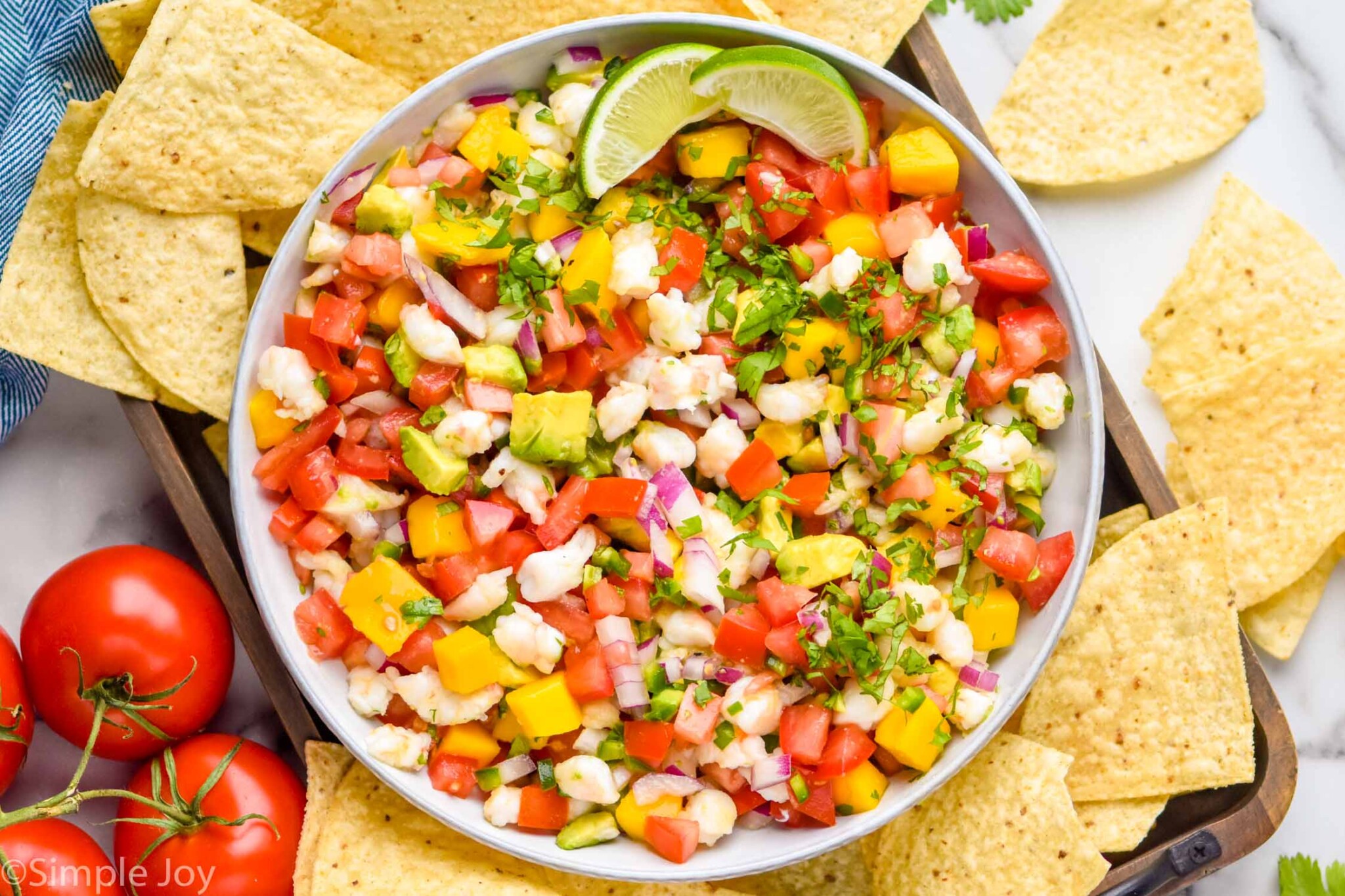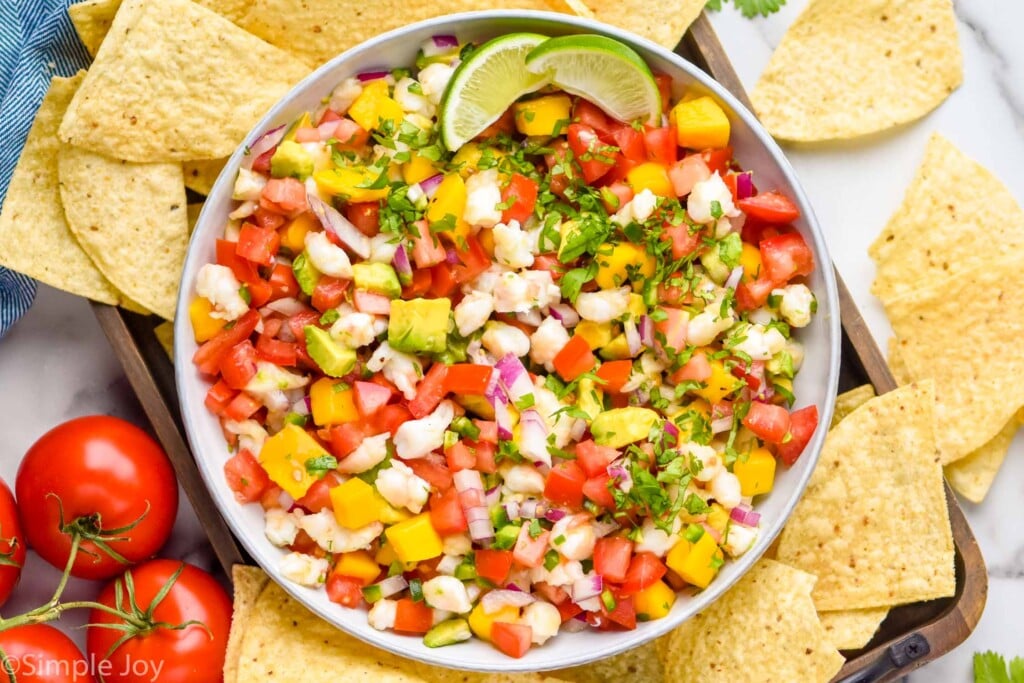 FAQ
Is ceviche healthy?
Yes! This ceviche shrimp recipe is loaded with vegetables and healthy fats and is low in carbs.
Can you make ceviche with frozen shrimp?
Yes, if you can not get good quality fresh shrimp, you can use frozen raw shrimp that has been thawed.
Can I use cooked shrimp?
If you would like to use cooked shrimp, skip the marinating time. Toss the ingredients together and serve right away. Letting cooked shrimp sit in the juices will lead to rubbery shrimp, but serving it right away will work well.
How do you know when ceviche is done?
The shrimp will be opaque pink and no longer gray, this process takes about four hours.
Storing Leftovers
Ceviche is best enjoyed fresh or within a few hours of making it. Store any leftover ceviche shrimp in an airtight container in the refrigerator for up to two days. Always use your best discretion with leftovers; if it starts to smell funky, throw it out.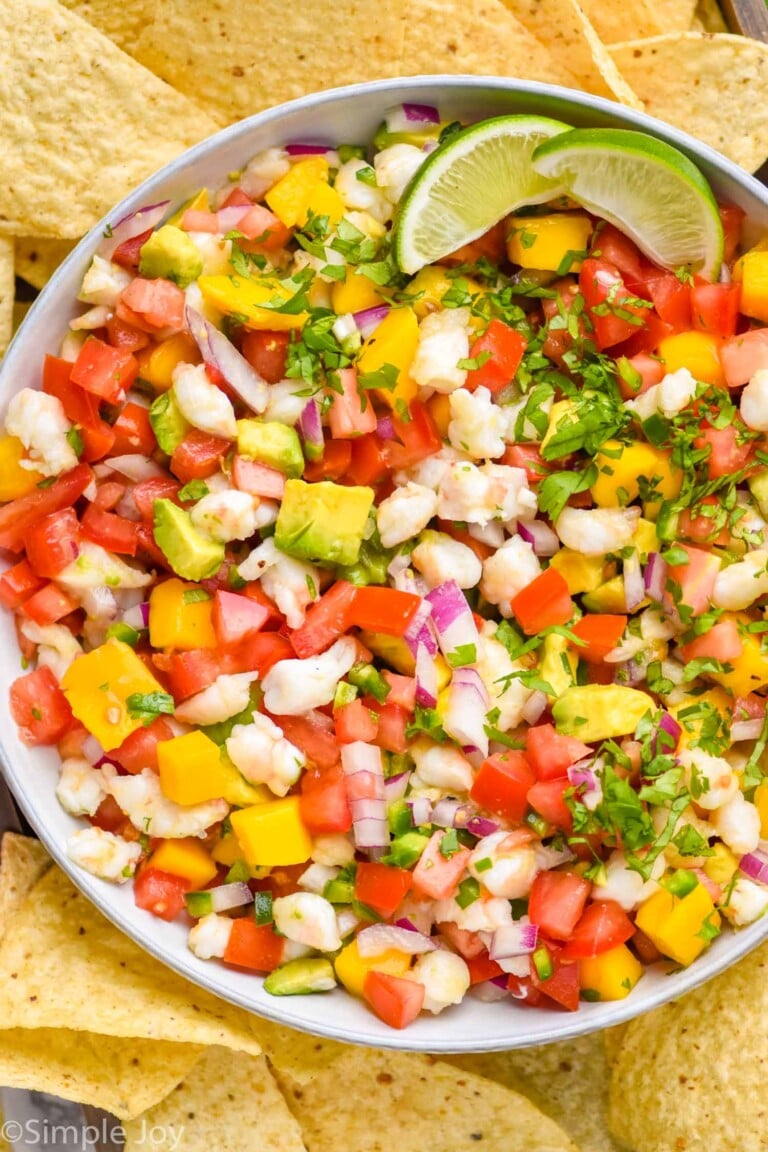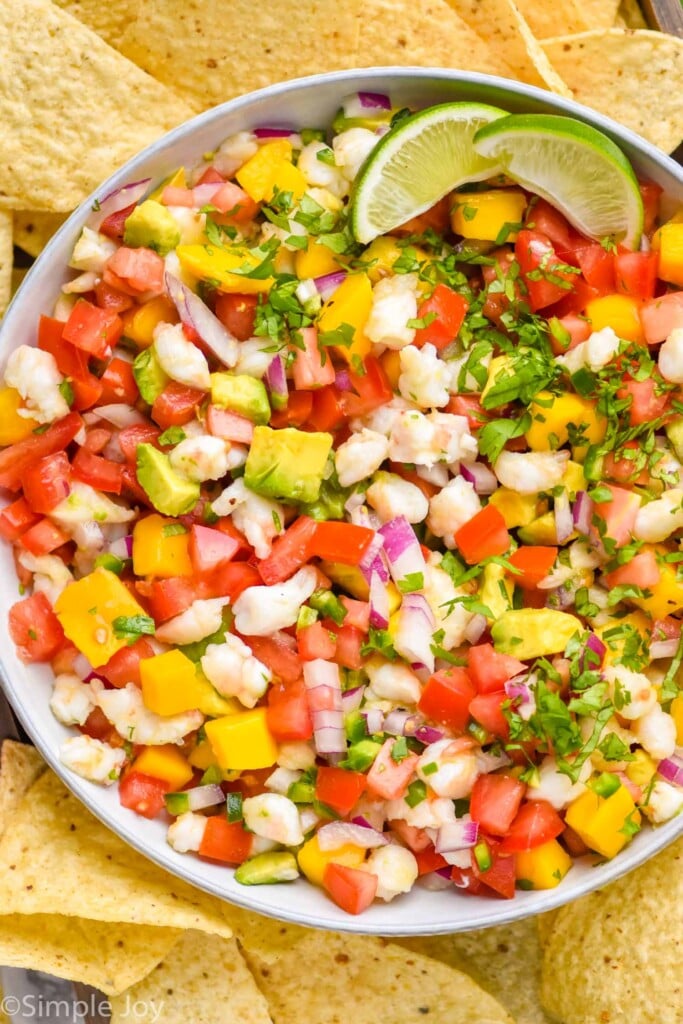 Other Easy Shrimp Recipes
Blackened Shrimp is so delicious as an appetizer, on top of salads, or in tacos.
Tostadas can be topped with ceviche shrimp, beans, or chicken and are a super easy meal for those busy weekdays.
These Easy Shrimp Tacos are light, fresh, and so full of flavor!
If you try this easy shrimp ceviche recipe or any of my other recipes, please let me know what you think by leaving a comment!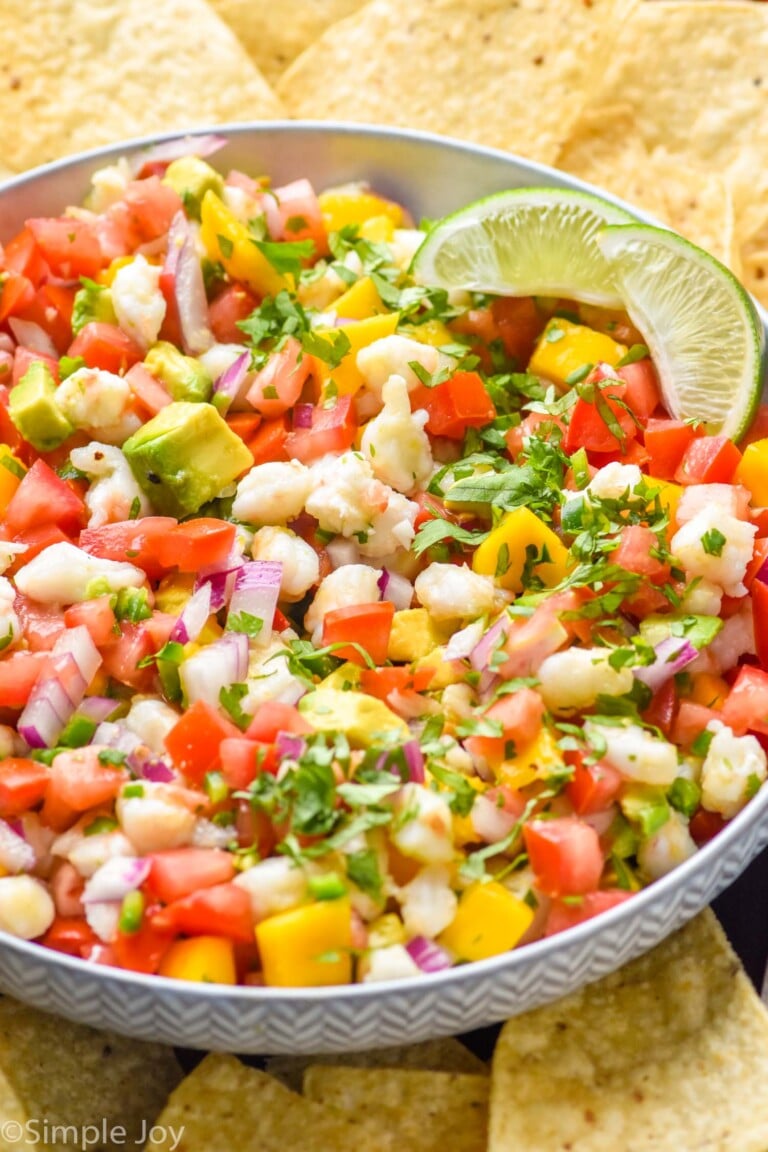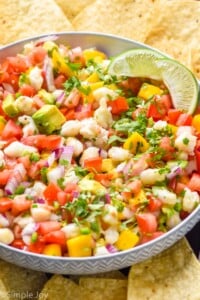 Shrimp Ceviche
Total:
4
hours
20
minutes
Shrimp Ceviche is easy to make and absolutely delicious. Eat it with chips as a dip or on top of shells as tostadas, either way, you will fall in love!
Ingredients
1

pound

raw shrimp

diced

1/2

cup

lemon juice

(it must be fresh)

1/2

cup

lime juice

(it must be fresh)

5

plum tomatoes

diced

1

medium red onion

diced

1

jalapeño pepper

diced with seeds and ribs removed (read how to cut a jalapeño here)

2

avocados

diced

1

mango

diced (optional)

2

tablespoons

cilantro

diced

1/2

teaspoon

kosher salt

dash black pepper
Instructions
Toss together the remaining ingredients. Add more salt and pepper to taste.
Serving:
1
cup
Calories:
156
kcal
(8%)
Carbohydrates:
14
g
(5%)
Protein:
10
g
(20%)
Fat:
8
g
(12%)
Saturated Fat:
1
g
(6%)
Polyunsaturated Fat:
1
g
Monounsaturated Fat:
5
g
Trans Fat:
0.01
g
Cholesterol:
71
mg
(24%)
Sodium:
504
mg
(22%)
Potassium:
501
mg
(14%)
Fiber:
5
g
(21%)
Sugar:
6
g
(7%)
Vitamin A:
826
IU
(17%)
Vitamin C:
31
mg
(38%)
Calcium:
50
mg
(5%)
Iron:
1
mg
(6%)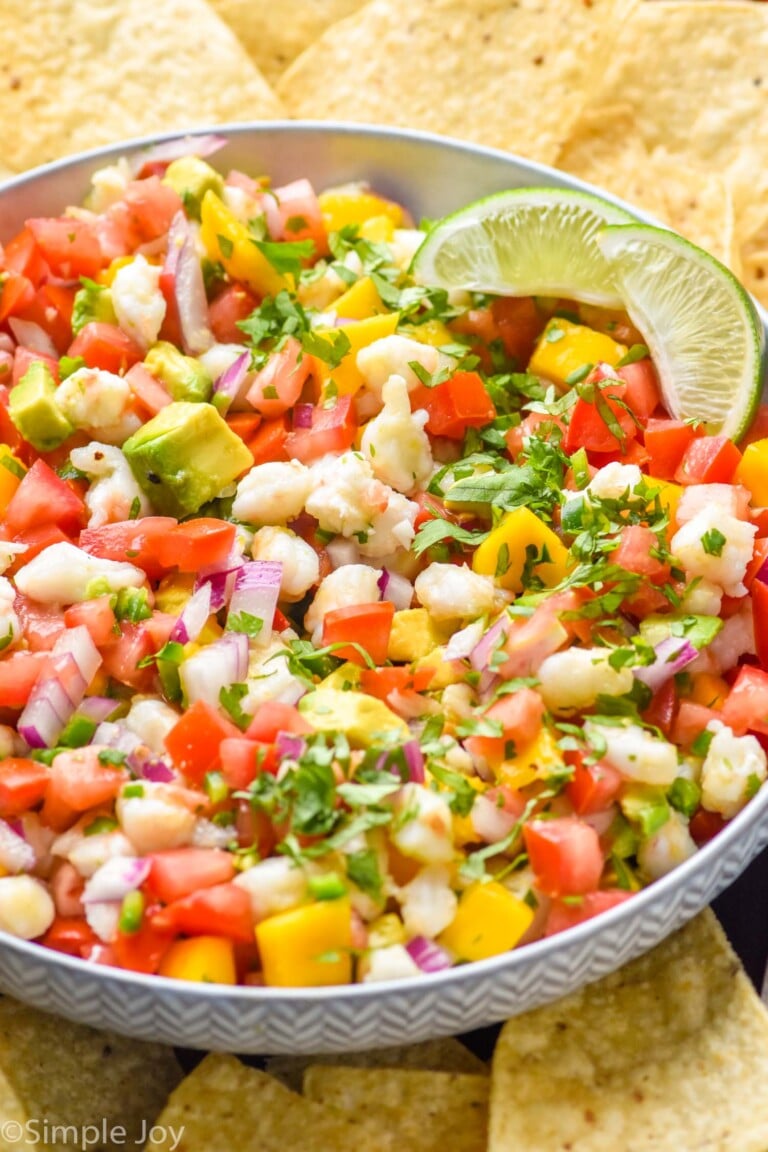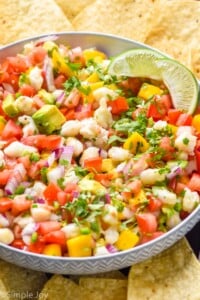 did you make this
Shrimp Ceviche