Mango Salsa is an easy recipe made with fresh ingredients and the perfect addition to tacos or to serve with chips!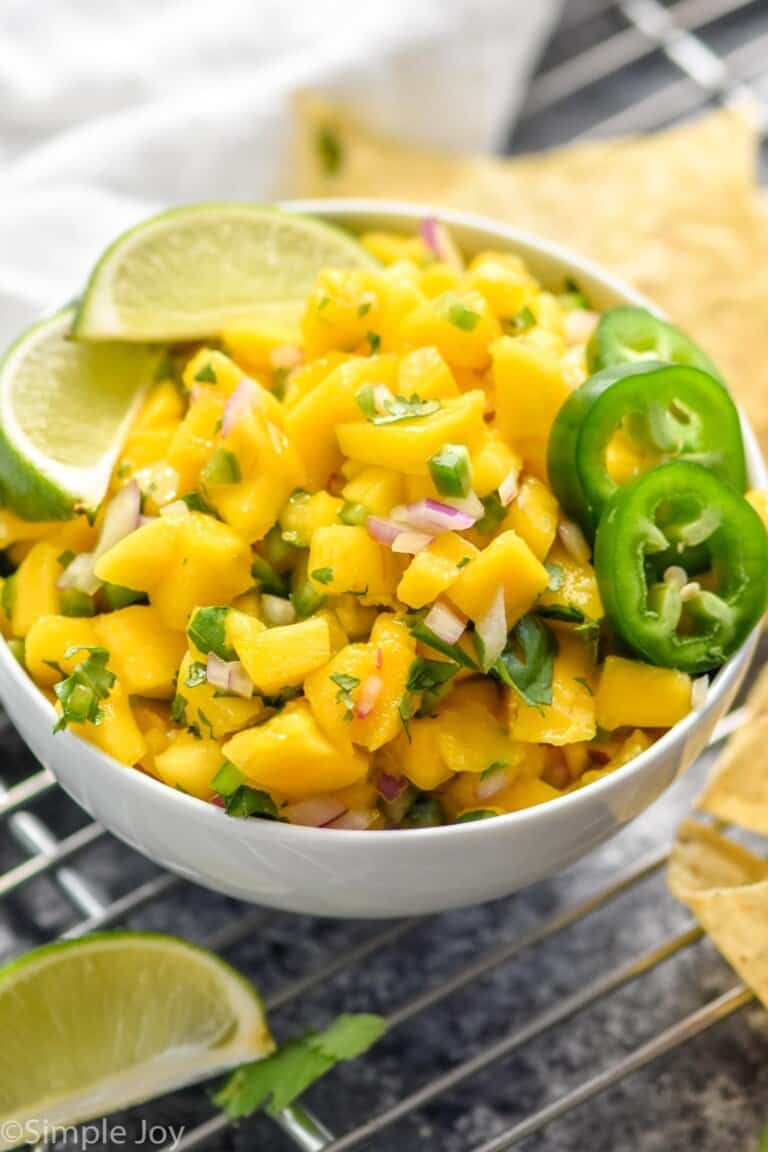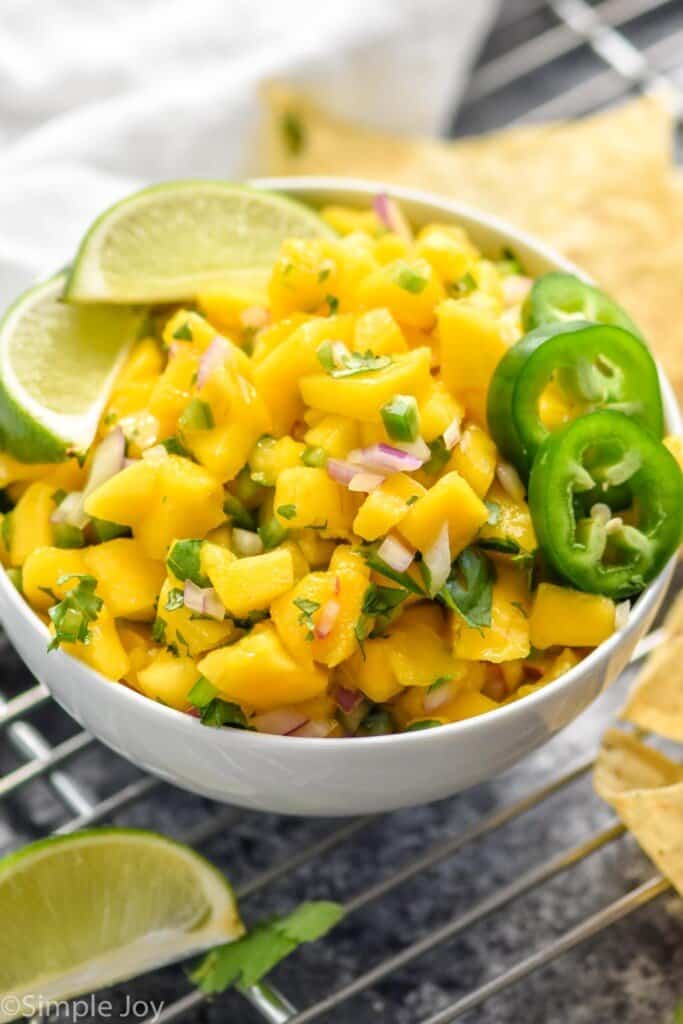 As you may know, I could live on tacos, chips, salsa, and the occasional margarita. So coming up with new salsas is my dream job.
This latest is like a Mango Pico de Gallo. It is based on my traditional Pico de Gallo recipe, but we swap out the tomatoes for mangos. The flavors of this easy salsa go perfectly with fresh mango.
How to Make Mango Salsa
This is a brief overview to show you how easy this amazing salsa is. For the full recipe with all of the measurements, see the recipe card at the bottom of the post.
Cut up the mango. See our detailed pictures below to make this an easy task.
Chop the rest of the ingredients. You will also need to dice a jalapeno (see our tips below), a red onion, and some cilantro.
Combine the rest of the ingredients. In a bowl mix the mango with the other chopped vegetables, minced garlic, lime juice, and salt.
How to Cut a Mango
Cutting up a mango is as simple as a few easy steps.
Start by cutting the sides off of the mango. You are aiming to get as close to the pit as possible without cutting into it.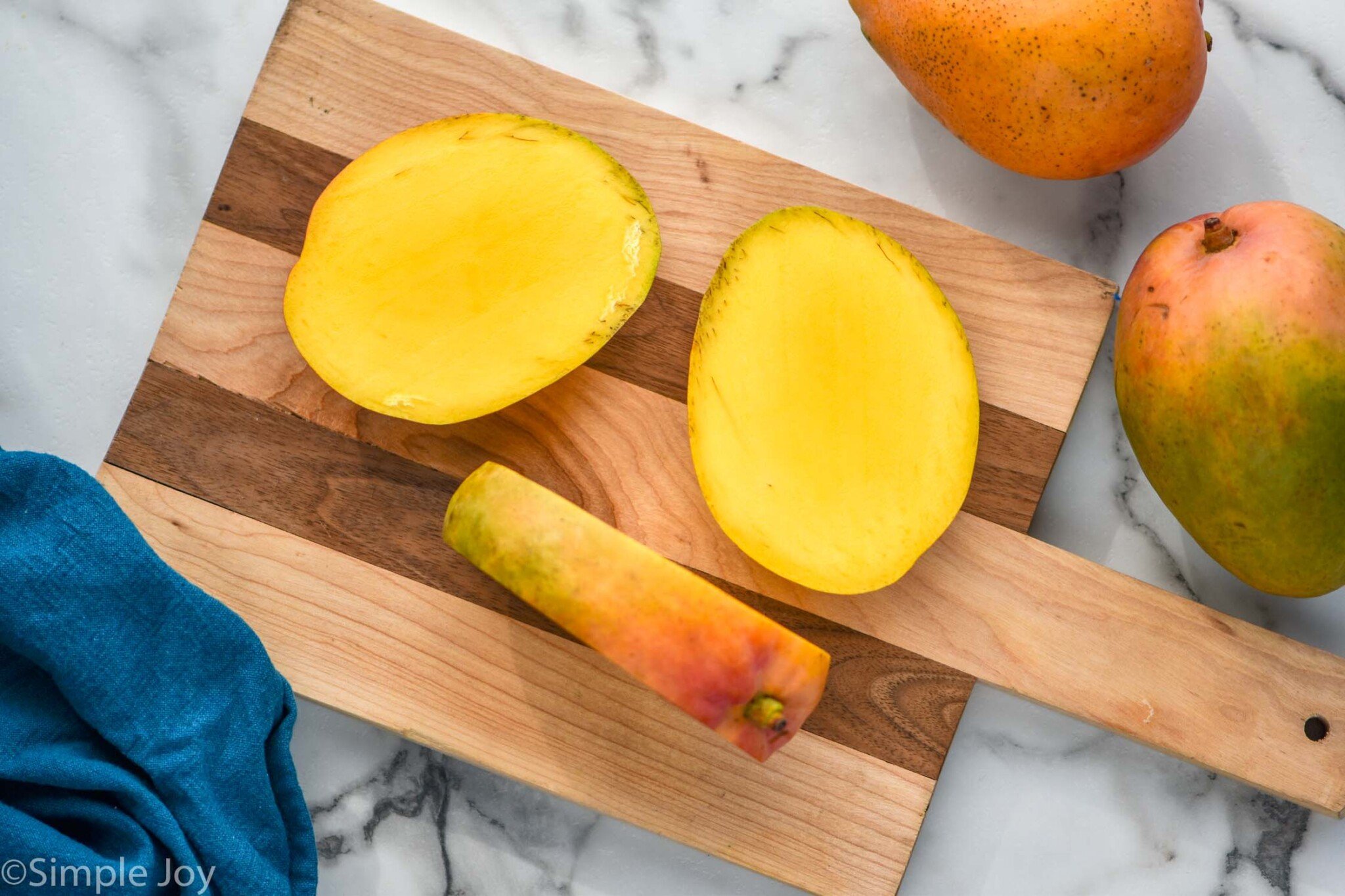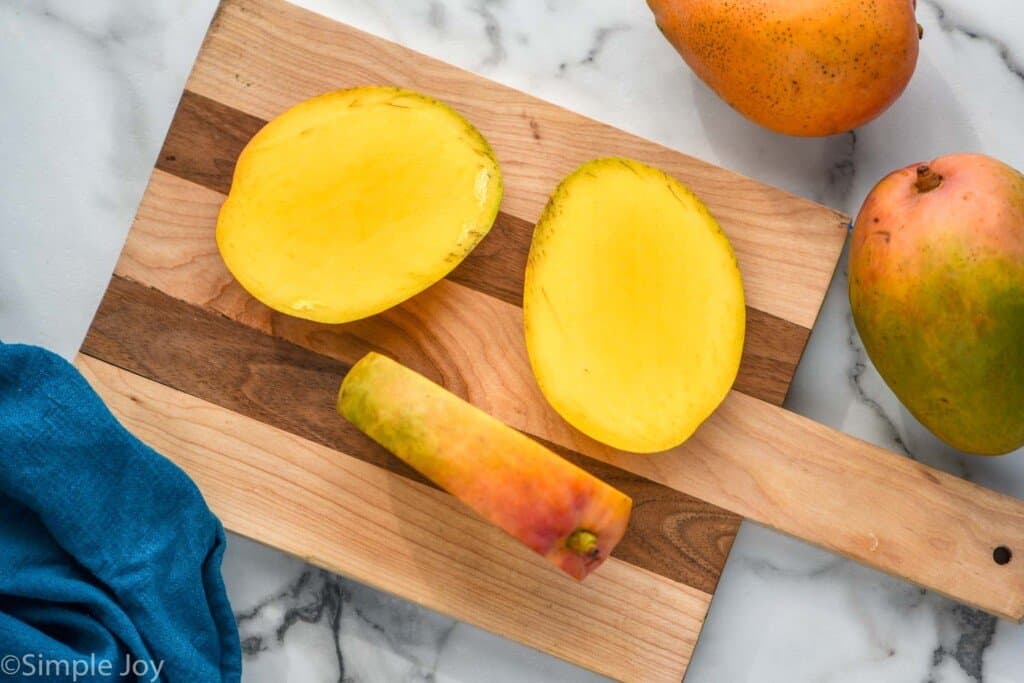 Now score the mango. Take one of the sides that you cut off and cut lines vertically and then horizontally. You want to cut into the flesh without cutting through the skin.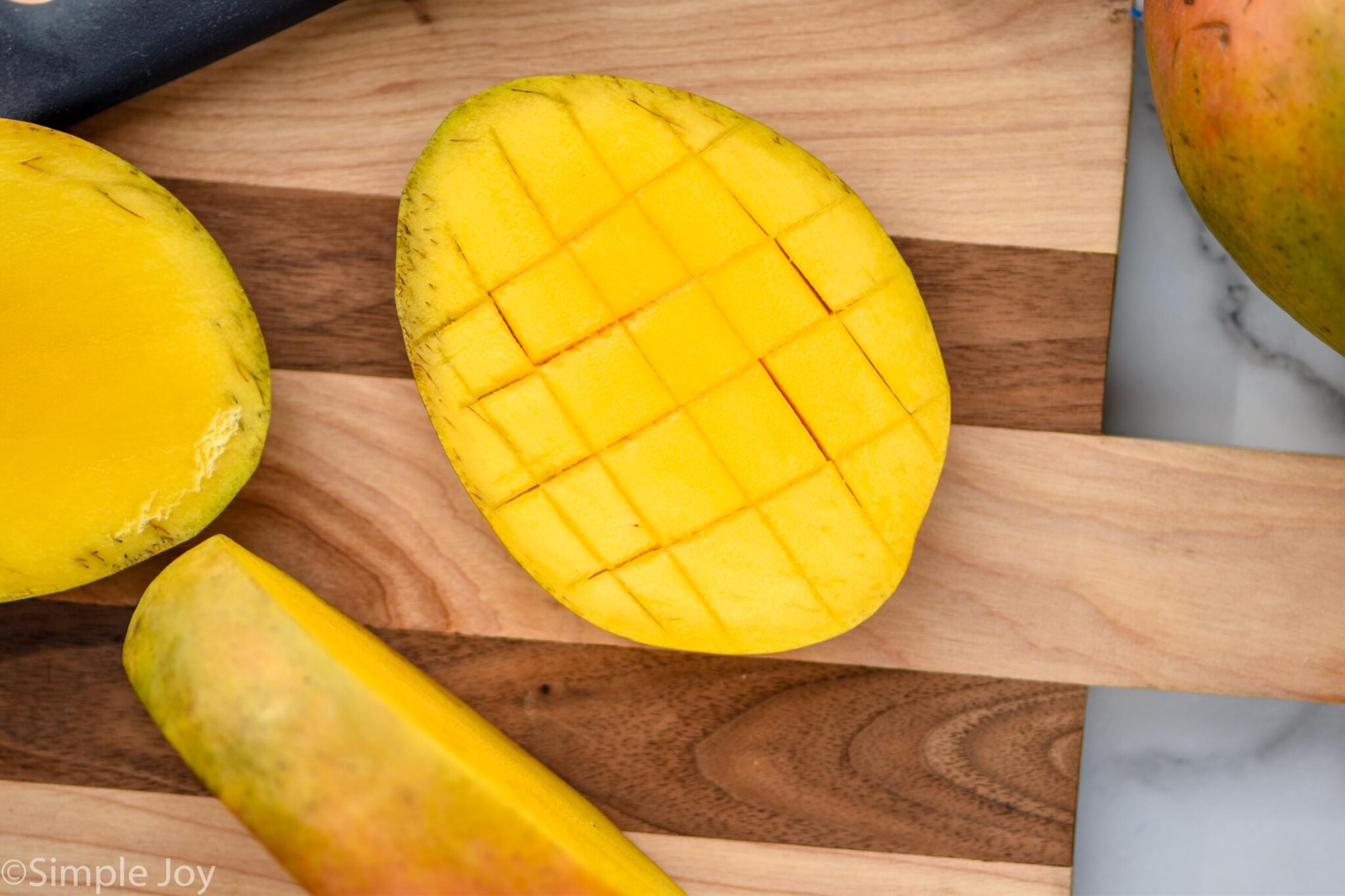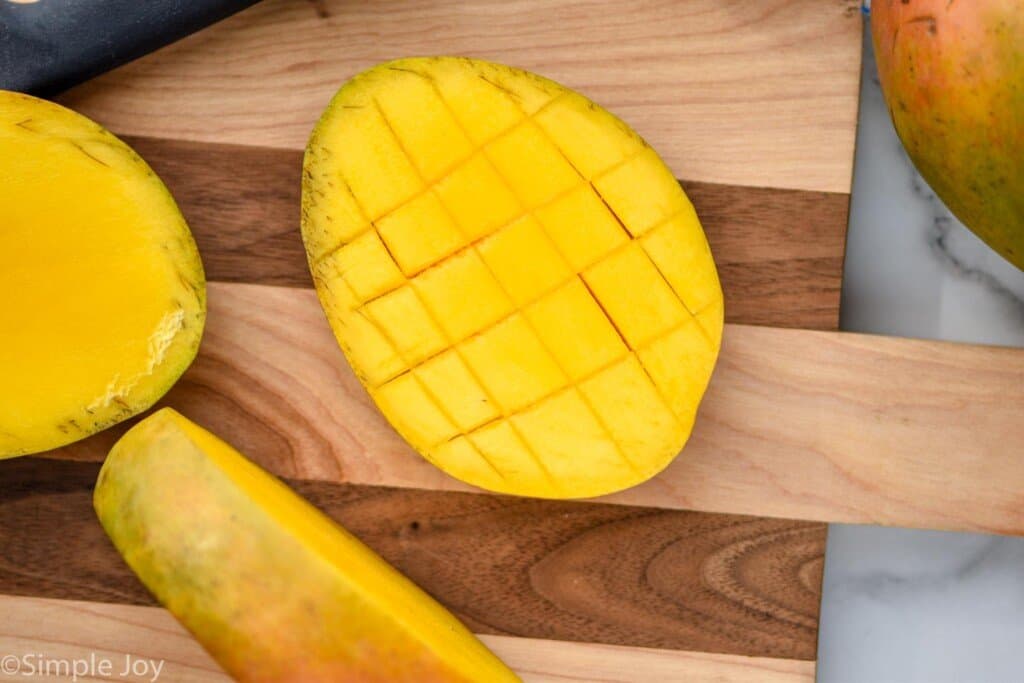 Flip the mango side inside out. This will make it really easy to cut the mango away from the skin. Repeat this process with the other half.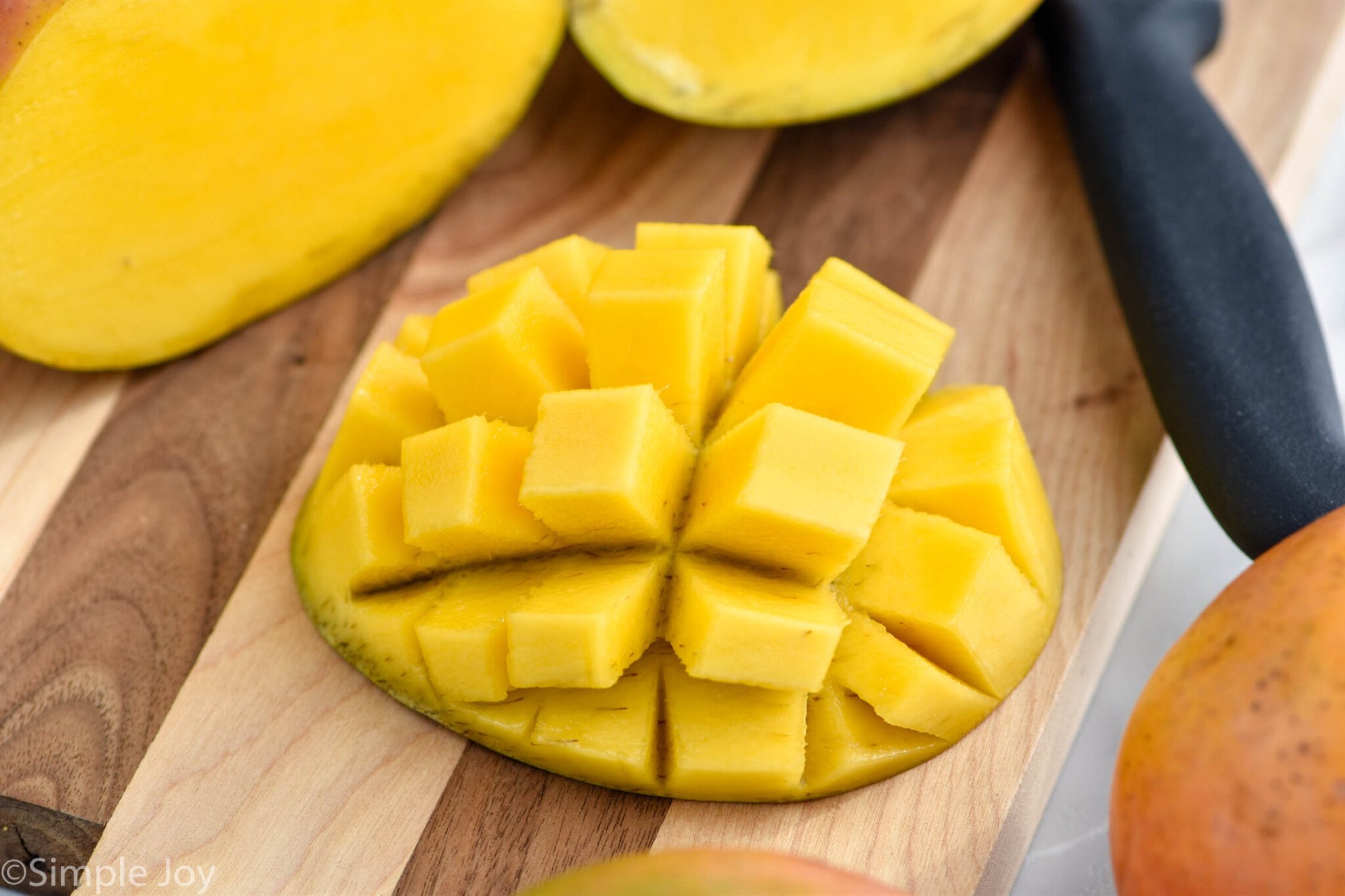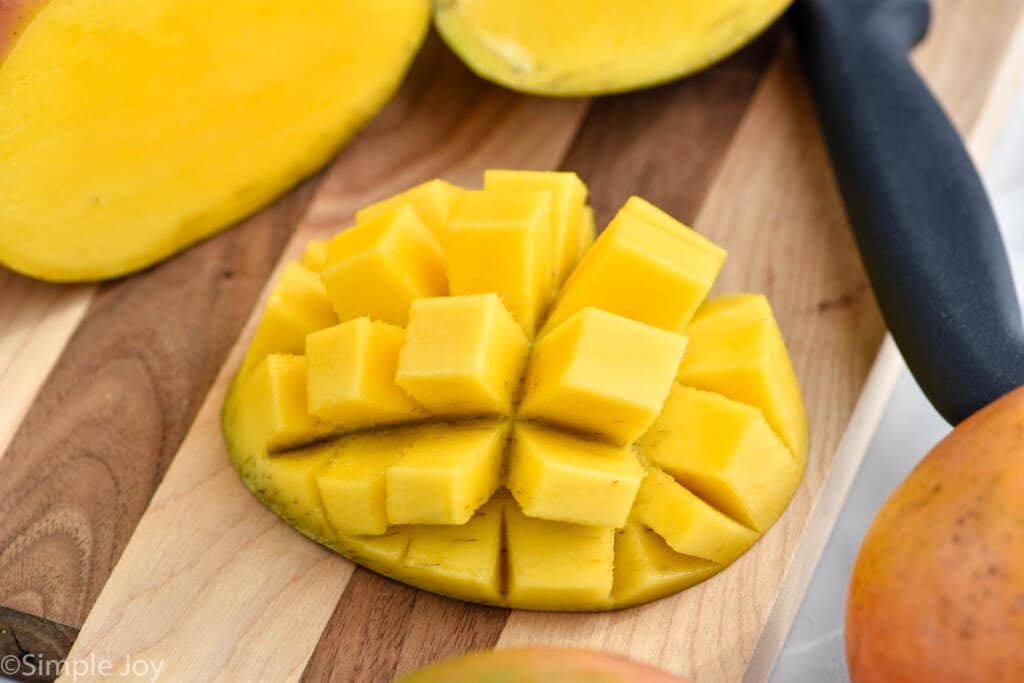 Cut mango away from the pit. I like to cut off the remaining flesh away from the pit and then dice it.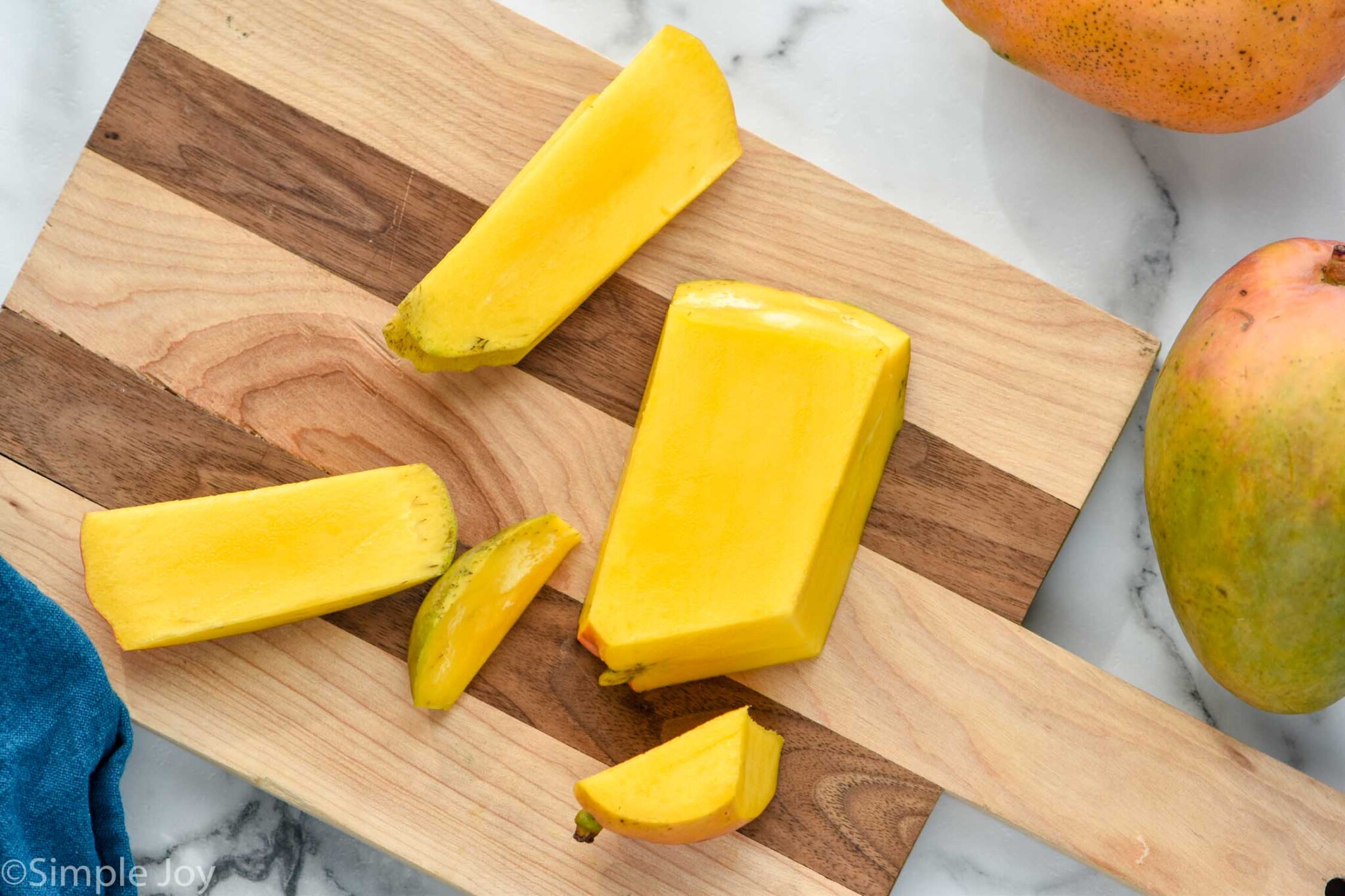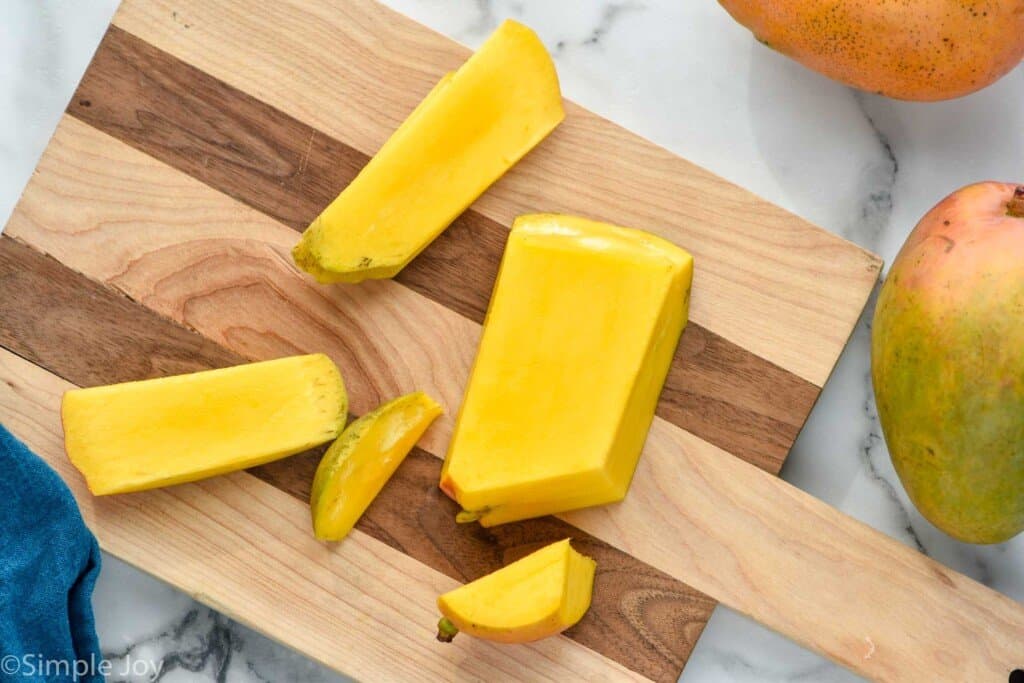 Once you have the mango cut away from the skin (both the halves and what you got around the pit) dice it smaller.
Using Canned or Frozen Mango
We far prefer this recipe with fresh mango. It has a sturdier texture that is ideal for salsa. That being said, you can use canned or frozen mango that has been thawed if you can't find fresh mango in the grocery store. Just keep in mind that while the flavor will still be great, the texture won't be nearly as good.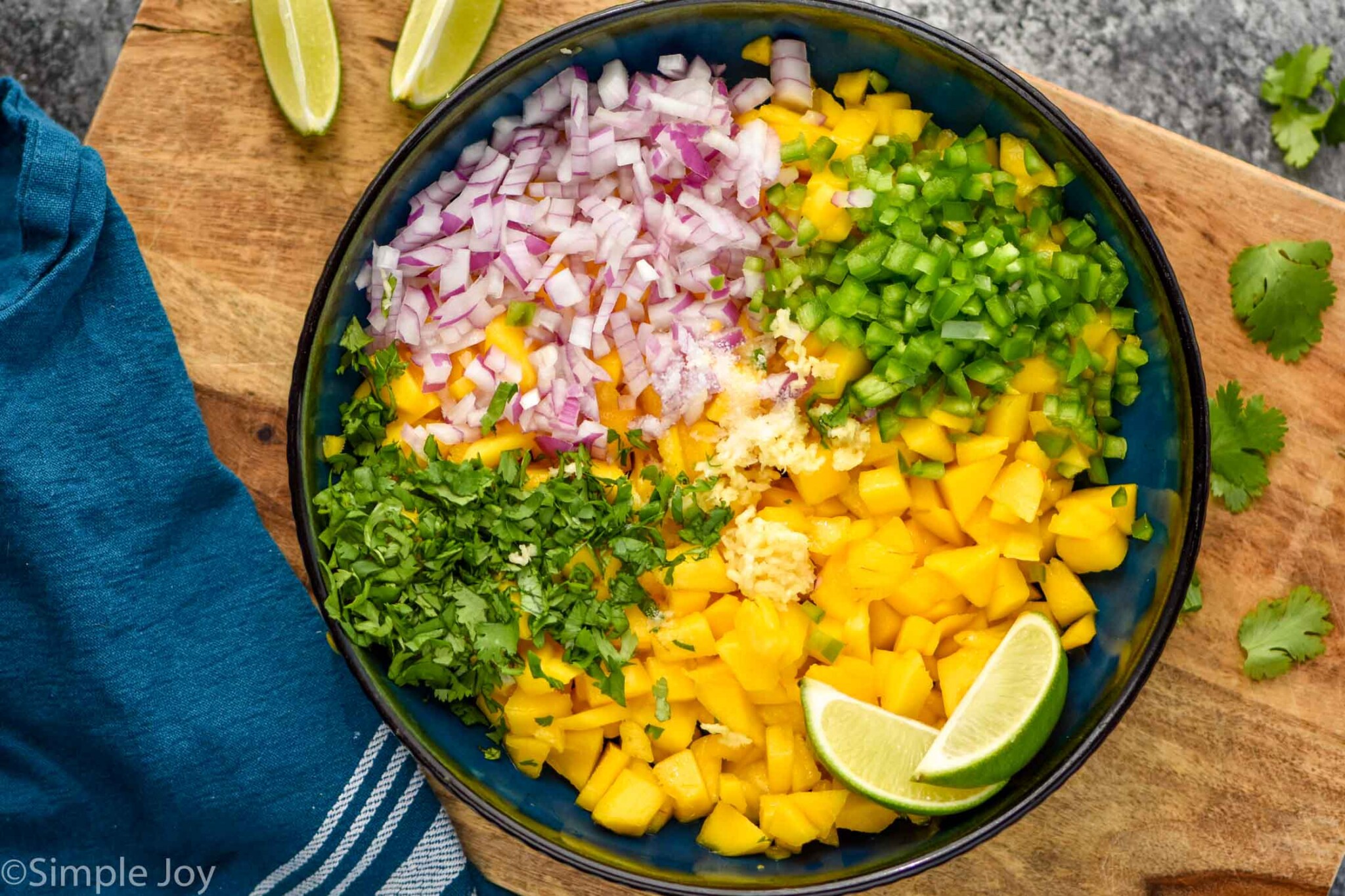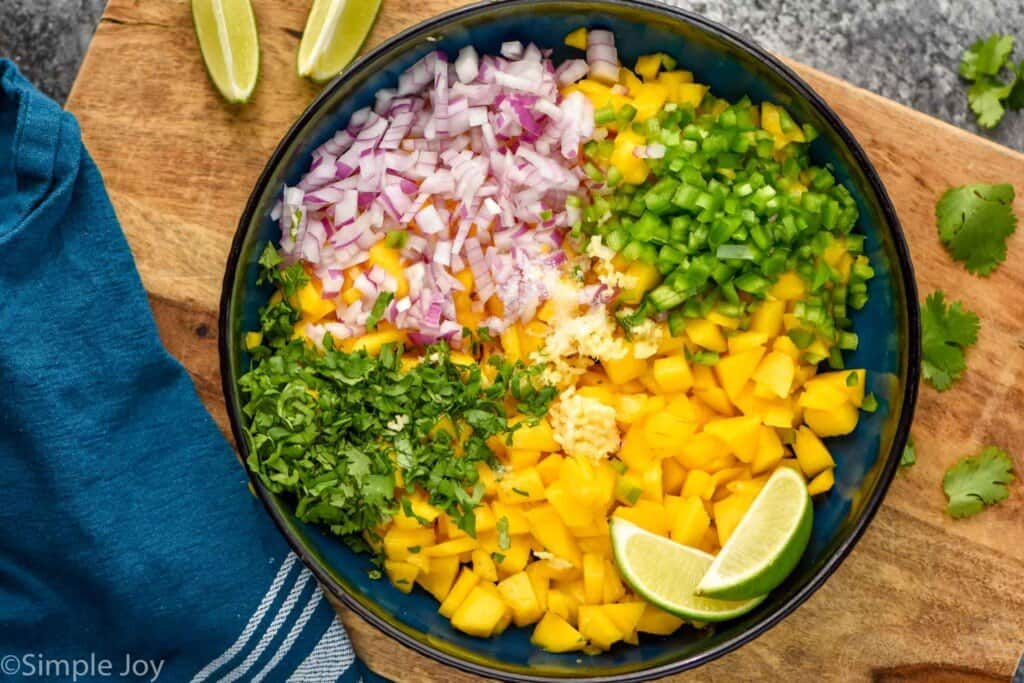 How to Cut a Jalapeno
When cutting a jalapeño, I like to think of it as a four sided object. Cut off each of the sides avoiding the seeds and the ribbing in the middle of the jalapeño. Then cut the "sides" into strips and dice them fine. This keeps a lot of the heat of the jalapeño (which lives in the ribbing and seeds) out of this recipe.
What to Eat with Mango Salsa
This mango salsa recipe would be great on our chicken tacos. It would also be amazing to have shrimp tacos with mango salsa. Finally, you could make mango salsa chicken with our grilled chicken recipe.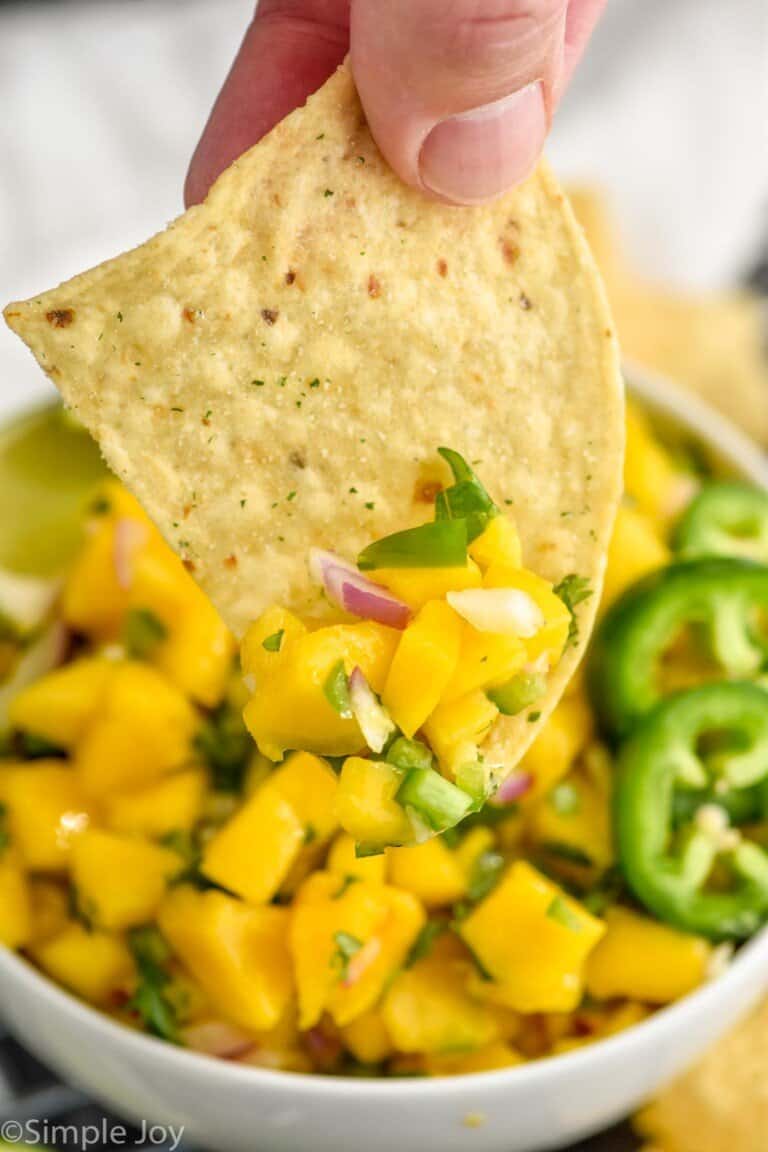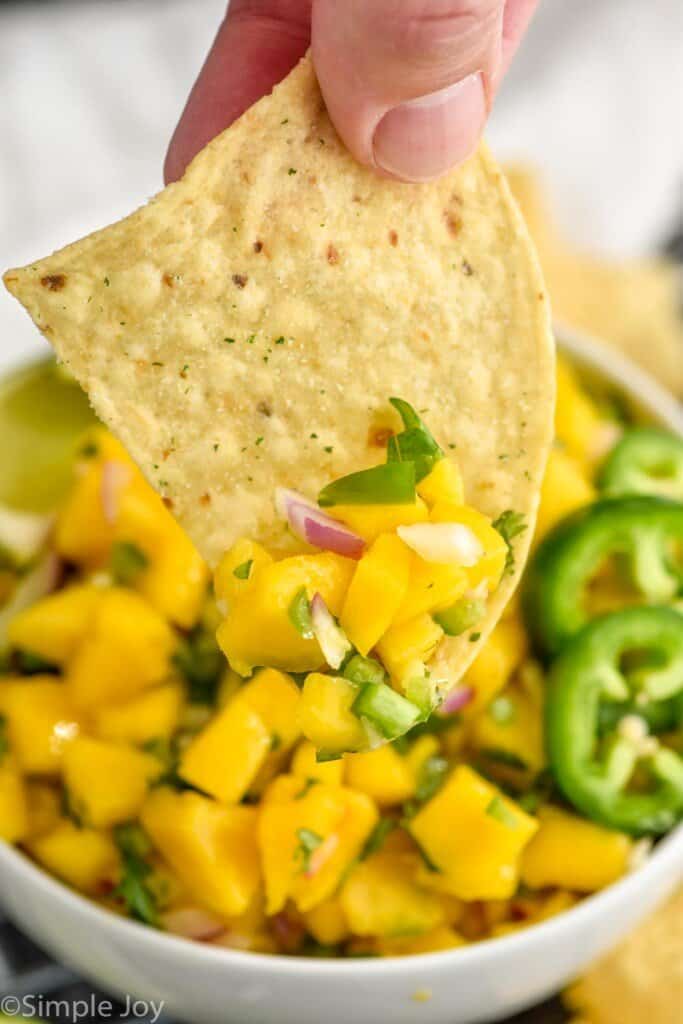 FAQ
Can mango salsa be made ahead of time?
Yes! You can make this the day before serving and still have the great texture you are looking for.
How long does mango salsa last?
Leftovers can be stored in the refrigerator for 3 to 4 days. Keep in mind that the mango won't be as sturdy after 24 hours.
Is this salsa spicy?
No, this is a mild salsa. If you would like it to be spicier, you can include the whole jalapeño including the seeds and ribbing.
Can I use canned or frozen mango?
Please see our note about this above.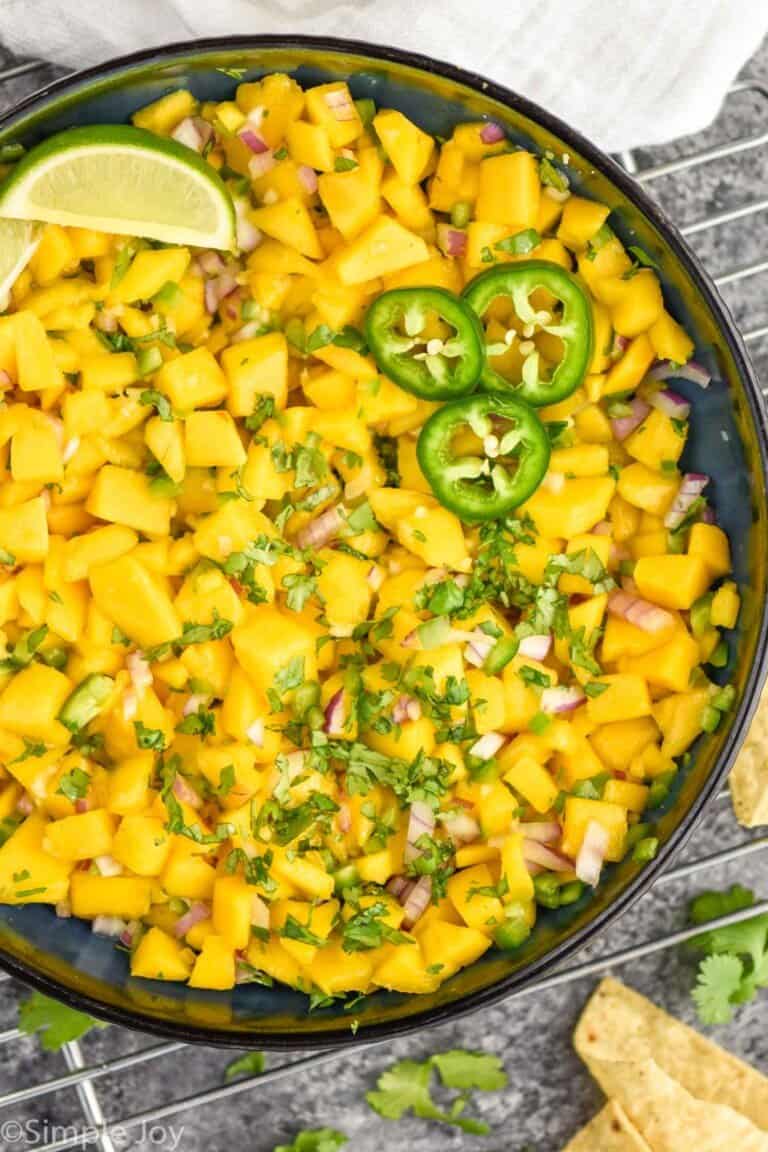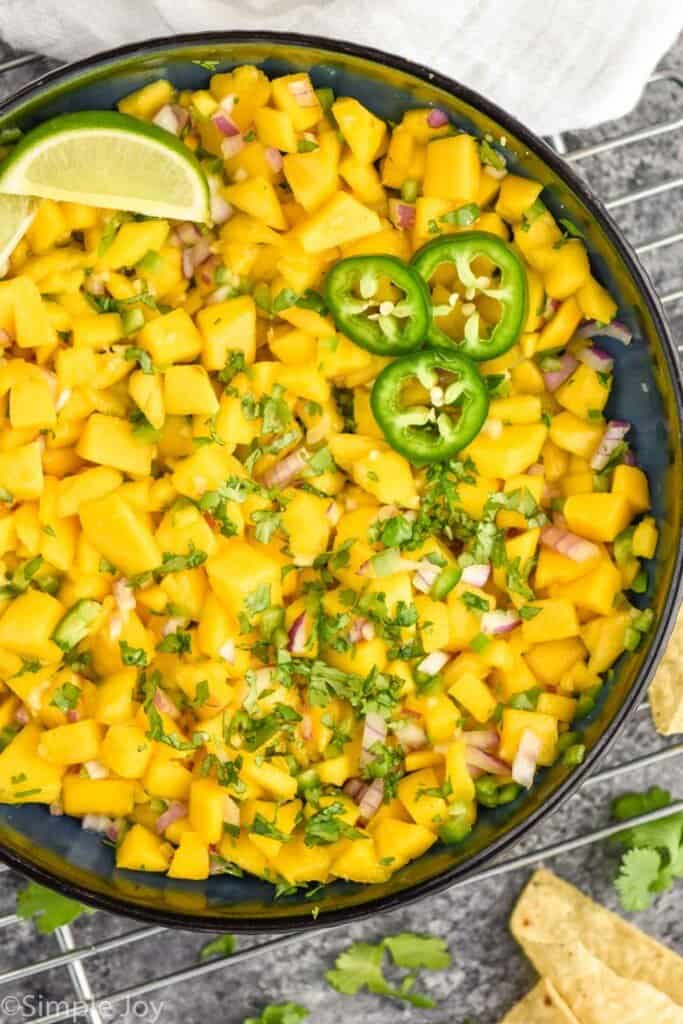 Other Recipes for Taco Night
If you are putting out a taco spread, try some of our other favorites!
If you make this mango salsa recipe or any of my other recipes, leave me a comment and let me know what you think!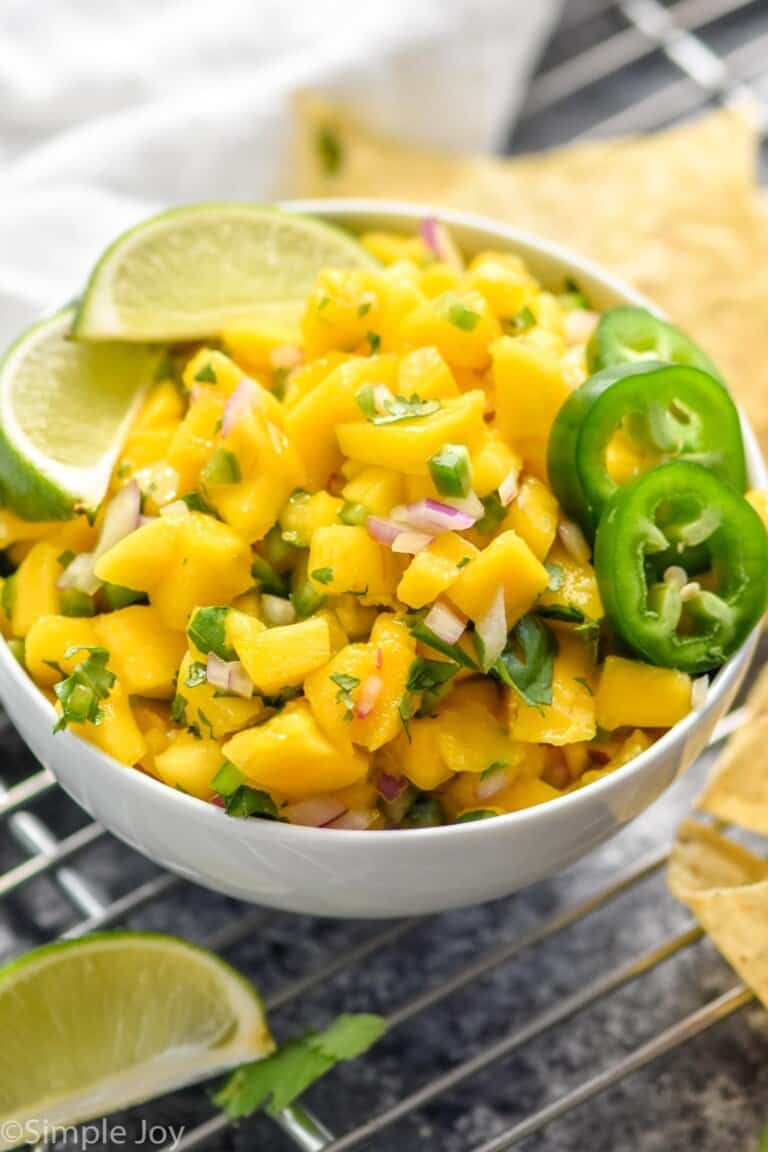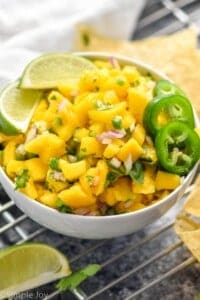 Mango Pico de Gallo Recipe
Mango Salsa is an easy recipe made with fresh ingredients and the perfect addition to tacos or to serve with chips!
Ingredients
2

medium mangos

diced (see photos in blog post)

1

jalapeño

diced small

1/2

small red onion

diced small

1

clove garlic

minced

1

tablespoon

lime juice

2

tablespoons

cilantro

diced

1/2

teaspoon

kosher salt

plus more to taste
Instructions
Combine all of the ingredients and serve with tortilla chips or on top of tacos.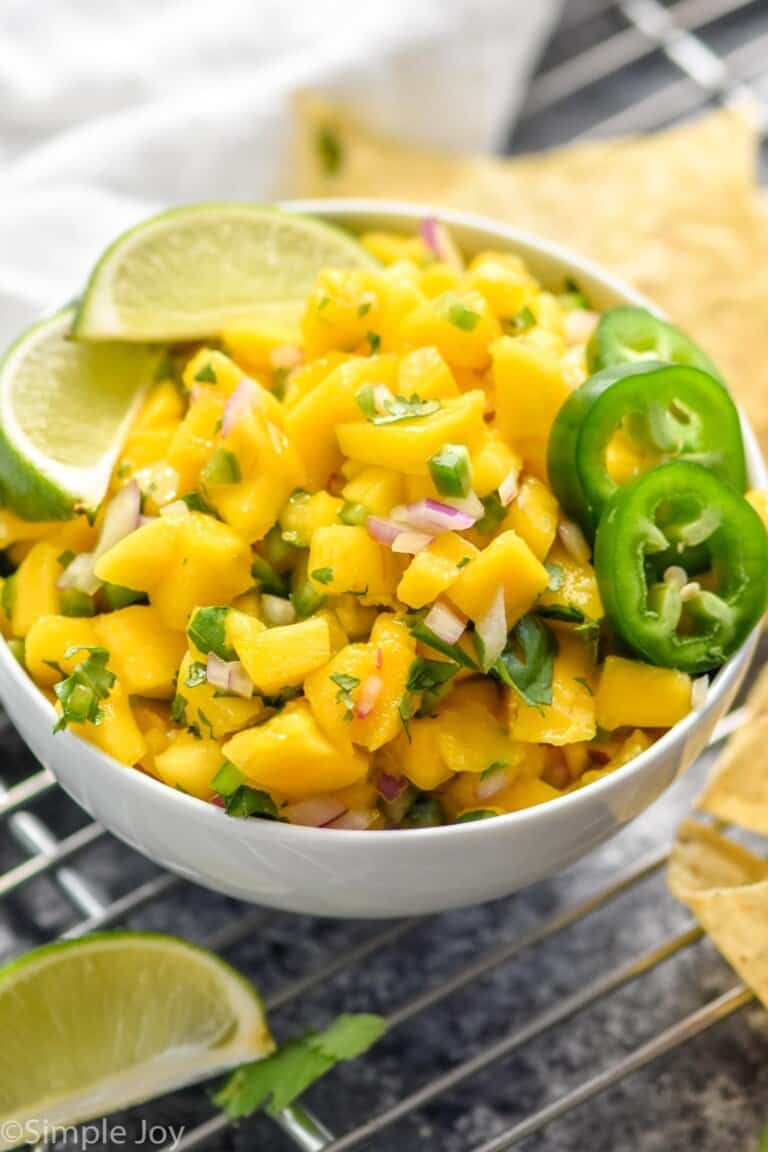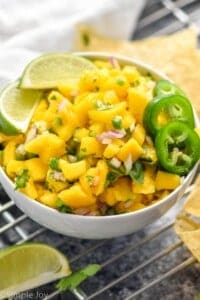 did you make this
Mango Pico de Gallo Recipe
you might also like . . . .