This Shrimp Salad recipe is easy to make and creates the perfect shrimp salad sandwiches. You will love the simple flavors in this fantastic summer salad recipe.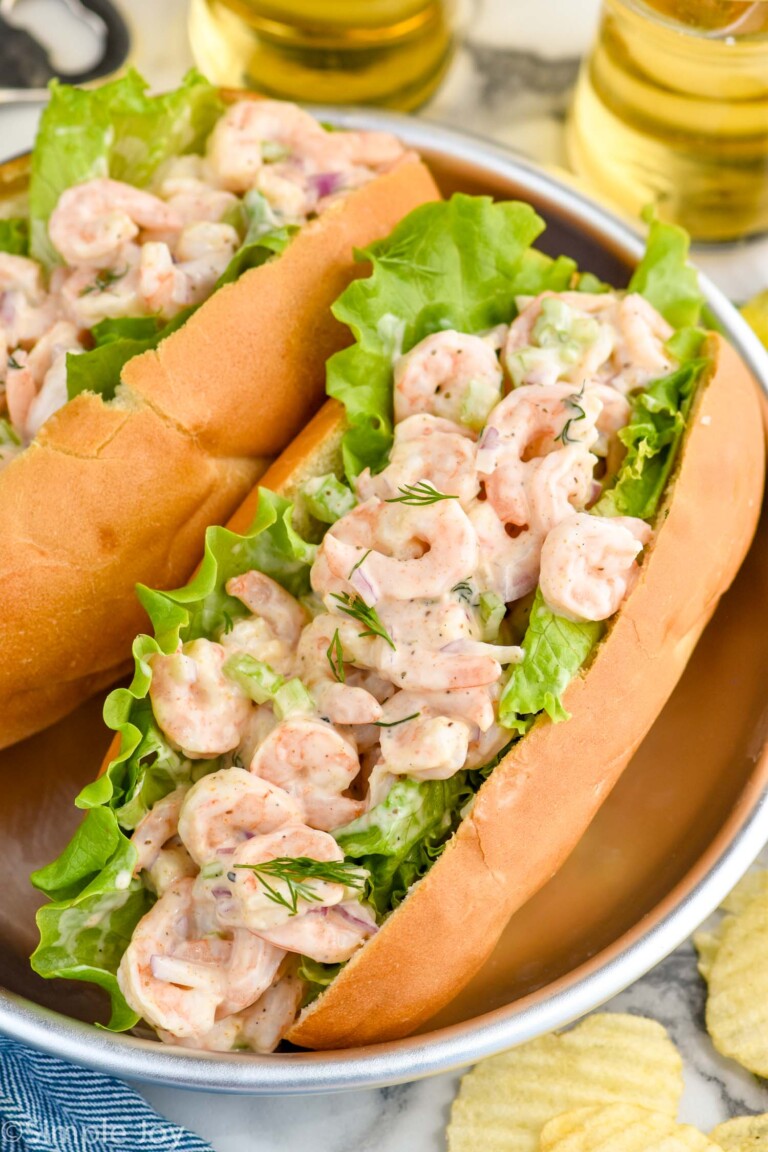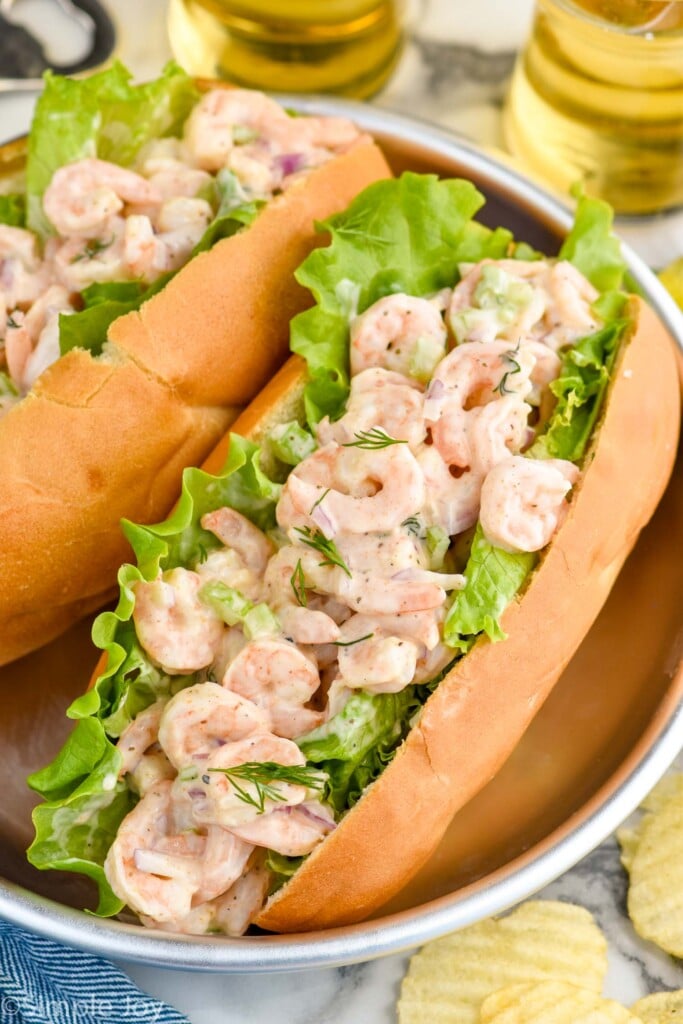 We are headed into picnic season, and nothing says picnic season like salad sandwiches – Egg Salad, Seafood Salad, Chicken Salad – we love them all around here. These sandwiches are such a great way to pack some protein into a meal and feed a crowd fast.
This Shrimp Salad fits that bill just perfectly. Made with ingredients that are easy to find, and flavors that meld perfectly with the shrimp, you will love this easy recipe. Eat it as a shrimp roll or wrap it up in lettuce for a lighter lunch. No matter how you serve this dish, it is the perfect easy dinner or great light lunch.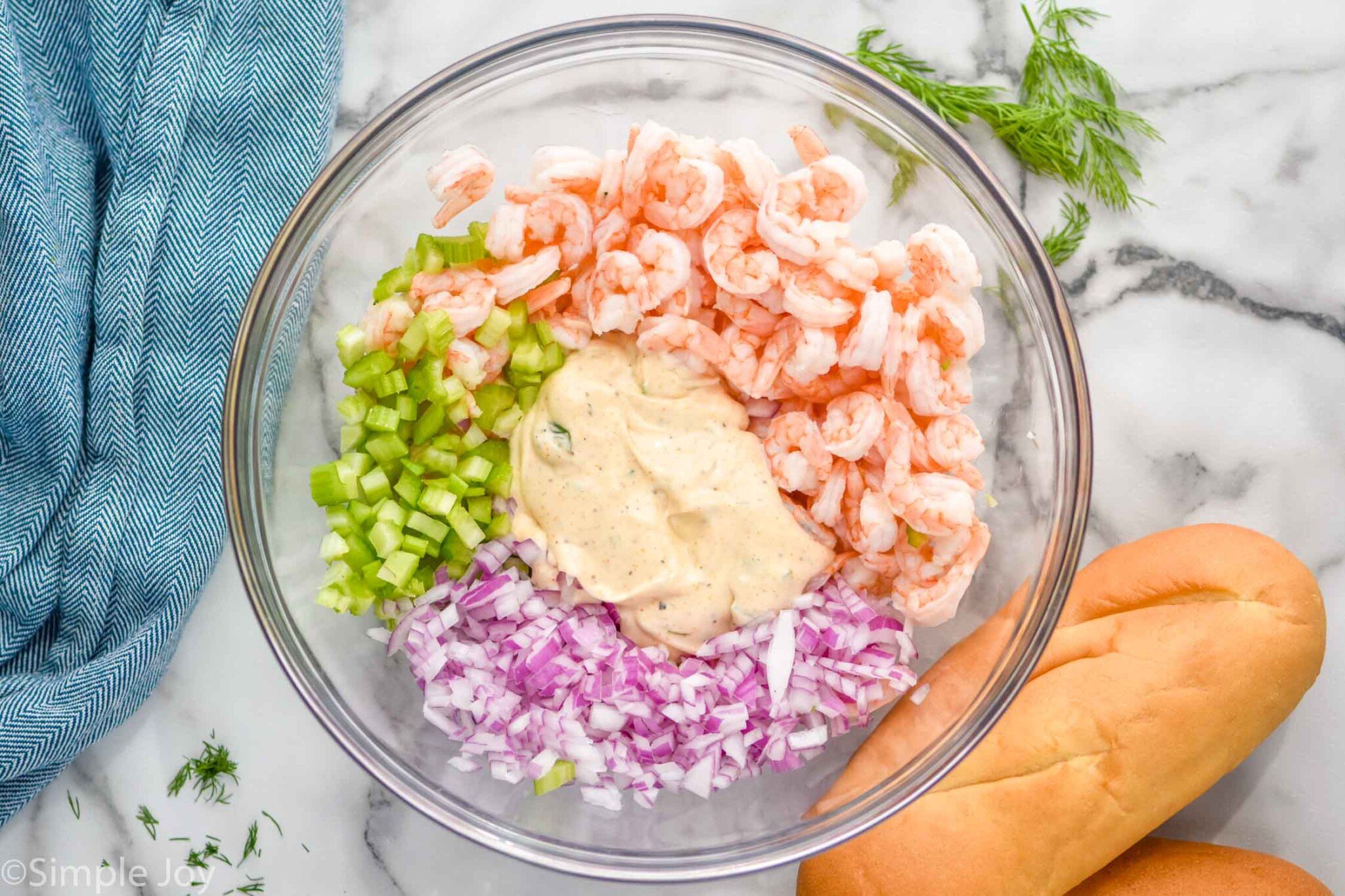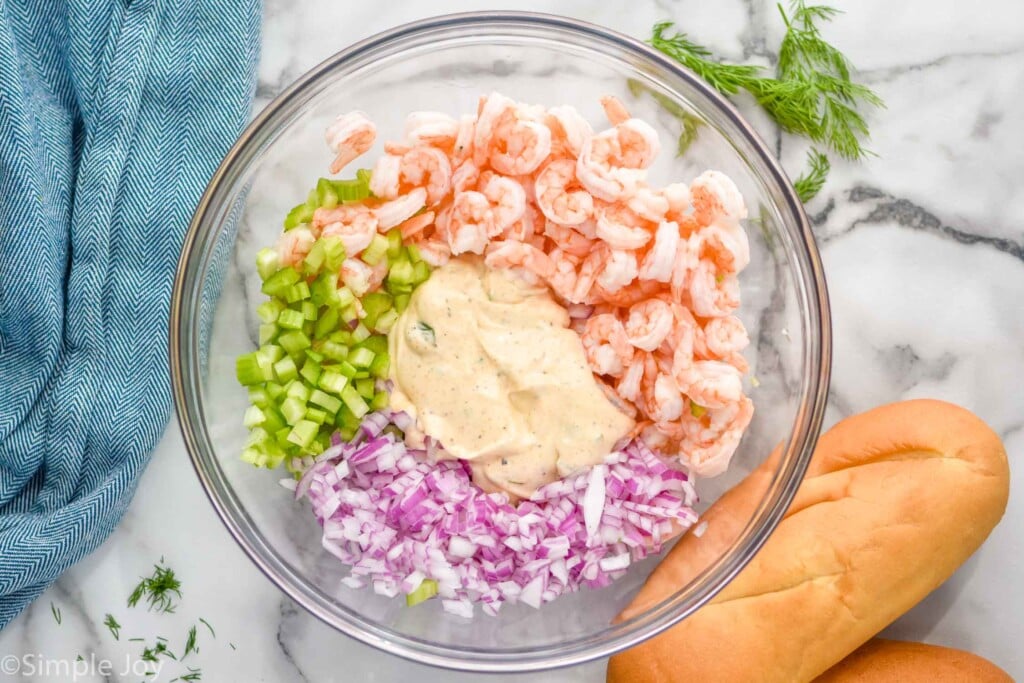 How to Make Shrimp Salad
This easy shrimp salad recipe comes together quickly and can be enjoyed right away. For the full recipe including all measurements and ingredients, scroll to the recipe card at the bottom of the post.
Combine main ingredients. Mix together the shrimp, red onion, and celery.
Make the dressing. Whisk together the sauce ingredients, starting with half of the salt called for. Taste and add more salt and pepper if needed.
Combine main ingredients and dressing. Stir until well combined and serve.
Buying Shrimp
Most of the shrimp that I buy is frozen. I wish I lived somewhere where fresh shrimp was inexpensive, but that is not my life. Frozen shrimp is great convenient way to keep it on hand so you can make this and other shrimp recipes all the time. It is easy to buy a bag of frozen salad shrimp that is already cooked and deveined so all you have to do is thaw it.
Thaw shrimp in the refrigerator overnight. Otherwise, you can run the shrimp under cold water until thawed. Please note that it is always best to follow the instructions on the shrimp package for how to thaw.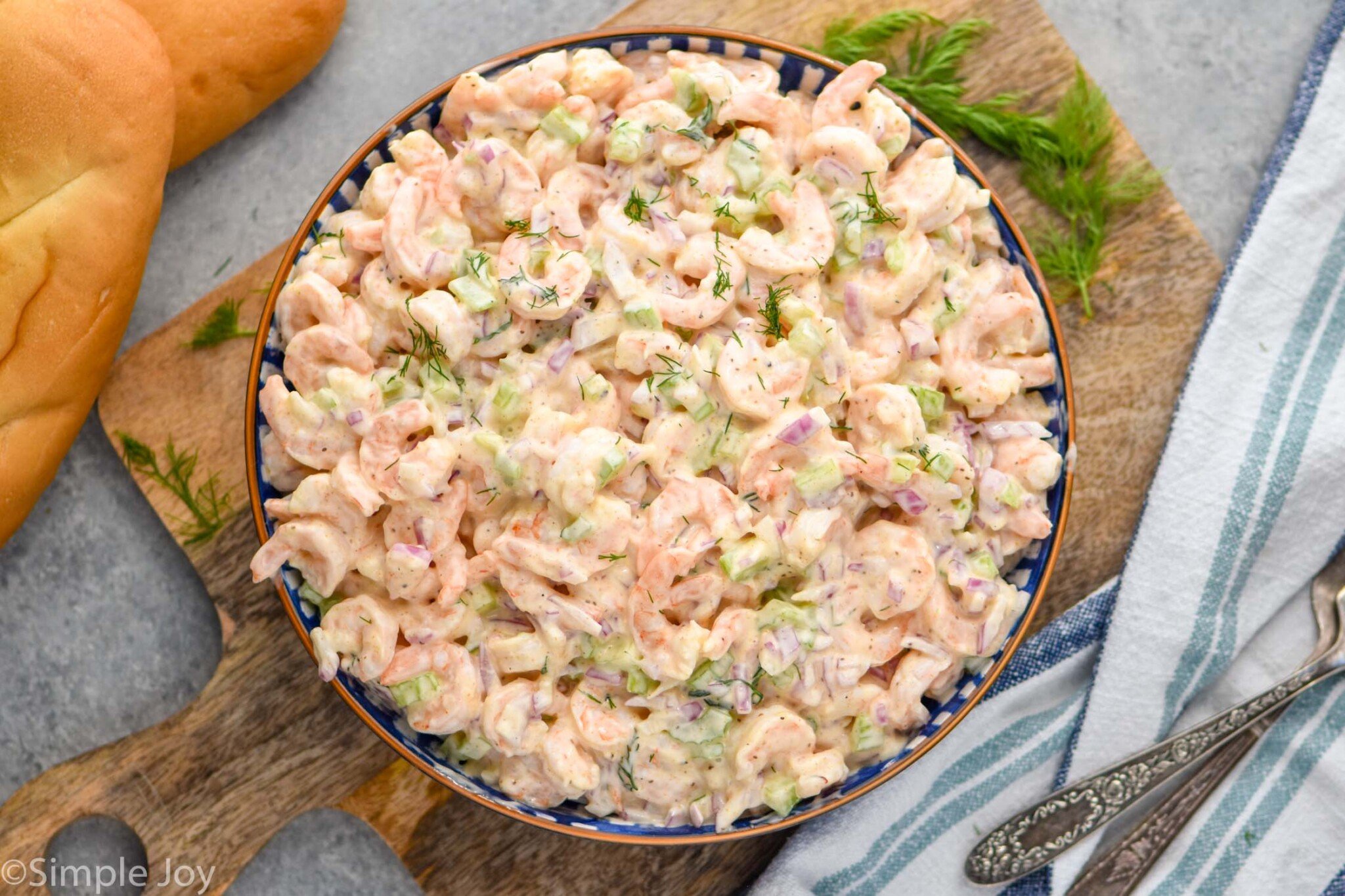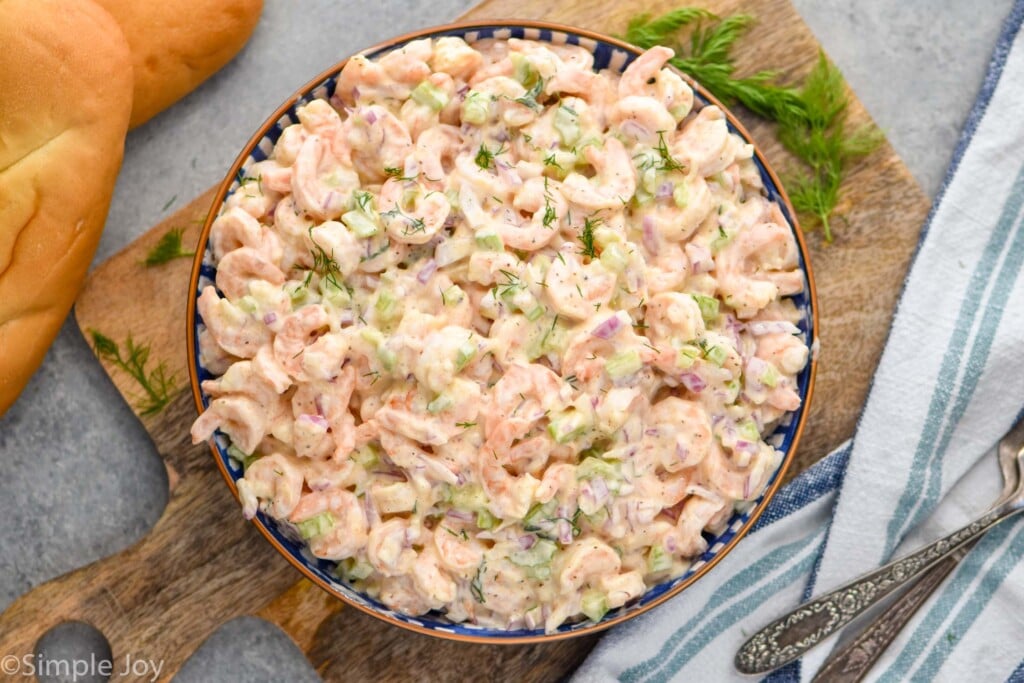 Shrimp Salad Dressing
The dressing for this recipe is very basic and has just six ingredients. I love it just as it is, but you can use it as a starting off point to make a more complex sauce if you wish.
Mayonnaise: I love using light mayonnaise because it is lower in calories and fat without sacrificing flavor. Please keep in mind that mayo and Miracle Whip are not the same thing. Miracle Whip brings a level of sweetness to recipes that I don't personally care for, and I wouldn't recommend using it as a swap.
Lemon Juice: The addition of lemon here adds a burst of bright flavor while also balancing the rich creaminess of this dish.
Fresh Dill: I will always spring for fresh dill when making recipes because it brings such a great flavor to recipes like this salad or my Pickled Eggs. You can read below on substituting with dry dill. Both are great in this recipe!
Salt and Pepper: These flavors will deepen the sauce, so don't wait to add them until the end. That being said, I like to recommend that you start with half of the salt called for and then adjust the seasonings at the end once all of the ingredients are combined.
What is Old Bay Seasoning
Old Bay Seasoning is a mix of different spices and herbs. It is most widely used on the East Coast of the United States while eating shellfish. That being said, it is widely available throughout grocery stores in the United States. If you are unable to find it, you can make your own Old Bay Seasoning. It is delicious in this shrimp salad recipe and in my Old Bay Chicken Wings.
Homemade Old Bay Seasoning Recipe
This homemade seasoning is so easy to throw together and can be used in many different recipes.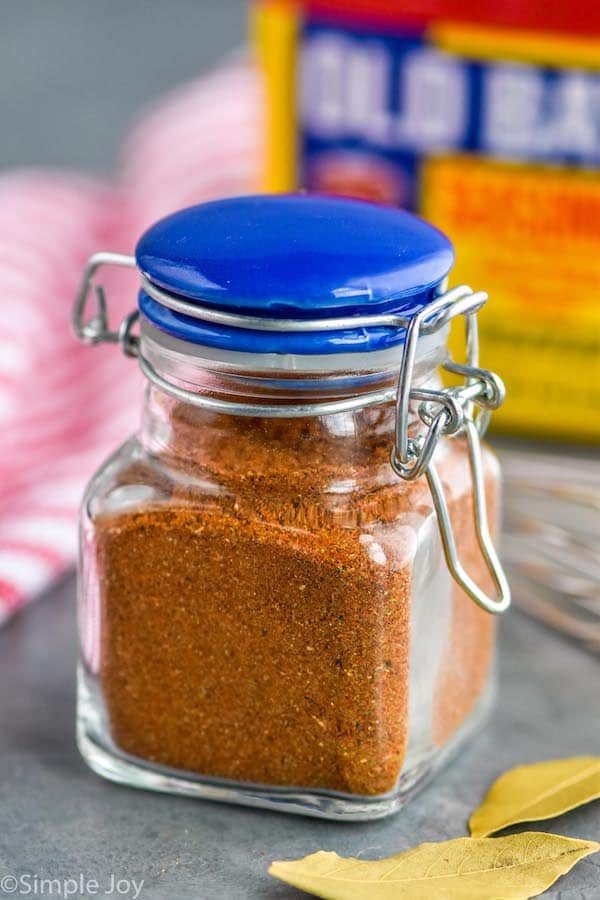 Fresh Dill vs Dry Dill
This recipe works with either fresh or dried dill, depending on what time of year you are making it and what is available to you. If you are using dry dill, you will need 1/2 teaspoon instead of a 1/2 tablespoon.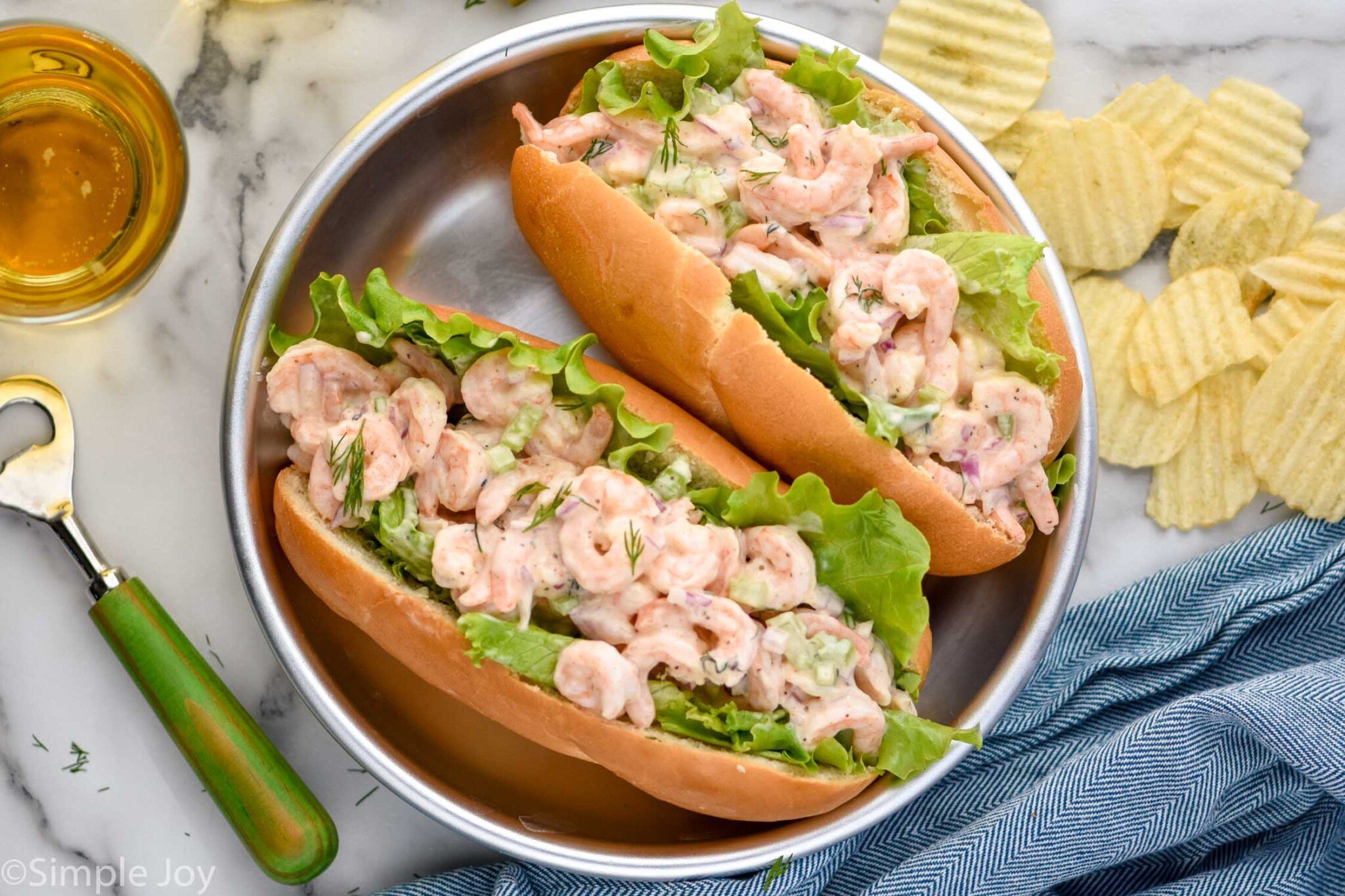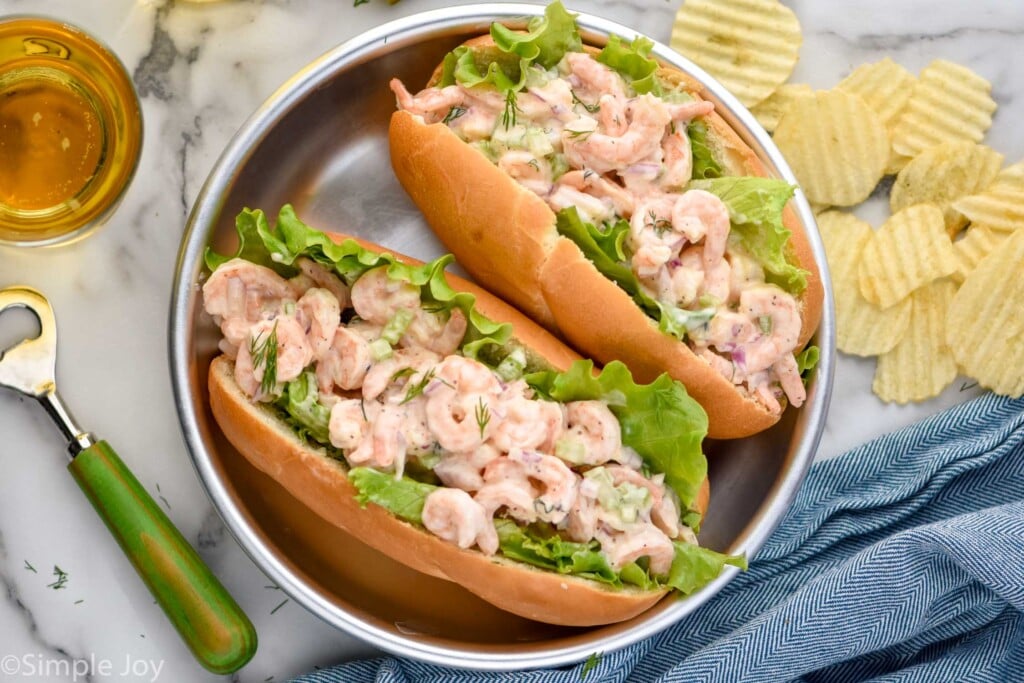 How to Serve
This shrimp salad recipe is delicious on a bun or a buttery croissant. If you are eating low-carb or want a gluten-free option, serve on lettuce cups. This recipe would also be great as a salad topping. This recipe makes about two cups, which is perfect for four sandwiches.
Storing Shrimp Salad
Store your shrimp salad in an airtight container for up to four days in the refrigerator. Always use your best discretion with leftovers; if it smells off, toss it. I would not recommend freezing this recipe due to the mayonnaise in it.
Shrimp Salad Recipe Variations
This Shrimp Pasta Salad combines cooked pasta with shrimp to create the perfect easy weeknight dinner or fast side to bring to a barbecue or picnic!
Add more seafood and make this Seafood Salad that includes crab meat in addition to shrimp.
Bulk out this salad more by adding additional vegetables. Avocado, roasted red peppers, and even vegetables that have been blanched (like asparagus, broccoli, or cauliflower) would be fantastic in this.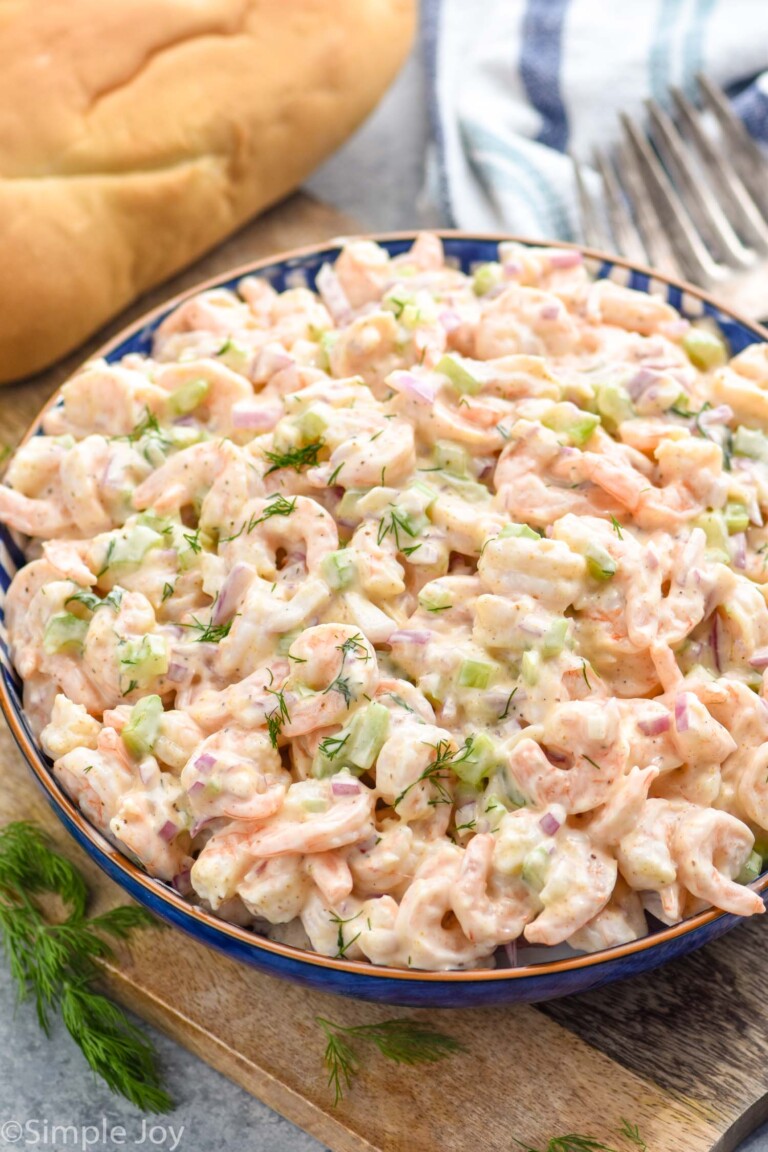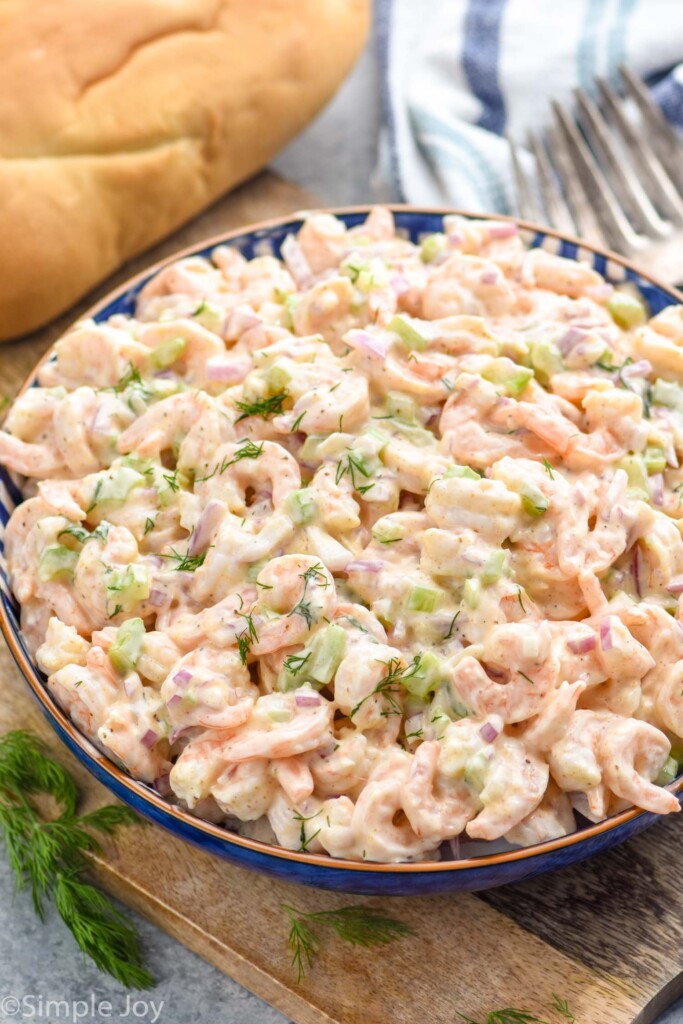 Other Summer Salad Recipes
These salad recipes feature different proteins and flavors that are so delicious and filling. They come together quickly and are perfect for weekday lunches and meal prep.
This Salmon Salad makes for an easy and healthy sandwich.
Pesto Chicken Salad features a refreshing homemade pesto twist to the classic chicken salad recipe and is a great way to use basil from your garden.
Ham Salad is a 10-minute recipe that is great on sandwiches, delicious with crackers, and perfect for using leftover ham!
If you try this recipe for shrimp salad or any of my other recipes, please leave a comment and let me know what you think. I love hearing from you!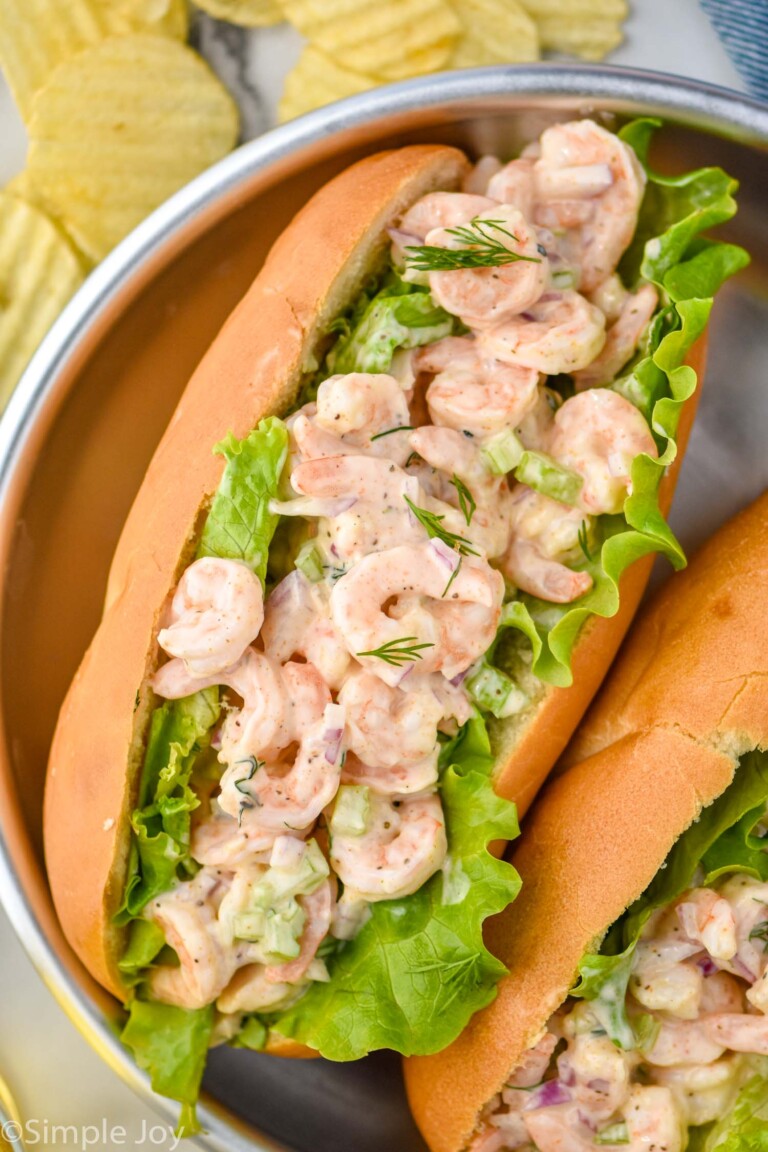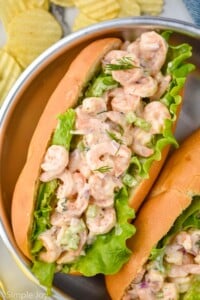 Shrimp Salad Recipe
This Shrimp Salad recipe is easy to make and creates the perfect shrimp salad sandwiches. You will love the simple flavors in this fantastic summer salad recipe.
Ingredients
1

pound

shrimp

cooked, deveined, and thawed

1/2

small red onion

diced small

2

stalks celery

diced

3/4

cup

mayonnaise

(I used light)

1

tablespoon

lemon juice

1 1/2

teaspoon

Old Bay Seasoning learn more about Old Bay Seasoning

1/2

tablespoon

fresh dill

or 1/2 teasoon dry dill

1/2

teaspoon

kosher salt

(see note)

black pepper

to taste
Instructions
In a large bowl, combine the shrimp, red onion, and celery.

1 pound shrimp,

1/2 small red onion,

2 stalks celery

In a small bowl whisk together the mayonnaise, lemon juice, Old Bay Seasoning, fresh dill, and half the salt called for. Taste and add salt and pepper to taste.

3/4 cup mayonnaise,

1 tablespoon lemon juice,

1 1/2 teaspoon Old Bay Seasoning,

1/2 tablespoon fresh dill,

1/2 teaspoon kosher salt,

black pepper

Stir the dressing into the main ingredients and serve. This recipe can be stored in the refrigerator for up to four days in an airtight container.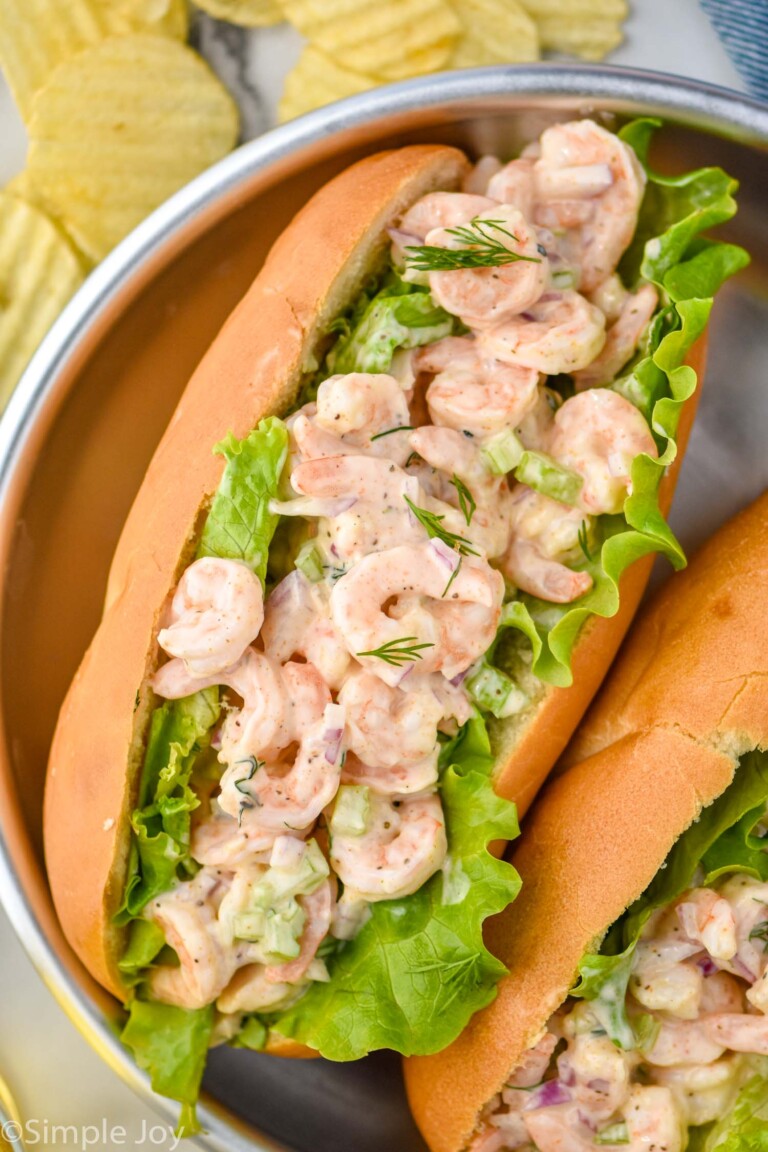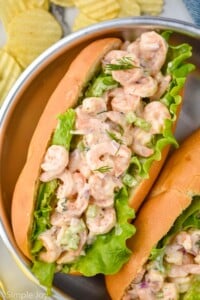 did you make this
Shrimp Salad Recipe