This Bang Bang Shrimp is going to rock your world. Panko fried shrimp combined with perfect bang bang sauce will make you never want take out again.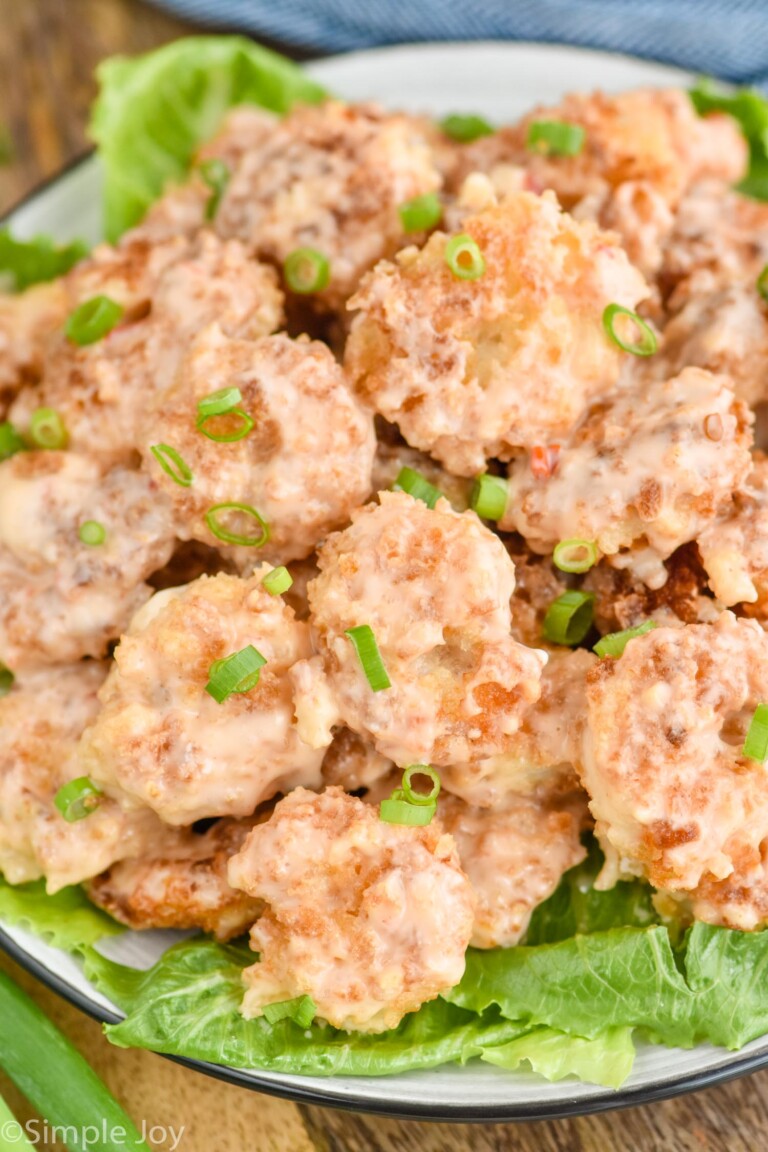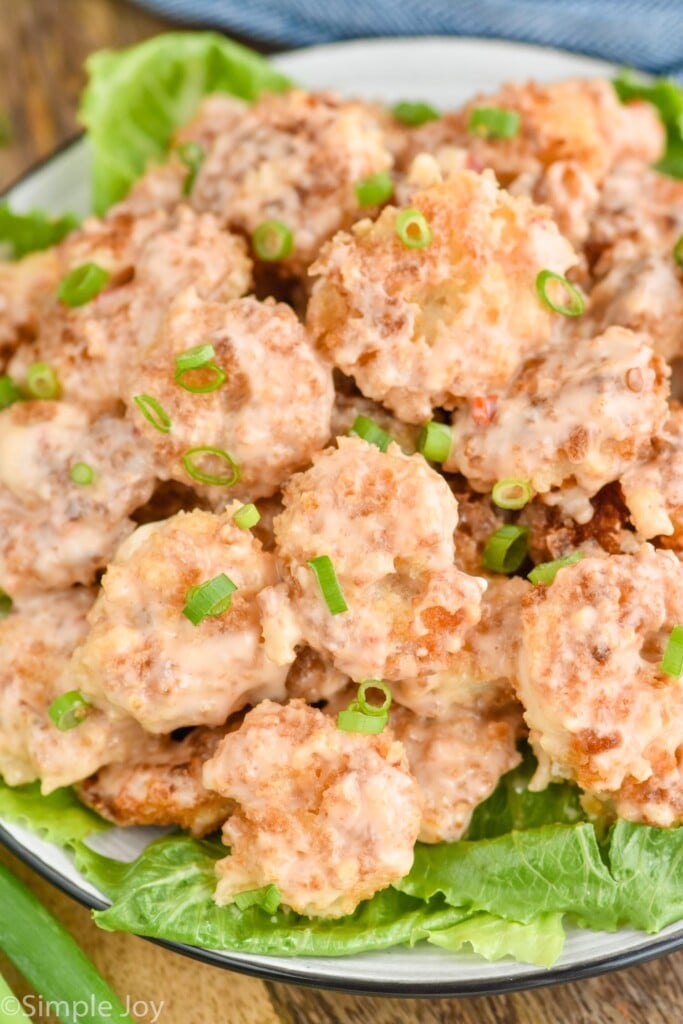 If you have ever been Bonefish Grill, you know how amazing and unique their Bang Bang Shrimp is. It is crazy good. I have great news for you though! It can be made, easily, right in your own kitchen.
You know by now that I am all about easy home cooked meals. I shy way from complicated meals with hard-to-find ingredients. Though this Bang Bang Shrimp recipe might seem complex or difficult, it is very easy. Let's walk through everything you need to know, shall we?
How to Make Bang Bang Shrimp
This is a brief overview of how to make this delicious seafood recipe. Please scroll to the bottom of the post to get detailed instructions and full measurements.
Make the Bang Bang Shrimp Sauce. Whisk together the ingredients needed for the sauce. Taste the sauce and adjust as needed (more on this below).
Set up the breading station. Put flour in a shallow dish. You will need foamy egg whites in one bowl, and in a final shallow dish, add the panko breadcrumbs.
Bread the shrimp. Dip the shrimp in the flour, then egg whites, then the breadcrumbs. It works best to have one hand doing the flour and eggs, and another taking it from the eggs and dipping it in the panko.
Fry the shrimp. In a large skillet, heat up the vegetable oil. Add the shrimp and cooking batches, about 1 to 2 minutes on each side.
Toss the shrimp with the sauce and enjoy.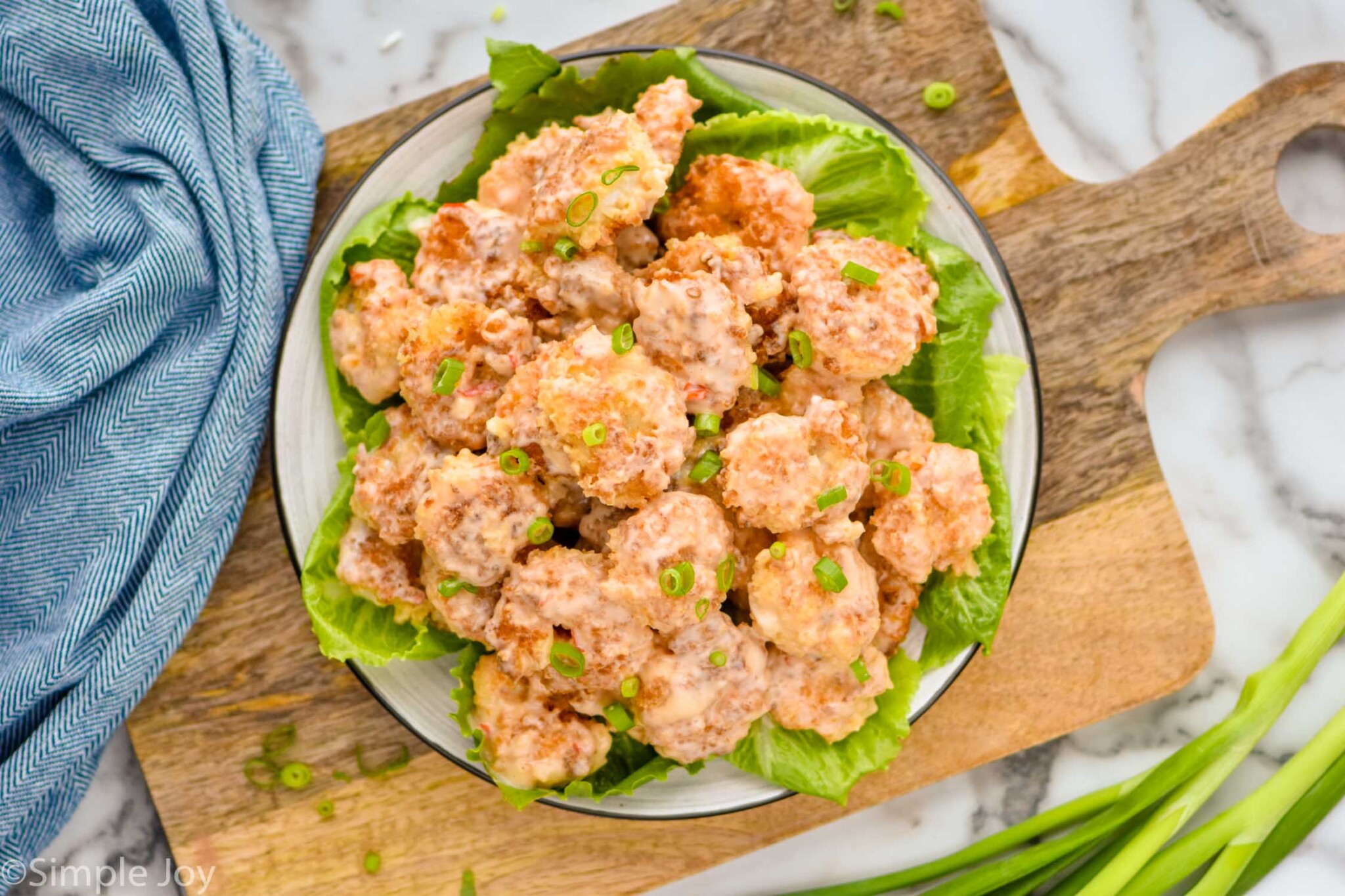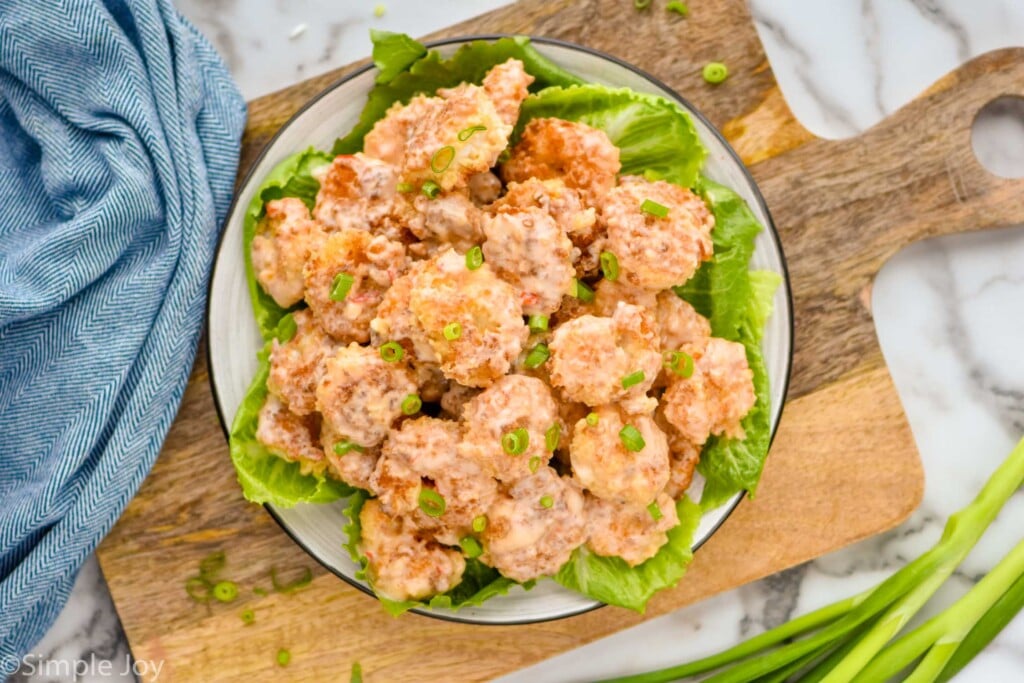 Preparing Shrimp
There are a few things to consider when buying and preparing the shrimp for this recipe.
Buy shrimp that is raw. We are frying the shrimp, so you want it to cook in the oil but not overcook in the oil. If you buy precooked shrimp you will have very overcooked shrimp.
Consider buying frozen shrimp. I love fresh shrimp, but living in the middle of the country, getting quality fresh shrimp isn't a thing. I lean heavily on frozen shrimp, which is frozen at peak freshness.
Buy shrimp that is peeled, deveined, and without tails.
Thaw the shrimp according to package instructions. Whether your package of shrimp says to thaw it under cold running water for 20 minutes or in the refrigerator overnight, be sure to heed those instructions.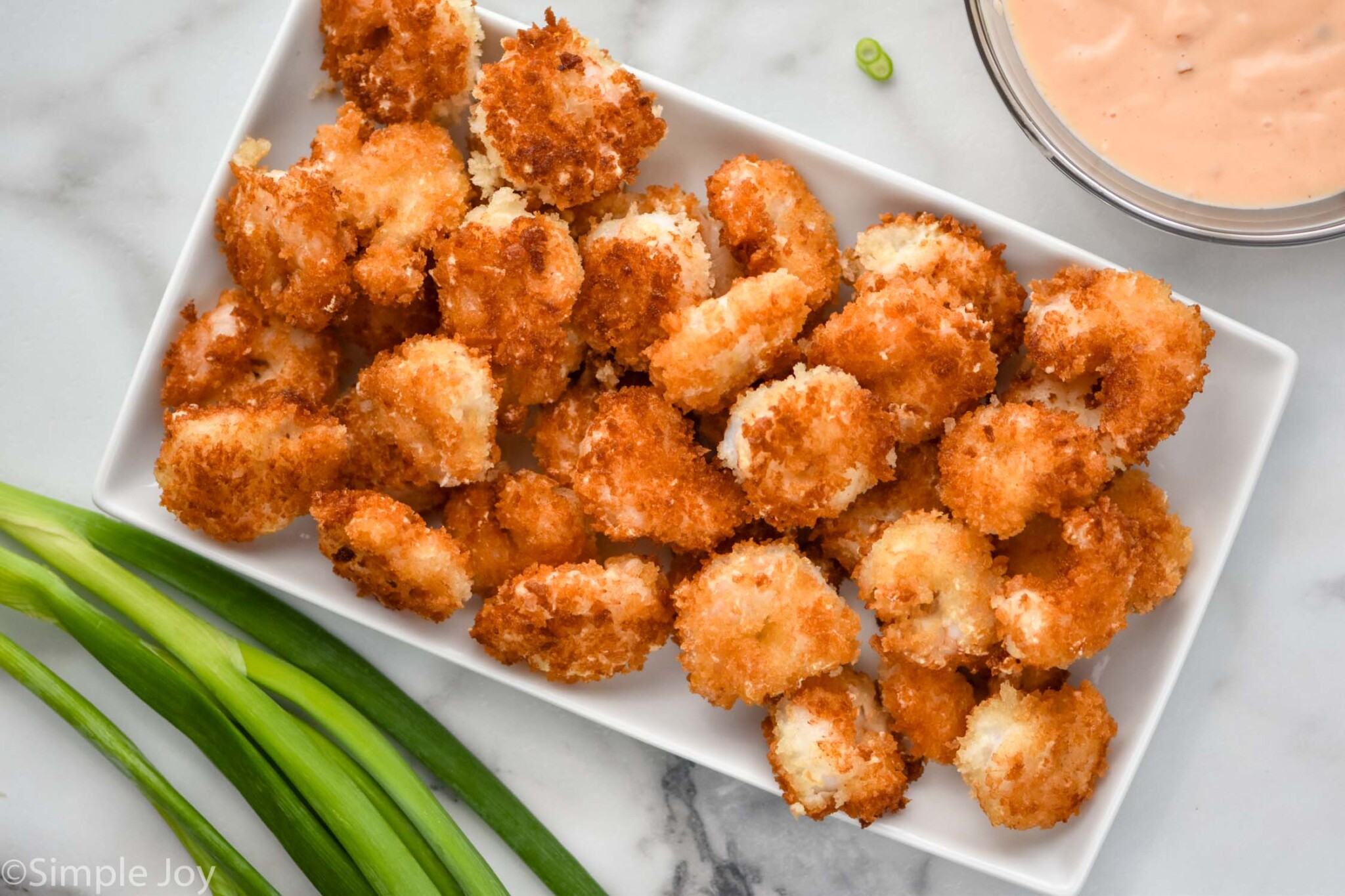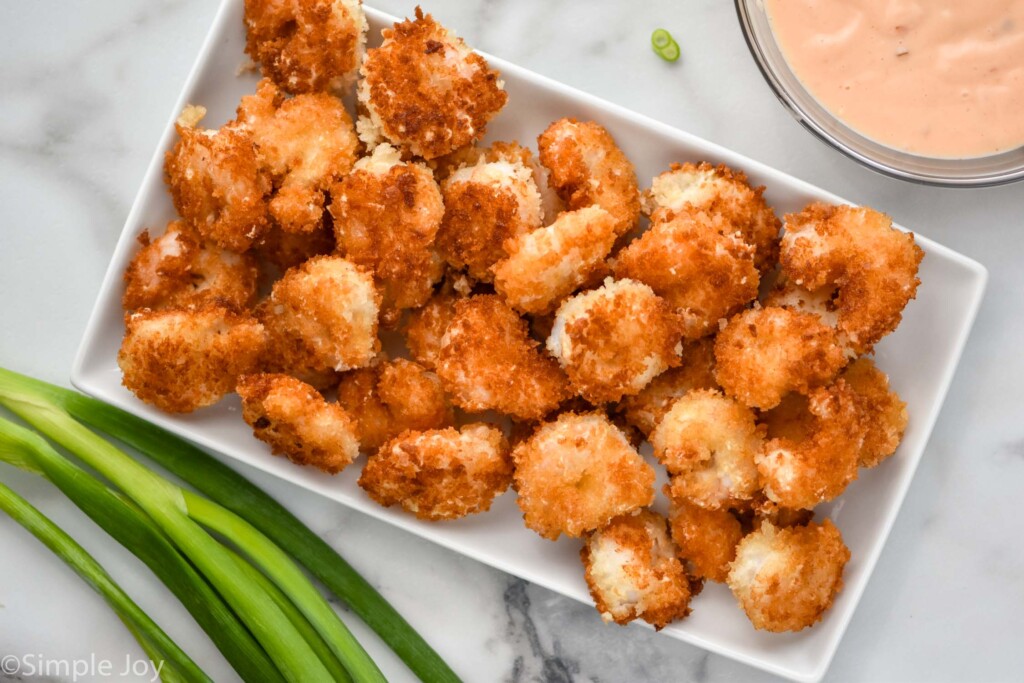 Breading with Panko
If you have never had something with Panko breading, I hate to be the one to tell you this, but you have really been missing out your whole life. These easy-to-use breadcrumbs could be used in place of any breadcrumb. They are made with all purpose flour, sugar, and yeast.
In my humble opinion, they give fried food a little bit more of a crunch than typical breadcrumbs. You might consider using half panko and half regular breadcrumbs in your next breading recipe. Though for this recipe, I like the full crunch of all panko.
Bang Bang Shrimp Sauce
The two things that make this recipe are the panko breading and the bang bang shrimp sauce. Let's breakdown what is in this sauce and what makes it so fantastic.
Mayonnaise: I used low-fat mayonnaise. You can also use full fat, but I would not recommend using fat free.
Thai Sweet Red Chili: Often in recipes, like my Chicken Lo Mein, I call for chili sauce. That sauce is not at all sweet and has a kick. The sauce you are looking for for this recipe will be labeled Thai Sweet Red Chili, and it is noticeably sweet. I've linked the brand I used.
Rice Wine Vinegar: This has an amazing and unique taste. It balances the sweetness of the chili sauce. You can also use it in my delicious Chicken Lettuce Wraps.
Sriracha Sauce: This gives the recipe a little heat. You will also love it in my Fish Taco recipe.
Salt: After testing the sauce, if it doesn't taste quite right, you want to add a pinch of salt.
TOP PICK
Thai Sweet Red Chili Sauce
This sweet red chili sauce is perfect for this recipe and so many others!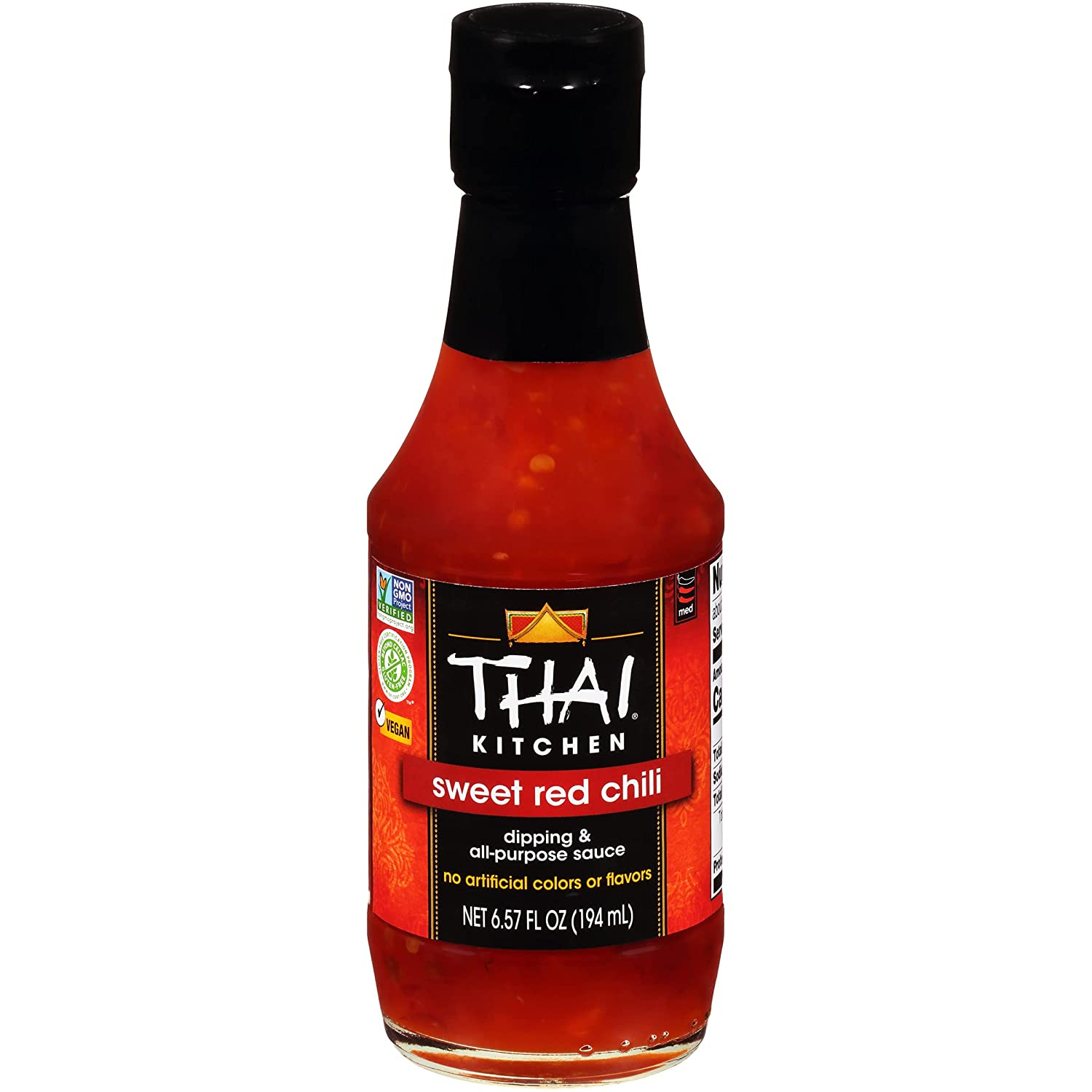 How to Balance a Sauce
This sauce is perfection to me as written (with that little pinch of salt). However! You may taste it and find that it is too tart. You can balance this by adding more chili sauce. Or you may find it is too sweet. You can balance this with more sriracha or more rice wine vinegar.
Whenever you are balancing a recipe at the end to suit your own personal tastes, the key is to remember two things. The first is that sweet is balanced by sour, and vise versa. You can also use salt to balance acidity, and vice versa. The second thing to remember is that a little goes a long way. Start by just adding a pinch of whatever you are using to balance and tasting again. Keep going with very small additions until you have it just right.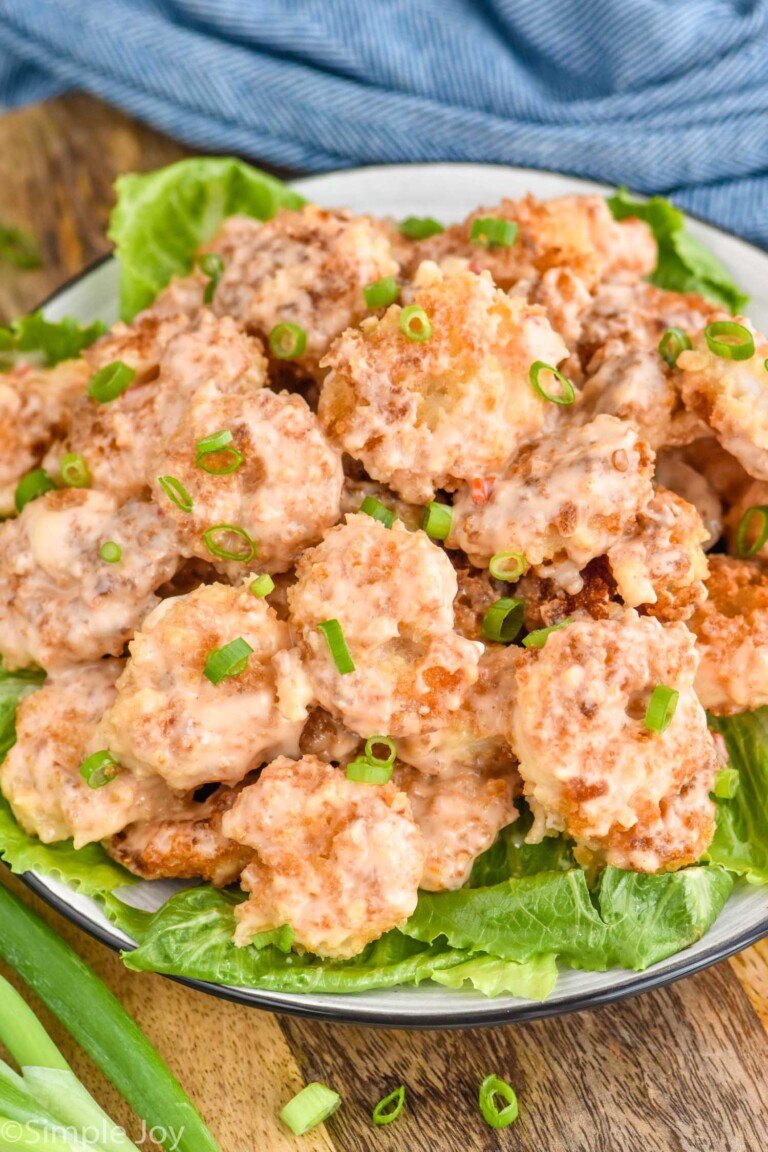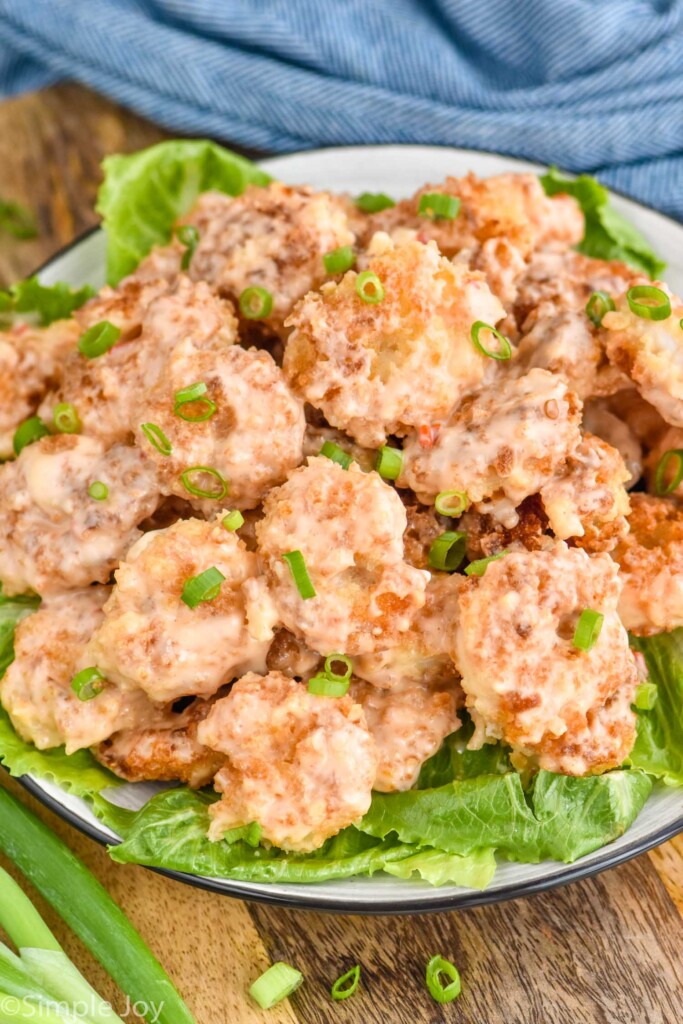 Frying Without Over Crowding
As mentioned in the recipe, you are going to fry the shrimp in batches. The reason for this is that you don't want to over crowd your frying pan. When you put too much in at once (regardless of what you are frying), the temperature of the oil can drop and you don't get that nice crisp coating. You also run the risk of the shrimp touching each other, and becoming one giant bang bang shrimp.
Leftovers and Reheating
Leftover bang bang shrimp can be stored in the refrigerator for up to four days. My personal recommendation is to only coat the fried shrimp you plan on eating. Shrimp that sits in the refrigerator with sauce on it will become soggy.
I also recommend that you shy away from reheating this recipe. These are perfectly delicious cold, and there is nothing worse than overcooked shrimp. Additionally, no matter how you recook it, you aren't going to get that same crispness these had when they were first served.
FAQ
Can bang bang shrimp be reheated?
As mentioned in the section above, I don't recommend it. It won't get the crispness that it had when it was first cooked and you risk overcooking the shrimp. Finally, these are delicious cold!
Can bang bang shrimp be made in the air fryer?
We haven't tested this recipe in the air fryer, but that is what will be coming next! I think these translate perfectly to the air fryer, just be sure to not overcook the shrimp and to cook it all in a single layer.
Why are you using just egg whites?
The frothy egg whites in the steps works so well to make sure that the panko adheres to the shrimp and keeps the breading light and crisp.
Does bang bang shrimp have gluten?
Yes. This recipe uses both flour and panko breadcrumbs (which contains gluten). This recipe has not been tested with gluten free ingredients.
Does bang bang shrimp have dairy?
No, there is no dairy in this recipe.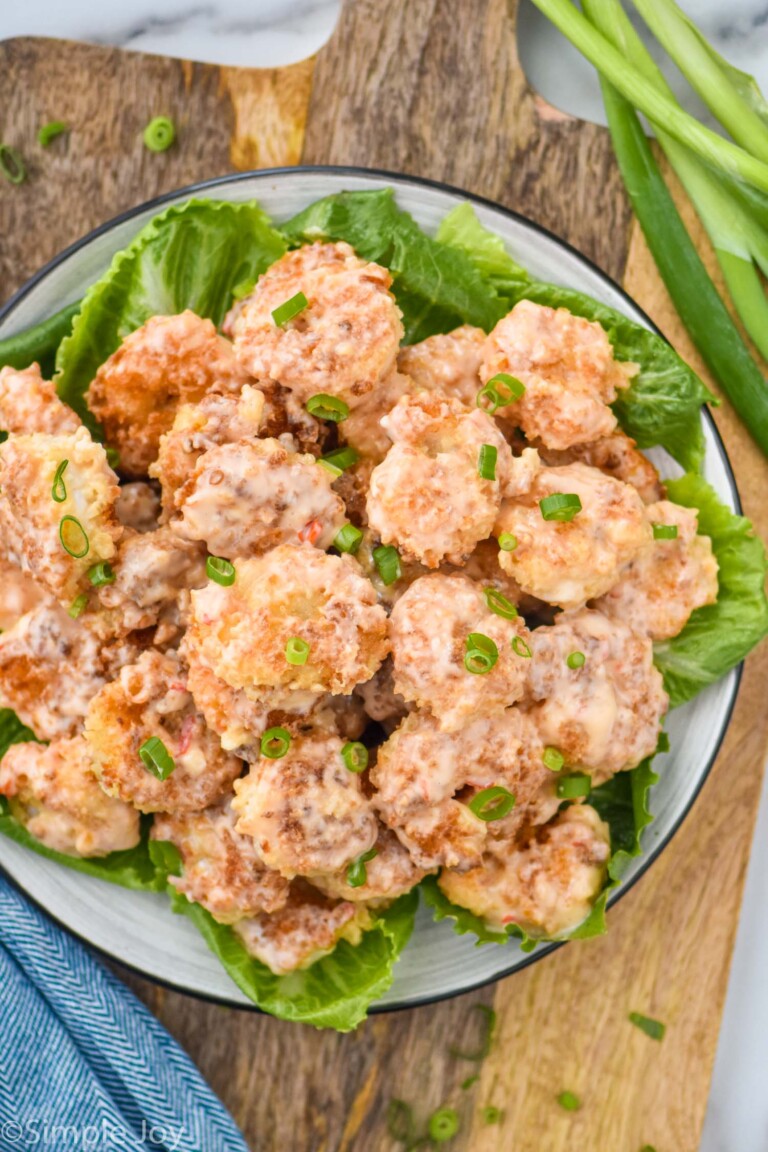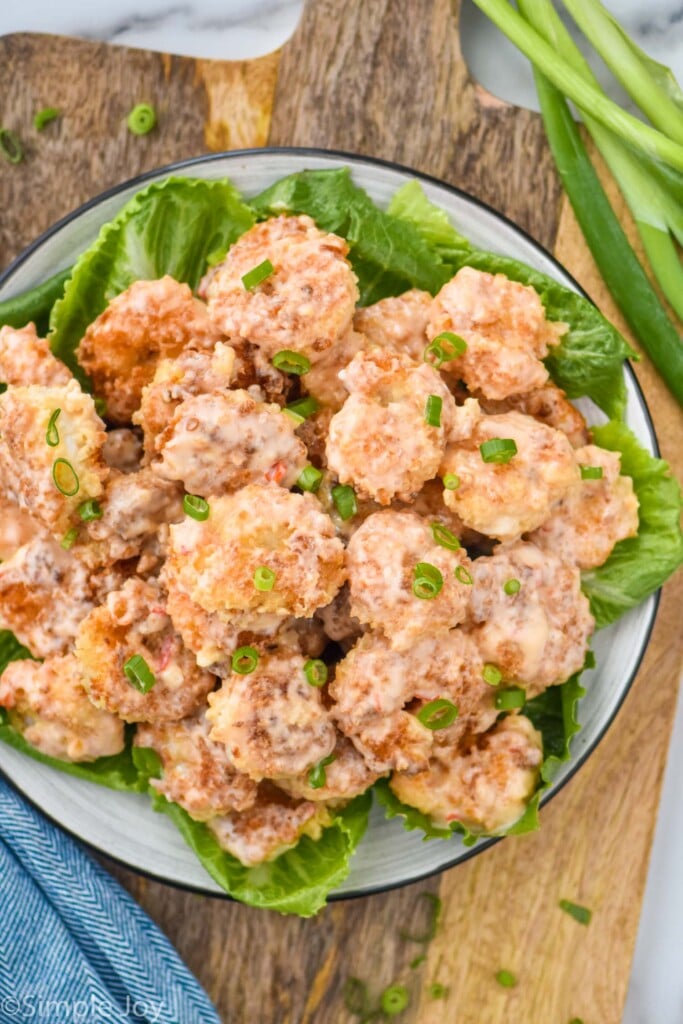 What to Serve with Bang Bang Shrimp
At Bonefish Grill, this is served as an appetizer, though you could certainly eat it for a main meal, it's very good. If you are making a spread, here are some other dishes you will enjoy.
If you make my Bang Bang Shrimp recipe or any of my other recipes, please leave me a comment and let me know what you think. I love hearing from you!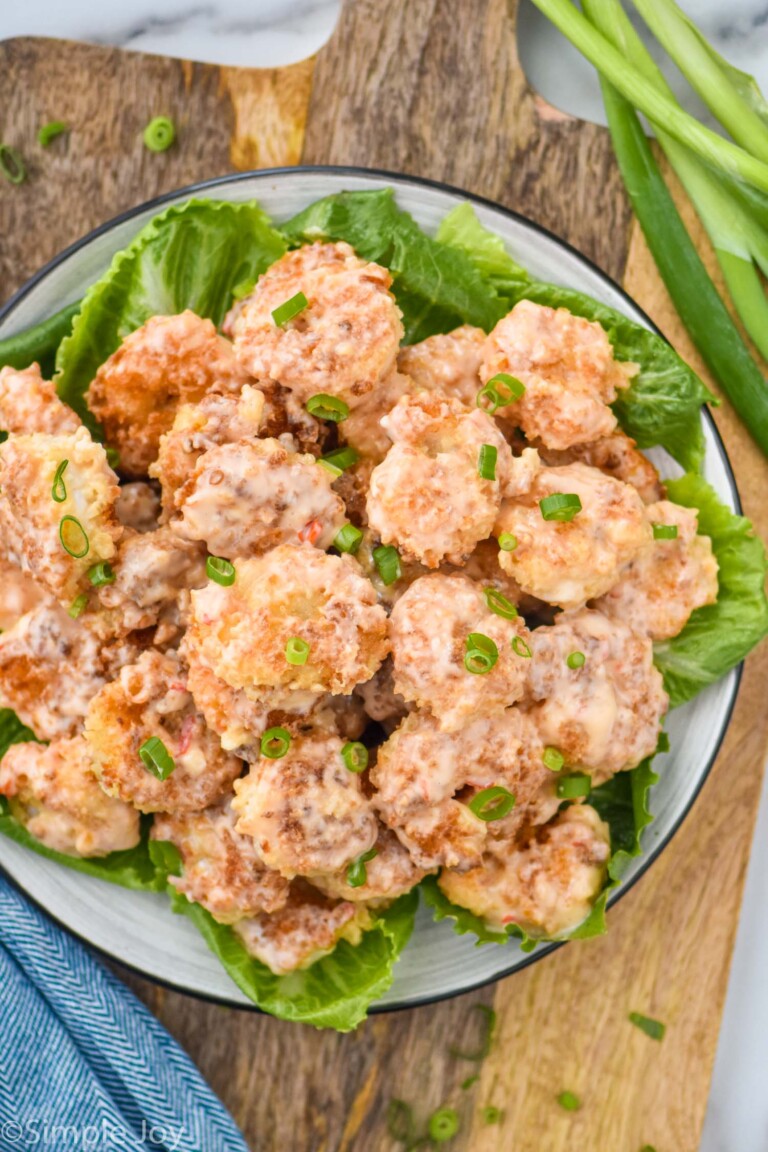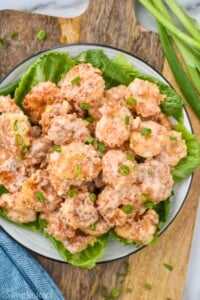 Bang Bang Shrimp
This Bang Bang Shrimp is going to rock your world. Panko fried shrimp combined with perfect bang bang sauce will make you never want take out again.
Ingredients
1/2

cup

mayonnaise

(I used low fat)

2

tablespoons

Thai-style sweet red chili sauce

2

tablespoons

rice wine vinegar

1/4

teaspoon

Sriracha sauce

pinch of salt

(optional)

3

large egg whites

1/2

cup

flour

1 1/2

cup

panko bread crumbs

1

pound

shrimp

raw, peeled, and deveined

1/2

cup

vegetable oil

bib lettuce

for serving

green onions

(diced) for garnish
Instructions
Pat the thawed shrimp dry with a paper towel and set aside.

In a medium-sized bowl, whisk together the mayonnaise, chili sauce, rice wine vinegar, and Sriracha sauce. Taste and adjust flavors – add a pinch of salt if needed and add more chili sauce if you want it sweeter, add more rice wine vinegar if it is too sweet. (Read more about how to balance a sauce here.) Set aside the sauce.

In a shallow dish, whisk the egg whites until frothy. Put the flour and the panko breadcrumbs in two other shallow dishes.

Working in batches, dip the shrimp in the flour, making sure that both sides are well coated. Transfer the shrimp to the egg whites, and then finally coat the shrimp in the panko.

Heat the vegetable oil in a large skillet until smoking. Add the shrimp, cooking for 3 minutes on each side. Transfer to a paper towel lined plate.

Toss the shrimp, carefully, in the prepared sauce. Serve in lettuce and topped with green onions.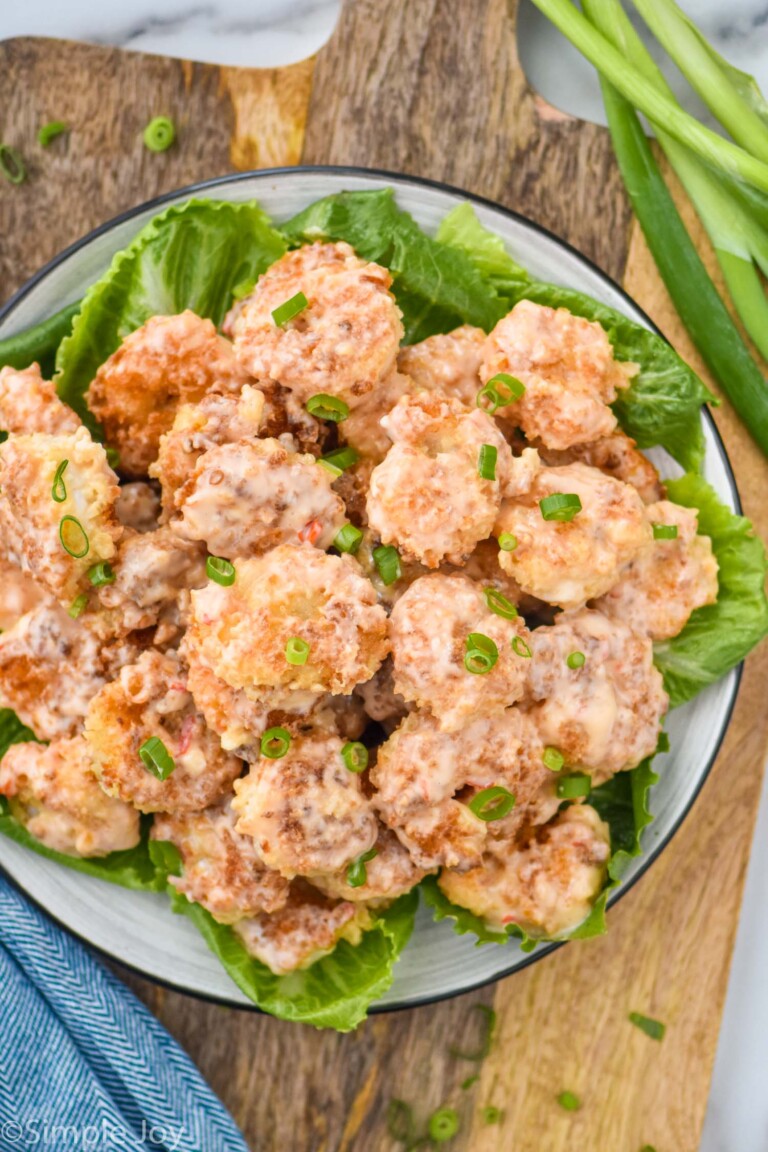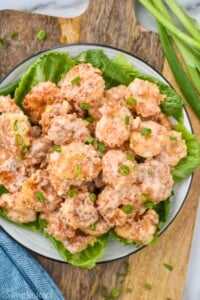 did you make this
Bang Bang Shrimp