Skillet Tuna Noodle Casserole is full of delicious creamy flavor and is on your table in 35 minutes. This one pot meal is going to become a new family favorite!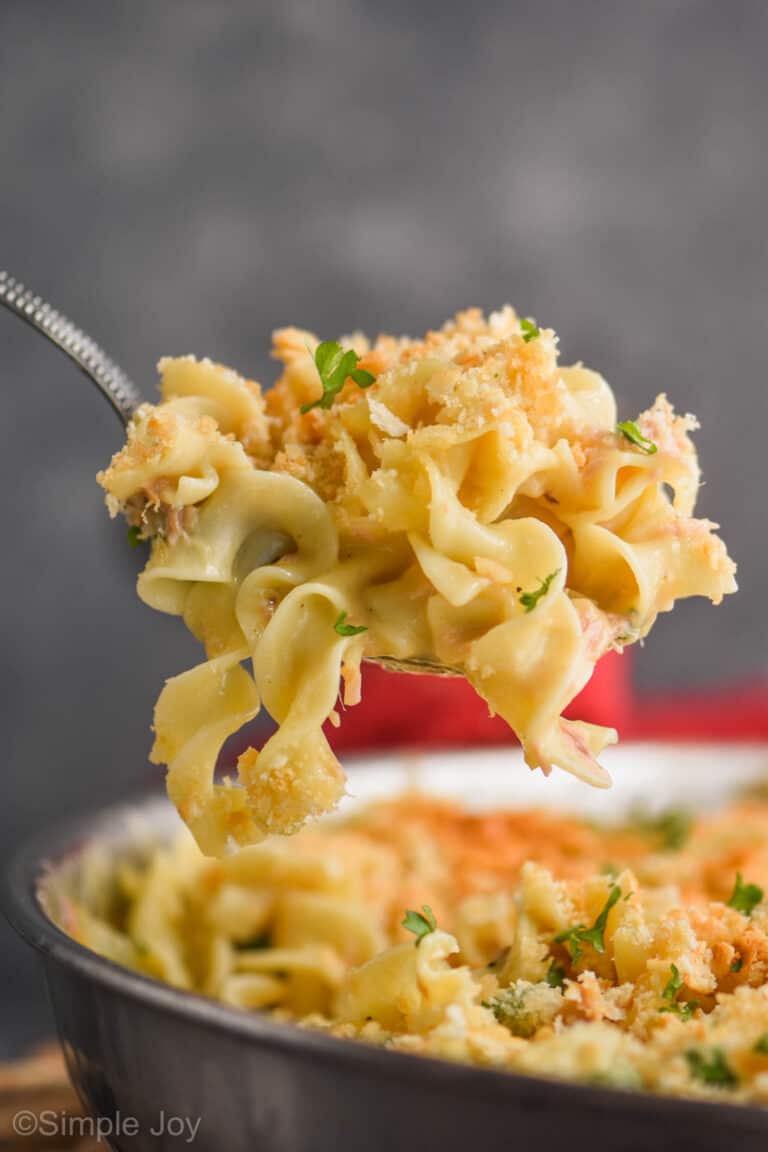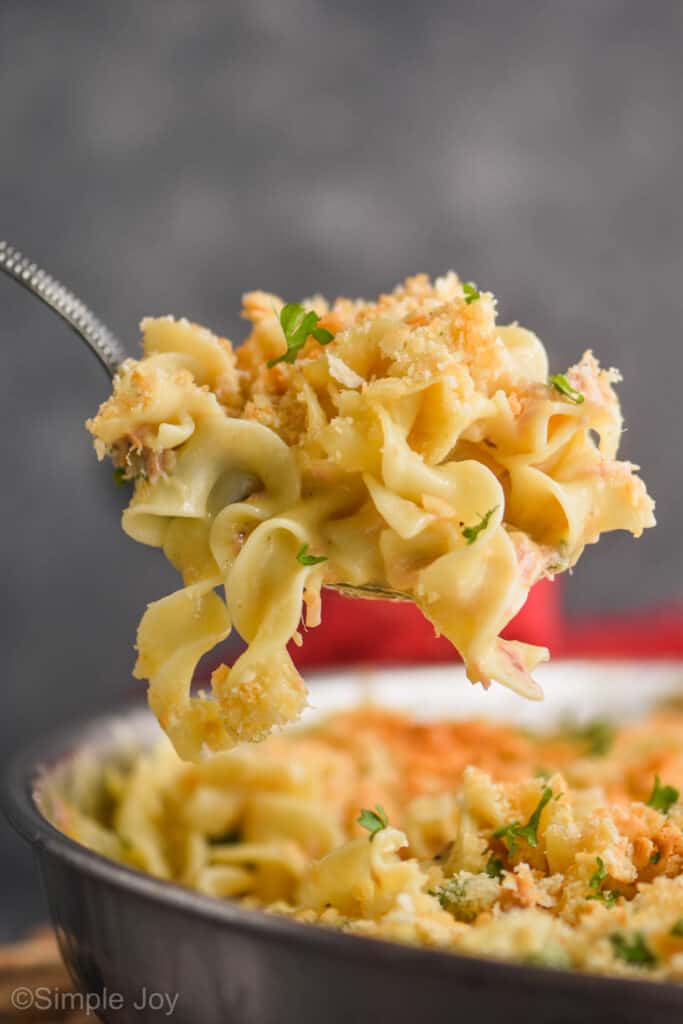 Tuna Noodle Casserole was one of my favorite dinners growing up. It is so funny to think, because my mom was a great cook and almost always cooked from scratch. But there was something about that box of casserole, that got me.
I find myself almost always making dinners from scratch around here, but I am constantly trying to find meals that can be done around 30 minutes. It's usually a race against the clock when it comes to hungry kids and dinner time.
This Skillet Tuna Noodle Casserole is the best of both worlds. It is easy like the box mix, but it is also creamy and delicious like something you slaved over for hours.
Reader Review
I just made this today. It's an easy process to crate the dish. I used my Dutch oven, as I didn't have an oven-proof skillet large enough.
It is delicious!! It is tasty, warm, and satisfying. I will add it to our list of great comfort foods! Thanks for a great recipe!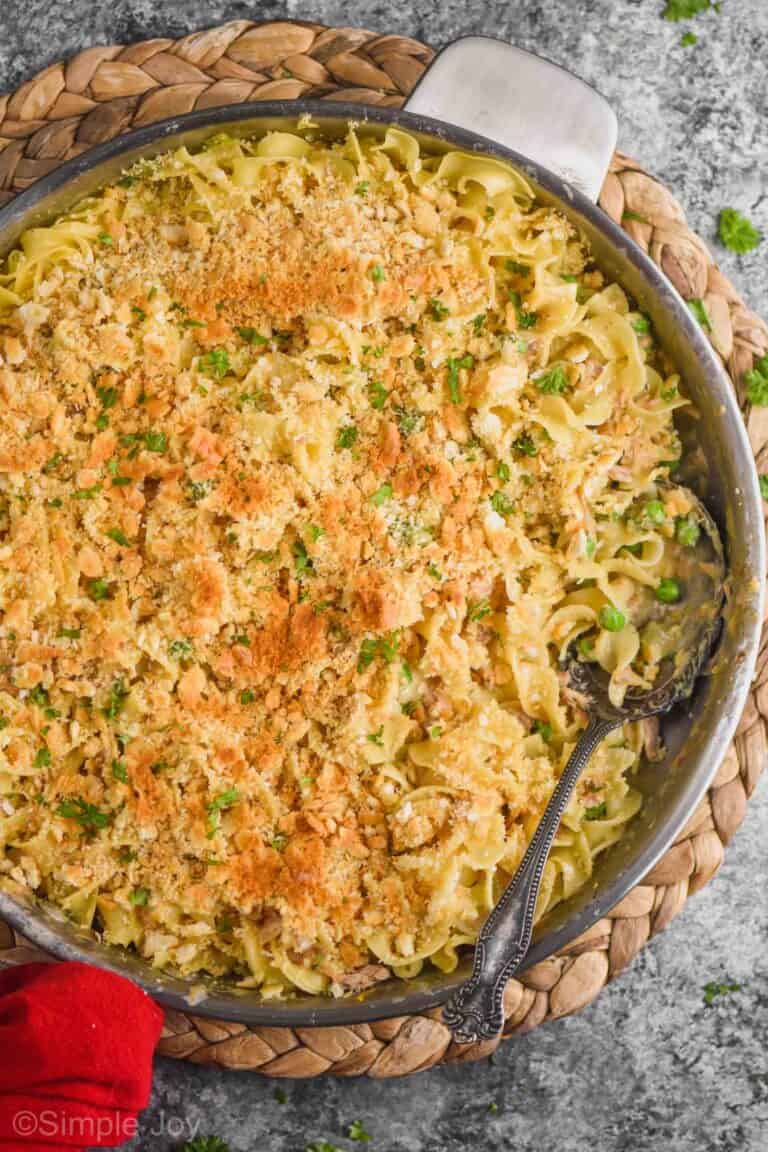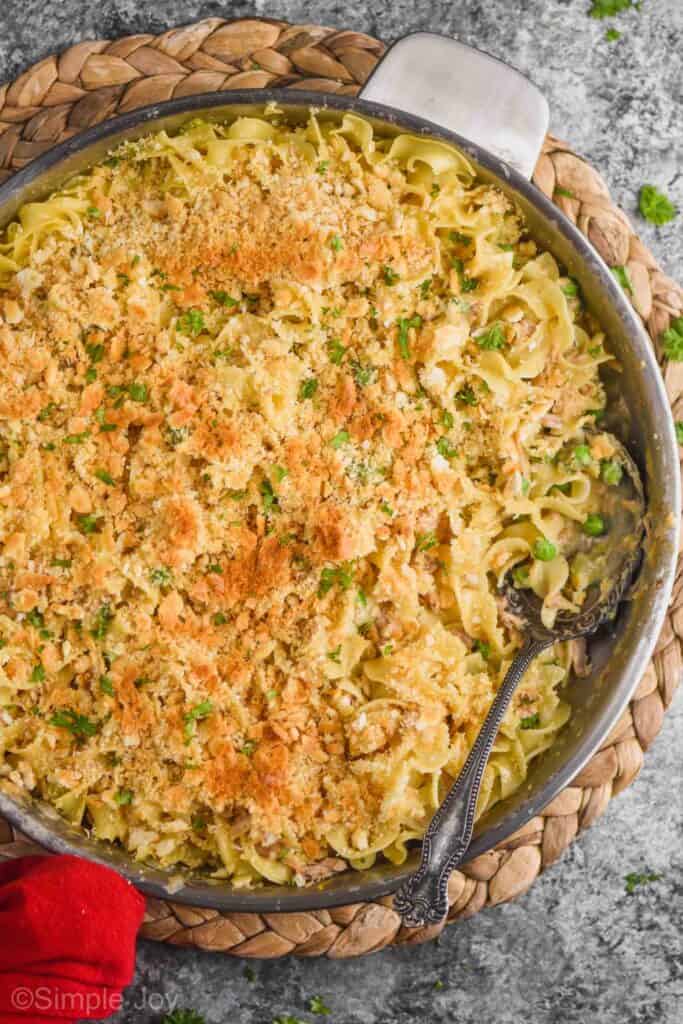 How to Make Tuna Noodle Casserole in the Skillet
There are a few things that bring this recipe together perfectly.
Make sure to make this recipe in an oven proof large skillet. (That is a link to the one you see pictured.)
A nice roux is what makes this recipe so perfectly creamy. Read how to make a roux below.
Using chicken stock deepens the flavor of this recipe as it is what the noodles cook in.
Throwing the whole skillet in the oven with the cracker topping at the end gives it that crunch on top you grew up with.
How to Make a Roux
A roux is the combination of a fat (often butter) and flour. You then slowly whisk in a liquid (in this case chicken stock) and it makes for a great creamy sauce.
While this recipe will turn out great even if it is your first time making a roux, it's great to play with making rouxs in different recipes as you will learn the right setting on your stove top and how slowly you need to add the liquid the more you do it.
Other great recipes to practice making a roux with are my New England Clam Chowder and Homemade Southwestern Mac and Cheese.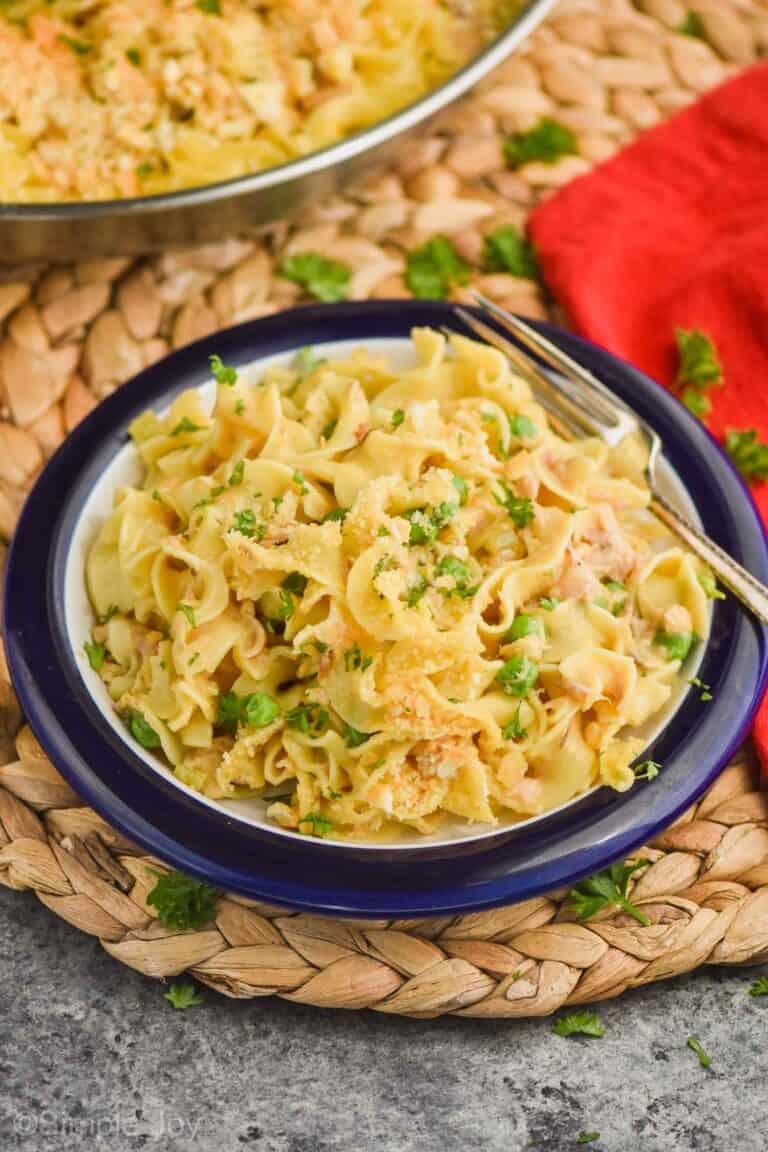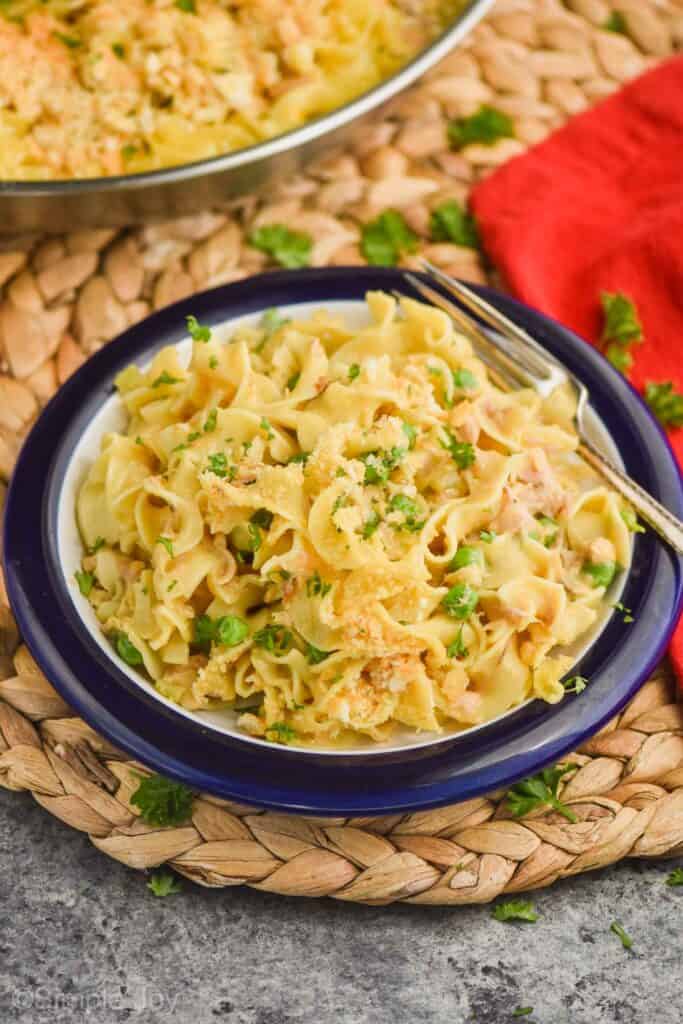 Adding Frozen Peas
A lot of times when I use frozen peas in recipes I get the comment that they couldn't possibly cook long enough for the recipe to work. That is because most of the time (like in this recipe) we are just adding them at the very end.
Frozen peas don't really need to be cooked. In fact, you could just leave the bag in the fridge, take them out and eat them. They are good to go. Adding them straight from the freezer and onto the heat for just a short time keeps them bright and green – perfectly cooked.
If we cook them too long they start to become brownish green. They lose their bright fresh taste too. Trust me on this. The amount of time they have in this recipe is perfect.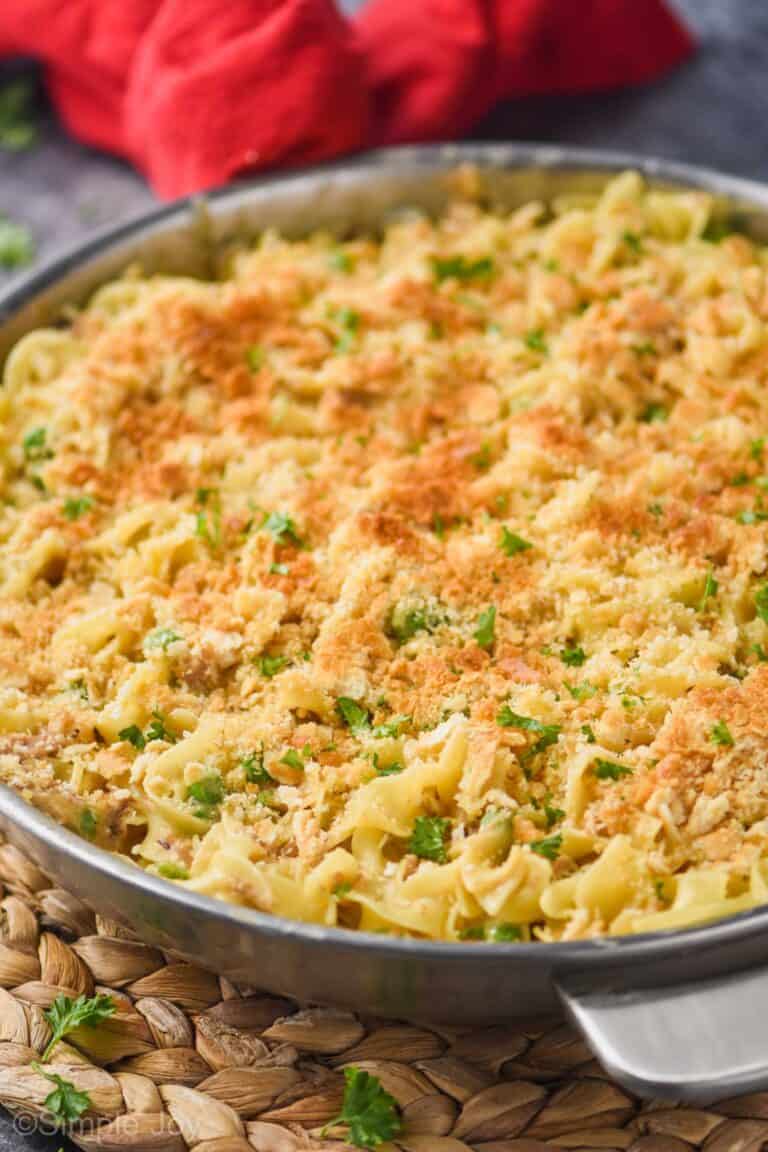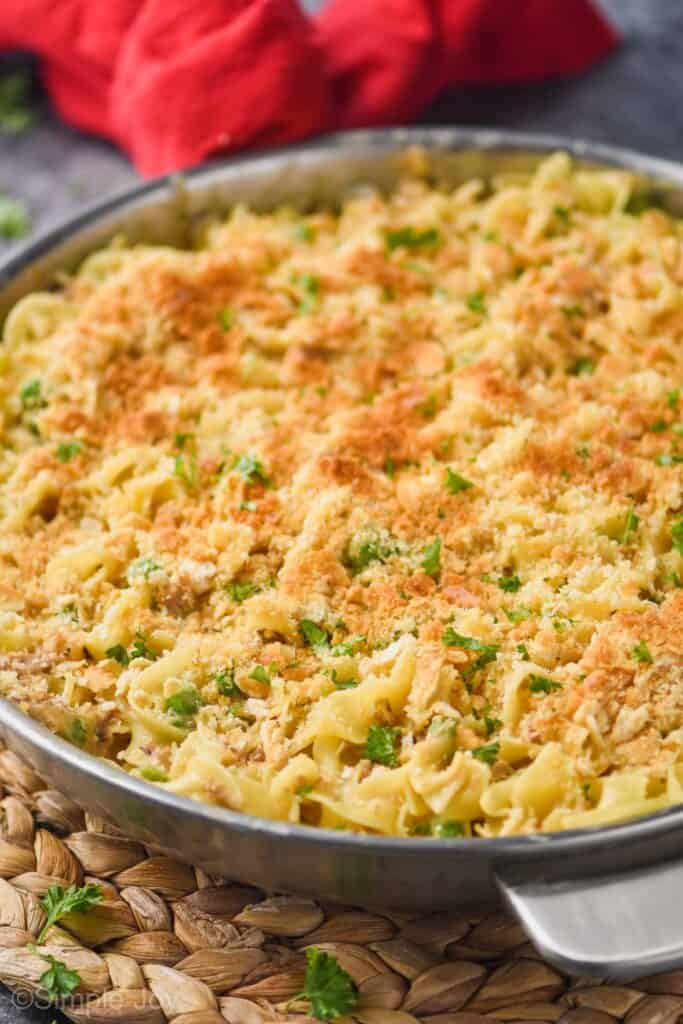 Egg Noodles
If your family doesn't like egg noodles, you can definitely work in another pasta here. You could use penne like I do in my One Pot Creamy Shrimp Pasta. Elbow macaroni would be another great option.
You may need a little more or less time and chicken stock depending on the noodle you choose. So check on your noodles, and have more chicken stock handy.
Other Great Skillet Dinners
If your family can't get enough one pot meals, then check out some of our other favorites:
If you make this Tuna Noodle Casserole or any of my other recipes, please leave me a comment and let me know what you think.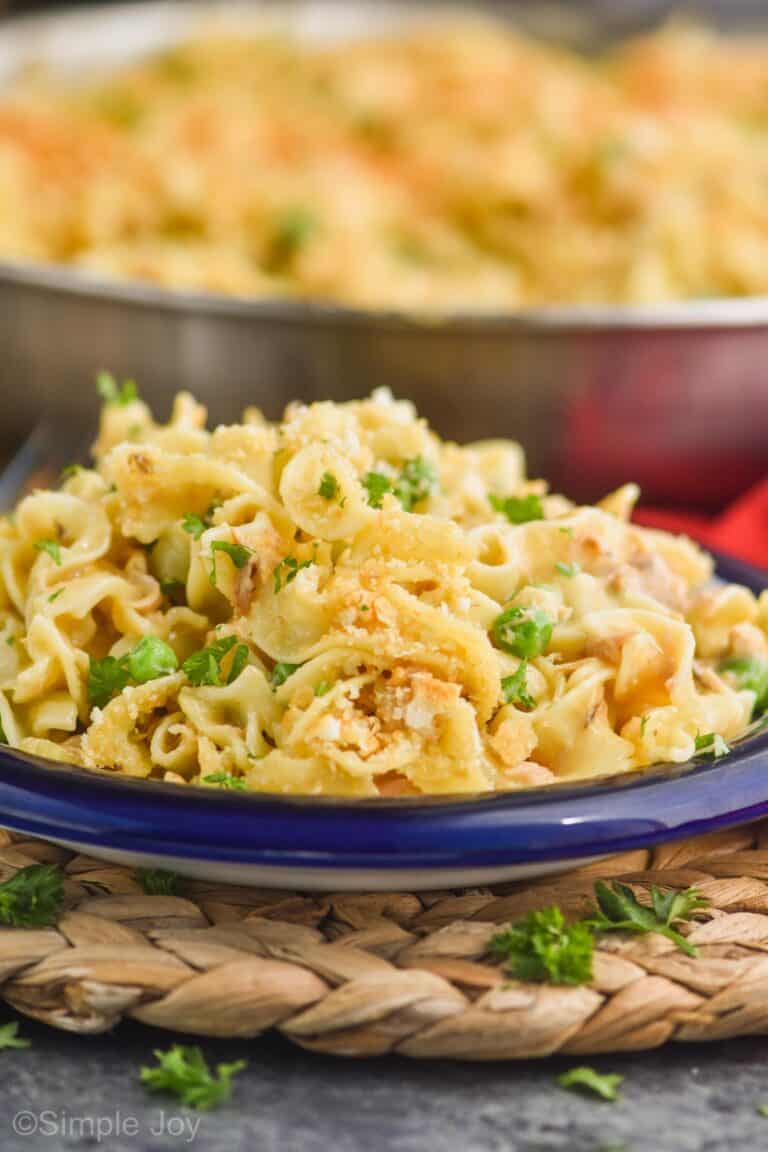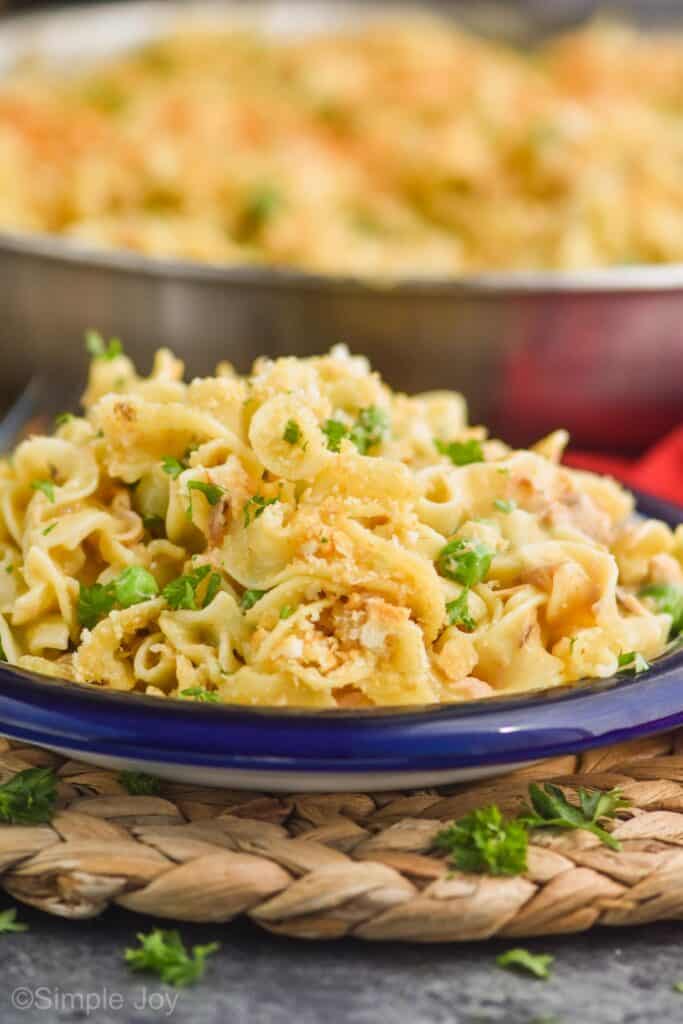 Recommended Tools
Skillet: This is the one you see pictured. Perfect for going from stovetop to oven.
Silicon Whisk: These are perfect for if you also have have nonstick pans.
Cheese Grater: I've had this for about 300 years, and I love it.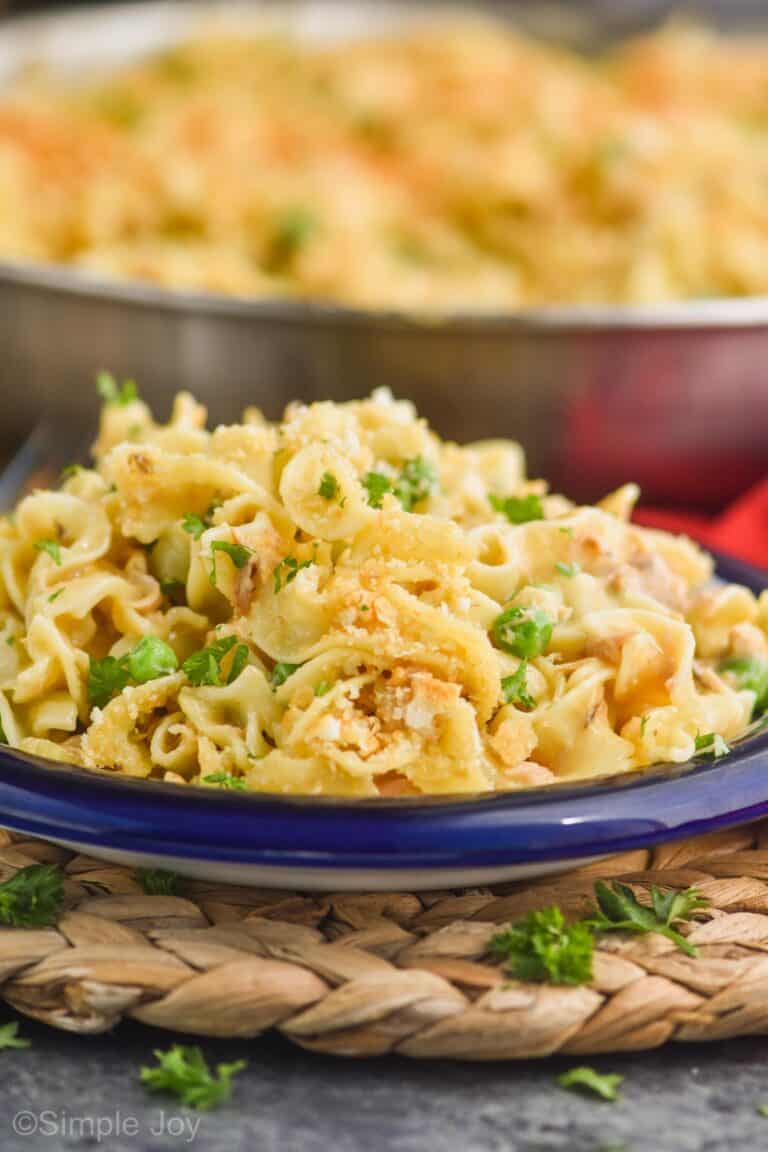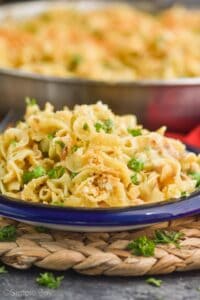 Skillet Tuna Noodle Casserole
Skillet Tuna Noodle Casserole is full of delicious creamy flavor and is on your table in 35 minutes. This one pot meal is going to become a new family favorite!
Ingredients
3

tablespoons

unsalted butter

1

small onion

diced

2

stalks

celery

diced

1

clove

garlic

minced

1/2

teaspoon

kosher salt

pinch of black pepper

2

tablespoons

flour

5

cups

chicken stock

12

ounces

egg noodles

(uncooked)

3

cups

cheddar cheese

12

ounces

tuna

drained weight (two small cans)

1

cup

frozen peas

1

cup

cracker crumbs

1

tablespoon

butter

melted
Instructions
In a large oven proof skillet, melt the butter over medium heat. Add the onion, celery, and garlic. Season with salt and pepper and cook until the onion is translucent, about 5 to 7 minutes.

Whisk in the flour. Then slowly whisk in the chicken stock. Turn up the heat on the skillet and bring to a boil.

Stir in the egg noodles and reduce the heat to medium low and cover. Cook for 5 minutes, stir, and return the cover. Cook for an additional 5 minutes or until the nooldes are very tender.

While the noodles are cooking, mix together the crackers and the 1 tablespoon melted butter.

Stir in the cheddar cheese, stirring until it is completely melted. Then stir in the drained tuna and the frozen peas. Remove from the heat (the heat of the dish will warm the tuna and the peas). Taste and add in more salt and pepper to taste.

Top with the cracker and butter mixture and put under the broiler for about 2 minutes or until the crackers are golden.
Serving:
2
cups
Calories:
624
kcal
(31%)
Carbohydrates:
59
g
(20%)
Protein:
37
g
(74%)
Fat:
28
g
(43%)
Saturated Fat:
45
g
(281%)
Polyunsaturated Fat:
3
g
Monounsaturated Fat:
3
g
Cholesterol:
113
mg
(38%)
Sodium:
919
mg
(40%)
Potassium:
323
mg
(9%)
Fiber:
3
g
(13%)
Sugar:
4
g
(4%)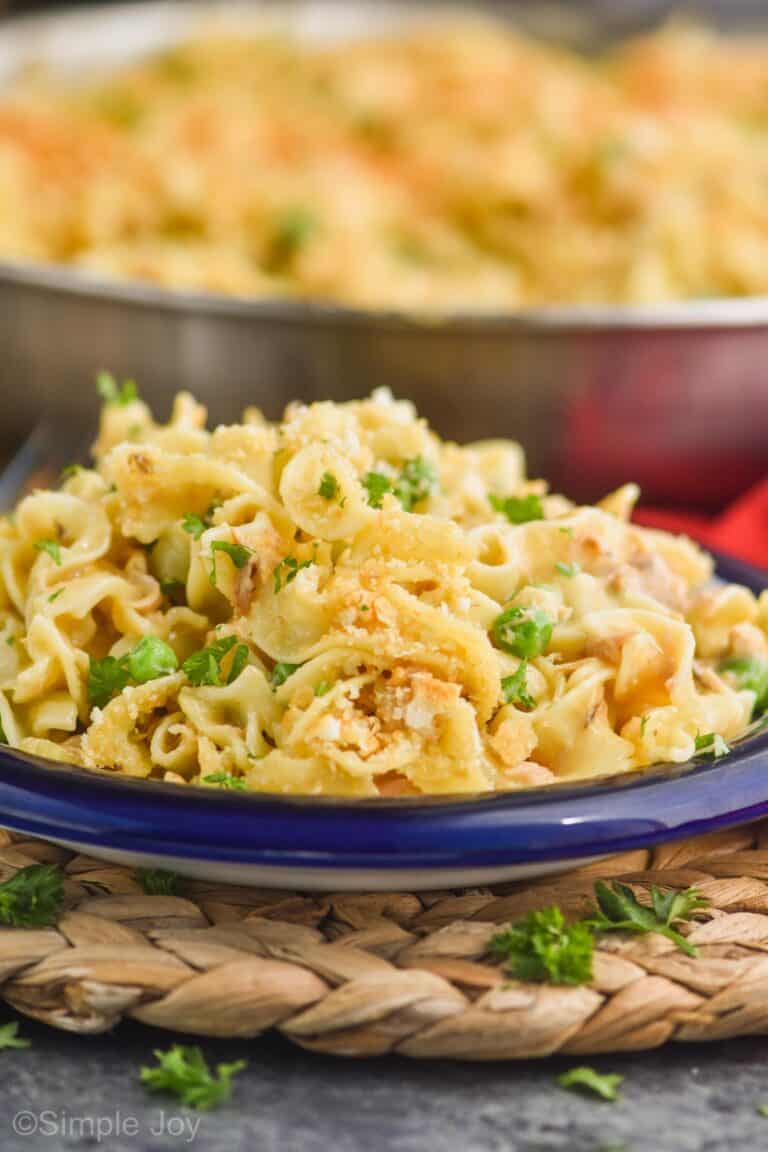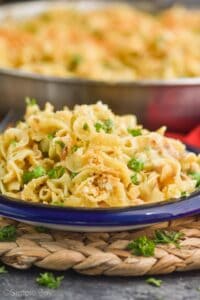 did you make this
Skillet Tuna Noodle Casserole