Chicken Marsala is the best 30 minute meal. It is so creamy and with my simple tips it is much easier than the traditional dish. This is a great one pan chicken dinner!
Love this recipe but want to make it in the slow cooker? Check out my Crock Pot Chicken Marsala.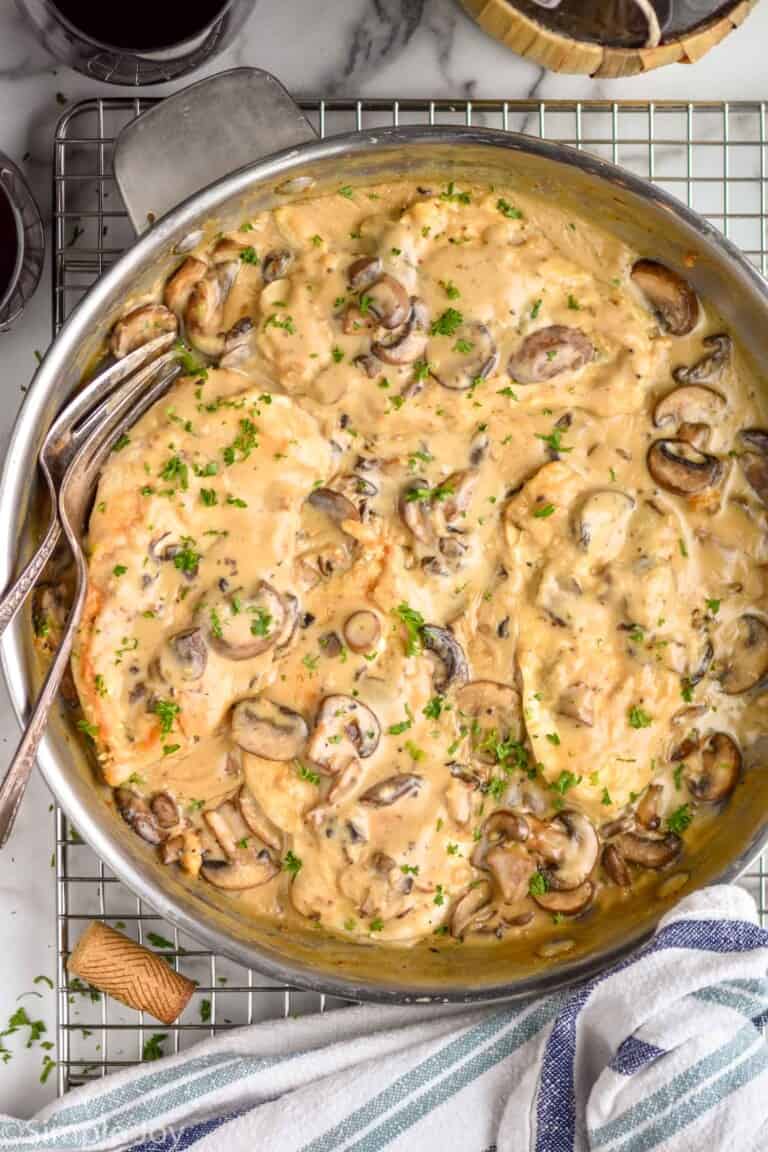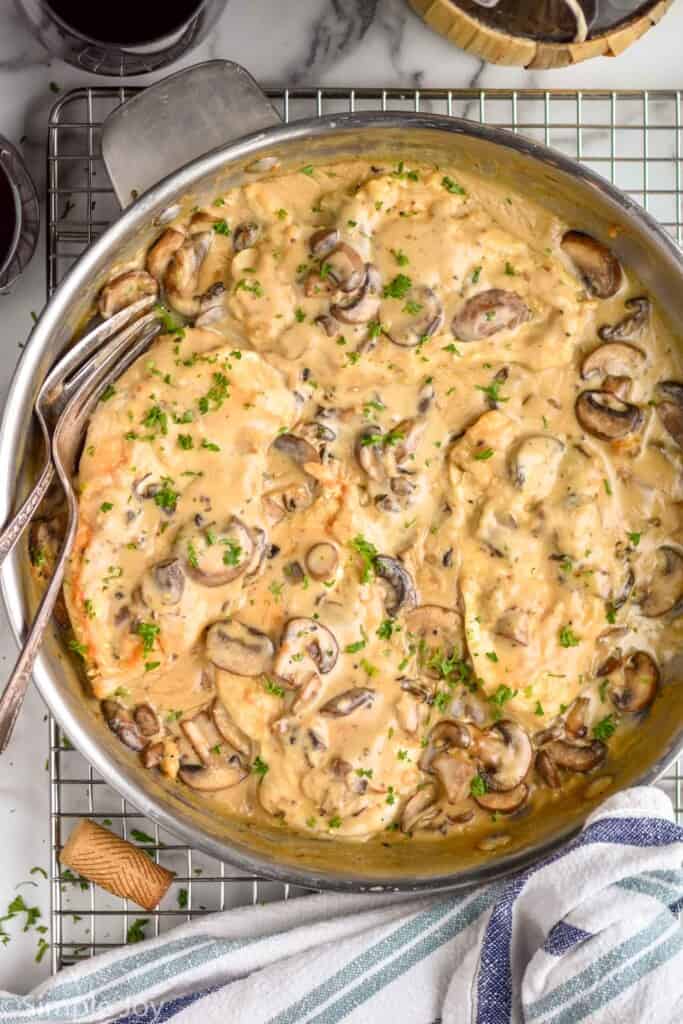 This amazing Chicken Marsala is a huge hit with my family. The sauce is the perfect balance of earthy mushroom flavor and deep marsala wine with the added bonus of delicious creaminess. We love it over fettuccine noodles. It is a dinner that seems fancy but comes together so quickly for the perfect weeknight meal.
Reader Review
I wish I could give this recipe 10 stars!!! It fantastic! I loved it!! I loved this recipe even with just the pasta (I did make it with the chicken) so for those who are vegetarian this recipe is even excellent with just pasta!! This recipe was easy to make and the taste divine! Sorry can't say enough!! I have made Marsala before but this recipe so much easier with the same wonderful taste!
How to Make Chicken Marsala
Start cooking fettuccine. Since we love eating this over pasta, start making some before you get going on the chicken.
Cut the chicken in half to make cutlets. You can see photos below, but making thin chicken breasts is part of what makes this meal so quick. If the chicken is still too thick give it an extra pounding with a rolling pin.
Cook the chicken. Salt and pepper the chicken and cook it in a hot pan for about 6 minutes on each side or until it reaches an internal temperature of 165 degrees. Remove it from the skillet and tent it loosely with foil.
Make the sauce. In the pan you made the chicken, melt some butter. Add the mushrooms and garlic and cook until the mushrooms are tender. Then whisk in the flour. Slowly add in the marsala wine and the chicken stock scraping up the browned bits and bring it to a simmer. Let the sauce simmer until it has cooked down by about half, about six minutes. Then stir in the heavy cream.
Put it all together. Add the chicken back to the pan and serve it all over the fettuccine.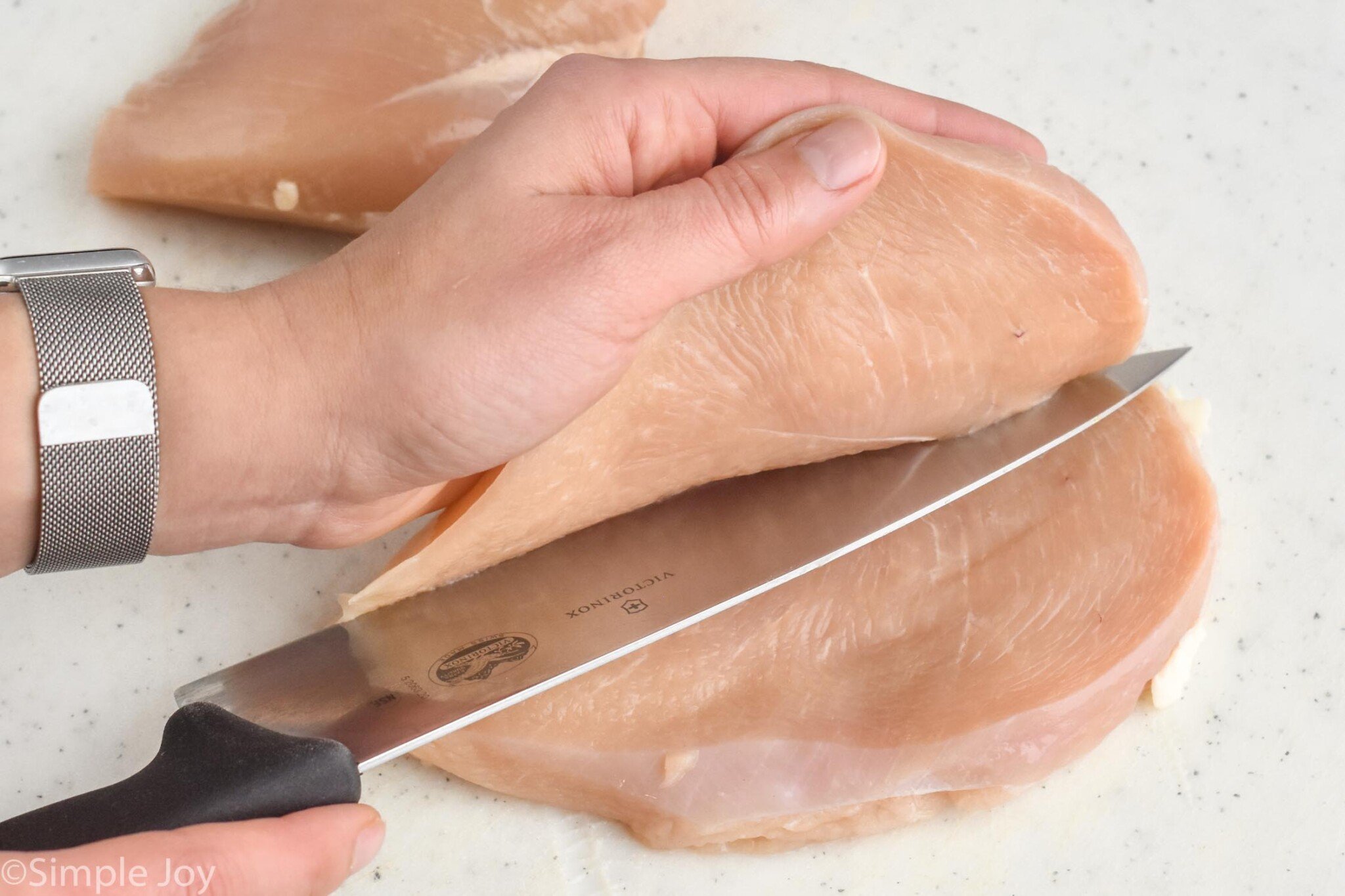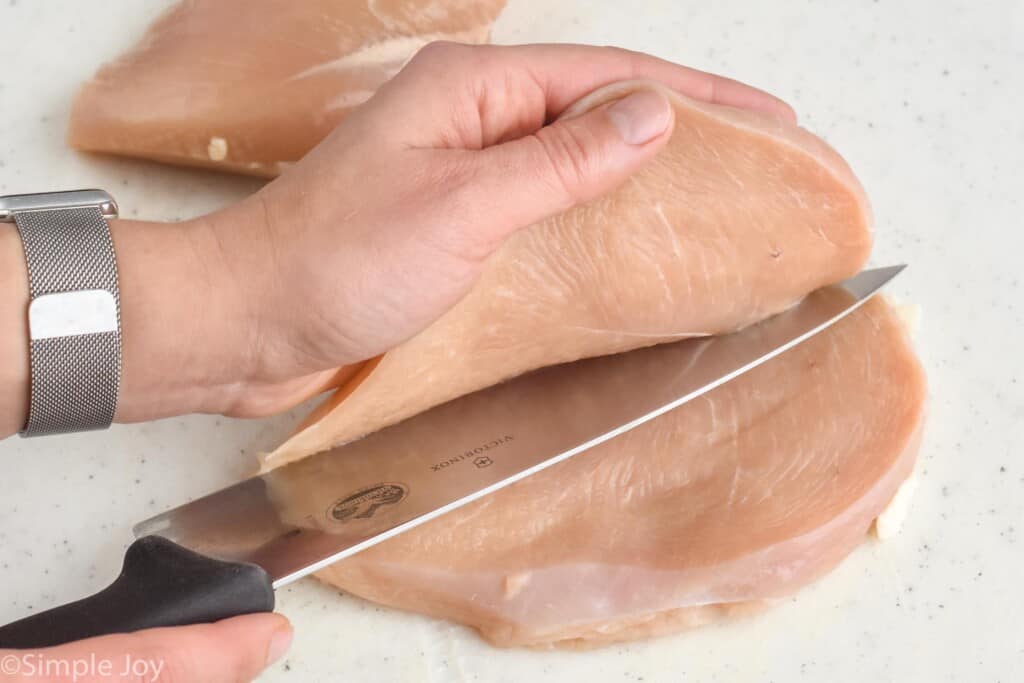 What is Chicken Marsala
Chicken Marsala is a traditional Italian dish that is made by coating chicken in flour, pan frying it and then making a sauce with marsala wine. Traditionally, it is served on it's own.
What Makes this Chicken Marsala Easy
This recipe varies from traditional Chicken Marsala in order to make it a fast family dinner.
We skip pounding the chicken thin. Instead, we cut the chicken in half to make cutlets. If your chicken is still too thick, you can do a little extra pounding. This makes the chicken cook very quickly.
We skip dredging the chicken in flour. Instead, we add some flour to some melted butter to make a roux that thickens up the sauce nicely.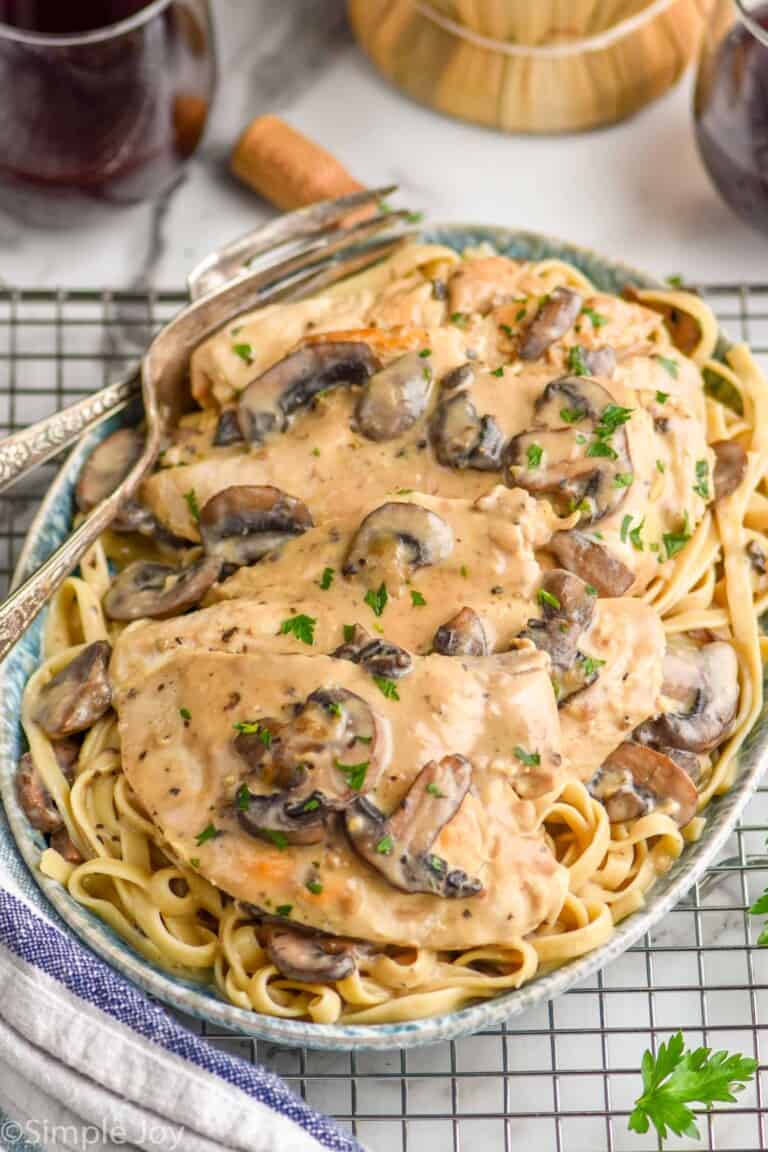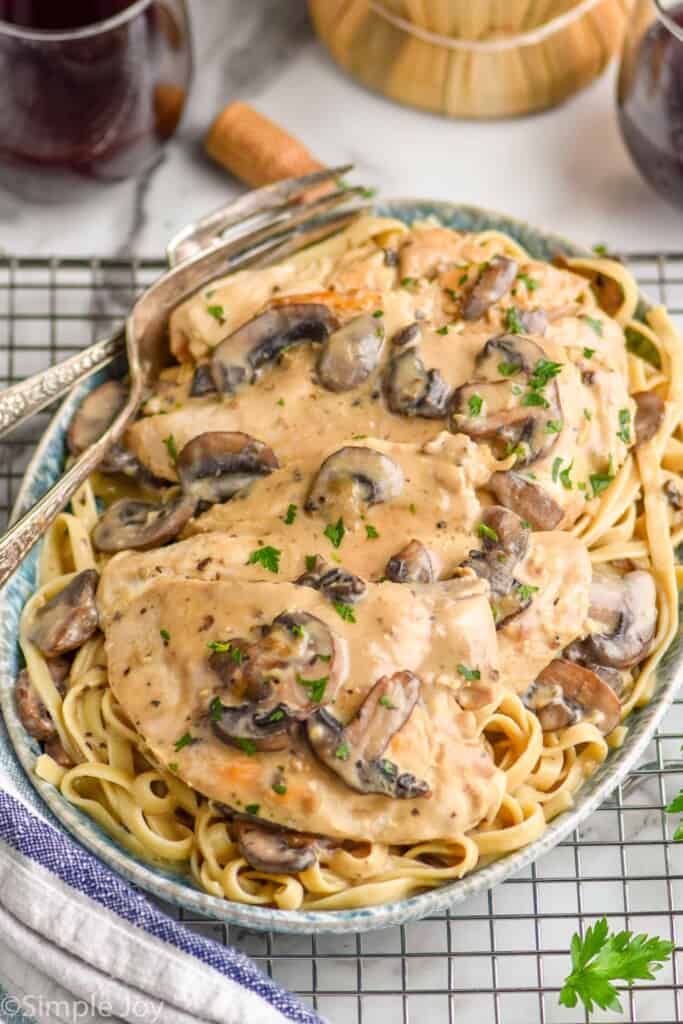 How to Make a Roux
One of the things that makes the sauce so perfect and creamy is making a roux. A roux is a combination of fat and flour and is a great thickening agent for sauces. Here we use the butter we sauté the mushrooms in and some all purpose flour.
When making a roux, it is important to let the butter and flour cook for about thirty seconds once it is fully combined. This eliminates the taste of flour. Then slowly whisk in chicken stock and the marsala wine.
Tips for Cooking Fettuccine
There are a few things that will make the fettuccine you serve this with perfect.
Bring the water to a roaring boil. We should see big giant bubbles before we add the dry noodles.
Salt the water. Add a good two teaspoons of kosher salt (or 1 teaspoon of table salt) to the water after you add the noodles.
Stir the noodles. Make sure to stir the noodles a lot, especially when you first add them to the water. It is very easy for fettuccine to stick together when cooking.
Cook the noodles for the time indicated on the box. I always set a timer for my pasta, especially when it is just one part of a meal. That way it doesn't get over cooked because I got busy with something else.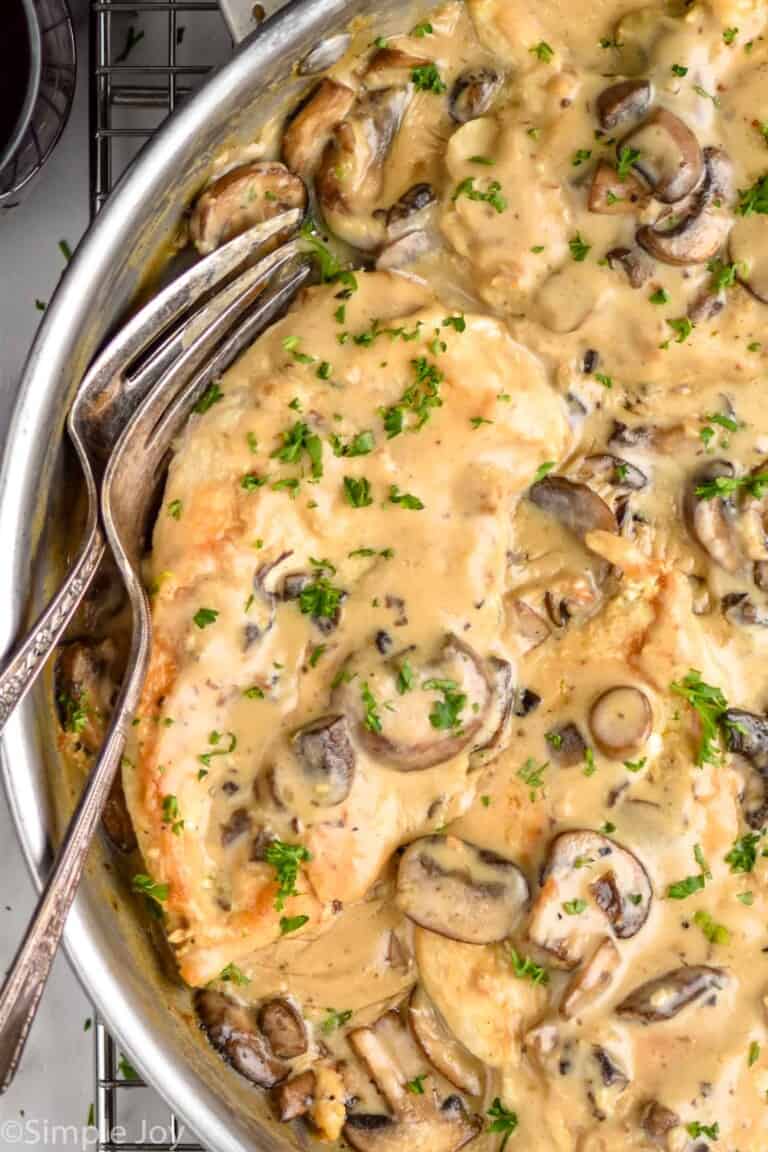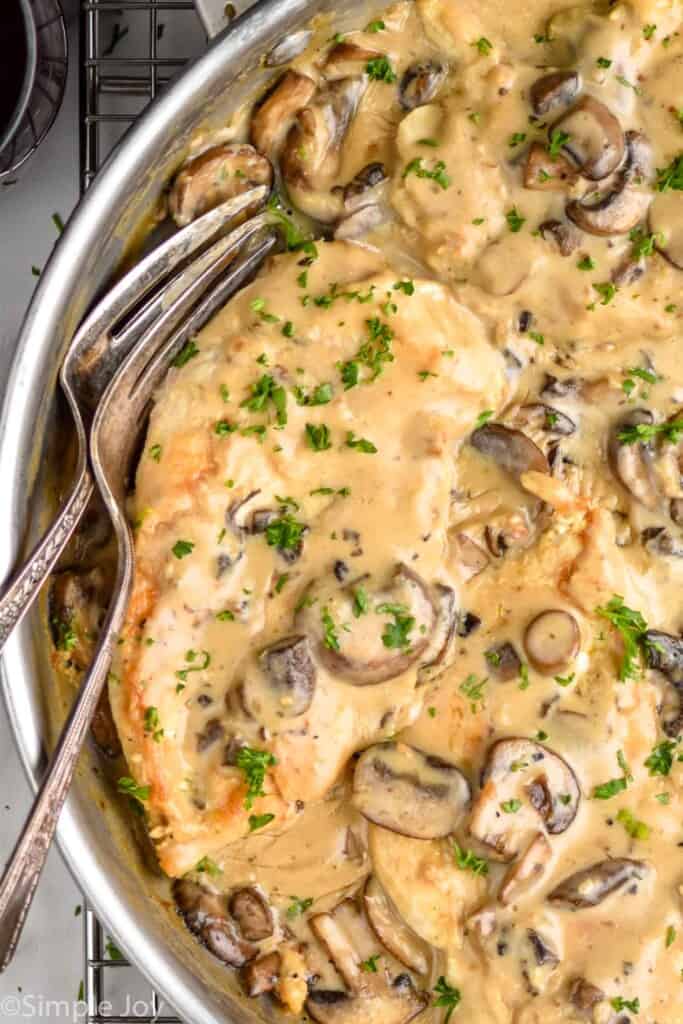 Using Marsala Wine
A lot of the flavor from Chicken Marsala does come from the marsala wine. The recipe calls for 1 cup, which is a minimal amount for four servings. Additionally, some of the alcohol will cook off. That said, if you want to skip the wine, you could replace it with chicken or beef stock.
Serving Chicken Marsala
Traditionally Chicken Marsala isn't served with pasta, but Americans have Americanized it and started serving it on noodles. I will say that if you want to go traditional, any of the side dishes below will be perfect with this and you can skip the noodles. That said, the sauce that you make for this dish is spectacular when you drown some noodles in it.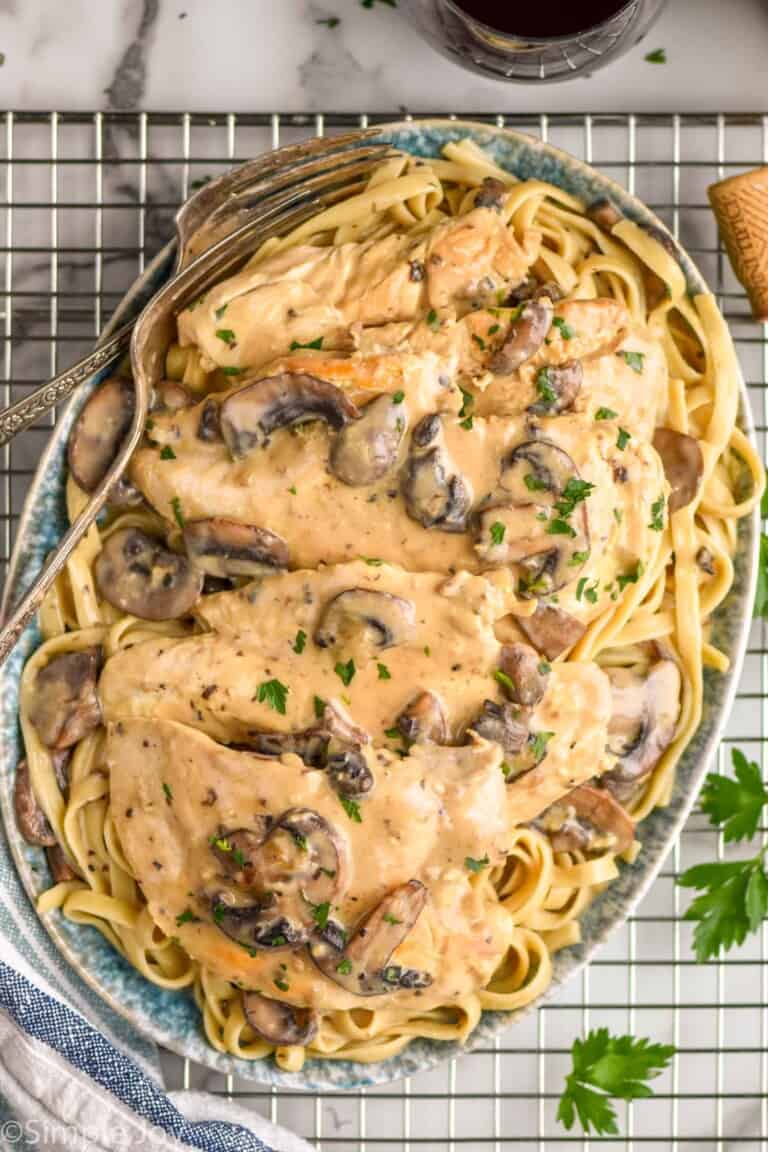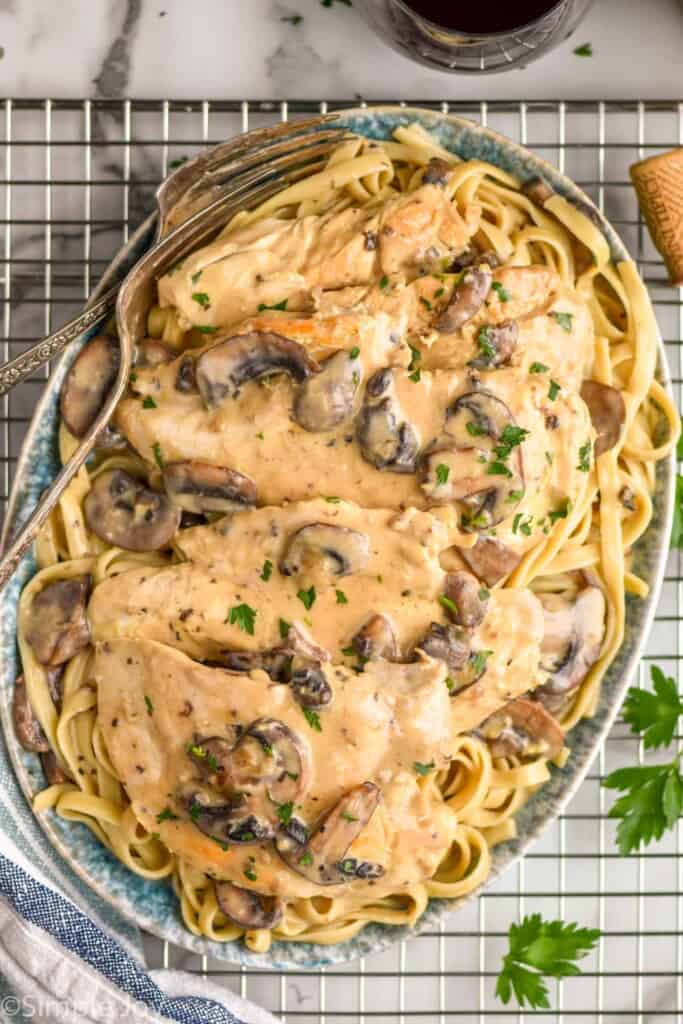 What to Serve with Chicken Marsala
If you make this recipe or any of my other recipes, please leave me a comment and let me know what you think!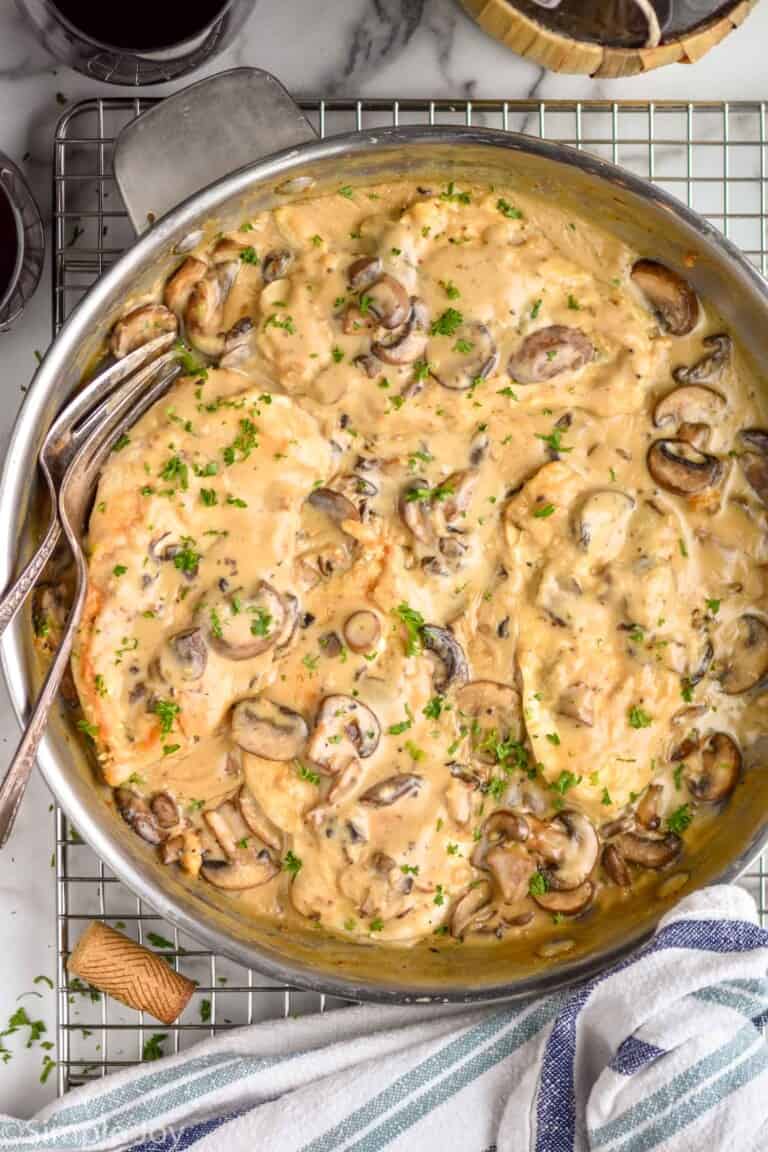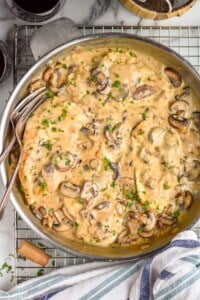 Easy Chicken Marsala Recipe
This Easy Chicken Marsala recipe is the best 30 minute meal. It is so creamy and served with pasta for the perfect dinner idea for tonight.

Ingredients
8

ounces

fettuccine

to serve with

2

tablespoons

olive oil

see note

salt and pepper

1

pound

chicken breasts

sliced thinly in half (and pounded thin if still more than 1/2 inch thick)

2

tablespoons

unsalted butter

2

cloves garlic

minced

16

ounces

sliced mushrooms

(I used baby portobellos)

3

tablespoons

flour

1

cup

chicken stock

1

cup

Marsala wine

1/2

cup

heavy cream
Instructions
Cook the fettuccine according to package instructions.

While the fettuccine is cooking, slice the chicken breasts in half.  If there are parts of the chicken that remain thick (about more than a 1/2 inch), pound them thin.  Season the chicken with salt and pepper on both sides.

In a larget skillet, heat 2 tablespoons of extra virgin olive oil over medium heat.  Add the sliced chicken to the pan and cook for about 5 to 6 minutes on each side or until a meat thermometer reads 165 degrees.

Remove the chicken from the pan and cover loosely with tin foil.

Add the butter to the skillet and melt. Add in the mushrooms and the garlic. Cook until the mushrooms are soft, about four minutes.

Stir in the flour througly, so you can no longer see streaks of white. Slowly pour in the chicken stock, scraping up browned bits at the bottom. It works best if you pour in a little, stir it in to combine, and then a little more. Pour in the Marsala wine.  Bring to a simmer and cook until the sauce thickens and reduces by almost half, about six minutes, stirring occasionally. Stir in the heavy cream.

Return the chicken to the pan. Spoon the sauce and mushrooms over the chicken and serve over the fettuccine.
Notes
If your skillet is not big enough to cook all the chicken at once, you may need to do it in two batches. In that case, you may need to add more oil (about a tablespoon) between the first and second batch.
Calories:
350
kcal
(18%)
Carbohydrates:
6.2
g
(2%)
Protein:
30.9
g
(62%)
Fat:
20.7
g
(32%)
Saturated Fat:
11.4
g
(71%)
Polyunsaturated Fat:
0.4
g
Monounsaturated Fat:
5
g
Cholesterol:
118.3
mg
(39%)
Sodium:
198.4
mg
(9%)
Potassium:
343.6
mg
(10%)
Fiber:
1
g
(4%)
Sugar:
2.1
g
(2%)
Vitamin A:
175
IU
(4%)
Vitamin C:
1.3
mg
(2%)
Calcium:
4.2
mg
Iron:
0.2
mg
(1%)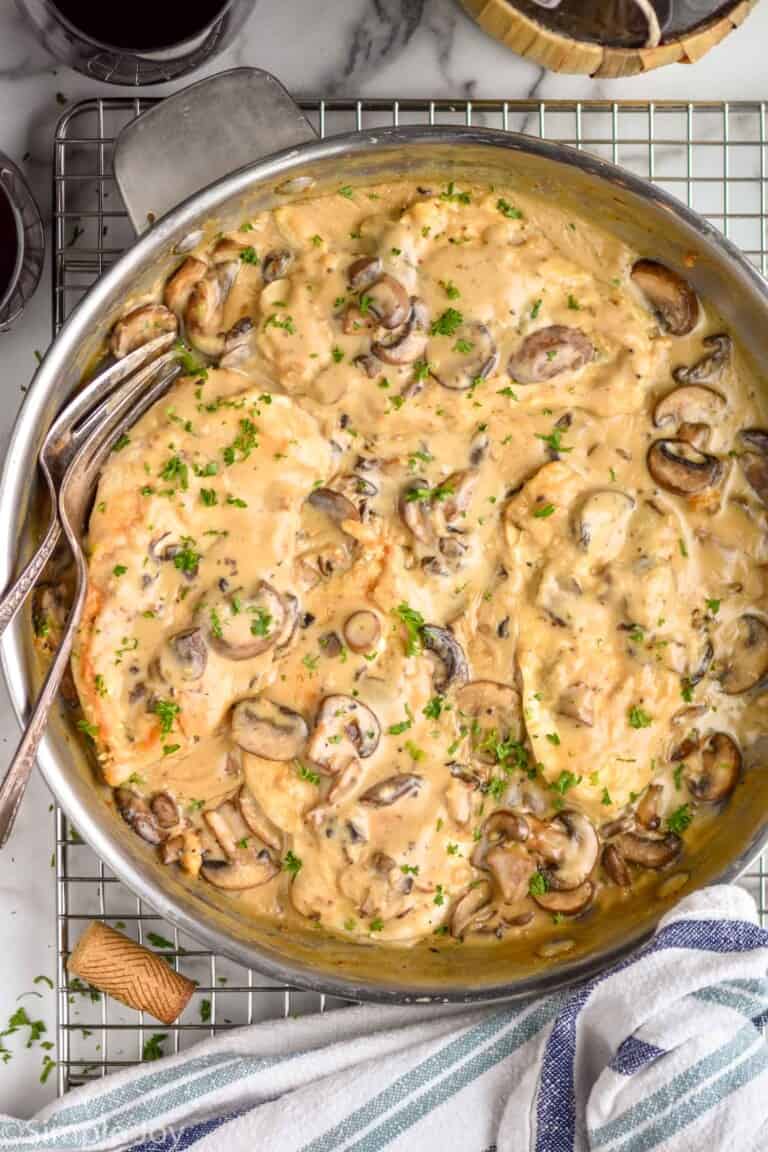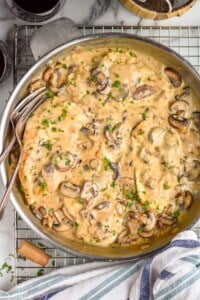 did you make this
Easy Chicken Marsala Recipe
you might also like . . .