Slow Cooker Corned Beef is an easy and delicious all in one dinner. With only 10 minutes of preparation you will love this corned beef and cabbage all year.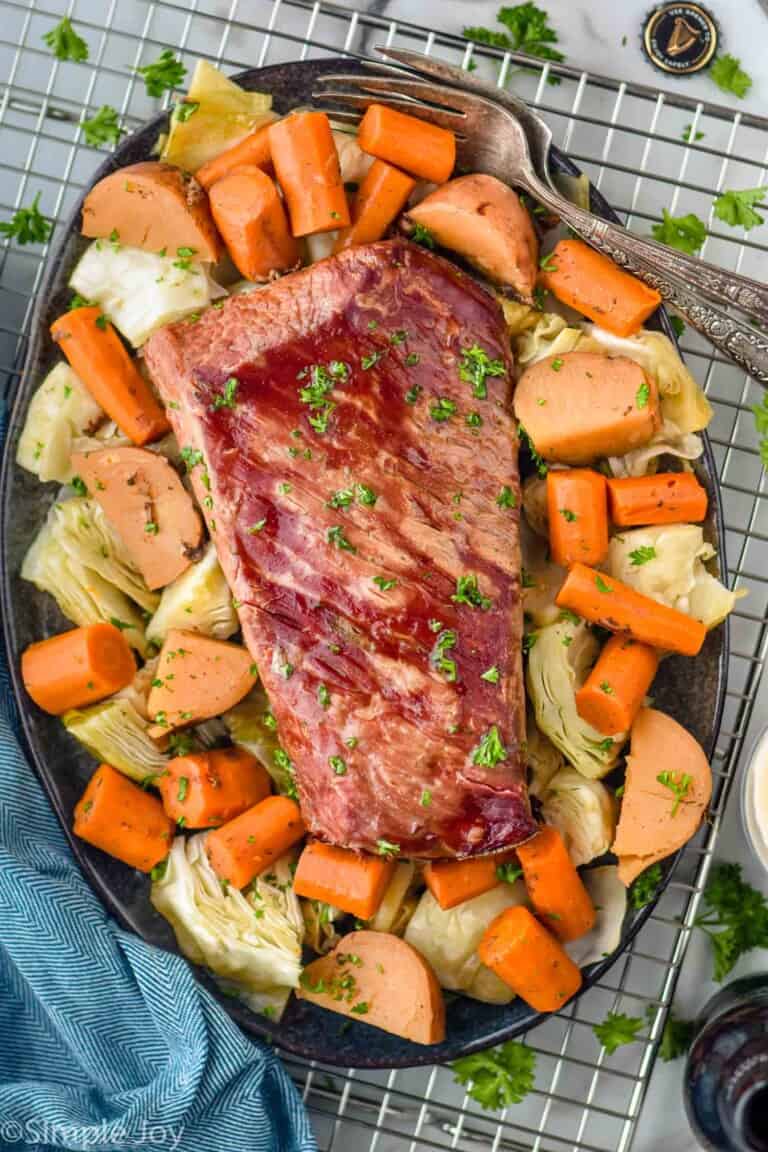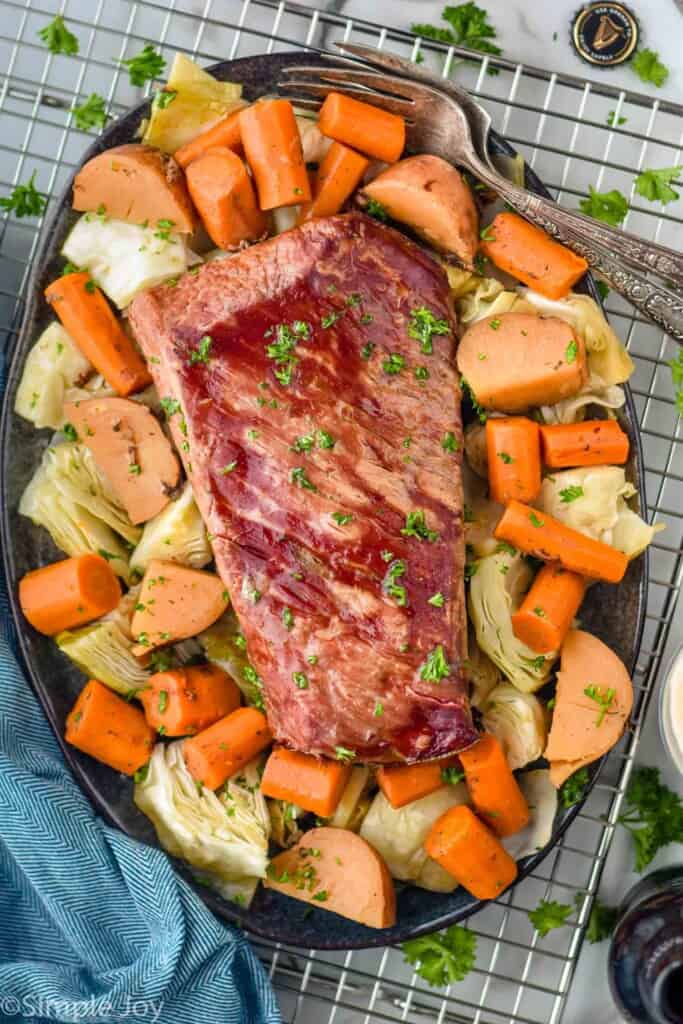 If you have never made corned beef at home, I have a recipe for you today that is so easy to make and fall apart tender. This corned beef and cabbage recipe should not be saved just for St. Patrick's Day. It is a recipe that your family will love coming home to all year long.
Reader Review
I made this last year, and it was, hands down, the best recipe!! So delicious. It's on the menu, again, this year!
What is Corned Beef
Corned Beef is a beef brisket that has been cured with salt. Curing is a process that often uses salt to preserve meat. The term "corned" most likely refers to the salt rocks that were used in the process.
Corned Beef has become a staple around St. Patrick's Day in restaurants across the United States. Though once you try this recipe, I think you will agree it should be eaten all year.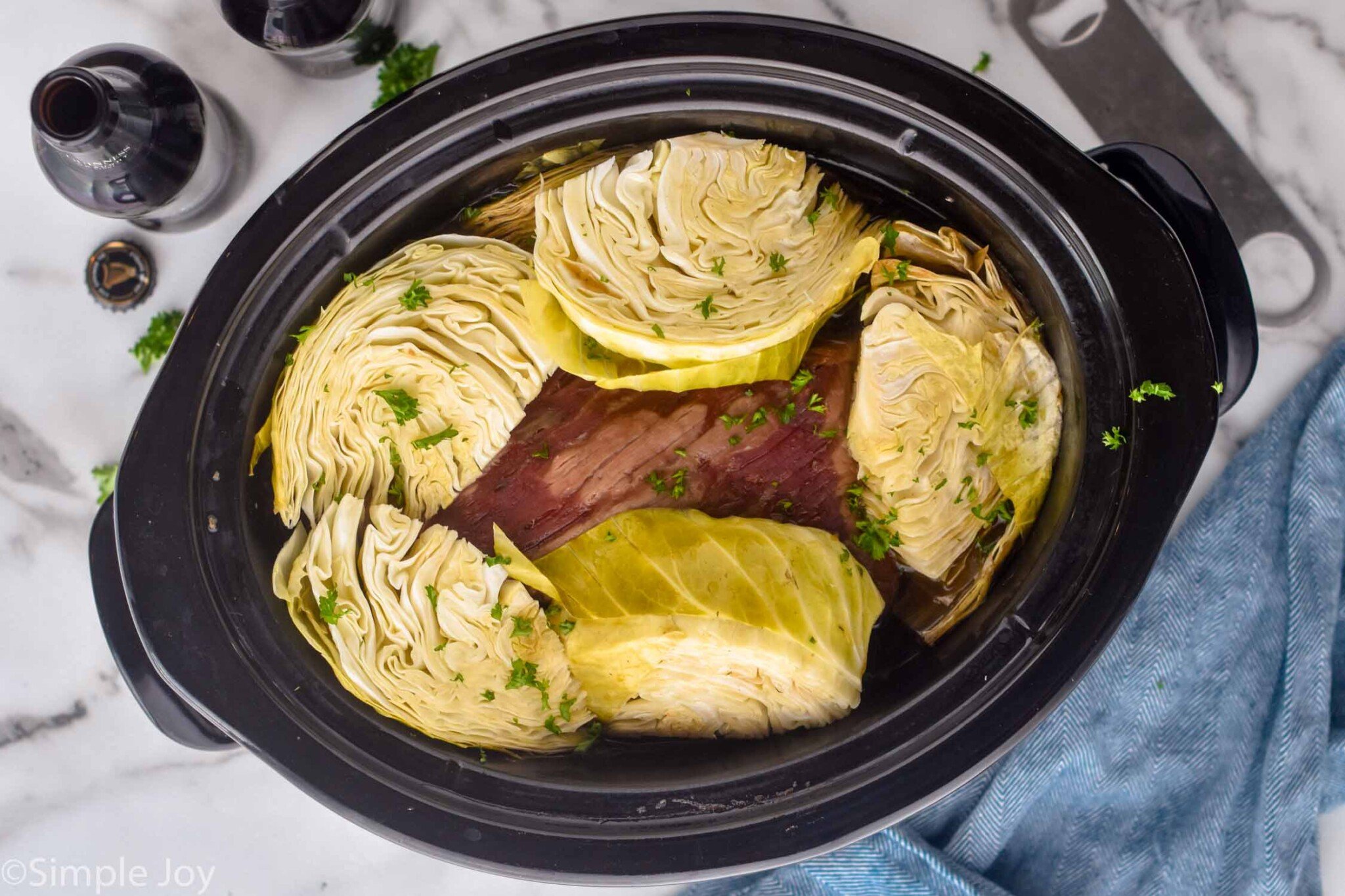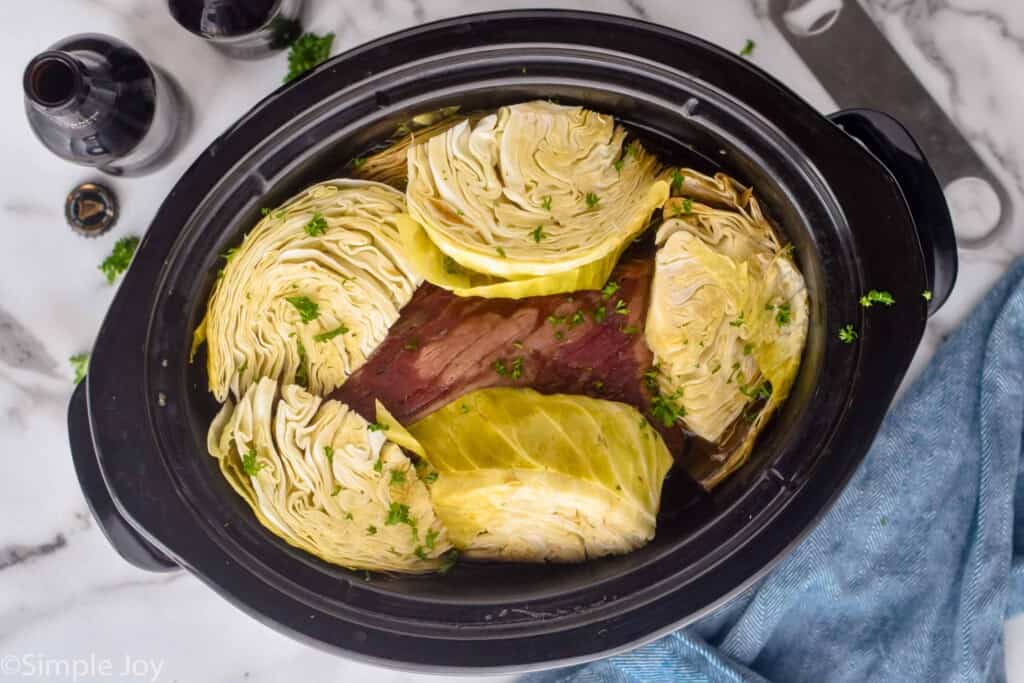 How to Cook Corned Beef in a Crockpot
Add the vegetables to the slow cooker.
Make the cooking liquid: Combine the beef stock, vinegar, brown sugar, and seasonings. Pour it over the vegetables.
Top with the corned beef.
Cook on low: When cooking meat, especially beef, I always think cooking low in a slow cooker is best. Cook on low for 8 hours.
Add the cabbage: Finally put in the cabbage wedges and cook for an hour. At this point the dish will be done. As soon as your cabbage is wilted your taste you can eat.
When this recipe is done, the beef practically falls apart. It is soft, tender, and full of this perfect combination of flavors from the spices in the sauce.
While it might seem that your meat isn't going to get much flavor during cooking, the liquid will bubble up around it and give it plenty of flavor. You will love this easy recipe.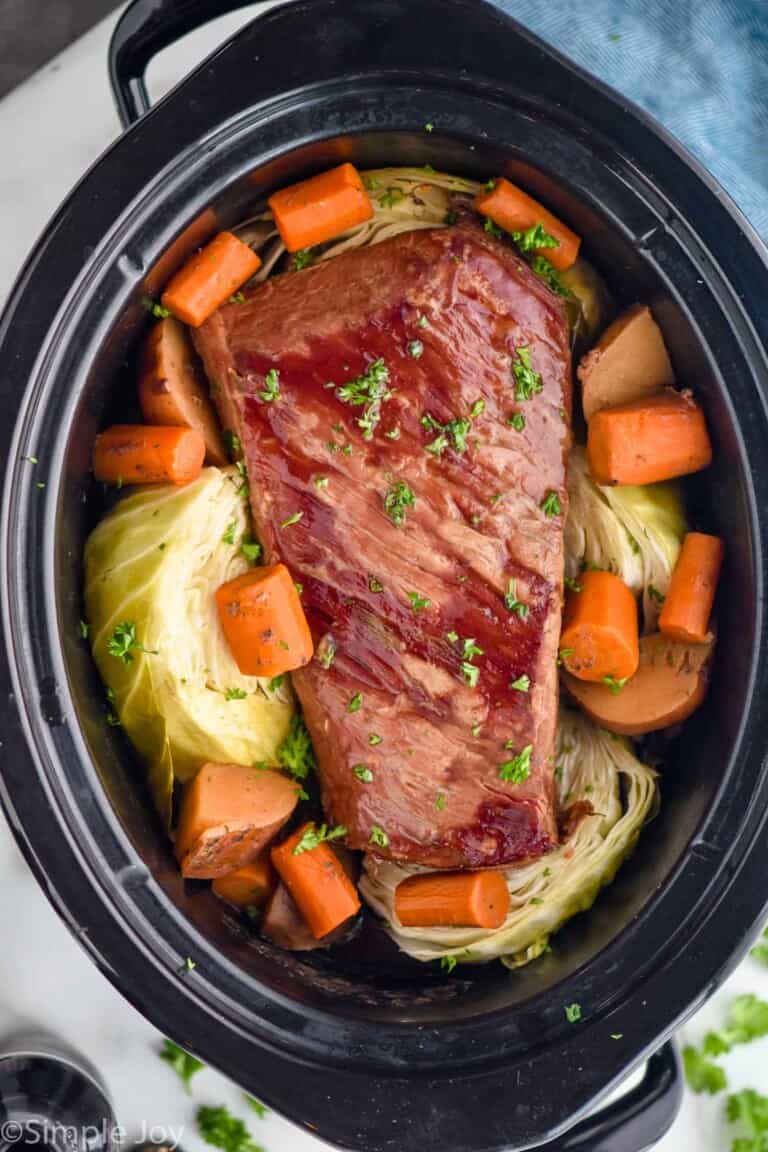 Substitutions and Variations
If there is a vegetable in this recipe that your family does not like, I would encourage you to leave it out and replace it with more of a vegetable your family does enjoy.
As mentioned above, the recipe is just about finished at the point that you are putting the cabbage in. So if your family does not enjoy cabbage, you can skip that step.
I do not recommend leaving out the vegetables all together. If you want to make it all potatoes, that is fine, but there needs to be a bed of produce for the corned beef brisket to sit on while it cooks.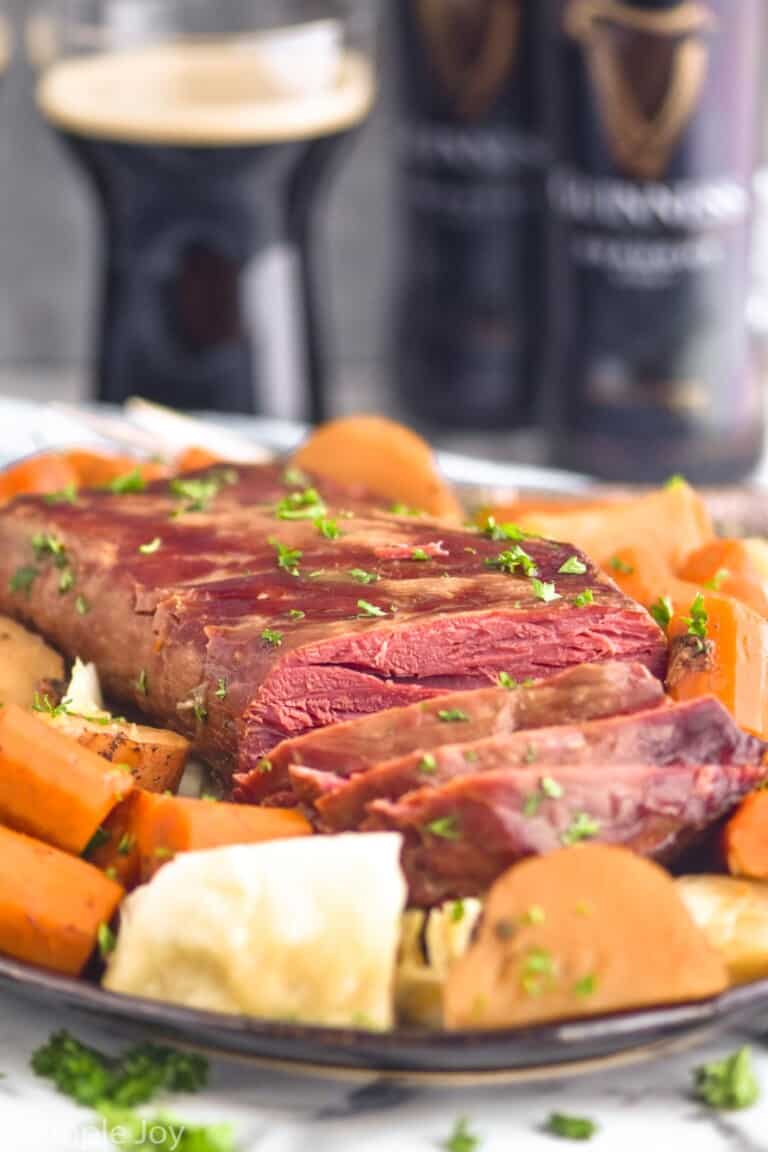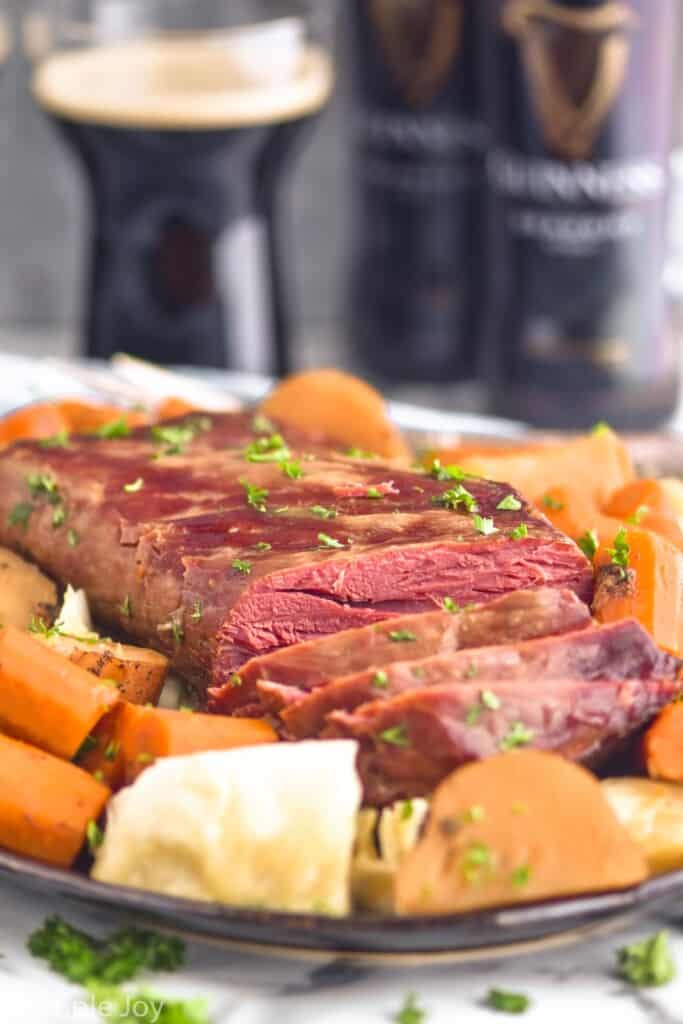 What to Serve with Corned Beef
Cabbage, carrots, and potatoes are all often served with corned beef, so in this recipe is a one stop shop. You have a complete dinner when your slow cooker corned beef is done.
If you are looking for an after dinner treat, I would recommend my Baileys Brownies or an Irish Coffee.
Slow Cooker Corned Beef Leftovers
If you have slow cooker corned beef leftovers, I recommend storing the meat and the vegetables separate from the liquid. When you go to reheat:
Put the meat on top of the vegetables in a baking dish.
Pour some of the liquid in the bottom of the pan.
Cover and bake at 350 degrees for 30 to 45 minutes or until the dish is warmed through.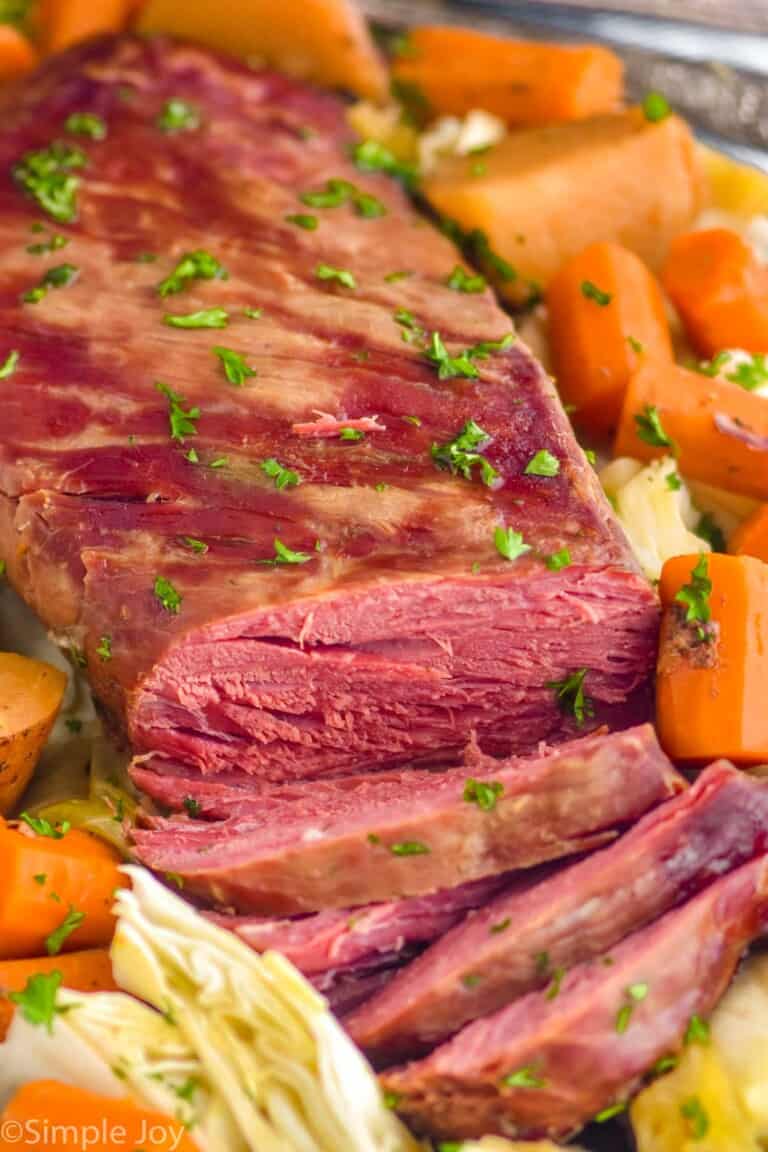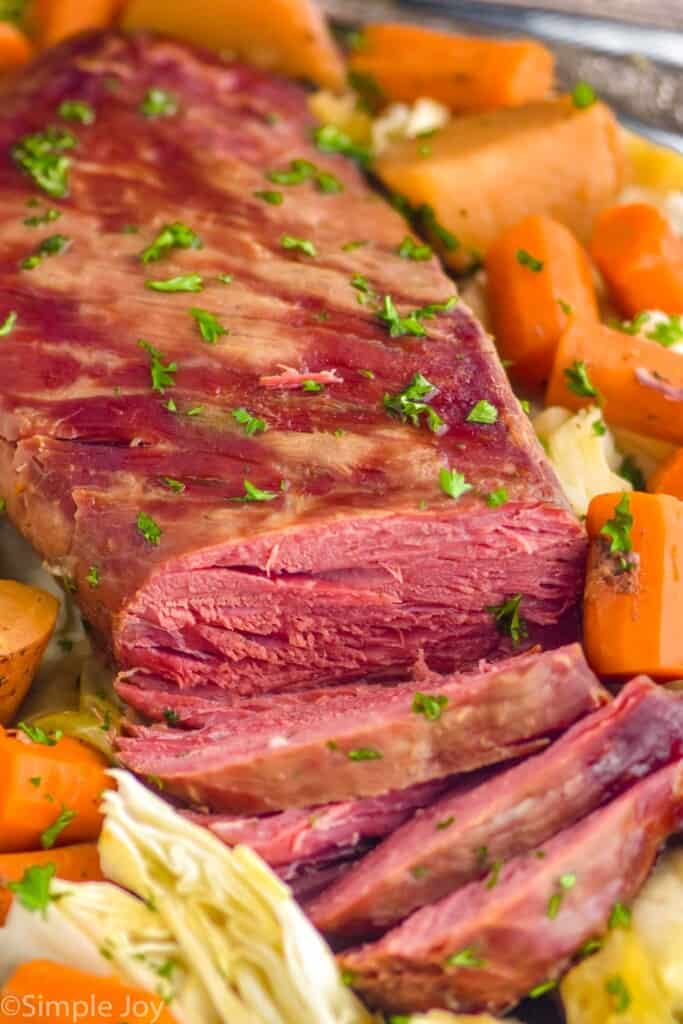 FAQ
When is Corned Beef Done?
Corned beef is considered done when it hits 145 degrees. This is not a recipe that you need an instant read thermometer for, just following the recipe will result in fork tender beef.
Can this recipe be made ahead of time?
Yes! If necessary, you can cook this recipe ahead of time and then reheat the whole dish in the oven. Please read the section above marked "Leftovers" for directs.
Is Corned Beef gluten free?
This depends on the corned beef you buy. Some cured meats have gluten added to them, so look on the package or ask your butcher. There is no additional gluten in this recipe though.
Can this recipe be cut in half?
Yes! You can easily cut this recipe in half with a small piece of meat. Though, the leftovers are so good, I think you should make the whole recipe.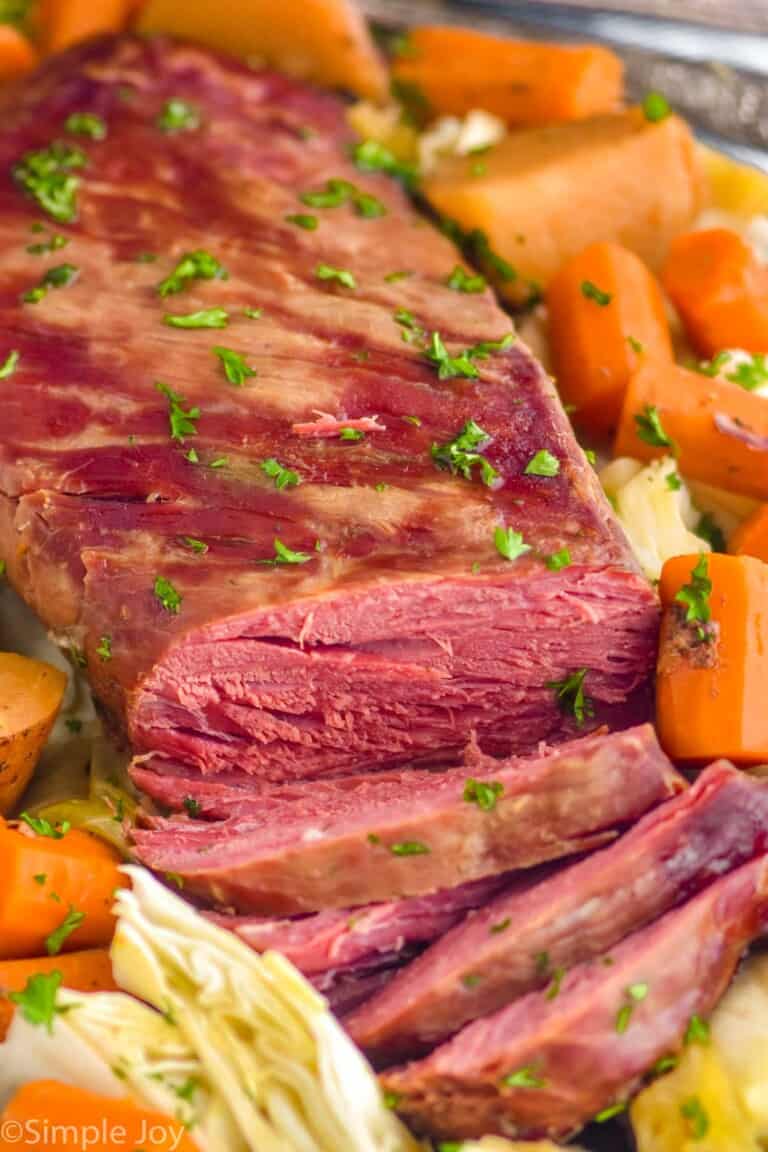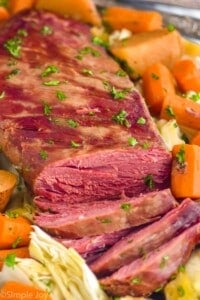 Slow Cooker Corned Beef
Total:
9
hours
10
minutes
Slow Cooker Corned Beef is an easy and delicious all in one dinner. With only 10 minutes of preparation you will love this corned beef and cabbage all year.
Ingredients
1

large yellow onion

cut into 1 1/2 inch wedges

5

large red potatoes

(about 2 pounds) quartered

1

pound

carrots

peeled and cut into 2 inch pieces (about 5 medium carrots)

16

ounces

low sodium beef broth

3

garlic cloves

minced

1

bay leaf

2

tablespoons

brown sugar

2

tablespoons

apple cider vinegar

1

teaspoon

kosher salt

1

teaspoon

allspice

1

teaspoon

ground mustard

1

teaspoon

dried dill weed

1/2

teaspoon

black pepper

3

pounds

corned beef brisket

(seasoning packet discarded)

1

small head of cabbage

cut into wedges
Instructions
Add potatoes, carrots, and onion to the base of a 6 quart slow cooker.

In a mixing bowl combine beef stock, garlic, bay leaves, brown sugar, vinegar, kosher salt, allspice, ground mustard, dill weed, and black pepper. Pour over the vegetables.

Top with the beef and cook on low for 8 hours.

Add the cabbage wedges on top and cook for an additioanl hour.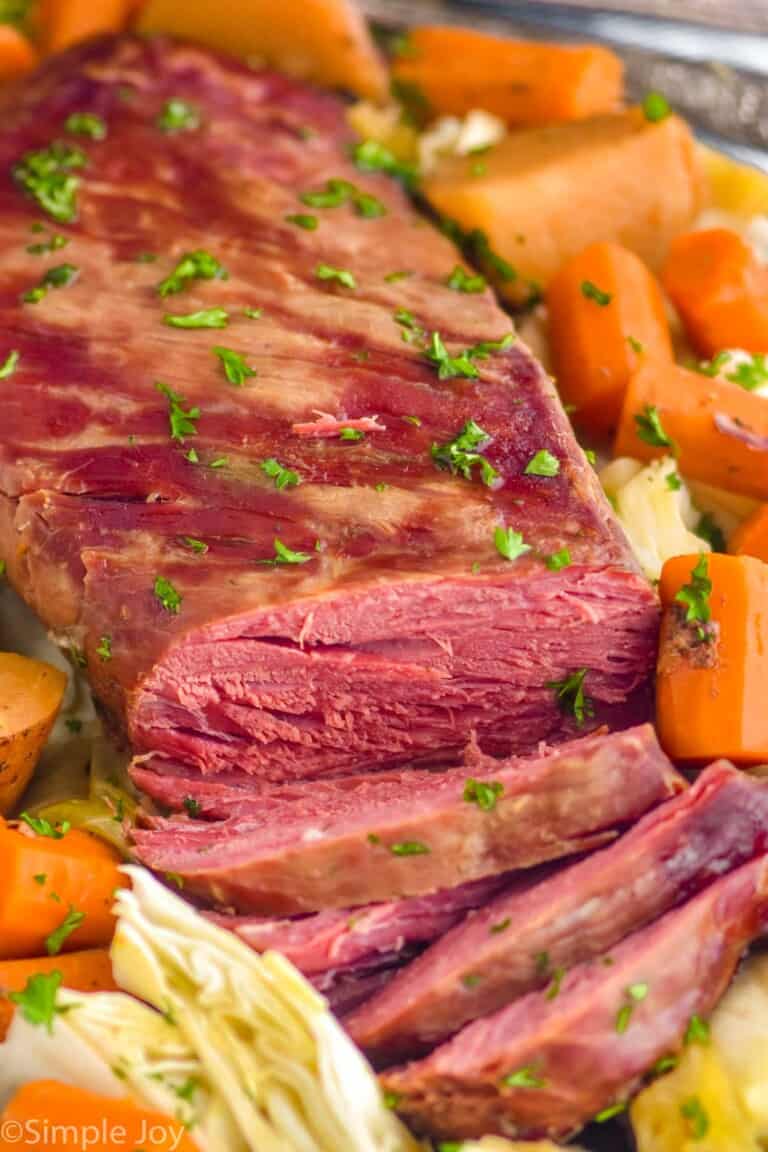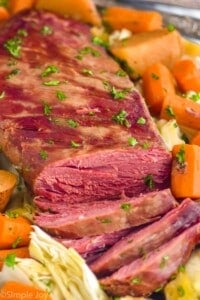 did you make this
Slow Cooker Corned Beef