Our family loves these Crock Pot Italian Beef Sandwiches. With only 10 minutes of hands on time, they are the perfect easy weeknight dinner!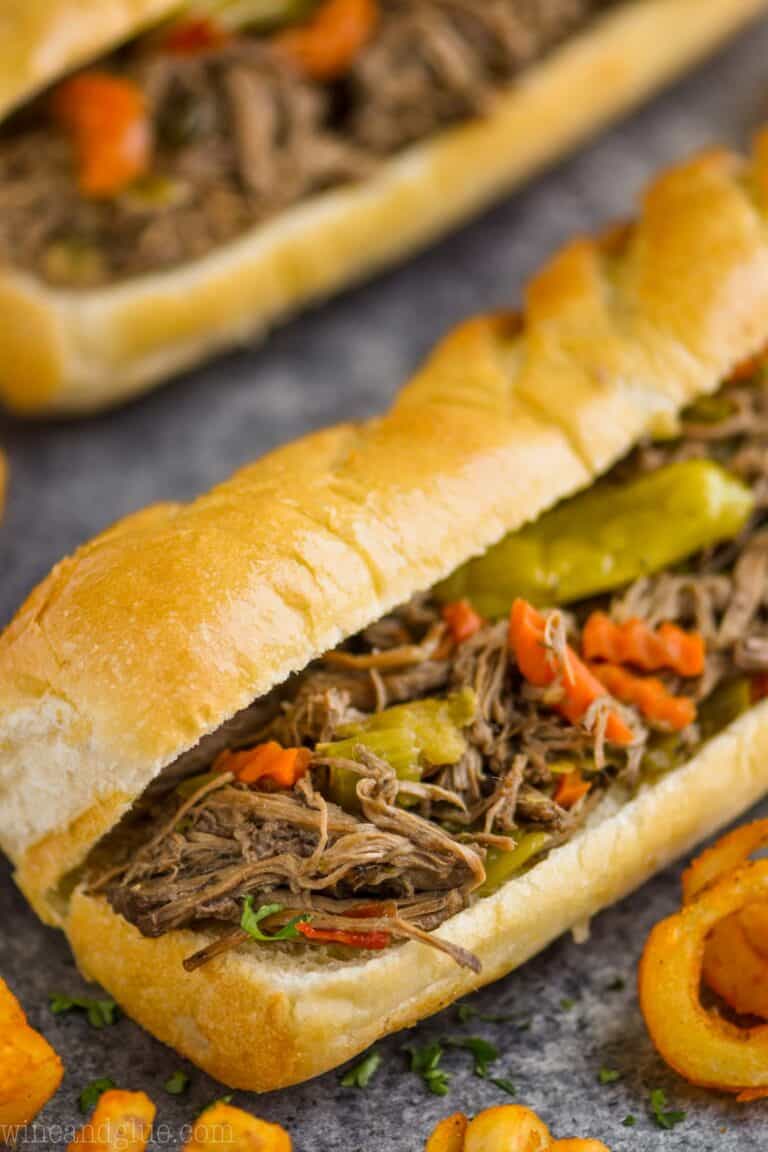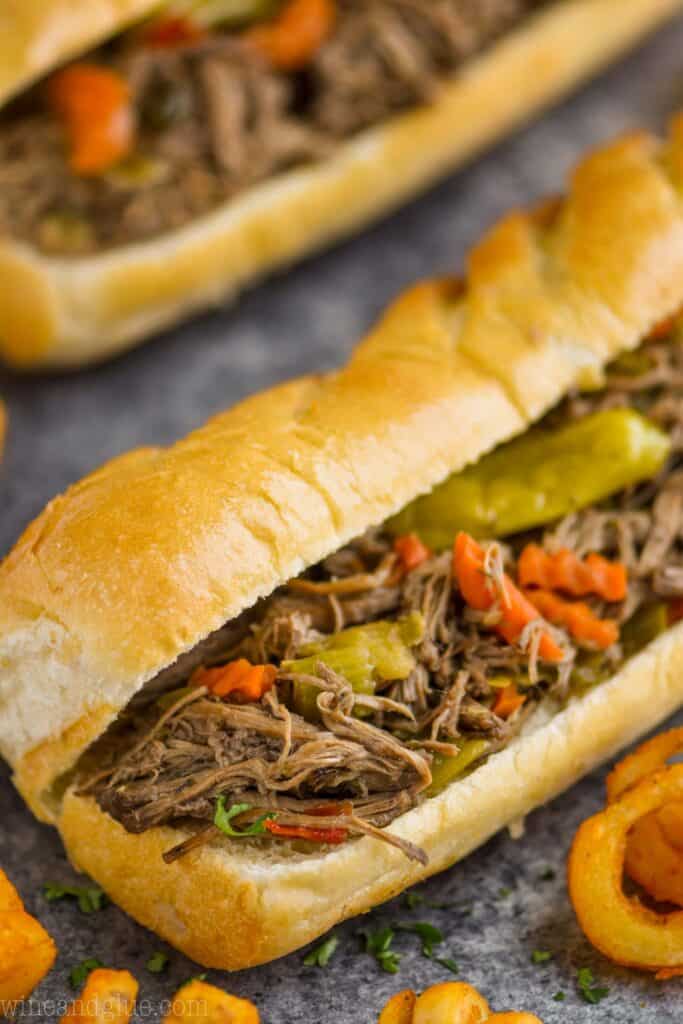 It is no secret that I love my slow cooker. I use it about once a week to help make easy dinners for our family. And if you have been following along for really any length of time, you have noticed how many great crock pot recipes are here.
This Italian Beef is one of my very favorite recipes to make in the slow cooker because it has the most incredible flavor. With the delicious taste and the fast prep time, it's going to be one of your favorites too!
Reader Review
Delicious! Made it earlier exactly as described recipe. My family loved it. Will keep recipe. Thank you Lisa.
WHAT MAKES THIS THE BEST ITALIAN BEEF RECIPE
There are three things that take this recipe over the top:
We are going to sear the meat before putting it in the crock pot. Yes, this adds a few more minutes, but they are more than worth it.
After searing the meat, we deglaze the pan with a little red wine. This grabs all the great flavors from the pan and deepens the overall flavor of the final recipe
This recipe uses my Italian Seasoning. It is perfect and brings the perfect mix to the party.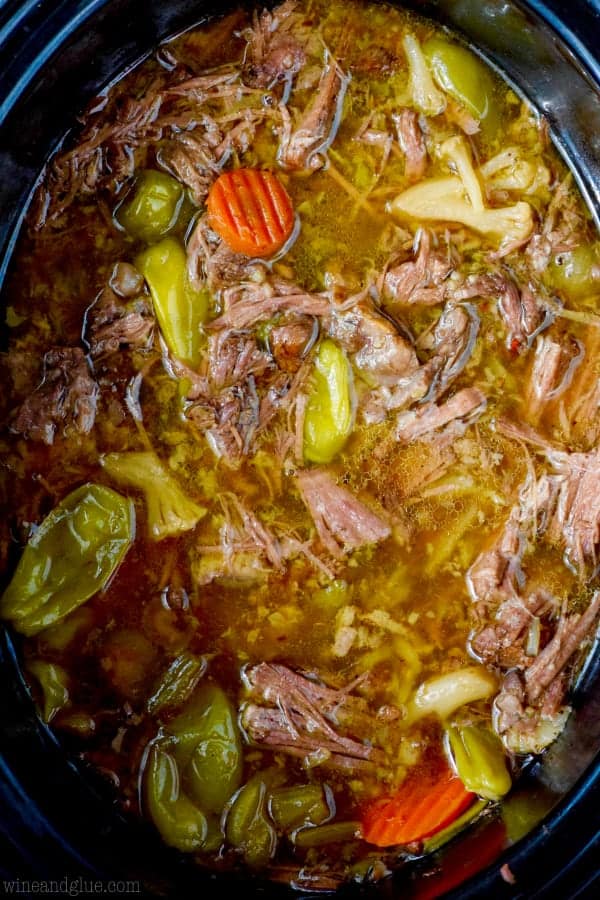 WHY SEAR THE MEAT BEFORE SLOW COOKING
As I mentioned above, I think that searing the beef in a hot skillet before adding it to the slow cooker is a big part of what makes this recipe a winner.
Searing the meat caramelizes it, and that alone adds such great flavor to crock pot recipes.
You can skip this time, but I urge you not to. By cutting out approximately five minutes of hands on time you are missing out on some great flavor.
I love using my cast iron skillet to sear the meat.
THE SECRET INGREDIENT
The extra secret ingredient to my Italian Beef recipe is red wine!
But it's really more than just a secret ingredient, it's a secret step! Often a recipe will call for wine to deglaze a pan after caramelization. The bits of food that you are scraping up during this process contain a ton of great flavor.
If you do not drink alcohol, you can deglaze the pan with a little beef stock.
SPICINESS
The heat in this dish is brought by pepperoncinis and their juice. If your family is adverse to spiciness, try making it without the juice. The pepperoncinis themselves can still be left in.
If you love your dishes spicy, try buying hot giardiniera mix!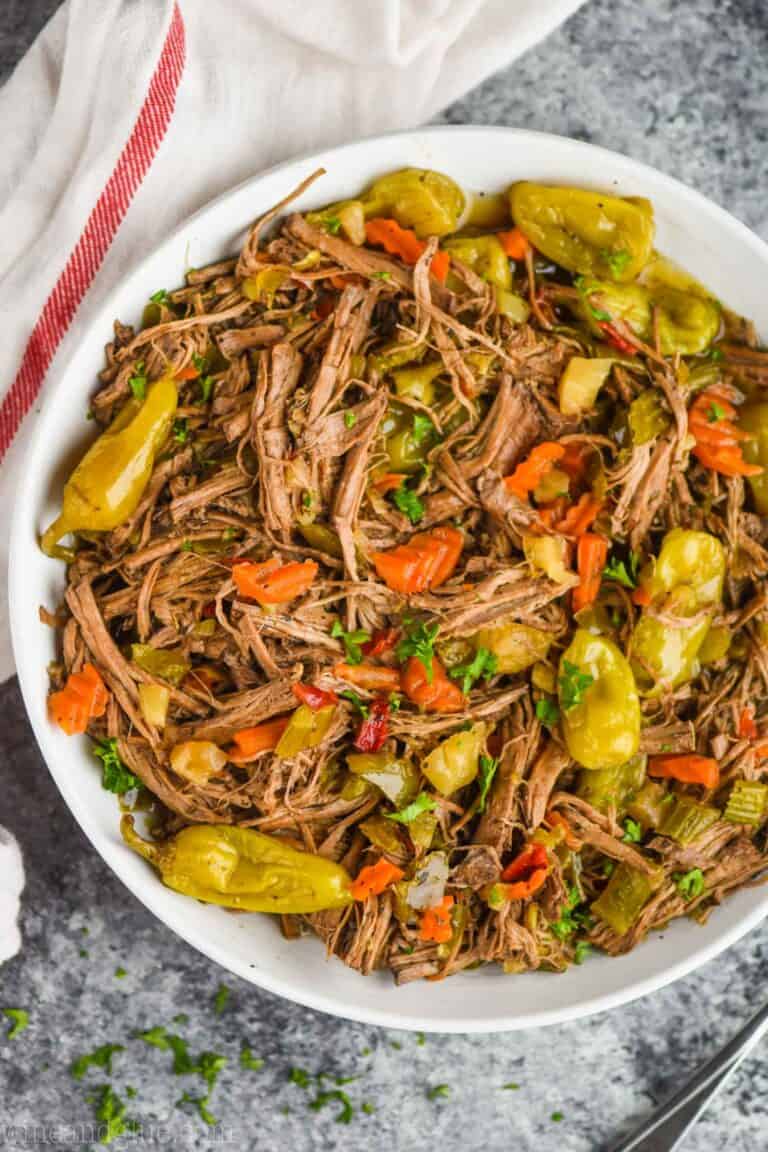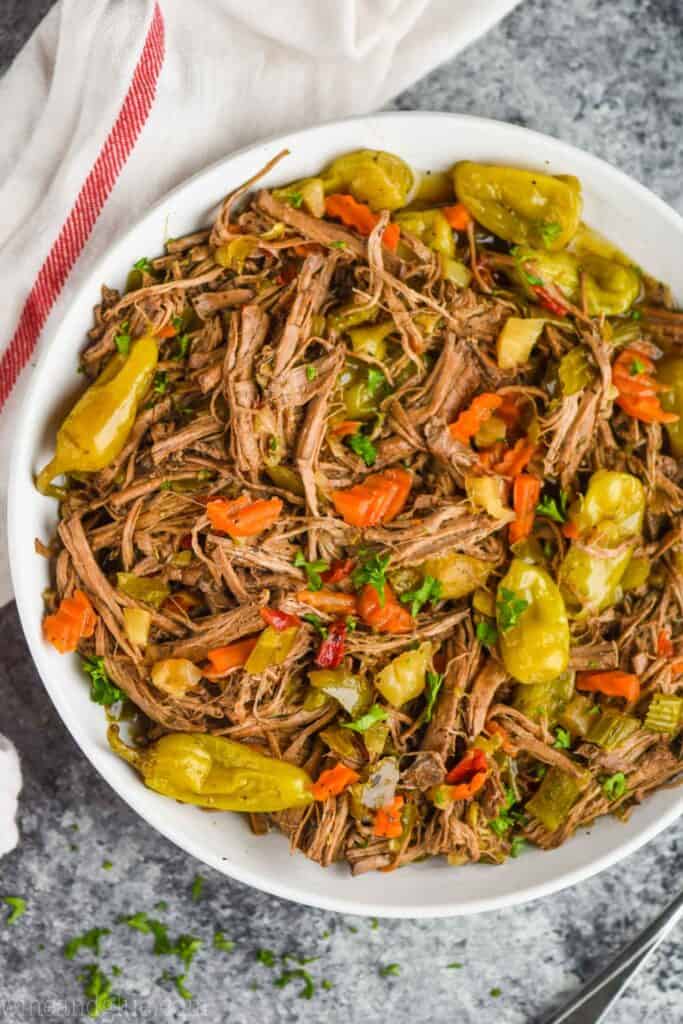 COOKING TIME
This recipe calls for cooking on low for 8 hours, and that is my very firm recommendation.
You can cook this recipe on high for four hours, but I would absolutely urge you not to. It will result in really tough beef and you will end up not liking this recipe nearly as much as I think you should.
STORING AND REHEATING LEFT OVERS
This recipe makes enough for 8 large sandwiches, so we always have left overs. The left overs of this recipe are just as amazing as when it is fresh out of the slow cooker, another reason this bad boy gets a gold star.
The key to storing the left overs is to make sure that the meat is completely submerged in liquid in the storage container. This will prevent it from drying out.
When ready to eat, pull out just enough beef for the sandwiches you want to make. Make sure it is covered in liquid and reheat in a microwaveable container or in a small saucepan on the stove over low heat.
FREEZING LEFT OVERS
This recipe makes so much and freezes so well, that our family typically freezes the left overs for another meal in a few weeks.
Put the beef in an airtight container.
Cover it with liquid.
Seal and put in the freezer for up to 3 months.
When ready to eat it, thaw it in the refrigerator.
Warm the contents (meat and liquid) in a small sauce pan over low heat.
To err on the side of caution, discard any additional left overs after freezing and reheating. This recipe should not be reheated more than once.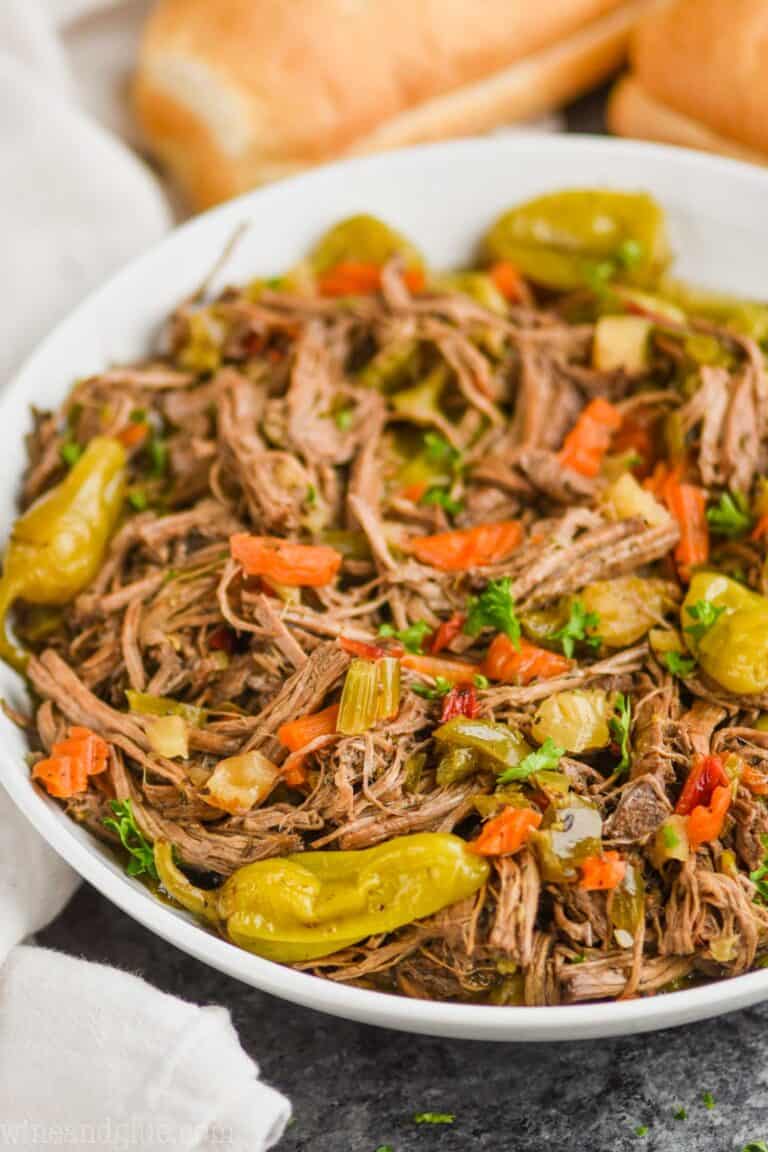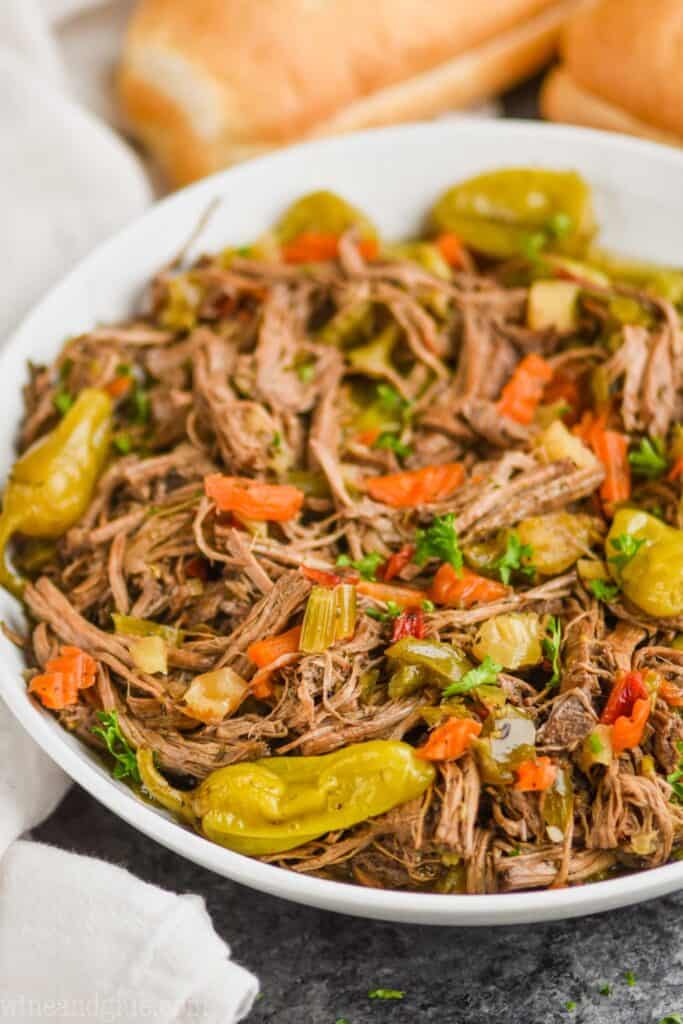 SIDE DISHES
There are so many things that would go great with this recipe.
OTHER GREAT CROCK POT DINNERS
If you are as in love with your slow cooker as I am, here are some other great dinner ideas:
If you make any of my recipes, leave me a comment and let me know what you think!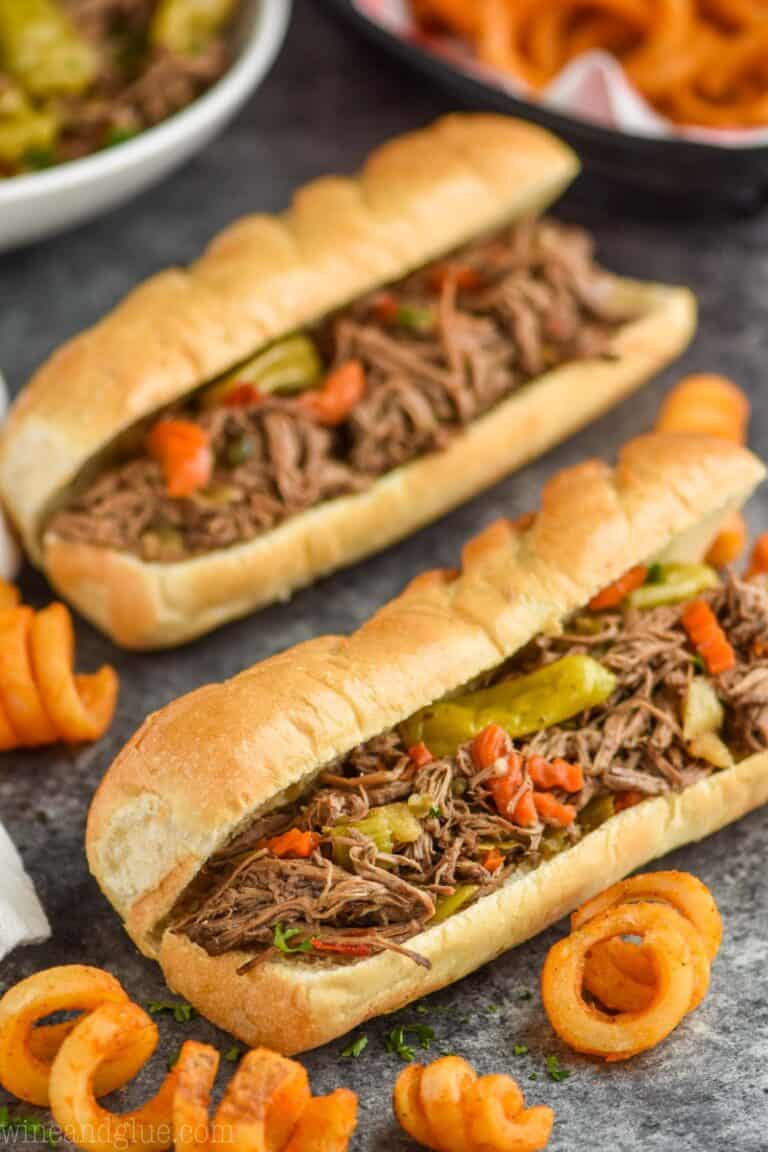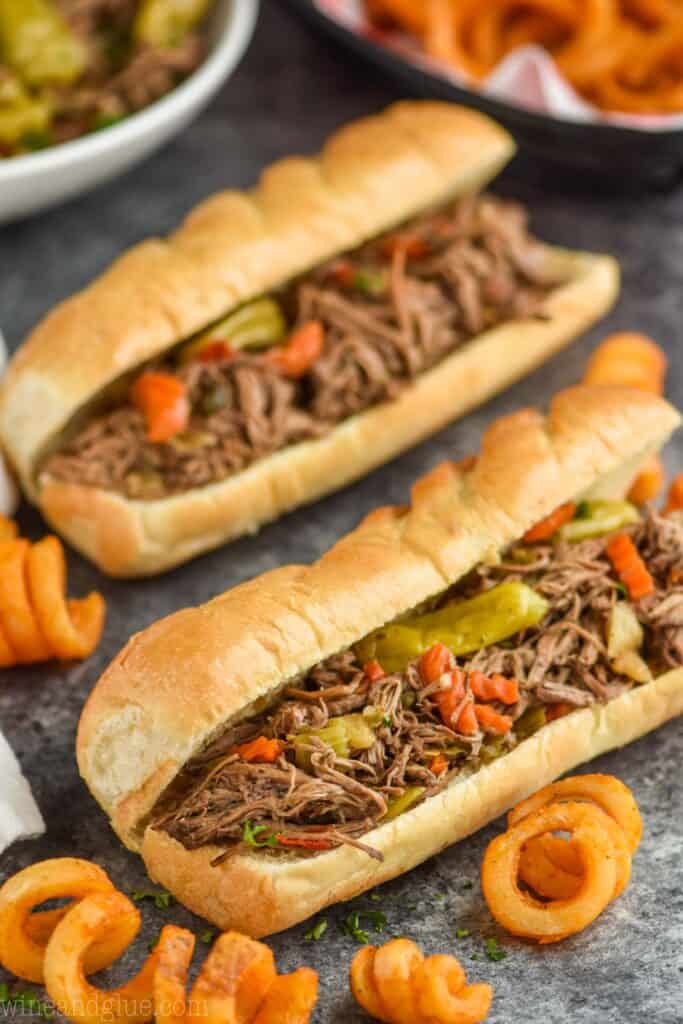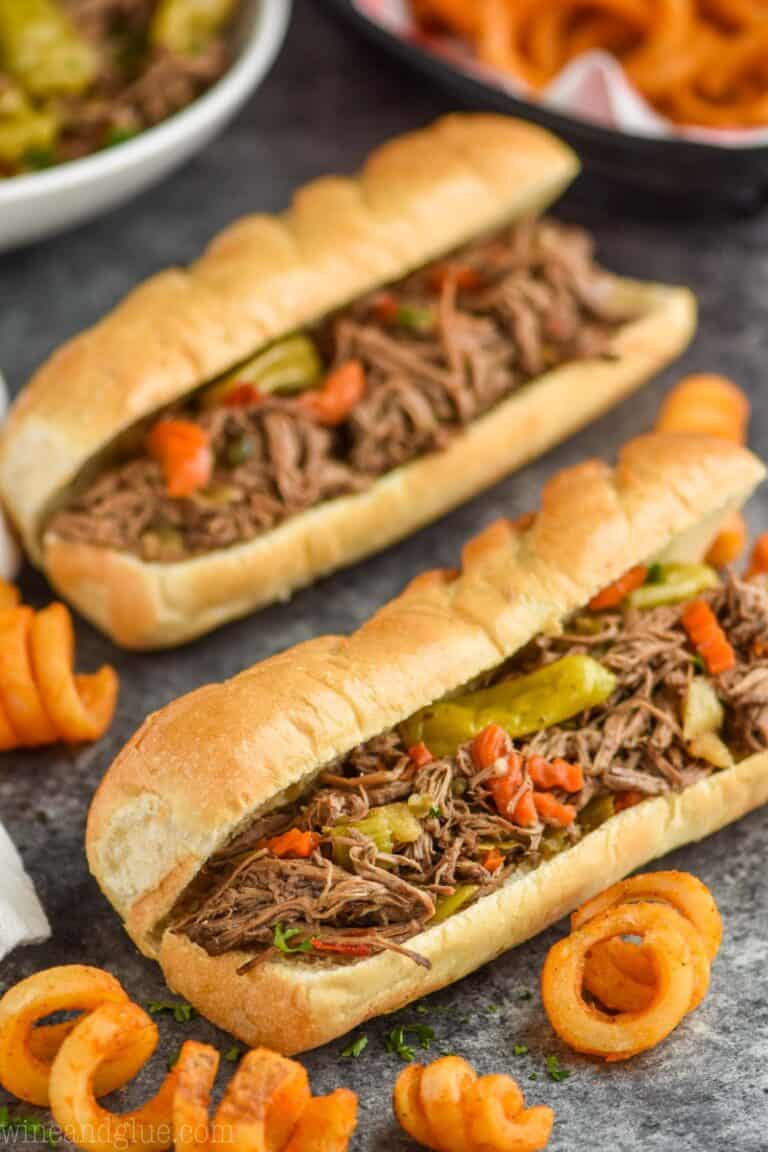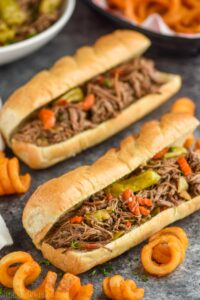 Crock Pot Italian Beef Sandwiches
Total:
8
hours
30
minutes
These Crock Pot Italian Beef Sandwiches are about 10 minutes of hands on time for a delicious dinner the family will love! These are made with a secret ingredient that deepens the flavor and my Italian Seasoning to really bring the flavor home.
Ingredients
3

cups

beef stock

low sodium is best for this recipe

2

tablespoons

Italian Seasoning

2

cloves

garlic

minced

16

ounces

giardiniera mix

(we will be using the whole jar with the liquid)

1

cup

pepperoncinis

1/4

cup

pepperoncinis juice

optional, see note

3

pound

chuck roast

2

tablespoons

extra virgin olive oil

1/2

cup

red wine

optional, see note

8

soft Italian rolls

butter

optional

mozzarella cheese

optional
Instructions
In the bottom of a 6 quart slow cooker combine the beef stock, giardinieara mix, Italian seasoning, garlic, peperoncinis, and peperoncini juice.

Heat a heavy bottom skillet over medium heat. Add the olive oil and heat until the oil just begins to smoke.

Season the chuck roast with salt and pepper on both sides. Add it to the hot skillet and brown for about two minutes on all sides. Then transfer to the slow cooker.

With the heat still on the skillet, add the red wine and using a wooden spoon, pull up the pan drippings. After about 30 seconds, add the liquid from the pan to the slow cooker. Cook on low for 8 hours.

Cover the slow cooker and cook on low for 8 hours. (See the post for information on cooking on high.)

Remove the beef from the slow cooker and shred with two forks. Return the shredded beef to the crock pot.

The shredded beef can be added to rolls and served.

If you would like to have cheese on your Italian beef, butter the inside of the rolls. Add the beef, top with cheese, and put under a broiler watching very closely so it does not burn.
Notes
The peperoncini juice adds a lot of great flavor to this recipe, but a little bit of spiciness. If your family is sensitive to spiciness, just leave this out.
The searing of the meat and deglazing with the red wine adds great depth of flavor. If you don't drink alcohol, you can deglaze with beef stock. While searing and deglazing can be skipped, it is worth the time for the added flavor.
The nutritional information includes an Italian hoagie roll but does not include butter or cheese if you decide to toast your sandwich. 
Calories:
622
kcal
(31%)
Carbohydrates:
40
g
(13%)
Protein:
44
g
(88%)
Fat:
30
g
(46%)
Saturated Fat:
4
g
(25%)
Polyunsaturated Fat:
3
g
Monounsaturated Fat:
4
g
Cholesterol:
98
mg
(33%)
Sodium:
1952
mg
(85%)
Potassium:
28
mg
(1%)
Fiber:
2
g
(8%)
Sugar:
4
g
(4%)
Vitamin A:
91
IU
(2%)
Vitamin C:
10
mg
(12%)
Calcium:
9
mg
(1%)
Iron:
11
mg
(61%)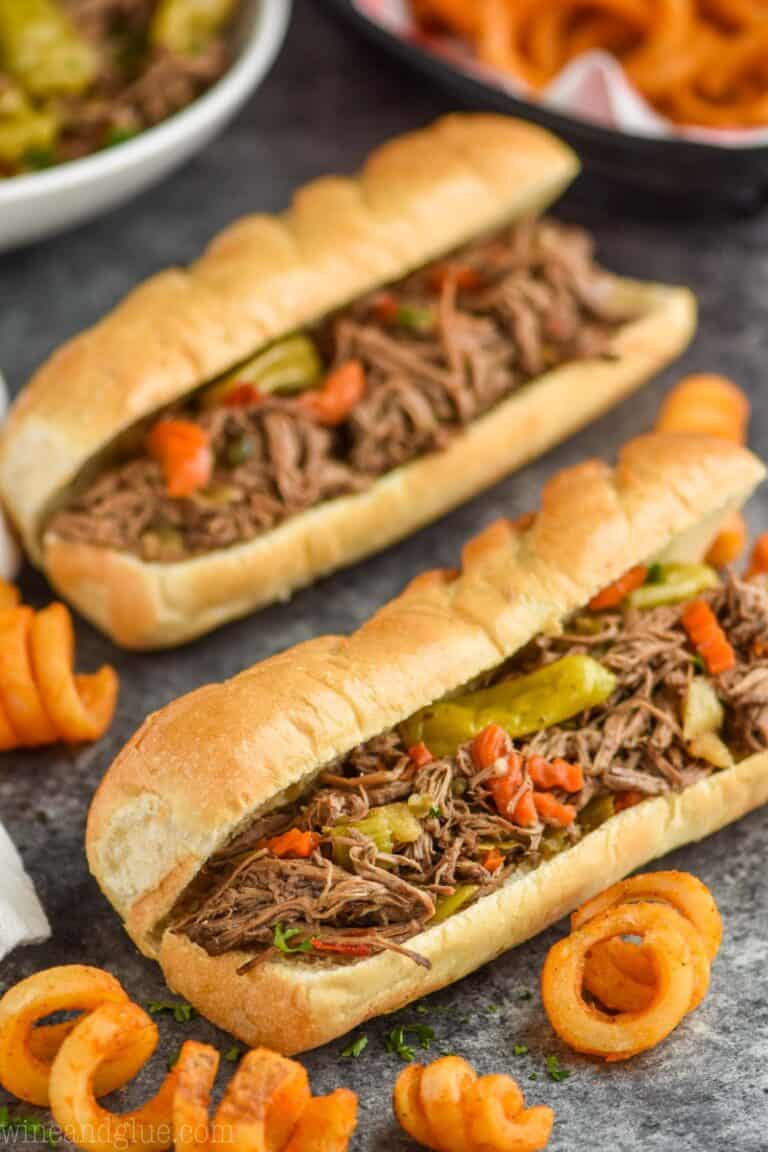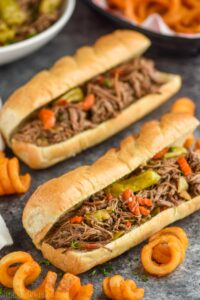 did you make this
Crock Pot Italian Beef Sandwiches