Crock Pot Ribs come together with our five star BBQ Sauce and the best Pork Rub for a tender fall of the bone recipe you will absolutely love.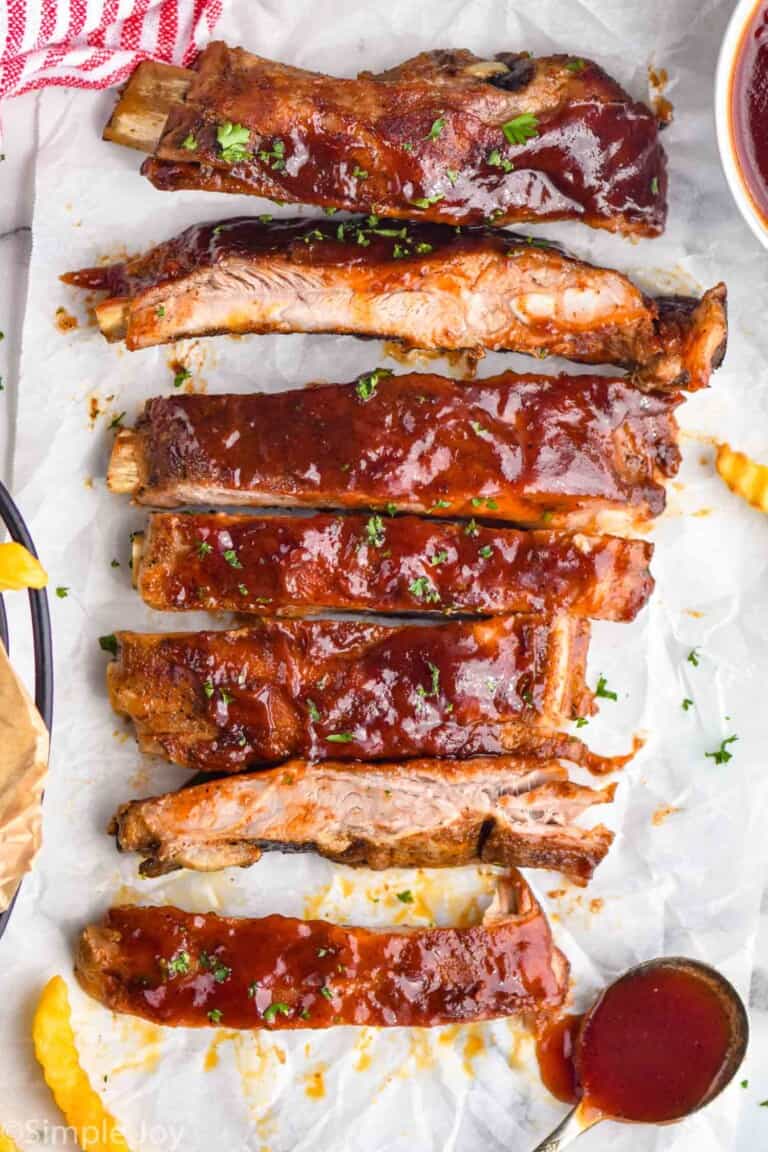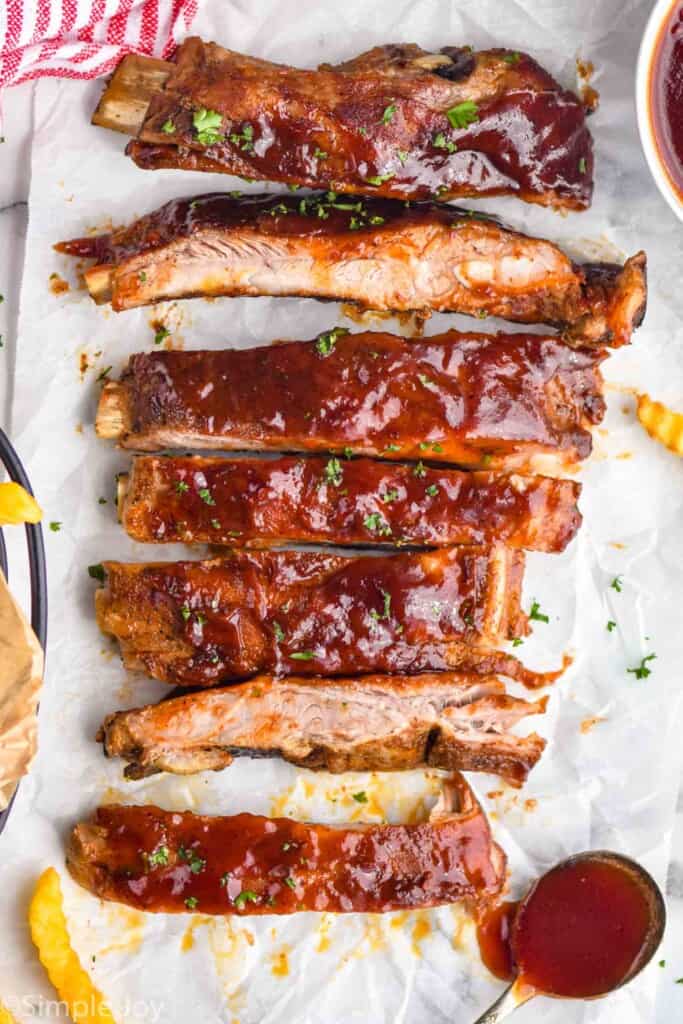 I have another great slow cooker recipe for you today, and just like with my BBQ Pulled Pork, it is the combination of the most perfect and simple pork rub and our homemade bbq sauce.
We are making these amazing slow cooker pork ribs, and I think you are going to absolutely fall in love with them. They are fall off the bone tender with a delicious flavor from our seasoning and sauce. Plus, they are simple to make. This is a no fuss dinner that everyone will love.
READER REVIEW
"There needs to be an option for 100 stars! The meat fell off the bones, the taste is beyond incredible – I just found my new favorite recipe!"
How to Cook Ribs in a Crock Pot
Season the ribs. You are going to start by whisking together our four ingredient pork rub. Rub it into the ribs and refrigerate them for a few hours. In a pinch you can absolutely skip that step and throw them into the crockpot right after seasoning them.
Make the BBQ sauce. This sauce is the star of the show. It only takes 20 minutes to throw together and I bet you have all the ingredients on hand, so I would definitely not skip this step.
Put it all together in the slow cooker. Finally, you are going to want to put a little sauce in the bottom of your slow cooker and then layer the ribs. Put BBQ sauce between each layer and then a little more to cover them on top. You will have some left over. Cook it on low for 8 hours and then enjoy the perfect ribs.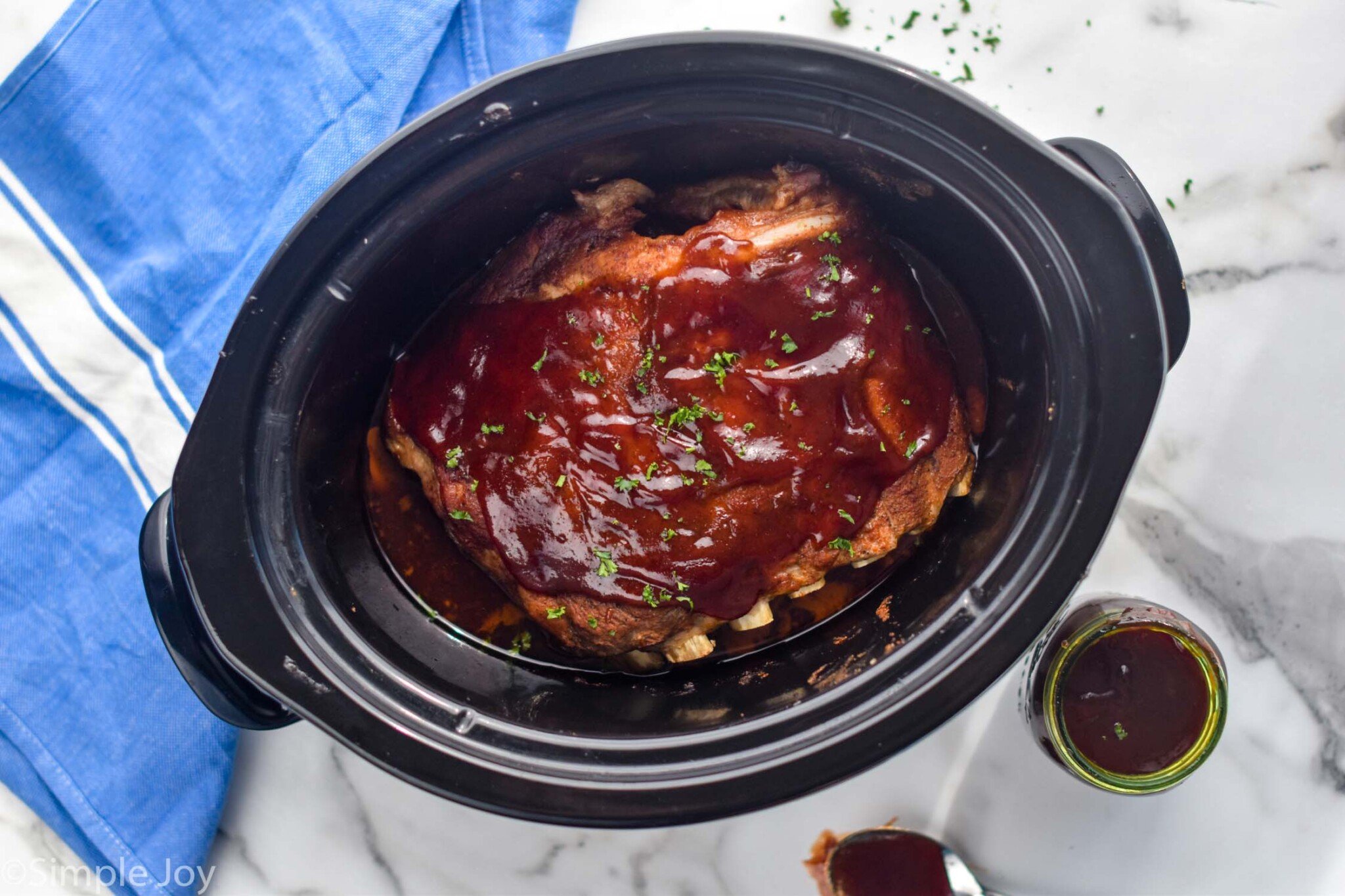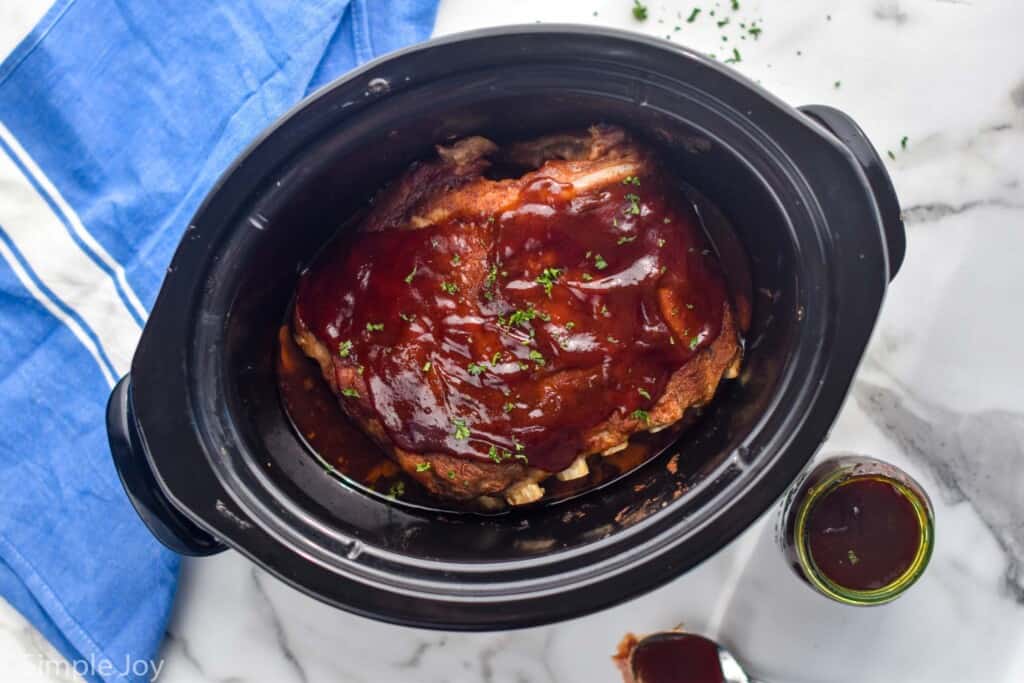 Oven or Crock Pot Ribs
We have a recipe for ribs that is made in the oven – our Honey BBQ Ribs. While we love that recipe and stand by that cooking method, honestly, we like this much more. The meat is incredibly tender when it is slow cooked.
Fitting Ribs in the Crock Pot
It is easy to fit one rack of ribs in the crock pot. They can simply be cut in half and layered one on top of the other as you see pictured.
It gets a little trickier when you are cooking two racks. You can cut them and layer them, but you can also set them on their sides to cook, wrapping them one around the other. It is a tight fit, but works perfectly. Make sure to coat both sides of the ribs with BBQ sauce.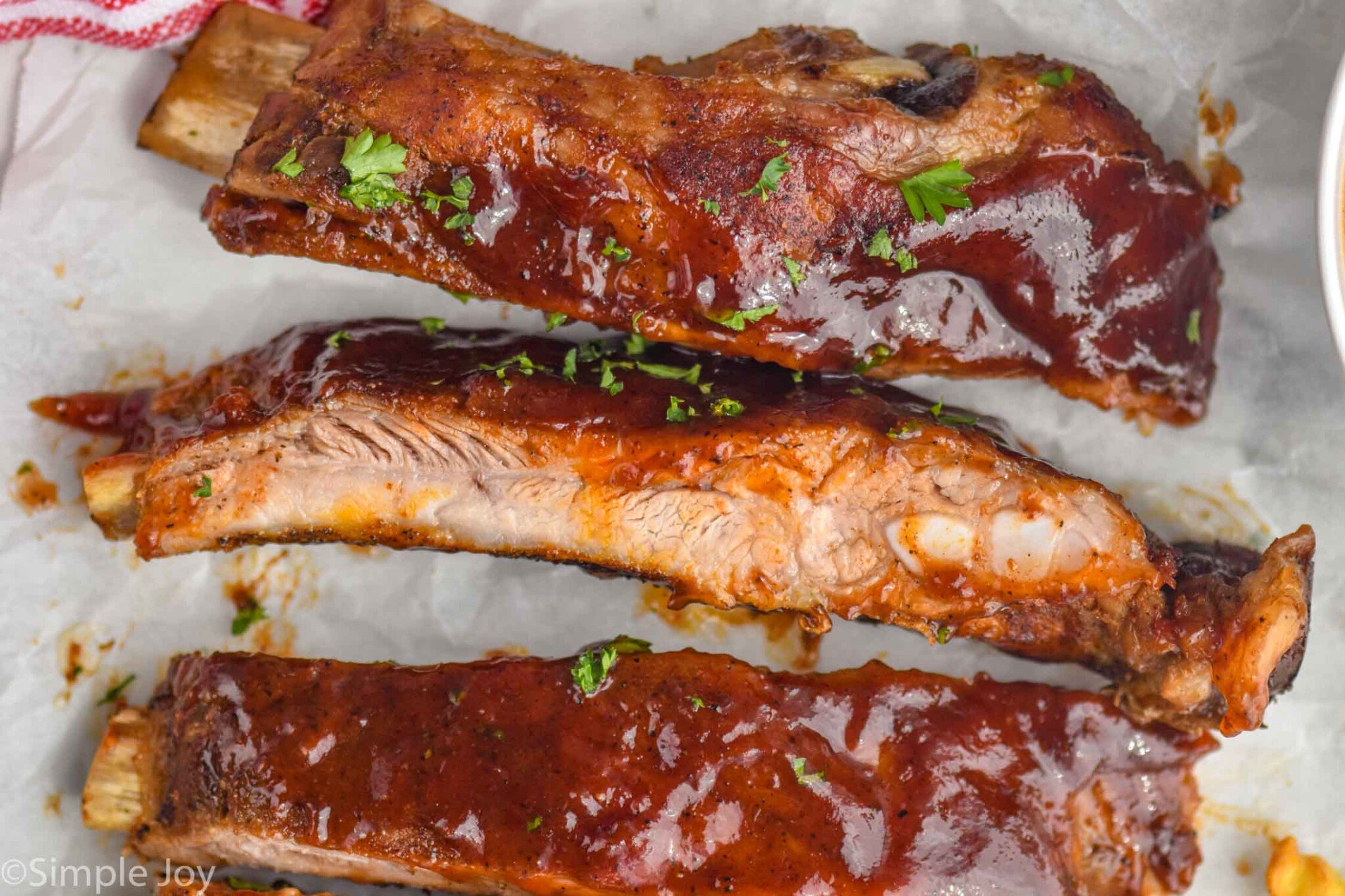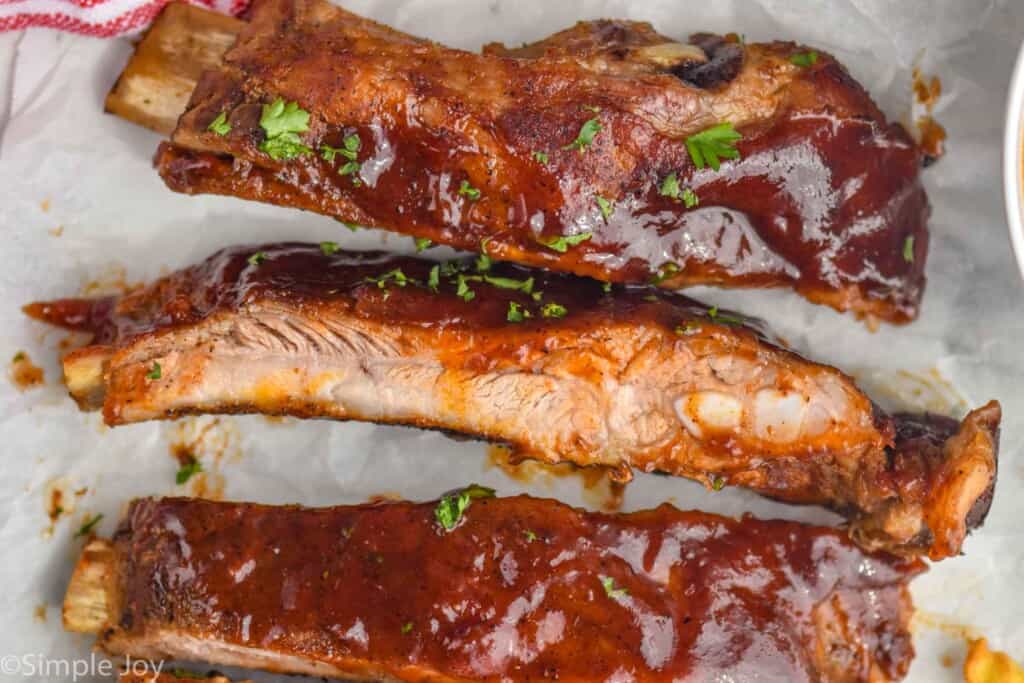 Why We Cook Ribs on Low
Whether you decide to cook your ribs in the oven, the slow cooker, in a smoker, or on the grill, you are going to want to cook it slow and low. This is what makes for the most tender meat.
When it comes to making them in the crockpot, I would highly encourage you to cook these on low for 8 hours rather than on high for four. The difference in the tenderness of the meat is more substantial than probably any of my other slow cooker recipes.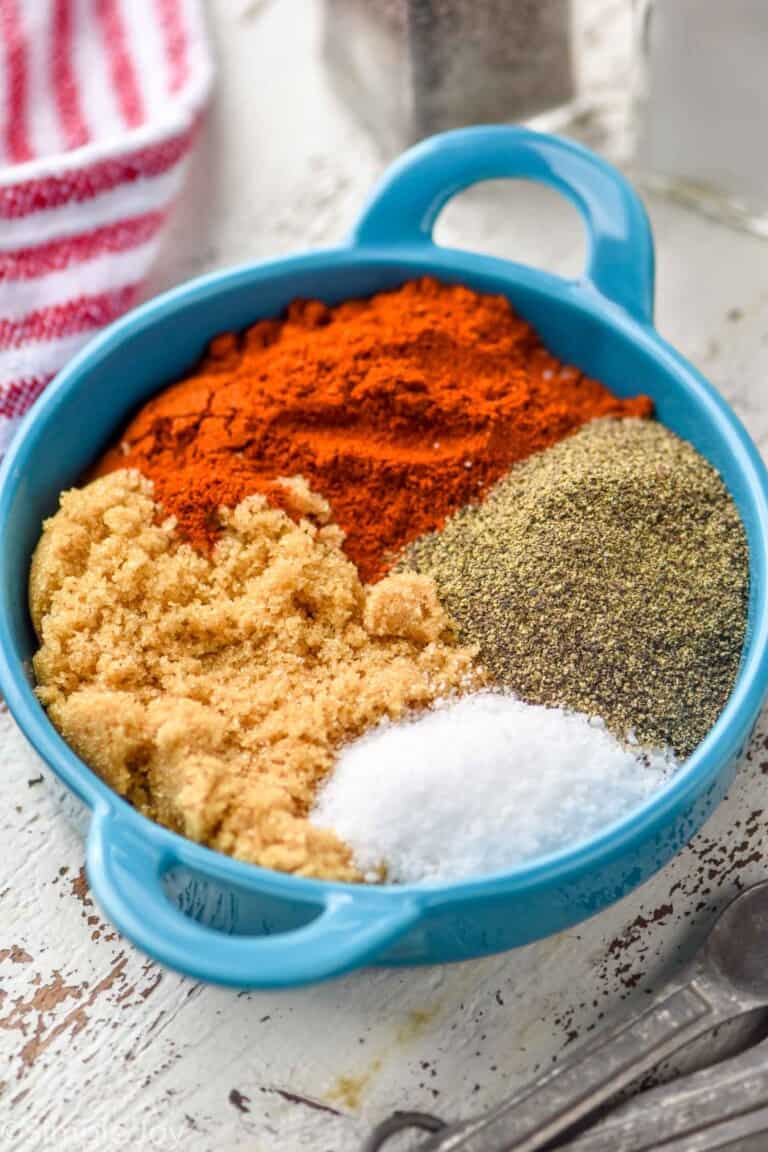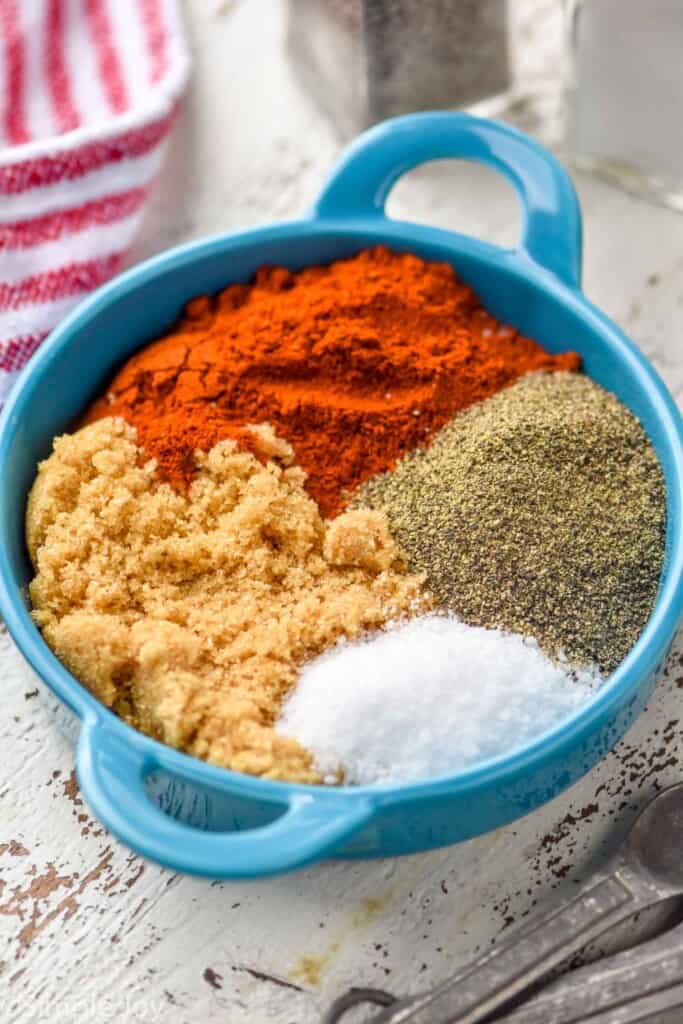 Pork Rub
Our pork rub deserves it's own post because it is so easy to make and the flavor of it is exceptional. You will not regret the five minutes you take to whip this up and rub down the ribs with it. It is also delicious on pork shoulder and would even be great on pork chops that you throw on the grill.
Some BBQ experts suggest that for optimal flavor you want to rub the ribs down and leave them at room temperature for an hour before cooking them. We found that this step doesn't really work for this crock pot rib recipe. We opt to coat them the night before and refrigerate them overnight before putting them in the crockpot in the morning. The result is delicious.
BBQ Sauce
We've been using this BBQ sauce recipe for a few years now and it has rave reviews both on the blog post and on social media. It is five minutes of prep time and 15 minus of simmering to make 2 1/2 cups of BBQ sauce.
While you could replace it with store bought sauce, I think you will love this recipe so much. Especially when it is combined with the pork rub.
FAQ
Can you slow cook ribs from frozen?
Since ribs are best when they cook low and slow to make for the most tender meat, this recipe already requires 8 hours, I would not recommend starting with frozen ribs.
Can this recipe be made in the oven?
Yes! You can follow our instructions for oven cooked ribs in this post.
How many ribs per person?
Two 3 pound racks of ribs will serve 4 to 6 people easily. Plan on making roughly 1 1/2 pounds per person.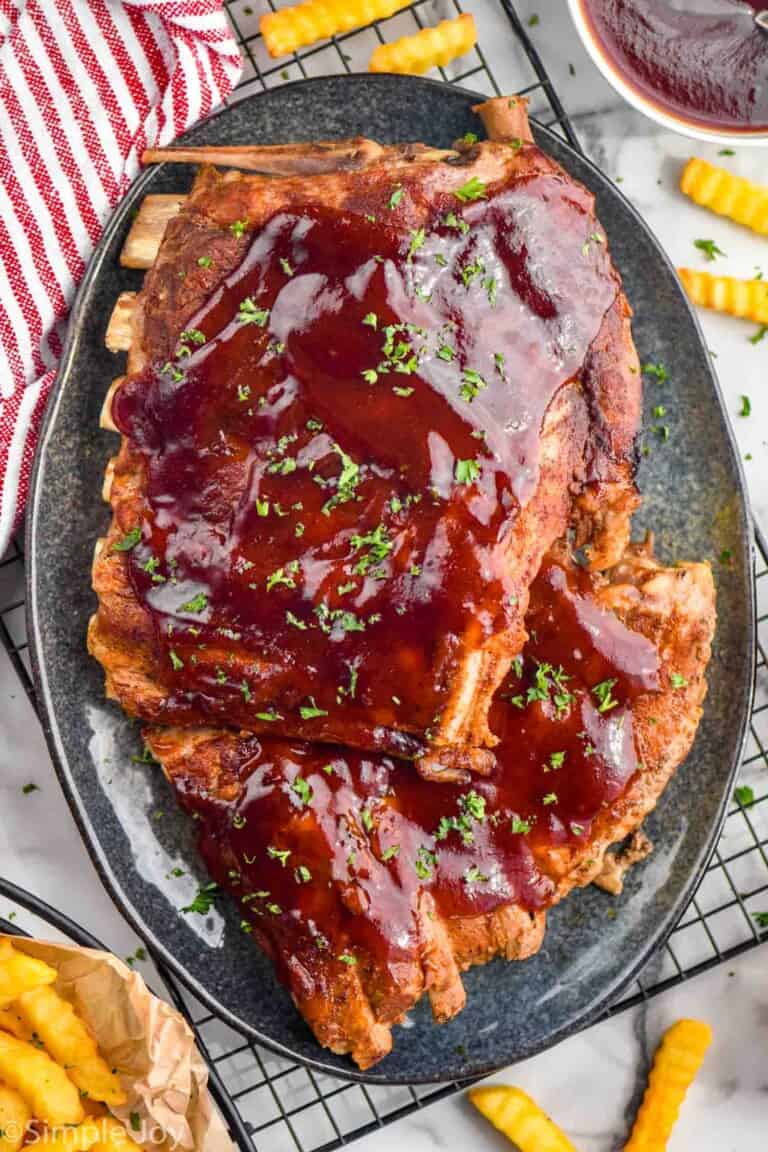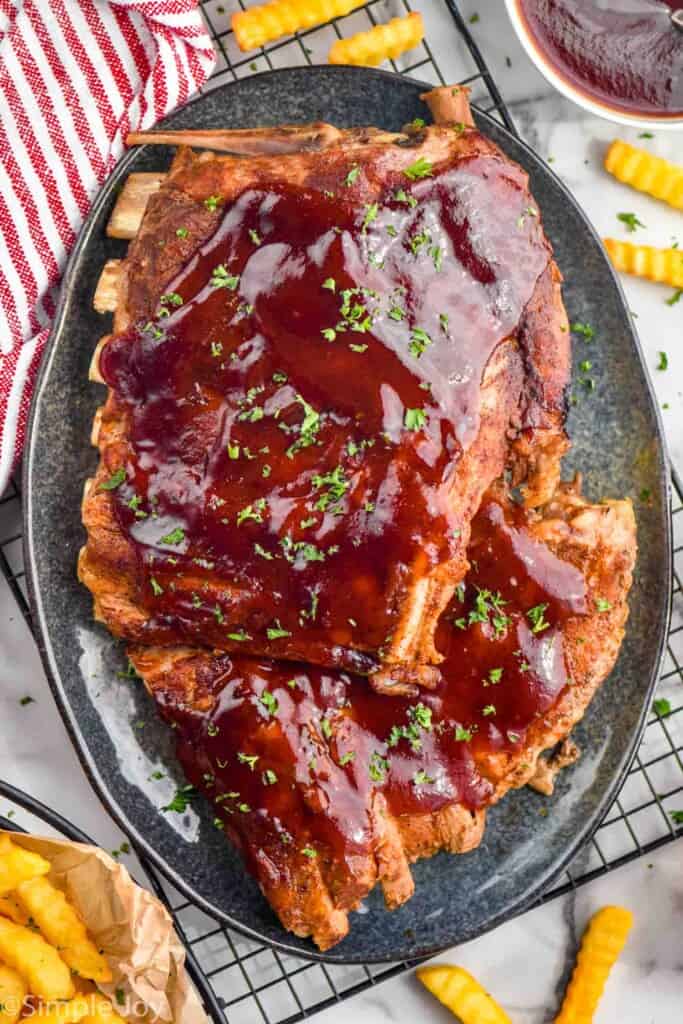 What to Serve with Ribs
Our favorite things to eat with crockpot ribs are easy side dishes.
If you make these slow cooker ribs or any of my other recipes, leave me a comment and let me know what you think!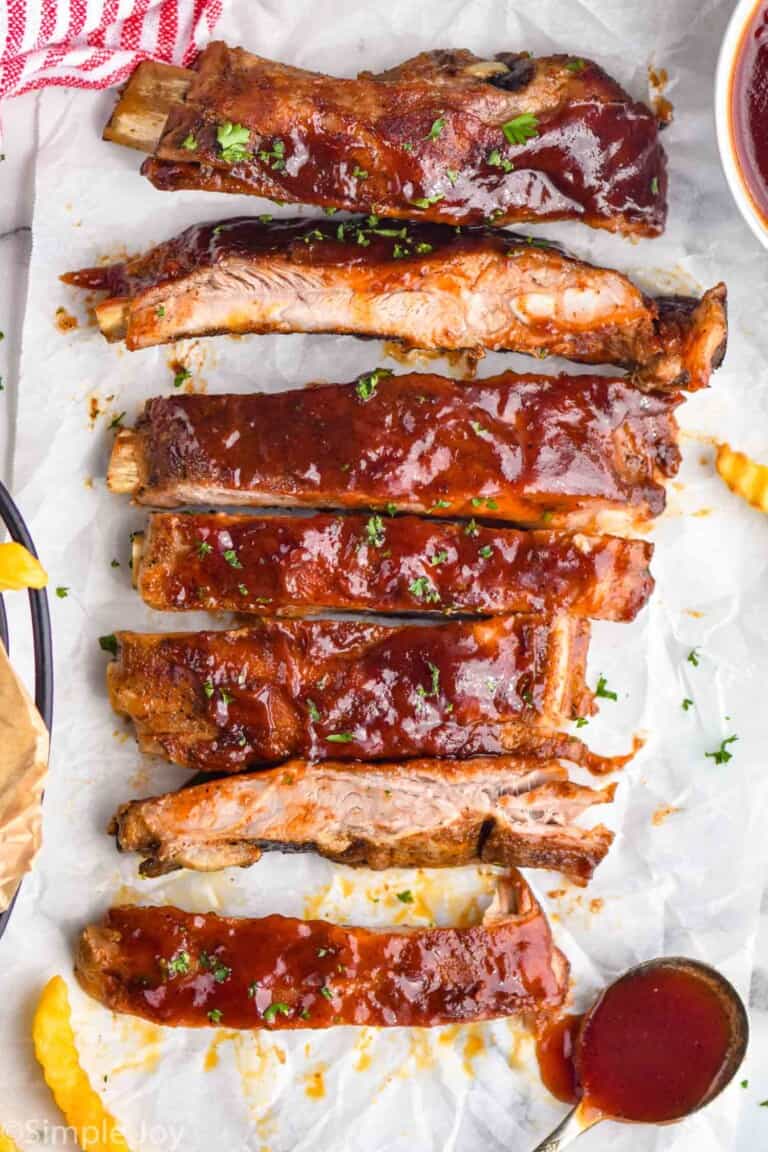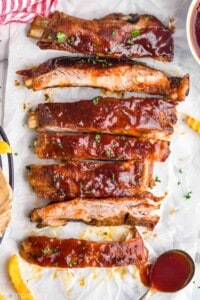 Slow Cooker Ribs
Total:
8
hours
20
minutes
These Slow Cooker Ribs come together with our five star BBQ Sauce and best Pork Rub for a tender fall of the bone recipe you will absolutely love.
Ingredients
3 to 7

pounds

pork spare ribs

see note 1
Pork Rub
3

tablespoons

paprika

2

tablespoons

brown sugar

1

tablespoon

black pepper

1

tablespoon

kosher salt
BBQ Sauce
1 1/2

cups

brown sugar

packed

1 1/2

cups

ketchup

1/2

cup

apple cider vinegar

1

tablespoon

Worcestershire sauce

2

teaspoons

paprika

2

teaspoons

onion powder

1

teaspoon

black pepper

2

teaspoons

kosher salt
Instructions
For Pork Rub
Whisk all of the ingredients together in a bowl.
For BBQ Sauce
Combine all the ingredients in a small sauce pan over medium heat.

Bring to a boil. Reduce to a simmer and cook for 15 minutes, stirring occasionally.
Slow Cooker Ribs
If you wish, remove the back membrane from the ribs. This is an optional step. (See note 2.)

Rub the pork rub liberally into the ribs. You may have some left over. For best results, refrigerate after rubbing for 4 to 8 hours (or overnight) before slow cooking.

Pour a small amount of BBQ sauce in the bottom of your slow cooker. Add the ribs. You may need to cut them in half to fit them. Pour more bbq sauce between layers and finally add more to the top of the ribs. (You will have BBQ sauce left over.)

Cook the ribs on low for 8 to 9 hours. (Read our thoughts on cooking on high in the post.) Remove from the slow cooker, tent for 10 minutes, and cut to serve. Serve with additional BBQ sauce.
Notes
There are multiple types of spare ribs that you can buy. They will all work with this recipe. The major difference is time it takes to cook, but we have found with this particular recipe, that 8 hours works great for all three types.
For a more authentic flavor and taste, we opt to leave the membrane on.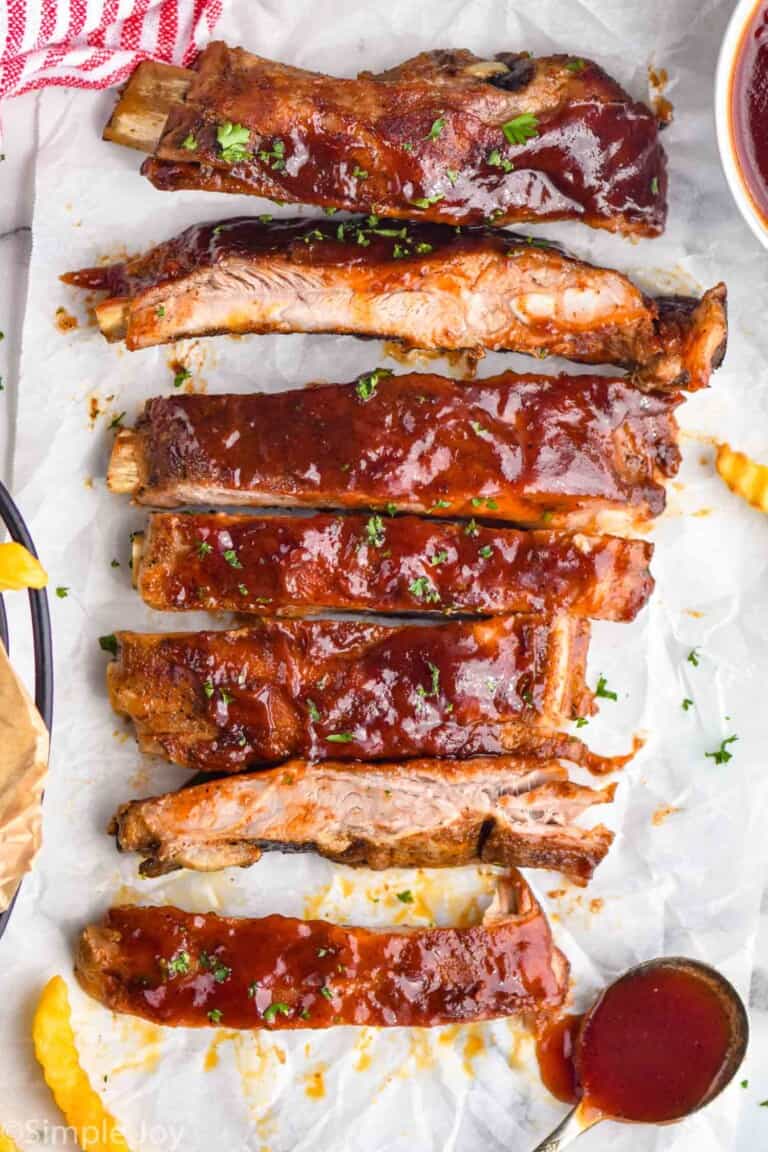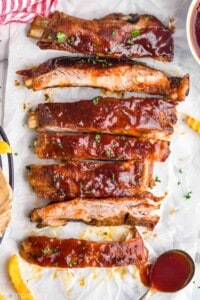 did you make this
Slow Cooker Ribs
you might also like . . .