Chicken Kabobs are the exact thing you should throw on the grill this week. The chicken kabob marinade we use will make you fall in love.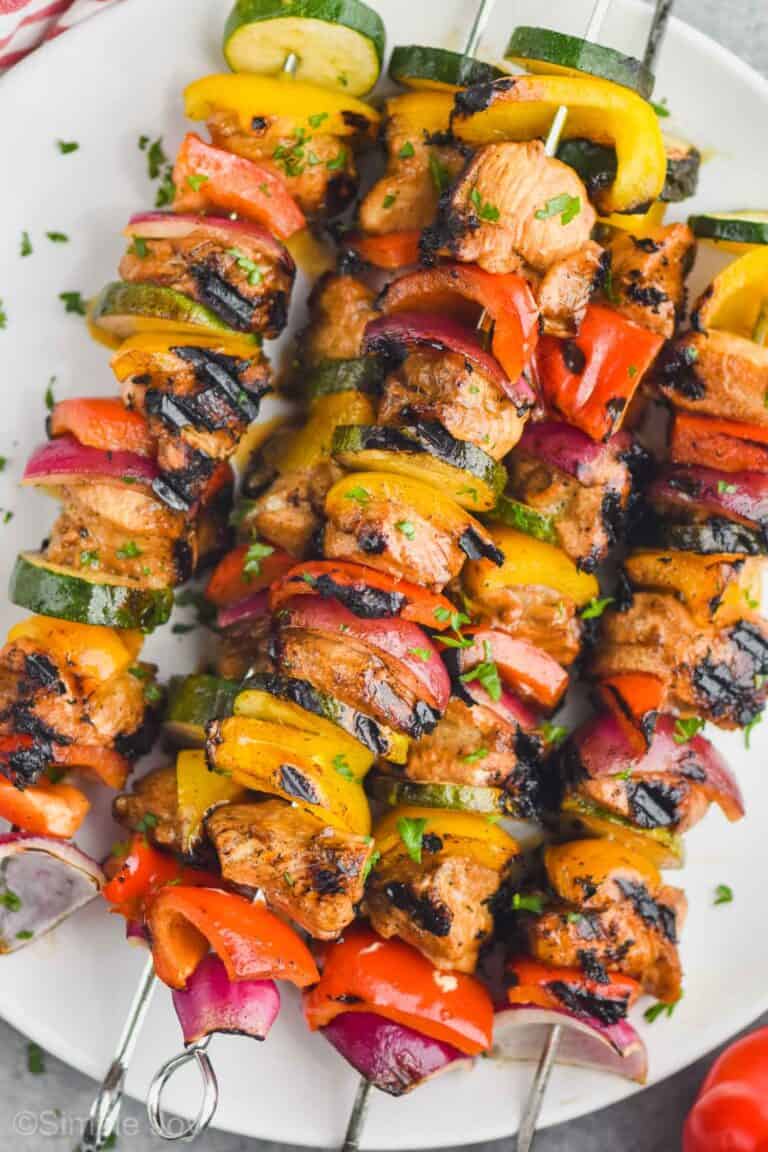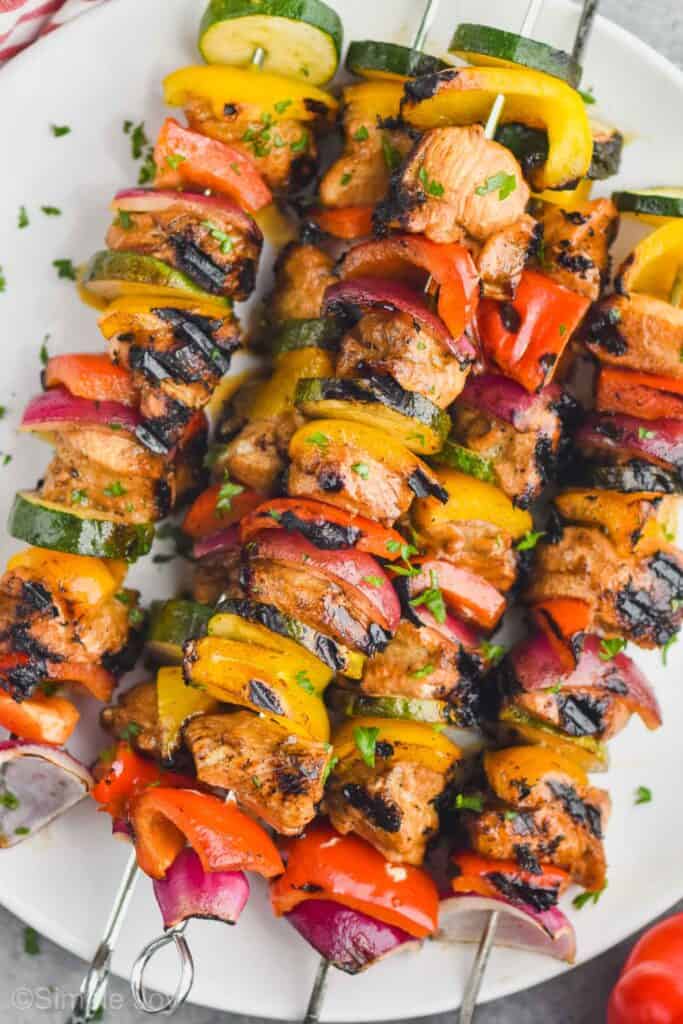 It is a daily struggle in my house for me to convince Nathan to fire up the grill and eat dinner outside. He hates the heat (it will get to 91 today!), and I know that summer in Wisconsin is a short term deal.
Because he's an amazing husband, he typically gives in. We eat hamburgers, grilled corn, steak kabobs, and now these perfect Chicken Kabobs.
The simple chicken kabob marinade is what makes this recipe so special. It tenderizes the chicken perfectly. This is a grilling recipe your family will come back to over and over.
Reader Review
These were excellent! Great recipe! And so easy!
Chicken Kabob Marinade
Let's talk about this great chicken kabob marinade I keep going on about. It has everything you want in a good marinade. Lots of different elements to bring sweetness and flavor, while some acids to gently break down the meat.
Olive Oil
Lemon Juice
Brown Sugar
Soy Sauce
Balsamic Vinegar
Garlic
Black Pepper
The best part is that all of those ingredients are things that I keep in my pantry all of the time. And I hope you have them on hand too! We do a lot with them around these parts.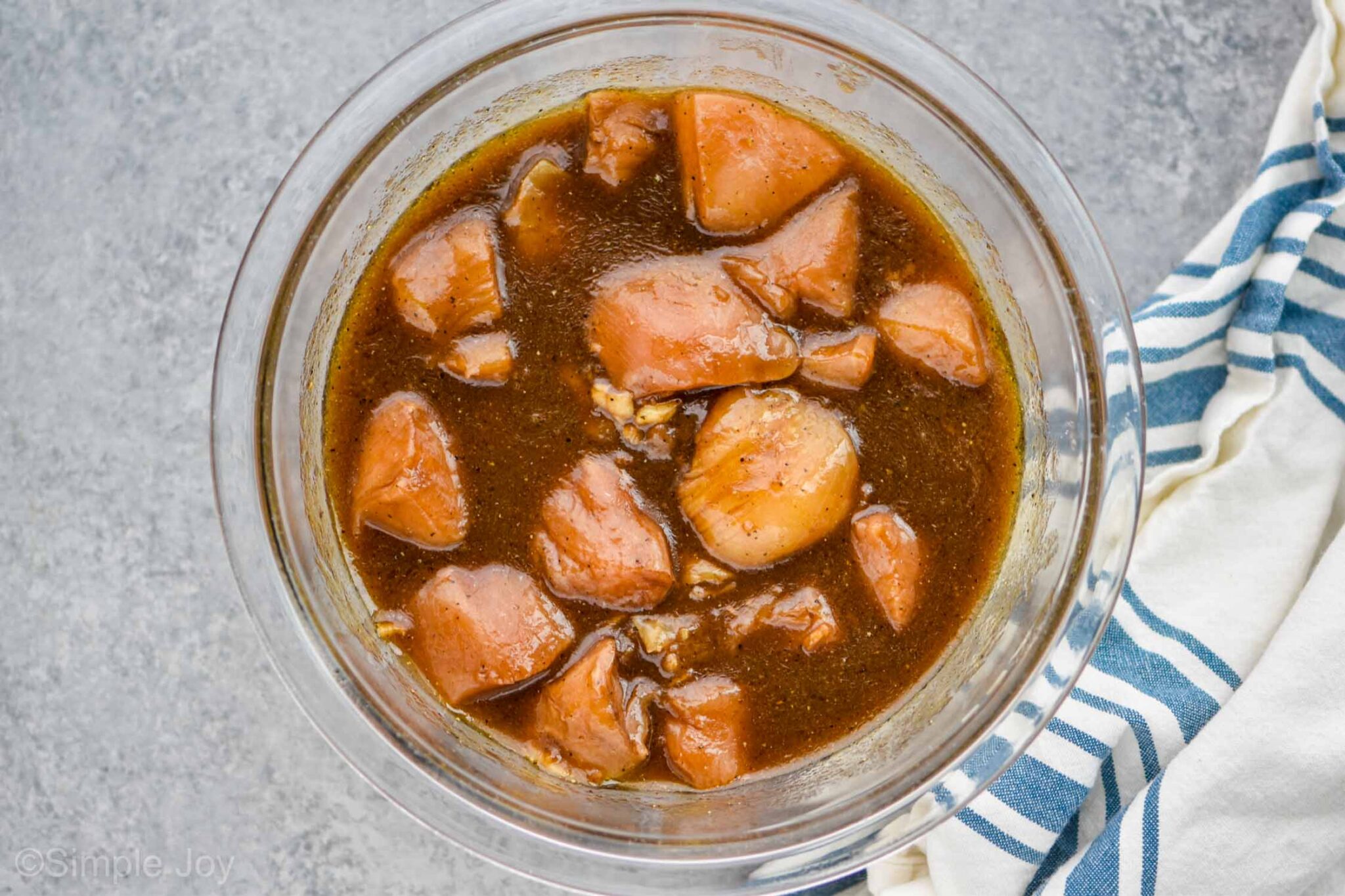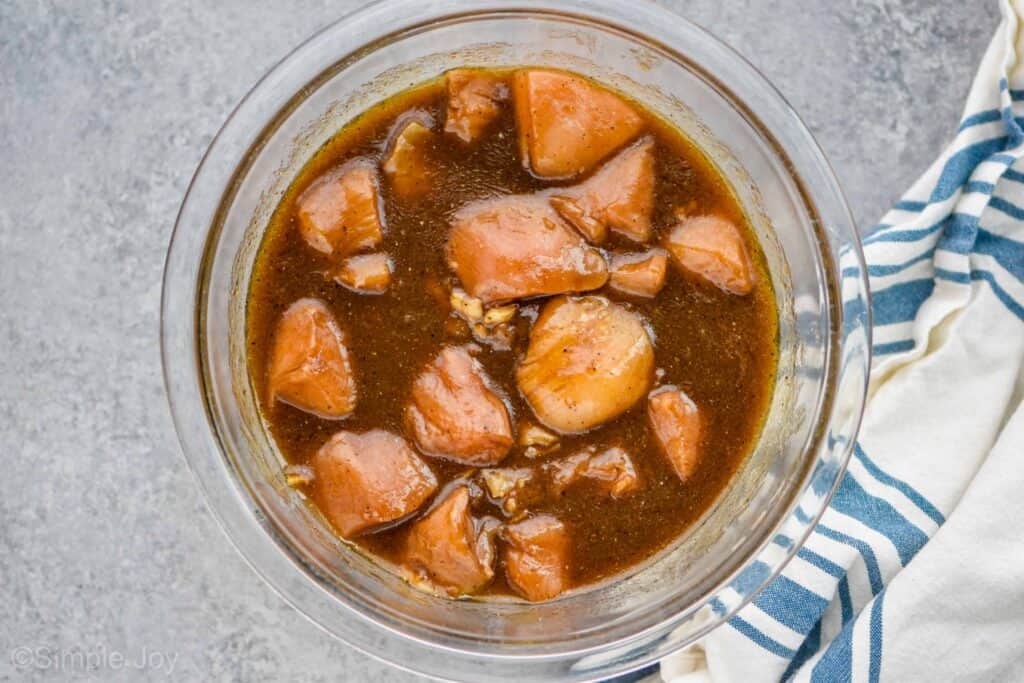 Mariating Chicken
It's important when you marinate chicken that you keep a few things in mind.
Chicken should marinate for 1 to 24 hours. For this recipe I'm recommending 2 hours, but you could definitely start the marinade the night before.
Do not marinate chicken for more than 24 hours. It will make the chicken gummy and unappetizing.
We only want to break down the outer edge of the meat, the marinade is not meant to completely break down the meat.
Finally, though we are only marinating the chicken, it will impact the flavor of the vegetables. The vegetables will pick up the flavor of the marinade on the grill and be delicious alongside the chicken.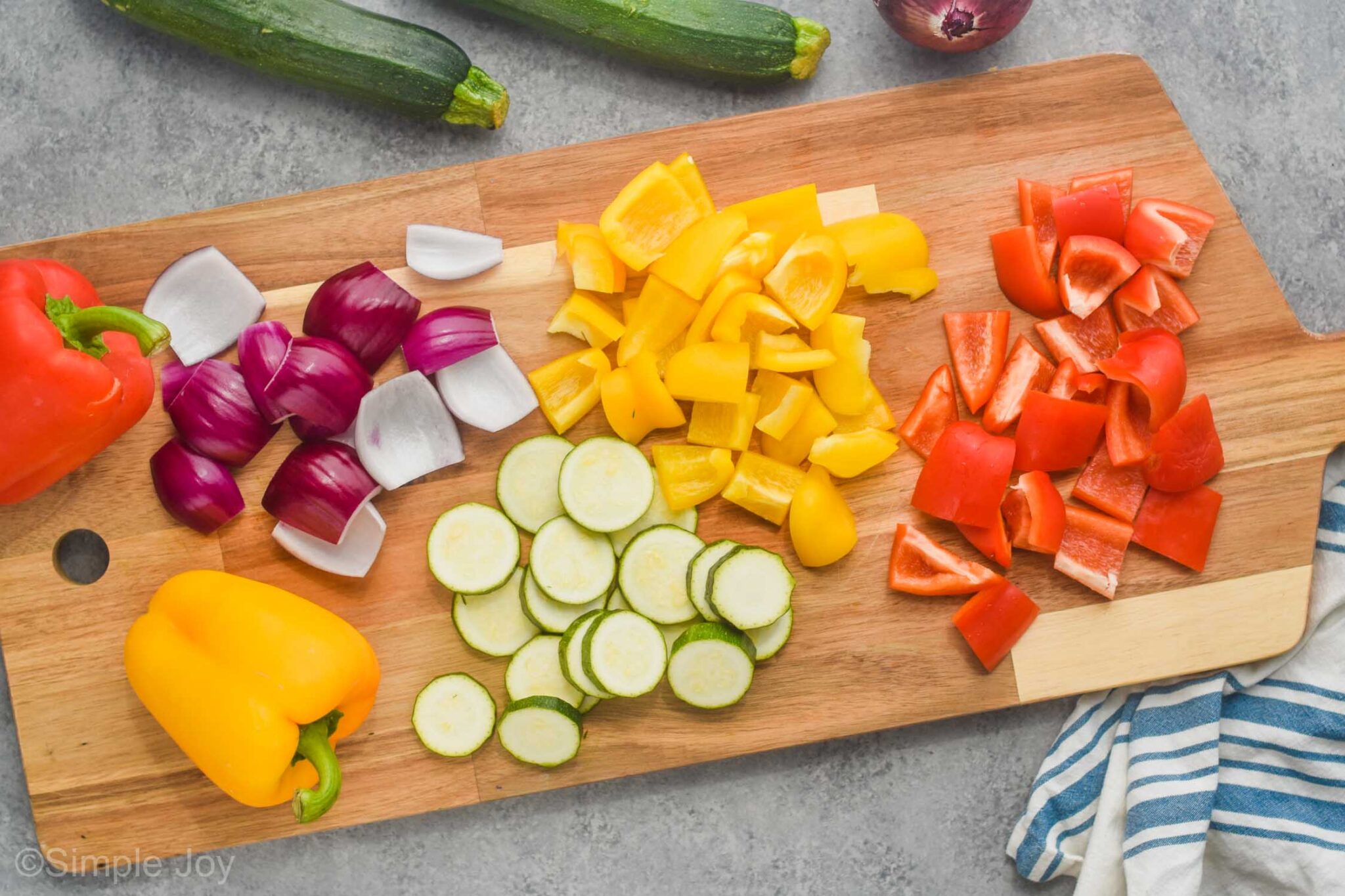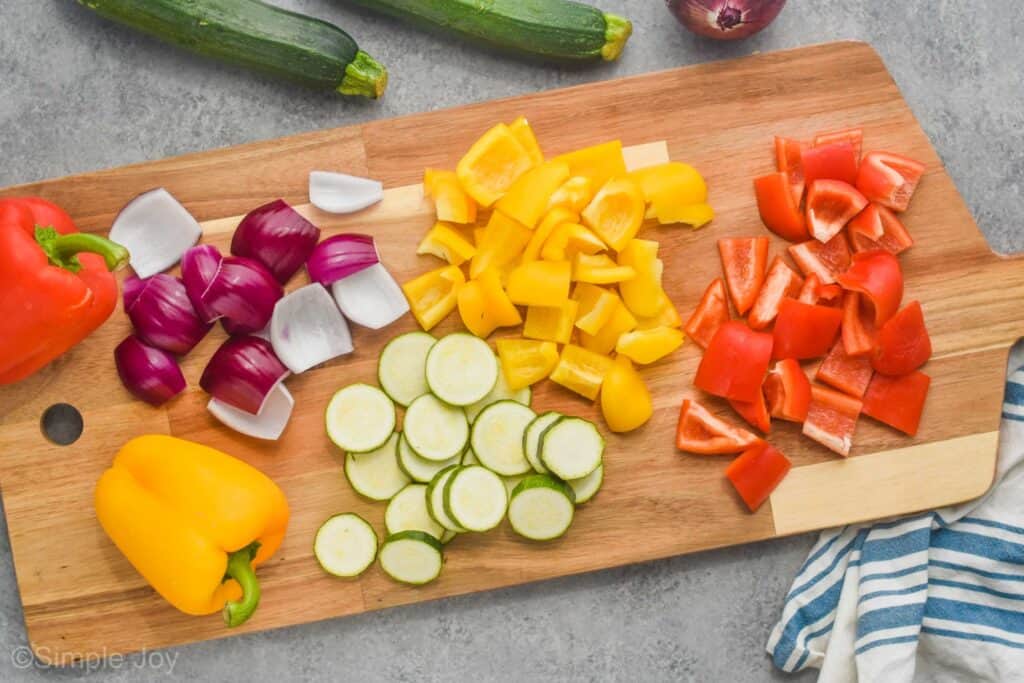 Metal Skewers
I would like to encourage you to use metal skewers for this recipe. They are reusable, and you don't have to soak them. You will love having them to make this recipe and my Steak Kabobs.
Keep in mind that you should be careful to avoid the metal skewer when checking the temperature of the chicken for doneness. It will make it seem like the chicken is done well before it is.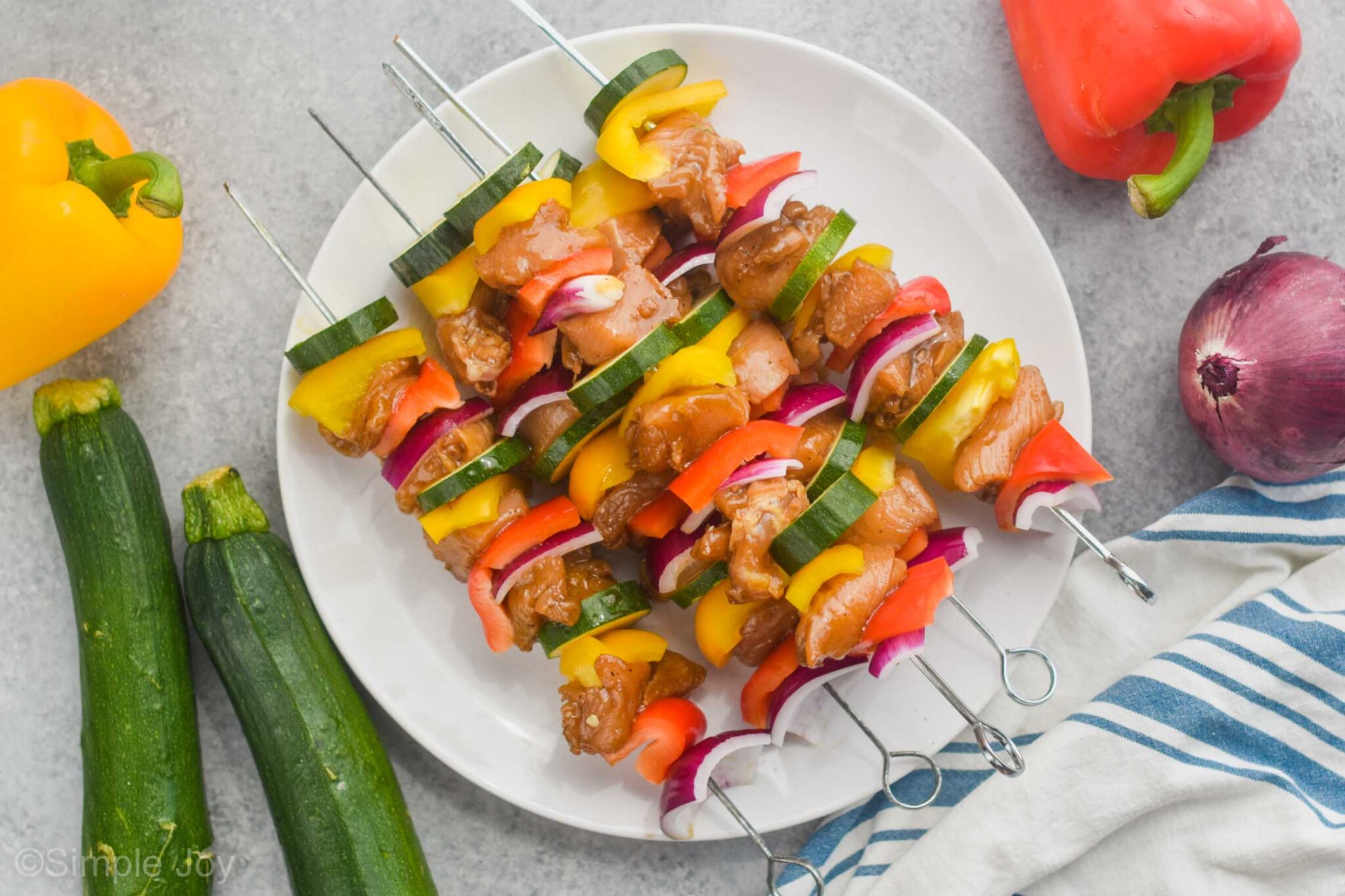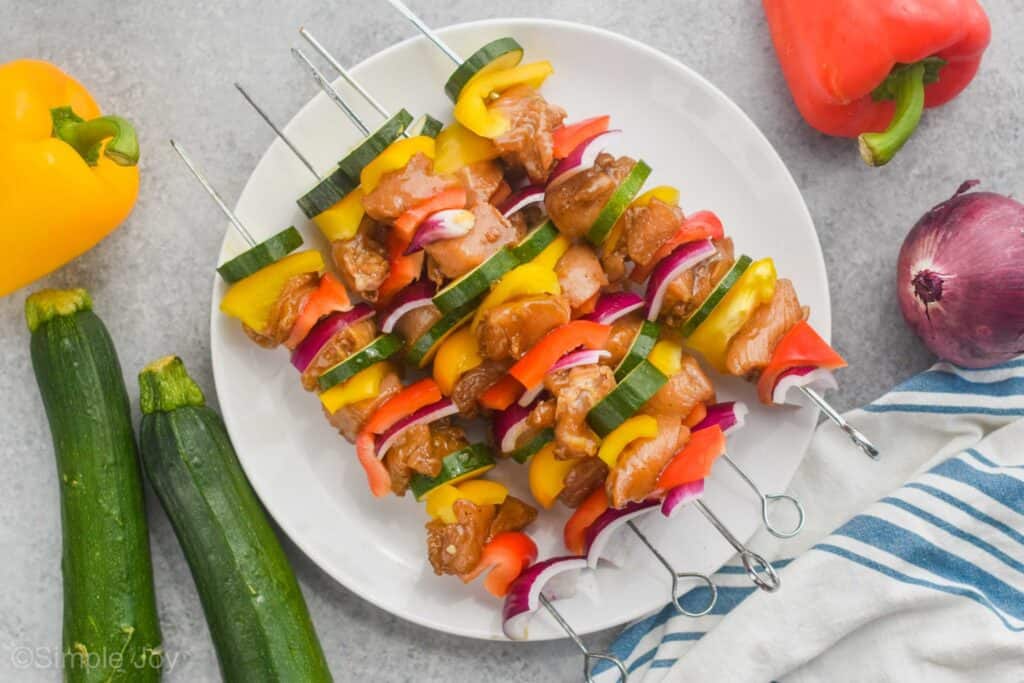 How Long to Grill Chicken Kabobs
These pop on the grill for just a short 14 to 18 minutes. It is important to remember that if you cut your chicken bigger it will need to cook longer.
When you keep your chicken in one inch cubes, you will be able to grill these kabobs for 7 to 8 minutes on each side. Use an instant read thermometer stuck in the biggest piece of chicken to ensure that it has reached 165 degrees.
How Many Chicken Kabobs per Person
I would recommend two chicken kabobs per adult in addition to a side item. Count on 1 kabob per child.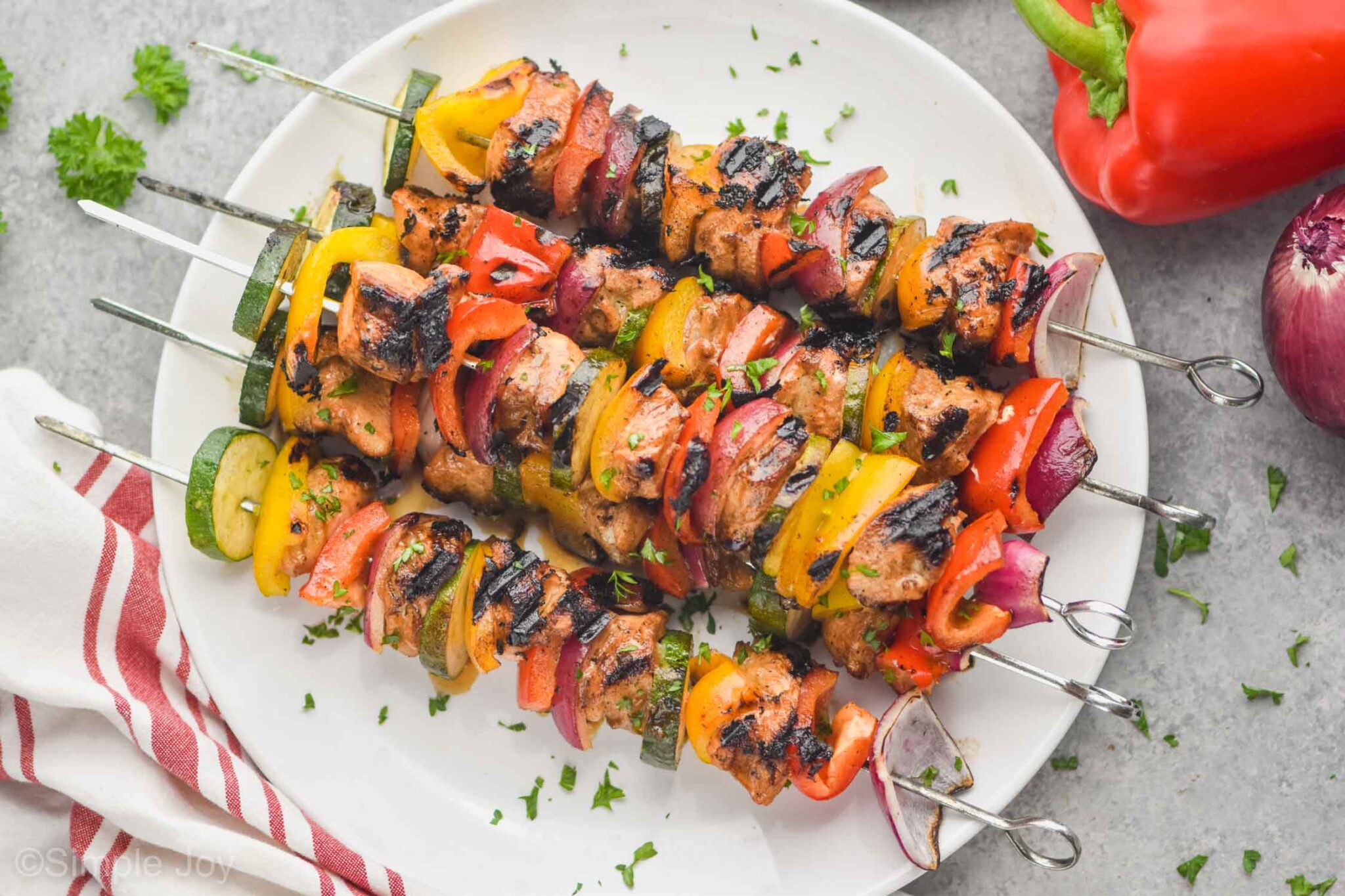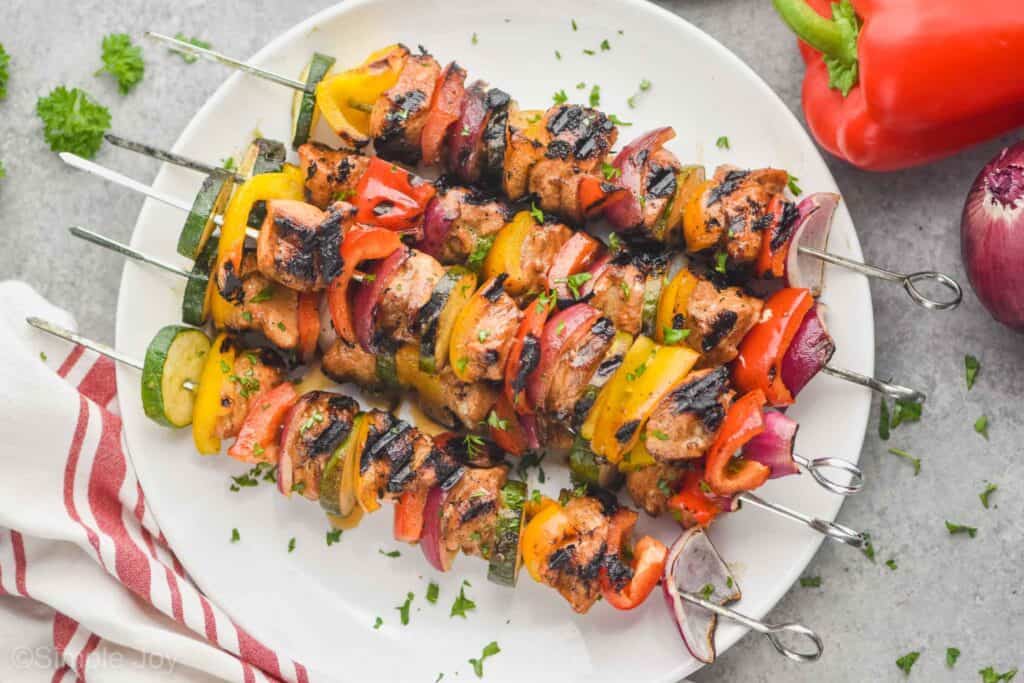 What to Serve with Chicken Kabobs
When looking to make side dishes to go with chicken kabobs there are a few that would be delicious.
If you make these grilled chicken kabobs or any of my other recipes, leave me a comment and let me know what you think!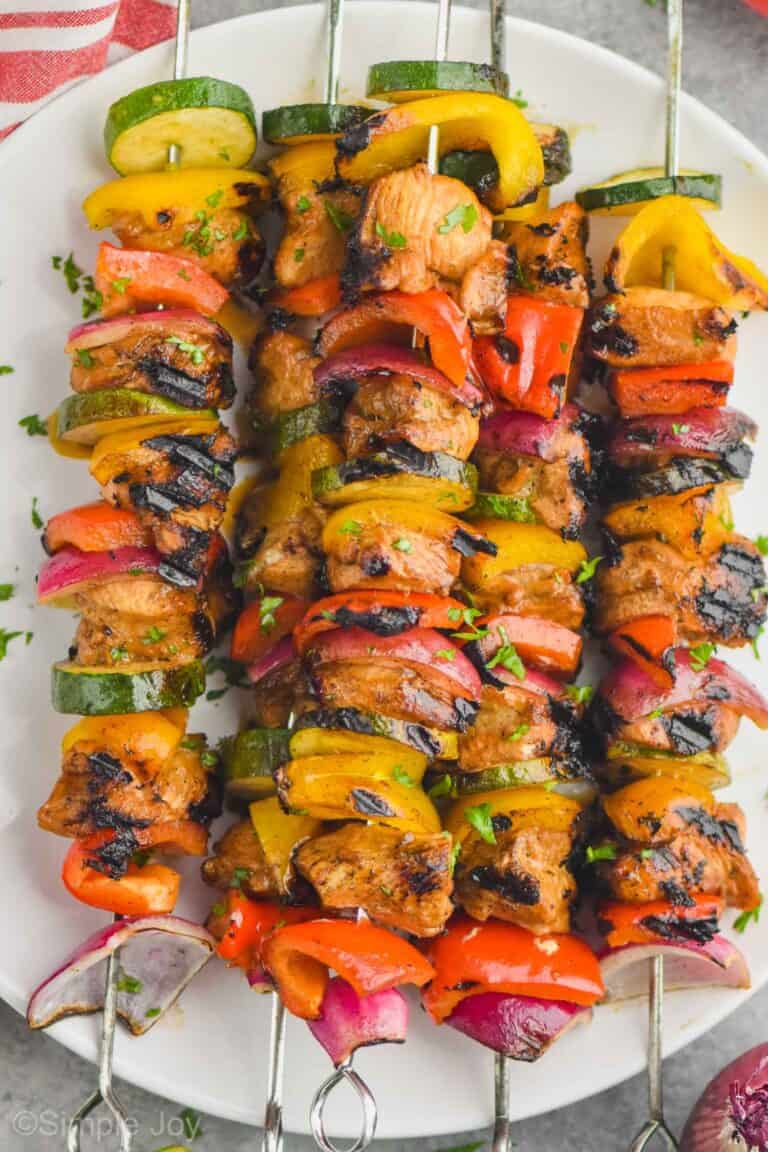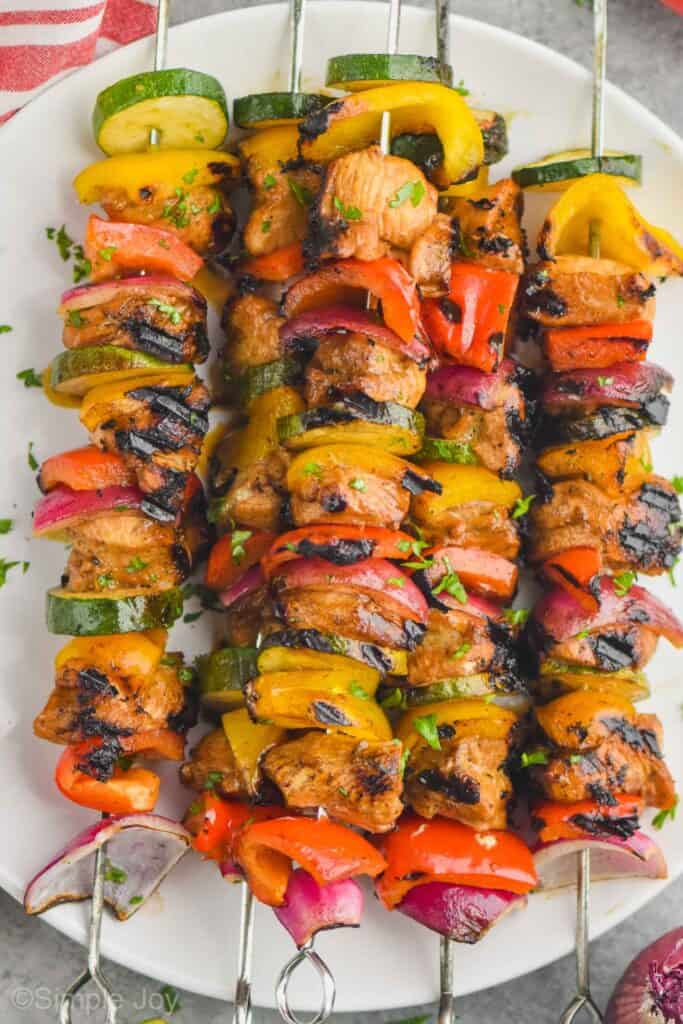 Recommended Tools: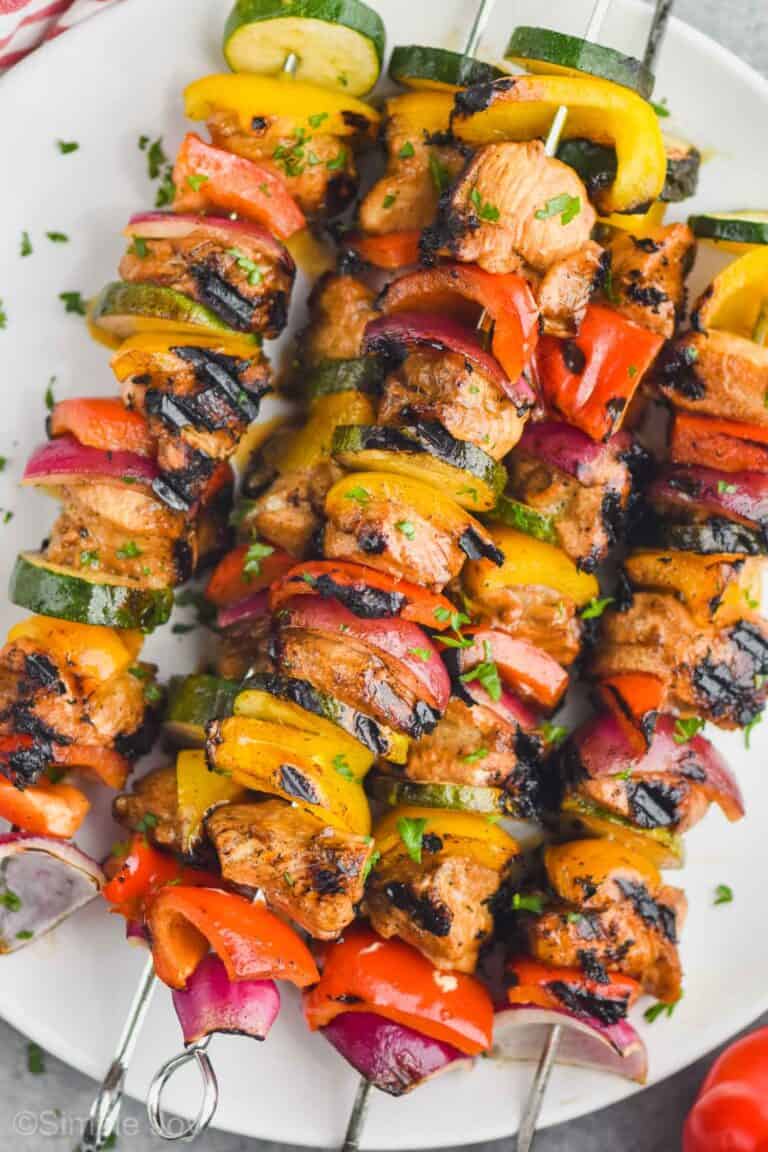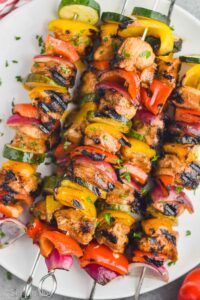 Chicken Kabobs
Total:
2
hours
40
minutes
Chicken Kabobs are the exact thing you should throw on the grill this week. The chicken kabob marinade we use will make you fall in love.
Ingredients
1

pound

boneless skinless chicken breasts

cut in pieces

1

medium zucchini

sliced

1

red onion

diced large

1

red bell pepper

diced large

1

orange bell pepper

diced large
Marinade
1/3

cup

olive oil

2

tablespoons

lemon juice

2

tablespoon

brown sugar

1/4

cup

soy sauce

2

tablespoons

balsamic vinegar

2

cloves

garlic

1/2

teaspoon

black pepper
Instructions
Cut the chicken into 1 inch cubes.

In a reusable container, whisk together the ingredients for the chicken marinade. Add the cut up chicken and stir to combine. Refrigerate, covered, for 2 to 24 hours.

When ready to grill the kabobs, preheat the grill to medium heat.

Cut up the vegetables. Put the kabobs together by spearing the vegetables and the chicken cubes in alternating order to make 6 chicken kabobs.

Place the kabobs on the grill and grill for 5 to 6 minutes. Then flip them using tongs and grill for 5 to 6 more minutues or until the largest piece of chicken registers 165 degrees on an instant read thermometer. Be careful not to test the chicken too close to the metal skewer as it will falsely show a higher temperature.

Remove from the grill and enjoy.
Serving:
1
kabob
Calories:
170
kcal
(9%)
Carbohydrates:
10
g
(3%)
Protein:
18
g
(36%)
Fat:
6
g
(9%)
Saturated Fat:
1
g
(6%)
Polyunsaturated Fat:
1
g
Monounsaturated Fat:
3
g
Cholesterol:
47
mg
(16%)
Sodium:
288
mg
(13%)
Potassium:
273
mg
(8%)
Fiber:
2
g
(8%)
Sugar:
7
g
(8%)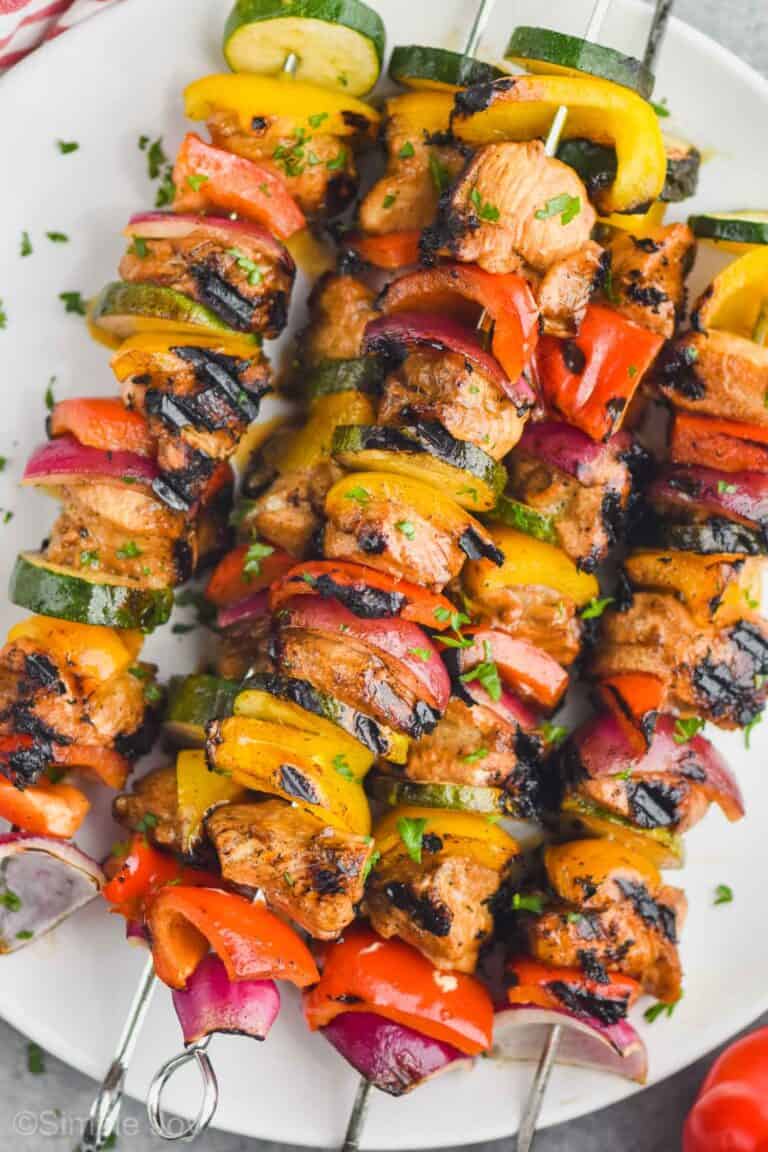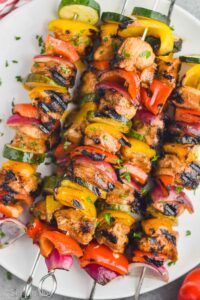 did you make this
Chicken Kabobs