Fajita Steak Kabobs make a simple and easy dinner recipe to throw on the grill! Made with my easy Fajita Seasoning recipe, you will want to eat these steak kabobs all summer long!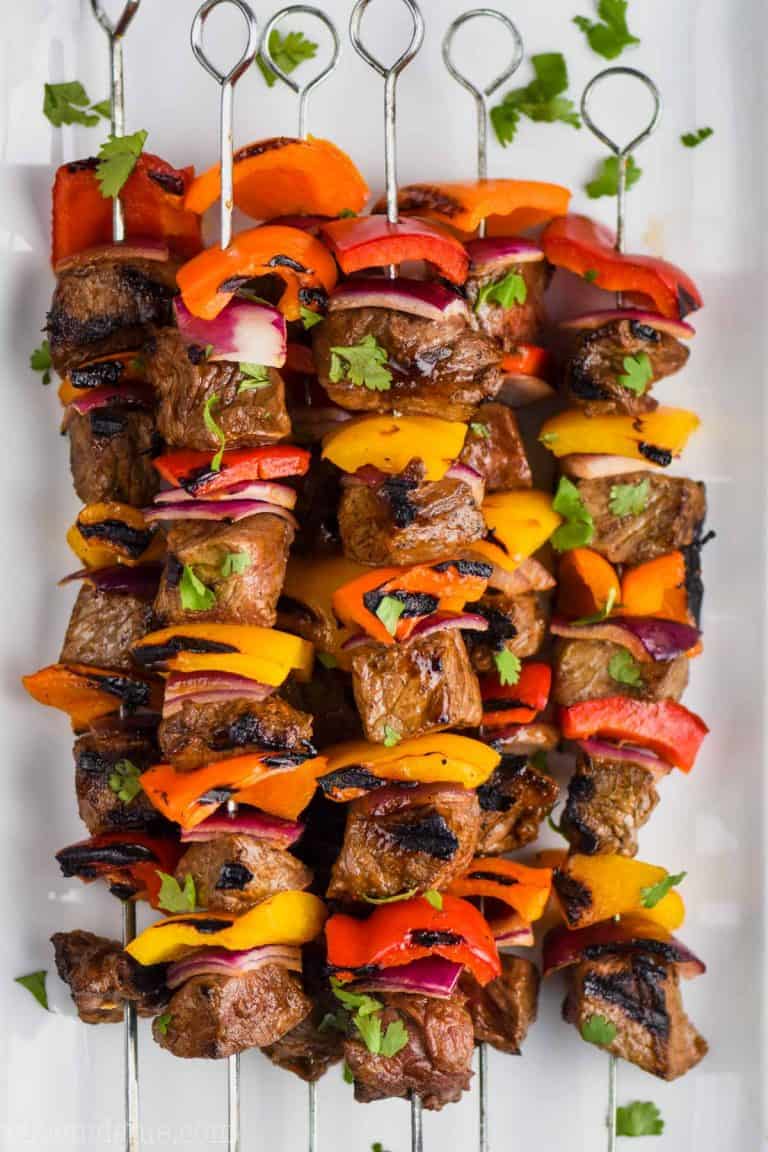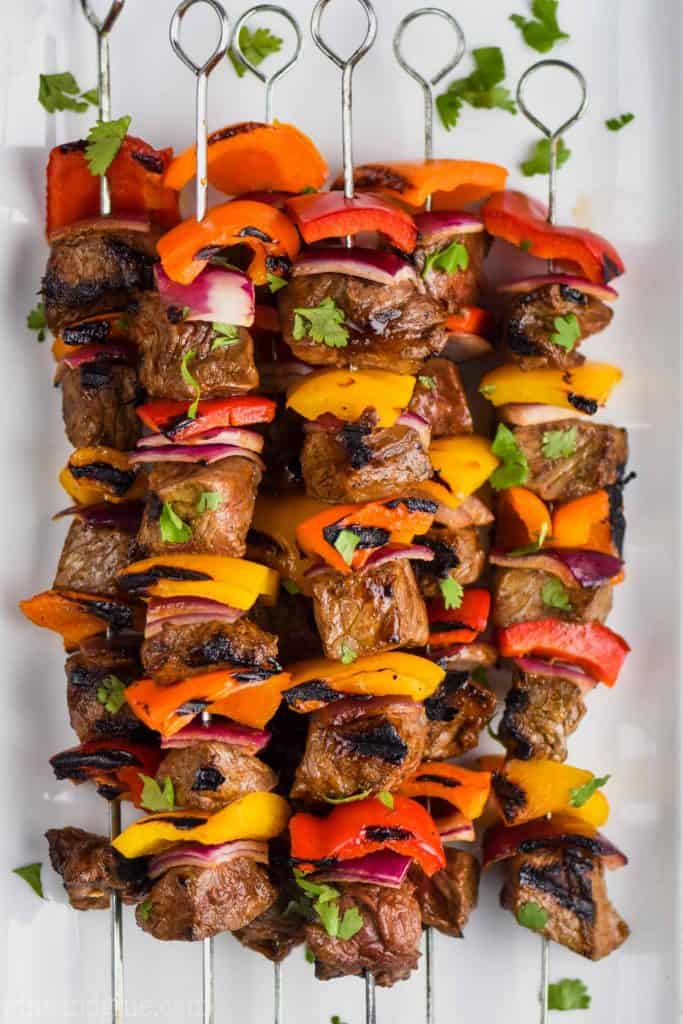 I'm proud to be partnering with Meijer to bring you this amazing and easy grilling recipe!
If you have been following me on Instagram, you may have seen in late March when I announced that I'm going to be a Meijer ambassador this year! I could not be more excited about this. When I choose to do work for a brand, especially as an ambassador – a long term partnership – I take it really seriously. I only choose to partner with brands I believe in and I feel really good about representing. Meijer, our amazing Midwestern grocery store chain, is perhaps the most perfect example of this. As a store they really take care of their employees; so many have worked there for many many years.
Another thing I love about Meijer is the commitment they have made to their communities. Sure, you see that in the way they support local events, but it is even more apparent in the way they partner with local farms, growers, and small businesses. Wherever possible, Meijer buys locally. I love this, especially when it comes to produce! You know that you are getting the most fresh produce, and you are also supporting your local growers. So it's like shopping at the farmer's market, right at your local Meijer!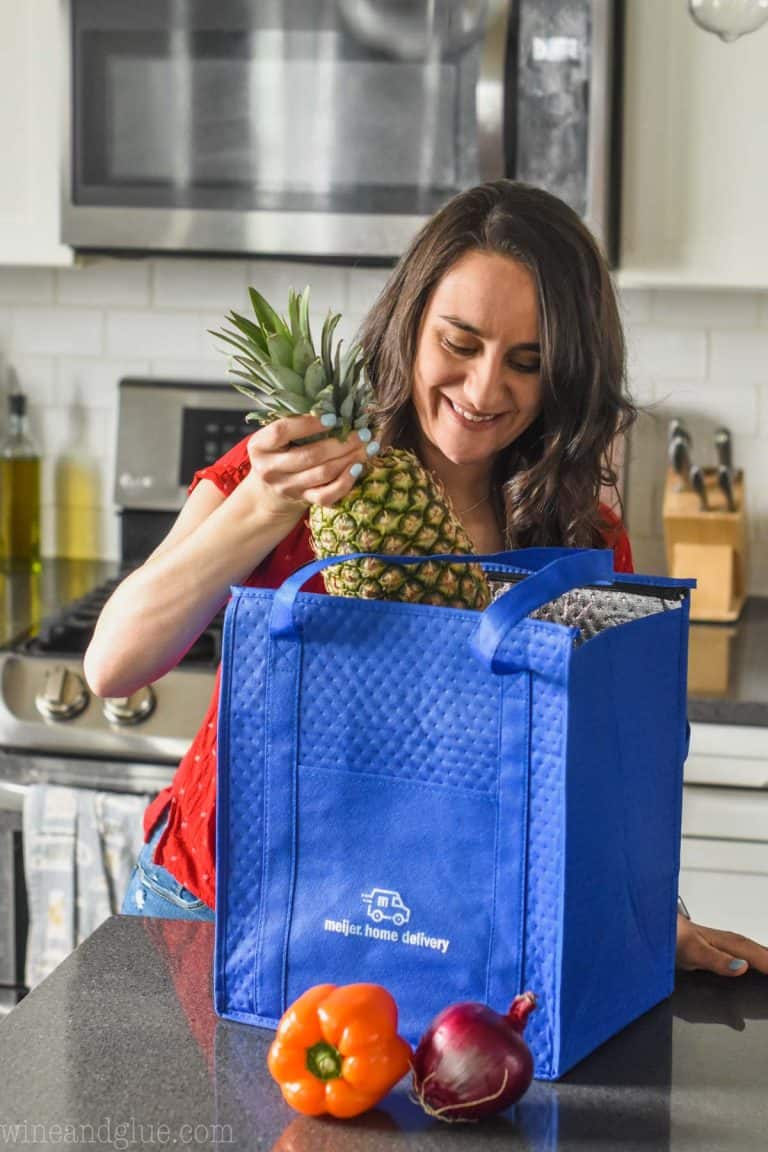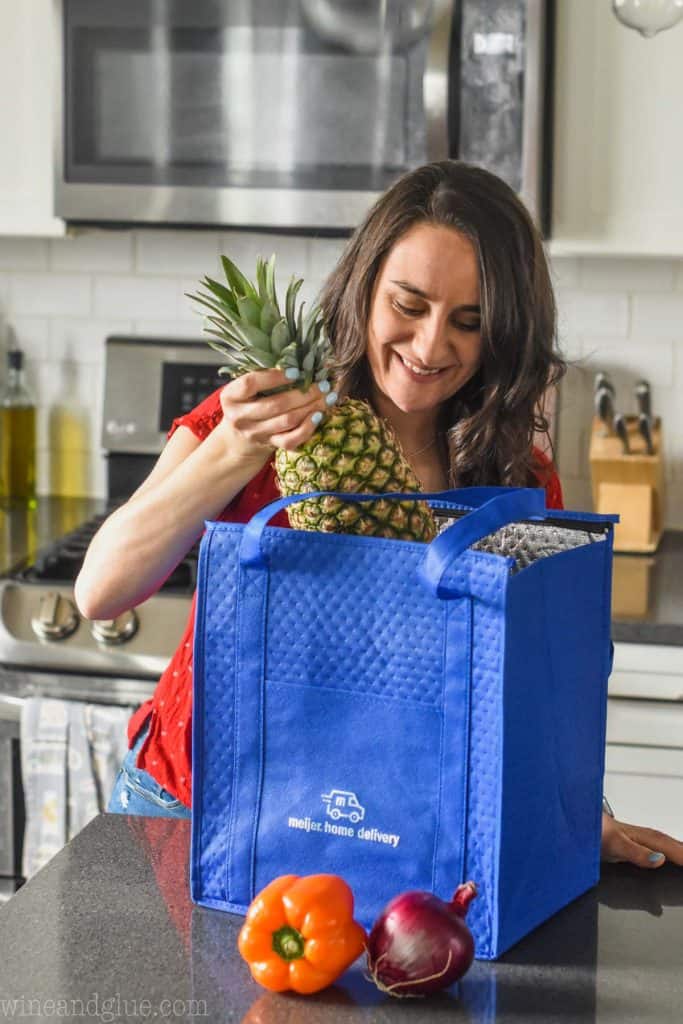 These Fajita Steak Kabobs are the perfect recipe to use that local produce from Meijer and some of their Certified Angus Beef. You might remember from my Top Round Roast Beef Recipe that Certified Angus Beef is the best and always performs in recipes. I also grabbed a fresh pineapple from Meijer because I thought this kabob recipe would pair perfectly with my grilled pineapple.
Cut of Beef for Steak Kabobs
Just like in my Steak Kabobs, I used a top sirloin steak. It is a lean and flavorful cut that holds up really well on the kabob and on the grill. If you wanted to make this recipe as traditional steak fajitas, I would recommend a flank steak cut thin because it is perfect for marinating.
If you don't see any 1 pound packages of sirloin steak in the meat case at Meijer, ask the butcher behind the counter to cut you some! I find that they are always eager to help.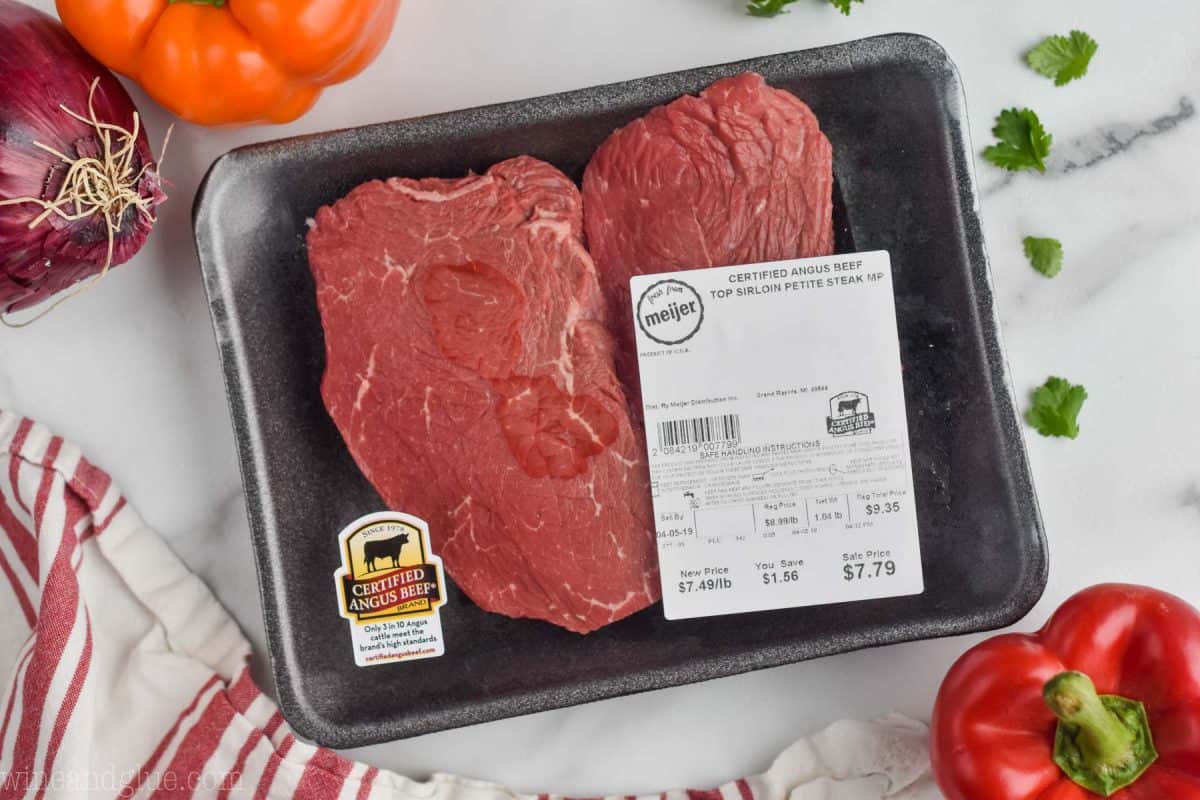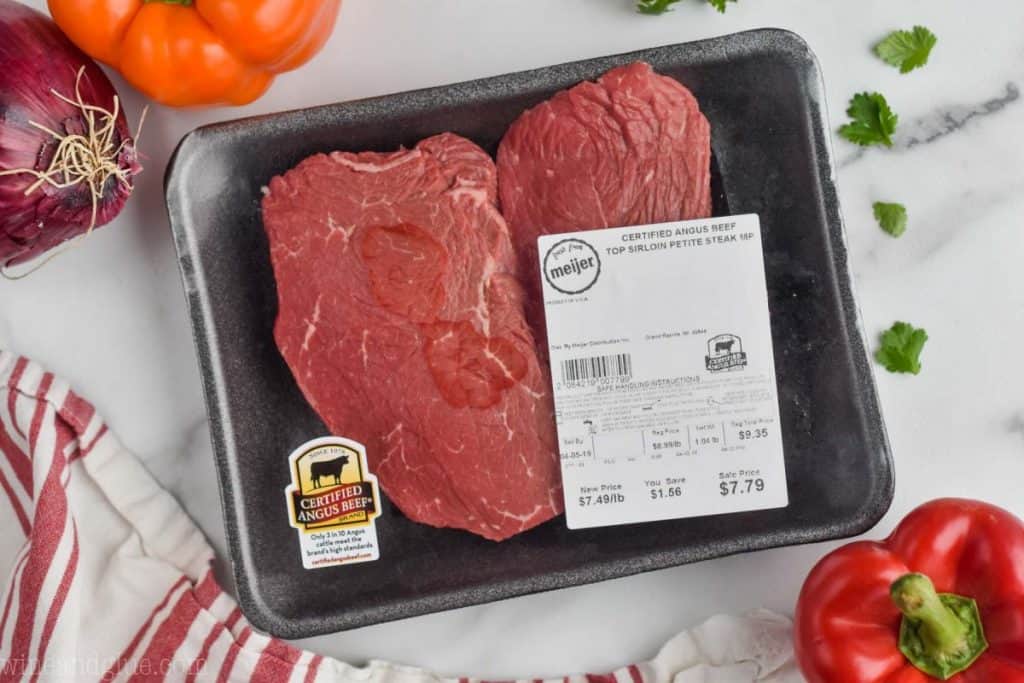 Steak Kabob Marinade
I love this simple marinade for these fajita steak kabobs. And as mentioned above, you could substitute in a different cut of meat and use this same marinade to make traditional steak fajitas. You will need:
Isn't that so simple? You want to marinate for about a half hour in the refrigerator.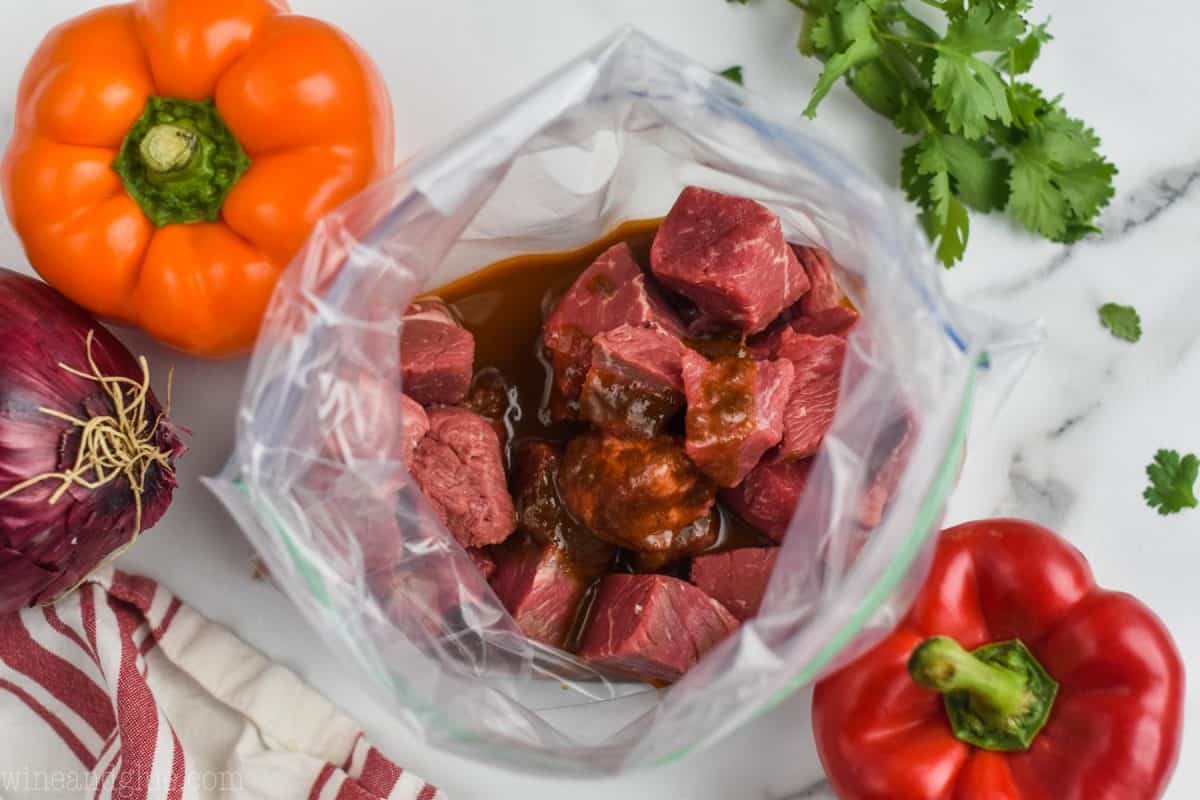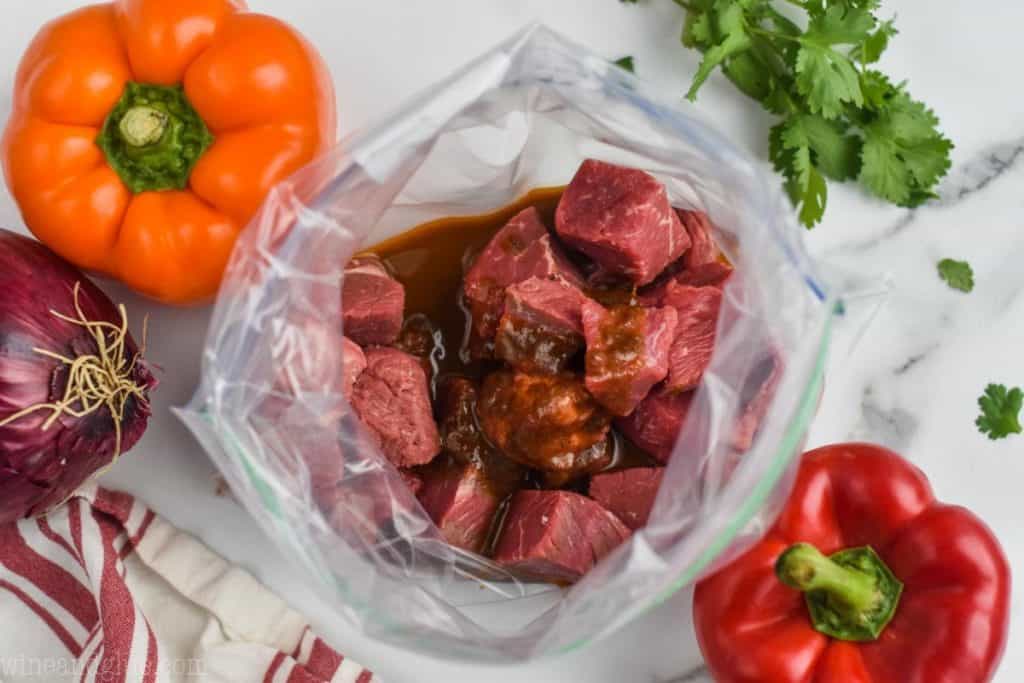 How to Make Kabobs
While your meat is marinating, you can cut up that great fresh produce. If you want to make life even easier, you can grab a package of pre-cut veggies from Meijer. They are in the produce section and perfect for kabobs.
Peppers and Onions
Cut your peppers and onions to be about the same size as the meat. I like nice one-inch by one inch squares for both. I went with red, orange, and yellow bell peppers, but you could throw some green in there too. Red onions for this recipe, but white onions would also work just fine.
This recipe calls for two bell peppers, so if you want to use more than two kinds you will have left overs. I snacked on mine while chopping.
Wooden or Metal Skewers
If using wooden skewers, make sure you soak them first so that they don't burn.
I prefer to use metal skewers. It feels less wasteful and I can skip the soaking step. That said, make sure you use a good oven mitt or oven glove when you are flipping them as the metal becomes very hot.
Skewer a pepper and then an onion or two, and then a piece of meat. Repeat until you've used about 5 cubes of steak per skewer. This recipe should make about six skewers.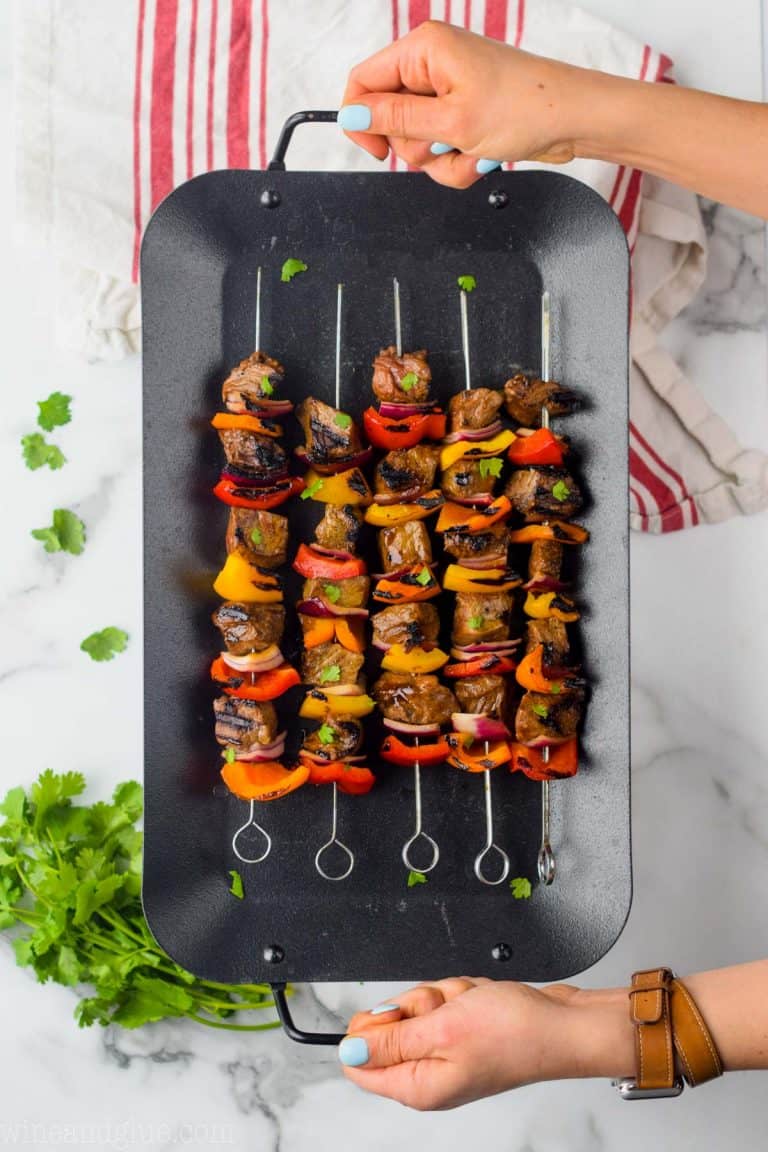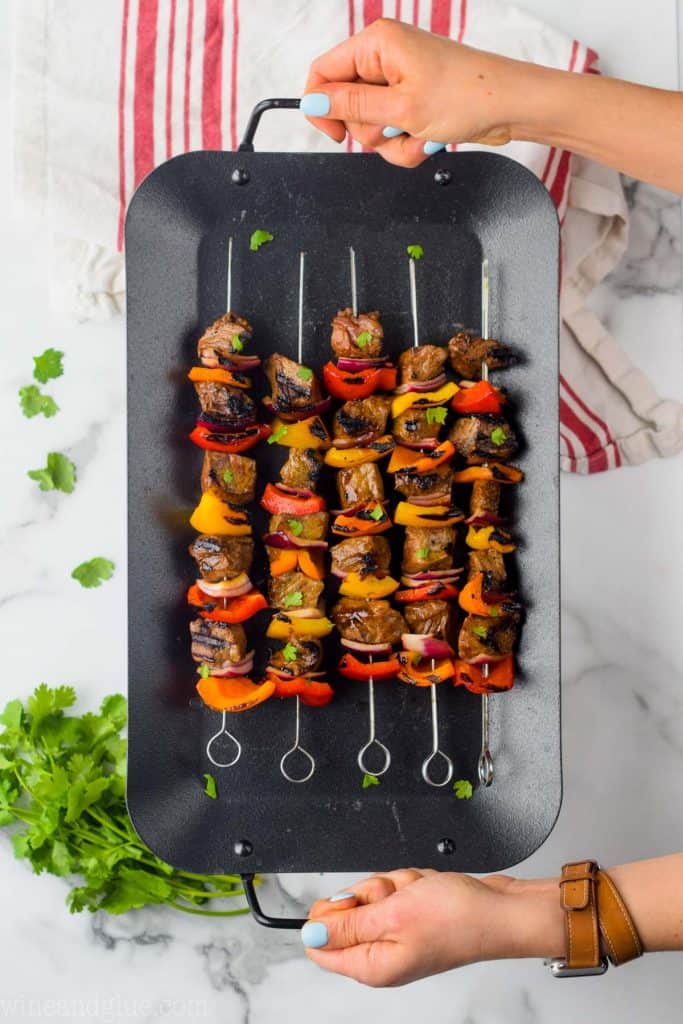 How to Make Kabobs on the Grill
These fajita steak kabobs go on a preheated grill for just 6 minutes on each side. Make sure your grill is preheated at medium heat.
If you don't have a grill, you could make these on an indoor griddle, again over medium heat.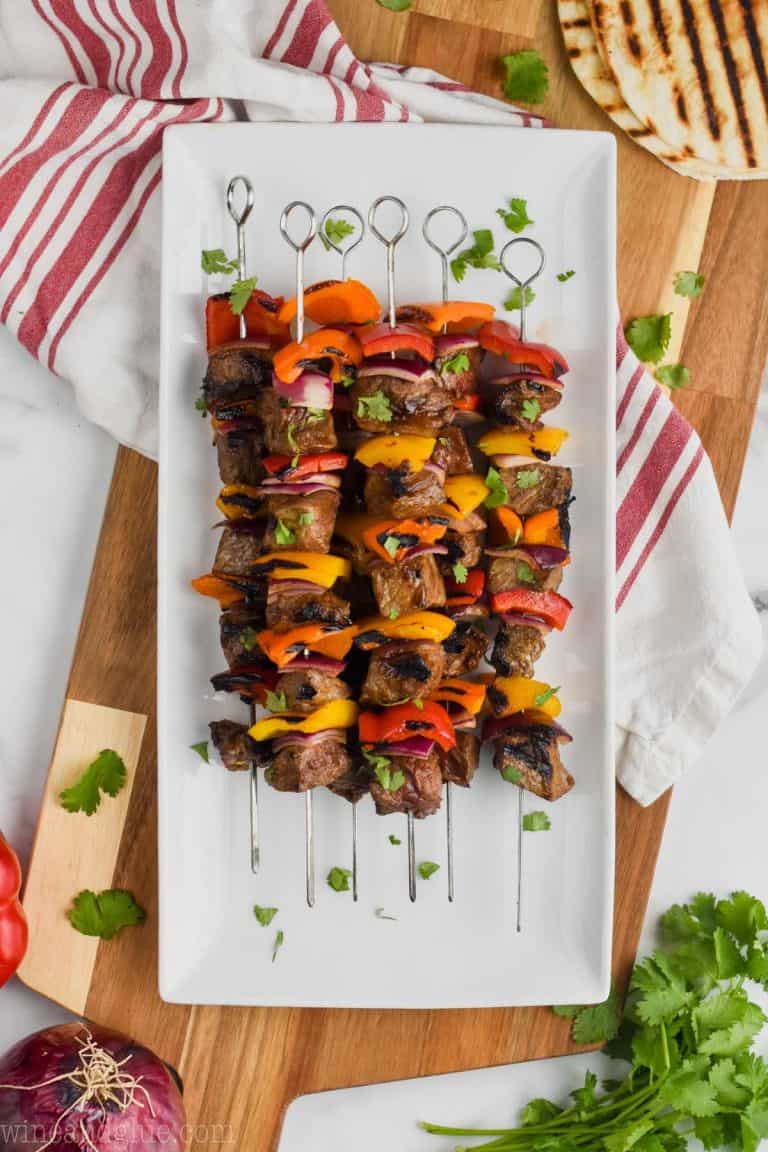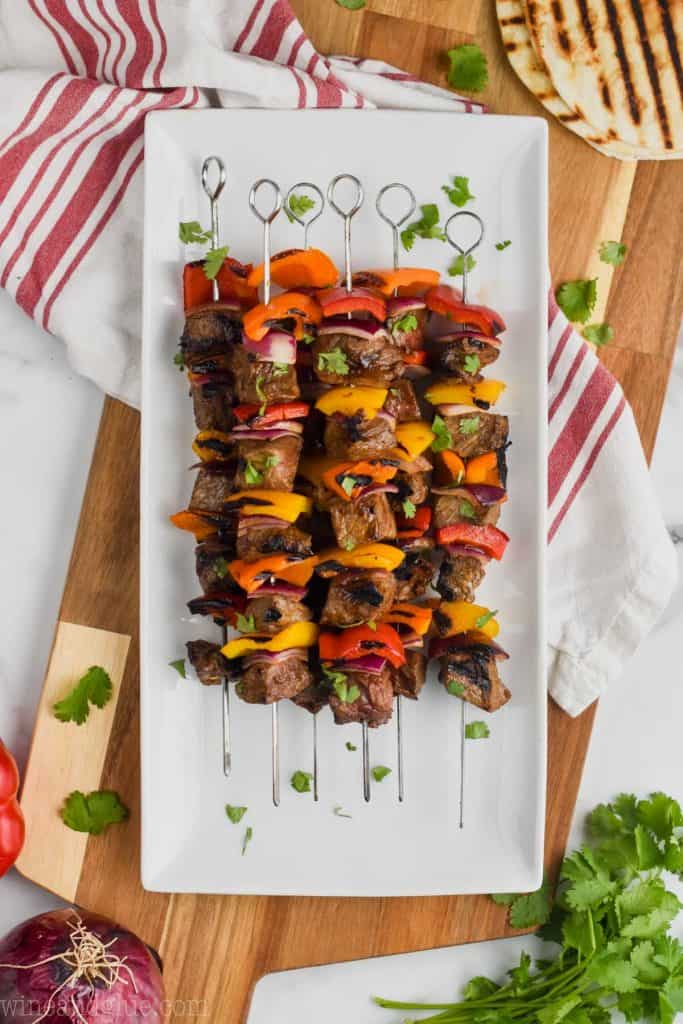 How to Serve Fajita Steak Kabobs
These steak fajita kabobs are great just right off the skewer. But if you want to stretch this meal a little bit, you can serve it with tortillas. You could throw them on the grill for a minute or two to heat them up. Be careful not to throw them on for too long or they will become stiff and crunchy.
I love topping my steak fajitas with fresh cilantro and sour cream. The fajita seasoning on these is just perfect, so it doesn't need a lot extra on top. They would be great with a side of pico de gallo and chips and some of my famous margaritas.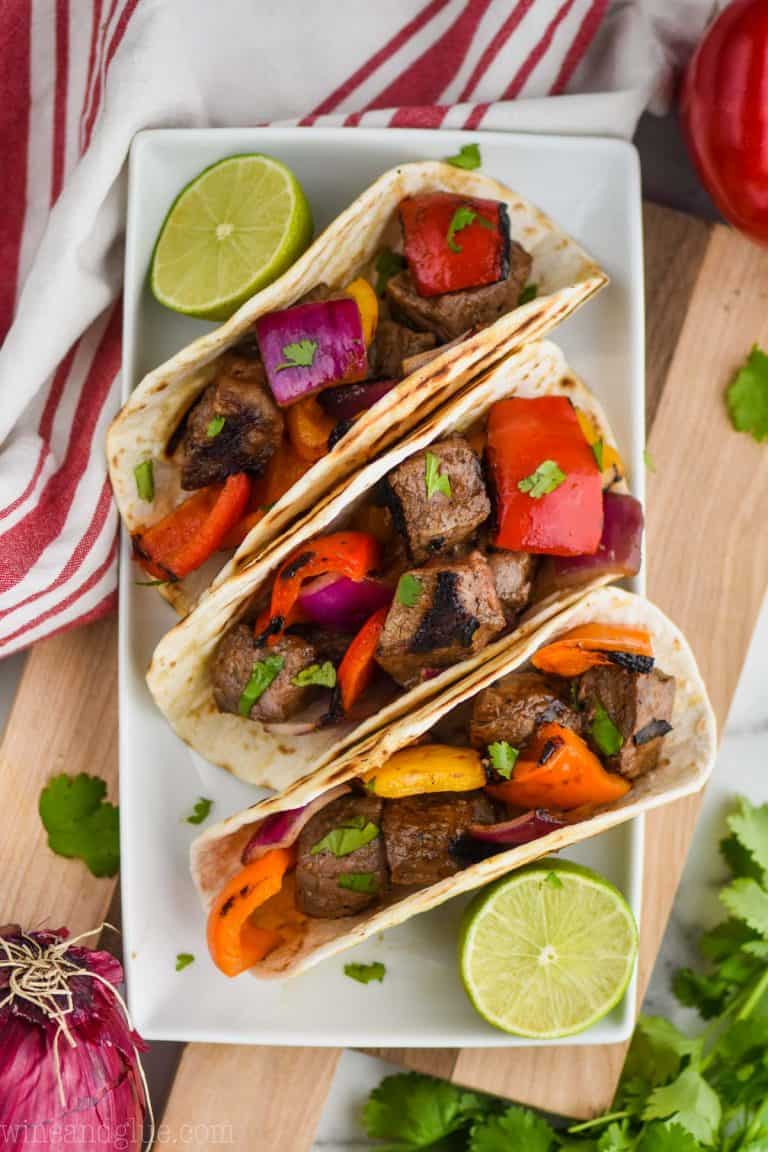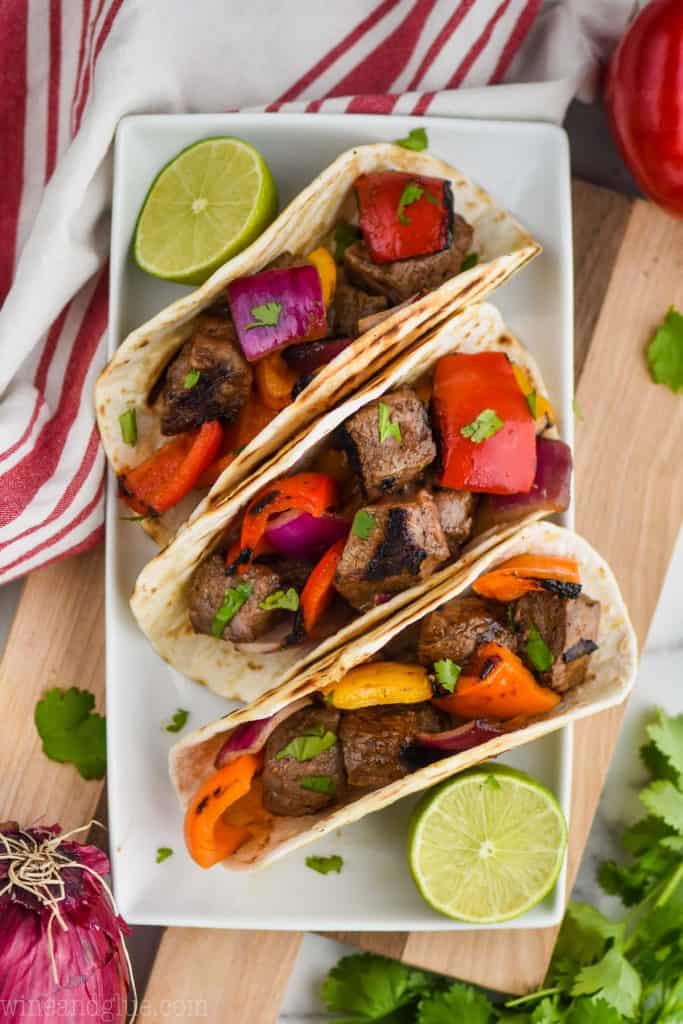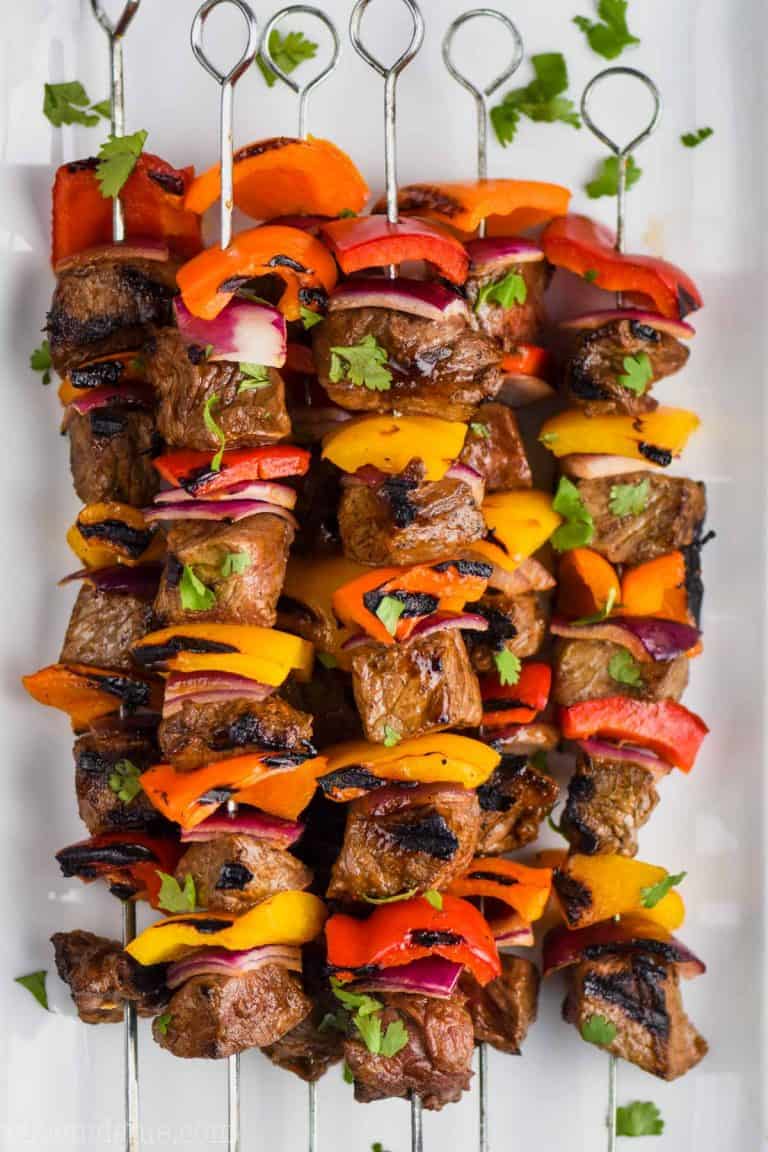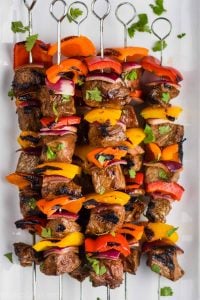 Fajita Steak Kabobs
Fajita Steak Kabobs make a simple and easy dinner recipe to throw on the grill! Made with my easy Fajita Seasoning recipe, you will want to eat these steak kabobs all summer long!
Ingredients
1

pound

top sirloin steak

cubed

1/4

cup

olive oil

1/2

tablespoon

lime juice

3

tablespoons

fajita seasoning

(or 1.2 ounce package)

1

red bell pepper

cut into squares

1

yellow bell pepper

cut into squares

1

red onion

cut into squares
Instructions
To make the marinade, in a small measuring cup, whisk together the olive oil, lime juice, and fajita seasoning.

Place cut meat in a plastic bag or reusable container and cover with marinade. Shake to combine. Place in the refrigerator for a half hour.

Preheat your grill on the medium setting while making the kabobs.

To make the skewers, pierce a bell pepper, then onion then piece of meat onto the skewer. Repeat until you have used 5 pieces of meat for each skewer. If you have left over meat, just make one skewer of meat.

Place the kabobs on the grill and cook for six minutes. Flip and cook for an additional six minutes. If using metal skewers, be very careful when flipping, using an oven mitt or glove.

Eat right off the skewer or serve with tortilla shells.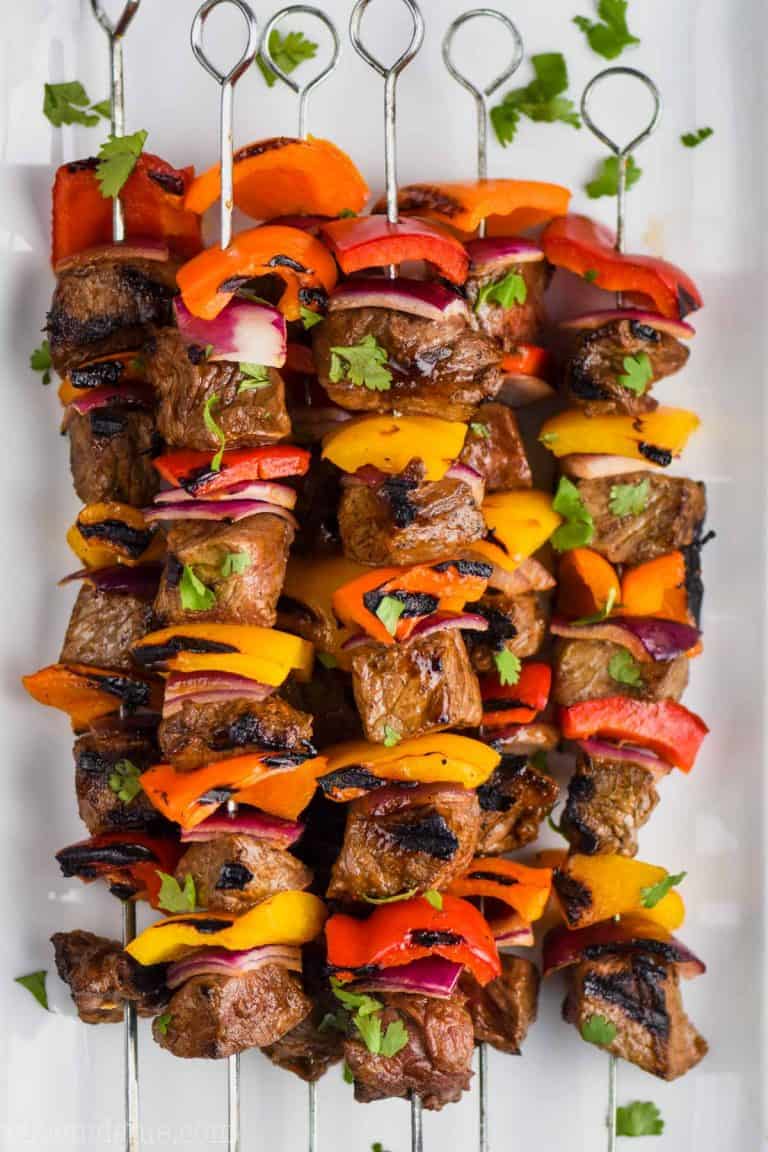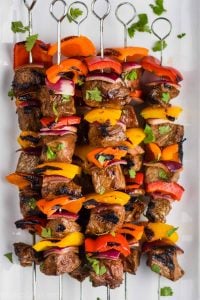 did you make this
Fajita Steak Kabobs