This Strawberry Poppyseed Dressing is made from very easy to find ingredients and is perfect for all your summer salads! This post first appeared over at Real Housemoms where I am a contributor.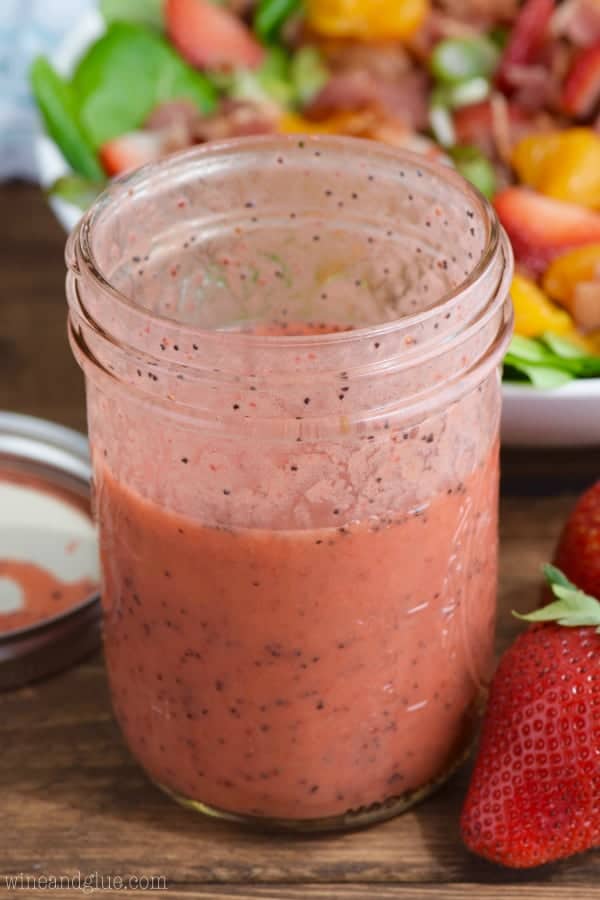 Next month Quinn is going to be five. #HOLDME And I feel like we are moving into full kid status. You know, like much less toddlerish and much more kiddish. Does this even make sense? Are you with me, parents? Okay, good.
But as we say goodbye to her little tiny kid status, she is still saying the cutest things and I feel like if I don't chronicle them now, I might not ever remember them. So. Are you ready?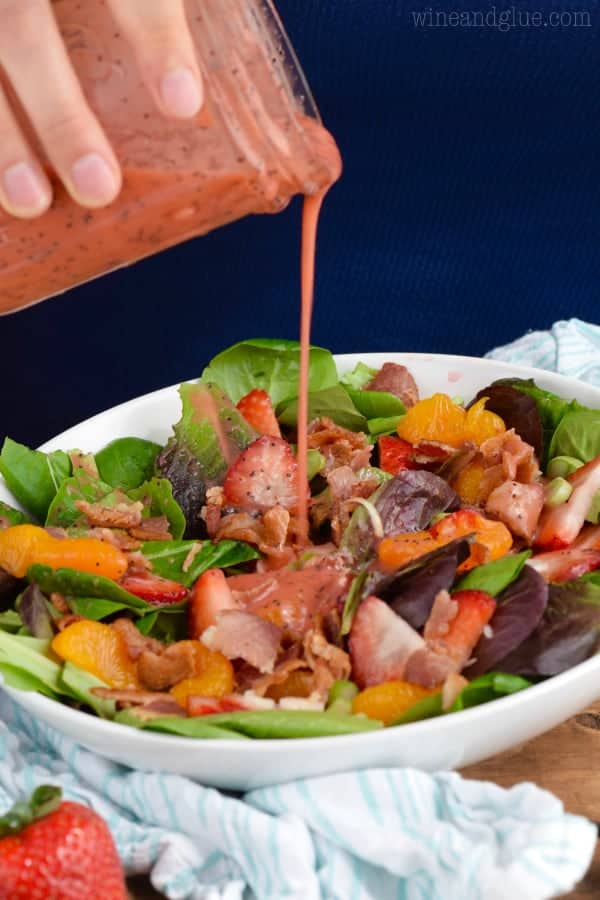 Pancakes are still solidly "Pampakes." #bestillmyheart
The Statue of Liberty is "The Statue of Delivery" . . . which kind of makes sense . . . a little.
Root Beer is "Root Beard" #loveit
Plug it in is "Clug it in" #makesGavinscream
Ridiculous is "Hirdicurous" #alltimefavorite
And recently she has started doing this crazy thing that I can't decide if I find endearing or absolutely horrifying. Since I started her down this treacherous path, I am going to go with endearing.
So . . . . in order to get her to eat her vegetables at the dinner table I started out by telling her that she was a giant T-Rex and she was trying to steal some pteranodon eggs out of a nest before the mommy pteranodon came back (the eggs were broccoli . . . . it's always broccoli). She gobbled them up!!
And now . . . she is always a predator.
"Mom, can we pretend these peas are baby fish eggs and I'm a giant shark?"
"Mom, can we pretend this broccoli is baby gazelle and I'm a giant lion who is chasing them down." *She starts snarling and pawing at the table, eyeing up her broccoli.*
Sweet hell.
What have I done?
On the other hand she eats her fish eggs/pteranodon eggs/baby gazelle every time . . .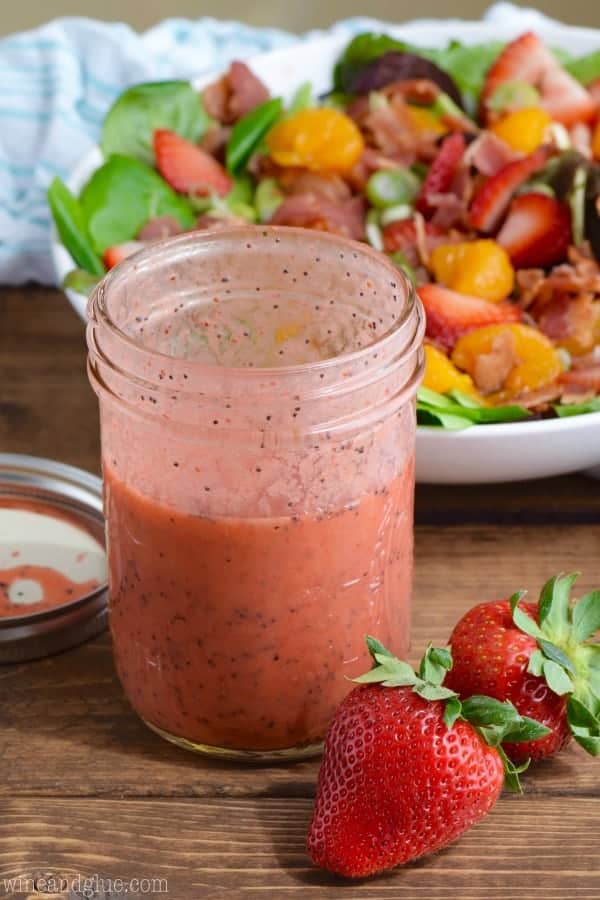 In other news . . . . moving on . . . . I have an amazing homemade dressing for you! Guys, I'm kind of falling in love with homemade dressings. The one on this salad is super spectacular and this Strawberry Poppyseed Dressing also comes together in the blender. It's fast, easy, and has this beautiful taste of summer to it! It would go so well on so many different salads or even over some chicken or seafood. I have a salad perfect for it coming soon!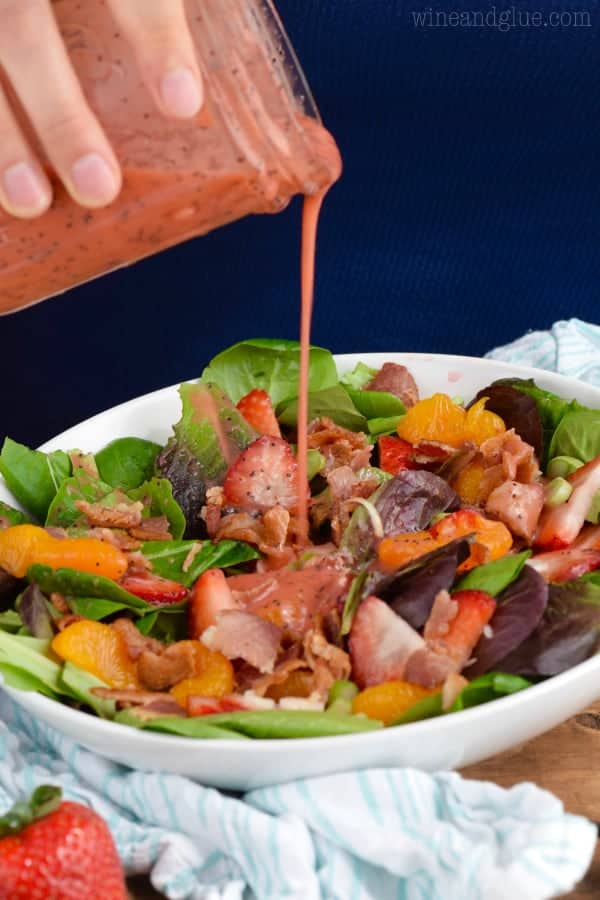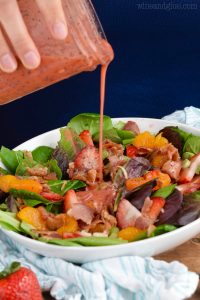 Strawberry Poppyseed Dressing
Ingredients
2

cups

halved fresh strawberries

1/3

cup

orange juice

I used a reduced sugar one made with stevia

1/2

tsp

onion powder

1/4

tsp

salt

2

TBSPs

powdered sugar

1/3

cup

olive oil

1

TBSP

poppy seeds
Instructions
Blend together

the strawberries, orange juice, onion powder, and salt until well combined.

Blend in the powdered sugar. Then slowly bend in the olive oil until just combined.

Pour into a mason jar, add the poppy seeds, cover and shake to combine.

Store in the refrigerator and use within one week of making.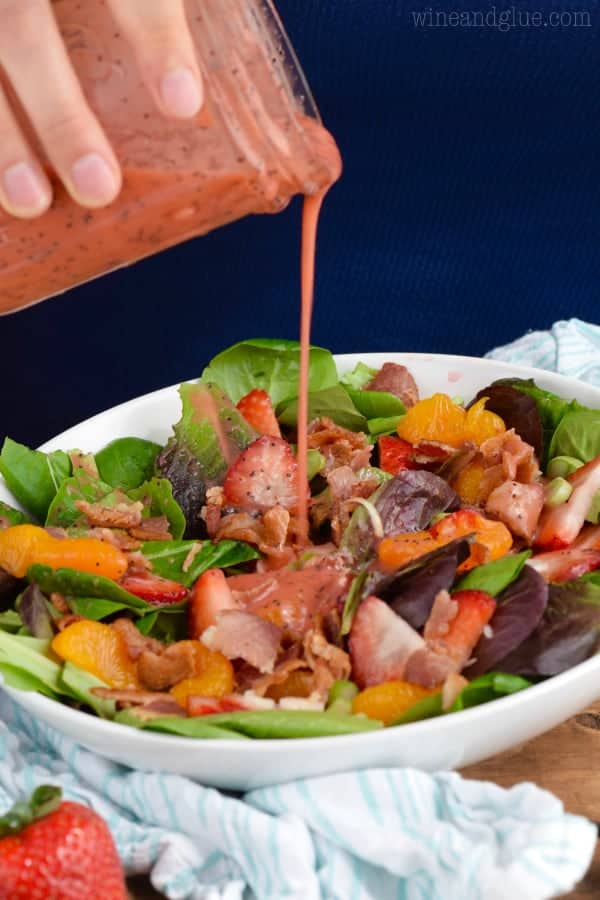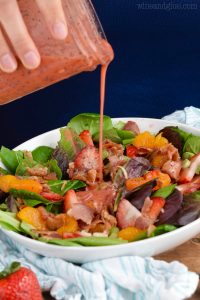 did you make this
Strawberry Poppyseed Dressing
You might also like

This post contains affiliate links, if you click on them and then make a purchase, I make a small amount of money at no additional cost to you. Thank you in advance for supporting Wine & Glue.