Baked Pasta with Sausage, Mushroom, and Spinach | Comfort food at it's best! So flavorful and delicious!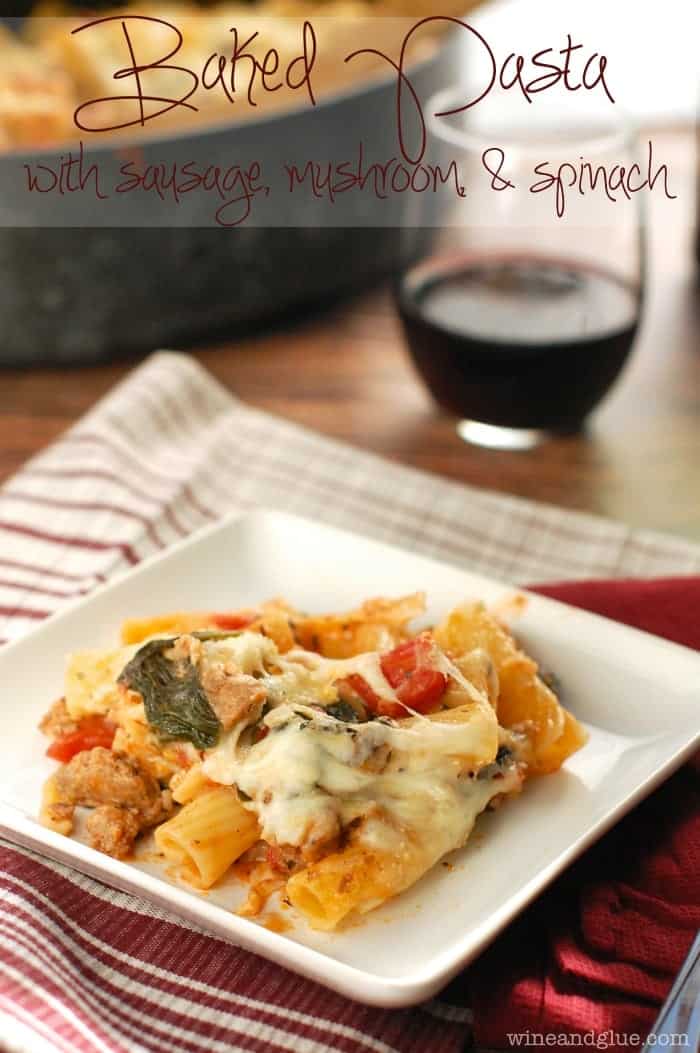 So you've heard how annoying FaceBook is for bloggers right? How so few of our FB friends who have, of their own free will, clicked like on our pages, are seeing our posts? For example, Wine & Glue has 11.5K FaceBook followers. And FaceBook tells me how many of them see what I post. Typically, only about 300 of the 11.5K see a each post.
It stinks.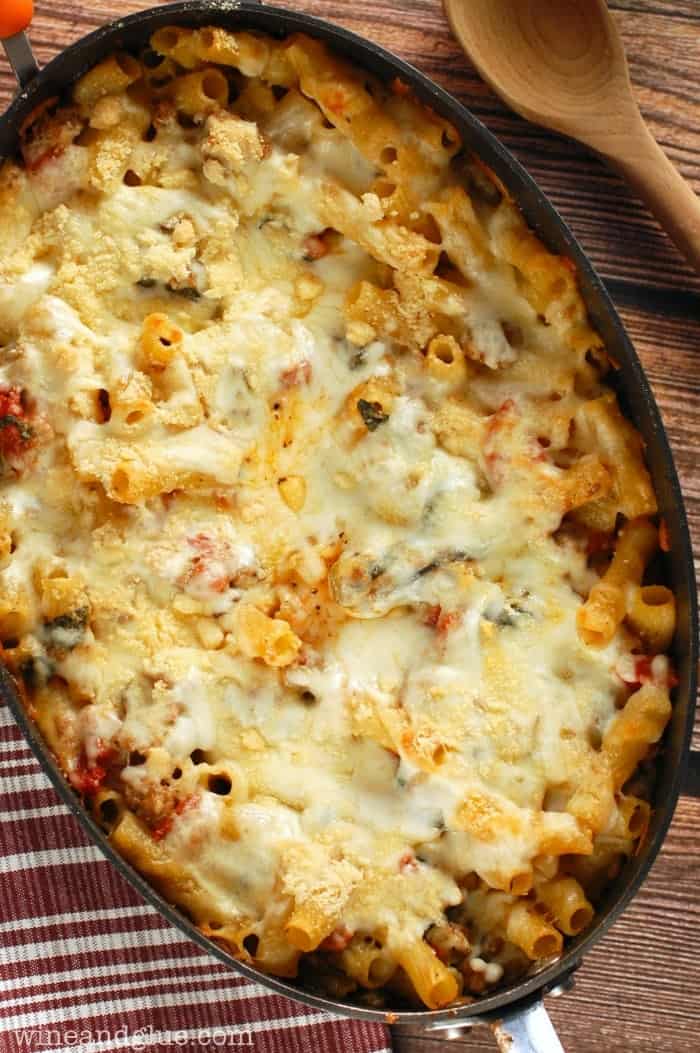 Here's the tricky tricky part. The more people who interact with the posts (like, share, comment) the more people FB will show the post to. So . . . ideally you want to post stuff that people really love and want to talk about, because the more they talk about stuff, the more people see it and whatever you post next.
#ihatesocialmedia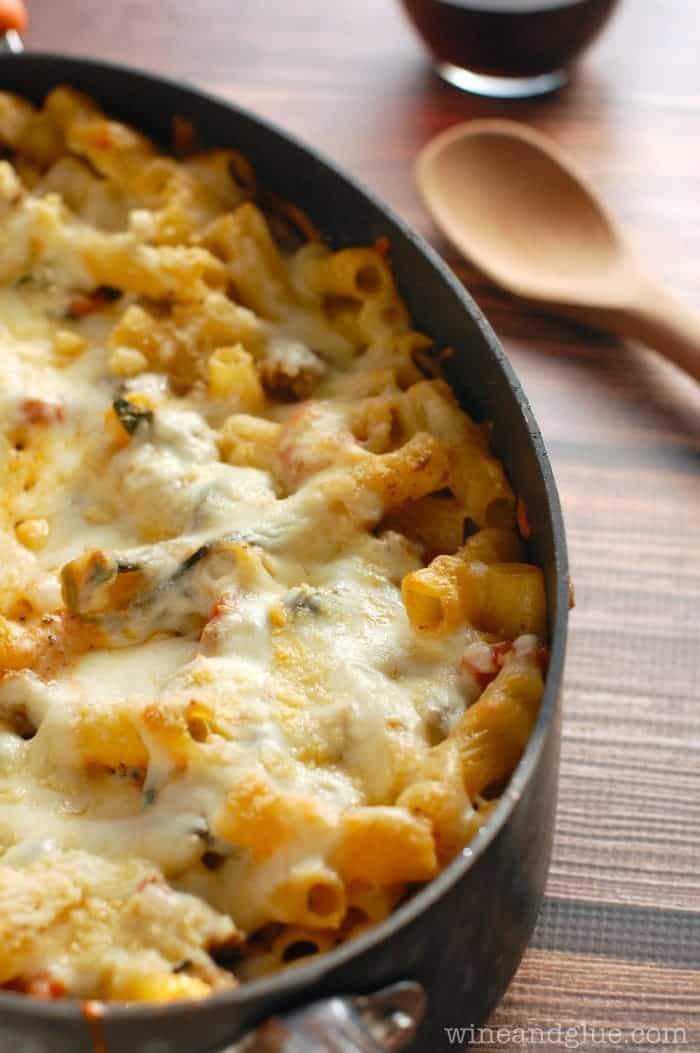 This is a reeeeeeeaaaaallly long winded way of telling you that this evening I was looking for funny things to post on my FB page that my FB friends would love, like, comment on, share, and maybe would even bring a smile to their faces.
And that's how I found myself on Damn You Autocorrect.
You've visited that site right? Ummm . . . I was laughing so hard I was crying. I was literally crying. The bummer is that there was nothing that was both hilarious and appropriate that I could share on my FB page, the good news is that it totally gave me a good laugh and on a day when Gavin had to stay home again sick. (Between the sick days and the snow days, it is a small miracle that kid has learned anything this year.)  Nathan thought I had completely lost my mind because I was staring at the computer, laughing hysterically, and crying.
It's cool, cabin fever sort of has made me lose my mind.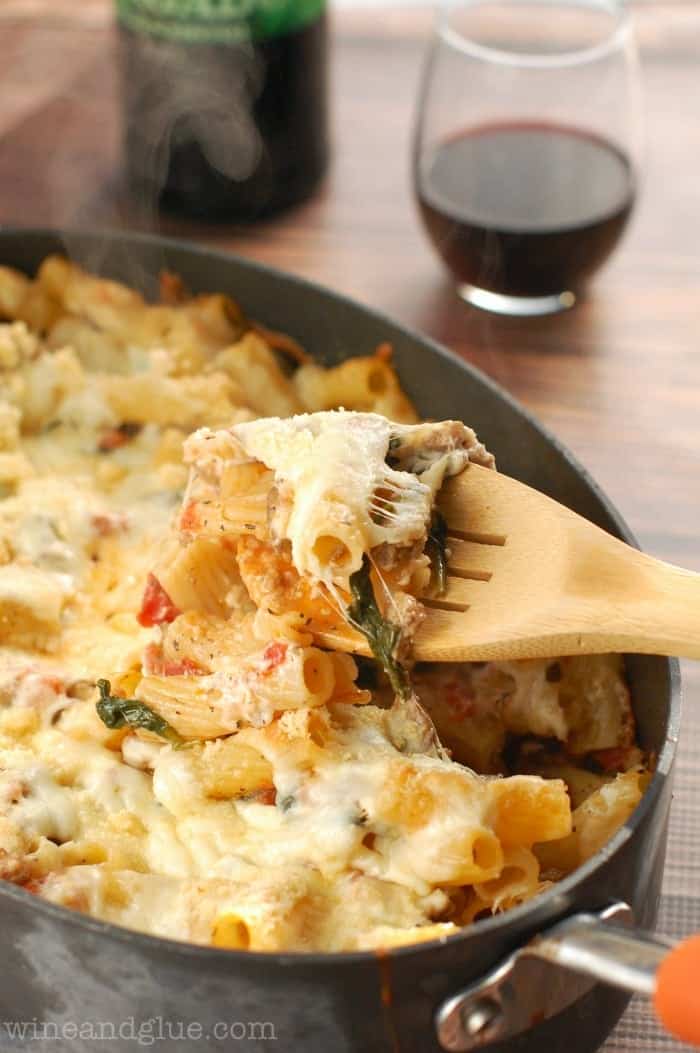 Okay, so if you are suffering from cabin-fever-snow-day-madness-and-the-flu-season-that-would-not-end, the first thing you are going to want to do is visit Damn You Autocorrect.
The second thing that you are going to want to do is make this Pasta Bake with Sausage, Mushroom, and Spinach! It is so delicious. It's packed with amazing flavor, not to mention lean meat, and tons of veggies! It's the perfect cure for cabin-fever-snow-day-madness-and-the-flu-season-that-would-not-end. :)
A note about this recipe:  I made this in an oven proof skillet. I love that. You go from cooking it on the stove top to popping it in your oven to brown the cheese and finish things off. But! If you don't have a skillet that is oven proof (and you are going to want to check . . . ask me how I know . . . ) then after you mix in the 2 cups of cheese, but before you top it with the remaining cheese, transfer it to a lightly sprayed 13 by 9 inch glass baking dish.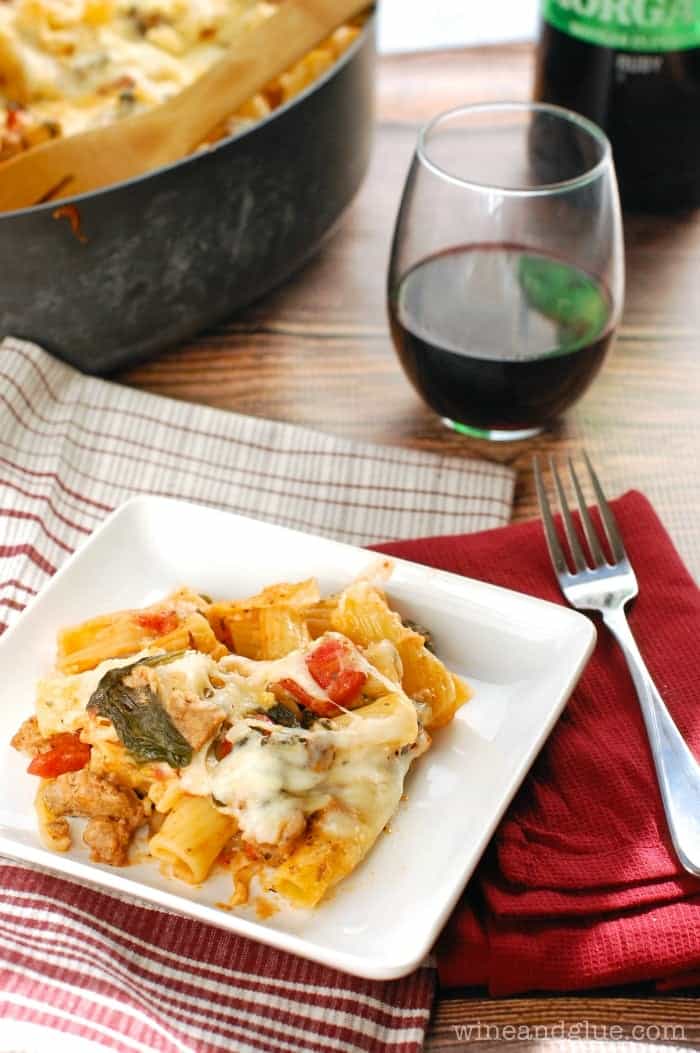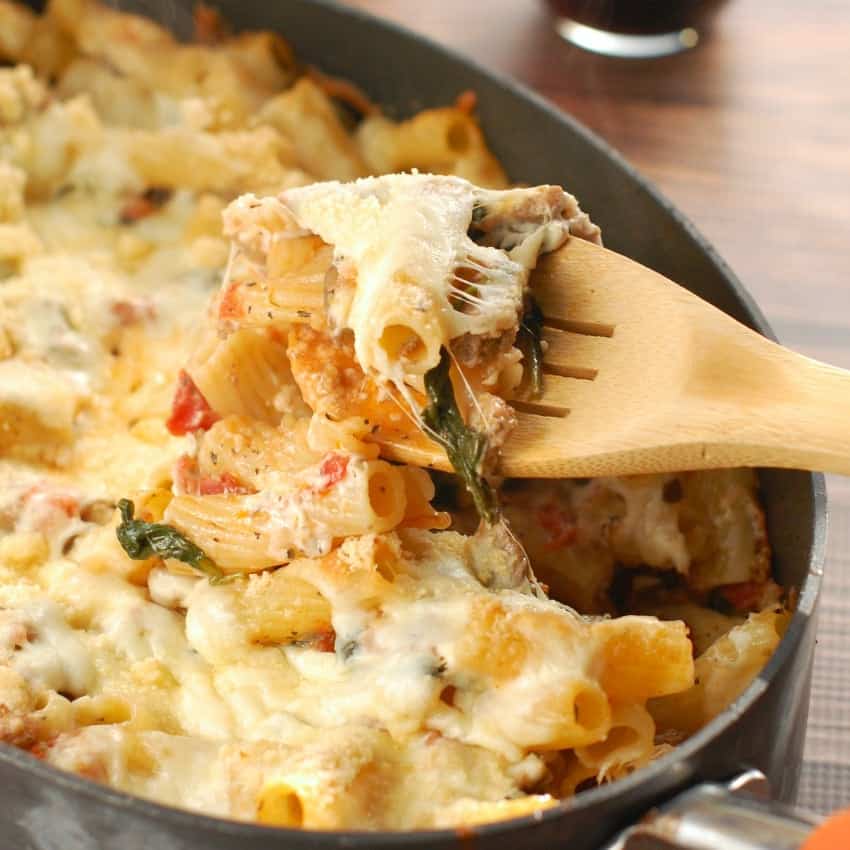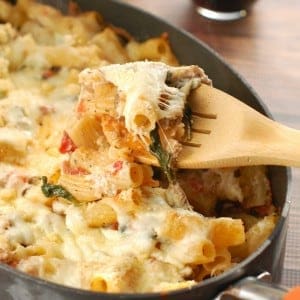 Baked Pasta with Sausage, Mushroom, and Spinach
Ingredients
2

TBSPs

extra virgin olive oil

1/2

tsp

crushed red pepper flakes

less if you don't like much heat

2

cloves

of garlic

minced

1 to 1 1/2

pounds

Italian seasoned sausage

I used Jenni-o Sweet Italian Sausage, casing removed

8

oz

sliced baby portabella mushrooms

1

TBSP

Kosher salt

28

ounces

diced tomatoes in their juice

1/2

TBSP

dried oregano

1/2

TBSP

dried basil

16

oz

rigatoni noodles

3

cups

of fresh baby spinach

4

cups

of shredded mozzarella cheese

divided

1/2

cup

grated parmesan cheese
Instructions
Preheat your oven to 375 degrees.

In a large oven proof skillet (see recipe notes) over medium high heat, cook the extra virgin olive oil for a moment before adding the garlic and red pepper flakes. Stir for about thirty seconds to a minute and then add your turkey sausage. Break up the sausage and stir, allowing it to brown.

When the sausage is no longer pink, add the sliced mushrooms, breaking them up into smaller pieces with your spoon.

At this point you are going to want to put on a large pot of water for your pasta over high heat. Add a tablespoon of salt.

Once the mushrooms are cooked and soft, add the tomatoes and their liquid. Stir to combine. Then add the basil and oregano, and continue to stir. Bring the sauce to a boil, and then reduce to a simmer and cover.

Once your pasta water is at a roaring boil, add the noodles. Set your kitchen timer for about two minutes less than the time stated on the box. For example, my noodles said to cook them for 10 minutes, and I took them out at 8. You want the pasta to have a lot of bite left. At the end of the cooking time, drain the noodles and rinse them in cold water to stop the cooking.

Uncover your sauce and stir in the spinach, allowing it to wilt. Continue to cook the sauce, uncovered for about five minutes.

Stir in the noodles, making sure that the the sauce is evenly distributed throughout the dish.

Very gently stir in one cup of cheese, and then the other. You don't want to stir in large clumps, or it will melt too quickly together and not be evenly distributed. Add the remaining two cups of mozzarella and the parmesan in an even layer over the top.

Cook uncovered in the oven for 25 to 30 minutes until the cheese on top is fully melted and starting to brown.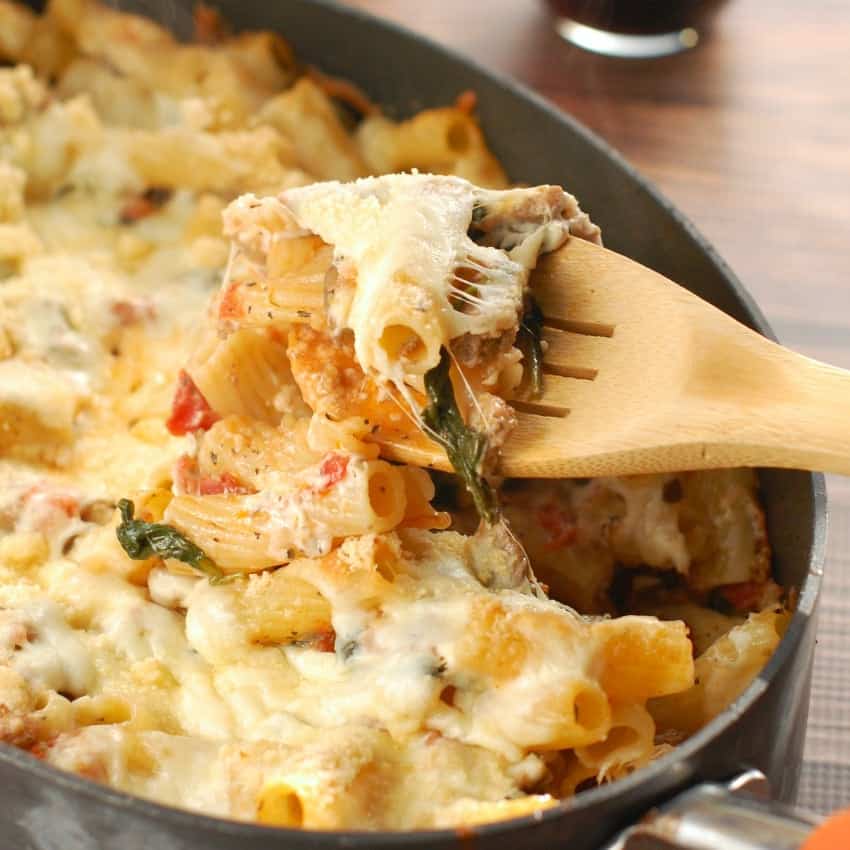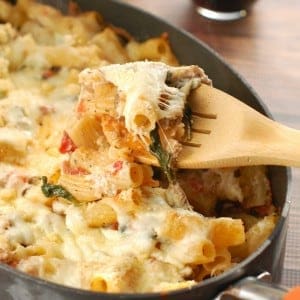 did you make this
Baked Pasta with Sausage, Mushroom, and Spinach
Want more pasta?
Easy Pesto Pasta Salad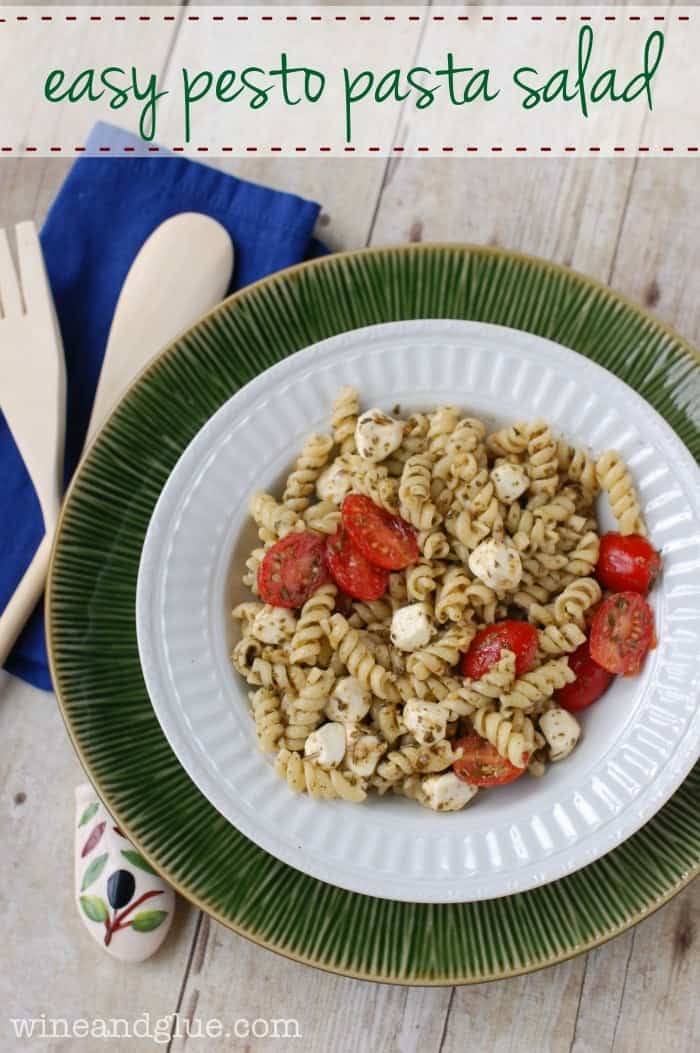 Creamy Tomato Pasta with Shrimp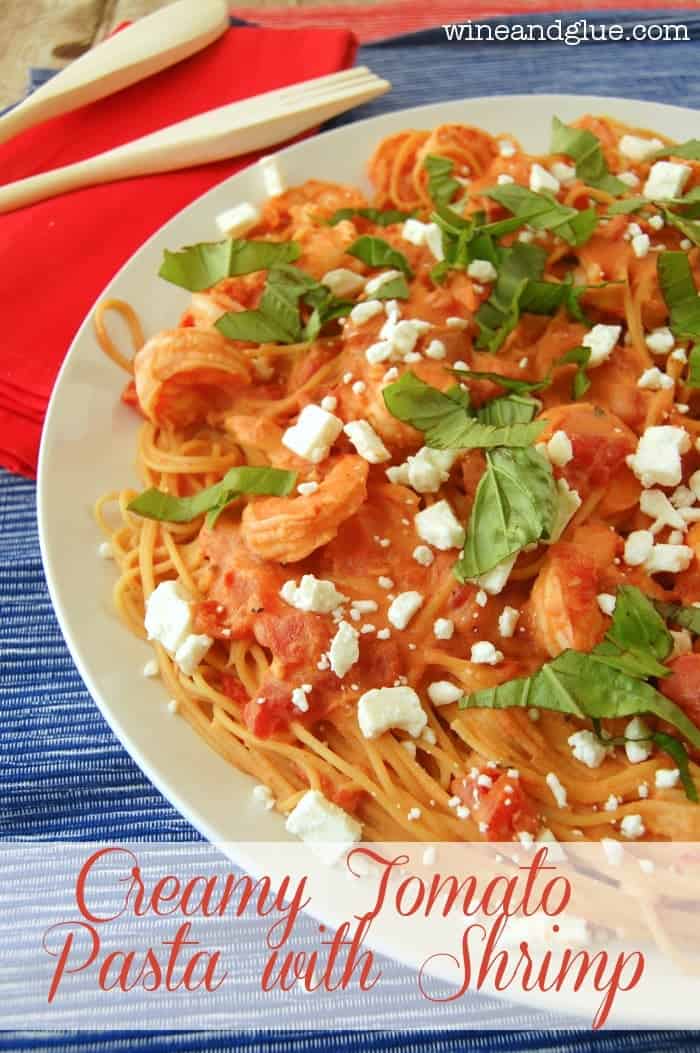 SaveSave