This Baked Rigatoni is the ultimate comfort food. Rigatoni, sausage, mushrooms, spinach, and seasonings combine perfectly in this delicious baked pasta recipe.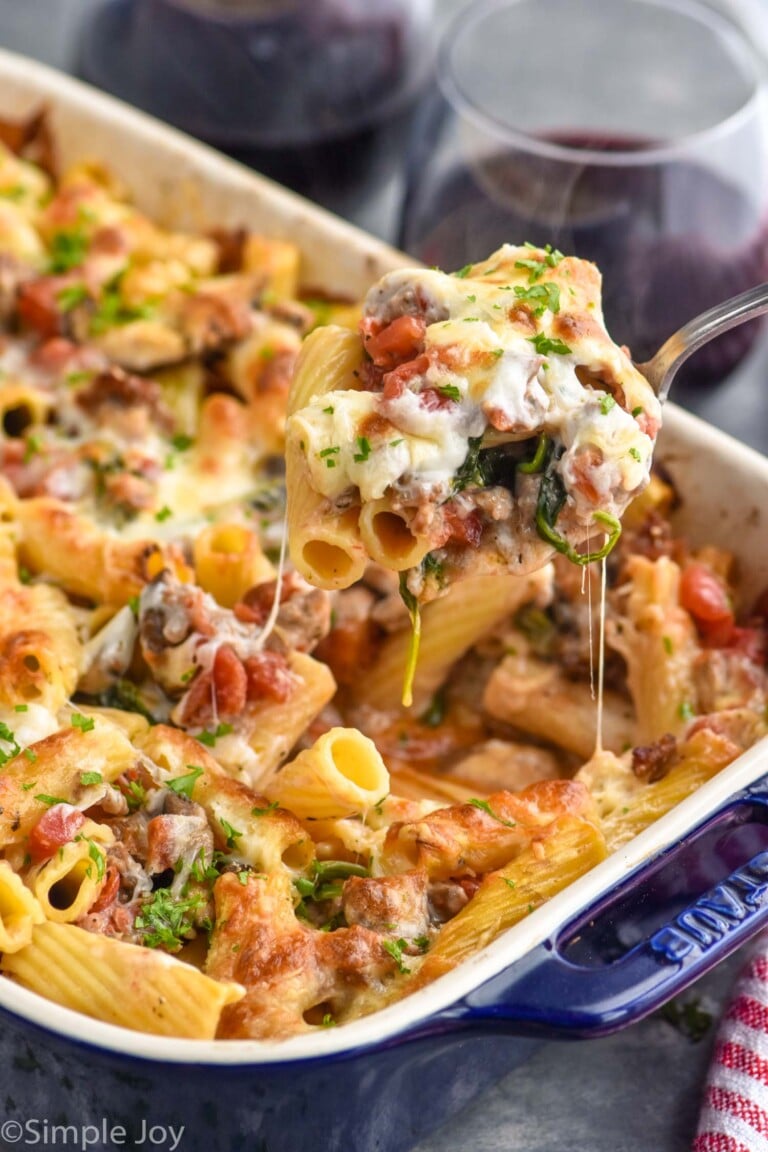 This delicious baked pasta recipe has been on Simple Joy for years. In fact, it is one of the favorite recipes of one of my favorite friends. She loves how easily it comes together and how absolutely delicious it is.
I have to agree with her.
This baked rigatoni is made with such simple ingredients and is always a crowd-pleaser. This is the perfect recipe to double and make two pans of. Eat one pan now and freeze the other for later using our instructions below.
Reader Review
Omg!!! This was a huge hit in our house last night! I have a picky toddler and preteen but they devoured this dish last night! I'm glad I was able to sneak veggies in too!
How to Make Baked Rigatoni
This is a brief overview of how to make this delicious pasta bake. For the full recipe with all of the measurements, see the recipe card at the bottom of the post.
Make the rigatoni. See all of my tips and tricks for making pasta for pasta bakes below.
Cook the sausage. While the water is boiling for the rigatoni, cook the Italian sausage, breaking it up.
Make the sauce. After the sausage has browned, add in mushrooms, diced tomatoes, and dried herbs.
Finish off the sauce. After the sauce has simmered, stir in fresh baby spinach. The spinach will wilt into the sauce beautifully.
Put the casserole together. To a casserole dish, add the cooked and drained pasta, the sausage and sauce mixture, and the cheese. See my recommendations about cheese below.
Bake the casserole. Top the rigatoni bake with the rest of the cheese, bake, and enjoy!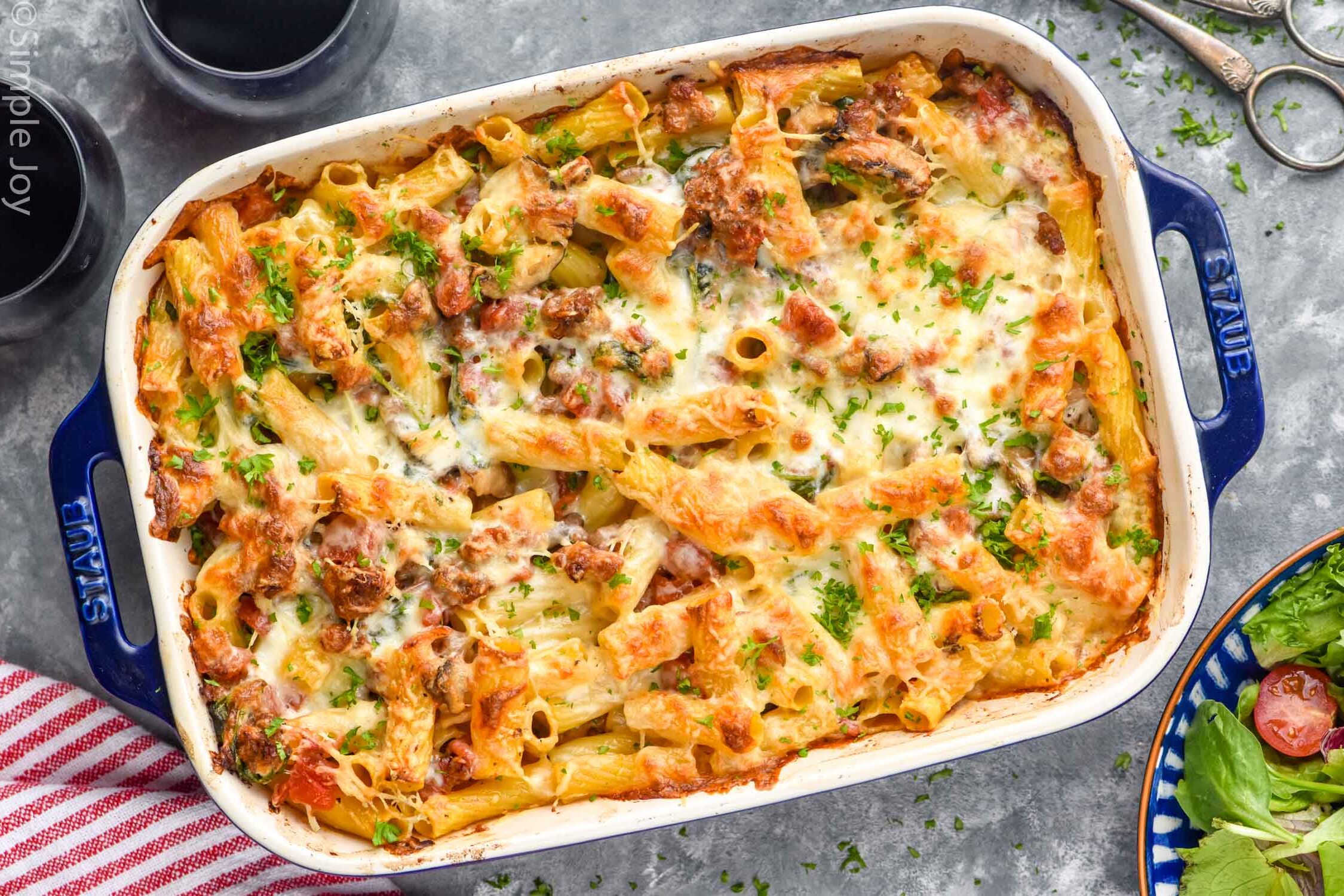 Making Rigatoni for a Pasta Bake
Years ago there was a show on the Food Network called "How to Boil Water," and every time I give tips on making pasta, I think about that. I know that making pasta is one of the most simple parts of cooking dishes like this, but I still think these tips are helpful.
Use enough water. A pound of pasta needs a lot of room to cook. Make sure to use between four and six quarts of water so that it can boil and expand without being crowded.
Bring the water to a roaring boil before adding the dry pasta. You are looking for huge bubbles, not a small simmer.
Salt the water. Italians say that the water should taste like seawater. I like to add a teaspoon of kosher salt to my water before adding the pasta.
Cook the rigatoni for two minutes less than indicated on the box. Since we are popping this in the oven, we want to cook it for less time so that the noodles don't come out soggy in the end.
Using Cheese in Baked Rigatoni
I urge you to shred your own cheese for this recipe. While it is enticing to buy pre-shredded cheese, the time you will save isn't worth it. Pre-shredded cheese is coated in preservatives. It is what keeps it in individual shreds in the grocery store bag. But those preservatives also make it harder for it to melt. For a dish like this where cheese is the star, you want to shred your own cheese.
Additionally, you will notice in the instructions (step seven) that I suggest you add the cheese a cup at a time. The sausage mixture and the pasta will be so hot that they will immediately start to melt the cheese. By adding it in stages, you avoid it forming big clumps.
TOP PICK
Cheese Grater
I absolutely love this grater. It has been in our kitchen for over a decade. It has four sizes of grating, and comes with this grate container that fits right on the bottom for mess free grating.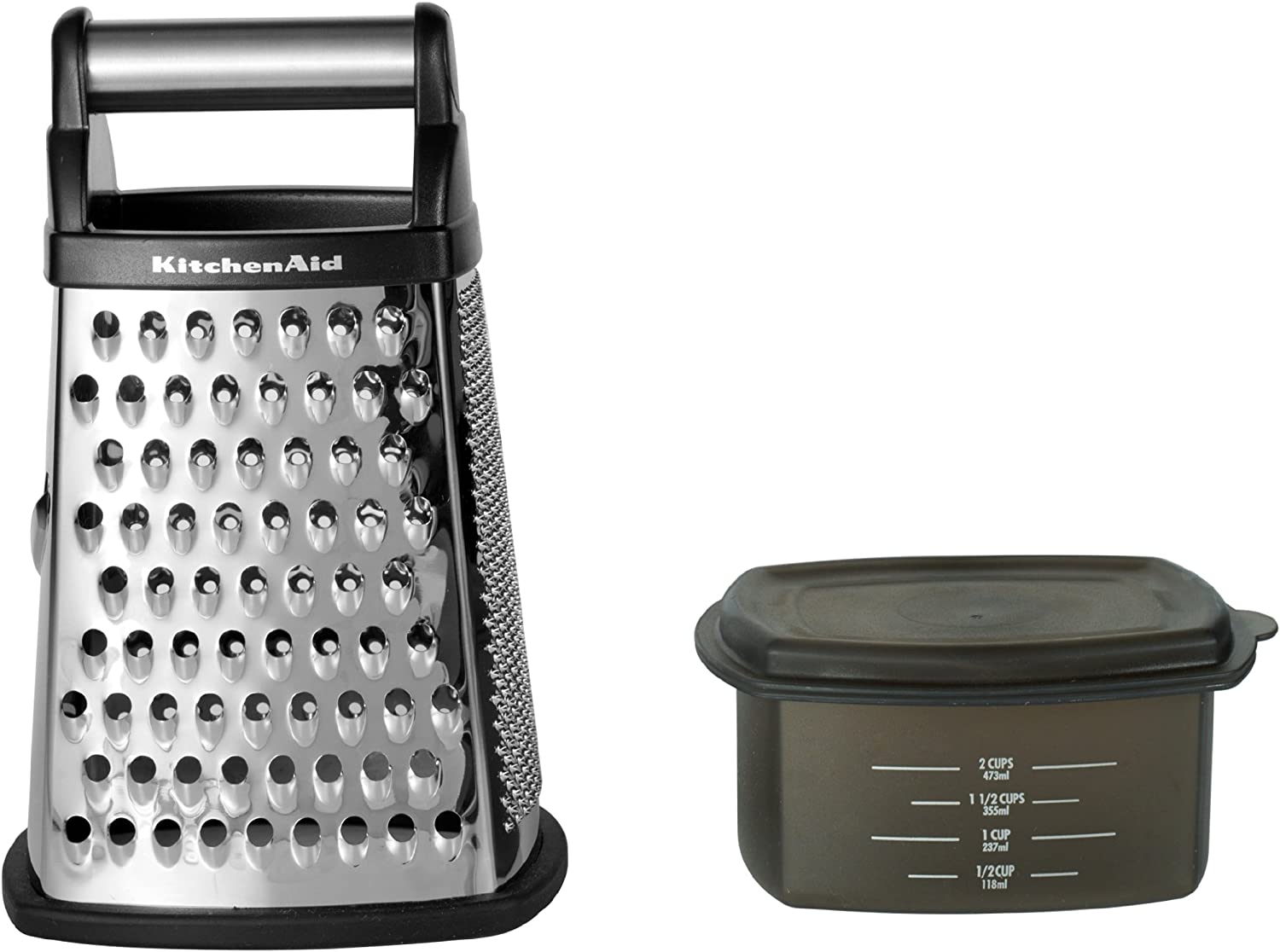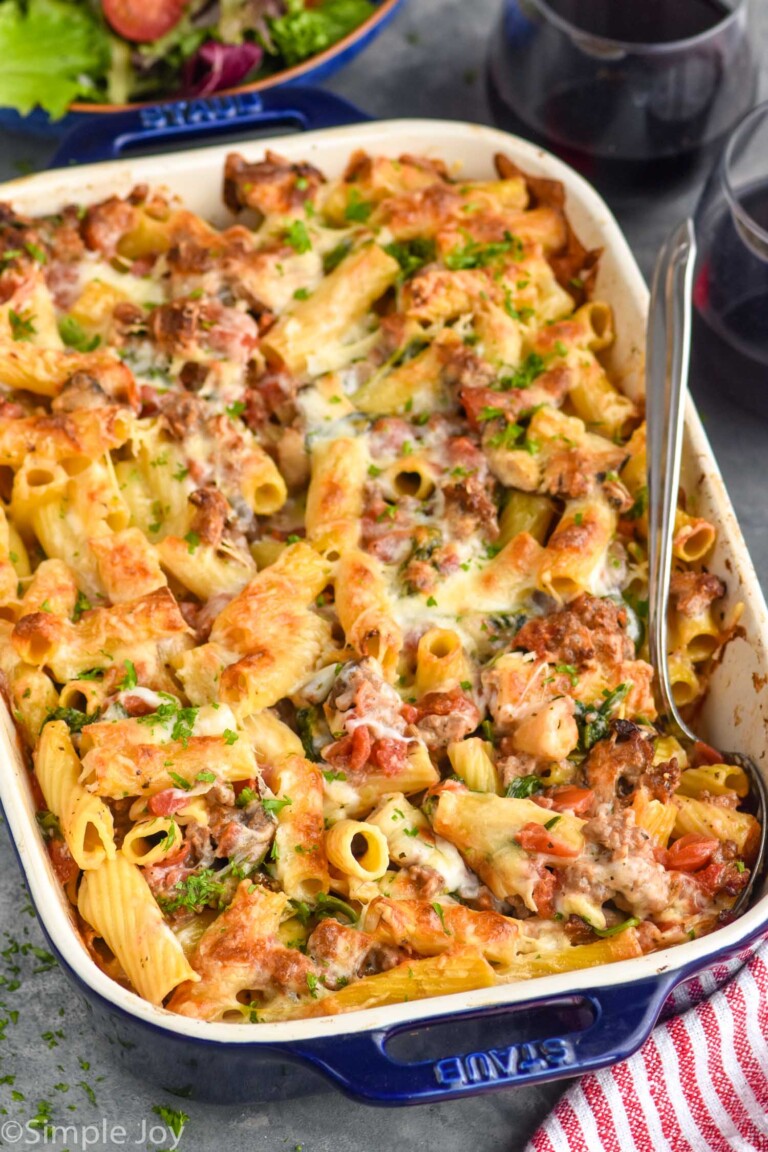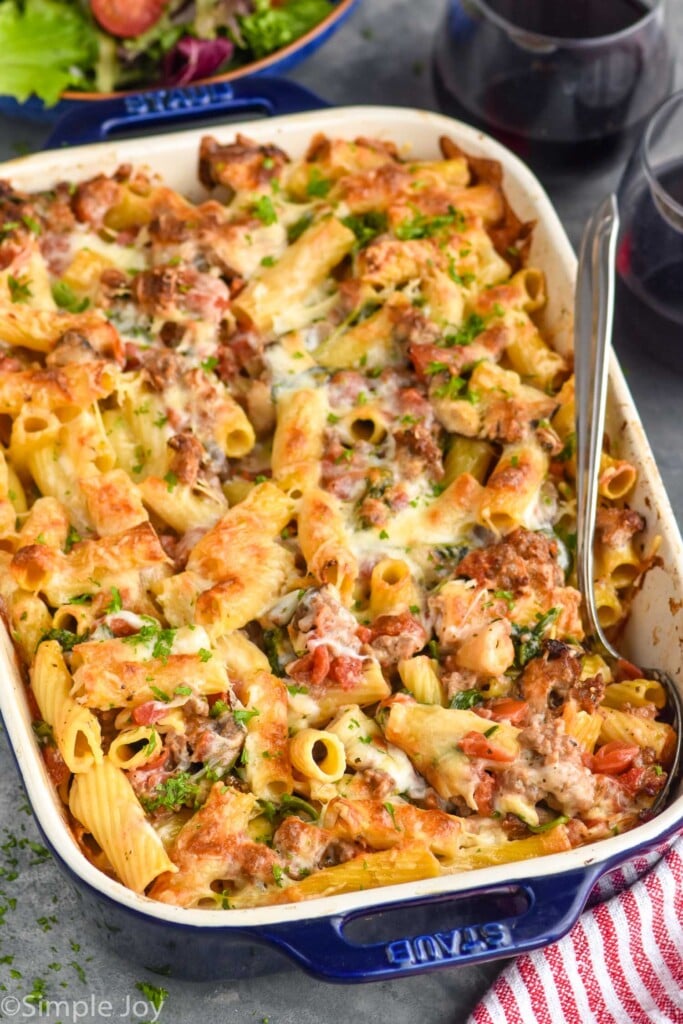 Variations
One of the best things about this baked rigatoni is that it is so easy to customize. Here are a few things you could switch up, but the possibilities are endless.
Add in onions. My husband hates onions, so I leave them out of a lot of dishes, but it would add great flavor here. Add them in step four when you add the mushrooms, but cook a little longer than is indicated.
Leave out the mushrooms. We love mushrooms, but if they aren't your thing, you can leave them out.
Swap the spinach for kale (or leave it out). Kale has so many great nutrients and would be a great addition to this recipe. Chop up the kale, remove the thick stems, and add it in the same way that you would add the spinach.
Use turkey sausage. This recipe calls for Italian sausage which is typically made from pork. If your family prefers turkey, there are great Italian turkey sausages on the market. You can easily swap that in. You may just need to bump up the olive oil used in step three so that it doesn't stick.
Cut back on the cheese. While we love how cheesy this recipe is, if you are looking to cut back on calories, that is a great place to start. Cut out two cups of cheese, leaving one cup in the casserole and one on top.
Use a different pasta. This recipe will work great with penne, ziti, or even fusilli.
Making Ahead
This recipe can be made 24 hours in advance. Instead of putting it in the oven in step eight, top it with cheese and cover it with aluminum foil. Then place it in the refrigerator for up to 24 hours. Pull it out when you are ready to eat and bake it in an oven that has been preheated to 350 degrees Fahrenheit, uncovered, for 30 minutes.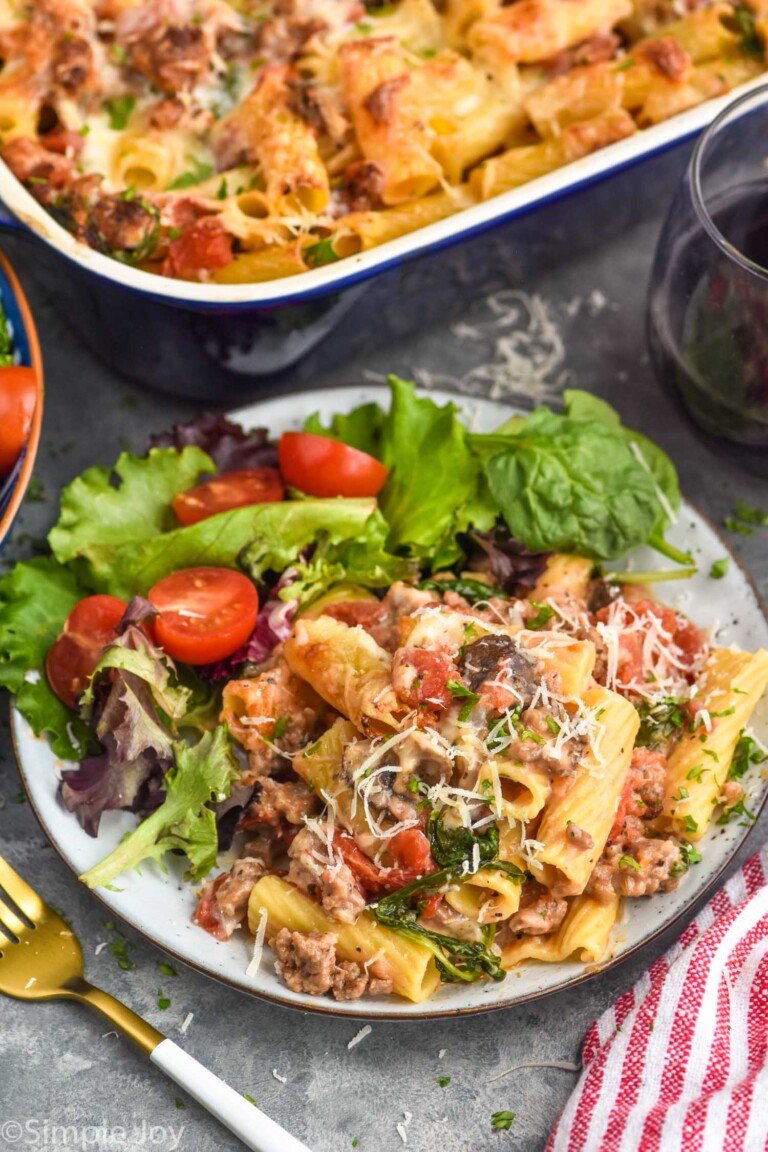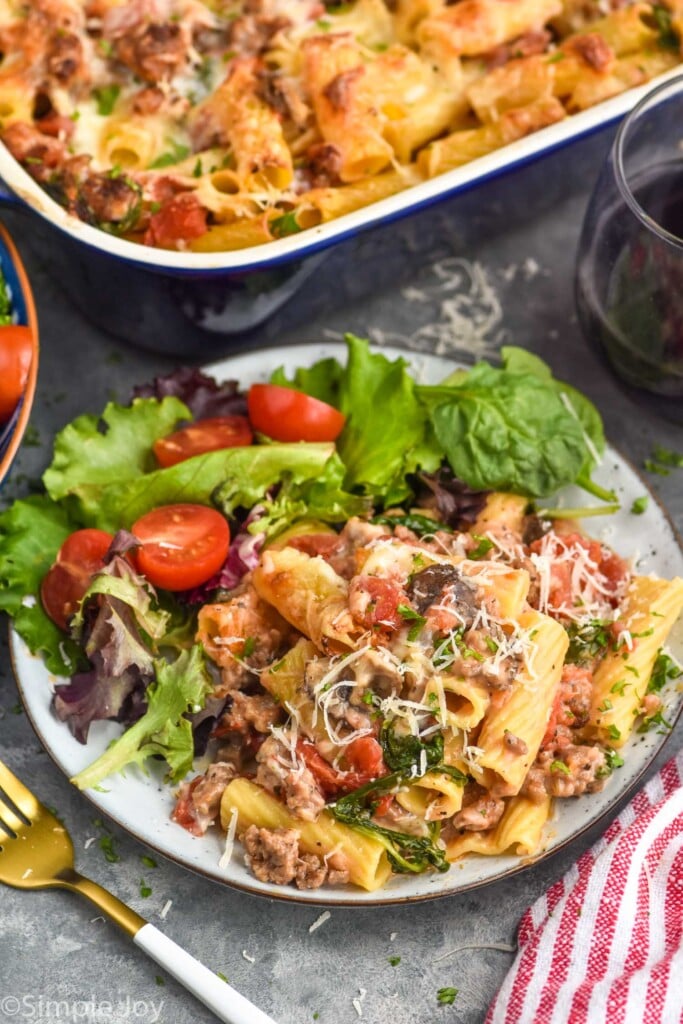 Storing and Reheating Leftovers
Leftovers of this delicious baked rigatoni recipe should be stored in the refrigerator in an airtight container for up to four days. To reheat, place it in a casserole dish and bake, covered, at 350 degrees Fahrenheit for 20 to 25 minutes. As with all leftovers, use your best discretion.
Freezing Baked Rigatoni
This is a great recipe to make and freeze. In fact, I think you will like it so much that I think you should start off by doubling the recipe. Put one batch in a pan and bake it right away, and put a second batch in a disposable baking dish for later. Here are my suggestions for making it ahead of time.
Put it in a disposable baking dish. This will allow you to bake the recipe from frozen without worrying about breaking a glass or ceramic baking dish.
Leave off the cheese that goes on top. When you get to step eight, leave off the cheese that's on top.
Wrap it up well. After completing step seven, cover the baking dish with foil. Then wrap it up three times in plastic wrap.
Freeze the casserole for up to three months.
Bake it at 350 degrees Fahrenheit when you are ready to make it. This can go right from the freezer to the oven. Be sure to take off the plastic wrap and leave on the foil.
Bake it covered for 20 minutes. After 20 minutes, remove the cover and add on the remaining cheese. Then put it back in the oven for 25 to 30 minutes.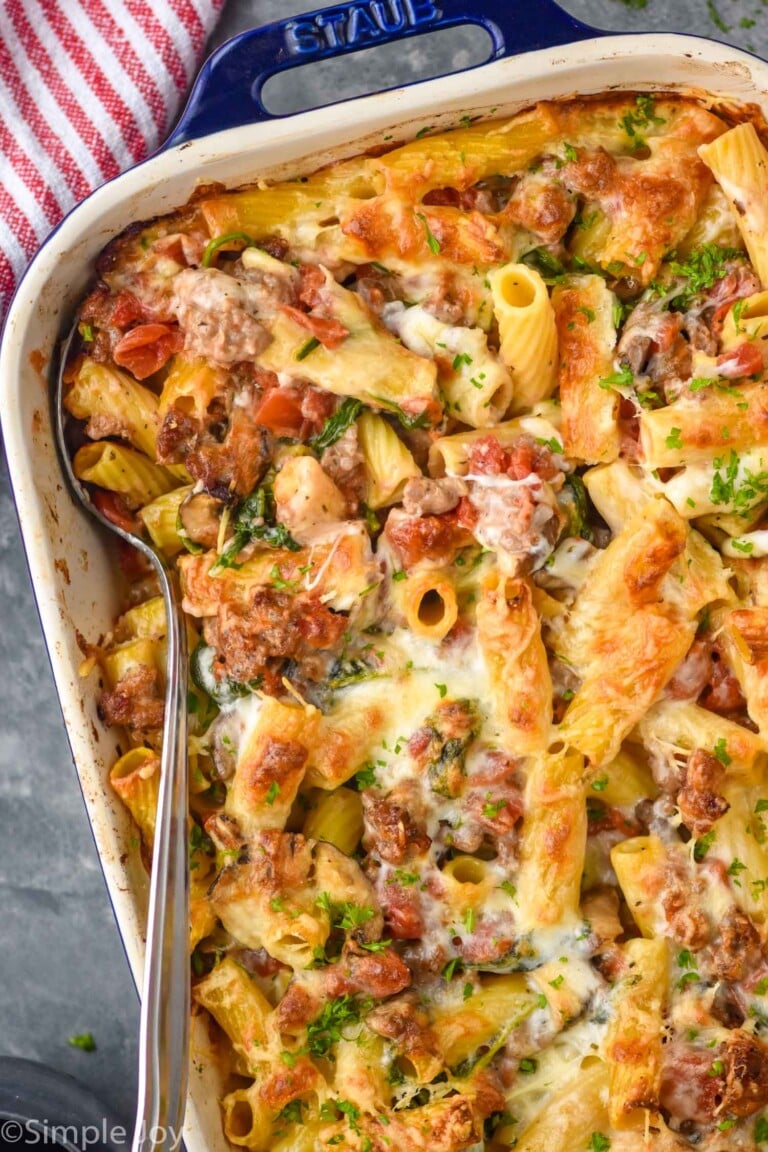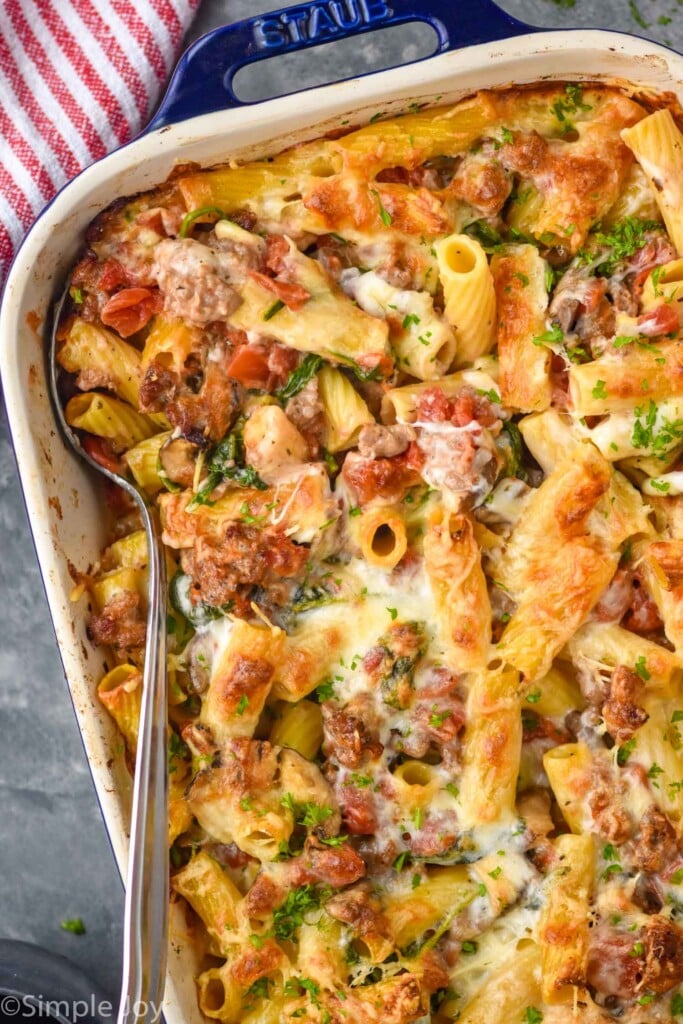 What to Serve with Baked Rigatoni
I have so many great side dishes to serve with this delicious pasta bake.
Chopped Salad: My kids love this chopped salad recipe, and it is my biggest parenting win to date.
Green Beans Almondine: This delicious recipe comes together on the stovetop and is perfect to make once the casserole goes in the oven.
Zucchini Soup: This soup is creamy and delicious, even if you don't add the cream. It is so good and a great way to sneak in more veggies.
If you make this baked rigatoni with sausage or any of my other recipes, leave me a comment and let me know what you think!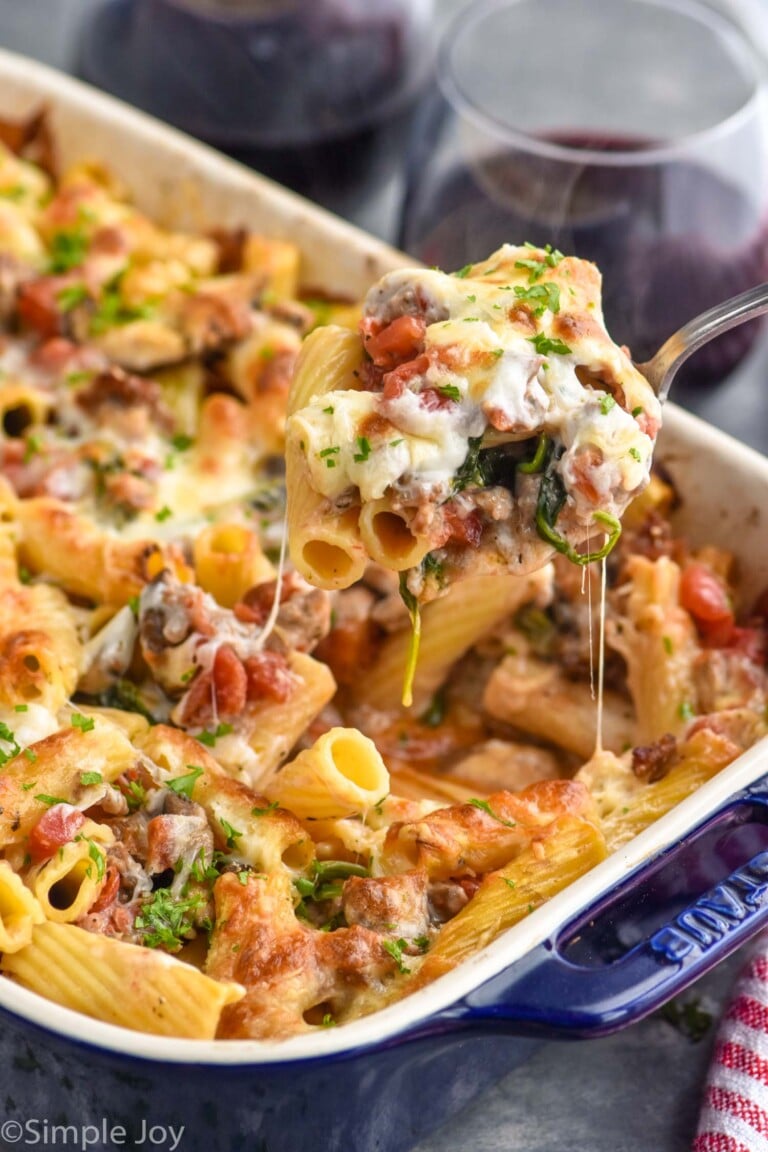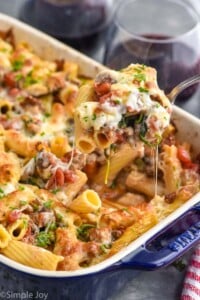 Baked Rigatoni
This Baked Rigatoni is the ultimate comfort food. Rigatoni, sausage, mushrooms, spinach, and seasonings combine perfectly in this delicious baked pasta recipe.
Ingredients
16

ounces

rigatoni

454 grams

1

teaspoon

kosher salt

2.67 grams

1

tablespoon

olive oil

12.5 grams

1/4 to 1/2

teaspoon

crushed red pepper flakes

.25 to .5 grams

2

garlic cloves

minced

1

pound

Italian sausage

453.592 grams

8

ounces

sliced mushrooms

226.9 grams (I like using baby portabellas)

28

ounces

diced tomatoes

794 grams

1/2

tablespoon

dried oregano

1.5 grams

1/2

tablespoon

dried basil

1.05 grams

3

cups

baby spinach

127.5 grams

4

cups

mozzarella cheese

453.592 grams (shredded and divided)

1/2

cup

parmesan cheese

42.5243 grams shredded
Instructions
Preheat your oven to 375 degrees Fahrenheit. Spray a 9 by 13 inch baking dish with cooking spray. Set aside.

Place a large pot of water over high heat to boil the rigatoni. Once the water is at a roaring boil, season it with salt and add the noodles. Boil the noodles for two minutes less than the time stated on the box. Drain the pasta and set aside.

16 ounces rigatoni,

1 teaspoon kosher salt

While the pasta is boiling, place a large skillet over medium-high heat. Heat the olive oil for 30 seconds before adding the garlic and red pepper flakes. Cook until fragrant, about 30 seconds, and then add the sausage. Break up the sausage as it cooks.

1 tablespoon olive oil,

1/4 to 1/2 teaspoon crushed red pepper flakes,

2 garlic cloves,

1 pound Italian sausage

When the sausage is no longer pink, add the sliced mushrooms. Cook for 3-4 minutes until softened.

8 ounces sliced mushrooms

Add the diced tomatoes, stirring to combine. Stir in the basil and oregano. Bring the sauce to a boil, and then reduce to a simmer. Simmer for 5 minutes, stirring occasionally.

28 ounces diced tomatoes,

1/2 tablespoon dried oregano,

1/2 tablespoon dried basil

Add the spinach to the sauce, allowing it to wilt.

In the casserole dish, combine the noodles, and the sauce. Stir in 1 cup of the shredded mozzarella. Then stir in a second cup. Stirring it in in 2 groups will prevent it from melting too quickly, preventing it from being evenly distributed throughout the casserole. (Alternatively, combine all of this in the skillet if it is oven-proof.)

Add the remaining two cups of mozzarella and the parmesan in an even layer over the top. Bake uncovered for 20 to 25 minutes or until the cheese on top is bubbly and beginning to brown. Serve warm and enjoy!
Serving:
1.75
cups
Calories:
643
kcal
(32%)
Carbohydrates:
50
g
(17%)
Protein:
32
g
(64%)
Fat:
35
g
(54%)
Saturated Fat:
15
g
(94%)
Polyunsaturated Fat:
3
g
Monounsaturated Fat:
14
g
Trans Fat:
0.001
g
Cholesterol:
92
mg
(31%)
Sodium:
1183
mg
(51%)
Potassium:
686
mg
(20%)
Fiber:
4
g
(17%)
Sugar:
5
g
(6%)
Vitamin A:
1624
IU
(32%)
Vitamin C:
14
mg
(17%)
Calcium:
434
mg
(43%)
Iron:
3
mg
(17%)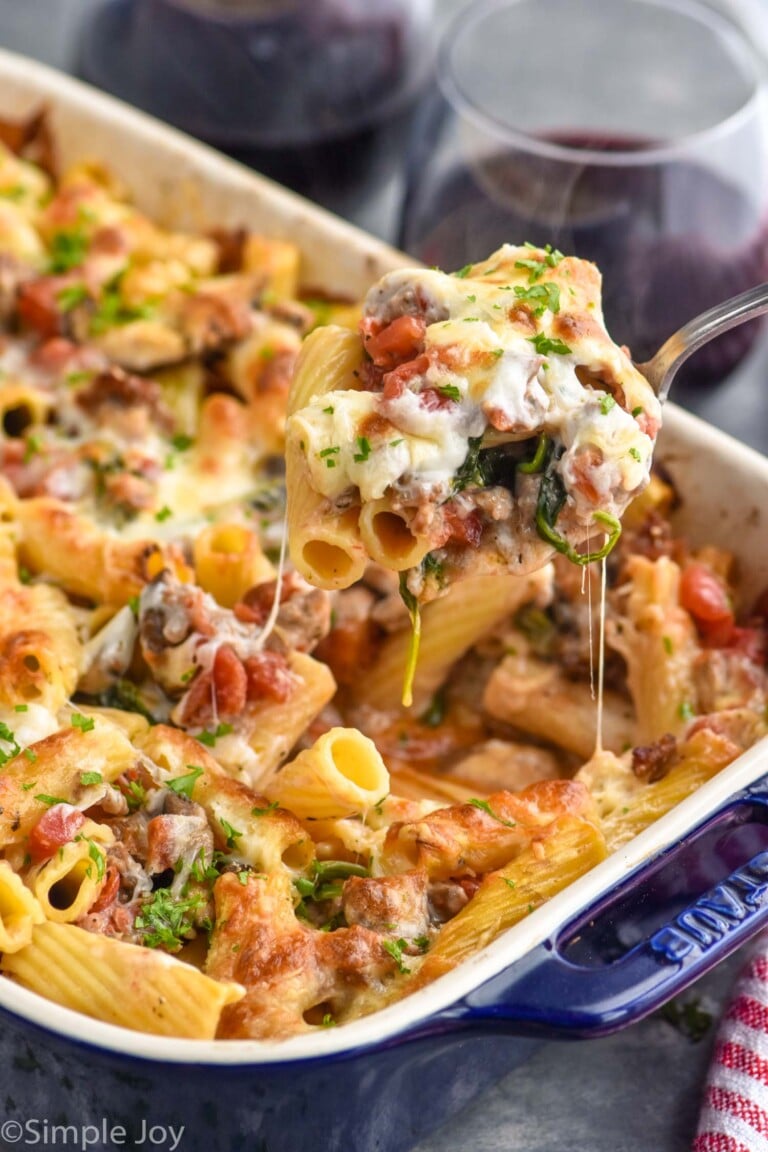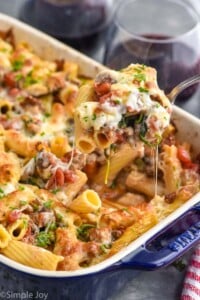 did you make this
Baked Rigatoni